Learn how to make Botan Nabe at home with thin slices of wild boar shaped like a peony flower simmered in a sweet miso broth with tofu and vegetables. This beautiful dish is one of Japan's most unique hot pot recipes!
Disclaimer: This post contains Amazon affiliate links. Sudachi Recipes earn a small percentage from qualifying purchases at no extra cost to you. See disclaimer for more info.
Jump to:
What is Botan Nabe?
Botan nabe is a Japanese hot pot dish consisting of wild boar meat and seasonal vegetables simmered in a broth made with a combination of white and red miso paste. The sweetness of the white miso and the richness from the red miso perfectly compliments the unique flavour of wild boar.
Botan nabe is basically the same as shishi-nabe (boar stew), the main difference being that the boar meat is arranged into the shape of a peony flower.
How to cook wild boar meat Japanese style
Flavourful soup to go with boar meat
History of botan nabe and information about wild boar meat in Japanese cuisine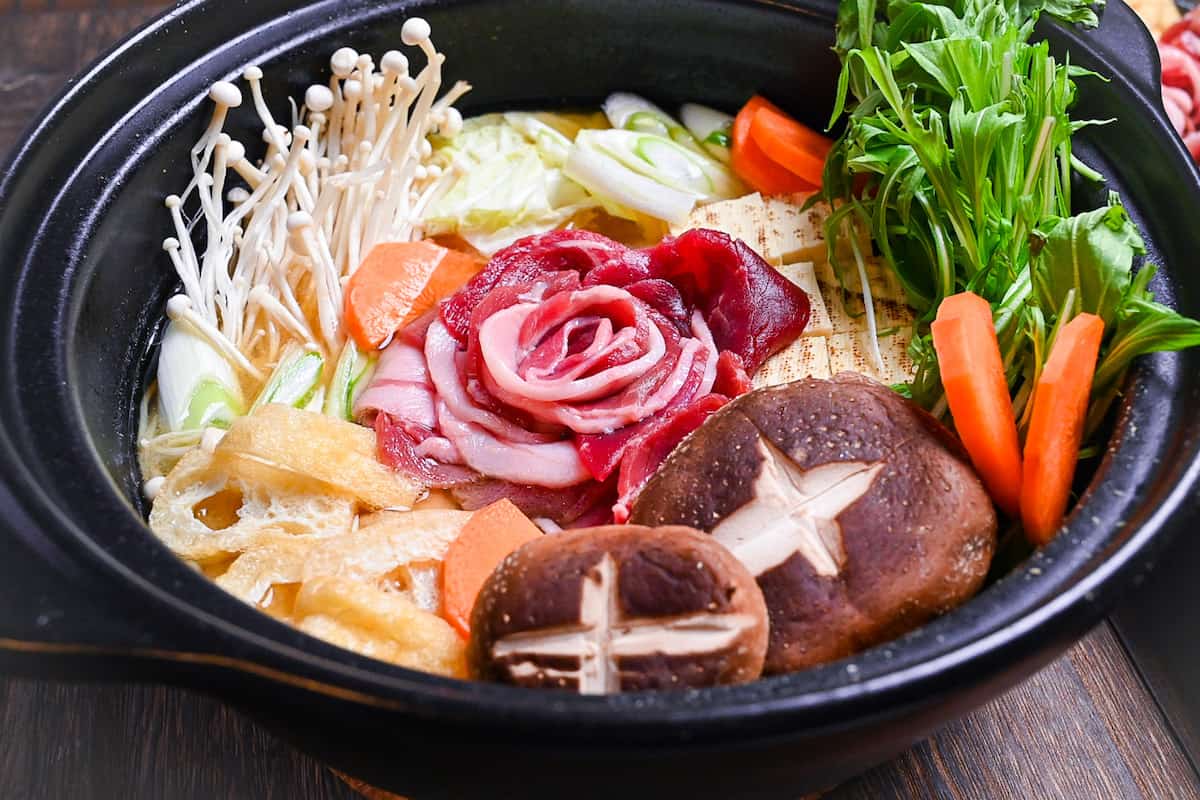 A brief history of botan nabe
Botan nabe was born in Sasayama, Hyogo Prefecture and is believed to have appeared after the meat ban was lifted during the Meiji Era (1868-1912). More precisely, it is said that around 1908, the 70th Infantry Regiment of the Army was stationed in Sasayama Town, and the meat of wild boar captured during training was put into miso soup and eaten, or brought to hotels (ryokan) and made into a hot pot (nabe) dish with miso paste.
Initially called "Ino-nabe," it was not until 1931 that the name "botan-nabe" was coined. The name "botan nabe" is said to have come from the fact that when the wild boar meat is arranged on a plate, it looks like a peony flower (which is called botan in Japanese).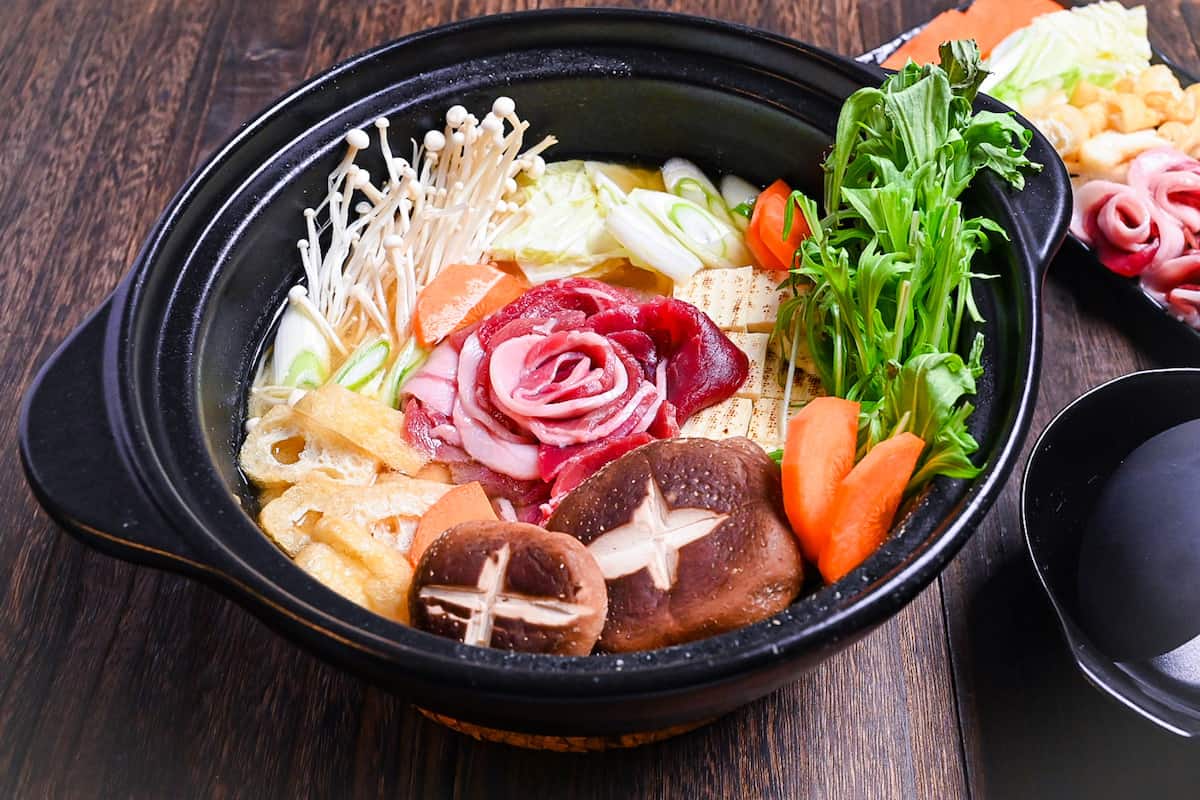 Wild boar meat and Japanese cuisine
You might now be surprised that wild boar meat is used in Japanese cuisine, but in fact, it has a long history. Considering about 75% of Japan's land area is mountainous, including volcanic and hilly areas, it is perhaps not so surprising that these areas have a history of eating the meat of mountain dwelling animals such as wild board and deer.
In Japan, wild boar meat has been eaten since as far back as the Jomon period (710-794 CE). Even when Buddhism was introduced and eating meat was banned, it was still called "yama-kujira (mountain whale)" and was eaten as a valuable source of protein in the remote areas in the mountains.
In modern times, they are rarely seen outside of mountainous areas, but have regained some popularity in recent years due to the gibier (game) restaurants boom.
Every year, I visit the momiji autumn leaves festival in a mountain not far from where I live. They have always have stands selling wild boar sausages, miso soup with boar and inoshishi nabe udon (just to name a few!). Butchers around the area sell general game meat including locally caught wild boar.
Where I bought my wild boar meat
Unfortunately, at least in Japan, wild boar meat is not something we see in regular supermarkets. I bought mine online from Ishii Seinikuten, a butcher that specialises in wild boar meat. They sell meat especially for botan nabe (thinly sliced) as well as blocks and mince meat, if you're in Japan you can check out their website here.
Wherever you get your boar meat from, I do recommend to get it from trusted source and use fatty loin or shoulder for the best results. It might be difficult to find it thinly sliced like we have here in Japan, but if you freeze a block until firm (not frozen), you can thinly slice it at home using a sharp knife.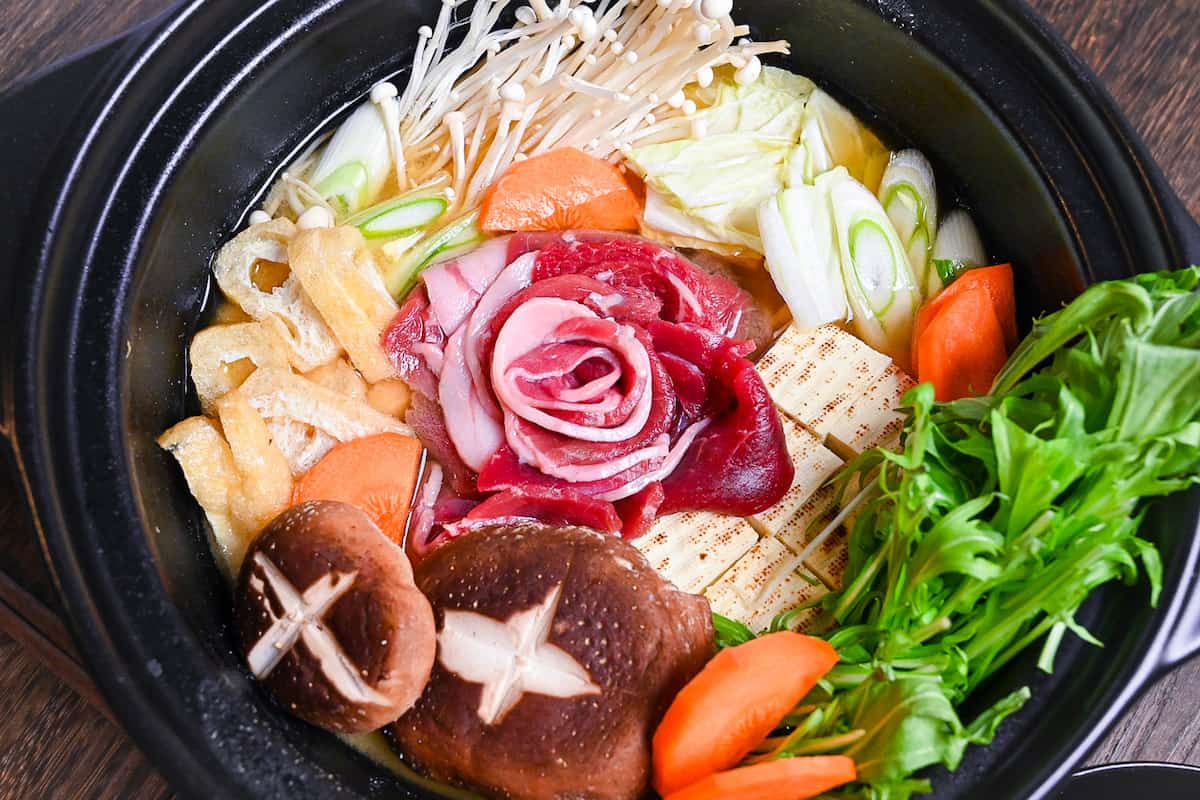 Ingredients to make this Botan Nabe recipe
While wild boar can be quite difficult to come by, the rest of the ingredients are pretty common in Japanese hot pot dishes. Here is a list of ingredients that I use to make botan nabe at home (includes Amazon affiliate links).
Thinly sliced wild boar meat
Firm tofu (grilled)
Napa cabbage (hakusai)
Spring onion
Japanese mustard greens (mizuna)
Carrot
Enoki mushrooms
Shiitake mushrooms
Twice fried tofu (aburaage)
Ramen noodles (or udon noodles)
And for the broth I use the following: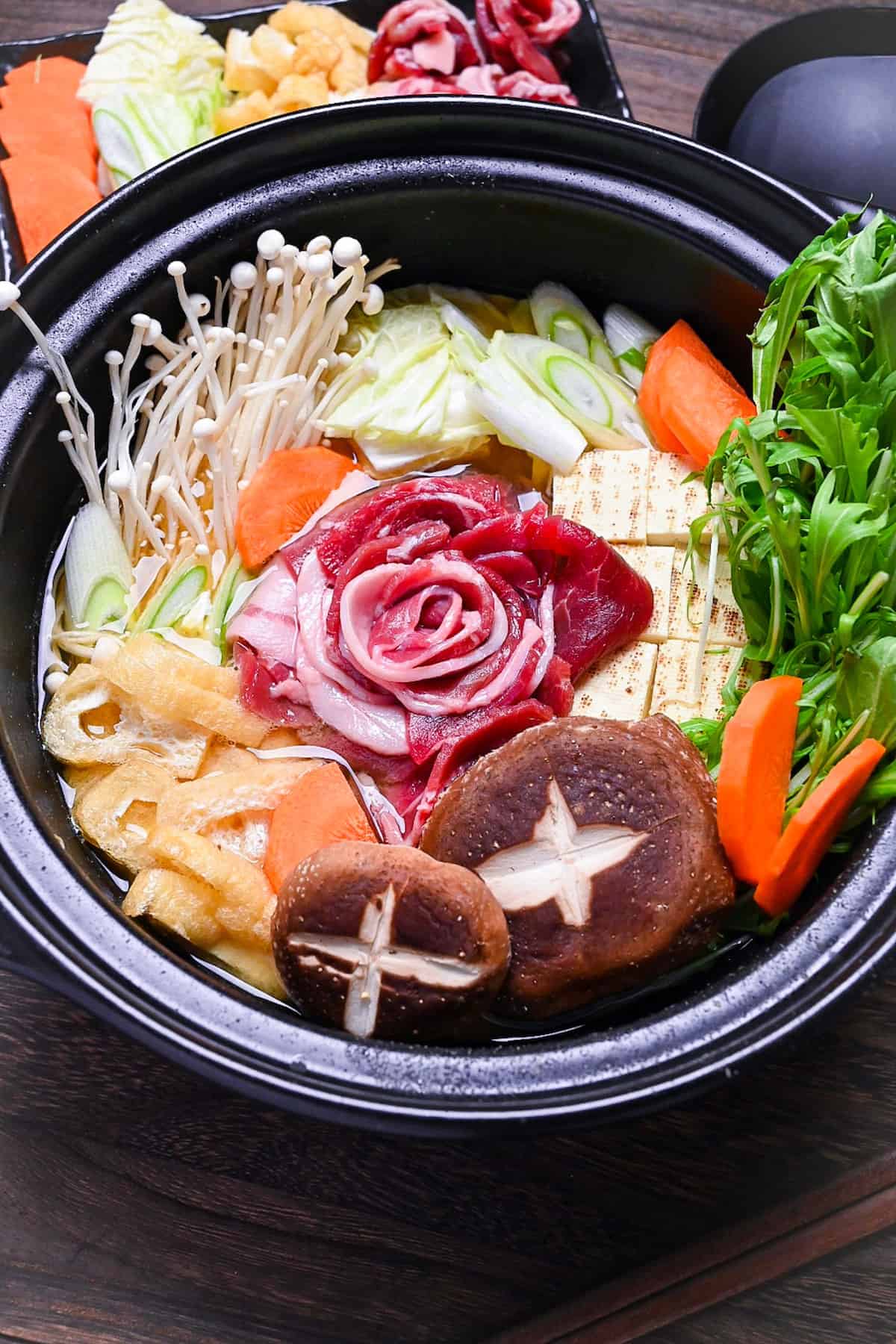 Instructions on how to make botan nabe
The process of making botan nabe is surprisingly simple and can be made in just 5 easy steps! For ingredient quantities, see the printable recipe card at the bottom of the page.
Make the broth
Add the dashi, sake, mirin, light brown sugar and sesame paste to a large pot, mix and bring it to a boil over a medium heat. Allow it to boil for 1-2 minutes, then turn off the heat and add the white and red miso pastes.
To evenly incorporate the miso paste into the soup, I recommend placing it on a mesh spoon (or ladle) and breaking it down with a small whisk. Dip it in the hot soup to loosen it up and then whisk it in the mesh spoon until it's fine enough to mix in with the rest of the soup.
Once the miso paste has been added, it should look something like this: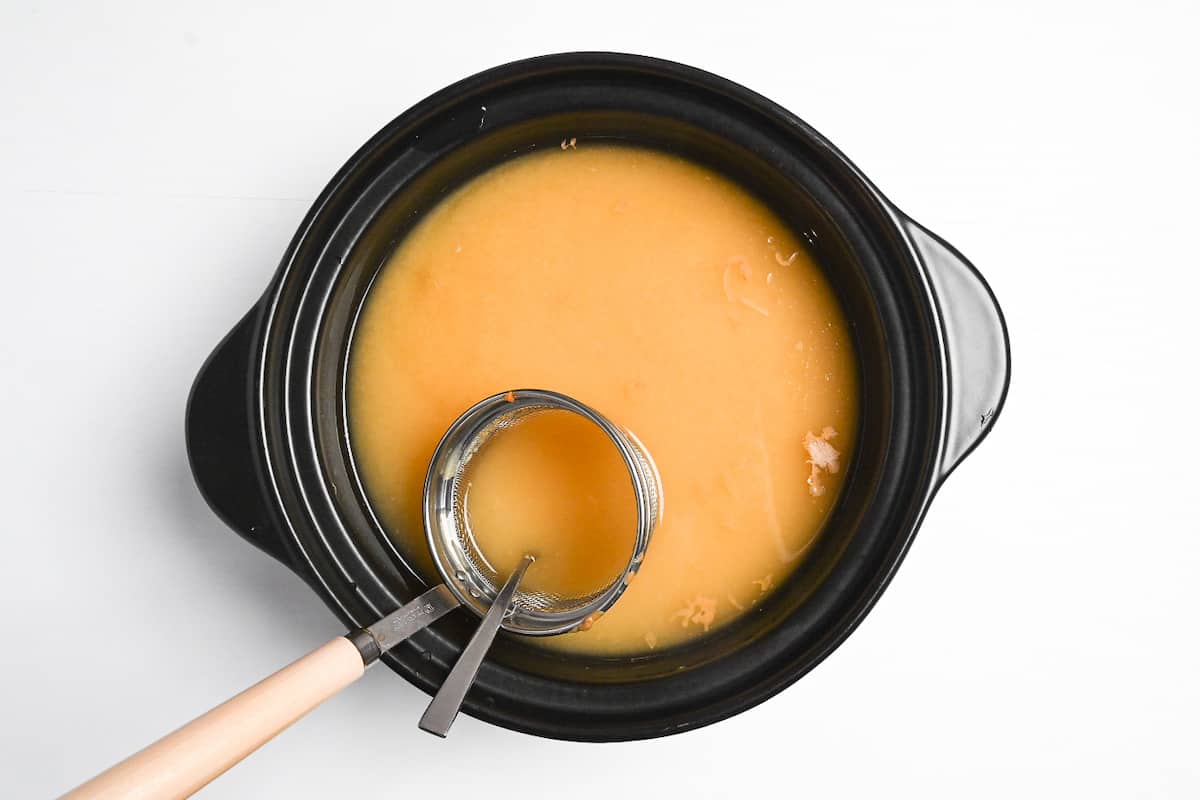 Prepare the ingredients
Botan nabe is known for its beautiful presentation, if you have guests you want to impress then you should definitely cut your ingredients with aesthetics in mind!
Here is a list of how I prepare my ingredients after washing (this is optional of course and just my suggestion, you can arrange them how you like!)
Wild boar meat - rolled into a peony flower shape
Firm tofu - cubed
Napa cabbage (hakusai) - roughly cut
Spring onion - diagonally sliced
Japanese mustard greens (mizuna) - stems trimmed
Carrot - peeled, sliced and halved (or cut using a decorative cutter)
Enoki mushrooms - roots removed
Shiitake mushrooms - stems trimmed and stars cut on top
Twice fried tofu (aburaage) - sliced
Arrange your ingredients
Once your ingredients are prepared, arrange them in the pot with the broth.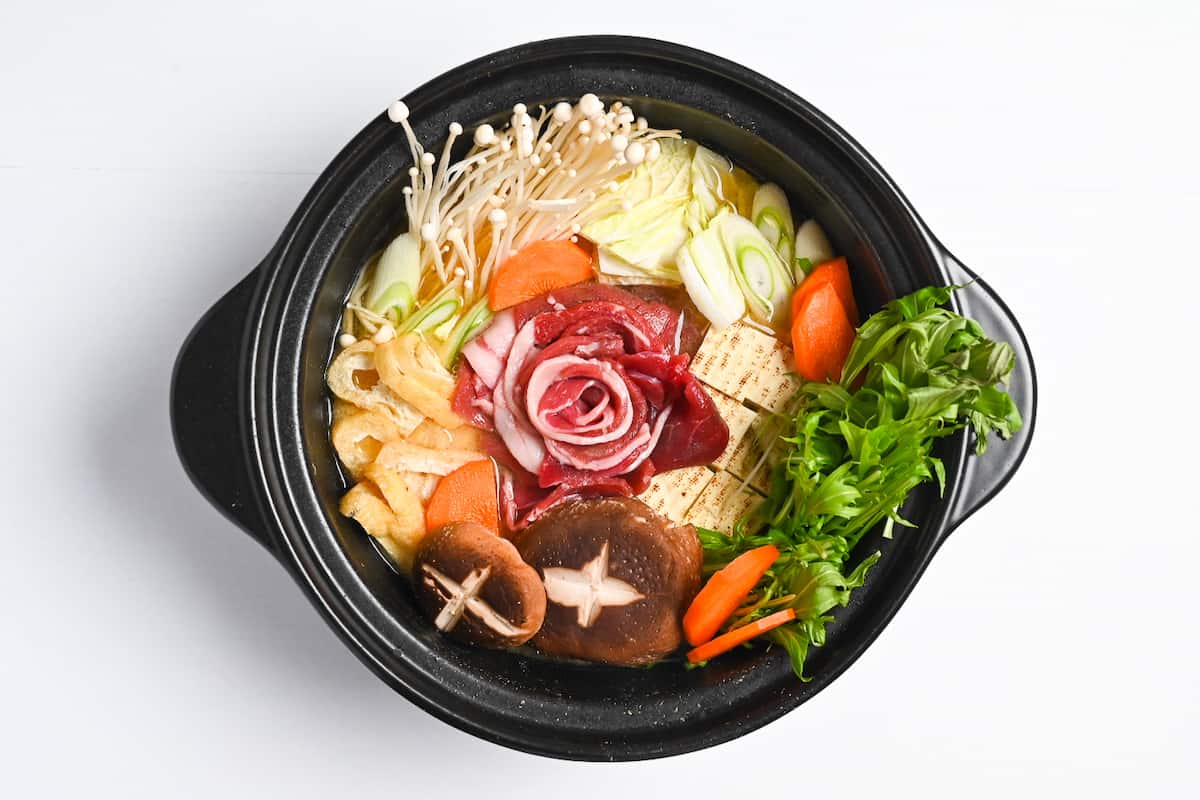 Simmer
Once the ingredients are added, place the pot on the stove and bring to a simmer over a medium heat. Try to avoid letting the broth boil as this will weaken the flavour of the miso. Keep it just below boiling and simmer until all the ingredients are cooked through.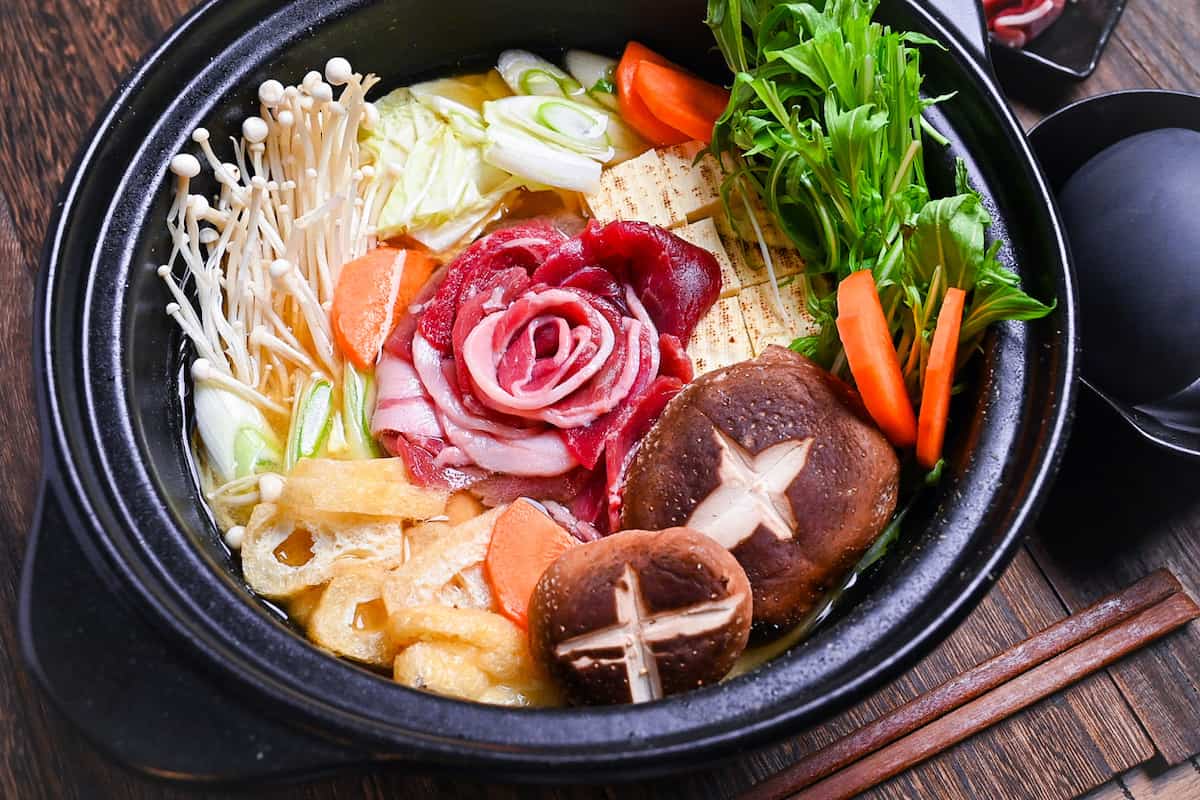 If possible, cook the botan nabe on a portable stove set in the middle of the table. This way you can eat it as it cooks. If you want to cook it in the kitchen and divide it into portions, I recommend adding the carrots first and cooking them for a few minutes longer before adding the other ingredients.
Leftover soup
As with most hot pot dishes, there's always leftover broth once all the ingredients are eaten. There's no need to waste it! In Japan, it's common to finish the broth with cooked noodles (I recommend udon or ramen noodles).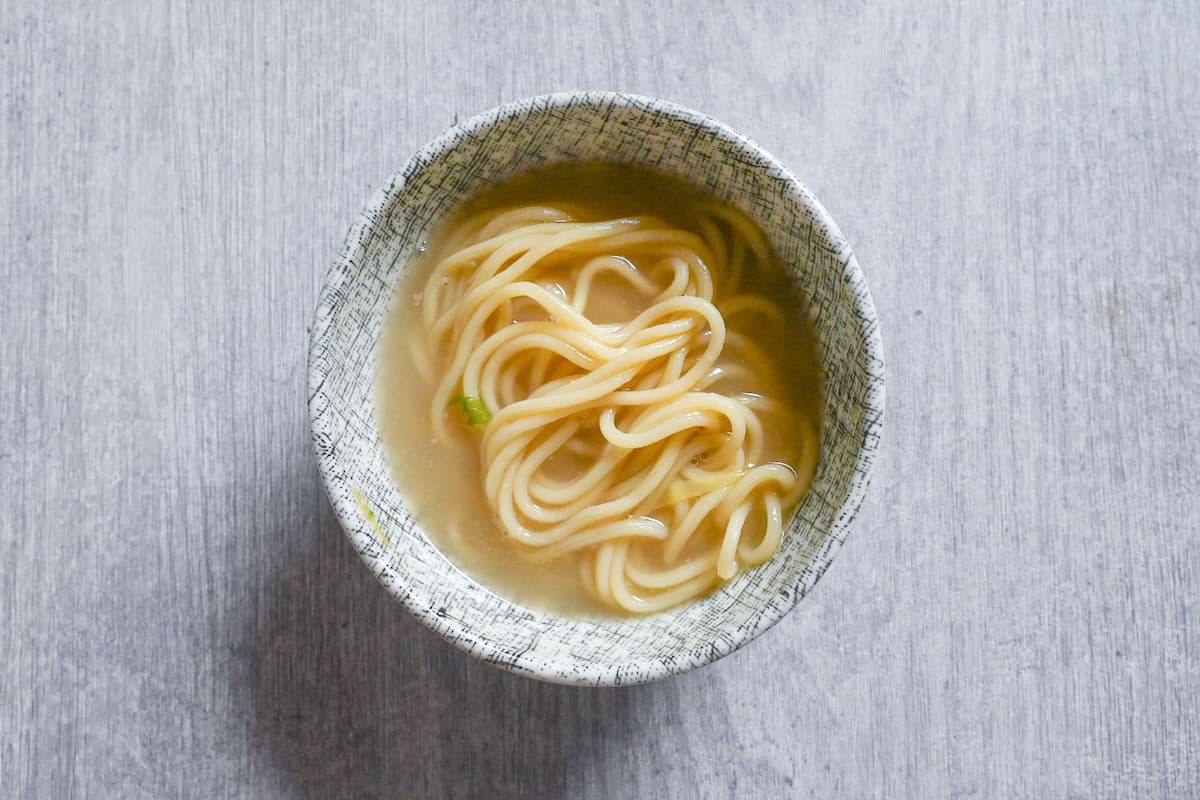 This is known as "shime" or "last course" in English. Just cook the noodles in a separate pot, then drain the water and serve them in the broth (cooking them in a separate pot prevents the broth from becoming starchy and thick).
I hope you enjoy this comforting rural dish from the mountainous regions of Japan!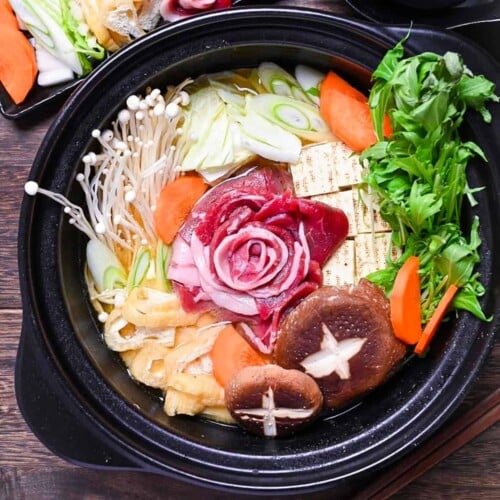 Botan Nabe (Japanese Wild Boar Hotpot)
How to make beautiful Botan Nabe at home with thin slices of wild boar shaped like a peony flower simmered in a sweet miso broth with tofu and vegetables.
Ingredients
Broth
800

ml

dashi stock

5

tbsp

sake

2

tbsp

mirin

1

tbsp

light brown sugar

1

tbsp

sesame paste

3

tbsp

red miso paste

2

tbsp

white miso
Hot pot ingredients
200

g

wild boar loin

-

thinly sliced

100

g

firm tofu

-

grilled if possible, cubed

100

g

napa cabbage

-

hakusai, roughly cut

30

g

green onion(s) -

white part, diagonally cut

50

g

potherb mastard

-

mizuna

50

g

enoki mushroom(s)

50

g

carrot(s)

-

peeled and sliced

30

g

fresh shiitake mushroom(s)

30

g

fried tofu pouch(s)

-

aburaage, sliced
Toppings and "shime" (last course) optional
2

pinches

Japanese pepper (sansho)

-

sansho pepper

2

portions

ramen/udon noodles

-

to finish the soup
Instructions
Take a large pot and add

800 ml dashi stock

,

5 tbsp sake

,

2 tbsp mirin

,

1 tbsp light brown sugar

and

1 tbsp sesame paste

. Bring it to a boil over a medium/medium-high heat and allow to bubble for 1-2 minutes. Turn off the heat.

Place

3 tbsp red miso paste

and

2 tbsp white miso

pastes on a mesh spoon or ladle. Dip them in the broth and then whisk inside the spoon until fine enough to mix in with the rest of the broth.

Cut the vegetables and tofu and arrange them beautifully in the pot with

200 g wild boar loin

rolled into the shape of a peony flower placed in the middle.

Return the pot to the stove and simmer over a medium heat until the vegetables are softened and the boar meat is cooked through. Eat as it cooks (or divide into bowls once everything is cooked). Sprinkle with sansho pepper to taste.

Enjoy the leftover soup with cooked ramen or udon noodles.