Simmered Kiriboshi Daikon is a delicious side dish made from rehydrated strips of daikon radish simmered in a sweet and salty Japanese broth with fresh vegetables and fishcakes. It's easy to make ahead of time and can be enjoyed hot or cold!
Disclaimer: This post contains Amazon and Dokodemo affiliate links to help our readers find the products used by us. Sudachi Recipes earn a small percentage from qualifying purchases at no extra cost to you. See disclaimer for more info.
What is Simmered Kiriboshi Daikon?
Kiriboshi Daikon no Nimono (切り干し大根の煮物) is a side dish made with rehydrated strips of daikon radish simmered in a Japanese broth with carrots, shiitake mushrooms, and satsuma-age (fried fish cake) or aburaage (twice-fried tofu).
I would say the taste is usually a little sweet with a touch of dashi, so it goes well with any rice dishes. It's one of the most popular side dishes at home in Japan.
Kiriboshi daikon itself is a type of dried daikon radish sliced into thin strips and may be labeled as "dried radish."
In Western Japan, it is known as "sengiri daikon," which translates to "julienned daikon." The strips are typically 1-2mm thick. Prior to use, kiriboshi daikon should be washed and soaked lightly to rehydrate and soften it.
How I Developed This Recipe
This meal may not be widely recognized outside Japan, but it's a beloved staple in Japanese households.
That's why I created this recipe with authenticity in mind, aiming to capture the essence of a traditional Japanese home-cooked meal reminiscent of my own grandmother's cooking.
If you're interested in a taste of home-style Japanese cuisine, give it a try!
Ingredients and Substitution Ideas
Dried Shredded Daikon Radish (Kiriboshi Daikon): This is a crucial ingredient for the dish. I have to note that raw fresh radish is not a suitable substitute.
Sesame Oil: I recommend Kadoya's sesame oil to impart marinades a delicate flavor.
Vegetables: I used carrots and shiitake mushrooms.
Satsumaage Fishcake: This is a type of Japanese fried fishcake. If you can't find it, fried tofu pouch (aburaae) is a recommended alternative.
Soy Sauce: I strongly recommend Kikkoman soy sauce as an affordable option. For a deeper dive into selecting the perfect soy sauce for Japanese dishes, refer to my comprehensive soy sauce guide.
Mirin: When shopping for mirin, "hon mirin" (本みりん) is the gold standard for flavor. I recommend Hinode Hon Mirin as a high-quality and budget-friendly option. For more suggestions, check out my post on the 20 Most Useful Condiments and Seasonings for Japanese Cooking.
Sugar: While any standard sugar is acceptable, I prefer light brown cane sugar in many of my recipes.
Sake: If sake is unavailable, white wine or dry sherry can be used as substitutes.
White Sesame Seeds: These are optional but can be used as a garnish for added texture and aesthetics.
Switch the fishcake (satsuma-age) for deep fried tofu pouches (aburaage) or even thinly sliced firm tofu to make this dish suitable for vegetarians and vegans!
Curious about the exact brands and products that bring my recipes to life? Discover the brands and ingredients behind my recipes at the Sudachi Amazon Storefront. Explore my handpicked pantry essentials and find your next kitchen favorites!
Step-by-Step Process
Here are my step-by-step instructions for how to make delicious homemade kiriboshi daikon no nimono. For ingredient quantities and simplified instructions, scroll down for the printable recipe card below.
Wash the kiriboshi daikon
Place the kiriboshi daikon in a bowl of cold water and rub it gently to remove any dust or debris. Drain and repeat 3 times in total to ensure it's properly cleaned.
Once thoroughly washed, add fresh water and soak for 20 minutes to rehydrate.
After 20 minutes, remove the kiriboshi daikon from the water and set aside for later.
The leftover liquid is a kiriboshi-daikon soup stock and is sometimes used as "vegetarian soup stock" at temples in Japan. It's really a waste to throw it away. It's packed with umami so there's no reason not to use it!
If the kiriboshi daikon pieces are too long, cut them into thirds using scissors. This will make it easier to eat.
Fry the other ingredients
Heat a large pan on medium and add a drizzle of sesame oil. Once hot, add julienned carrots and thinly sliced shiitake mushrooms and satsuma-age (Japanese fishcakes). Stir fry for 2-3 minutes.
Frying the ingredients in oil first will improve the texture, and then simmering will give it a richer flavour.
Add the kiriboshi daikon and stir fry for 1 minute.
Add the leftover daikon broth from earlier along with soy sauce, mirin and light brown sugar. Mix until evenly distributed and then simmer over a medium heat until the liquid is gone.
Once the simmering liquid is gone, add the sake and stir fry for 1-2 minutes or until the liquid is gone once more.
You can leave it to cool or serve it hot depending on your preference. Divide into serving dishes and sprinkle with sesame seeds.
Tip: If you leave the simmered kiriboshi daikon to cool down first, the flavors soak deeper into the ingredients and create a better taste overall.
Enjoy!
Storage
Leftover kiriboshi daikon can be kept in an airtight container in the refrigerator for up to 4-5 days.
It can also be frozen for up to 3 weeks. Frozen leftovers should be divided into portions, wrapped with plastic wrap and then stored in an airtight container like a lunchbox or ziplock bag.
The dish itself can be enjoyed hot or cold so it's up to you whether you want to reheat it or not.
Room temperature – Not recommended.
Refrigerated – 4-5 days.
Frozen – Up to 3 weeks.
I hope you enjoy this authentic and flavorful simmered kiriboshi daikon recipe! If you try it out, I'd really appreciate it if you could spare a moment to let me know what you thought by giving a review and star rating in the comments below. It's also helpful to share any adjustments you made to the recipe with our other readers. Thank you!
More Japanese Side Dishes
If you're interested in learning how to make more Japanese side dishes, check out some of my other recipes: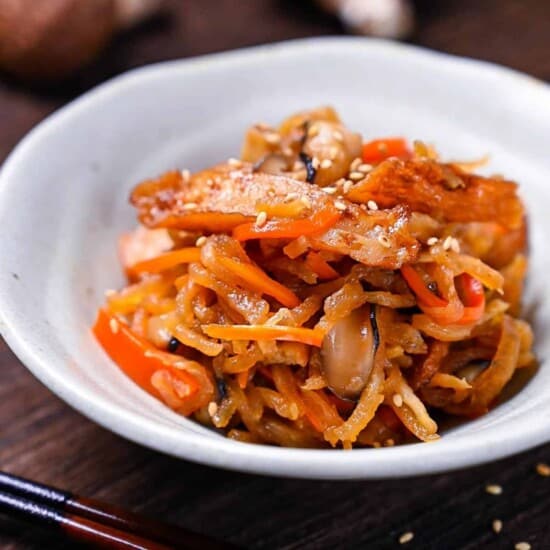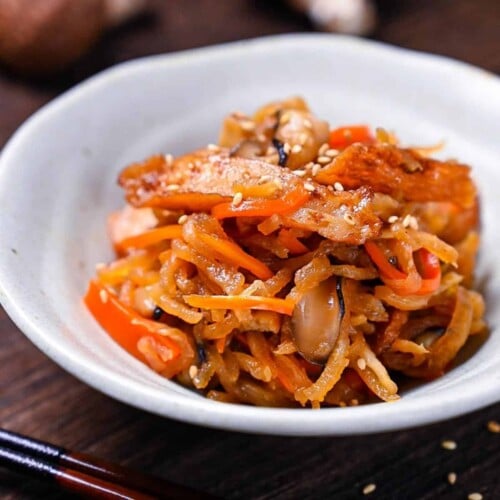 Simmered Kiriboshi Daikon Radish
---
How to make flavorful Kiriboshi Daikon no Nimono with strips of dried daikon radish simmered in a sweet and savoury Japanese sauce with carrots, shiitake mushrooms and fishcakes.
---
---
---
---
Ingredients
50

g

dried shredded daikon radish

kiriboshi daikon

300

ml

cold water

for soaking

1

tsp

sesame oil

75

g

carrot(s)

julienned

2

fresh shiitake mushroom(s)

julienned

100

g

satsumaage fishcake

(optional) or 2 sheets aburaage, julienned

4

tbsp

soy sauce

4

tbsp

mirin

15

g

light brown sugar

1

tsp

sake

1

tbsp

white sesame seeds

optional garnish
Instructions
Place

50 g dried shredded daikon radish

in a mixing bowl and cover with cold water. Wash the daikon by rubbing it with your hands and then discard the water. Repeat 3 times in total.

After the third time, pour

300 ml cold water

into the bowl and allow the daikon to soak for 20 minutes.

Remove the daikon from the water and keep the left over broth for later.

If the kiriboshi daikon pieces are too long, cut them into thirds.

Heat a large frying pan on medium and add

1 tsp sesame oil

. Once hot, add

75 g carrot(s)

,

2 fresh shiitake mushroom(s)

and

100 g satsumaage fishcake

to the pan and stir fry them for 2-3 minutes.

Next, add the diakon to the pan and stir fry for another minute.

Pour in the leftover daikon broth from earlier along with

4 tbsp soy sauce

,

4 tbsp mirin

and

15 g light brown sugar

.

Mix everything together and allow to simmer until the liquid is completely gone.

Once the liquid is gone, add

1 tsp sake

and stir fry for 1-2 minutes.

Allow to cool (optional), dish up and sprinkle with

1 tbsp white sesame seeds

.
Notes
Leftovers can be stored in the fridge for 4-5 days or frozen for up to 3 weeks. See in post for storing instructions.