Chawanmushi is a delicate dish made with Japanese fish cake, shrimps and shiitake mushrooms steamed in a silky savoury egg custard flavoured with dashi. Wow your guests with this beautiful homemade chawanmushi from scratch!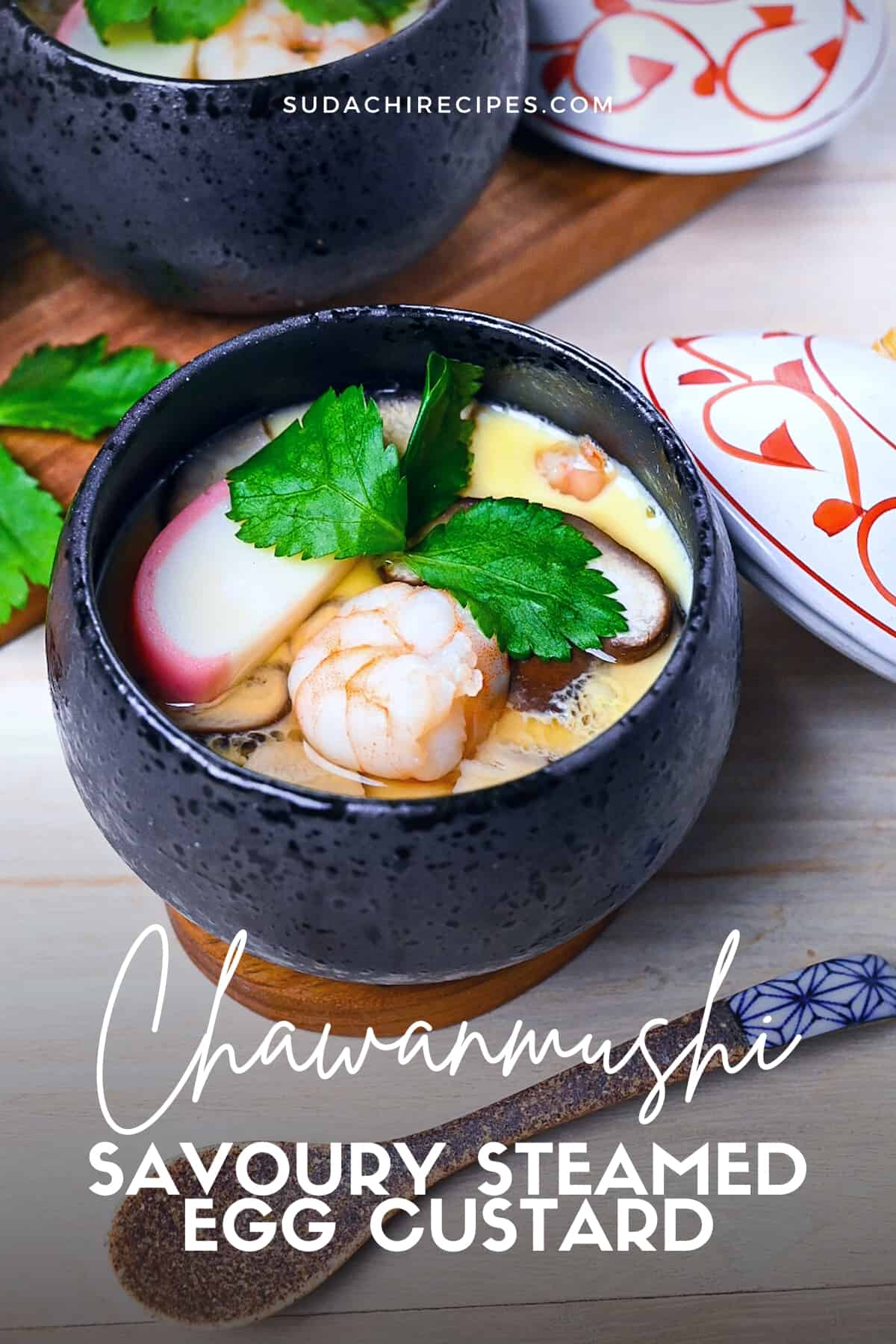 Disclaimer: This post may contain Amazon affiliate links. Sudachi Recipes earn a small percentage from qualifying purchases at no extra cost to you. See disclaimer for more info.
What is chawanmushi?
Chawanmushi (茶碗蒸し) is a dish made by steaming ingredients such as shiitake mushrooms, fish cakes, chicken and/or shrimp in egg and dashi stock soup mixture. In Japanese cuisine, it is treated as soup and served as an appetiser or side dish.
The word "chawan" (茶碗) means teacup or bowl, and "mushi" (蒸し) means to steam. Together it becomes "steamed teacup" and refers to the container and cooking method used for the dish.
The flavor of the egg and the delicate dashi broth combined with the smooth texture creates an exquisite combination. Chawanmushi is a perfect example of an elegant dish that uses relatively simple ingredients.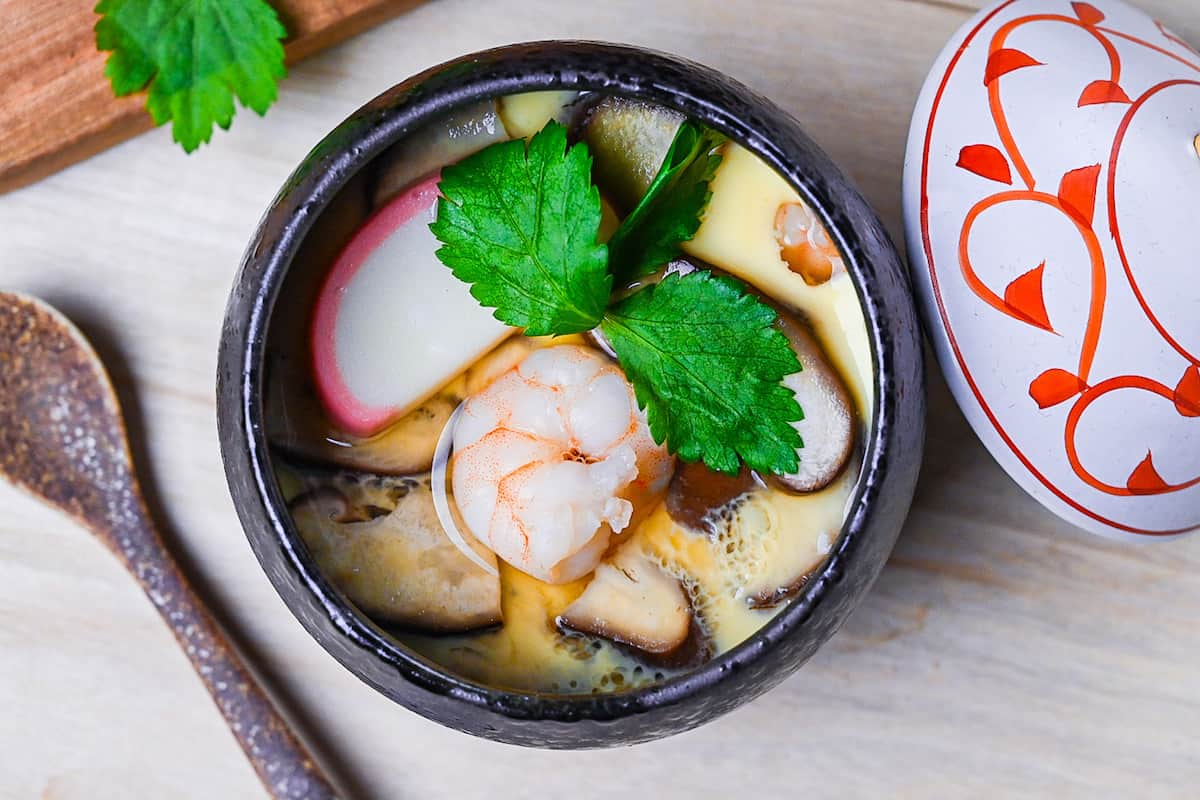 A brief history of chawanmushi
Chawanmushi is said to have been born in Nagasaki in 1689. At that time, Japan was closed to the outside world and did not generally trade with foreign countries, but Nagasaki had exclusive trade with China, and accommodations were provided for Chinese people visiting the area.
It is said that the Chinese traders who stayed there introduced table cuisine (possibly Chinese steamed eggs "zhēng shuǐ dàn"), and that it became the root of Japanese chawanmushi.
Later, Nobutake Yoshida Sokichi, a feudal retainer from Iyo Matsuyama (now Ehime Prefecture), visited Nagasaki, tasted chawanmushi for the first time and fell in love with it. In 1866, he opened "Yossou (吉宗)," a restaurant specializing in chawanmushi, in order to spread his love for chawanmushi.
Yossou is still operated by the seventh generation (decendent) in Nagasaki over 150 years later, serving chawanmushi to public.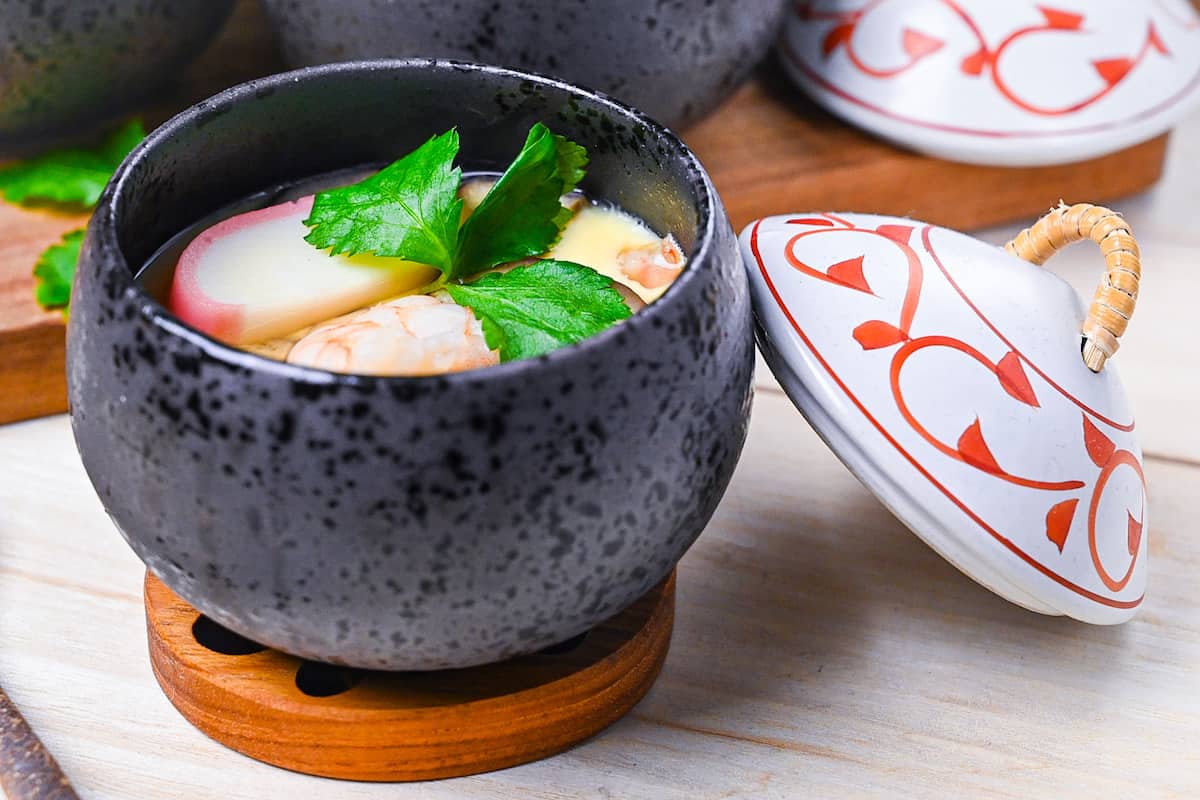 Chawanmushi cups/bowls: alternative options explained
Chawanmushi bowl/cup is a particular dish used to make chawanmushi, and it is generally shaped like a Japanese teacup but taller. To prevent water droplets from getting mixed in when steaming chawanmushi, many chawanmushi bowls are sold as a set with a lid. The lid also keeps the aroma of the ingredients from escaping.
They come in a variety of designs, from seasonal plants and animals to simple white, making them visually interesting objects. Surprisingly, there are quite a few designs available on Amazon, from classic style chawanmushi cups like this to very modern/stylish chawanmushi cups like this.
Chawanmushi cups are not only beautiful, but also strong and durable so that they can withstand the high temperatures when steaming. Because of this, it is actually a surprisingly useful piece of Japanese tableware, as it can be used not only for chawanmushi, but also as a cup for desserts such as zenzai or even cold desserts like ice cream.
Nevertheless, chawanmushi is not a dish that is frequently made even in Japanese households. Therefore, there are those who do not want to go out of their way to buy a chawanmushi cups.
In such cases, you can make chawanmushi in a ramekin (or something similar with heatproof properties) covered with aluminum foil. I will show you how to do that later in this recipe.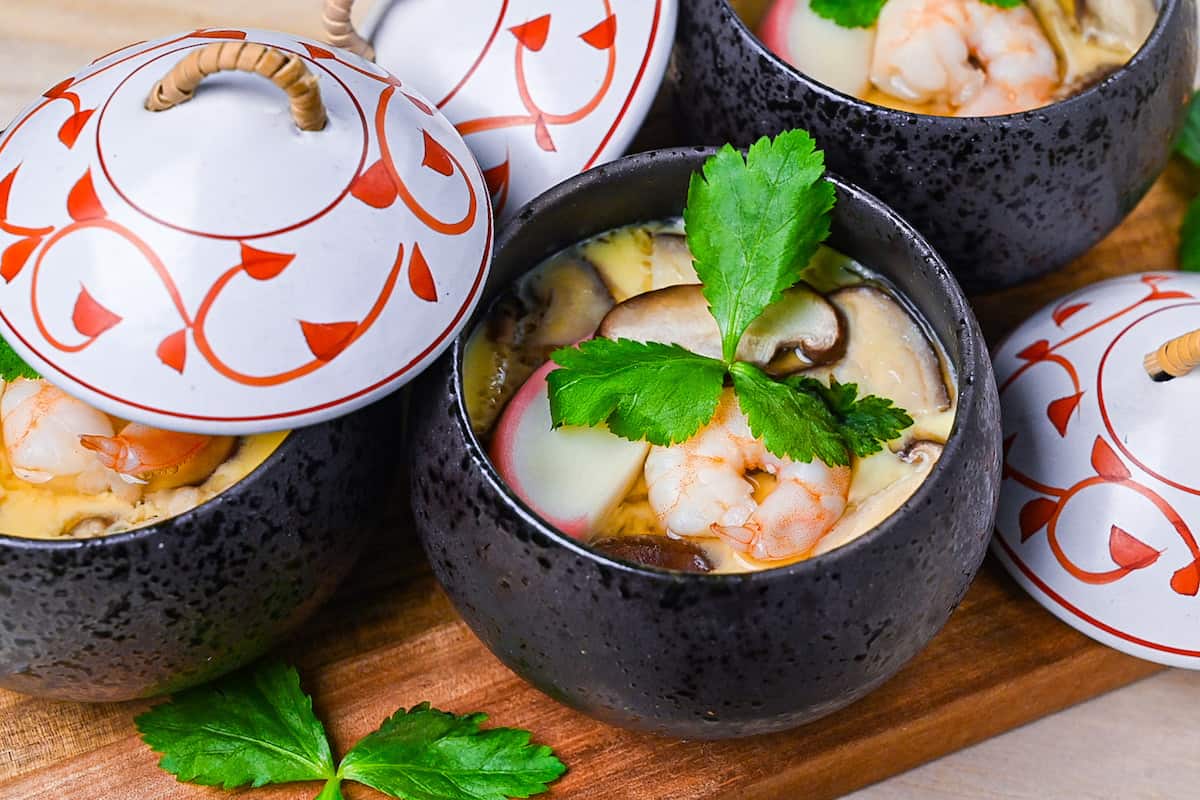 Chawanmushi egg to dashi ratio
Chawamushi is relatively delicate dish to make so the egg to dashi ratio is very important to make its iconic smooth texture. The general rule of thumb for the ratio is 1 part egg to 3 parts dashi and condiments. (1:3)
Because eggs come in different sizes, I recommend measuring the eggs you use in a measuring cup. Based on my experience, 2 medium sized eggs are approximately 120ml, in that case, 360ml of liquid made up of dashi stock mixed with condiments should be added to make the mixture.
Please note that in this recipe, you cannot replace dashi with water as it's a vital ingredient.
Ingredients to make this chawanmushi
Eggs
Kamaboko (pink and white fishcake)
Shiitake mushroom
Whiteleg shrimp
Mitsuba (Japanese parsley)
Sake (I use Takara brand cooking sake)
Salt
Kamaboko
Kamaboko is a type of Japanese fish cake made white pureed white fish that is shaped into loaves and steamed. It has a mild flavour and slightly rubbery texture and is often served with udon noodles.
If you can't get kamaboko where you live then imitation crab sticks are probably the closest alternative.
Shiitake mushroom
Shiitake are a type of large mushroom known for its umami-rich flavour and meaty texture. I use fresh shiitake in this recipe, but you can use dried ones and rehydrate them before adding them to your chawanmushi.
Dashi
Dashi is probably one of the most important element of chawanmushi (other than eggs of course). It holds the authentic Japanese flavour and without it, your chawanmushi would be bland.
I have number of homemade dashi recipes on my site including:
I think using homemade dashi stock does elevate the dish and give it a more elegant flavour, however, if you don't want to make it from scratch, you can also purchase dashi powder that you simply mix with water. It is available here on Amazon.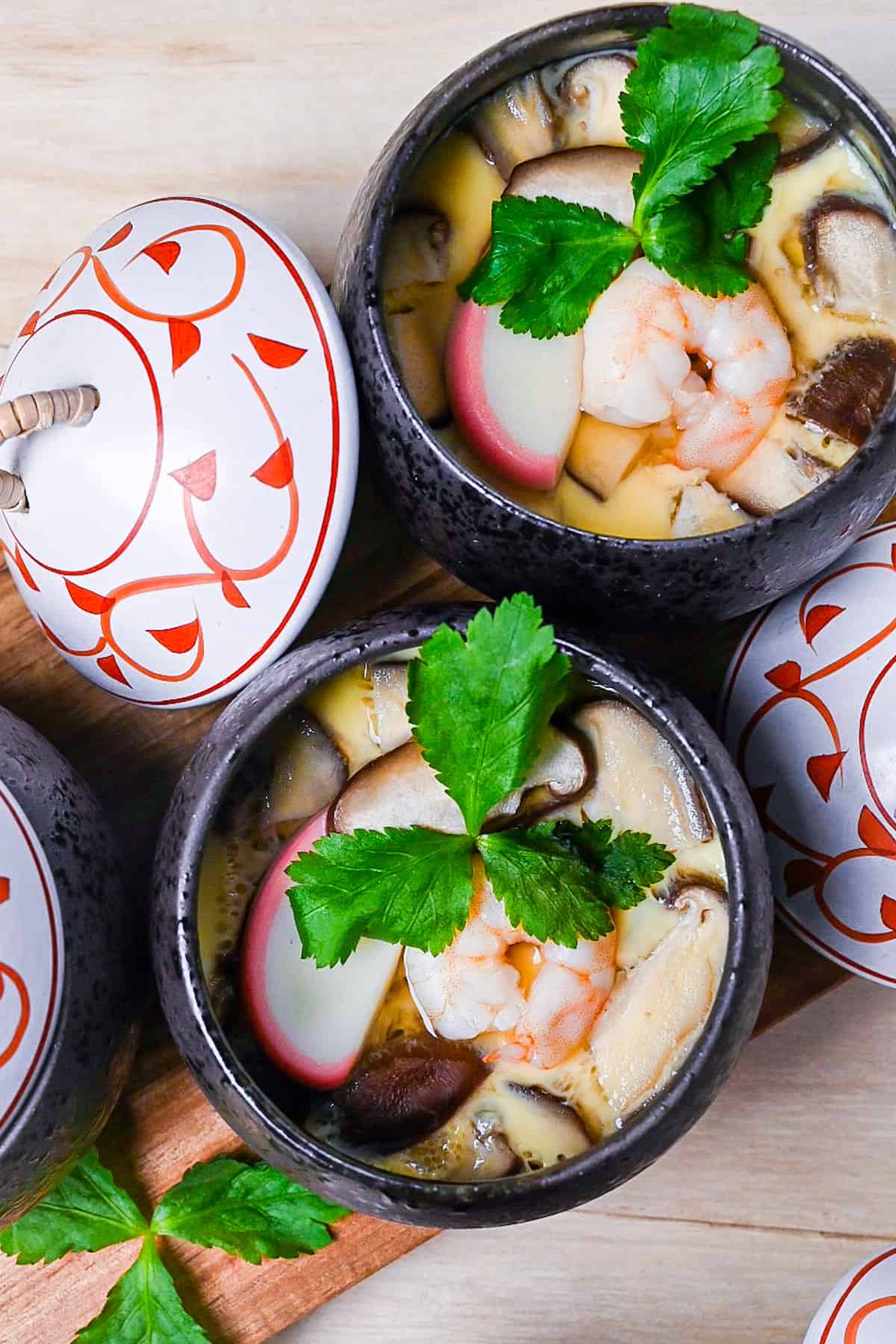 Instructions on how to make chawanmushi
Chawanmushi is a delicate dish and surprisingly, there is plenty that can go wrong! Here is my step by step guide on how to make chawanmushi at home along with tips and tricks to get it perfect every time! (See the printable recipe card at the bottom of the page for ingredient quantities.)
Prepare your ingredients
Start by cutting your ingredients into bitesize pieces, they should be small enough that you never have to try and cut through while eating. I thinly sliced the shiitake mushrooms and kamaboko then cut them in half, the shrimps are cut into halves or thirds depending on the size.
I also recommend setting aside one of each ingredient for each serving to garnish the top, this is for presentation. So if you're making 4 portions, set aside 4 whole shrimps, 4 slices of kamaboko and 4 slices of shiitake mushroom.
Divide the ingredients
Divide the ingredients evenly between the chawanmushi cups. (It's also fine to use ramekins or small heatproof bowls.)
Place the topping ingredients in a separate heatproof bowl and submerge them in dashi (or water). I cook them in the steaming basket together with the chawanmushi, then use them to decorate the top after cooking.
Cook the toppings separately
Because chawanmushi mixture is thin, the ingredients tend to sink to the bottom. I steam the toppings in separate bowl filled with dashi and place them on top at the end.
Crack the egg into a measuring jug
Crack the eggs into a measuring jug and lightly mix it. Use the measurements on the jug to check the volume of egg. From this, you will be able to calculate how much liquid you need to add.
It's important to know the volume of the egg so that you can accurately calculate how much liquid needs to be added to achieve the perfect silky texture for chawanmushi. The ratio should be 1:3 eggs to liquid.
The perfect egg to dashi ratio in chawanmushi is 1:3 so be sure to measure your eggs!
In this case, my eggs were 120ml so I needed 360ml of liquid made up of dashi, mirin and sake. The total mixture will be 480ml at the end. To avoid too many calculations, just work out the total volume needed, add the mirin and sake to the egg and then top up with dashi.
Add dashi and condiments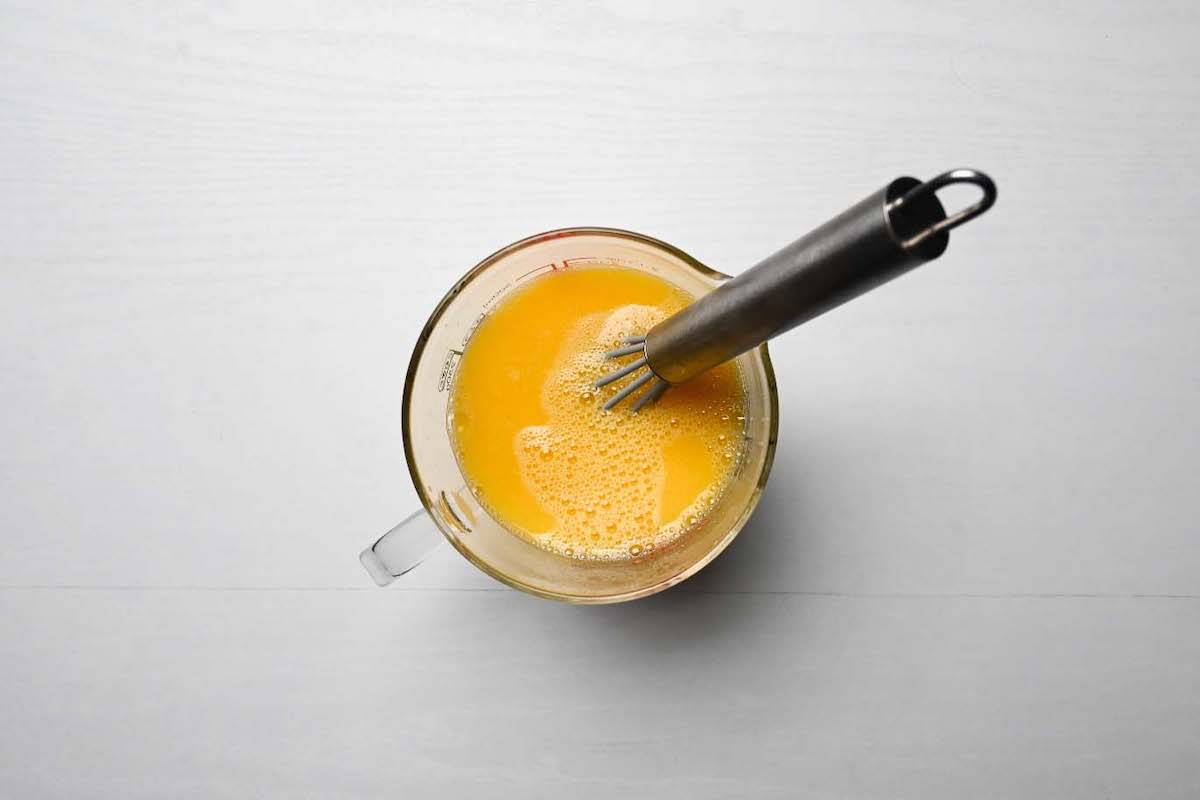 Once you've calculated how much the mixture should be in total, add the salt, sake and mirin. After these are added, pour the dashi up to the calculated point. In my case, I filled the jug up to 480ml.
Gently whisk to combine the ingredients, it's important not to let foam or too many bubbles form in the egg. Chawanmushi has a smooth texture but if you whisk the egg vigorously your chawanmushi will have air bubbles which is not good!
Try your best to prevent air bubbles and foam by whisking gently.
Strain
Pouring the mixture through a mesh sieve will make the mixture extra smooth, this step shouldn't be skipped if you want your chawanmushi to have the perfect texture!
Additionally, if your egg formed a few bubbles during the mixing step, then pouring it through sieve will either break them or remove them.
Strain egg mixture for smooth texture
Straining the egg is a vital step for achieving a smooth and silky chawanmushi.
Evenly pour the egg mixture into the containers. My total mixture was 480ml so that's 120ml per portion.
Top with foil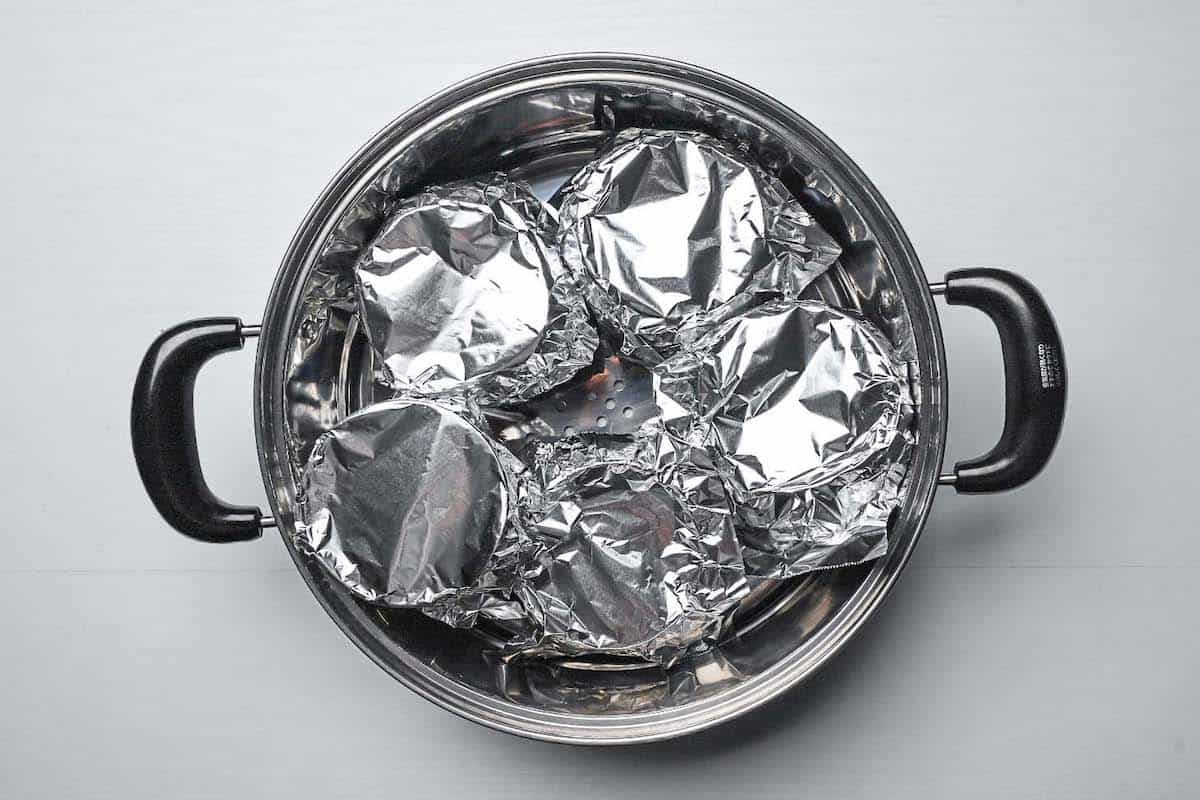 If you steam the chawanmushi uncovered, then drops of water will form on the steamer lid and drop into the mixture, this will ruin the texture of the chawanmushi and make it watery.
Of course, if your containers come with lids you don't need to worry about this step.
If you use container without lid, cover it with foil
To prevent drops of water from the steam entering your chawanmushi, top each container with foil.
Place the containers (including the one with the toppings) inside a steaming basket.
Steam
Add plenty of water to a steamer and bring it to a boil over a high heat. Once it's bubbling, place the steaming basket on top with a lid and steam for 3 minutes on high.
After 3 minutes, turn the heat down to low and simmer for 10 minutes. This is 13 minutes of steaming time in total.
Check to see if the mixture is set
Remove one container from the steaming basket and tilt it gently to make sure they're set! (Use oven mitts to protect your hands!)
Once the time is up, remove the lid and take out one of the cups. Be careful of burns from the steam or hot containers, I recommend using oven mitts or something similar to protect your hands. Remove the foil and tilt it slightly to make sure it's set. If it moves then you will need to continue steaming and then check every 1-2 minutes until they're set.
Garnish
Drain the dashi from the topping ingredients and place one of each ingredient on top of each serving. Garnish with mitsuba (Japanese parsley) and serve hot or cold!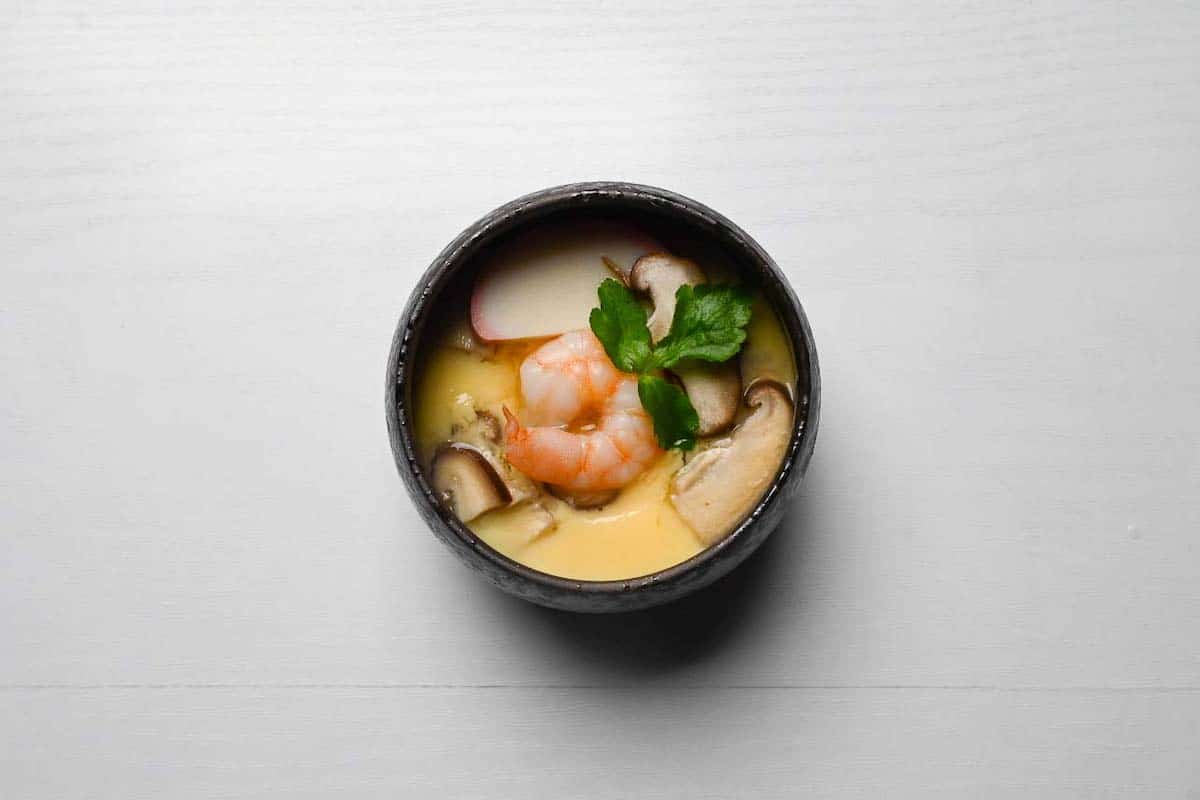 Storage
Chawanmushi can be stored in the fridge for 1-2 days. You cannot freeze chawanmushi.
You can enjoy it chilled, but in the case that you prefer the dish warm and want to reheat it, I recommend covering the top and placing the container in a bowl of boiling hot water. It will take about 10 minutes to warm all the way through but this gentle method will maintain the silky texture.
Alternatively, some people microwave it. This is risky because the egg can explode and the texture might become rubbery. If you want to try microwaving, a lower wattage is better. Heat it in intervals (about 20 seconds at a time) until it is warmed through. This method is faster, but requires more care.
Substitutions and variations of this chawanmushi recipe
In this section, I will list all the alternative ingredients, substitutions and variations against the recipe card below to make the best chawanmushi to your preference:
Chicken for more meaty flavour: replace with prawns or even add little bit of chicken in addition to prawns
Scallops for richer taste: replace with prawns or even add little bit of scallops in addition to prawns
Crab: replace with prawns or even add little bit of crab meat in addition to prawns
Other types of prawns including lobster: you might have to cut smaller depending on the size
Chikuwa: as humble alternative to kamaboko
Ginkgo nuts: for an authentic addition
Other types of mushroom: instead of shiitake mushroom
Spinach: instead of mitsuba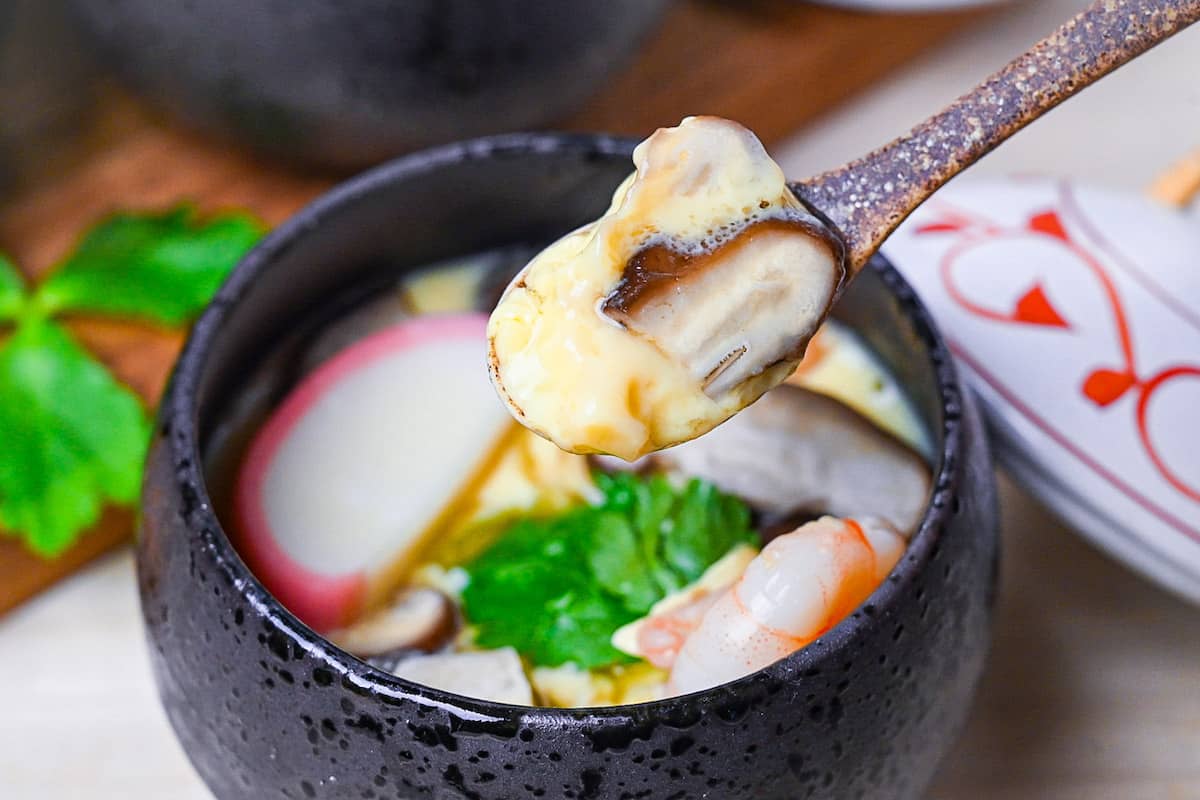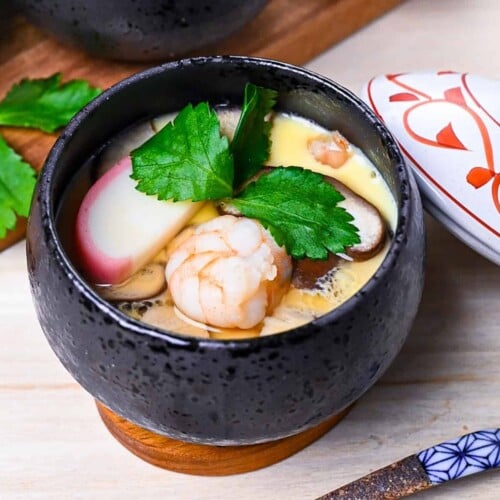 Authentic Chawanmushi (Japanese Steamed Egg Custard)
---
How to make authentic Chawanmushi with Japanese fish cake, shrimps and shiitake mushrooms steamed in a silky savoury egg custard.
---
---
---
---
Ingredients
2

medium egg(s)

approx 60ml/2 floz per egg

¼

tsp

salt

8

slices

Japanese fish cake "kamaboko"

kamaboko

2-3

fresh shiitake mushroom(s)

thinly sliced

100

g

shrimp

1 whole for each serving, the rest cut into halves or thirds

500

ml

dashi stock

three times the total egg volume + extra for cooking the toppings

½

tsp

sake

1

tsp

mirin

Japanese parsley

(mistuba) optional garnish
Instructions
Start heating a pot of water ready for steaming.

For each serving, set aside 1 whole shrimp, a slice of shiitake mushroom and a slice of kamaboko and place them in a small heatproof bowl. Pour dashi (or water) into the bowl until the ingredients are submerged. Cover with foil and place it in the steaming basket.

Cut the rest of the ingredients in halves or quarters and distribute them evenly between the chawanmushi containers. 

Crack the eggs into a measuring cup and make a note of the liquid volume. Lightly mix to break up the yolk.

Add salt, sake, mirin, and top up with dashi until the total volume is 4 times the original volume of the egg. (Example: 100ml egg requires 300ml dashi/condiments to make 400ml in total)

Place a fine mesh sieve over a mixing bowl and pour the egg mixture through. You might need to use a spatula to help work through any lumps.

Transfer the mixture back into a jug for easy pouring and divide it evenly between the chawanmushi containers.

If the cups have lids, place the lids on, if not, cover each one with foil. Place them inside a steaming basket together with the bowl of toppings from earlier.

Once the pot of water is boiling, place the steaming basket on top with the lid on and steam the chawanmushi for 3 minutes with a high heat.

After 3 minutes, lower to simmer and continue to steam for 10 mins (13 minutes in total).

After the time is up, check the chawanmushi is set by removing the foil of one cup and gently tilting it. (Use an oven mitt to protect your hands.) If it's not set, steam them for another 1-2 minutes and keep checking the progress until the chawanmushi has set.

Garnish with the dashi soaked toppings and a leaf of mitsuba (Japanese parsley).

Enjoy hot or cold!
Nutrition
Calories:
87
kcal
|
Carbohydrates:
156
g
|
Protein:
11.4
g
|
Fat:
3.4
g
|
Saturated Fat:
1
g
|
Polyunsaturated Fat:
0.5
g
|
Cholesterol:
156
mg
|
Sodium:
427
mg
|
Fiber:
0.3
g
Can I use water instead of dashi to make chawanmushi?
Unfortunately, no. Dashi is a vital ingredient for chawanmushi and it will be too plain without it (the flavour is subtle even with dashi). However, you can use dashi granule if you don't want to make dashi from scratch.
What is chawanmushi English?
It can simply be translated as "Japanese steamed egg".
When should I eat chawanmushi?
Chawanmushi is usually treated the same way as a soup and can be eaten as an appetiser or side dish.
Why is it called chawanmushi?
If you break the term down in Japanese, it becomes chawan (tea cup or rice bowl) and mushi (steaming as cooking method).