Chinjao Rosu is a delicious Japanese stir fry dish inspired by Chinese "pepper steak". Made with thin shreds of beef or pork fried with vibrant bell peppers and seasoned with soy sauce and oyster sauce, this quick and easy recipe is packed with flavour and can be ready in less than 30 minutes!
Disclaimer: This post contains Amazon affiliate links. Sudachi Recipes earn a small percentage from qualifying purchases at no extra cost to you. See disclaimer for more info.
Jump to:
What is Chinjao Rosu?
Chinjao rosu is a delicious dish made with thin strips of pork or beef, bell peppers and bamboo shoots stir fried in a simple yet flavourful sauce made with soy sauce, oyster sauce and chicken stock powder.
Although cutting all the ingredients into thin slices is a little time consuming, the cooking time is extremely short making this a great dish to prep in advance if you want something easy and delicious for dinner.
Chinjao Rosu is often served in Chinese restaurants, made at home and even served in bento lunchboxes. Even though kids in Japan are famously known for disliking green peppers (piman), the simple and tasty sauce makes this dish a firm family favourite in Japan!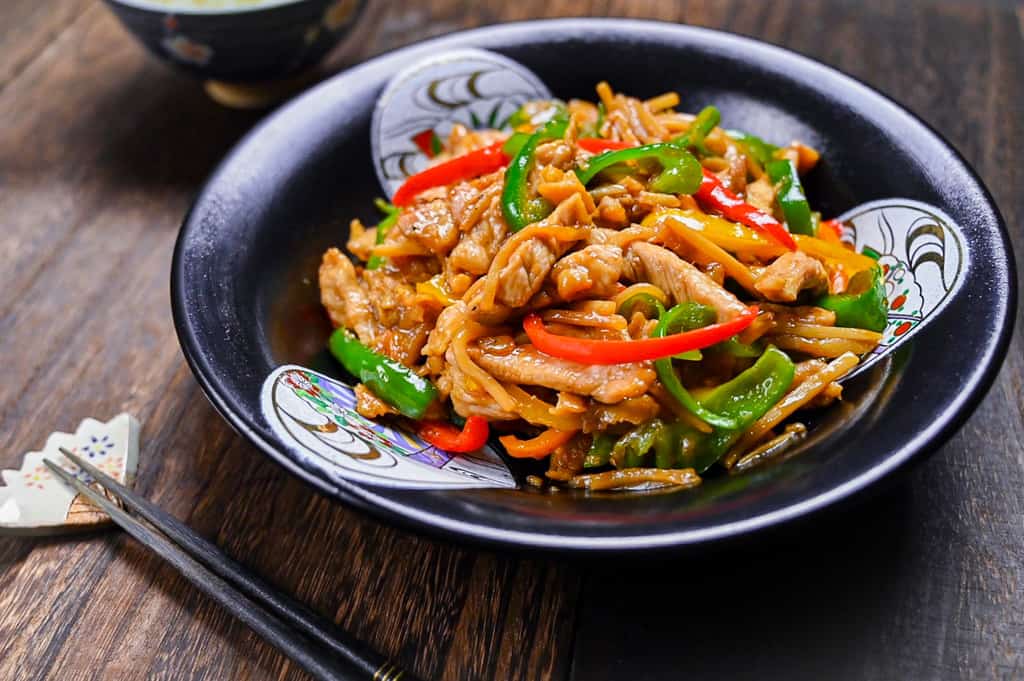 A brief history of Chinjao Rosu in Japan
You might be able to tell from the name, but the origin of this dish is not Japanese. Chinjao Rosu (チンジャオロース) is the Japanese pronunciation of a Fujian Chinese dish called "Qīngjiāo Ròusī" (青椒炒肉絲) which means stir fried pepper and shredded pork.
Chinjao rosu is said to have originated Guizhou and Hunan provinces in China in the late 18th century, took root in Sichuan in the 19th century, and then spread throughout China.
The dish was first introduced in the early 1950's by famous chef, Chen Jianmin, who came to Japan to promote Sichuan cuisine. He introduced many Chinese dishes in an accessible way that suited Japanese tastes and were suitable for home cooking. This is the reason why dishes such as Mapo Tofu (Mabo Dofu) and Ebi Chili (Shrimps in Chili sauce), just to name a few, are Japanese family favourites even to this day.
Chinjao rosu is popular not only in Asia but also around the world, and is similar to the Chinese-American dish "Pepper Steak" which uses beef instead of pork. In China, the dish is better known for being made with pork and a beef version of the dish would be called "Qīngjiāo Niúròu" (青椒牛肉) which means stir fried pepper and beef.
Japanese Chinjao Rosu is influenced by the American style, which is characterized by using beef and being coated in a thick sauce, however it is not uncommon to use pork too, as I do in this recipe! There's more about whether to use beef or pork in the detailed ingredient list below!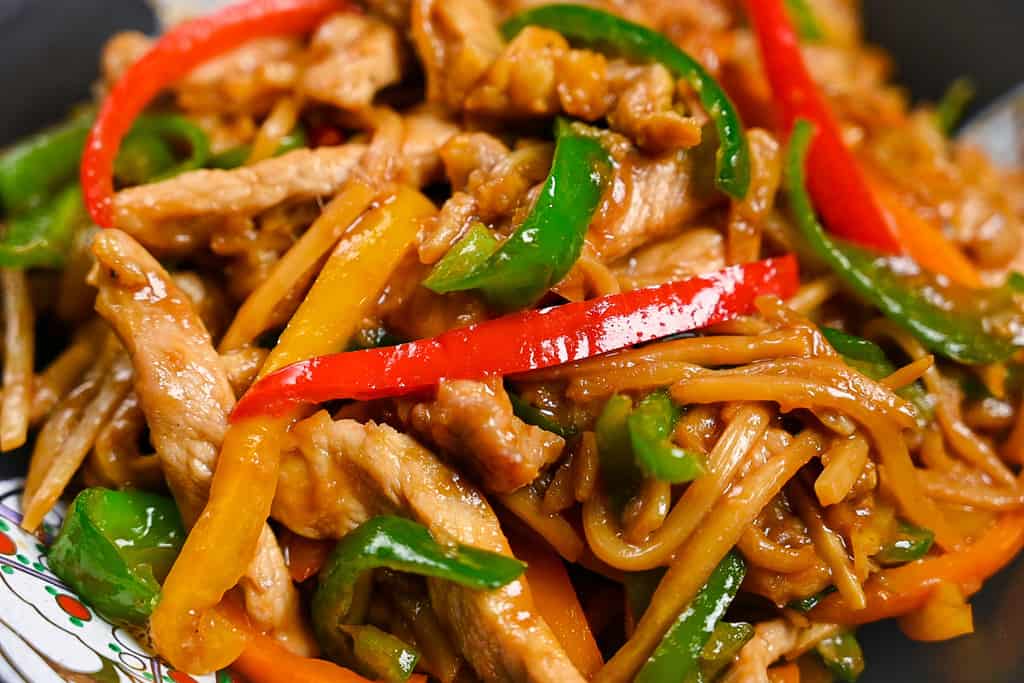 Chinjao Rosu Ingredients
The great thing about chinjao rosu is the fact that it uses simple, easily accessible ingredients.
For my chinjao rosu I use:
Bell peppers - red, yellow and orange tend to be sweeter whereas green is slightly more bitter. Use a combination of both for good balance!
Bamboo shoots - Japanese chinjao rosu often contains bamboo shoots for extra crunch.
Pork or beef - I use thinly sliced pork loin in this recipe. See below for more information on the cuts of beef or pork you can use.
Fresh ginger - Balances the flavour of the meat.
Garlic cloves - Adds great flavour.
Sesame oil - For frying.
Should I use beef or pork for chinjao rosu?
Whether you use beef or pork for this dish comes down to preference, the original Chinese version of the dish (qīngjiāo ròusī) tends to use pork whereas the Americanized version more commonly uses beef.
It is believed that Japanese Chinjao Rosu takes more influence from the American pepper steak and many recipes use beef, however this varies depending on the region, family or personal preference. Since Japan takes influence from both countries, either pork or beef can be used for this recipe.
Pork - If you're using pork, I recommend shoulder or butt for cuts that are juicy, packed with flavour and have plenty of fat. If you prefer a leaner cut, use loin or tenderloin.
Beef - If using beef for this recipe, flank, sirloin or round steak are all good options. Although I include tenderizing techniques in my recipe, beef should be thinly sliced to ensure it doesn't become tough when stir fried.
Velveting / Marinade
Ever wondered how your favourite takeaway gets the meat so soft and flavourful? Well, they most likely used a technique called "velveting", a method of marinating the meat in starch, egg, cooking wine and condiments to help break down the proteins and absorb more flavour. For this key step you will need:
Egg - egg whites are a natural alkaline ingredient that help tenderize the meat.
Corn starch (or potato starch) - helps seal the juices in the meat.
Sake - removes odor from meat and improves the texture. (Most Chinese recipes use Shiaoxing cooking wine for the same reason.)
Salt and black pepper - to season.
Soy sauce - for added umami.
Sesame oil - adds a subtle nutty flavour.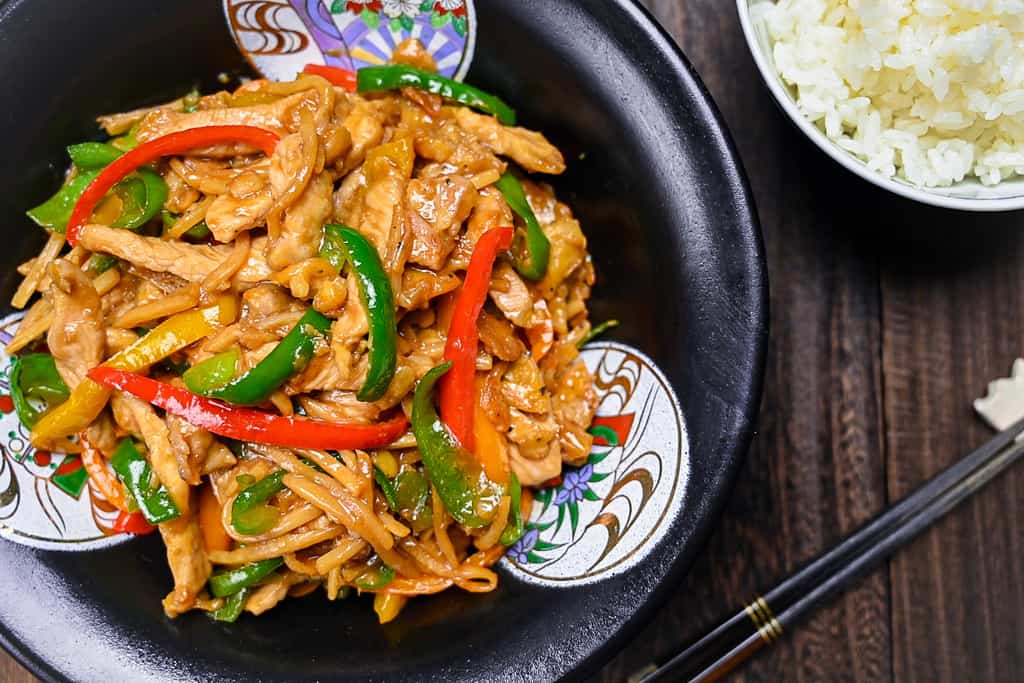 Pepper Steak Sauce
Chinjao Rosu is flavoured with a simple sauce that is packed with umami. Typical ingredients include:
Oyster sauce - for savoury flavour, umami and depth.
Soy sauce - adds saltiness and umami.
Sugar - for a pinch of sweetness.
Chinese chicken stock powder - a foundation flavour that adds depth, and you guessed it, more umami!
Starch - to make the sauce thick and glossy.
This sauce is so easy to make and only uses a handful of ingredients, but most importantly it tastes so good!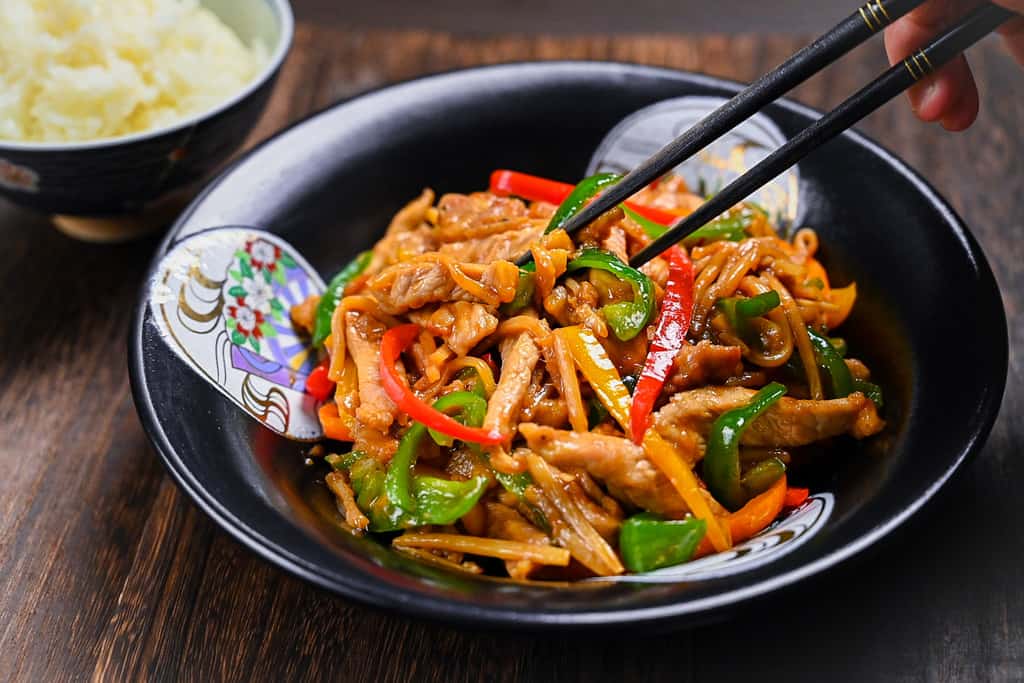 Instructions on how to make delicious Japanese pepper steak at home
Once you've prepared your ingredients, this dish can be cooked in minutes! Here is my full step by step recipe with pictures. If you need the ingredient quantities, check out the printable recipe card at the bottom of the page!
Tenderize the pork
In this recipe, I use pork loin. It's quite lean but also has a thick rim of fat that adds extra flavour to the dish. To speed up the cooking time as well as tenderize the meat, I start by pounding the pork with a rolling pin until it's about 1cm (½ inch) thick.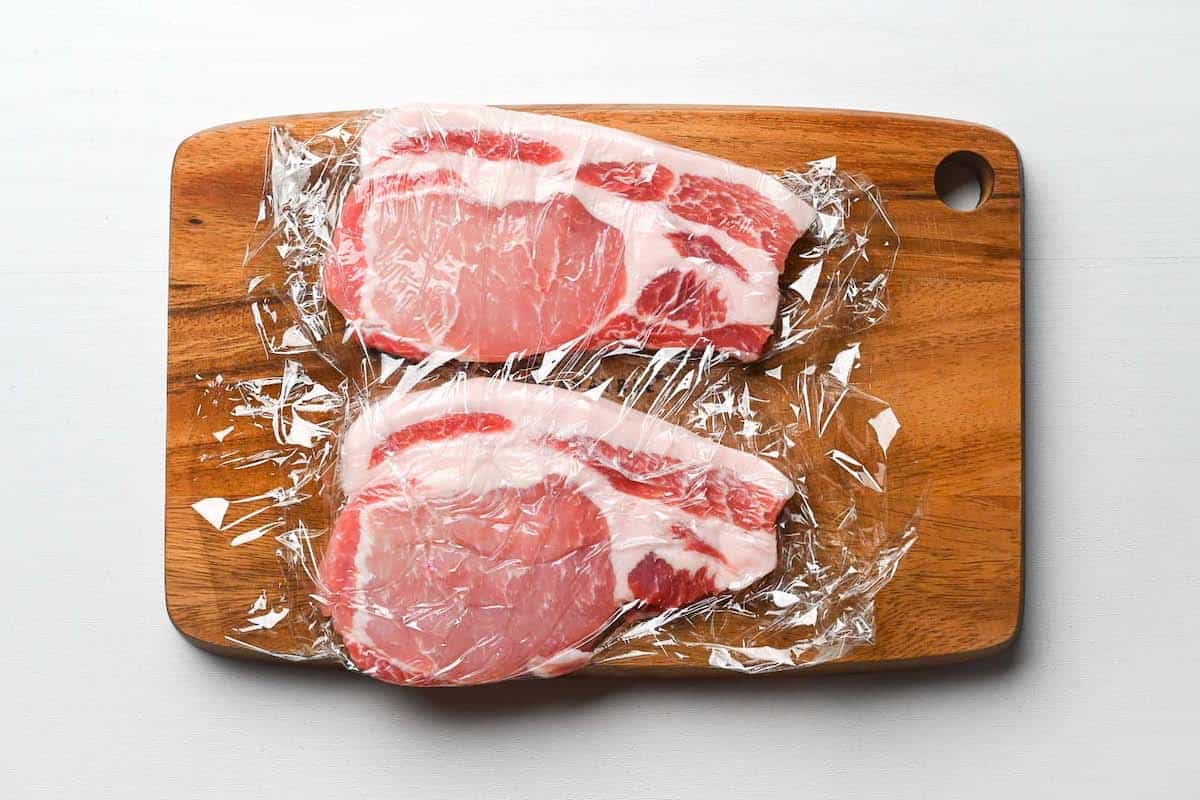 Once you reach the desired thickness, cut into strips about ½ - 1cm thick. By cutting the meat thin, it will add uniformity to the dish and speed up the cooking process.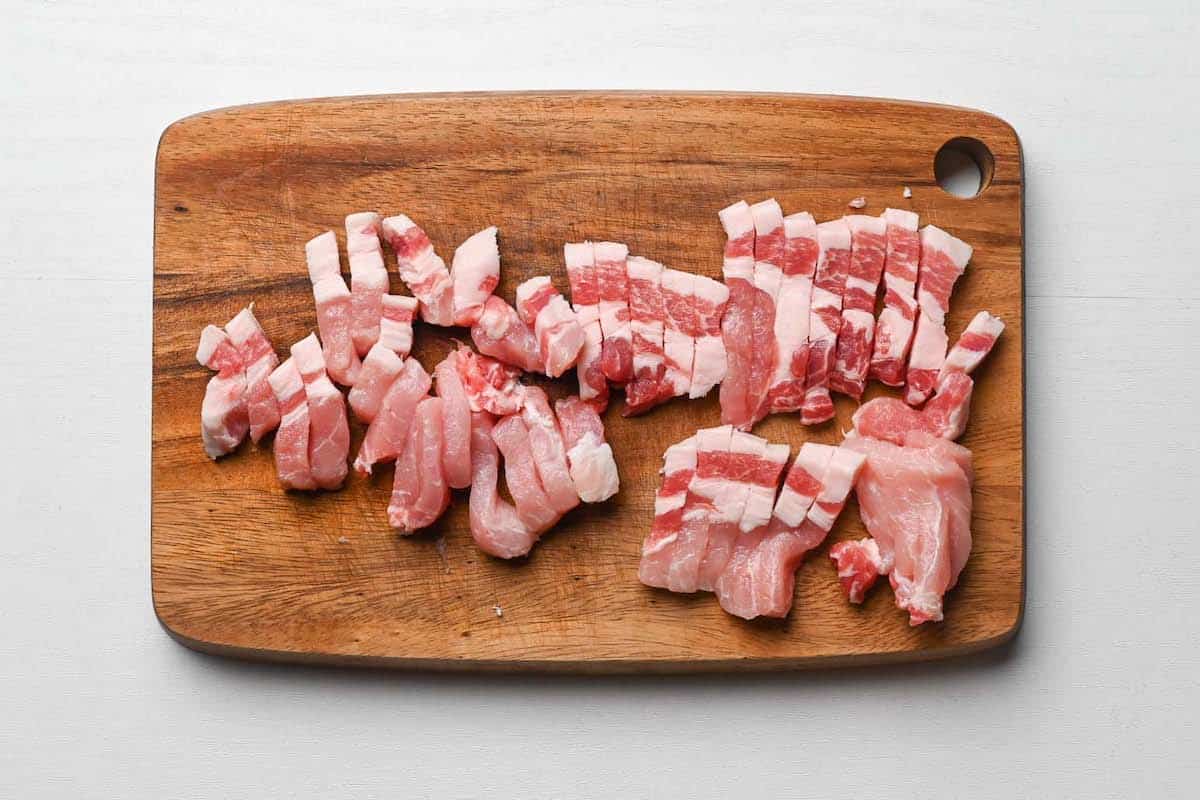 Velveting the meat
Next, take a large mixing bowl and whisk an egg. Once the whites and yolks have combined, add the pork strips along with sake, salt and soy sauce.
Add corn starch (or potato starch) and mix thoroughly.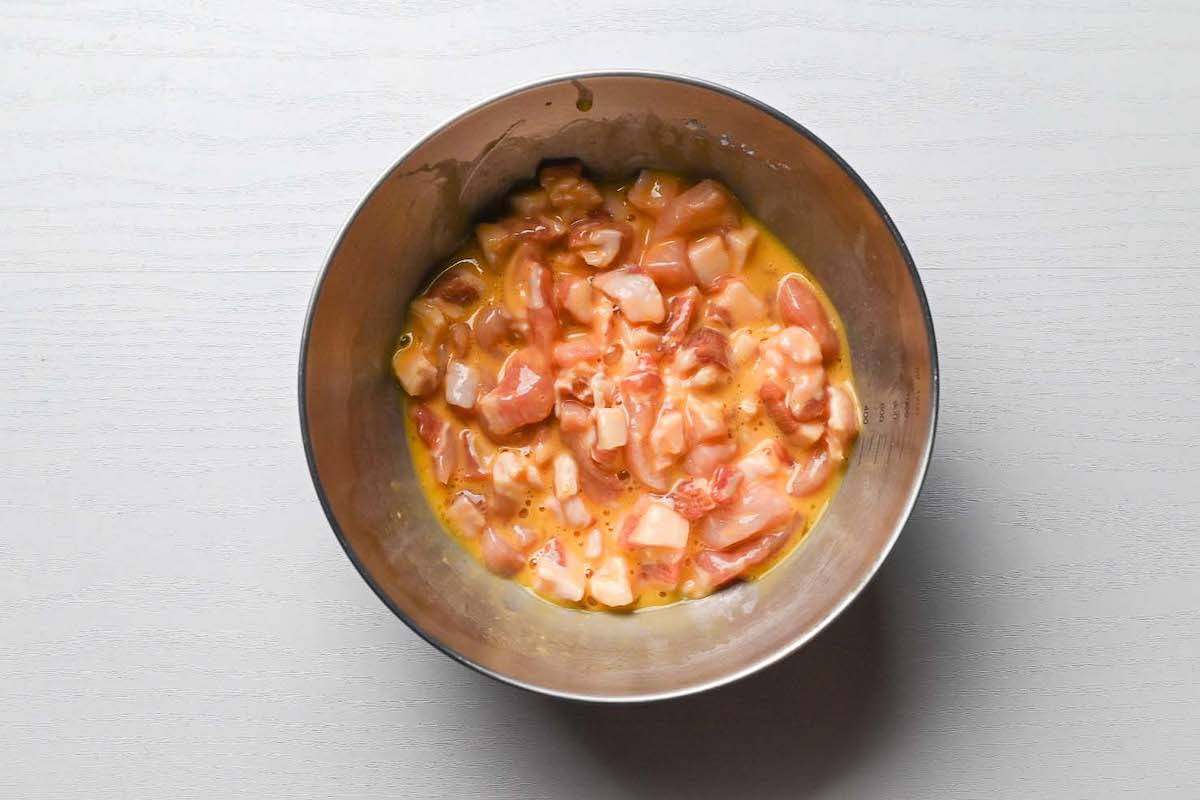 Finally, add a drizzle of sesame oil and set the bowl aside until it's ready to cook.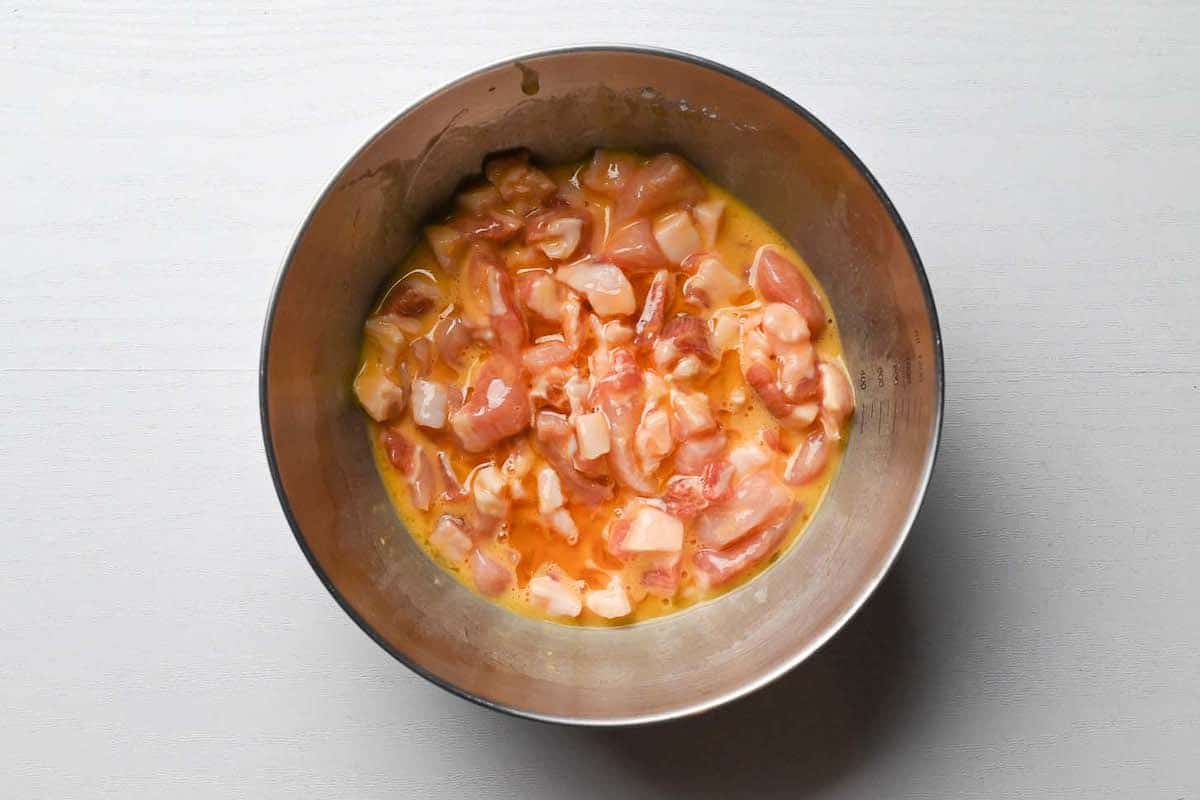 Prepare the vegetables
One of the key features of chinjao rosu is that everything is cut into thin strips. Not only does this keep down the cooking time, but it also improves the presentation.
Julienne the bell peppers, bamboo shoots and ginger. The ginger should be especially thin. I also thinly slice the garlic, but you can crush it if you prefer.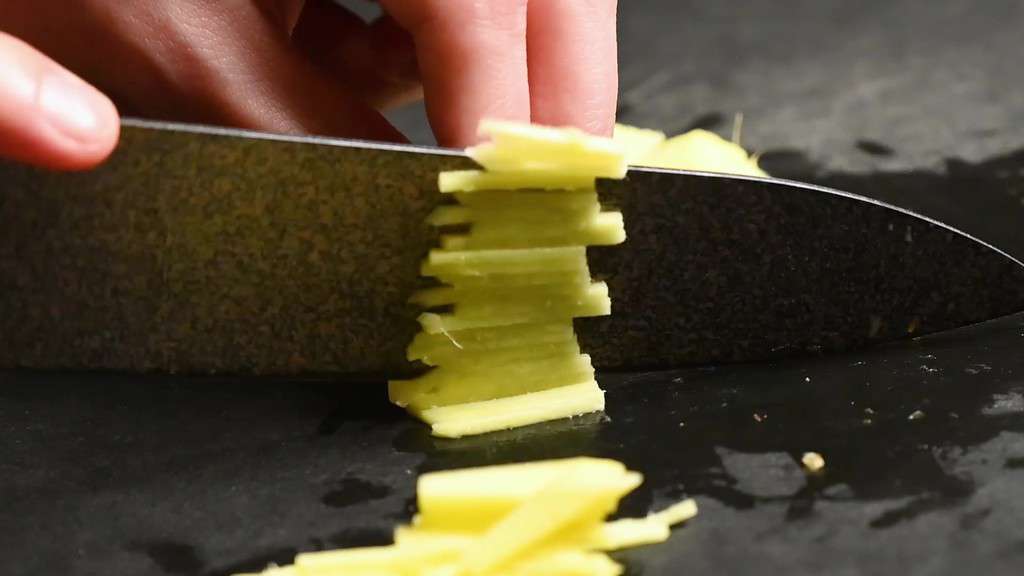 Make the sauce
In a small bowl, add the oyster sauce, soy sauce, sugar, chicken stock powder and water. Mix well until the sugar has dissolved.
In a smaller bowl, mix a small amount of cold water and corn starch (or potato starch) to make a slurry. Pour the slurry into the sauce, mix well and set near the stove ready for later.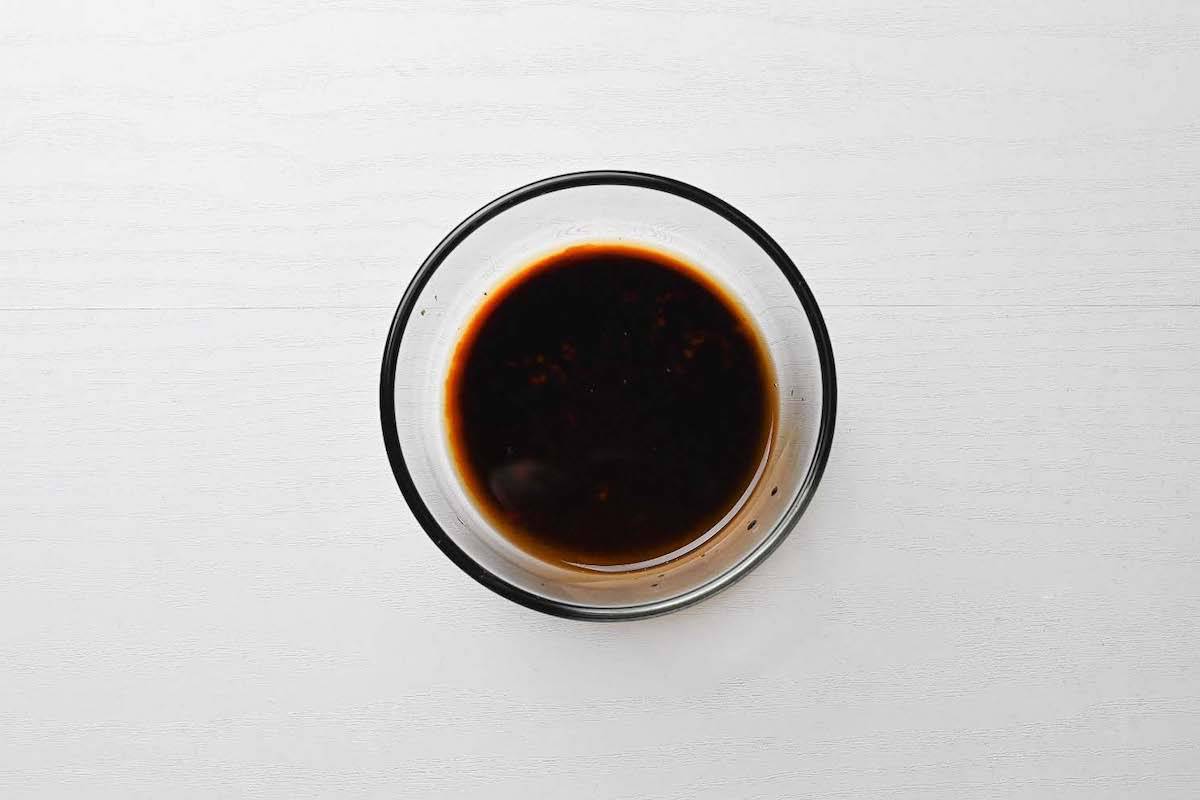 The reason I make the slurry separately is to prevent any lumps of starch in the sauce. If you mix it in a separate bowl, you can ensure it's smooth before pouring it into the sauce.
Fry the pork
Heat a wok on medium-high and once it's hot, add 1 tbsp of sesame oil and the contents of the bowl of pork. The egg mixture will create a beautiful golden crust on the pork that will absorb the sauce later.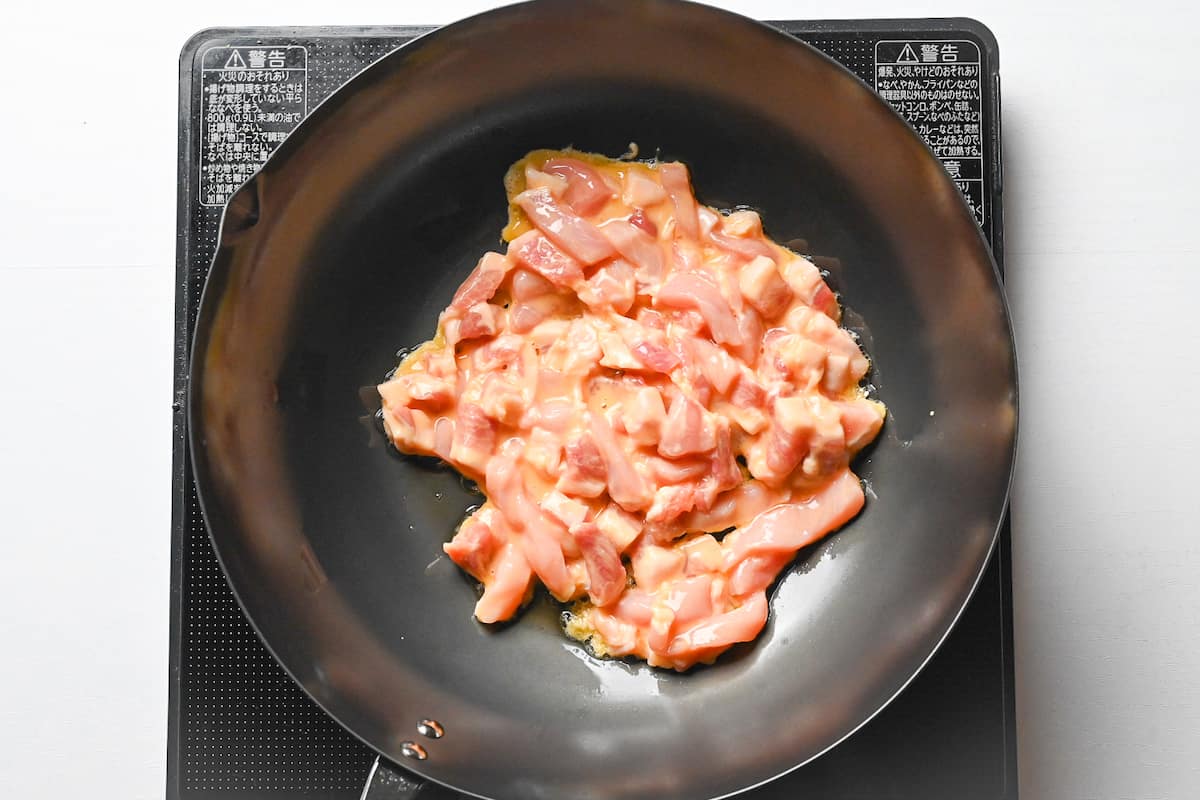 Once the pork is cooked through, transfer it to a plate and set aside for later. This is important to avoid overcooking.
Fry the vegetables
Using the same wok, add an extra drizzle of sesame oil and add the bamboo shoots. Fry for a few minutes.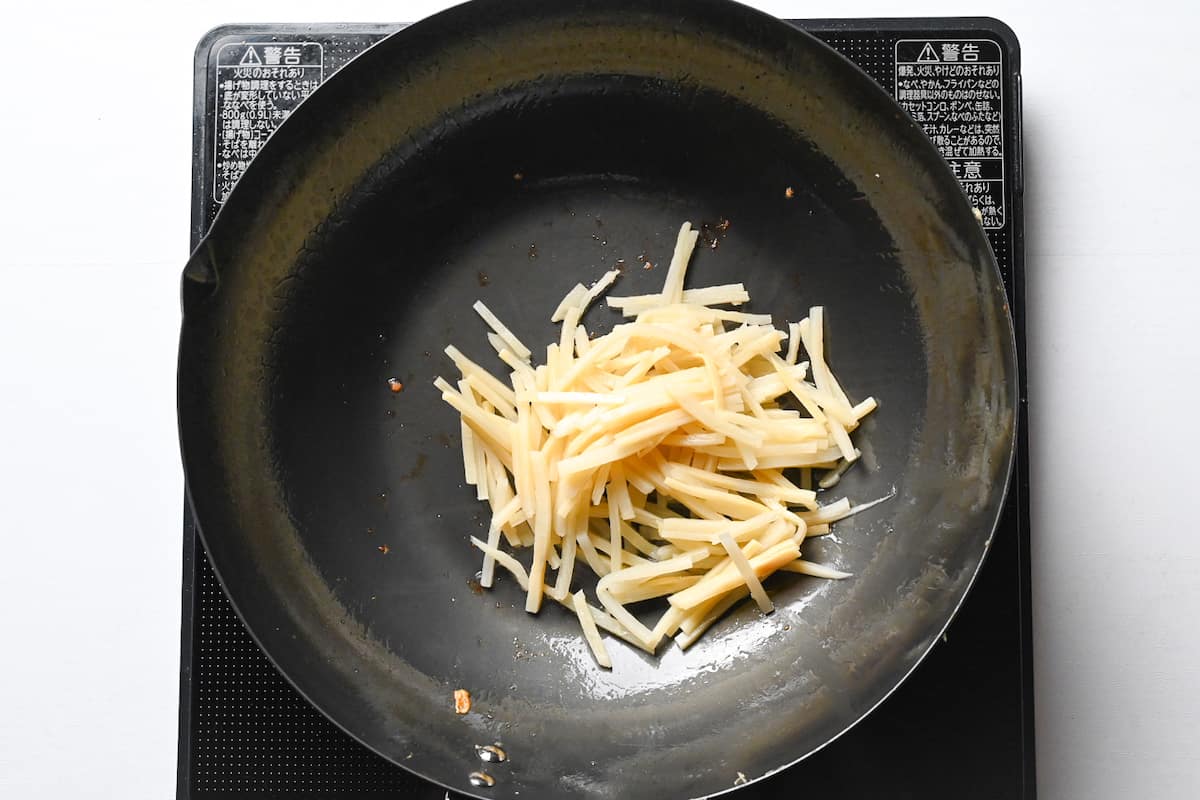 Add the bell peppers, ginger and garlic and stir fry for 2-3 minutes.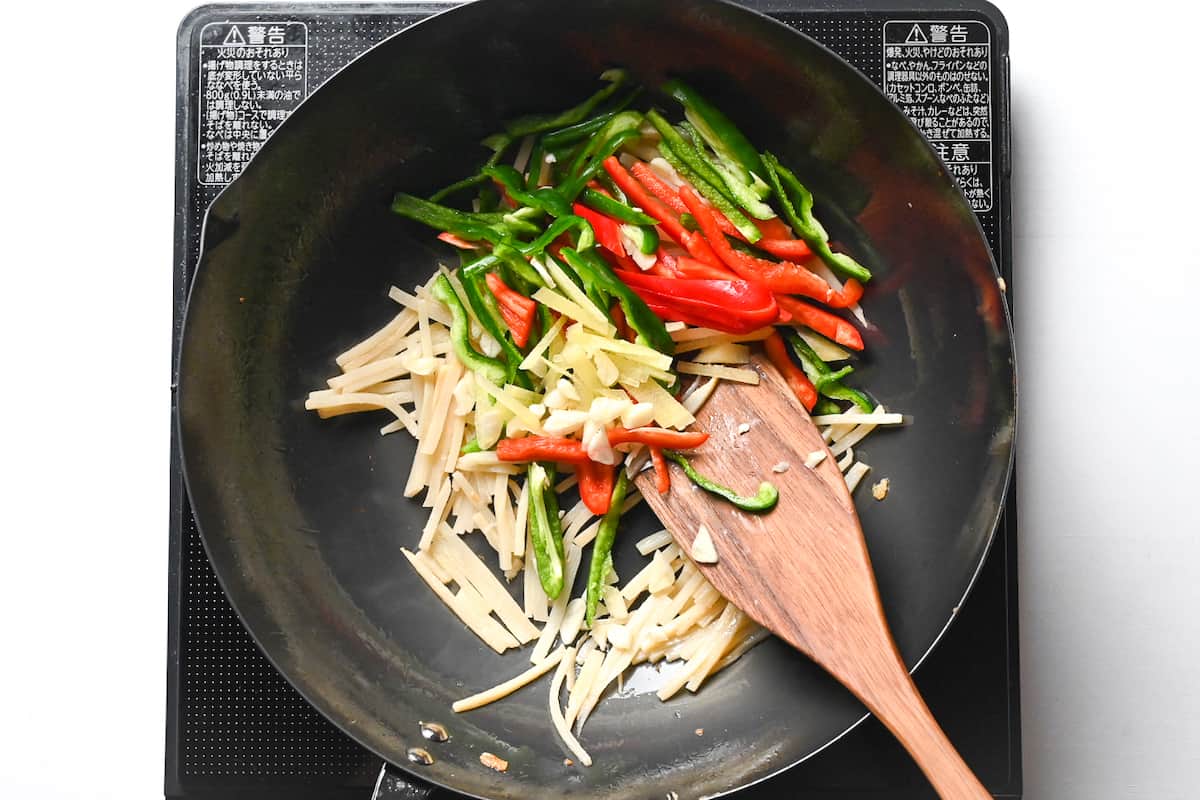 Next, add the pork back in and mix everything together.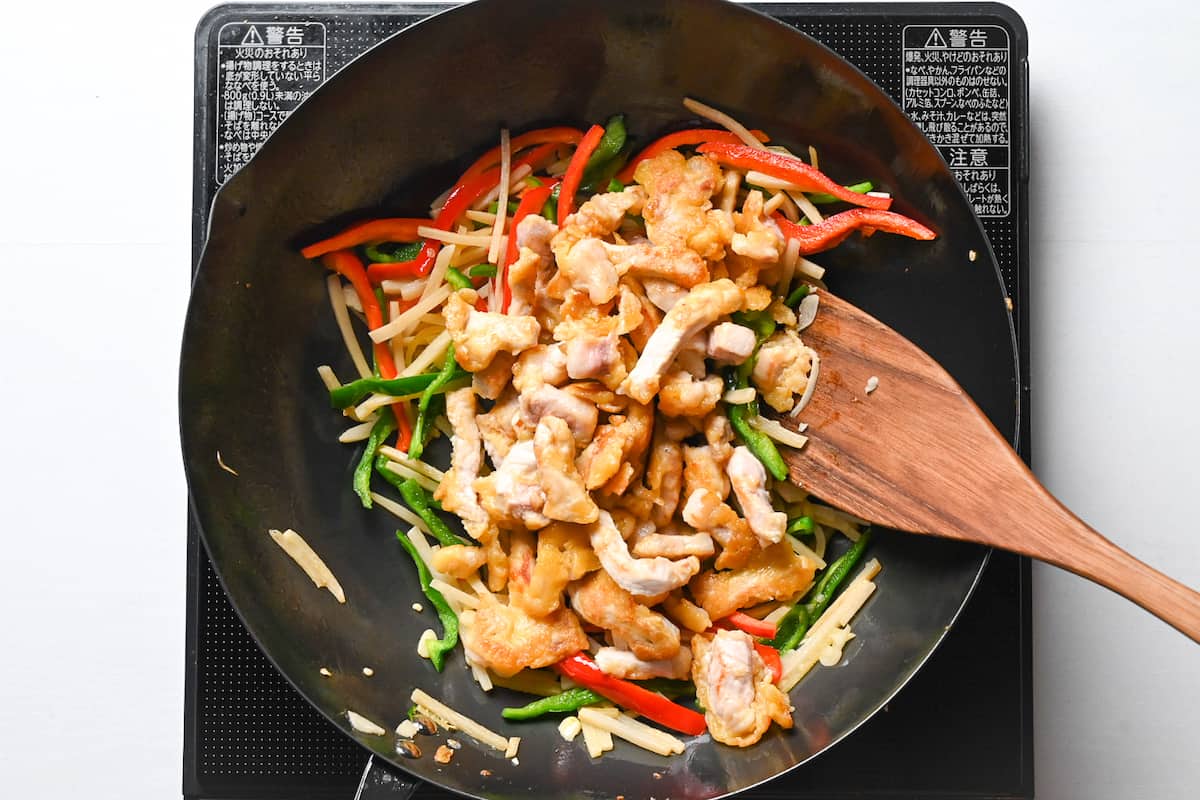 Add the sauce
Turn off the heat, give the sauce a final mix (to ensure the starch hasn't sunk to the bottom) and then pour it around the wok. Mix well, allowing the sauce to heat through and thicken using the residual heat.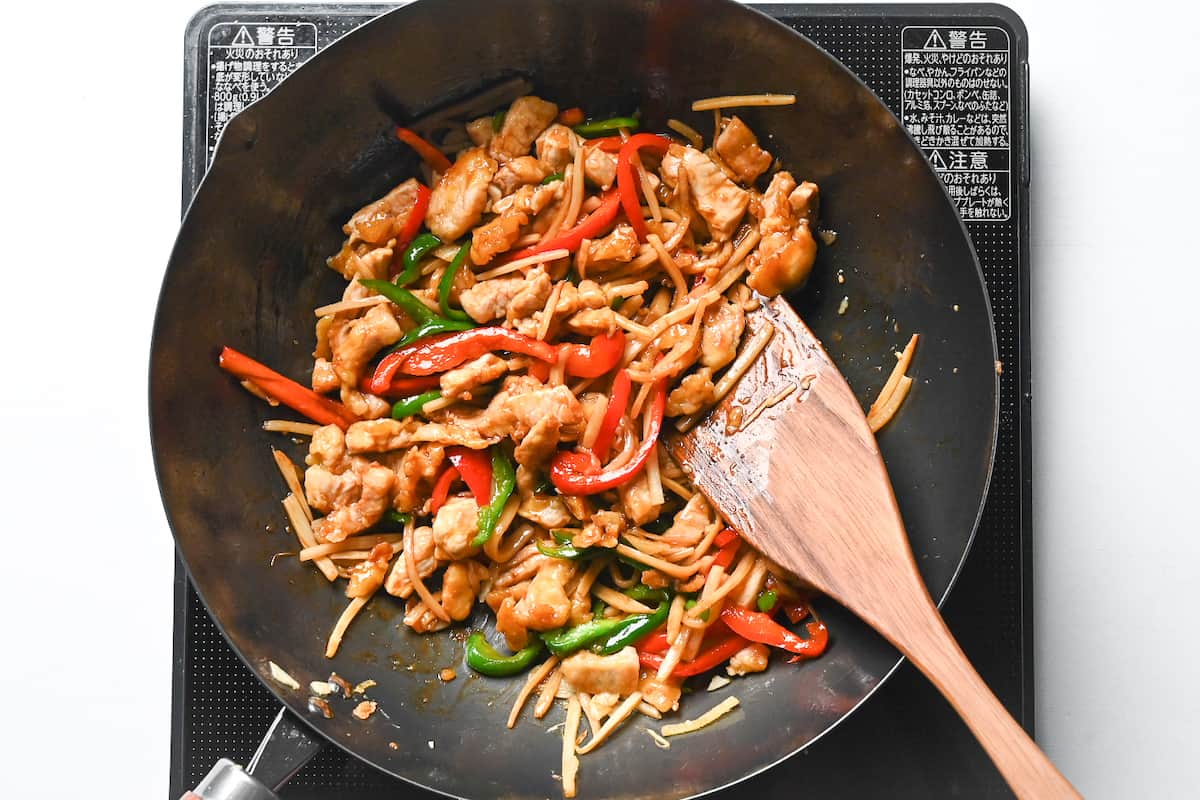 By turning off the stove, we prevent the sauce from becoming overcooked and sticky, instead it should be slightly thickened and glossy.
Serve
Transfer the contents of the wok to serving plates and enjoy!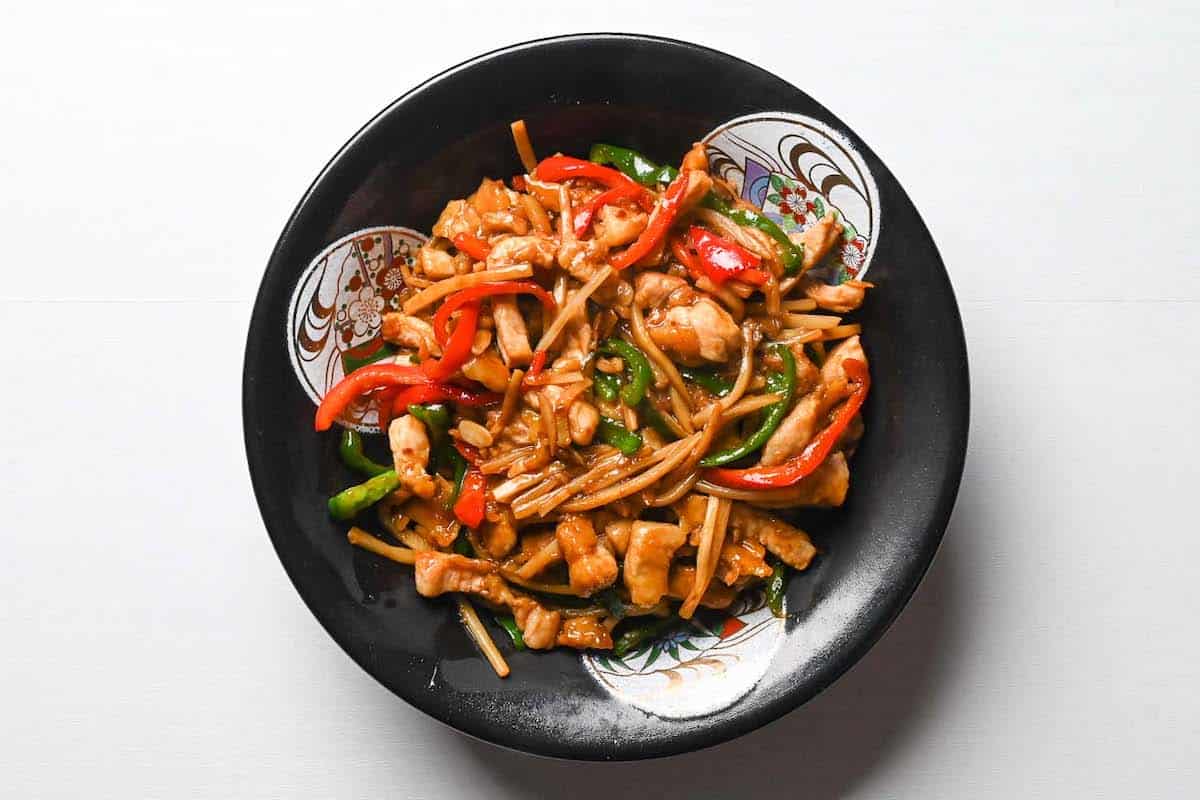 I recommend serving Chinjao Rosu with a bowl of freshly cooked rice.
Meal prep and storing
Chinjao Rosu is a great dish for meal prep. Simply cut all the vegetables and store them in an airtight container with a sheet of kitchen paper to absorb any excess moisture. This will keep for 2-3 days in the fridge. The pork can be cut and "velveted" in advance, but I don't recommend keeping it any longer than 24 hours. In other words, you can prepare everything the night before ready for tomorrow's dinner!
Got leftovers? Store them in a microwavable container and keep in the fridge for up to 2-3 days. Make sure to reheat until piping hot before eating.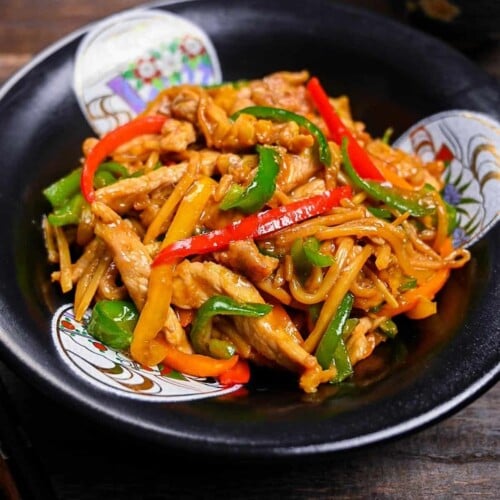 Chinjao Rosu (Japanese Style Pork and Pepper Stir Fry)
How to make Japanese style Chinjao Rosu, a quick and delicious recipe that uses thinly sliced pork, bell peppers and bamboo shoots stir fried in a fragrant soy based sauce. (Serves 2-3)
Ingredients
Chinjao Rosu
250

g

boneless pork chop(s)

150

g

boiled bamboo shoots

-

Julienne, 5mm thick

150

g

bell pepper(s)

-

Julienne, 5mm thick

15

g

fresh ginger

2

cloves

garlic

-

Thinly sliced

2

tbsp

sesame oil

-

for frying
Marinade for velveting
1

medium egg(s)

2

tbsp

cornstarch

-

or potato starch

2

tsp

sake

2

pinches

salt

1

pinch

black pepper

1

tsp

soy sauce

1

tsp

sesame oil
Sauce
2

tbsp

oyster sauce

1

tbsp

soy sauce

2

tsp

sugar

2

tsp

Chinese-style chicken bouillon powder

1

tbsp

water

slurry

-

1 tsp water + a pinch of corn starch / potato starch
Instructions
First, pound

250 g boneless pork chop(s)

until it's about 1cm (a bit less than ½ inch) thick and cut into thin strips. 

Take a medium sized bowl and whisk

1 medium egg(s)

until the whites and yolk are combined. Add the pork,

2 tsp sake

,

2 pinches salt

1 pinch black pepper

and

1 tsp soy sauce

to the bowl and mix thoroughly.

Sprinkle the

2 tbsp cornstarch

 into the bowl and mix, then the

1 tsp sesame oil

. Mix once more and set aside until it's time to cook.

To make the sauce, take a small bowl and add

2 tbsp oyster sauce

,

1 tbsp soy sauce

,

2 tsp sugar

,

2 tsp Chinese-style chicken bouillon powder

and

slurry

. Mix until the sugar has dissolved and set next to the stove.

Heat up a large pan/wok on medium high, add half of the sesame oil and the contents of the bowl of pork (including the egg). Fry until the pork is cooked through.

Once cooked, transfer the pork to a clean plate and set aside for later.

Add the other half of the sesame oil to the pan and fry

150 g boiled bamboo shoots

for a few minutes.

Next, add the

150 g bell pepper(s)

,

15 g fresh ginger

and

2 cloves garlic

to the pan and stir fry for 2-3 minutes.

Add the pork back in and mix well. 

Turn off the heat, give the sauce another mix and then pour it into the pan.

Mix well and allow the sauce to heat up and thicken slightly using the residual heat.

Enjoy!
Nutrition
Calories:
566
kcal
Carbohydrates:
23.2
g
Protein:
31.3
g
Fat:
39.3
g
Saturated Fat:
13.3
g
Polyunsaturated Fat:
6.6
g
Cholesterol:
172.5
mg
Sodium:
2295.5
mg
Fiber:
2.7
g