Looking for a quick lunch that is easy to make yet addictively delicious? This Devil's Onigiri is a recreation of a famous rice ball sold at the convenience store chain "Lawson." It's so simple, yet so good!
Disclaimer: This post contains Amazon affiliate links. Sudachi Recipes earn a small percentage from qualifying purchases at no extra cost to you. See disclaimer for more info.
What is Devil's Onigiri (Akuma no Onigiri)?
Onigiri is a popular lunch box dish that translates to "rice ball" in English. These rice balls are usually shaped as rounded triangles but can also be spherical or cylindrical.
Devil's Onigiri is a unique type of rice ball sold exclusively at the Japanese convenience store, "Lawson." The name is a direct translation of "Akuma no Onigiri" (悪魔のおにぎり) in Japanese.
It was introduced in 2018 and quickly became a hit, with 200,000 units sold in the first four weeks alone. This rice ball is known for its rich flavor and is said to be "devilishly delicious" and "devilishly addictive."
It is also known for being high in calories. The "devil" label is commonly used in the names of various dishes that are considered a naughty treat.
How I Developed This Recipe
Crafting this devil's rice ball recipe was all about precision for me: to mirror the iconic taste of Lawson's Akuma no Onigiri.
As a homage to this beloved treat, every step of my recipe development was guided by a commitment to authenticity.
In developing the recipe, I didn't just rely on memory or taste buds alone. I purchased the actual product from Lawson's many times and this side-by-side comparison ensures that this copy-cat recipe not only echoed the flavors of the original but also simplified the process for home usage.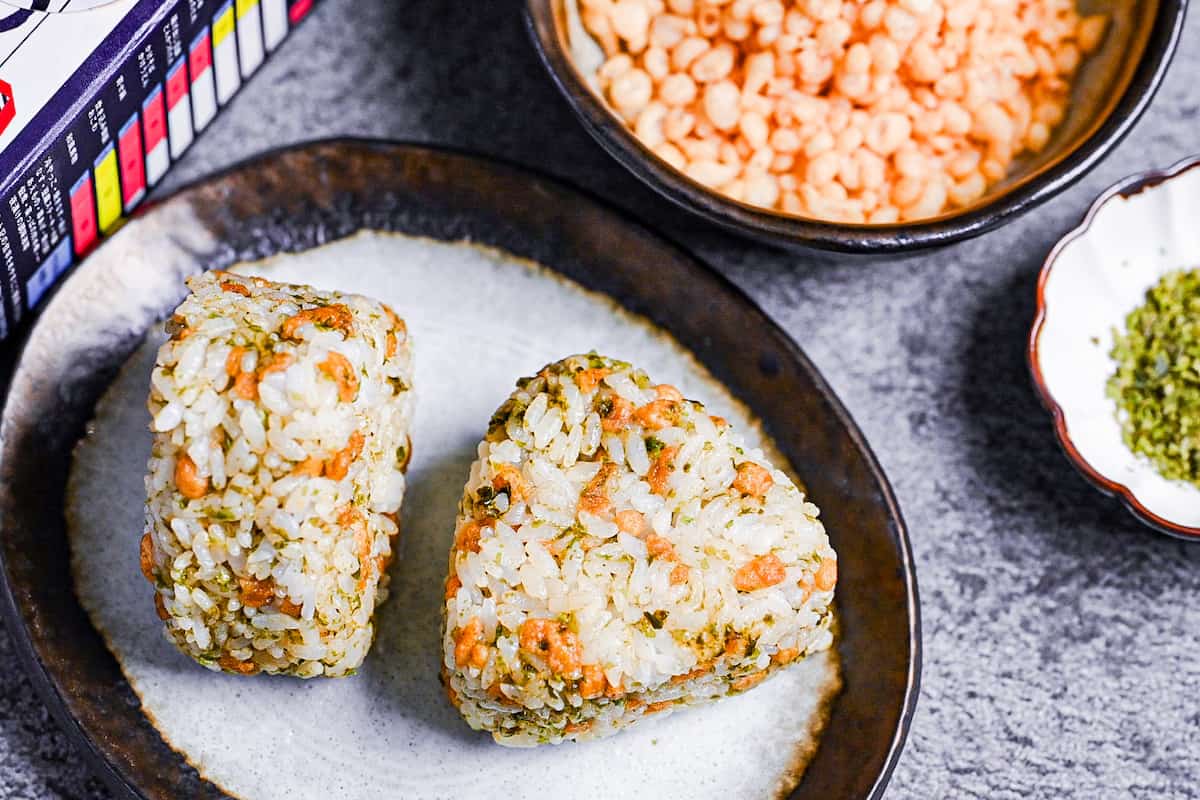 Why Is There Tanuki On The Package?
Have you noticed the unusual character on the front of the Devil's Onigiri packaging? Akuma de Tanuki Kun is a Japanese "tanuki" raccoon dog with bat wings and devil's horns.
You might think it's random, but Japanese characters usually have some meaning behind them.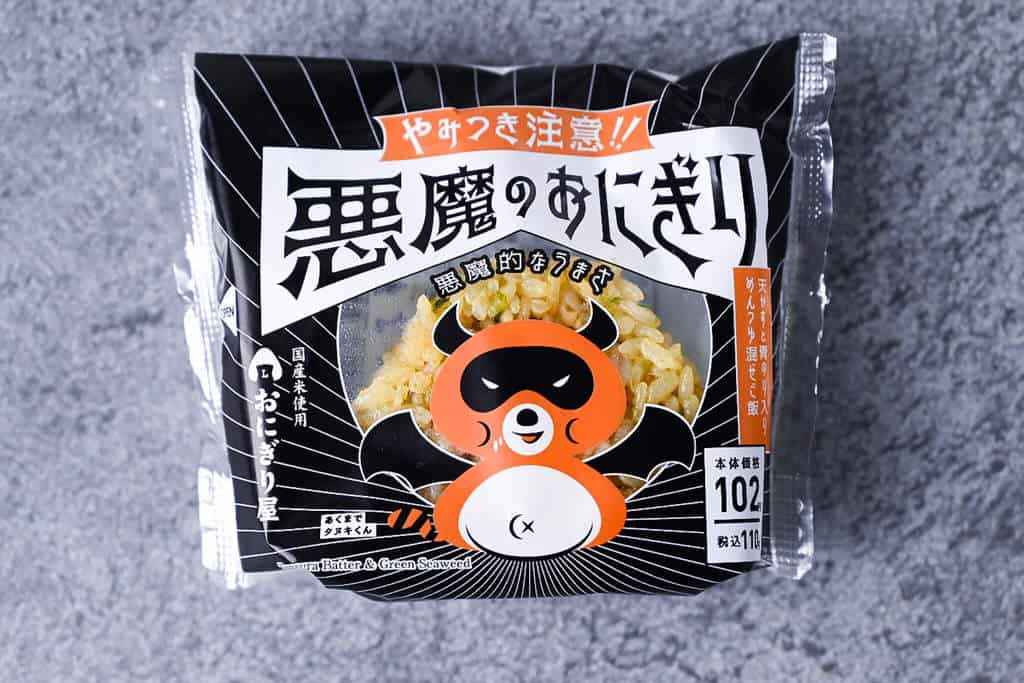 Did you know that there are two famous Japanese dishes with "tanuki" in their names? They are Tanuki Udon and Tanuki Soba. These are noodle dishes topped with tempura flakes.
Without a doubt, the main ingredient for Devil's Onigiri is also tempura flakes, and that's why a tanuki raccoon dog became the mascot for this onigiri!
Ingredients You Will Need
Curious about the exact brands and products that bring my recipes to life? Discover the brands and ingredients behind my recipes at the Sudachi Amazon Storefront. Explore my handpicked pantry essentials and find your next kitchen favorites!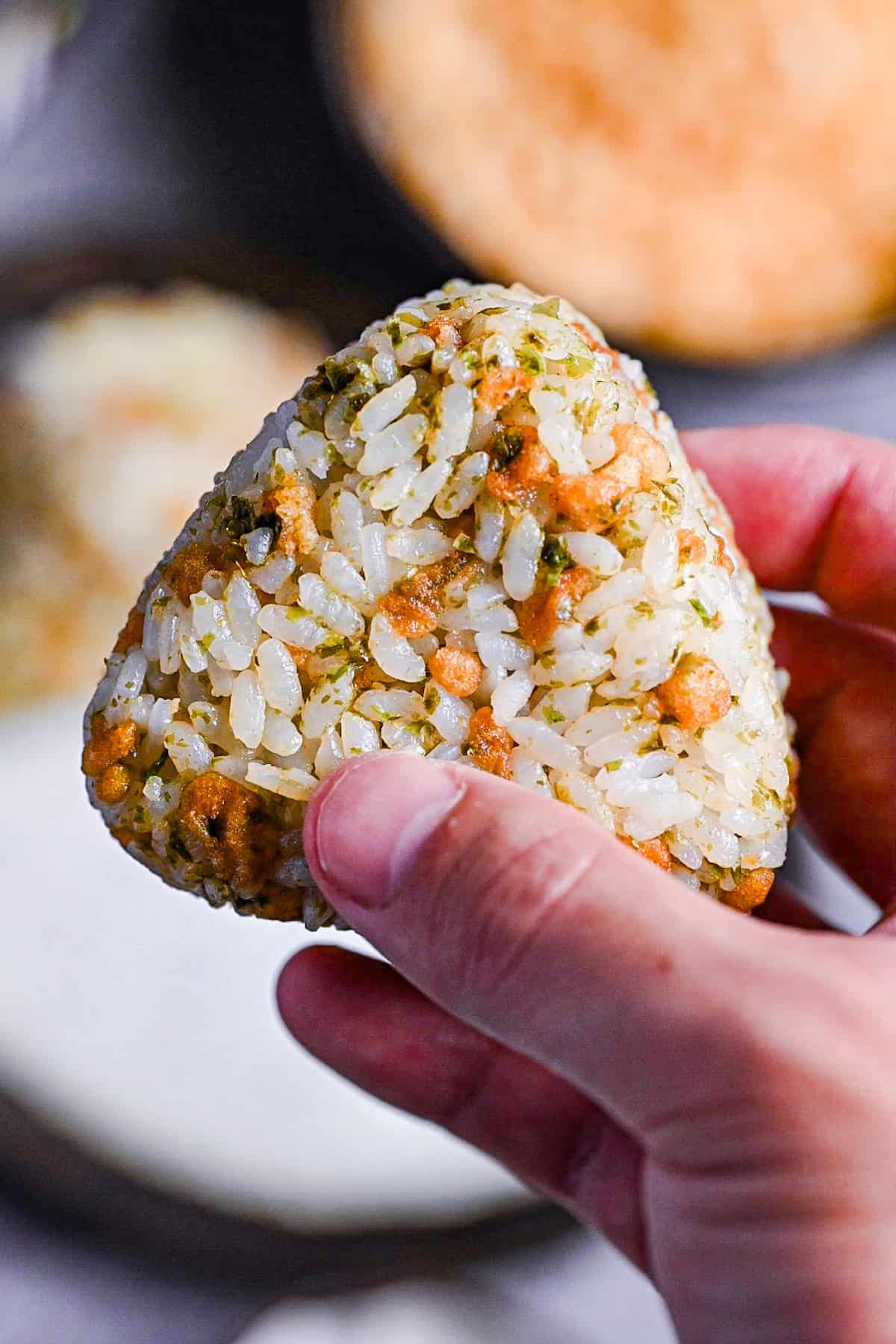 Step-by-Step Process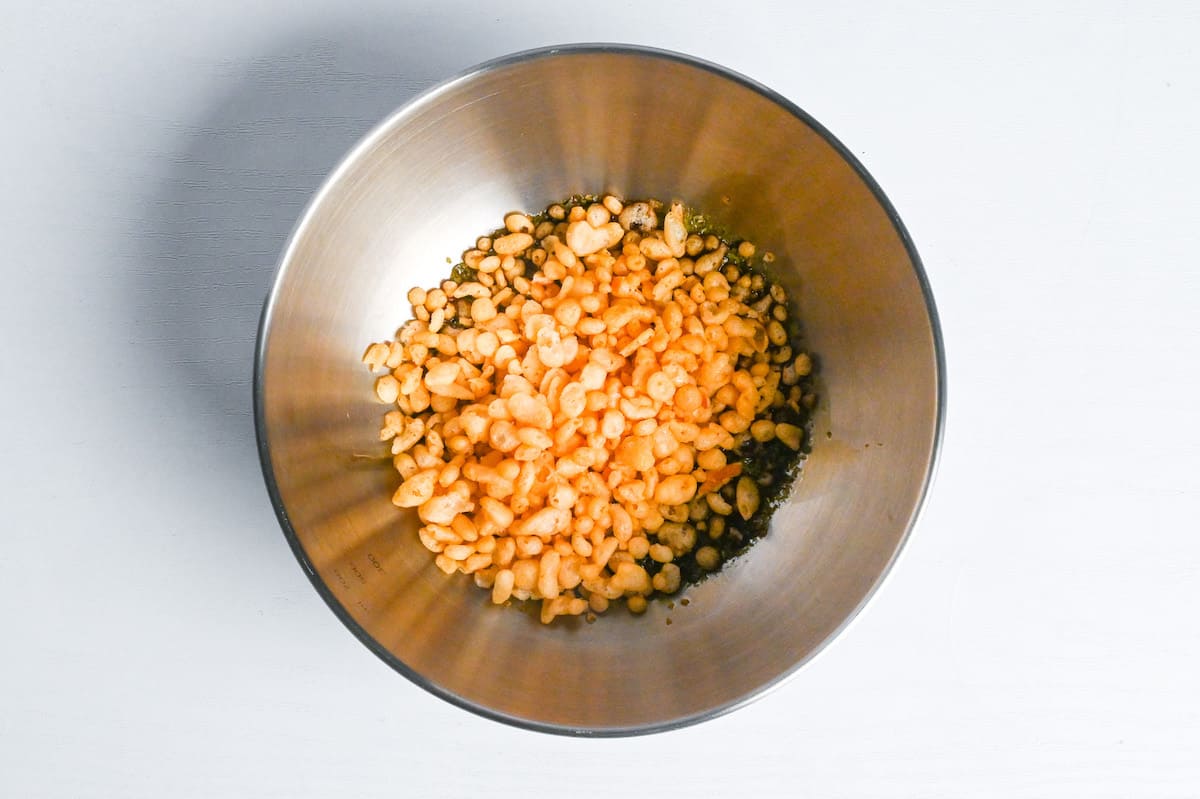 In a large mixing bowl, combine the tempura flakes, dried green laver powder, and tsuyu sauce. Stir until all the liquid is absorbed.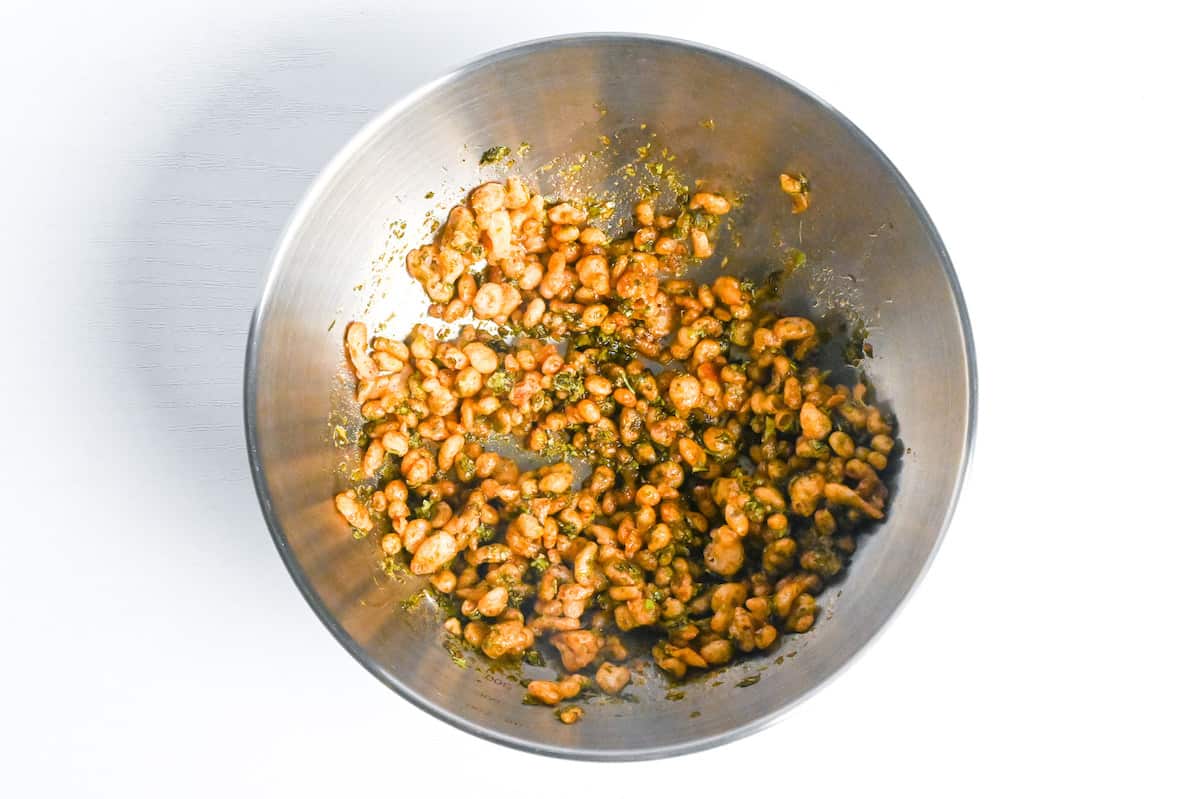 Don't worry if tenkasu loses its crispiness, as it's supposed to be a little soft by the end.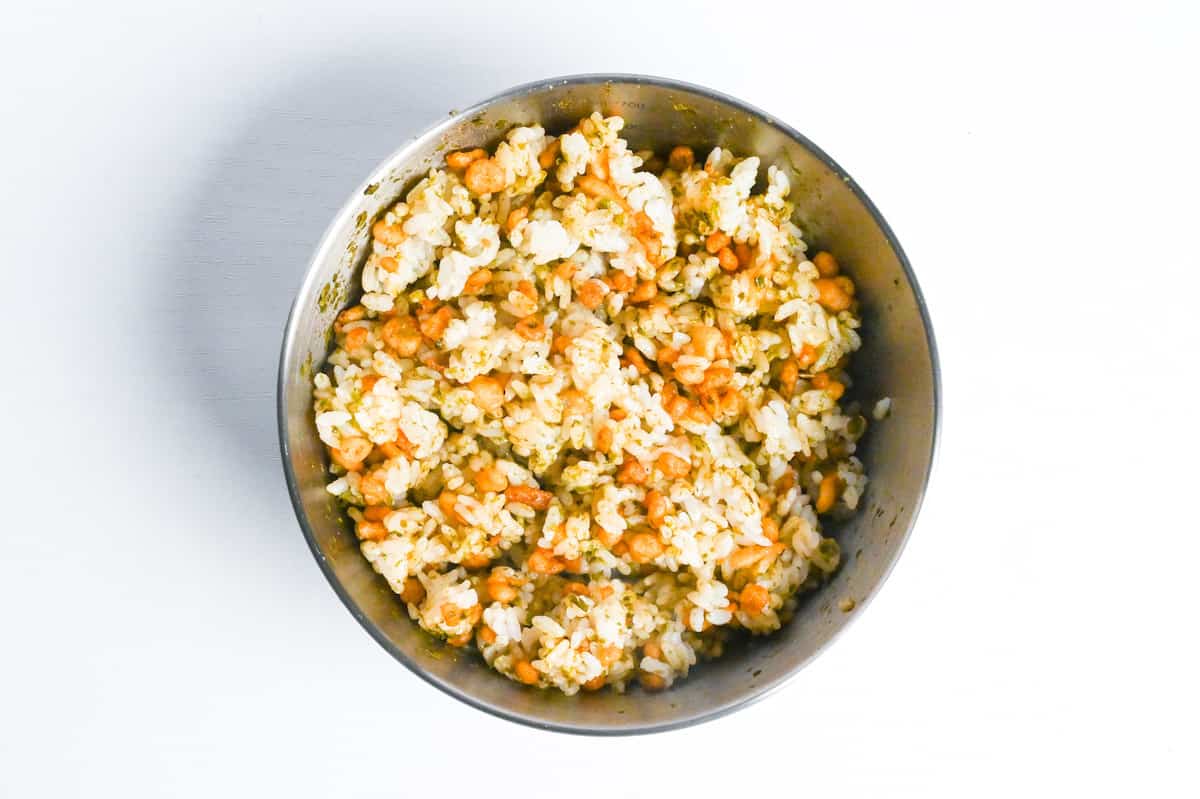 Introduce the cooked Japanese short-grain rice to the mixture. Mix thoroughly, ensuring the ingredients are evenly distributed throughout the rice.
Tip: Divide the seasoned rice into equal portions before shaping to ensure they are all the same size! My recipe makes 4 based on the size of my relatively small rice ball mold, so you can make them bigger or smaller depending on preference.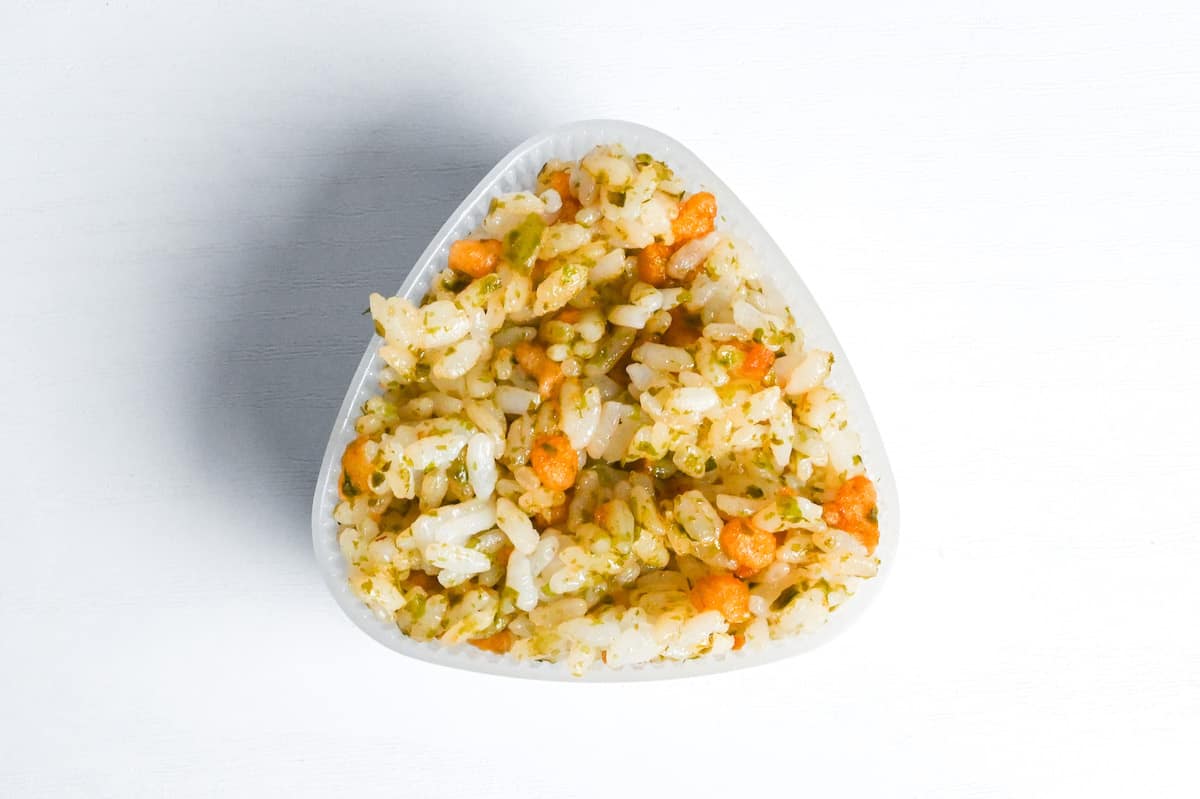 For easy shaping, use a mold like this.
If shaping by hand, begin by washing your hands thoroughly and then dip them into a bowl of ice-cold water for about 15-20 seconds. This prevents the rice from sticking to your hands.
Grab a portion of the rice mixture, then press and turn the rice to form a triangle. The key is to handle the rice swiftly and efficiently to achieve a firm shape.
Different Ways to Shape Onigiri
Shaping an onigiri rice ball can be done using several methods. You can use cold and wet hands, wrap them in plastic, or use a mold. Whatever your chosen method, pressing the rice down firmly is essential in order for it to maintain its shape.
In conclusion, shaping an onigiri requires practice. In my post titled "3 ways to shape the perfect onigiri rice ball", you can learn more about each method for shaping an onigiri.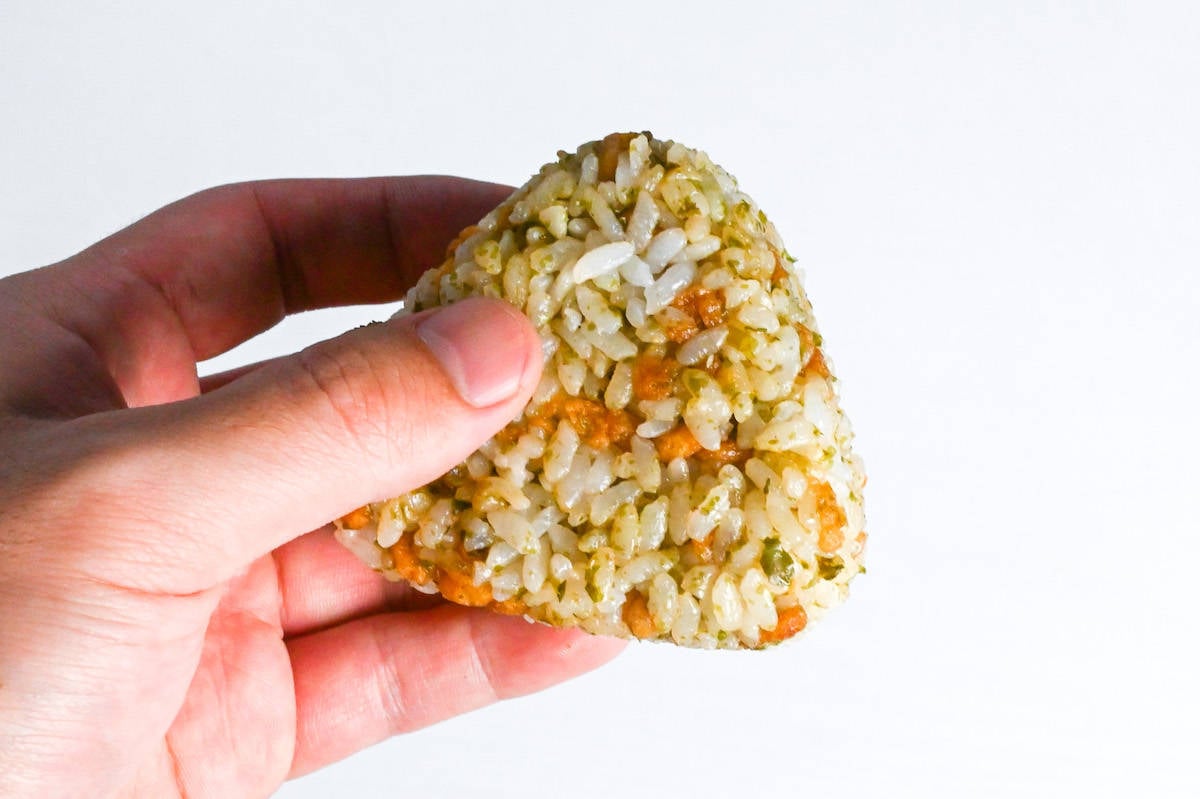 Enjoy as a snack or on-the-go breakfast! Alternatively, store using the instructions below.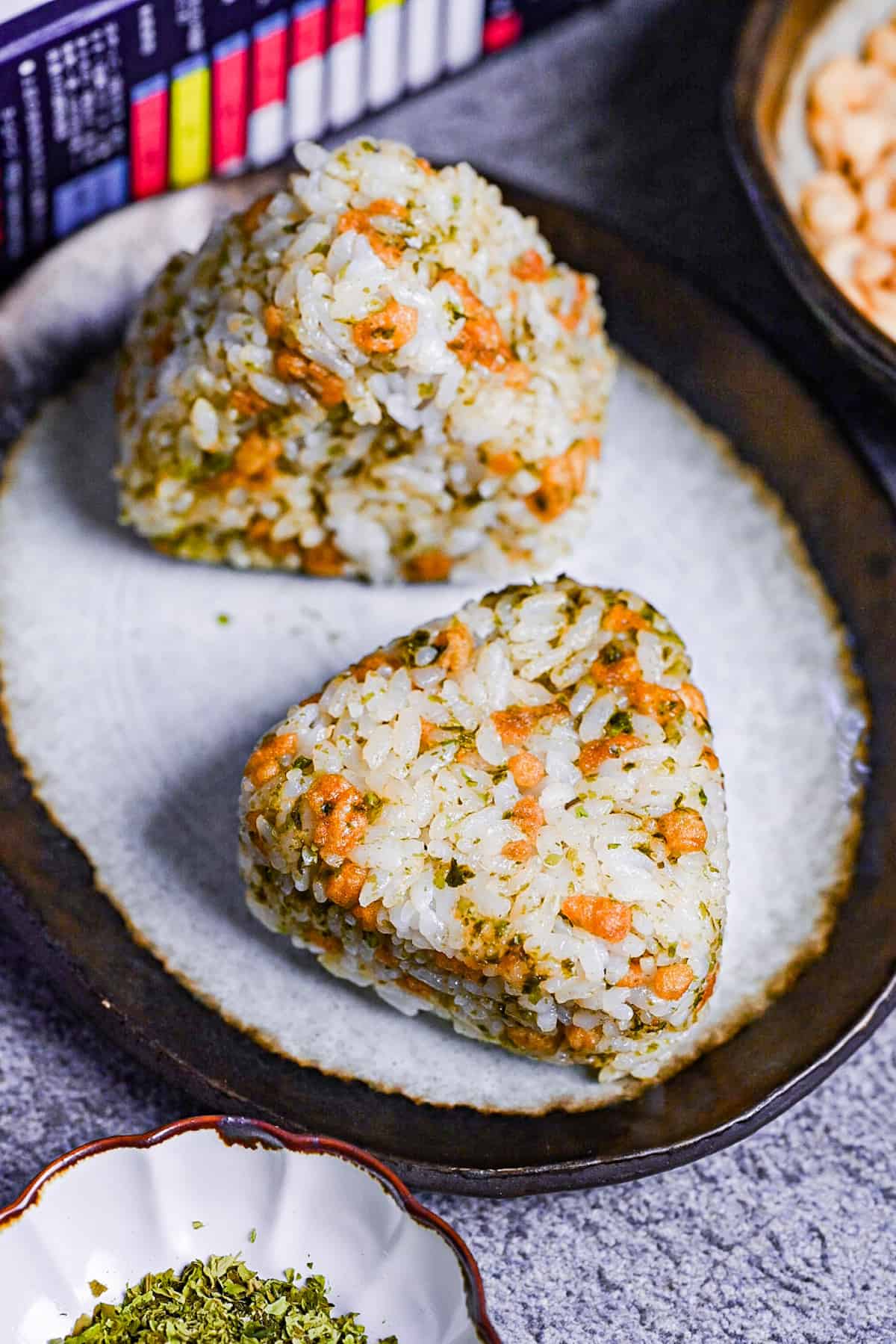 Storage
For the best taste, it is recommended to consume rice balls fresh and not to store them for too long either at room temperature or in the refrigerator.
However, if you wish to store them, the best way is to freeze them. To do this, wrap them in plastic while they are still warm and once they have cooled down, place them in a freezer bag.
The shelf life of frozen onigiri is about one month, but the quality may deteriorate over time. It is best to consume them within two weeks for optimal taste. Defrost in the microwave for best results.
I hope you enjoy this Lawson copycat devil's onigiri recipe! If you try it out, I'd really appreciate it if you could spare a moment to let me know what you thought by giving a review and star rating in the comments below. It's also helpful to share any adjustments you made to the recipe with our other readers. Thank you!
More Onigiri Recipes
If you love onigiri, check out our other recipes too!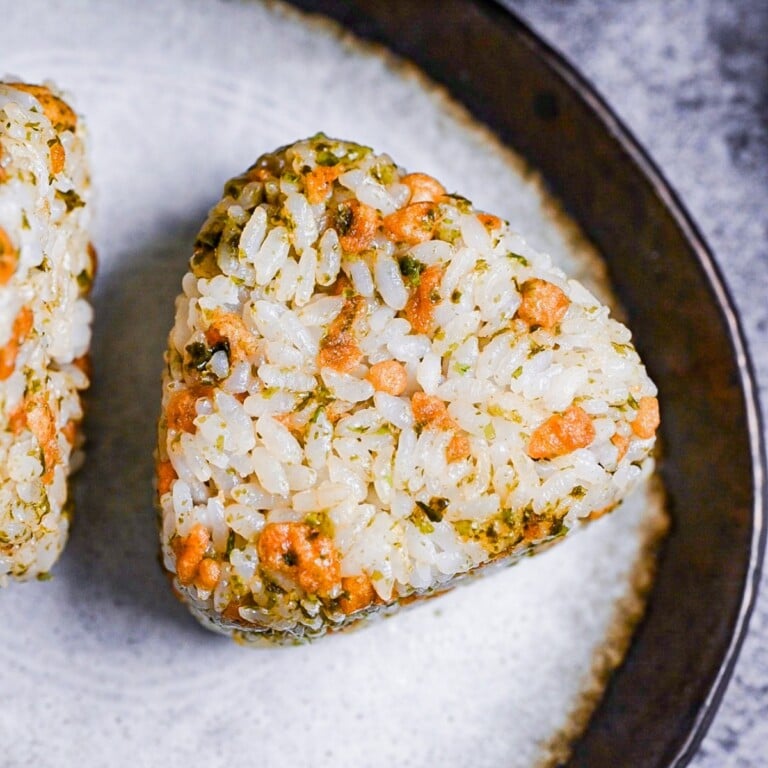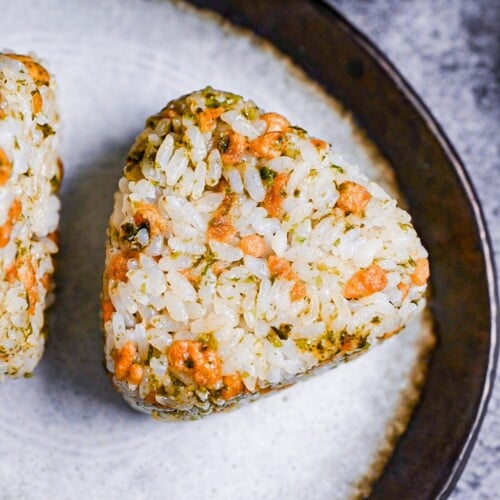 Devil's Onigiri Copycat Recipe (Lawson Akuma no Onigiri)
---
How to make Lawson Conbini style "Devil's Onigiri" with tempura flakes (tenkasu) and green laver powder (aonori) flavored with dashi-based tsuyu sauce.
---
---
---
---
Ingredients
20

g

tempura flakes

tenkasu

1

tbsp

dried green laver powder

aonori

1½

tbsp

tsuyu sauce
Instructions
Add

20 g tempura flakes

,

1 tbsp dried green laver powder

and

1½ tbsp tsuyu sauce

to a large bowl.

Mix thoroughly until the tsuyu sauce is evenly distributed.

Once all the liquid is absorbed, add

300 g cooked Japanese short-grain rice

to the bowl and mix until the mixture is evenly spread through the rice.

Divide the rice into equal portions and shape. Refer to the 3 ways to shape onigiri article for advice on how to shape onigiri by hand, using plastic wrap, or a mold.

Enjoy!
Notes
For more flavor, you can add salt or try cooking your rice in dashi stock.
Best eaten immediately. Rice balls for bento boxes should be wrapped with plastic wrap to prevent them from drying out and stored with an ice pack to keep them cool.
For storage, wrap individually in plastic wrap and store in a sealed container in the freezer for up to 1 month. Microwave to defrost.
Refrigeration is not recommended.