Eggplant is one of my favourite tempura ingredients. Learn 3 different ways to cut and prepare eggplant and enjoy the different looks and textures this versatile vegetable has to offer!
Disclaimer: This post contains Amazon affiliate links. Sudachi Recipes earn a small percentage from qualifying purchases at no extra cost to you. See disclaimer for more info.
Jump to:
Eggplant Tempura
Eggplant is one of the most popular ingredients used to make tempura. Not only does it have beautiful deep purple skin and meltingly tender flesh, but it can also be cut and presented in a number of different ways that are sure to impress.
In this recipe, I will teach you 3 of the most common ways we serve eggplant tempura in Japan and how to achieve the ultimate presentation and texture!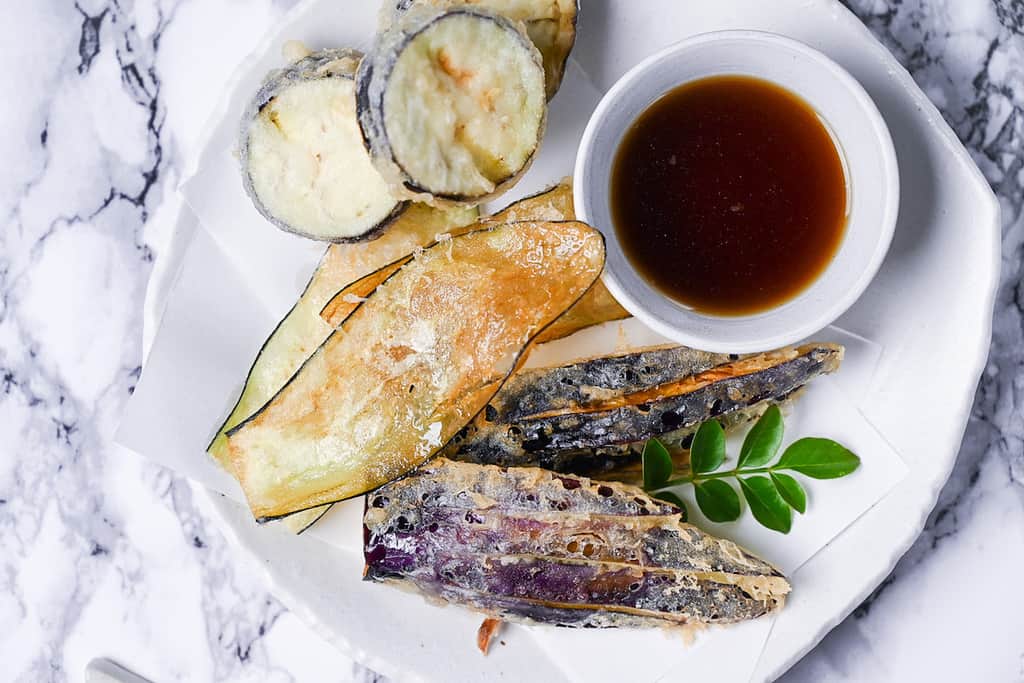 Types of eggplants
Eggplant (called "nasu" ナス in Japanese) can vary in size, colour, texture and taste. Some are large and slightly bitter, others are small and a little sweet. There are over 10 different kinds of eggplant and what's available to you depends on where you live.
When making tempura, I recommend using one of the following:
Japanese eggplant
Chinese eggplant
Italian eggplant
These three varieties are slightly smaller and sweeter than the common "globe eggplant" (also known as "American eggplant").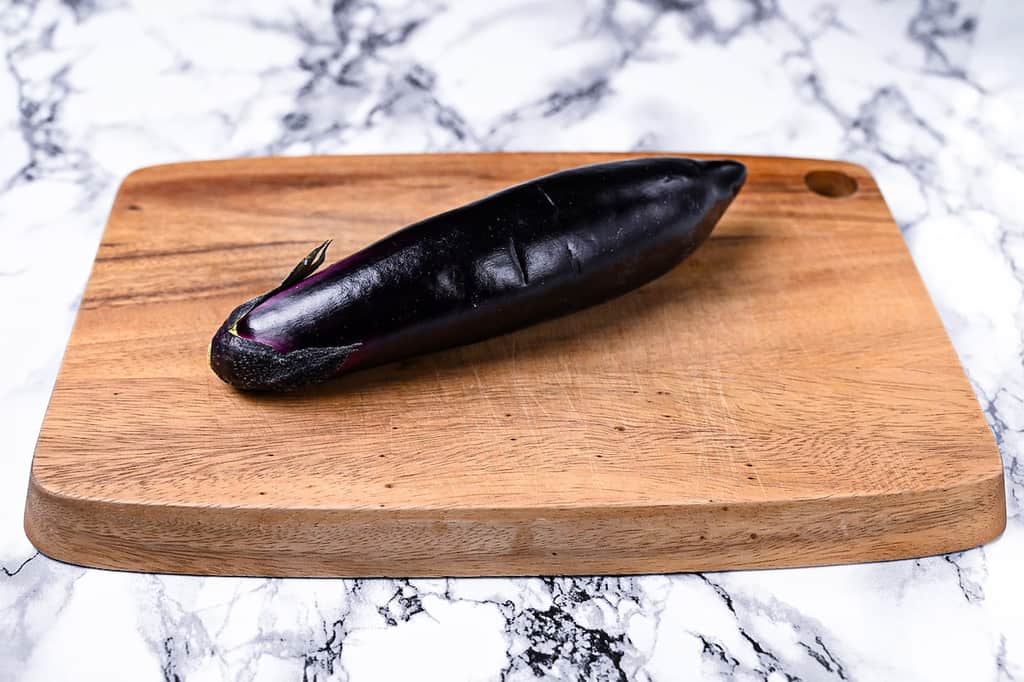 In my recipe I use Japanese eggplant. It's long, thin, pointed and deep purple in colour. For the sake of following my step by step guide I recommend using Japanese eggplant, however if it's not available to you then I recommend one of the options above.
3 different ways to cut an egg plant for tempura
When it comes to eggplant tempura, people use different cutting techniques depending on their own preference on the appearance, texture and how easy it is to do.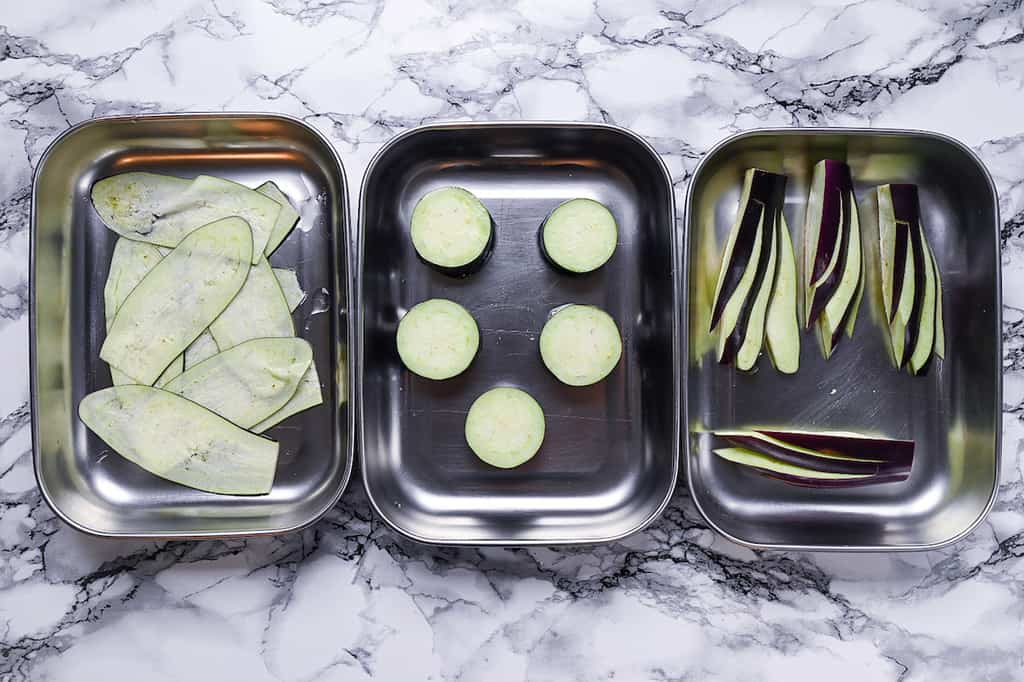 Here, I will list 3 different ways to cut eggplant for tempura so that you can choose the one you like!
Suehiro/Oogi
Suehiro (末廣) is a cutting method where the ingredient is thinly sliced while leaving the end intact. The slices are then spread out to make a Japanese "ogi" (扇) fan shape.
You can use these fan-shaped slices for tempura, simmered dishes and many other purposes. Suehiro is also a common way of cutting bamboo shoots and is considered a lucky shape.
This is a good cut for entertaining and celebrations as it looks gorgeous. It's often served this way at fancy tempura restaurants. I recommend using small eggplants for suehiro method.
Not only does it look great, but it also ensures the heat from the oil is evenly distributed across each slice, resulting in a great texture.
How to do "suehiro" cut (oogi fan)
Cut the stem

Cut the top of the eggplant to remove the stem.

Cut in half

Cut the eggplant lengthways down the middle.

Half again (optional)

If your eggplant is long, cut in half horizontally. If your eggplant is small you can skip this step.

Half again (optional)

If your eggplant is quite thick, you can half it one more time lengthways. This is optional and depends on how thick you want the fan to be.

Slice

Leaving about 1cm (½ inch) at the top, cut slices 5mm apart. (Approx ¼ inch)

Make a fan

Gently spread the slices apart to make a fan shape.
Thick Rounds
This is the easiest way to cut eggplant. Simply cut an egg plant in round slices 2-3 cm thick (approx 1 inch).
By cutting the rounds quite thick, you can really enjoy the tender meat of the eggplant.
I also recommend because it's quick and easy to do, you can't go wrong with this one!
Instruction:
Cut an egg plant in round slices.
Ideal thickness is 2-3cm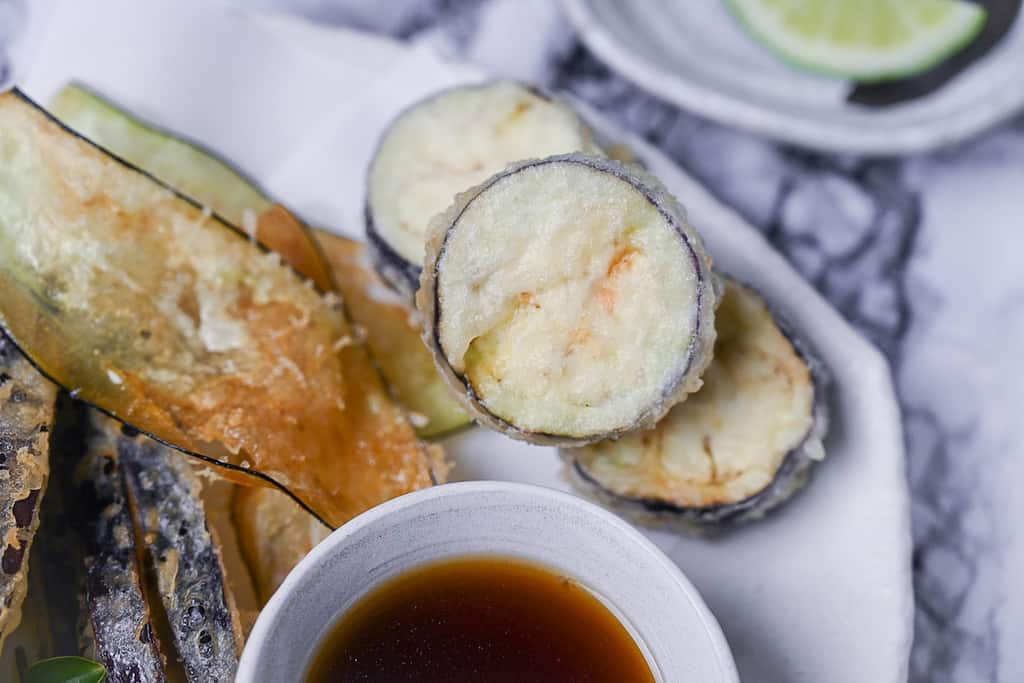 Thin slice using mandoline slicer
This is another easy way to make eggplant tempura with a bit of a different take, however you will need one piece of equipment.
By using a mandoline slicer, you can cut the eggplant extra thin. Not only does it cut down the cooking time, but it also becomes like a potato chip and looks like a stylish street food snack! You can purchase hand-held adjustable width mandoline slicers on Amazon (Affiliate link).
If you would like to add a bit of a snacky element to your eggplant tempura, I recommend this one!
Note: Cooking time becomes 30 seconds on each side when using this method.
Instruction:
Cut the stem off the top of the eggplant.
Set your mandoline slicer at 2mm thick
Slice lengthways.
Tempura Batter
Tempura uses a simple light and thin batter made with flour, eggs and water. There are a few important points to follow when making tempura batter at home.
Use weak flour with a low gluten content (like cake flour) for the best results.
Don't overmix, lumpy batter is good!
Make sure your ingredients are chilled / ice cold.
I like to use sparkling water to make the batter extra light
Tempura batter usually uses egg, but egg can be substituted for egg mayonnaise when making a smaller batch. (1 tbsp mayonnaise = 1 small/medium egg)
You can learn more about these tips and tricks and why I use them by checking out my post "How to make the perfect tempura batter".
5 Tips and tricks to make a good egg plant tempura at home
It seems tempura is easy dish to make, but actually, I find it one of the hardest in Japanese cooking.
It requires a lot of attention and a slight mistake ends up making a big difference.
So here, I will list all the tips and tricks specifically for making fail-free eggplant tempura!
Soak thick cuts
If you're using the suehiro or thick round cuts, it's good to soak the eggplant in a bowl of cold water with a pinch of salt for 5-10 minutes. This will draw out any bitter flavour and also prevent the eggplant from absorbing too much oil when frying.
Once soaked, dry the surface throughly.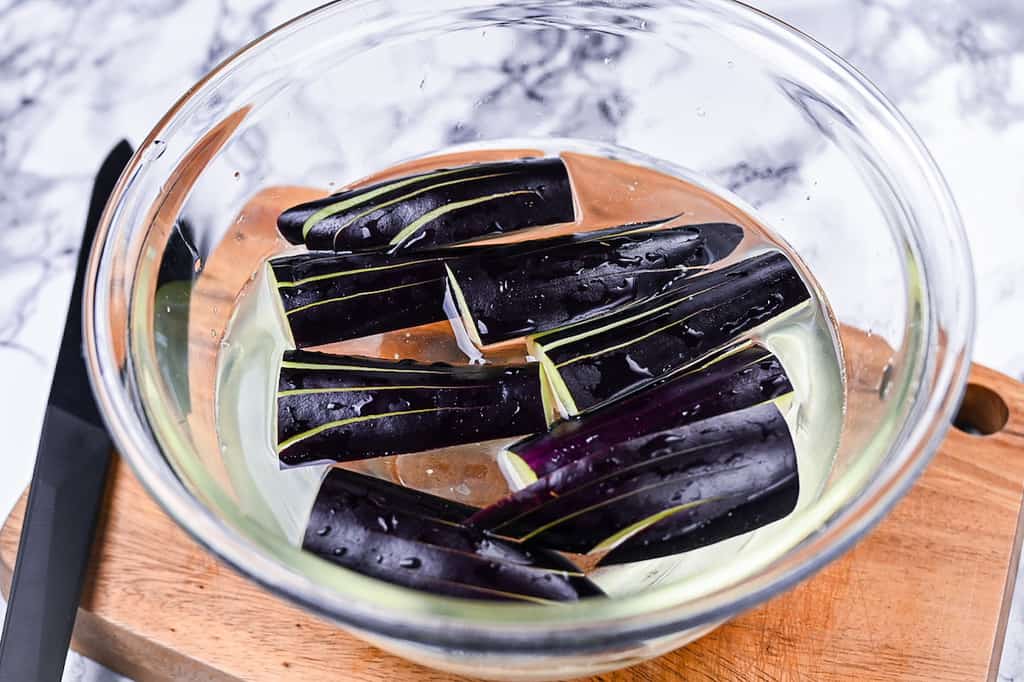 Sprinkle thin slices with salt and dry
If you are cutting your eggplant thin with a mandoline, I don't recommend to soak them. Instead, sprinkle the slices lightly with salt to release the excess water from the eggplant.
Dab the slices dry using kitchen paper. It's important to remove the water completely, otherwise the oil will react with the moisture and splash.
Deep fry at 175C (350F)
The worst thing that can happen for eggplant tempura is cooking for too long, resulting in soggy and greasy tempura.
The ideal temperature for eggplant tempura is 175C (350F). Generally I cook each piece for 1 min on each side. Eggplant cut into sliced with the mandoline only need 30 seconds on each side.
Alternatively, you can take it out when the bubbles become small and no longer crackling loudly.
Dusting with flour
Eggplant contains a lot of moisture and water will come out of the flesh. I recommend drying the surface with kitchen paper and then dusting it with flour. This will create a barrier that will keep the moisture in and the grease out. It will also help the batter to stick to the surface.
Note: It is important to dust off any excess flour otherwise the batter will either become thick and chewy or fall off completely.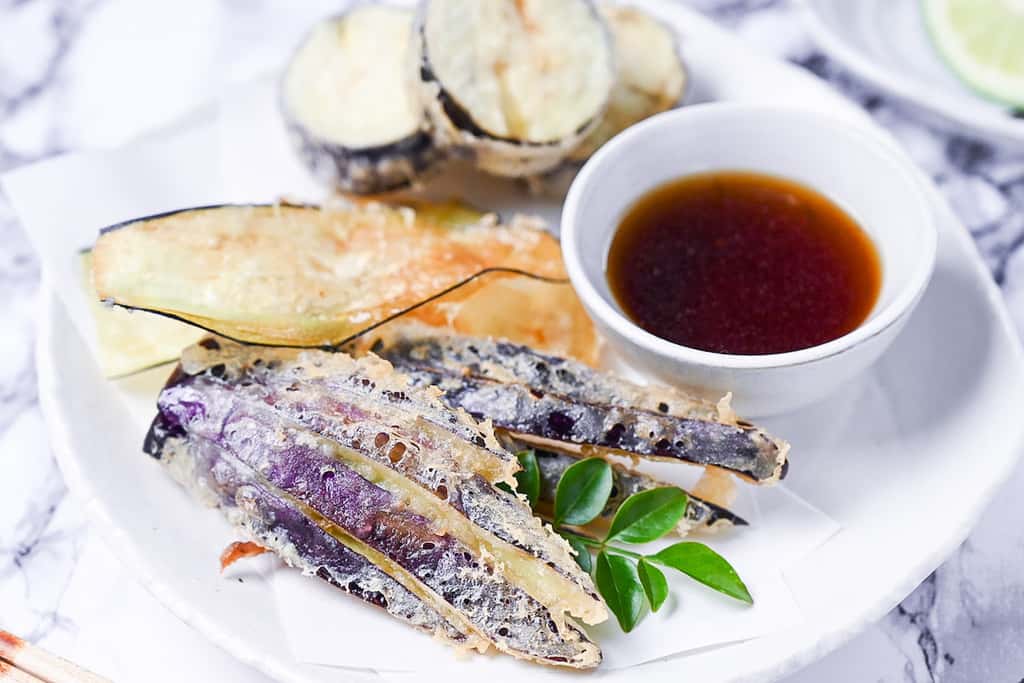 Don't put too much batter
It is easy to think that more batter will make tempura crispier, but in fact, it's the opposite. The batter should be applied quickly and moderately and placed straight into the hot oil.
It will result in a light and crispy eggplant tempura.
Skin side up first
If you use suehiro/oogi cut for this recipe, it is ideal to add them in the oil skin side up first.
The surface of the skin side is extremely smooth so the batter easily falls off. So cook the flesh side first and then turn it over.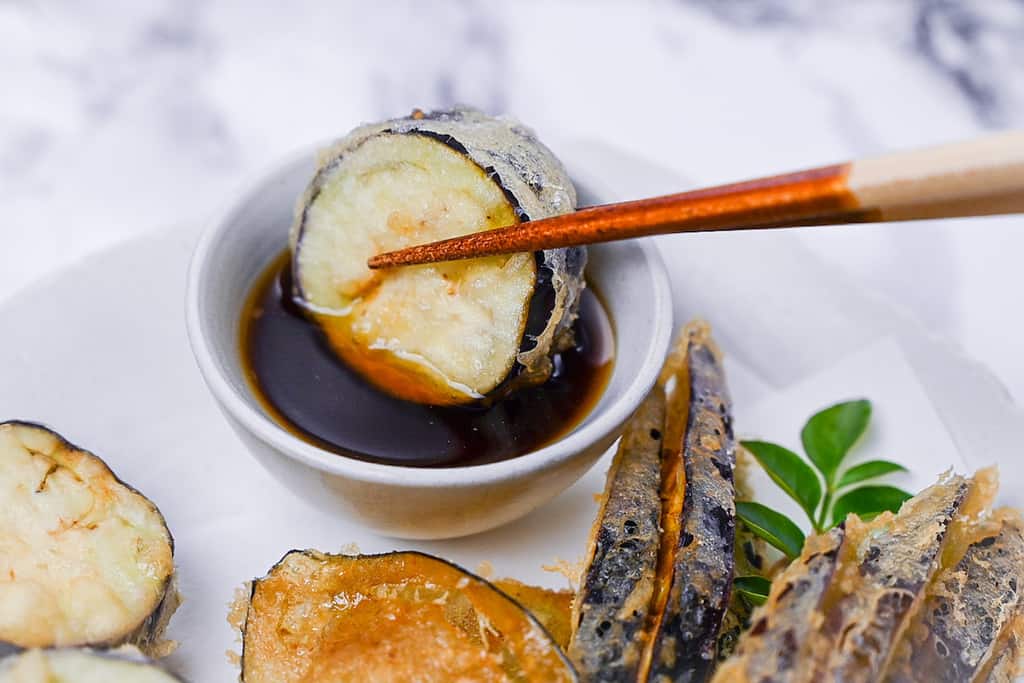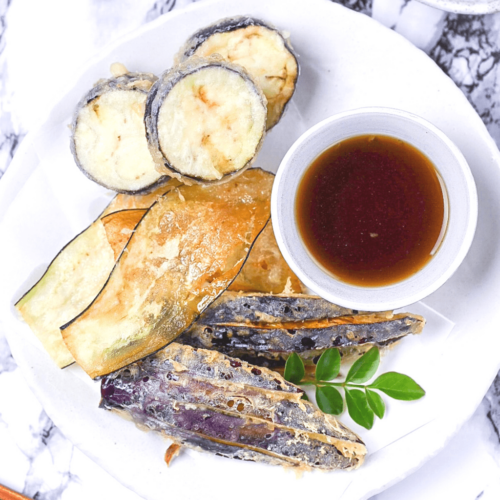 3 Ways to Make Eggplant Tempura
3 ways to make deliciously light and crispy eggplant tempura (ナスの天ぷら).
Ingredients
100

ml

cold water

50

ml

sparkling water

15

g

potato starch

-

or corn starch

75

g

cake flour

-

or all purpose + extra for dusting

250

g

eggplant(s)

-

alternatives: Chinese eggplant or Italian eggplant

½

tbsp

Japanese mayonnaise

-

or half a small whisked egg

2

ice cubes

-

optional

cooking oil

-

for frying
Instructions
Measure out

100 ml cold water

into a jug and place it in the fridge for 20-30 minutes. Place sparkling water in the fridge too. (Preferably an unopened bottle.)

Sift

15 g potato starch

and

75 g cake flour

into a bowl. Mix them together and place the bowl in the fridge for 20-30 minutes.

While your tempura batter ingredients are chilling, cut

250 g eggplant(s)

according to your preferred method in the post above.

If using suehiro cut or thick rounds, soak the eggplant in cold water with a sprinkle of salt for 5-10 minutes. If using thin slices, sprinkle the surface with salt.

Once your batter ingredients have been chilling in the fridge for 30 minutes, start preheating your oil to

175

°C

.

In a bowl (or jug), add a few tbsp of the chilled water and

½ tbsp Japanese mayonnaise

. Mix until well combined to loosen up the mayo.

Pour the rest of the chilled water and

50 ml sparkling water

into the bowl.

Add the flour/starch one-third at a time, gently drawing crosses through the mixture with the chopsticks to incorporate it. (Do not whisk or over-mix, it's fine for tempura batter to have lumps.)

Test your oil by adding a drop of batter, if it sizzles and floats you're ready to fry.

Add

2 ice cubes

to the batter and mix to make it extra cold. (optional)

Dry the eggplant pieces with kitchen paper and dust them with a thin layer of flour.

Dip them in the batter and then carefully place them into the oil. Make sure not to overfill the pot. (Keep the batter in the fridge between batches.)

For suehiro cut or thick rounds, deep fry for about 1 minutes on each side. For thin slices, fry for 30 seconds on each side or until crispy.

Once cooked, place on a wire rack to allow the excess oil to drip off.

Serve and enjoy!
Notes
Enjoy eggplant tempura with tentsuyu sauce or dipped in salt.
Eggplant tempura can be eaten as a side or served on top of udon noodles, soba noodles or on top of rice (tendon/tempura donburi).