These crunchy and addictive age-gyoza are stuffed with a flavorful curry-infused filling, shaped into a windmill, and then deep-fried until crispy and golden. They make the perfect appetizer or party snack, suitable for any occasion!
Disclaimer: This post contains Amazon affiliate links. Sudachi Recipes earn a small percentage from qualifying purchases at no extra cost to you. See disclaimer for more info.
Jump to:
What is Age Gyoza?
Gyoza is a Chuka dish (Chinese-inspired Japanese cuisine) in which ground meat and vegetables are wrapped in a thin, kneaded, rolled-out flour dough (known as gyoza wrappers) and steamed or pan-fried. Age gyoza is a deep-fried variation of the gyoza family!
Although the most popular type of gyoza in Japan is pan-fried pork gyoza, gyoza can also be made deep-fried! In this article, I will introduce a recipe for deep-fried gyoza based on ground pork and spiced with S&B's oriental curry powder.
The dipping sauce I use here is a citrus-full ponzu sauce. You may wonder, "Do curry flavors and ponzu sauce go well together? In fact, it is a perfect combo for this gyoza!
Ingredients and Substitution Ideas
Ground pork - This recipe can also be made with ground beef/pork mix or ground chicken if preferred!
Yellow onion - Add depth and natural sweetness to the filling. White or red onions can be substituted for yellow onions.
Melty cheese - Shredded Gouda or Cheddar cheese is recommended.
Shiitake mushroom - Other mushrooms in your local area may be substitutes.
Boiled bamboo shoots - If you cannot get boiled bamboo shoots easily, use finely diced potatoes instead!
Grated garlic - Grating fresh garlic is recommended, but you can also use store-bought garlic paste for convenience.
Grated ginger - Ginger paste can also be used for convenience.
Salt - I use regular sea salt in this recipe.
Sugar - I generally use light brown cane sugar for cooking, but feel free to use white sugar instead.
Soy sauce - If you are looking for something reasonably priced, you can't go wrong with Kikkoman soy sauce. Please see our guide to soy sauce article to learn more about how to choose soy sauce in Japanese cuisine.
Oyster sauce - This rich and versatile condiment adds more depth to the filling.
Lard - Those who do not wish to use lard may substitute with sesame oil.
Curry powder - I know the term curry powder is very vague, but I specifically use S&B oriental curry powder mix for this dish. This is always a go-to curry powder mix to add flavor to Japanese dishes.
Sake - If you do not have it, substitute white wine or dry sherry. Alternatively, omit if you don't want to use alcohol in your cooking.
I have listed my recommended Japanese condiments, tools, and ingredients in the Sudachi Recipes Amazon shop. If you want to keep making various Japanese foods at home, please check it out!
Step-by-Step Process
Here are my step-by-step instructions for how to make delicious and crispy curry flavored age-gyoza from scratch. For ingredient quantities and simplified instructions, scroll down to see the printable recipe card below.
Finely chop the onions, shiitake mushrooms and bamboo shoots. Grate the cheese, garlic and ginger and add them to a bowl with the ground pork, salt, sugar, soy sauce, oyster sauce, lard, curry powder and sake.
Mix thoroughly until all the ingredients are evenly distributed.
In this recipe, I shape my gyoza in "windmill style". For detailed instructions and why I use this method for age-gyoza, see the section below.
Preheat the oil to 170°C (338°F). Once hot, add the gyoza and fry for 2 minutes.
Flip them over and fry on the other side for another 2 minutes or until crispy and golden.
Transfer to a wire rack to allow any excess oil to drain off.
Enjoy with ponzu or your favorite dipping sauce!
How to Wrap Gyoza for Deep Frying Use
Gyoza is usually wrapped in a way that creates those characteristic folds, but when it comes to deep-fried gyoza, sealing it completely is more important than in pan-frying. So, for this recipe, I use a different wrapping technique called "windmill style."
Since the windmill style fold has extra flaps, it creates an even crispier texture than with regular gyoza. Also, since the seams are folded over, there are less likely to be gaps, just make sure the middle point is properly sealed!
Another good point is this is also easier than the traditional folding style! So, I will list how-to-steps to wrap gyoza in windmill style here.
Make a "gyoza station" with a small bowl of water, the filling and a plate or tray for the completed ones.
Take a wrapper and add between ½ and 1 tbsp of filling. Be careful not to overfill, otherwise they will be difficult to close. Leave a generous border and wet it with water.
Pinch two parallel sides and push them to the center to create a cross shape with the edges.
Pinch all of the edges together firmly to make sure there aren't any holes.
Create the windmill effect by folding each flap over going in the same direction.
Pinch the center once more to secure.
Place your completed gyoza on a lightly flour-dusted plate and repeat until all of your wrappers and filling are used up.
Of course, the folding method is up to you. If you want to fold gyoza the traditional way, check out my classic pork gyoza post for step-by-step instructions (includes video).
Storage Options
As is true for all gyoza other than deep-fried gyoza, it is not recommended to store gyoza after cooking. Especially in the case of deep-fried gyoza, it is necessary to be careful because it will become very soggy when stored.
If you want to store gyoza, there is only one great option: freeze gyoza before frying. If you refrigerate them in the same condition, they will become soggy, so be sure to freeze them.
If you cannot finish eating the gyoza after frying and want to keep it, you can keep it in the refrigerator for a day or so, but it is best to cook only the amount you can eat because, for gyoza, you can precisely decide how much you want to cook beforehand.
Room temperature - Not recommended.
Refrigerated - Not recommended.
Frozen - 2-3 weeks (before frying).
I hope you enjoy this gyoza recipe with a curry flavored twist! If you try it out, I'd really appreciate it if you could spare a moment to let me know what you thought by giving a review and star rating in the comments below. It's also helpful to share any adjustments you made to the recipe with our other readers. Thank you!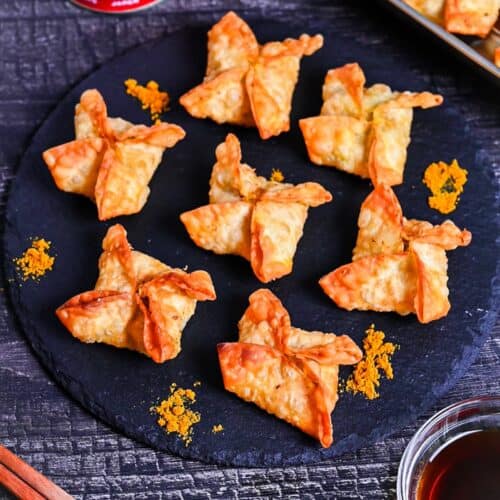 Curry Flavor Age Gyoza (Deep-Fried)
How to make flavorful and addictive deep-fried curry gyoza folded into a windmill shape for extra crunch!
Ingredients
Filling
200

g

ground pork

100

g

yellow onion(s) -

finely diced

30

g

grated cheese

-

cheddar, gouda or similar

50

g

fresh shiitake mushroom(s)

-

finely diced

50

g

boiled bamboo shoots

-

finely diced

2

tsp

grated garlic

-

or garlic paste

1

tsp

grated ginger

-

or ginger paste

½

tsp

salt

½

tsp

sugar

1

tsp

soy sauce

1

tsp

oyster sauce

1

tbsp

lard

-

or sesame oil

1

tbsp

S&B curry powder

1

tbsp

sake
Instructions
Add all of the filling ingredients to a mixing bowl.

Mix thoroughly until everything is evenly distributed.

Prepare a small bowl of water and a tray for the completed gyoza next to you. Place a wrapper on your palm and add about ½-1 tbsp of filling to the center, leaving a thick border. Lightly wet the border.

Pinch two parallel edges together and push them to the middle so that the edges form a cross along the top.

Firmly pinch the edges to seal.

Fold down each edge in the same direction to create the windmill shape.

If there is a hole in the center, pinch firmly to close it.

Repeat until you've used up all of your wrappers and filling.

Preheat your oil to

170

°C

.

Once hot, add the gyoza to the oil and fry for 2 minutes.

Flip them over and fry for another 2 minutes, or until crispy and golden.

Transfer to a wire rack to allow the excess oil to drain off.

Enjoy with ponzu or your choice of dipping sauce!
Other Gyoza Recipes You Can Try at Home
Although I introduced a little-known deep-fried, curry-flavored gyoza this time, many other kinds exist in Japan. In this section, I will introduce three other gyoza recipes I highly recommend making at home.
Standard Pan-Fried Pork Gyoza
As explained at the beginning, the most mainstream gyoza in Japan is pan-fried gyoza made with ground pork.
This recipe not only explains how to make the standard pork gyoza, but also introduces everything you need to know about Japanese gyoza, including homemade gyoza dipping sauce.
Crispy Pork Gyoza (Japanese Pan Fried Dumplings)
How to make crispy and juicy Pork Gyoza (Japanese Pan Fried Dumplings) from scratch at home!
Check out this recipe →
Prawn Gyoza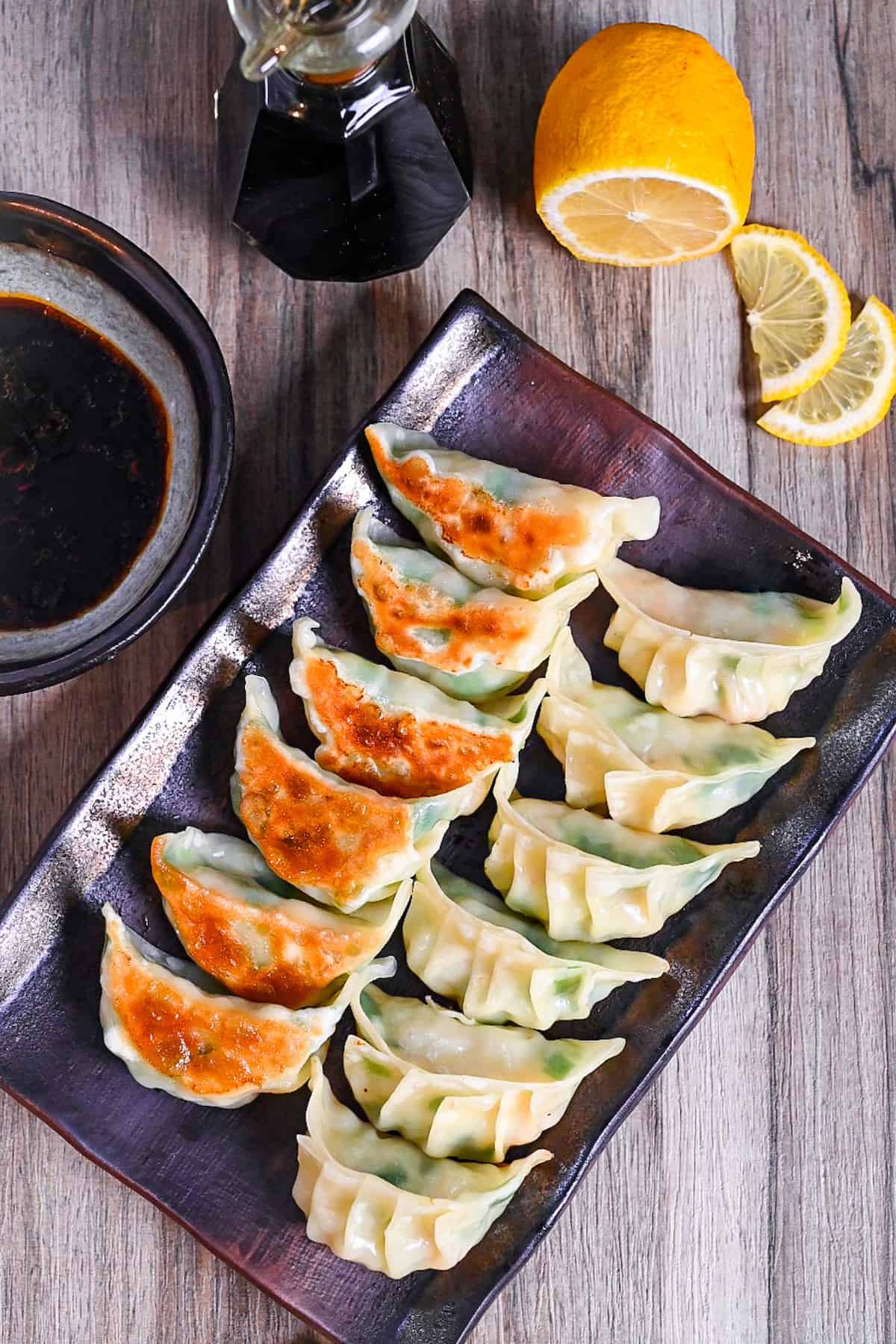 Prepare to master crafting crispy pan-fried shrimp gyoza, stuffed with a flavorful filling of shrimps and vegetables. This guide will walk you through every process step— from preparing the succulent filling to shaping and frying your gyoza to crispy perfection.
We'll also explore how to make a zesty ponzu-style dipping sauce to complement your homemade prawn gyoza!
Pan-Fried Prawn Gyoza (Shrimp Potstickers)
How to make perfectly crisp and juicy pan-fried gyoza packed with seasoned prawns and vegetables served with a tangy homemade dipping sauce.
Check out this recipe →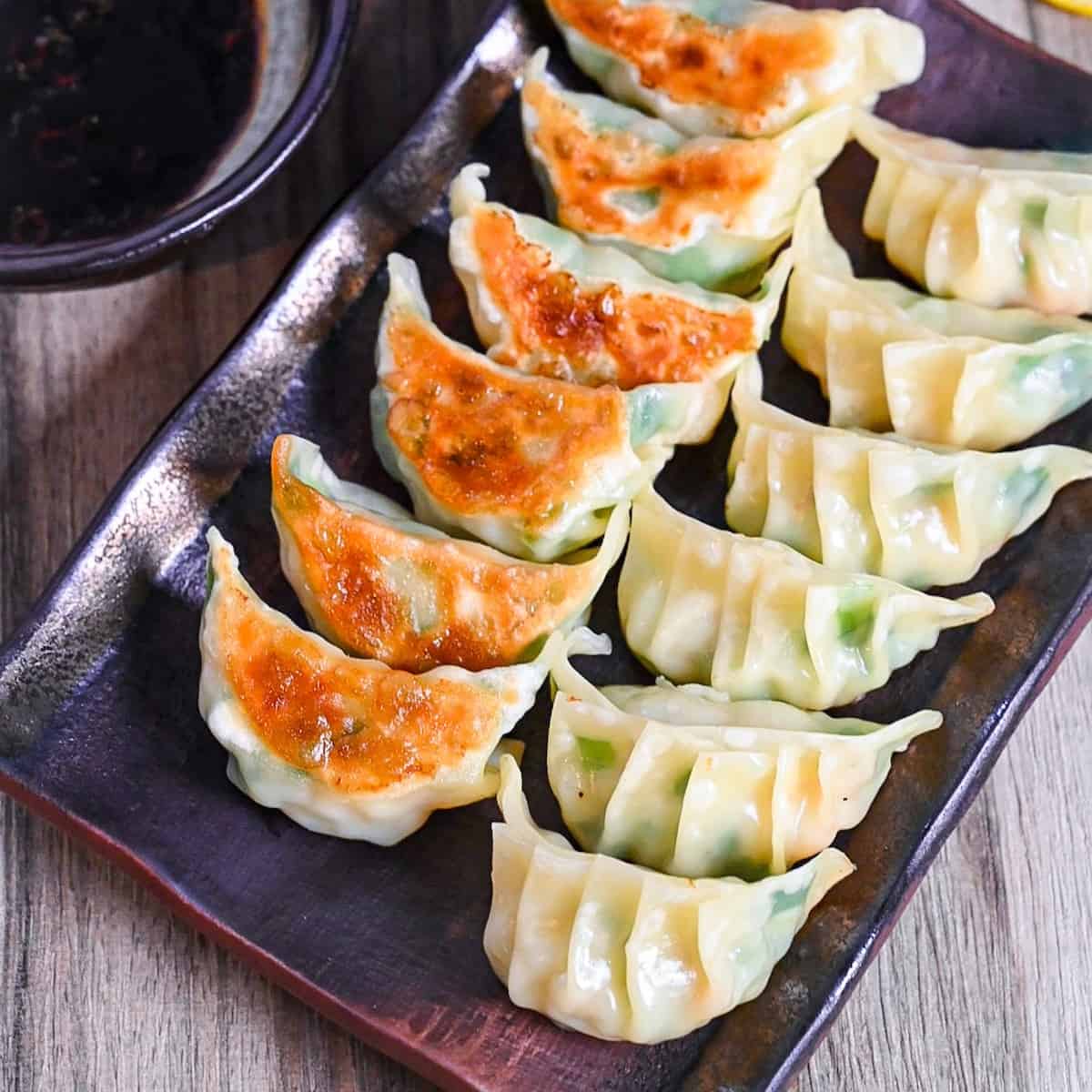 Tofu Gyoza (Plant-based)
Indulge in these homemade plant-based Japanese-style gyoza using only tofu and vegetables.
Seasoned with ginger, garlic, and umami-rich Japanese condiments, this gyoza recipe offers a flavorful, meat-free option that's downright addictive. Revel in the flavor sensation with every bite of these deliciously crisp and hearty dumplings!
Tofu and Vegetable Gyoza (Plant-Based Potstickers)
How to make crispy and flavorful tofu and vegetable gyoza served with a tangy homemade dipping sauce. Suitable for vegetarians and vegans.
Check out this recipe →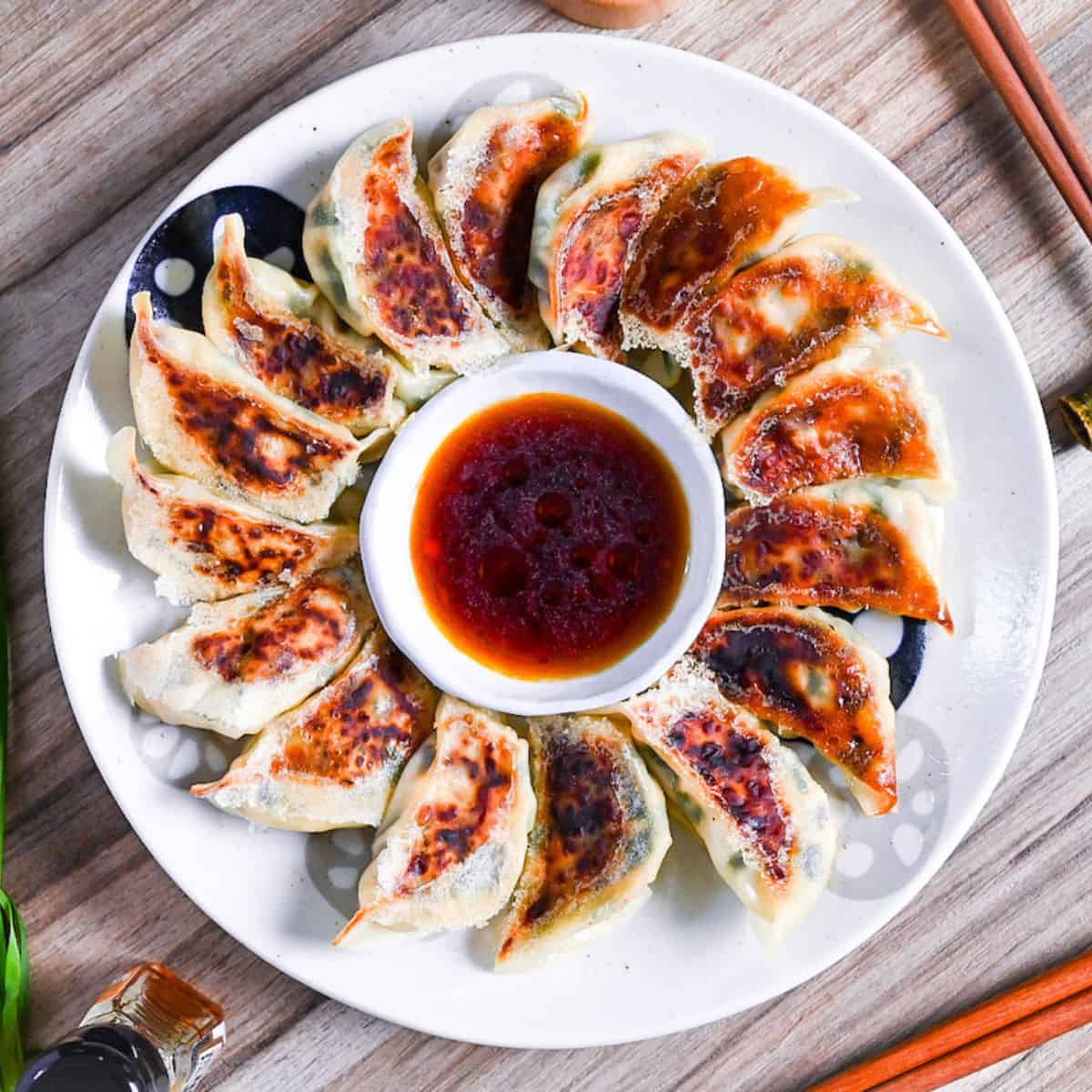 FAQ
What is age gyoza in Japanese?
Simply put, "age gyoza" can be translated as "deep-fried gyoza." Age (揚げ) is deep-fried, and gyoza (餃子) is dumplings or potstickers in Japanese.
What is the difference between yaki gyoza and age gyoza?
The difference between age gyoza (揚げ餃子) and yaki gyoza (焼き餃子) is simple: age gyoza refers to deep-fried gyoza with plenty of oil, while yaki gyoza refers to gyoza fried in a pan or skillet with a small amount of oil.
What does "age" mean in Japanese food?
In a culinary context, the Japanese word "age (揚げ)" means to fry food in plenty of oil. This includes deep-frying or shallow-frying but does not include the method that only uses a small amount of oil, such as stir-frying.