The melt-in-mouth texture and natural sweetness of sweet potatoes make them one of the best vegetables to use for tempura. In this recipe, I will teach you tips and tricks specifically for making tempura with Japanese sweet potato, as well as 3 different ways to cut and enjoy!
Disclaimer: This post may contain affiliate links. Sudachi Recipes is part of the amazon associates programme and earns a small percentage from qualifying purchases at no extra cost to you. See disclaimer for more info.
What is Sweet Potato Tempura?
Sweet potato tempura (さつまいもの天ぷら) is a dish where sweet potatoes are deep-fried in a special Japanese tempura batter.
Tempura is a Japanese dish that coats seafood or vegetables with a light, crispy, deep-fried batter. The traditional batter uses a simple mixture of flour, eggs, and water.
Sweet potato is a great vegetable for making tempura due to its rustic reddish-purple skin and the sweet, tender, and almost creamy texture of its center.
Apart from its great taste, texture, and appearance, it can be cut and presented in many ways!
How I Developed This Recipe
In my journey of developing this sweet potato tempura recipe, I found myself pondering over different ways to prepare. From my point of view, the cut of the sweet potato plays a pivotal role in the final texture of the tempura.
It's fascinating how a simple change in the cut can transform the bite, the crunch, and the overall mouthfeel. So, in this recipe, I've explored three distinct cuts. Each slice has its own unique charm, its own sizzle as it dives into the hot oil, and its own golden hue as it emerges.
And, of course, each has its own specific frying time to achieve that perfect balance of crispness on the outside and soft, sweet warmth on the inside.
If you like sweet potatoes, give it a try!
3 Ways to Cut Sweet Potatoes for Tempura
Different cutting techniques can produce different results when making tempura with sweet potatoes. Here are three ways to cut sweet potatoes for tempura!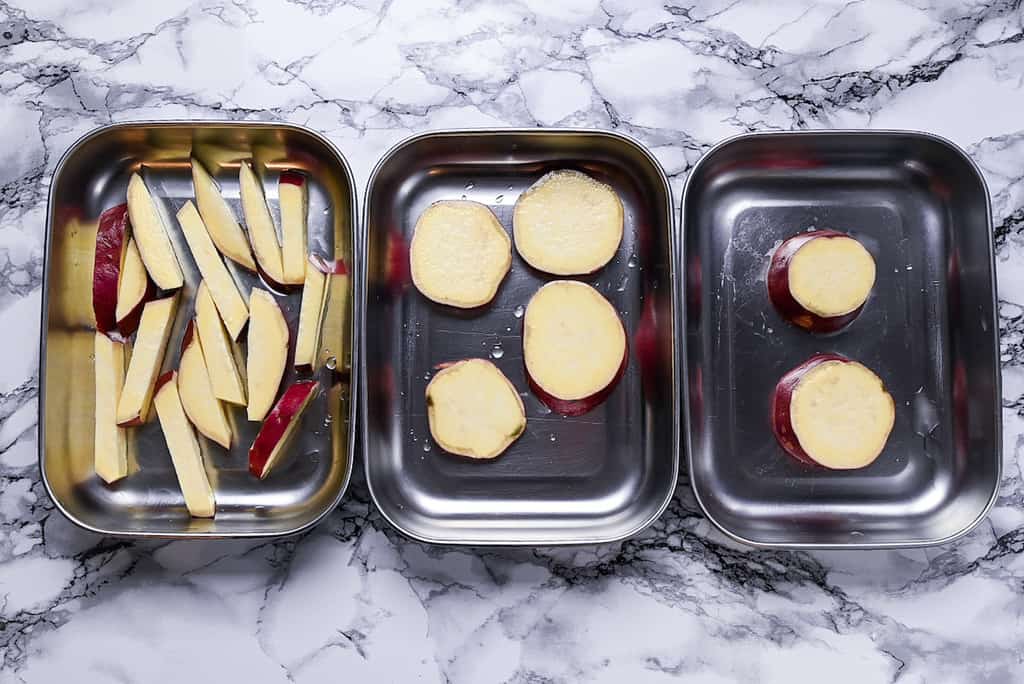 Sticks: This is an easy and fun option. To make them, cut the sweet potato in half lengthways and then cut each half into sticks. Depending on how long you want your sticks to be, you can cut either vertically or horizontally. Just make sure every stick has a bit of skin on it! This cut is ideal for making sweet potato tempura sushi rolls and makes for a great snack similar to fries but with a batter.
Round Slices: This is the most common type, generally between 0.7mm to 1cm thick. This cut is quick to do and ensures that every piece has some beautiful skin showing. To prepare, wash the skin, cut off the ends, and slice thinly with a sharp knife.
Thick Rounds: Another option is the thick rounds, which are around 1.5cm to 2cm thick. These slices take longer to fry, but the extended frying time brings out more of the sweetness. The batter might be slightly darker than usual tempura due to the longer frying time. If you prefer a sweeter taste, go for bigger and thicker slices.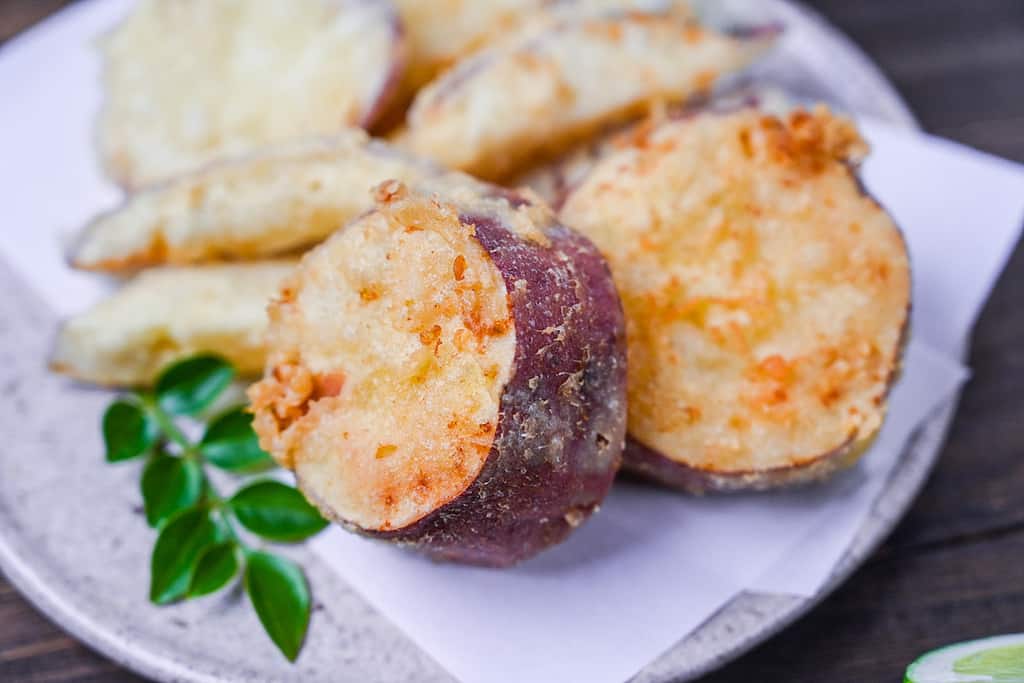 Ingredients You Will Need
Sweet Potatoes: In Japan, we cherish the sweet potato known in Japanese as satsumaimo (さつまいも). Personally, I always opt for the sweeter varieties and often use "silk sweet" or "beni haruka" varieties, they're just perfect!
Cold Water: The secret to the perfect tempura batter is ice-cold water. The magic touch ensures your tempura turns out light and puffy when fried.
Sparkling Water: I splash some sparkling water to amp up the crispiness. Those carbon dioxide bubbles lift the batter, resulting in an even crisper finish.
Potato starch: While I have a soft spot for potato starch, cornstarch and tapioca starch are equally fantastic. Adding them to the flour is a game-changer. At the end of the day, it's all about preventing that gluten formation for the ultimate crispy tempura.
Cake Flour: Again, for the crispiest tempura, it's all about minimizing gluten. I'd say go for cake flour. Those strong flours, like bread flour, can weigh down the batter, so it's best to avoid them.
Mayonnaise That Contains Egg: When making a small batch, I swap the egg for mayonnaise. Kewpie mayonnaise is my go-to. But if you're setting aside the egg for another dish, just use half of a beaten one. If you make a big batch of tempura, check out my authentic tempura batter recipe!
Ice Cubes (Optional): These little cubes work wonders in keeping the batter cool. It's a tiny detail, but it makes all the difference.
Cooking Oil: When frying up some tempura, neutral oils with high smoke points, like canola, sunflower, or peanut oil, are the way to go. But I've often leaned towards rice bran oil and extra virgin (white) sesame oil for that impeccable tempura fry. Many of the expert tempura chefs I've met in Japan vouch for the extra virgin sesame oil. It does wonders for the batter, making it light and crispy, though it might be a tad pricier.
Curious about the exact brands and products that bring my recipes to life? Discover the brands and ingredients behind my recipes at the Sudachi Amazon Storefront. Explore my handpicked pantry essentials and find your next kitchen favorites!
Step-by-Step Process
Prepare The Batter Ingredients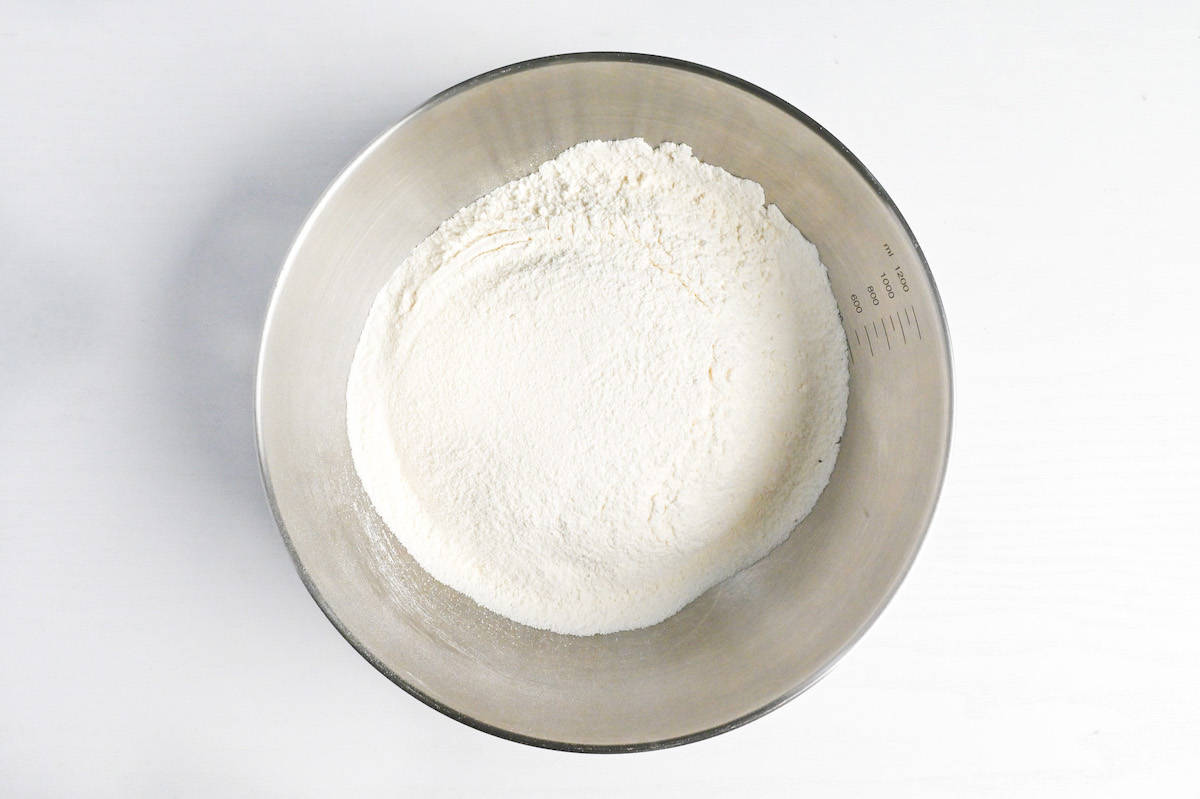 Start by sifting potato starch and cake flour into a bowl. Mix them well, then place the bowl in the freezer.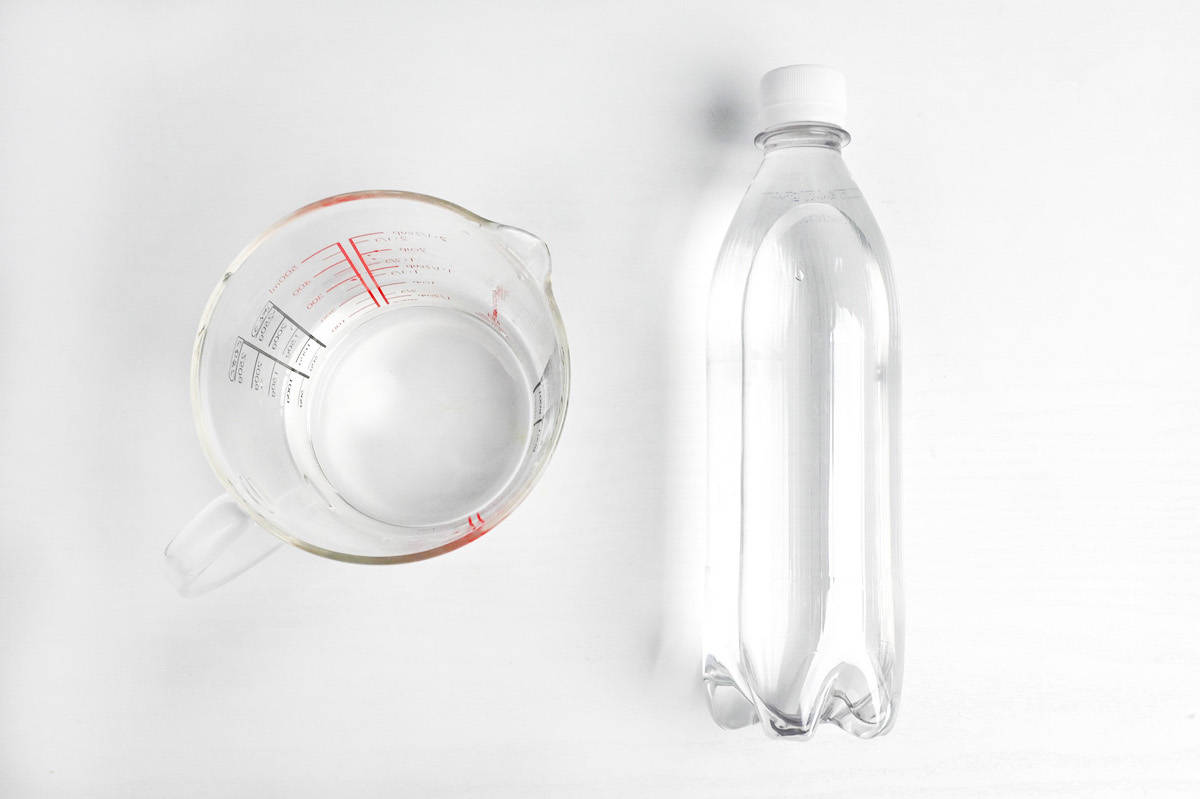 For the tempura batter, it's essential to use cold ingredients, so pour water into a jug and put it in the fridge with a bottle of sparkling water. This will make a huge difference in the final result.
Preparing the Sweet Potatoes
Before we get started with the batter, let's prepare our sweet potatoes.
First, wash the sweet potatoes and trim the ends. Then, slice them according to your preference – thin rounds, thick rounds, or even sticks/wedges.
Ensure to keep some skin on each piece because sweet potato skins are edible, nutritious and also beautifully colored when fried.
For thicker rounds, it's good to etch a shallow cross pattern on both sides. This will help the sweet potatoes cook evenly.
Once you've sliced them, immerse them in cold water for about 10 minutes.
Why Do We Soak Sweet Potatoes?
Sweet potatoes are a vegetable. When exposed to air, they tend to turn discolored due to oxidation.
Therefore, it is important to soak them in a water bowl for at least ten minutes after being cut. This soaking process helps remove excess starch, and the water absorbed into the sweet potato acts as a barrier to prevent it from absorbing too much oil when fried.
Once soaking is complete, use kitchen paper to wipe them dry.
After 30 minutes, it's time to prepare the batter. Mix a few tablespoons of chilled water in a bowl with ½ tbsp of Japanese mayonnaise.
This is an excellent alternative to using a small amount of egg, which can be difficult to measure precisely. If you prefer, you can use egg instead, keeping in mind that the general usage ratio for mayonnaise is 1 egg = 1 tbsp mayonnaise, but make sure to use mayonnaise that contains egg.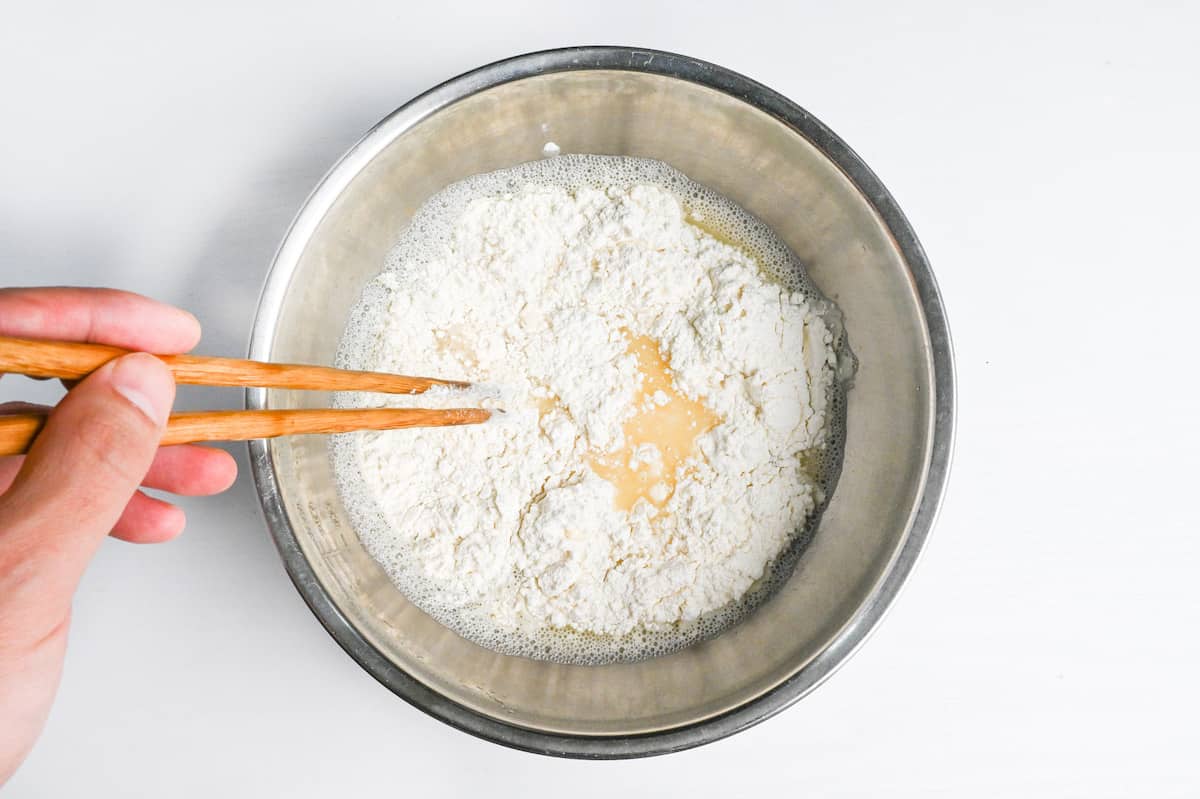 Once you have combined the chilled water, mayonnaise, and sparkling water, add the flour/starch mixture in thirds.
Use chopsticks to draw crosses and mix the ingredients together gently. Be careful not to overmix the batter.
Finally, add some ice cubes to the batter to keep it chilled and ready to use.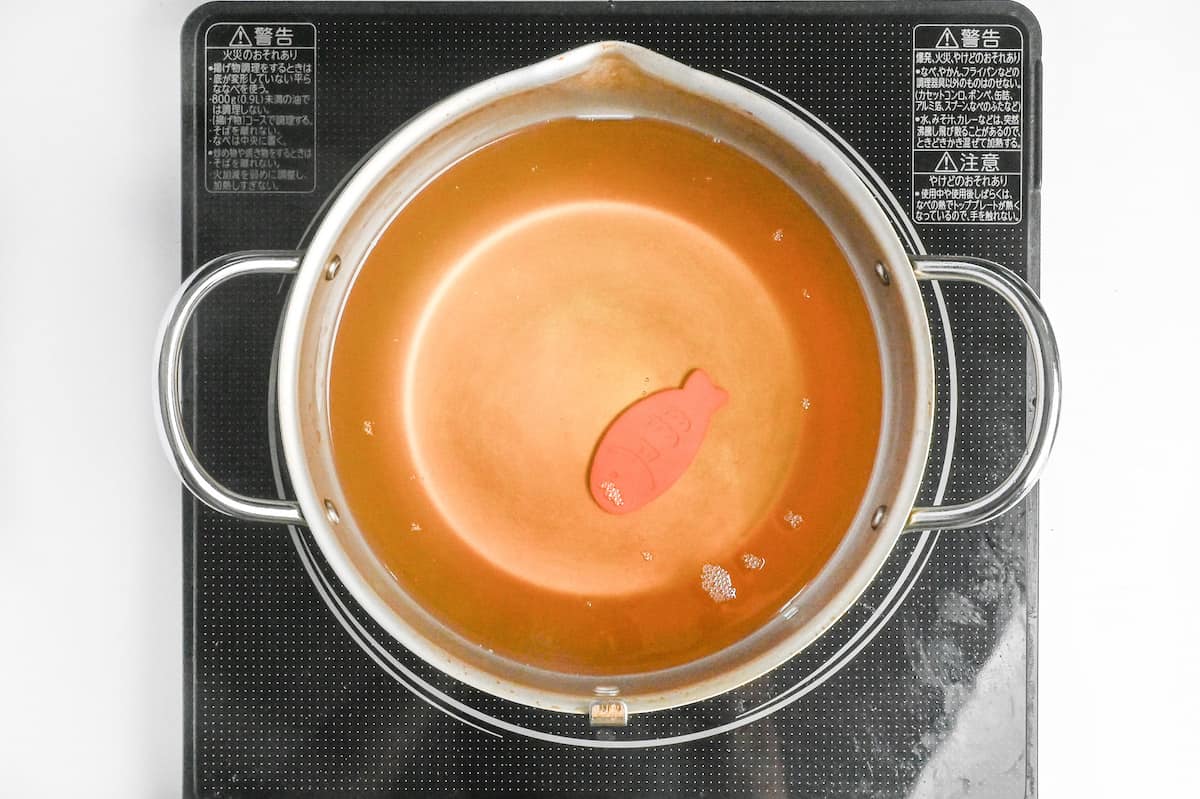 It's time to heat our cooking oil. Aim for a temperature of 160 °C (320 °F).
The ideal temperature for frying sweet potato tempura is a little lower than most other tempura as it takes much longer to cook potatoes through. If the temperature is too high, the batter will brown too quickly and the middle of the sweet potato will still be raw.
Cook time really depends on how thick you cut the potatoes, but if it's around 1cm, cooking time will be 4-5 minutes.
One of the most disappointing issues in tempura is when the batter comes off. To prevent this, dust your sweet potatoes with flour before dipping them in the batter.
The flour will act as a binding agent between the sweet potatoes and the batter, ensuring that the batter sticks.
For thin rounds or sticks, fry for about 4-5 minutes, flipping them halfway. For those thick slices, aim for 6-7 minutes or until a skewer easily pierces through.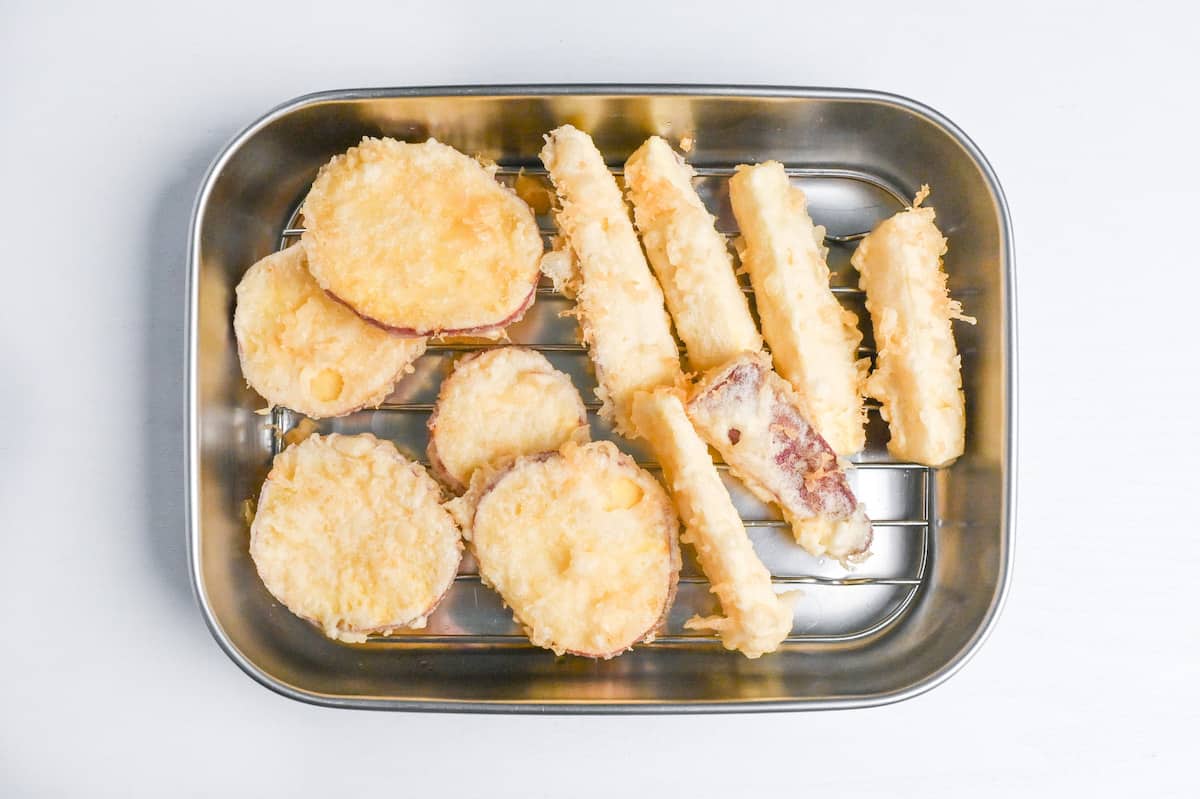 Once golden and crispy, transfer the tempura to a wire rack, letting any excess oil drip off.
Enjoy with Tempura Dipping Sauce!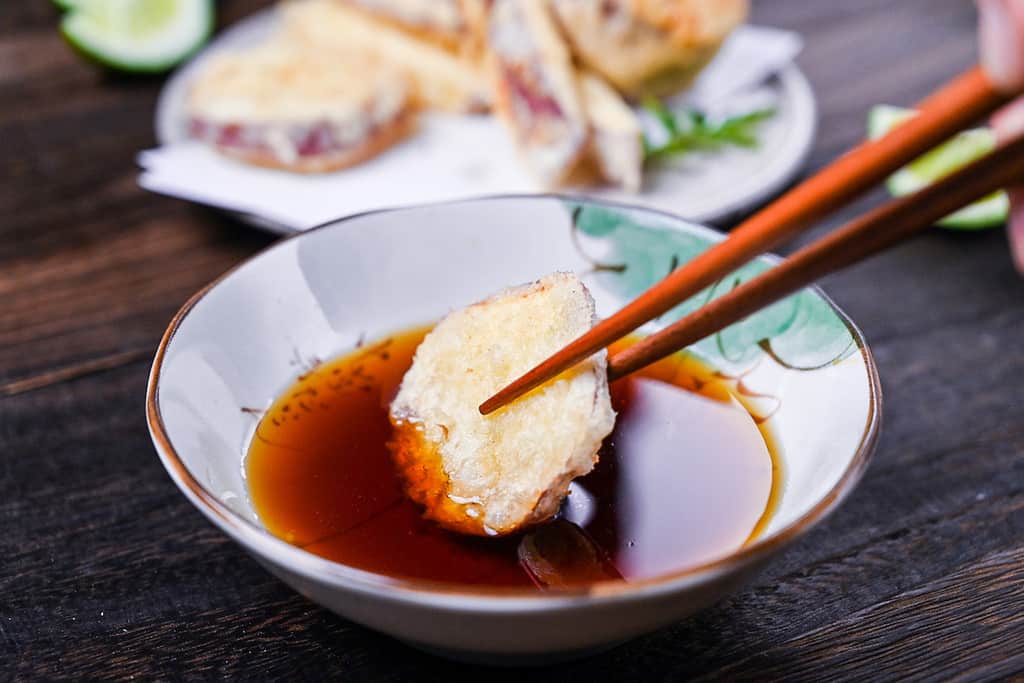 This sweet potato tempura especially goes well with tempura dipping sauce! Alternatively, you can use it for kake udon/soba or zaru udon/soba.
Enjoy it any way you like!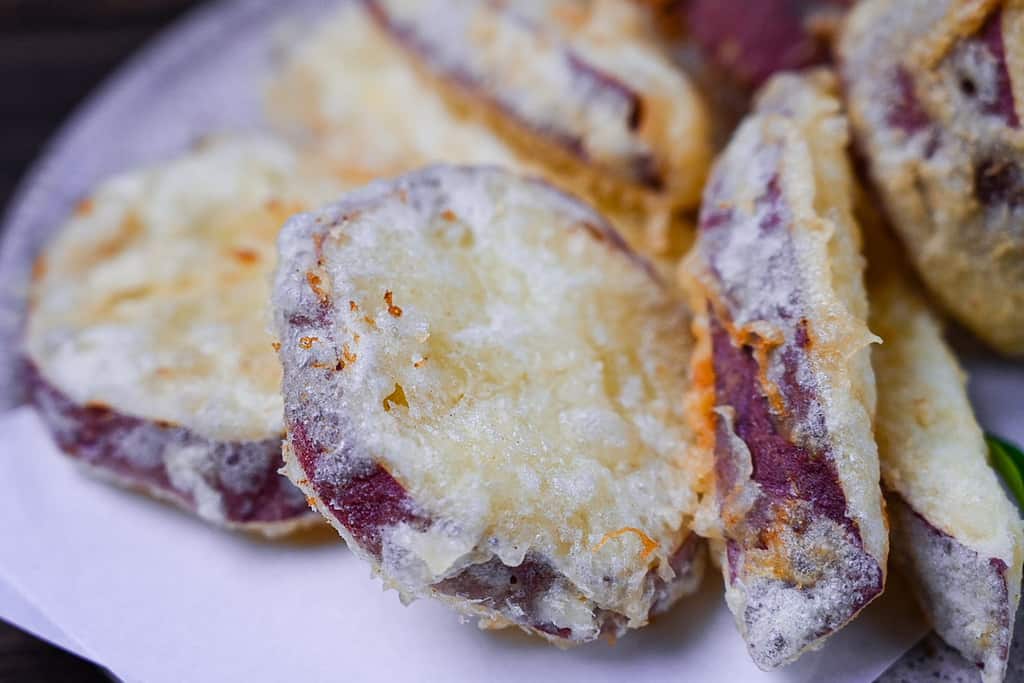 Storage
Tempura is known for its crispy texture, but it is delicate and needs proper storage. It is recommended to avoid keeping it at room temperature. For short-term storage, you can wrap it in plastic or use a container and refrigerate it for 1-2 days.
If you want to store it for a longer period, cool the tempura before freezing it in a sealed bag, making sure they don't stick together. They can be stored for up to a month. When you're ready to eat, defrost and warm it up in the oven.
However, it's important to note that the flavor of tempura may change depending on the storage method.
Therefore, it's best to eat it as fresh as possible for the best taste experience.
Room temperature – Not recommended.
Refrigerated – 1 to 2 days.
Frozen – Up to a month.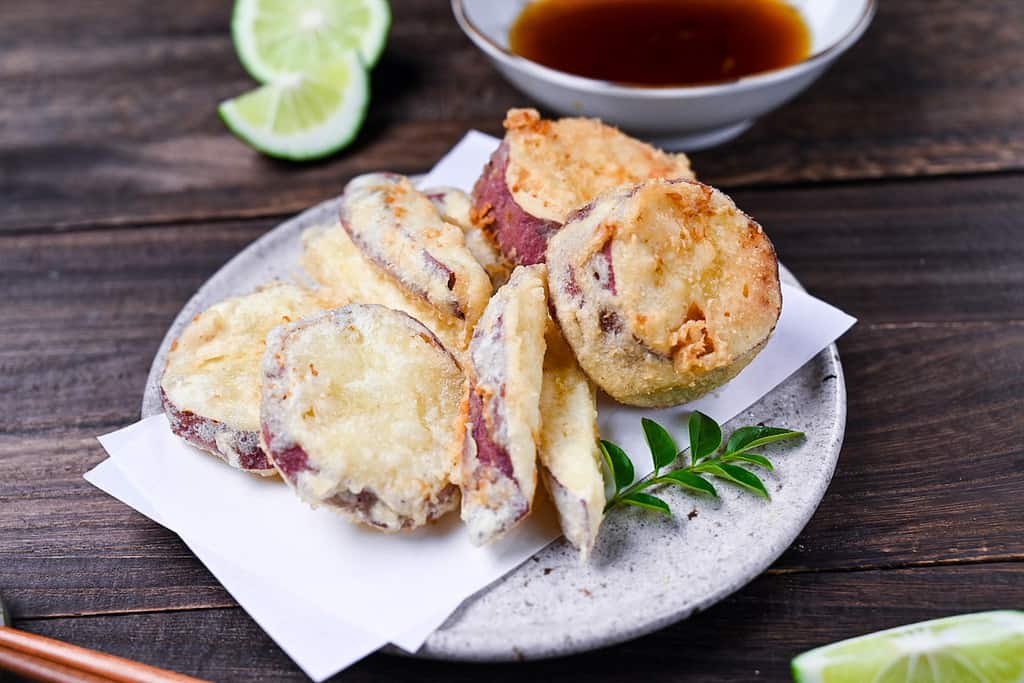 I hope you enjoy these three ways to make sweet potato tempura! If you try it out, I'd really appreciate it if you could spare a moment to let me know what you thought by giving a review and star rating in the comments below. It's also helpful to share any adjustments you made to the recipe with our other readers. Thank you!
More Tempura Recipes
If you loved this recipe, check out some of my other ingredient specific tempura recipes with unique tips and tricks for each one!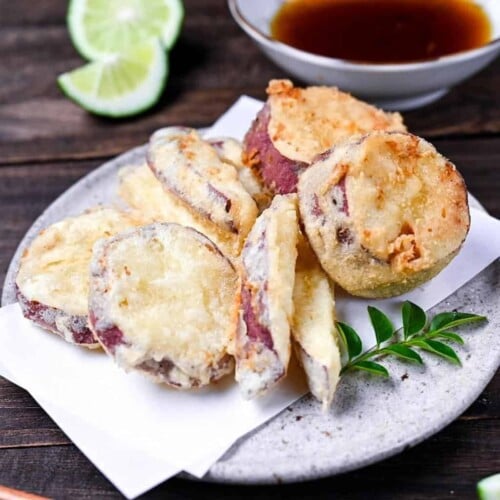 Sweet Potato Tempura (3 Japanese Ways to Make)
---
Three different ways to cut and make Japanese sweet potato tempura with delicious homemade batter. Enjoy a unique experience every time!
---
---
---
---
Ingredients
100

ml

cold water

50

ml

sparkling water

15

g

potato starch

or corn starch

75

g

cake flour

or all purpose + extra for dusting

½

tbsp

Japanese mayonnaise

or half a small whisked egg

2

ice cubes

optional

cooking oil

for frying

600

g

Sweet potato(s)
Instructions
Measure out

100 ml cold water

into a jug and place it in the fridge for 20-30 minutes. Place the sparkling water in the fridge too. (Preferably an unopened bottle, measure after chilling.)

Sift

15 g potato starch

and

75 g cake flour

into a bowl. Mix them together and place the bowl in the fridge for 20-30 minutes.

While your tempura batter ingredients are chilling, wash the surface of

600 g Sweet potato(s)

, cut off the ends, and slice according to your preferred method from the post above. (Thin rounds, thick rounds or sticks/wedges.) Make sure every piece has some skin left on. (If using thick rounds, cut a shallow cross pattern on the front and back of each piece.)

Soak the cut pieces in cold water for 10 minutes.

Once your batter ingredients have been chilling in the fridge for 30 minutes, start preheating your

cooking oil

to

160

°C

(

320

°F

).

In a bowl (or jug), add a few tbsp of the chilled water and

½ tbsp Japanese mayonnaise

. Whisk until well combined to loosen up the mayo, then pour the rest of the chilled water and

50 ml sparkling water

(chilled) into the bowl.

Add the flour/starch mixture to the water one-third at a time, gently drawing crosses through the mixture with the chopsticks to incorporate it. Do not whisk or over-mix, it's fine for the batter to have lumps.

Test your oil by adding a drop of batter, if it sizzles and floats you're ready to fry. (If it sinks, the oil isn't hot enough yet.)

Add

2 ice cubes

to the batter and mix to make it extra cold. (optional)

Dry the sweet potato pieces with kitchen paper and coat them thin layer of flour.

Dip them in the batter and then immediately place them into the oil. Make sure not to overfill the pot. (Keep the batter in the fridge or freezer between batches.) For thin rounds or sticks fry for 4-5 minutes, turning over half way through. For thick slices, fry for 6-7 minutes or until you can easily pierce the centre with a skewer.

Once cooked, place on a wire rack to allow the excess oil to drip off.

Serve and enjoy!
Notes
You can enjoy sweet potato tempura with tentsuyu dipping sauce or salt.
Sweet potato tempura can be eaten as a side or served on top of udon noodles, soba noodles or on top of rice (tendon/tempura donburi).
If you make the stick type, sweet potato tempura sushi rolls are also gaining popularity online and are a great sushi option for vegetarians!