Shrimp is the king of all tempura! Whether you're enjoying it with noodles, on donburi, or on its own, shrimp tempura never disappoints. Learn my tips and tricks to make perfect, light, and crispy Japanese style "Ebi Ten"!
Disclaimer: This post may contain affiliate links. Sudachi Recipes is part of the amazon associates programme and earns a small percentage from qualifying purchases at no extra cost to you. See disclaimer for more info.
What is Shrimp Tempura (Ebiten)?
Shrimp tempura is a popular dish enjoyed by people all over the world. Who can resist juicy shrimp coated in a light and crispy batter? The Japanese word for shrimp is "ebi" (海老), so the dish is called "ebi no tempura" or "ebiten" (海老天) for short.
Tempura is a classic Japanese dish with a long history. It's made by coating seafood and vegetables in a special tempura batter made of flour, egg, and water, then deep-frying until it becomes light and crispy in color and texture.
Shrimp tempura can be served on its own, but it's also common to serve it with other dishes such as udon soup (kake udon), tempura soba, tendon (tempura rice bowl), or even in onigiri rice balls (tenmusu)!
If you can perfect shrimp tempura, you can explore a whole world of other Japanese dishes!
How I Developed This Recipe
Shrimp tempura holds a special place in the heart of Japanese cuisine, reigning as the undisputed king of the tempura.
I've been to a few fancy tempura specialty restaurants in Japan, you know the ones where a chef fries tempura in front of you and serve one by one like a course meal. The experience has always been phenomenal and unreal. I wanted to recreate that light, yet crispy shrimp tempura at home, and I believe I've come close.
In this article, I will show you how to make ebiten just like at a tempura specialty restaurant from start to finish.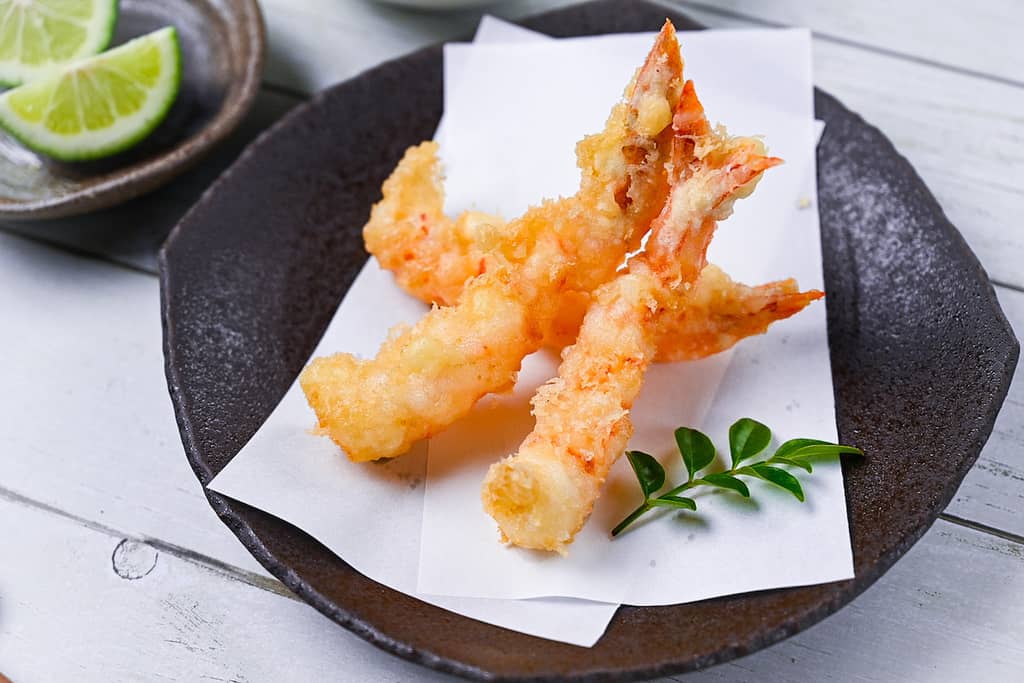 Types of Shrimp/Prawns to Use
Three main types of prawns are commonly used for tempura: Japanese tiger prawn (Kuruma ebi), Black tiger prawn (Giant tiger prawn), and Whiteleg shrimp.
Japanese tiger shrimp: Also known as Kuruma ebi (クルマエビ), it is the most expensive of the three. Its great texture and unique sweetness make it a favorite in high-end tempura restaurants.
Giant black tiger shrimp: It is versatile in various Japanese dishes, such as sushi and ebi furai. It is similar to the Kuruma shrimp in terms of thickness and firmness and is the best option for those who want to make tempura at home, as it offers a good balance of price, taste, and texture.
In conclusion, I recommend the giant black tiger shrimp for its price, availability, size, taste, and texture.
Ingredients You Will Need
Large Shrimps/Prawns: I explained in more detail in the previous section, but generally I recommend Japanese tiger shrimp, giant black tiger shrimp, or big whiteleg shrimp for ebiten.
Cold Water: Using ice-cold water is the secret to a perfect tempura batter. It ensures that the tempura is light and puffy when fried. Trust me on this one!
Sparkling Water: To get that extra crispiness, I add sparkling water. The bubbles from the carbon dioxide give the batter a little boost, making it even crispier.
Potato starch: I often reach for potato starch, but cornstarch or tapioca are great alternatives. Adding these to the flour is a game-changer; it prevents gluten formation, which is critical for light and crispy tempura.
Cake Flour: If you want the crispiest tempura, minimizing gluten is essential. I'd recommend using cake flour. Strong flours, like bread flour, can make the batter too heavy, so it's best to steer clear of them.
Cleaning Ingredients: I use cornstarch and a bit of salt to give the shrimp a good clean. This tiny step is well worthwhile for a more refreshing taste!
Mayonnaise That Contains Egg: Since this recipe is for a small quantity of 10 shrimp, I substitute the more commonly used egg for mayonnaise. Kewpie mayonnaise is my top pick. But if you're saving the egg for something else, you can use half of a beaten egg. And if you're thinking of making a larger batch, check out the Tempura Batter recipe.
Ice Cubes (Optional): These are great for keeping the batter cool. It's a small touch that can make a big difference.
Cooking Oil: When it comes to frying tempura, it's essential to use neutral oils with high smoke points, like canola, sunflower, or peanut oil. But, in my experience, rice bran oil and extra virgin (white) sesame oil give that perfect tempura fry. Many expert chefs in Japan swear by the extra virgin sesame oil. It makes the batter light and crispy, but it can be a bit pricier.
Curious about the exact brands and products that bring my recipes to life? Discover the brands and ingredients behind my recipes at the Sudachi Amazon Storefront. Explore my handpicked pantry essentials and find your next kitchen favorites!
Step-by-Step Process
Prepare The Batter Ingredients
Sift potato starch and cake flour into a bowl.
Give them a good mix, and place the bowl in the freezer.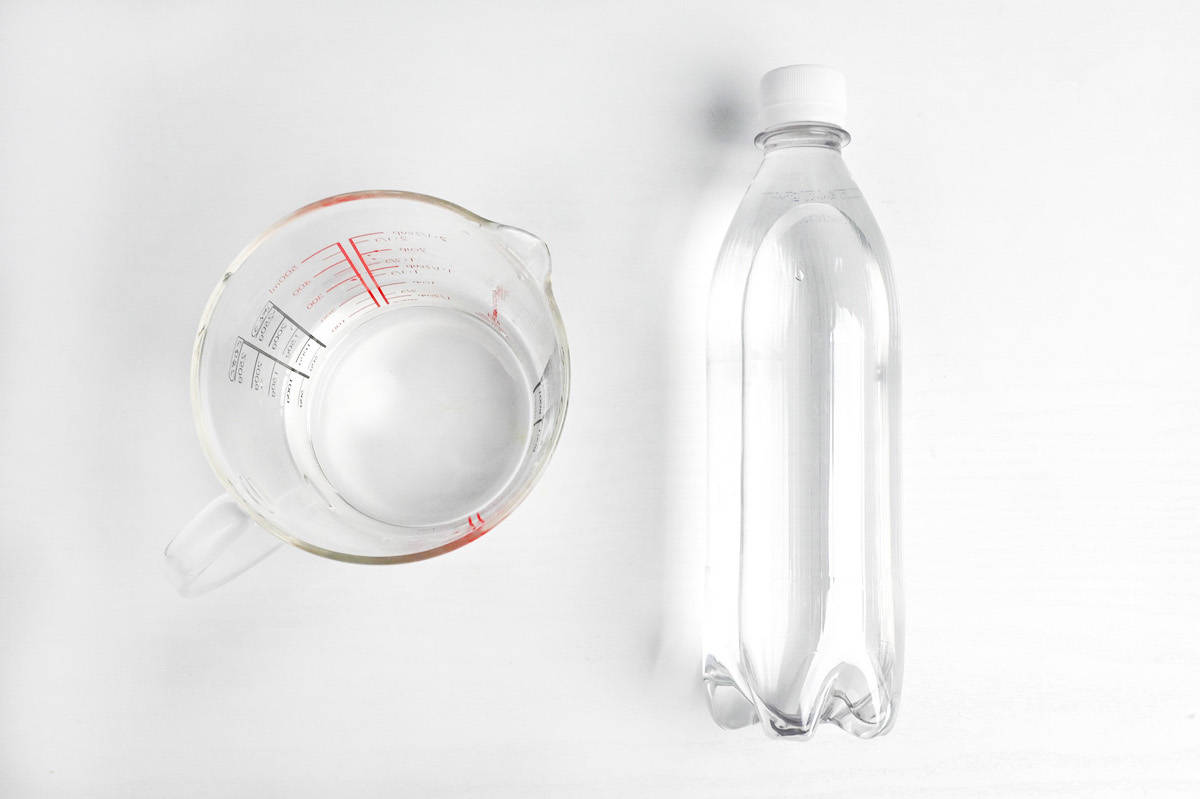 Pour water into a jug, and pop it into the fridge with an unopened bottle of sparkling water. In my experience, cold ingredients make a huge difference for tempura batter.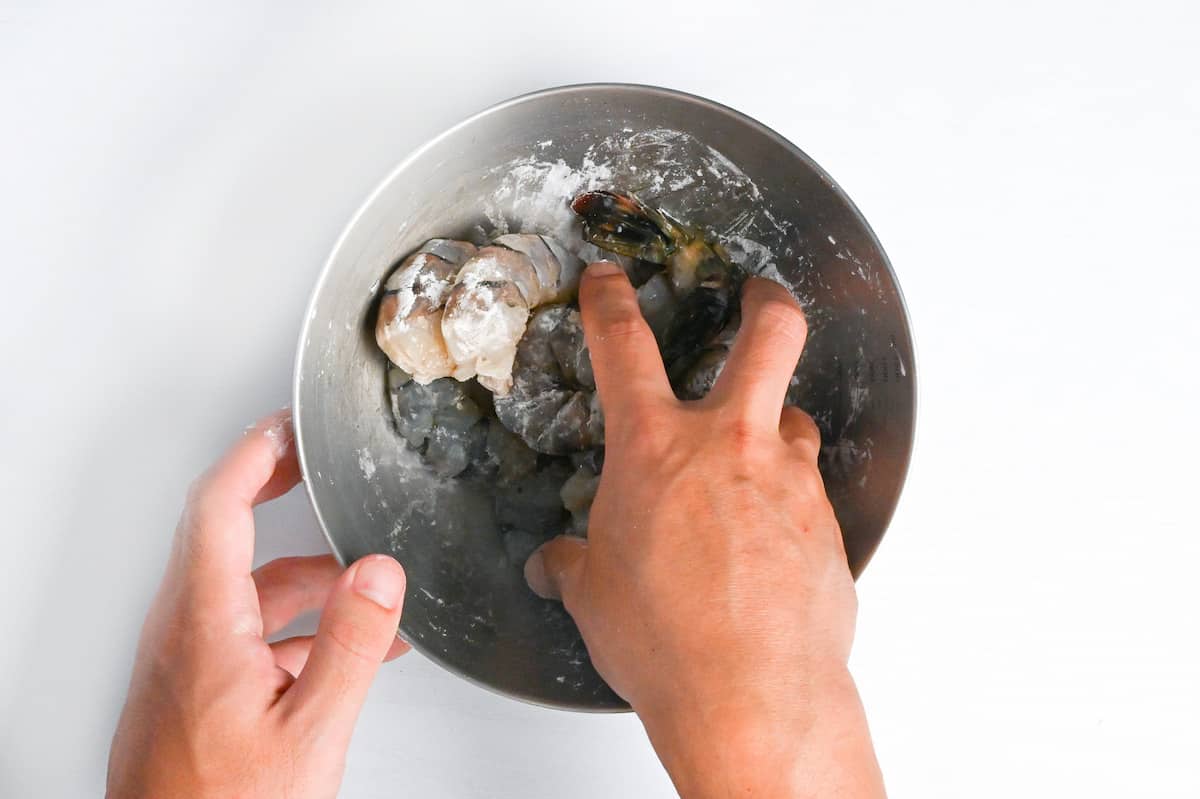 Place 8-10 large deshelled and deveined shrimp in a bowl and sprinkle with 2 pinches of salt and 1 tsp of cornstarch.
Defrost thoroughly if you use frozen shrimps
If you are using frozen prawns, defrost them completely under running water. Non-frozen prawns can be chilled in the fridge.
Rub the mixture over the shrimp. After well-coating, rinse them under cold water to wash off the excess salt and cornstarch.
Salt dehydrates the shrimp, which improves the texture, and starch absorbs the dirt. This makes them super clean, and they always taste better if you do this!
Pat them dry using kitchen paper and lay them on a chopping board.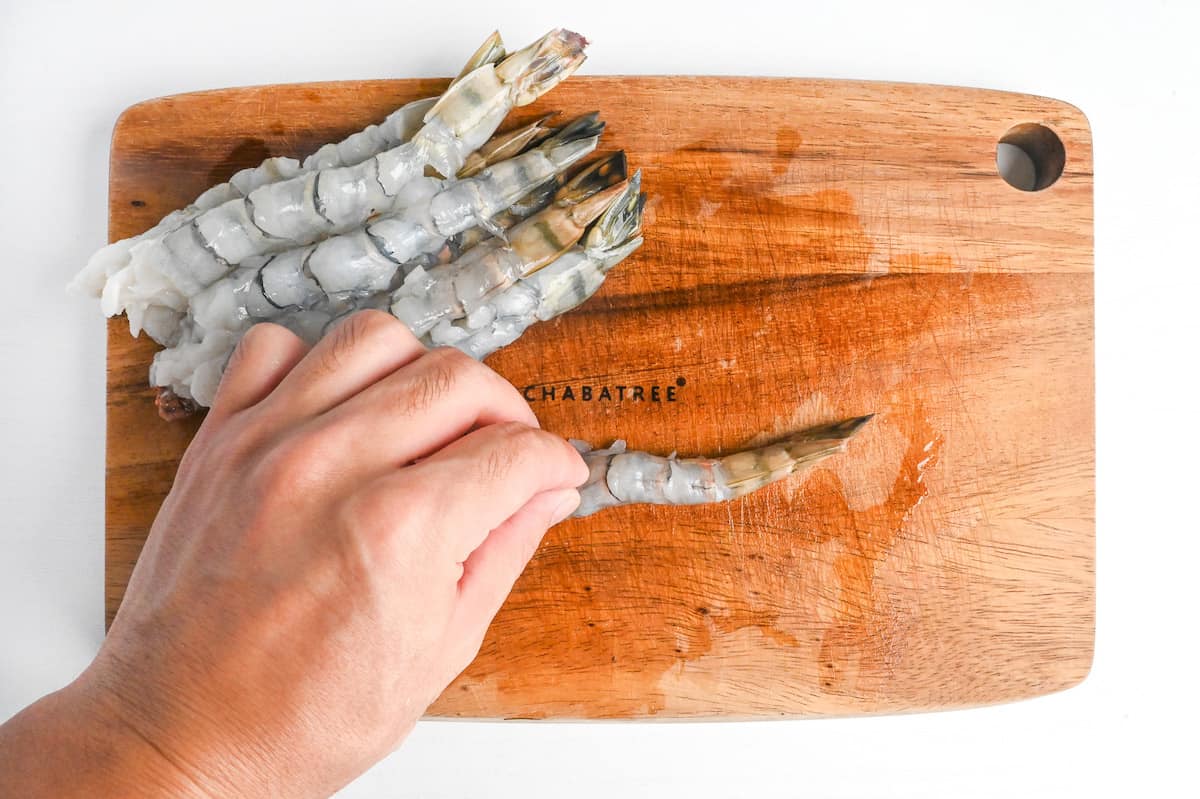 Lay each shrimp on its side, fold the tail in half, and trim it diagonally. Make sure to cut off the pointy tip – this prevents oil splatters during frying and gives the shrimp a neat appearance.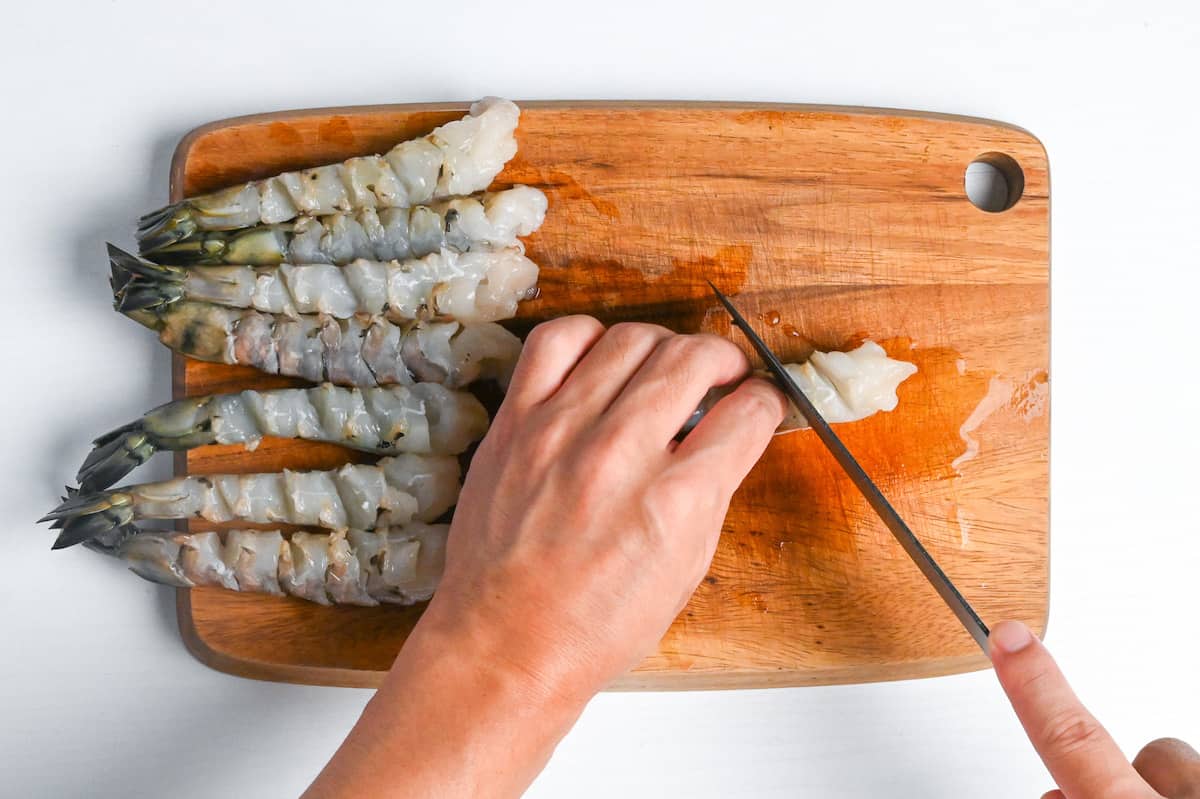 Turn the shrimp belly up and make diagonal incisions about 1cm apart along its body, cutting halfway through. Then, you gently press the back of the shrimp to stretch the muscle.
To keep the prawns straight, breaking off the muscle is important! This process prevents prawns from curling too much when they're frying.
Once you've followed the tips above, rinse them in cold water and pat them dry with kitchen paper. Put them in the fridge until just before battering.
Keeping the ingredients cold is key for tempura in general as well.
Once 30 minutes have passed, it's time to mix the batter! Mix a few tablespoons of chilled water in a bowl with ½ tbsp of Japanese mayonnaise.
Mayonnaise is a great alternative when you want to make a small batch, seeing as measuring ½ or ¼ of an egg is a pain, but you can do this if you prefer.
The general usage ratio of mayonnaise is 1 egg = 1 tbsp mayonnaise.
Use mayonnaise that contains egg
It is not gonna have any mayonnaise-like flavor, but please note that this only works with mayonnaise contains eggs. I always use Kewpie mayonnaise.
Once combined, pour in the remaining chilled water and sparkling water.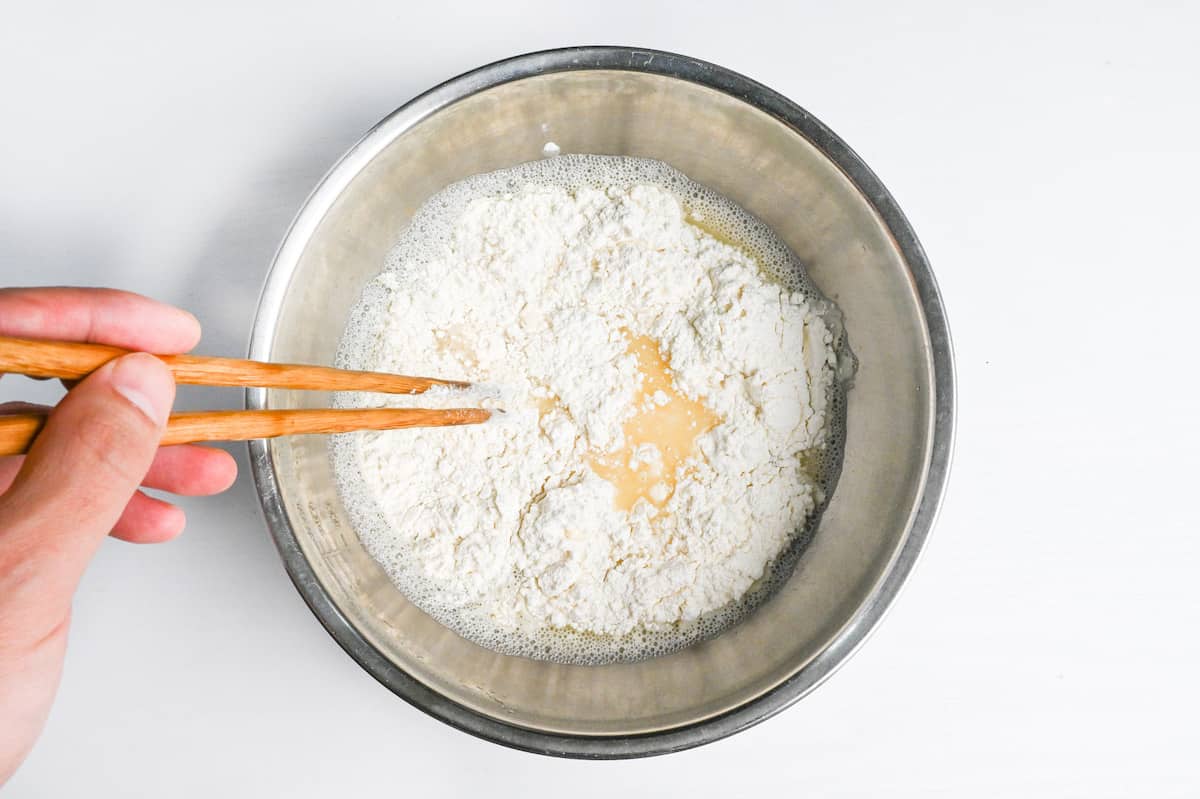 Add flour/starch mixture in thirds, gently drawing crosses with chopsticks to mix. Remember, no vigorous whisking!
Add a couple of ice cubes to the batter for an extra crispy tempura. This is to keep the batter cold during the frying process!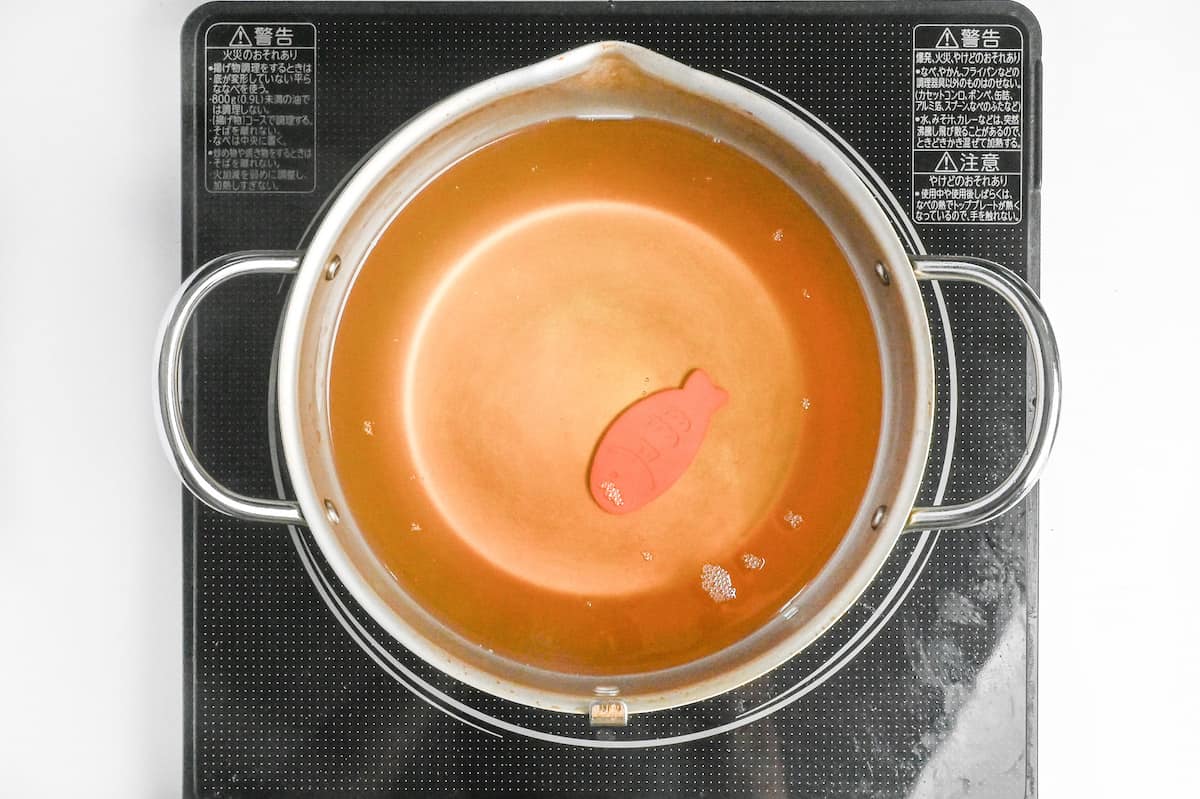 Preheat your frying oil to 180 °C and 190 °C (approx 355-375°F). Temperature is crucial for good tempura, so I highly recommend getting a contactless cooking thermometer. It's so quick and accurate, I love it!
Dry the shrimp again with kitchen paper and lightly dust them with flour.
Make Sure to Dust Shrimp with Flour!
One of the saddest mistakes in tempura is when the batter comes off. To avoid this, dry the shrimp with kitchen paper and dust them with flour before battering. The flour will act as an adhesive between the shrimp and the batter.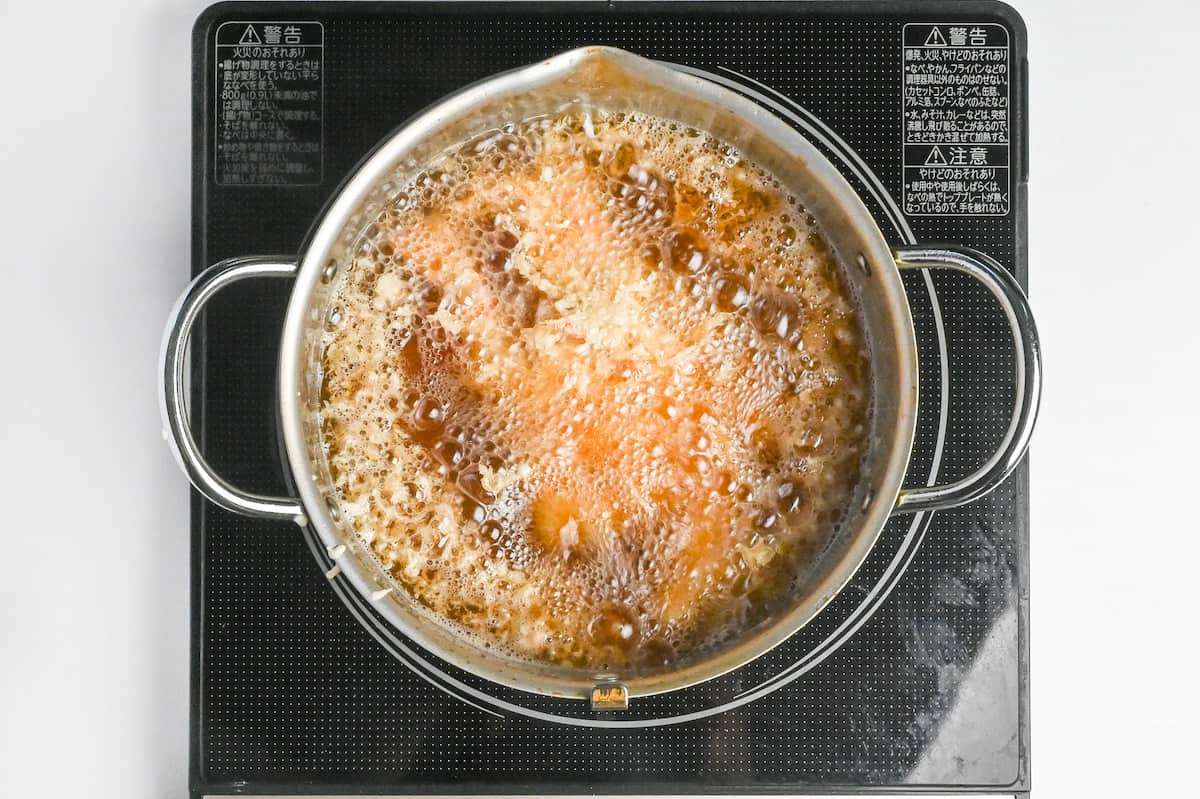 Dip each shrimp into the batter, ensuring a thin coat, and gently place them into the hot oil.
To achieve a crispy tempura, it is vital to maintain the temperature of the oil. If you put too many shrimps in the pan at once, the oil temperature will drop, resulting in less crispy tempura.
It is best to fry only a few shrimps in small batches (no more than 4).
This will not only prevent them from sticking together but also ensure the success of your tempura.
Blooming Method (Optional)
There is a tempura cooking technique called "blooming (花揚げ)." With this method, additional batter is dropped on top of the battered shrimp using chopsticks or by pouring while frying, creating a second layer of batter that looks like a flower has bloomed. This technique is commonly used in dishes such as tendon, tempura soba, and udon.
When frying shrimp tempura, the ideal frying time is around 2 minutes, and the oil temperature should be between 180-190°C (approx 355-375°F). The key is to fry the shrimp quickly at a high temperature.
To determine when to take the prawns out of oil, there are three things to look at:
Color: The surface of the batter should be light golden, not dark.
Sound: When you first put the batter in the oil, it should crack loudly. However, towards the end of the frying process, the sound will become "high-pitched," and the foam will become smaller.
Float: When the prawns are ready to be removed from the oil, they will rise to the surface and float.
Paying attention to these three things ensures your shrimp tempura is perfectly cooked and delicious.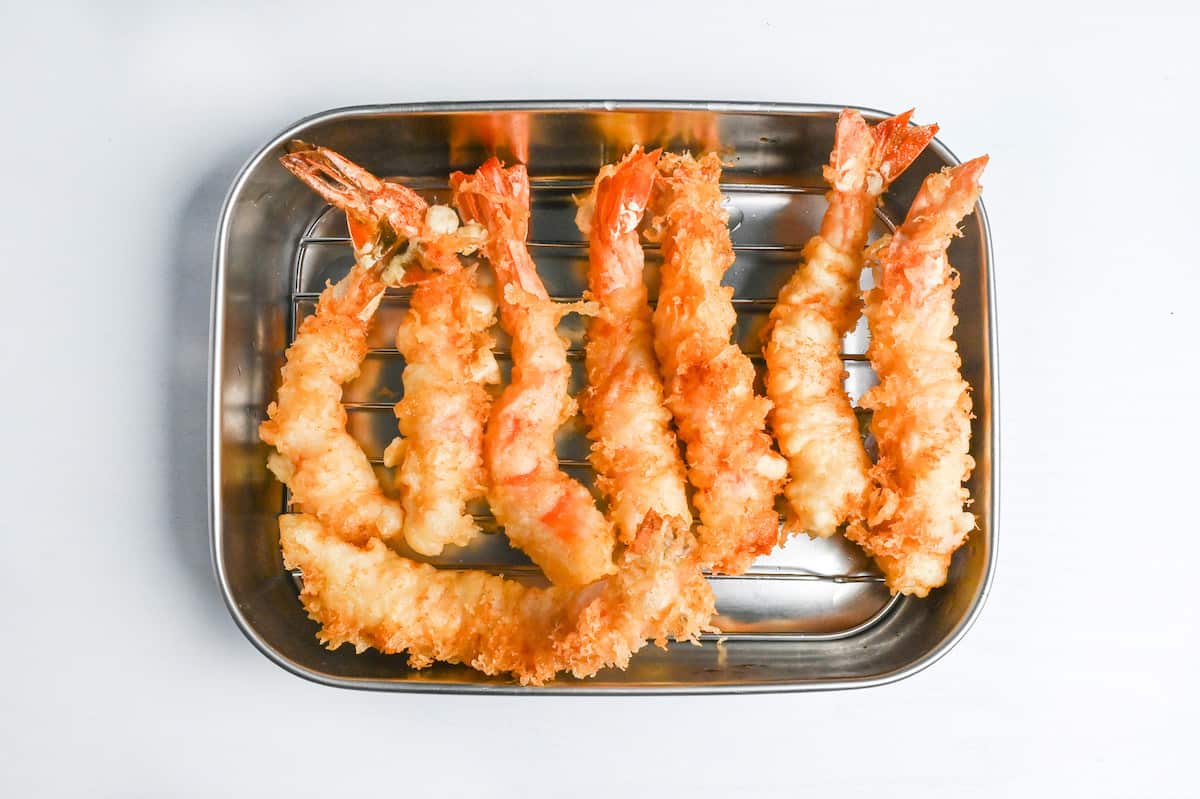 Once done, place them on a wire rack to drain any excess oil.
This shrimp tempura can be eaten simply with salt like at a tempura specialty restaurant, or dipped in tempura dipping sauce, or used for kake udon/soba or zaru udon/soba.
Enjoy it any way you like!
If you want to dive deeper into tempura cooking in general, check out my authentic Japanese tempura batter post.
Storage
Shrimp tempura is known for its crispy texture but is delicate for storage. Avoid keeping it at room temperature. For short-term needs, wrap in plastic or use a container and refrigerate for 1-2 days.
For longer storage, cool the tempura before freezing in a sealed bag, ensuring they don't stick together. They can be stored for up to a month. When ready to eat, defrost and warm in the oven.
However, it is important to note that the flavor of tempura may change depending on the storage method. Therefore, it is recommended to eat it as fresh as possible for the best taste experience.
Room temperature – Not recommended.
Refrigerated – 1 to 2 days.
Frozen – Up to a month.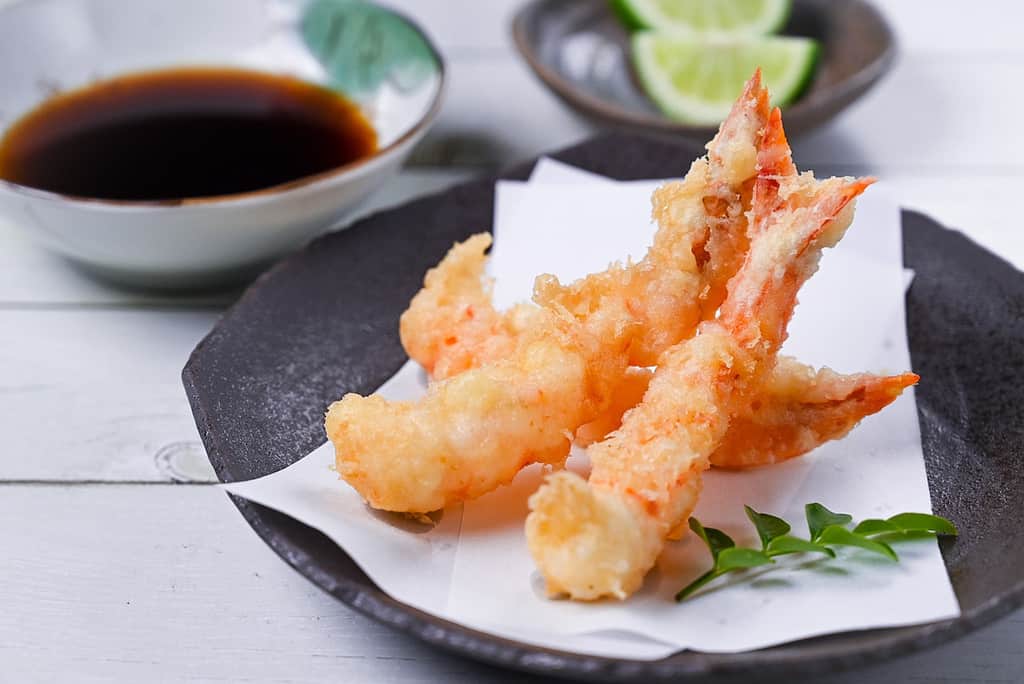 I hope you enjoy this crispy Japanese shrimp tempura recipe! If you try it out, I'd really appreciate it if you could spare a moment to let me know what you thought by giving a review and star rating in the comments below. It's also helpful to share any adjustments you made to the recipe with our other readers. Thank you!
Recipes to Enjoy with Shrimp Tempura
Shrimp tempura can be enjoyed in many other dishes. Check out some of my other recipes that go well with shrimp tempura!
Shrimp Tempura (Crispy Japanese Ebiten)
---
How to make a small batch of Ebiten, light and crispy Japanese shrimp tempura made with juicy prawns coated in a homemade tempura batter and fried to perfection!
---
---
---
---
Equipment
Japanese-style fryer

Stainless steel cooking tray with wire rack

Tempura paper
Ingredients
100

ml

water

50

ml

sparkling water

15

g

potato starch

or cornstarch

75

g

cake flour

cake flour or all purpose + extra for dusting

10

large shrimp

(Japanese tiger, black tiger or white legged) deveined with shells removed but tails intact

2

pinches

salt

1

tsp

cornstarch

or potato starch

½

tbsp

Japanese mayonnaise

or half a small whisked egg

2

ice cubes

optional

cooking oil

for frying
Instructions
Measure out

100 ml water

into a jug and place it in the refrigerator for 30 minutes along with an unopened bottle of sparkling water.

Sift

15 g potato starch

and

75 g cake flour

into a bowl. Mix them together and place the bowl in the fridge or freezer for 30 minutes.

Place

10 large shrimp

in a bowl with

2 pinches salt

and

1 tsp cornstarch

and rub them over the surface of the prawns.

Once evenly covered, wash the shrimp with cold water to rinse off the salt and corn starch. Dry them with kitchen paper and transfer to a chopping board.

Place the shrimp on its side and with the tail folded in half and trim it diagonally. The pointy tip should be cut off and be the shorter part of the diagonal. (This stops oil from splattering out when it's frying and it looks nicer too!)

Turn the prawn so the belly is facing up, and make diagonal incisions along the whole body. The incisions should be about 1cm apart and go about ½ way through the prawn.

Once 30 minutes have passed, start preheating your oil to

180

°C

(

356

°F

) to

190

°C

(

374

°F

).

In a bowl (or jug), add a few tbsp of the chilled water and

½ tbsp Japanese mayonnaise

. Mix until combined, then add the rest of the chilled water and

50 ml sparkling water

into the bowl.

Add the flour/starch one-third at a time, gently drawing crosses through the mixture with the chopsticks to incorporate it. (Do not whisk or over-mix.)

Test your oil by adding a drop of batter, if it sizzles and floats you're ready to fry. (If it sinks, heat more and keep the batter in the fridge while you wait.)

Add a couple of ice cubes to the batter and mix to make it extra cold. (optional)

Dry the shrimp with kitchen paper and dust them with a thin layer of flour.

Dip them in the batter and then immediately place them into the oil one by one. Make sure not to overfill the pot. (Keep the batter in the fridge between batches.)

Fry for about 2 minutes or until crispy but not too golden (tempura should be pale in color). Once cooked, place on a wire rack to allow the excess oil to drip off.

Serve and enjoy!
Notes
This recipe makes a small batch and uses mayonnaise instead of eggs. If you want to use egg, whisk the egg in a separate bowl and use half for every 1/2 tbsp of mayonnaise. For bigger batches, see my tempura batter recipe here.