Enjoy tasty yakisoba noodles in a totally different (yet delicious!) way with this yakisoba pan! Japanese style fried noodles served in a fluffy hotdog bun and topped with refreshing pickled ginger, it's tasty and filling, perfect for lunch or as a snack!
Disclaimer: This post contains Amazon affiliate links. Sudachi Recipes earn a small percentage from qualifying purchases at no extra cost to you. See disclaimer for more info.
Jump to:
What is yakisoba pan?
Yakisoba pan (焼きそばパン) is a popular type of bread made with a light and fluffy bun (similar to a hot dog bun) stuffed with delicious noodles fried in a tasty yakisoba sauce.
The bun used for yakisoba pan is something we call "koppepan" (コッペパン). "Koppepan" is a mixture of two languages, with "coupé" meaning "cut" in French and "pan" meaning "bread" in Portuguese.
Koppepan was invented by a famous baker called Genpei Tanabe, who learned how to make bread in the United States in Meiji era (1868-1912) and developed the first yeast bread-making method in Japan in the Taisho era (1912-1926).
History of yakisoba bread
There are many theories about the origin of yakisoba pan, but the most popular theory is that the restaurant "Nozawaya" (野澤屋) in Tokyo, was the original developer.
In 1952, when they were selling yakisoba and koppepan at the same time, a customer asked them to put yakisoba in bread because it was too much hassle to eat them separately. Apparently, since then, it became a big hit and spread throughout Tokyo.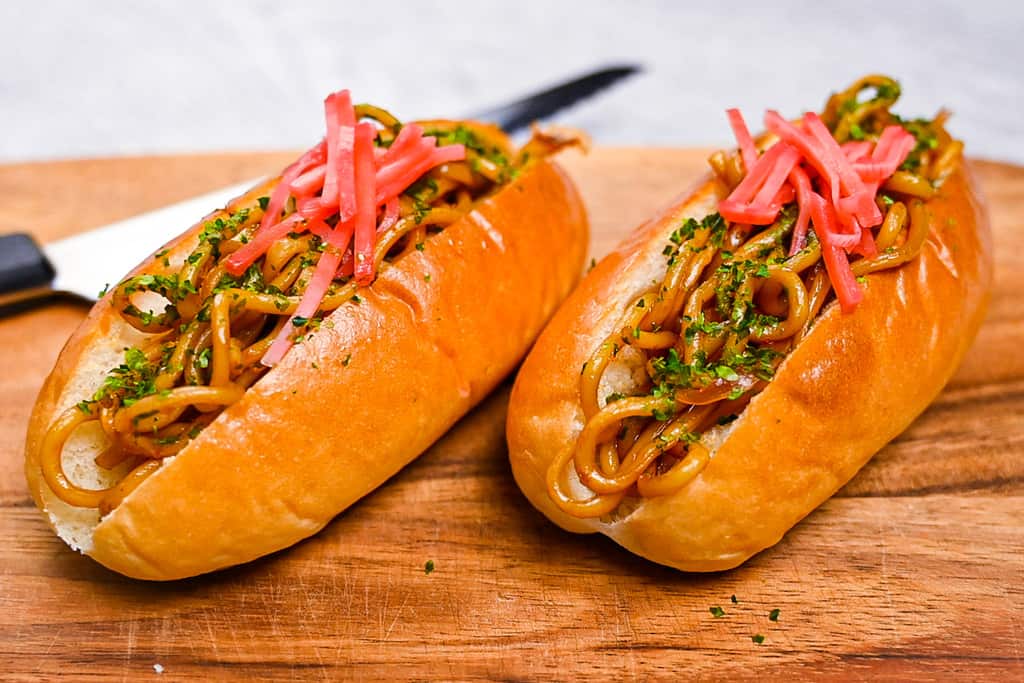 Sozai Pan / Chori Pan
What is sozai pan?
Yakisoba pan is considered a type of "sozai pan", but what does that mean?
"Sozai pan" (惣菜パン) or "chori pan" can literally be translated as "filled bread" or "stuffed bread". Usually, sozai pan is made by stuffing soft buns or koppepan with ingredients that would usually be eaten separately.
A few examples of sozai pan are:
Yakisoba pan
Curry pan
Corn mayonnaise pan
Bakeries in Japan often get creative with their sozai pan fillings, it's fun to experience the innovation of Japanese sozai pan!
Yakisoba bread as high school students' soul food
If you're a fan of anime, manga or Japanese dramas, you might have seen references to yakisoba bread, with it often being associated with high school life. You know, like a scene where popular boys ask "let's go buy some yakisoba bread" type of scene.
男子高校生が焼きそばパンを食うアニメは名作 #俺好き #tokyomx #bs11

俺を好きなのはお前だけかよ
ちはやふる
山田くんと7人の魔女
この素晴らしい世界に祝福を! pic.twitter.com/wKt8PyUFMS

— フォルダーマン研 (@FoldermanJ) November 20, 2019
Lots of people would claim yakisoba bread was one of their favourite breads back in their school days. Some even refer to yakisoba pan as "King of B-class bread".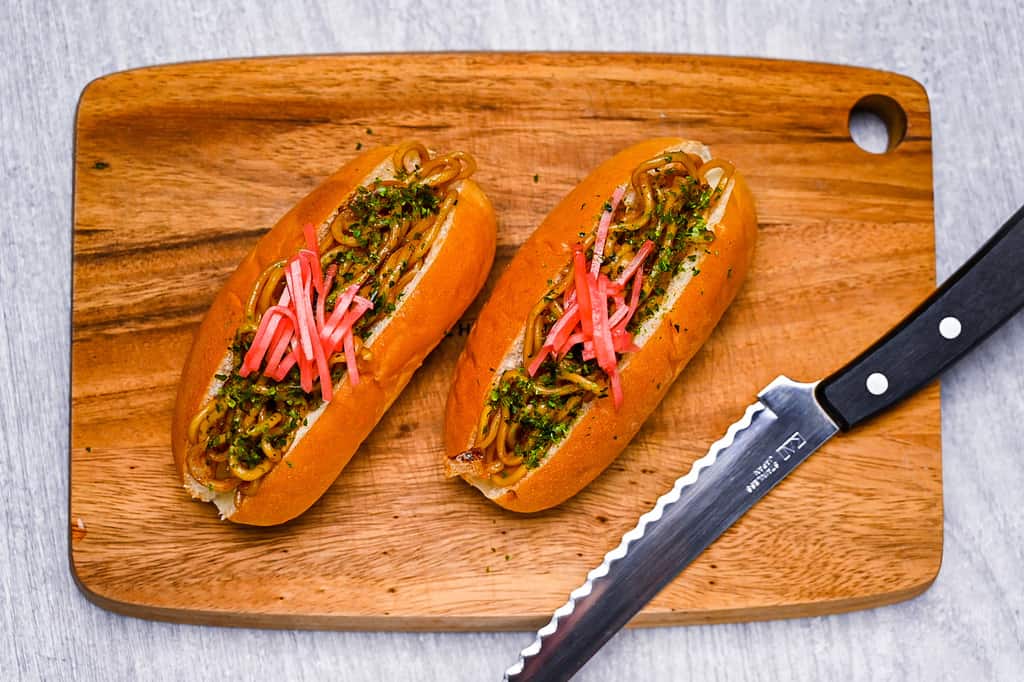 Well, unfortunately for me, my high school did not have a cafeteria that served hot meals (these things only exist at private or more prestigious high schools...). We did however, have one tiny kiosk that sold a limited number of packaged breads. Even without yakisoba bread, me and my friends still fought for the best bread of the day by literally sprinting to the kiosk as soon as the school bell rang.
The reason why it's popular among high school students is probably because how cheap and filling they are. It's double carbs after all.
How do you make yakisoba pan differently from normal yakisoba?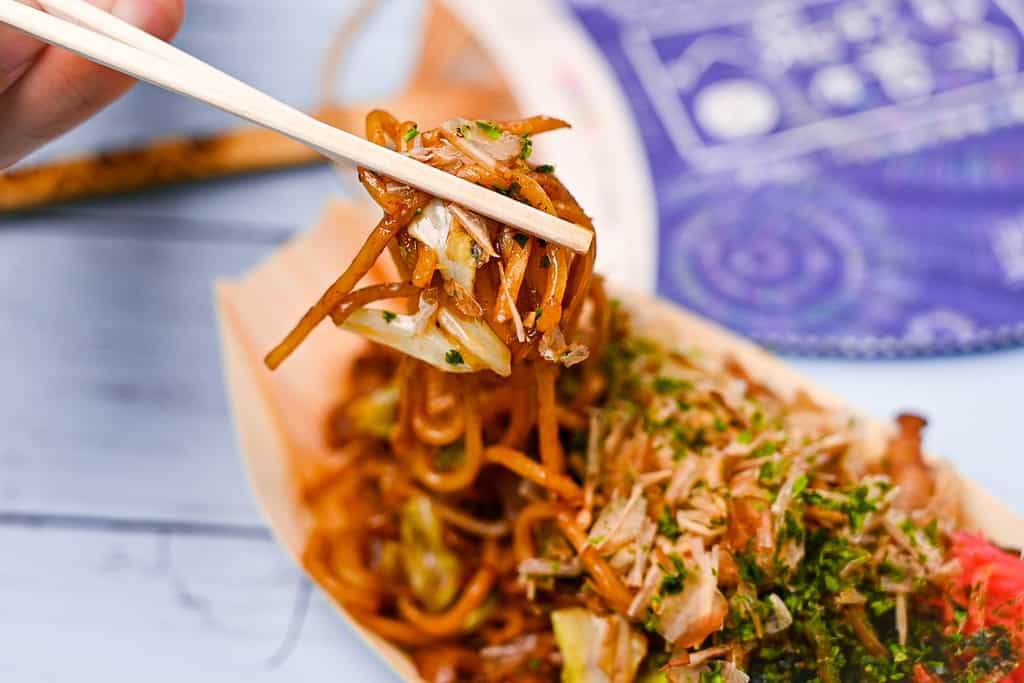 There is no rule or anything so you could just put normal yakisoba in a hot dog bun, but you have to remember there is only limited space in a bun.
My usual yakisoba recipe consists of:
Homemade yakisoba sauce (recipe below)
Yakisoba noodles
Pork belly
White onion
White cabbage
If you use all of these ingredients, it's gonna be too bulky in a bun. So I would take out the cabbage and bonito flakes (possibly pork and onion too).
Usually yakisoba pan only contains the flavoured noodles and refreshing pickled ginger. This is because yakisoba pan is usually made in advance and the moisture from the extra vegetables would make the bread soggy. If you're eating it straight away, you can add more vegetables.
You can decorate yakisoba pan with aonori (dried seaweed powder) and mayonnaise.
Watch my Classic Festival Style Yakisoba Video
FAQ
Do you eat yakisoba pan warm or cold?
Yakisoba pan is most commonly served at room temperature. We don't tend to refrigerate it or reheat it, just eat it as it is.
How much does yakisoba pan cost in Japan?
Yakisoba pan is very cheap, about 150 yen. That's about $1.35 (Oct 2021).
Where can I buy yakisoba pan?
If you visit Japan, you can find yakisoba pan in convenience stores and supermarkets.
Yakisoba Pan (Yakisoba sandwich in a bread/bun)
How to make tasty, filling and fun "yakisoba pan". A fluffy and light hot dog bun filled with delicious Japanese style fried noodles.
Ingredients
Yakisoba Sauce
½

tbsp

oyster sauce

½

tbsp

soy sauce

1

tsp

Worcestershire sauce

½

tsp

tomato ketchup

1

tsp

sake

-

or white wine

¼

tsp

sugar

1

pinch

black pepper

½

tsp

sesame oil
Yakisoba Pan
½

tbsp

cooking oil

100

g

pre-boiled Chinese-style noodles

-

chukamen, yakisoba noodles

60

g

pork belly

-

thinly sliced (see note)

1

pinch

salt and pepper

25

g

yellow onion(s) -

sliced

3

hot dog buns

unsalted butter

red pickled ginger

-

optional, benishoga

dried green laver powder

-

optional, aonori

Japanese mayonnaise

-

optional
Instructions
First, make the sauce. Add

½ tbsp oyster sauce

,

½ tbsp soy sauce

,

1 tsp Worcestershire sauce

,

½ tsp tomato ketchup

,

1 tsp sake

,

¼ tsp sugar

,

1 pinch black pepper

and

½ tsp sesame oil

to a small bowl. Mix well and set aside for later.

Heat a wok or frying pan on medium high and add

½ tbsp cooking oil

. 

Place

100 g pre-boiled Chinese-style noodles

into the wok and fry them until slightly crispy on both sides. 

Transfer the noodles to a plate and add

60 g pork belly

to the wok with

1 pinch salt and pepper

. Fry until crispy.

Add

25 g yellow onion(s)

to the wok and stir fry until it reaches your preferred softness. 

Push the meat and onion to one side and add the noodles back to the pan.

Pour your yakisoba sauce over the noodles and mix thoroughly.

Once the sauce is evenly coating the noodles, mix in the pork belly and onions.

Fry for another minute or so and then remove from the heat.

Cut

3 hot dog buns

through the middle and spread each side with butter.

Place the yakisoba inside the bun.

Sprinkle aonori (dry seaweed powder) over the noodles and place benishoga (pickled ginger) in the middle. You could also drizzle with mayonnaise if you like.

Enjoy!
Notes
If you can't find thinly sliced pork belly, you can use unsmoked bacon instead. 2-3 slices should be enough for this recipe. 
You can add more vegetables if you plan to eat it straight away. Cook all vegetables after the pork, with the firmest first (e.g. carrots) and the softest last (e.g. beansprouts). Don't add the noodles back to the pan until the vegetables are cooked through.
Be aware that adding extra ingredients will make the yakisoba more bulky and you might need extra hot dog buns.
If you're serving yakisoba pan in a lunchbox or saving it for later, I don't recommend adding extra vegetables. 
Wrap yakisoba pan in clingfilm for later and eat within a few hours.