Osaka style Okonomiyaki is an iconic Japanese street food. A delicious savory pancake topped with a rich sauce, mayonnaise and other various toppings. Not only does it taste great, but you can also make it from scratch at home!
Disclaimer: This post contains Amazon affiliate links. Sudachi Recipes earn a small percentage from qualifying purchases at no extra cost to you. See disclaimer for more info.
Jump to:
What is Okonomiyaki? What is special about it?
Okonomiyaki (お好み焼き) is a savory pancake type dish made with a batter and filled with meat and vegetables. It's usually topped with a delicious fruity okonomiyaki sauce and drizzled with Japanese mayonnaise.
It is mostly popular in Osaka and Hiroshima and they are always arguing which one is authentic or better. There's no compromise in this argument, after all, the word "okonomi" means "as you like" in Japanese. It depends on your own preference!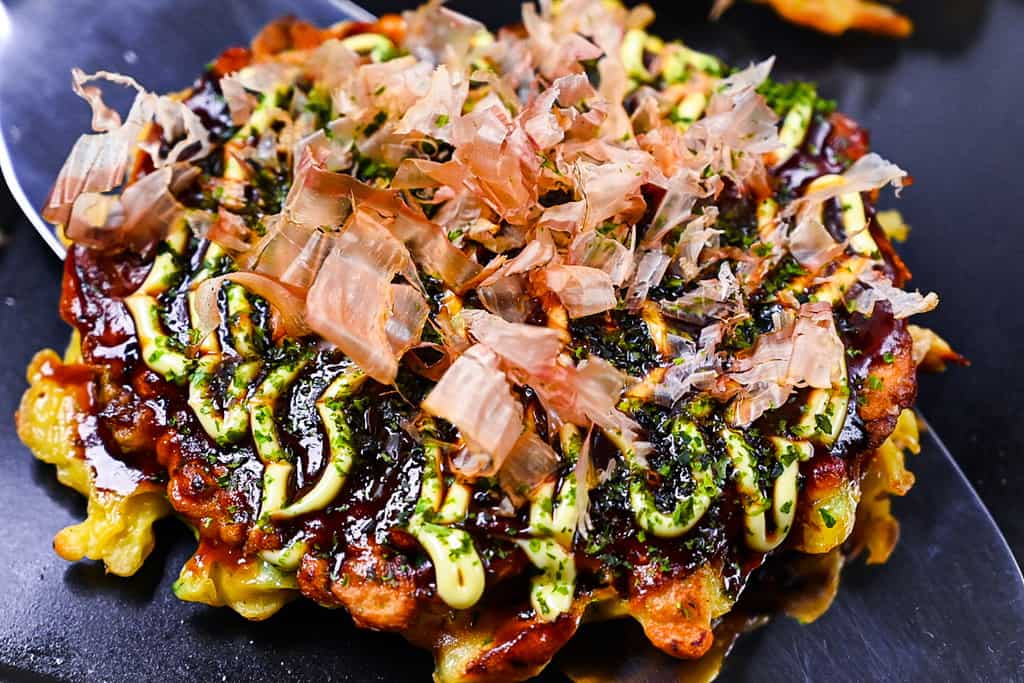 Brief history of okonomiyaki
The history of okonomiyaki goes all the way back to the Azuchi-Momoyama period (1568-1600) when Sen no Rikyu (千利休), a tea ceremony master, created a snack called "fu-no-yaki (麩の焼き)." It is said that he made it by mixing flour and water and spreading it on a copper plate, baking it thin, adding miso, rolling it up, and folding it like a crepe.
In the late Edo period (1603-1867), people started cooking it on a griddle, then by the late Meiji period (1868-1912), "yoshokuyaki (洋食焼き)" emerged, which combined meriken flour, cabbage, and sauce. Okonomiyaki began as a simple snack but evolved as restaurants experimented with ingredients like pork and vegetables.
In the beginning, "layered style," in which ingredients are placed on top of the baked batter, was the mainstream, but "maze-yaki," in which ingredients are mixed with the batter and cooked, also started to become widespread.
Incidentally, okonomiyaki became widely known throughout Japan as an Osaka specialty in the late 1950s and '40s, when chain okonomiyaki restaurants began marketing it as an Osaka specialty.
Osaka style Okonomiyaki vs Hiroshima style Okonomiyaki
Although they have the same name and use similar ingredients, there are quite a few differences between Osaka and Hiroshima style okonomiyaki.
The main difference are:
| | Osaka style | Hiroshima style |
| --- | --- | --- |
| Batter | Ingredients are mixed together beforehand | Ingredients are cooked and added one by one |
| Noodles | Doesn't use noodles | Includes yakisoba |
| Sauce | More savory | Sweeter |
Differences between osaka style and hiroshima style okonomiyaki
Well, there's no deciding which is better for outsiders like me (I'm from Aichi so I don't need to be loyal), thankfully I can appreciate both of them!
One of the beauties of Japanese food is that each region has different dishes and unique styles of food. So if the battle between Osaka and Hiroshima goes on forever, that's fine with a foodie like me! They're both beautiful!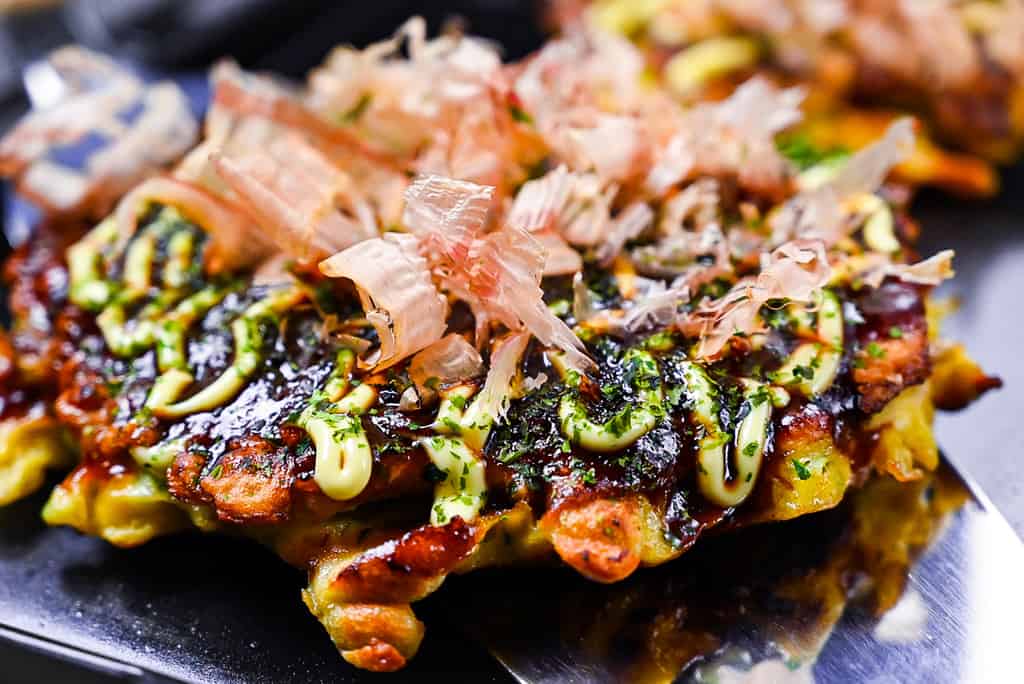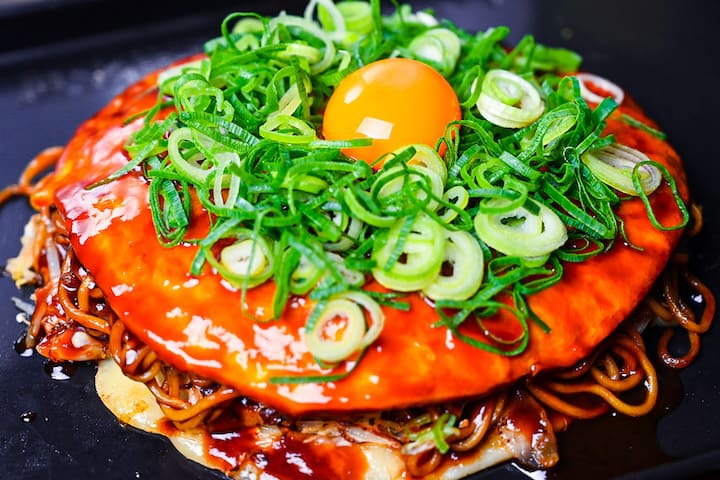 This is a recipe for Osaka style okonomiyaki, but if you're interested in Hiroshima style, please check out my Hiroshima Style Okonomiyaki recipe here!
Takoyaki vs. Okonomiyaki: Comparing Japan's Iconic Street Foods
Takoyaki and okonomiyaki are both famous foods from Osaka and while the names may sound similar, but they're completely different dishes. Takoyaki is made from flour batter mixed with dashi broth, egg, tenkasu, spring onion, ginger, and octopus pieces. It's cooked in a special takoyaki pan which helps shape them into bite-sized balls as they're cooked. These fried octopus balls are served with takoyaki sauce, mayonnaise, aonori (powdered seaweed), and bonito flakes.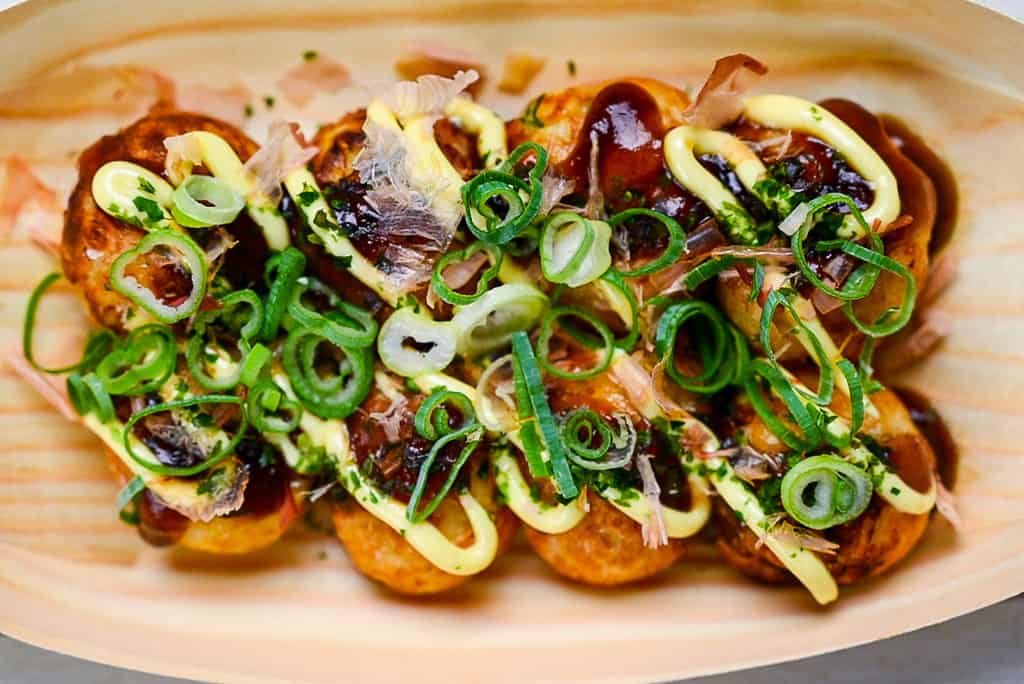 Okonomiyaki is made by mixing ingredients like eggs, dashi stock, and cabbage into a flour batter. It's cooked on a flat griddle (teppan), and people add various toppings like pork, seafood, and cheese. Okonomiyaki is thick, round, and comes in different sizes. It's also served with special okonomiyaki sauce, mayonnaise, aonori, and bonito flakes.
The main differences between takoyaki and okonomiyaki are the shape (takoyaki is shaped like a ball, while okonomiyaki is flat), ingredients (octopus is the main ingredient in takoyaki, while okonomiyaki has many different ingredients), and cooking method (takoyaki pan vs. flat iron plate). Both dishes share similar toppings and seasonings, like sauce, mayonnaise, aonori, and dried bonito flakes.
The sauces used are very similar, but takoyaki sauce is a bit sweeter and not as thick as okonomiyaki sauce.
| | Okonomiyaki | Takoyaki |
| --- | --- | --- |
| Shape | Flat and round | Ball-like |
| Main ingredients | Various ingredients | Octopus |
| Cooking equipment | Flat griddle | Special takoyaki pan |
| Toppings | Mayonnaise, aonori, and bonito flakes | Mayonnaise, aonori, and bonito flakes |
| Sauce | Okonomiyaki sauce | Takoyaki sauce |
Differences between okonomiyaki and takoyaki
How do you heat okonomiyaki?
If you eat okonomiyaki in Japan, you'll see that okonomiyaki is usually cooked in front of customers on a large, smooth iron griddle called a "teppan" (鉄板). We also have restaurants with a teppan in the middle of the table where you're given the ingredients to cook by yourself, it's pretty fun to go there with friends.
Dishes cooked on a teppan are called "teppanyaki". Some examples of teppanyaki include:
Okonomiyaki
Monjayaki
Steak
"Yaki" (焼き) means to grill or fry, which is why many of the dishes have "yaki" in the name.
Many Japanese families own a teppanyaki hot plate which we place in the middle of the table, so we can eat and cook. My family uses the hot plate to crisp up tortillas when we have taco night too.
Although it's way to cook in Japan, you don't need a teppan grill to make okonomiyaki. You can use a regular frying pan!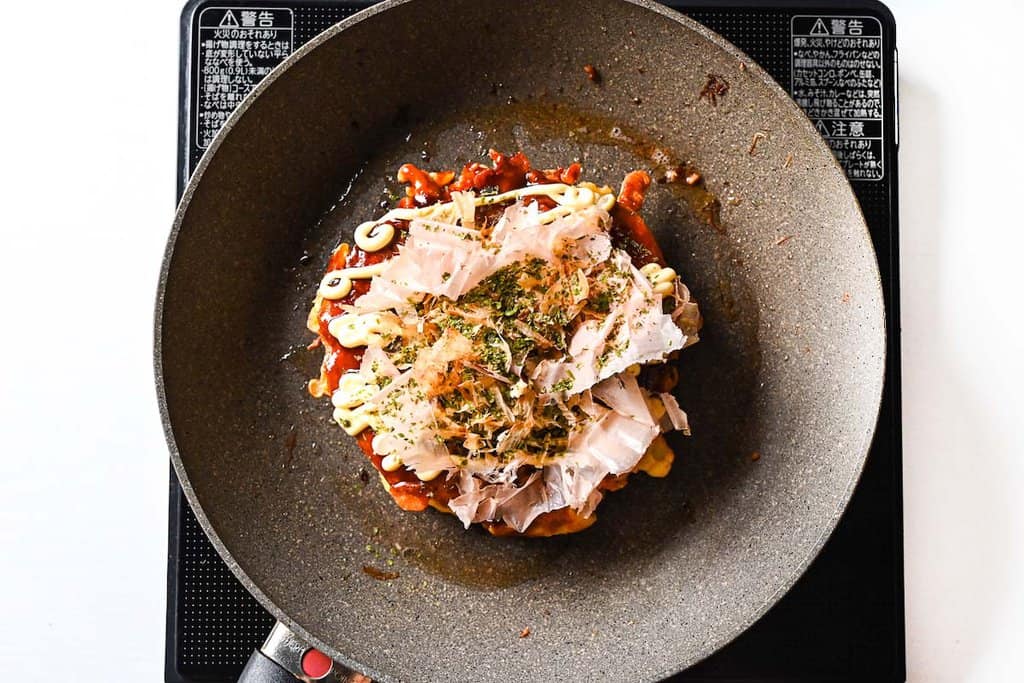 Ingredient and filling ideas to suit your taste
One of the best things about okonomiyaki is the freedom to choose ingredients, as the name "okonomi" (as you like) suggests. But, you might still be unsure about what to add to your okonomiyaki.
So, we'll give you a list of ingredients that can be added to the popular Osaka-style okonomiyaki in Japan. We'll share both standard and creative options, so try adding your favorite ingredients or combining what you have around you.
Meat/protein
Basic protein options for okonomiyaki include pork belly, seafood, or even both. But there are more ingredients you can try, which we'll list here.
Thinly sliced pork belly - Most popular option
Mixed seafood - Squid and shrimp are the most common, but scallops, oysters, clams, and other shellfish may also be added.
Beef sinew - This type of okonomiyaki, called "suji-tama," is perfect with lots of green onions. The key is to cook it in advance with seasonings such as sugar, soy sauce, sake, mirin, and dashi.
Bacon - If you have trouble finding thinly sliced pork belly, bacon can be a good substitute, but be aware that it might become saltier.
Pork mince - It is not so common in Japan, but it is easy to make and tasty, so you may give it a try.
Imitation crab sticks - If you want seafood okonomiyaki on a budget, crab stick will do the trick!
Vegetables
Cabbage is absolutely essential in Osaka-style okonomiyaki. You could say it is more important than pork belly. However, there are many other things that can be added to okonomiyaki besides cabbage. Let's take a look at them.
Cabbage - Absolutely essential.
Japanese yam - Adding yam can make your okonomiyaki fluffier than usual, and it's now a common ingredient, even in store-bought mixes. Just remember to grate the yam first. You can find "yam powder" specifically for okonomiyaki as well.
Green onion - Adding a small amount as a supporting ingredient can add a lot of flavor that lingers.
Beansprouts - The crunchy beansprouts add texture to the okonomiyaki and make it a different okonomiyaki experience.
Chinese chive - Adding chives not only enhances the aroma of okonomiyaki, but also improves its color by adding a dark green hue. Cut about 3 to 5 cm long before mixing into the batter.
Kimchi - Kimchi is a Korean dish, but it actually works well with okonomiyaki. It is delicious chopped and mixed with the batter and cabbage, but keep it to a small amount as too much might make the kimchi flavour too overpowering.
Sweet corn - It adds sweetness and is a popular ingredient for children.
Other fillings
Besides meat and vegetables, other ingredients help boost okonomiyaki's flavor. Check out our recommendations!
Sakura ebi (tiny dried shrimps) - The addition of sakura ebi improves the taste and aroma of the dish and makes it delicious. It is a very popular ingredient.
Tenkasu (tempura flake) - Tenkasu adds a unique texture and flavor that makes okonomiyaki tastier, but be careful not to use too much because tenkasu is quite high in calories. This is another standard ingredient.
Beni shoga (red ginger) - Beni shoga is also a highly recommended ingredient if you want to add a unique spicy, sour taste and texture.
Cheese - Many people mix in grated cheeses, including gouda and cheddar, into the okonomiyaki filling. As it cooks, it melts and adds great texture to okonomiyaki. For an even richer flavor, camembert or cream cheese can also be used.
Mochi (rice cake) - If you cut them into small dice and add them to the filling, the chewy texture will accentuate the texture and increase the volume! But be careful not to overdo it!
Mentaiko (cod roe) - Mentaiko goes well with cheese and rice cakes, so adding them as a set is recommended.
Potato chips/crisps - If you want to add a junky, unique flavor, you can substitute salt flavored potato chips for the tenkasu!
Since okonomiyaki is a highly customizable dish, it's easy to adapt the recipe for vegetarians. Simply use vegetarian dashi to make the batter and omit the pork/seafood!
Okonomiyaki can be made to suit your personal tastes, so get creative!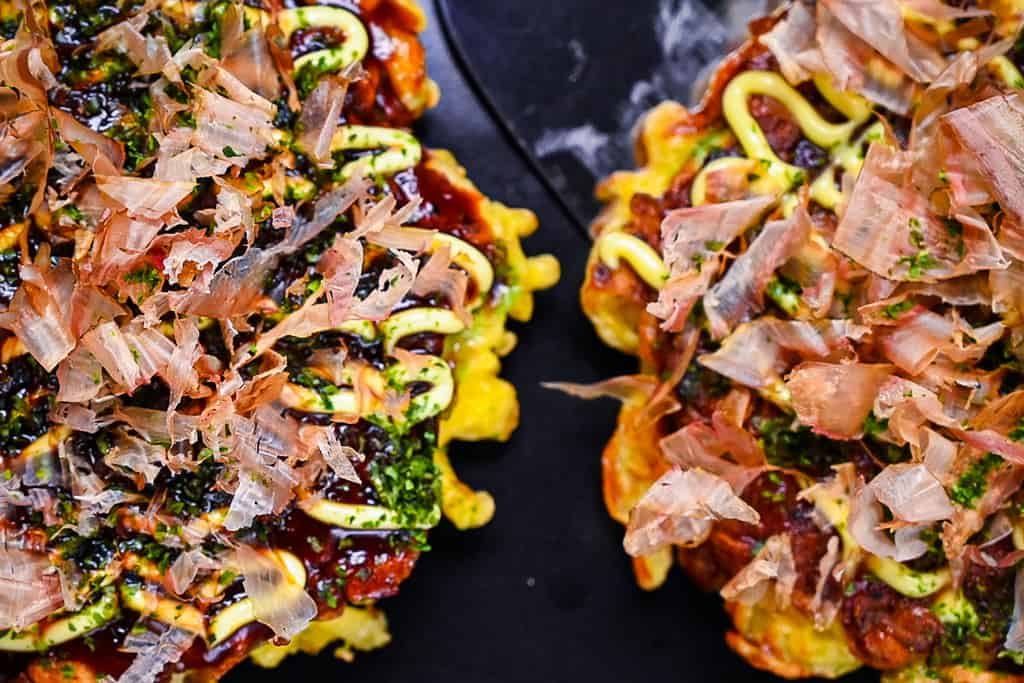 Topping ideas: Crafting the Ultimate Okonomiyaki
While the previous section introduced ideas for ingredients, okonomiyaki can also benefit from creative ideas for toppings. Again, we will cover everything from the standard toppings to the most bizarre.
Traditional Okonomiyaki Toppings
The most common okonomiyaki toppings are okonomiyaki sauce, aonori (dried seaweed powder), mayonnaise, and katsuobushi (dried bonito flakes). You can't go wrong with these toppings.
By the way, ever wondered why bonito flakes look like dancing on the okonomiyaki?
Bonito flakes absorb and release steam, causing parts to expand and shrink. In other words, the dried bonito flakes take in and let go of the steam from the okonomiyaki, making it look like they're dancing! But if you put dried bonito flakes on cold food, they won't dance.
Unconventional okonomiyaki toppings
Here are some of the less mainstream and more unusual toppings.
Kizami nori - Putting nori (seaweed) on top of the cooked okonomiyaki adds a tasty sea flavor. You can also tear Korean nori into small pieces for a different flavor and enjoy the added aroma of sesame oil.
Cheese - As mentioned in the ingredients section, shredded cheddar or gouda cheese can be used as a topping.
Kimchi - Similarly, kimchi can be used as a topping as well as an ingredient.
Chopped green onion - It is a standard topping for Hiroshima-style okonomiyaki, but you can also top Osaka-style okonomiyaki with chopped green onion.
Fried egg - For those who want an even more filling okonomiyaki, you can even add a fried egg on top!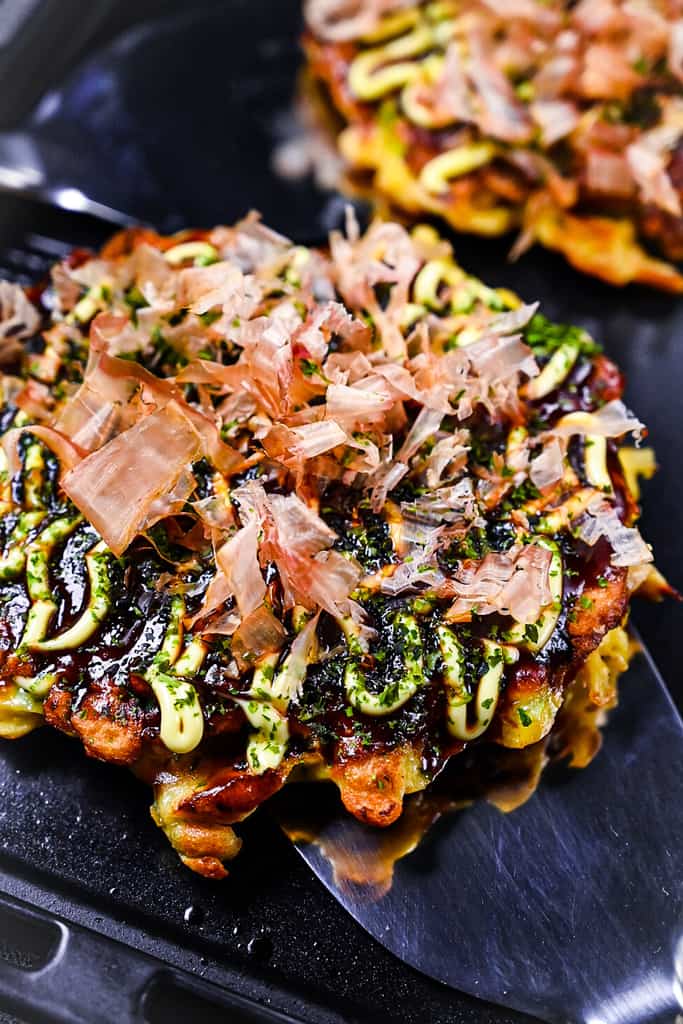 Instructions on how to cook perfect Osaka style okonomiyaki at home
Okonomiyaki is typically cooked on a teppan or hot plate, but you can also use a large frying pan (I recommend one with a lid). Here, I'm going to show you step by step how to make okonomiyaki in a frying pan. This recipe allows you to make and enjoy delicious restaurant style okonomiyaki at home! (See recipe card at the bottom of the page for full ingredient list.)
1. Make the batter
First, sift cake flour into a bowl. Sifting helps eliminate lumps of flour, and the air will help make the dough fluffy.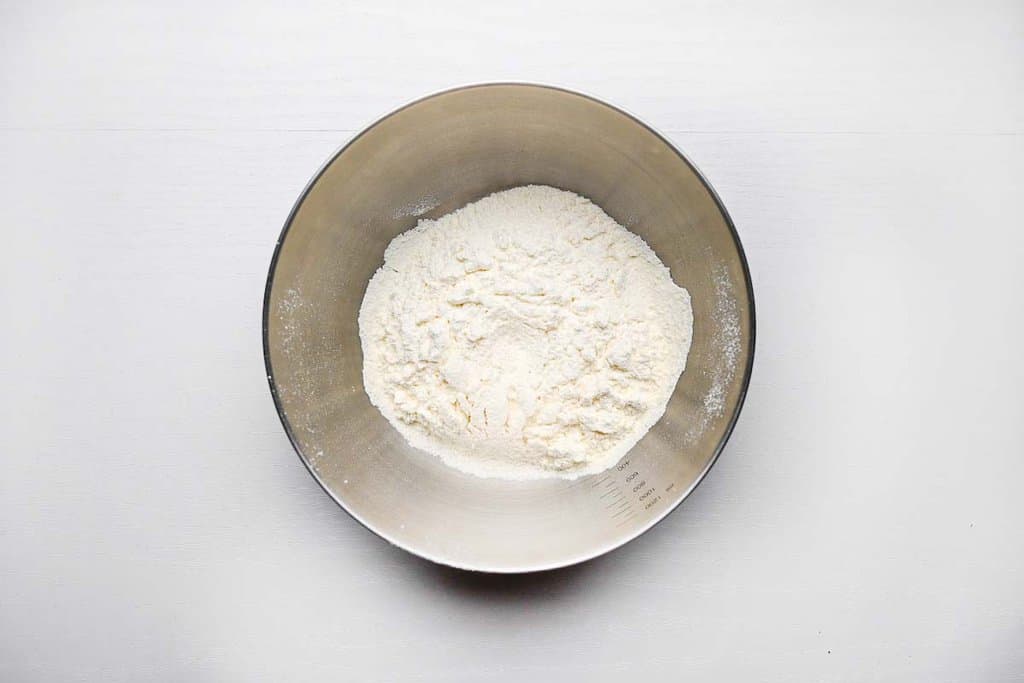 Cake flour (also known as weak flour) is recommended for okonomiyaki because of its low gluten content. This makes the batter light and soft, and helps prevent it from becoming heavy or chewy. You could also use plain/all purpose flour in a pinch.
Next, add the dashi, milk, tsuyu sauce and lightly whisk. Be careful not to overmix, it's okay to leave a few lumps in the batter.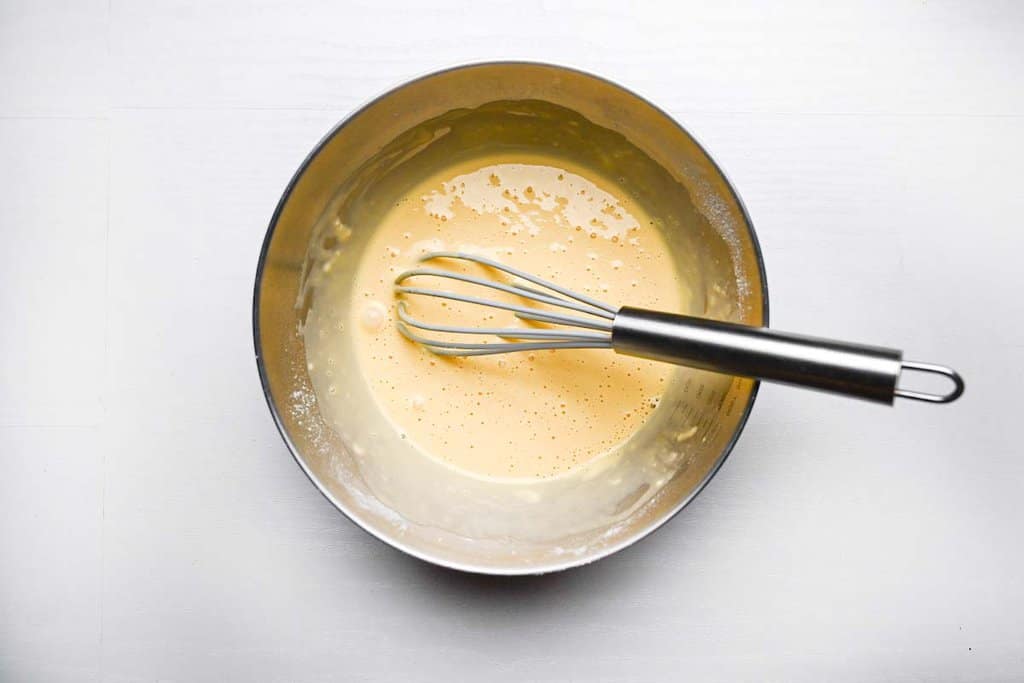 Make sure the dashi is cooled before adding it to the batter
Finally, cover the bowl and rest it in the fridge for 30 minutes.
It is not essential but some restaurants rest okonomiyaki batter in the fridge for 30 min to 1 hour. This allows the moisture to spread evenly and ends up making the batter even and fluffy. It also stops the batter from spreading too much when you add it to the pan, creating a thicker okonomiyaki.
In the meantime, let's prepare the other ingredients!
2. Cut the cabbage (and other ingredients)
It is undeniable that cabbage is one of the most important ingredients for okonomiyaki and it should to be cut roughly yet finely. You could also use shredded cabbage if you like.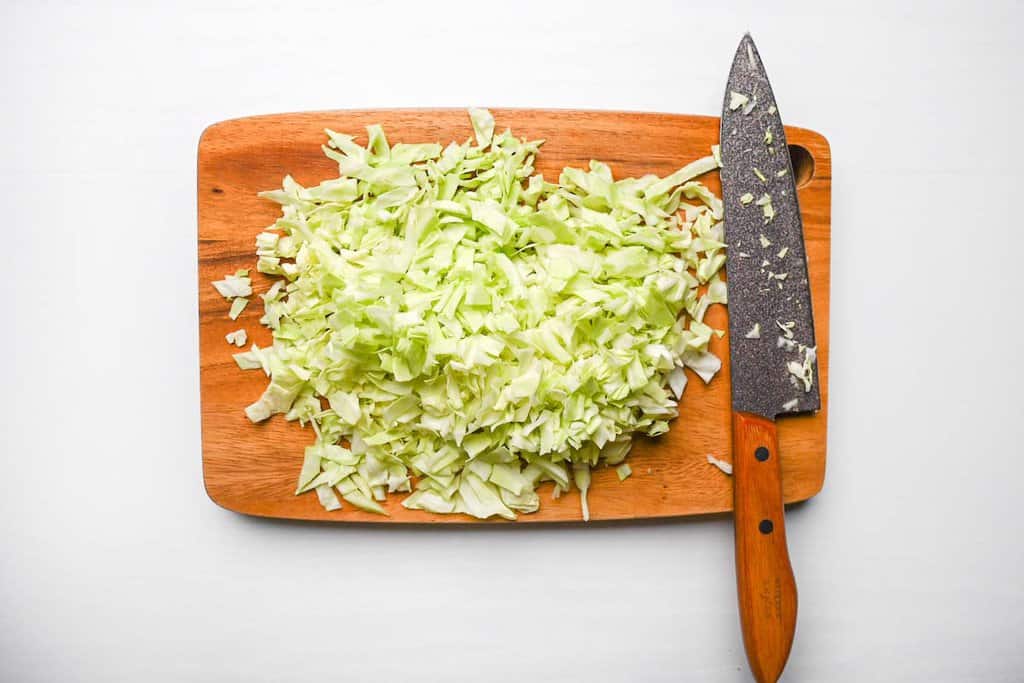 If you cut it too thin or finely, the moisture from the cabbage starts to leak out and this will negatively affect the texture of your okonomiyaki. By cutting it small but rough, you can enjoy the texture of the cabbage and avoid making your batter sticky or watery.
If you want to go for extra mile with cabbage, some professionals put the cut cabbage in the fridge for an hour to let it dry out before adding it to the batter which also helps prevents watery/sticky okonomiyaki. You could do this while the batter is resting.
If you are using other vegetables, slice or cut them into bitesize pieces.
3. Make the okonomiyaki sauce
Mix Worcestershire sauce, oyster sauce, ketchup, honey and soy sauce in a small bowl and set it aside for later.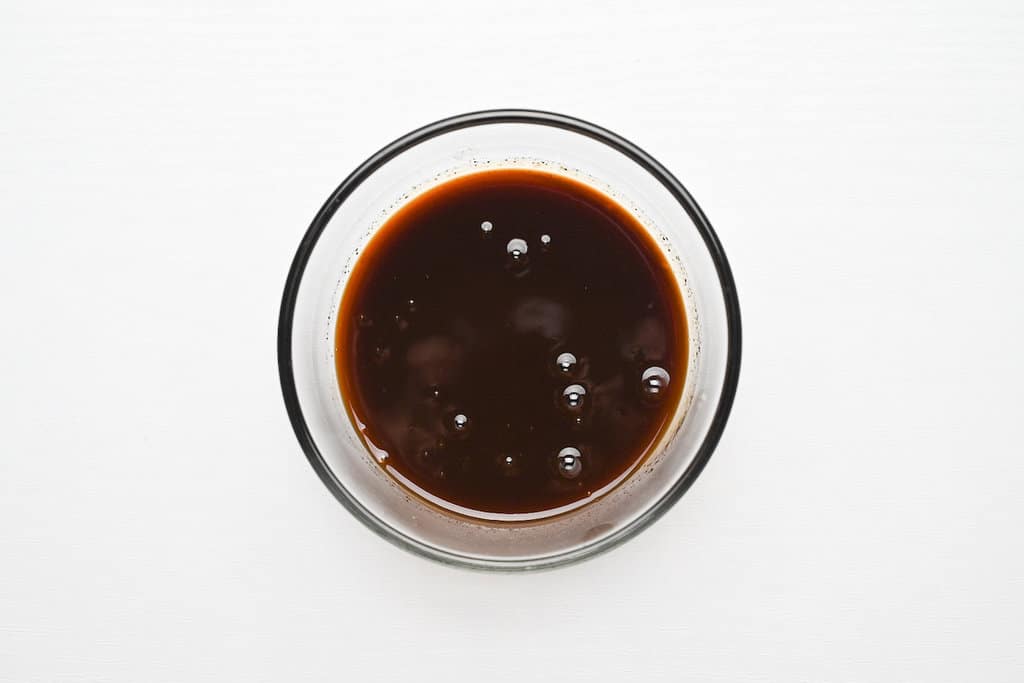 The measurements are in the recipe card at the bottom of the page, but you can adapt the ingredient ratio to suit your tastes. For example, if you like it to be sweeter, you could add more honey or ketchup, if you want it to be saltier, you could add more soy sauce or even a pinch of salt etc.
4. Mix the batter and ingredients
Before you start mixing the ingredients for the final batter, I recommend preheating your pan on a medium/medium-high setting. (If the batter is sitting out for too long while you wait for the pan to heat up, the cabbage and tenkasu will start to become soggy and the ingredients will sink to the bottom of the bowl.)
Since this recipe is for two portions of okonomiyaki, I take the rested batter and divide it into two bowls. Unless you're making two at the same time (in two frying pans), place one bowl back in the fridge. You should mix the ingredients right before cooking to prevent soggy ingredients and watery batter.
Add all of your ingredients to the bowl and mix. I use cabbage, egg, tenkasu (tempura bits) and benishoga (pickled ginger). Add anything you like, but make sure it's finely chopped so it's easer to mix together.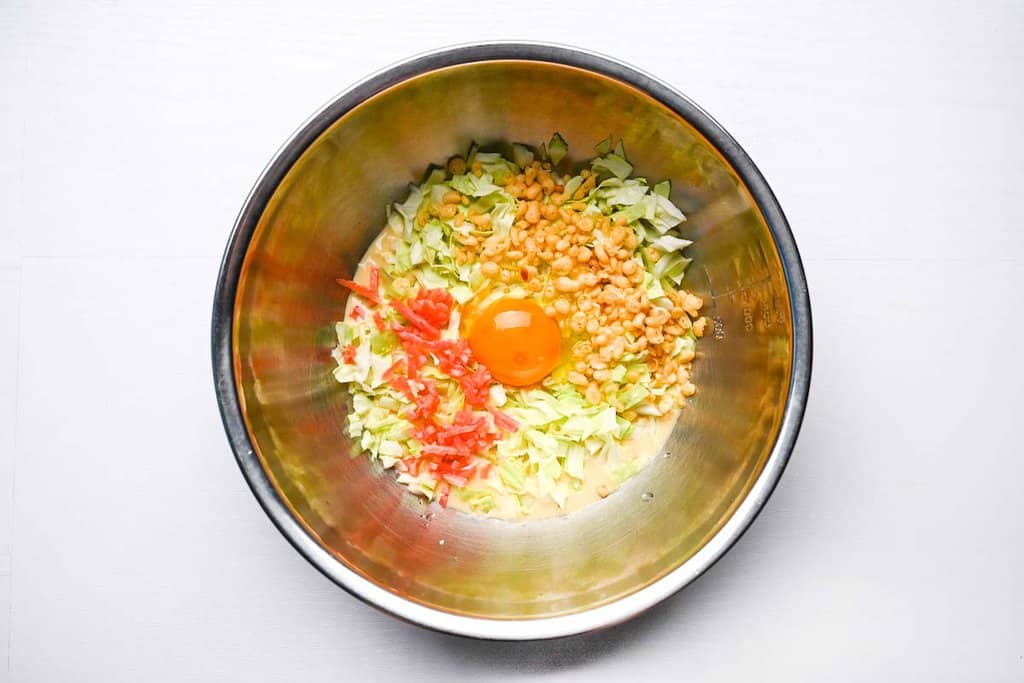 Mix gently, yet thoroughly to ensure all the ingredients are evenly distributed through the batter. The reason I say "gently" is because vigorous over-mixing can cause the gluten in the flour to react, making the batter too thick and heavy.
Controversial ingredient: Use whipped egg whites for an extra fluffy okonomiyaki (highly optional)
Although it is sometimes considered heresy and it takes extra effort, separating the eggs and making meringue with the egg whites can make the batter extremely fluffy.
Lots of people use this method instead of adding sticky yams and this is a good option if you can't get hold of them.
5. Fry
Add oil to the pan and swirl until evenly coated. Pour your okonomiyaki batter in the centre of the pan and use a spatula to neaten the edges and make it perfectly round (as you can see, I forgot to do this).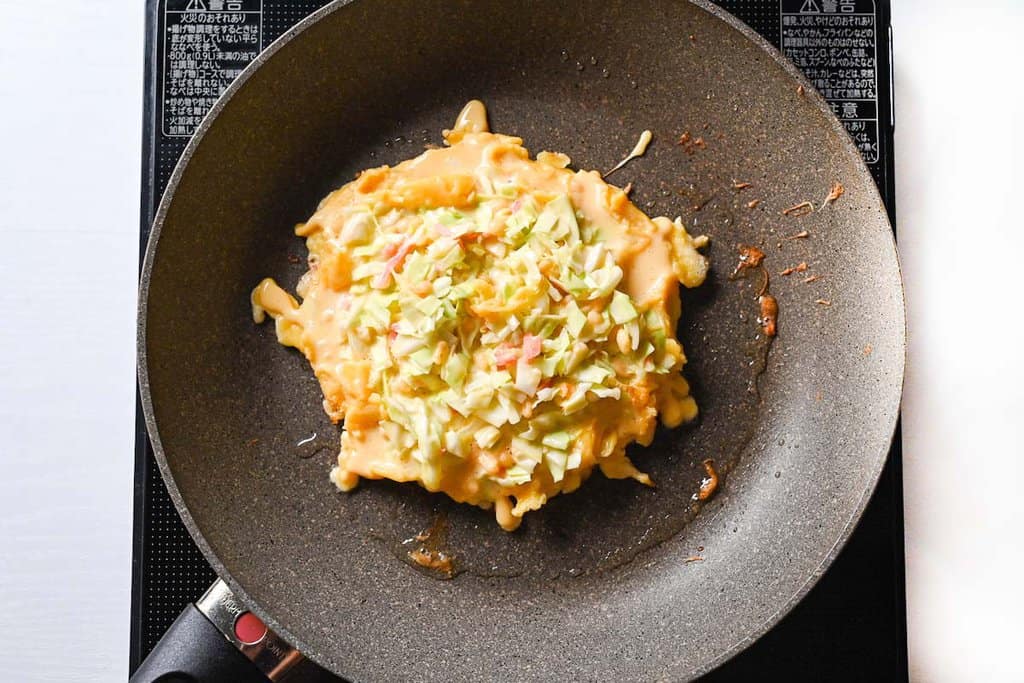 How thick should okonomiyaki be?
It is always tricky to think how big and thick okonomiyaki should be. Some restaurants have small and thick ones while others have large thin ones. Similar to deep pan pizza vs thin crust pizza, it entirely depends on preference.
However, according to interesting research by famous Japanese TV show, "Wafu Sohonke (和風総本家)", the average thickness and size are: diameter 16.4cm, thickness 1.9cm. Again, you don't have to be precise like that of course but it's interesting to know!
Lay the pork belly (if using) over the top of the wet batter and sprinkle with a pinch of salt and pepper.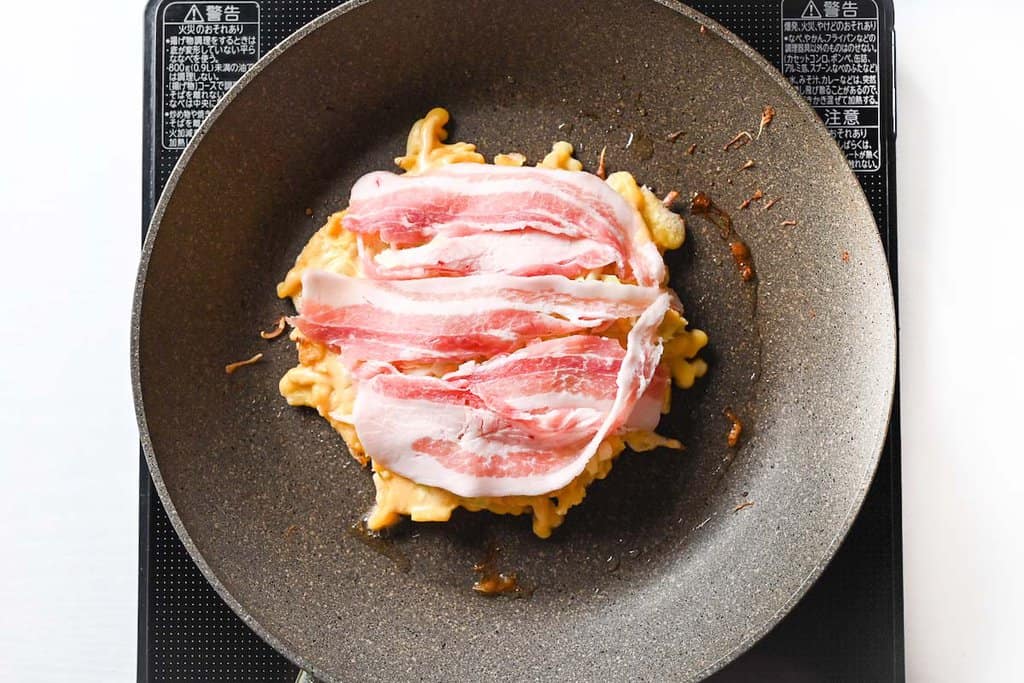 Once the bottom of the okonomiyaki is brown and crispy, carefully flip it over.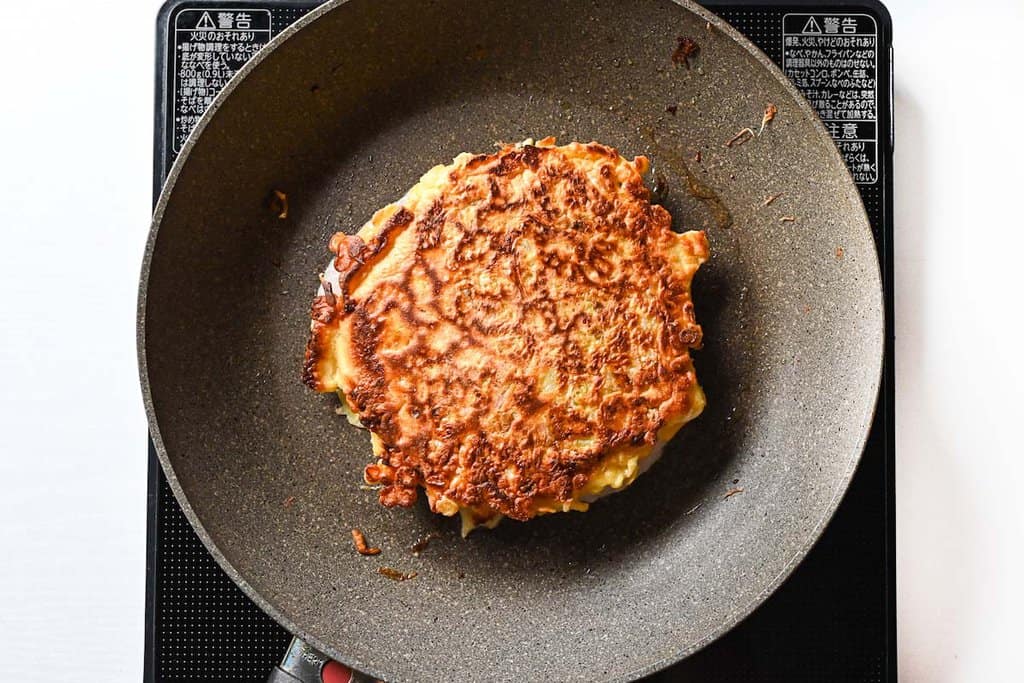 Reduce the heat to medium-low and place a lid on top. Leave to cook for 5 minutes.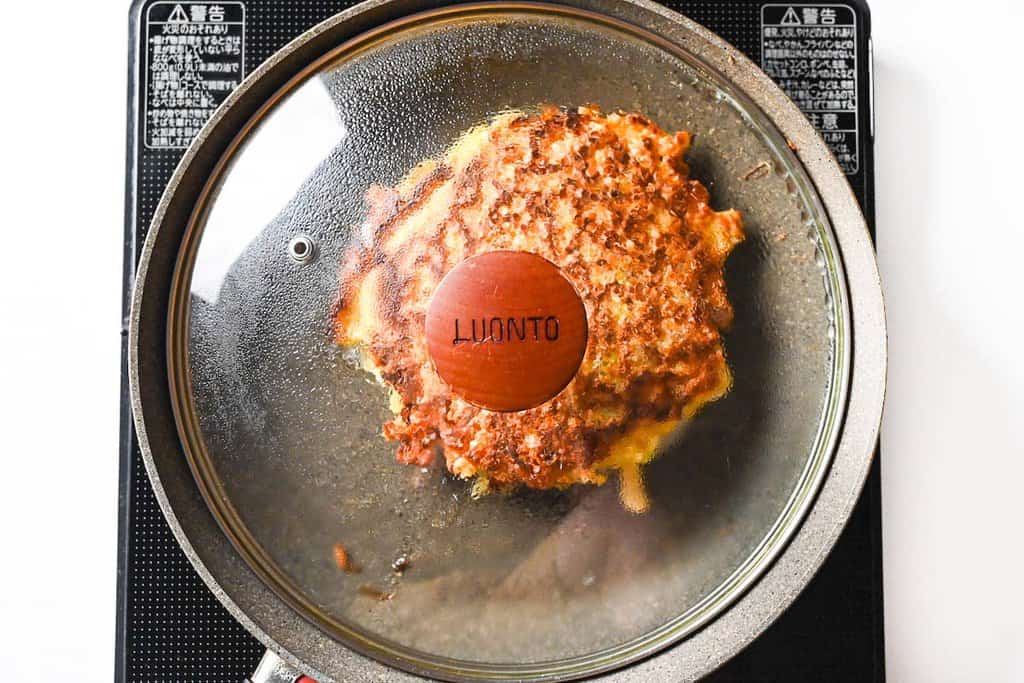 After 5 minutes, pierce the okonomiyaki with a toothpick. If it comes out clean, it's cooked all the way through. If there's wet batter on the toothpick then cook it with the lid for a little longer. (Check the bottom to make sure it's not burning, you might need to reduce the heat at this point.)
Add toppings
Once it's cooked all the way through, flip it over again and coat the top with half of the okonomi sauce you made earlier.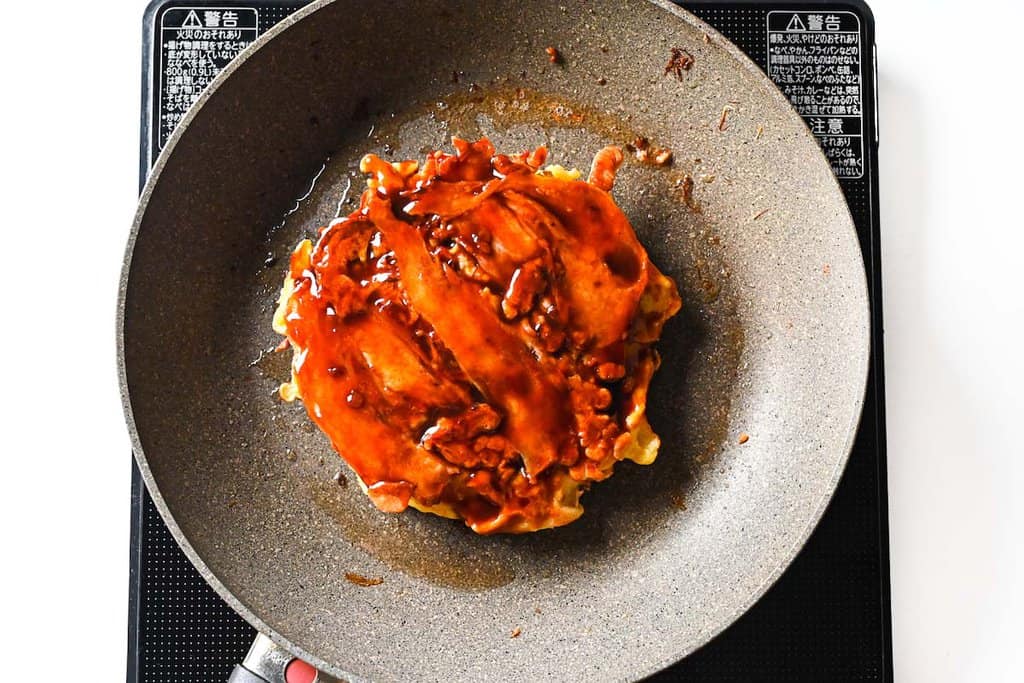 Drizzle with Japanese mayonnaise. (I use Kewpie mayonnaise.)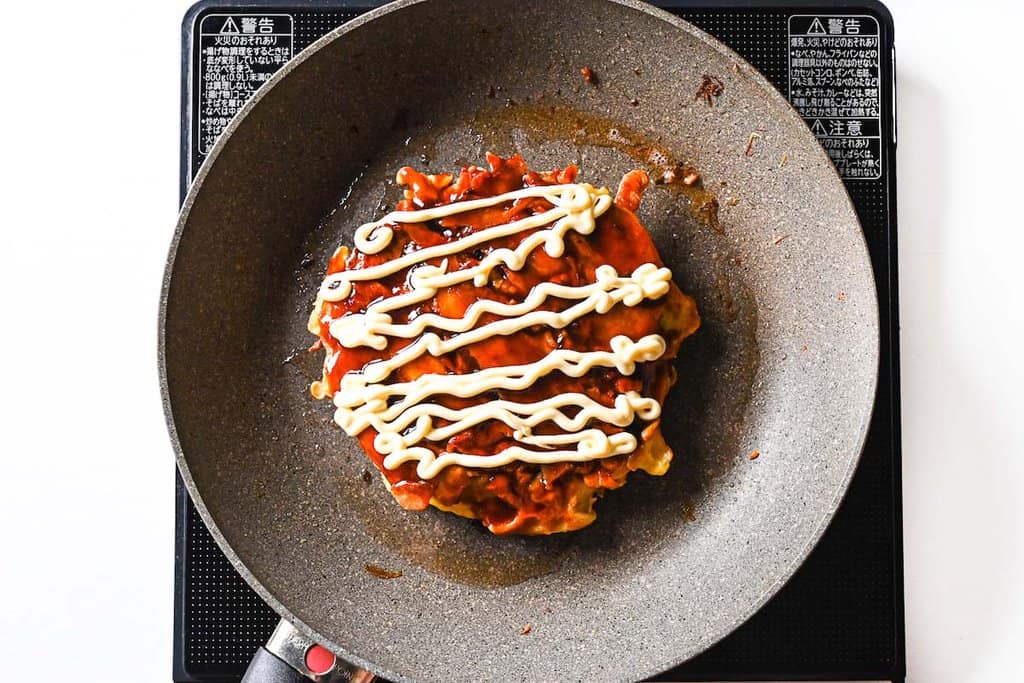 Finally, sprinkle with a generous helping of katsuobushi (bonito flakes) and aonori.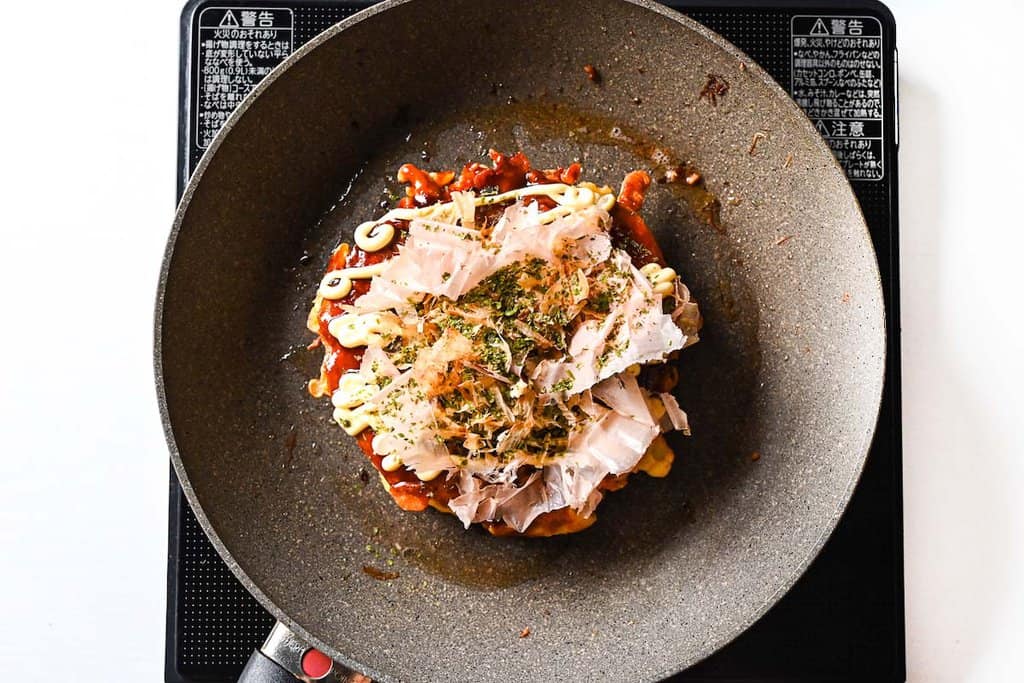 Cut it into bitesize pieces before serving. (Tip: I often use a pizza cutter for this!)
Repeat these steps with the second bowl of batter. (You can eat the first one while the second one is cooking.)
And enjoy!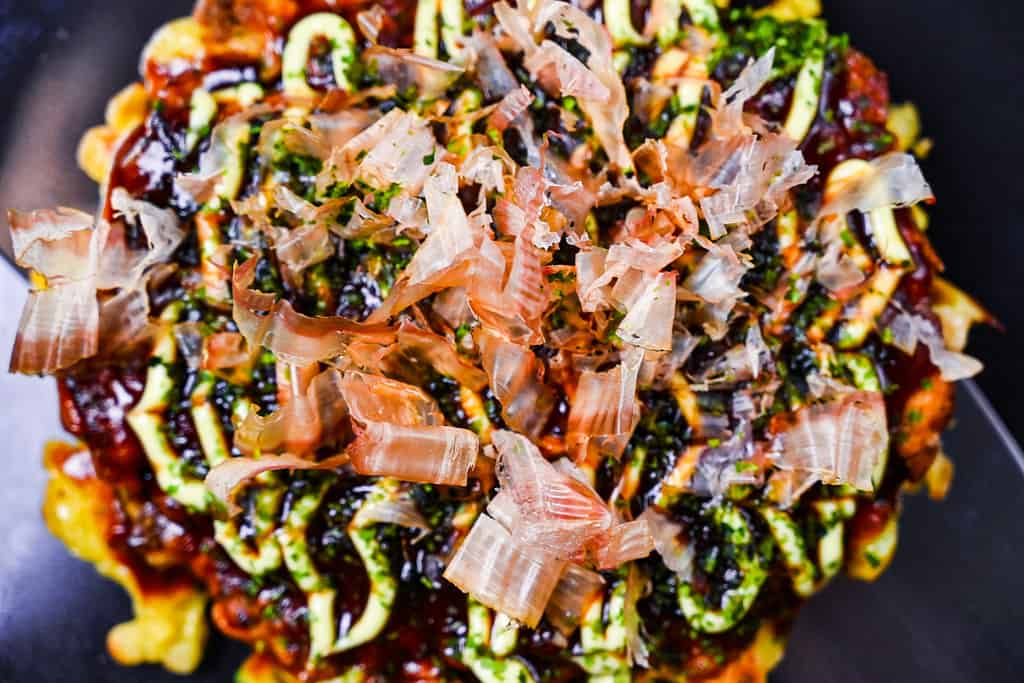 How to make okonomiyaki easily with Otafuku's premade mix
So far, I've shown you how to make okonomiyaki from scratch. But, depending on where you live, you might be able to grab a store-bought okonomiyaki kit. Our top pick is Otafuku! It's the go-to choice for okonomiyaki kits in Japan.
Good news is - Otafuku has a US branch, so you can buy from their official website. Now, let's show you how to create scrumptious okonomiyaki using one of Otafuku's amazing kits!
This time, I will follow the process described in the Japanese version of the Otafuku okonomiyaki Kit.
Make batter
Pour Otafuku okonomiyaki flour into the water, following the amount listed on the package, and mix it up. Remember, don't mix it too much; it's okay to have a few lumps!
Mix ingredients
Toss in the cabbage, scallions, tenkasu, and egg to the dough, then mix it all up, making sure all the ingredients are evenly distributed!
Fry the batter
Heat up a hot plate or pan, then spread the mixture into a circle about 2 cm thick and 16 cm wide. Wait for around 3 minutes, place the pork belly on top, and then flip it over.
Steam
Cover and steam for about 4 minutes.
Turn over again
Take off the lid, and when the grilled side turns golden brown, flip it again and cook for around 3 minutes to let the extra steam escape. Finish it off by applying okonomi sauce and a sprinkle of aonori (green seaweed) on top.
If you're curious, the official Otafuku US website sells not just okonomiyaki kits, but also authentic okonomiyaki flour, okonomiyaki sauce, and takoyaki flour and so on for you to explore!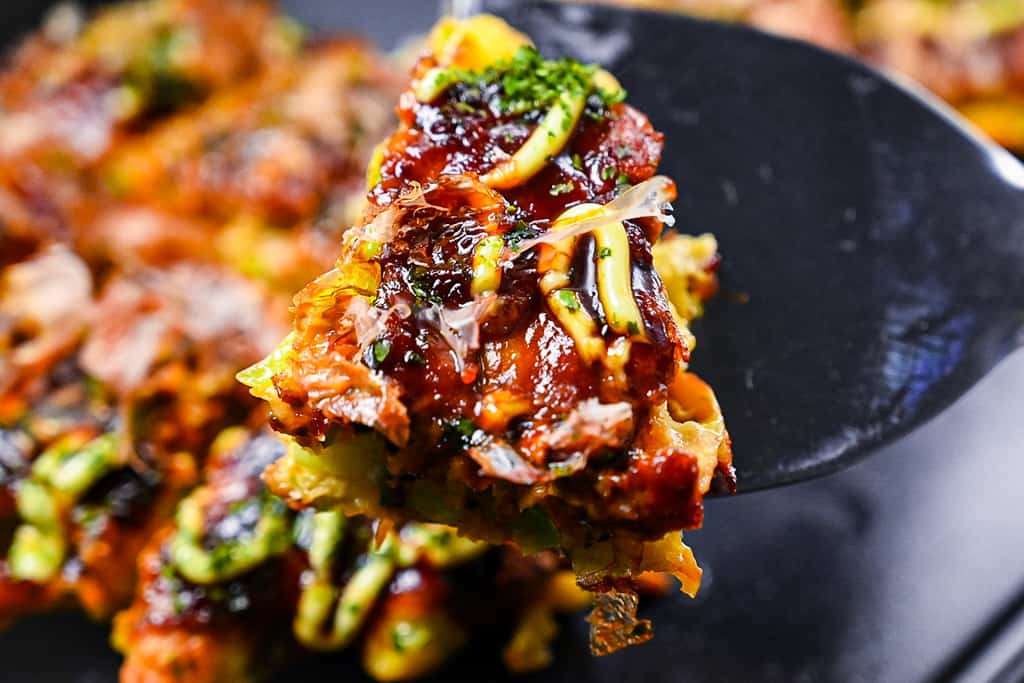 3 common problems and solutions
In this section, I will round up common problems that occur while making okonomiyaki and solutions to avoid them.
Inside of the pancake is raw
This is probably by far the biggest problem in making okonomiyaki. I have experienced this countless times in my life from being impatient.
To check the "doneness", you can simply use a toothpick or wooden chopsticks to check if the centre of the okonomiyaki is cooked or not. Stick it into okonomiyaki, and if it comes out clean, it means most likely done.
Alternatively, if the toothpick feels warm or hot, it's likely cooked through as well.
This problem of okonomiyaki being raw in the middle comes from cooking it with a too high heat. If you cook it over high heat, only the surface will be cooked quickly, and by the time it's cooked all the way through, the surface will be burnt.
So make sure to cook it over medium heat until firm inside.
So you've served up your okonomiyaki, covered it in topping and cut into it... only to find it's still raw in the middle!
Even if your okonomiyaki was not done enough, don't throw it away! You can fix the okonomiyaki by either returning it to the frying pan or teppanyaki and cooking over low heat with lid on in frying pan or cook it in a microwave (600W) for 1 minute with cling film over the top.
Following these techniques will save your okonomiyaki, although the appearance might be a bit compromised.
Okonomiyaki is too soft / soggy
This problem comes from only one reason, too much water content. This does not simply mean the water you put in the batter, but also because of the moisture from your ingredients such as cabbages or yams.
Try to avoid using too many watery vegetables. If you use ingredients with high water content, you might need to reduce the amount of dashi you add to the batter.
Another way to prevent wet/soggy okonomiyaki is to mix the ingredients right before frying. If the ingredients are soaking in the batter for too long, the moisture can leak out into the batter. This is especially relevant to ingredients like cabbage or yams.
Finally, be sure to use a medium heat on the stove. If you set the heat too low, the okonomiyaki will start to steam and this can also make it soggy.
It's too crumbly
This problem is often to do with either not enough eggs / not using eggs at all.
If the amount of egg is not enough, the batter will fall apart easily, and the okonomiyaki may not set properly. If you use small eggs, maybe it's worth using one more.
Eggs kind of act as glue that holds the batter and ingredients together, so without eggs, the ingredients tend to flake off and fall out when the pancake is done.
So if you forget to add eggs, the okonomiyaki may not set properly.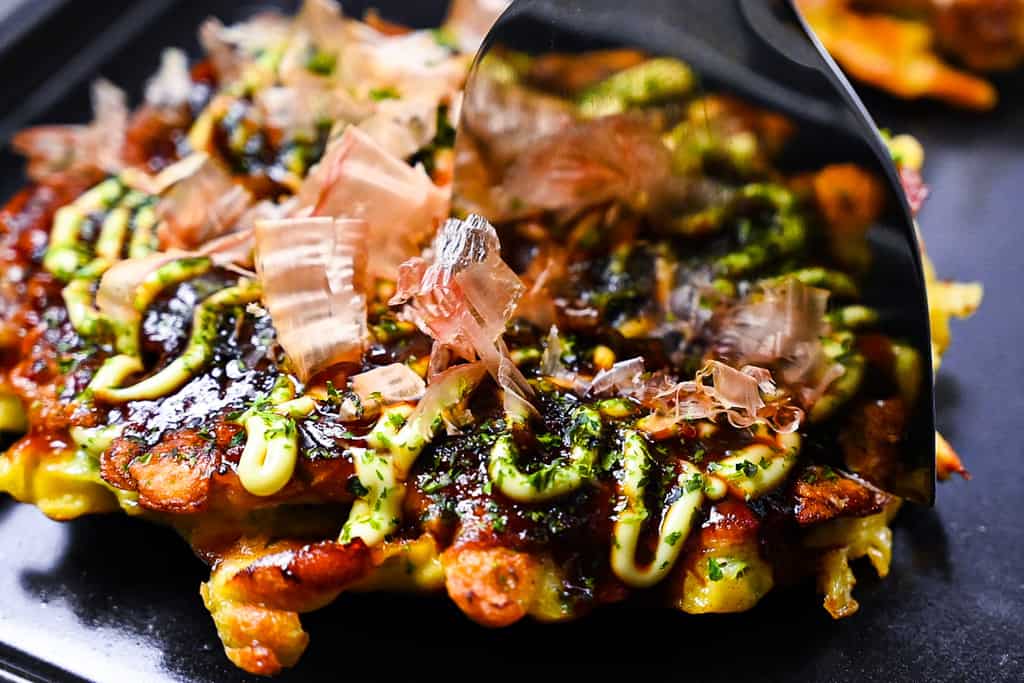 What to Serve with Okonomiyaki
Okonomiyaki? Savory pancakes? What on earth are they served with in Japan? Have you wondered?
Don't worry, even I, a Japanese person, can't quickly think of the best side dish for okonomiyaki. When you eat okonomiyaki at a restaurant, you usually order other teppan dishes too. But when I make it at home, I often eat it with other side dishes.
So in this section, we'll show you all the tasty dishes you can enjoy with okonomiyaki from every angle.
Yakisoba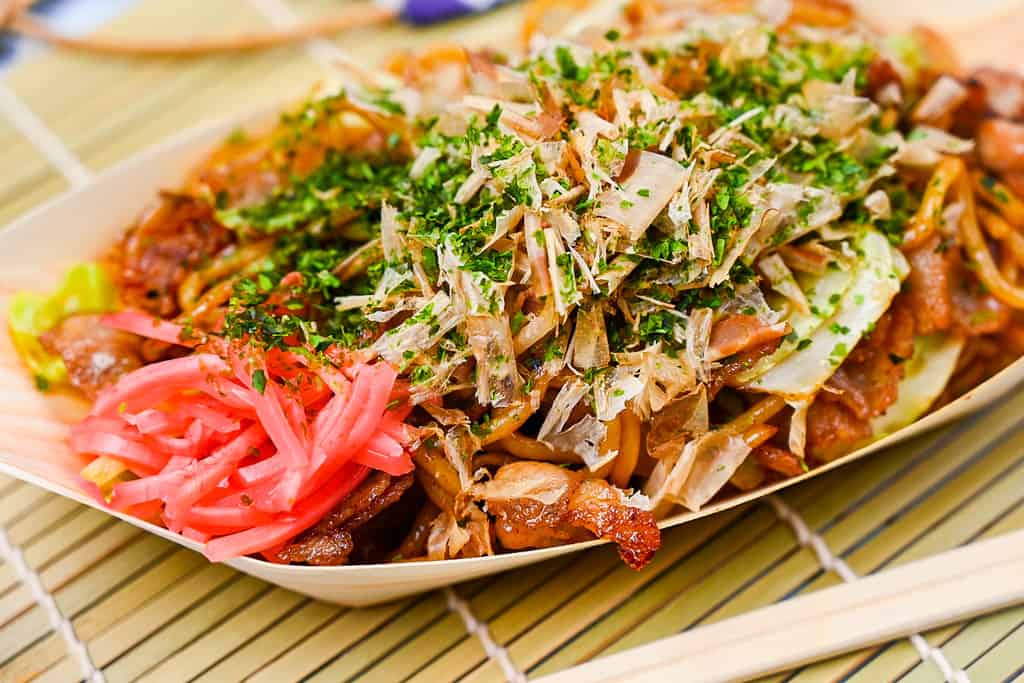 It might be all carbs, but if you make okonomiyaki on a big griddle or hot plate, you can cook yakisoba next to it.
Actually, many people order okonomiyaki and yakisoba at an okonomiyaki restaurant. So, if you want to make okonomiyaki at home on a large hot plate, yakisoba is the way to go!
If you wanna try a different flavor, I recommend lemon seafood yakisoba too!
Spinach ohitashi
Ohitashi is a dish where vegetables are boiled or steamed, drained, and flavored with dashi broth or soy sauce-based seasoning. This dish is perfect for those who want a small healthy side dish with okonomiyaki.
We also recommend Japanese sesame spinach salad (gomaae) as well.
Japanese egg drop soup
If you want soup with your okonomiyaki, try Japanese egg drop soup (kakitamajiru), instead of miso soup or tonjiru (pork miso soup)!
Its simple taste makes for a nice break from the rich and heavy okonomiyaki!
Japanese cucumber pickles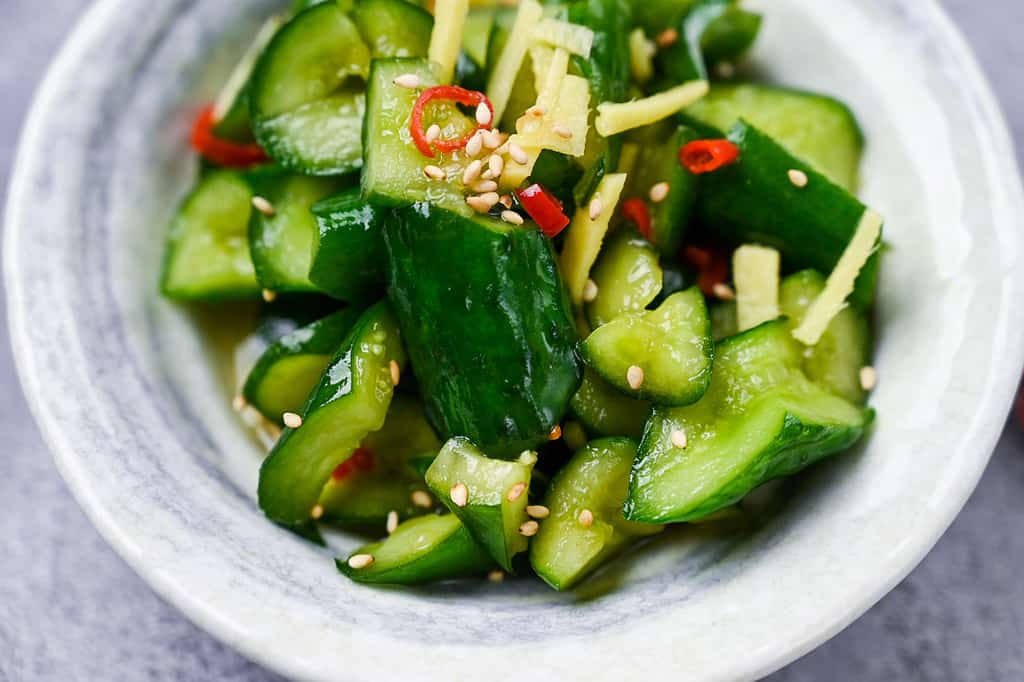 If you want a refreshing break, try pickled cucumbers! The cold cucumbers are great for cleansing your palate.
They're not only perfect with okonomiyaki, but also as a side dish for any Japanese meal.
Tonpeiyaki
Tonpeiyaki is a dish of pork and cabbage wrapped in egg. It's like okonomiyaki's simpler cousin, using similar ingredients and other ingredients like green onions and bean sprouts too.
You can often find it as a side dish at okonomiyaki restaurants. Why not give tonpeiyaki a try alongside okonomiyaki for a tasty adventure?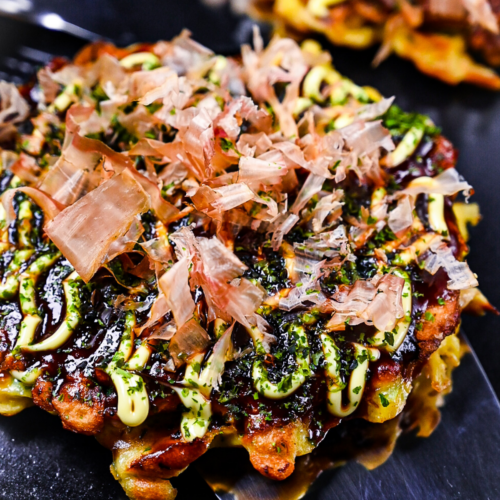 Authentic Osaka Style Okonomiyaki (Japanese Savory Pancake)
How to make Osaka Style Okonomiyaki (お好み焼き), a delicious savory pancake containing pork and cabbage, topped with homemade okonomiyaki sauce, mayonnaise, aonori and bonito flakes. Everything is from scratch, no okonomiyaki flour required for this recipe!
Ingredients
Okonomiyaki Sauce
1

tbsp

Worcestershire sauce

1

tbsp

oyster sauce

2

tbsp

tomato ketchup

1

tbsp

honey

1

tsp

soy sauce
Fillings (see in post for more ideas)
150

g

green cabbage

-

white cabbage or pointed cabbage

2

tbsp

tempura flakes

-

tempura bits (optional)

2

tsp

red pickled ginger

-

benishoga (optional)

100

g

pork belly

-

thinly sliced

2

tbsp

cooking oil

-

neutural flavor
Toppings (see in post for more ideas)
1

tbsp

Japanese mayonnaise

1

tbsp

bonito flakes -

katsuobushi (optional)

1

tsp

dried green laver powder

-

aonori
Instructions
Batter
Sift

100 g cake flour

into a large bowl. and add the

75 ml dashi stock

,

1 tsp milk

,

1 tsp tsuyu sauce

and egg to the bowl. Mix until the ingredients are well incorporated, but be careful not to over mix. (A few lumps in the batter is okay.)

Cover the bowl with plastic wrap and rest it in the fridge for

30 minutes

.
Okonomiyaki Sauce
Take a small bowl and add the

1 tbsp Worcestershire sauce

,

1 tbsp oyster sauce

,

2 tbsp tomato ketchup

,

1 tbsp honey

and

1 tsp soy sauce

. Mix well and set aside for later.
Fillings
Cut the

150 g green cabbage

into into small rough pieces.

Once the batter has been resting for 30 minutes, divide it into two bowls and place one of them back in the fridge for later. (Alternatively, make two at the same time in two frying pans.)

Preheat your pan on a medium/medium-high setting.

Once the pan is hot, add half of the cabbage,

2 tbsp tempura flakes

,

2 tsp red pickled ginger

and

1 medium egg(s)

to the batter and mix well. (If you want to add other ingredients such as cheese, kimchi, mochi etc add them here. See in post for more ideas.)

Add the oil to the pan and swirl around until evenly coated. Pour the okonomiyaki mixture into the center of the pan and use a spatula to neaten up the edges.

Lay the slices of pork belly over the top of the wet mixture and fry the okonomiyaki until the bottom starts to become brown and crispy.

Carefully flip it over and place a lid on the pan. Reduce the heat to medium-low and continue to fry with the lid for about

5 minutes

or until cooked all the way through.

Pierce the middle with a toothpick to make sure it's cooked. If the toothpick doesn't come out clean, continue to cook on a low heat and check it every few minutes until it's done.

Once it's cooked through, flip it over again and pour half of the sauce over the top. Use a pastry brush or spoon to spread it evenly. (You can do this while it's still in the pan or transfer it to a plate first.)

Drizzle with mayonnaise and sprinkle generously with bonito flakes and aonori.

Repeat the process again from step 4 with the remaining ingredients. (Tip: You can eat the first one while the second one is cooking.)

Enjoy!
Notes
If you can get okonomiyaki flour, then you can replace the dashi stock for plain water. Check the package for more detailed instructions.
This recipe makes two okonomiyaki pancakes, which should be enough for 3-4 people.
Nutrition
Calories:
452
kcal
Carbohydrates:
40.96
g
Protein:
11.63
g
Fat:
28.6
g
Saturated Fat:
6.98
g
Polyunsaturated Fat:
5.97
g
Cholesterol:
89
mg
Sodium:
896.66
mg
Fiber:
2.26
g
FAQ
What is Okonomiyaki?
Okonomiyaki is a type of Japanese style savory pancake, most commonly made with eggs, cabbage and pork. There are two famous types, Osaka style and Hiroshima style.
How are Osaka and Hiroshima style okonomiyaki different?
Osaka style mixes the ingredients into the batter and fries everything together. Hiroshima style cooks the ingredients separately and then layers them up on top of each other. Hiroshima style also often contains yakisoba noodles whereas Osaka style doesn't.
What is okonomiyaki flour?
Specialist okonomiyaki flour is a simple mixture of cake flour (with low gluten content), dashi powder, starch and yam powder. It's easy to use but not essential for making okonomiyaki.
What is okonomiyaki sauce made of?
Okonomiyaki sauce is a tangy and glossy sauce. In my recipe I use Worcestershire sauce, oyster sauce, ketchup, honey and soy sauce. In Japanese homes, we usually use store bought sauce. The brand u0022otafukuu0022 is the most popular.
What do you eat with okonomiyaki?
Okonomiyaki is very filling and we often eat it on its own. We also enjoy it with other teppanyaki dishes such as yakisoba or monjayaki.
What's the difference between takoyaki and okonomiyaki?
Okonomiyaki is a Japanese pancake with pork and cabbage, whereas takoyaki is a small dumpling, made from a thin batter and octopus which is cooked in a special circular mold so that it becomes a round ball shape.