These delicious Japanese-style quick pickles are made with just 4 simple ingredients and flavored with a fiery kick of wasabi. The striking contrast between the crunchy, refreshing cucumbers and the heat from the wasabi is truly addictive! Perfect as a side dish or snack, not to mention ready in just 12 hours!
Disclaimer: This post contains Amazon affiliate links. Sudachi Recipes earn a small percentage from qualifying purchases at no extra cost to you. See disclaimer for more info.
What are Wasabi Pickled Cucumbers?
Wasabi pickled cucumbers (きゅうりのわさび漬け) are a variation of Japanese pickles (tsukemono) known as "asazuke". Referring to both the method and the pickles themselves, asazuke (浅漬け) are a type of quick pickle that can be prepared in just a few hours or days by mixing chopped vegetables with salt, sugar and/or vinegar. Since they are only lightly pickled, they don't undergo fermentation.
Due to their short preparation time, use of accessible ingredients and the fact that they can be ready to eat in a matter of hours make asazuke an ideal dish to prepare at home. You don't need any special tools or skills, just some fresh vegetables, sugar and salt!
Common vegetables to use for asazuke include cucumbers, eggplants, carrots, daikon radish and napa cabbage (hakusai). Since the vegetables are only marinated for a short time, you can enjoy their fresh and natural crunchy texture to the fullest. You can also customize the flavor with aromatics such as garlic, ginger or chili.
In this recipe, I use the simple asazuke technique to combine crunchy cucumbers with spicy wasabi, creating a refreshing pickle with a fiery kick! Wasabi pickled cucumbers make an excellent side dish when served with rice, miso soup and fish or meat. They also make a great beer snack!
Ingredients
This quick and easy recipe only requires 4 simple ingredients!
Cucumber – Japanese or Persian cucumbers work best for pickles due to their sweet taste and minimal seeds. If you can only find English or American cucumber where you live, I recommend cutting the cucumber in half lengthways and scooping out the watery flesh before starting this recipe.
Sugar – Granulated sugar works best for pickling.
Salt – Since the marinating time is short, fine salt works best for this recipe. I recommend fine sea salt.
Wasabi paste – the essential ingredient for adding a unique flavor to this recipe. I personally use S&B's Hon Nama Wasabi Paste (affiliate). I don't recommend using real, freshly grated wasabi root for this recipe since it's expensive and not naturally spicy.
Curious about the exact brands and products that bring my recipes to life? Discover the brands and ingredients behind my recipes at the Sudachi Amazon Storefront. Explore my handpicked pantry essentials and find your next kitchen favorites!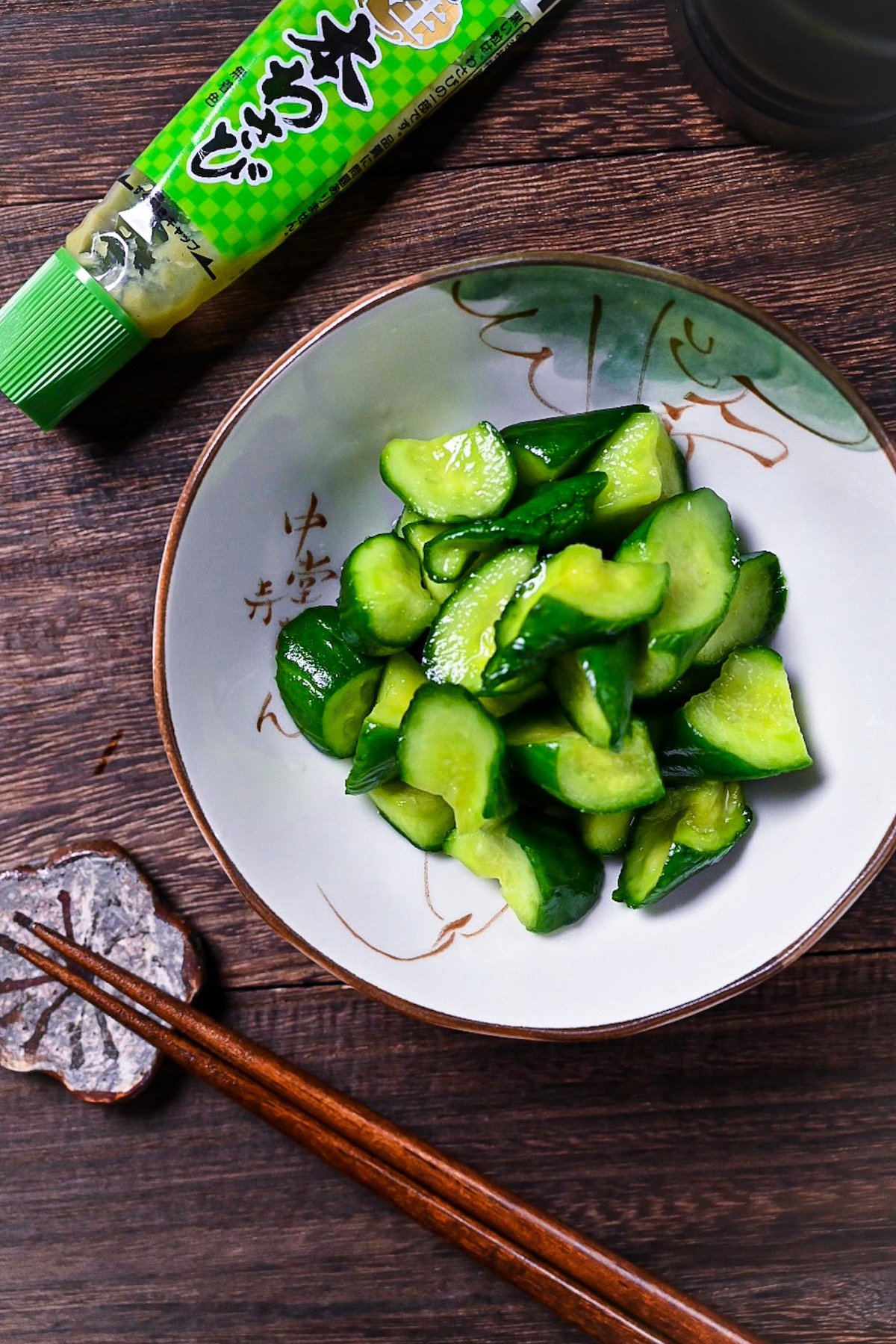 Step-by-Step Process
Here are my step by step instructions for how to make quick and easy wasabi pickled cucumbers with just 4 ingredients and 12 hours. For ingredient quantities and simplified instructions, scroll down for the printable recipe.
Wash and Prep the Cucumber
Wash the cucumber and dry the surface with kitchen paper (this is to prevent watering down the "pickling" ingredients). Cut off the ends and discard.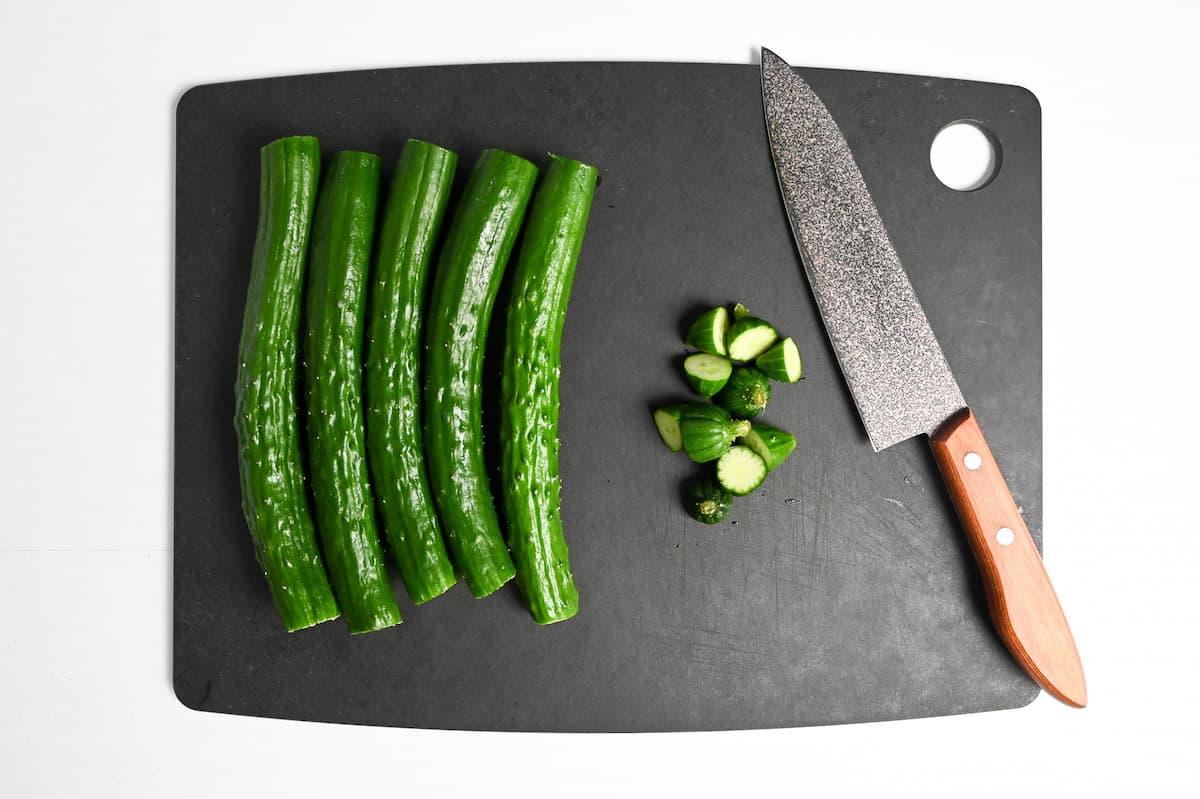 If you're using Japanese or Persian cucumbers, roughly cut them into small bitesize pieces, ensuring that every piece has some skin attached.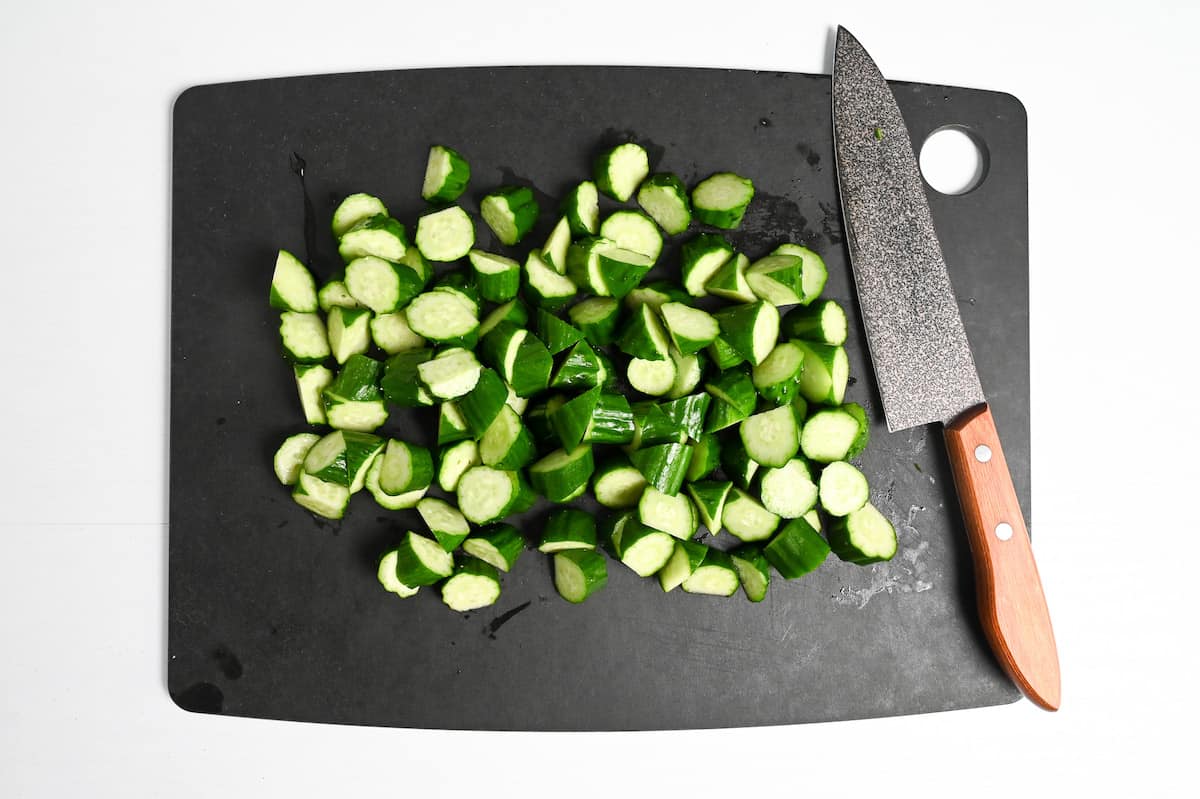 If using a thicker or more watery variety of cucumber (such as English or American), cut them in half lengthways, scoop out the seeds and discard before cutting.
Transfer to a Sealable Bag
Place the cucumber pieces in a large zip lock bag.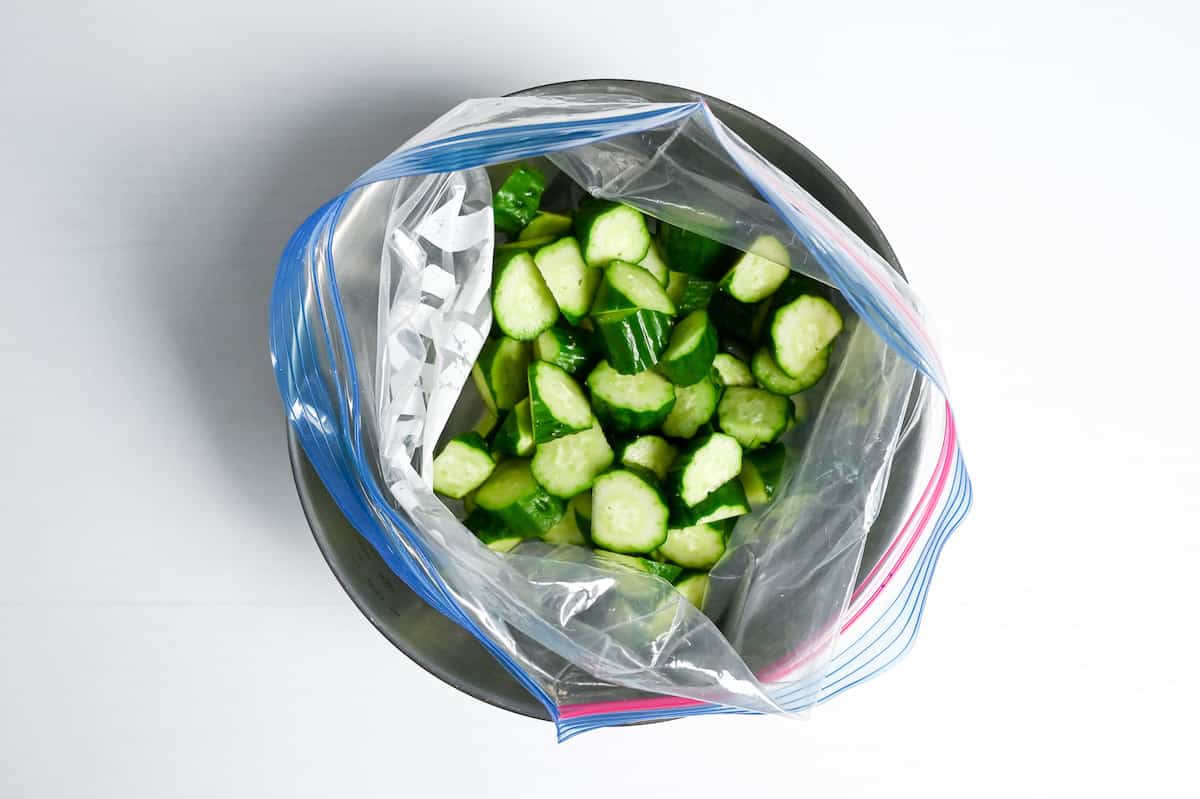 Measure out the salt, sugar and wasabi paste and add them to the bag all at once.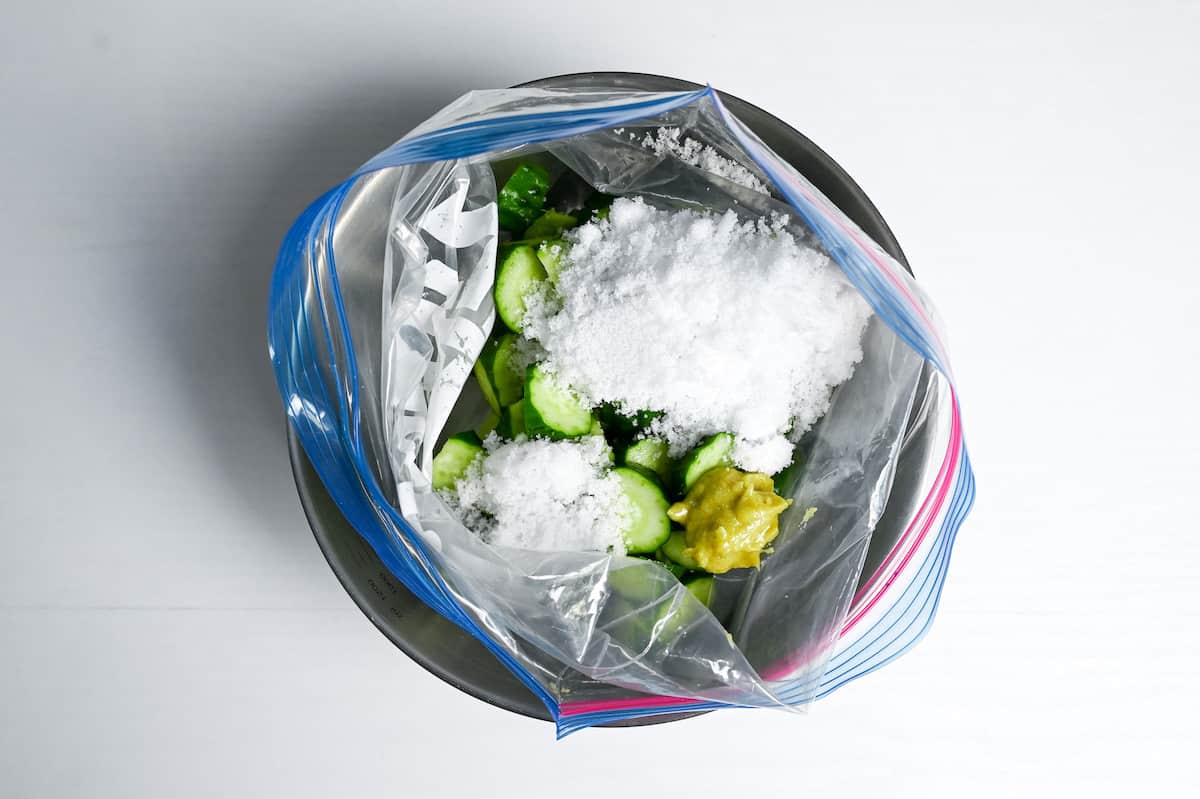 Massage the ingredients together by gently rubbing the outside of the bag. Hold the top closed and shake it from time to time to evenly distribute all of the ingredients.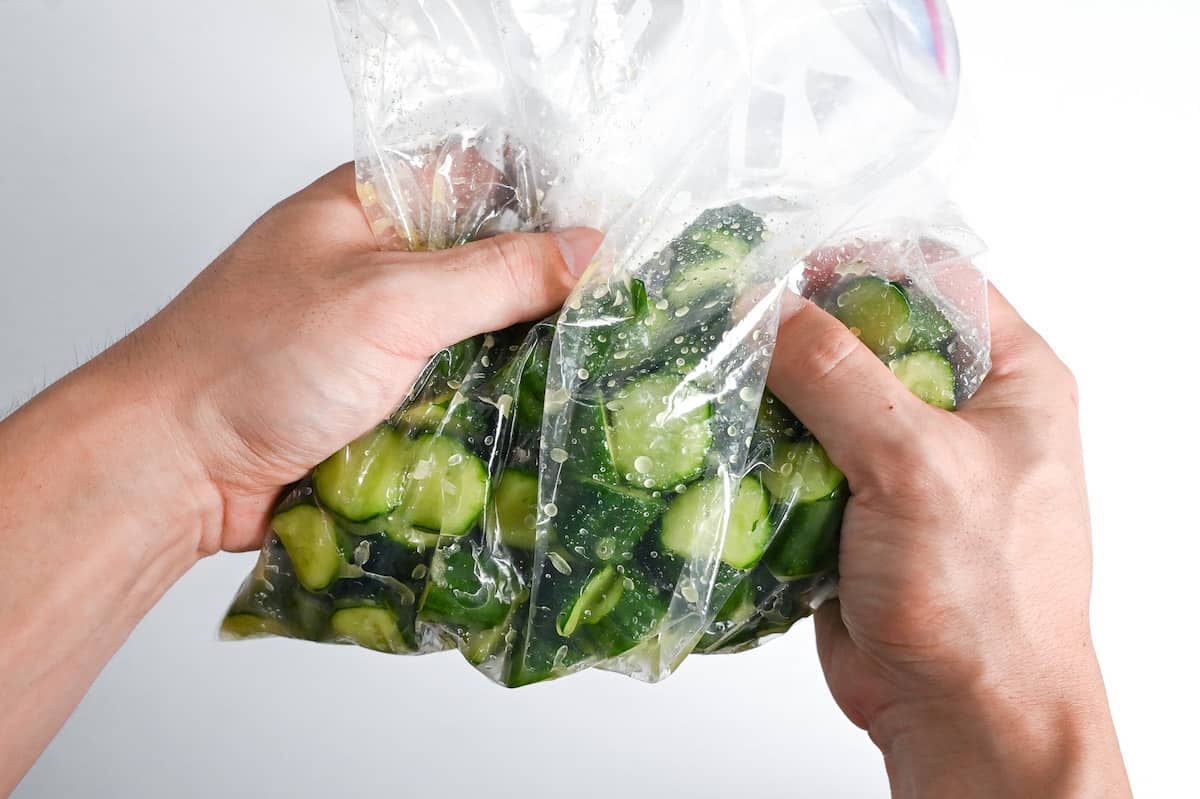 Once the cucumber is evenly covered, push the air out and seal the bag. I recommend placing it in a bowl or tray to prevent accidental leaks.
Store in the fridge for 12 hours.
After 12 hours, enjoy your homemade asazuke wasabi pickled cucumbers!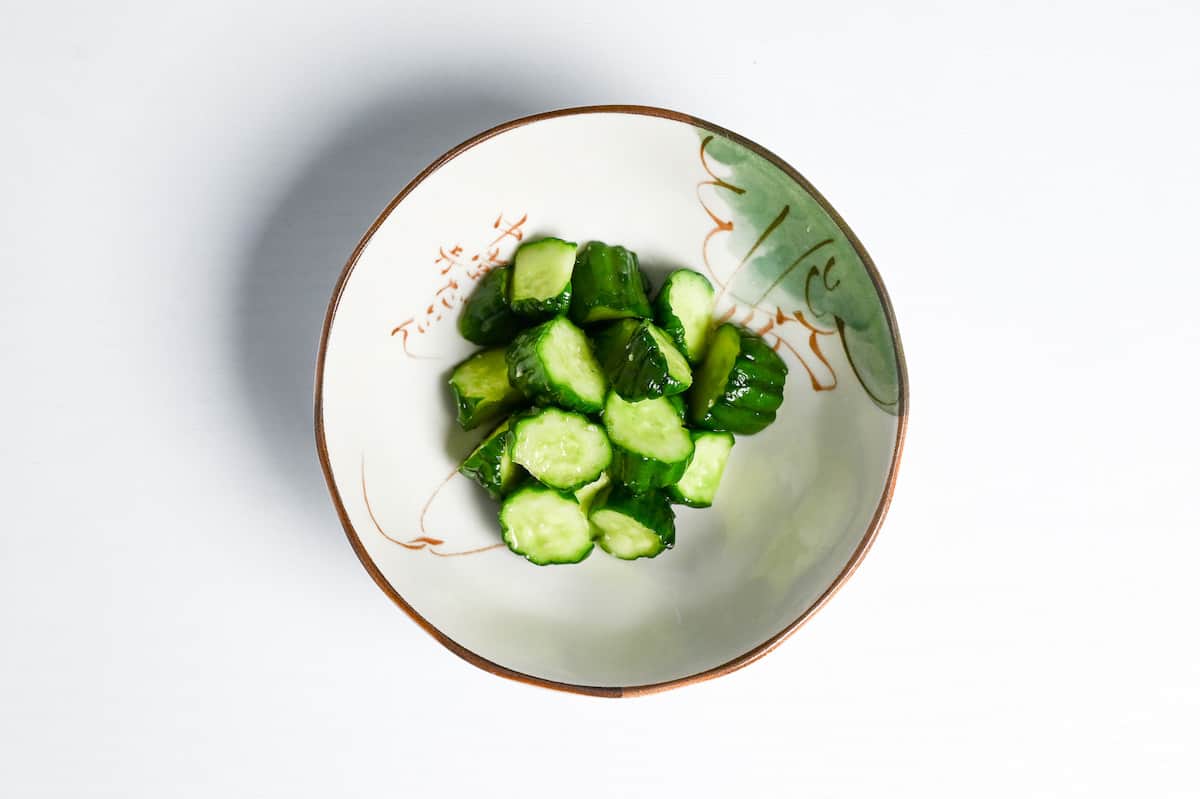 Storing
These pickles can be stored in the refrigerator for up to 7 days (4-5 days in summer). As the days go by, don't be alarmed when more water accumilates in the bag, this is because the salt gradually draws out the water content in the cucumber.
When serving, use clean tongs or chopsticks to remove the cucumbers from the bag and transfer them to serving dishes. Avoid eating them straight from the bag to prevent bacteria entering your pickles.
Room temperature – Not recommended.
Refrigerated – Up to 1 week (4-5 days in summer).
Frozen – Not recommended.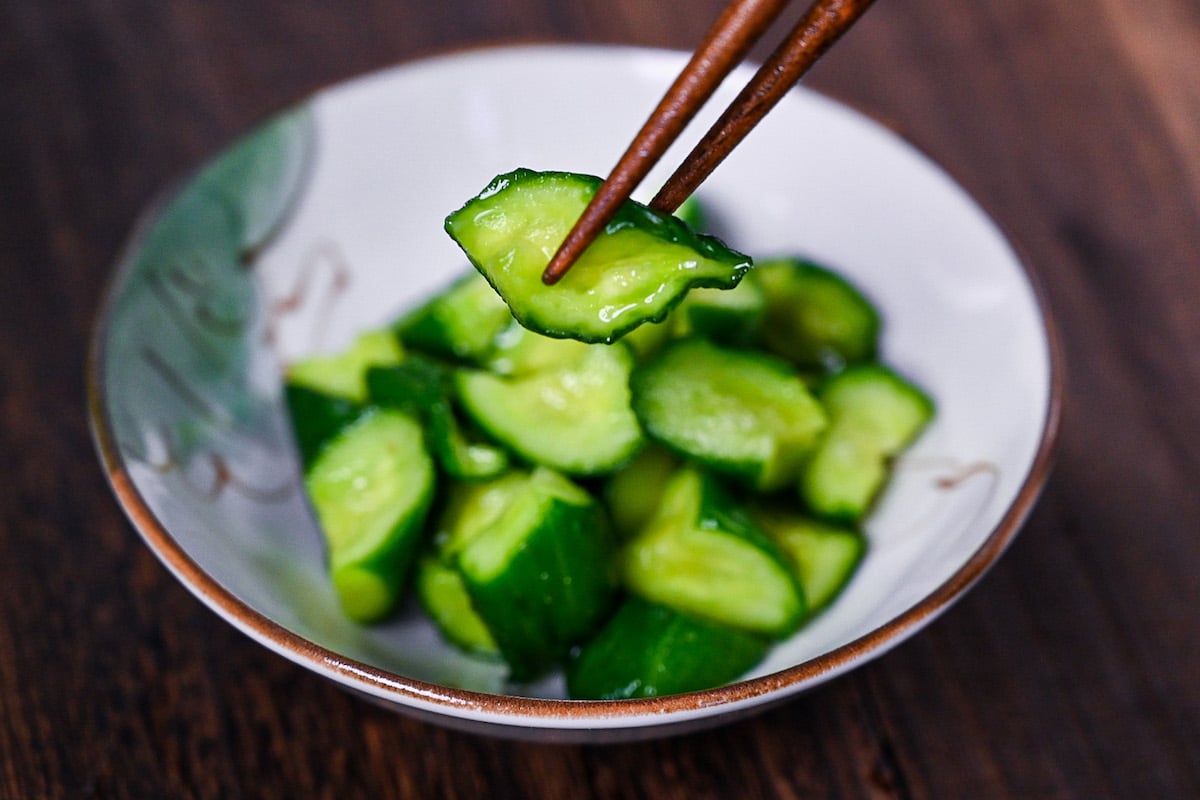 I hope you enjoy this quick and easy wasabi pickled cucumber recipe! If you try it out, I'd really appreciate it if you could spare a moment to let me know what you thought by giving a review and star rating in the comments below. Thank you!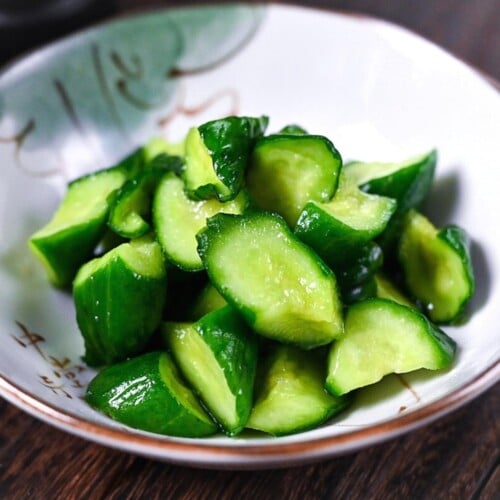 Japanese Wasabi Pickled Cucumbers
---
How to make quick and easy Japanese Wasabi Pickled Cucumbers with a spicy kick, ready in just 12 hours!
---
---
---
---
Ingredients
500

g

Japanese or Persian cucumber(s)

Japanese or Persian

65

g

sugar

20

g

salt

1

tbsp

wasabi paste
Instructions
Wash

500 g Japanese or Persian cucumber(s)

and cut off the ends.

Cut up the cucumber into rough chucks, try and make sure every piece has skin attached.

Place into a large zip lock bag.

Add

65 g sugar

,

20 g salt

and

1 tbsp wasabi paste

.

Rub the ingredients all over the cucumber, try and make sure all of the cucumber is covered. You can do this from the outside of the zip lock bag, there's no need to get your hands dirty!

Once evenly coated, seal the bag and leave in the fridge for 12 hours before eating. I recommend placing the bag in a container to prevent any leaks.
Notes
Keep refrigerated and eat within 5-7 days.
More Must-Try Japanese Pickle Recipes
Japanese Pickled Cucumber with Ginger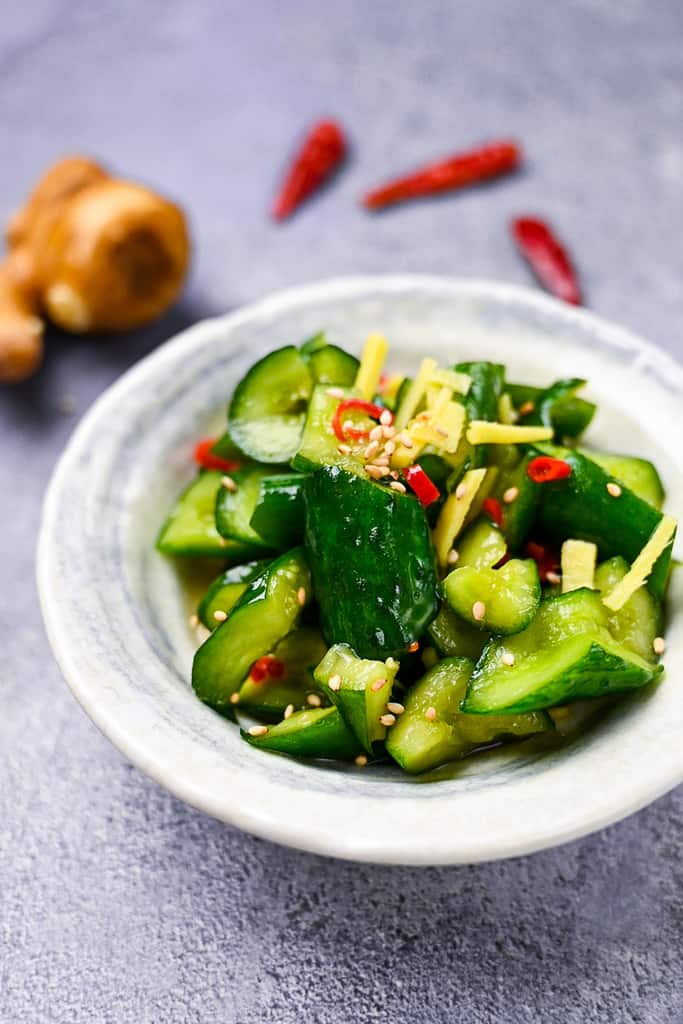 Quick Japanese Pickled Cucumber with Ginger (Tsukemono)
How to make crunchy, refreshing Japanese cucumber pickles (tsukemono) with a ginger and chili kick. 
Check out this recipe →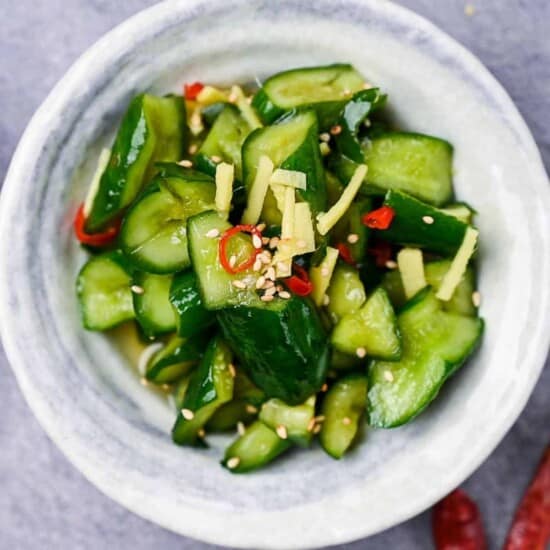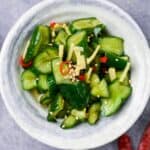 Bettara Zuke (Sweet Pickled Daikon)
Japanese Pickled Daikon Radish (Bettarazuke)
How to make "bettarazuke", a sweet and crunchy Japanese pickled daikon flavored with amazake (sweet fermented rice beverage), kombu and a hint of chili.
Check out this recipe →
Kohaku Namasu (Pickled Daikon and Carrot with Yuzu)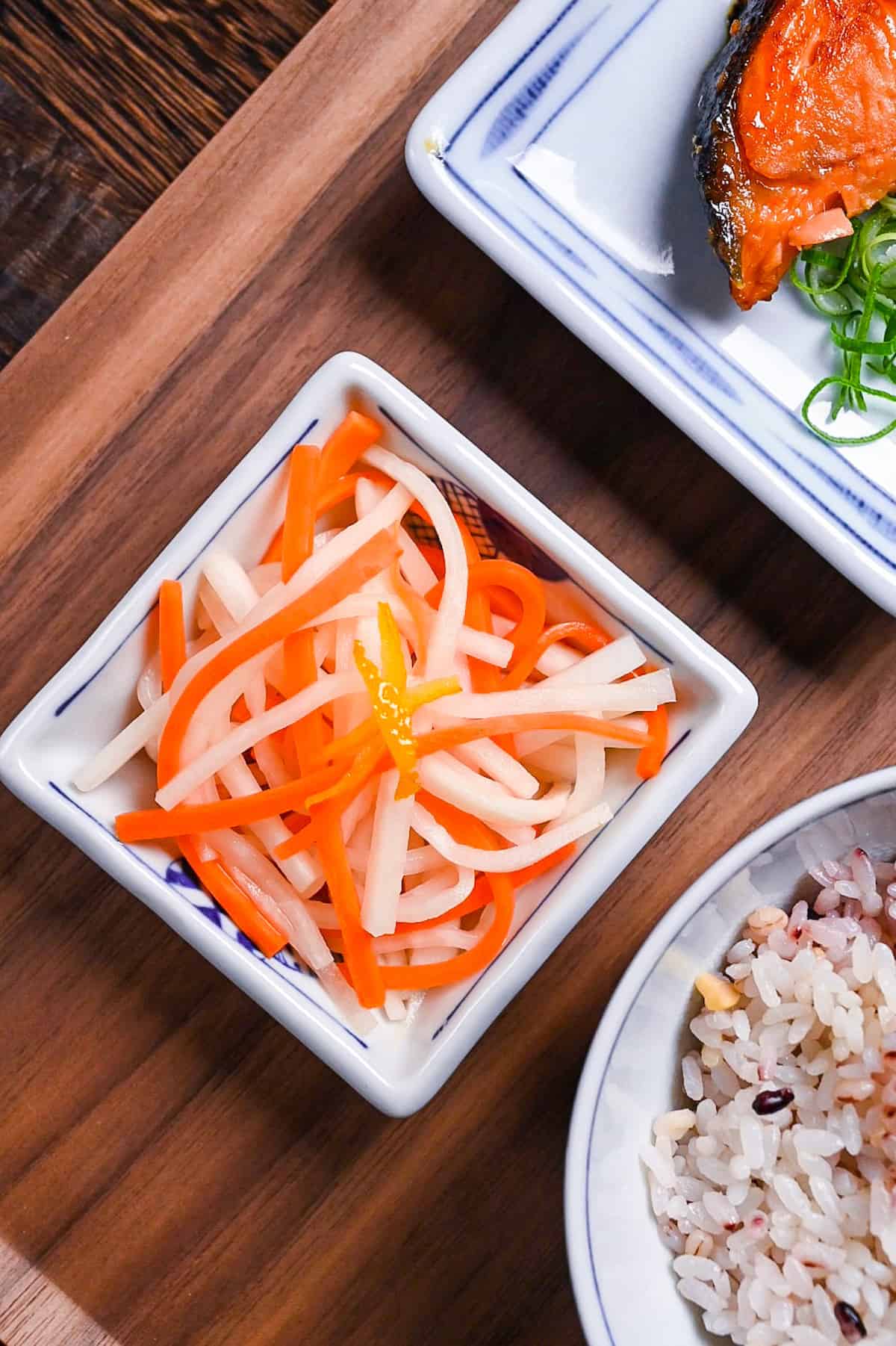 Kohaku Namasu with Yuzu (Japanese Pickled Daikon and Carrot Salad)
How to make light and refreshing kohaku namasu with crunchy daikon radish and sweet carrots pickled and flavoured with yuzu. (Ready to eat in 12 hours.)
Check out this recipe →
FAQ
What are Japanese pickles called?
Japanese pickles are called called Tsukemono (漬物).
Are Japanese pickles fermented?
Some of them are, some of them aren't. There are two main different types of Japanese pickles; Asazuke (浅漬け) are lightly pickled but not fermented,
nukaduke (ぬか漬け) are rice bran pickles and fermented in the process.