This Japanese twist on avocado egg salad packs a punch with its delicious, creamy wasabi mayo sauce mixed with tender cubes of sashimi-grade salmon, and topped with bonito flakes and green onion. It only takes 5 minutes to prepare and it's ready to eat in just 20 minutes!
Disclaimer: This post contains Amazon affiliate links. Sudachi Recipes earn a small percentage from qualifying purchases at no extra cost to you. See disclaimer for more info.
What is Japanese Avocado Salad?
To tell you the truth, there is no official dish called "Japanese avocado salad," at least in Japan.
Instead, it's a salad made with fresh, cubed avocado mixed with Japanese condiments, ingredients and flavors. When a dish has Japanese influence, we often call it "wafu" which means "Japanese style."
Recently, avocados gained popularity in Japan, transitioning from trendy cafes to regular supermarket shelves. The Ministry of Finance reports avocado imports rose from 44,552 tons in 2010 to 79,559 tons in 2020.
My recipe is inspired by Japanese potato salad but uses more typical and peculiar Japanese condiments and toppings.
How I Developed This Recipe
Creating this avocado salad recipe was difficult, as there is no standard for this dish. I experimented with various ingredients numerous times to perfect this recipe.
The Japanese twist to this dish comes from using wasabi and bonito flakes. While initially trying different ingredients, I realized that wasabi and avocado make a great combination, and the addition of salmon sashimi makes it even more satisfying.
Additionally, wasabi pairs well with mayonnaise and soy sauce! Enjoy a completely original and unique salad!
Ingredients and Substitution Ideas
Soy Sauce: Kikkoman soy sauce is a top choice for a reasonably priced option. Refer to our complete soy sauce guide for a comprehensive guide on selecting the right soy sauce for Japanese cuisine.
Japanese Mayonnaise: While Kewpie mayonnaise is preferred, other brands also work.
Sesame Oil: Kadoya's sesame oil is recommended for its subtle flavor enhancement in marinades.
Sugar: While regular sugar works, I often use light brown cane sugar in most dishes.
White Sesame Seeds: Both regular and roasted sesame seeds are suitable.
Wasabi Paste: S&B's Hon Nama Wasabi Paste is my go-to for its distinct flavor.
Avocado: Ensure the avocados are ripe and neither too hard nor too soft.
Sashimi Grade Salmon: Smoked salmon will be a great alternative if sashimi grade isn't accessible.
Boiled Egg: Aim for a hard-boiled egg in this recipe. For reference, I boil mine for 10 minutes.
Mini Tomatoes: While optional, they are recommended for their vibrant color.
Toppings: My choice of toppings includes green onion and dried bonito flakes.
Simply omit the salmon and bonito flakes to make this dish vegetarian friendly!
Curious about the exact brands and products that bring my recipes to life? Discover the brands and ingredients behind my recipes at the Sudachi Amazon Storefront. Explore my handpicked pantry essentials and find your next kitchen favorites!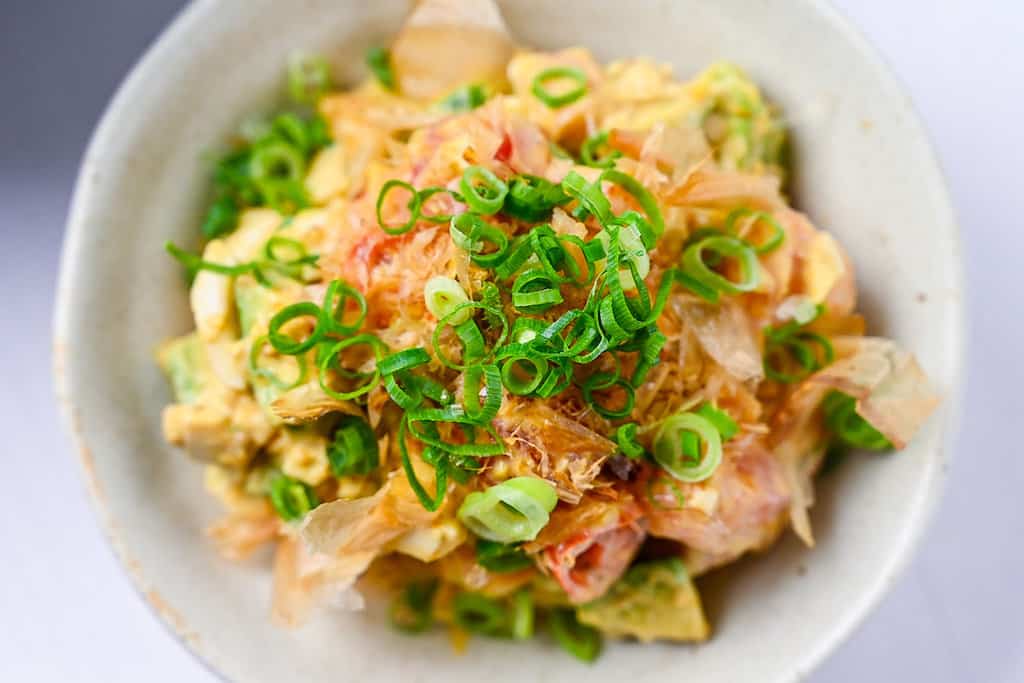 Step-by-Step Process
Here are my step-by-step instructions for how to make quick and delicious Japanese-style avocado egg salad with salmon sashimi. For ingredient quantities and simplified instructions, scroll down for the printable recipe card below.
Add the soy sauce, mayonnaise, sesame oil, sugar, white sesame seeds and wasabi paste to a bowl and mix until smooth and well combined. You can taste test here and add a little more wasabi if you like it extra hot!
Mix ingredients and chill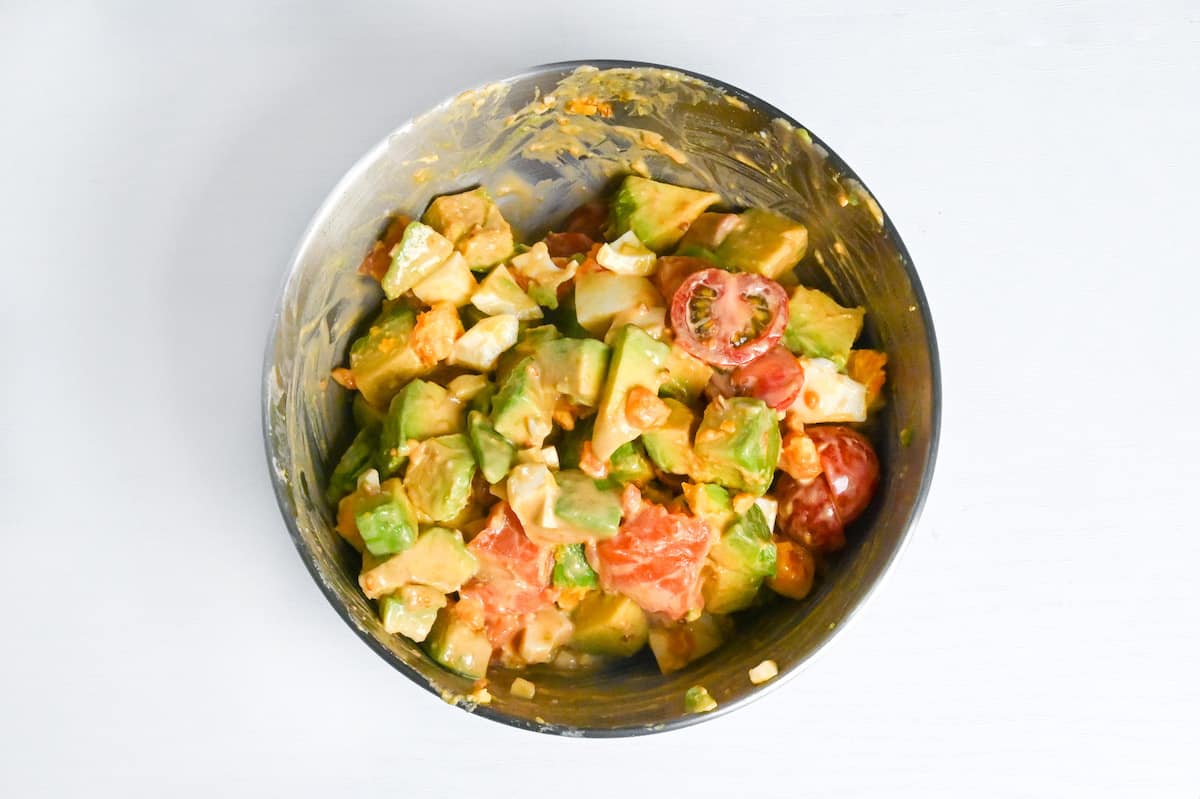 Cube the avocado, eggs and salmon and place them in the bowl. Add halved mini tomatoes and mix gently until all the ingredients are evenly covered.
Be careful not to mix too roughly since this can cause the avocado and eggs to break and become mushy.
Once coated, cover the bowl and store in the fridge for 20 minutes to allow the flavors to develop.
Divide into serving bowls and top with bonito flakes and chopped green onion (optional). Enjoy!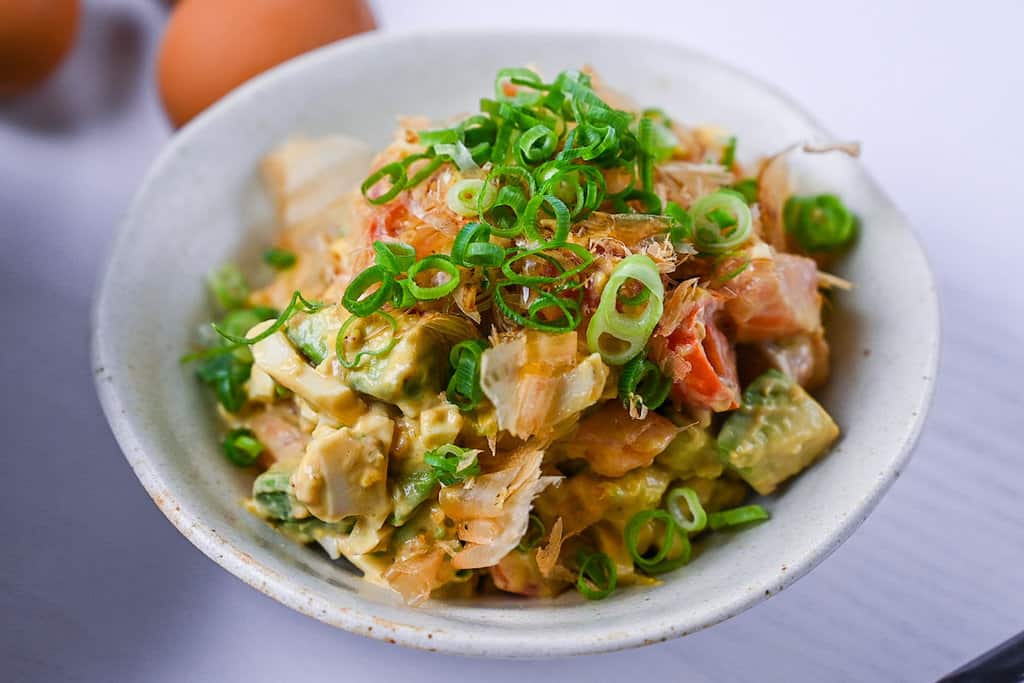 Storing
This Japanese-style avocado salad is made with raw salmon, so be sure to eat it by the end of the day, even if you refrigerate it.
Room temperature – Not recommended.
Refrigerated – Within 24 hours.
Frozen – Not recommended.
I hope you enjoy this quick and delicious Japanese-style avocado egg salad recipe recipe! If you try it out, I'd really appreciate it if you could spare a moment to let me know what you thought by giving a review and star rating in the comments below. It's also helpful to share any adjustments you made to the recipe with our other readers. Thank you!
More Japanese-Style Salads
If you loved this dish, check out some of my other Japanese inspired salad recipes!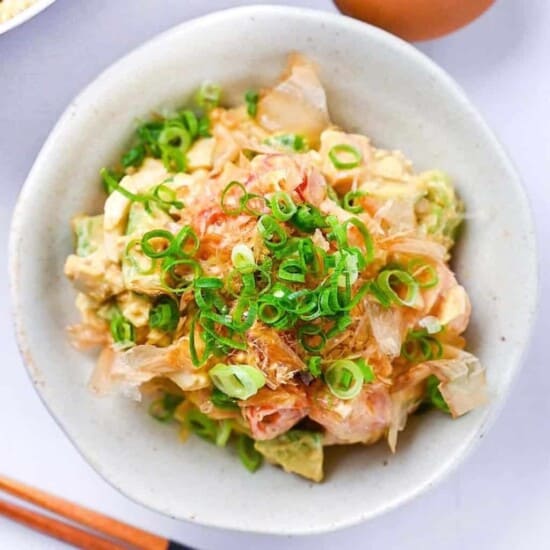 Japanese Style Avocado Egg Salad with Wasabi Mayo
---
How to make Japanese-style avocado egg salad with tender cubes of salmon sashimi and juicy tomatoes coated in a creamy wasabi mayo sauce.
---
---
---
---
Instructions
Add

½ tbsp soy sauce

,

2 tbsp Japanese mayonnaise

,

½ tsp sesame oil

,

1 pinch sugar

,

1 tsp white sesame seeds

and

1 tsp wasabi paste

to a mixing bowl and whisk until the ingredients are combined.

Half

5 mini tomatoes

and cut

1 avocado(s)

,

100 g sashimi grade salmon

and

2 boiled egg

into cubes. Add them to the sauce and mix until everything is evenly coated (be careful not to over-mix otherwise the avocado and eggs will break and become mushed together).

For the best results, chill in the fridge for at least 20 minutes before serving.

Serve in a bowl and sprinkle with

1 tbsp finely chopped green onion(s)

and

1 tbsp bonito flakes

(optional).

Enjoy!
Notes
The sashimi grade salmon can be substituted with smoked salmon.
If you decide to use smoked salmon, reduce the soy sauce.
Store in the fridge and consume within 24 hours.
Nutrition
Calories:
272
kcal
|
Carbohydrates:
7.6
g
|
Protein:
12.9
g
|
Fat:
22.8
g
|
Saturated Fat:
3.7
g
|
Polyunsaturated Fat:
4.8
g
|
Cholesterol:
147.7
mg
|
Sodium:
354
mg
|
Fiber:
3.1
g