Enjoy these delicious homemade Japanese pan-fried gyoza dumplings filled with tofu and vegetables, seasoned with ginger, garlic, and umami-rich Japanese condiments, to create the ultimate flavor sensation! Meat-free and extremely addictive!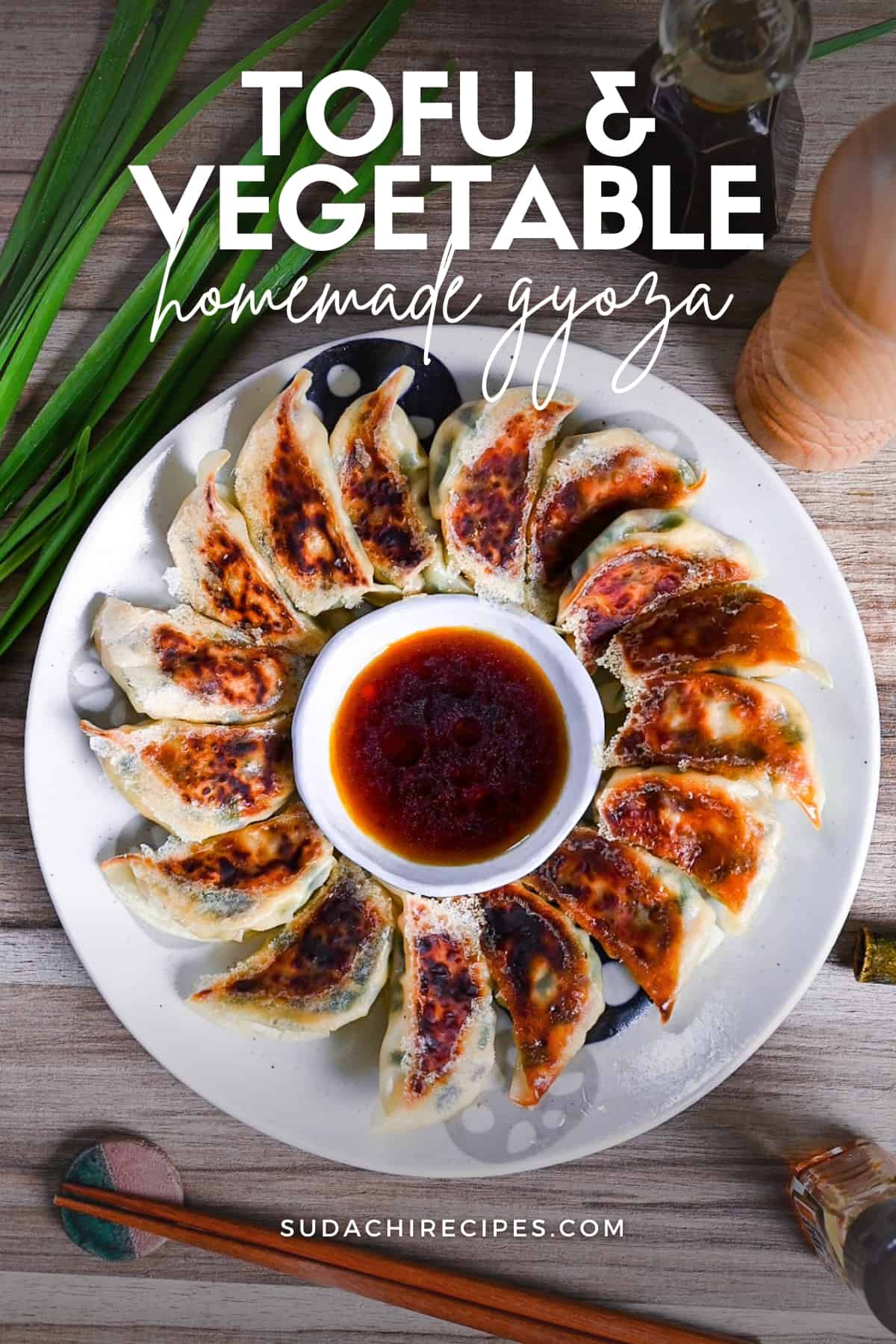 Disclaimer: This post contains Amazon affiliate links. Sudachi Recipes earn a small percentage from qualifying purchases at no extra cost to you. See disclaimer for more info.
Jump to:
What is Tofu Gyoza (Vegetable Gyoza)?
Gyoza, derived from the Chinese "jiǎozi," are dumplings traditionally prepared by creating a thin dough from flour and water. This dough serves as a gyoza wrapper to house various fillings. Depending on the cooking method—whether pan-fried, steamed, boiled, or fried—the resulting gyoza is usually dipped in some variation of gyoza dipping sauce.
In Japan, pan-fried gyoza has notably carved out a niche for themselves. Niku gyoza for those filled with ground pork, shrimp gyoza for those packed with shrimp, and vegetable gyoza for the veggie-loaded variants—denote the primary constituents of their respective fillings.
Despite the popularity of meat-based gyoza, the adaptability of these dumplings allows for considerable creativity. By simply substituting traditional ingredients with vegetarian alternatives, gyoza can be tailored to cater to various preferences. In this recipe, tofu is utilized as a meat substitute, resulting in an equally appealing, plant-based version of traditional gyoza.
If you want to know more about gyoza itself, please check out my pork gyoza post.
Ingredients and Substitutions
Firm tofu - Use firm tofu instead of silken tofu because silken tofu makes the filling too sticky and wet. This serves as a substitute for minced meat.
Shiitake mushroom - You can use other mushrooms, but shiitake mushrooms, with their strong, umami-rich flavor, are best suited for this recipe.
Boiled bamboo shoots - Adding bamboo shoots gives the filling a crunchy and satisfying texture.
Wood ear mushroom - This creates a slightly chewy texture in the filling that differs from bamboo shoots.
Garlic chives - It creates the unique flavor of Japanese-style gyoza.
Cornstarch - Since the dumplings will be more watery than those made with minced meat, use starch to hold the filling together. Potato or tapioca starch can also be used.
Fresh garlic - Grating fresh garlic is recommended, but you can also use store-bought garlic paste as a shortcut.
Grated ginger - Ginger paste can also be used for convenience.
Black pepper - White pepper can also be used.
Sake - If you do not have sake, substitute it with white wine or dry sherry.
Mirin - When purchasing mirin, it is recommended to look for "hon mirin" (本みりん) for the best flavor. I recommend Hinode Hon Mirin as a high-quality and affordable option. See my 20 Most Useful Condiments and Seasonings for Japanese Cooking post for more recommendations.
Sesame oil - It is used to add subtle flavor to the filling. I recommend Kadoya's sesame oil.
Soy sauce - If you are looking for something reasonably priced, you can't go wrong with Kikkoman soy sauce. I also recommend their organic marudaizu soy sauce, characterized by its mild flavor and depth.
Miso paste - Any miso paste you have will do, but for this recipe, an awase miso paste (yellow miso) will work best.
Gyoza wrappers - I use large wrappers in this recipe, approximately 9.5cm/3.75inches in diameter. Alternatively, you can try making your own gyoza wrappers using my recipe here.
I have listed my recommended Japanese condiments, tools, and ingredients in the Sudachi Recipes Amazon shop. If you want to keep making various Japanese foods at home, please check it out!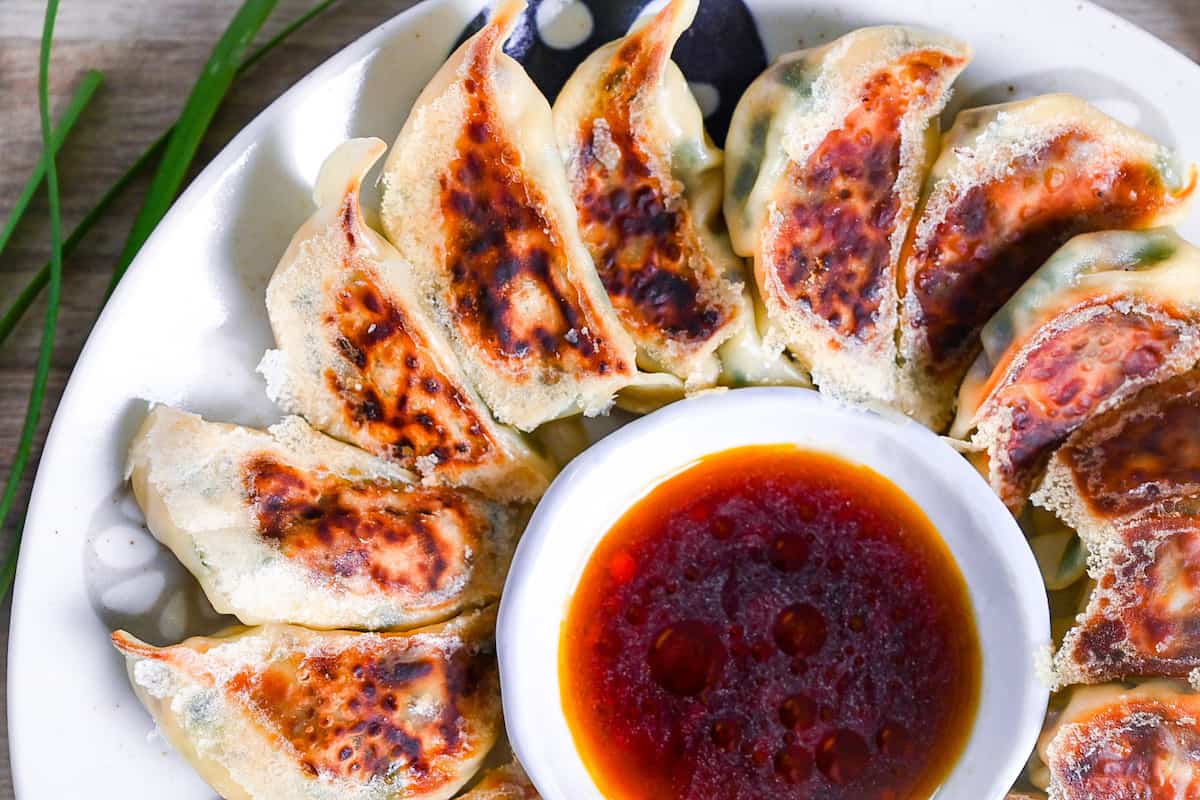 Step-by-Step Process
Here are my step by step instructions for how to make delicious tofu and vegetable gyoza from scratch at home. For ingredient quantities and simplified instructions, see the printable recipe card below.
Roughly dice the shiitake mushrooms, bamboo shoots, wood ear mushrooms and garlic chives, and grate the garlic and ginger. Add them to a bowl along with the firm tofu, black pepper, sake, mirin, cornstarch, sesame oil, soy sauce and miso paste.
Mix thoroughly until the tofu has broken up and all the ingredients are evenly distributed.
Hold the wrapper flat in your hands and add between ½ and 1 tbsp of filling to the center, making sure to leave a border around the edge.
Lightly wet half of the border and then gently fold the wrapper in half without letting the sides touch yet.
Pinch the corner and make pleats on one side, pressing them down on the other side to seal as you go.
Continue until the wrapper is completely sealed and press all the way around to secure it (make sure there aren't any gaps!).
Your completed gyoza should look something like this:
Add cooking oil to a large cold frying pan. The frying pan should be big enough to fit all of your gyoza in a single layer. (If you don't have a big enough pan to do this, fry the gyoza in batches.) As you place the gyoza inside, spread the oil around evenly.
Heat on medium and fry until crispy and golden underneath. While you wait for them to cook, mix flour and warm water in a bowl to make a slurry. Once the gyoza are crispy underneath, pour the slurry into the pan and place a lid on.
Steam the gyoza until the water is almost gone and then remove the lid. Continue to cook until the slurry has completely evaporated and created a crispy layer underneath the gyoza.
Make the gyoza dipping sauce
Take a small bowl and mix rice vinegar, soy sauce, chili oil and black pepper.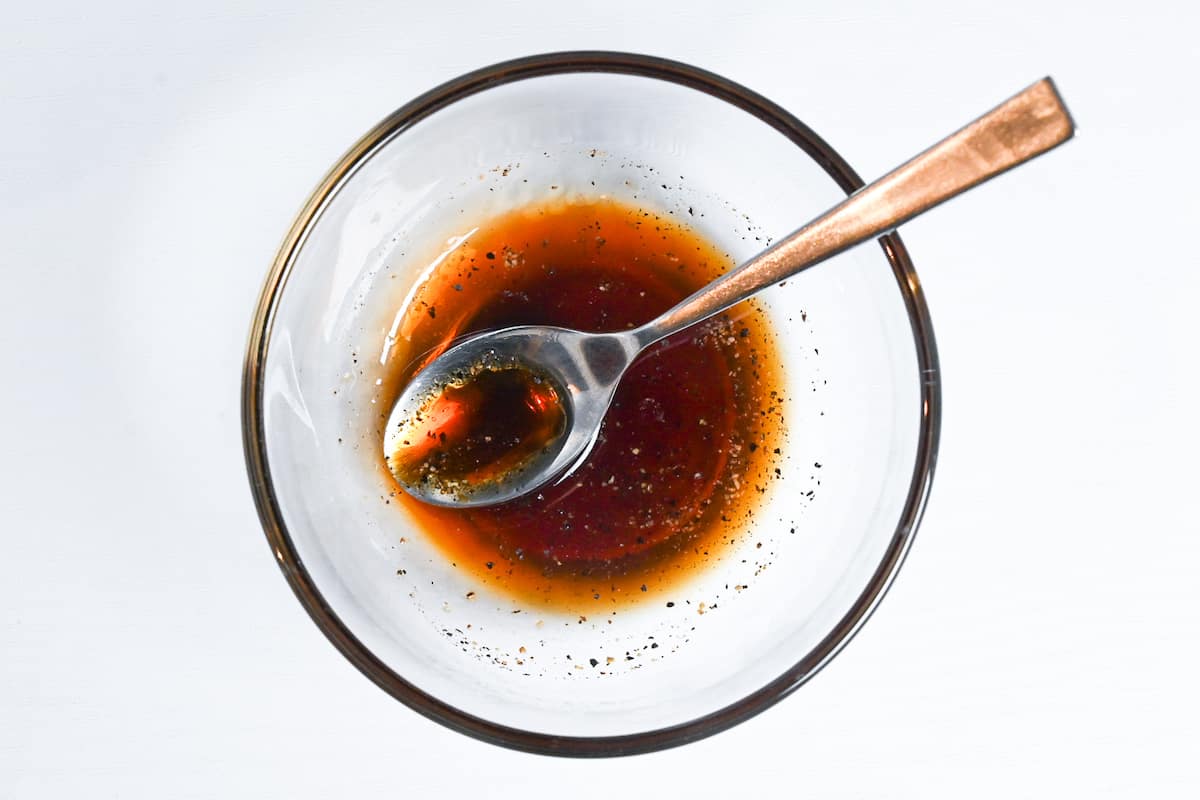 Use a spatula to carefully loosen the gyoza from the pan and then flip them onto a plate.
Serve with your dipping sauce and enjoy!
Storage options
If you wish to keep your tofu gyoza for later meals, it's advisable to freeze them before cooking, just like with any other pan-fried gyoza.
There are several benefits to freezing gyoza. Firstly, it's a significant time-saving strategy. Preparing gyoza by hand, including chopping ingredients, making the filling, and wrapping each gyoza, can be quite time-consuming. By preparing and freezing a large batch, you save yourself this effort in the future.
Another plus point is that frozen gyoza can be cooked directly without thawing, maintaining its original flavor and texture. This offers a convenient choice for hectic days or for simplifying your meal prep. It's also quite enjoyable to make homemade gyoza on a whim.
Despite the temptation to store uncooked gyoza in the fridge, this is not recommended as the water in the filling can make the dumplings soggy, which we all want to avoid. This tends to happen especially for vegetable gyoza which have higher water content.
If you have cooked gyoza leftovers, they can be stored in the fridge for about 24 hours and re-fried to regain their crispiness. Freezing already cooked gyoza is not advised, as it can cause the texture to deteriorate.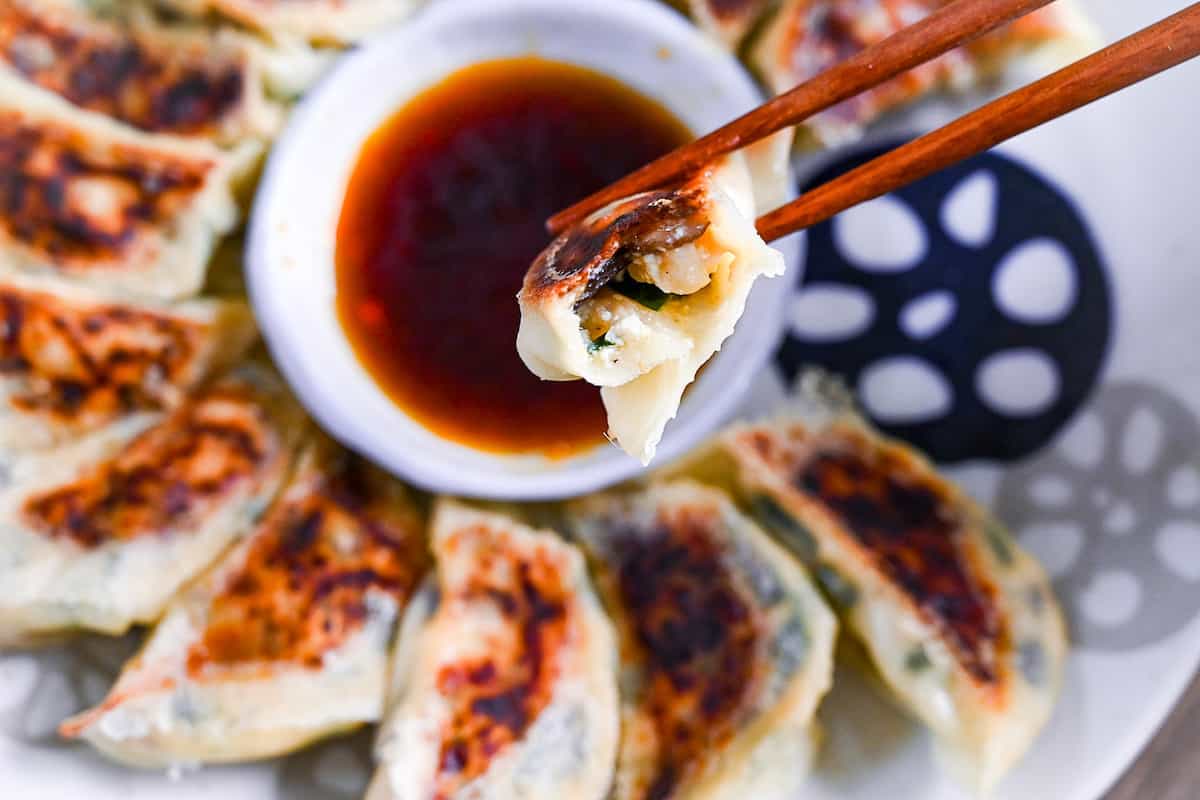 Room temperature - Not recommended.
Refrigerated - Not recommended.
Frozen - Up to 1 month.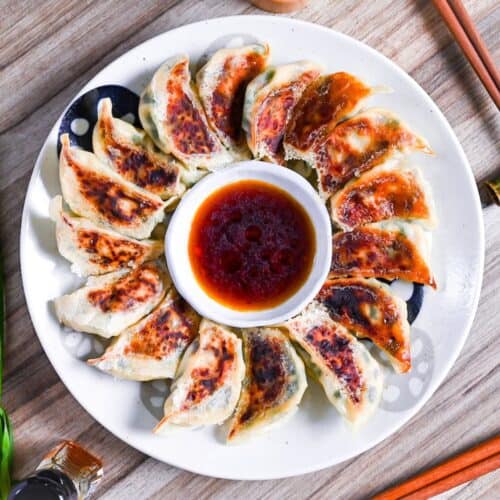 Tofu and Vegetable Gyoza (Plant-Based Potstickers)
How to make crispy and flavorful tofu and vegetable gyoza served with a tangy homemade dipping sauce. Suitable for vegetarians and vegans.
Ingredients
Gyoza Filling
100

g

firm tofu

50

g

shiitake mushroom(s)

-

(fresh, not dried) roughly diced

50

g

boiled bamboo shoots

-

roughly diced

30

g

fresh wood ear mushroom(s)

-

roughly diced

30

g

garlic chives

-

roughly cut

½

tbsp

grated garlic

1

tsp

grated ginger

¼

tsp

black pepper

1

tsp

sake

1

tsp

mirin

1

tbsp

cornstarch

1

tbsp

sesame oil

½

tbsp

soy sauce

1

tbsp

awase miso paste

-

(yellow)
Assembly and Cooking
20

gyoza wrappers -

(large size)

50

ml

warm water

½

tsp

all-purpose flour

½

tbsp

cooking oil
Gyoza Dipping Sauce
1

tbsp

rice vinegar

2

tsp

soy sauce

½

tsp

chilli oil

¼

tsp

black pepper
Instructions
Filling and Assembling
Prepare the ingredients for the filling according to the list above and place them in a large mixing bowl.

Mix until the tofu has broken up and all the ingredients are evenly distributed.

Hold the gyoza wrapper flat and add ½-1 tbsp of filling to the center. Make sure to leave a border around the edge.

Wet the edge lightly with water, then gently fold the wrapper in half without letting the edges touch and pinch one corner.

Make pleats on one side of the wrapper, pressing them on the flat side to seal.

Repeat until the whole gyoza is sealed and tap the base to flatten.
Cooking
Drizzle the cooking oil into a cold pan and place the gyoza in your preferred formation, using the base of the gyoza to help spread the oil.

Turn on the heat to medium and cook until the bottom becomes brown and crispy.

Make a slurry by mixing

50 ml warm water

and

½ tsp all-purpose flour

in a small bowl. Pour the slurry into the pan and place a lid on top. Steam until the liquid is more or less gone.

Remove the lid and continue to cook until the liquid has completely evaporated.

Mix

1 tbsp rice vinegar

,

2 tsp soy sauce

,

½ tsp chilli oil

and

¼ tsp black pepper

in a small bowl for your dipping sauce.
Notes
I used large (9.5cm/3.75inches in diameter) gyoza wrappers for this recipe. If using smaller wrappers, the recipe will make more than the number stated.
FAQ
What is gyoza made of?
Gyoza are small dumplings made with a seasoned filling wrapped in a thin dough (gyoza wrapper). The fillings vary and often contain a mixture of pork, shrimp, vegetables or tofu.
What kind of fillings are used in vegetable gyoza?
Common ingredients include mushroom, spring onion, cabbage chives, garlic, and ginger, just to name a few.
Are vegetable gyoza suitable for vegetarians and vegans?
Not all store-bought vegetable gyoza are guaranteed to be suitable for vegetarians and vegans, but this recipe is 100% plant-based. The beauty of homemade gyoza is that they can be adjusted to suit your personal preferences.
What kind of tofu works best for gyoza?
I recommend firm tofu to prevent the wrappers from becoming too wet and the filling from becoming too paste-like.