Learn how to make crispy pan-fried gyoza packed with a juicy and flavorful shrimp filling. In this post I will teach you everything you need to know from making the filling, shaping beautiful gyoza and frying them to crispy perfection! I even include how to make a zesty ponzu style dipping sauce, let's get started!
Disclaimer: This post contains Amazon affiliate links. Sudachi Recipes earn a small percentage from qualifying purchases at no extra cost to you. See disclaimer for more info.
Jump to:
What is Prawn Gyoza?
Gyoza, commonly called potstickers in English, is a celebrated dumpling dish that traces its roots back to China. This culinary delight significantly impacted Japan during the Showa period (1926-1989), drawing inspiration from the Chinese Jiaozi.
However, the preferred version in China is sui-gyoza (boiled), a far cry from the pan-fried dumplings adored in Japan. What's unique about gyoza is its definition— "dumplings crafted from flour and filled with various ingredients." This broad framework allows for delightful diversity in shapes and fillings, varying from country to country.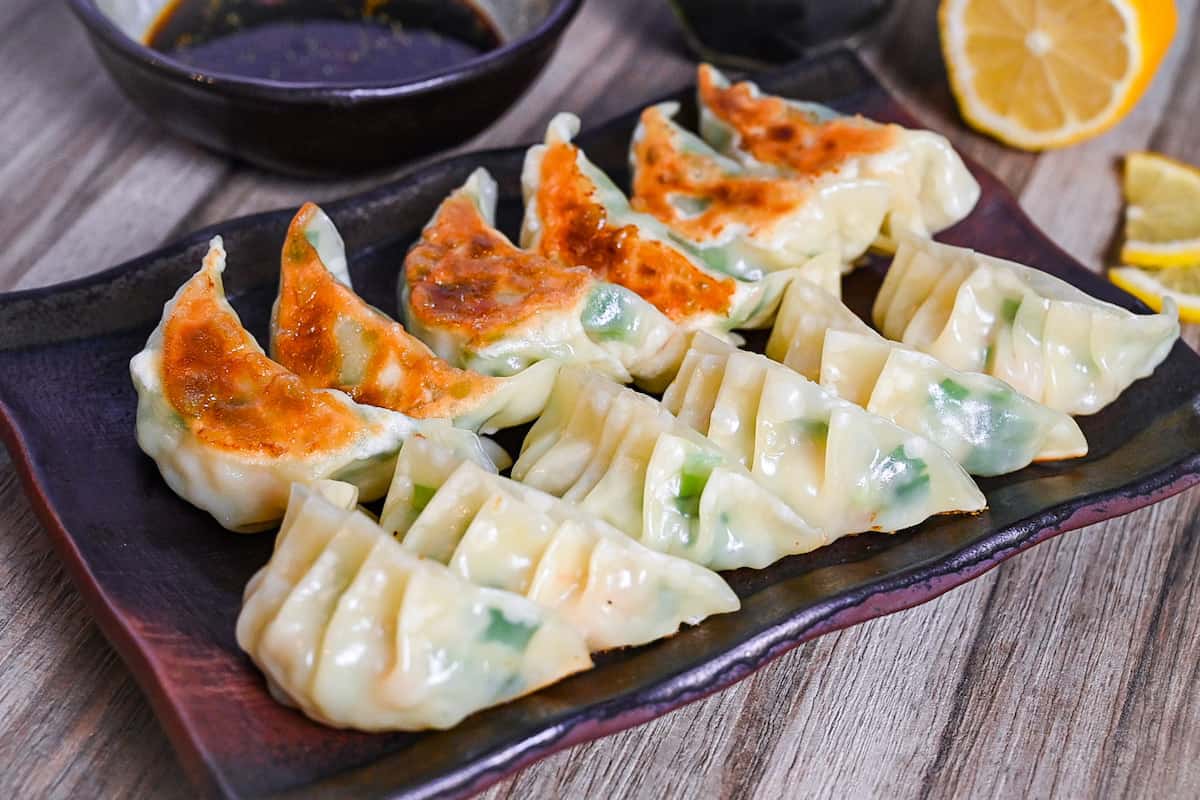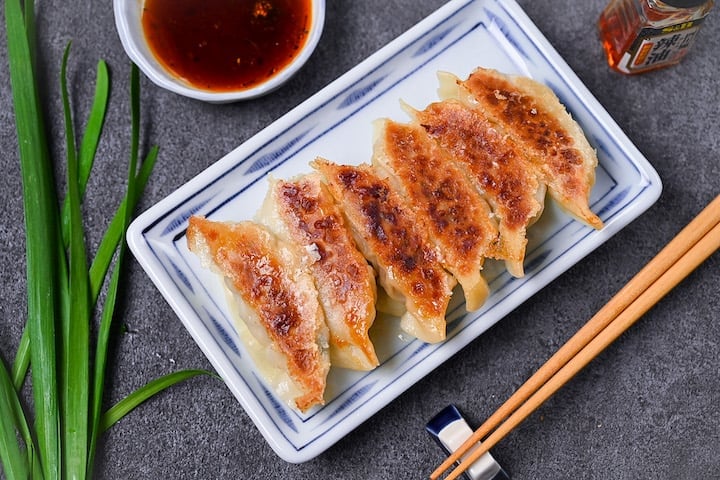 The standard pan-fried gyoza in Japan is meat gyoza, traditionally stuffed with ground pork and vegetables. It could be said that prawn gyoza can be made by simply substituting the pork filling with shrimp. However, in Japan, "shrimp dumplings" are often made with a combination of both pork and shrimp for easier wrapping and added flavor.
Despite this, the prawn gyoza recipe I will introduce here does not use any pork at all, only plenty of shrimp!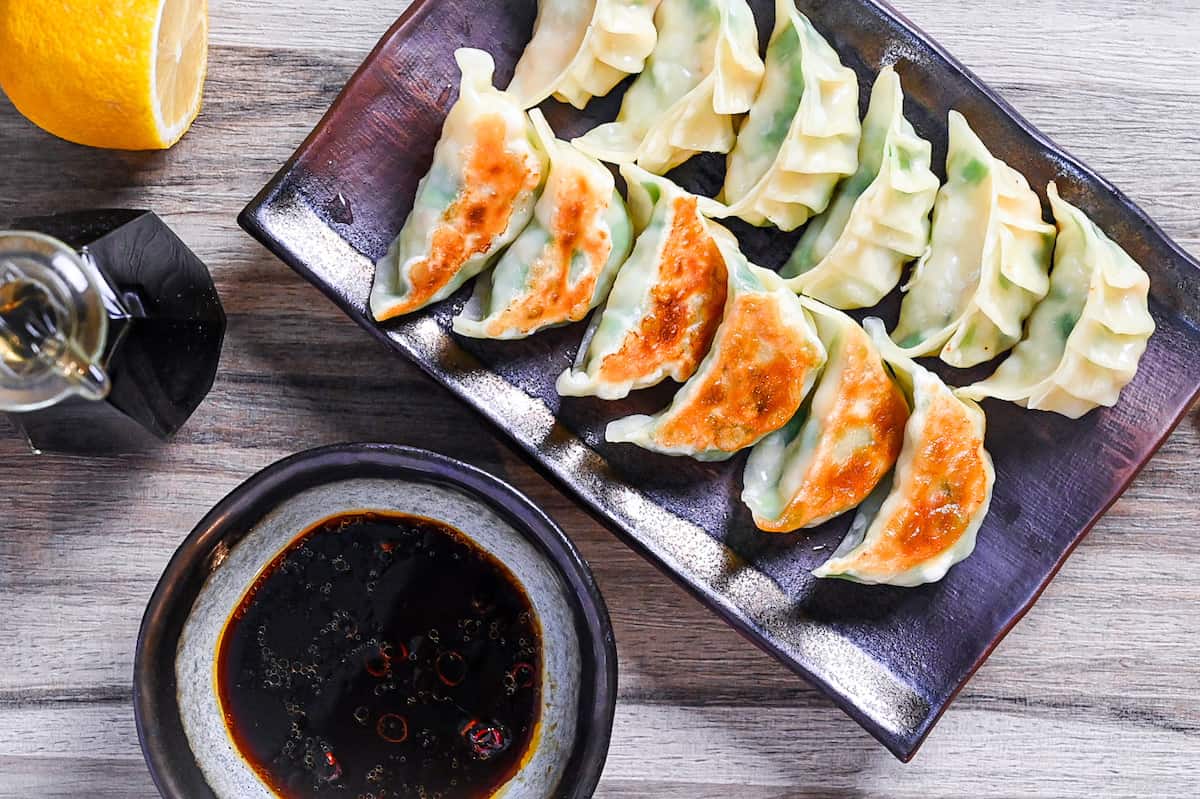 The Ultimate Guide to Shrimp Gyoza Preparation
The beauty of creating gyoza at home is the fact that you are involved in each and every stage of making—from crafting the gyoza wrapper to mixing the filling, pan-frying, and even creating your dipping sauce. The magic of gyoza lies in its incredible flexibility; the final dish can dramatically vary based on your chosen preparation method.
I'll guide you through each step in the upcoming section, sharing personal recommendations from my kitchen experiments.
Choosing the Right Gyoza Wrapper
Let's begin by focusing on the humble gyoza wrapper. These wrappers are a staple in every supermarket in Japan, but they may not be as readily available in certain countries.
If you want to start with a commercially available wrapper, you'll find that most of them generally range from 8.5 to 9.5 cm in diameter. I highly recommend opting for the larger 9.5 cm size. Not only does it make the wrapping process a breeze, but it also allows you to envelop the same amount of filling with fewer wrappers which is more time efficient!
Don't worry if you can't locate these wrappers at your local supermarket—you can always step into the shoes of a seasoned artisan and make your own! Crafting gyoza wrappers is as straightforward as it gets; armed with cake flour, strong flour, water, and salt, you're all set.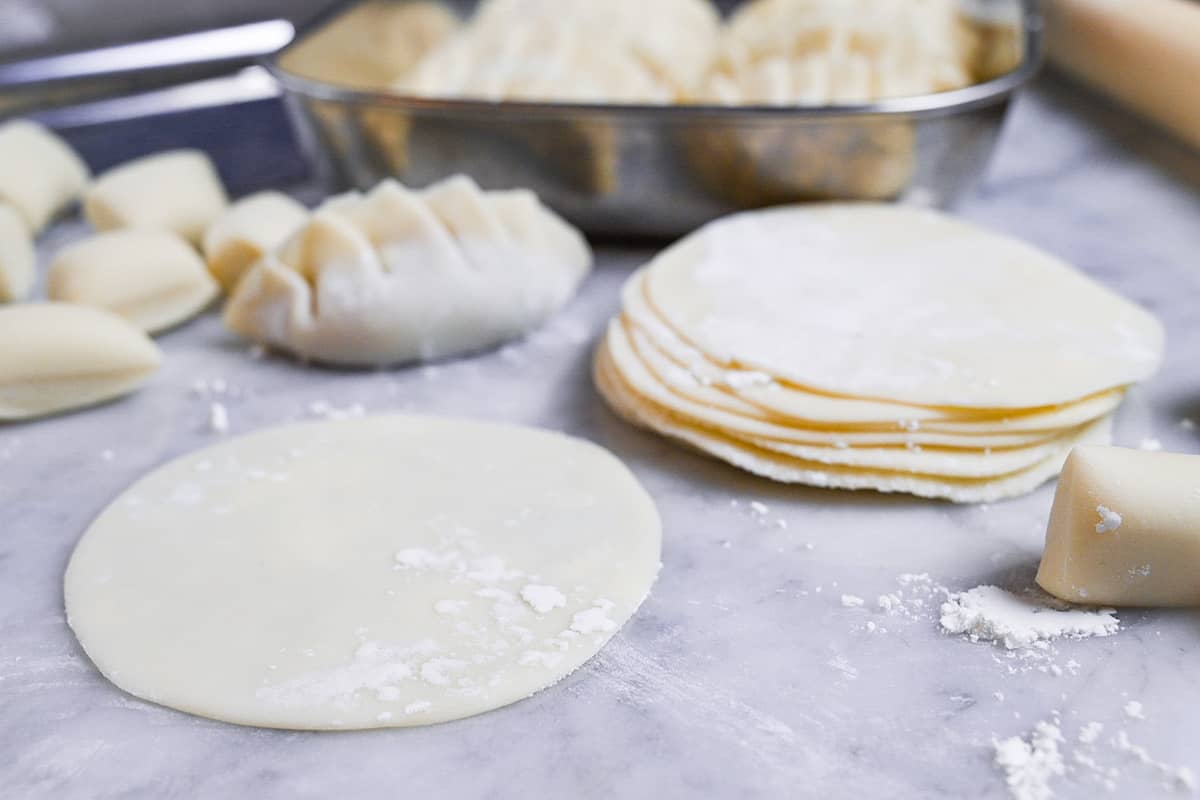 For those ready to take on this challenge, check out my recipe for homemade dumpling wrappers. Are you ready to add your personal touch to your gyoza?
If you want to go extra wild, you can even add some experimental colors and seasonings to make your gyoza totally unique. Below you can see a picture of my black gyoza wrappers I made with squid ink. Other options include matcha powder (green), turmeric (yellow) or even betroot juice (pink) just to name a few. Have fun with it!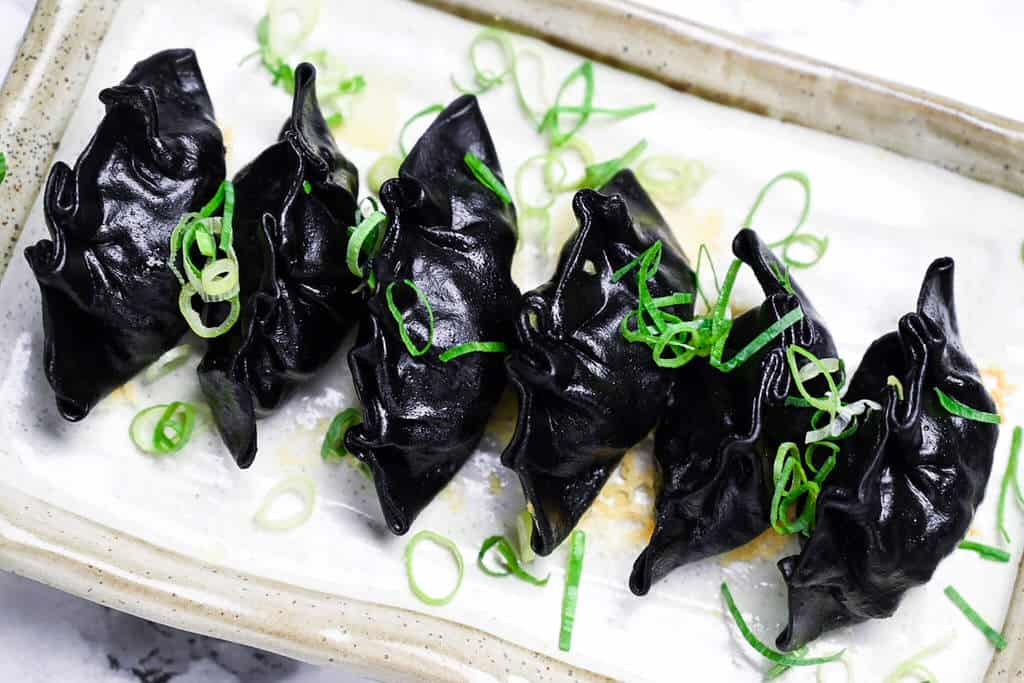 Shaping Gyoza into a Half Moon
Next, we tackle the shape of the dumpling—the iconic half-moon shape that makes gyoza so instantly recognizable. If you're new to wrapping dumplings, this might seem daunting, but trust me, once you get into the rhythm, it becomes second nature.
As someone who isn't naturally gifted in crafts requiring dexterity, I assure you, I learned the ropes fairly quickly. And once I did, wrapping those dumplings was a breeze.
Now, let me share the simplest way to wrap those dumplings neatly—a method that'll make you feel like a professional in no time. Let's dive into the details.
The ideal amount of folds - The number of folds in the gyoza depends on the width of the top skin fold. In my experience, the easiest to wrap is four or five; six requires a little more work because the width of the fold must be much finer. If you wrap the gyoza with the same number, they will look more consistent when fried together.
The amount of filling - One of the most important things to remember is the fillings. If it is too much, it may stick out from the edges during wrapping, or the wrapper may tear. Basically, for a standard-sized wrapper, about a teaspoon is a safe amount.
Spread the filling - It is recommended that the dumpling filling be spread on a wrapper rather than placed in a heap. This makes it less likely to be overfilled and easier to wrap neatly.
Place the wrapper on your palm and spread 1 tbsp of mixture in the middle.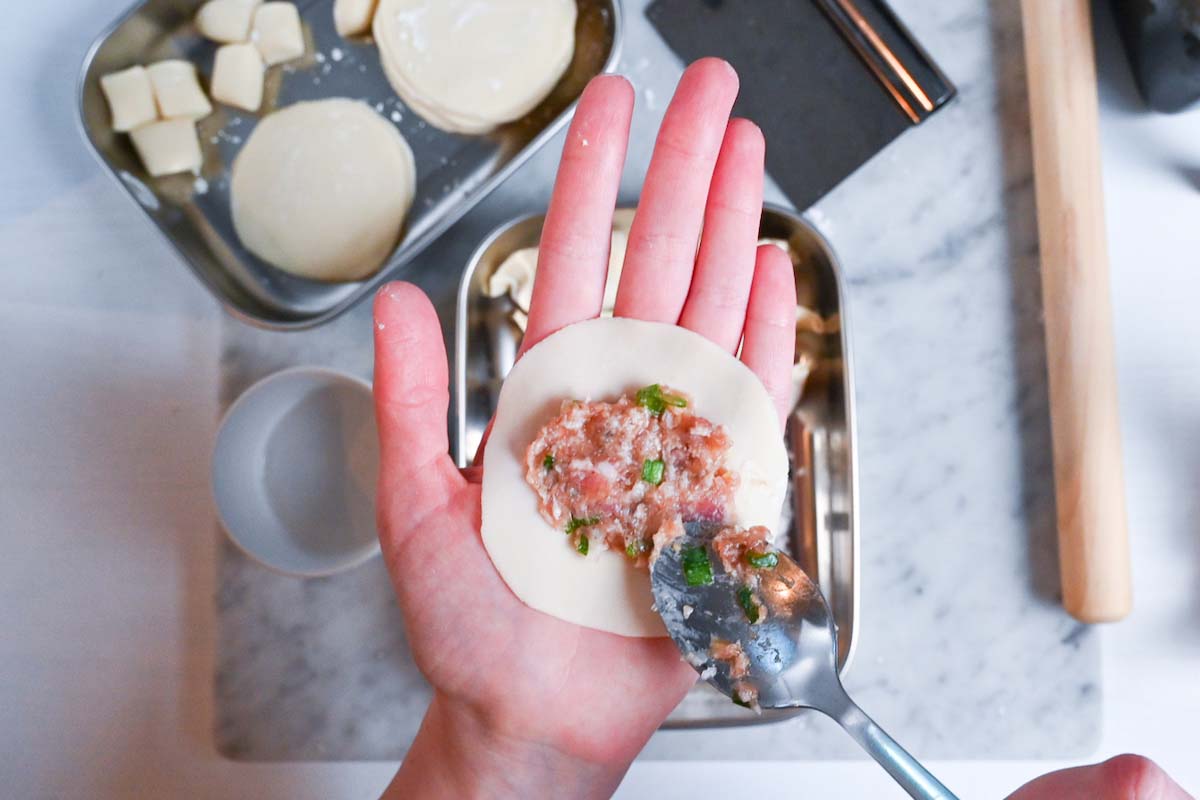 Use a small amount of water to wet the edges. This will seal your gyoza and prevent leaks.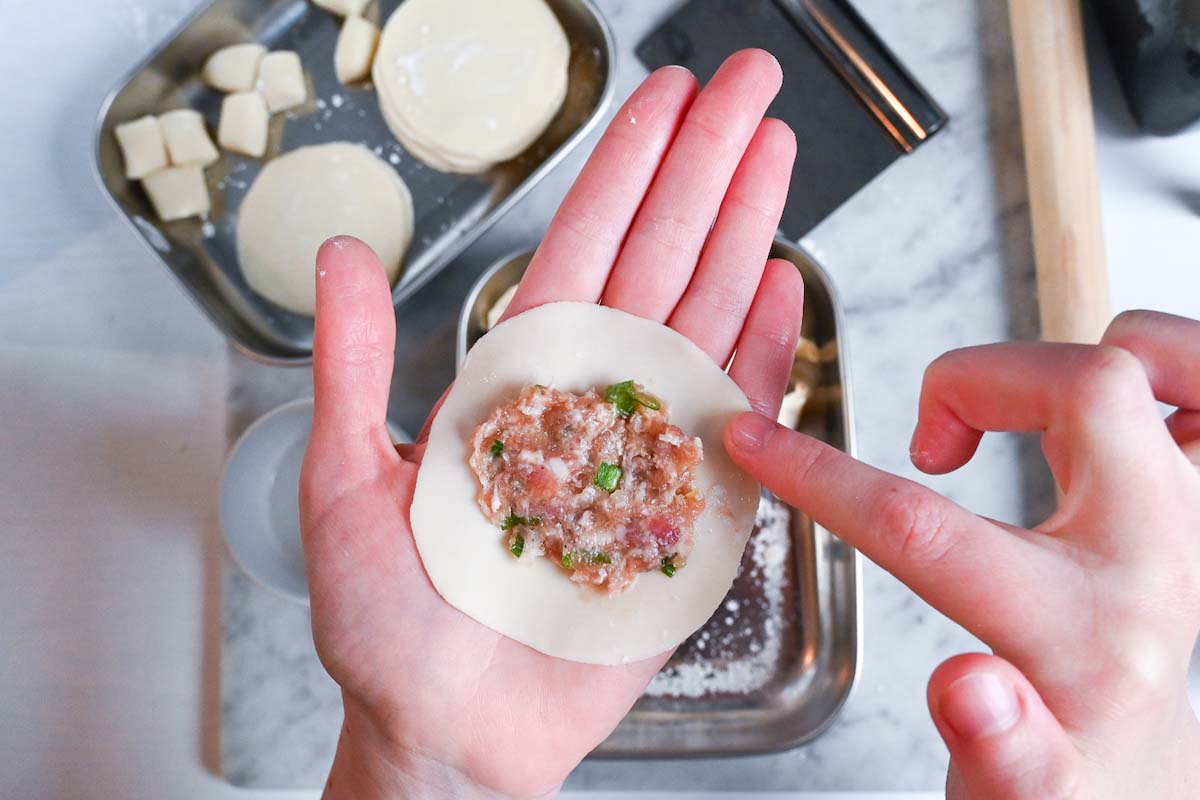 Start the folding process by pinching one corner first.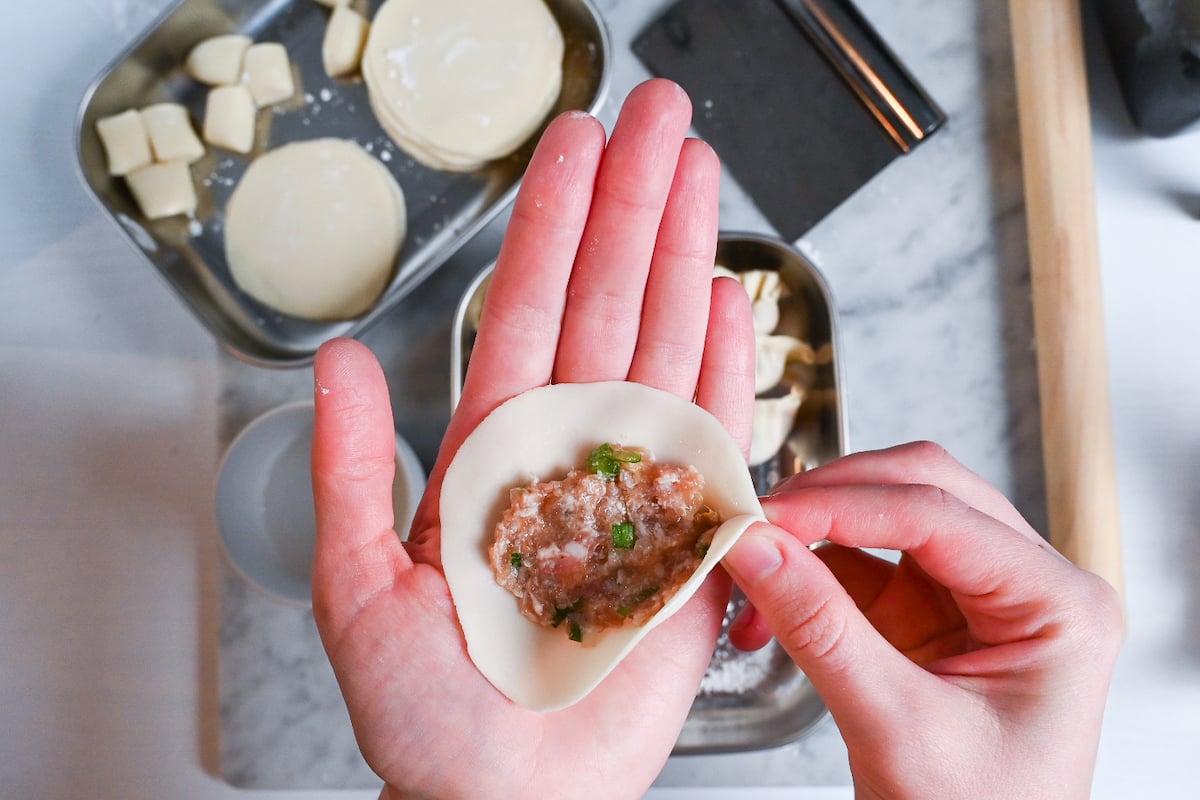 From there, continue to use your thumbs to space out and press down each pleat until you reach the end of the wrapper. Press down firmly to seal.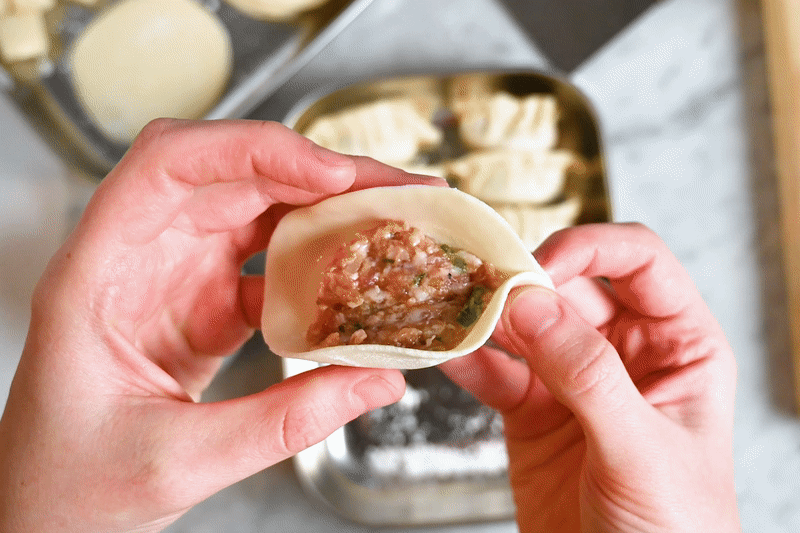 The Secret to Pan Fried Gyoza: Golden Brown and Crispy
Pan-frying gyoza that boasts a perfect crispy finish involves a few clever tricks. For instance, in the case of my pork dumpling recipe, I added a bit of flour to the water in the pan can result in beautiful "winged" gyoza (hane gyoza).
For this time, I'll share a different secret technique—"adding boiling water instead of cold water". This method gives the dumplings a soft, plump fold and a wonderfully crispy surface. I prefer using boiling water because it doesn't drastically lower the temperature of the pan, ensuring an even and gorgeous sear.
A bonus? When you pour boiling water into the mix, the gluten in the wheat immediately clumps together, preventing the dumpling from sticking to each other. All you need is boiled water, so please give it a try!
Gyoza Dipping Sauces
Last but certainly not least, let's discuss the dipping sauce that takes our gyoza to the next level. The most popular choice is a zingy concoction of soy sauce, vinegar, and raayu (sesame oil-based chili oil). If you're fond of the traditional route, you can check out my classic gyoza dipping sauce recipe right here.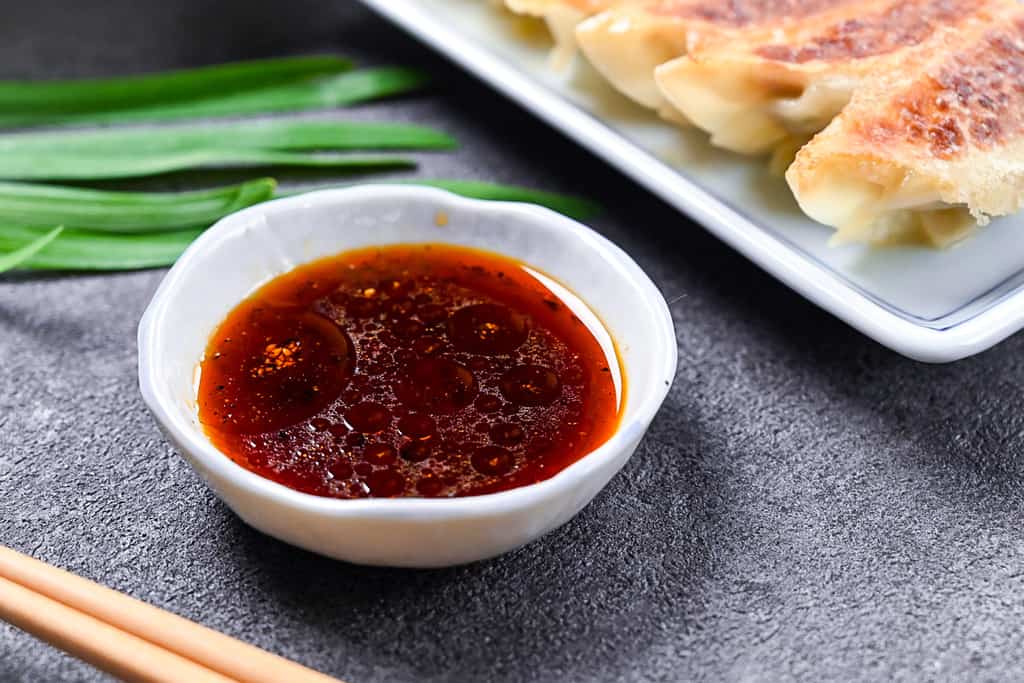 For our prawn gyoza this time, though, we've opted to pair it with a ponzu sauce. Its tangy, citrusy notes harmonize perfectly with the delicate flavor of shrimp.
Remember, the world of gyoza dipping sauces is as diverse as your imagination allows. Feel free to experiment with various condiments and create a signature sauce that suits your taste.
Ingredients and Substituions
I have listed my recommended Japanese condiments, tools, and ingredients in the Sudachi Recipes Amazon shop. If you want to keep making various Japanese foods at home, please check it out!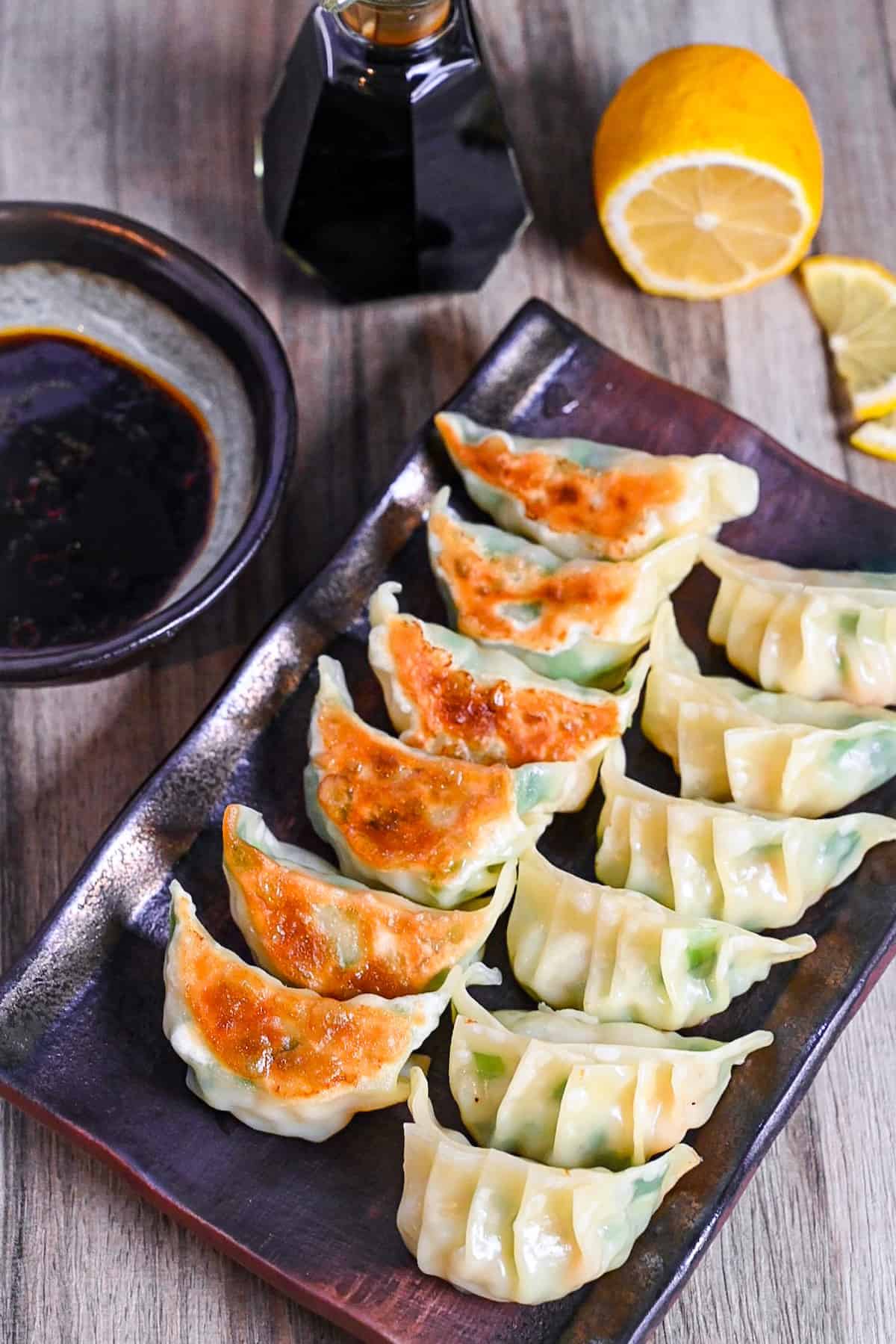 Step-by-Step Process
Here is my step by step guide on how to make delicious and crispy prawn gyoza from scratch. For ingredient quantities, see the printable recipe card below.
Deshell, devein and wash your prawns before using a knife to finely chop them until they reach a paste-like consistency. You don't need to be too thorough here. We use a knife (instead of a food processor) so that the texture is a little chunky.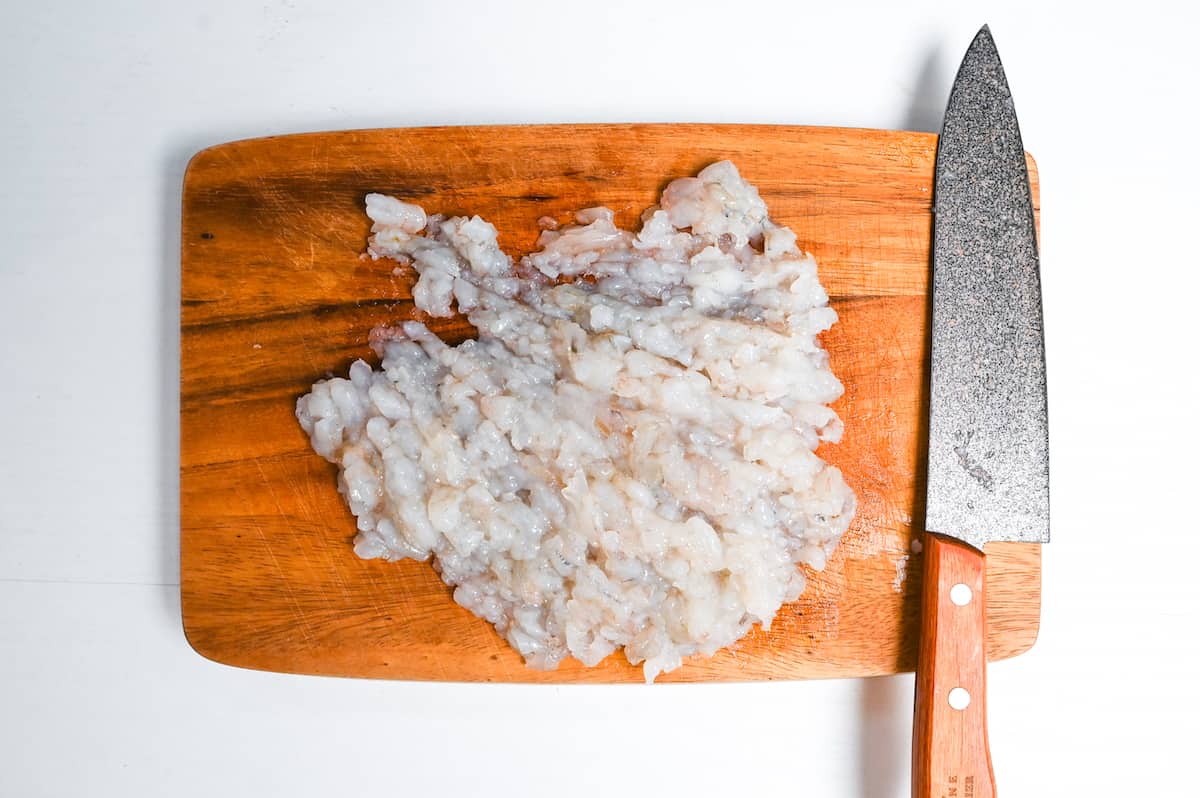 Transfer the prawns to a mixing bowl and add black pepper, soy sauce, sake, grated garlic, grated ginger, scallop stock powder, cornstarch, garlic chives and white onion. Mix until the ingredients are evenly distributed.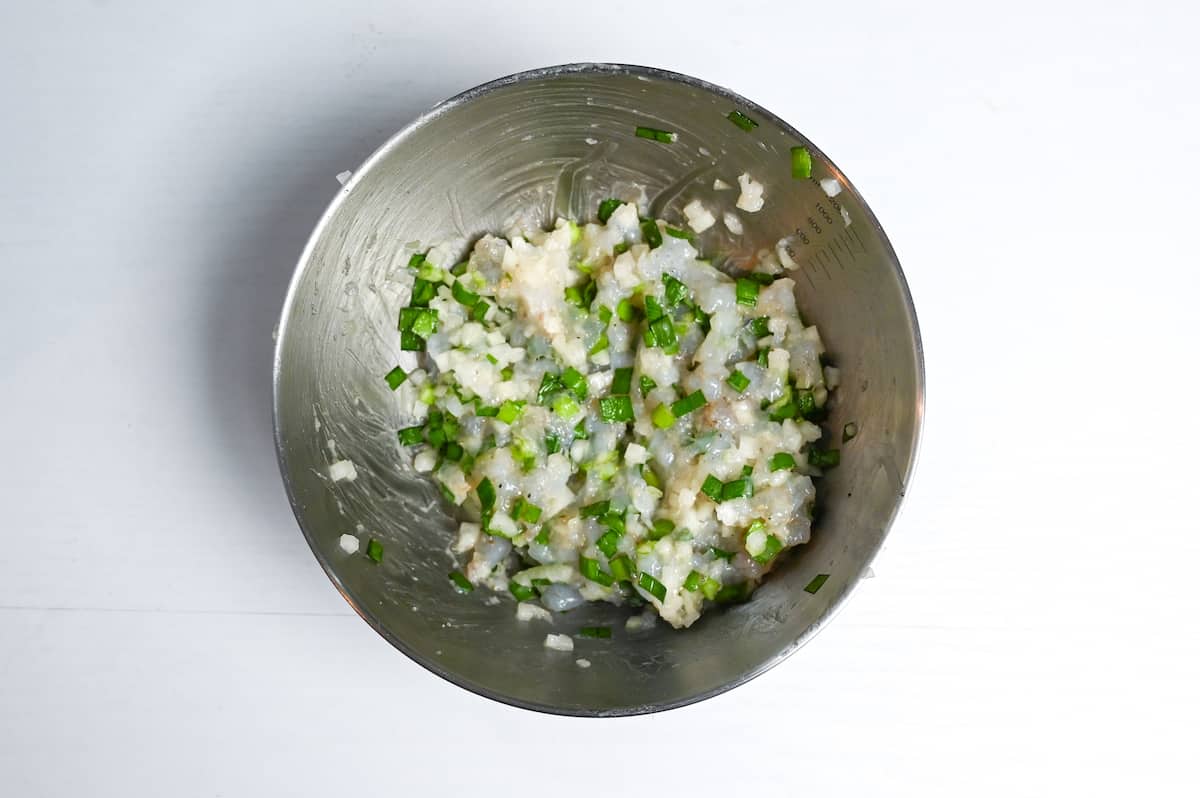 Take a gyoza wrapper and place it on your flattened palm. Add 1 tbsp of filling to the centre and spread it evenly, leaving a finger-width border around the edge. Lightly wet the edge with cold water.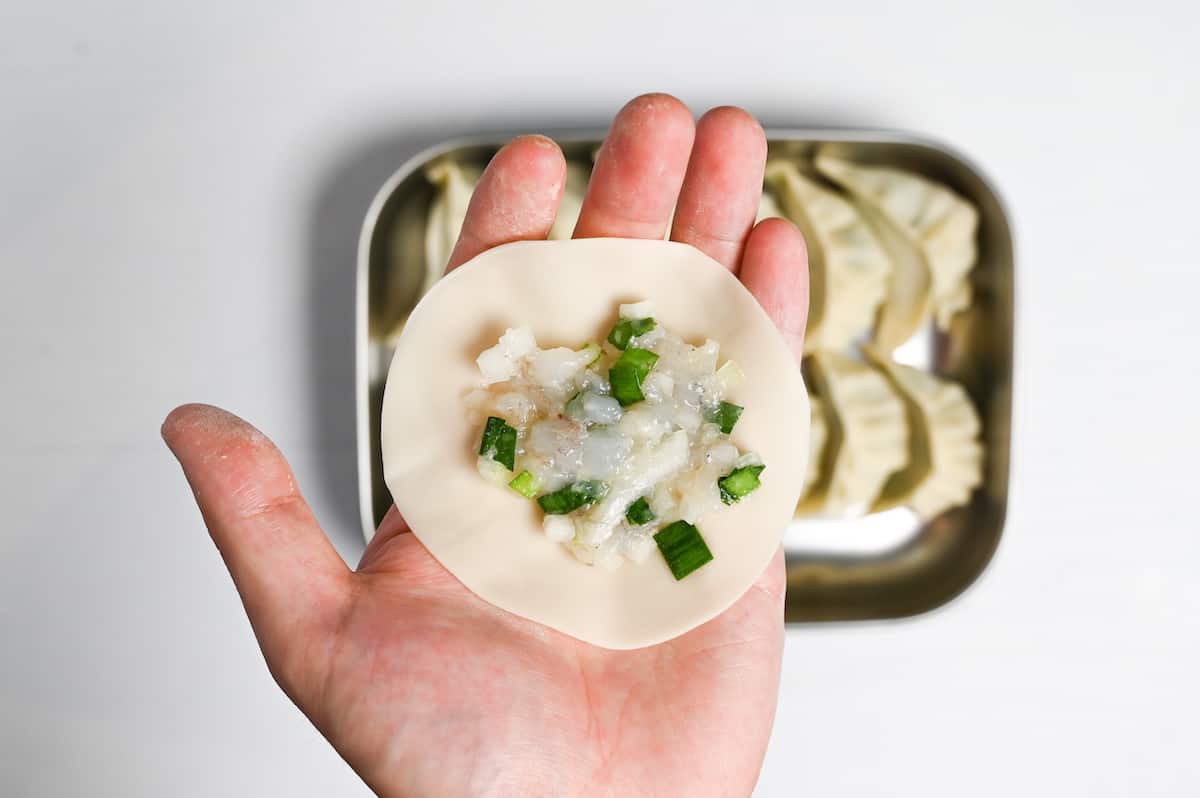 Fold the wrapper in half but don't let the edges touch yet. Pinch one corner to start the pleat.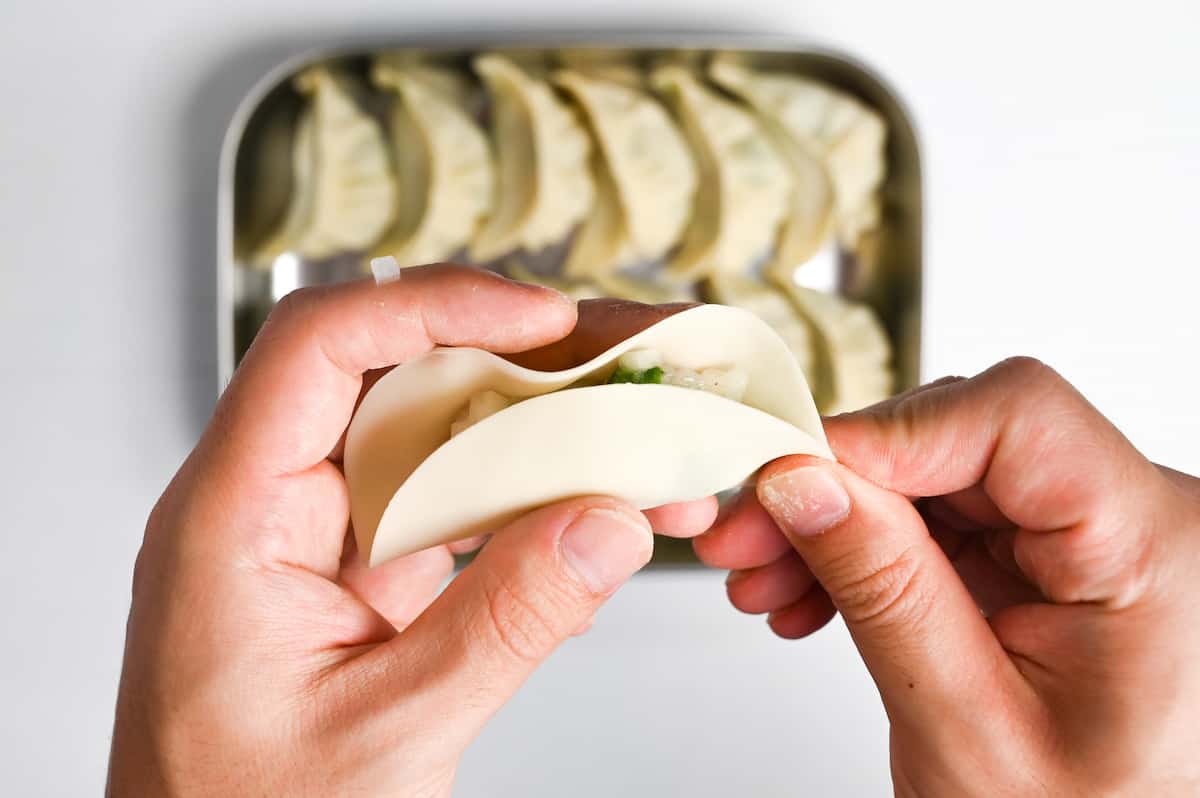 Make a small fold and press it down to make another pleat. Continue until the gyoza is sealed.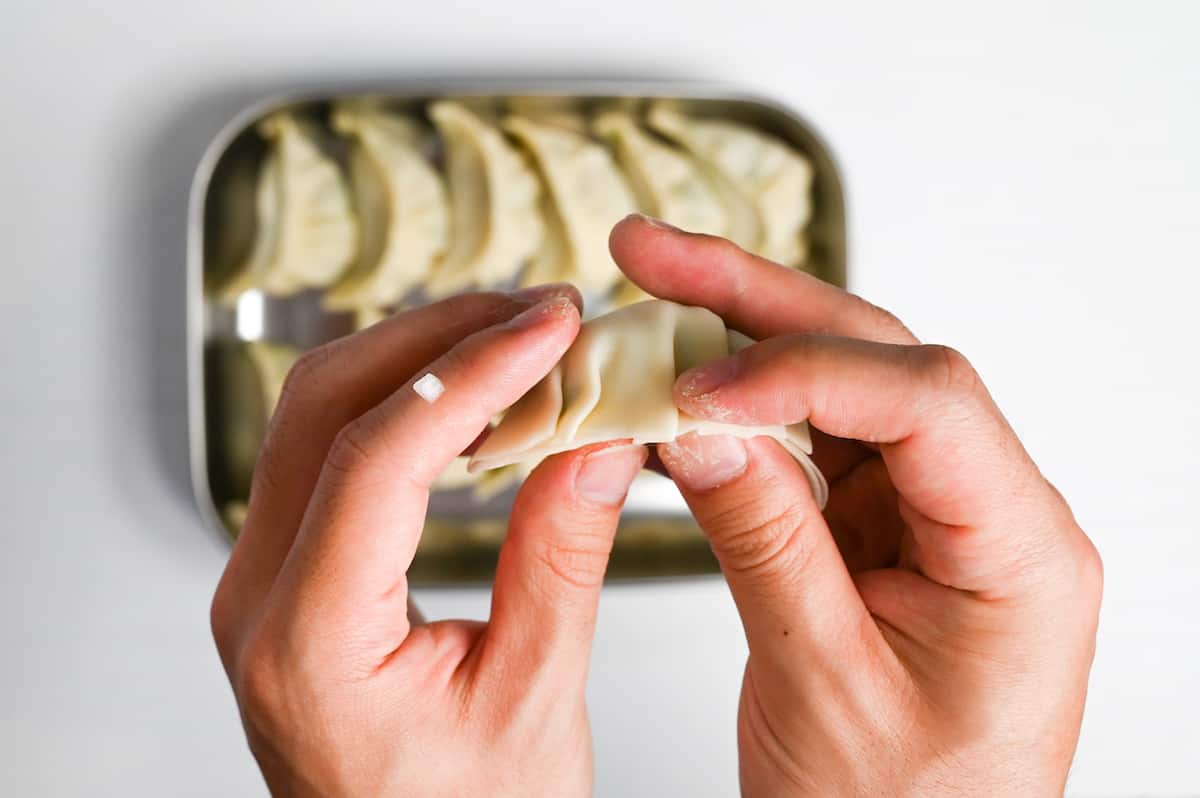 Press the pleats one last time to secure them.
Heat a frying pan on medium and once hot, add the cooking oil. Place the gyoza with the base flat to the bottom of the pan. Fry until golden underneath. While you wait, boil some water.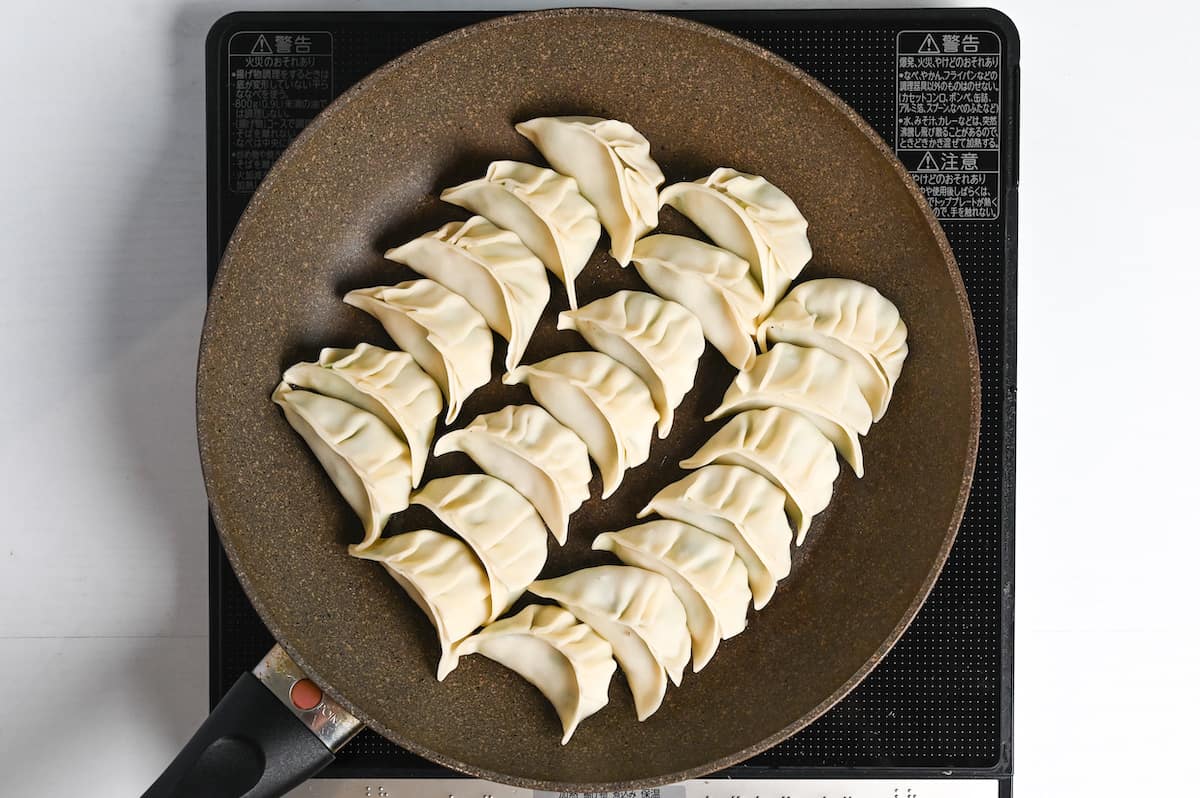 Once the underneath is browned, pour the boiled water around the pan and place a lid on top. Leave the gyoza to cook in the steam until the water has almost disappeared.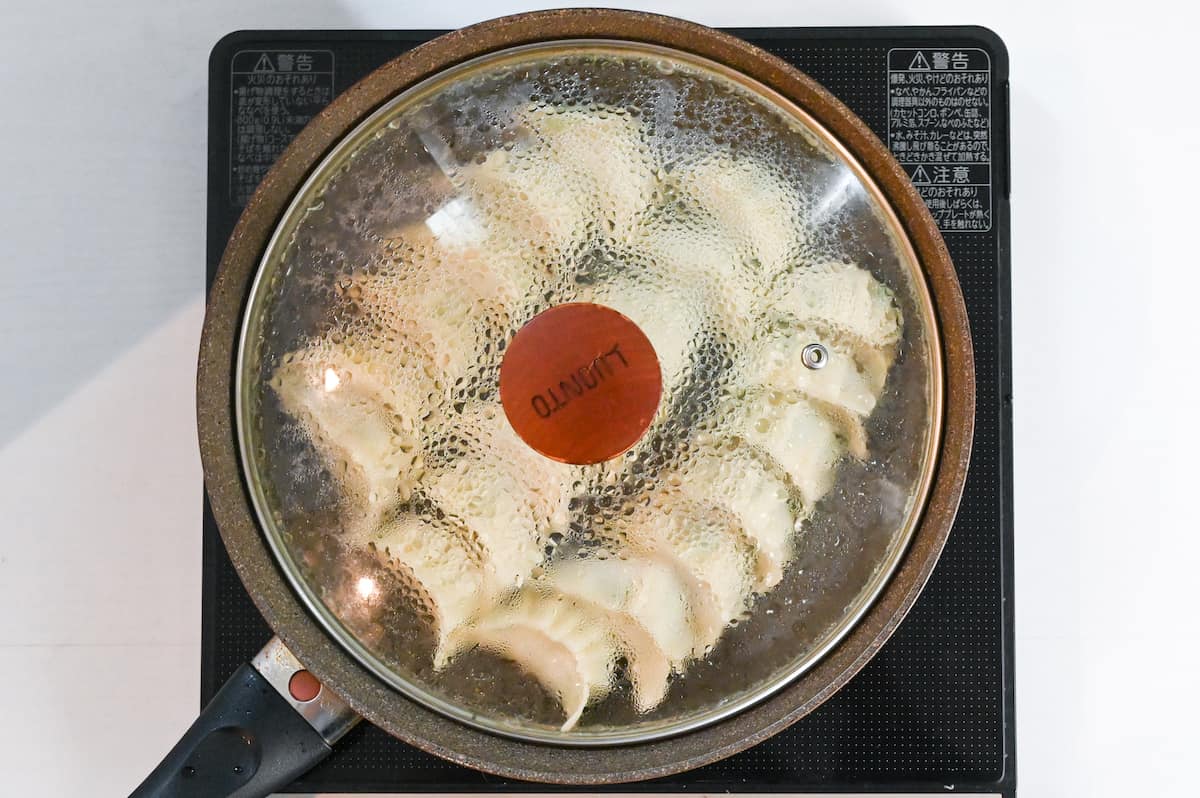 Once the water is almost gone, remove the lid. Allow the water to evaporate completely and then remove the pan from the heat.
Mix ponzu sauce, soy sauce, sesame oil and chili oil in a small bowl. If you want it a bit spicier, feel free to add some chopped chilis.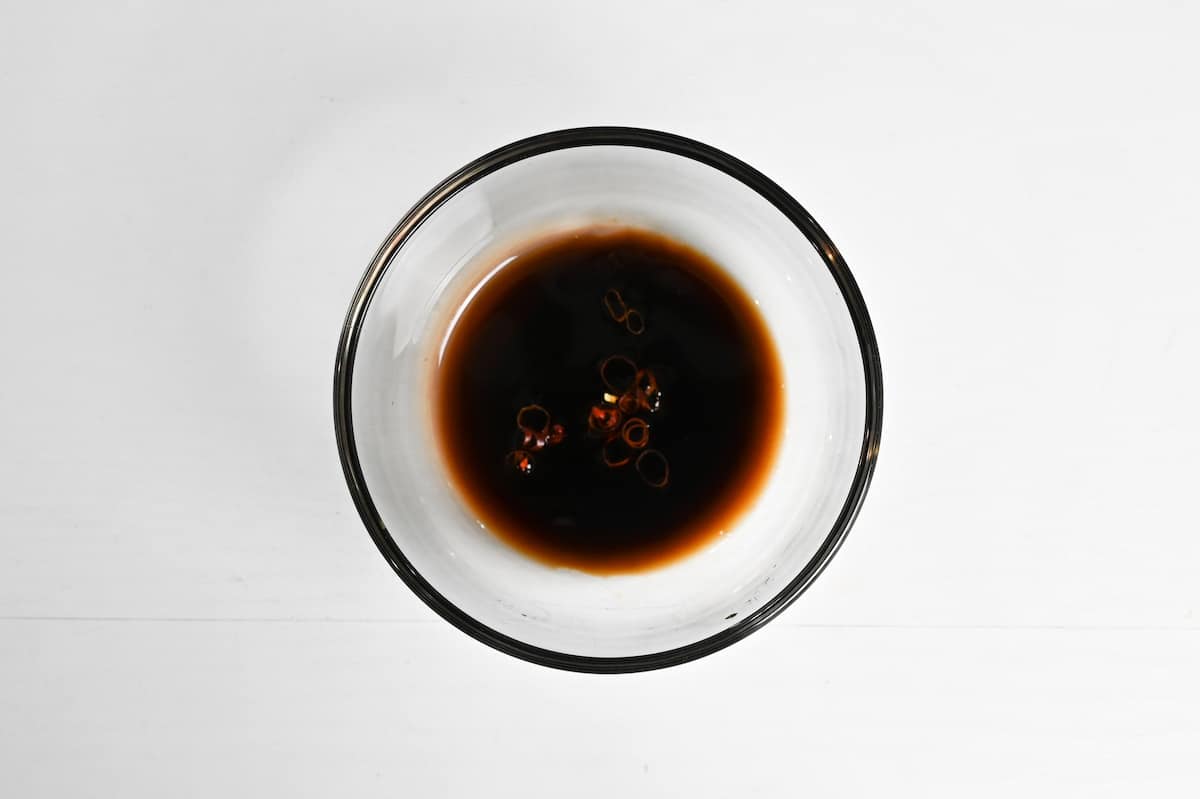 Flip the gyoza onto a serving plate and squeeze some lemon juice over the top.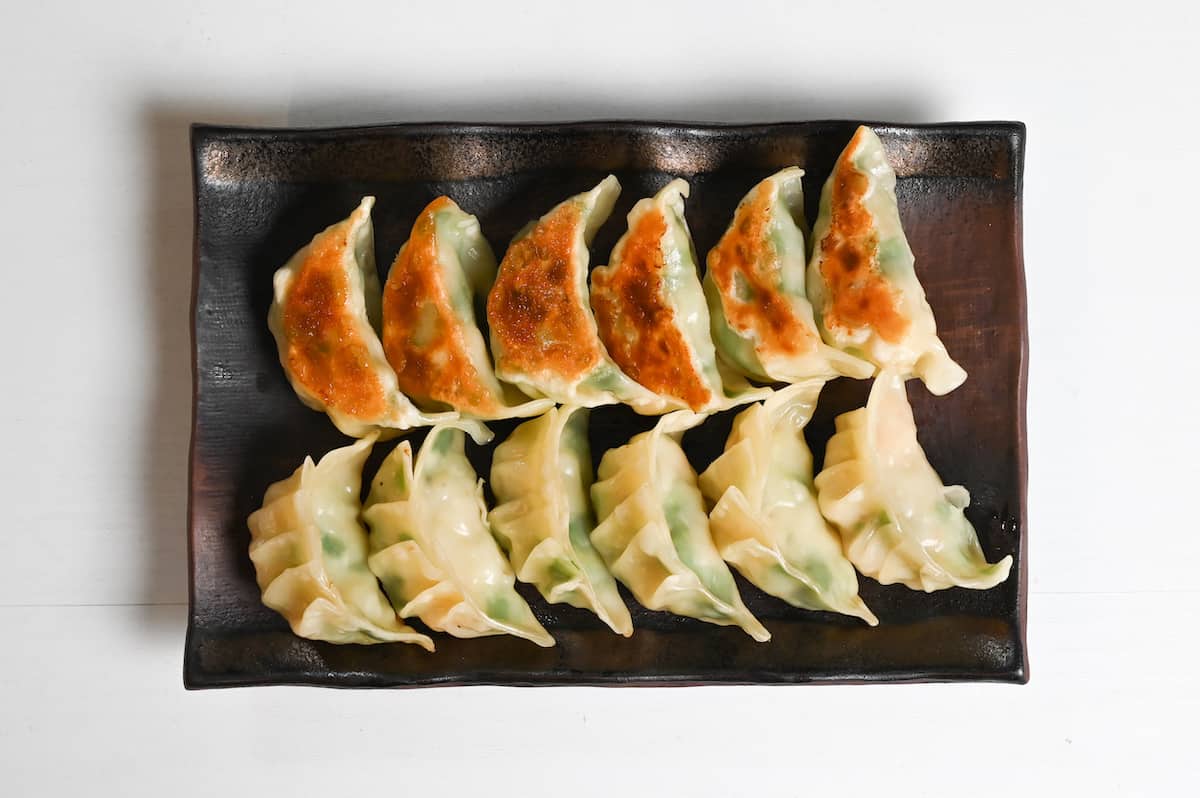 Serve with your homemade dipping sauce and enjoy!
Storage options
Like any pan-fried gyoza, if you're looking to preserve your shrimp gyoza for future feasts, freezing them before cooking is the most recommended.
The perks of freezing gyoza are numerous. First off, it's a huge time-saver. Handmaking gyoza involves several meticulous steps as explained above—dicing the ingredients, crafting the filling, and wrapping each one in its wrapper. If you prepare a large batch of gyoza and freeze them, you're saving yourself from future work.
Another advantage is that frozen gyoza doesn't require thawing. When frozen properly, they retain their fresh taste and texture, ready to be pan-fried whenever the craving strikes. They're a convenient option for busy days or when you're looking to simplify your meal prep. There's a certain delight in cooking up homemade gyoza at a moment's notice. And here's the cherry on top: the boiling water technique I introduced earlier works wonders with frozen gyoza!
When storing uncooked gyoza, you might be tempted to pop them into the fridge. However, that's a no-go. The water content in the filling can lead to soggy dumplings—a fate we'd all like to avoid.
If you have leftover gyoza after cooking, it's okay to store them in the fridge for about 24 hours and reheat them in a frying pan to revive their crispiness. I don't recommend freezing cooked gyoza, since the texture deteriorates after cooking.
Room temperature - Not recommended.
Refrigerated - Not recommended.
Frozen - Up to a month.
I hope you love these crispy pan-fried prawn gyoza! If you try the recipe, I would really appreciate it if you could take a moment to give it a review and star rating in the comments below. It's also useful for other readers if you share any substitutions you made to the recipe. Thank you and enjoy!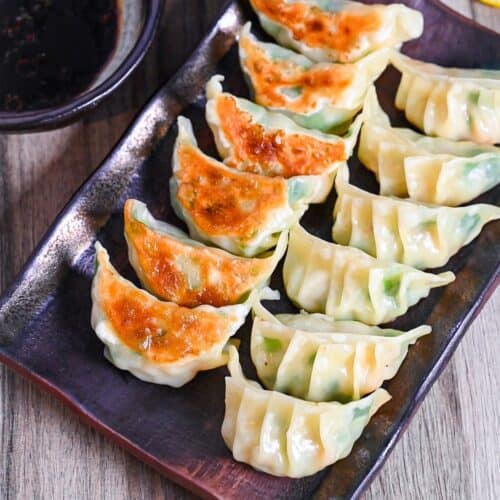 Pan-Fried Prawn Gyoza (Shrimp Potstickers)
How to make perfectly crisp and juicy pan-fried gyoza packed with seasoned prawns and vegetables served with a tangy homemade dipping sauce.
Ingredients
200

g

shrimp(s)

⅛

tsp

black pepper

1

tsp

soy sauce

1

tbsp

sake

3

cloves

grated garlic

-

or garlic paste

1

tsp

grated ginger

-

or ginger paste

1

tsp

scallop stock powder

-

or chicken/vegetable bouillon powder

½

tbsp

cornstarch

30

g

garlic chive(s)

-

finely chopped

50

g

yellow onion(s) -

finely diced

1

tbsp

cooking oil

150

ml

freshly boiled water

lemon juice

-

to drizzle - optional
Sauce
1

tbsp

ponzu sauce

1

tsp

soy sauce

½

tsp

sesame oil

¼

tsp

chili oil

-

(rayu) optional

dried red chili pepper

-

finely chopped - optional
Instructions
Use a knife to finely chop

200 g shrimp(s)

until it reaches a paste-like constancy. (Feel free to leave some small chunks in there for extra texture.)

Add the shrimps to a mixing bowl along with

⅛ tsp black pepper

,

1 tsp soy sauce

,

1 tbsp sake

,

3 cloves grated garlic

,

1 tsp grated ginger

,

1 tsp scallop stock powder

,

½ tbsp cornstarch

,

30 g garlic chive(s)

and

50 g yellow onion(s)

. Mix until all the ingredients are evenly distributed.

Hold a gyoza wrapper in you palm and add 1 tbsp of the filling. Spread it evenly over the wrapper leaving a border around the edge.

Damped the edge with water and fold the wrapper in half (without letting the sides touch yet). Pinch one corner to start the pleat.

Fold and press to make the pleats until the gyoza is sealed.

Heat a frying pan on medium and add

1 tbsp cooking oil

. Once hot, place the gyoza in the pan with the flat facing down and fry until the bottoms are browned (approx 3-5 minutes).

Once browned, pour

150 ml freshly boiled water

around the gyoza and place a lid on top. Cook until the liquid is almost gone and then remove the lid.

Continue to cook until the liquid is completely gone and then remove the pan from the heat.

Mix

1 tbsp ponzu sauce

,

1 tsp soy sauce

,

½ tsp sesame oil

and

¼ tsp chili oil

in a small bowl. For an extra kick, feel free to add some chopped

dried red chili pepper

.

Flip the gyoza onto a serving plate, drizzle with

lemon juice

and enjoy with your homemade dipping sauce!
Notes
Uncooked gyoza can be stored in the freezer in a sealed container for up to 1 month. Cook from frozen and increase the cooking time by a few minutes.
Leftover cooked gyoza can be stored in the fridge for 24 hours. Pan fry again to reheat and revive their crispy base.
Nutrition
Serving:
30
g
Calories:
33
kcal
Carbohydrates:
3.6
g
Protein:
2.8
g
Fat:
0.8
g
Saturated Fat:
0.11
g
Polyunsaturated Fat:
0.33
g
Cholesterol:
17
mg
Sodium:
155
mg
Fiber:
0.2
g
More Chinese-inspired Japanese Recipes You Can Try at Home
As previously mentioned, gyoza, with its rich history tracing back to China and its further evolution in Japan, is a part of the delectable assortment known as "Chuka Ryori (中華料理)" or Chinese-inspired Japanese dishes.
In the following section, I'll share my favorite Chinese-inspired recipes. If any of these dishes pique your interest, please delve deeper. The world of flavors is vast and inviting!
Harumaki (Japanese-style Spring Roll)
Harumaki, the Japanese version of the classic Chinese spring roll, is made with flavorsome pork, vibrant vegetables, and delicate rice vermicelli, all encased in a crunchy shell. Served with a tangy duo of Japanese mustard and soy sauce, these spring rolls make the perfect appetizer or party food.
Now that you've had a glimpse into the world of Harumaki, why not step into the kitchen and try your hand at this recipe?
Harumaki (Japanese Spring Roll)
How to make delicious Harumaki (Japanese-style spring rolls) made with seasoned pork, vegetables and rice noodles in a golden, crispy shell. Best served with karashi mustard and soy sauce for dipping.
Check out this recipe →
Chahan (Ramen Restaurant-style Fried Rice)
Chahan, a delicious ramen-restaurant-style fried rice, is an ingenious way to breathe new life into leftovers. This dish combines typical ramen ingredients such as succulent pork chashu, vibrant kamaboko fishcake, fluffy eggs, and zesty spring onions, creating a mouthwatering fried rice experience.
Now, why not explore the delightful versatility of Chahan yourself? There are also other recipes for miso fried rice!
Chahan (Ramen Restaurant Style Fried Rice)
How to make delicious ramen restaurant style chahan (Japanese fried rice) with chashu, egg, spring onion and kamaboko. A perfect way to use leftovers to whip up a delicious one pan meal!
Check out this recipe →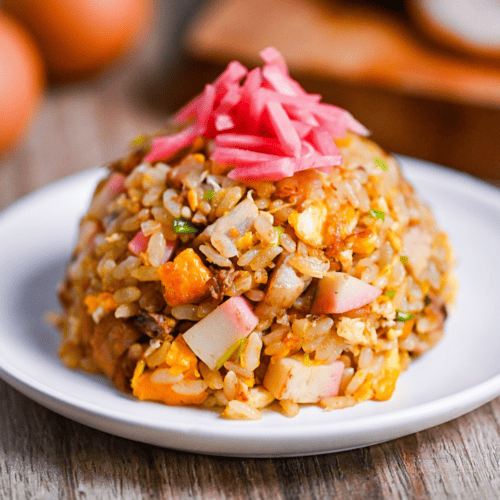 Mabo Tofu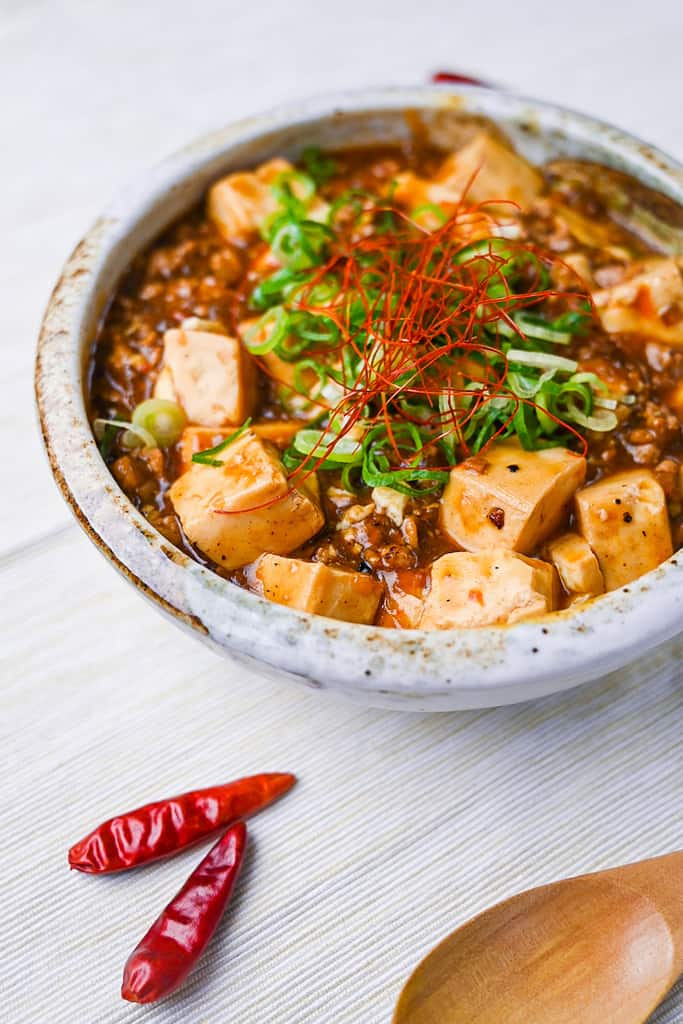 Mapo Tofu, a traditional Chinese dish, finds a harmonious reinterpretation in Japanese cuisine as Mabo Dofu. This version features a flavorful blend of ground pork, firm tofu, and onions, all luxuriously coated in a fragrant, albeit milder, spicy sauce that gets its unique flair from the addition of miso paste. A typical home-cooked meal, it's cherished by families across Japan.
This dish is even a frequent highlight in Japanese school lunch menus, reminiscent of the popularity of Spaghetti Bolognese in English households. So why not take your taste buds on a culinary exploration with our Mabo Dofu recipe? There is also a vegan mabo eggplant recipe too!
Japanese Mapo Tofu (Mabo Dofu)
Delicious and warming Japanese-style Mapo Tofu made with ground pork and firm tofu cooked in a rich and mildly spicy Szechuan-inspired sauce.
Check out this recipe →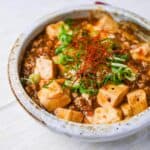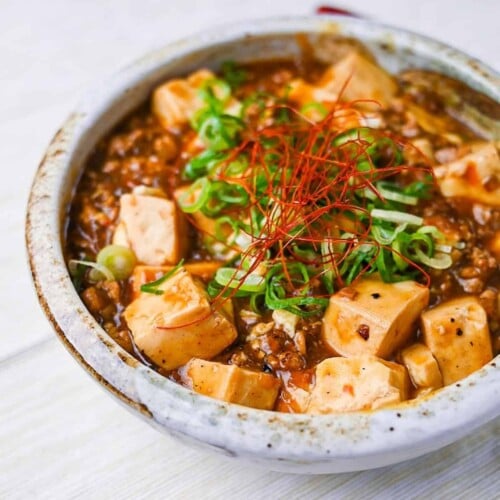 Ebi Chili
Ebi Chili, a delectable Chinese-inspired dish, has nestled comfortably into the hearts of Japanese cuisine lovers. Combining tender prawns and aromatic spring onions in a homemade sweet and spicy chili sauce, this dish is an exemplary quick and delicious culinary creation.
This dish debuted around 1958 when Chinese chef Jianmin Chen, adapting a Sichuan dish known as "Kanshao Sharen," revamped it to cater to the Japanese palate. The original fiery spice of Chinese spicy bean paste was toned down using ketchup, sugar, and egg yolks, giving birth to the Ebi Chili we know today. Check out our Ebi Chili recipe today!
Japanese "Ebi Chili" Stir fried Shrimp in Chili Sauce (エビチリ)
How to make Japanese Ebi Chili (エビチリ) a quick and delicious Chinese inspired dish made with juicy shrimp served in a spicy and fragrant chili sauce.
Check out this recipe →
Ebi Mayo
Ebi Mayo is a delicious dish that combines juicy prawns encased in a light, crispy batter with a sweet and creamy mayonnaise-based sauce, guaranteed to please any crowd. The inception of Ebi Mayo can be attributed to renowned TV chef, Shu Tomitoku.
The idea sparked from a mayonnaise-flavored shrimp dish he tasted during a trip to LA. Inspired, he added his unique touch, coating the prawns in starch and frying them before adding a medley of seasonings to the mayonnaise. Why not bring this sensation to your table? Explore our Ebi Mayo recipe and treat your palate to this flavorful creation!
Ebi Mayo (Fried Shrimp in Mayonnaise Sauce)
How to make Japanese Ebi Mayo. (エビマヨ) Juicy fresh prawns fried in a light yet crispy batter then coated in a sweet and creamy mayonnaise based sauce.
Check out this recipe →
FAQ
What is prawn gyoza made of?
Many popular Japanese shrimp dumpling recipes call for shrimp, ground pork, and garlic chives. My recipe does not use ground pork, but only shrimp.
What are gyoza wrappers made of?
My gyoza wrapper recipe only requires bread flour, cake flour, salt, and water.