Ditch the pre-made wrappers and upgrade your gyoza with these delicious homemade Japanese gyoza wrappers made totally from scratch. The texture is the perfect balance between chewy and tender, not to mention they only require 4 ingredients and are so cheap to make!
What are gyoza wrappers/skins?
Gyoza wrappers are thin circles of dough made with wheat flour used to wrap the famous Japanese dumpling called "gyoza". In Japan, packaged gyoza wrappers are often used, but the homemade ones are tender, mildly chewy and can hold more filling, so you can take your gyoza to the next level!
Many people think it is difficult to make gyoza wrappers and I'll admit it's a little time consuming, but anyone can easily make them with a few simple ingredients and tricks.
How to make soft and tender homemade gyoza wrappers
Wrappers that work the best with pan-fried gyoza
An easy-to-follow recipe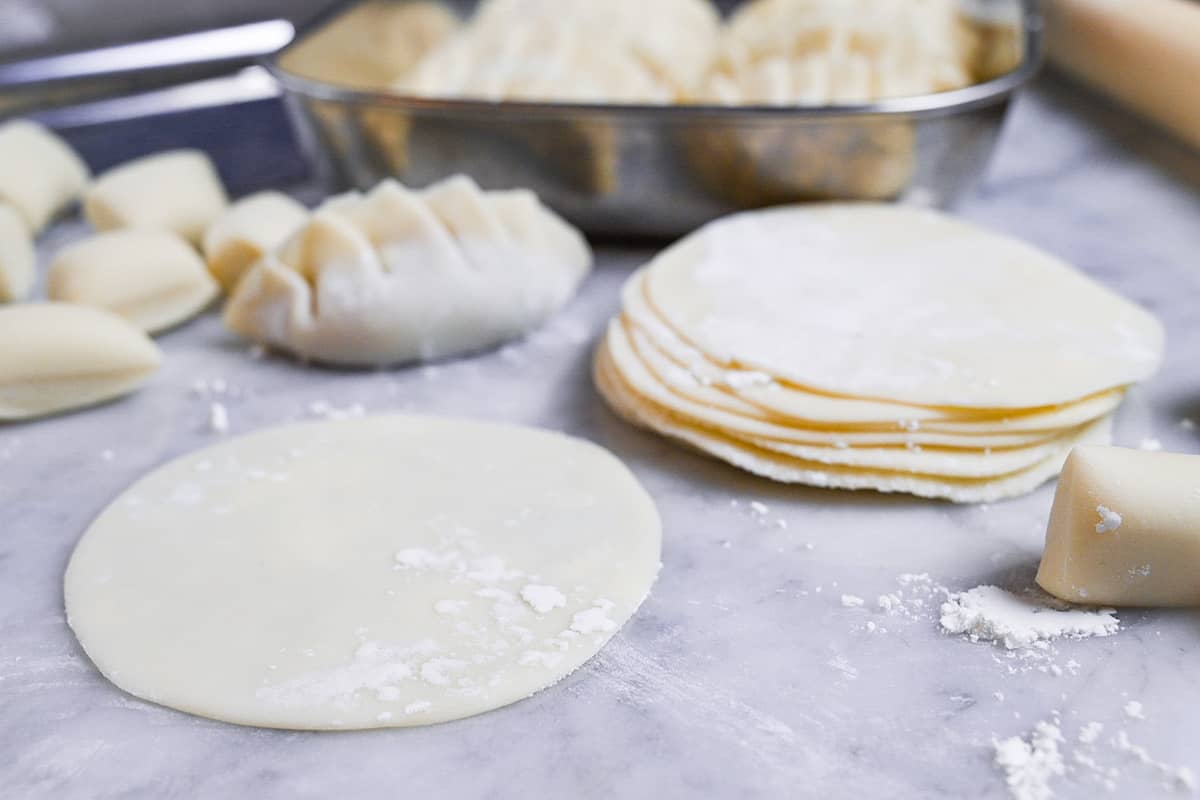 What is gyoza wrapper made of?
The ingredients for homemade gyoza wrappers are very simple: only flour, water, and salt. It's as simple as that!
My recipe uses two kinds of flour. Strong flour has a high gluten content and is the kind of flour used for things like pasta or pizza, I personally used 00 flour but any strong flour is fine. Weak flour is the kind of flour used for cakes or cookies, it has a low gluten content.
Why do I use two kinds of flour? Well firstly, the strong flour has more gluten, which once kneaded, makes the dough strong and stretchy. On the other hand, weak flour makes the dough lighter and more tender. Mixing the flours created the best of both worlds, light with a bit of bite! (However it is also possible to substitute both for all purpose flour if that's all you have available.)
On the other hand, store-bought gyoza wrappers may contain extra ingredients such as vegetable oil, processed starch, fermented seasoning liquid, pH adjuster, preservatives, etc. (depending on the product). The beauty of making them yourself is that there's no unnecessary additives or ingredients!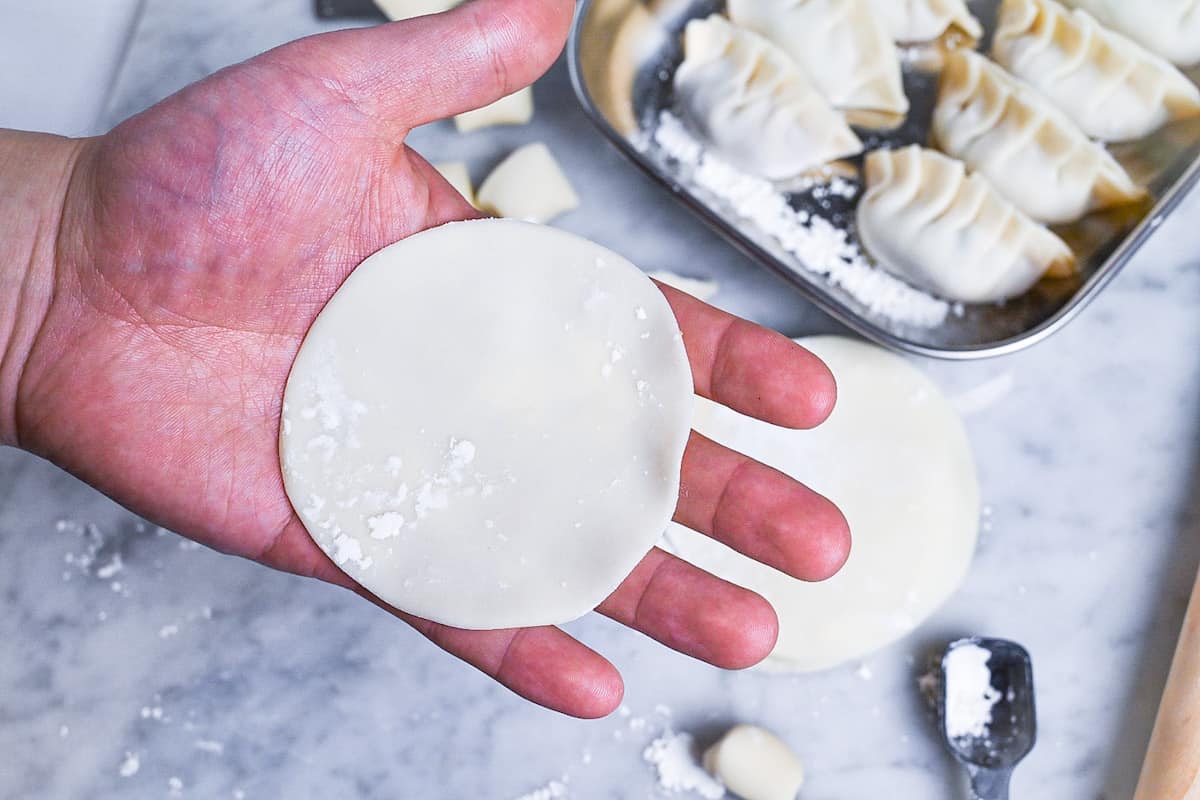 Store-bought VS Homemade Gyoza Wrappers
Although homemade gyoza wrappers taste very nice, most people in Japan opt for pre-made wrappers instead. Why? Okay, let's talk about the pros and cons of pre-made ones versus homemade ones.
Store bought
Homemade
Pros
• Ready to use
• Easy to work with (shaping)
• Quick
• Fail free (mostly)
• Easy to store
• Cheap
• Have distinct texture that pre-made ones don't have
• It can be fun (if you like kneading or making things from scratch)
• Supple and looks better when folded
• Customizable (flavours, colours etc.)
Cons
• Tend to be dry
• Slightly expensive compared to homemade
• Either too many or too little in the packet (happens almost every time)
• Takes time
• Can be difficult to make them uniform
• Sticks together easily
• More difficult to store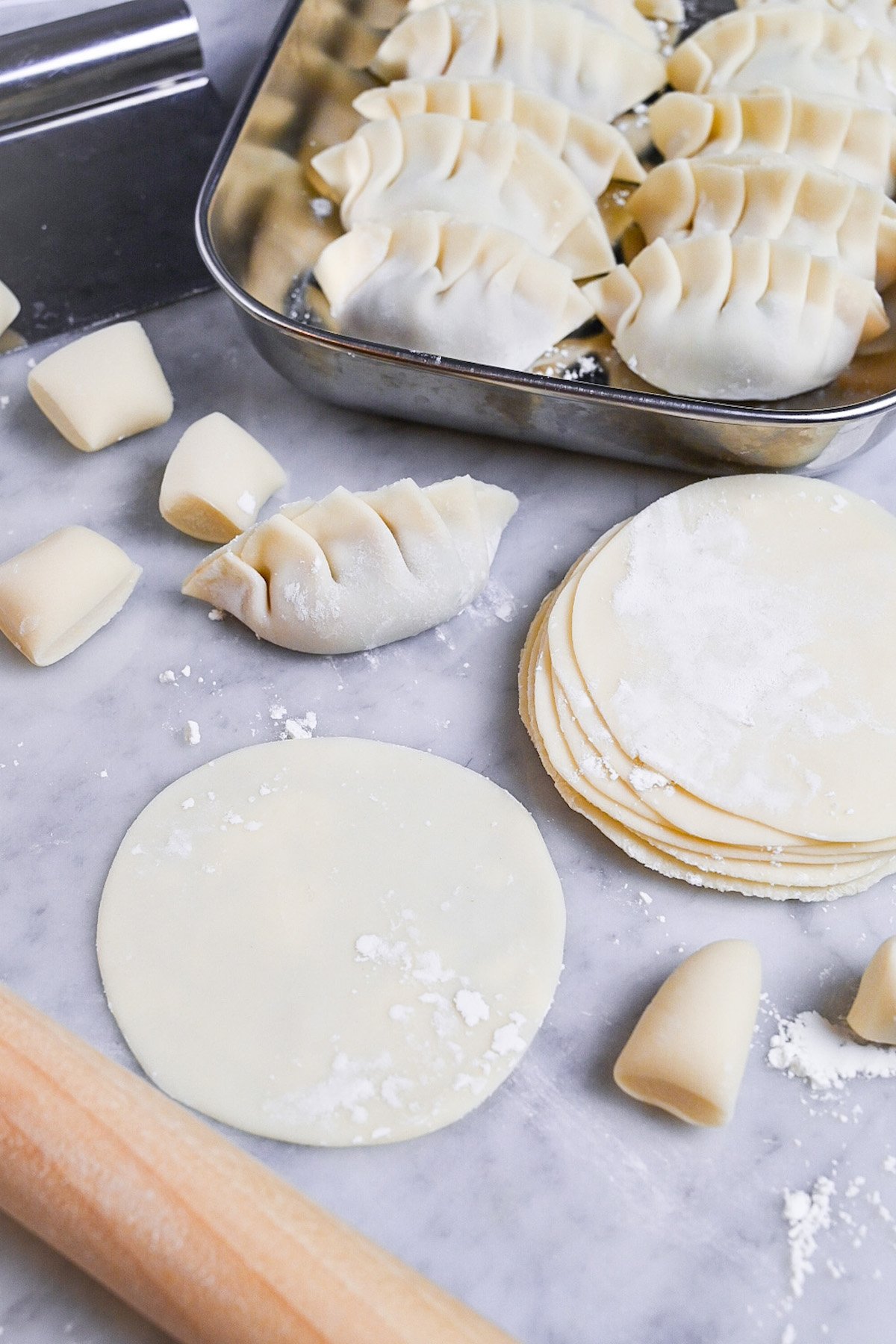 So with those things in mind, I can truthfully say that if I'm feeling lazy or want save time, I often buy the wrappers at the store. But if I want the best, restaurant quality gyoza or there's someone I wanna impress… homemade wins, hands down!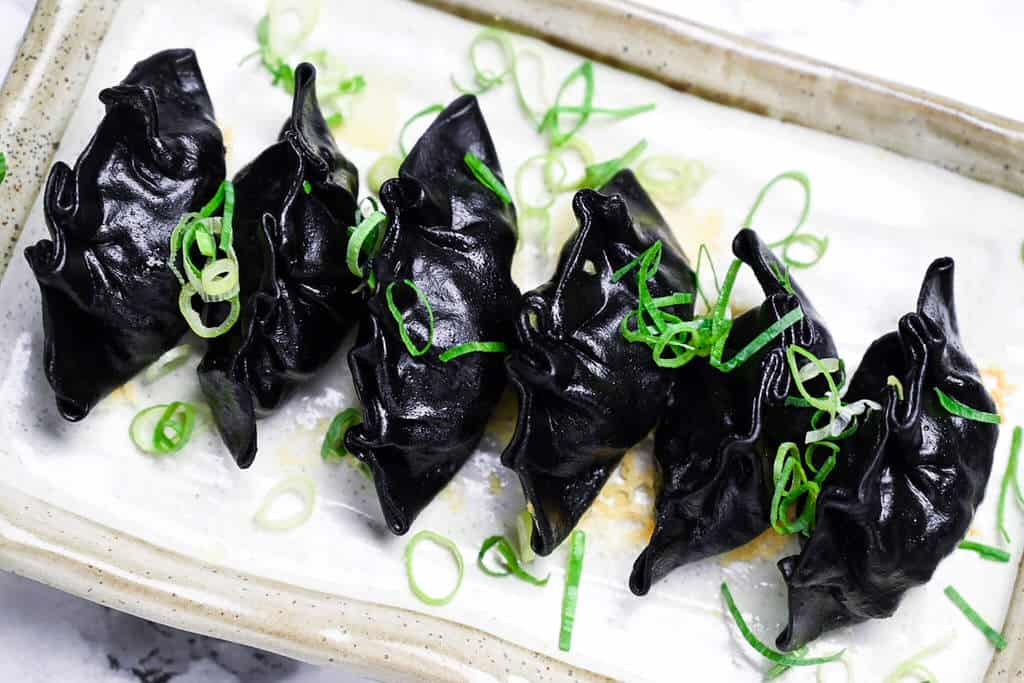 Ingredients to make this gyoza wrapper
Strong flour (Also known as bread flour or hard flour)
Weak flour (Also known as cake flour or soft flour)
Hot boiled water
Salt
Extra flour for sprinkling
In case you missed it earlier in the post, the reason I mix strong flour (with a high gluten content) with weak flour (with a lower gluten content) is to create a gyoza wrapper that is both strong and chewy, yet light and tender.
If you can't get these flours, you can substitute both with an equal amount of all purpose flour however you might need to change the amount of water you add. In this case, add the water gradually and stop when you can form a slightly dry dough.
Instructions on how to make homemade gyoza wrapper
Here are my step by step instructions on how to make homemade gyoza wrappers from scratch with easy to understand process pictures (or animated gifs for clarity!)
For ingredient quantities, see the printable recipe card at the bottom of the page!
Sift the flour
Start by sifting both types of flour into a bowl. Sifting isn't vital for this recipe and more of a habit of mine, but it does combine the two flours effortlessly, makes it lump free and easier to mix with the water.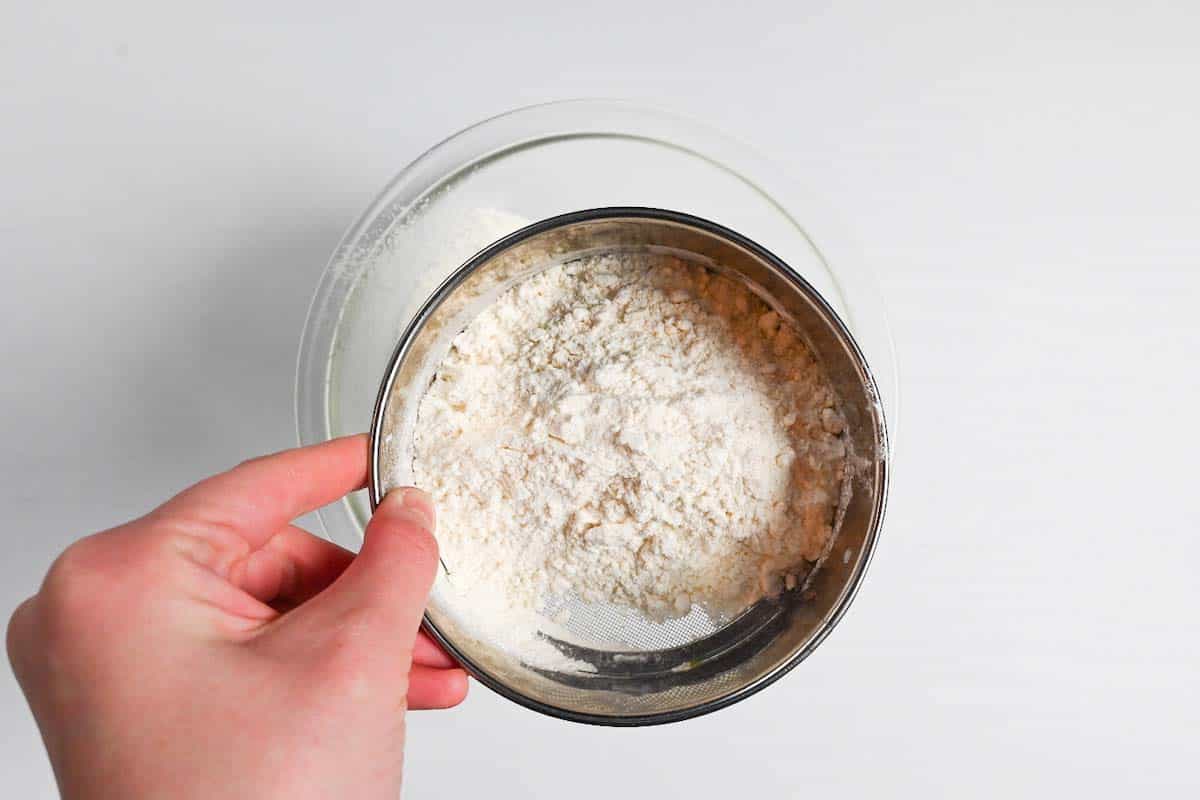 Once sifted, add a generous pinch of salt.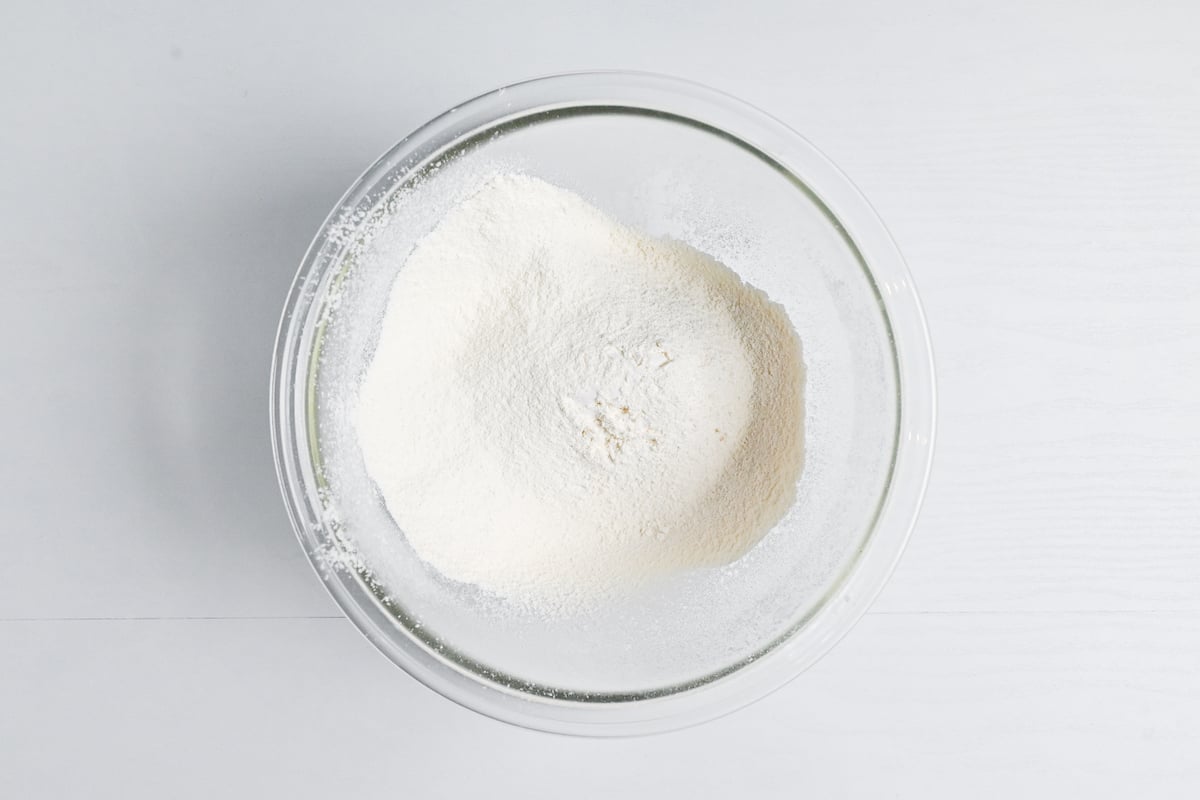 Add hot water
Next, pour the hot water into the flour and mix with a spatula to form a ball.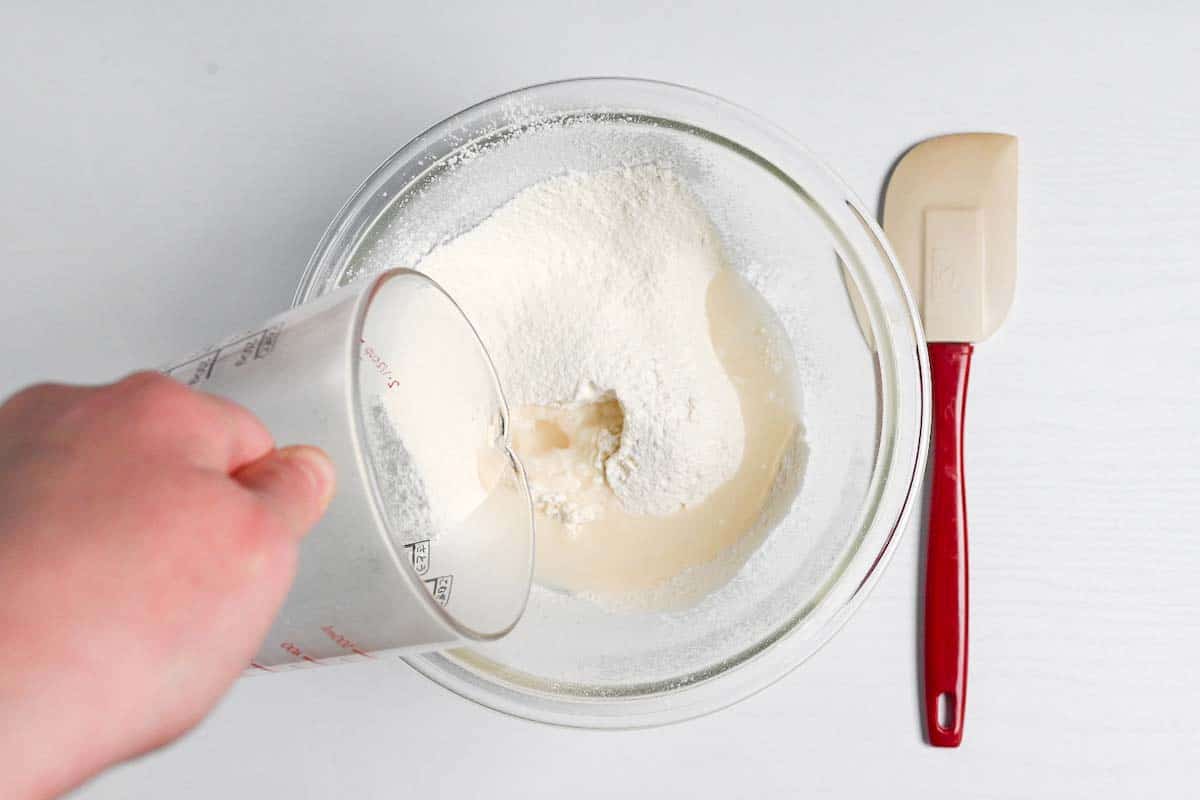 You might be wondering why I use hot water for the dough. Using hot water makes the texture of the dumpling softer, more tender and easier to roll and there are a few scientific reasons why. This is because the gluten has been a little damaged by the heat so it has slightly less stretch, this will stop it bouncing back when you roll it and make it less chewy when you eat it. In addition, the heat from the water reacts with the flour and transforms some of the starch into simple sugars which makes it a little sweeter too. This sweetness creates a nice balance with the savory filling.
Interesting fact: hot water dough is better for making wrappers for pan-fried or steamed dumplings. Using cold water will protect the gluten making the dough stronger and more chewy, cold water dough is better for boiled dumplings or wontons.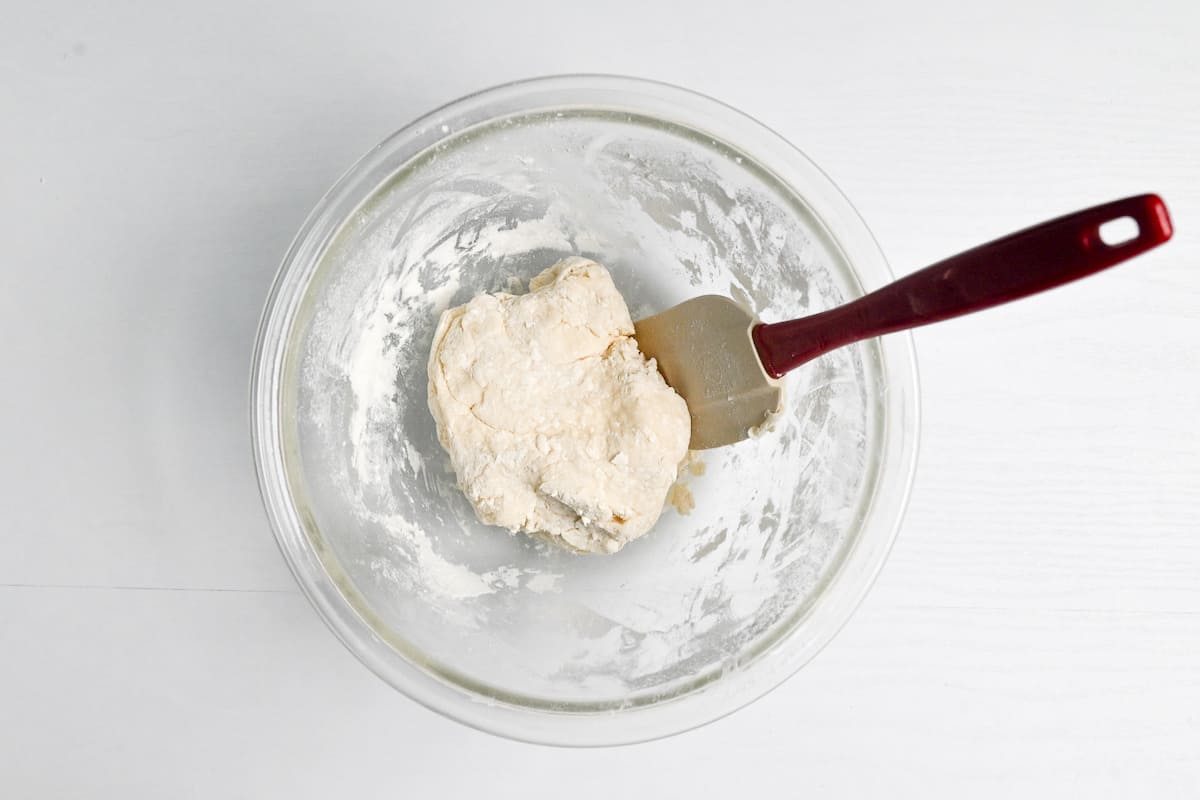 If it seems too dry, you can add more water but be very sparing. I recommend adding just 1 tsp at a time, you don't want the dough to be sticky.
Once you've combined most of the flour and water, it's time to knead!
Knead the dough
Take the dough out of the bowl and place it on a clean, dry surface. Knead for about 10-15 minutes by hand.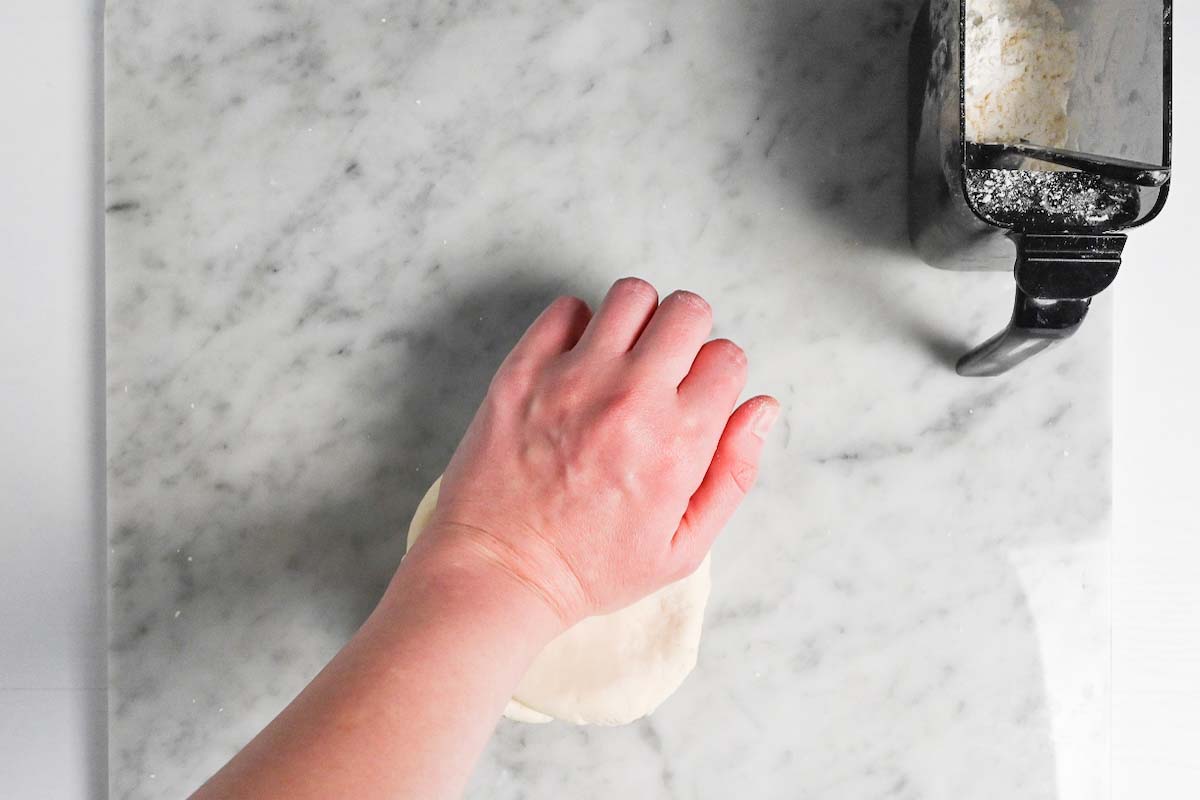 Be sparing with extra flour
If possible, try to avoid flouring the surface as this will add extra flour to the dough and make it dry. Dry dough will be difficult to roll out and shape into gyoza later.
This dough is quite dry, and I also took these pictures in winter when the air was particularly dry so I didn't need to flour my surface. If the weather is humid (like Japanese summer for example!) then you might need to flour the surface lightly, but be as sparing as possible and only add it if the dough is too unmanageable.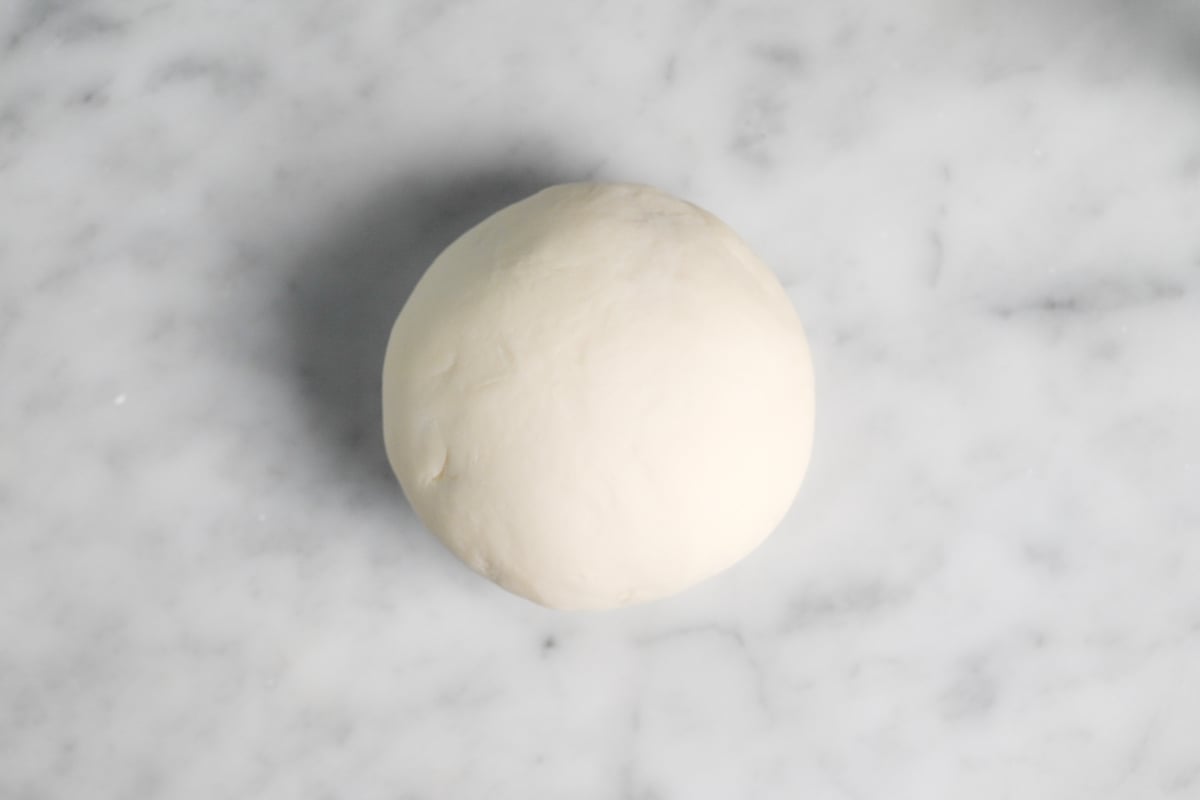 Once you have a smooth ball, wrap it in plastic wrap (or under a damp tea towel) and leave to rest at room temperature for 30 minutes.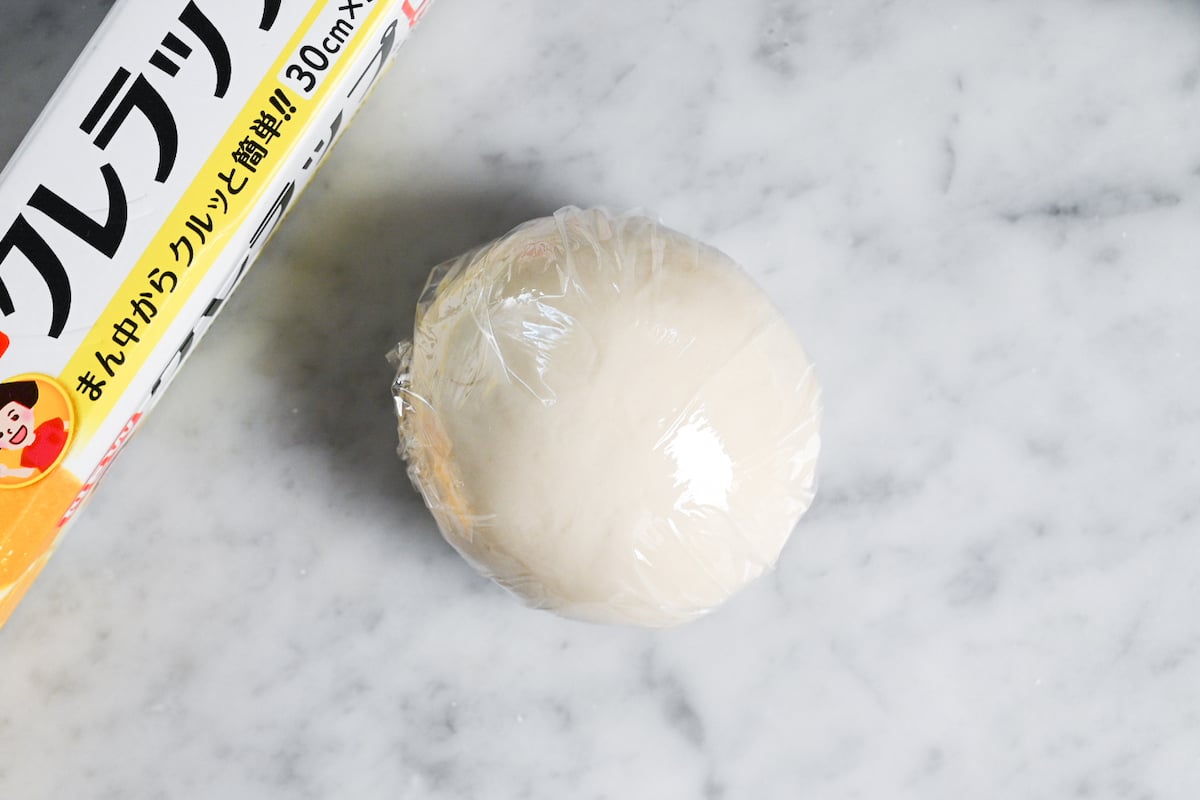 Divide the dough
After 30 minutes have passed, divide the dough. In this recipe I make 32 wrappers, so I divide the dough in two and keep one wrapped. Firstly, this prevents the dough from drying out and secondly, it's easier to keep count of how wrappers you're making with these smaller pieces.
If you're doubling or tripling the recipe, I recommend dividing it into 4 or 8 pieces and keeping them in a sealed container while you roll the first batch.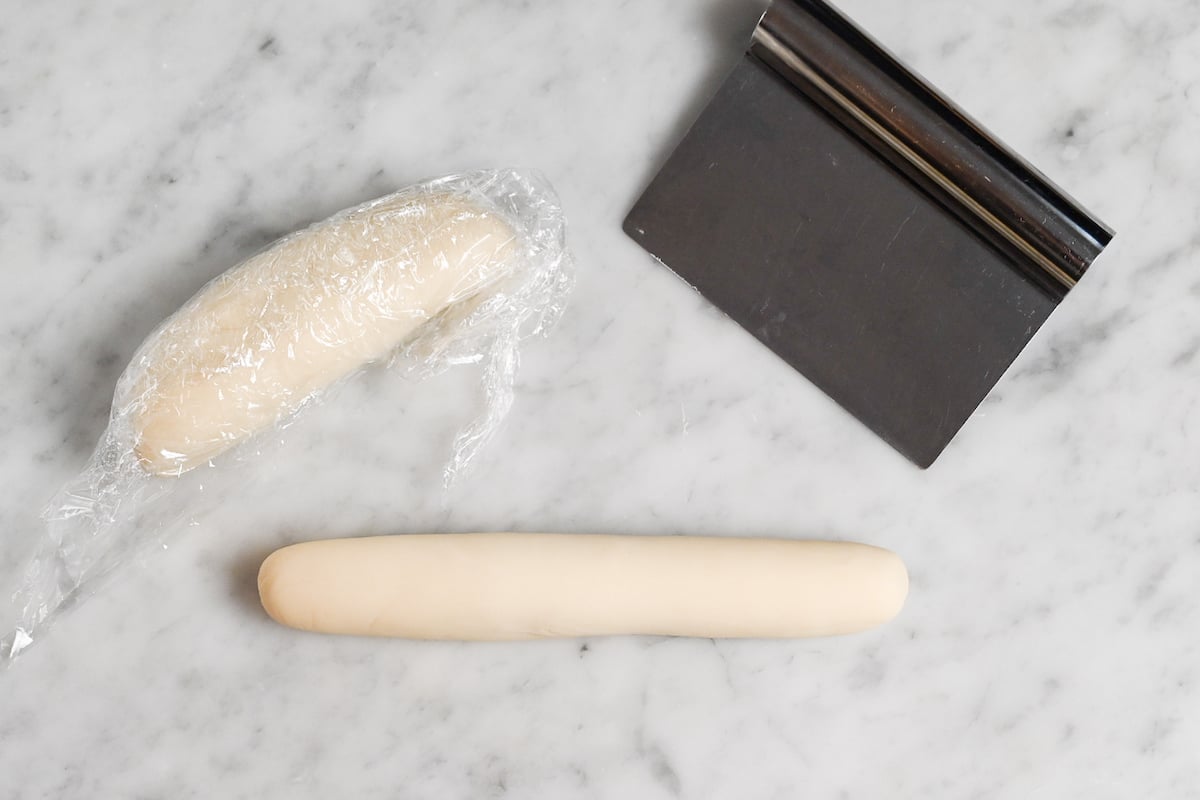 Cut the roll in half, then half each half, then again and again until you have 16 pieces. (This is the easiest way to make them even sizes without weighing them.)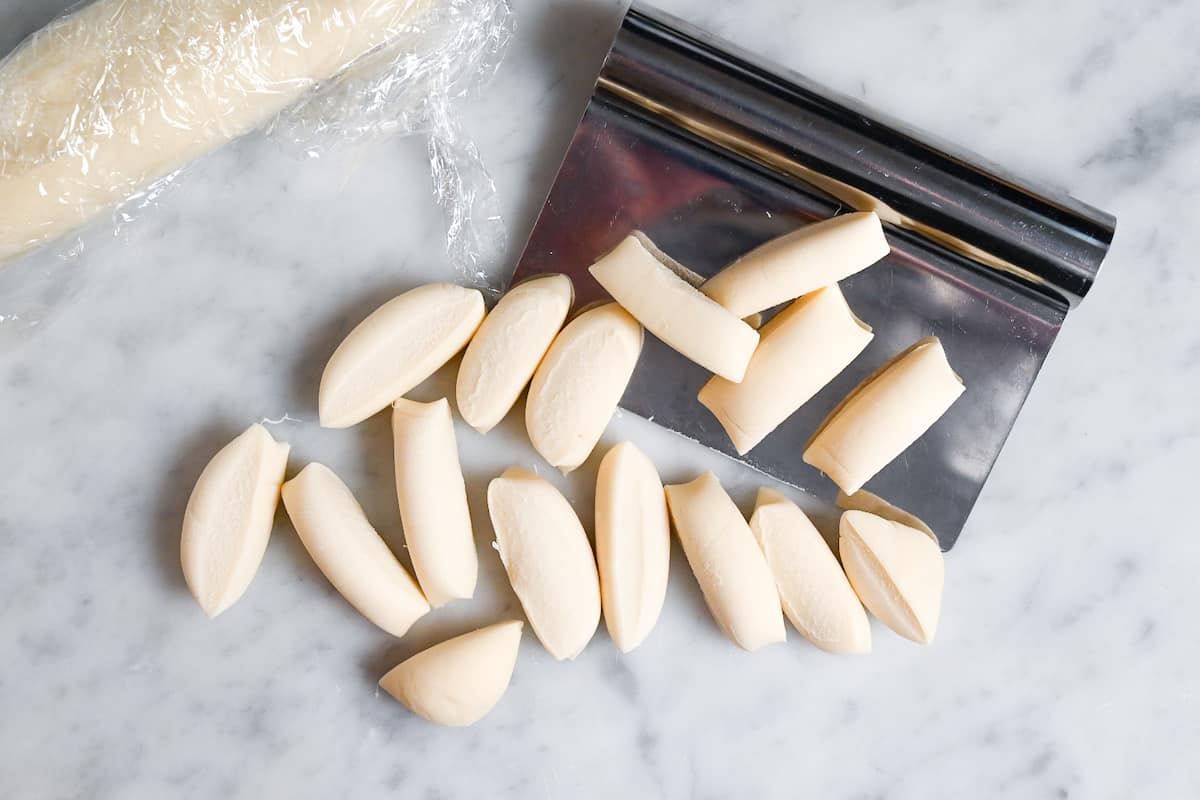 Shape the dough
Roll each piece into a small ball.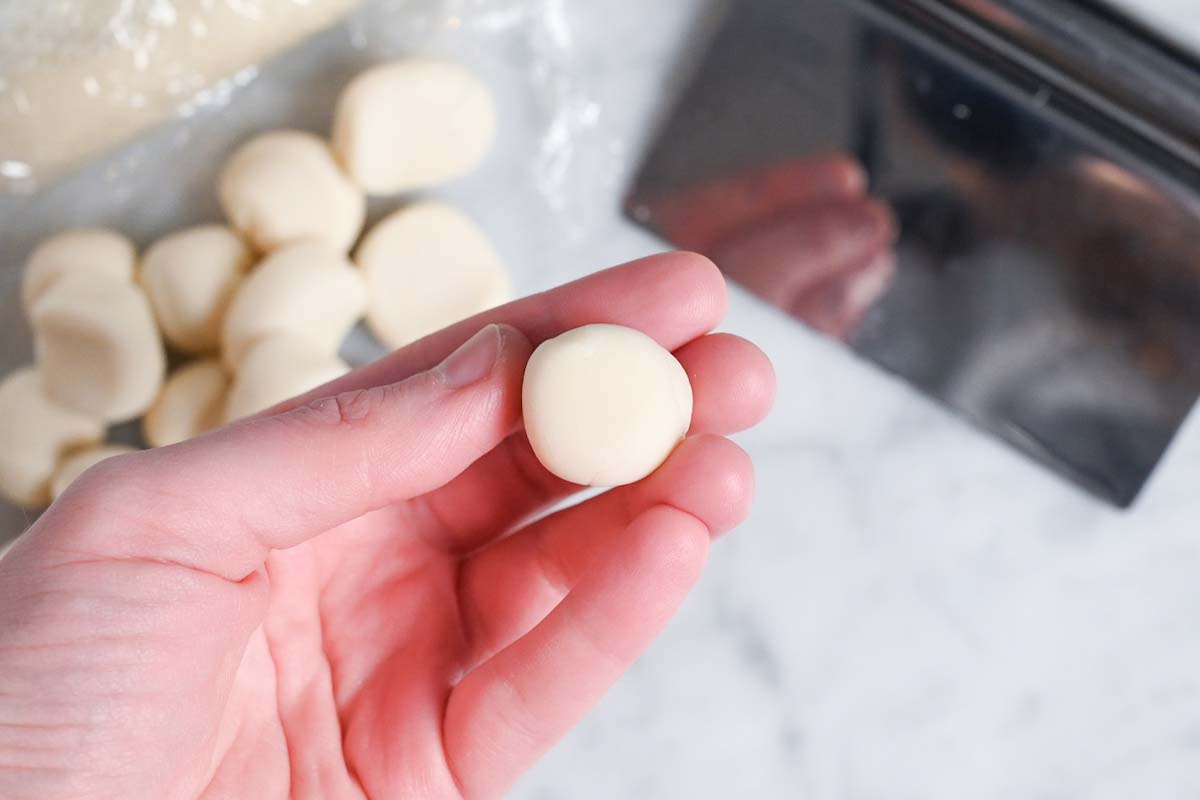 Press it onto a flat surface and roll it out using a rolling pin. Peel the wrapper off the surface and flip/turn it between each roll to stop it from sticking (you can also dust with flour to prevent sticking).
Lift the wrapper up and pull the edges all the way around with your thumb and forefinger to help make it beautiful round shape and thin the edges.
Pinch the edges to make them thinner. I do this so that when the gyoza is sealed at the end, the top won't be too thick and doughy.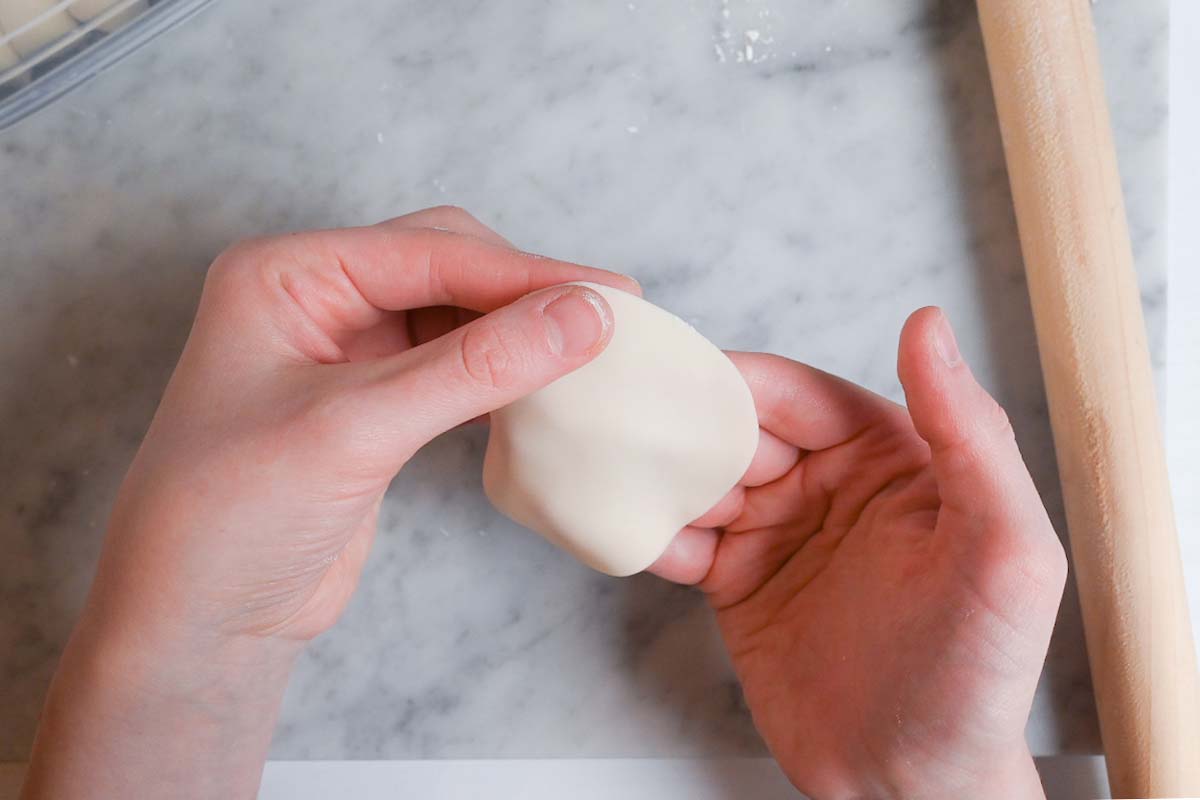 Brush with flour
Now is the time to brush both the top and bottom with flour, this will stop them sticking when you stack them up.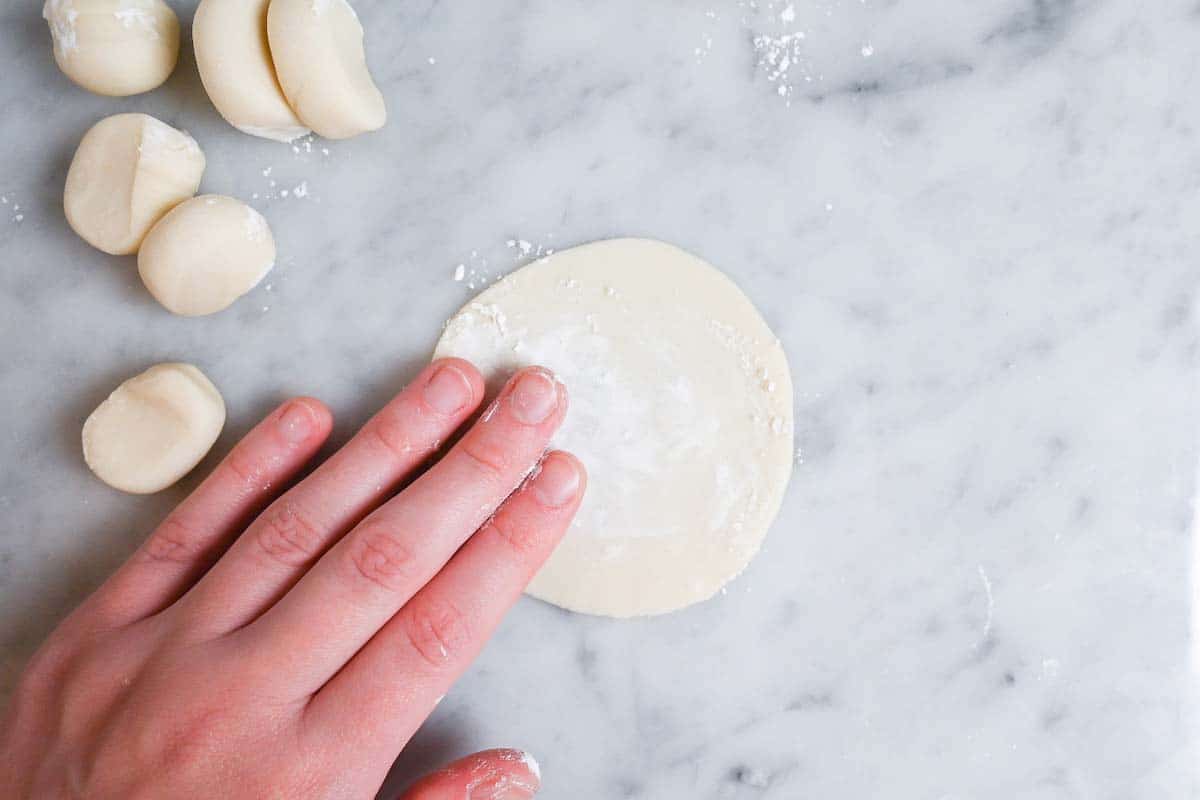 Protect your wrappers from the elements
If the air is dry, the wrappers might dry out and break when folded. On the other hand, if the air is too moist, the wrappers might stick together or become too difficult to handle. The best way to prevent either of these scenarios is to keep your gyoza wrappers in a sealed container while you work.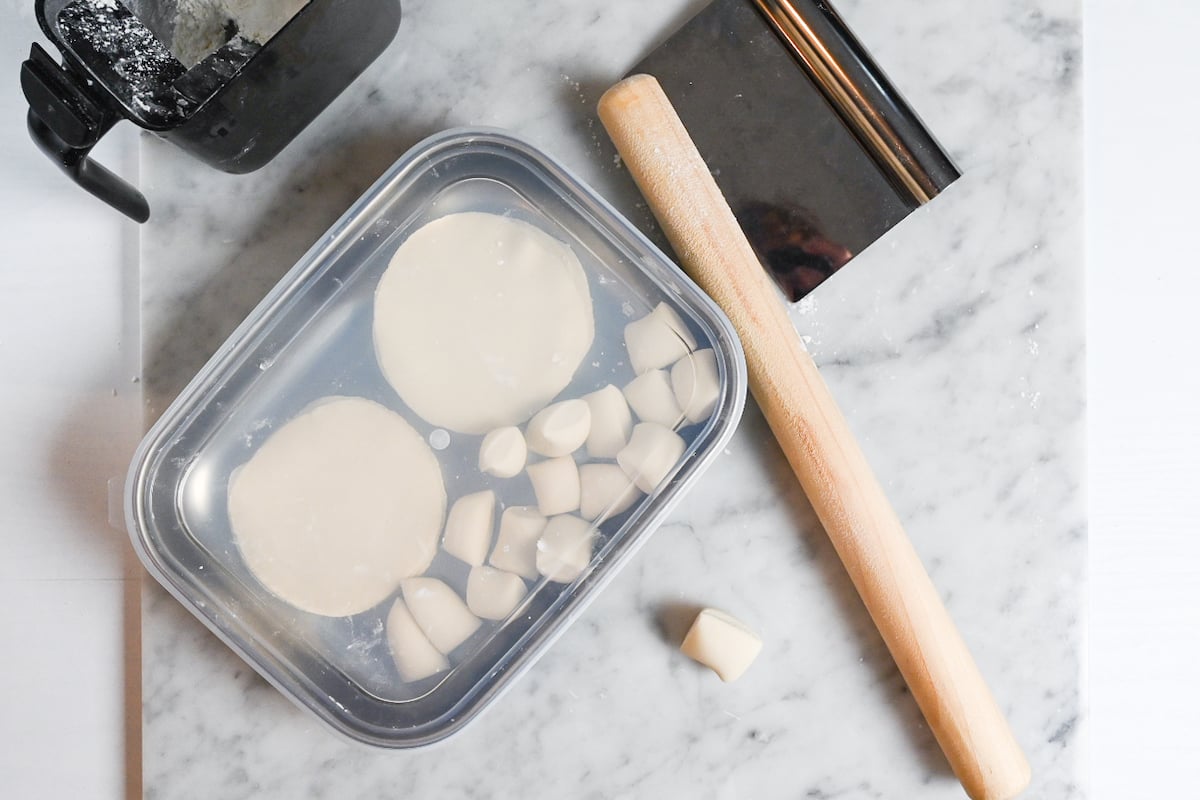 Next let's move on to shaping!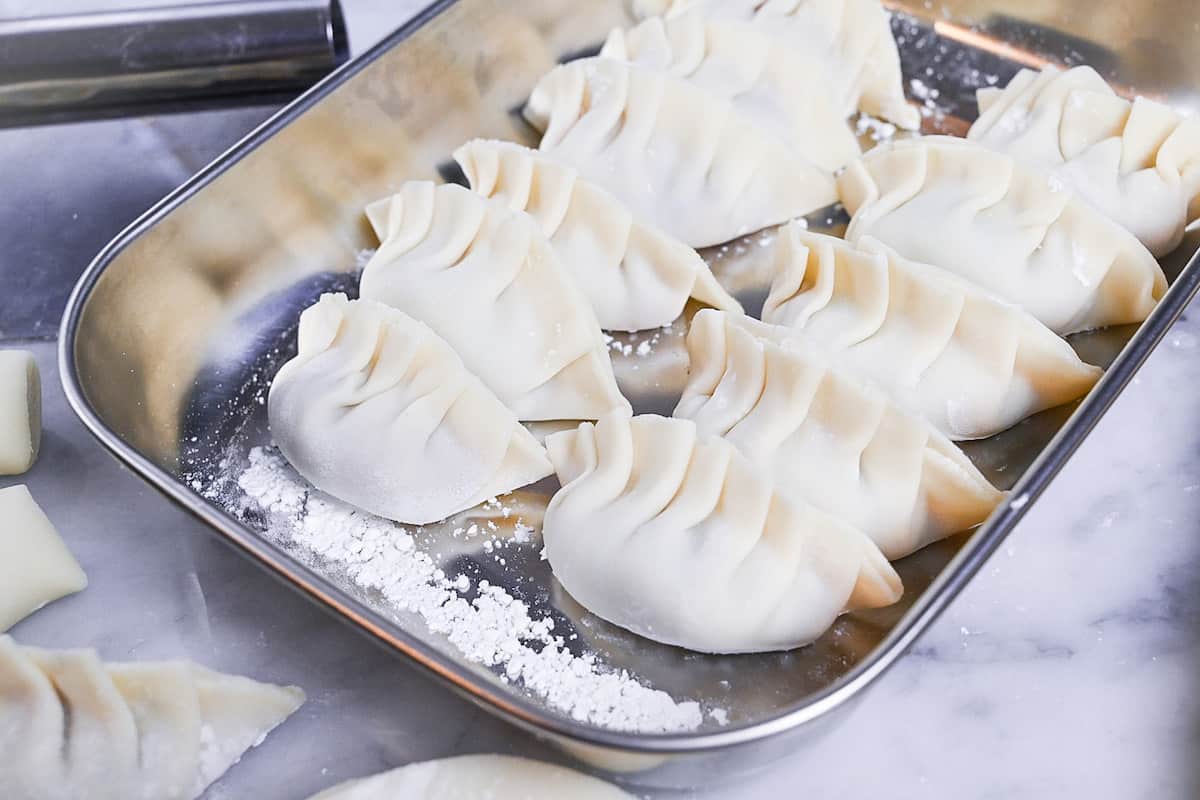 How to shape gyoza
Since you've learned how to make gyoza wrappers from scratch, I will now show you my easy way to fill and shape gyoza!
Add the filling
Place about 1 level tablespoon of filling into the centre, making sure to leave a wide space around the edge.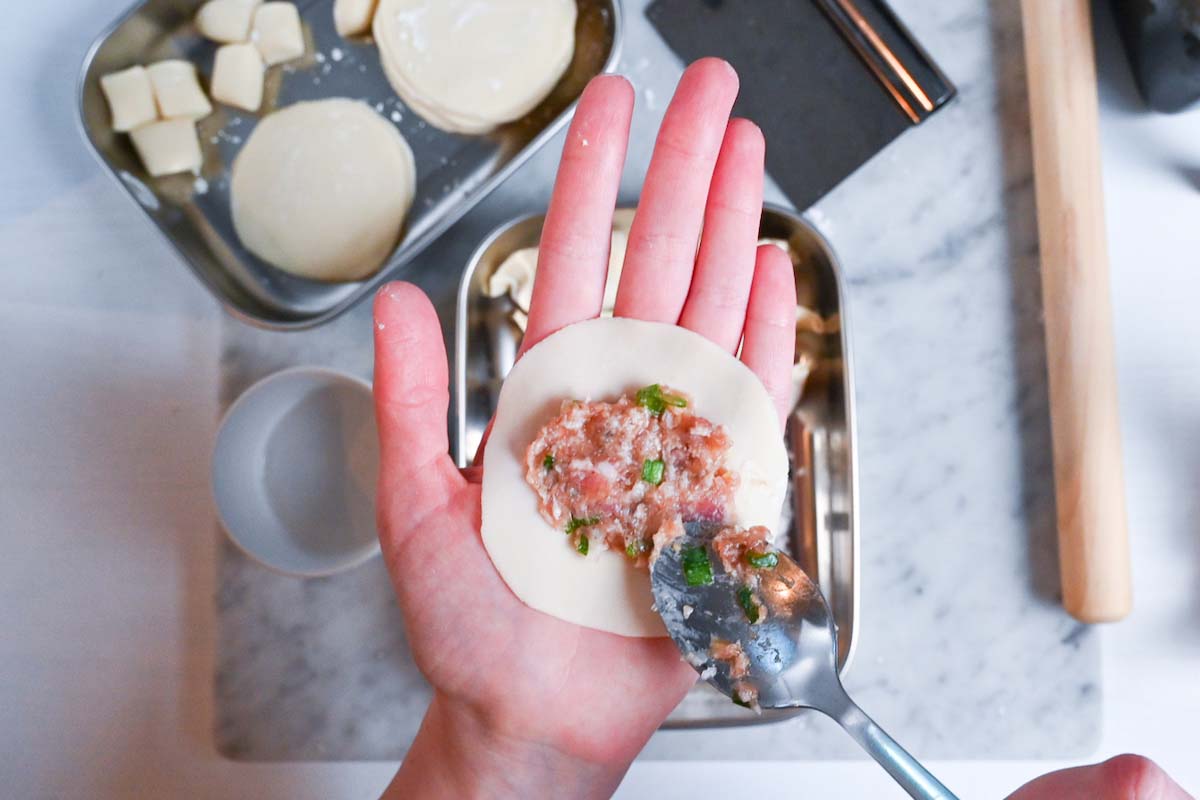 Be careful not to overfill the wrappers or you won't be able to fully seal them!
Wet the edge
Keep a small bowl of water next to you while you work. Dip your finger in the water and wet the top half edge.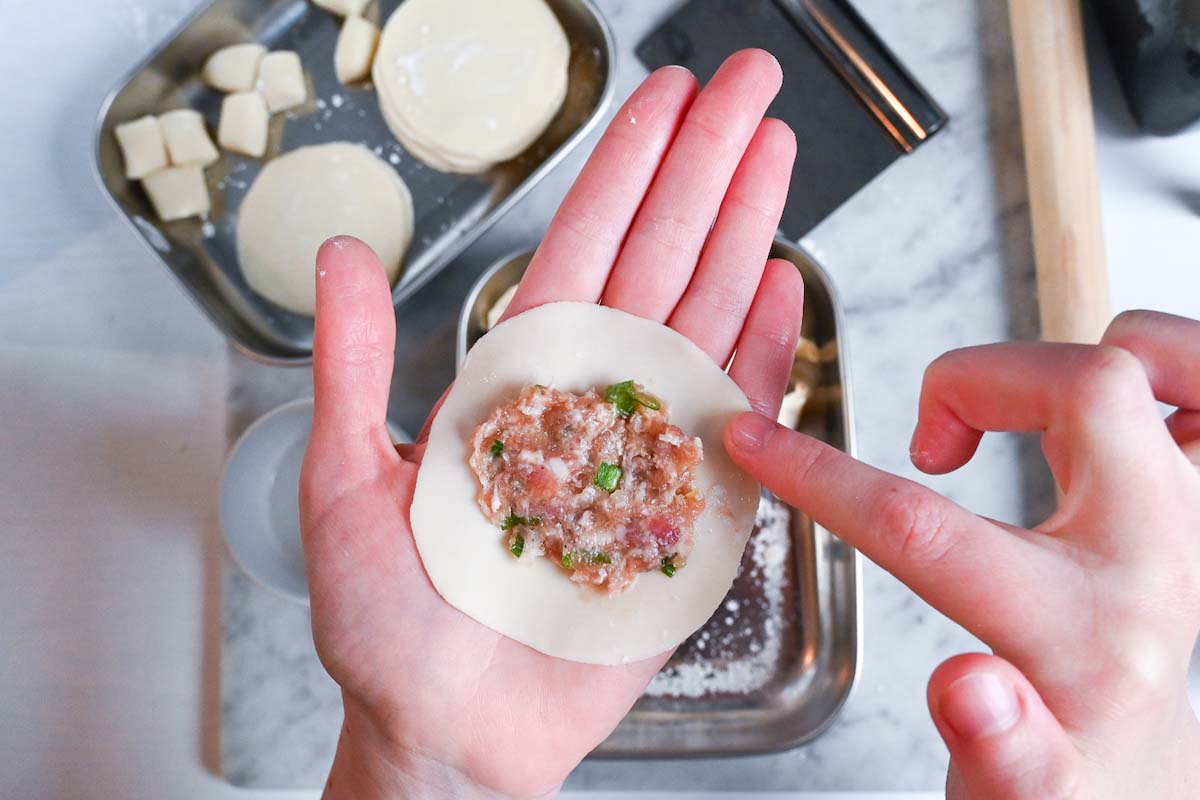 Pinch the corner
Pinch the starting point to make a sealed corner. If you're holding the gyoza in your left hand and shaping with your right (like pictured) then you will need to pinch the centre of the right side and the reverse if you're left handed.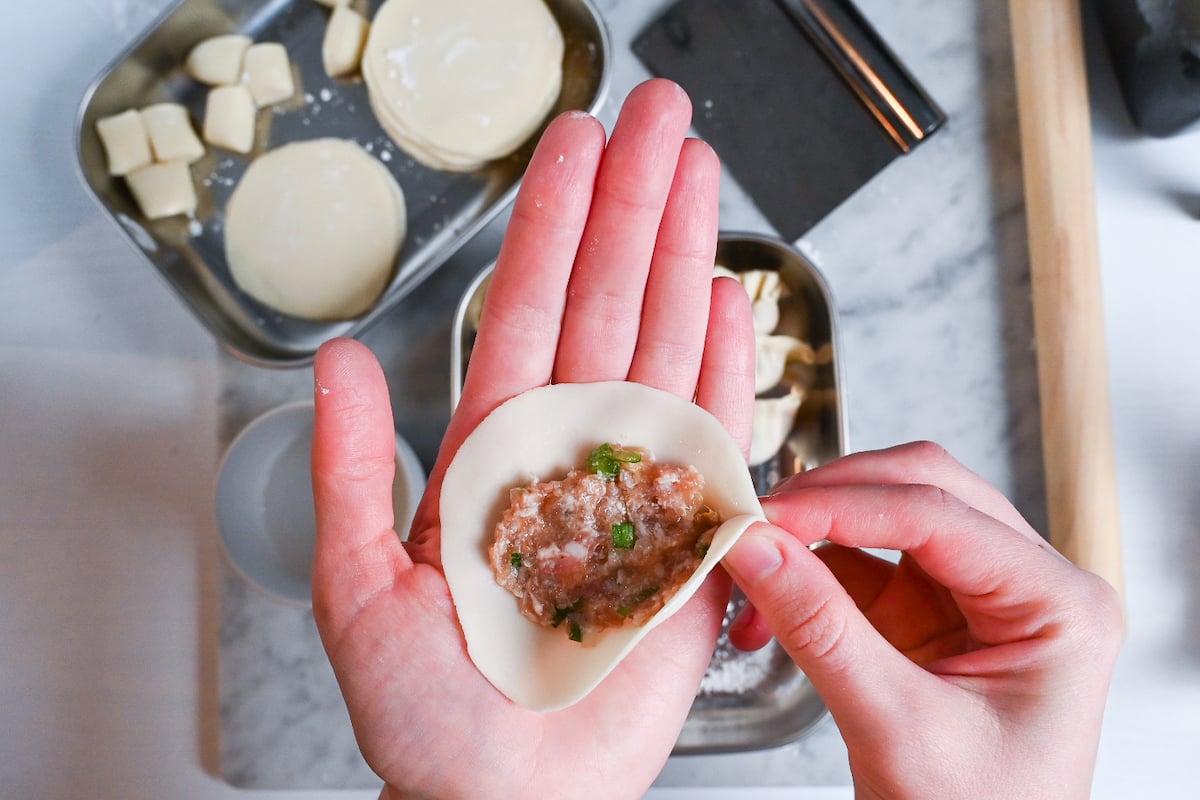 Seal the top
Seal the top by making pleats along the edge with the water. Push a small amount of dough on the top towards the pinched corner and press it down. Continue to pleat all the way to the other side until the gyoza is completely sealed.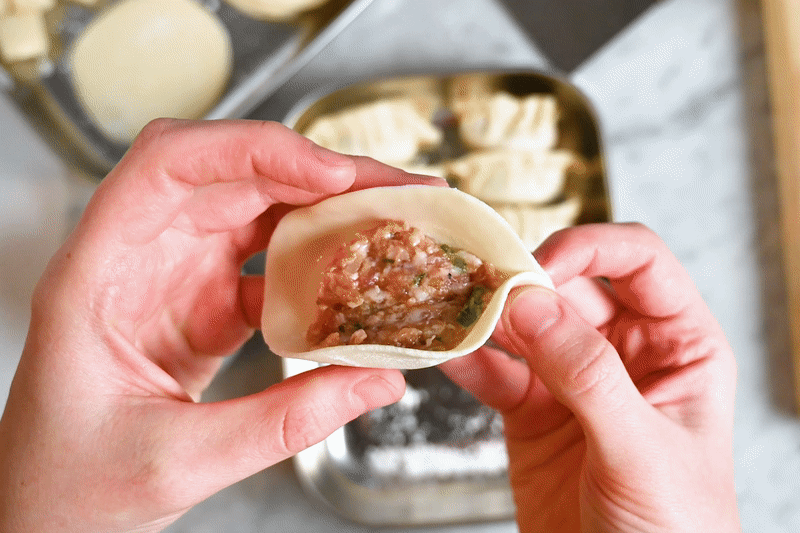 At the end, press all the pleats down to secure it. You can also tap the bottom of the gyoza onto a flat surface to flatten the base. This will make the gyoza stand up and the base will become crispy when fried.
Storing
I recommend using the wrappers within a few hours of rolling as they tend to stick together the longer they are stored. Also, storing the dough in the fridge for too long will dry it out and make it hard to roll so I don't recommend that either.
If you want to make them in advance, my best advice is to make the complete gyoza with filling and store those rather than storing the wrappers on their own.
Homemade gyoza can be kept in an airtight container in the fridge for 1-2 days. Alternatively, freeze them in batches and keep them for up to 1 month. Pan fry from frozen and increase the cooking time to ensure they're thoroughly cooked through.
Don't freeze gyoza wrappers
While you can freeze the completed gyoza, I don't recommend freezing the wrappers as they tend to stick together once defrosted (this can happen even to store bought gyoza wrappers). For best results, use the wrappers the same day and freeze the completed gyoza instead.
I hope you enjoy making these delicious gyoza wrappers from scratch! If you want to learn how to make gyoza filling and pan fry them to perfection, check out my crispy pork gyoza or delicious tofu and vegetable gyoza recipes!
Easy Homemade Gyoza Wrappers
---
How to make easy Japanese gyoza wrappers from scratch with just 4 ingredients! The result will be perfectly light and chewy gyoza fit for a restaurant!
---
---
---
---
Equipment
Fine mesh sieve

Rolling Pin
Ingredients
100

g

cake flour

also known as weak flour or soft flour *see note

100

g

bread flour

also known as bread flour or hard flour

100

ml

freshly boiled water

½

tsp

salt

extra flour

for sprinkling
Instructions
Sift the flours into a large mixing bowl and add the salt.

Pour the hot water into the mixing bowl and mix with the flour until a dough forms.

Transfer the dough to a clean dry surface. Add a little flour to the surface if your dough is too sticky, but be sparing. Too much flour= dry dough.

Knead for 10 minutes until smooth.

Wrap it with plastic kitchen wrap and leave to rest for 30 minutes at room temperature.

Once rested, cut the dough in half and roll each piece into even cylinders. (If doubling the recipe, cut into 4. If tripling the recipe, cut into 8.) Wrap any that aren't being used straight away to stop them from drying out.

Cut cylinder of dough in half, then half again and continue to half until you have 16 pieces.

Roll each piece into a ball.

Now dust your surface with flour and push one ball of dough flat down using the palm of your hand.Roll it flat using a rolling pin, turn and flip from time to time to keep it at an even thickness and prevent it from sticking to the surface. Roll it as thin as you can without breaking it.

Pick up the wrapper and use your fingers to pinch around the edges, making the edges even thinner and neatening the circle shape.

Generously rub flour on the top and bottom of the wrapper ready for stacking. 

Repeat with the rest of the dough and store the completed wrappers in an airtight container to stop them from drying out.

Repeat steps 9 to 15 for the other cylinder(s) until all the dough is used up.

Use the wrappers with your favorite gyoza fillings. (See in the post for how to shape with filling and check out my pork gyoza recipe for how cook the perfect gyoza with a crispy base.)

Enjoy!
Notes
* You can substitute the cake flour and strong flour for all-purpose flour.
32 wrappers require approximately 450g of filling.
FAQ
Can I use gyoza wrapper for shumai?
Since shumai wrappers and gyoza wrappers are almost identical, except for the thickness and shape, it is possible. However, if you make gyoza with shumai wrappers, wrappers may stick to the pan. Therefore, we do not recommend substituting if possible.
What are gyoza wrappers called in Japanese?
It is called u0022gyoza no kawa (餃子の皮)u0022 in Japanese.
Are gyoza wrappers usually square?
Generally speaking, gyoza wrappers are in round shape.
What is the general size for gyoza wrappers?
There are no specific rules, although for store-bough wrappers, the regular size is about 8.5 cm in diameter and the large size is often 9.5 cm.
How thick should gyoza wrappers be?
About 1.0mm is the norm, but some might slightly be thinner and the others thicker than 1.0 mm.
Are gyoza wrappers the same as wonton wrappers?
First, gyoza wrappers are usually round, while wontons are square. In addition, the size is smaller and thinner than gyoza wrappers.
What is gyoza called in Japan?
Gyoza is simply called gyoza (餃子 or ギョーザ).
Can I use spring roll wrappers for gyoza?
Unfortunately, I highly do not recommend using spring roll wrappers instead of gyoza as they are very different style of wrappers.