It's easy to make Japanese-style curry rice using boxed roux cubes, but have you ever wondered how to make it from scratch? Well, look no further! In this recipe, I will show you how to make your own Japanese-style curry roux to make rich and flavorful beef curry rice from scratch!
Disclaimer: This post contains Amazon affiliate links. Sudachi Recipes earn a small percentage from qualifying purchases at no extra cost to you. See disclaimer for more info.
Jump to:
What is Japanese Curry and Rice (Kare Raisu)?
Kare Raisu (カレーライス) is a Japanese version of curry, which travelled from India to England and from England to Japan, served with freshly cooked Japanese rice. It is now well-known as one of the most popular dishes in Japanese households, and some people even eat kare raisu weekly.
Because it came from England, Japanese curry is more closely related to European style stew than the original Indian style curry. Curry was introduced to Japan around the 1870s and beef rapidly spread as a symbol of Westernization. Kare raisu was invented as an easy way to eat beef, therefore, the most classic curry in Japan is neither chicken nor pork, but beef curry.
Furthermore, it is easy to prepare and suitable for making in large batches for many people, and curry powder can be stored for a long time, making it a popular nautical meal. The recipe for homemade beef curry presented here differs from the modern way of making it. It is based on the cooking processes of the oldest original recipe introduced by the official website of the Maritime Self-Defense Force, and I have modified it to my taste.
Indeed, few people, even Japanese, make kare raisu from scratch, and most use store-bought curry roux. Of course, curry rice made with a pre-packaged roux is excellent, but the one made with this recipe has a different flavor and is delicious, so please have a try if you have time!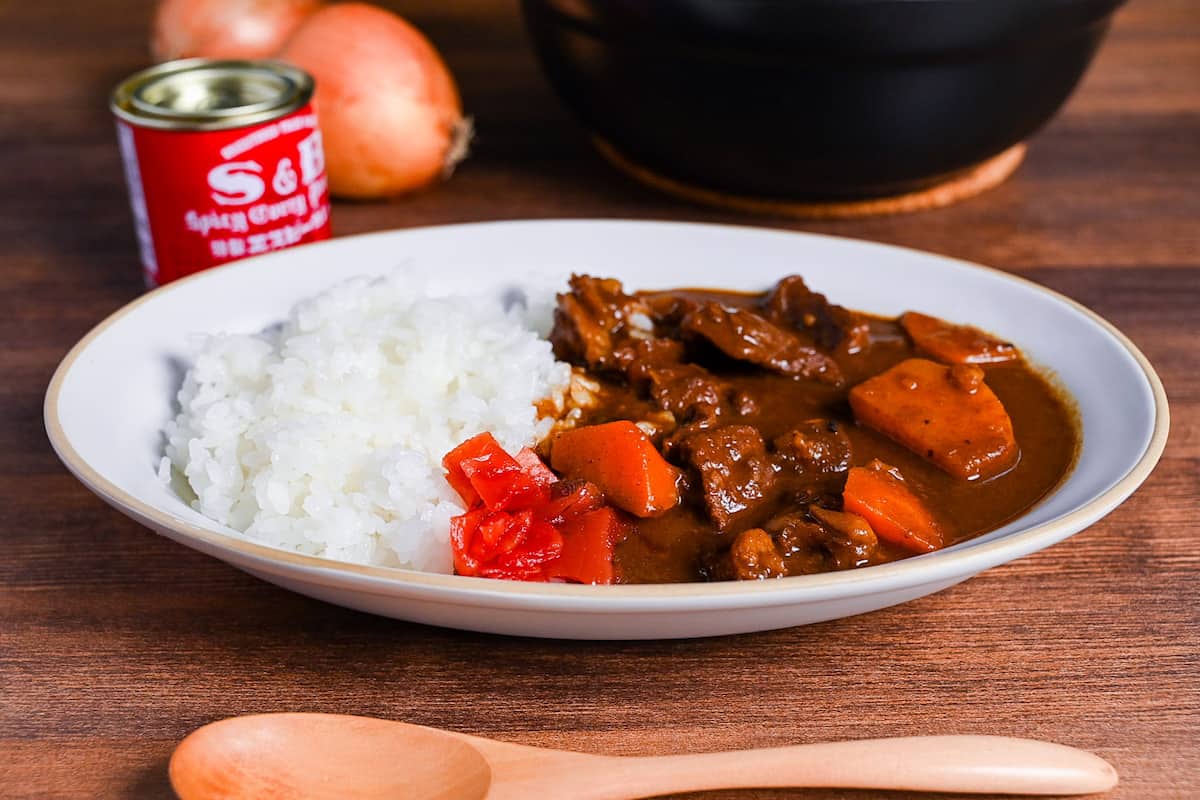 Ingredients and Substitution Ideas
Here I have broken down the ingredients into two parts; the roux and the curry itself. Not only do I list the ingredients I use, but why I used them. I also include affiliate links where possible so that you easily have access to the same ingredients I use (See disclaimer for more info.) For the quantities, scroll down for the detailed recipe card.
Ingredients to Make the Roux:
The following ingredients are used to make homemade curry roux in the most traditional way:
Curry powder - I am aware that the term "curry powder" is very vague, but this recipe used Japanese S&B's Oriental Curry Powder Mix specifically. This is one of the most popular spice mixes in Japan.
Beef fat - Since this is a beef curry, the best solution is to use beef fat, but if it is unavailable, substitute lard.
Garlic and Ginger - Garlic cloves and fresh ginger add flavor and depth to the roux.
Yellow onion - Cut into thin slices and cooked to make caramelized onion. In Japan, yellow onions are most commonly used, but white onions can also be used.
All-purpose flour - This is for binding the curry roux and thickening the broth when used to make the curry itself.
Beef stock (liquid) - Made with beef stock cubes. I used Knorr's beef bouillon cubes which also contains flavors of vegetables and herbs. If doubling or tripling the recipe, I recommend making a concentrated solution (more cubes and less water) to reduce the simmering time.
Spices - Cumin, coriander, ground cloves, cardamom, and ginger powder.
Marmalade - It adds depth and sweetness to homemade curry roux.
Bay leaf - It is effective in softening odors.
Ingredients to Make the Curry:
The following ingredients are to make homemade curry with my homemade roux (although it also works with store-bought curry roux too):
Unsalted butter - Used for frying beef and adding a rich and creamy flavor. Olive oil can also be used instead.
Beef shoulder loin - I usually use beef sinew in addition to shoulder loin so that the fat melts and adds more flavor to the broth.
Vegetables - Carrots and potatoes. For other vegetable options, see our separate Curry Rice Guide article.
Black tea - This may seem surprising, but black tea is used instead of water for a mellow flavor without any added salt. I used Earl Grey. You can use water or dashi if you prefer.
Soy sauce - If you are looking for something reasonably priced, you can't go wrong with Kikkoman soy sauce. Please see our guide to soy sauce article to learn more about how to choose soy sauce in Japanese cuisine.
Honey - It adds a sweetness and extra flavor profile that goes well with kare raisu.
Apple jam - It adds a fruity sweetness that goes well with kare raisu.
Worcestershire sauce - It adds richness and fruity saltiness to the curry.
Garam masala - It is needed for the final spicy touch.
Coffee powder - It is a secret ingredient, but I always add it when I make curry. It gives a much richer flavor with a hint of bitterness that adds balance to the overall taste.
Nutmeg - It softens odors from meat and alleviates the earthy smell of root vegetables.
Red wine - It adds a little depth and nice acidity.
Chili powder - Optional, but if you prefer a spicy curry, you can adjust the spiciness with chili powder.
Cooked Japanese short-grain rice - Short-grain Japanese rice is best used for Japanese cooking. Recommended Japanese rice available in the U.S. and how to cook Japanese rice in a pot are explained in the How to Cook Japanese Rice Recipe.
Fukujinzuke pickles - A type of sweet red pickle made with daikon, eggplant, lotus root and cucumber. It is a typical addition to Japanese-style curry and for me, curry rice is not complete without fukujinzuke! However this is optional. Other pickle options would be rakkyo (pickled oriental onions).
For more detailed options on protein, liquid, vegetables, secret ingredients, and toppings, please check out my Comprehensive Guide for Kare Raisu.
I have listed my recommended Japanese condiments, tools, and ingredients in the Sudachi Recipes Amazon shop. If you want to keep making various Japanese foods at home, please check it out!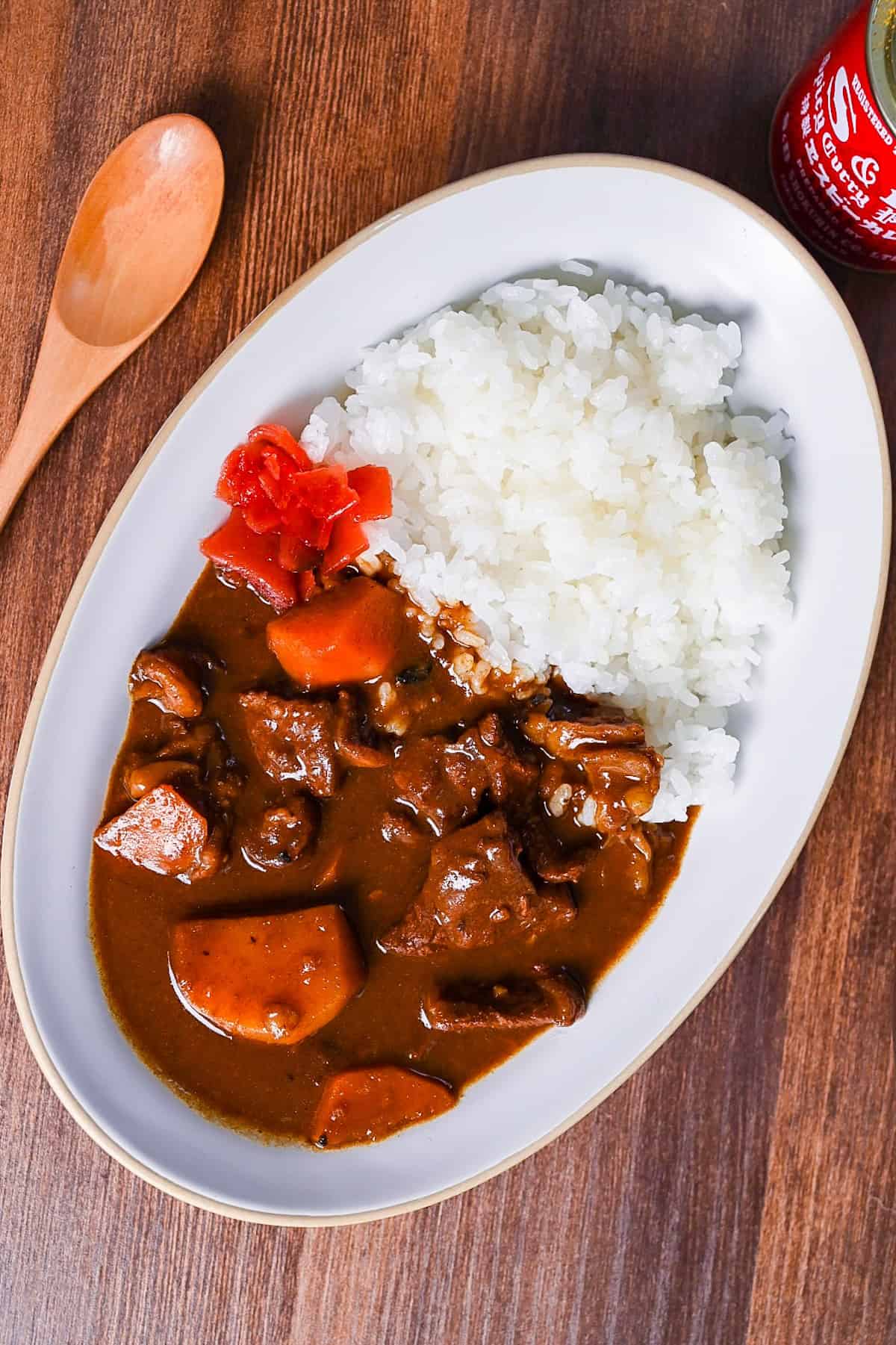 Step-by-Step Process
Here are my step-by-step instructions for how to make delicious Japanese beef curry rice from scratch with homemade roux. For ingredient quantities and simplified instructions, see the printable recipe card below.
Making Homemade Roux
Add the S&B curry powder and cumin powder to a dry pan and heat over a medium setting. This will toast the spices and release their aroma. Stir and shake the pan occasionally to toast evenly and prevent burning.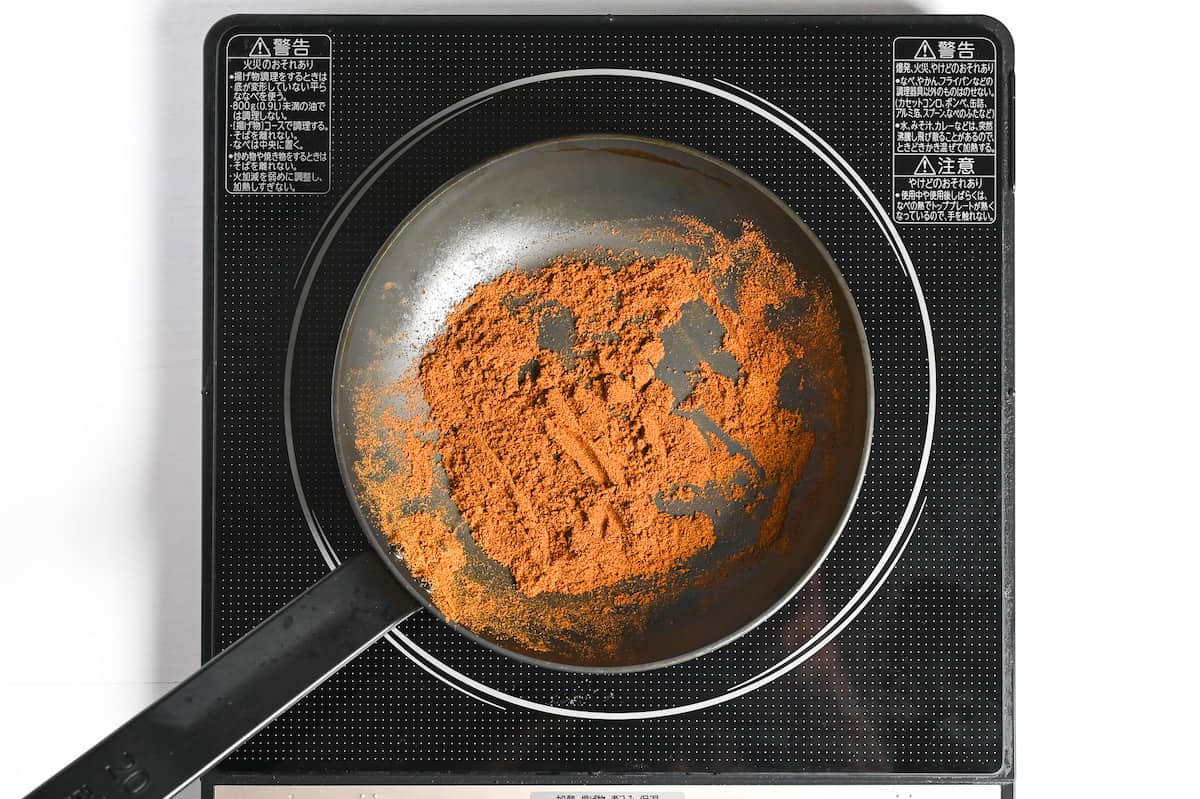 Once it smells fragrant and has darkened slightly, remove from the heat.
Heat a separate pan on medium and add a cube of beef fat. (If you don't want to use beef fat, you could use lard, butter or a cooking oil of your choice.) Once melted slightly, add finely chopped garlic and ginger, and fry until fragrant.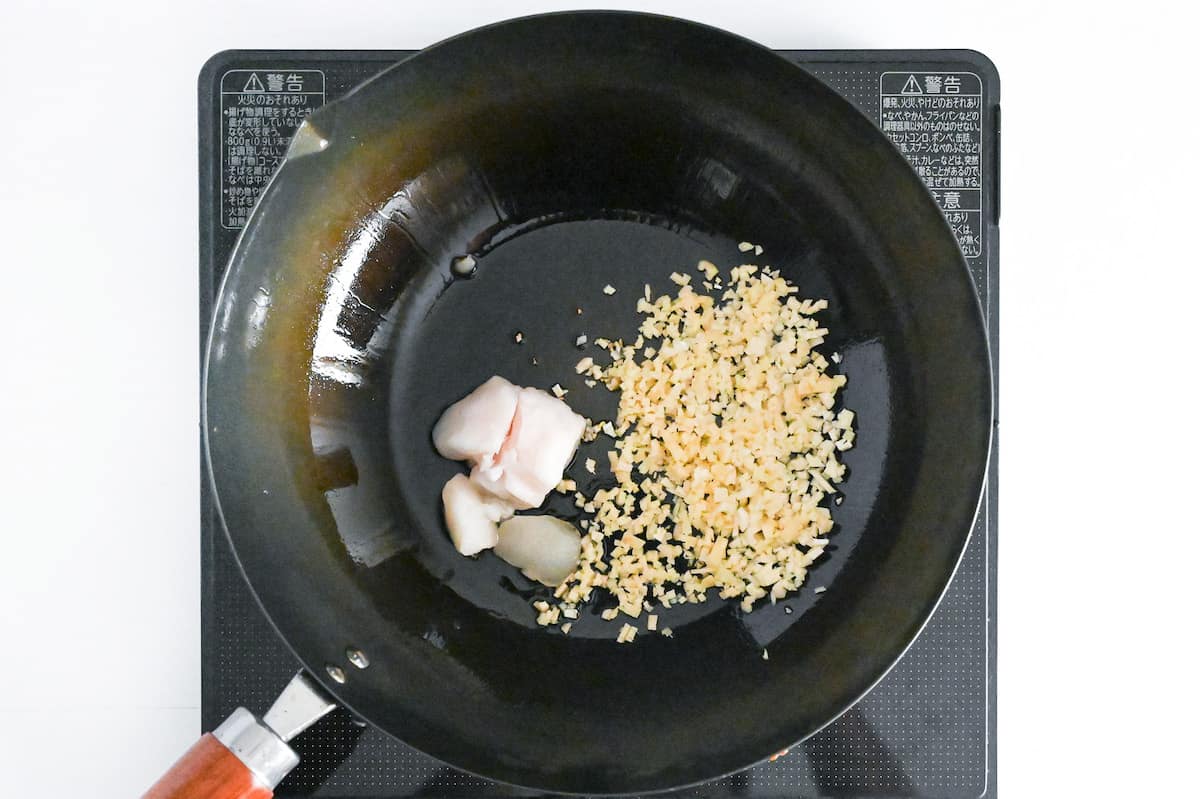 Add thinly sliced onions to the pan and stir-fry until golden and translucent.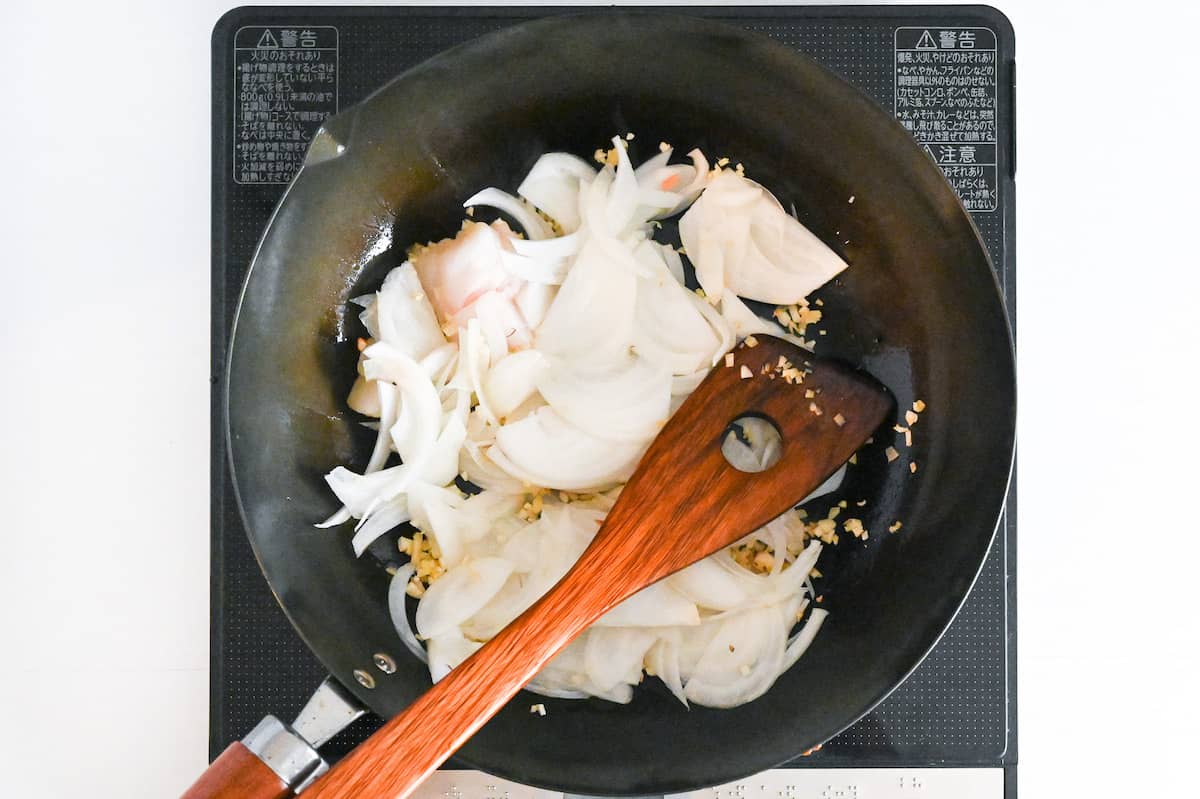 Once golden, lower the heat to medium-low and continue to cook until the onions become soft, dark brown and caramelized. This usually takes approximately 20-30 minutes. I leave the fat in the pan to help prevent sticking, but add a few tablespoons from water from time to time to help soften the onions further.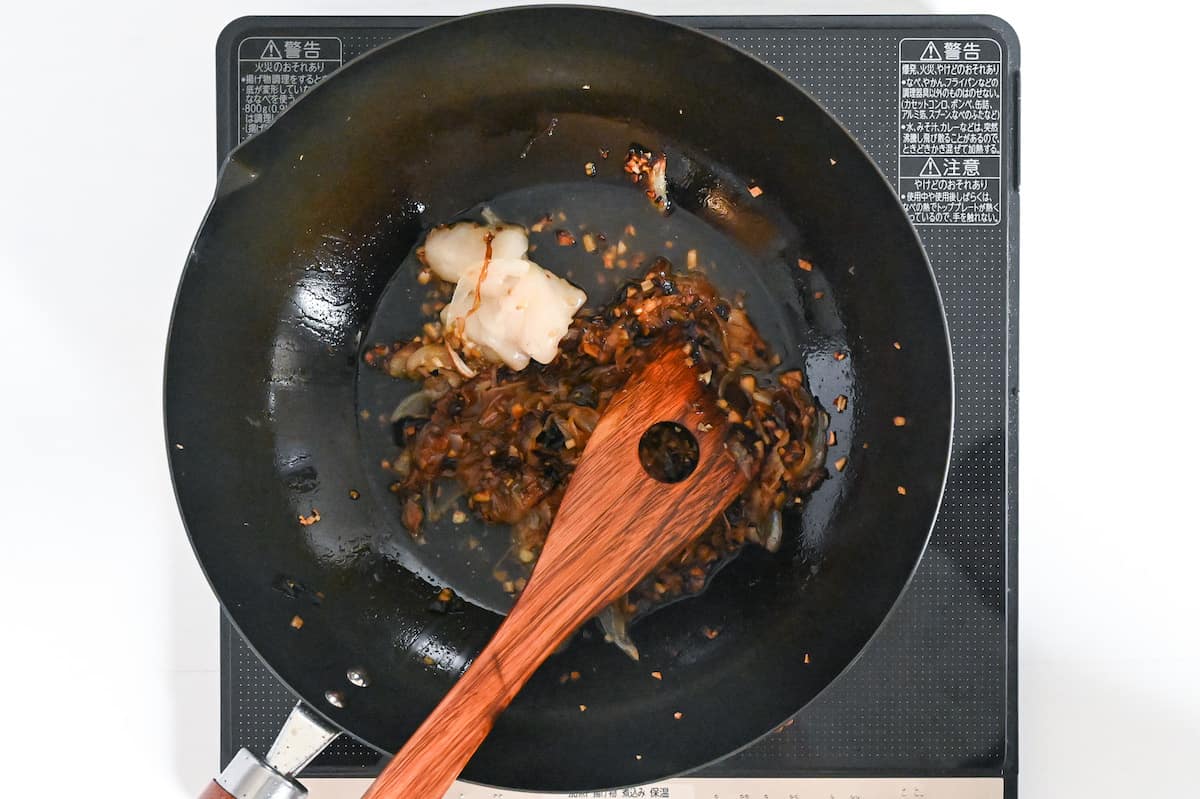 Once caramelized, remove the beef fat (if used) and mix in all-purpose flour. This will help bind everything together to make a paste. Adding flour is what will help thicken the roux later too.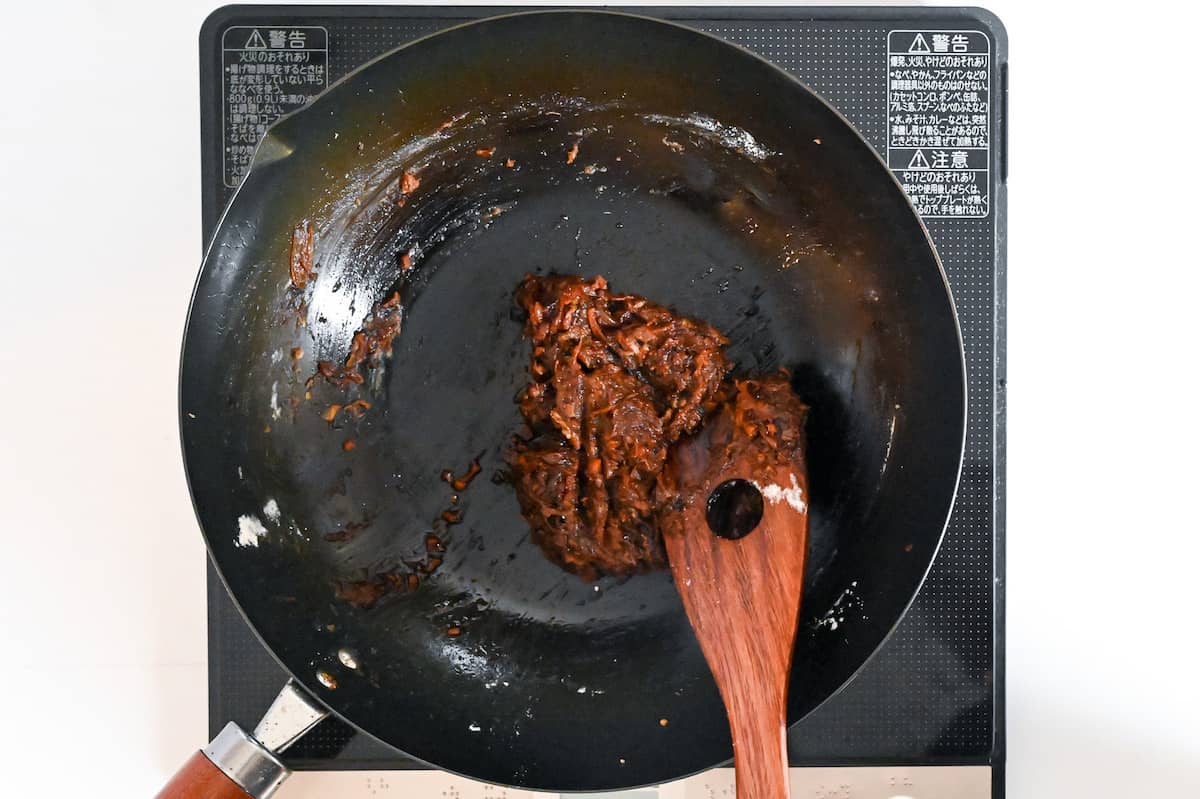 Add your toasted spices from earlier and mix until evenly distributed.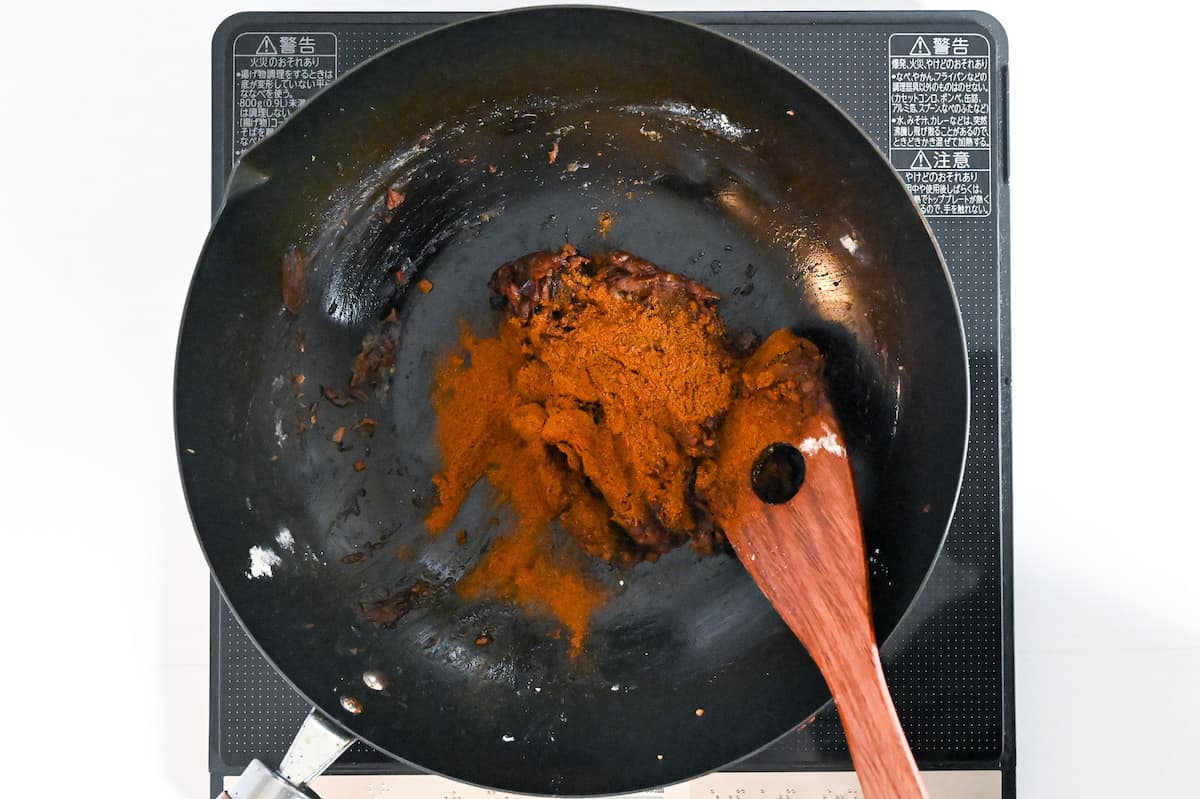 Add a small amount of beef stock and mix to break up the roux.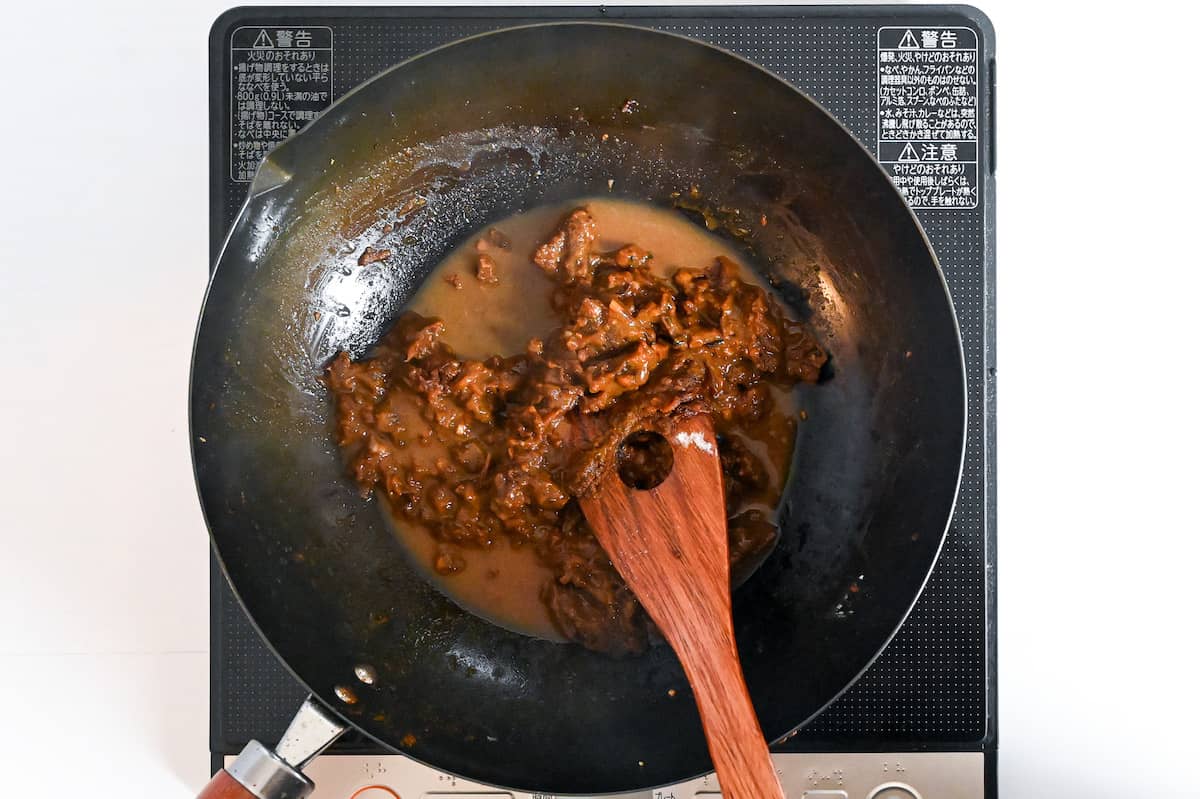 Once smooth, add the rest of the stock gradually while whisking.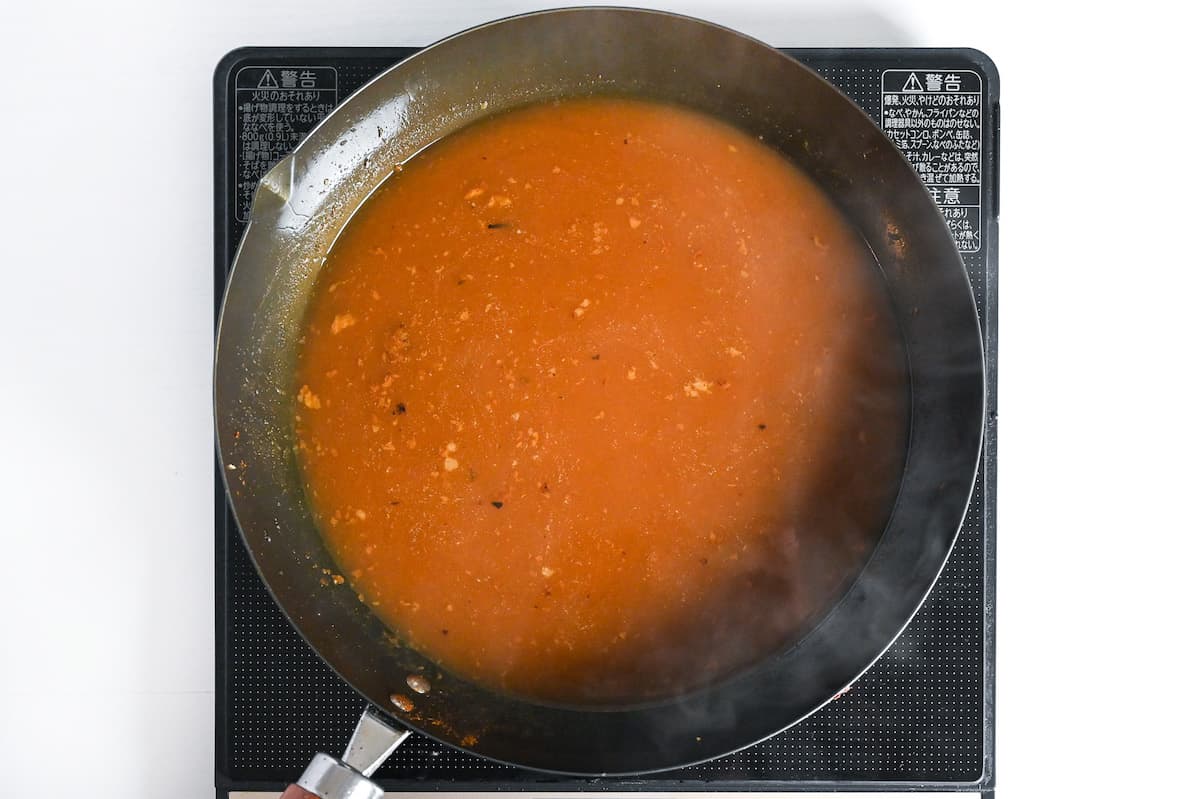 Add coriander powder, marmalade, ground cloves, cardamom powder and ginger powder and mix thoroughly.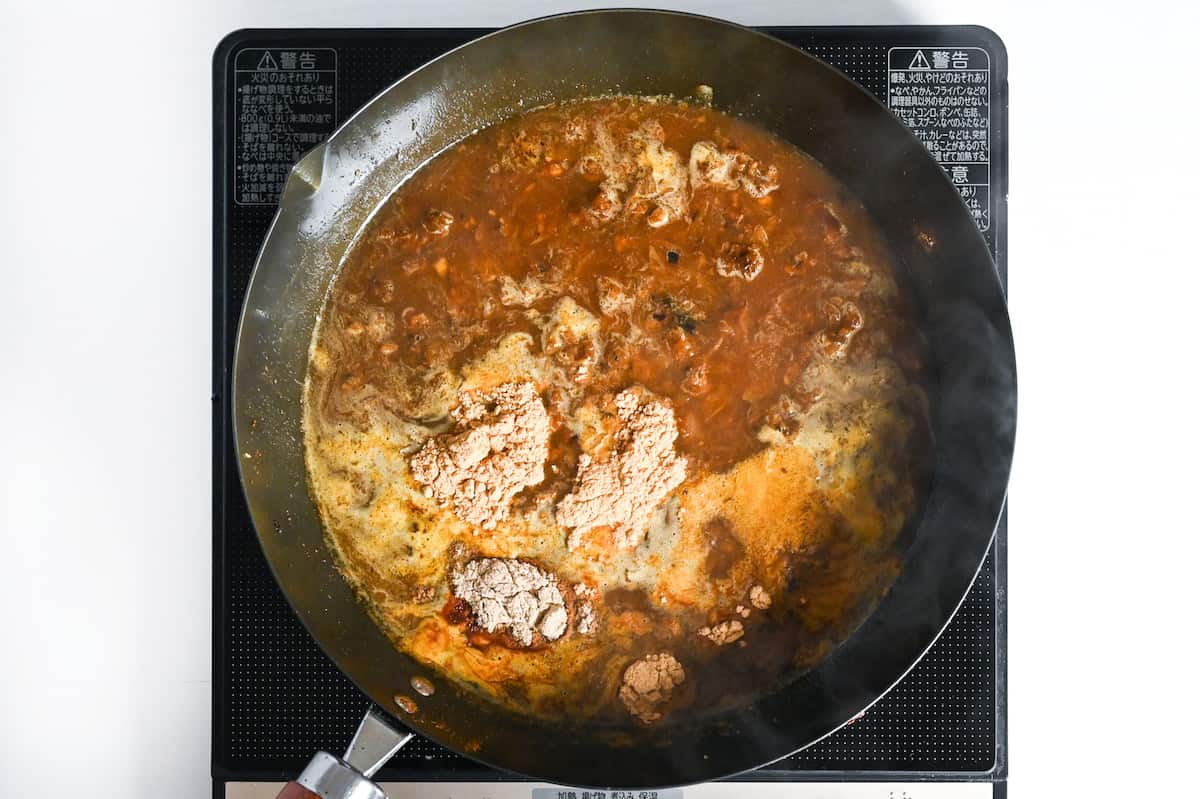 Finally, add a bay leaf and simmer without a lid for about 2 hours or until it reduces to a thick paste. This will create a concentrated curry paste that can be used like Japanese curry roux.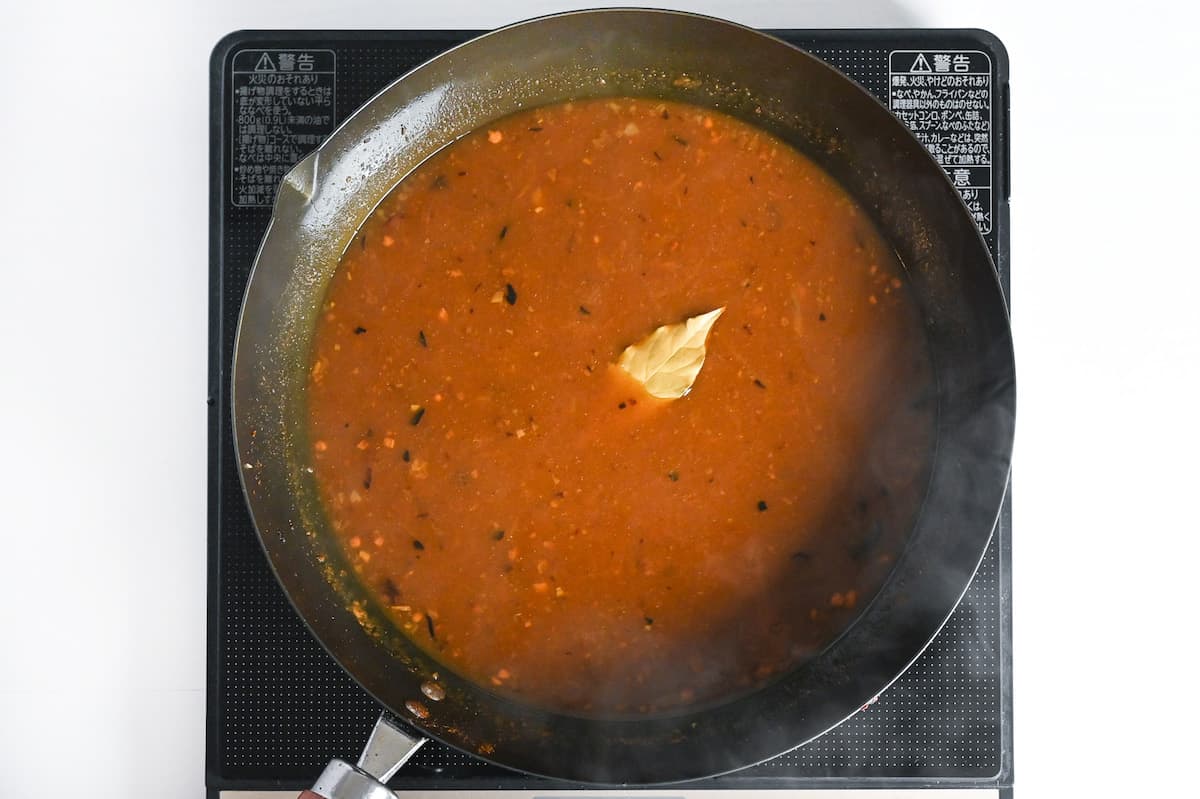 This recipe uses beef stock made with stock cubes. If you want to reduce the simmering time, try making a concentrated stock with less water. This is especially useful if you are doubling or tripling the recipe.
Once the roux has thickened to a paste, transfer to a wide container and leave to cool.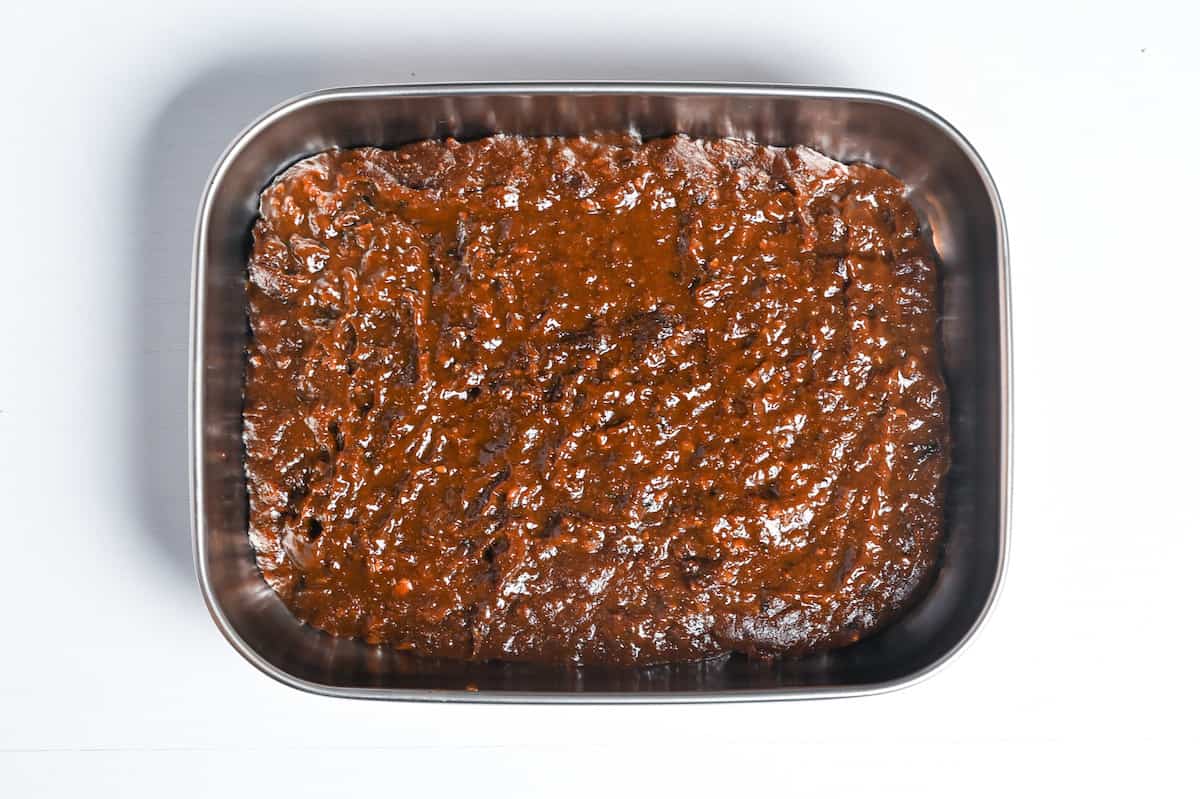 Once cool to touch, place a lid on top and store in the fridge for up to 4 days. This roux can also be frozen for up to 1 month.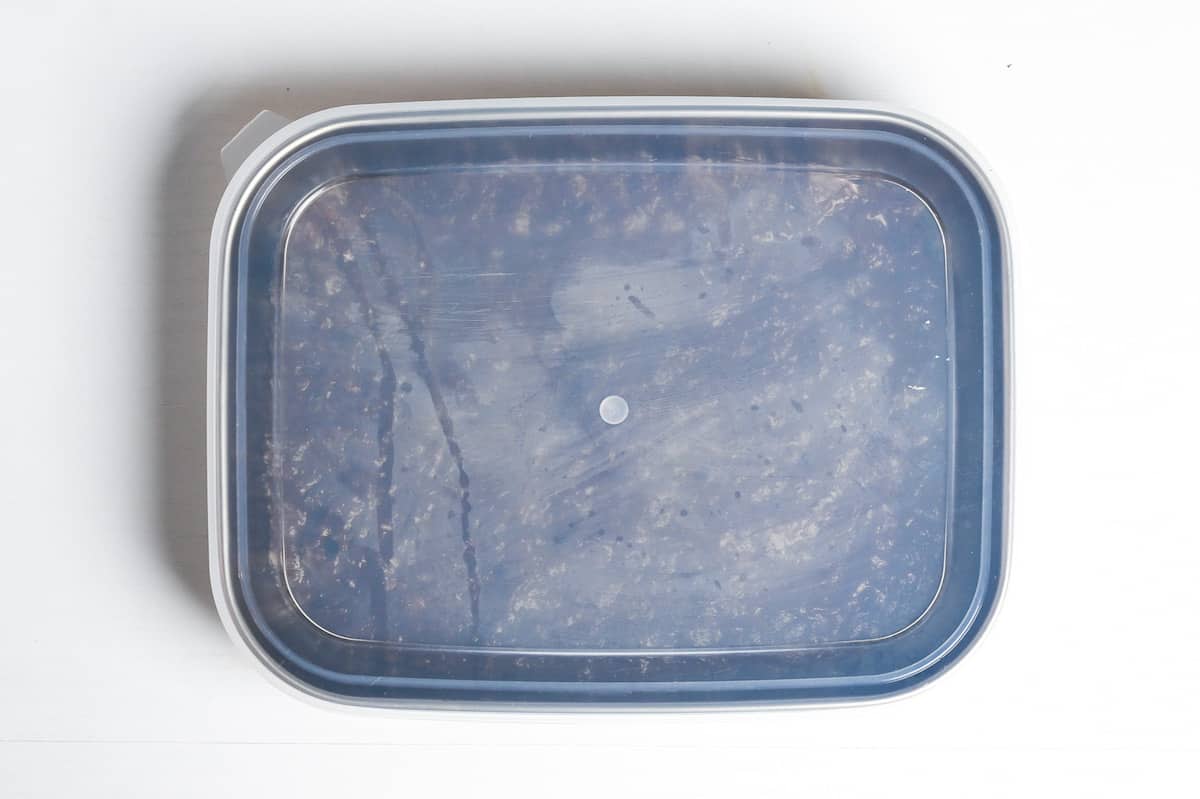 Making the Curry
Cut the beef into bitesize pieces and season with a pinch of salt and pepper. Peel the carrot and potato and cut them into large bitesize pieces. Try and keep the size of the vegetables uniform to help them cook more evenly.
Heat a large pot on medium and melt the butter. Add the beef and seal the surface on all sides.
Add the carrot, potato and soy sauce and stir everything together for about 1-2 minutes. I add the soy sauce at this point to add flavor to the vegetables.
Add the homemade curry roux and your choice of cooking liquid. I used black tea, but other options include dashi or plain water.
Mix thoroughly until the roux has dissolved into the liquid.
Now is your chance to get experimental and add a range of "secret ingredients." In this recipe, I add honey, apple jam, Worcestershire sauce, garam masala, coffee powder, nutmeg, and red wine. This might seem like a lot of random ingredients, but complexity is key. If you want more ideas for secret ingredients and their characteristics, check out all my secret tips here.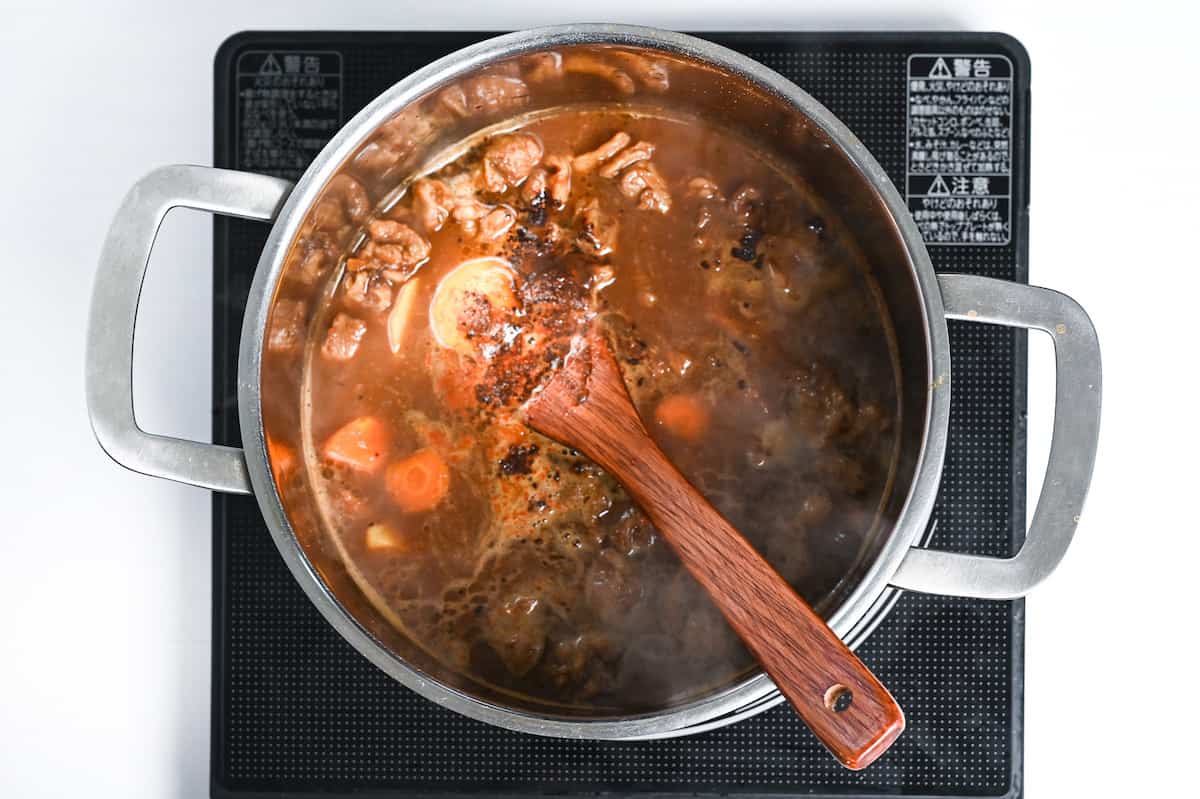 Simmer for about 10-20 minutes or until the vegetables are cooked through and the curry has thickened to your liking.
Serve homemade Japanese beef curry with white rice and pickles (optional). Maybe you could add a piece of katsu (fried pork cutlet) for an extra treat!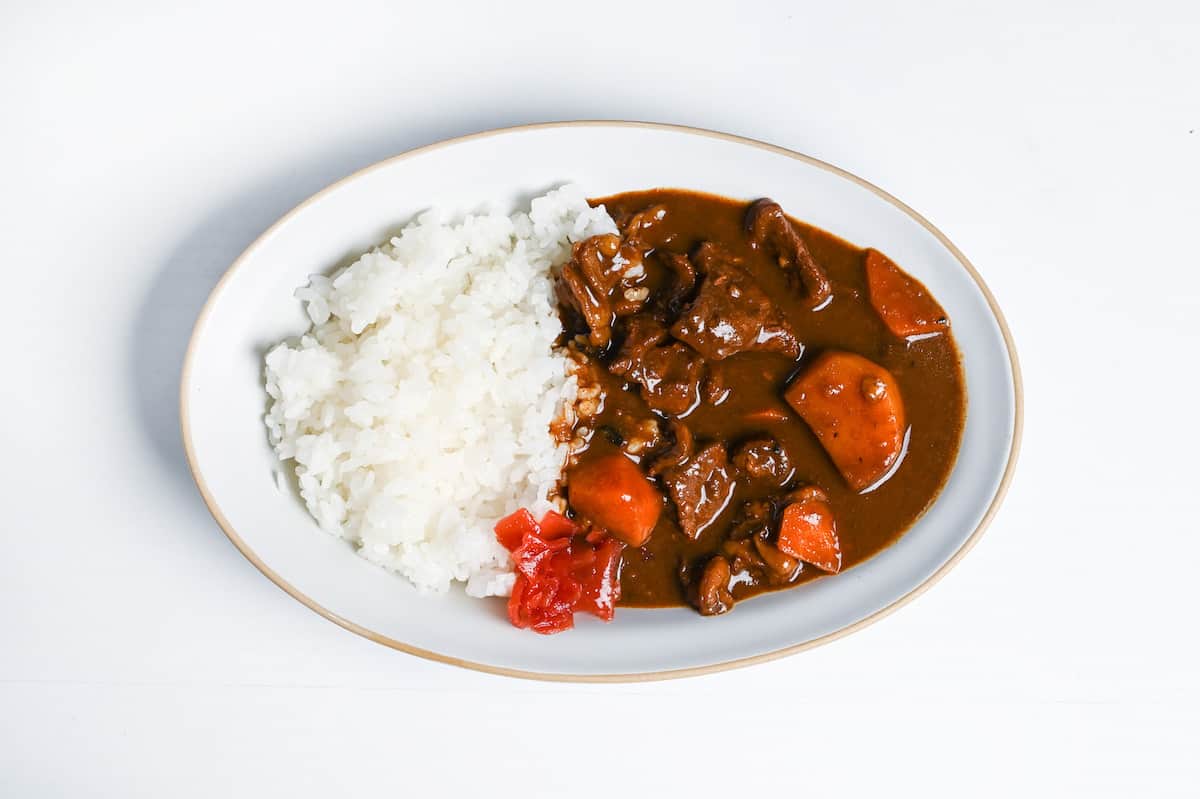 Enjoy!
Storage and Reheating
Making homemade roux for curry is quite time-consuming and I often make it in advance for meal prep. Homemade roux can be stored in a sealed container in the fridge for about 4 days and frozen for about one month. If you plan to cook curry in small batches, I recommend dividing the roux into portions before freezing. You can wrap each portion with saran wrap and then place them in a ziplock bag to protect them from freezer burn. When making the actual curry, the roux can be added directly to the pot without thawing.
Once the curry is made, it is important to store it properly to ensure it is safe to eat. Curry is a perishable food that should not be left at room temperature for an extended period. Refrigerate or freeze leftovers if it is not fully consumed when it is made.
When storing curry, sufficient cooling is crucial. Stirring the curry frequently can help it cool down more quickly. Once cooled, divide the curry into small portions and store them in containers or zipped storage bags. Using smaller containers or flat-zipped storage bags to store the curry is best. If you are concerned about color or odor transfer, I recommend glass containers rather than plastic or silicone.
If you wish to freeze curry, remove any root vegetables such as carrots or potatoes before freezing. Freezing these vegetables can cause them to lose their texture and flavor significantly. You can add freshly cooked vegetables to the curry when you reheat it.
Place small portions of the cooled curry into storage containers and freeze for up to a month. Freezing is a good option if you are not confident you can consume the curry within two days.
You can reheat the curry in a pot on the stove or in the microwave. Make sure it is reheated until piping hot before serving.
Room temperature - Not recommended.
Refrigerated - 2 days.
Frozen - Up to a month.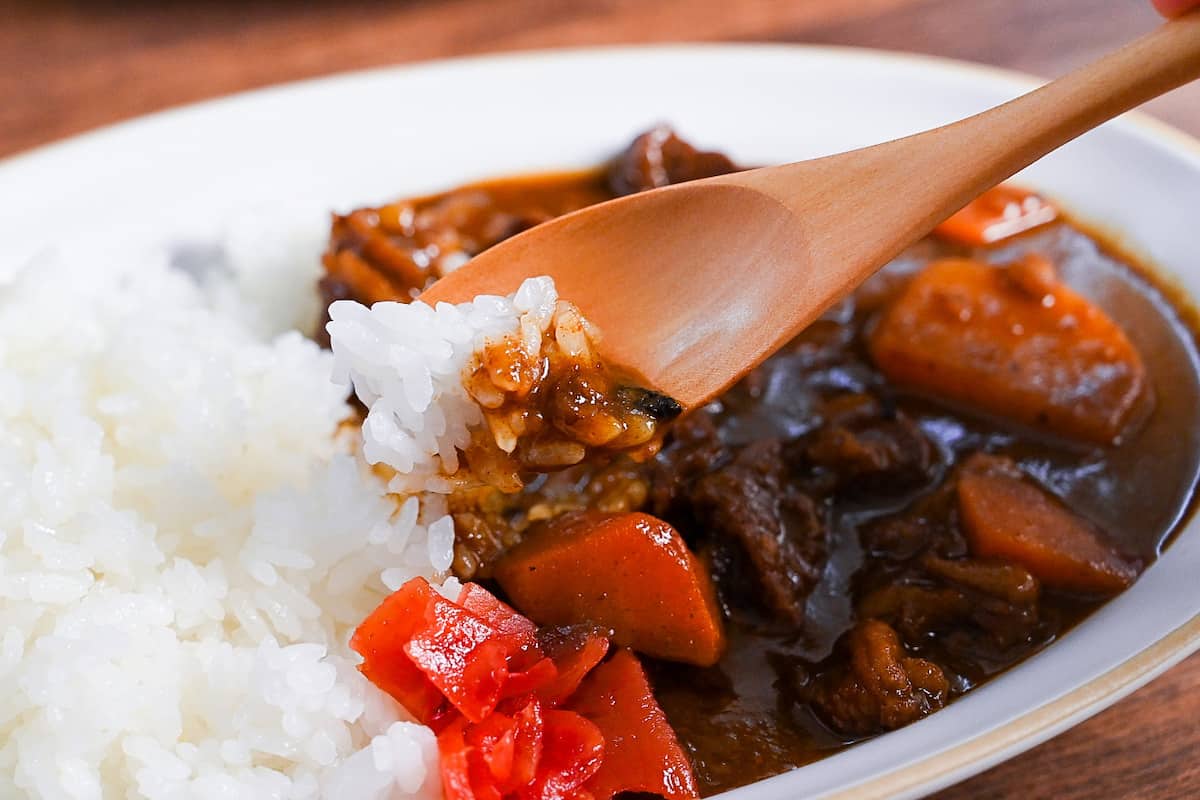 I hope you enjoy making your own Japanese beef curry from scratch with homemade roux! If you try out the recipe, I'd really appreciate it if you could spare a moment to let me know what you thought by giving a review and star rating in the comments below. What is your favorite secret ingredient? We love to hear from you!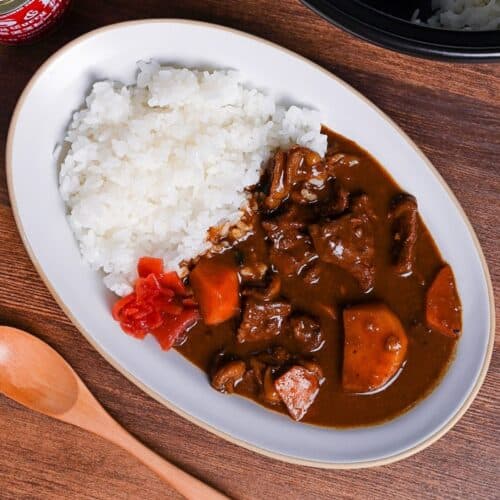 Homemade Japanese Beef Curry (Kare Raisu)
How to make your own delicious and complex Japanese Beef Curry from scratch with homemade roux!
Ingredients
Roux
3½

tsp

S&B curry powder

2½

tsp

cumin powder

1

tbsp

beef fat

-

or lard

3

cloves

garlic

-

finely minced

15

g

fresh ginger

-

finely minced

200

g

yellow onion(s) -

thinly sliced

50

ml

water

3

tbsp

all-purpose flour

900

ml

beef stock

-

liquid

2

tsp

coriander powder

3

tbsp

marmalade

½

tsp

ground cloves

1

tsp

cardamom powder

2

tsp

ginger powder

1

bay leaf
Curry
1

tbsp

unsalted butter

250

g

beef shoulder

-

bitesize pieces

150

g

carrot(s)

-

peeled and roughly cut

200

g

potato(s)

-

peeled and roughly cut

600

ml

black tea

1

tbsp

soy sauce

½

tbsp

honey

½

tbsp

apple jam

-

apple sauce or apple juice is also okay

½

tbsp

Worcestershire sauce

½

tsp

garam masala

1

tsp

coffee powder

½

tsp

nutmeg

2

tbsp

red wine

chili powder
Instructions
Making the Roux
Start by adding

3½ tsp S&B curry powder

and

2½ tsp cumin powder

to a dry pan and heat on medium until the flavour is released and the colour has darkened slightly. Stir occasionally to ensure even heating.

Heat a new pan on medium and add

1 tbsp beef fat

(or fat of your choice). Once it has melted a little, add

3 cloves garlic

and

15 g fresh ginger

and lightly fry until fragrant.

Add

200 g yellow onion(s)

and fry over a medium heat until golden and translucent.

Reduce the heat to medium low and continue to fry until caramelized (this takes approximately 30 minutes). Stir occasionally to prevent burning and add a few tablespoons of water if it starts to stick.

Once the onions are caramelized and dark brown, remove the beef fat and mix in

3 tbsp all-purpose flour

.

Next add the toasted curry powder and cumin from earlier, and mix thoroughly.

Add a small amount of beef liquid stock and mix vigorously to loosen up the paste.

Add the rest of the beef stock gradually, mixing thoroughly each time. You might want to switch to a whisk to help make it smooth.

Add

2 tsp coriander powder

,

3 tbsp marmalade

,

½ tsp ground cloves

,

1 tsp cardamom powder

and

2 tsp ginger powder

to the mixture and whisk until incorporated.

Add

1 bay leaf

and simmer for 2 hours without a lid. Stir occasionally and remove any scum/foam that forms around the edges.

Once the liquid has evaporated and you're left with a thick paste, transfer it to a container and allow to cool.

Cover and store in the fridge until ready use. (If you have time, rest overnight.)
Making the Curry
Cut

250 g beef shoulder

into bitesize pieces and sprinkle it with a pinch of salt and pepper.

Heat a pot on medium and add

1 tbsp unsalted butter

. Once melted, add the beef and fry until the surfaces are sealed.

Next add

150 g carrot(s)

,

200 g potato(s)

and

1 tbsp soy sauce

. Stir over the heat for 1-2 minutes.

Add the curry roux and gradually pour in

600 ml black tea

. Mix thoroughly to break up the roux into the tea.

Now you can add your choice of secret ingredients, I added

½ tbsp honey

,

½ tbsp apple jam

,

½ tbsp Worcestershire sauce

,

½ tsp garam masala

,

1 tsp coffee powder

,

½ tsp nutmeg

and

2 tbsp red wine

. (You can add more and less depending on your tastes and what's available to you.)

Mix and simmer until it reaches your desired thickness. (About 10- 20 mins)

Enjoy with Japanese white rice and some crunchy fukujinzuke pickles!
Notes
Cooking time doesn't include the time the roux is rested in the fridge. It's not an essential step but it tastes better the next day.
The curry roux is a paste and can't be made into blocks (unless you try freezing it). If you want to store it, you can keep it in the fridge for up to 4 days or freeze it for 1 month.
I recommend dividing the roux into portions before freezing, this recipe is for 4-5 portions.
You can also freeze the curry after it's been made. Transfer to a glass container (to prevent staining) and remove any root vegetables in the curry (it doesn't freeze well.) It can be frozen for 1 month. Microwave to reheat and add freshly cooked vegetables.
If you want a spicier curry, you can add more chilli powder. If you want it to be sweeter add more honey and if you want it to be saltier add more soy sauce or salt. Adjust to suit your taste!
FAQ
What is kare raisu made of?
The most classic kare raisu dish consists of curry roux, beef, potatoes, onions, and carrots as the main ingredients, served with freshly cooked Japanese rice.
What is kare raisu in Japanese?
It is "カレーライス" in Japanese, or often it's shortened to カレー.
What does kare raisu taste like?
Japanese kare raisu is not so similar to Indian curry, but more like European beef stew, with many curry spices added to it. This is because kare raisu originally came from England.
What is the origin of kare raisu?
Originally introduced from India to England, the curry was introduced to Japan by England in the late 19th century. In 1905, the first domestically produced curry powder was launched, and kare gradually shifted from a luxury food to a popular everyday meal.
What is raisu in Japanese to English?
The term raisu (ライス) is a phonetic translation of "rice".
What is the most common curry in Japan?
Historically, the most classic Japanese kare raisu refers to beef curry rice.