This soft and flavorful Japanese Simmered Pumpkin is the ultimate comforting side dish. Made with "kabocha" simmered in a delightful assortment of Japanese condiments, it's the perfect side or bento box addition!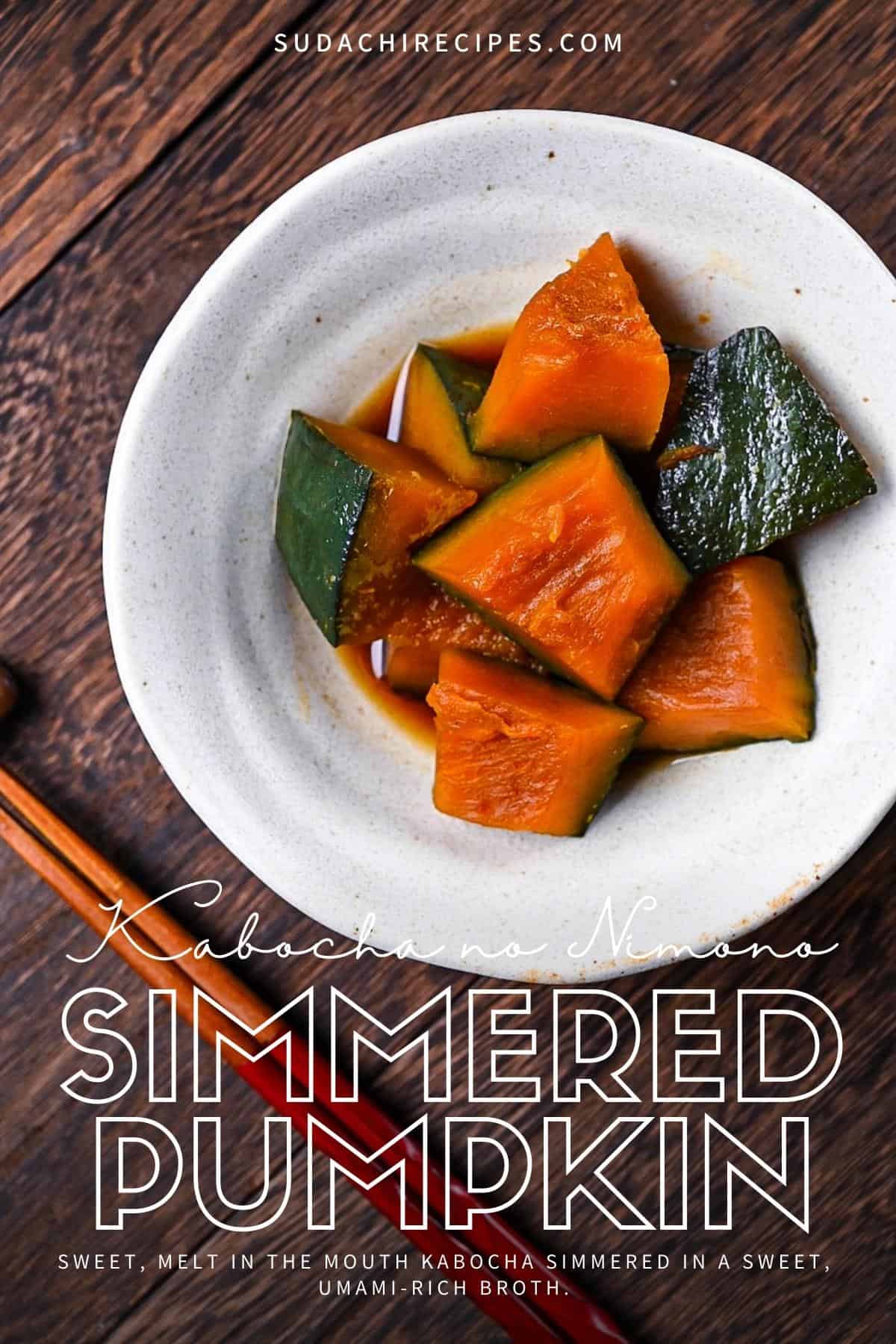 Disclaimer: This post contains Amazon affiliate links. Sudachi Recipes earn a small percentage from qualifying purchases at no extra cost to you. See disclaimer for more info.
Jump to:
What is Kabocha?
Before I introduce you to this classic side, let me tell you a little about the star of the dish, kabocha!
Kabocha (かぼちゃ) is a type of winter squash, and the most popular kind of "pumpkin" available in Japan. Although it is often known as "Japanese winter squash" or "Japanese pumpkin", kabocha originated from Cambodia and was introduced to Japan in the mid-1500's by Portuguese sailors.
Over time, kabocha was modified through selection, leading to the kabocha as we know it today. Known for its edible dark green skin and bright orange flesh which boasts a sweet, creamy texture, kabocha is an ingredient that goes well in both savory and sweet dishes.
Kabocha are typically harvested in the summer, but because they can be stored for a long time, they can be enjoyed throughout autumn and winter. In fact, if you store the whole pumpkin without cutting it, it will last for several months.
It is for this reason that kabocha holds an important place in Japanese cuisine and culture, and traditionally would be eaten as a source of nutrition during the winter months when crops couldn't grow. It is even a Japanese tradition to eat kabocha on the day of the winter solstice, where it was believed to bring good health throughout the colder months.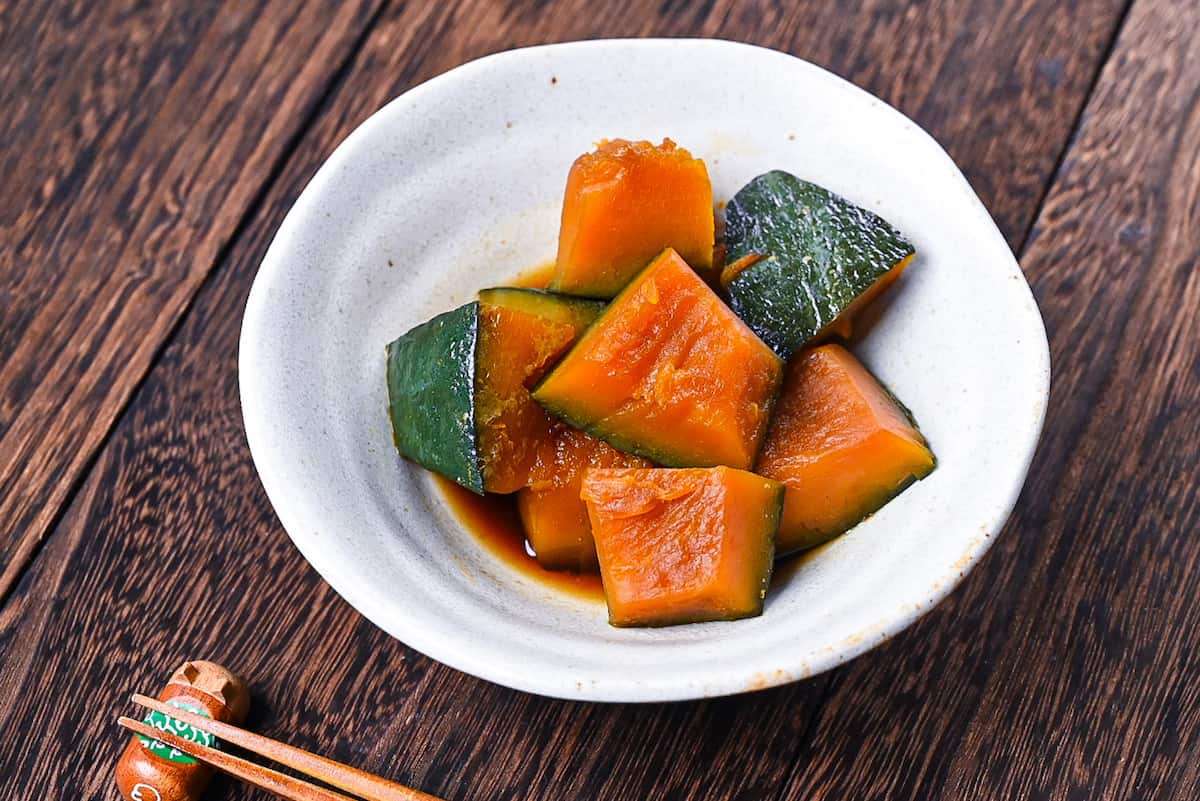 What is Kabocha no Nimono?
"Kabocha no Nimono" (かぼちゃの煮物) is a simmered dish made with bitesize pieces of kabocha cooked in a dashi-based broth seasoned with Japanese condiments such as soy sauce, sake and mirin. "Nimono" is a popular Japanese home-style cooking method and can be used for a variety of root vegetables, meat and fish.
Kabocha works particularly well for nimono since the soft flesh absorbs all the flavors of the broth, creating a delightfully soft and flavorful side dish. The skin is often left on, which adds to its visual appeal with its deep green appearance. The skin is packed with nutrients and stops the kabocha from falling apart during and after cooking.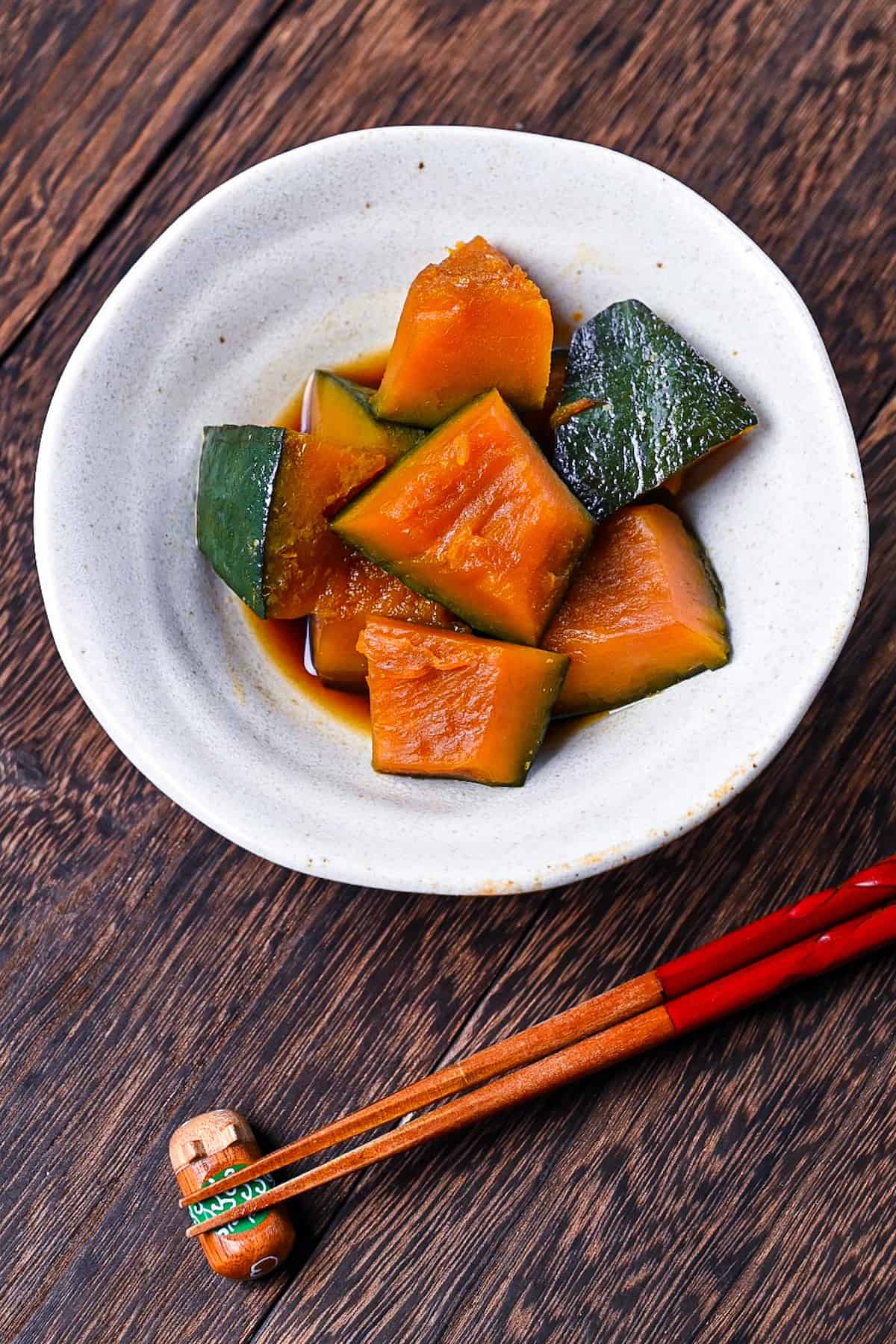 Ingredients and Why I Use Them
Here is a list of ingredients I use to make Japanese simmered pumpkin along with explanations as to what they contibute to this dish:
Kabocha - The star of the dish! When selecting kabocha, try to choose one with bumpy skin and a slightly dried stem. These are matured and have a sweeter and better flavor. You could also make nimono with other varieties of squash such as butternut squash or acorn squash if they are easier to find.
Dashi Stock - This Japanese soup stock is an essential ingredient for adding authentic flavor and umami to your cooking. The type of dashi you use is up to you, but I used my homemade awase dashi made with dried kelp and bonito flakes for this recipe. You could also use dashi bags (my favorite brand is Kuze Fuku & Sons) or instant dashi for convenience.
Mirin - Also known as "sweet rice wine", this condiment adds depth of flavor and sweetness to the dish. Be sure to use "hon mirin" for the best flavor and not "mirin-style seasoning" (fake mirin).
Sugar - For added sweetness, I prefer to use light brown cane sugar to avoid making the dish overly sweet. You can adjust the amount to suit your tastes.
Soy Sauce - One of the main flavors of the dish and adds a salty, umami-rich flavor to the dish. I recommend sticking with Japanese brand soy sauce such as good quality and affordable Kikkoman Soy Sauce. If you want to learn more about soy sauce, check out my post here for more recommendations.
Sake - A Japanese rice wine used for both drinking and cooking. When added to the dish, it adds depth and a subtle bitterness that works in harmony with the soy sauce and mirin, creating a balanced flavor that can't be beat! Sake can be subtituted with dry sherry or white wine. For those who can't use alcohol in their cooking, I would swap it out for water and a tiny splash of white wine vinegar.
This dish might already appear to be suitable for vegans and vegetarians, but be careful when choosing your dashi stock since they often contain fish (bonito, sardines, etc). When making this dish plant-based, use shiitake dashi, kombu dashi or a mixture of both (plant-based awase dashi).
Step-by-Step Process
Here are my step-by-step instructions for how to make delicious and easy kabocha no nimono. For ingredient quantities and simplified instructions, scroll down for the printable recipe card.
Start by cutting the kabocha in half (or quarters, depending on how much you want to make) and scoop out the seeds with a spoon.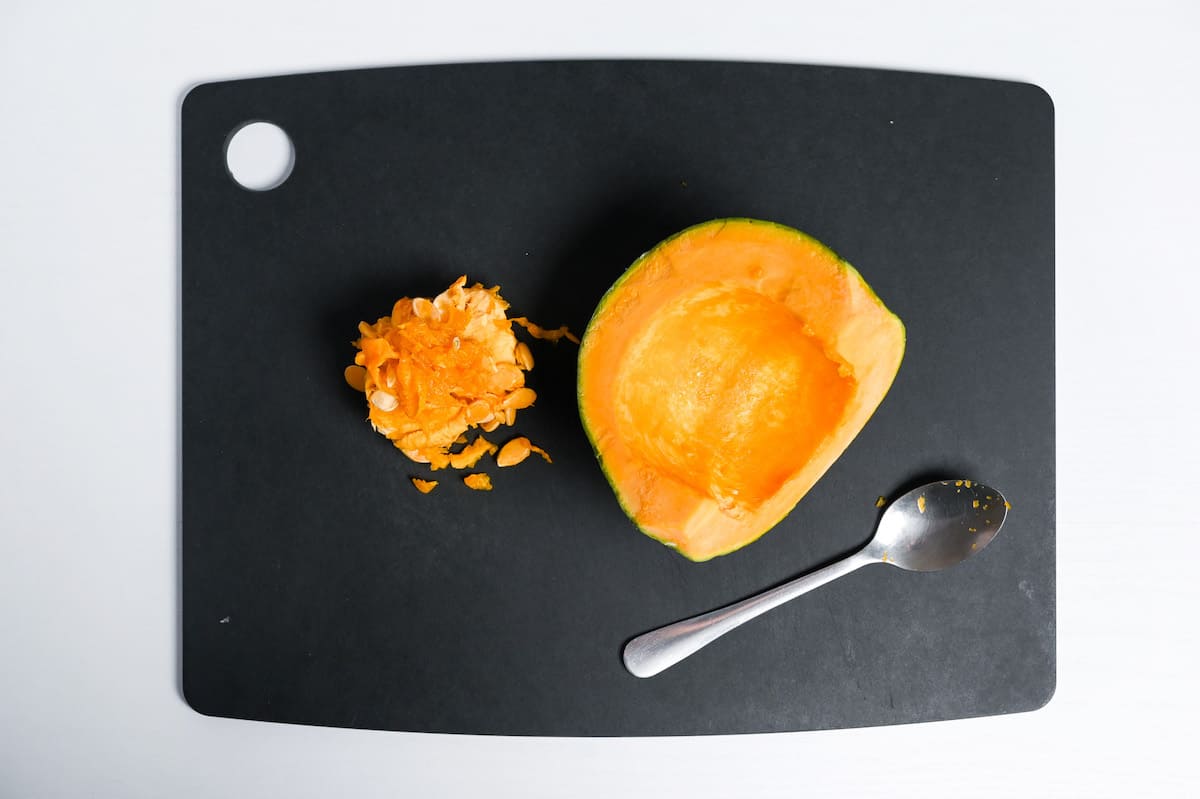 Cut the kabocha into large bitesize pieces, leaving the skin on. Try to keep the sizes uniform to ensure even cooking.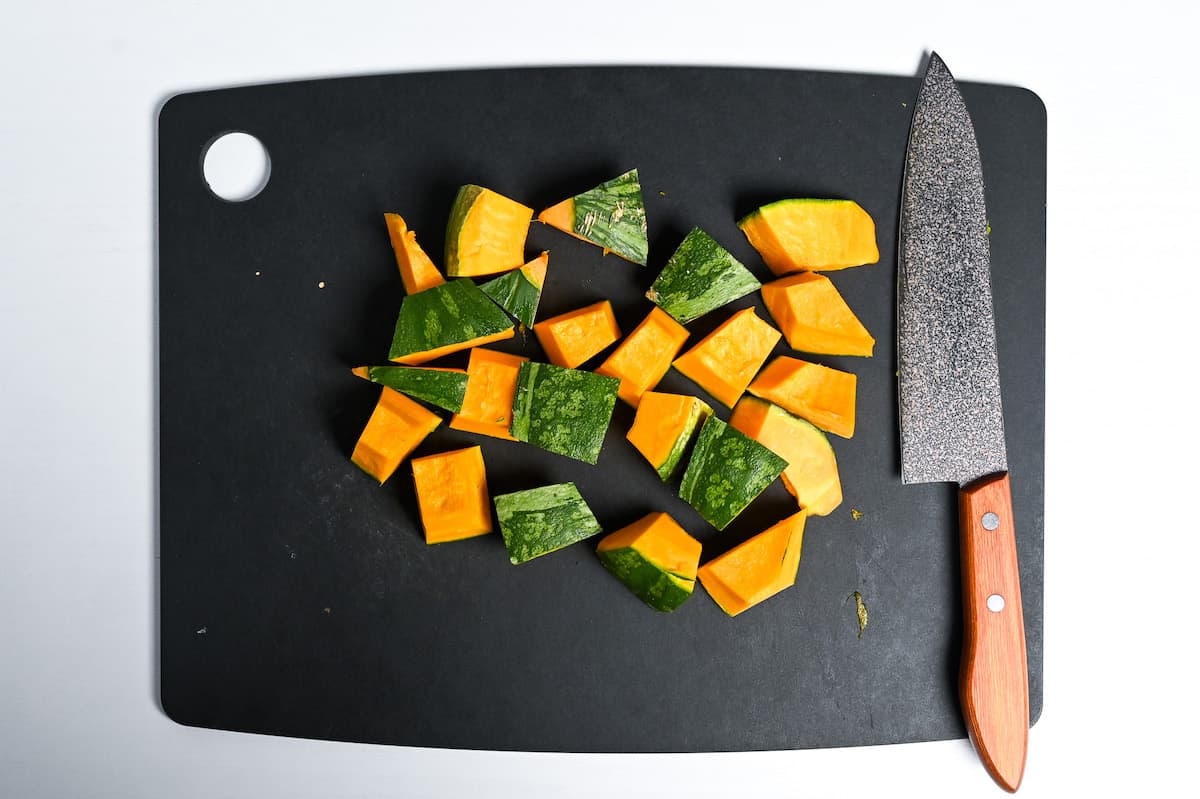 Place the kabocha down flat so it doesn't roll when you cut it, and be sure to use a sharp knife to cut it smoothly with less force.
Take a large saucepan, wide enough to fit the kabocha in one layer. Place the kabocha pieces at the bottom of the pan with the skin side facing up.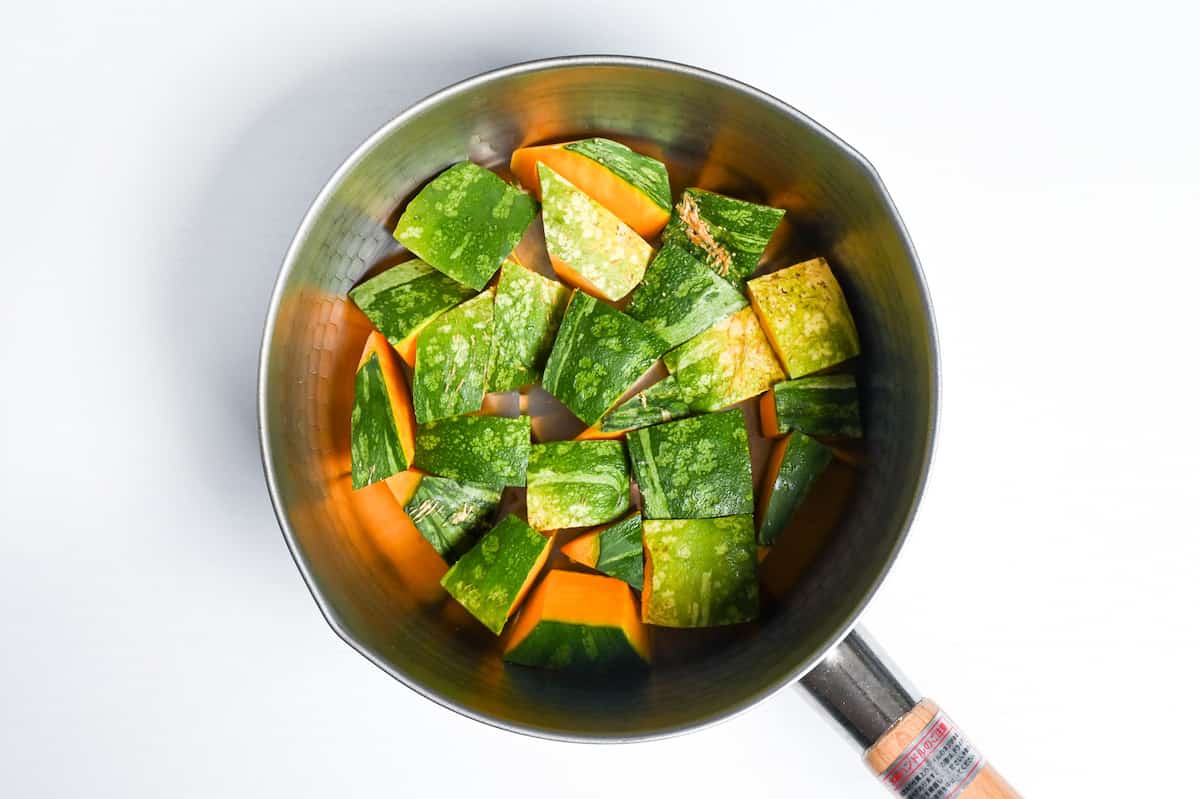 Add your choice of dashi stock to the pot and place it on the stove over a medium heat.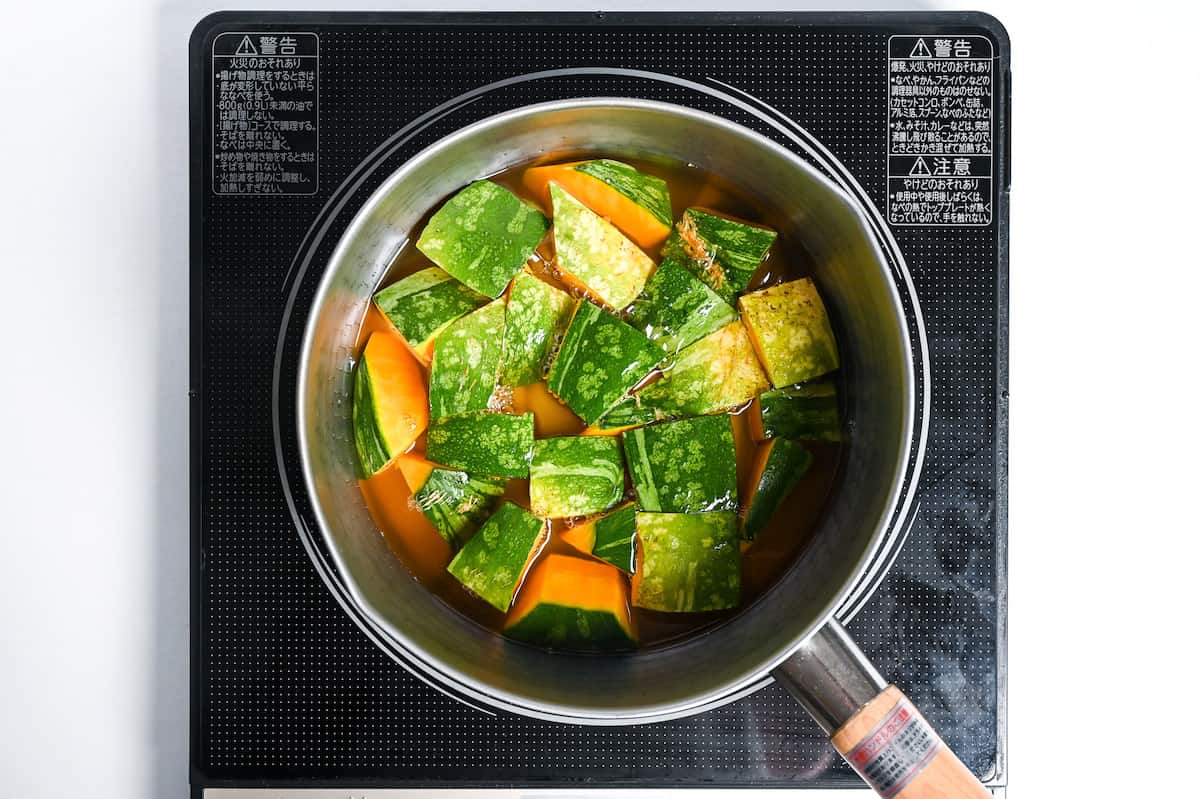 Add condiments and seasonings
Once the dashi begins to boil, add the sugar, mirin, sake and soy sauce, and allow to boil for 2 minutes.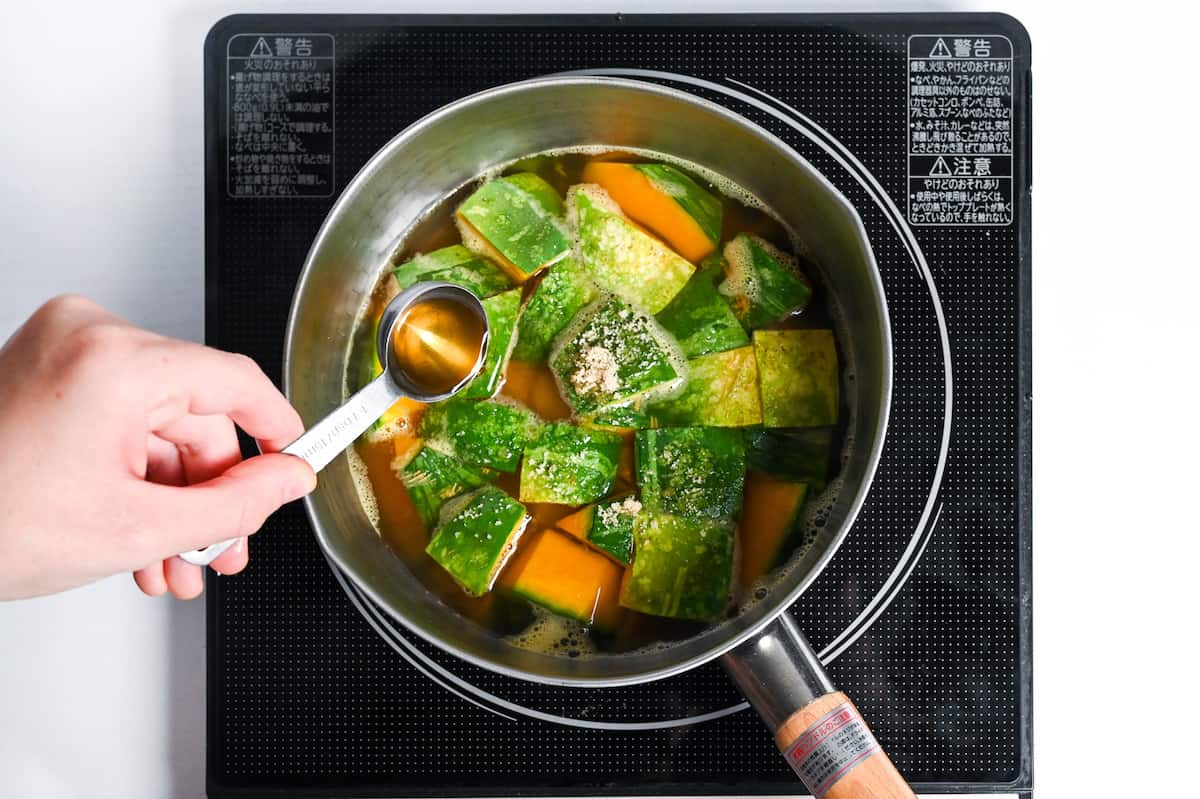 Lower the heat to a simmer and place the drop lid on top so that it is in direct contact with the surface of the kabocha. If you don't have a drop lid, you can use a piece of foil or baking paper.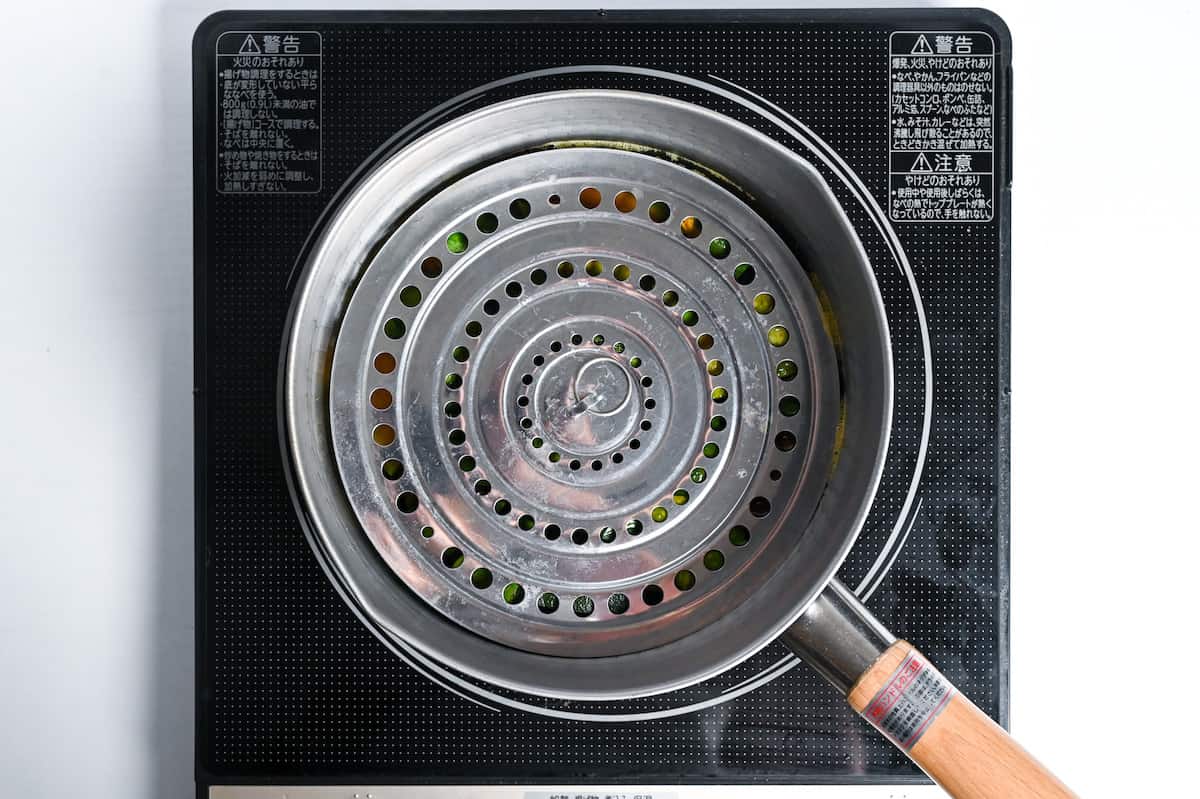 Using a drop lid helps the broth disperse more evenly around the kabocha. It also stops the kabocha pieces from moving around in the broth and breaking. To learn more about how to make a drop lid and why we used them, check out my post here.
Simmer for 10-15 minutes or until you can pierce the kabocha with a fork. Check occasionally and be careful not to overcook.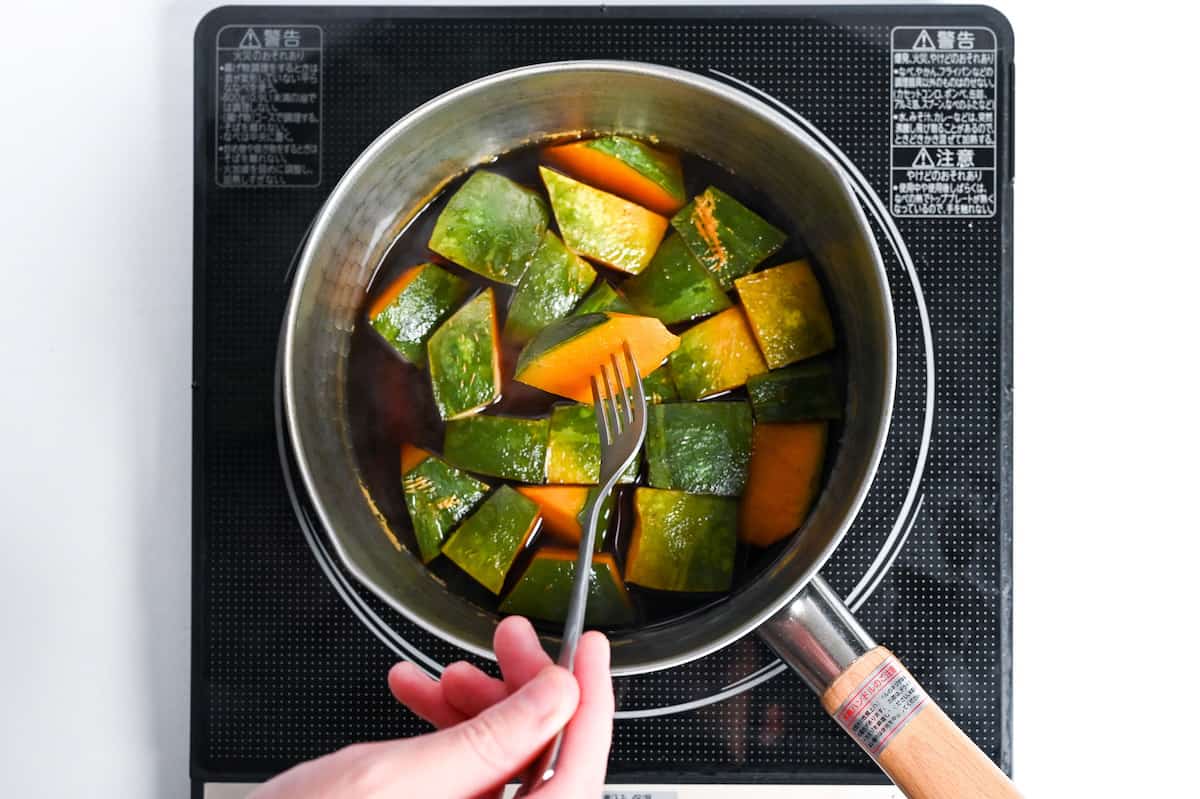 Kabocha nimono can be served either hot or cold. Enjoy as a nutritious side dish, also a great addition for bento boxes!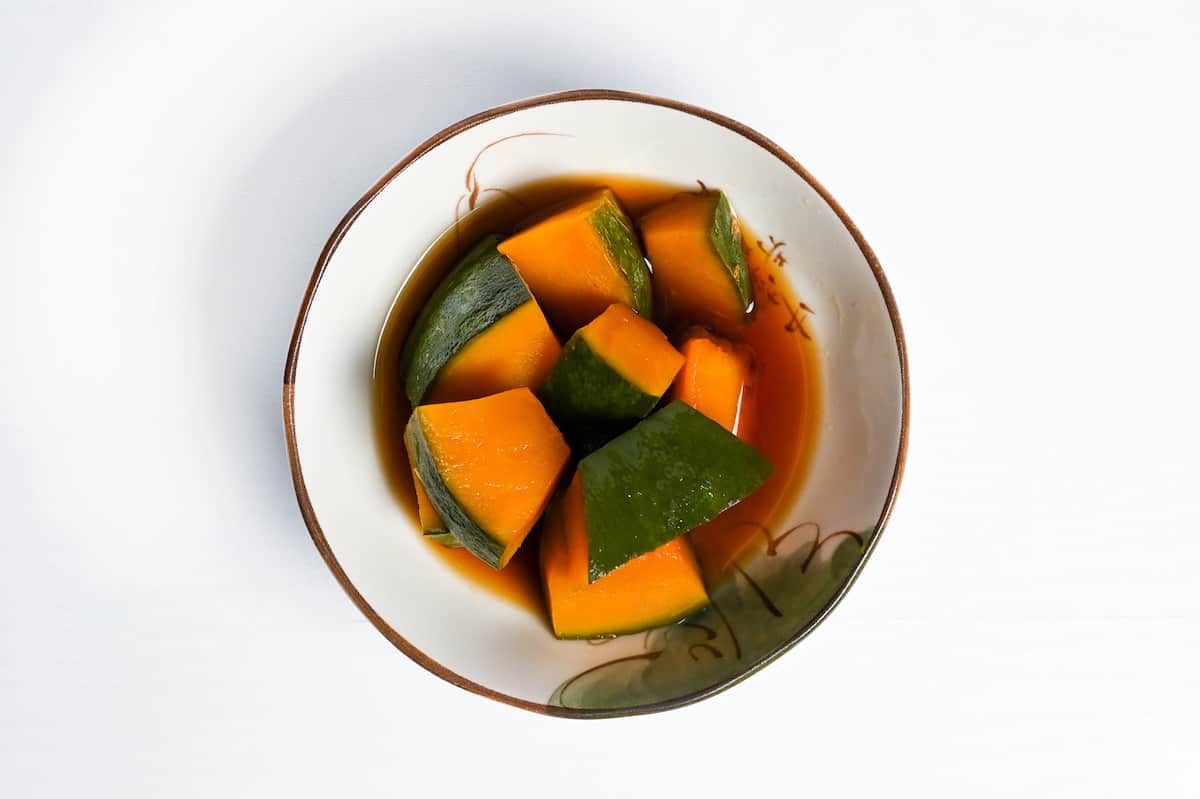 Tips & Tricks
Kabocha nimono is easy to make, but here are a few tips to make it perfectly every time!
Tips for Making Fail-Free Kabocha no Nimono
Cut the kabocha in halves or quarters first so that at least one edge is flat. This will stop it from rolling when you cut it.
Use a sharp knife. Kabocha is very hard when raw and a sharp knife is actually safer since you can cut using less force.
Try and cut each piece to the same size so that they cook evenly.
Leave the skin on to stop the kabocha from breaking.
Use a wide pan so that you can make one layer of kabocha. It shouldn't be stacked or overlapping, as this will cause some pieces to be undercooked.
Using a drop lid promotes even cooking and flavoring.
Check the softness after 10 minutes of simmering; it is easy to overcook kabocha.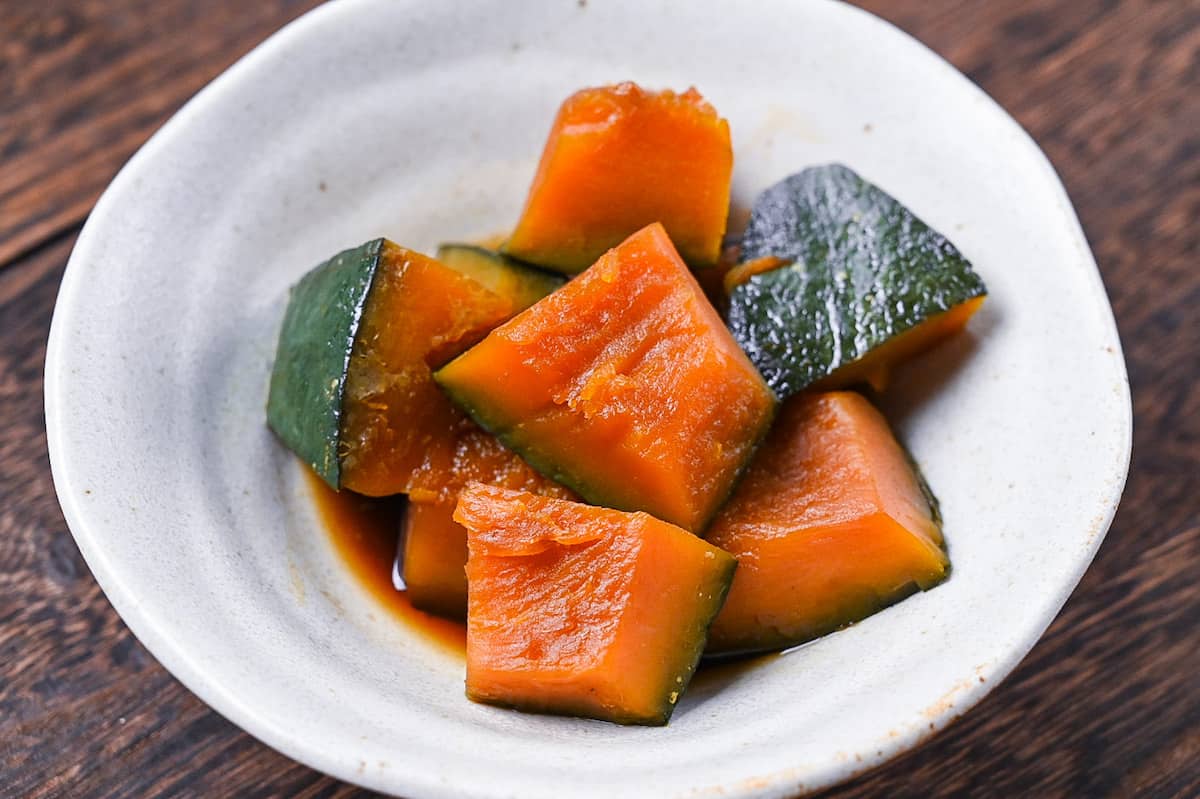 Storing and Reheating
Kabocha no Nimono can be stored in an airtight container in the fridge for 3-4 days. Leaving it in the broth will make it deteriorate faster so it is recommended to discard the broth before storing.
You can also freeze it for up to one month. Divide into smaller portions and wrap with plastic wrap, then store in a freezer bag or airtight container to protect it from freezer burn.
Frozen simmered pumpkin can be defrosted in the fridge. If serving in a bento, it is recommended to add it frozen so that it can thaw at room temperature and stay cool until it is time to eat.
Kabocha no nimono can be eaten both hot or cold so there is no need to reheat unless that is your preference. Reheating is not recommended since it can cause the texture to become too soft, but if you prefer it hot, microwaving is the best method.
Room temperature - Not recommended.
Refrigerated - Discard broth and store for 3-4 days in an airtight container.
Frozen - Discard broth and wrap. Freeze for up to 1 month.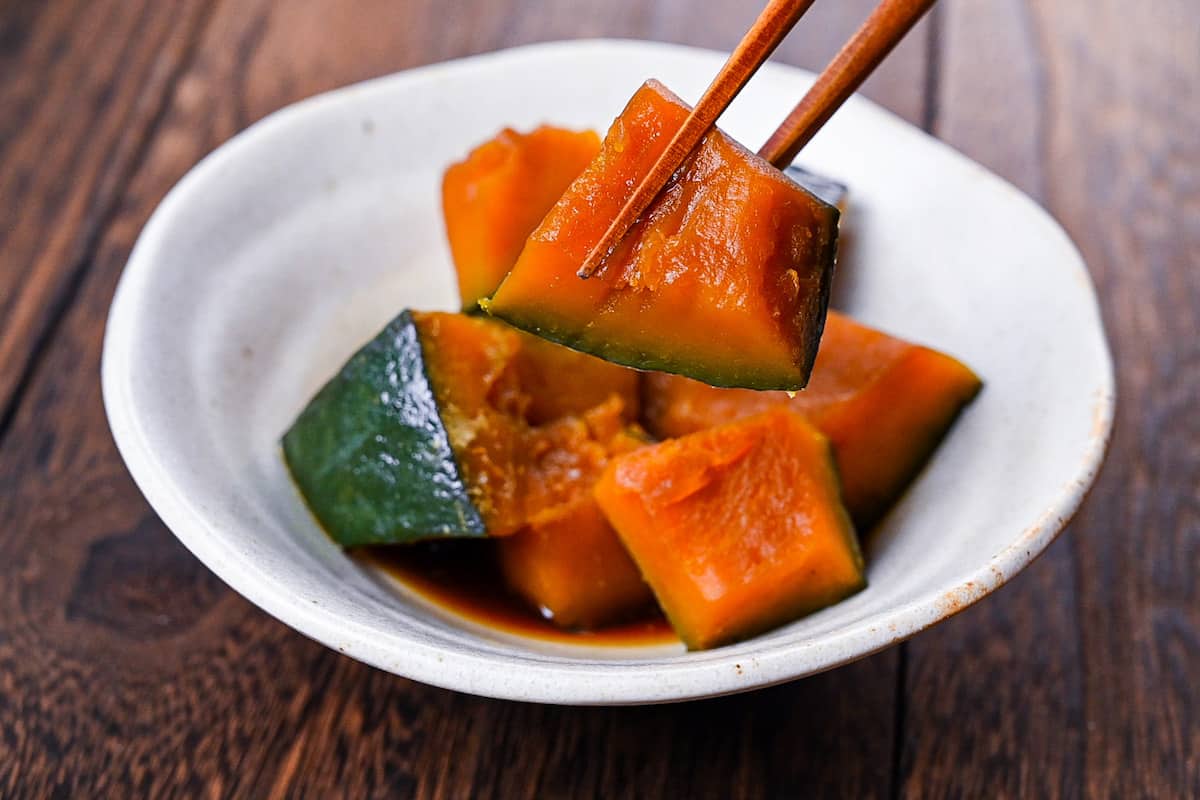 I hope you enjoy this comforting Japanese simmered pumpkin recipe! If you try it out, I'd really appreciate it if you could spare a moment to let me know what you thought by giving a review and star rating in the comments below. It's also helpful to share any adjustments you made to the recipe with our other readers. Thank you!
Check out my other kabocha recipes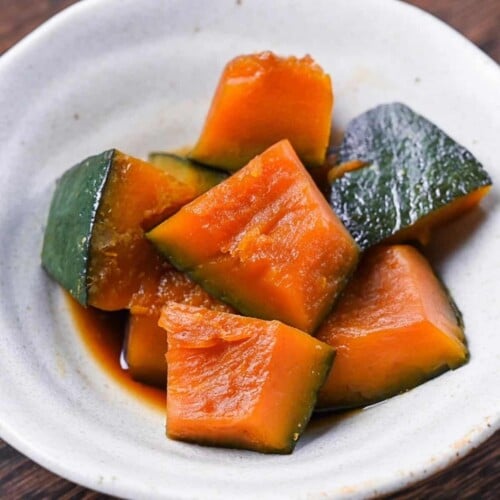 Japanese Simmered Pumpkin (Kabocha no Nimono)
How to make delicious Japanese Simmered Pumpkin made with tender pieces of kabocha squash cooked in a flavorful dashi-based broth.
Ingredients
450

g

Japanese kabocha squash

-

skin-on

300

ml

dashi stock

2

tbsp

mirin

½

tbsp

sugar

2

tbsp

soy sauce

2

tbsp

sake
Instructions
First, scoop the seeds and soft pulp out of

450 g Japanese kabocha squash

and discard.

Cut the kabocha into equal size chunks, leaving the skin on.

Place the kabocha pieces in a large pot with the skin side facing up. Make sure the kabocha pieces make only one layer in the pan so that the pieces aren't overlapping or sitting on top of one another.

Add

300 ml dashi stock

to the pot, place on the stove and bring to a boil over a medium heat.

Once the dashi is boiling, add

½ tbsp sugar

,

2 tbsp mirin

,

2 tbsp soy sauce

and

2 tbsp sake

Continue to boil for 2 minutes and then lower the heat to a simmer.

Place a drop lid in the pot touching the surface of the kabocha (you can use a sheet of foil or baking paper if you don't own a drop lid) and simmer for 10 mins.

Pierce with a fork to check the softness. If it's not fully done, continue to simmer with the drop lid and check every 2-3 minutes.

Enjoy!
Notes
Allow to cool and discard the broth before storing.
Refrigerate in an airtight container for 3-4 days.
To freeze, divide into portions and wrap with plastic wrap. Store in a ziplock bag or sealed container to protect from freezer burn and use within 1 month. Thaw in the fridge overnight or in a bento box for 1-2 hours.
FAQ
What is kabocha?
Kabocha is a type of winter squash and is also known as "Japanese pumpkin".
How do you cut kabocha?
Since the texture is very hard, it is recommended to use a sharp knife and cut the kabocha into halves or quarters first so that you can lay it flat on one side and prevent it from rolling.
What do you serve with kabocha nimono?
Kabocha no nimono is a side dish and can be served alongside a whole range of Japanese dishes. We typically serve is as part of "ichiju sansai" (1 soup, 3 sides) with rice, a main dish, soup and kabocha no nimono as one of the sides.