Rich, chewy and fudgy, dark chocolate and matcha brownies are a match made in heaven! The perfect balance of bitter and sweet, they're so addictive and I promise you'll want to make them again and again!
Disclaimer: This post contains Amazon and Dokodemo affiliate links. Sudachi Recipes earn a small percentage from qualifying purchases at no extra cost to you. See disclaimer for more info.
What are Matcha Brownies?
This matcha and dark chocolate brownie recipe ticks all the boxes! Made with matcha green tea powder instead of cocoa gives these brownies a subtle and earthy twist, while the dark chocolate keeps them rich and chocolatey. The texture is chewy on the outside, fudgy in the middle and the overall taste is rich and delicious without being overly sweet.
You might wonder if matcha and chocolate go well together. Well, they certainly do! In fact, the combination of dark chocolate and matcha in particular results in a slightly bitter flavor that helps create the perfect balance and elegant taste. This recipe can be enjoyed by both chocolate and matcha lovers alike, it really is the best of both worlds!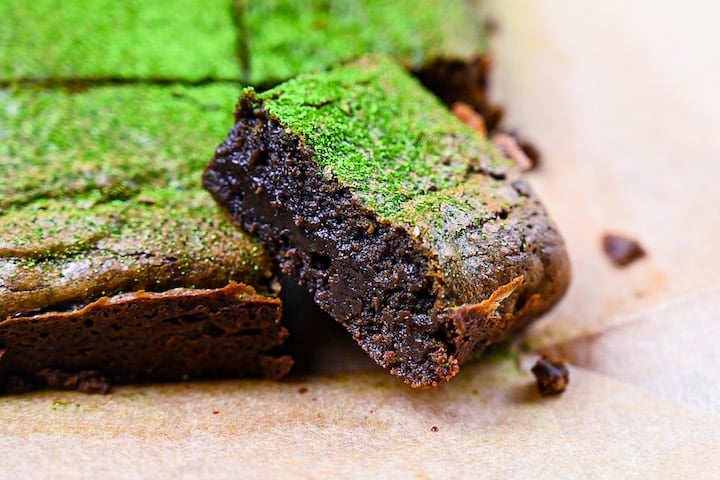 What is Matcha?
So, one of the key ingredients in this recipe is "matcha". But what is it? And what does it taste like?
Matcha is a type of tea that is made by grinding green tea leaves into a fine powder. Traditionally, the powder is mixed with hot water and enjoyed as a beverage. However, these days it is much more common to enjoy matcha flavored snacks in daily life. In fact, it is one of the most popular sweet and dessert flavors in Japan.
There are two main grades of matcha which vary in quality, price and usage.
Ceremonial– The highest quality matcha made with the first leaves of the harvest. This kind has a smooth flavor and is only used for drinking so you can fully enjoy its elegant taste.
Culinary – Made with leaves from the second harvest. Has a stronger "grassy" or "bitter" taste, but is perfect for flavoring desserts and in sweetened drinks like lattes or smoothies.
The flavor is often described as bitter, earthy or grassy but its flavor is light and refreshing. By combining matcha's unique taste with the sweetness of desserts, the dish becomes more balanced and this contributes to its ever-growing popularity in Japan and beyond.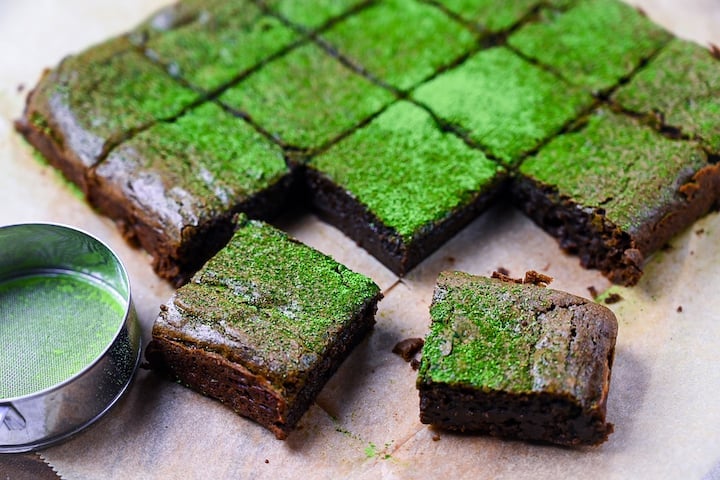 Ingredients You Will Need
Here are the ingredients you will need to make this rich and fudgy Matcha and Dark Chocolate Brownies from scratch at home:
Dark chocolate – I use 70% cocoa solids, but anything 50% and up will work well.
Unsalted butter – makes it easier to control the salt content. If using salted, you can omit the pinch of salt in the recipe.
Caster sugar – melts into the batter and helps create the shiny, chewy top.
Light brown sugar – contributes to that essential fudgy texture!
All-purpose flour – also known as "plain flour" ensures the texture is fudgy rather than cakey.
Matcha powder – use a good quality culinary grade matcha like this organic matcha by Akahori Shoten or unsweetened matcha powder by Ito En (affiliate). Make sure it's fresh (the color should be bright green) and store it in a cool dark place after opening.
Eggs – add moisture, richness and tenderness to the mixture.
Vanilla essence – adds depth of flavor. If you prefer to use vanilla extract, use half the amount.
A pinch of salt – helps enhance the flavor of the chocolate and matcha.
Feel free to add extras to the batter, here are a few ideas:
Nuts
Chocolate chips
Dried fruits
Curious about the exact brands and products that bring my recipes to life? Discover the brands and ingredients behind my recipes at the Sudachi Amazon Storefront. Explore my handpicked pantry essentials and find your next kitchen favorites!
Step-by-Step Process
Measuring out your ingredients in advance and letting them come to room temperature will make them easier to mix and incorporate.
Once you're ready to start, preheat your oven to 180°C (356°F) or 170°C (338°F) for fan assisted ovens.
Combine chocolate and butter
Place your chocolate and butter in a heatproof bowl.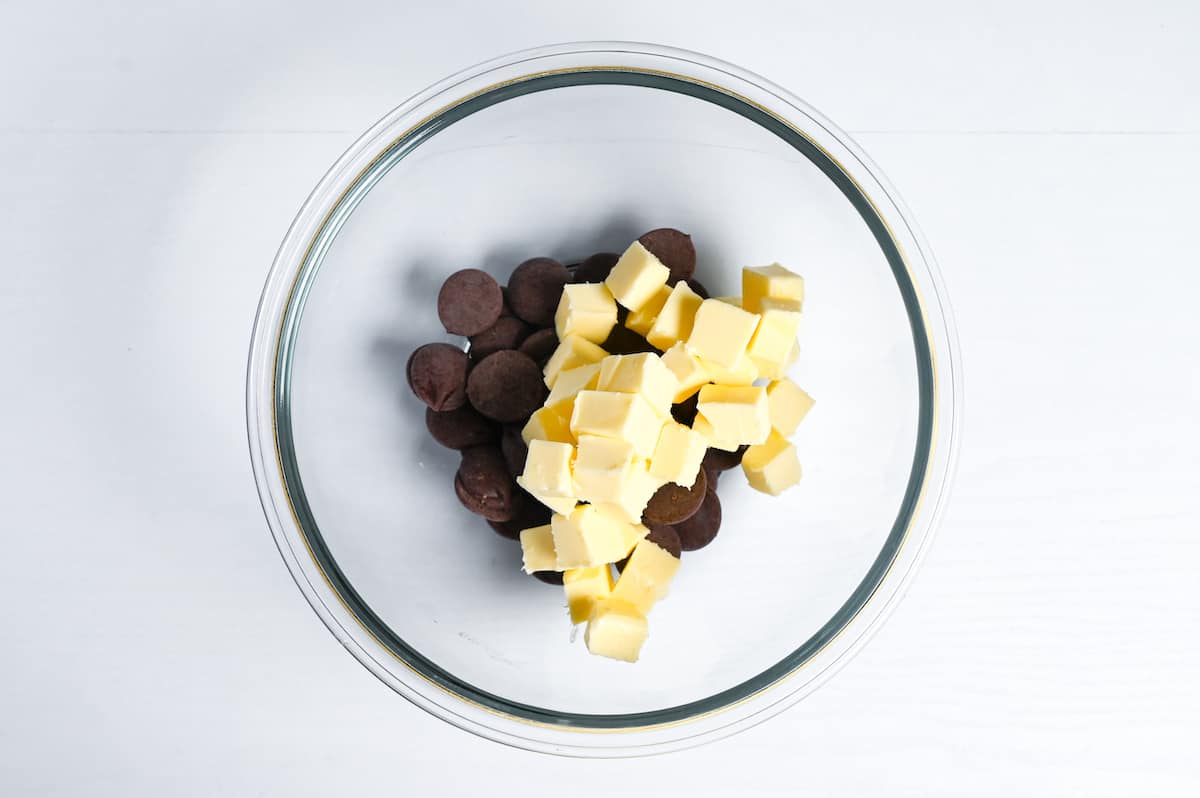 Microwave for 30 seconds (600W) and mix.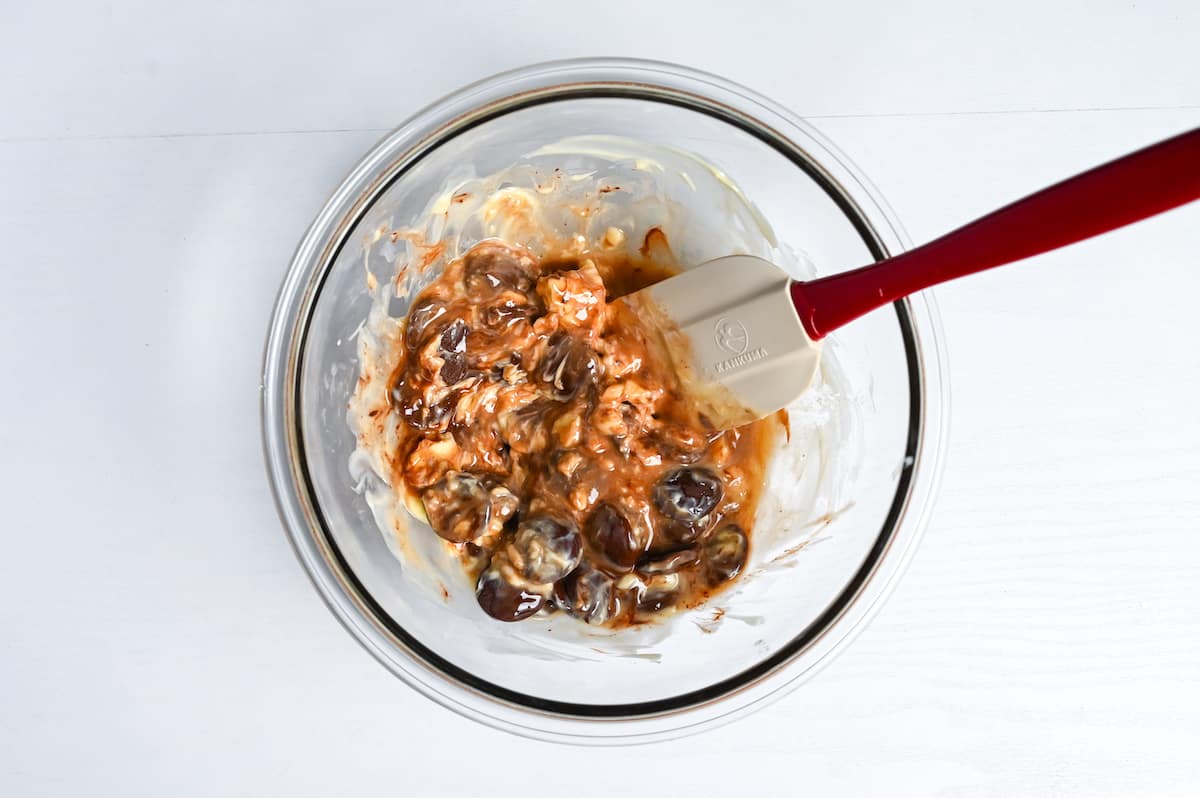 Continue to microwave in 20-second intervals until the chocolate and butter have completely melted, mixing each time.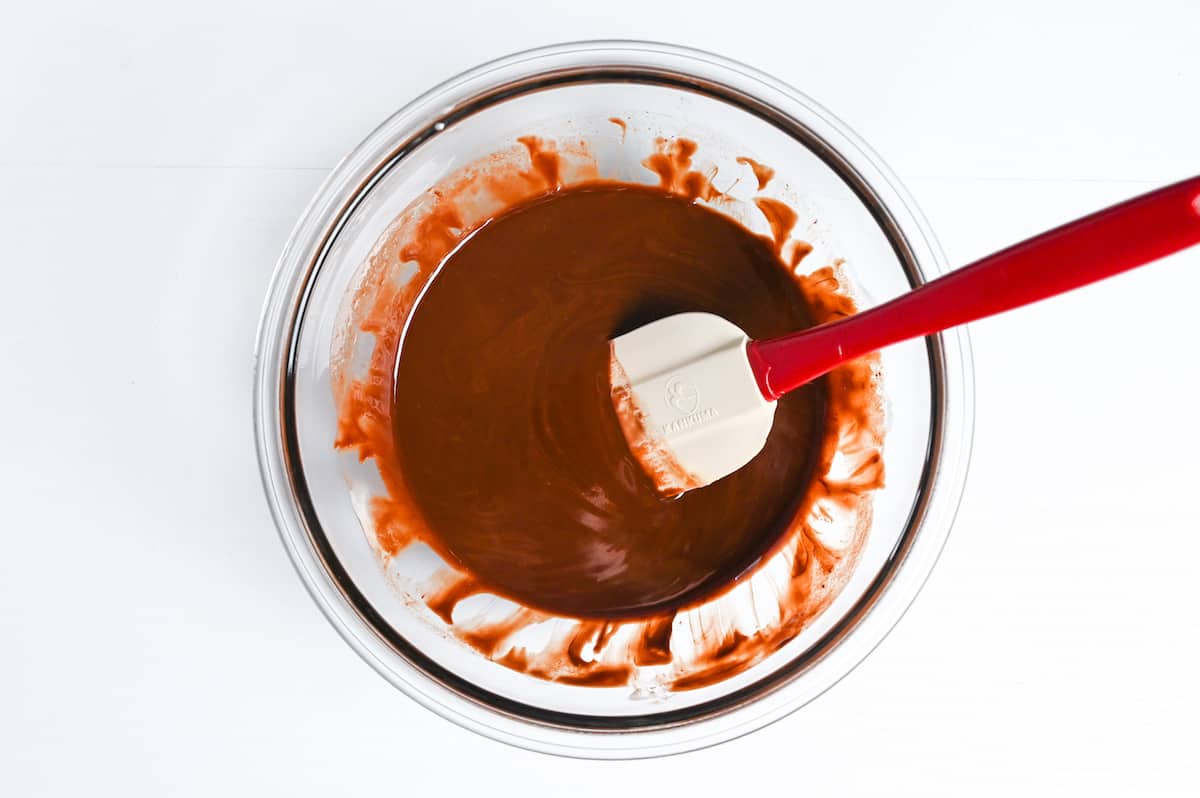 Add the caster and light brown sugar while the chocolate mixture is still hot.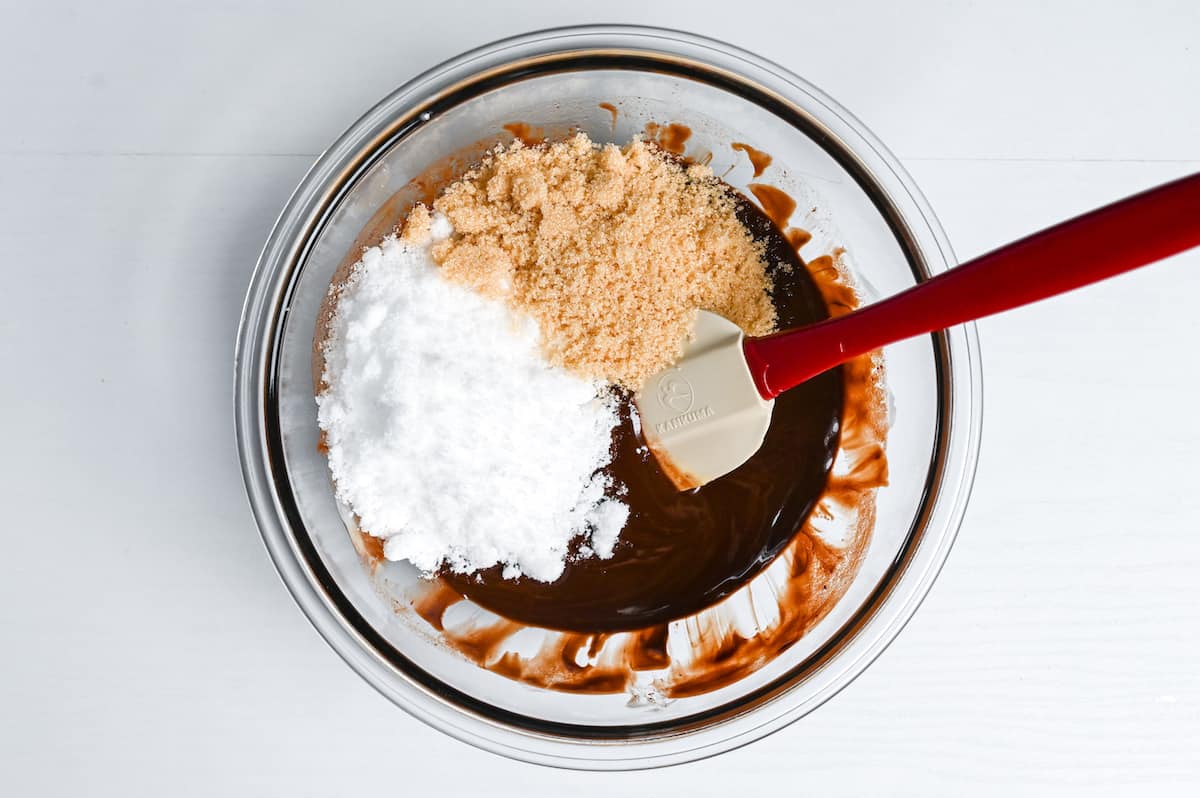 Mix until fully dissolved into the chocolate and then leave it to cool for 5-10 minutes. (It should be cool enough to touch before adding the eggs.)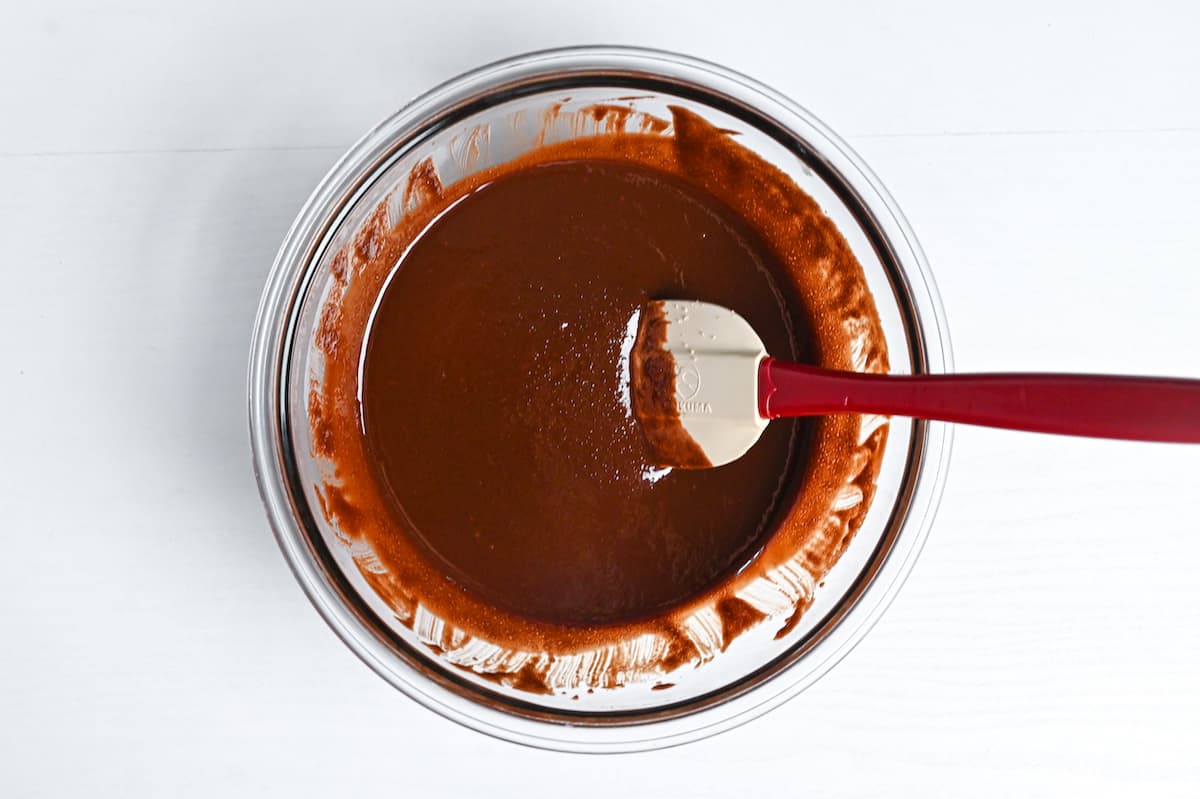 While waiting for the mixture to cool, line the cake pan with baking parchment. For best results, use a 7 inch (18cm) square cake pan for this recipe.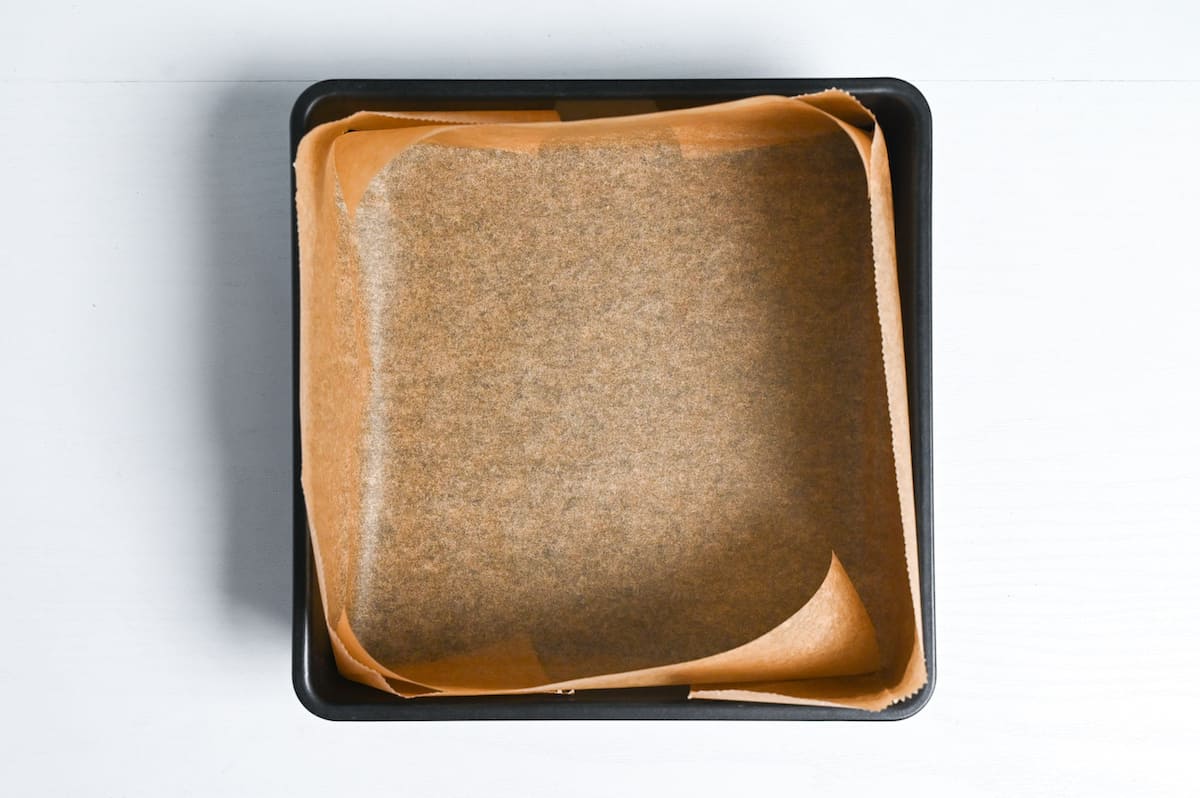 If your pan doesn't have a removable base, be sure to make the baking parchment overlap the edges so it's easier to lift out the brownie once it's cooked.
Add the flour, matcha powder and salt to a bowl and mix until evenly distributed. Set aside for later.
Once the chocolate is cool to the touch, add the eggs one and a time and mix well in between.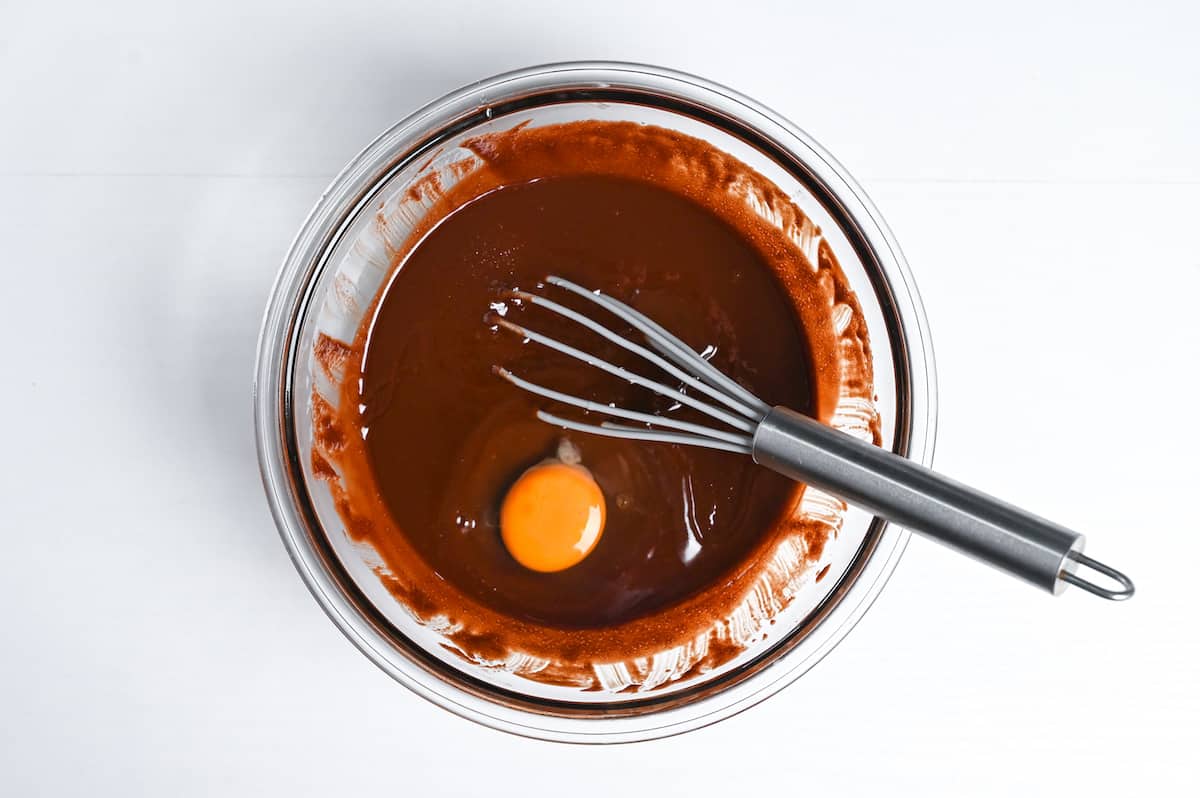 Add the vanilla essence and mix well.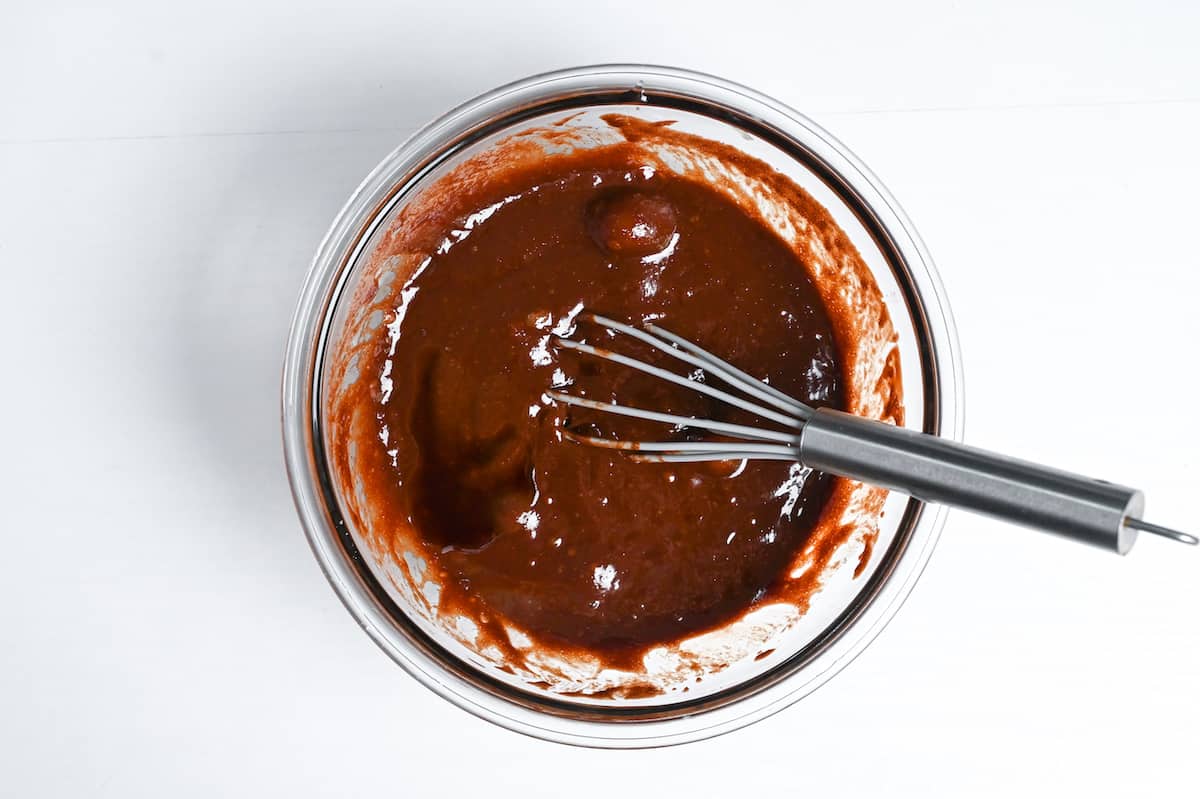 Sift in the dry ingredients
Sift the flour, matcha and salt into the chocolate mixture.
Fold gently while turning the bowl until the ingredients are fully combined.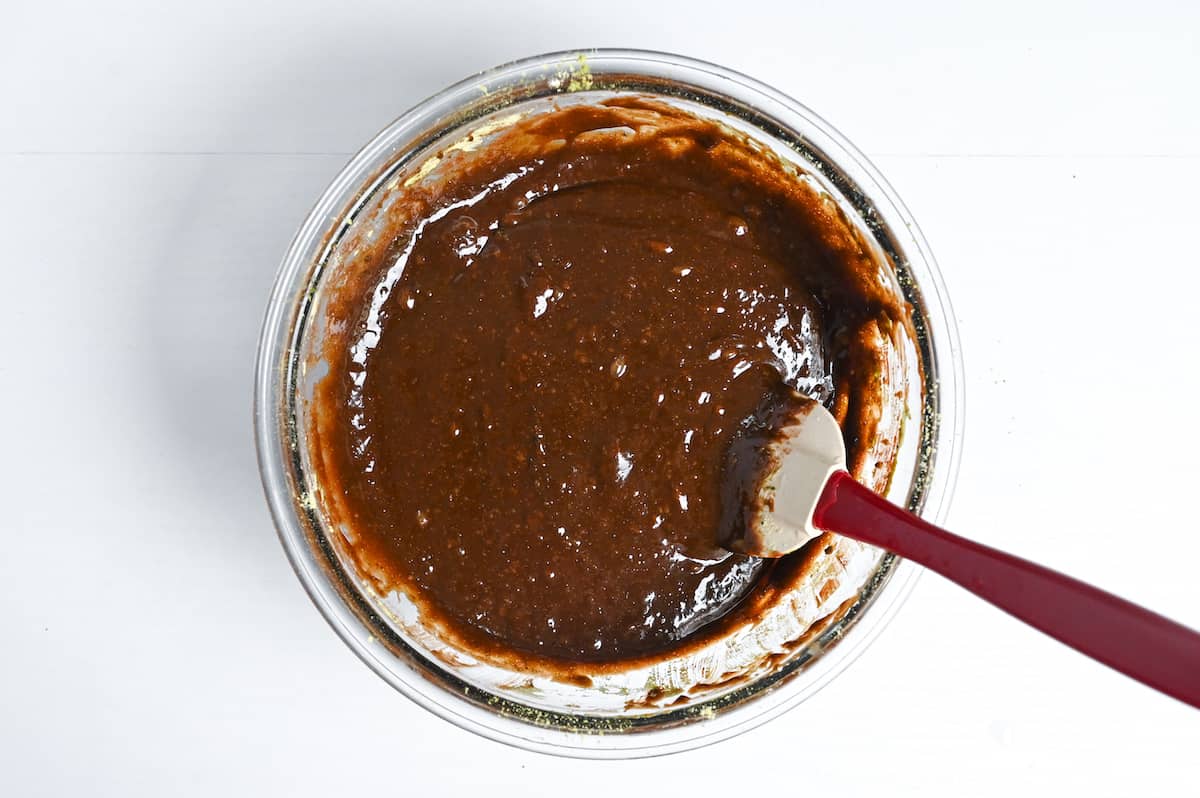 Pour the mixture into the lined cake pan and smooth out the top.
Bake for 23-25 minutes or until you can pierce it with a toothpick and it comes out with moist crumbs. Be careful not to overbake.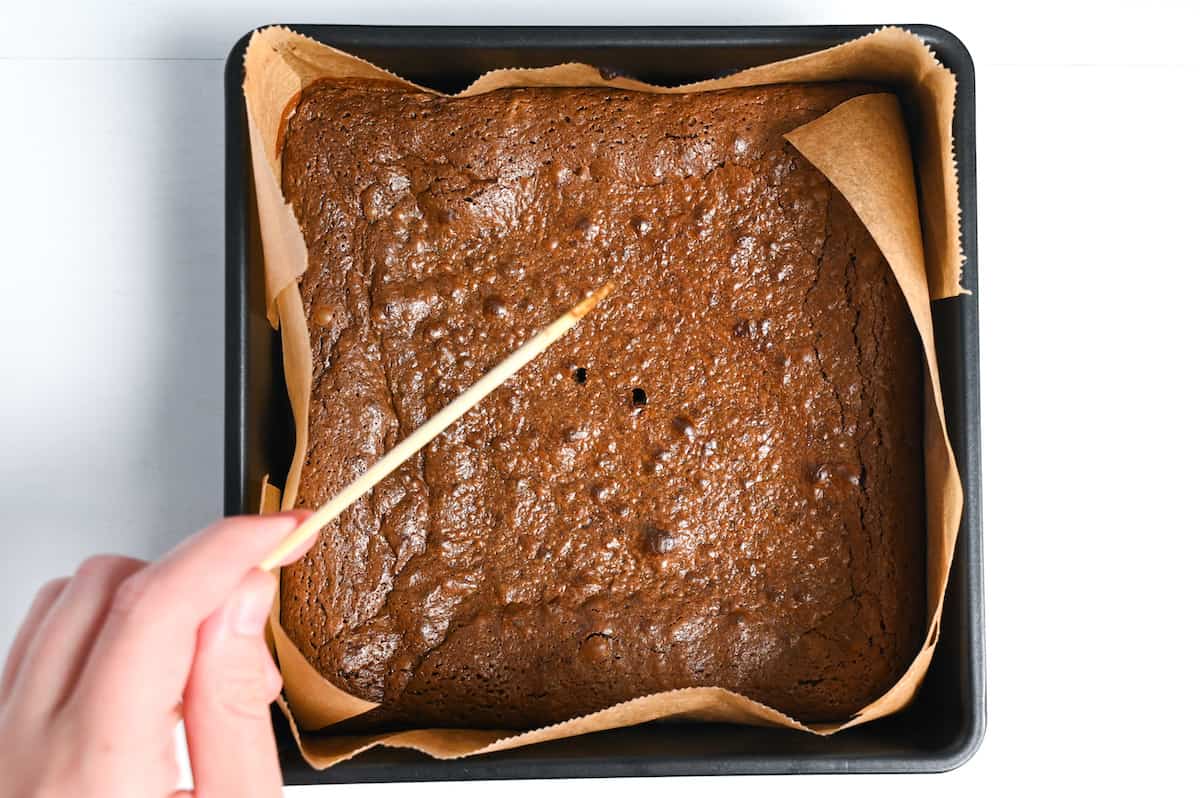 Once baked, remove from the oven and leave to cool for a few minutes. Carefully lift the brownies out of the pan (still in the paper) and onto a wire rack to cool completely.
Cut the brownies into 9 or 12 squares and sprinkle with matcha powder.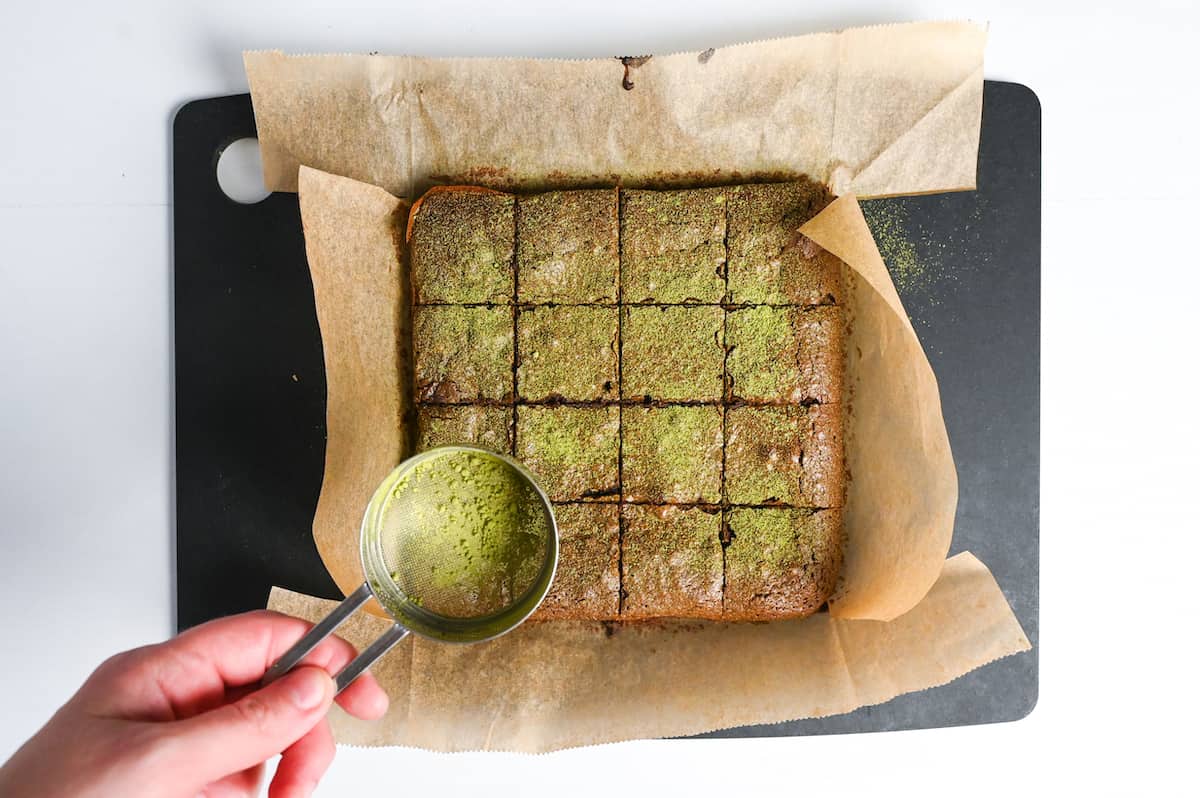 Enjoy!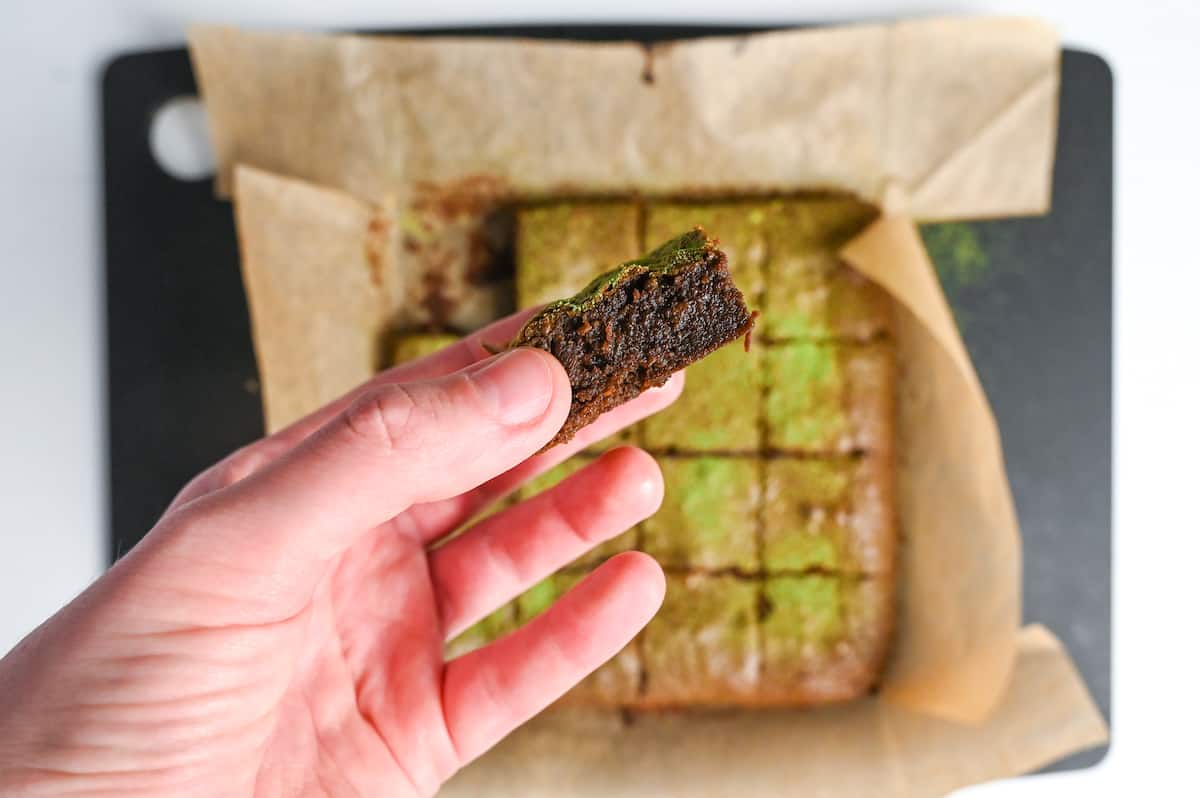 Tips and Tricks
Here are my tricks to ensure the ultimate matcha and dark chocolate brownies with maximum chewy tops and fudgy centers.
Warm the chocolate and butter to about 40°C (105°F). This is the best temperature to melt the sugar without burning the chocolate.
Use caster sugar rather than granulated, this ensures the batter is smooth and shiny.
Make sure the mixture is cool before adding the eggs. The eggs will mix in better if they are room temperature (rather than straight from the fridge).
Once the flour is added, switch to a silicone spatula or spoon and fold to avoid overmixing.
When baking, check the brownies regularly. If they start to burn, cover with foil.
After 23 minutes of baking, check the doneness using a toothpick or skewer. Wet batter means not done, and clean means overbaked. The toothpick should be covered with moist crumbs and melted chocolate.
Store them in the fridge for a few hours for an even fudgier texture!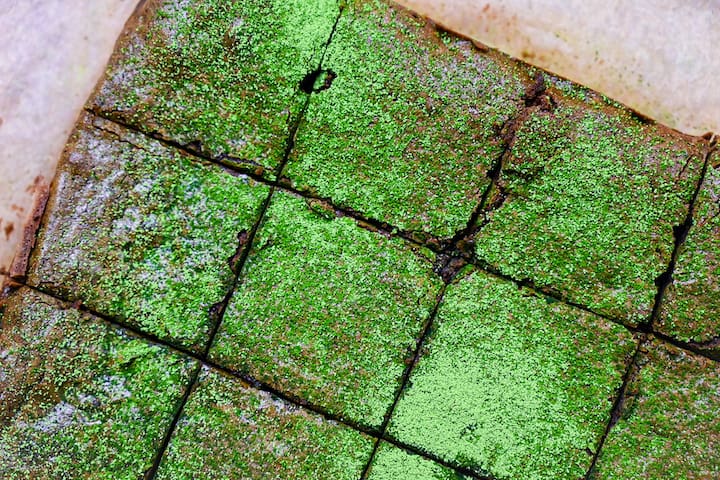 Storing
These brownies can be stored in an airtight container for 3-4 days at room temperature or 1 week in the refrigerator. Alternatively, you can freeze them for up to 2 months and thaw at room temperature for a few hours.
I recommend storing them in the fridge so that the texture becomes extra fudgy!
Room temperature – 3-4 days.
Refrigerated – 1 week.
Frozen – 2 months.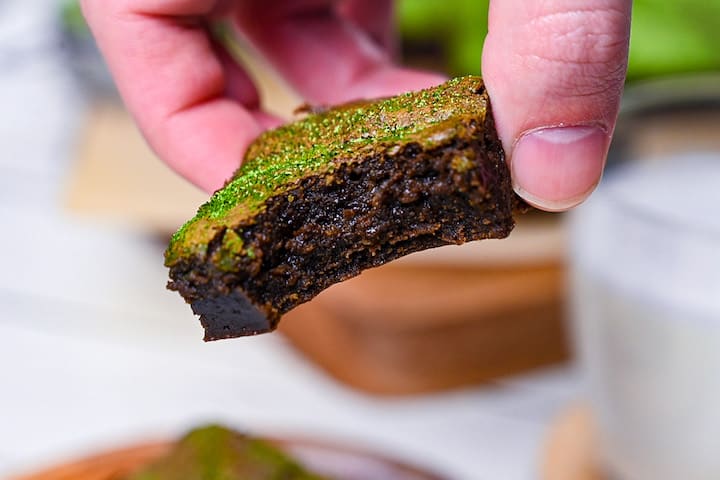 I hope you enjoy these fudgy dark chocolate brownies with a matcha twist! If you try the recipe, I would really appreciate it if you could take a moment to give it a review and star rating in the comments below. It's also useful for other readers if you share any substitutions you made to the recipe. Thank you!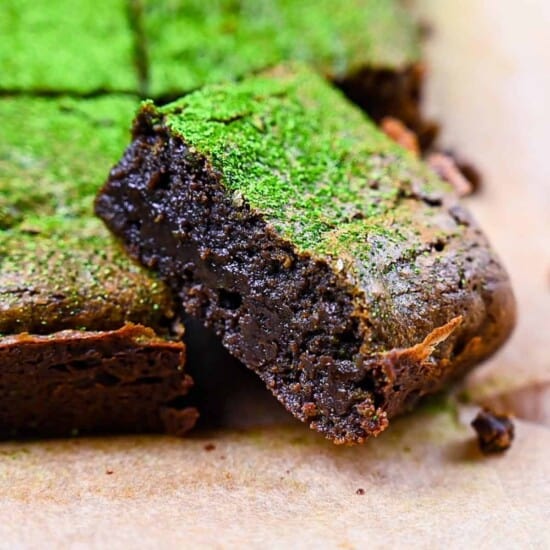 Fudgy Dark Chocolate and Matcha Brownies
---
How to make the ultimate fudgy dark chocolate brownies flavored and dusted with rich matcha green tea powder.
---
---
---
---
Equipment
18cm Square Cake Pan (7")

Matcha Sifter
Ingredients
120

g

dark chocolate

70% cacao

100

g

unsalted butter

cubed

100

g

caster sugar

50

g

light brown sugar

50

g

all-purpose flour

2

tbsp

matcha powder

plus 1 tsp for sprinkling

2

eggs

1

tsp

vanilla essence

or half the amount of vanilla extract

1

pinch

salt
Instructions
Preheat your oven to

180

°C

(

356

°F

) (

170

°C

(

338

°F

) fan-assisted) and measure out your ingredients.

Break up

120 g dark chocolate

into a microwavable bowl with

100 g unsalted butter

.

Heat the butter and chocolate for 30 seconds in the microwave, and mix.

Return the bowl to the microwave for 20-second intervals, mixing each time. Repeat until the chocolate and butter are completely melted and combined.

Add

100 g caster sugar

and

50 g light brown sugar

while it's still hot, and whisk until smooth. Leave to cool for 5 mins.

While you're waiting for the mixture to cool, line your baking tin with baking paper. The baking parchment should be bigger than the tin, coming over the edges for easy removal at the end.

In a separate bowl add

50 g all-purpose flour

,

2 tbsp matcha powder

and

1 pinch salt

. Mix them together and set aside for now.

By now, the chocolate should have slightly cooled. Add

2 eggs

to the chocolate mixture one by one, whisking between each addition.

Add

1 tsp vanilla essence

and whisk one more time.

Sift your dry ingredients into the wet ingredients and then fold them in using a spatula.

Once well incorporated, pour the mixture into the baking tin. It should be a thick batter.

Bake on the middle shelf for around 23-25 mins and test it by piercing the middle with a toothpick, it should come out with moist crumbs. If it's underbaked, return to the oven and repeat the pierce test every 2-3 minutes until it's done.

Remove from the oven and leave to cool for a few minutes before transferring it to a wire rack (keep it in the baking parchment to prevent breakage). Once cooled, cut into 9 or 12 pieces and dust them with 1 tsp of matcha powder.

Enjoy!
Notes
Baking times can vary depending on your oven. After around 23-25 minutes keep checking on your brownies to avoid overcooking.
Store in an airtight container at room temperature for 3-4 days, 1 week in the refrigerator or freeze for up to 2 months.
Chilling makes the texture more fudgy.