Learn how to make the ultimate soft and chewy cookies with a Japanese twist with this delicious matcha and white chocolate cookie recipe! Flavoured with matcha green tea powder and a hint of classic vanilla then loaded with white chocolate chunks, this cookie recipe is perfect for matcha lovers with a sweet tooth!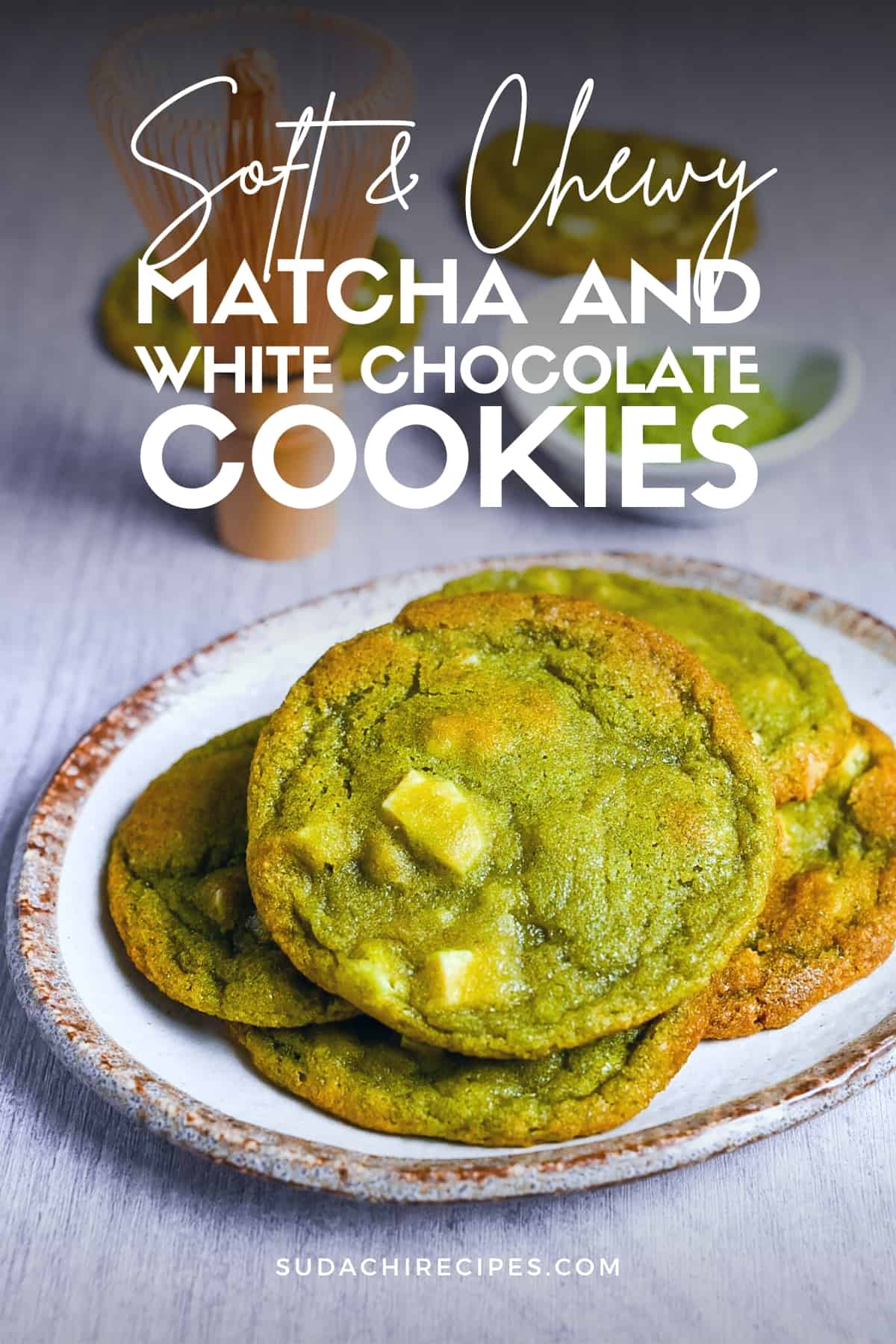 Disclaimer: This post contains Dokodemo affiliate links. Sudachi Recipes earn a small percentage from qualifying purchases at no extra cost to you. See disclaimer for more info.
What is matcha?
Before I get started with this cookie recipe, you might be wondering about matcha. What is it? What does it taste like? Well, matcha is a type of green tea that has been ground into a fine powder. Although it's famous for drinking as part of a Japanese "tea ceremony", it is also one of Japan's most popular flavours used for sweets and desserts. It is bright green in colour with an earthy yet refreshing taste.
What kind of matcha is used in baking?
There are three different kinds of matcha powder which vary in quality, price and usage.
Ceremonial – High quality matcha made with the first leaves of the harvest. Only used for drinking (especially during Japanese tea ceremonies).
Premium – High quality matcha blend often used in coffee shops.
Culinary – Lower quality but great flavour for desserts and drinks like smoothies.
In short, high quality matcha should be used for drinking and enjoyed simply with hot water to appreciate its taste. Since baking uses other ingredients (such as sugar, butter etc) that might mask the taste of the matcha, it would be a waste to use ceremonial or premium here.
Don't be put off by culinary matcha being "lower quality", it is made especially to mix with other ingredients and is more reasonably priced. It also adds a delicious and balanced matcha flavour to baked and chilled desserts alike!
Ingredients to make Matcha and White Chocolate Cookies
In this recipe, I use the following typical cookie ingredients:
Soft room temperature butter – I prefer unsalted so that I have more control of the salt content, but salted butter also works (just omit the added salt later)
White sugar – caster or granulated, either is fine
Light brown sugar – necessary for that all important chewy texture!
Vanilla essence – essence is easier to find in Japan, but feel free to use half the amount of vanilla extract instead.
Egg – room temperature will incorporate more easily into the dough.
Plain flour – measured in grams for better accuracy.
Matcha powder – Good quality, culinary grade matcha that is bright green in colour.
Baking soda – helps the cookies spread and improves the texture (do not substitute for baking powder!)
Salt – balances the flavour in the cookie, omit this if you use salted butter.
White chocolate – I use a bar of chocolate cut into rough chunks, but white chocolate chips also work just as well.
Instructions on how to make delicious and chewy Matcha and White Chocolate Cookies
Here are my step by step instructions on how to make the ultimate soft and chewy matcha and white chocolate cookies with some tips and tricks to get them perfect every time! See the recipe card at the bottom of the page for ingredient quantities.
Mix butter and sugar
First, add both the white and brown sugar to a mixing bowl with room temperature butter cut into cubes. (If you forgot to take the butter out of the fridge in advance, microwave it for 20-30 seconds or until softened but not melted.)
Mix together until combined. I do this by hand but feel free to use a mixer if you prefer.
Add egg and vanilla
Crack the egg into the bowl and add a small amount of vanilla essence or extract.
Mix thoroughly until evenly distributed. If you're using a mixer, use a slow setting so that the egg doesn't become too airy.
Combine the dry ingredients
Add the plain flour, matcha powder, baking soda and a pinch of salt to a separate bowl.
Matcha tends to clump together. Sift it to make it easier to distribute evenly through the flour.
Whisk thoroughly until all the ingredients are evenly distributed through the flour.
Combine the wet and dry ingredients
Pour the contents of the bowl of dry ingredients into the wet ingredients.
Mix until a firm but slightly sticky dough forms.
Once there's no more dry flour visible, add the chocolate. I personally use a chocolate bar cut into chunks, but chocolate chips are also perfectly fine.
White chocolate works well with matcha because it doesn't overpower the flavour, but if you don't like white chocolate you could use milk chocolate, nuts or even boiled adzuki beans.
Shape
Shape the dough into balls and place them on a baking sheet lined with baking paper or a silicone baking mat (these tend to help prevent too much spreading). I usually make 16 cookies from this dough, approximately 2 tbsp (40g) of dough per cookie.
Place 8 balls of cookie dough on each sheet with plenty of space between each one, they will spread as they cook. I also recommend baking each sheet separately to ensure even cooking.
Feel free to make mini cookies or giant cookies instead! Just be sure to adjust the baking time accordingly, smaller cookies will cook faster, giant cookies may take a few minutes longer!
Place the baking sheet in the fridge (or freezer for a short time) and preheat the oven to 180°C (350°F). The time it takes for the oven to preheat (10 minutes or so) is the perfect amount of chilling time for the cookies.
If you prefer your cookies on the thicker side then I recommend you to chill them for longer, at least 30 minutes but preferably 1 hour. This prevents them spreading as much, and you'll be left with even thicker and chewier cookies!
Bake
Once the oven is heated, place the tray of cookies on the middle shelf and bake for 8-10 minutes or until the edges are lightly browned.
Important: Don't over bake!
Being careful not to over bake is especially important for this recipe! The cookies should be golden around the edges but barely cooked in the middle, this is the secret to getting that soft chewy texture!
Shape and cool
Remove the cookies from the oven and while they're still soft, use the edge of a knife or a large glass/cookie cutter (larger than the actual cookies) to neaten the edges. This will improve the presentation but is not essential. (Don't cut the cookies though!)
Once you're happy with the shape, leave them to cool on the baking tray for about 20 minutes. You will not be able to move them because they will be too soft when they're warm. (Patience is needed here, sorry!)
Enjoy!
Once the cookies have cooled and firmed up, tuck in and enjoy!
Substitutions
Not a fan of white chocolate? Try some of these ideas instead!
Milk chocolate
Dark chocolate
Dried fruits – dried strawberries or raspberries etc.
Nuts – pistachios, macadamia nuts etc.
Boiled adzuki beans
Storage
These cookies can be stored in various ways both before and after cooking, here is my advice for storing these matcha and white chocolate cookies.
Before baking (cookie dough)
Storing the dough before baking means that you can enjoy freshly baked cookies anytime without all the fuss! Just roll the dough into balls and store it using the instructions below.
Refrigerate – to be safe, chill and use within 2-3 days.
Freeze – place on a tray spaced apart and freeze for a few hours, then transfer to a freezer bag or similar and store for up to 2 months. (Thaw for a few hours at room temperature or overnight in the fridge.)
After baking
Once the cookies are baked, make sure to let them cool completely before storing. Here are my storage instructions for baked cookies.
Room temperature – store in an airtight container at room temperature for 3-4 days
Refrigerate – store in an airtight container in the fridge for up to 1 week
Freeze – place in a freezable container and freeze for up to 2 months. Thaw at room temperature
Matcha and White Chocolate Cookies
---
How to make perfectly soft and chewy cookies flavored with Japanese matcha green tea powder and packed with chunks of white chocolate.
---
---
---
---
Equipment
Silicone Baking Mat

Silicone Spatula
Ingredients
110

g

unsalted butter

room temperature

100

g

white sugar

100

g

light brown sugar

1

medium egg(s)

preferably room temperature

1

tsp

vanilla essence

or ½ the amount of vanilla extract

180

g

all-purpose flour

1

tbsp

matcha powder

1

tsp

baking soda

¼

tsp

salt

150

g

white chocolate
Instructions
Take a large mixing bowl and mix

110 g unsalted butter

,

100 g white sugar

and

100 g light brown sugar

until smooth and creamy.

Crack

1 medium egg(s)

into the bowl and add

1 tsp vanilla essence

. Mix gently but thoroughly until well combined, being careful not to let the egg get foamy.

In a separate bowl, add

180 g all-purpose flour

,

1 tsp baking soda

and

¼ tsp salt

. Sift in

1 tbsp matcha powder

and whisk until evenly distributed.

Pour the dry ingredients into the wet ingredients and mix until a dough forms.

Cut

150 g white chocolate

into rough chunks and mix them into the dough.

Line your baking sheet(s) with baking paper and roll the dough into 40g balls (approx 2 tbsp per cookie). Place the balls of dough on the baking sheet with plenty of space between (they will spread as they bake).

Place the baking sheet(s) in the fridge or freezer and allow them to chill while you preheat the oven to

180

°C

(

356

°F

).

Once the oven is heated, place the cookies on the middle shelf (I recommend one baking sheet at a time for more even cooking) and bake for 8-10 minutes or until slightly brown around the edges. (The middle will be barely cooked and this is a good thing, do not overbake!)

While they're still hot, take a large glass or cookie cutter (it should be bigger than the cookies) and place it over one cookie. Move it in a circular motion to neaten the edges and make each cookie perfectly round (do not cut!). Alternatively, neaten the edges using the side of a cutlery knife.

Allow the cookies to cool for 20-30 minutes on the baking sheet.

Enjoy!
Notes
If you prefer thicker cookies, chill in the fridge for 30 minutes to one hour before putting them in the oven.
Baked cookies can be stored in an airtight container at room temperature for 3-4 days, in the fridge for 1 week or in the freezer for up to 2 months.
Unbaked cookie dough can be stored in the refrigerator for 2-3 days or frozen for up to 2 months.