Japanese style lemon rare cheesecake is a light and refreshing dessert, perfect for summer! The biscuit base is flavoured with lemon zest and the cheesecake mixture is made with yogurt and soft cream cheese creating a well balanced no-bake cheesecake with the perfect amount of zing!
Disclaimer: This post contains Amazon affiliate links. Sudachi Recipes earn a small percentage from qualifying purchases at no extra cost to you. See disclaimer for more info.
Jump to:
What is Rare Cheesecake?
Rare cheesecake is basically the Japanese term for a no-bake cheesecake. The best thing about no-bake cheesecakes is of course, you don't have to bake! This is great seeing as owning an oven in Japan is still considered a bit of a luxury.
This cheesecake recipe is light, zesty and perfect for summer (or any time of year!) when you don't feel like using the oven.
No-bake cheesecakes are usually not as heavy as their baked counterparts, but they can be equally delicious!
A brief history of cheesecake in Japan
Japan's first cheesecake-like product existed during the Meiji period (1868-1912), and at that time it was called rice cheesecake. It was a combination of rice and cheese and was not well received and never became popular. The fact that Japanese people at that time were not yet familiar with the smell and taste of cheese is thought to be another reason why it did not become popular. After the war, the American people brought baked cheesecake, which was popular in the U.S. at the time, and it finally became known as cheesecake in Japan.
With the rising popularity of cheesecakes in Japan came new variations of the popular dessert. It is believed that the first rare cheesecake appeared in 1964 and was created by the specialised Western style cake shop in Asakusa, Tokyo called "Tops".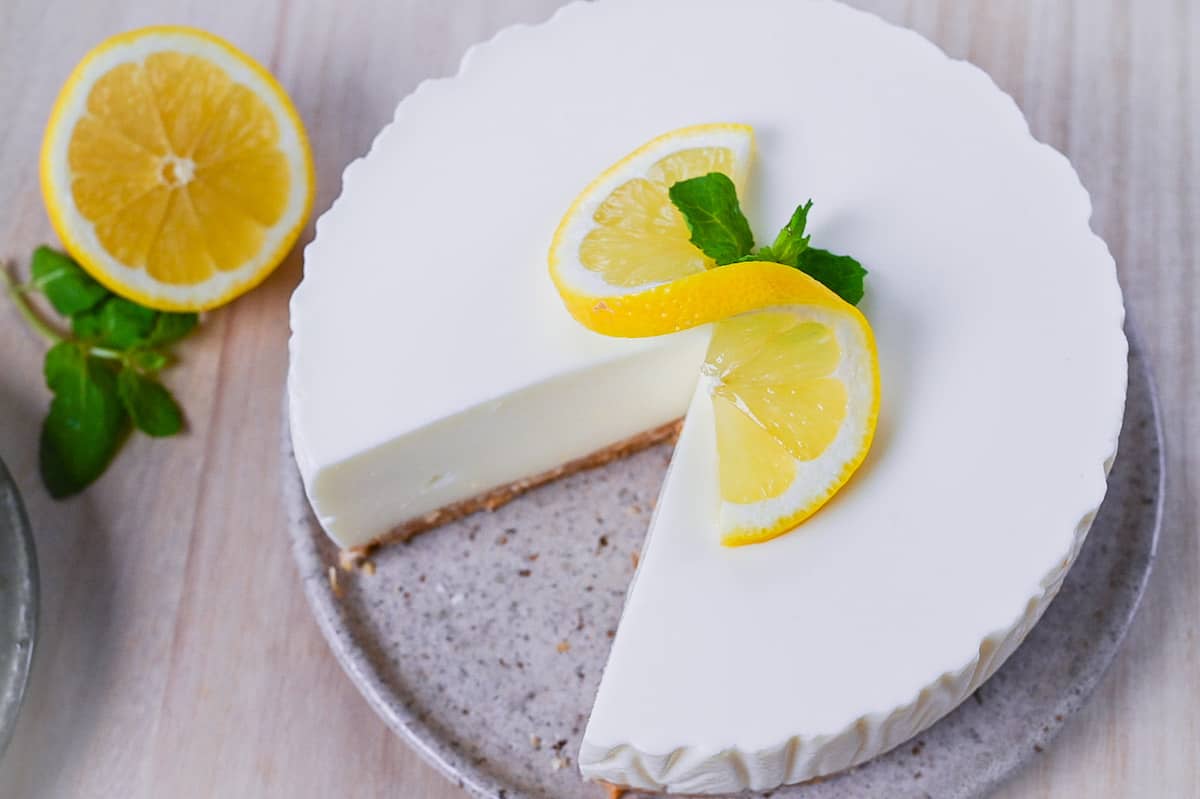 How is Japanese Rare Cheesecake Different to regular no-bake cheesecake?
While baked cheesecakes often hold their shape by using eggs, many no-bake cheesecake recipes use whipped cream to help make the mixture thick and stable. However the main difference between regular no-bake cheesecakes and Japanese rare cheesecakes is the fact that they are usually set using gelatine instead of whipped cream.
Because of the use of gelatine, you can make Japanese style rare cheesecake with softer ingredients. I use yogurt in my recipe. The yogurt adds a little sourness and makes the cheesecake lighter. It also becomes a little more calorie friendly compared to using double cream.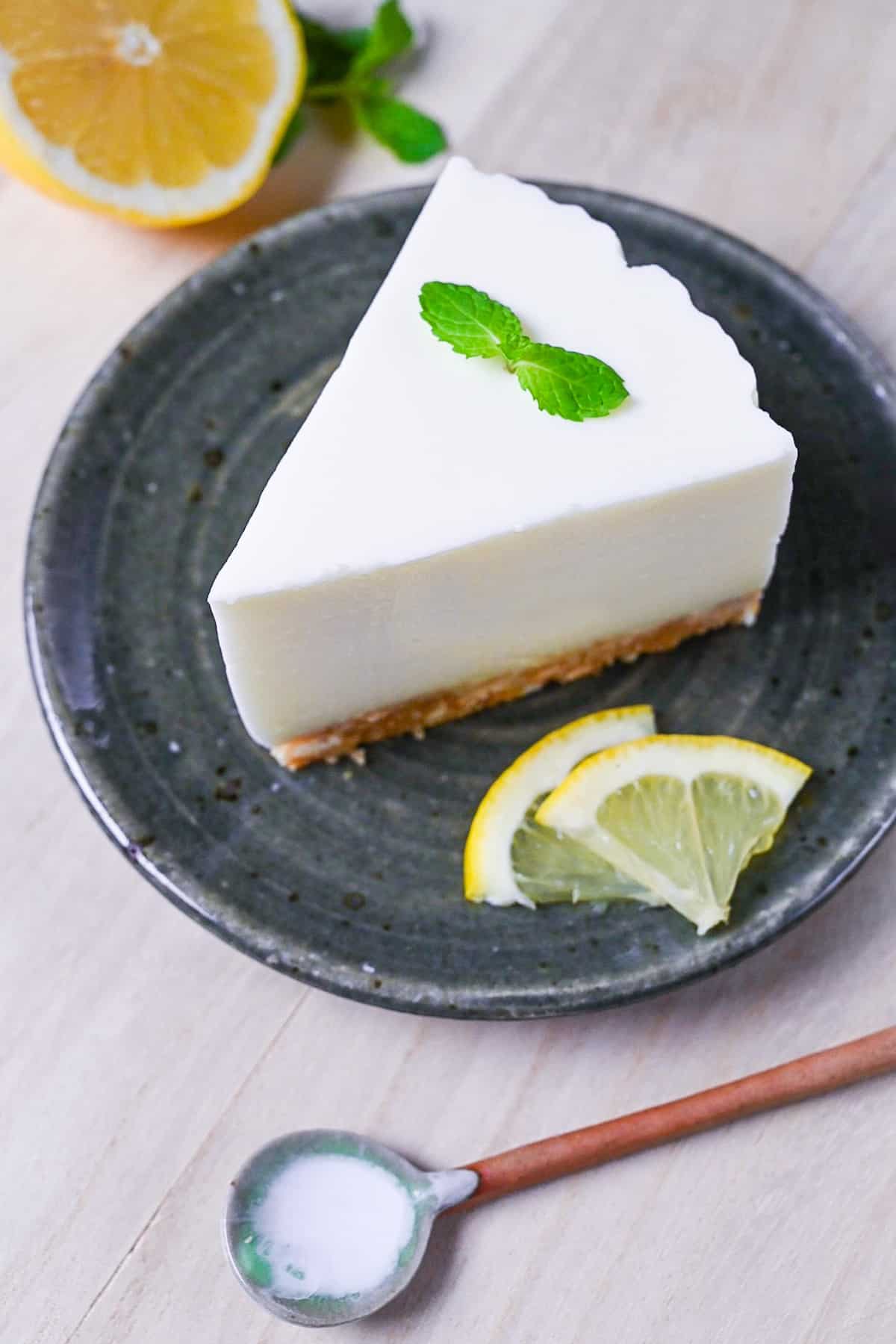 Ingredients
The great thing about this cheesecake is that it uses simply and easy to find ingredients! The main ingredients are:
Cream cheese
Yogurt
Sugar
Lemon
Vanilla essence
Gelatine powder
Let's go over a few ingredients in more detail!
Cream cheese
It wouldn't be cheesecake without cream cheese! Use a good quality cream cheese as it's one of the key ingredients. I often use Philadelphia because it's easy to find worldwide and you can't go wrong with it really!
Yogurt
Another key ingredient for this recipe in particular is yogurt. I use plain, unsweetened low-fat yogurt. It helps balance out the richness of the cream cheese with a hint of sourness, it also makes the cheesecake lighter and more refreshing.
Lemon
I use the zest of a whole lemon and mix it into the base, this means you can enjoy the lemon flavour throughout the whole cheesecake. I also squeeze the juice of half a lemon into the cheesecake mixture itself to add lemon flavour.
You can be creative with how you decorate the cheesecake. I like to utilize the lemon further by using a few slices to decorate the top. If you cut 1 slice just past the middle and pull the halves in opposite directions you can make a nice curled lemon slice like below.
Vanilla Essence
While many people would argue that vanilla extract is always better, vanilla essence is more readily available in Japanese supermarkets and because I don't use vanilla that often, I find essence is enough for me. If you want to use extract instead, half the amount stated in the recipe otherwise the vanilla flavour might become too overpowering.
Gelatine Powder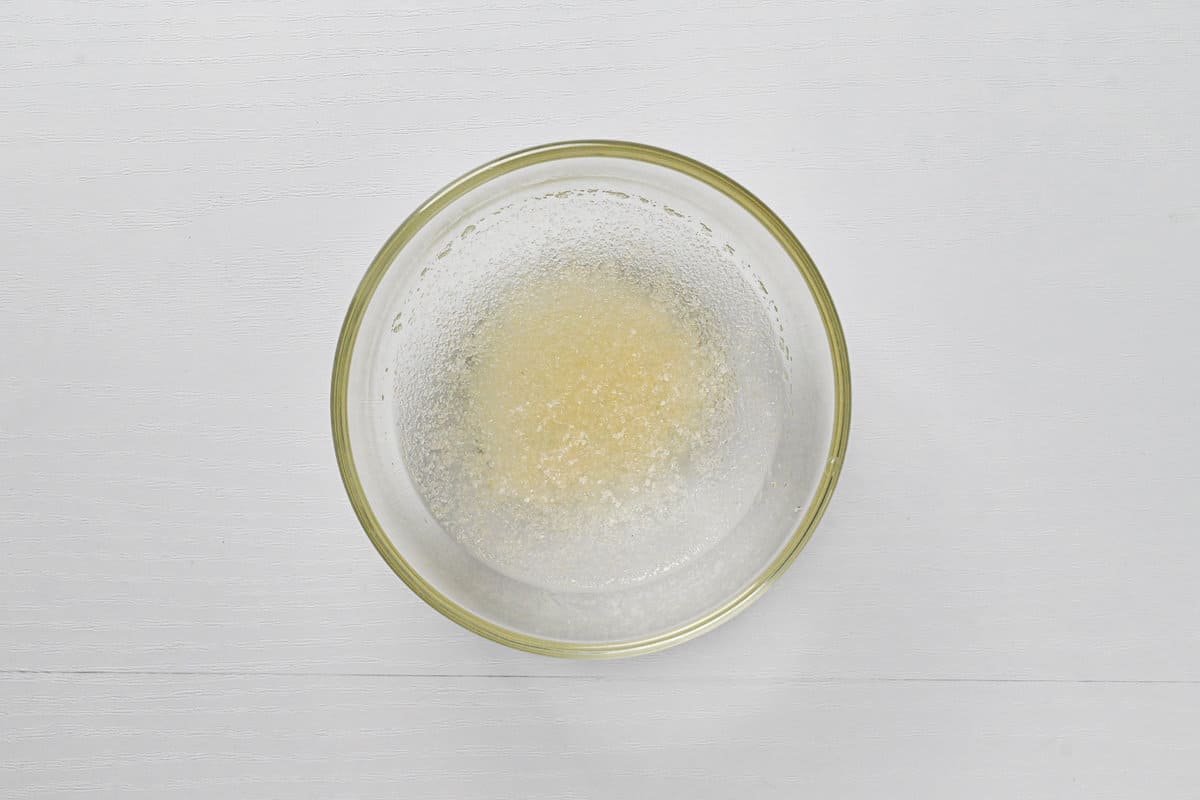 Similar to the vanilla essence vs extract situation, it's a lot easier to find gelatine powder than gelatine sheets in Japan. Whenever I make gelatine desserts I always use powder. Here are my tips for using gelatine powder.
First, measure out the cold water and sprinkle the gelatin on top. This helps prevent lumps of gelatine compared to pouring water over the gelatine.
Use cold or lukewarm water, not hot. If you use hot water, the powder expands too quickly and could cause inconsistency in the texture of the cheesecake.
Leave the gelatin in the water for 5-10 minutes so it can 'bloom'. This is when the powder granules absorb the water and expand.
After 10 minutes, the gelatin gets thicker but will still be lumpy.
Before adding it to your cheesecake mixture, you will need to heat and melt the gelatine. You can do this in a bain-marie over a saucepan of water, but microwaving is quicker and easier. Heat it in 20 second intervals until all the lumps have disappeared and the mixture is smooth.
Be careful not to overheat the gelatine, if the temperature goes over 75°C (167°F) the strength of the gelatine starts to degrade. This is why I recommend heating it in 20 second increments to avoid overheating. Stop once the gelatine is melted completely.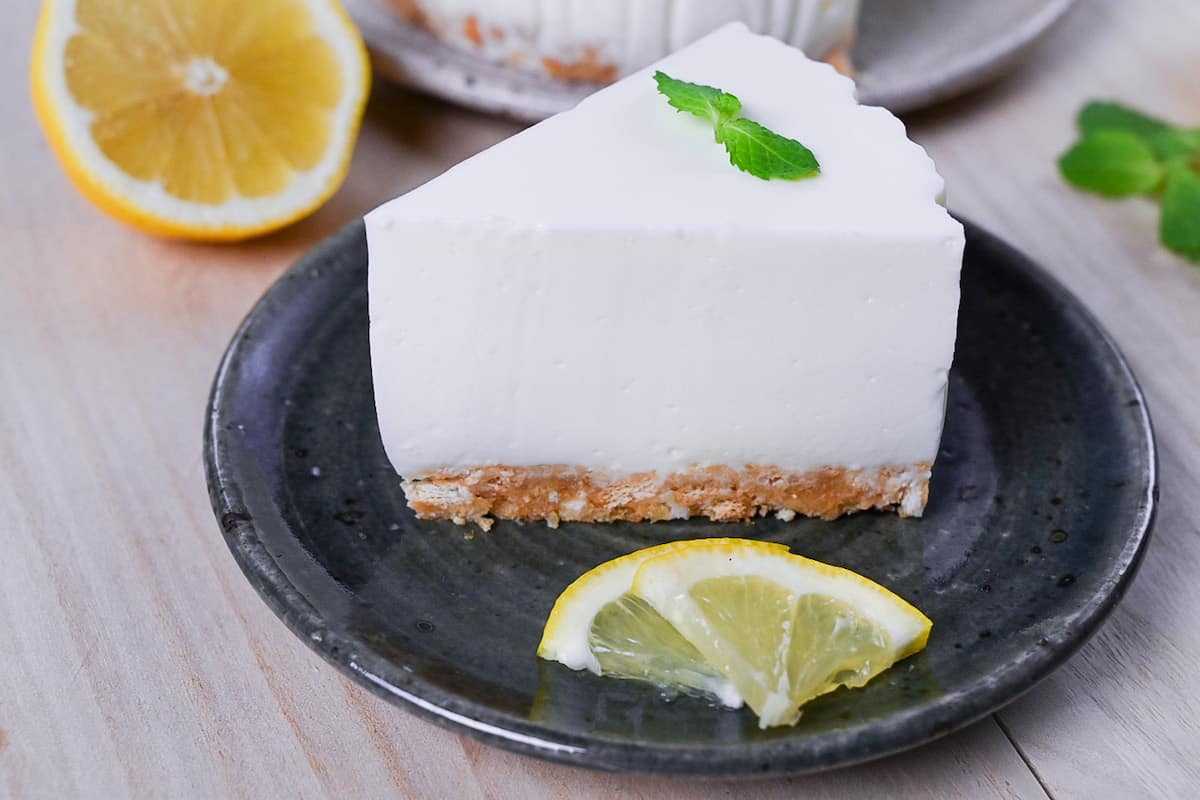 Substitute: Gelatine Sheets
Some people claim that gelatine sheets or "gelatine leaves" are better than powder so if you want to use them you can! (I use powder because it's more easily accessible in Japan.)
2 sheets are equal to approximately 2 tsp (6.6g) of gelatin powder. In this recipe I use 7g of gelatine powder so about 4 sheets should be enough, although check the instructions to be sure.
Soak the sheets in cold water for about 5 minutes, then take out the sheets, squeeze out the excess liquid and melt them in 60ml of hot water. You can then just add them to the cheesecake mixture, the same as the powder. Make sure the sheets are fully dissolved before adding them to your cheesecake mixture.
Instructions for how to make Japanese Style Lemon Rare Cheesecake
Here are my step by step instructions on how to make perfect Japanese Style Lemon Rare Cheesecake every time! For ingredient quantities, see the printable recipe card at the bottom of the page.
Melt the butter
Start by cutting the butter into cubes and then melting it in the microwave in 20 second increments.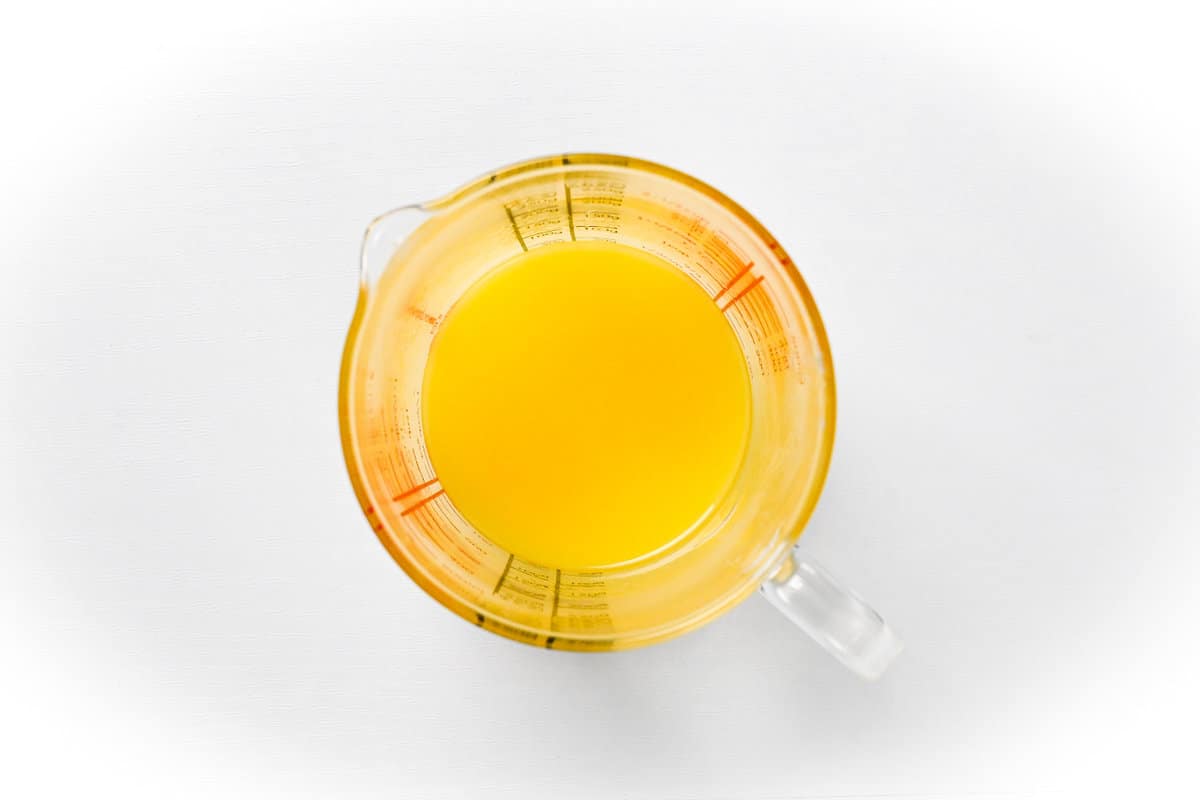 Once it's fully melted grate the zest of one lemon and add it to the butter.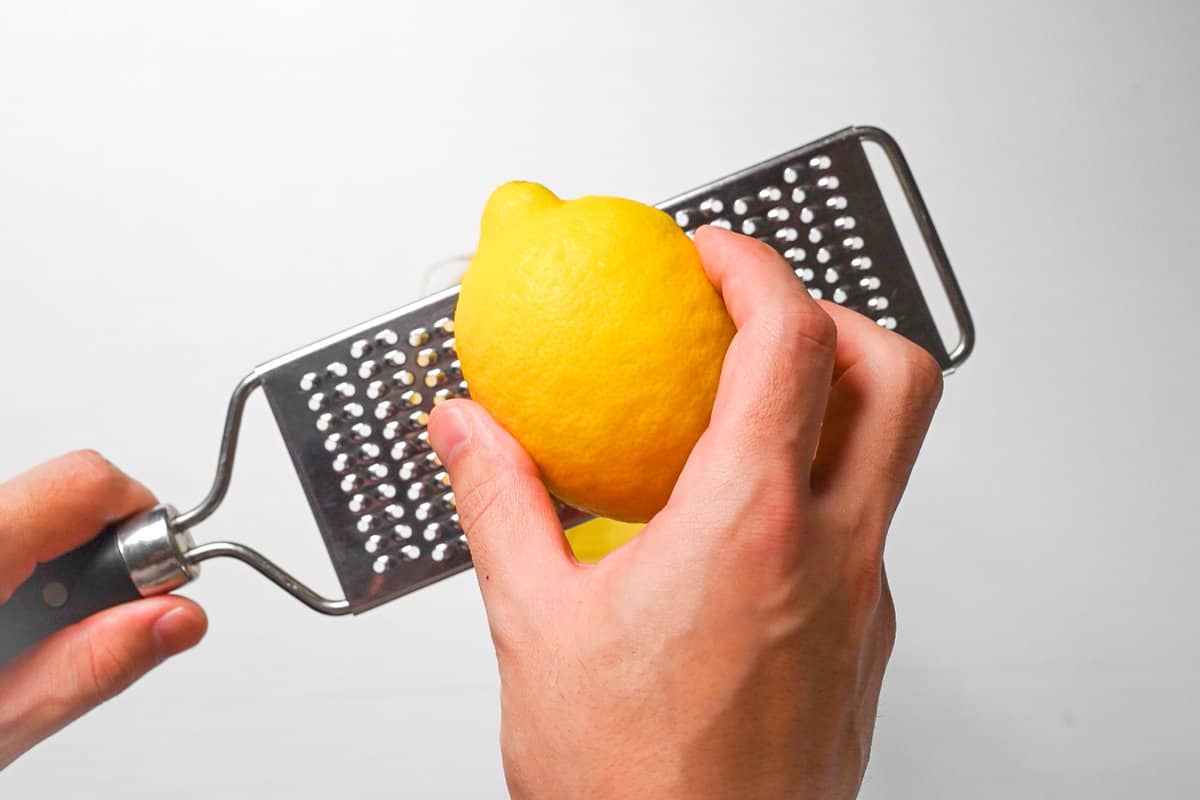 Not only will the warmth of the butter help drawn out the flavour of the lemon zest, but it will also help evenly distribute it through the graham cracker crumbs.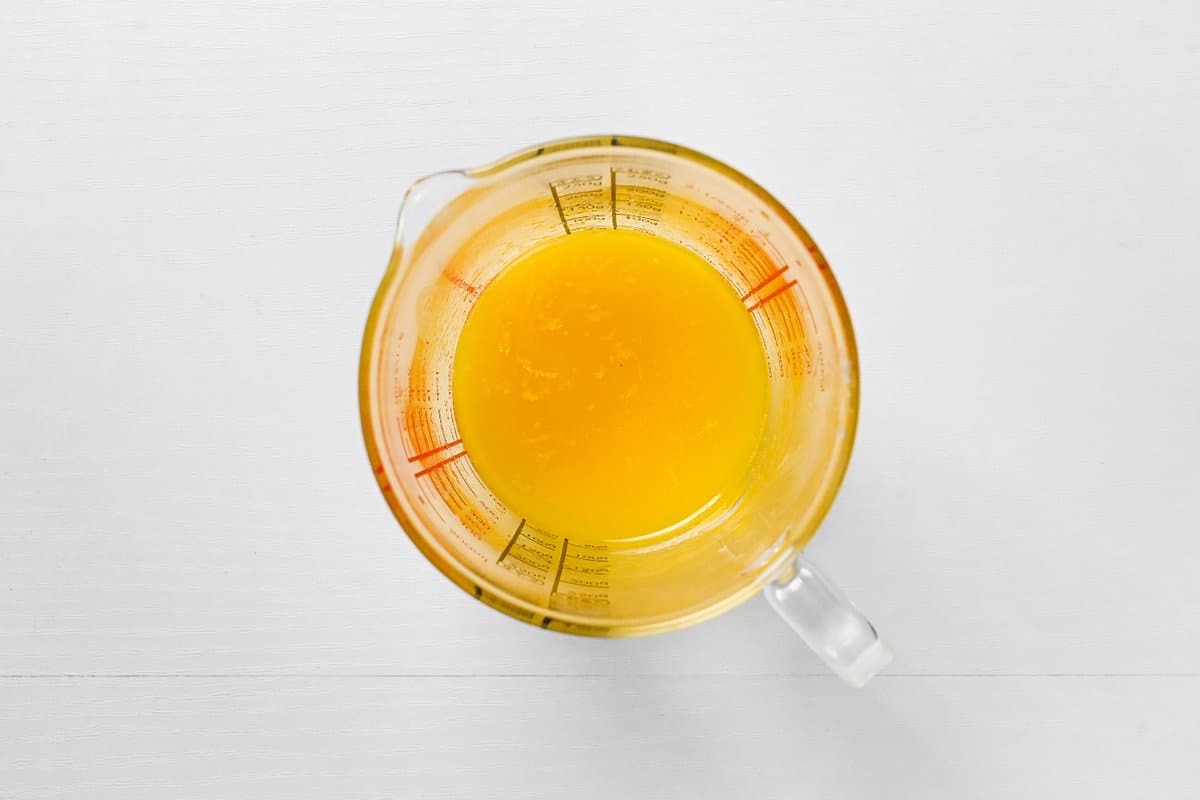 Make the base
Place the biscuits in a ziplock bag and crush them using a rolling pin. How fine you crush them depends on your personal preference, I'm personally not too thorough as I like a few larger pieces to add extra crunch to the base.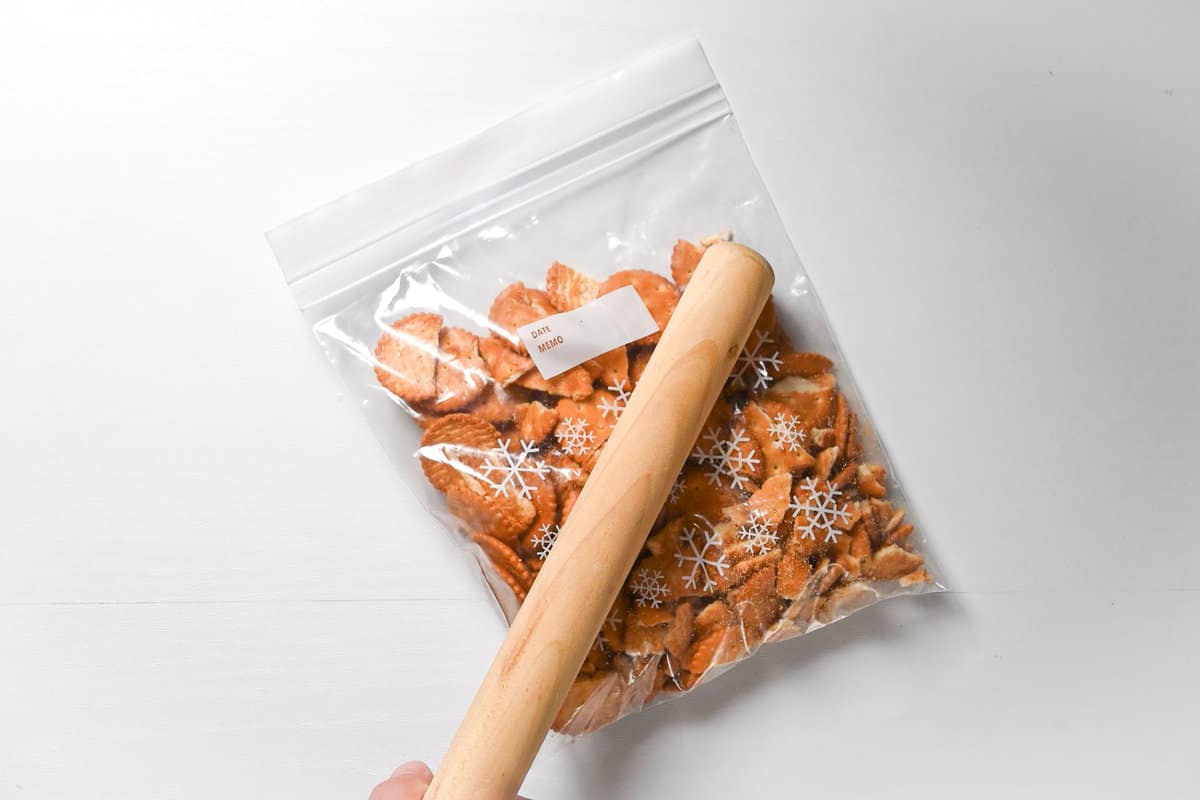 Use a food processor for a finer texture
Alternatively, you can blitz the biscuits with a food processor to make the crumbs super fine. This will create a neater and smoother finish. You can also pour the butter into the food processor and blitz again to combine the crumbs and butter.
Once the crackers are crushed, pour in the lemon infused butter and seal the bag back up.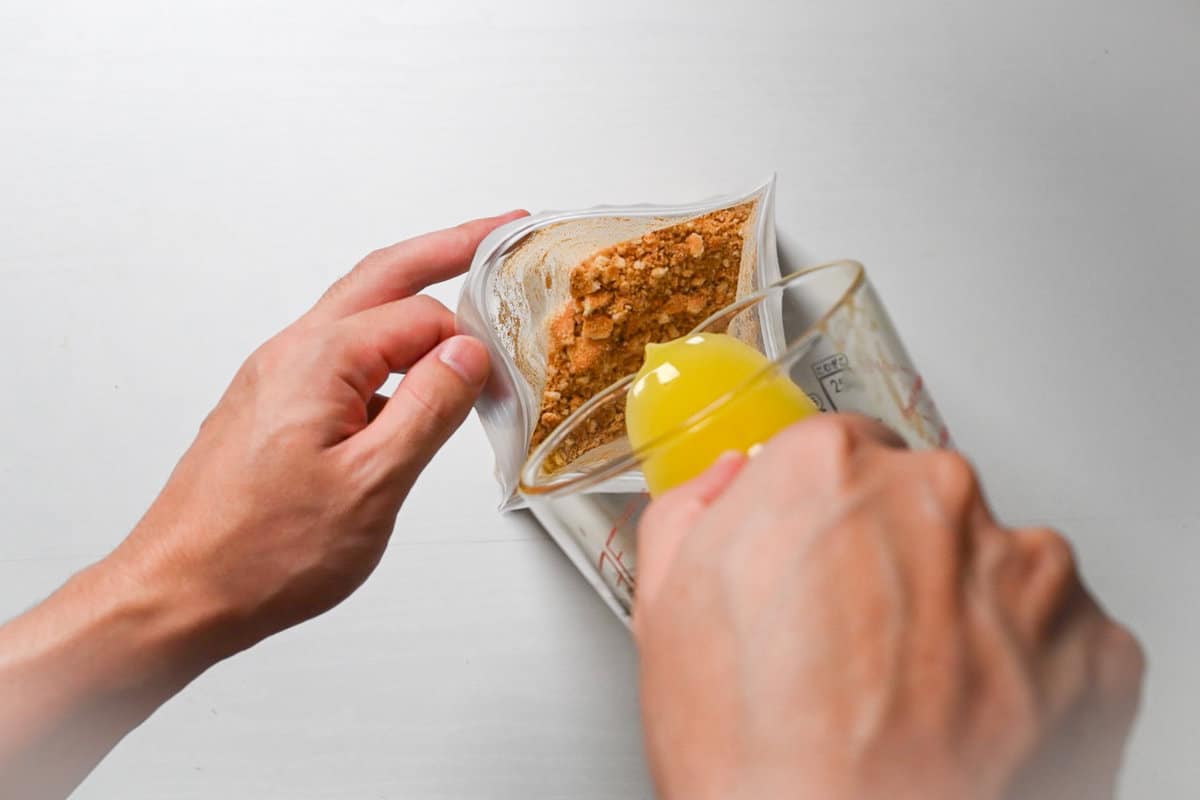 Massage the butter around until all the crumbs are coated, it's mess free!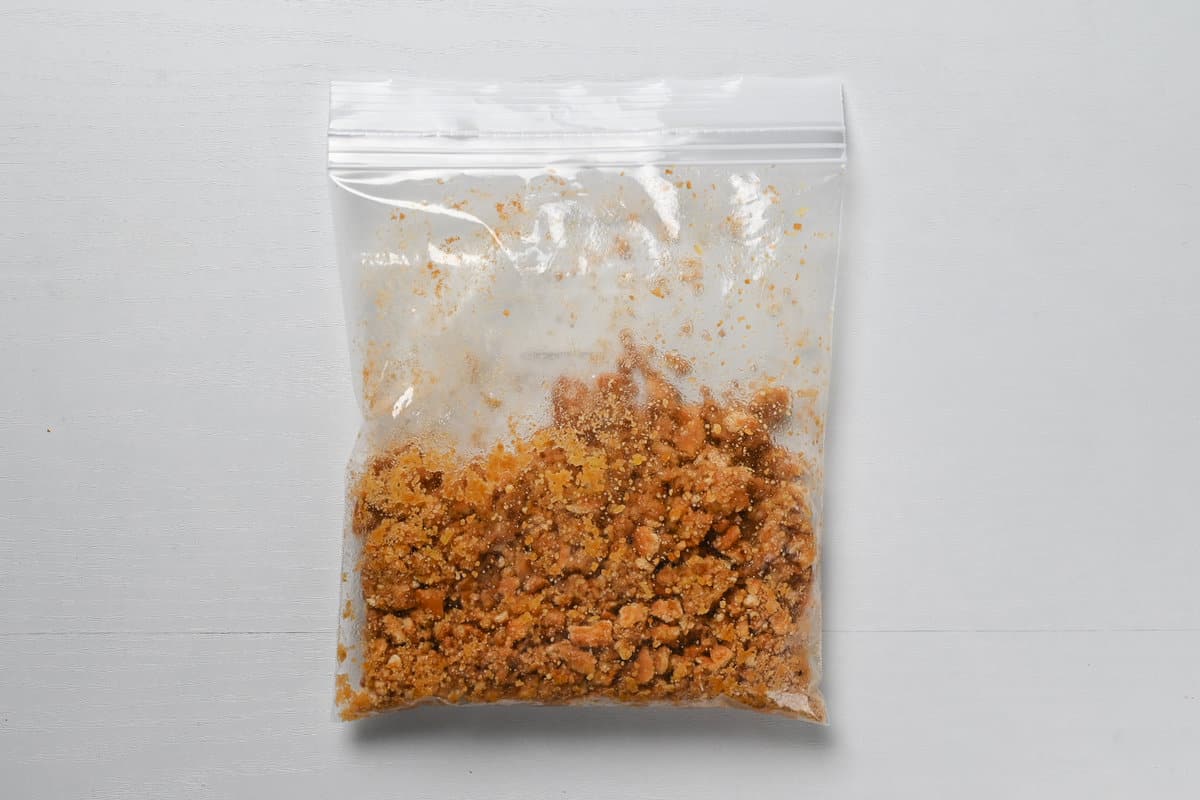 Finally pour the contents into a lined cake pan. I used a 15cm (approx 6 inch) cake pan to create a small yet tall cheesecake. I recommend using a springform pan or one with removable base so that it's easier to remove.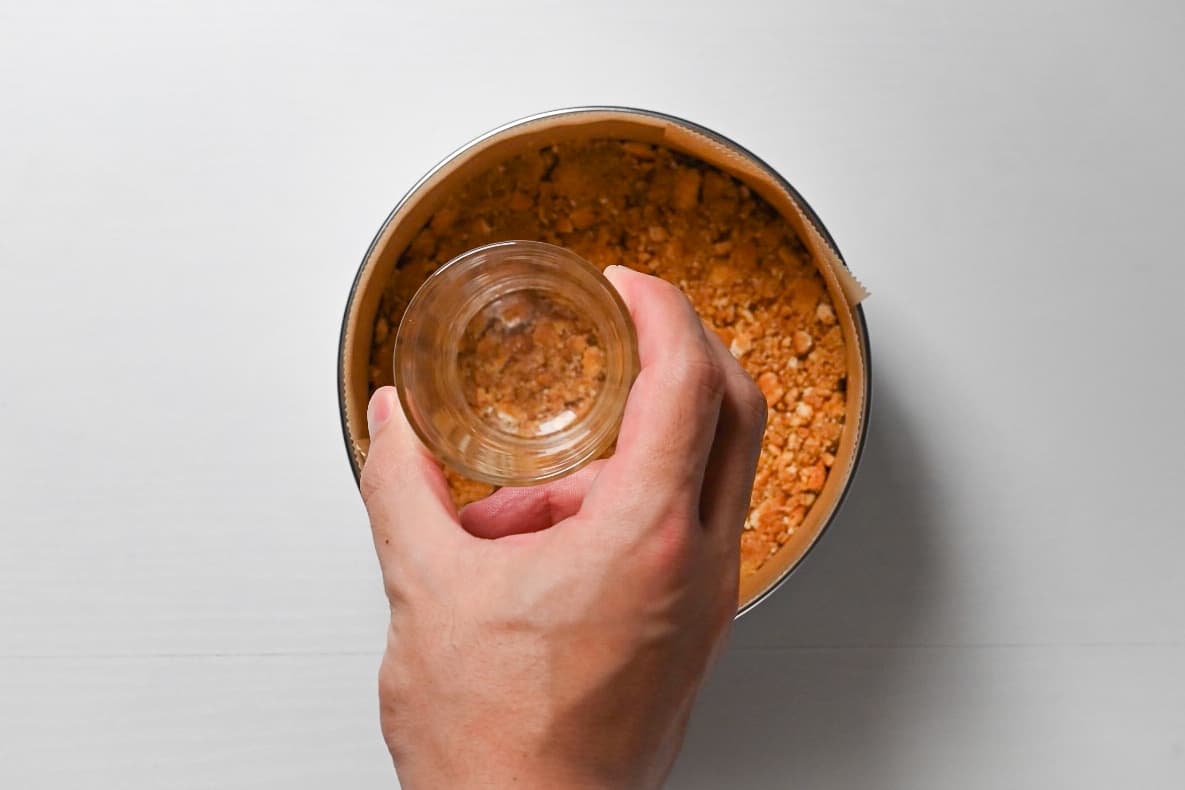 Use a glass with a flat base to smooth it out and then store it in the refrigerator until later.
Soak the gelatine
Before making the cheesecake filling, sprinkle the gelatine powder into some cold water and allow it to bloom for 5-10 minutes. This allows the granules to evenly absorb water, softening it and making it melt more easily and evenly later.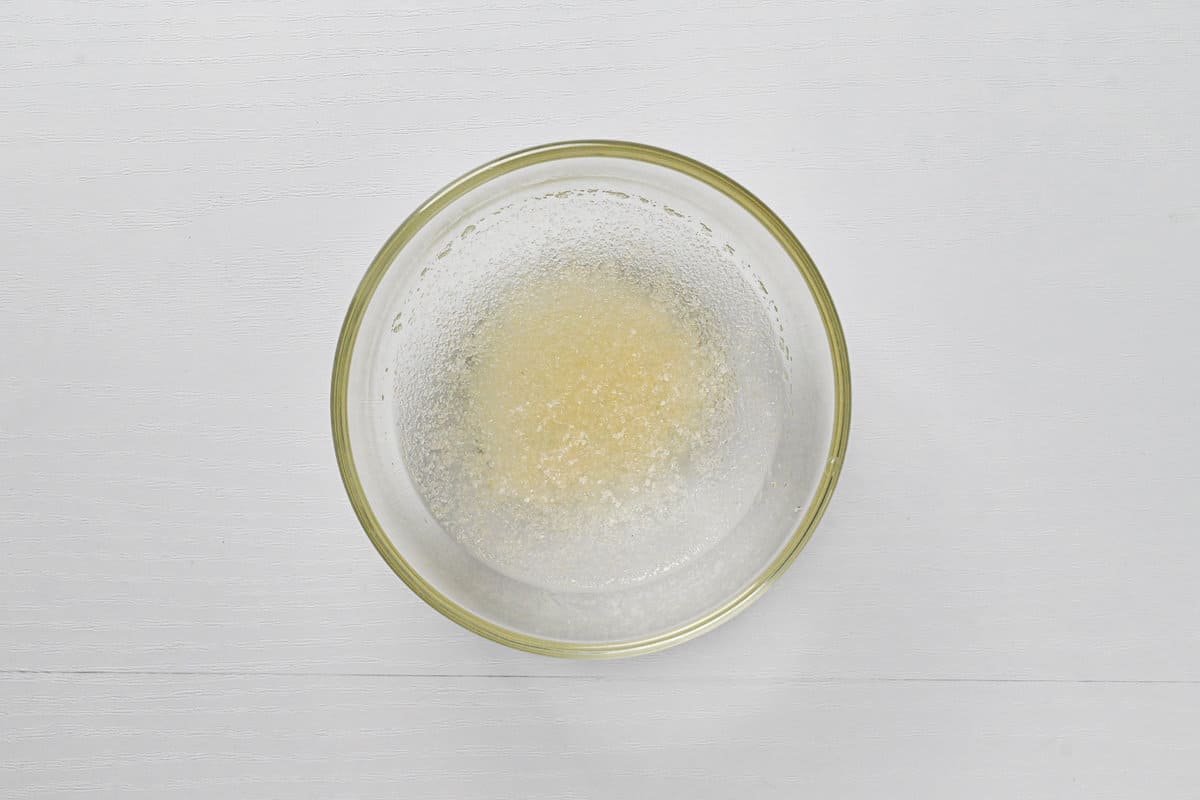 Make the cheesecake mixture
Heat the cream cheese in the microwave in 20-30 second intervals to soften up. (Alternatively you can leave the cream cheese out to reach room temperature 30 minutes before starting the recipe.)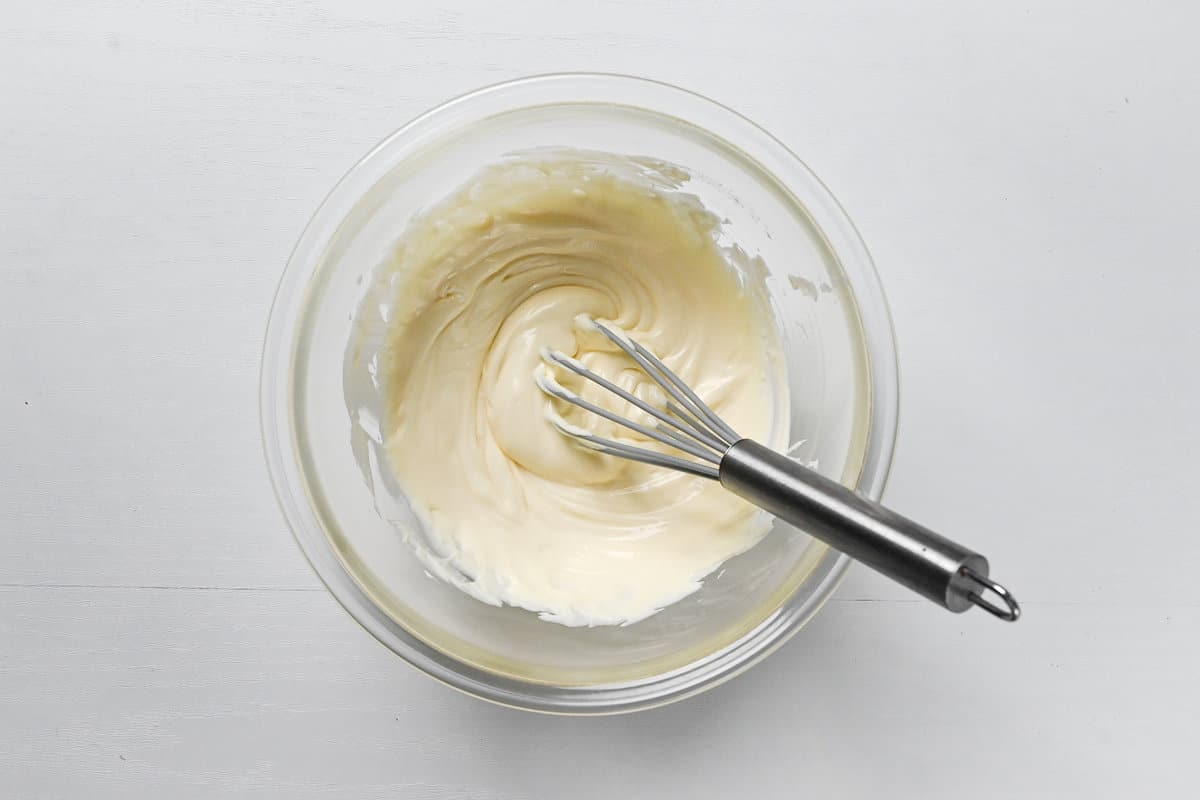 Once the cream cheese is soft enough, whisk until smooth and add the sugar. A bonus to heating the cream cheese in the microwave is that the sugar dissolves more easily into the mixture.
Whisk until the sugar is fully incorporated and then add the plain yogurt.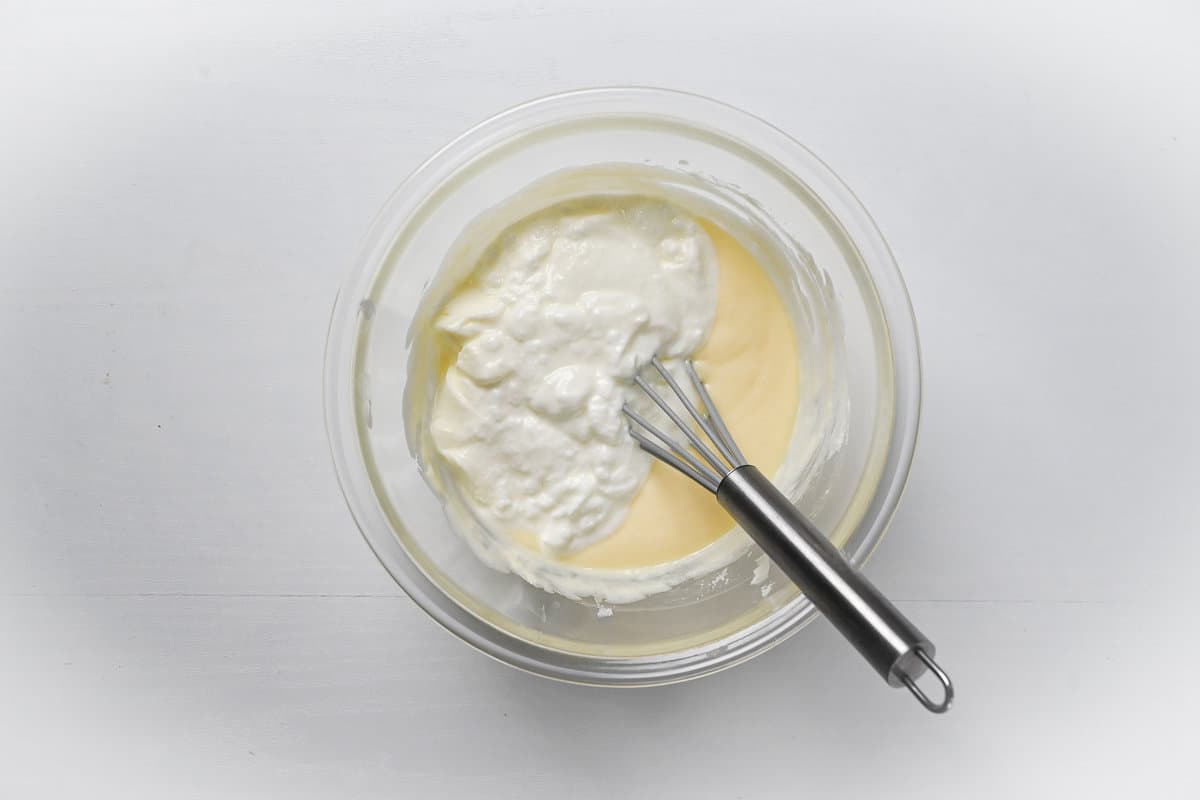 Next, add the lemon juice and vanilla essence. Essentially, you should whisk after adding each ingredient to ensure it's evenly distributed throughout the mixture.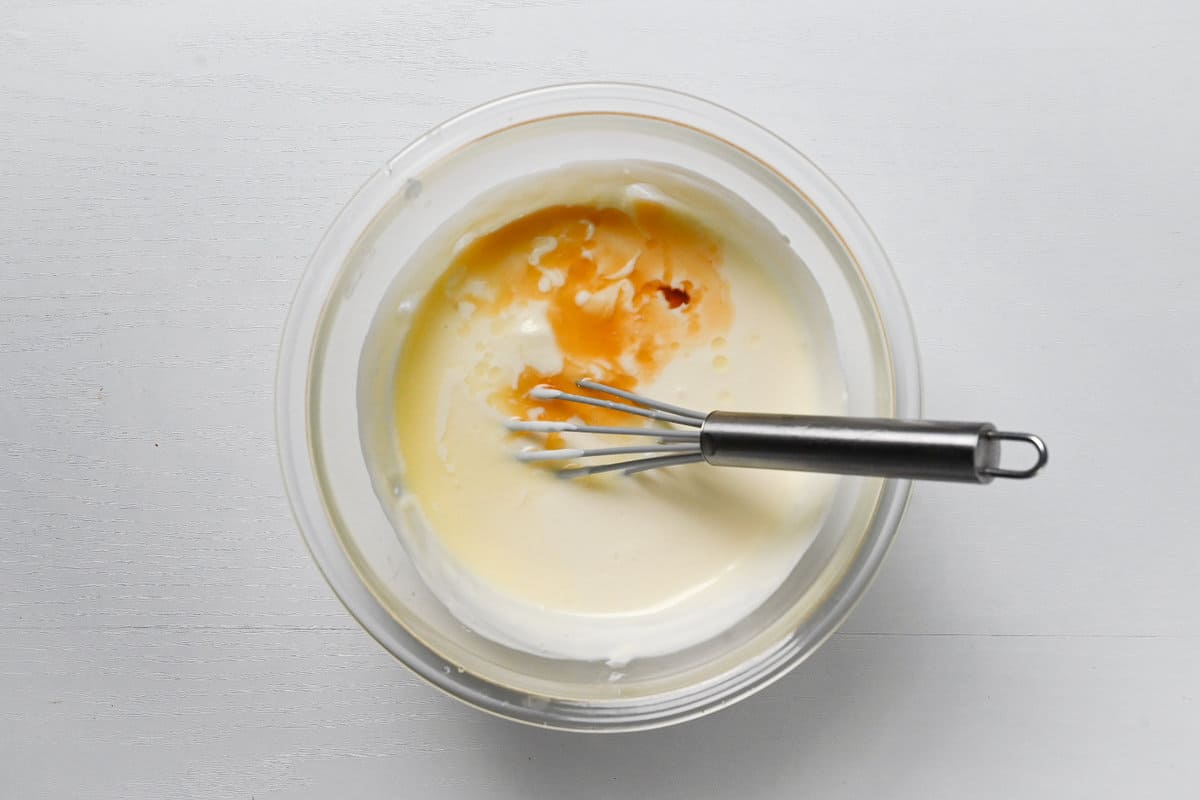 Add the gelatine
The final step is melting the gelatine. You can do this over a bain marie (a glass bowl over hot water) but I find it easier to just heat it in the microwave in 20 second intervals, mixing each time. This will effectively melt the gelatine powder without overheating it, no additional dish washing required!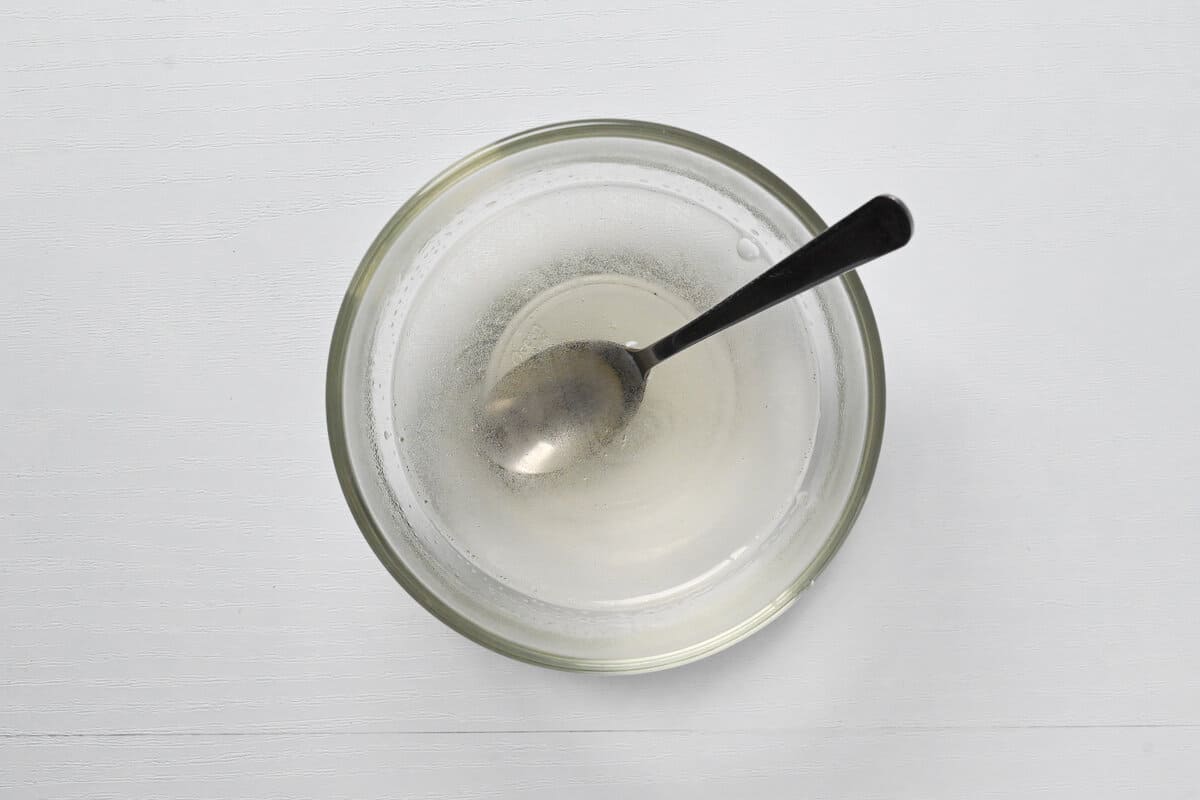 Once it's melted, simply add it to the cheesecake mixture and whisk gently so that it doesn't get too many air bubbles, but thoroughly so that it's evenly distributed through the filling.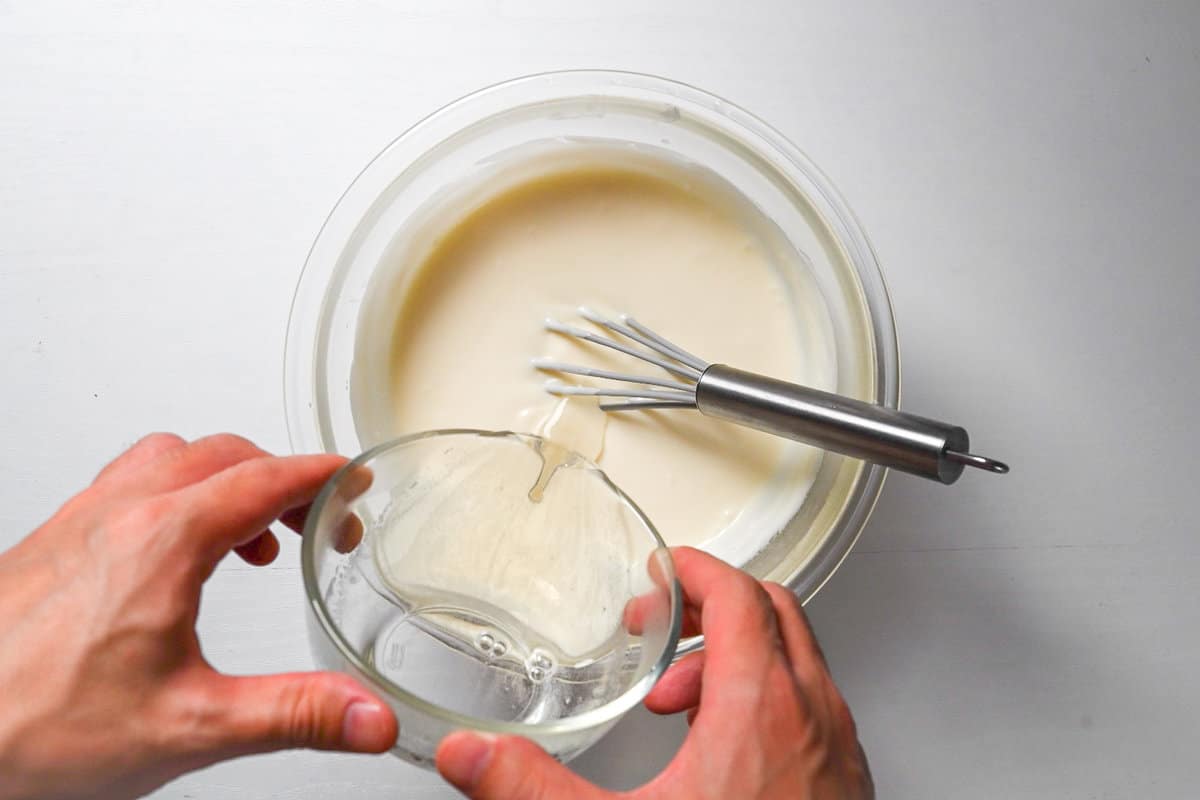 To ensure there's no stubborn lumps of cream cheese, sugar or gelatine, I recommend pouring the mixture through a fine mesh sieve. This extra step will ensure your rare cheesecake is flawlessly smooth.
Assemble and chill
Take the base and pour the cheesecake mixture over the top.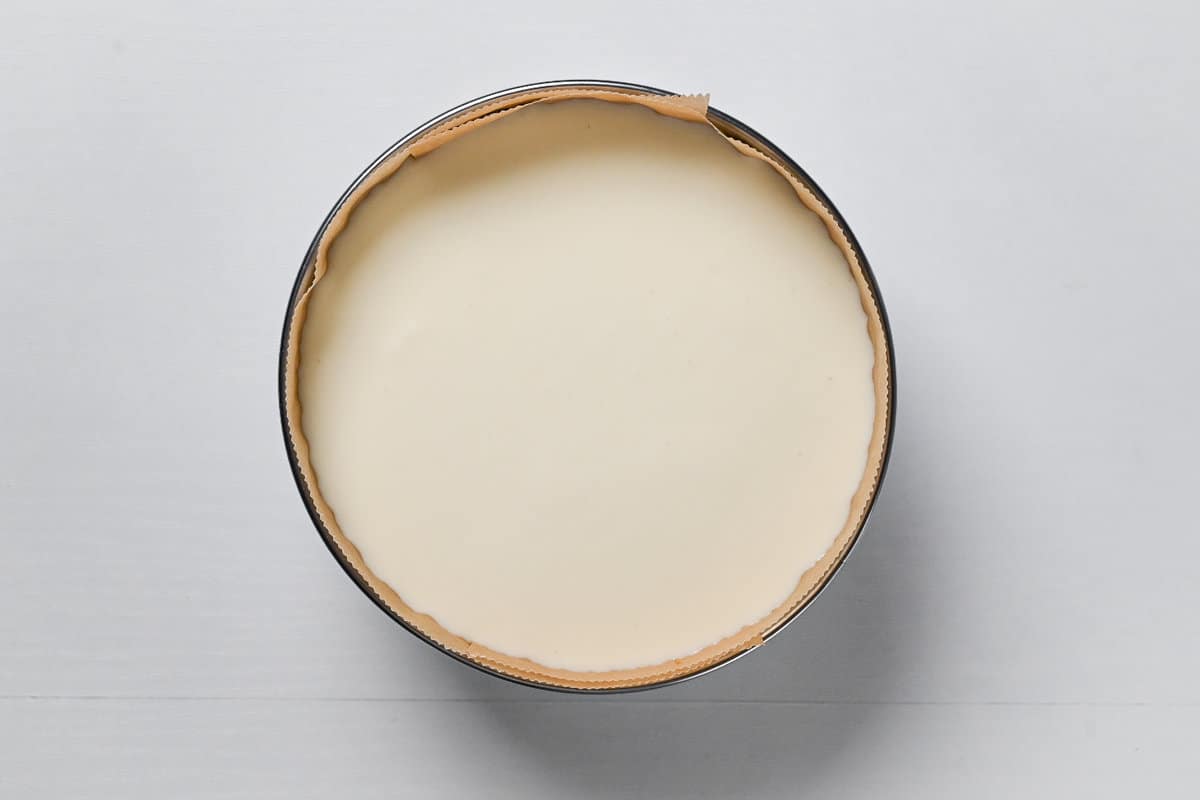 As the mixture is quite thin, I find there's no need to smooth out the top. However your mixture could be thicker depending on the brand of cream cheese, yogurt or even the climate (the mixture will be firmer in winter for example) so feel free to smooth the top with an offset spatula or the back of a spoon if you think it's necessary. If there are any air bubbles, pop them with a toothpick for a flawless finish.
Gelatine desserts typically take 3-4 hours to set in the fridge. Leave plenty of time if you are making it for guests, if possible, make it the night before.
Decorate
Once your rare cheesecake is set, feel free to leave it plain or decorate with lemon slices and mint leaves! You could also add whipped cream or berries, get creative!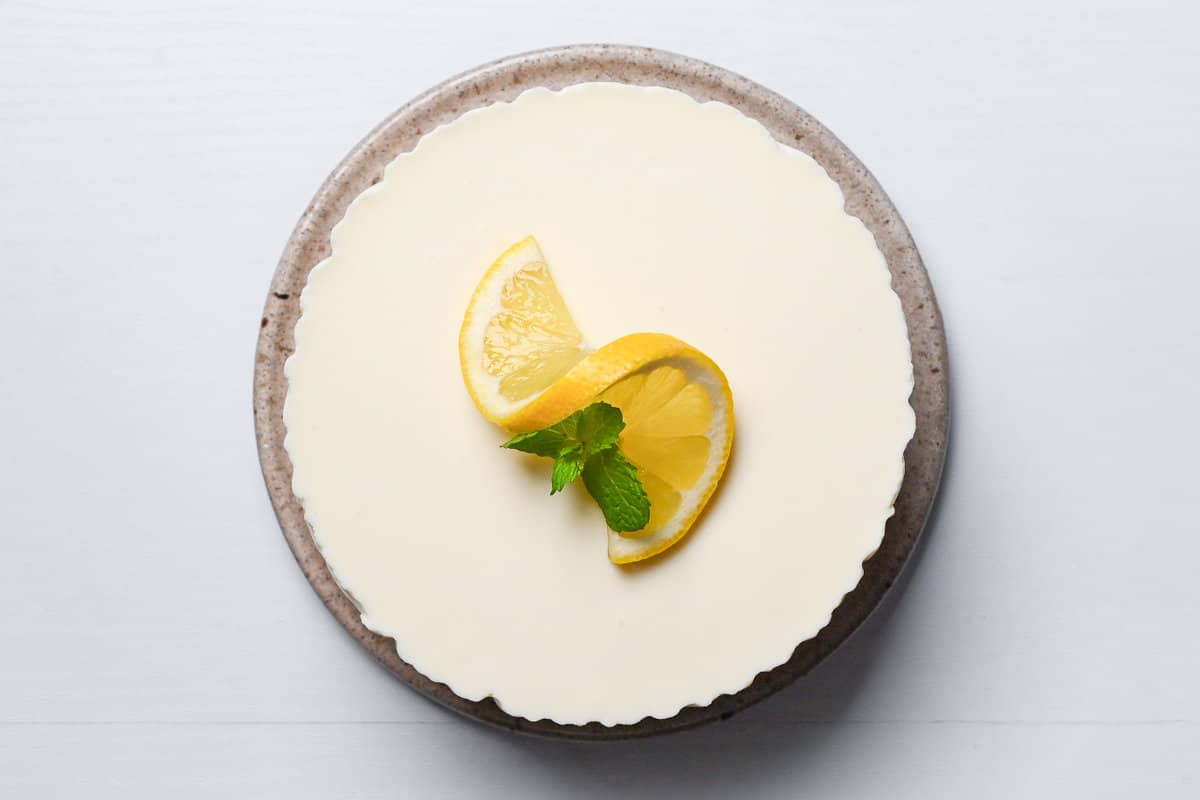 Finally, cut a slice and enjoy!
Storage
This cheesecake will need to be stored in the fridge. It can be kept for about 5 days in a sealed container. Alternatively, wrap it tightly with plastic wrap or foil.
Unfortunately because this rare cheesecake contains yogurt and gelatine, it does not freeze well.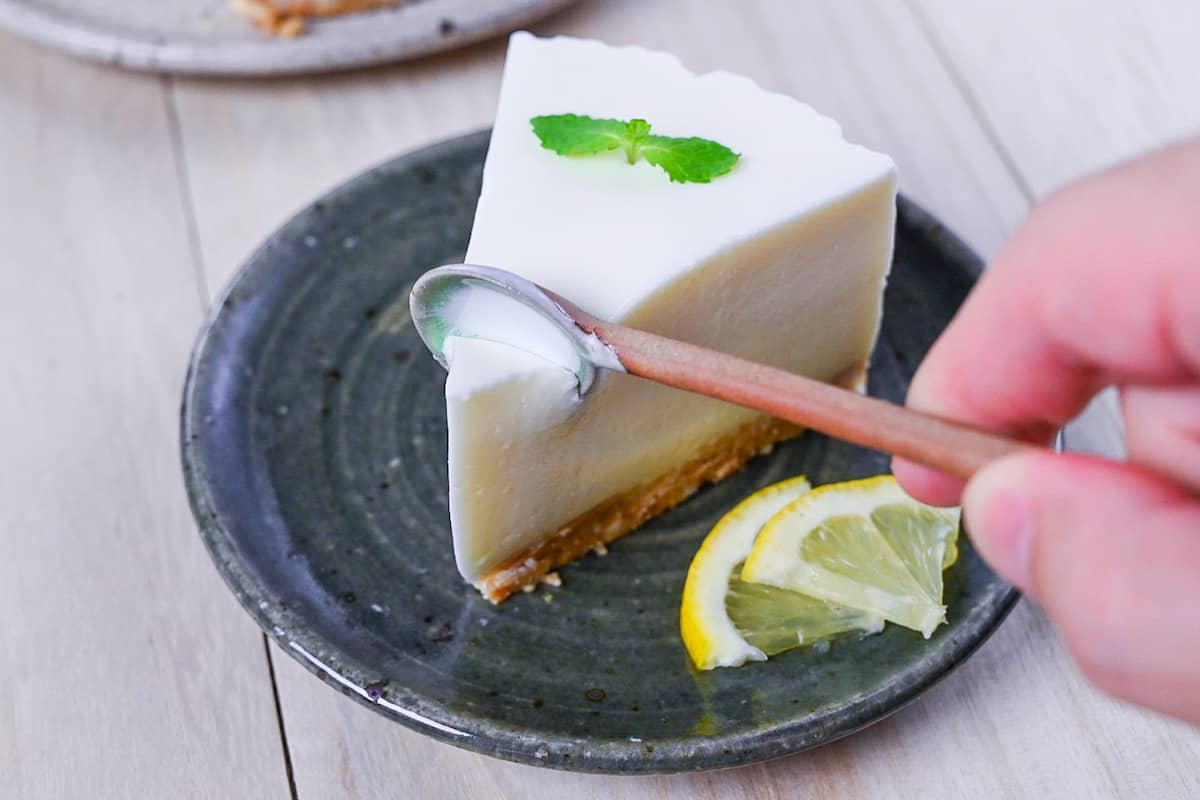 Because of the lemon juice and yogurt, this Japanese Style Rare Cheesecake is a little sour whilst being deliciously light and refreshing! I hope you enjoy it as much as we do!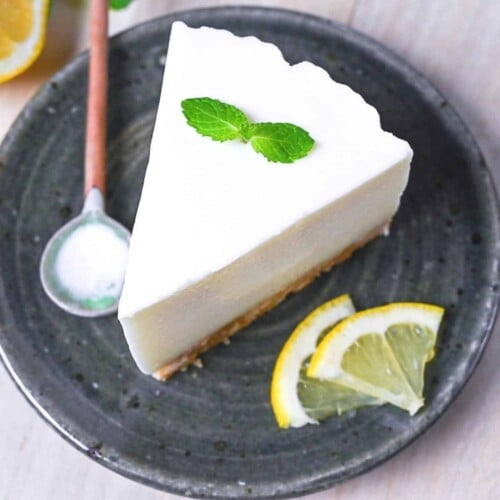 Japanese Style Lemon Rare Cheesecake (no bake)
How to make light and refreshing Japanese Style Lemon Rare Cheesecake made with yogurt and a zingy base flavored with lemon zest.
Ingredients
Base
70

g

graham crackers

50

g

unsalted butter

1

lemon(s)

-

zest
Cheesecake filling
7

g

gelatin powder

60

ml

cold water

300

g

cream cheese

300

g

plain yogurt

90

g

caster sugar

½

lemon(s)

-

juice - or 1 1½ tbsp for every half a lemon

1

tsp

vanilla essence

-

or half the amount of vanilla extract
Optional toppings
lemon slices

mint leaves

mixed berries
Instructions
Base
Place

50 g unsalted butter

into a heatproof container and microwave in 20 second intervals (mixing each time) until fully melted.

Grate the zest of

1 lemon(s)

into the melted butter and mix.

Place

70 g graham crackers

into a zip lock back and crush them using a rolling pin until they become fine crumbs. (For a finer texture, you can use a food processor instead.)

Pour the melted butter into the bag and massage it until it's all absorbed into the crumbs.

Butter a

15 cm cake pan

around the edge (or line with parchment paper) and cut a circular piece of

parchment paper

to line the bottom of the tin. (See note)

Pour the buttery crumbs into the cake tin and press them down firmly with a flat based glass. Store it in the fridge while you prepare the rest of the cheesecake.
Making the Filling
Pour

60 ml cold water

into a small microwavable bowl and sprinkle in

7 g gelatin powder

. Mix and leave for 5-10 minutes to allow the powder to bloom.

Add

300 g cream cheese

to a microwavable bowl and heat in 20-30 second intervals, mixing each time until soft enough to whisk with ease.

Whisk the cream cheese until it becomes smooth and lump free, then add

90 g caster sugar

and whisk again until smooth.

Add

300 g plain yogurt

and continue to whisk.

Squeeze in the juice of

½ lemon(s)

and add

1 tsp vanilla essence

. Whisk gently until well incorporated.

Your gelatine powder should of thickened by now. Fully melt the gelatine by microwaving in 20 second intervals and mixing each time OR melt in a double boiler (bain marie).

Once your gelatine is lump-free, immediately pour into your cheesecake mixture and mix gently to prevent air bubbles, but thoroughly so that it's evenly distributed.

Take the base from the fridge and pour the cheesecake mixture into the cake tin. (Optional step: If you want make sure it's extra smooth, pour it through a

sieve

first.)

Smooth over the top and leave to chill in the fridge for at least 3-4 hours. (Preferably overnight.)

Decorate with

lemon slices

,

mint leaves

or

mixed berries

(optional).

Enjoy!
Notes
If you use gelatine sheets instead of powder, you will need about 4 sheets for 7g of powder.
If you don't have a baking tin with a removable base or spring form cake tin, cut two long pieces of parchment paper and lay them in a cross underneath the circular piece. They should be going across the middle vertically and horizontally, hanging over the edge so that you can use them to pull the cheesecake out later. If you use this technique I recommend being sure to line the edges of the pan with baking parchment too, this will prevent the sides from sticking.
For a 18cm pan (7") multiply the recipe by 1.5
Nutrition
Serving:
112.9
g
Calories:
276
kcal
Carbohydrates:
20.1
g
Protein:
6
g
Fat:
20.9
g
Saturated Fat:
12.48
g
Polyunsaturated Fat:
0.74
g
Cholesterol:
56
mg
Sodium:
173
mg
Fiber:
0.2
g