These light and fluffy muffins are flavoured with matcha green tea powder and white chocolate chips creating perfect balance of earthy and sweet. They make a great breakfast treat or snack anytime of day!
Disclaimer: This post contains Dokodemo affiliate links. Sudachi Recipes earn a small percentage from qualifying purchases at no extra cost to you. See disclaimer for more info.
Jump to:
What are Matcha Muffins?
Matcha muffins are simply muffins flavoured with Japanese green tea powder. Matcha has a distinct earthy, slightly bitter taste and is one of the most loved flavours for sweets and desserts in Japan. In fact, I would say that matcha is probably one of the most common flavours you can find here.
Because of matcha's bitterness, it pairs well with the highly sweet yet mild flavour of white chocolate. It's one of my favourite flavour combinations!
This muffin recipe is one of my go-to baking recipes and I make them often. It's quick, easy and fail free so if you're looking for soft, light and delicious matcha muffins, this is the recipe for you!
What is Matcha?
Matcha is a type of green tea made by grinding young green tea leaves into a fine, brightly coloured powder. Growing green tea leaves for matcha requires special care, they are grown in shade which not only helps the plant develop more caffeine, but also develop more amino acids which contribute to its complex flavour.
There are different grades of matcha depending on its quality and usage. Usually the highest quality matcha is whisked with hot water using a special bamboo tea whisk called a "chasen" (茶筅) to make matcha tea. This way, the flavour of the matcha can be appreciated in its purest form. The "culinary grade" matcha is not so high in quality, but since it will be complimented with other ingredients it is perfect for baking and used in sweetened drinks such as matcha latte or matcha bubble tea with tapioca.
Regardless of the grade, you can tell a good quality matcha by the colour. Matcha powder should be vibrant green (not faded) and have a strong and fragrant aroma. Since matcha tends to deteriorate quite quickly, I recommend keeping it in the fridge or freezer once opened and using it within 4 weeks for optimum flavour.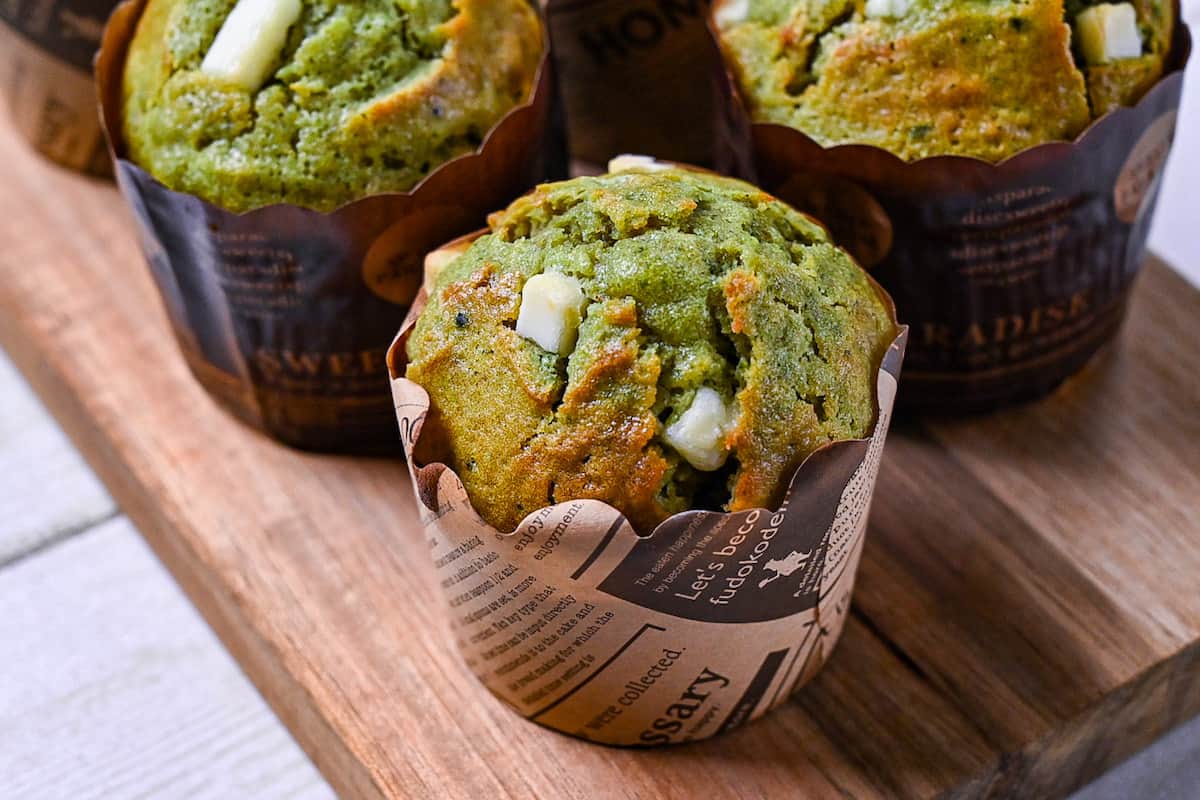 Ingredients You Will Need
For this recipe, you will need the following ingredients:
Cake flour
Baking powder (I used Rumford)
Matcha powder
Cinnamon powder
Salt
Medium egg
White sugar
Plain natural yogurt
Whole milk
Vanilla essence
Vegetable oil
See recipe card for quantities.
Use room temperature ingredients
I recommend measuring out your ingredients in advance and leaving the egg, yogurt and milk out of the fridge for 30 minutes before making the batter. This makes it easier for the ingredients to incorporate into each other, resulting in a smoother batter that is less likely to be overmixed.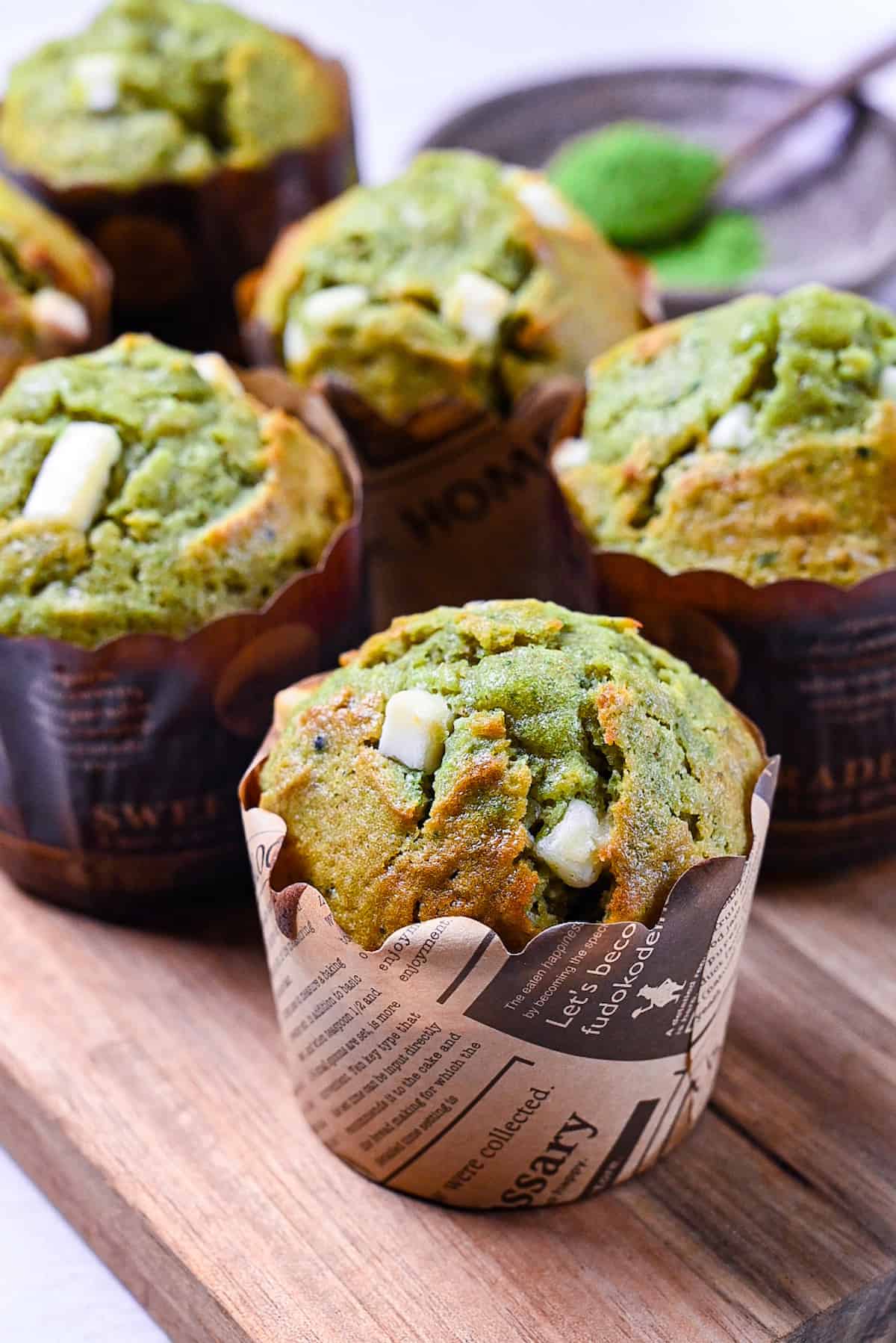 Step-by-Step Process
Here are my step by step instructions on how to make the best matcha muffins at home including process pictures with tips and tricks to get them perfect every time! For a simplified printable version of the recipe with ingredient quantities, see the recipe card at the bottom of the page.
Combine the dry ingredients
In order to make light and fluffy muffins, it's important not to over mix. When we talk about over mixing, it refers to the flour coming into contact with wet ingredients and the more you mix it, the more the gluten develops which in turn creates dense and chewy muffins. This is certainly something we want to avoid! One way we can prevent this is to mix the dry ingredients and wet ingredients separately.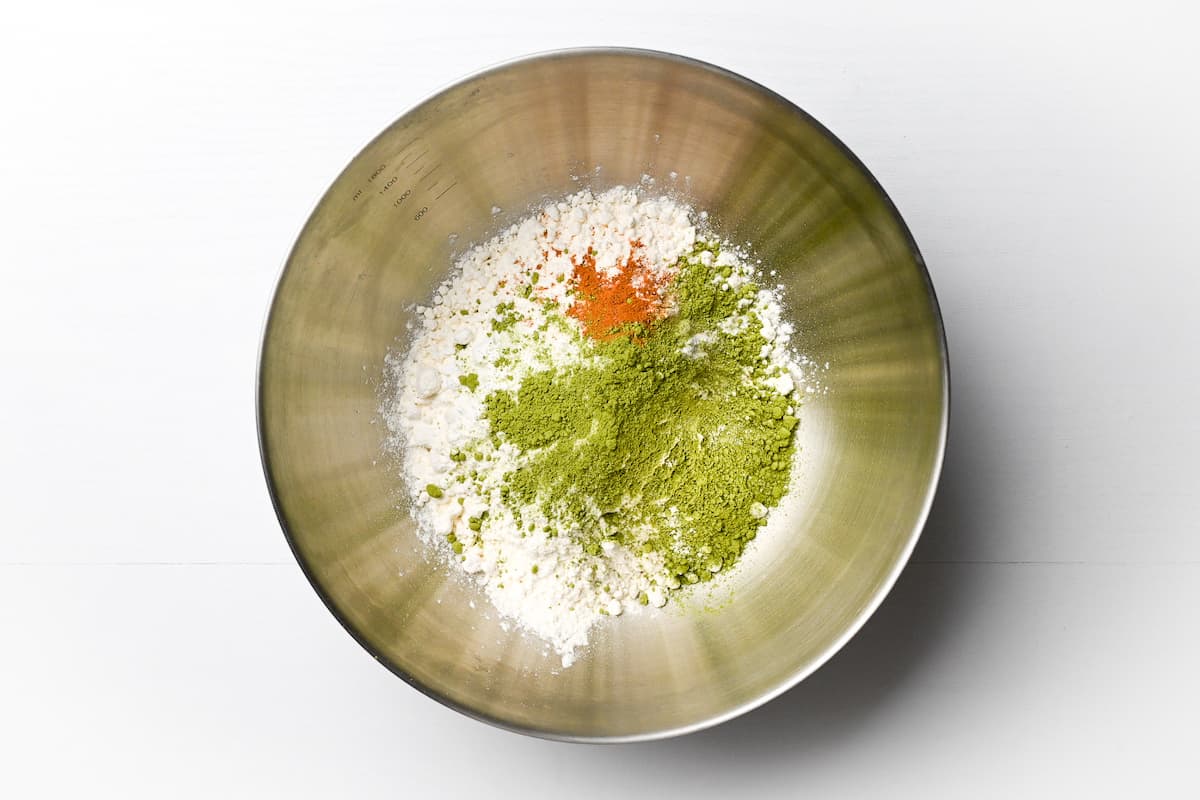 The first step is to sift the flour and matcha into a bowl and then add the baking powder, baking soda, salt and cinnamon. Sifting helps aerate the flour and break down any lumps of matcha before combining them with the other ingredients.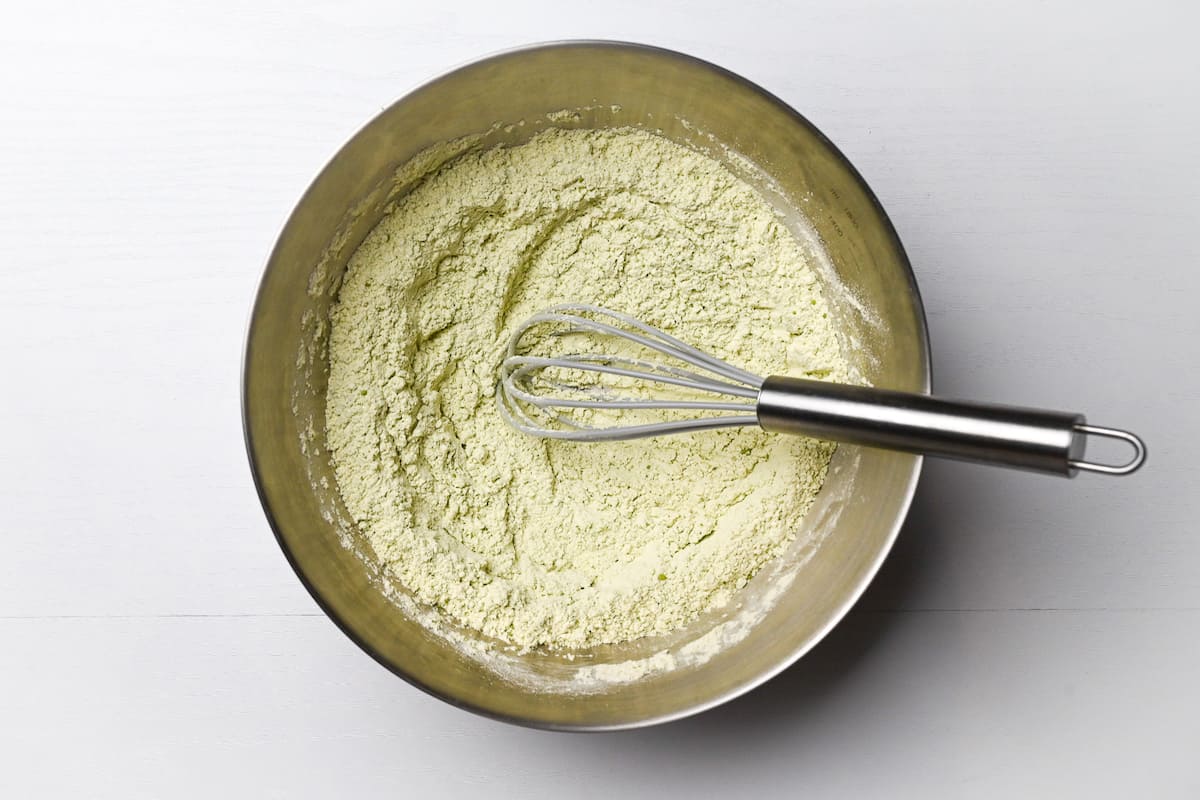 Use a whisk to mix until everything is well combined and then make a "well" in the centre, we will pour the wet ingredients into the well later.
Mix the egg and sugar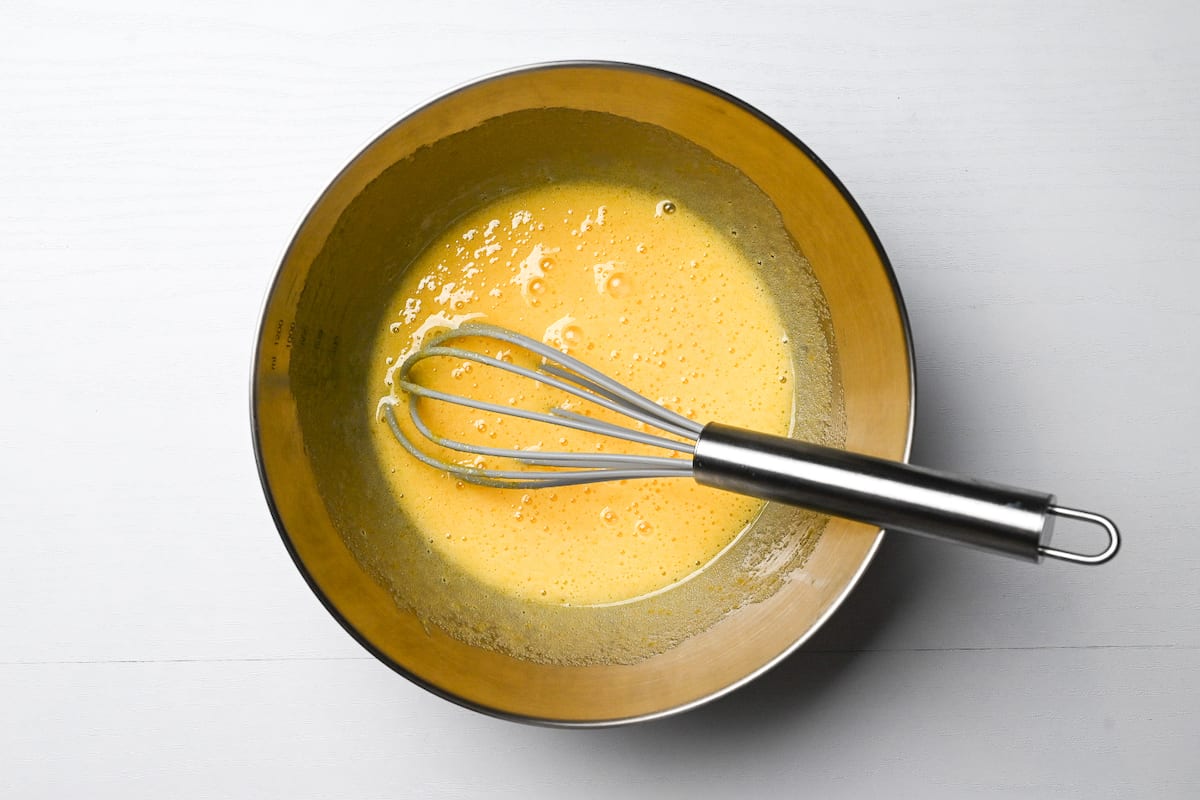 Mixing the sugar into the egg will help it dissolve which will ensure it is mixed evenly into the batter. Whisking also incorporates air into the eggs which adds to the light and fluffy texture of the muffins!
Combine wet ingredients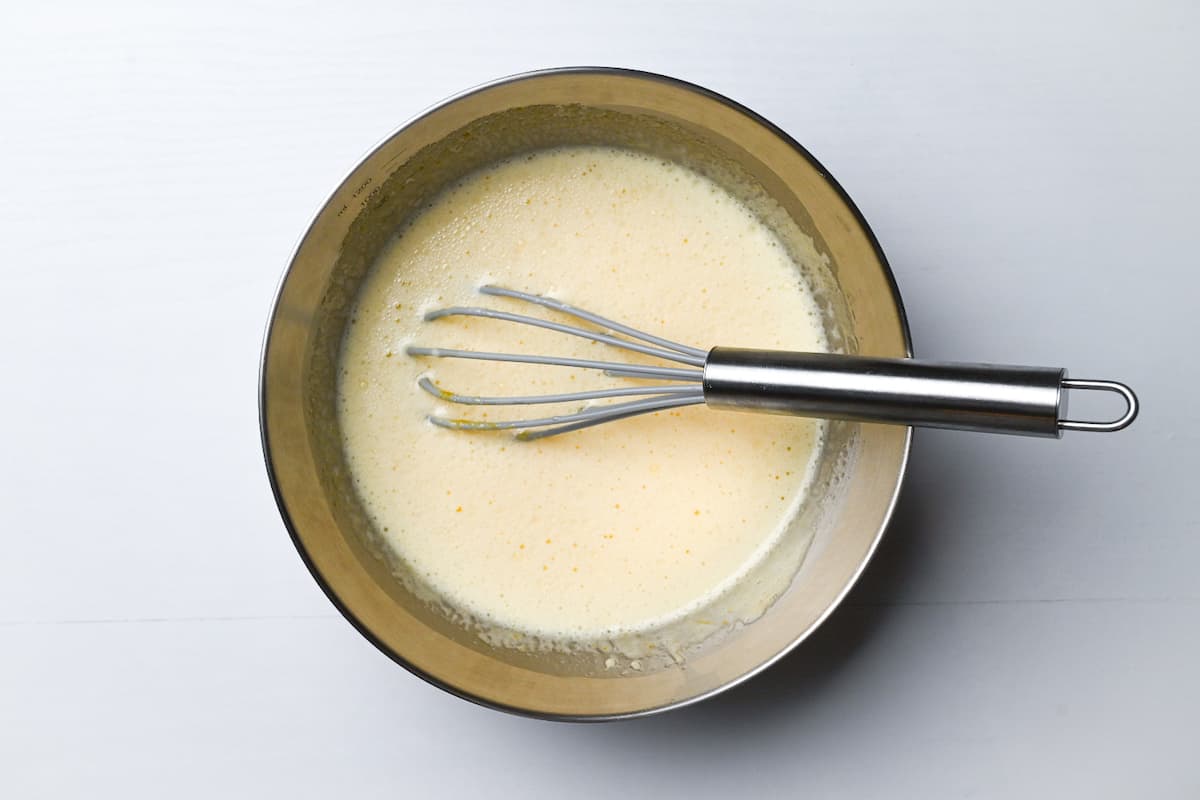 In the bowl with the egg/sugar mixture, add the natural yogurt, whole milk, vanilla extract and oil. Mix until well combined.
Combine the wet and dry ingredients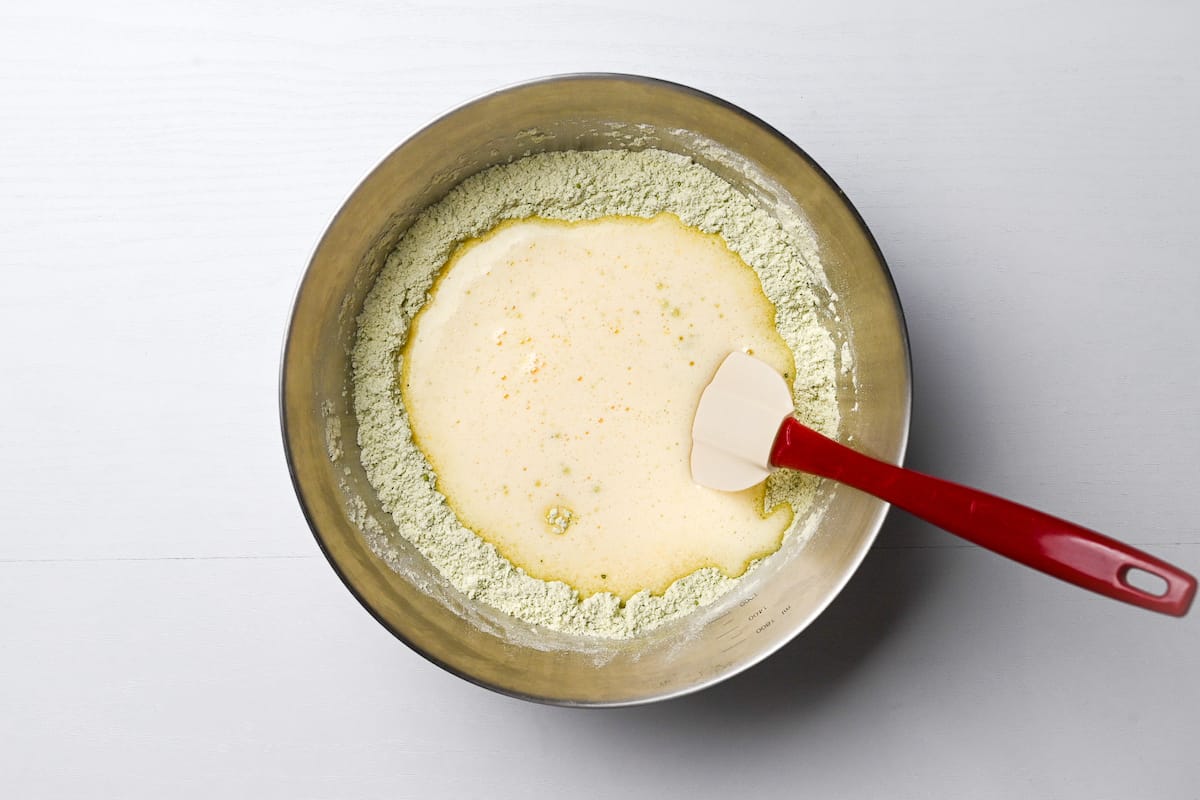 Pour the wet ingredients into the bowl of dry ingredients and use a spatula to gently combine them. Make sure to scrape the sides of the bowl to ensure all the dry ingredients are incorporated and be careful not to mix too much! The batter should be slightly thick.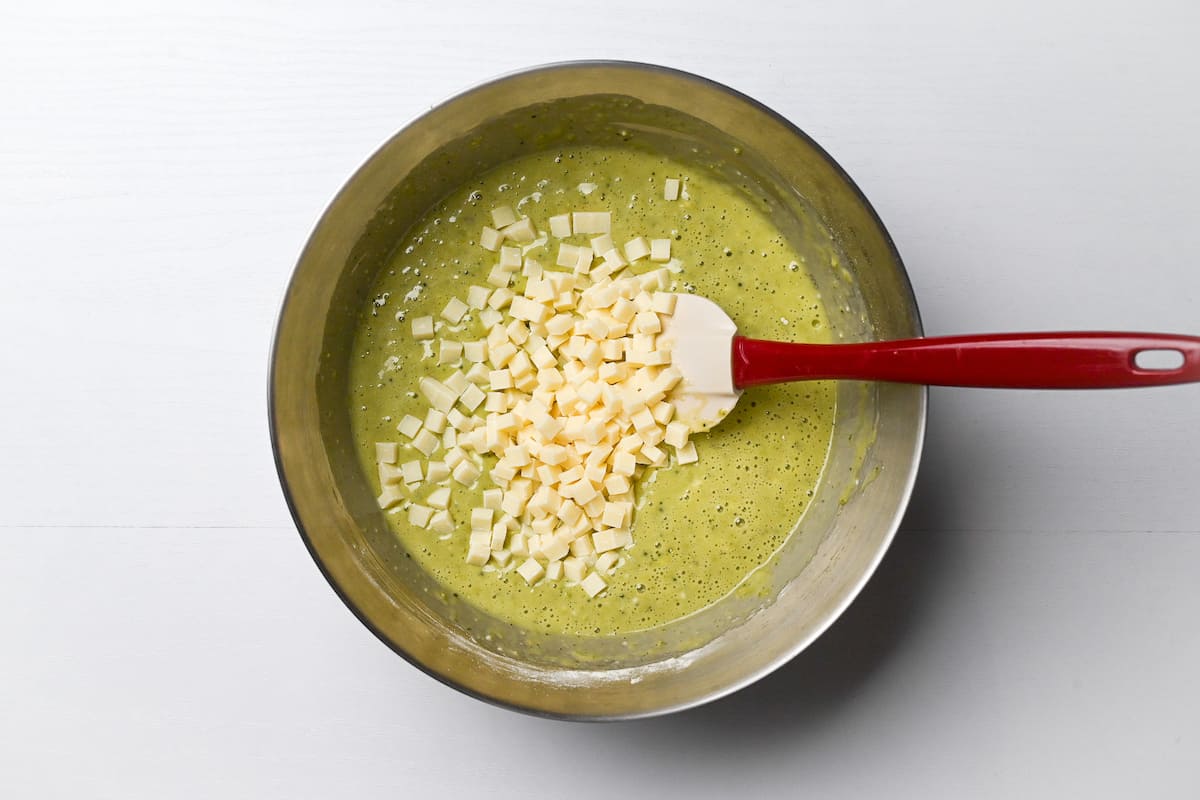 Once combined, add your chocolate chips! One tip to stop them sinking is to toss them in a very light coating of flour, but this is optional. I also save a few chocolate chips to sprinkle on the top.
Pour into muffin cases and bake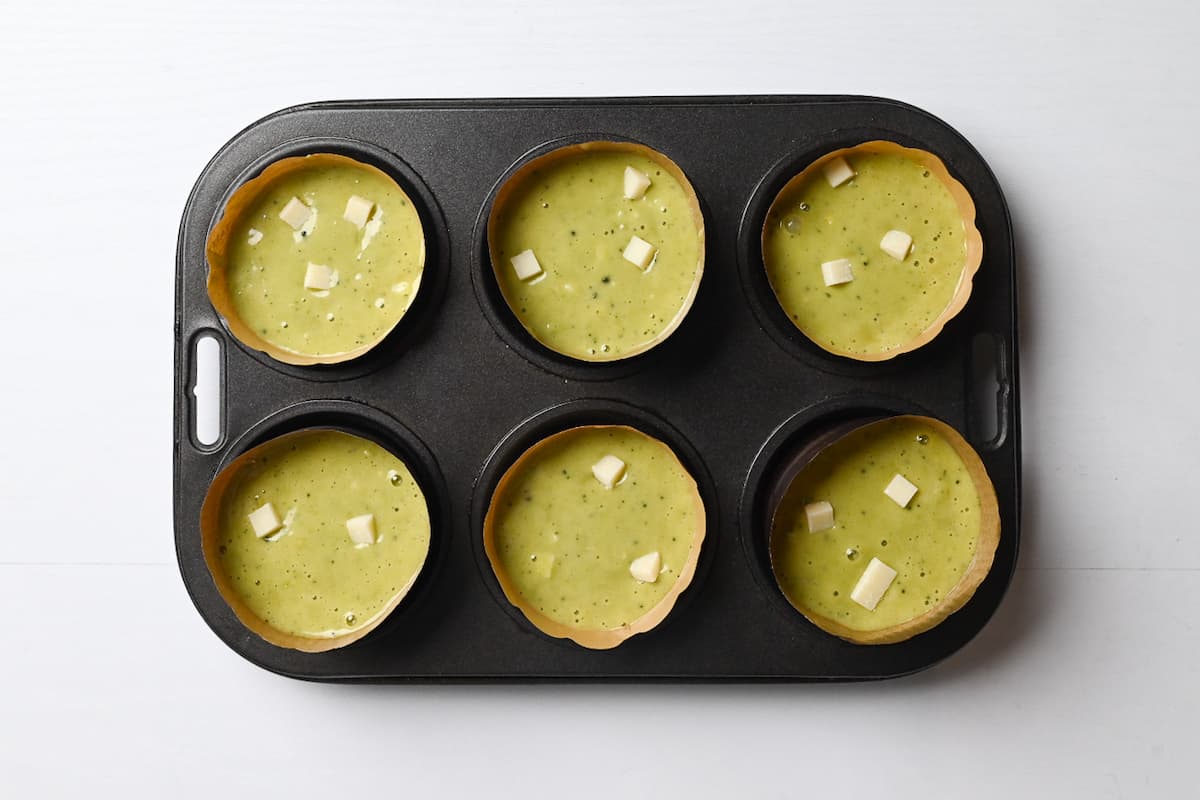 Lightly grease 6 muffin cases and fill each case ⅔ of the way up.
Bake in an oven preheated to 200°C (390°F) for 5 minutes. This high temperature will give the rising agents a boost helping form beautifully cracked muffin tops. After 5 minutes, lower the heat to 180°C (360°F) and bake for another 15 minutes.
Be careful not to overbake
Baking too long will result in dry muffins. Be sure to check them frequently and test with a toothpick to check they're done!
Alternatively you can divide them into 12 mini muffins, but be sure to adjust the baking time as smaller muffins cook faster. I recommend 180°C (360°F) for approximately 12 minutes.
Cool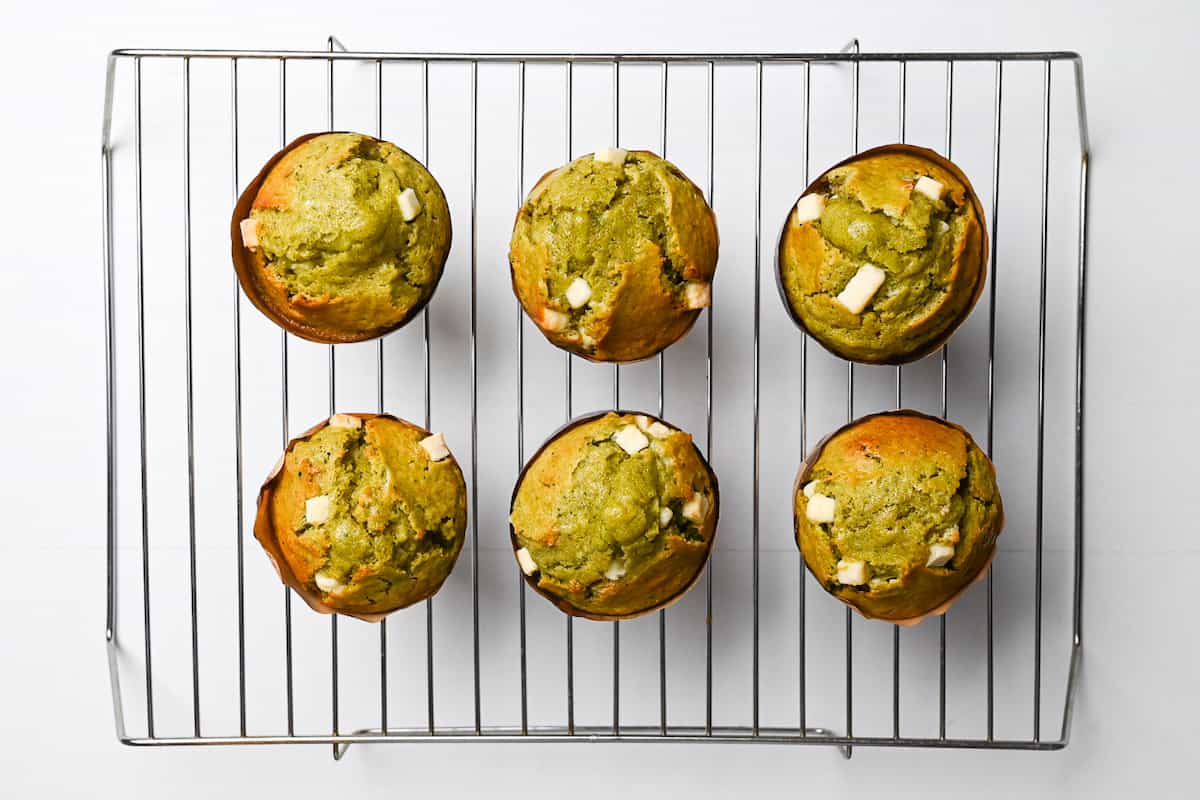 Once cooked, leave to cool on a wire rack.
When they're cool, they're ready to eat!
Substitutions
If you're not big on white chocolate, you can also replace it with something else. Here are some ideas.
Dark chocolate
Milk chocolate
Cooked adzuki beans
Nuts
Dried strawberries
Note: This recipe has a reduced amount of sugar because white chocolate is very sweet. If you swap it for nuts, you might need more sugar to make them sweeter. Of course, this is all down to preference.
The sweetness of the white chocolate with the bitterness of the matcha works really well together! I hope you enjoy this muffin recipe with a Japanese twist!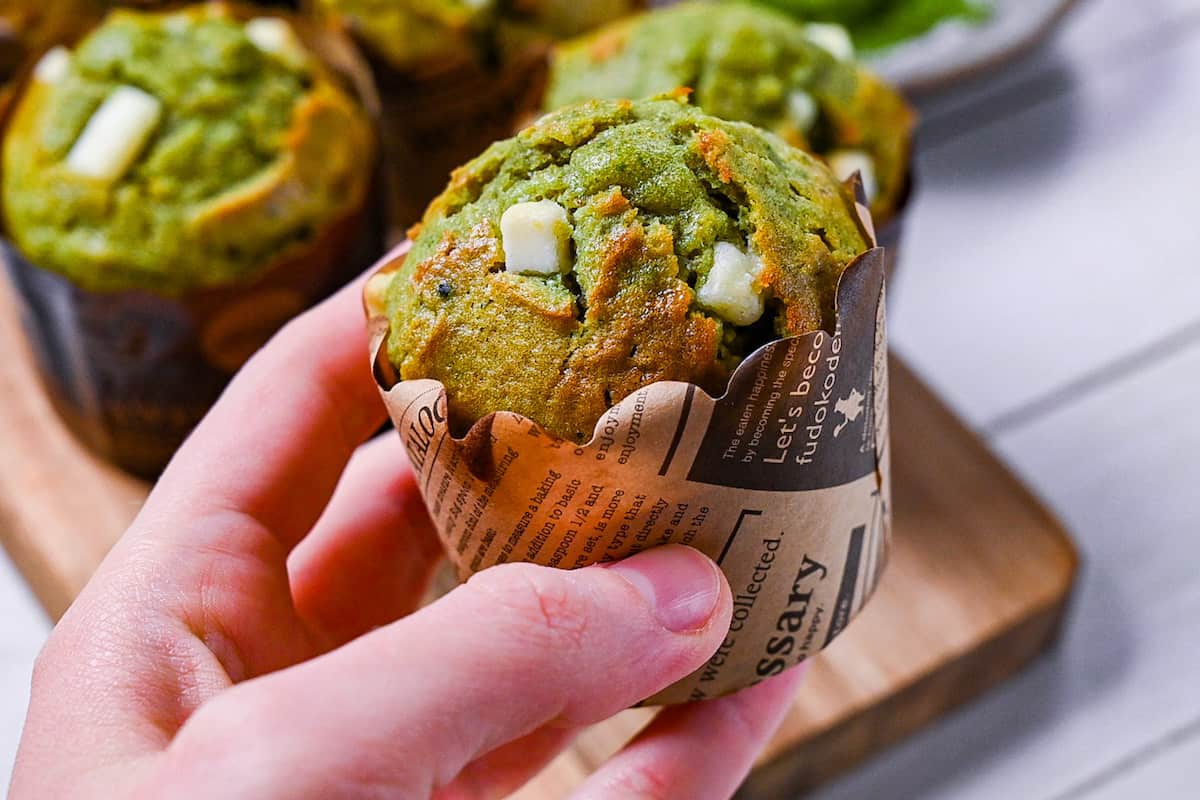 Storage
You can keep these muffins in an airtight container for 1-2 days. Any longer than that and I recommend freezing them. You can freeze them for up to 3 months. Defrost thoroughly before eating and heat in the microwave for 10-20 seconds if they seem a little dry.
Matcha Lovers
If you love matcha, be sure to check out some of my other matcha recipes!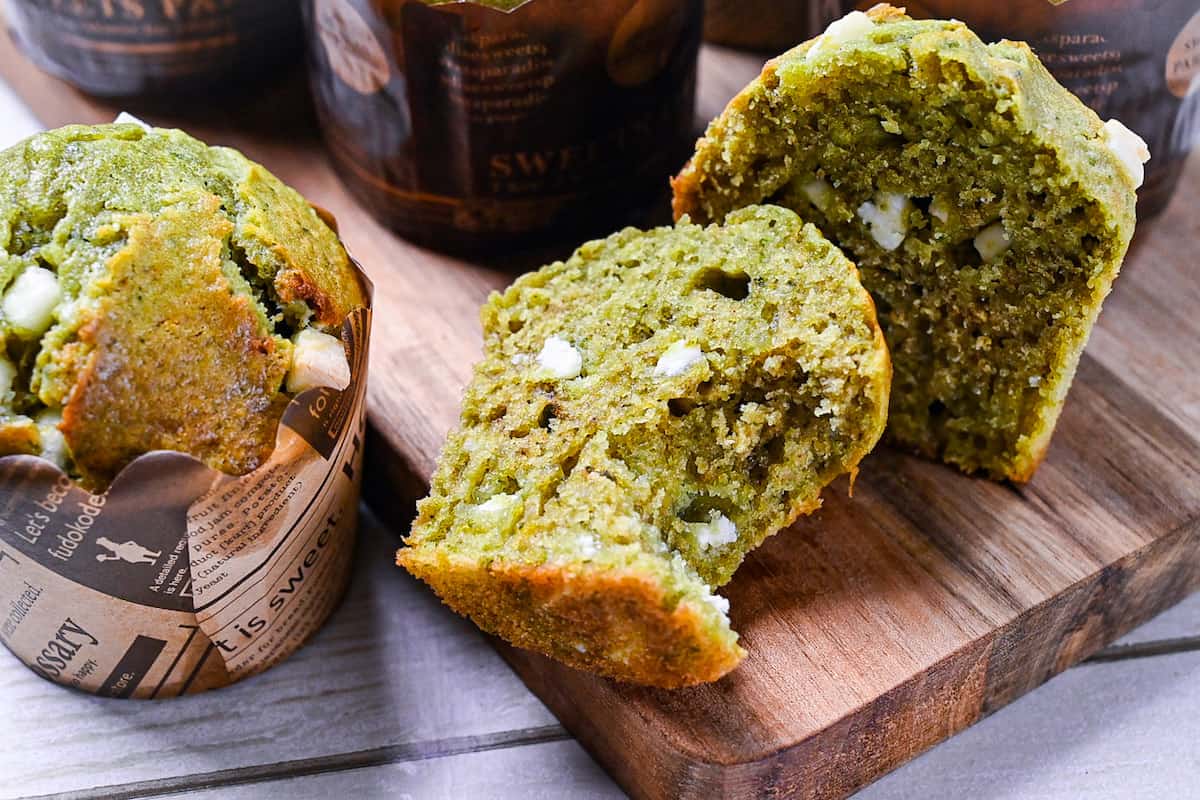 Matcha and White Chocolate Muffins
How to make fluffy and light, matcha green tea muffins with white chocolate. The perfect afternoon snack and a breakfast treat!
Ingredients
180

g

cake flour

1

tbsp

matcha powder

1 ½

tsp

baking powder

¼

tsp

baking soda

¼

tsp

cinnamon

1

pinch

salt

1

large egg

100

g

caster sugar

120

ml

whole milk

3

tbsp

plain natural yogurt

60

ml

cooking oil

½

tsp

vanilla essence

-

or half the amount of vanilla extract

100

g

white chocolate chips
Instructions
Preheat the oven to

200

°C

.

Sift

180 g cake flour

and

1 tbsp matcha powder

into a mixing bowl. Add the

1 ½ tsp baking powder

,

¼ tsp baking soda

,

¼ tsp cinnamon

and

1 pinch salt

and whisk all the dry ingredients until well distributed.

In a separate bowl whisk

1 large egg

and

100 g caster sugar

for about 1 minute or until the sugar is dissolved.

Add

120 ml whole milk

,

3 tbsp plain natural yogurt

,

60 ml cooking oil

and

½ tsp vanilla essence

to the whisked egg and sugar, and gently whisk until well incorporated.

Make a well in the center of the dry ingredients and pour in the wet mixture. Carefully fold them together with a spatula until well incorporated. Be careful not to over-mix.

Add

100 g white chocolate chips

to the mixture, fold through a few times to distribute the chocolate but try to mix as little as you possibly can.

Spoon the mixture into about 6 standard sized muffin cases about ⅔ of the way up.

Bake at

200

°C

for just 5 minutes to give them a rising boost, then lower the heat to

180

°C

and bake for a further 15 mins. (Or until cooked through - test with a toothpick if unsure. If it comes out clean then they're cooked.)

Transfer to a wire rack and leave to cool.

Enjoy!
Notes
This recipe makes approximately 6 standard sized muffins or 12 mini muffins.
If making mini muffins, skip the 5 minutes of baking at a higher temperature and bake for 12 minutes at 180°C (or 350°F).
Store in an airtight container at room temperature for 1-2 days, or freeze for up to 3 months.