Upgrade your edamame with this simple yet delicious side dish made up of pre-boiled edamame stir-fried in a delightful garlic and oyster sauce glaze. These irresistible morsels are not only totally addictive, but they also serve as the perfect snack or appetizer!
Disclaimer: This post contains Amazon affiliate links. Sudachi Recipes earn a small percentage from qualifying purchases at no extra cost to you. See disclaimer for more info.
What is edamame?
Edamame (枝豆) might surprise you with their bright green exterior, but make no mistake, these are actually young, unripe soybeans. As edamame ripens, they transform into the more familiar beige soybeans. In recent years, dedicated edamame varieties have been bred, and there are more than 400 varieties in existence. In Japan, edamame is typically enjoyed simply by boiling them and sprinkling with a touch of salt.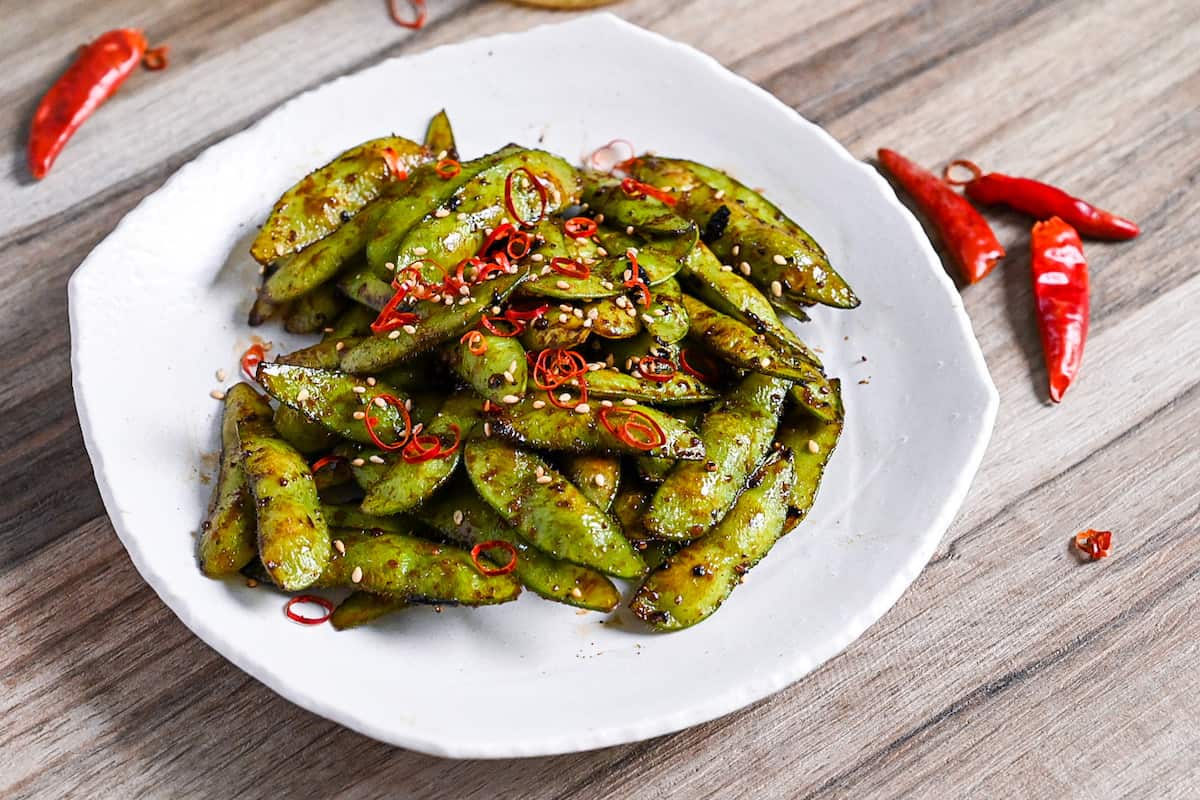 A brief history
Edamame were introduced to Japan from China, hand-in-hand with rice cultivation. It is not known when edamame (immature soybeans) were first consumed as food, but it is said that they may have been consumed as early as the Nara (710-784) or Heian periods (784-794).
After that, during the Edo period (1603-1867), these young soybeans, still attached to their branches, started to be called "Eda (branches)" and "Mame (beans)", and were a popular fast food, sold freshly boiled.
It's worth noting here that edamame begins to lose flavor once separated from the branch. Therefore, for the best flavor, it's best to purchase edamame still clinging to its branches, with beans that are full and plump.
How do you eat edamame?
Despite being typically sold in their pods, edamame is consumed by only eating the beans inside, not the pods. The serving methods for edamame are diverse, often seen as an appetizer, a snack, or even a side dish with a glass of beer.
When it comes to the usual way of consuming edamame, the process is simple yet unique. You hold the pod to your mouth and gently apply pressure between the beans using your teeth. This action effectively slides the pod through the teeth, extracting the tender soybeans inside and transfering them to your mouth. While the exterior flavors won't directly season the beans, your tongue and teeth will undoubtedly catch these flavors, adding a dimension to the overall tasting experience.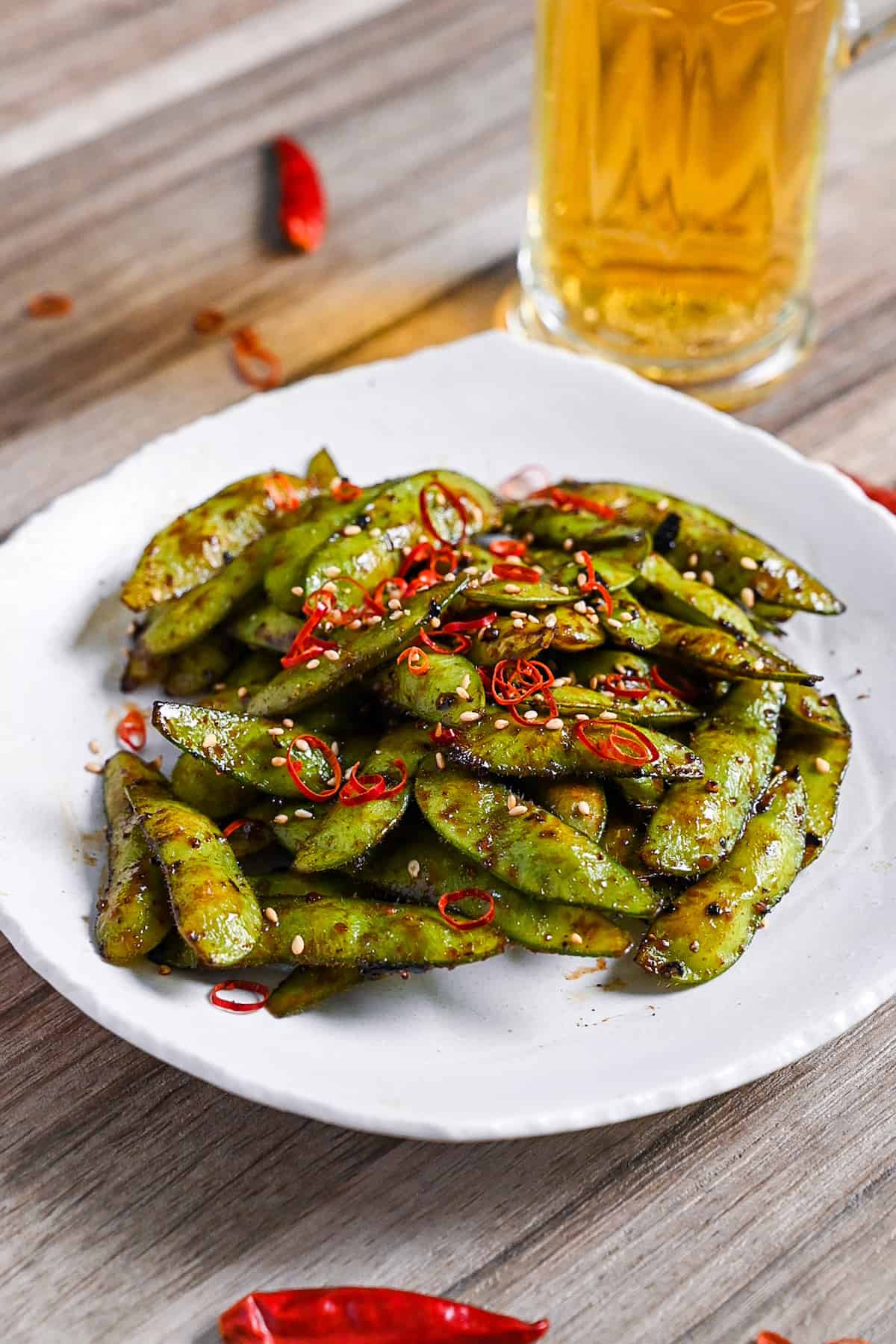 Types of edamame you can buy at supermarkets
There are various forms of edamame available for purchase at supermarkets, each with its own benefits and uses.
Raw: Raw edamame beans may not be as popular due to the extra step of preparation they require: trimming and boiling in salted water. Nonetheless, this process is rather simple and quick. Instructions on how to prepare raw edamame are included in my recipe.
Frozen: Frozen edamame offers an advantage in terms of convenience. They are typically already trimmed and blanched, reducing the boiling time to a mere couple of minutes compared to the 5-7 minutes required for fresh edamame. Another benefit of frozen edamame is its long shelf life.
Precooked: Precooked edamame are ready to eat straight out of the package, making them the ultimate convenience. They can also be used in this recipe, just add them straight to the pan.
Each of these types caters to different needs and time constraints, so it's up to you to choose the most suitable one based on your preferences and the specific situation.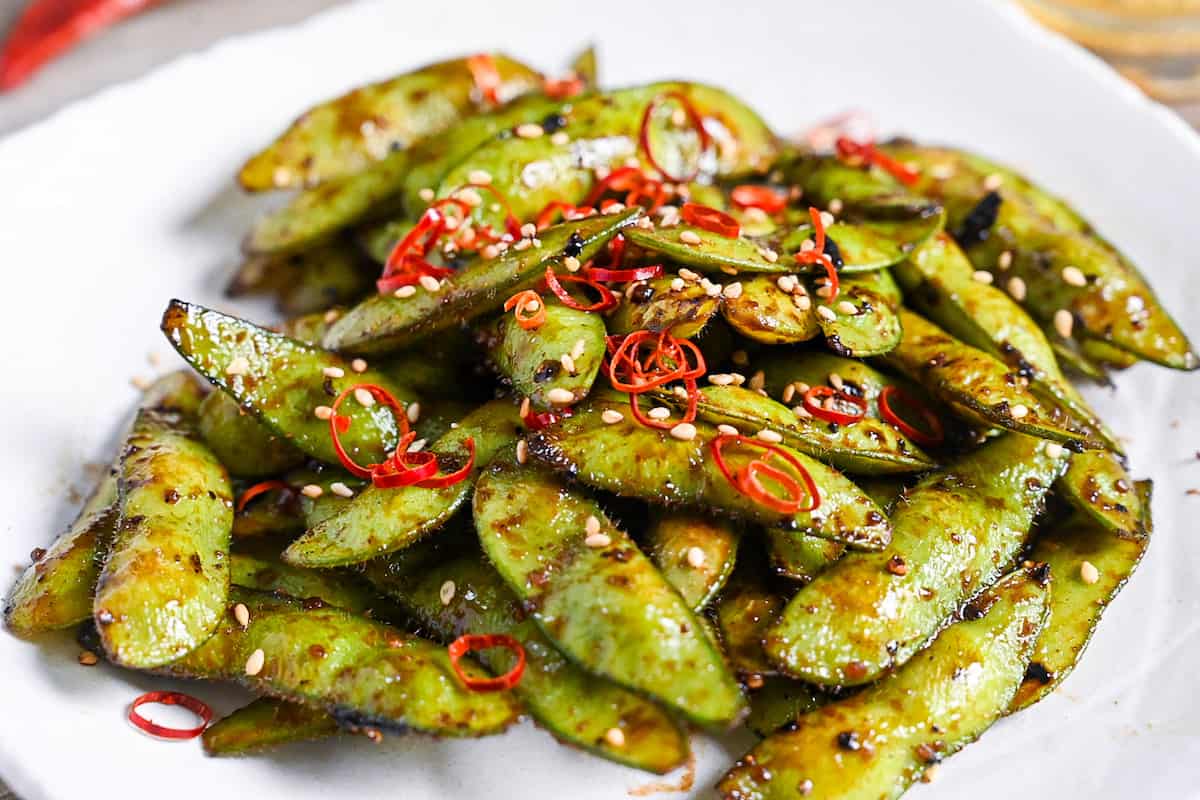 Ingredients You Will Need
Edamame – Use fresh, frozen, pre-boiled, or whichever is readily available. Make sure to buy edamame in the pods, not the beans on their own.
Salt – Used for boiling and washing when using fresh edamame. I use regular sea salt for this.
Sesame oil – Used to fry the edamame and adds a nutty flavor to the dish. Brands with a strong aroma are recommended such as Kadoya's.
Oyster Sauce – Not only does it form the basis of the glaze, but also provides a deep, rich and slightly sweet flavor that makes this dish so addictive!
Garlic paste – Another flavor element that makes these edamame shine. I use S&B's garlic paste for convenience, but you can also use grated fresh garlic cloves instead.
Black pepper – Freshly ground coarse black pepper is recommended. I personally use a Peugeot pepper mill.
Curious about the exact brands and products that bring my recipes to life? Discover the brands and ingredients behind my recipes at the Sudachi Amazon Storefront. Explore my handpicked pantry essentials and find your next kitchen favorites!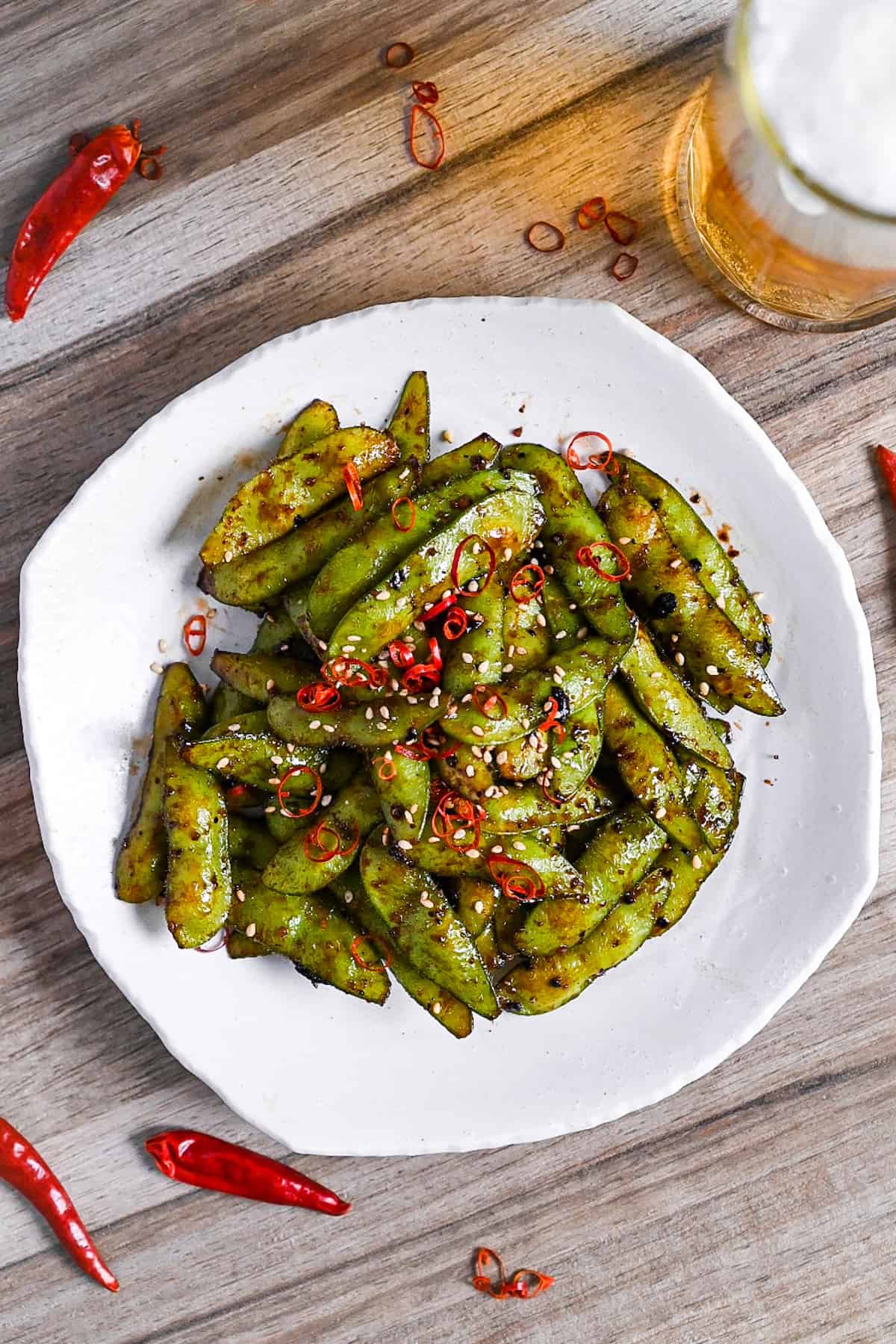 Step-by-Step Process
Start by bringing a pot of salted water to a boil over a medium heat. When boiling edamame, they need quite a lot of salt to bring out the flavor of the beans. For every 1 liter of water, I use 10g salt.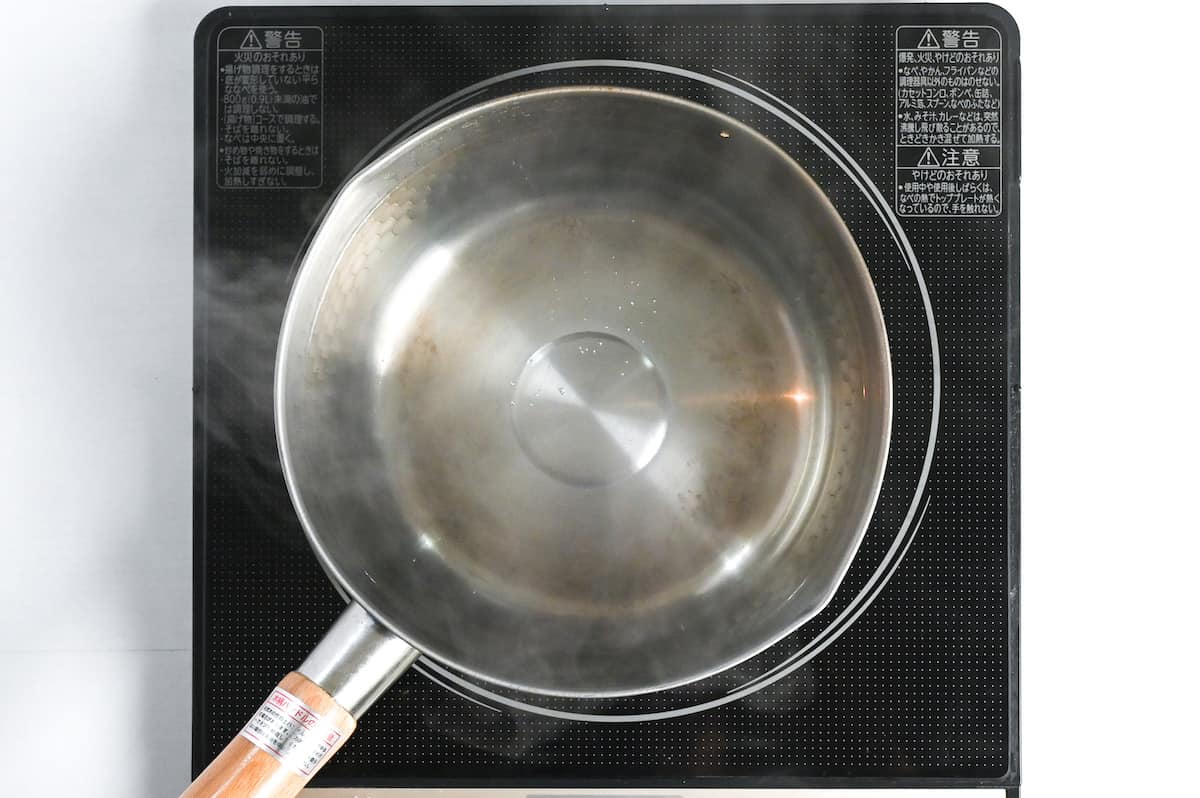 While you are waiting for the water to boil, wash the edamame in a bowl of cold water and trim the ends of the pods with scissors.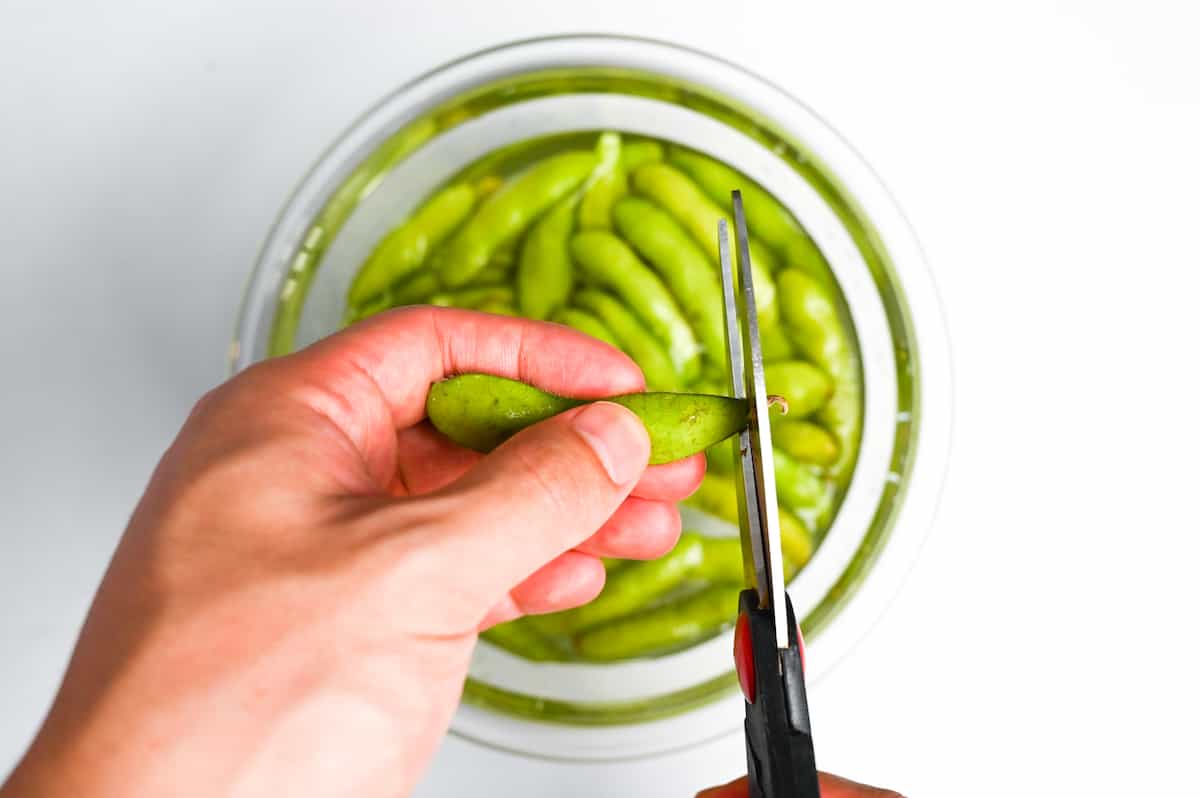 Drain the water and rub the surface with salt. This step exfoliates the surface of the pods and removes the hairs which in turn, helps the edamame absorb more flavor.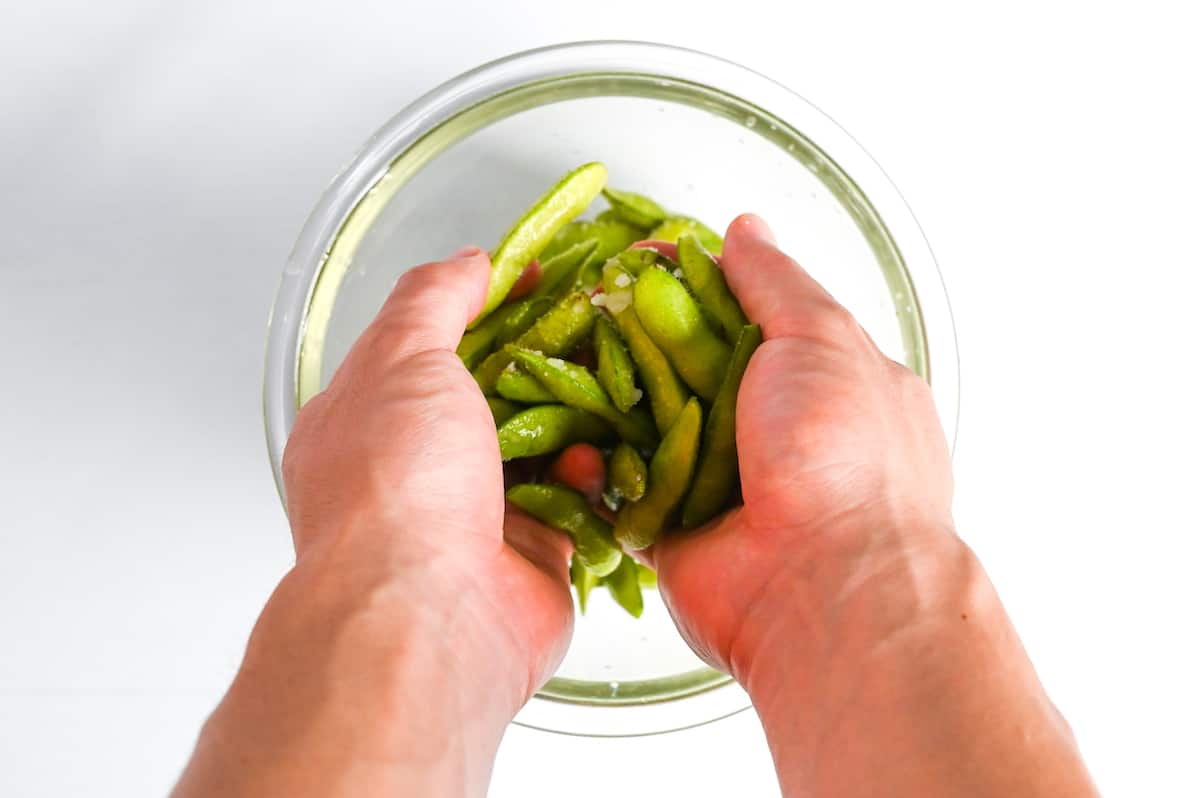 Once the water is boiling, add the edamame and cook for 5-7 minutes. If using frozen edamame, check the packaging for the cooking times. Generally, frozen edamame are parboiled and only take 1-2 minutes to cook from frozen.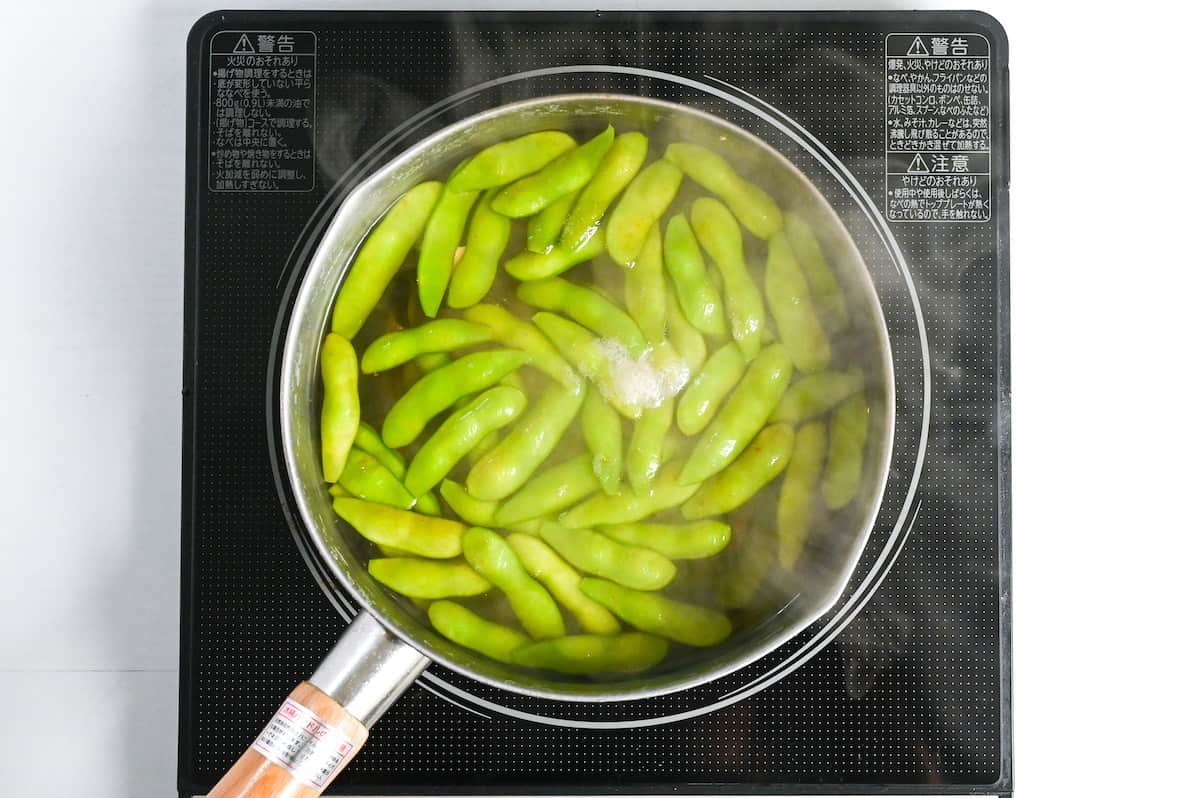 Once cooked, pour the edamame into a sieve to drain and shake to remove the excess water.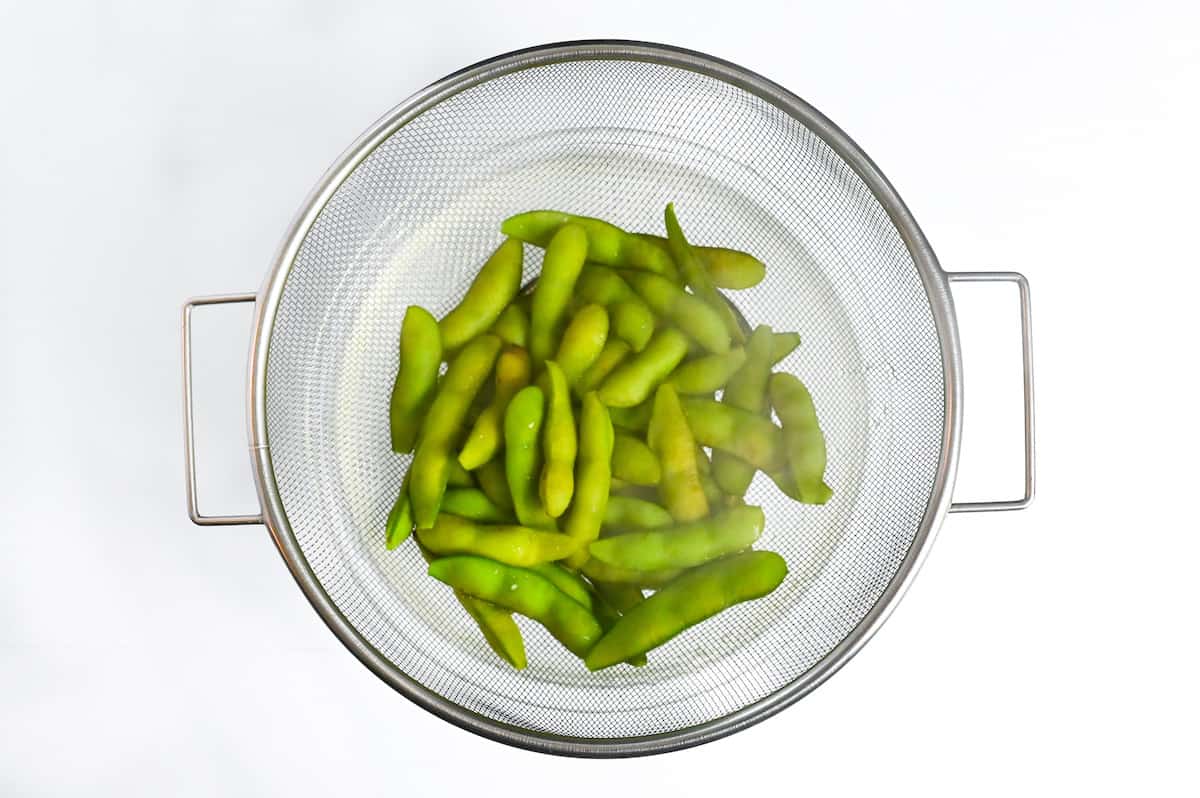 Heat a wok or frying pan on medium. Once hot, add sesame oil and the boiled edamame.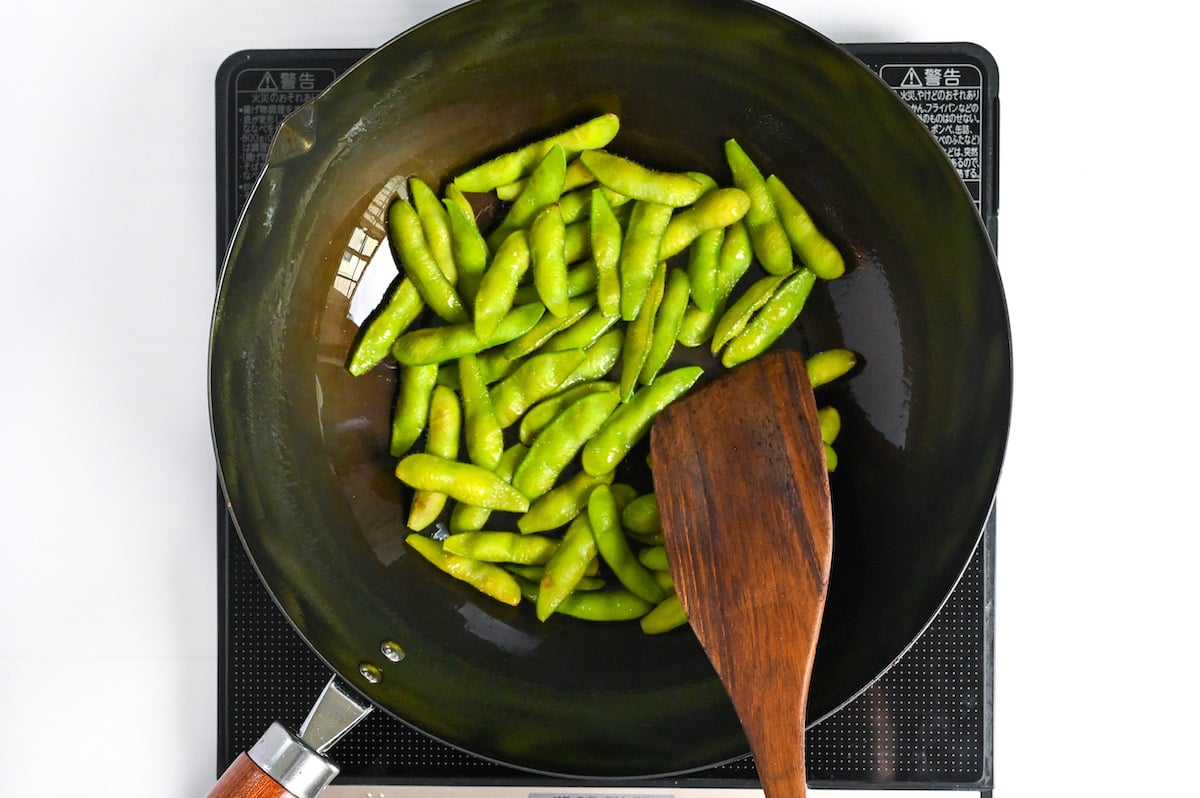 Add the oyster sauce and garlic paste, then stir fry for about 3 minutes or until the sauce becomes glossy and sticks to the surface of the pods.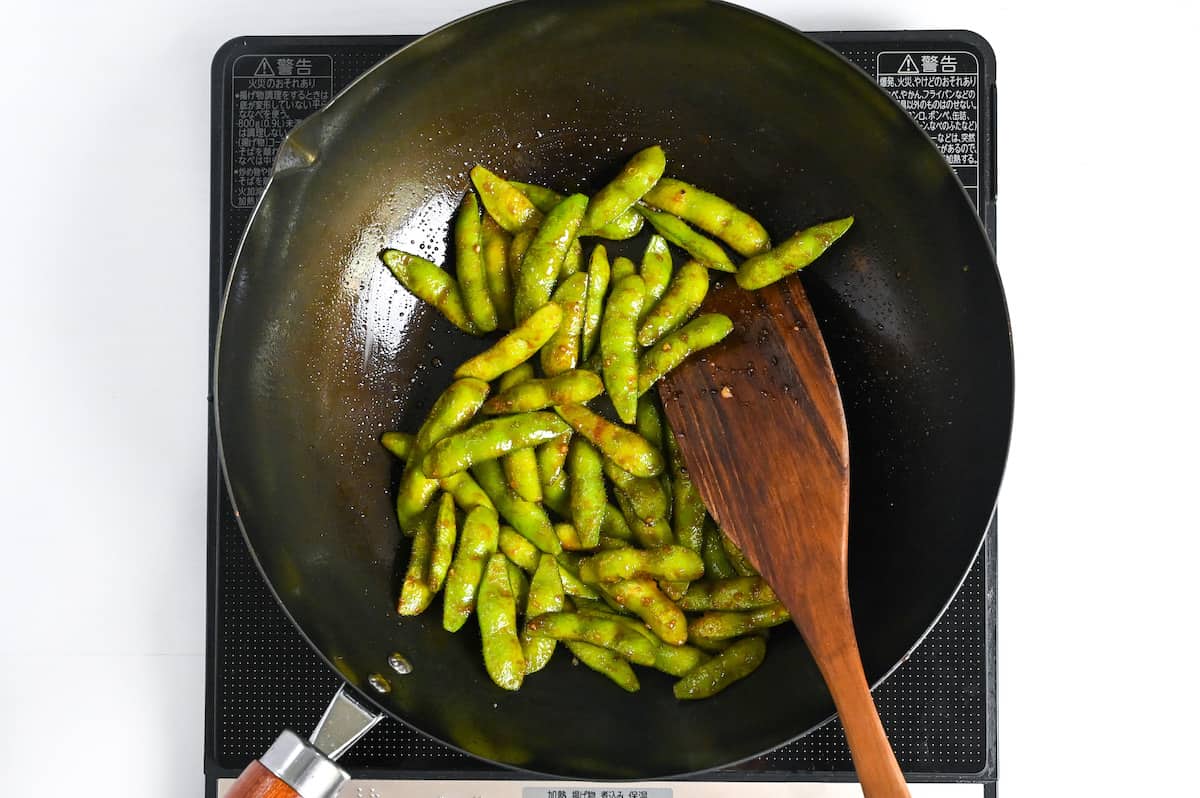 Turn off the heat, sprinkle with freshly ground black pepper and mix well.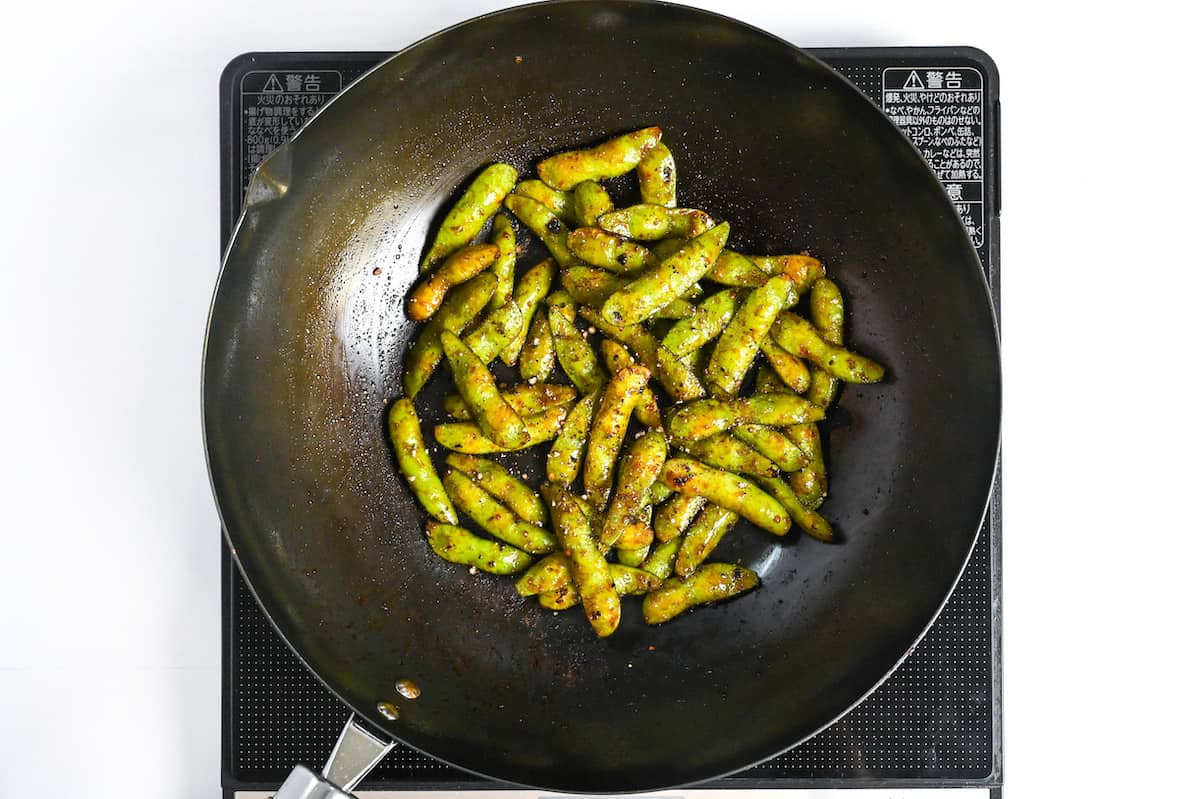 If you like, you can garnish with sesame seeds or finely chopped dry chili for a spicy kick!
Enjoy!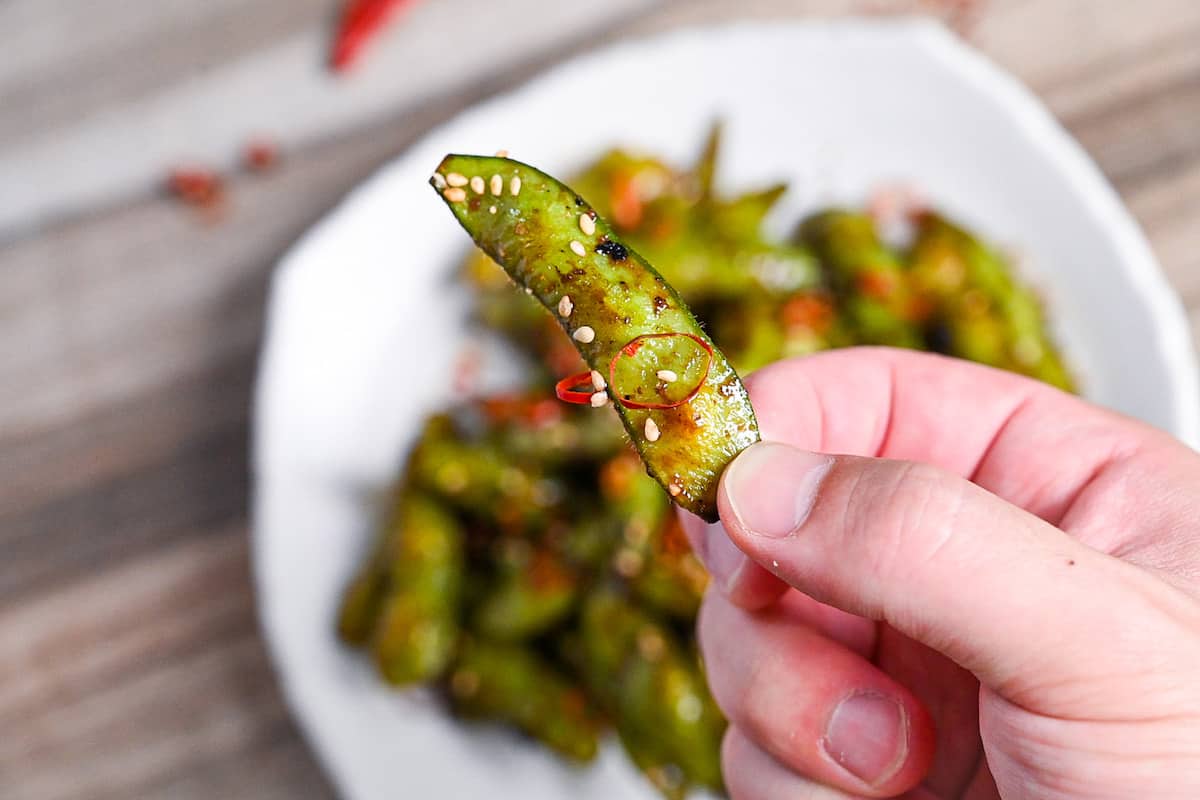 Storage options
Edamame beans, like many fresh vegetables, tend to lose their flavor rapidly once they are harvested. To preserve their flavor, they can be boiled and subsequently frozen. This method at home allows for about a month of storage.
However, if you've prepared stir-fried edamame following this recipe, it is generally not advisable to store it. From personal experience, the dish doesn't hold up well in storage. There was a notable decrease in flavor after reheating the stir-fried edamame that had been made earlier and refrigerated.
As such, the best way to enjoy this dish is to consume it immediately after stir-frying. Freshly prepared stir-fried edamame provides the most satisfying taste experience.
5 Other Home Izakaya Recipe Ideas
An Izakaya is a popular Japanese drinking establishment where you can enjoy beer with small tapas-like dishes. Vegetable dishes are pretty popular at izakaya restaurants, they're well-seasoned and pair very well with beer.
Edamame is one of the most popular dishes at izakayas, but if edamame alone is not enough for you, here are five more izakaya-style tapas dishes I recommend.
Japanese Pickled Cucumber with Ginger (Kyuri no Tsukemono)
The term "Tsukemono" translates to "pickles" in English and is viewed as a critical complement to various Japanese dishes, on par with miso soup and rice. This is even the case for late-night nibbles.
It might astonish you to learn just how many individuals would choose pickles at an Izakaya. There's often a member in the group who advocates for their refreshing quality, suggesting, "Why don't we order something light and crunchy, like pickles?" That's how significant pickles are in Japan!
Quick Japanese Pickled Cucumber with Ginger (Tsukemono)
How to make crunchy, refreshing Japanese cucumber pickles (tsukemono) with a ginger and chili kick. 
Check out this recipe →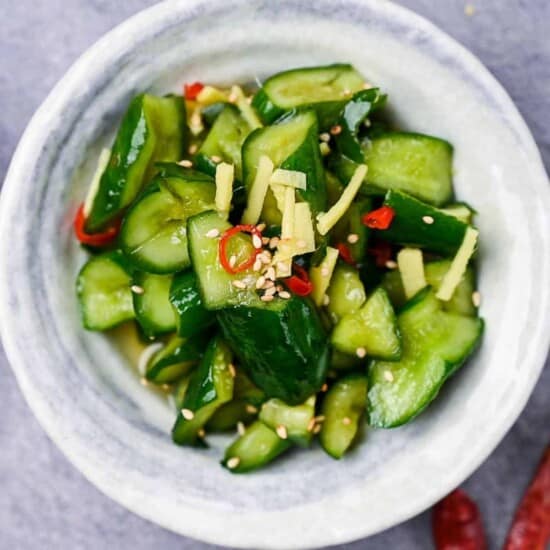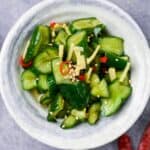 Agedashi Tofu (Japanese Deep Fried Tofu)
Agedashi tofu holds a special place in my heart as one of the most delectable tofu recipes ever! Imagine firm tofu covered in a delicate, airy, and crispy coating, all bathed in a deeply savory sauce. Only upon tasting this renowned Japanese side dish will you understand how irresistibly moreish tofu can be!
It goes without saying, this is a crowd-pleaser and a frequently ordered dish in Japanese izakayas!
Agedashi tofu (Japanese deep fried tofu) with homemade sauce
How to make Agedashi Tofu (Japanese Deep Fried Tofu) in a thick homemade sauce.
Check out this recipe →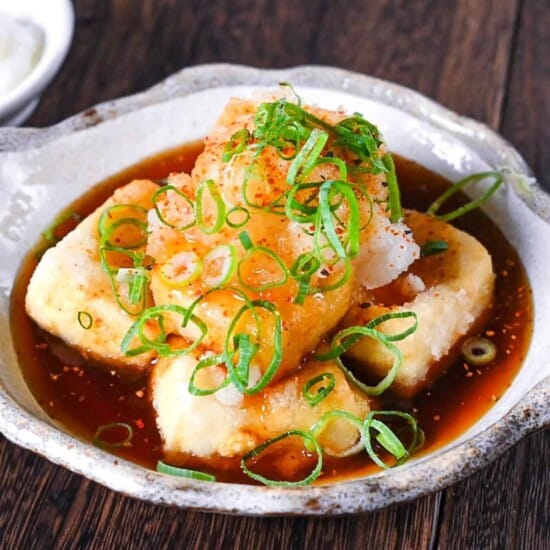 Japanese Potato Salad (Izakaya Style)
It might seem amusing, but potato salad is a common food choice at bars in Japan. Astoundingly, a lot of Izakayas offer potato salad as a snack to accompany the beer. In my version of this dish, I've enhanced the potato salad's appeal as a beer snack by incorporating black pepper, bacon, and sesame oil!
The recipe is simple and swift, making it an excellent quick salad to enjoy with your beer and equally a fitting side dish for numerous other meals! Another good choice is salmon avocado salad!
Japanese Potato Salad (Izakaya Style)
How to make addictive Izakaya Style Japanese Potato Salad with smooth and creamy potato mixed with crispy bacon and vegetables.
Check out this recipe →
Chicken Karaage (Crispy Japanese Fried Chicken)
To tell you the truth, Japanese-style fried chicken, known as Karaage, is virtually a given on any Izakaya menu. It's not just a popular dish; it's my absolute favorite meal in the world. In fact, my childhood dream was even to establish my own food stand specializing in karaage.
Some might argue that seeing karaage everywhere in Japan, at all hours, makes it a mundane choice at Izakayas. But in my opinion, its ubiquity doesn't detract from the fact that it remains one of the finest side dishes to savor in good company. Other fried chicken options include tatsuta-age and chicken tempura!
Authentic Chicken Karaage (Crispy Japanese Fried Chicken)
How to make authentic chicken karaage (Japanese fried chicken).
Check out this recipe →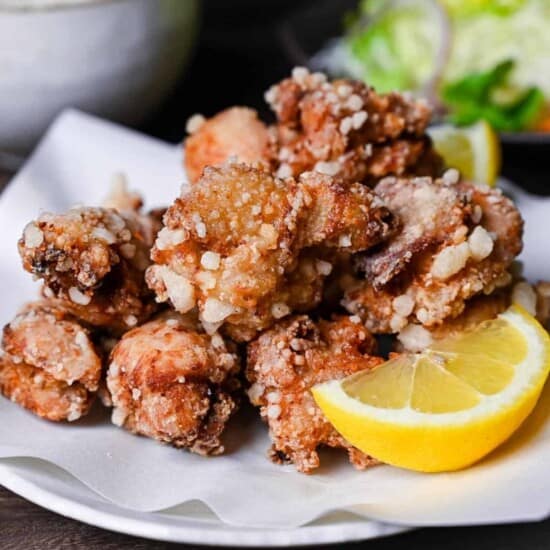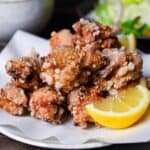 Salted Cabbage (Yamitsuki Cabbage)
Referred to as "addictive" or "yamitsuki" (やみつき) cabbage, these salted cabbages are a staple in Izakaya and Yakiniku restaurants, and popular with beer enthusiasts. As the name implies, it really is addictive, and some establishments even offer a complimentary refill service.
Given its simplicity and affordability to prepare, I strongly recommend giving it a try!
Addictive Izakaya Style Salted Cabbage (Yamitsuki Cabbage)
How to make Izakaya Style "Addictive" Salted Cabbage.
Check out this recipe →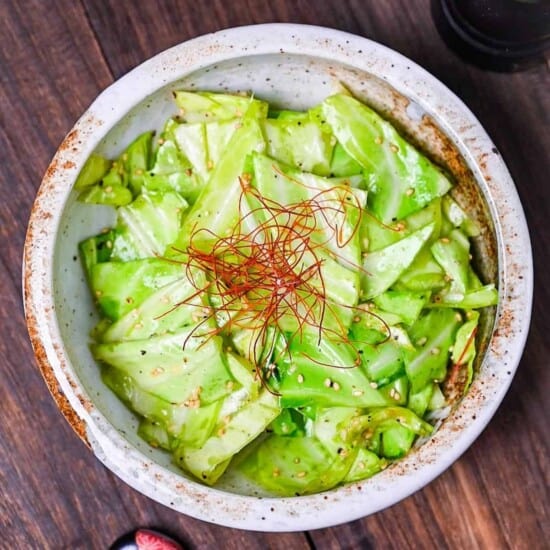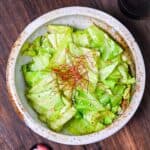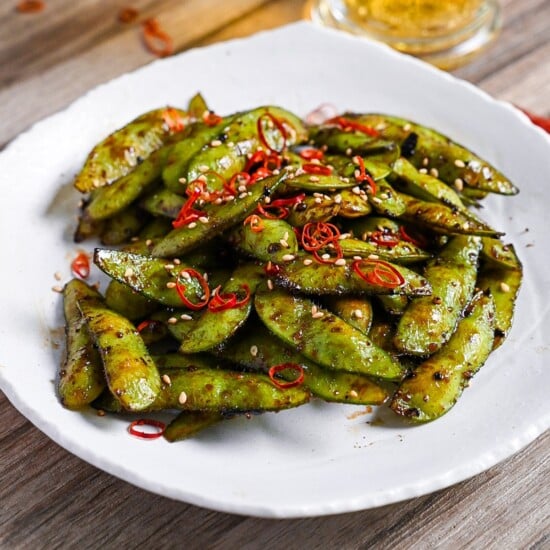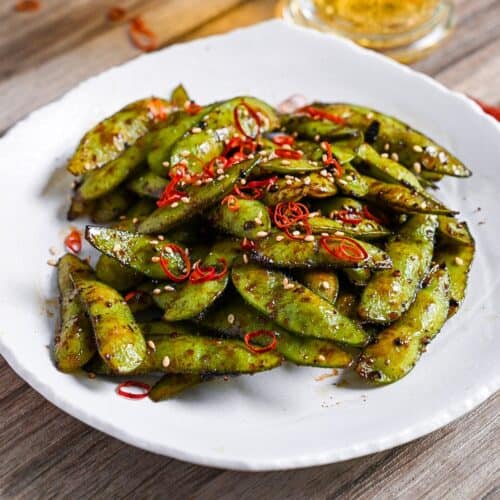 Stir-fried Edamame (with Garlic and Oyster Sauce Glaze)
---
These delicious stir-fried edamame are coated in a simple garlic and oyster sauce glaze. They're totally addictive and make the perfect snack or appetizer!
---
---
---
---
Ingredients
10

g

salt

for cooking water

1000

ml

water

200

g

edamame

in pods

8

g

salt

for edamame (4% of edamame weight)

1

tsp

sesame oil

2

tsp

oyster sauce

½

tsp

garlic paste

or grated garlic cloves

¼

tsp

black pepper

dried red chili pepper

thinly sliced – optional

sesame seeds

optional
Instructions
How to Cook Raw Edamame (If your edamame are already cooked, please skip these steps)
Add

1000 ml water

and

10 g salt

to a pot and bring it to a boil over a medium heat.

While you're waiting for the water to boil, wash

200 g edamame

and cut off the ends with scissors.

Place them in a large bowl and rub

8 g salt

over the surface to exfoliate and remove the small hairs.

Once the water is boiling, add the edamame to the pot and cook for 5-7 minutes. (If you are using frozen preboiled edamame, boil for 1-2 minutes straight from frozen.)

Once cooked, pour into a sieve to drain and shake to remove the excess water.
Frying in the glaze
Heat a frying pan on medium. Once hot, add

1 tsp sesame oil

and the boiled edamame.

Add

2 tsp oyster sauce

and

½ tsp garlic paste

, and stir fry for 3 minutes.

Turn off the heat and sprinkle with

¼ tsp black pepper

.

Mix thoroughly and serve with a sprinkle of

dried red chili pepper

or

sesame seeds

.
Notes
To eat edamame, use your teeth to pull the beans out of the pods and discard.
Do not eat the pods.
Nutrition
Serving:
76.7
g
|
Calories:
105
kcal
|
Carbohydrates:
7.7
g
|
Protein:
8.3
g
|
Fat:
5.5
g
|
Saturated Fat:
0.79
g
|
Polyunsaturated Fat:
2.42
g
|
Sodium:
1252
mg
|
Fiber:
3.4
g