Despite the name, Taiwan Mazesoba is a delicious regional noodle dish that hails from Nagoya in Japan. Made with thick, springy ramen noodles topped with spicy ground pork, crispy nori, crunchy tempura bits, fresh spring onion and a raw egg yolk, it ticks all the boxes in terms of taste and texture!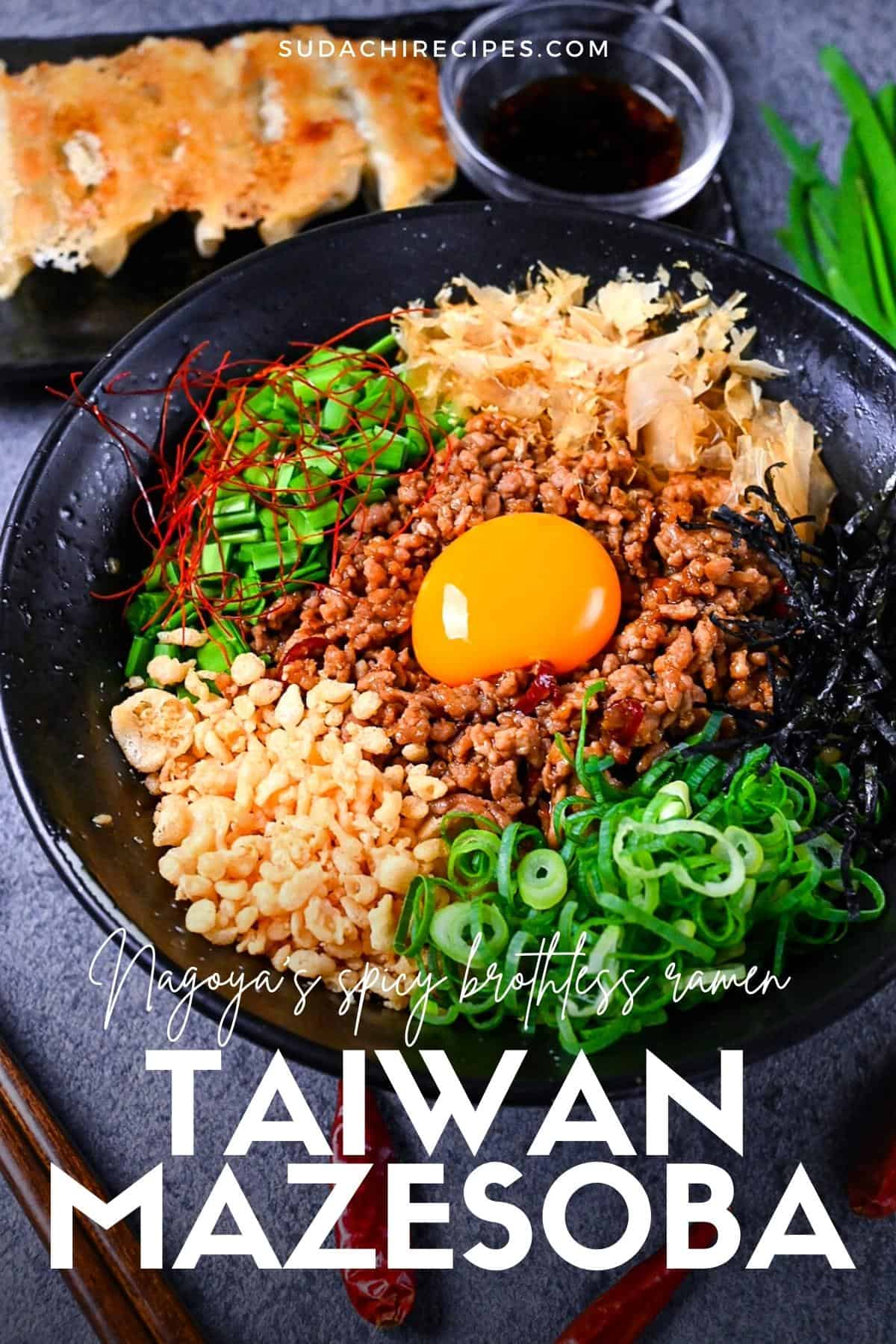 Disclaimer: This post contains Amazon affiliate links. Sudachi Recipes earn a small percentage from qualifying purchases at no extra cost to you. See disclaimer for more info.
Jump to:
What is taiwan mazesoba?
Taiwan mazesoba is a type of brothless ramen made with thick ramen noodles topped with spicy minced meat that has been stir fried with soy sauce, chili and garlic. This regional ramen dish from Nagoya in central Japan is unique to other ramen dishes since it doesn't come served with your typical toppings like chashu, ramen egg or bamboo shoots. Instead, it's usually topped with spicy ground pork, freshly chopped chives/spring onions and a raw egg yolk.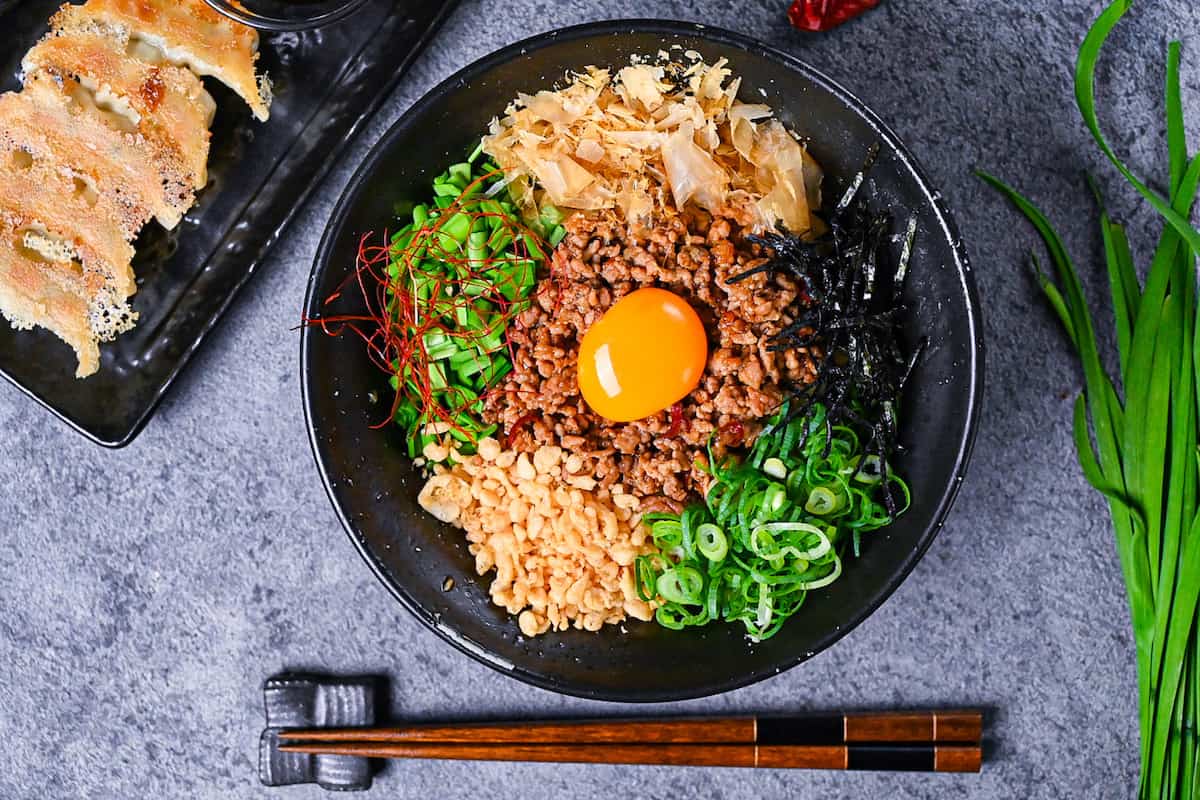 Brief history: why is it called "Taiwan Mazesoba"?
Despite the name "Taiwan Mazesoba", this dish was actually born in Japan. More specifically, it was developed in the city of Nagoya and is even considered as a regional dish. But why is it called "Taiwan" Mazesoba?
To answer the question, we need to go back to Taiwan mazesoba's origin, Taiwan ramen. Taiwan ramen was created by the owner of "Misen", a Chinese-Taiwanese restaurant in Nagoya. The owner served "dàn zǐ miàn," a Taiwanese dish of noodles served on a small plate that he arranged to be extremely spicy.
In fact, although there is a similar noodle dish in Taiwanese cuisine, there is no identical very spicy ramen like Taiwan ramen. Since the owner is from Taiwan, he made sure to use "Taiwan" in the name. So basically, you can say this dish was born in Nagoya but created by a Taiwanese chef.
Taiwan mazesoba was created by accident using leftover ingredients from Taiwan ramen. The first restaurant to create Taiwan mazesoba was a noodle bar in Nagoya called "Hanabi". The owner was working on a prototype for his Taiwan ramen, then rather than throwing it away, a part time worker asked if he could eat it over boiled noodles. This is said to be the birth of Taiwan mazesoba, and since then, various toppings were added to the dish.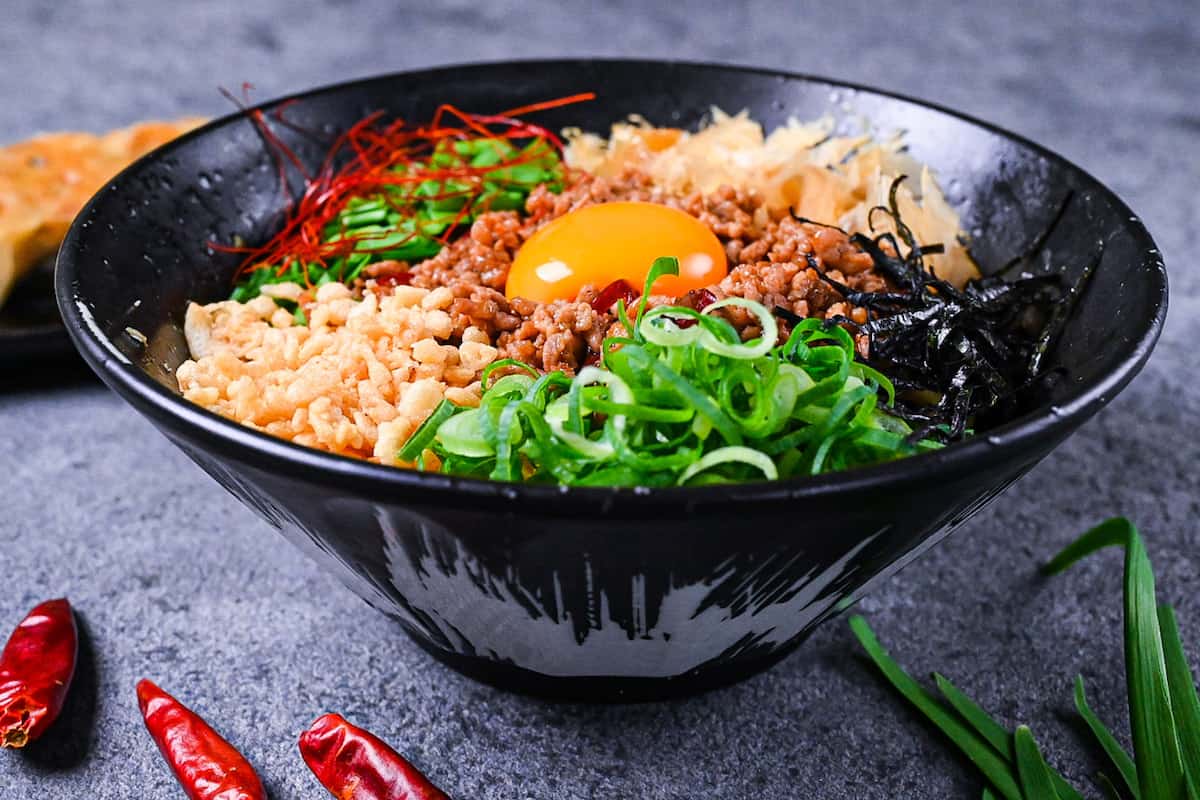 Mazesoba vs aburasoba: what are the differences?
In a broad sense, mazesoba and aburasoba are basically the same thing, "soupless ramen". However, these two noodle dishes have some key differences.
First, there is a difference in the type of toppings. Abura soba focuses on enjoying the flavor of the noodles and is very simple, served with typical ramen toppings like menma, chashu pork, and green onions as common ingredients.
Mazesoba, on the other hand, is a dish that is enjoyed with a variety of toppings and different flavors. Taiwan mazesoba for example, is made based on Chinese-style flavors, including Taiwanese-style minced meat which is spicy and fragrant.
There is also a difference in the way the noodles and sauce are combined. In the case of abura soba, you mix the sauce and oil in the bottom of the bowl yourself, whereas the sauce in mazesoba is already mixed with the noodles and seasoned.
The reason for this is thought to be because of the large amount of toppings in mazesoba, which makes it difficult to properly mix the noodles and sauce together. If you want to compare these two dishes, I have abura soba recipe too!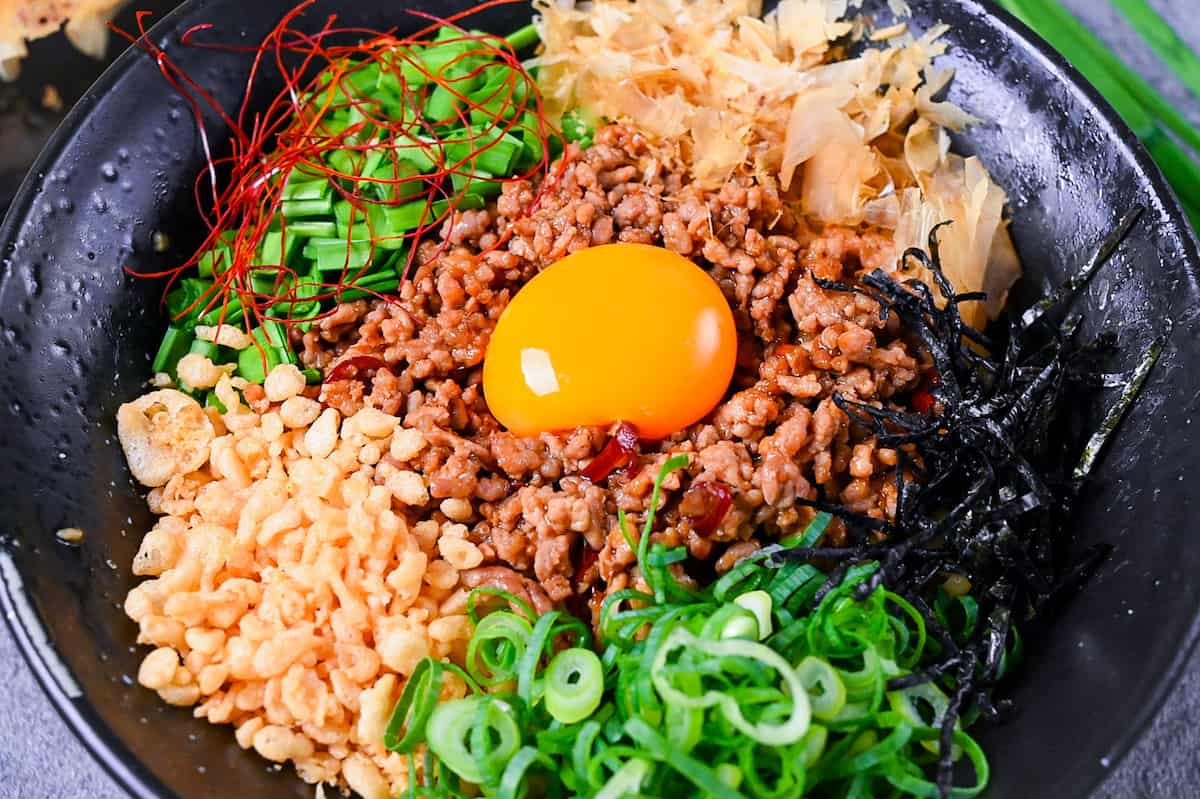 How to eat mazesoba
Taiwan mazesoba contains many ingredients such as minced meat, egg, spring onion, chives, and seaweed...and so on. Although the presentation is good looking, mix the ingredients as much as you can first. Mixing everything together first gives the dish a unique Taiwan mazesoba flavour.
After taking the first bite, some people mix it with more garlic paste according to personal taste.
In some restaurants, cooked rice is added to the leftover sauce as an option and mixed in, but I would not go that far at home to be honest!
What kind of noodles are used in mazesoba?
As I mentioned earlier, Taiwan mazesoba features extra-thick ramen noodles. When you make it at home, it's best to use fresh ramen noodles that are usually used for tsukemen (a dish in which very thick noodles are dipped in soup).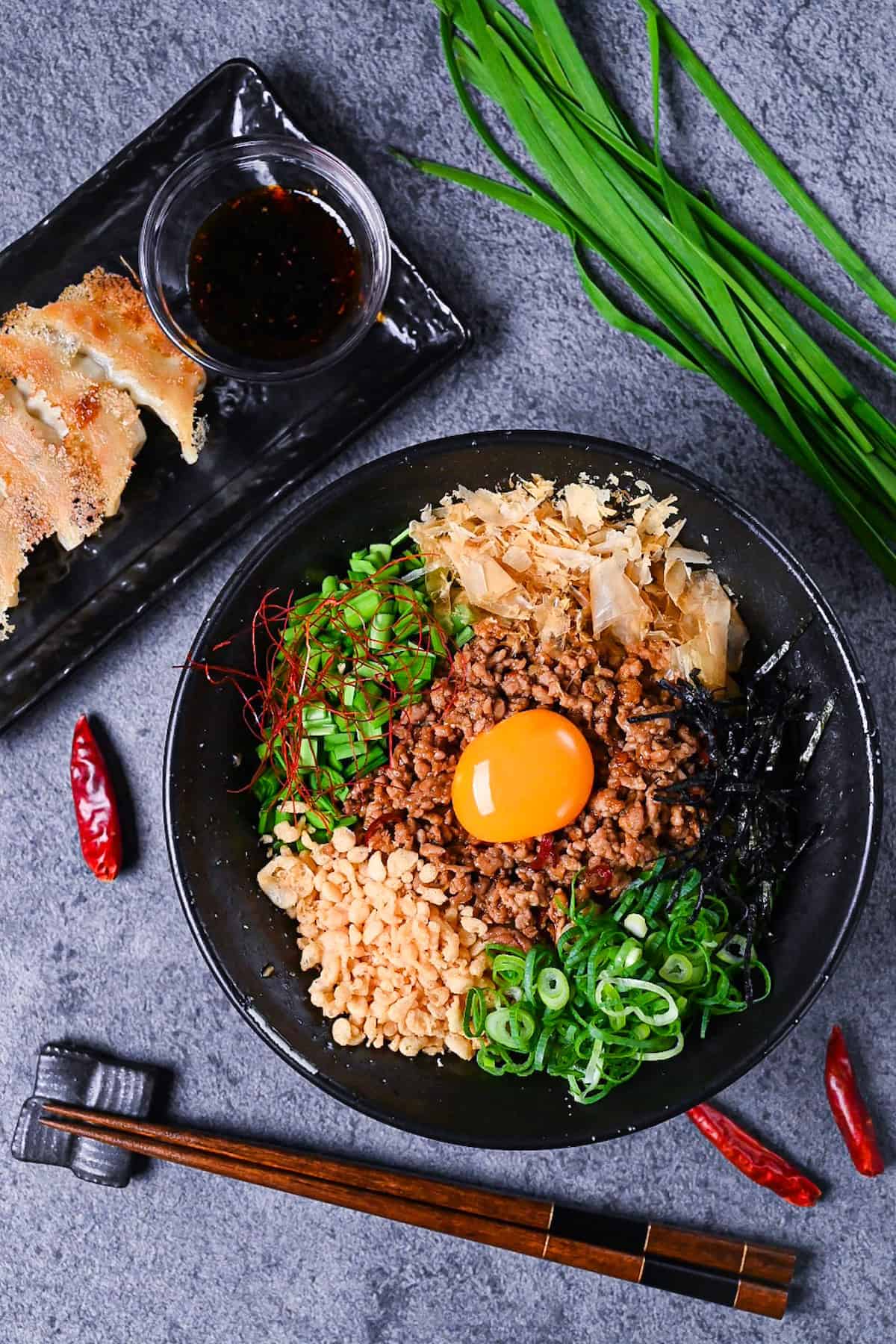 Ingredients to make taiwan mazesoba at home
Taiwan mazesoba is not a complicated dish to make, but it does contain a lot of different ingredients. The main components are the condiments and seasonings to flavour the pork mince, the "tare" (sauce) to mix with the noodles and lastly the toppings. Here are 3 ingredient lists broken down into each component of the dish.
Pork mince
One of the most important elements of this dish is the Taiwan style, spicy pork mince. It looks like a lot of ingredients, but if you cook a lot of Chinese and Japanese food at home, they're pretty common pantry items.
Pork mince
Garlic paste (or grated garlic cloves)
Ginger paste (fresh grated ginger)
De-seeded chilli (fresh or dried)
Dashi (or water)
Sake
Sugar
Black pepper
Tobanjan (Chinese chili bean paste)
Sansho (Japanese pepper) optional
If you can't get tobanjan, you can use another kind of chili paste such as gochujang (Korean chili paste) or sambal oelek (Indonesian chili paste). The taste will be different, but still spicy and packed with umami.
Tare (sauce) and noodles
No ramen is complete without a tare (sauce) base! Usually tare is mixed with a broth to make a ramen soup. However, mazesoba is a type of soupless ramen so we keep the tare quite simple and mix it with the cooked noodles. For this component you will need:
Thick ramen noodles (like the ones used for tsukemen)
Toppings
In addition to the spicy Taiwan style pork mince, Taiwan mazesoba is usually served with the following toppings:
Chinese chives
Chopped spring onions
Katsuobushi (bonito flakes)
Tenkasu (tempura bits)
Kizami nori (shredded nori seaweed)
Egg yolk (from pasteurised egg)
The variety of toppings contributes not only to great flavour, but also a variety of textures!
Instructions on how to make Taiwan mazesoba at home
Here are the step by step instructions on how to make each element of Taiwan mazesoba at home from scratch! (For ingredient quantities and the simplified recipe, see the printable recipe card below.)
Fry chili, garlic and ginger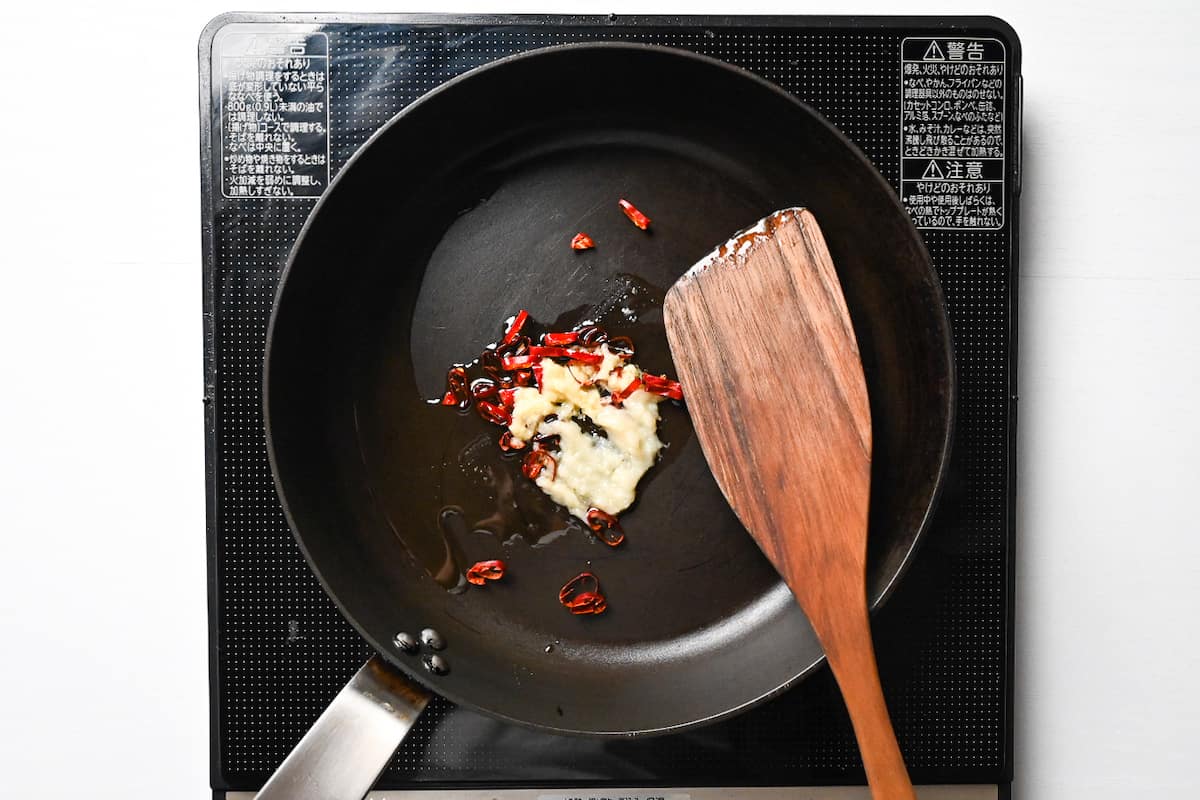 The first step is to bring out the flavours of the chili, garlic paste and ginger paste by frying them in sesame oil on a low heat. The low heat stops them from burning but enough to create a wonderful aroma that will fill your kitchen.
Add the pork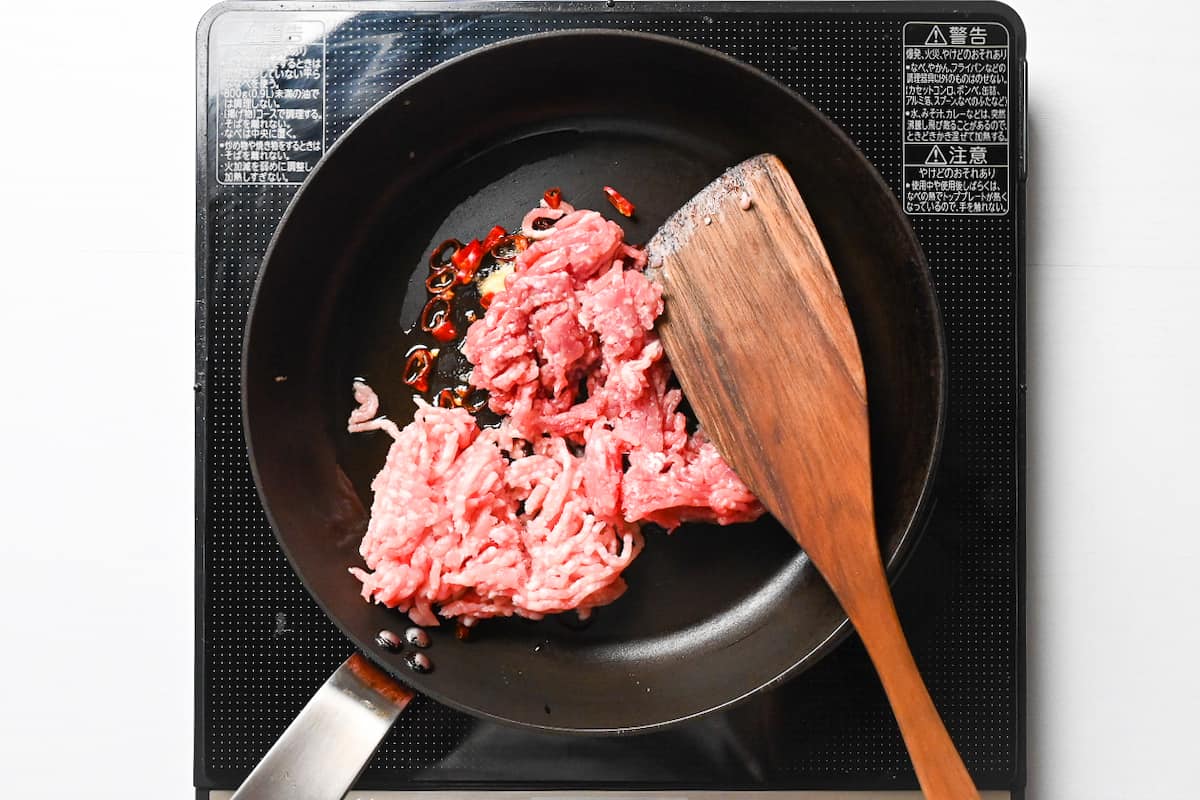 Next, add the pork to the pan and turn up the heat to medium. Stir fry with the chili, garlic and ginger until the pork is browned. This should only take a few minutes.
Season the pork further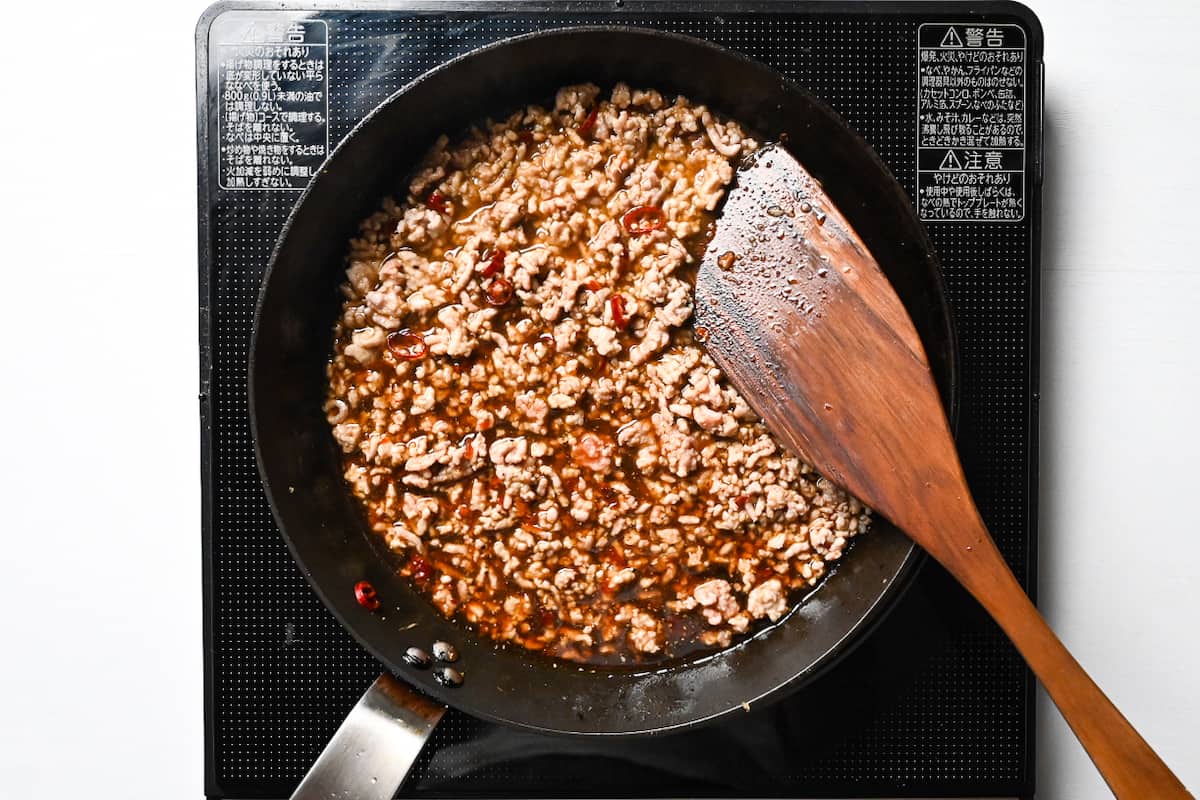 Add the dashi, sake, oyster sauce, sugar, tobanjan, black pepper, sansho pepper and mix well. Simmer until the liquid has evaporated.
Set aside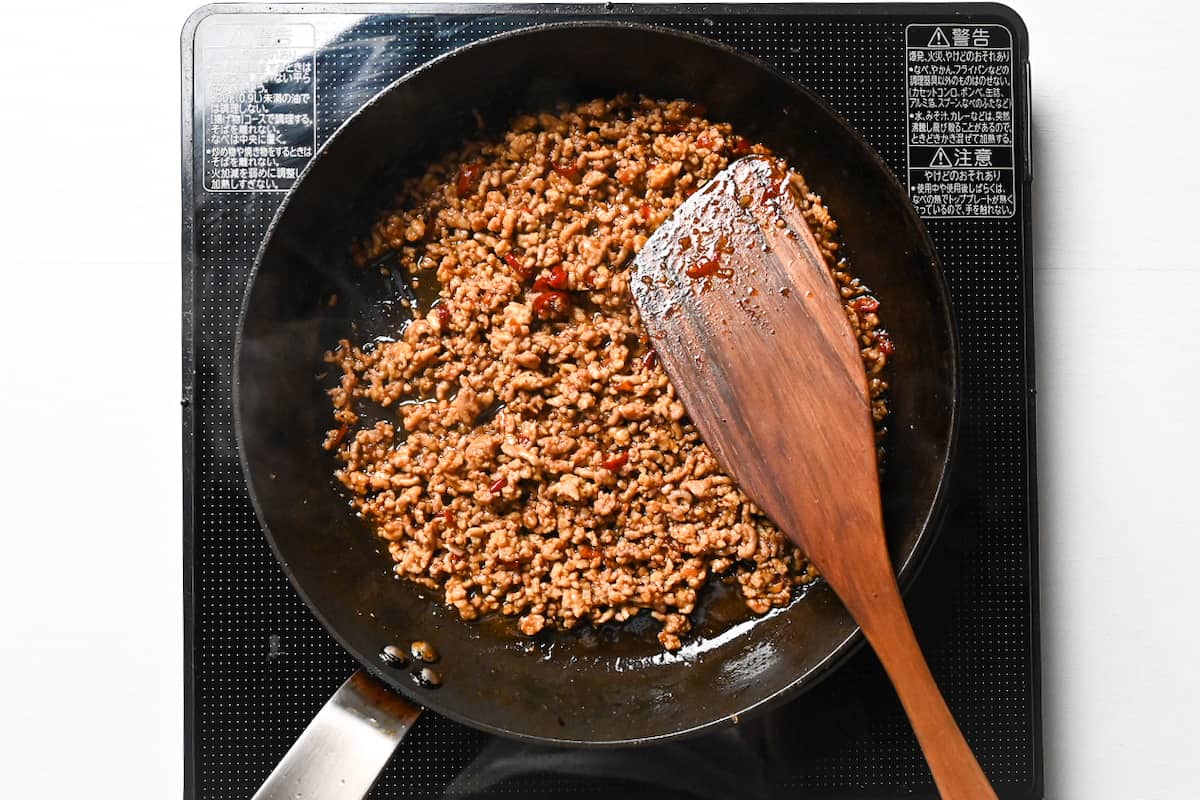 The pork mixture should still have some moisture, but not be wet. This will allow some of the flavours to coat the noodles and distribute better throughout the dish. Once it's done, turn off the heat but leave it on the stove to keep it warm. You can also place a lid on if you like.
Make tare (sauce)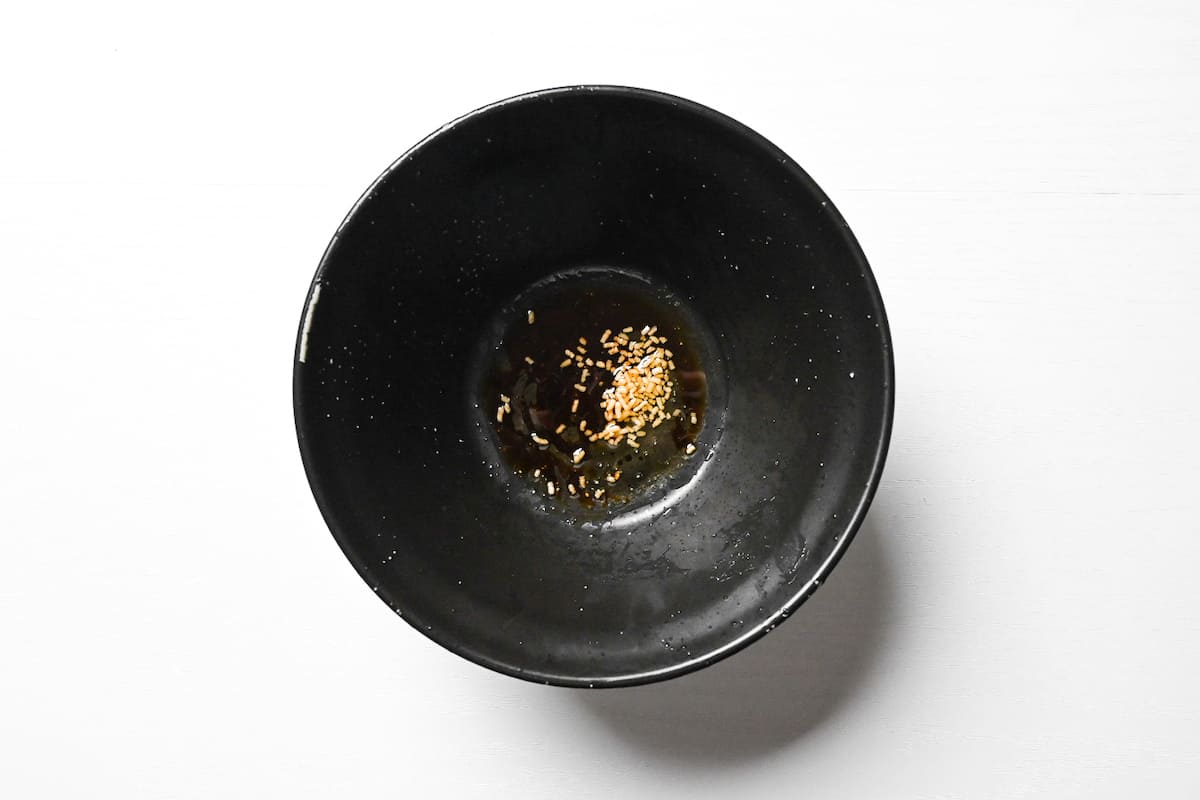 Simply mix sesame oil, soy sauce and chicken bouillon powder in each serving bowl. Mix until the powder is dissolved.
Cook the noodles
Boil the ramen noodles according to the instructions on the packaging and then place one portion in each bowl. Mix them with the tare until evenly coated.
Add toppings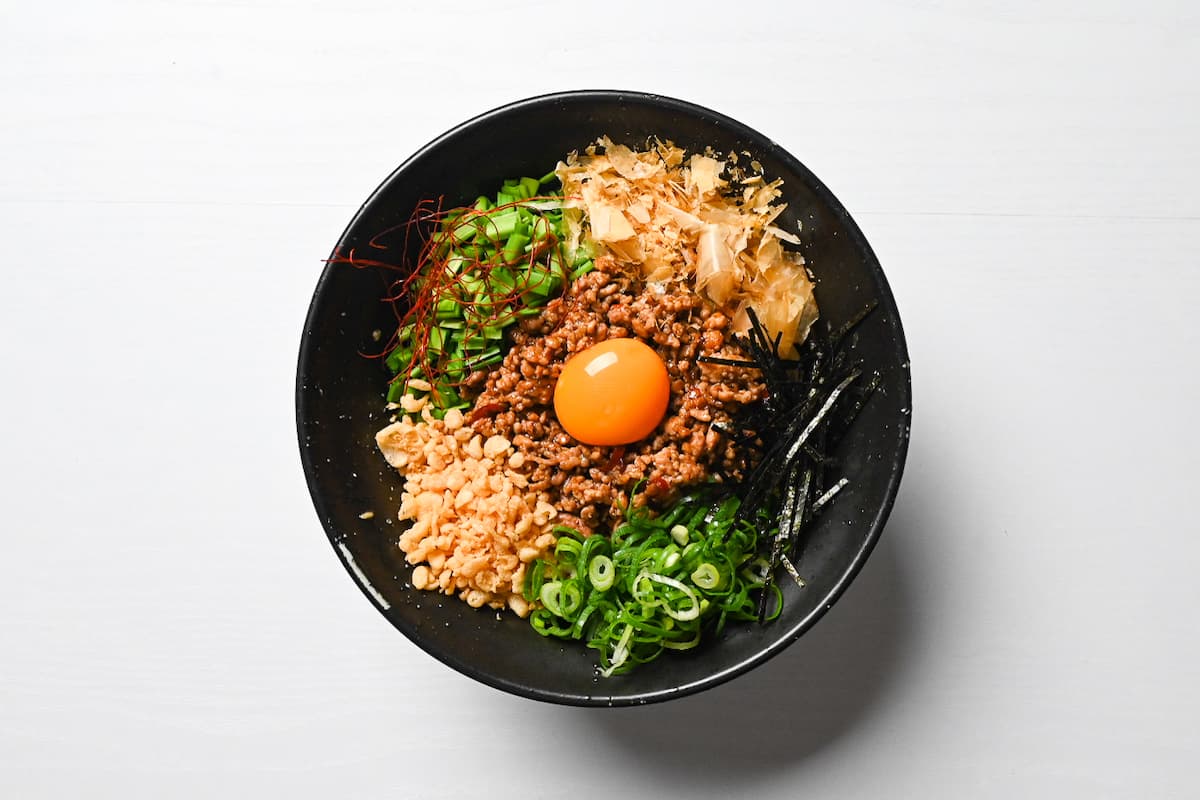 Finally, add the seasoned pork to the middle and arrange the other toppings around in a circle. Top with an egg yolk and it's done. It's that easy!
Mix and enjoy
Be sure to mix before eating and enjoy this special Nagoya style dish with Taiwanese flair!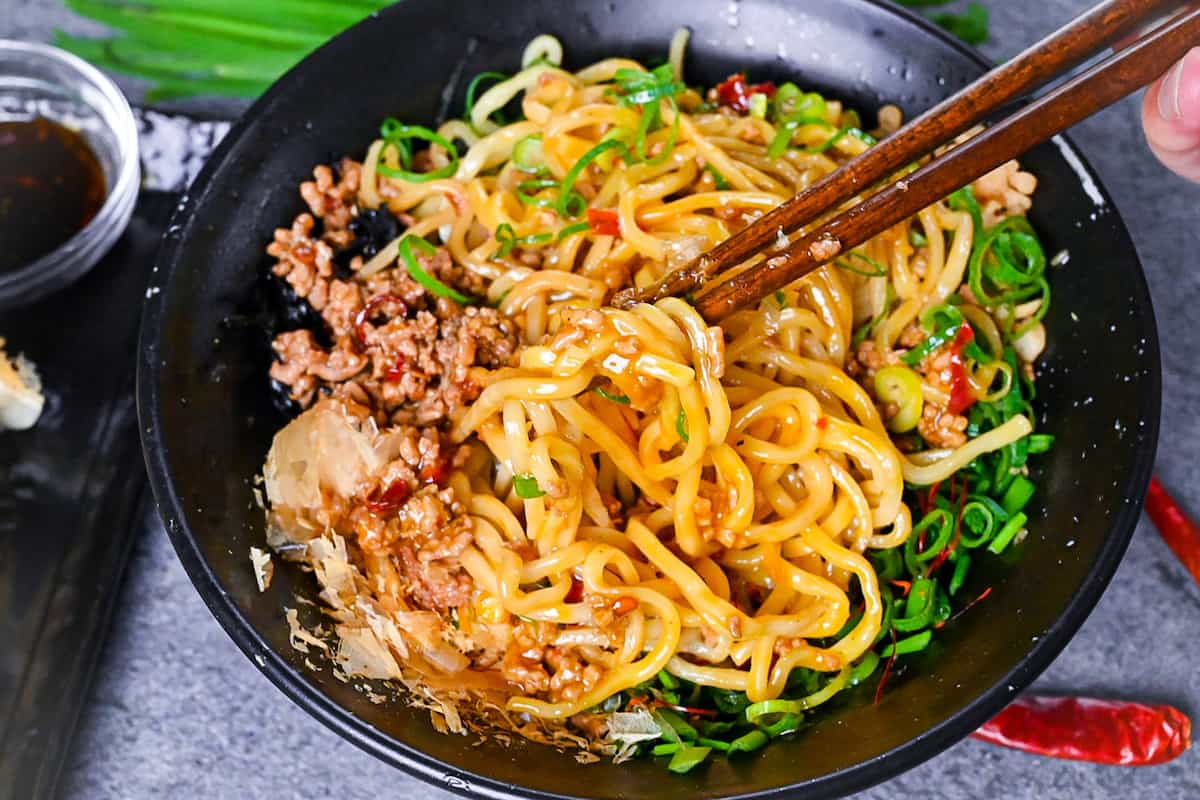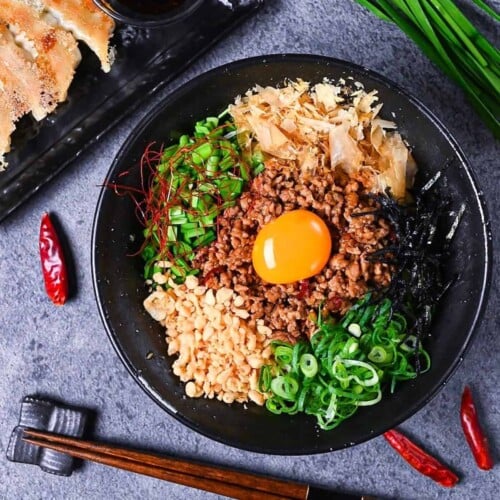 Taiwan Mazesoba (Nagoya's Spicy Brothless Ramen)
How to make Nagoya's famous Taiwan Mazesoba with spicy, seasoned ground pork and various toppings served over springy ramen noodles.
Ingredients
Pork mince
1

tsp

sesame oil

½

tbsp

garlic paste

1

tsp

ginger paste

1

red chili pepper(s)

-

deseeded

150

g

ground pork

50

ml

dashi stock -

or water

1 ½

tbsp

sake

½

tbsp

sugar

1

tbsp

oyster sauce

1

pinch

black pepper

1

tsp

chili bean sauce

-

tobanjan

¼

tsp

Japanese pepper (sansho)

-

optional
Tare & Noodles
2

portions

thick ramen noodles

1

tsp

soy sauce

2

tsp

sesame oil

1

tsp

Chinese-style chicken bouillon powder
Toppings
30

g

garlic chive(s)

-

nira

2

tbsp

bonito flakes -

bonito flakes crushed

2

tbsp

tempura flakes

-

tenkasu

2

tbsp

shredded sushi nori seaweed "kizami nori"

-

kizami nori

2

pasteurized egg yolk

1

tsp

chili threads

-

optional
Instructions
Heat a frying pan on low and add

1 tsp sesame oil

,

1 red chili pepper(s)

,

1 tsp ginger paste

and

½ tbsp garlic paste

. Mix together and heat until fragrant.

Turn up the heat to medium and add

150 g ground pork

. Mix and fry until cooked through.

Add

50 ml dashi stock

(or water),

1 ½ tbsp sake

,

½ tbsp sugar

,

1 tbsp oyster sauce

,

1 pinch black pepper

,

1 tsp chili bean sauce

and

¼ tsp Japanese pepper (sansho)

, mix until evenly distributed.

Simmer on medium for 5 minutes or until liquid is evaporated. Once cooked, turn off the heat and leave it on the stove to keep it warm.

Boil

2 portions thick ramen noodles

according to the instructions on the packaging. While they're cooking, add

1 tsp soy sauce

,

1 tsp Chinese-style chicken bouillon powder

and

2 tsp sesame oil

into 2 serving bowls and mix until the powder is dissolved.

Once the ramen noodles are cooked, drain the water and distribute in each bowl. Mix thoroughly until evenly coated in the tare.

Place the seasoned pork mince in the middle and arrange the other topping around the outer edge. Top with a raw egg yolk. 

Mix well before eating and enjoy!
Nutrition
Serving:
310.1
g
Calories:
651
kcal
Carbohydrates:
78
g
Protein:
31
g
Fat:
28.6
g
Saturated Fat:
7.5
g
Polyunsaturated Fat:
5.2
g
Cholesterol:
252
mg
Sodium:
1829
mg
Fiber:
7.9
g