Bettarazuke is a regional pickled daikon dish from Tokyo with a long history! The unique aroma, gentle sweetness, and crunchy texture will leave you wanting more.
Disclaimer: This post contains Amazon affiliate links. Sudachi Recipes earn a small percentage from qualifying purchases at no extra cost to you. See disclaimer for more info.
Jump to:
What is Japanese Pickled Daikon Radish (Bettarazuke)?
Bettarazuke (べったら漬け) is a type of Japanese pickle made from daikon radish. This dish is unique because the main pickling ingredient is a sweet rice drink called "amazake" which is made by mixing rice malt with white rice porridge and fermenting it. Because of this, bettarazuke is sweet and mild compared to other pickles. It's delicious!
The history of bettarazuke dates back to the mid-Edo period when a farmer sold daikon pickled with candy and rice malt at a market.
Even the 15th shogun, Yoshinobu Tokugawa, enjoyed bettarazuke, particularly the thick-cut ones.
Bettara-zuke's unique quality is its sweetness, attributed to the use of fermented amazake in the pickling bed.
How I Developed This Recipe
Like many Japanese pickled dishes, including Bettarazuke, people often make quick and easy homemade versions.
While pickles which take time and effort are delicious, I prefer making quick tsukemono (asazuke) at home so that I can eat them sooner!
Thus, I created a simplified recipe for bettarazuke that can be made in just a few days instead of weeks this time.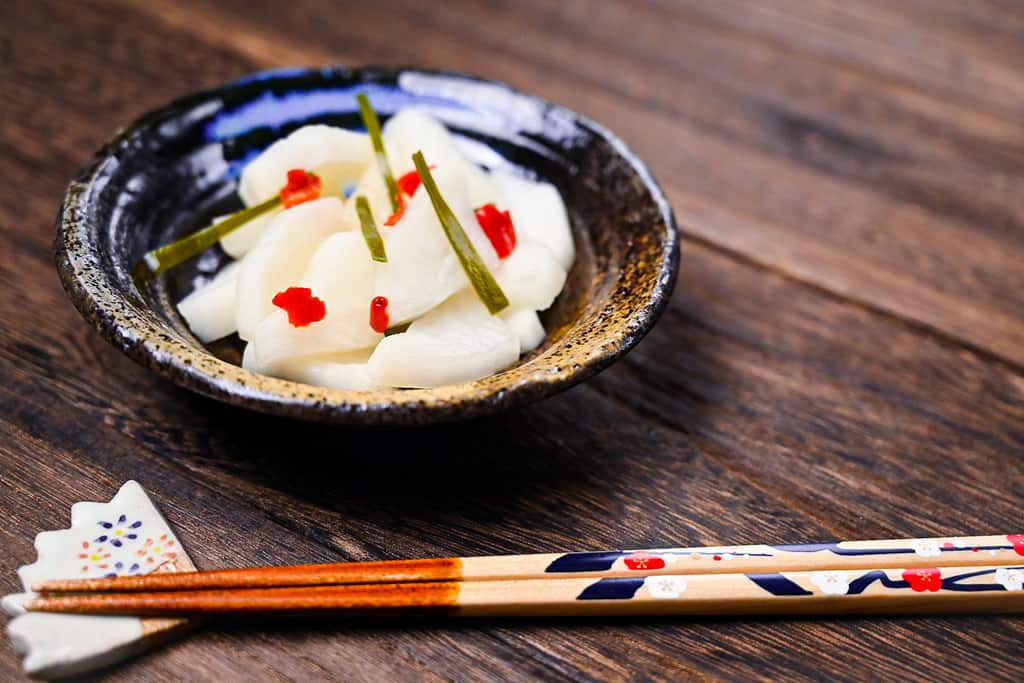 Ingredients and Substitution Ideas
Daikon radish: The cornerstone of this dish. While fibrous, firm radishes are ideal, any daikon radish will suffice.
Salt: Employed both to extract moisture and to season the dish. Natural, coarsely-grained salt is recommended.
Amazake: A distinctive ingredient for bettarazuke and cannot be substituted. Amazake is a sweet beverage produced by converting starch to sugar through the enzymatic activity of rice malt.
Sugar: While regular sugar is acceptable, I often use light brown cane sugar in many recipes.
Dried red chili pepper: This is optional, but a hint of spiciness complements the dish well.
Dried kelp (kombu): Another optional ingredient, but it imparts a boost of umami when included.
I have listed my recommended Japanese condiments, tools, and ingredients in the Sudachi Recipes Amazon shop. If you want to keep making various Japanese foods at home, please check it out!
Step-by-Step Process
Here are my step-by-step instructions for how to make sweet and crunchy bettarazuke daikon pickles at home. Just to let you know, this is a 2 day recipe, For ingredient quantities and simplified instructions, scroll down for the printable recipe card below.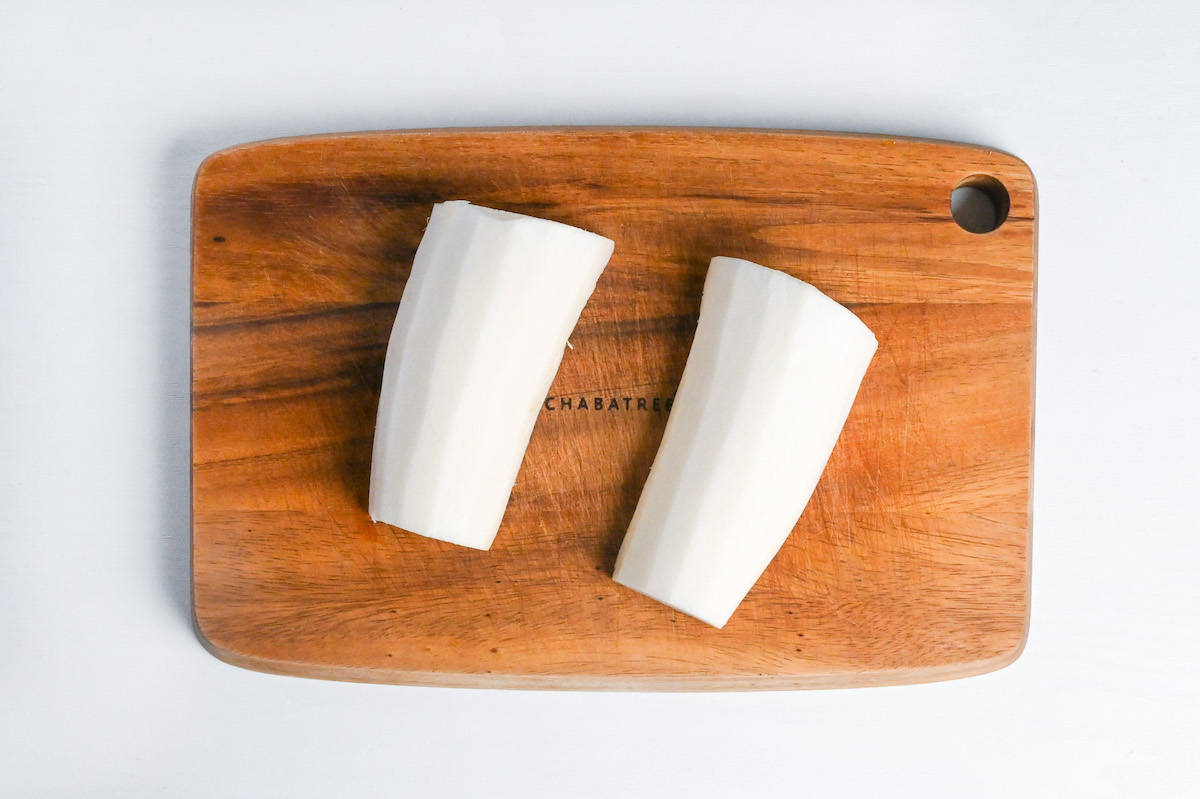 When we make pickles, we tend to cut daikon by the method called "icho-giri (いちょう切り)." This is a three step method of peeling, cutting lengthways into quarters (or halves) and then cutting each length into thick slices.
My daikon wasn't so thick so I chose halves this time, but you can decide on halves or quarters depending on the size of your daikon or your shape preference for the final result.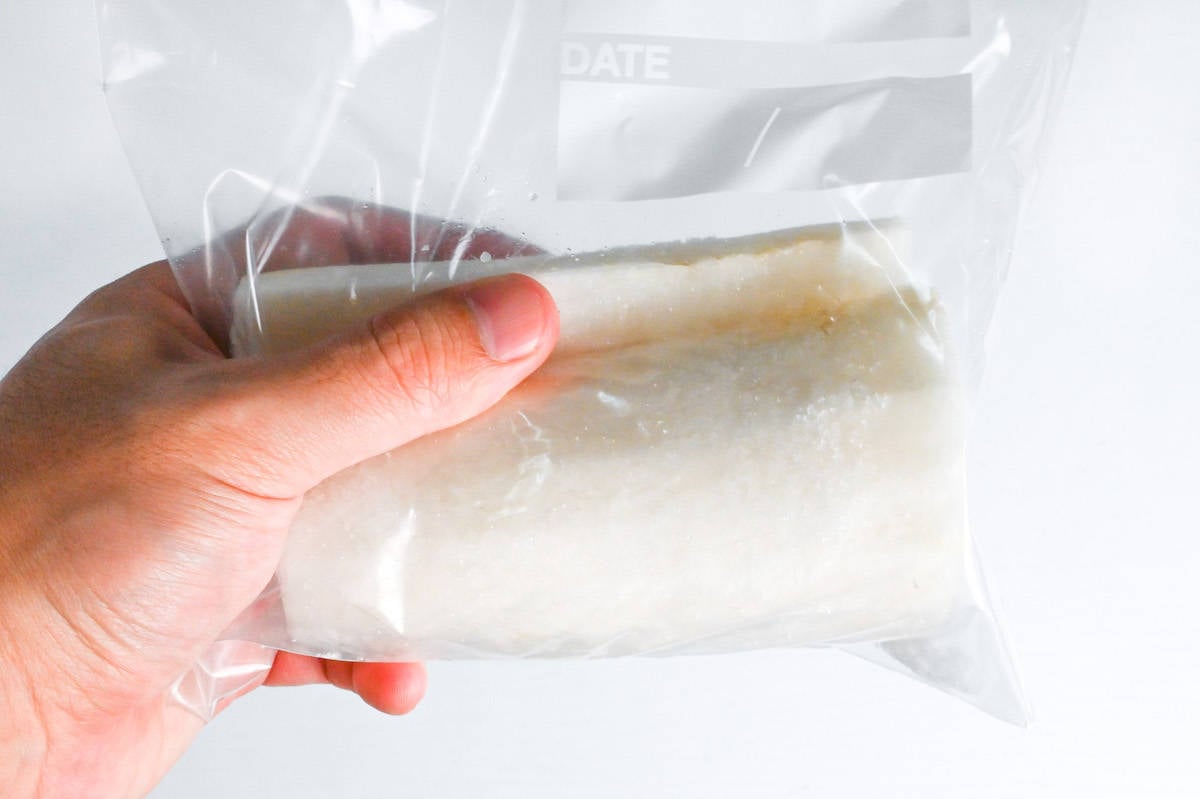 To draw out the excess moisture in the daikon, we need to rest it in salt overnight. Place the daikon in a sealable freezer bag and add the salt. The quantity of the salt should be 5% of the weight of the daikon, so essentially 5g of salt for every 100g of daikon.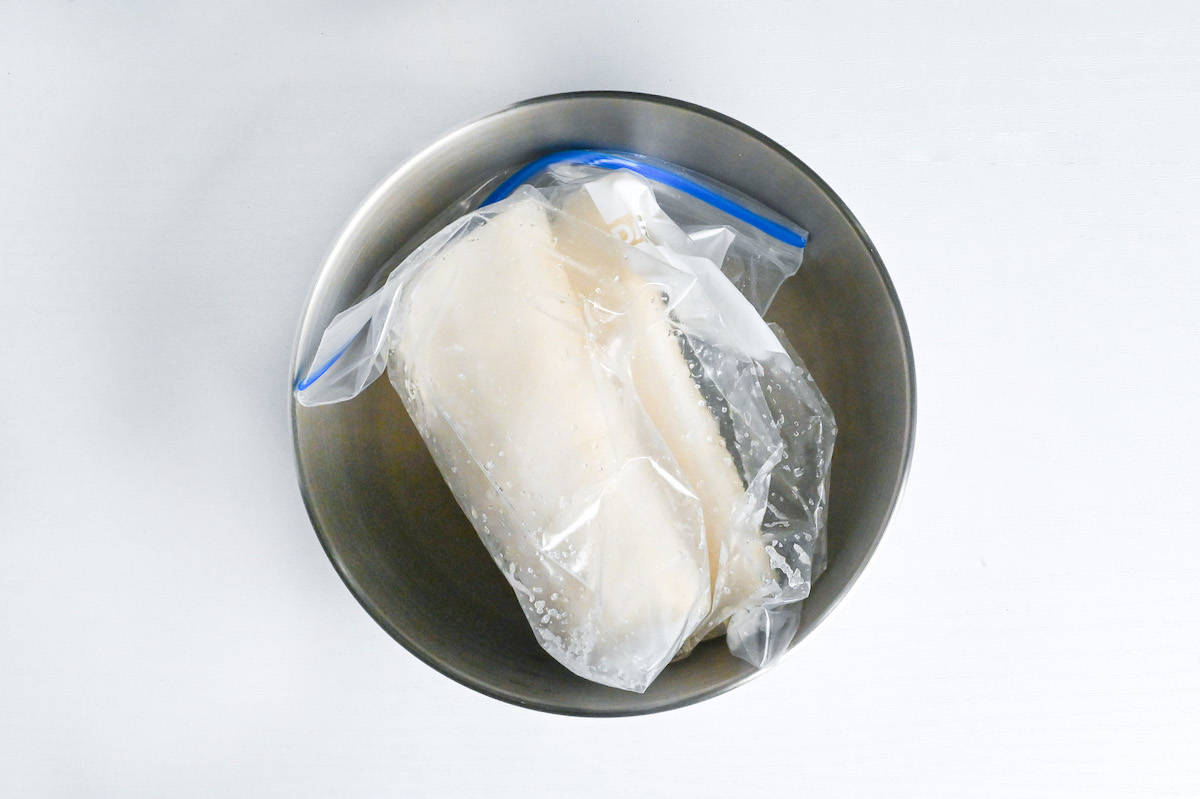 Massage the salt over the surface from outside of the bag (no need to get your hands dirty!), then push out the air and seal it up. Store in the fridge overnight.
Tip: Place the bag in a bowl or on a deep plate to catch any leaks!
After resting, you will find that liquid has accumulated in the bag. Discard this, remove the daikon and wash out the bag ready to reuse later.
Pat the surface of the daikon dry with kitchen paper (this is to avoid any excess water mixing into the pickling liquid).
Thickly slice the daikon, I recommend about 0.5-1cm in thickness which is approximately ¼ inch. Avoid thinly slicing since we want to make the most of daikon's beautiful crunchy texture.
Place them back in the clean sealable freezer bag.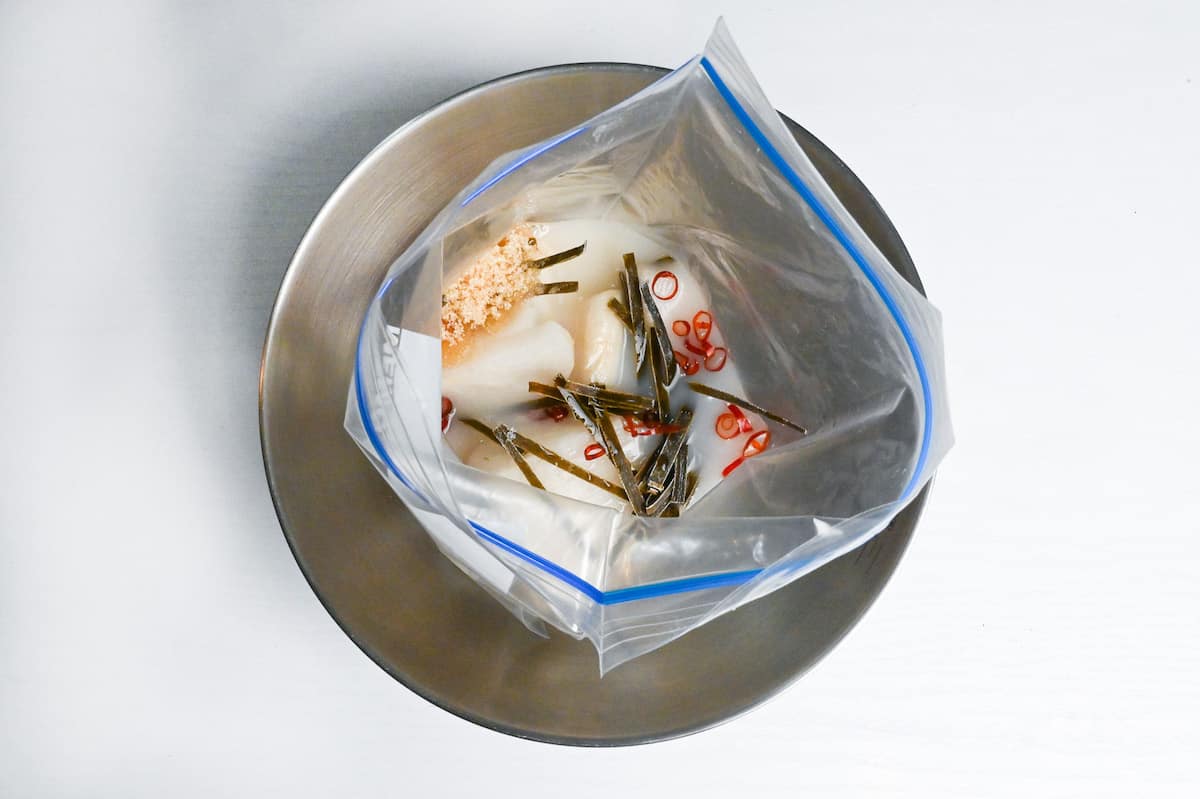 Deseed the dry chili and thinly slice it. Cut some dry kombu (kelp) into thin strips using scissors. These ingredients will add a touch of heat and a burst of umami to the pickling liquid.
Place them in the bag with the daikon and add amazake, salt and sugar.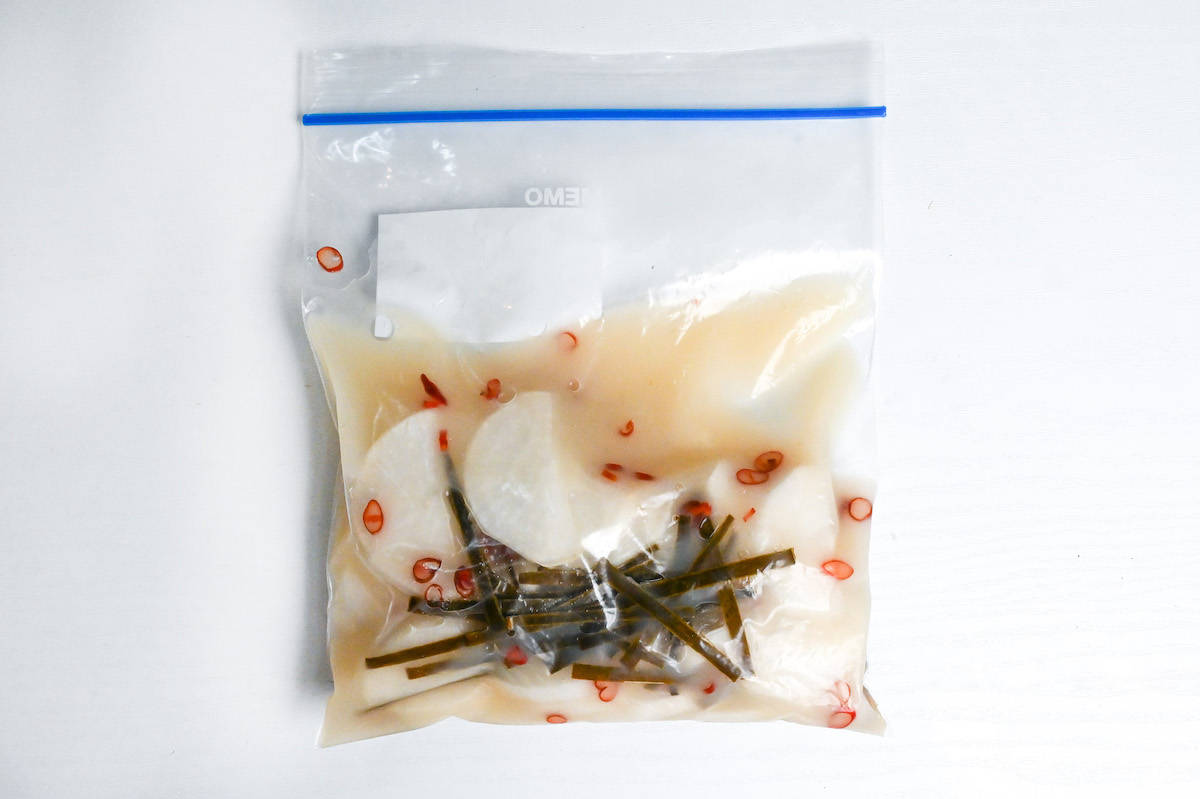 Massage all the ingredients over the daikon until evenly distributed, then push the air out of the bag and seal. Store in the fridge overnight.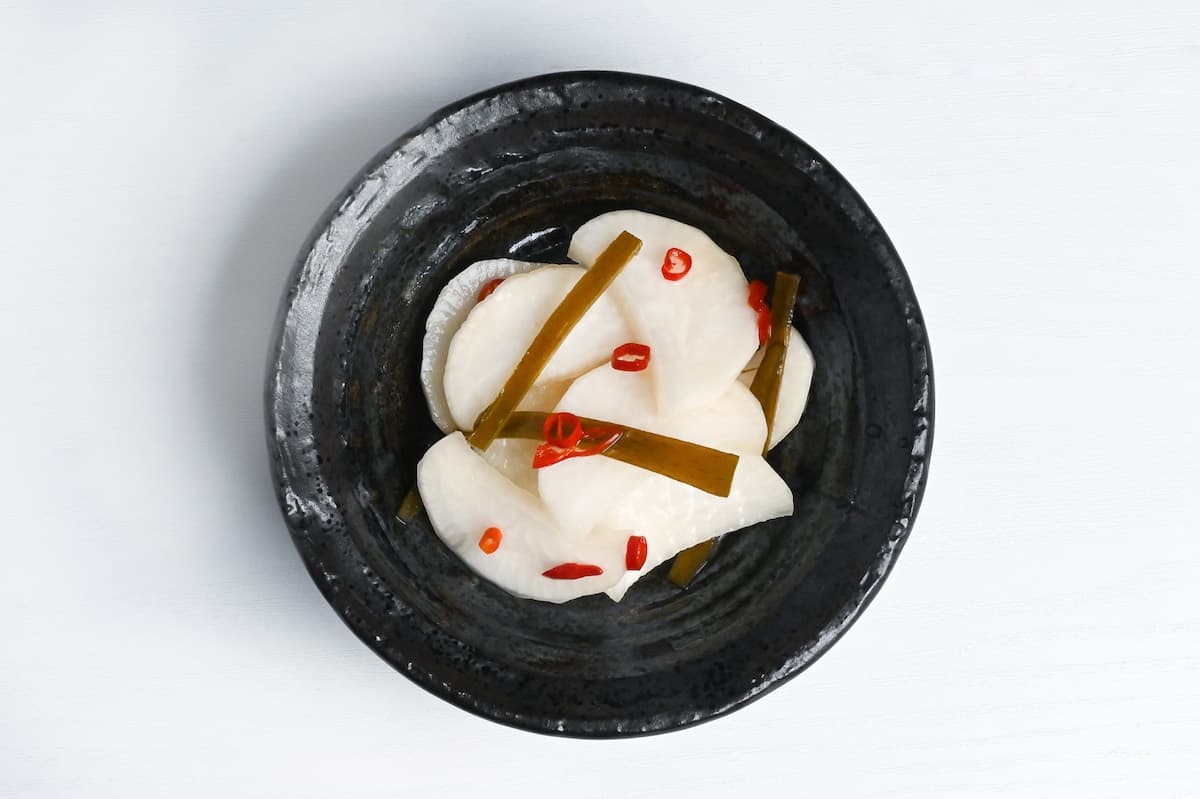 Remove the slices from the liquid before serving and decorate with the slices of chili and kombu (optional).
Enjoy as a snack or side!
Storage
Bettarazuke demands some care in its storage. Post-pickling, it's important to nestle it in the coolest part of your refrigerator. House the Bettarazuke in a container or sealable freezer bag, submerging it in liquid for optimal preservation.
It's essential to note that, despite its pickled nature, this particular recipe crafts an quick version of bettarazuke, characterized by its brief pickling duration.
As such, its prime freshness is best enjoyed within approximately three days.
Room temperature - Not recommended.
Refrigerated - About 3 days.
Frozen - Not recommended.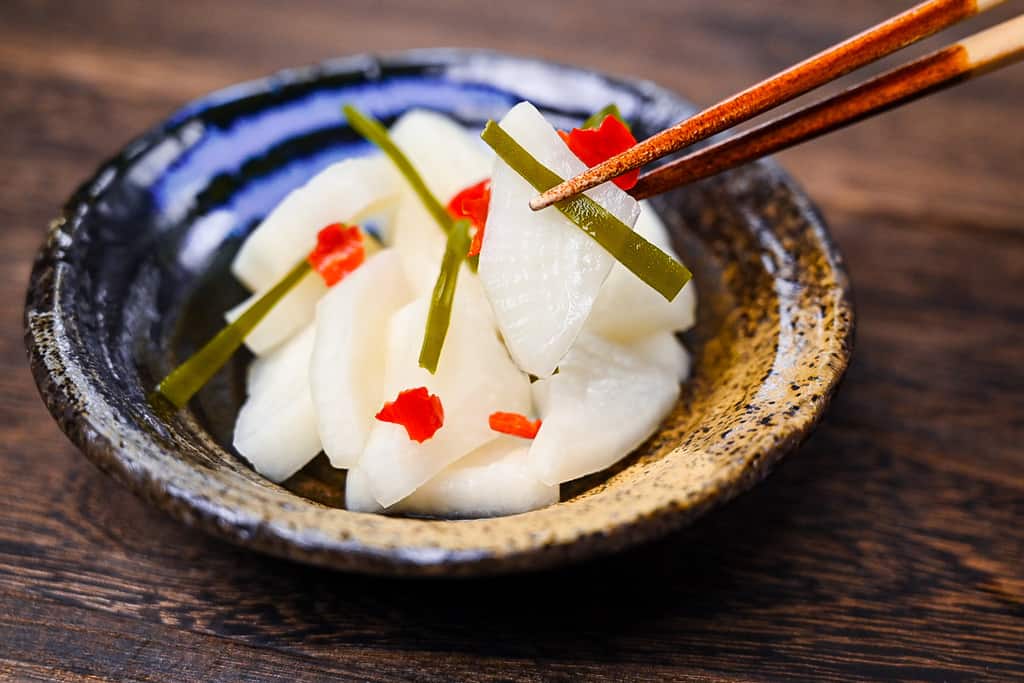 I hope you enjoy this quick and easy bettarazuke recipe! If you try it out, I'd really appreciate it if you could spare a moment to let me know what you thought by giving a review and star rating in the comments below. It's also helpful to share any adjustments you made to the recipe with our other readers. Thank you!
More Japanese Pickles Recipes
If you love Japanese style pickles, check out some of my other recipes!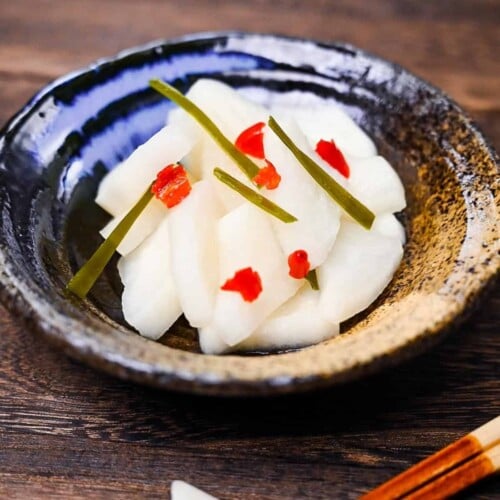 Japanese Pickled Daikon Radish (Bettarazuke)
How to make "bettarazuke", a sweet and crunchy Japanese pickled daikon flavored with amazake (sweet fermented rice beverage), kombu and a hint of chili.
Ingredients
Day 1
300

g

daikon radish(s)

15

g

salt

-

5% of the weight of the daikon
Day 2
125

ml

amazake

-

(fermented rice drink)

10

g

salt

20

g

sugar

1

dried red chili pepper

5

g

dried kelp(s) -

(kombu) optional for added umami
Instructions
Day 1
Peel

300 g daikon radish(s)

and cut in half lengthways. (If it's a particularly thick daikon, cut into quarters lengthways.)

Place it in a ziplock bag and add

15 g salt

.

Massage the salt over the daikon, then seal the ziplock bag and place it in the fridge overnight. Tip: Store the ziplock bag in a bowl or on a plate to prevent leaks.
Day 2
Remove the daikon from the bag and dry it thoroughly. Discard the accumulated liquid and rinse out the bag.

Cut the daikon into 0.5-1cm thick slices. (Approx ¼ inch)

Deseed

1 dried red chili pepper

and break it into small pieces, and use scissors to cut 

5 g dried kelp(s)

 into thin strips. Place them in the ziplock bag along with the daikon slices and add

125 ml amazake

, 

10 g salt

and 

20 g sugar

.

Push the air out and seal the ziplock bag. Massage the ingredients together and place in the fridge overnight.

Enjoy as a snack or side!
Notes
Store in the refrigerator and consume within about 3 days.