Have you ever wondered if you can use your leftover kombu after making dashi? Well, the answer is you can! You won't believe how delicious kombu itself can be until you try this recipe. This umami-packed simmered kelp called "Tsukudani" is one of Japan's most popular onigiri fillings!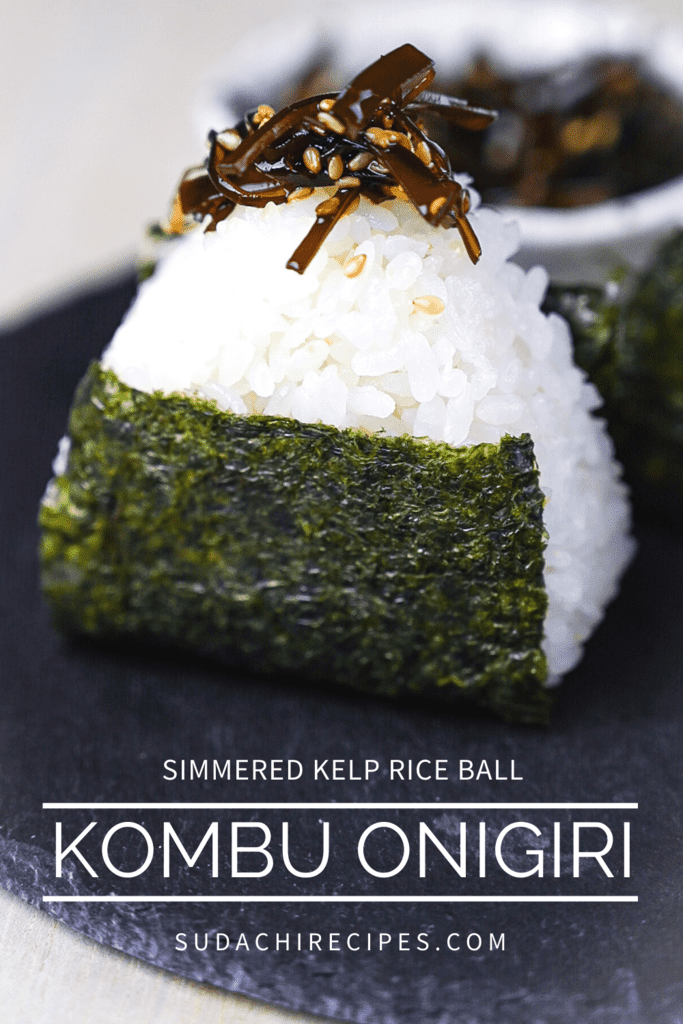 Disclaimer: This post contains Amazon affiliate links. Sudachi Recipes earn a small percentage from qualifying purchases at no extra cost to you. See disclaimer for more info.
What is Kombu Onigiri?
Kelp rice balls are prepared by simmering used kelp (after making dashi) with soy sauce and mirin to create "tsukudani," which is then wrapped in rice balls.
Because tsukudani has a rich, sweet, and savory flavor, combining it with plain Japanese white rice creates the perfect balance. This makes it an ideal topping for a bowl of rice and a delicious filling for rice balls.
This recipe is an excellent way to use up "rehydrated kombu" (kelp) making it a valuable addition to your cooking repertoire.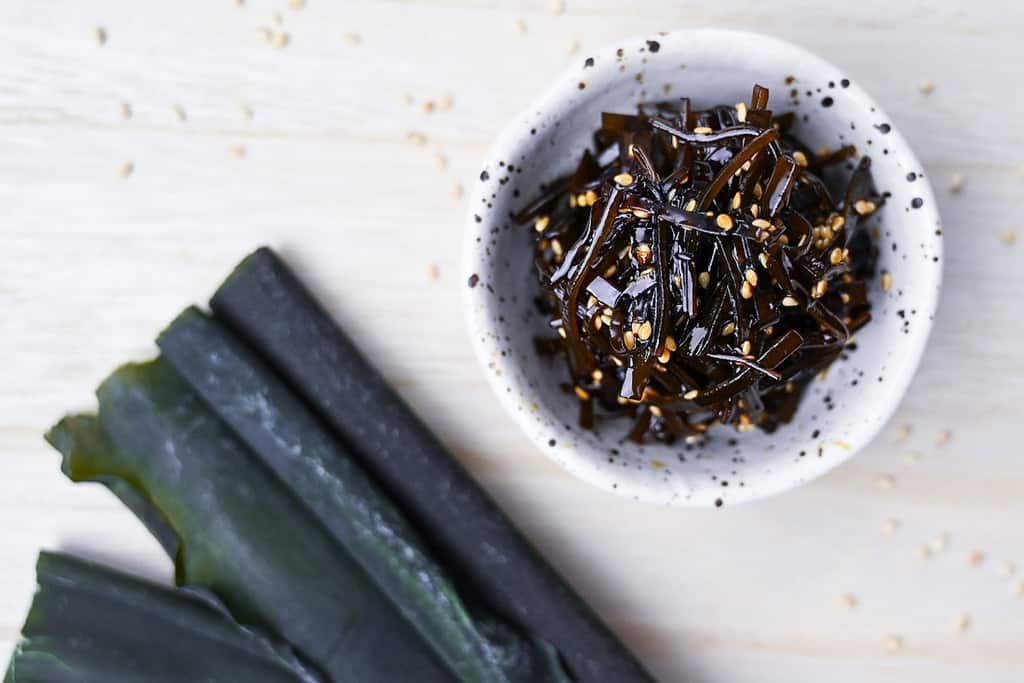 How I Developed This Recipe
In developing the perfect kelp rice ball recipe, my mission was clear: to capture the authentic essence of kombu onigiri at home.
Ultimately, I have perfectly reproduced the kombu rice balls loved by onigiri specialty stores, convenience stores, and supermarkets.
The recipe is a nod to tradition and a celebration of sustainability. Instead of discarding the kelp after making dashi, why not give it a second life in a delicious rice ball?
It's a delightful blend of flavors and a testament to the beauty of reusing ingredients.
Ingredients You Will Need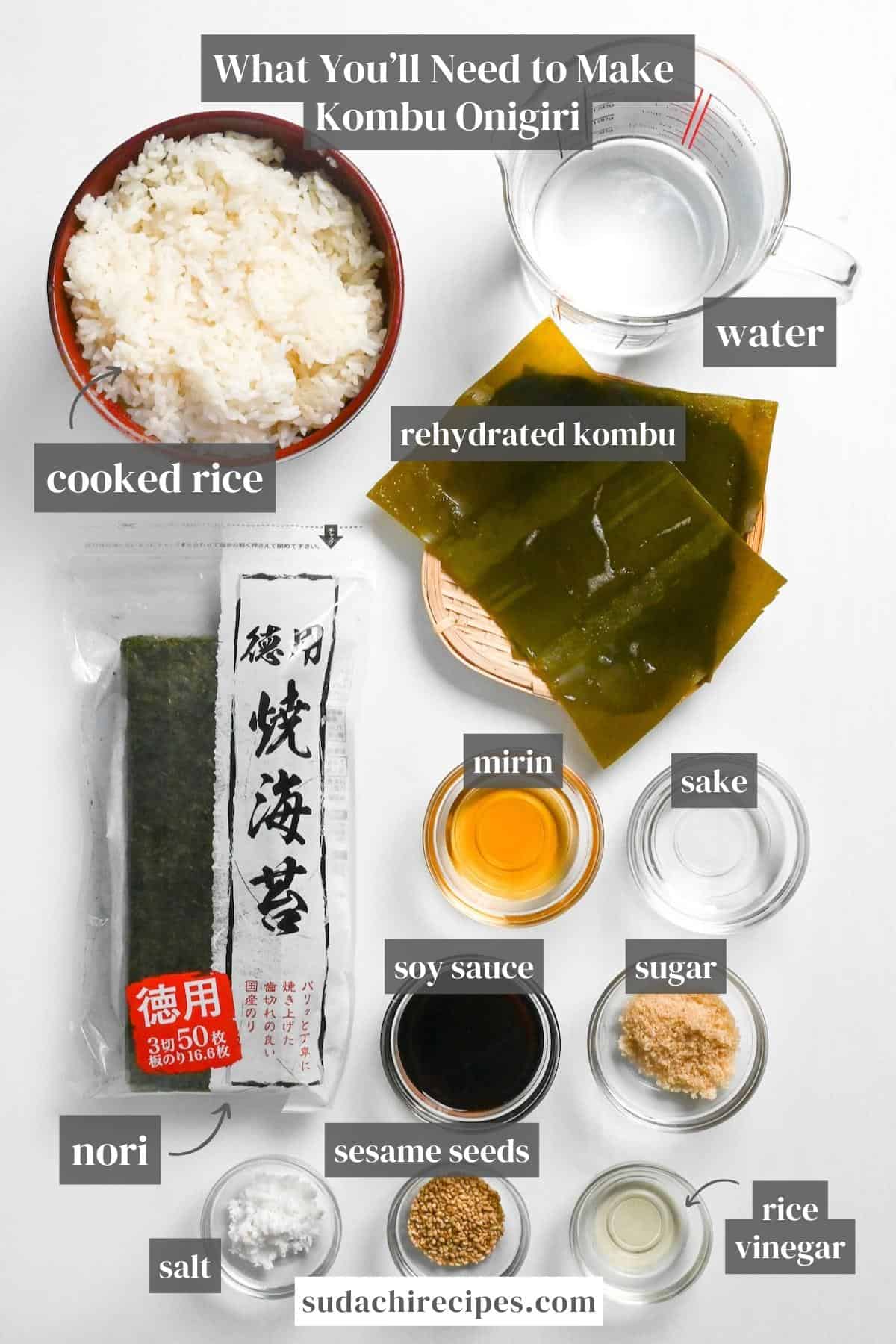 Curious about the exact brands and products that bring my recipes to life? Discover the brands and ingredients behind my recipes at the Sudachi Amazon Storefront. Explore my handpicked pantry essentials and find your next kitchen favorites!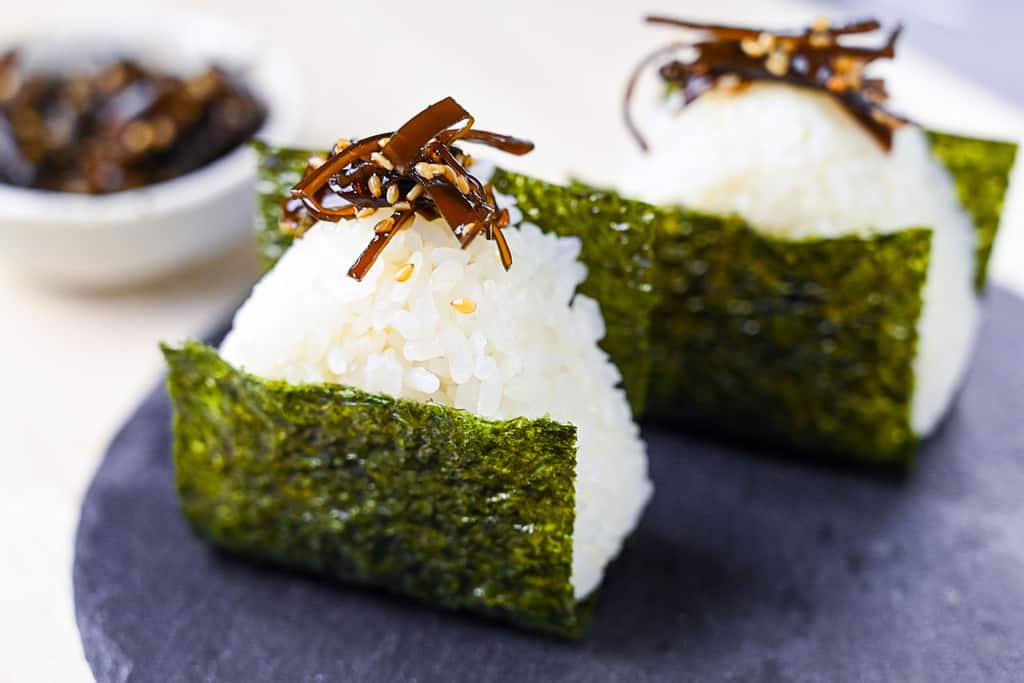 Step-by-Step Process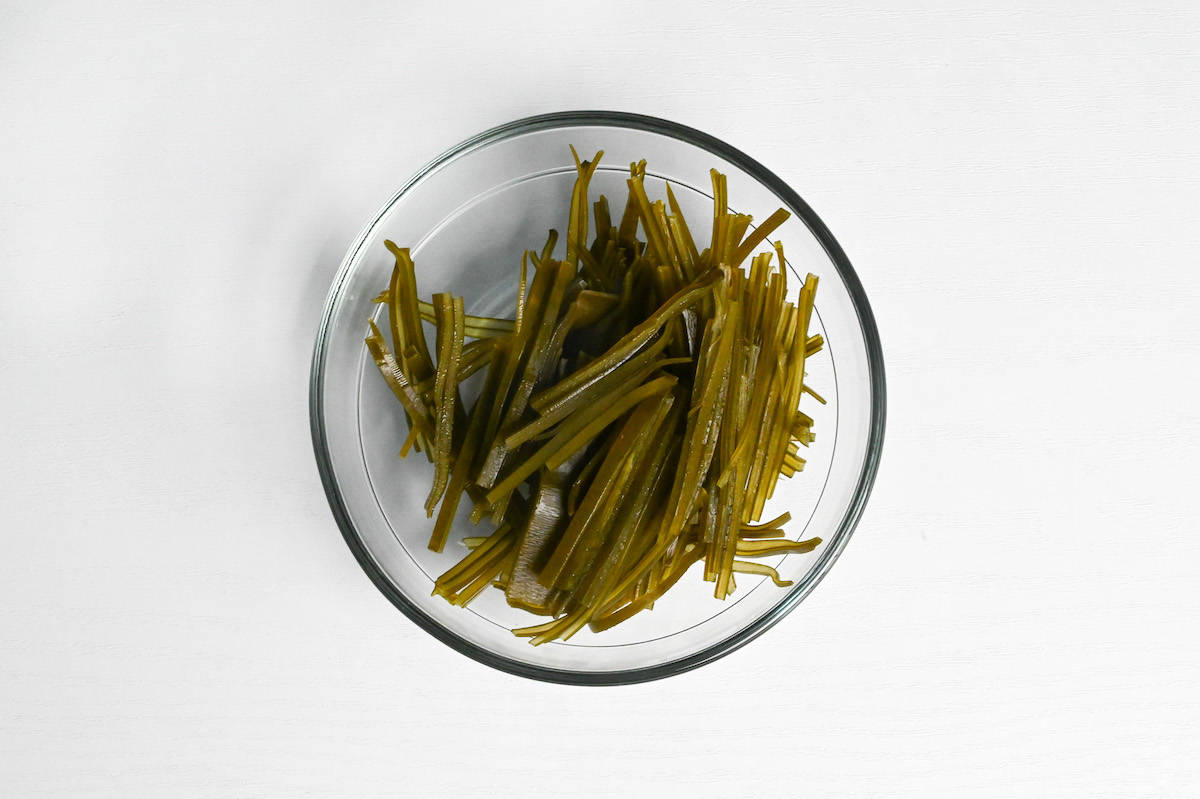 Slice rehydrated kombu into thin, elegant strips, about 3mm or roughly 1/10 inch thick.
Combine the kombu strips, water, sake, and rice vinegar in a pan. This combination of ingredients helps soften the kombu.
Bring the mixture to a lively boil over medium heat. Once it's bubbling away, reduce the heat and let it simmer. You'll want the water to reduce to just under half its original volume, which should take around 20 minutes.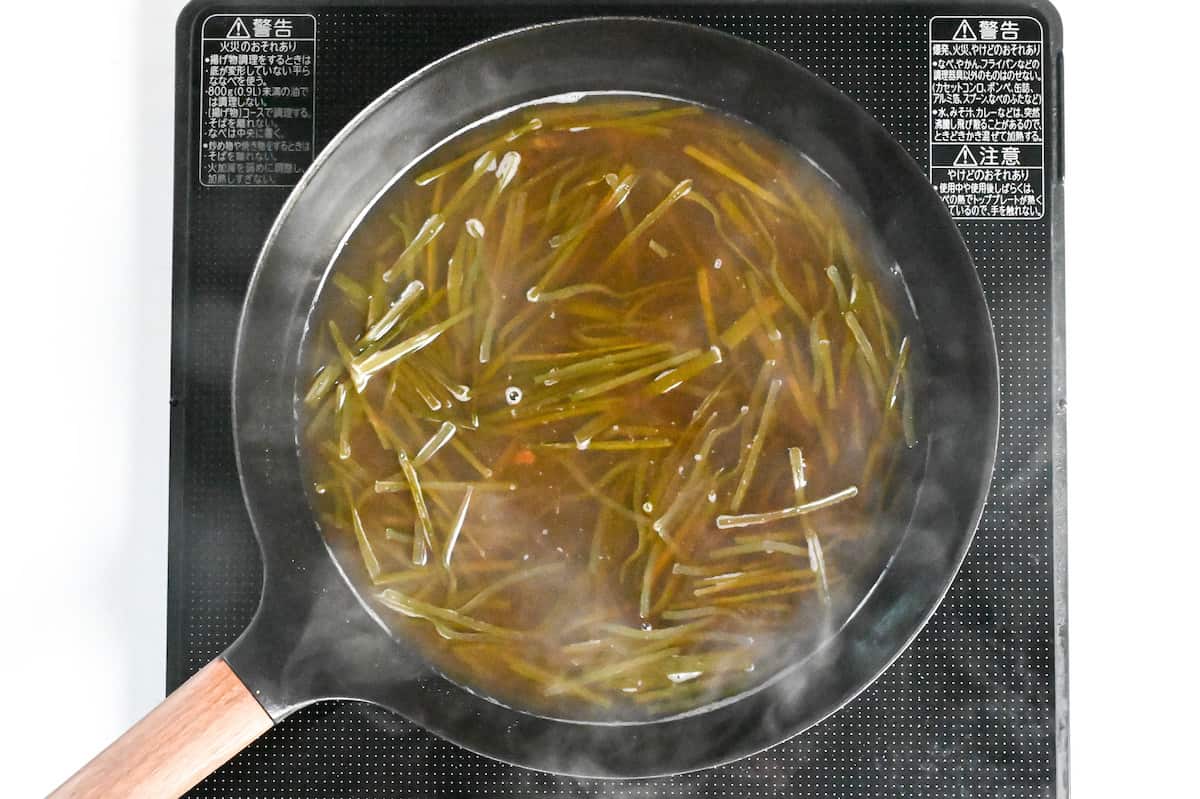 Stir in light brown sugar, mirin, and soy sauce.
Turn the heat to medium and boil until the liquid is all gone. Remember to stir frequently to prevent any burning.
If the kombu is still too hard even after reducing all the liquid and condiments, add more water, 100ml at a time, and simmer it until the liquid is gone.
Make sure to mix it often to ensure even cooking. Repeat the process until the texture of the kombu is softened to your liking.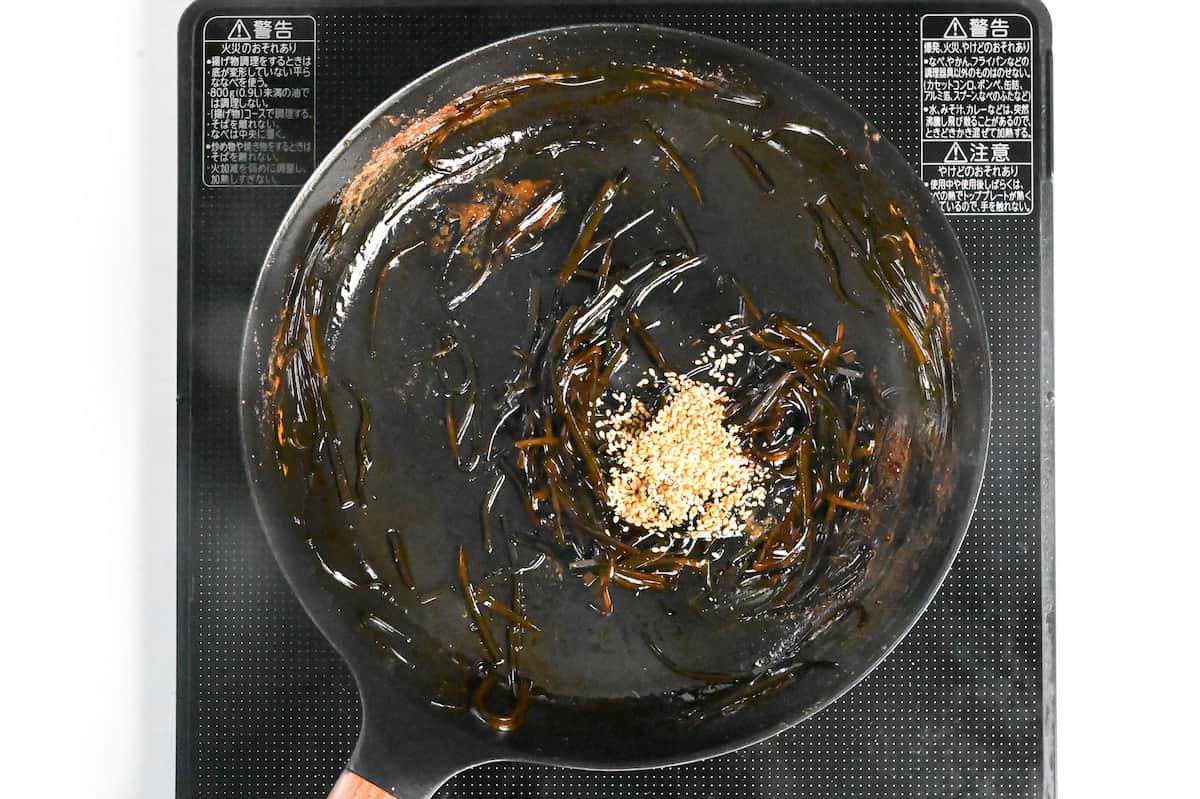 Once you have a thick, sticky, dark mixture, sprinkle in white sesame seeds and give it a good mix.
Sprinkle your hands (or onigiri mold) with a light dusting of salt and take a handful of rice. Gently flatten it out, place the kelp tsukudani in the center and fold the rice over until the filling is encased in the middle. If using a mold, simply add half of the rice, the tsukudani and then the other half. Gently press the top of the mold down to form your rice ball.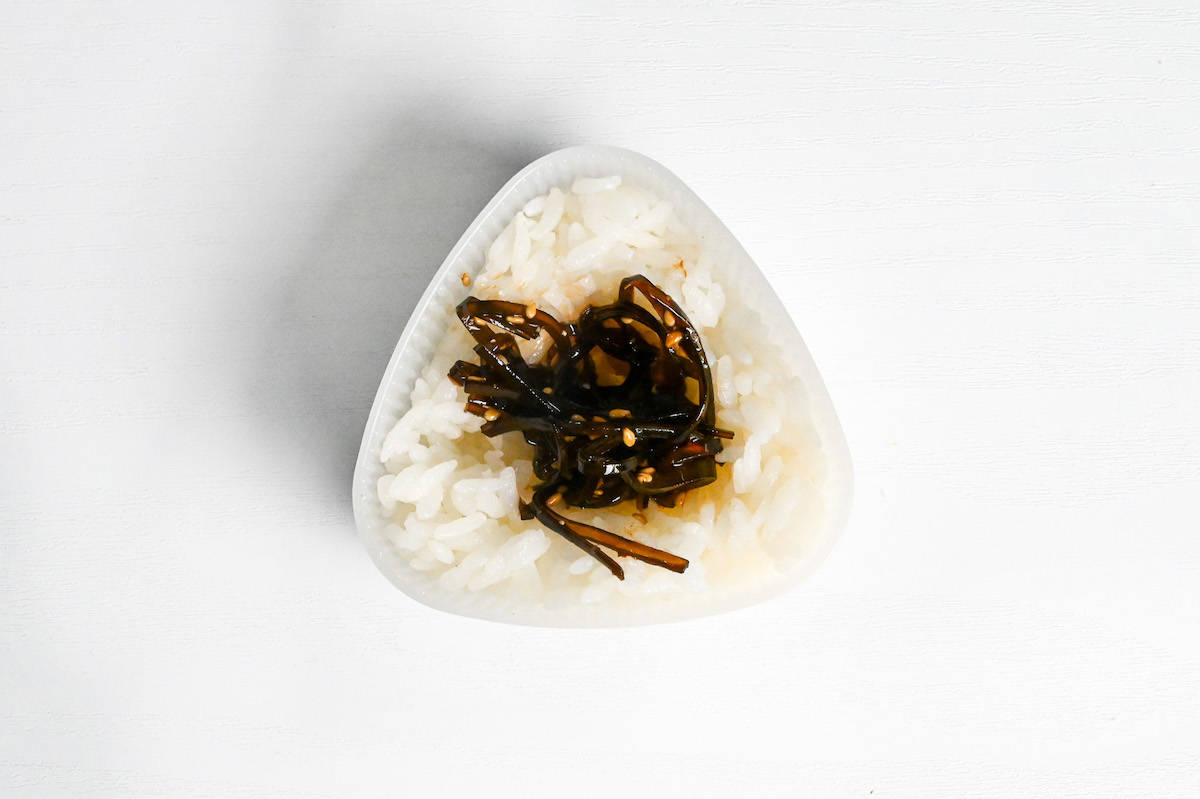 I used an onigiri mold like this one, but it's also easy to shape by hand by shaping the rice into a rounded triangle shape.
Different Ways to Shape Onigiri
Shaping an onigiri rice ball can be done using several methods. You can use cold and wet hands, wrap them in plastic, or use a mold. Regardless of the method you choose, the most important aspect is to press the rice down firmly to maintain its shape.
In conclusion, shaping an onigiri requires practice. In my post titled "3 ways to shape the perfect onigiri rice ball", you can learn more about each method for shaping an onigiri.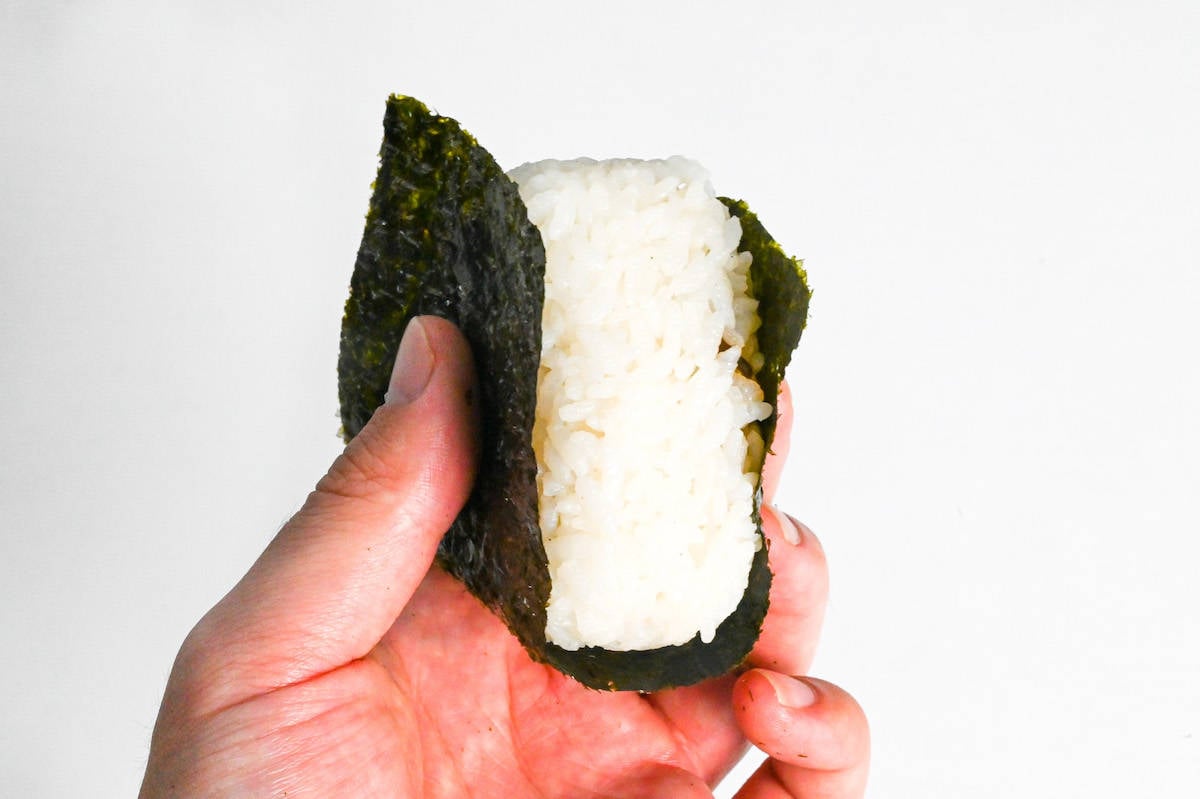 Enjoy!
Storage
For the best taste, rice balls should be consumed fresh and are not suitable for storing at room temperature or in the refrigerator. However, if you want to store them, it is recommended to freeze them.
To do this, wrap them in plastic (without nori) while still warm and place them in a freezer bag once they have cooled down. The shelf life of frozen onigiri is about one month, but the quality will diminish over time. It's best to consume them within two weeks for optimal taste. Defrost in the microwave for best results.
If you have any leftover kombu tsukudani, you can keep it in a sealed container in the fridge for 1-2 weeks and use it as a rice topping or for future onigiri.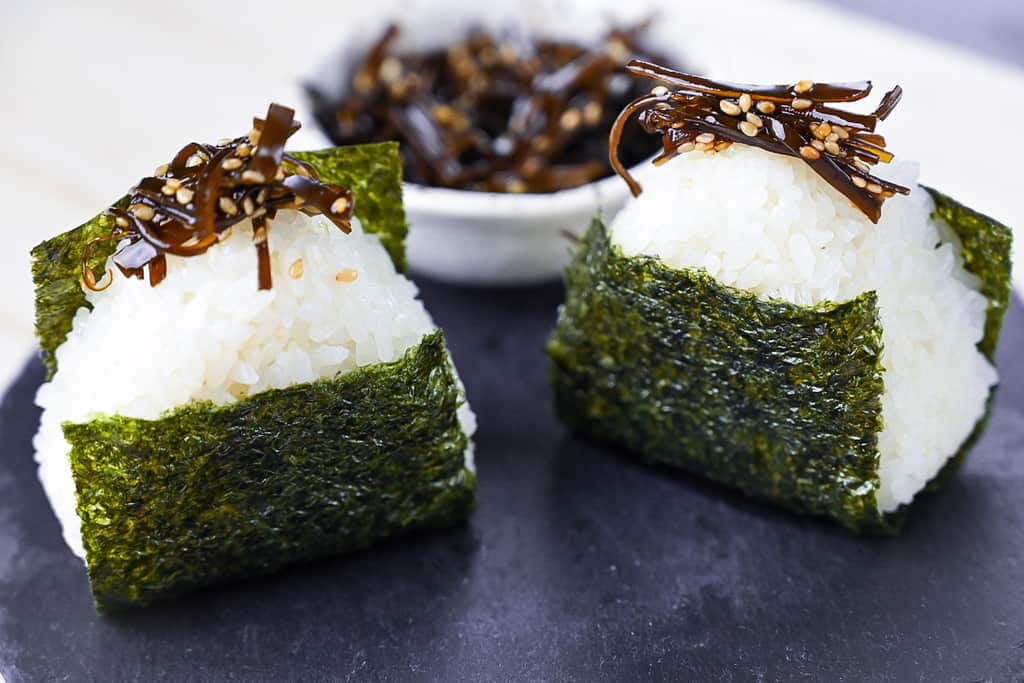 I hope you enjoy this homemade kombu onigiri recipe! If you try it out, I'd really appreciate it if you could spare a moment to let me know what you thought by giving a review and star rating in the comments below. It's also helpful to share any adjustments you made to the recipe with our other readers. Thank you!
More Japanese Rice Ball Recipes
If you're interested in experimenting with different rice ball flavors and fillings, check out some of my other recipes!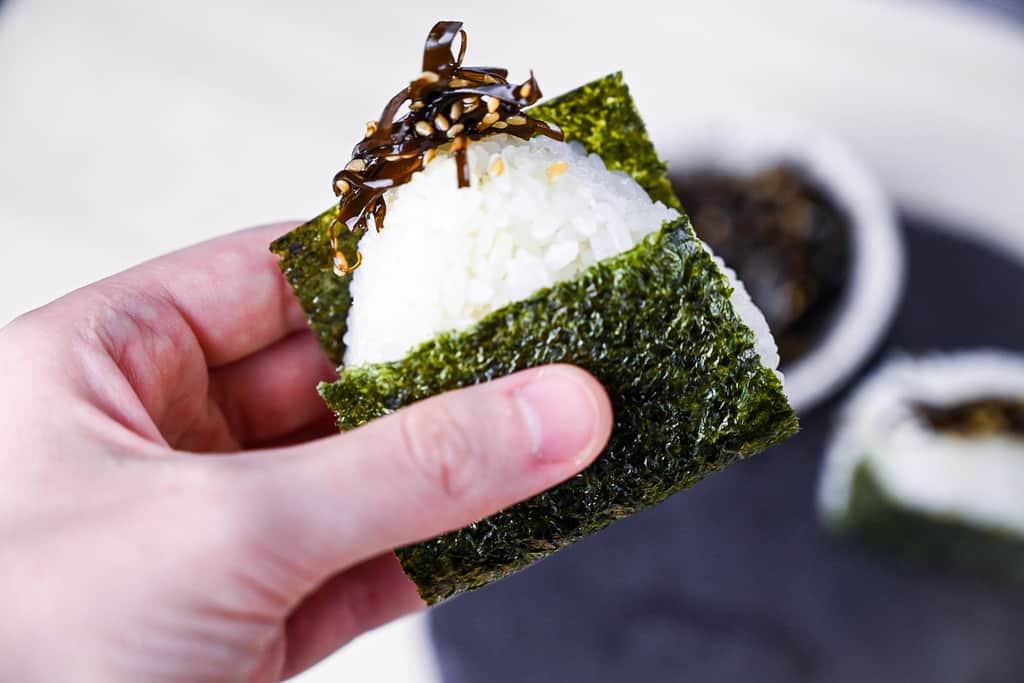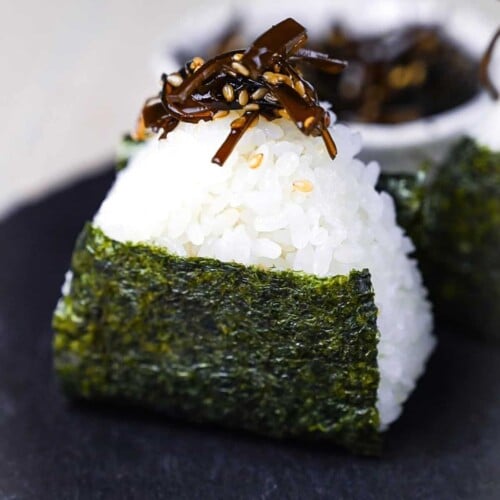 Kombu Onigiri (Kelp "Tsukudani" Rice Ball)
---
How to make delicious Kombu Tsukudani Onigiri. Japanese kelp simmered in soy sauce, mirin and sugar than wrapped in perfectly cooked sticky white rice. 
---
---
---
---
Equipment
Zojirushi Rice Cooker

Rice Ball Mold
Ingredients
50

g

rehydrated kombu

(kelp)

500

ml

water

2

tbsp

sake

1

tsp

rice vinegar

1

tbsp

light brown sugar

1

tbsp

mirin

2

tbsp

soy sauce

½

tbsp

white sesame seeds
For making the onigiri
2

tsp

salt

6

pieces

sushi nori seaweed(s)

cut to rice ball size, 1 sheet of sushi nori will be enough for approx 4 onigiri
Instructions
Before starting, make sure your kombu is already rehydrated. The kombu needs to soak for 24 hours before making tsukudani and the leftover liquid can be used as kombu dashi. 

You can cook the rice while the tsukudani is simmering. Use Japanese short grain white rice or sushi rice. The rice needs to be sticky so that it holds it shape. Use a rice cooker or check out my how to cook Japanese rice on the stove recipe.
Making Kombu Tsukudani
Cut

50 g rehydrated kombu

into thin strips. (About 3mm or 1/10 inch thick)

Add the sliced kombu to a pan with

500 ml water

,

2 tbsp sake

and

1 tsp rice vinegar

.

Bring to a rolling boil over a medium heat, then lower the heat and simmer until the water has reduced to a little less than half. This should take approximately 20 minutes.

Add

1 tbsp light brown sugar

,

1 tbsp mirin

and

2 tbsp soy sauce

. Mix well and increase the heat back to medium.

Continue to boil until the liquid is completely reduced, mix often to prevent burning. Once thick, sticky and dark, sprinkle in

1/2 tbsp white sesame seeds

and mix well. 
Shaping Onigiri
Sprinkle salt over your rice ball mold (or slightly dampened hands) and shape your rice. Place 1-2 tsp of the kombu tsukudani in the center and encase.

Wrap the onigiri with a sheet of nori and enjoy! You can also place the kombu tsukudani on top of the rice ball for decoration.
Notes
If the kombu is too hard after reducing all the liquid and condiments, add more water (100ml at a time) and simmer until the liquid is gone and mix often to ensure even cooking. Repeat until texture is softened to your liking.
Store any left over kombu tsukudani in the fridge for 2-3 weeks. The rice balls themselves can be wrapped with plastic wrap and stored in the freezer for up to 1 month. Store without nori and defrost in the microwave. Refrigeration is not recommended.