Nasu no agebitashi is a vibrant and flavourful dish made with sliced eggplant that is deep fried and then soaked in a rich dashi broth. This addictive side dish is packed with flavour and can be made with a variety of different vegetables!
Disclaimer: This post may contain affiliate links. Sudachi Recipes is part of the amazon associates programme and earns a small percentage from qualifying purchases at no extra cost to you. See disclaimer for more info.
Jump to:
What is nasu agebitashi?
Agebitashi (揚げ浸し) refers to a cooking method in which ingredients are deep-fried in oil and then soaked in a seasoned broth to soak up the flavors. The most common agebitashi is made with eggplant (or "nasu" in Japanese). The eggplant is deep-fried for a short time over a medium heat and soaked in a dashi broth seasoned with soy sauce and mirin.
This dish is served chilled and recommended in summer, when eggplant is in season and you can appreciate it at it's best.
Japanese eggplants (nasu)
Eggplant is thought to have originated from Eastern India, but it is one of the most popular vegetables in modern Japan. In fact, it's one of my favourite vegetables of all time.
The first eggplant in Japan is thought to have come from China and it is believed that eggplant was already being cultivated in Japan during the Nara period (710-794).
The "Complete Book of Agriculture" from the Edo Period (1603-1868) describes that "there are three colors: purple, white, and blue, and there are round and long varieties," indicating that many varieties had been cultivated since this period.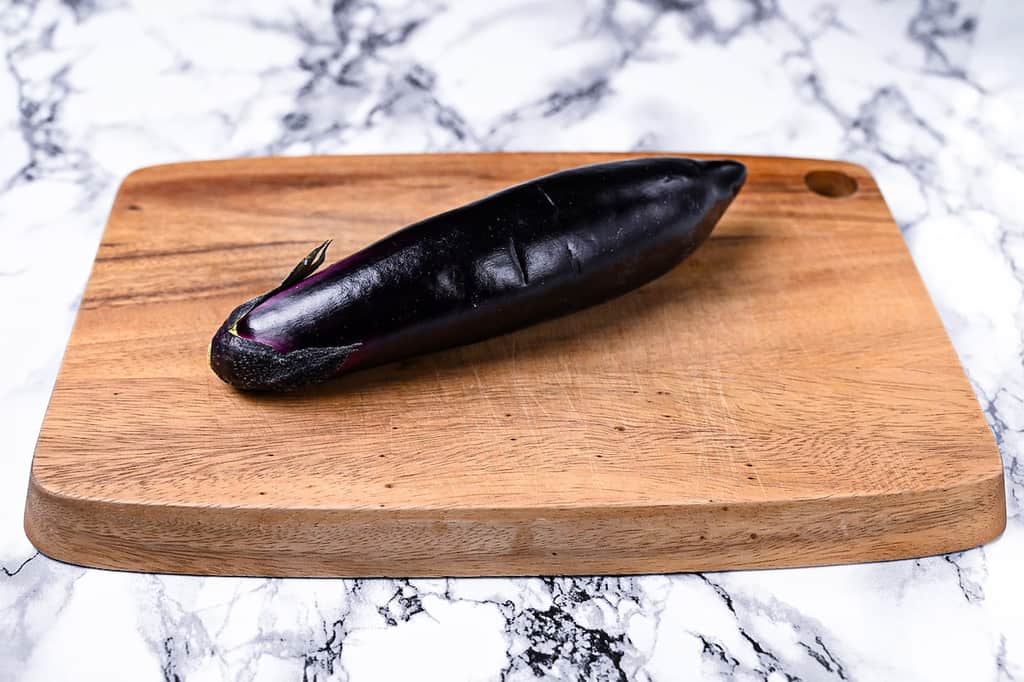 Eggplant varieties in Japan are diverse, with more than 70 varieties thought to exist throughout the country.
In my recipe I use long Japanese eggplant which is long, thin and slightly sweeter than other kinds of eggplant. Chinese or Italian eggplants also work well for this recipe.
Ingredients
Nasu no agebitashi is a tasty side dish made up of two main parts; the fried eggplant and the broth. It can also be garnished with various toppings.
Eggplant
As I mentioned earlier, sweet varieties of eggplant work best for this dish. I recommend using one of the following:
Japanese eggplant (which I use in this recipe)
Chinese eggplant
Italian eggplant
These varieties are also tend to be slightly smaller than other types of eggplant which makes it easier to ensure every piece has skin on without being cut too thick.
Agebitashi broth
Agebitashi is nothing without it's delicious broth! Here are the ingredients I use to make nasu no agebitashi broth:
Use kombu and/or shiiitake dashi to make it suitable for vegetarians. I have a vegetarian awase dashi recipe here.
Toppings
Finally, I like to top my agebitashi with one (or all of!) the following:
Grated daikon radish
Chopped spring onion
Grated ginger (optional)
Katsuobushi (bonito flakes - optional)
Shredded ooba leaves (perilla leaves - optional)
Other ingredients used in agebitashi
Eggplant is great for soaking up flavours and is the most commonly used vegetable for agebitashi, however it can also be made with:
Shishito peppers
Piman (bell peppers)
Zucchini
Kabocha (Japanese squash/pumpkin)
Carrot
Gobo (burdock root)
Renkon (lotus root)
Okra
Asparagus
Bamboo shoots
You can try making agebitashi with a mixture of different vegetables! Keep in mind that frying times vary depending on the texture and thickness of each vegetable.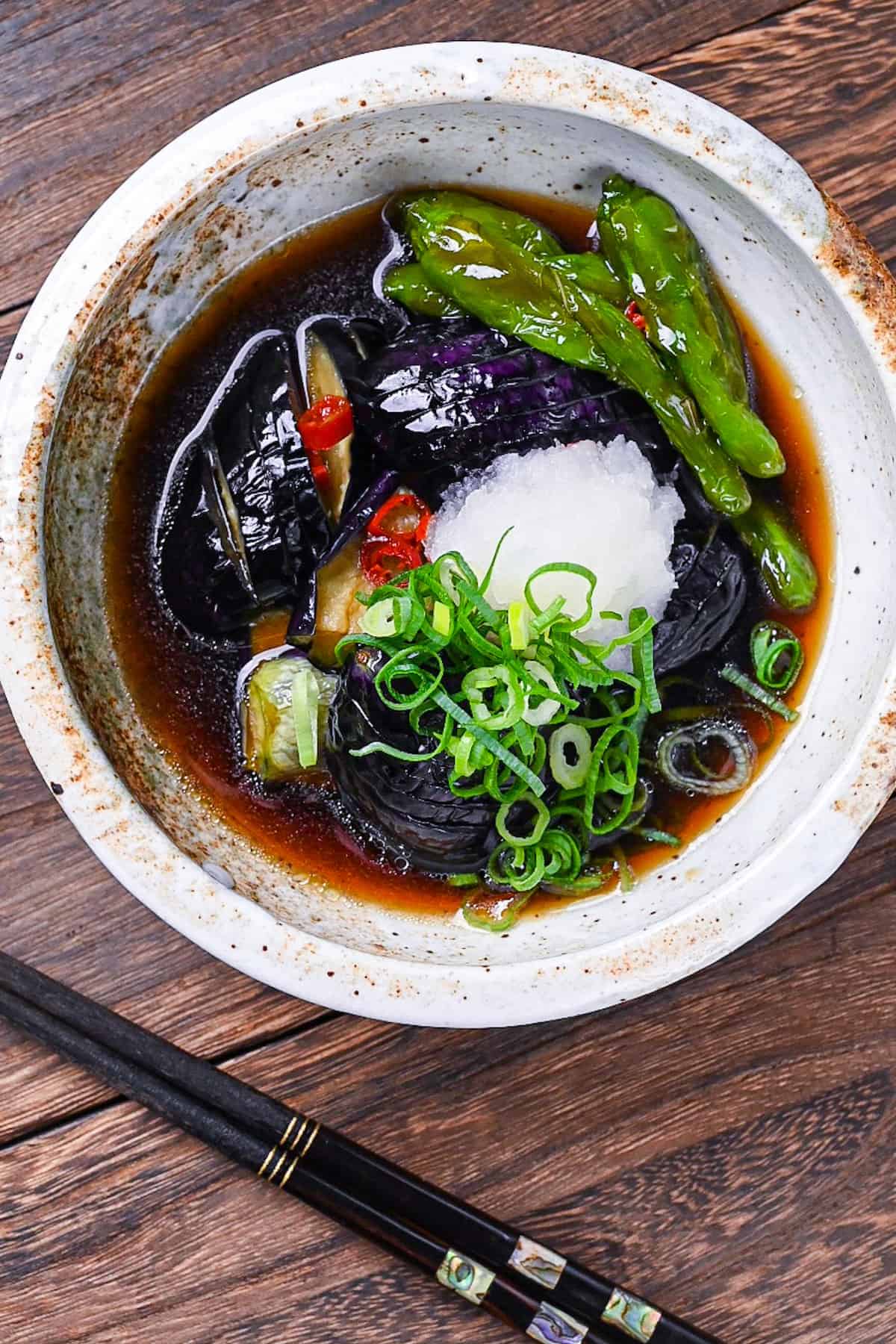 Instructions on how to make nasu no agebitashi
Although this dish requires deep frying, it's pretty straightforward to make. I also have a few tips and tricks to share to stop it from being overly oily.
Make the sauce
As agebitashi is served chilled, it's best to make the broth first so it has time to cool down. Add dashi, soy sauce, mirin, sugar and finely chopped chili pepper to a small sauce pan.
Bring it to a boil over a medium heat and allow it to bubble for 1 minute to burn off the alcohol in the mirin, then take it off the heat and then leave it to cool.
Score the skin of the eggplants
The first step is to cut off the top stem, cut in half lengthways and then make shallow, diagonal cuts across the skin. We do this so that the dashi broth can be absorbed evenly on both sides.
Cut the eggplant
Depending on the size of the eggplant, you can cut it into halves (like above), thirds or quarters. Essentially, each piece should be slightly bigger than bitesize, it will shrink and soften when it's deep fried.
Deep fry
Heat the oil to 170°C (340°F) and then add the eggplant with the skin side facing down. Fry for 1 minute, then turn it over and continue to fry for another minute, 2 minutes in total.
Place the eggplant in the oil with the skin side down first, this will prevent the flesh from getting too oily.
Wash off the excess oil
Once you've finished frying the vegetables, place them in a colander or sieve over a heatproof bowl and pour freshly boiled water over them. This will remove any excess oil without losing the flavour from the deep frying. It also prevents oil from leaking out into your dashi broth.
Soak and chill
Place the deep fried eggplant (and any other vegetables you might add) into the broth, making sure the ingredients are fully submerged. Chill in the fridge for 30 minutes before serving. (I placed a lid on the saucepan and stored it in the fridge, but you can transfer it to a sealable container if you prefer.)
Dish up
You can serve agebitashi in individual serving bowls or one large bowl to share. Garnish the dish with grated daikon radish and finely chopped spring onion. I also like to add sliced ooba (shiso / perilla leaves) and katsuobushi for more flavour but they are optional!
Since agebitashi is served chilled, there's no need to reheat.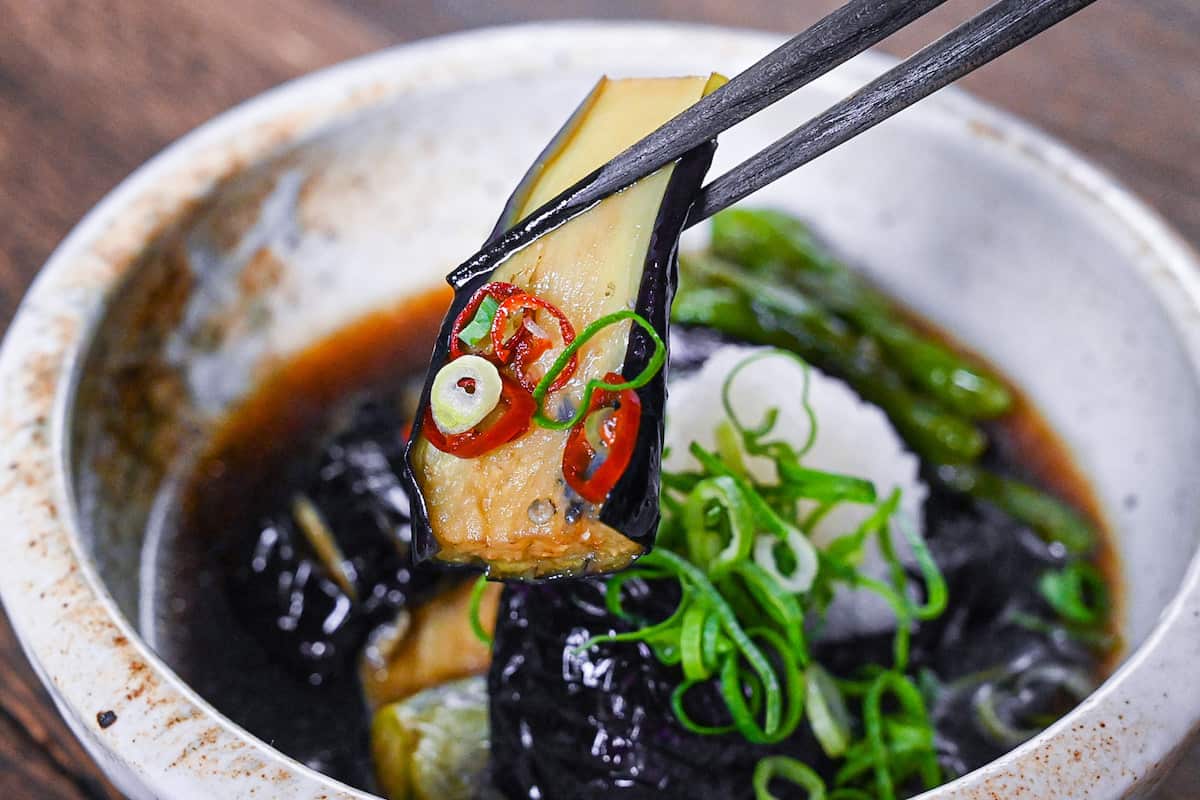 This dish will keep for up to 3 days in the fridge so feel free to make a larger batch.
Agebitashi is one of my favourite ways to enjoy eggplant, I hope you like it too!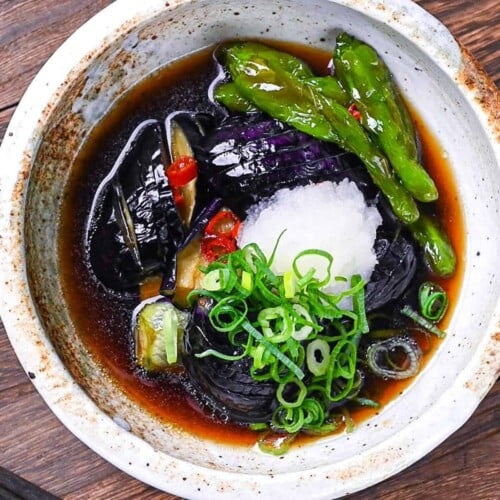 Nasu no Agebitashi (Fried Eggplant in Dashi Broth)
How to make rich and flavourful Nasu no Agebitashi (茄子の揚げ浸し) made with deep fried eggplant soaked in a seasoned homemade dashi broth.
Instructions
Add

100 ml dashi stock

,

1 tbsp soy sauce

,

1 tbsp mirin

,

¼ tsp sugar

, and

1 dried red chili pepper

to a small saucepan. Place on the stove on medium heat and bring it to a boil. Allow it to boil for 1 minute, then remove it from the heat and leave to cool.

Wash

200 g eggplant(s)

and cut off the stems. Cut in half lengthways and make shallow, diagonal slices across the skin side. (Each slice should be about ½cm apart.)

If you have small eggplants, cut them in half horizontally. If you have longer eggplants, cut them into thirds or quarters.

Heat your oil to 

170

°C

 and add the eggplant with the skin side facing down, fry for 1 min on each side. Fry

20 g shishito peppers

for 1 minute.

Remove the eggplant and shishito peppers from the oil and transfer to colander. Place the colander either in the sink or in a large heat proof bowl and pour boiling water over it to wash off the excess oil.

Transfer the eggplant and shishito peppers to the agebitashi broth and leave to cool. Once cool, chill in the refrigerator for at least 30 minutes.

Dish up and serve with

1 tbsp grated daikon radish

and

1 tbsp finely chopped green onion(s)

.

Enjoy!
Notes
Store in a sealed container in the refrigerator and consume within 3 days.
NOTE: The nutritional value includes the entire sauce, which we don't drink up in this dish.
Nutrition
Calories:
74
kcal
Carbohydrates:
11.1
g
Protein:
2.1
g
Fat:
2.7
g
Saturated Fat:
0.3
g
Polyunsaturated Fat:
1
g
Trans Fat:
2.7
g
Cholesterol:
1
mg
Sodium:
532.5
mg