Tuna mayo is one of the most popular rice ball fillings. Not only is it delicious, but it's super accessible, fast and easy to make. This recipe is perfect for lunch, bento boxes or a quick snack!
Disclaimer: This post contains Amazon affiliate links. Sudachi Recipes earn a small percentage from qualifying purchases at no extra cost to you. See disclaimer for more info.
Onigiri
Onigiri (おにぎり) is a simple dish of cooked rice shaped into a triangle or sphere. Different ingredients can be mixed in with the rice or placed in the middle as a filling.
Much like a sandwich, onigiri is a convenient, portable lunch that comes in a variety of flavours. In English it's known simply as a "rice ball".
The beauty of onigiri is how customizable it is! So you can be very classic, creative or even over the top like putting fried chicken or steak in it! There's literally no rule, anything goes!
History
Onigiri has a long history and garnered a number of names from different eras such as:
Nigiri (にぎり)
Nigiri meshi (にぎりめし)
Musubi (むすび)
Omusubi (おむすび)…etc
These names are still used in modern Japan, but "onigiri" is the most recognised around the world.
The origin of the humble rice ball is not so clear, but evidence suggests that onigiri-like food has existed in Japan for more than 2000 years. Rounded clumps of carbonised rice were discovered in ancient ruins dating as far back as 300-250BC, onigiri could even be the most ancient Japanese dish!
Because of this long history, it's impossible to say how onigiri started. However it's believed that it was originally made with glutinous rice and over time, preserves like pickles and salty fillings were added.
Because of its portability, onigiri rice balls were used as military supply food in medieval times, and nowadays it's one of the most popular lunch box foods.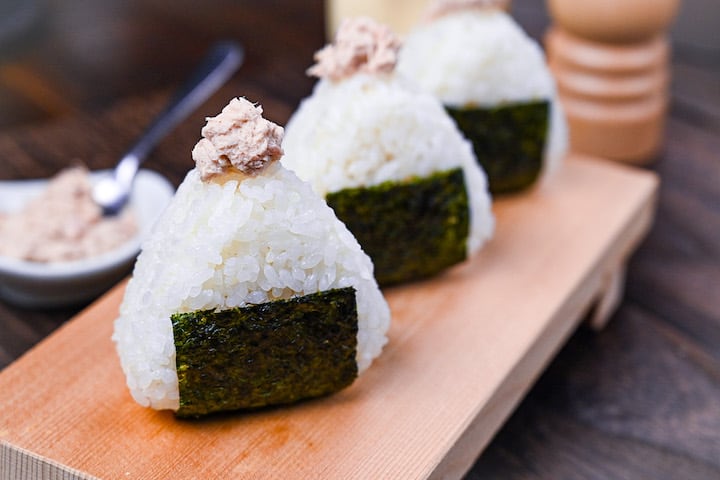 How to shape an onigiri
Onigiri can be shaped into a rounded triangle, sphere or even into balls.
To shape the onigiri by hand, it's best to keep a bowl of ice cold water nearby and soak your hands for 10 seconds before shaping the rice. This will stop the rice from sticking to your hands. You should also rub salt over your palms to help preserve the rice too.
Some people don't like using their bare hands for making onigiri, especially if it's for someone else. A popular solution is to use plastic wrap when shaping. You can also keep it in the plastic wrap to stop it from drying out or losing its shape in the lunchbox.
The final option is to use a mold like this. (Amazon affiliate) Your onigiri will be perfectly shaped every time!
For more information about shaping, check out my post "3 ways to shape the perfect onigiri".
Tuna Mayo Onigiri
Anyone who has been to a convenience store or supermarket in Japan and looked at the selection of rice balls might have been puzzled by the "sea chicken" onigiri (シーチキンおにぎり).
Is it chicken? Why "sea"? Well actually, sea chicken is actually what Japanese people call canned tuna. Apparently it was called that because canned tuna tastes like chicken breast meat… I'm not sure I'd agree but that's the reason!
This accessible ingredient is cheap and easy to buy no matter where you are in the world. When you mix it with mayonnaise, it's very delicious! I especially recommend using Japanese Kewpie Mayonnaise!
Spice it up
If you want to spice up your tuna mayo and make it a little more interesting, I recommend adding one of the following ingredients:
What do you like to add to your tuna mayo?
Storing onigiri
Onigiri is always better fresh and eaten on the day that it's made. However, if you have leftovers or you don't have time in the morning, I recommend wrapping your onigiri in plastic wrap without the nori, and storing it in the freezer until it's time to eat.
You can microwave your onigiri to defrost it and wrap the nori just before eating to give it that freshly-made feeling.
If you're taking onigiri to school or work in a lunchbox, I recommend using an icepack to keep it chilled until lunchtime.
Some people keep it in the fridge, but the rice tends to go hard and the nori becomes soft so I don't recommend it personally.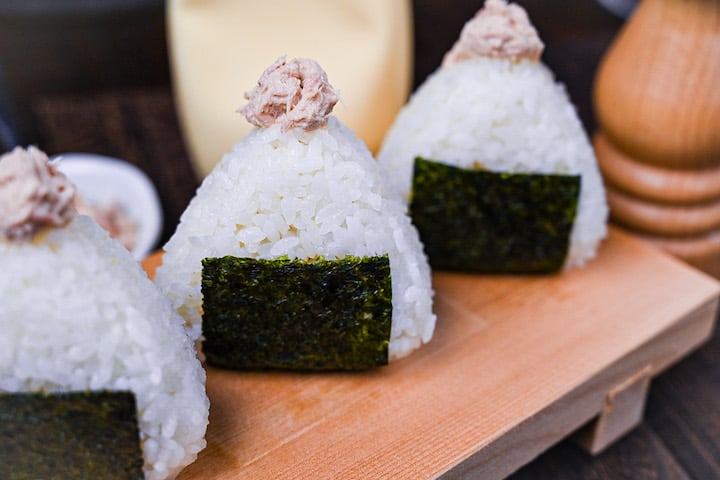 FAQ
What rice do you use for onigiri?
Onigiri is made with Japanese short-grain white rice. This rice is stickier than other types of rice which helps the onigiri to hold its shape without falling apart.
Do you eat onigiri with chopsticks?
Onigiri is supposed to be a convenient and portable food so you don't need to use any cutlery to eat it. Just wrap it with nori to stop rice from sticking to your hands and enjoy!
Is onigiri the same as sushi?
Onigiri and sushi are completely different things. Onigiri is generally made with salted rice whereas sushi is made with vinegared rice. The shape and ingredients are generally different too.
Check out some of my other onigiri recipes
I have many onigiri recipes here on sudachirecipes.com, so if you enjoyed this recipe feel free to check them out!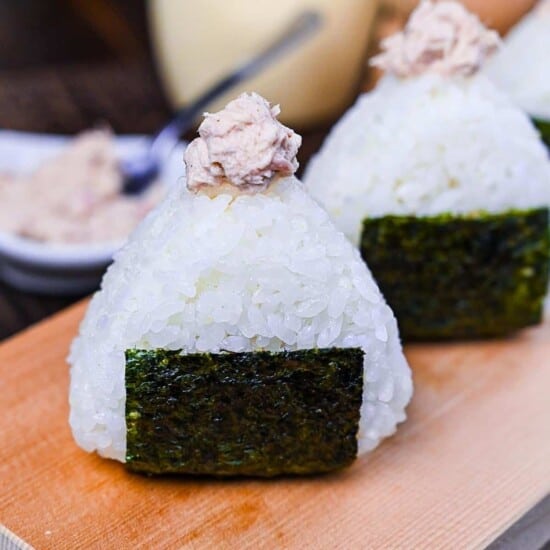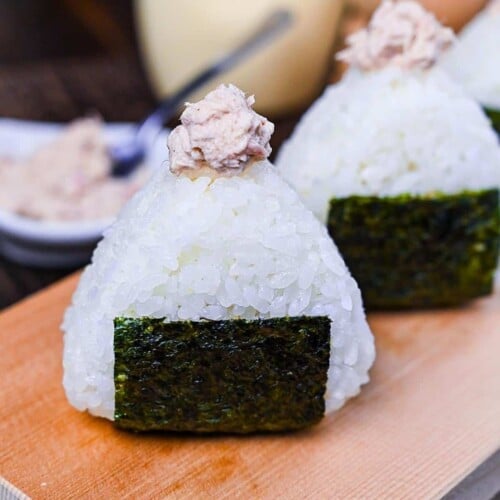 Tuna Mayo Onigiri (ツナマヨおにぎり)
---
How to make Tuna Mayo Onigiri Rice Ball (ツナマヨネーズおにぎり)
---
---
---
---
Ingredients
80

g

canned tuna

1

tbsp

Japanese mayonnaise

1

tsp

soy sauce

1

pinch

black pepper

2-3

sheets

sushi nori seaweed(s)

nori, cut into strips
Instructions
Place a colander or sieve over a bowl and squeeze the excess liquid out of

80 g canned tuna

. 

Pour away the liquid and place the tuna into a bowl. Mix with

1 tbsp Japanese mayonnaise

,

1 tsp soy sauce

and

1 pinch black pepper

.

Set up your onigiri shaping station. You should have the cooked rice, the filling, a bowl of ice cold water and a small bowl of salt. Nori is optional too.

Wash your hands well and then submerge them into the bowl of icy cold water for about 15-20 seconds. This stops the rice sticking to your hands.

Rub 1-2 pinches of salt over the palms your hands. This not only adds the flavour to the rice ball, but also acts as a preservative whilst it's in your lunchbox.

Take a handful of warm cooked rice (approx 100-120g) and press it quite flat.

In the centre of the rice ball, make a dent and place approx 1 tsp of the filling into the dent. Fold the rice over the filling and close the edges.

Press the edge and turn the rice ball to form a firm triangle shape.

Don't handle the rice for too long, quicker is better. Once you're happy with the shape, set it on a plate and repeat. (Make sure to soak your hands in the ice water and rub with salt between each rice ball.)

Wrap each onigiri with nori.

Eat straight away or put in your lunch box with an ice pack. They're best eaten the same day.

Enjoy!
Notes
Best eaten the same day.
Add wasabi, shichimi or chili sauce to the tuna mayo for a spicy kick.
To store, wrap each onigiri with plastic wrap (without nori) and store in the freezer. Defrost in the microwave and wrap with nori just before eating.
Nutrition
Calories:
196.5
kcal
|
Carbohydrates:
41.2
g
|
Protein:
5.2
g
|
Fat:
1.9
g
|
Saturated Fat:
0.25
g
|
Polyunsaturated Fat:
0.6
g
|
Cholesterol:
5.8
mg
|
Sodium:
103.3
mg
|
Fiber:
1.8
g