Juicy prawns fried in a light yet crispy batter then coated in a sweet and creamy mayonnaise based sauce, "Ebi Mayo" is a sure crowd pleaser! This popular Chinese restaurant and izakaya style appetizer is also popular to make at home!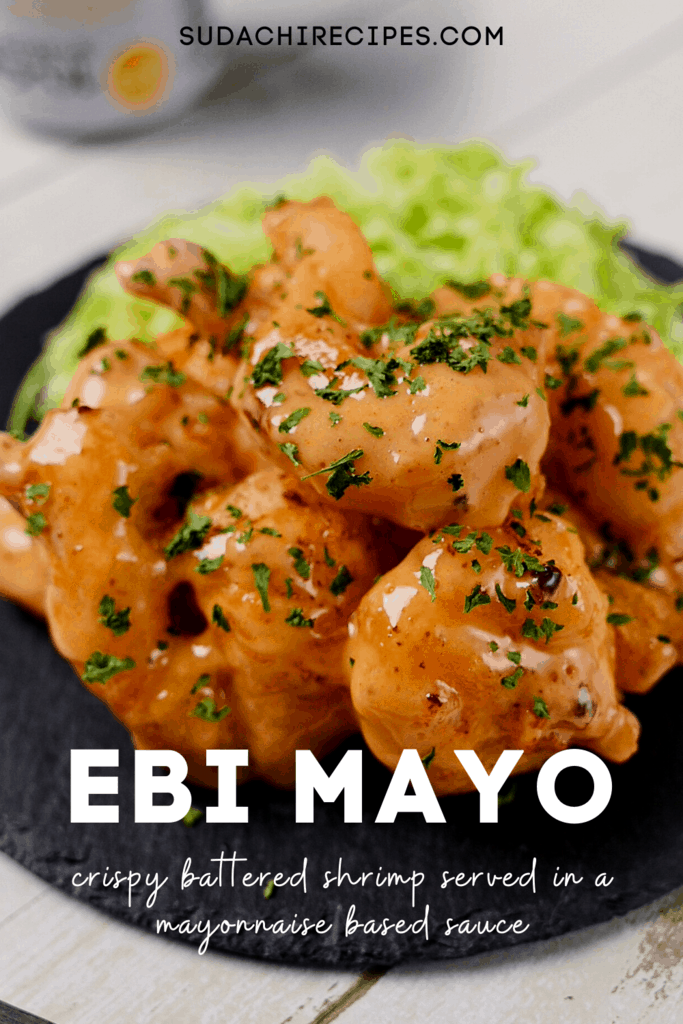 Disclaimer: This post contains Amazon affiliate links. Sudachi Recipes earn a small percentage from qualifying purchases at no extra cost to you. See disclaimer for more info.
Jump to:
Ebi Mayo
What is Ebi Mayo?
Ebi Mayo is a simple prawn (shrimp) dish that is usually fried and then coated in a seasoned mayonnaise based sauce. It's usually served as an appetizer with shredded cabbage on the side.
The word "ebi" (エビ) is the Japanese word for prawn and usually tiger prawns or king prawns are used for this recipe.
Although my recipe requires making a batter and deep frying, it's not uncommon to simply coat the prawns in potato starch and fry them in a pan.
The mayonnaise sauce can be used to fully coat the prawns, drizzled over or even served on the side as a dipping sauce. It's totally up to you! (I used Japanese Kewpie Mayonnaise to make the sauce.)
The Origin
Ebi Mayo was created by popular TV chef "Shu Tomitoku", also famously known as "Iron Chef". Shu Tomitoku was Chinese, born in Japan and was one of the greatest contributors to "Chuka Ryori" (Chinese style Japanese dishes) in Japan.
During a trip to LA, Tomitoku tried a mayonnaise flavoured shrimp dish. Although he wasn't too impressed with it, he could see the potential and this is where he got his inspiration for Ebi Mayo.
He coated the prawns in starch, fried them and added extra seasonings to the mayonnaise, Ebi Mayo was born! After introducing the recipe on TV, the dish became a well loved menu item at Chinese restaurants in Japan, as well as being popular to make at home too!
Batter
As I mentioned, making a batter is not essential for this dish. But who doesn't love a light yet crispy batter? My batter recipe is inspired by Japanese tempura and British fish and chips! You could say that my ebi mayo recipe is a combination of Chinese, Japanese and British cuisine.
Beer Batter
Beer batter is a popular kind of batter used for fish and chips in the UK. A light lager is most commonly used. I used Sapporo lager in my recipe.
Why beer? You might ask... well beer has three components that help to create a perfectly light and crispy batter: carbon dioxide (CO2), foaming agents and alcohol.
The CO2 is the bubbles in the beer, when these react with hot oil they froth up making the batter airy. You could also achieve a similar effect with soda water, but it's still lacking two things that beer has.
You know when you pour a beer and a foam layer forms at the top? Well, this foam coats the CO2 bubbles which slows the rate in which they pop, essentially stopping the batter from deflating. It also helps direct the heat to the batter, resulting in the crispiest coating without overcooking what's inside.
Lastly, the alcohol. Alcohol evaporates at a lower temperature than water, this means that beer batter cooks quicker and again prevents over cooking. This also helps stop it from absorbing too much oil resulting in a crispier and less oily batter.
Sorry about the science talk, but this batter is so good! You can use it for prawns, fish, onion rings, whatever you like!
How to Prep Prawns
Prepping the prawns is probably the most annoying thing about cooking them. You have to use fresh prawns for this recipe otherwise the batter won't stick. I have 3 steps for you to follow.
Step One: Deshell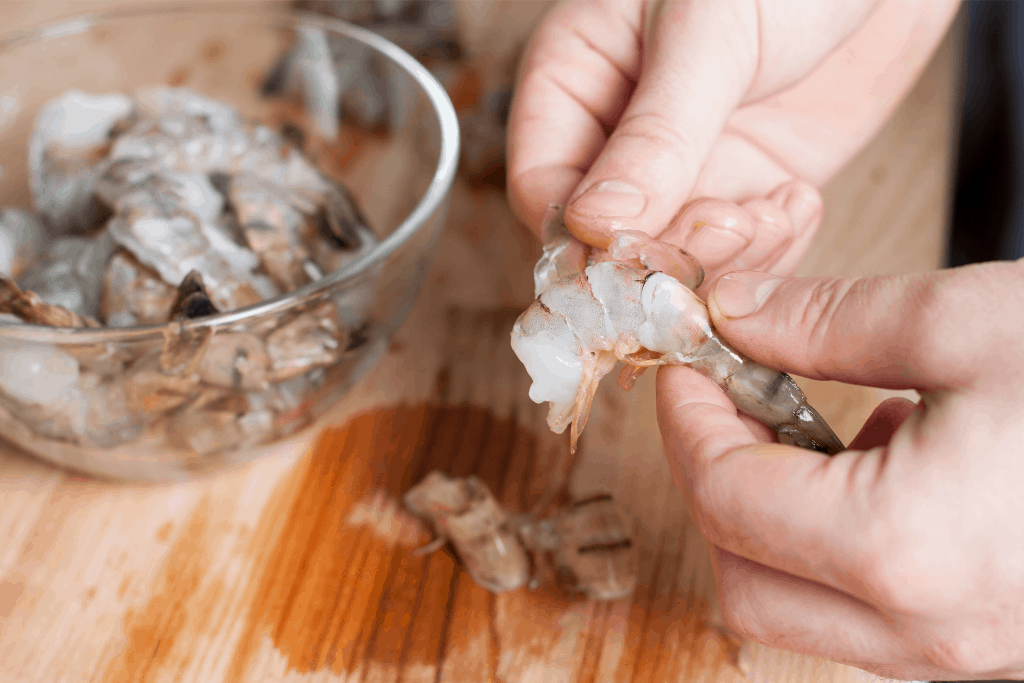 First, deshell. I find the easiest way is to rip the legs off first and then the shell just comes clean off. It's up to you whether to pull the tails off too, I usually leave them on for decoration and added crunch.
Step Two: Devein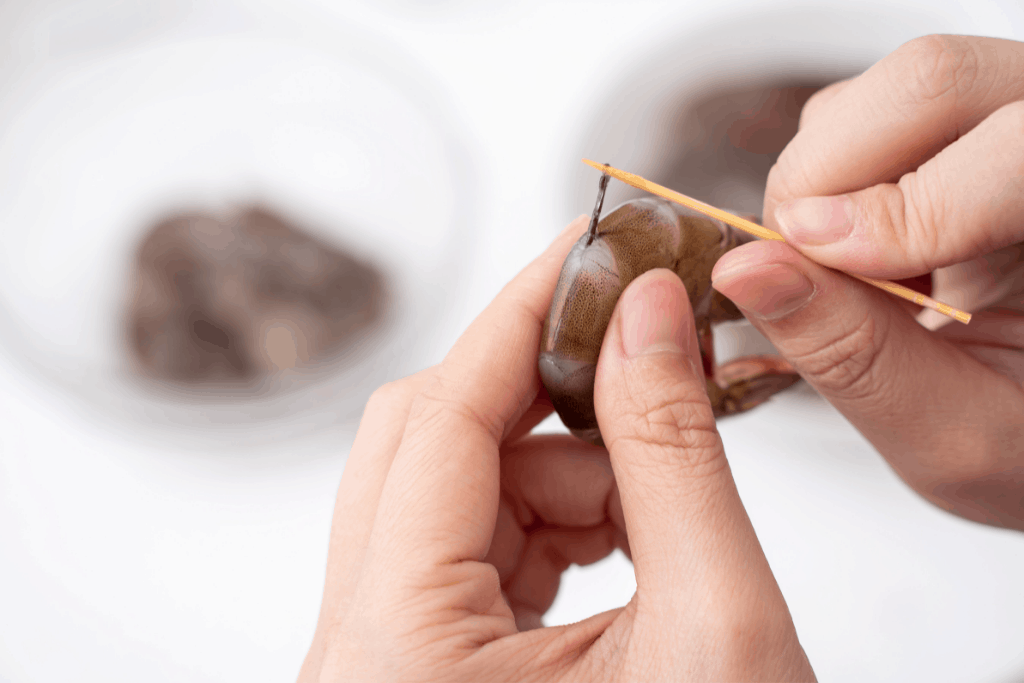 Next, remove the vein. The best way to do this is take a cocktail stick and pierce horizontally through the back of the prawn. You should be able to hook the vein and pull it straight out.
Step Three: Clean
Finally, coat the prawns in a couple of pinches of salt and 1 tsp of corn starch. Rub it over the surface of the prawns and once they're covered, wash them under cold water. The corn starch cleans them out while the salt helps draw out excess moisture which will make them fry better.
Ebi Mayo (Fried Shrimp in Mayonnaise Sauce)
How to make Japanese Ebi Mayo. (エビマヨ) Juicy fresh prawns fried in a light yet crispy batter then coated in a sweet and creamy mayonnaise based sauce.
Ingredients
Batter
70

g

cake flour

1

tbsp

rice flour

-

or corn starch

½

tsp

baking powder

1

pinch

salt and pepper

100

ml

lager beer

-

or soda water, chilled
Mayonnaise Sauce
4

tbsp

Japanese mayonnaise

1

tbsp

condensed milk

1

tsp

tomato ketchup

1

tsp

rice vinegar

½

tsp

soy sauce

½

tsp

lemon juice

-

or lime juice

½

tsp

paprika powder
Ebi Mayo
250

g

king prawns

-

or tiger prawns

1

tsp

cornstarch

-

for cleaning

2

pinches

salt

-

for cleaning

3

tbsp

cornstarch

-

or potato starch

2

cloves

garlic

cooking oil

-

for deep frying

100

g

green cabbage

-

optional, shredded

1

pinch

dried parsley

-

to garnish
Instructions
Start by mixing the dry ingredients for the batter (

70 g cake flour

,

1 tbsp rice flour

,

½ tsp baking powder

and

1 pinch salt and pepper

) Mix well and place them in the freezer until just before using. (Don't add the beer yet.)

Next, take a large bowl (or small bowl if you prefer dipping) and add all of the sauce ingredients. (

4 tbsp Japanese mayonnaise

,

1 tbsp condensed milk

, 

1 tsp tomato ketchup

,

1 tsp rice vinegar

,

½ tsp soy sauce

,

½ tsp lemon juice

,

½ tsp paprika powder

) and mix well. Set aside for later.

Next, deshell, devein

250 g king prawns

. (Information on how to do this is in the post above.) Rub with

1 tsp cornstarch

and

2 pinches salt

, rinse with cold water and dry with kitchen paper.

Drop

2 cloves garlic

into your warming oil to add flavour. You can use it as an indicator to know when your oil is hot too. (It will start to sizzle)

Add

3 tbsp cornstarch

to the prawns and coat them. This will help the batter stick.

Take your dry batter from the freezer and add

100 ml lager beer

(chilled). Mix well.

Coat each prawn in the batter and drop it into the oil in batches, be careful not to overcrowd the pot.

Fry for approximately 2-3 minutes or until golden brown. (Remove the garlic when it turns dark brown and discard.)

As each batch is complete, transfer the prawns to a wire rack to let any excess oil drain off.

Once the prawns are all cooked, coat in the mayonnaise sauce and dish up.

Sprinkle with

1 pinch dried parsley

and serve with

100 g green cabbage

.

Enjoy!
You might also love...
If you like Ebi Mayo, you might like some of my other recipes. Feel free to check them out.