Learn how to make the ultimate authentic and crispy Japanese karaage fried chicken. Juicy chicken thigh marinated in a fragrant sauce containing ginger and garlic, then lightly coated in starch and fried at two different temperatures for crispy perfection. This is one of my favourite recipes of all time and I can't wait to share it with you.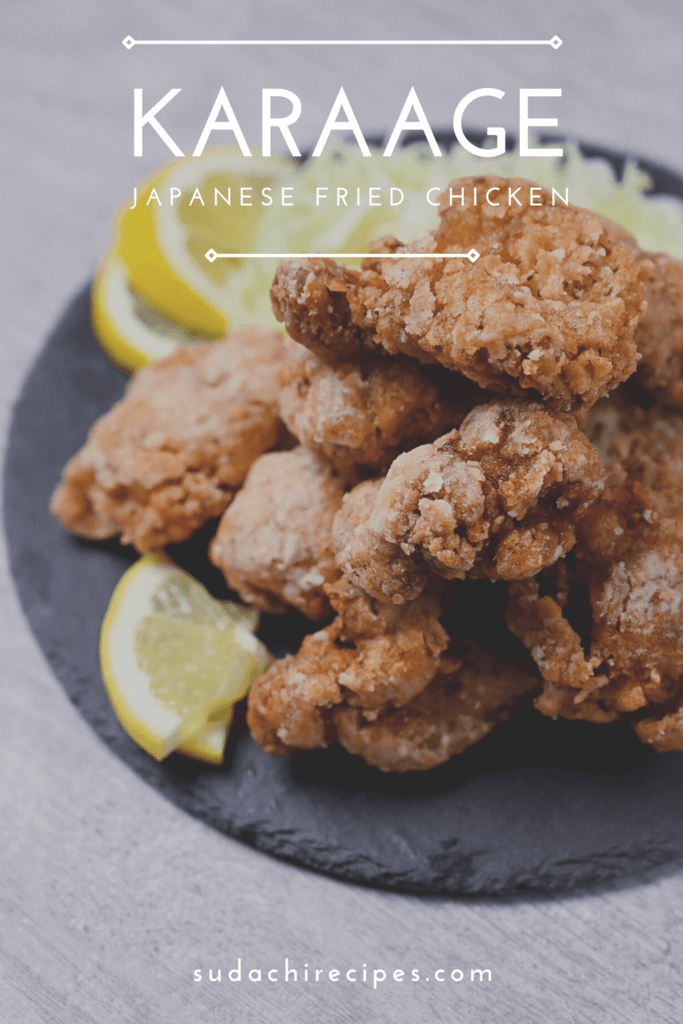 Disclaimer: This post contains Amazon affiliate links. Sudachi Recipes earn a small percentage from qualifying purchases at no extra cost to you. See disclaimer for more info.
Karaage
This is a very special recipe for me.
Not only is it my family's recipe, but my first ever dream when I was kid was to open my own karaage specialty food stand.
At that time (more than 20 years ago), it sounded like a very strange dream to have, but here now in 21st century, karaage specialty food stands have become the biggest ever in Japan.
Maybe I should have pursued the dream really but you know, I was like 5 at the time (You can call me genius :p).
Karaage is still my favourite dish of all time and I could pretty much eat it everyday, literally.
So what is karaage?
Despite the term "karaage" being used for Japanese style fried chicken, it doesn't technically mean "fried chicken".
Karaage (から揚げ) is actually a cooking term which means to fry without a batter (unlike tempura). Usually the meat is marinated and then coated in flour or starch.
It's simple, but it creates the best fried chicken in the world in my opinion!
Karaage can also be pork, and vegetarian soy meat versions are becoming more popular, but if you go to Japan and see "karaage" written somewhere, it pretty much always means "fried chicken".
Coating
I'm sure most people would be tempted to use plain flour for coating karaage, but really, if you want to achieve the lightness, crispiness and authentic texture of true karaage, you should definitely use starch.
There are a few options to choose from:
Each one will yield slightly different results but they all work well. My favourite is potato starch and that's what I use in this recipe, but you can substitute for any of the above.
Frying Temperature
There are many different ways to cook karaage out there, but my favourite way is shallow frying and this is how karaage is cooked in most Japanese homes.
Use a mild flavoured oil with a high smoke point like vegetable oil, canola or peanut oil for example.
I'm going to share my secret to achieving the crispiest texture without double frying.
Heat the oil to 160°C (320°F)
Fry the chicken for 3 mins on each side
Increase the heat to 190°C (375°F)
Fry for 1 minute on each side
This technique makes it seriously crispy. It's so good, I also use it when frying "Nagoya Style Chicken Wings", check out the recipe here! The crispiness will have you dancing in your seat!
What part of the chicken should I use?
You can technically make karaage with any part of the chicken, but for the best results I recommend using chicken thigh with the skin on.
Chicken thigh is like, the juiciest and tastiest part of the chicken and it's just perfect for karaage.
Not to mention, if the skin is on it becomes just soooooooo crispy! It's out of this world.
Of course if you want to use this recipe for wings or drumsticks, it's good. (Just don't forget to increase the cooking time for thicker meat.) But when it comes to using chicken breast, of course you can still do it, but don't expect it to be at the same level as chicken thigh in terms of juiciness and crispiness.
Different Flavours
Karaage can come in all kinds of different flavours!
Common flavours
The most common flavours are:
Unusual flavours
These days, there are many other flavour twists. You can find things like:
Spicy/hot
Garlic
Basil
Cheese
Curry
Ume (pickled plum)
You can create different flavours by using different marinades or adding different herbs and spices to the flour.
One thing to note is you don't want your karaage to be overpowered with too much flavour, I actually think simple is better for this dish. You also don't need to marinate any longer that 30 minutes, 30 minutes is pretty much the perfect amount.
Today, I'm going to tell you the most basic way to make authentic karaage with a soy base, if you like fried chicken in general, it's definitely worth a try!
Leftovers
In the unlikely case that you end up with leftover karaage, there are a number of ways you can use it!
In other recipes
If you make this recipe, there's different ways for you to enjoy it!
Karaage teishoku set (served with rice, cabbage and miso soup)
Karaage Onigiri (a rice ball with fried chicken in the centre, usually has sauce)
Karaage Don (donburi rice bowl topped with karaage, spring onions and mayonnaise)
Karaage Bento (a lunchbox made with karaage, rice, vegetables etc)
Storing and Reheating
In the unlikely event that there are leftovers, you can freeze karaage put it in the refrigerator and eat within 3-4 days.
If you microwave it, it will lose some crispiness. I usually microwave it to warm up the middle and then put it under the grill to crisp the outside up again. BUT in all honestly, this karaage still tastes great cold haha.
If freezing, you can keep it for 3-4 months.
FAQ
What does Karaage mean?
Japanese Karaage Association defines Karaage(から揚げ or 空揚げ) as "Dishes that are lightly sprinkled with flour or starch on the ingredients and fried in oil."
They also state that "In general, many people imagine karaage as deep-fried chicken, but it is by no means limited. Other type of meat, fish, vegetables can also be called karaage."
What is the difference between Katsu and Karaage?
There are a few differences between Katsu and Karaage, but the biggest difference would be that katsu uses panko breadcrumbs and karaage doesn't. It's also uncommon to use egg for karaage.
Does Karaage have bones?
Boneless chicken thigh is mostly used but some people might use drumsticks or wings, so sometimes it can have bones.
How do you pronounce Karaage?
It's pronounced kara-ah-geh, check out the audio example below.
Print
Authentic Japanese Karaage Fried Chicken (鶏のから揚げ)
---
Author:

Total Time:

43 minutes

Yield:

2

Portions

1

x
Description
Juicy chicken thigh marinated in a Japanese soy based garlic and ginger marinade, coated in a thin layer of potato starch and then fried at two temperatures for the ultimate crispy karaage fried chicken!
---
300g

(0.6lbs) Chicken thigh - preferably with skin

1 tbsp

Soy sauce

1 tbsp

Sake

1 tsp

Black pepper

1 tbsp

Garlic paste

1 tsp

Ginger paste

5 tbsp

Potato starch (or corn starch)
Oil for frying shallow frying
---
Instructions
Cut the chicken thigh into bite size pieces.

In a zip lock bag or tupperware, add the 1 tbsp soy sauce, 1 tbsp sake, 1 tsp black pepper, 1 tbsp garlic paste and 1 tsp ginger paste together with the chicken pieces and marinate for 30 mins in the refrigerator.

Sprinkle about 5 tbsp potato starch onto a plate and take the marinated chicken out of the fridge.

Coat each piece of chicken with the potato starch. (Try to make sure there isn't too much excess liquid on the chicken. The flavour is already absorbed so you don't need marinade sitting on top, it can make the starch soggy.)

Heat the cooking oil to 160°C (320°F) and deep fry the chicken pieces for about 3 minutes on each side.

Turn up the heat to 190°C (375°F) and fry for 1 minute on each side.

Remove the chicken from the oil and lay out on a wire rack or absorbent kitchen towels to let any excess oil drip off.

Serve and enjoy with a slice of lemon.

Notes
Karaage is usually served with shredded cabbage and rice.
When frying, you can usually tell it's ready because the crackling noise of frying begins to die down.
This recipe is delicious with dipping sauces or a squeeze of lemon, experiment!
Chicken thigh is the best for this recipe as it stays juicy and crispy, but you can also use breast or wings, any part you like really!
Prep Time:

35 mins

Cook Time:

8 mins

Category:

Meat

Method:

Deep frying

Cuisine:

Japanese
Keywords: Karaage Recipe,How to make Japanese Fried Chicken,chicken karaage,Japanese fried chicken,Japanese karaage recipe,karaage pronounciation,crispy karaage,best karaage,chicken karaage recipes,Japanese crispy fried chicken,fried chicken,Chicken Karaage recipe,Japanese popcorn chicken