Sanma no Shioyaki is a classic Japanese autumn dish. Made with seasonal and fresh Pacific Saury sprinkled with salt and grilled, it's so simple yet so tasty. Typically enjoyed with grated daikon and a squeeze of sudachi, this dish is perfect served with rice and miso soup!
What is Sanma no Shioyaki?
Sanma (Pacific saury or Mackerel Pike) is a slender fish celebrated in Japan as the "Autumn Sword Fish" due to its seasonal availability and sword-like appearance.
The fish's distinct, fatty taste is often likened to mackerel but is milder. Interestingly, sanma is typically sold with its guts intact, a feature many adults appreciate for its bitter taste, though it's not for everyone.
Surprisingly, the pacific saury wasn't always a food staple; its fat was once used as lantern oil. By the late 18th century, it gained popularity among commoners, but samurai avoided it due to its sword-like appearance.
In Japan, where fresh fish is abundant, minimalistic preparation is key. Sanma is often enjoyed salted and grilled, a method called "Shioyaki." Grilling on a BBQ is ideal, but home grilling in a standard grill oven or broiler also captures its essence.
How I Developed This Recipe
I took great care in creating this recipe to ensure anyone can easily clean and grill delicious sanma on their home grill. Additionally, since this type of fish may not be familiar to everyone, I've included a guide on choosing the best samma.
If you can access samma in your area, I recommend trying this recipe, especially in autumn when sanma is at its best!
Ingredients You Will Need
Sanma (Pacific Saury or Mackerel Pike): When selecting a quality Pacific saury at your local fishmonger, consider the following indicators:

Clear, black eyes without a bloodshot appearance.
Yellowish tips at the mouth and tail.
A shiny, silvery belly.
A thicker body structure.
A dark-colored, beautiful back.
A bulging base of the neck.
Generally, larger sauries are preferable. While smaller ones might be more affordable, the larger ones tend to have more fat, enhancing their flavor when grilled.

Salt: Opt for salty sea salt for the best flavor.
Sake: This is optional but can be used to wash the saury, enhancing its taste.
Toppings: Enhance the dish with grated daikon radish, a splash of soy sauce, and sudachi. If sudachi isn't available, lemon, lime, or kabosu are suitable substitutes.
Curious about the exact brands and products that bring my recipes to life? Discover the brands and ingredients behind my recipes at the Sudachi Amazon Storefront. Explore my handpicked pantry essentials and find your next kitchen favorites!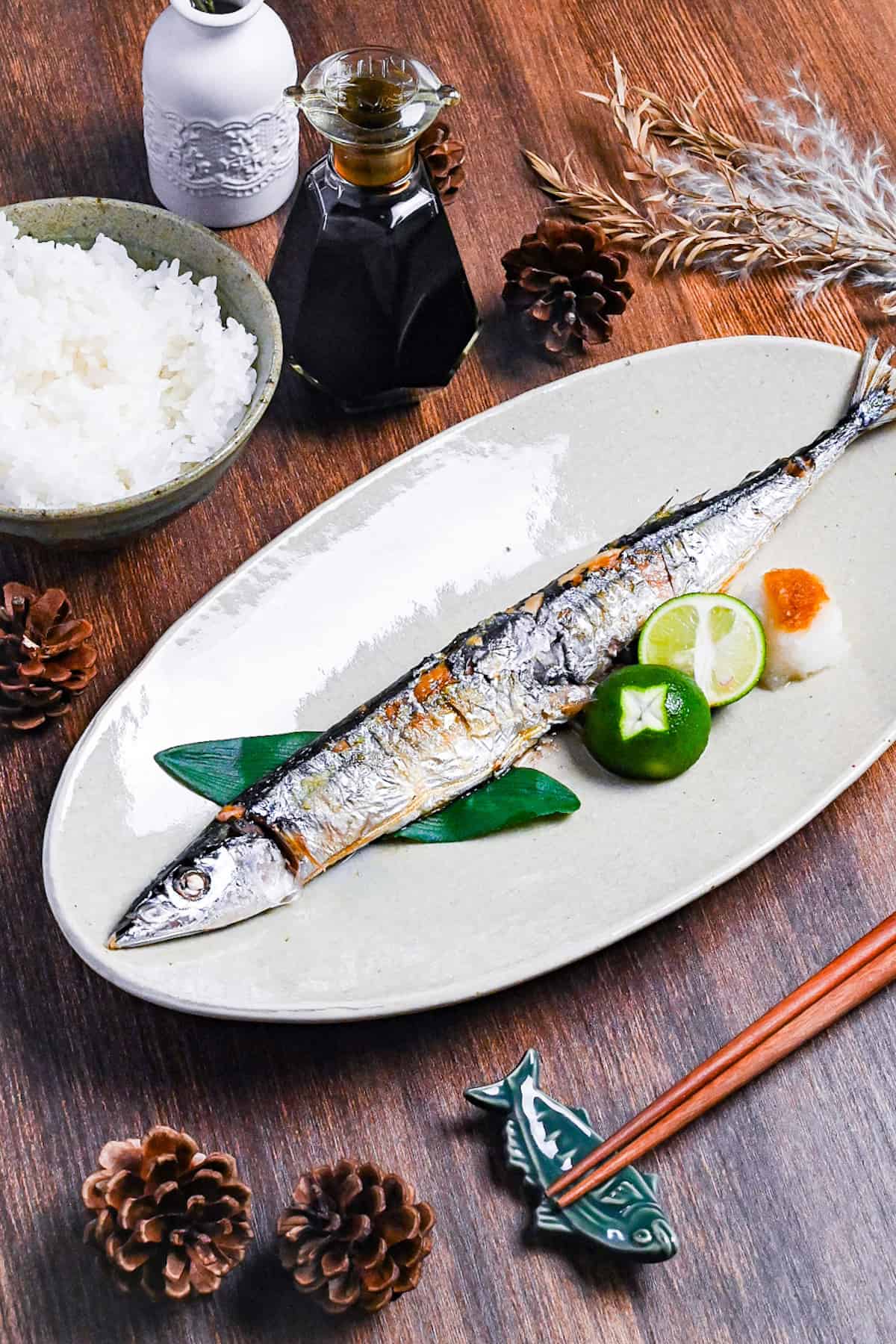 Step-by-Step Process
Here are my step-by-step instructions for how to make simple yet delicious sanma no shioyaki at home using a Japanese fish grill or oven broiler. For ingredient quantities and simplified instructions, scroll down for the printable recipe card below.
Place the saury in a bowl of cold water and gently rub the surface to clean them. The skin is thin and fragile, so be careful not to rub too hard.
Drain the water and pat them dry before returning them to the bowl with a few generous pinches of salt. Rub the salt over both sides so that they're evenly covered and rest for 5 minutes. This step is to draw out excess moisture and impurities rather than flavor the fish.
Pour water and sake into the bowl and use the liquid to wash off the salt. The water helps clean the saury further, while the sake softens the flavor and texture of the fish.
Transfer the fish to a chopping board and pat it dry with kitchen paper.
Sprinkle both sides with salt and rub it evenly over the skin.
Rub oil over the wire rack to prevent the fish from sticking, then preheat for 3-5 minutes on medium-high. This time is just an estimate and should be adjusted depending on your grill.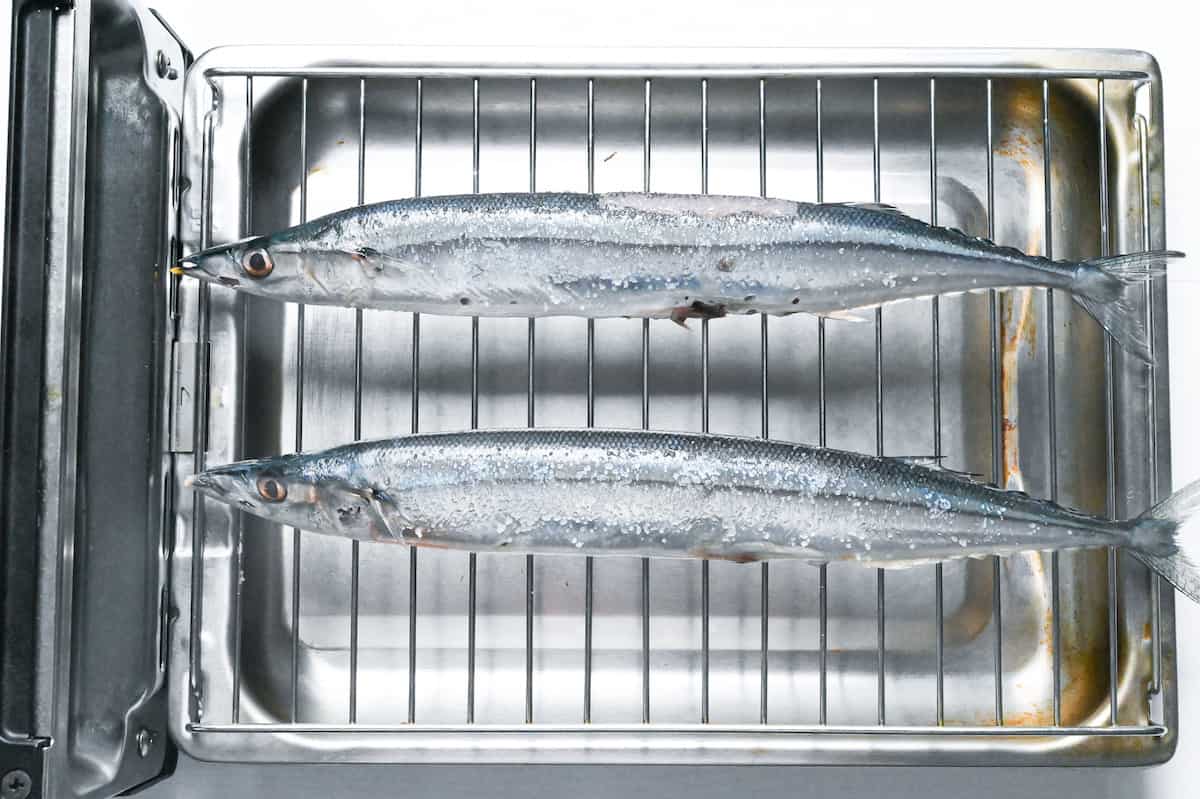 Position the saury so that they will lay directly under the heat source. If making multiple, you will need to do so in batches to ensure even cooking.
Grill for 5-7 minutes on each side. The finished result should be lightly charred.
Sanma no shioyaki is best served with rice and miso soup. It also wouldn't be complete without a blob of grated daikon and a squeeze of citrus juice (I used sudachi!).
Tips and Tricks
Sanma no shioyaki is a simple recipe of salting and grilling, therefore it is important to get it right to fully enjoy the flavor of seasonal pacific saury. A few little tricks can make a big difference in this dish!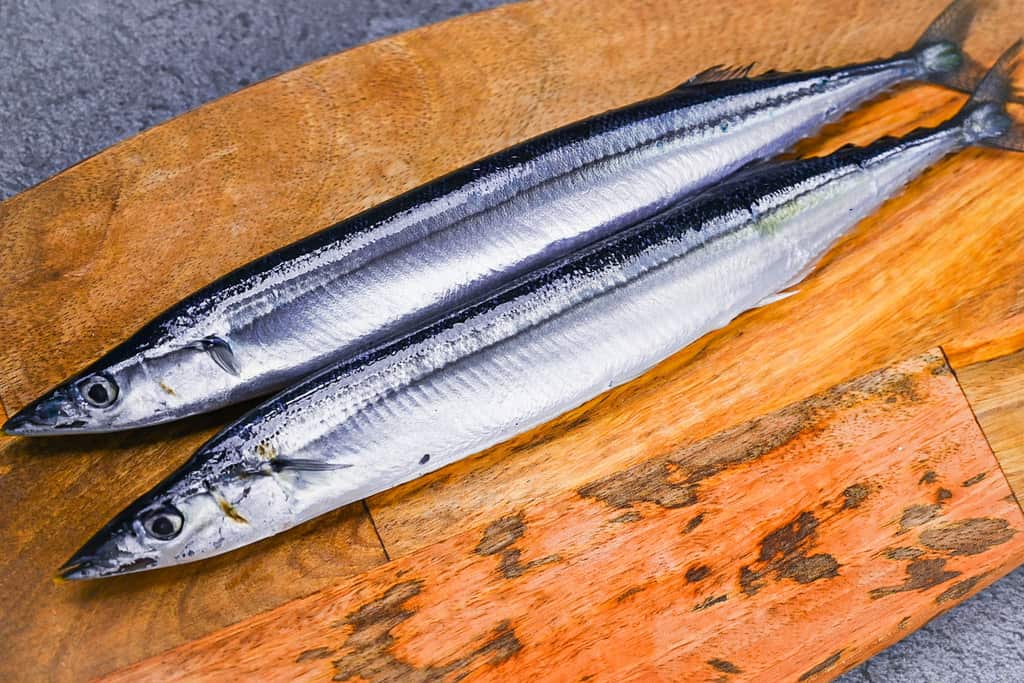 Choose the best fish – Make sure the body is shiny, the back is dark and the eyes are clear of bloodshots. I also recommend looking for bigger size since they have more meat and fat, they generally taste better!
Wash thoroughly – Since sanma is sold with the guts intact, it's important to wash thoroughly to avoid a bitter taste spreading all the way through.
Wash with sake – One of my favorite tips for grilling fish Japanese style! It removes unwanted odors and makes the flesh more tender, so delicious!
Sprinkle from a height – When sprinkling salt, it is good practice to do so from a height. This is promote even distribution of salt and help avoid lumps landing in one place.
Patience is key – I recommend letting the salt absorb into the fish for about 5-10 minutes for the best flavor. I've put this into consideration in my recipe so the time it takes to preheat the grill will give the fish some time to absorb the salt.
Oil the grill – Oiling the rack for the grill will help prevent the delicate skin of the saury from sticking and tearing. It will probably still tear a little since it's so thin, but not as much.
Preheat thoroughly – Ensure even cooking by making sure your grill is fully preheated before placing the fish underneath. This will ensure the surface crisps up quickly, locking in the flavor and preventing the flesh from becoming dry.
How to Eat Sanma Shioyaki
Sanma no shioyaki is typically presented in its entirety – head, tail, guts, and all. For those unfamiliar with this style of dining, it might seem daunting. Here's a step-by-step guide to savoring sanma shioyaki like a native Japanese:
Begin by drizzling a modest amount of soy sauce over freshly grated daikon radish, known as daikon oroshi.
Choose your preferred citrus and squeeze its juice over the sanma, focusing on the skin.
Use your chopsticks to puncture the skin and scoop out the flesh.
Scoop up a bit of the grated daikon with the fish flesh, ensuring you get a balanced bite.
After consuming the upper portion of the fish, the remaining bones should easily slide out in one piece. Simply place them aside on your plate.
While it's customary for some to eat the guts, it's entirely up to personal preference.
It's worth noting that it's recommended to use Japanese chopsticks when consuming shioyaki fish. These chopsticks are pointed and specifically designed for removing bones from fish.
Chinese chopsticks are typically longer and thicker with a rounder shape, while Korean chopsticks are made of metal and are relatively flat. Neither are effective for removing fish bones when eating.
Storage
If you have leftovers, you can store them by wrapping them in plastic wrap and putting them in a container, then placing them in the refrigerator for up to one day.
However, I do not advise storing grilled saury in general. So, It's best to purchase and cook only the amount you plan to consume.
Room temperature – Not recommended.
Refrigerated – Not recommended.
Frozen – Not recommended.
I hope you enjoy this classic autumn sanma no shioyaki recipe! If you try it out, I'd really appreciate it if you could spare a moment to let me know what you thought by giving a review and star rating in the comments below. Thank you!
More Japanese Fish Recipes
If you loved this recipe, check out some of my other Japanese fish recipes:
Sanma no Shioyaki (Grilled Pacific Saury)
---
How to make delicious "Sanma no Shioyaki", a simple dish made of salted and grilled Pacific Saury served with grated daikon and citrus. Perfect served with rice and miso soup on a cool autumn evening.
---
---
---
---
Ingredients
Instructions
First, wash

2 pacific saury "sanma"

in a bowl of cold water. Rub the skin with your hands to thoroughly clean it.

Drain the water, pat the surface dry and sprinkle each side with a generous pinch of salt. Gently rub it over the skin and leave for 5 minutes.

Add

100 ml water

and

50 ml sake

to the bowl and use it to wash the saury once more.

Remove the saury from the bowl and pat both sides dry with kitchen paper.

Sprinkle another pinch of salt on each side. Rub it gently over the skin and leave for 5-10 minutes.

While you wait, coat a wire rack with cooking oil and preheat the grill on medium-high for 3-5 minutes.

Place the Pacific saury onto the oiled grill, make sure to position them so that they will lay directly under the heat source. Grill for 5-7 minutes on each side.

Serve each salt grilled saury with 1 tbsp of grated daikon drizzled with soy sauce and a wedge of your chosen citrus.