This delicious Japanese style miso glazed salmon is packed with flavour and can be whipped up in just 10 minutes! It's a perfect quick lunch or midweek dinner for salmon lovers. Learn how to make this super easy dish and serve it as part of a traditional Japanese "teishoku" set meal!
Disclaimer: This post contains Amazon affiliate links. Sudachi Recipes earn a small percentage from qualifying purchases at no extra cost to you. See disclaimer for more info.
Jump to:
What is miso glazed salmon?
Miso glazed salmon a fish dish made with tender salmon fillets coated with a salty, rich and slightly sweet miso sauce. The sauce is thick and packed with umami, I absolutely love this dish with rice!
There are a number of ways to cook miso glazed salmon, but my favourite way is in a frying pan. In fact, this is a one pan dish so not only is it easy to cook but it's easy to clean up too!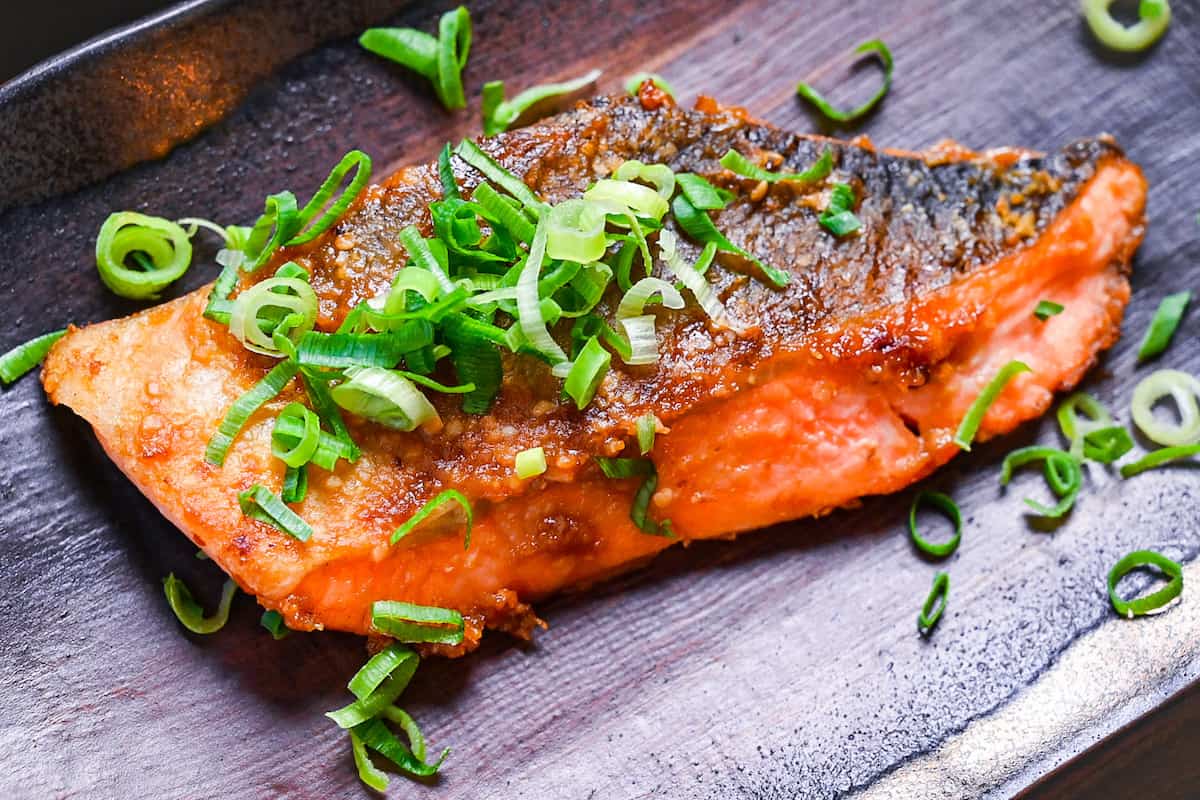 What is miso?
So the star of the show is the delicious miso glaze, but what exactly is miso? Well, miso is a Japanese paste made from fermented soy beans. It is most well known for being the key ingredient in making miso soup, however the unique flavour of miso is also perfect for general cooking such as using in sauces and marinades.
There are many kinds of miso pastes in Japan and are often characterised by their color (white, yellow or red) or main ingredients (rice, barley, soybean or mixed).
In this recipe I use mixed miso which is called "awase miso" in Japanese. While white miso is characteristically sweet and red miso is known for being salty and rich, awase miso is the perfect balance of the two. Of course, most people have their personal preference, so feel free to try this recipe with your favourite kind of miso!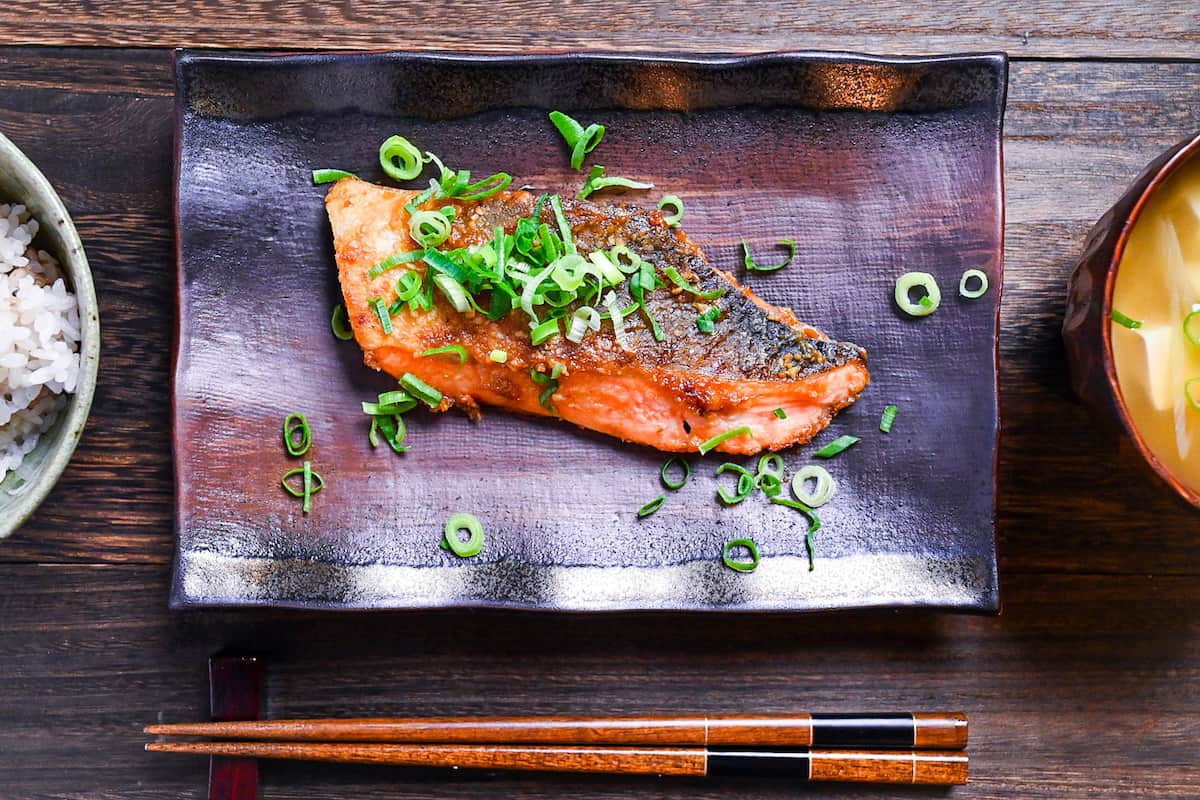 Ingredients
Here is what you will need to make this quick and easy miso glazed salmon recipe:
Miso paste - I recommend using awase miso (mixed miso) for this recipe. It's the balanced in flavour and the most commonly used miso for general cooking outside of miso soup. I recommend Marukome's miso paste (affiliate link).
Sake - adds umami and helps soften the meat. If you can't get hold of sake, dry sherry or white wine also works. And if you can't use alcohol in your cooking, replace it with water to keep the sauce consistency the same.
Grated garlic - a hint of garlic adds great depth to the glaze! I often use S&B's garlic paste in a tube for this.
Soy sauce - for best results, use Japanese koikuchu (dark) soy sauce such as Yamasa's organic marudaizu soy sauce (affiliate link).
Light brown sugar - for sweetness. White sugar also works fine.
Salmon fillets - preferably skin on for a delicious crispy texture! Make sure to choose fresh high quality salmon, moist and vibrant flesh is a good indicator that its fresh.
Potato starch - makes a crispy layer over the salmon which helps the glaze stick better.
Sesame oil - for cooking and adding a slight nutty flavour. I used Kadoya's sesame oil (affiliate link). This can be replaced with your favourite cooking oil.
Chopped spring onion - an optional garnish for a refreshing taste and pop of color.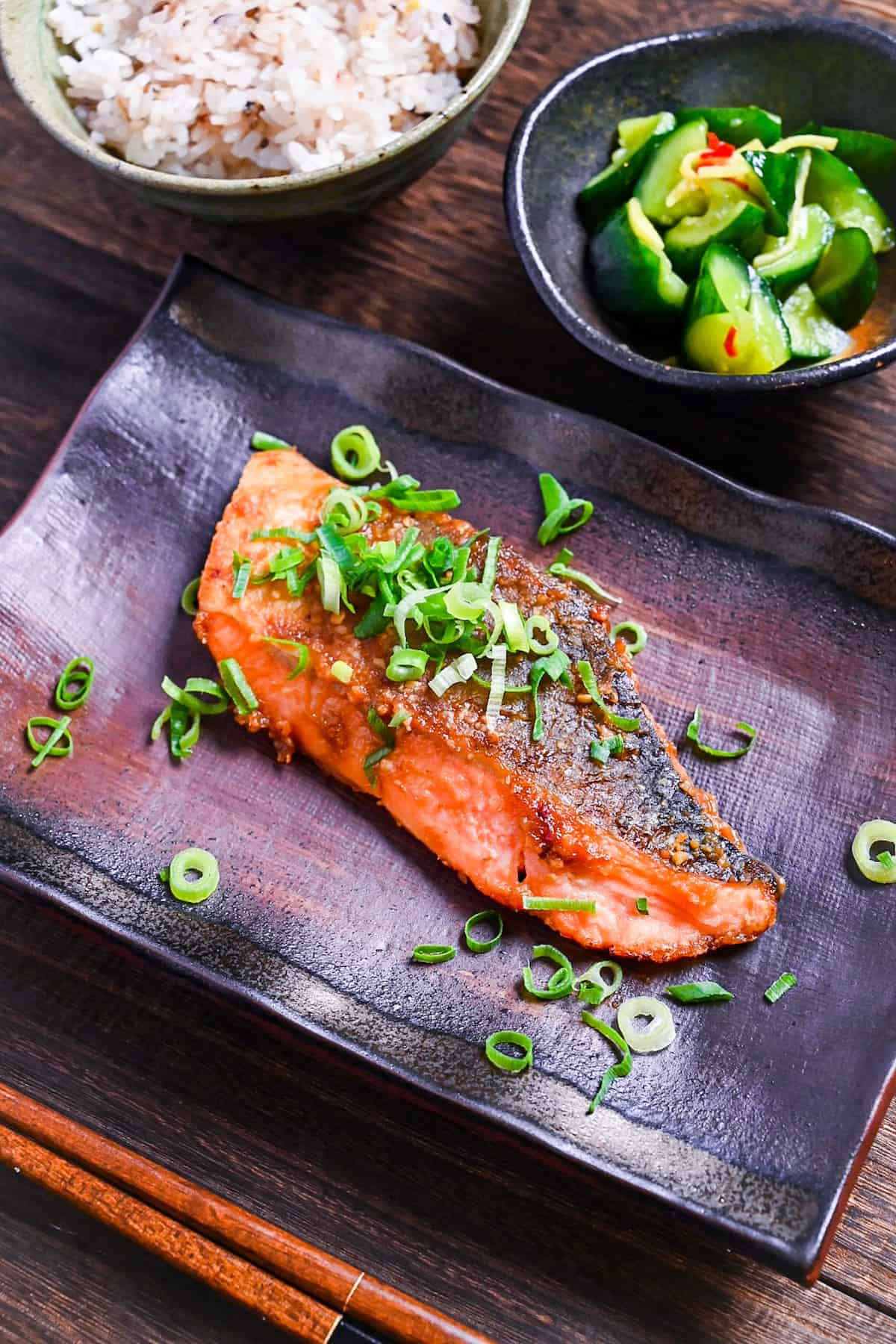 How to make miso glazed salmon
Making miso glazed salmon in a frying pan is quick and easy, it's perfect for those days you want something delicious but don't want to spend too much time in the kitchen! Here are the steps, see the printable recipe card at the bottom of the page for ingredient quantities.
Take a small bowl and mix the miso paste, sake, garlic paste, soy sauce and light brown sugar together. Set by the stove for later.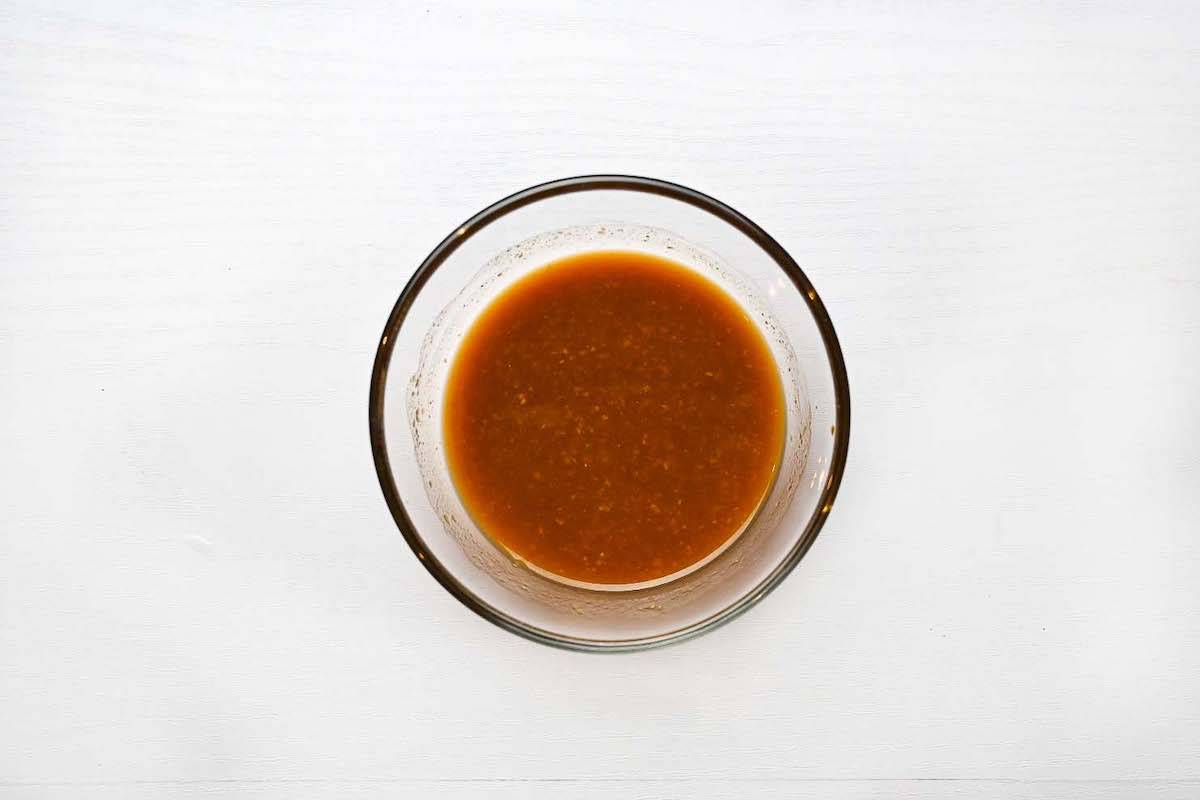 Start preheating your frying pan on a medium-setting. While it preheats, you can prepare the salmon. First, wash the fillets with cold water and dry thoroughly with kitchen paper.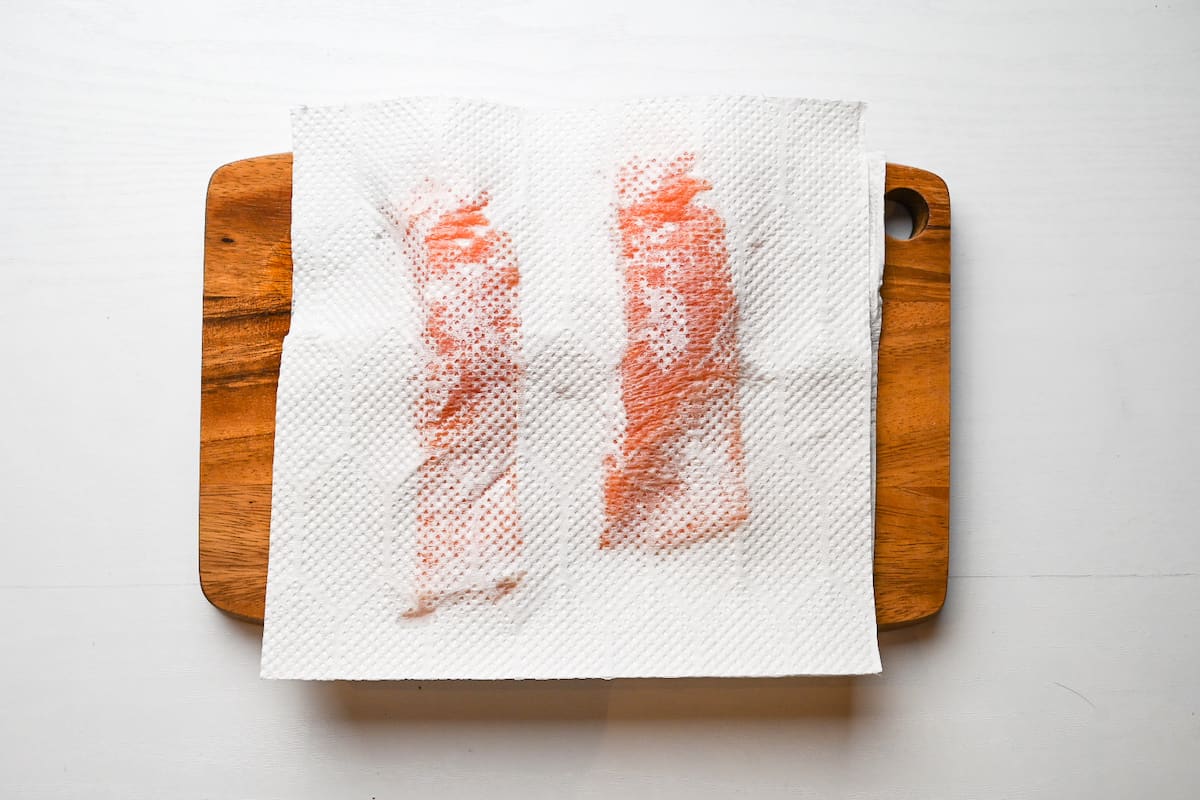 Once dry, sprinkle both sides with a pinch of salt.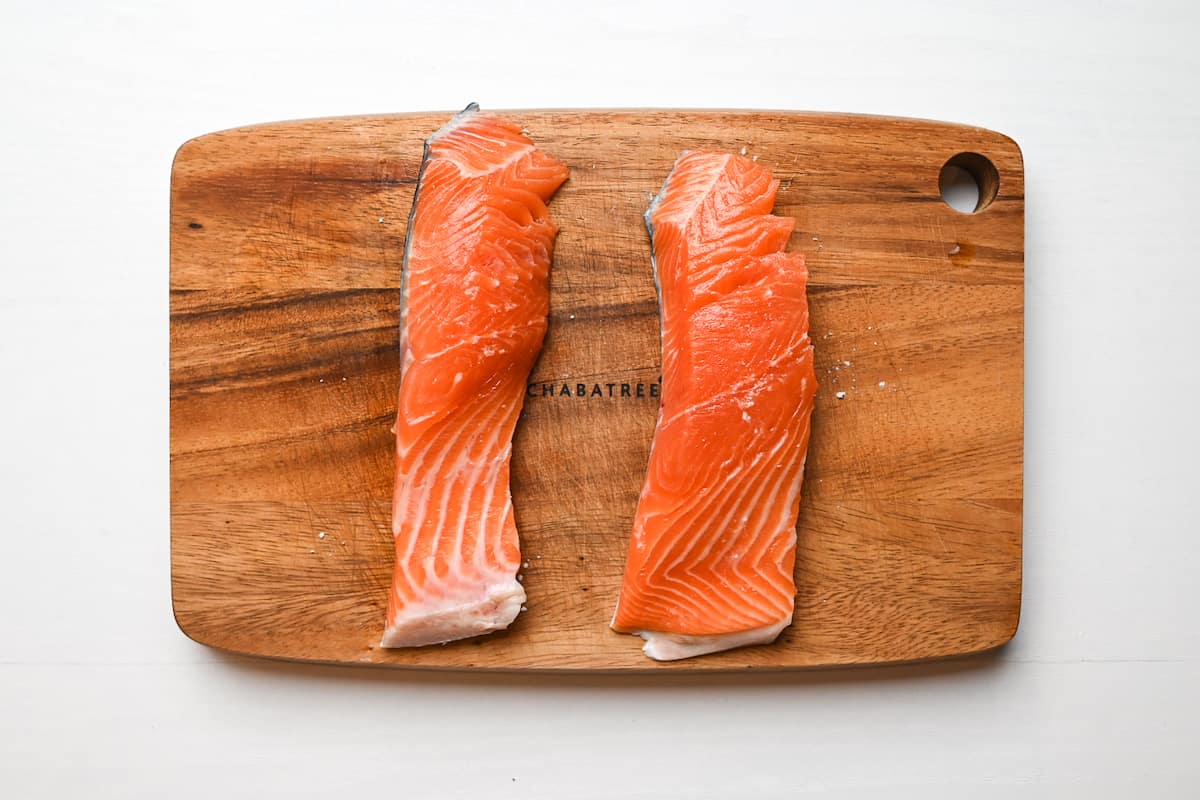 Sprinkle the salt from a height to help evenly distribute it.
Next, coat the surface of the salmon with a thin layer of potato starch. Not only is this going to make the surface of the salmon beautifully crispy, but it will also help the sauce stick.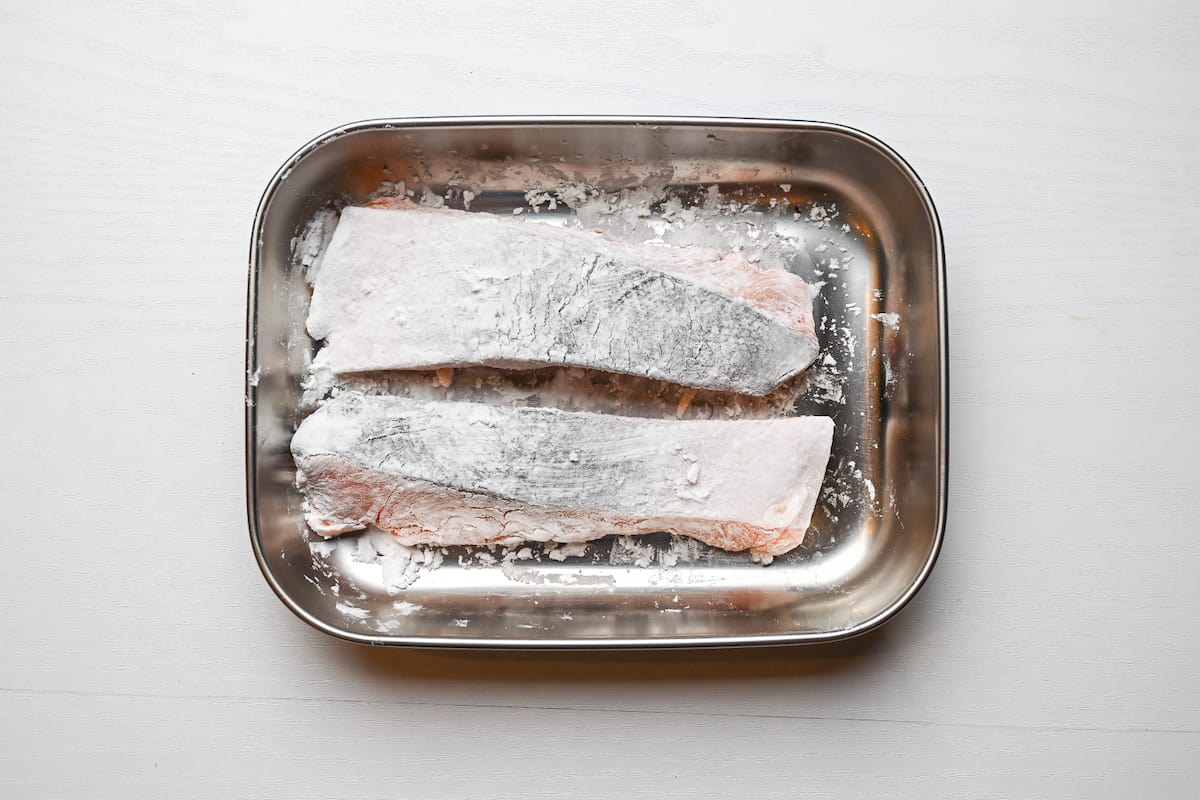 Once hot, add the sesame oil to the pan and swirl it around. Place the salmon fillets with the skin side facing down. Fry for 2 minutes on each side or until the salmon reaches an internal temperature of 52°C (125°F). (This may take a little longer for particularly thick fillets.)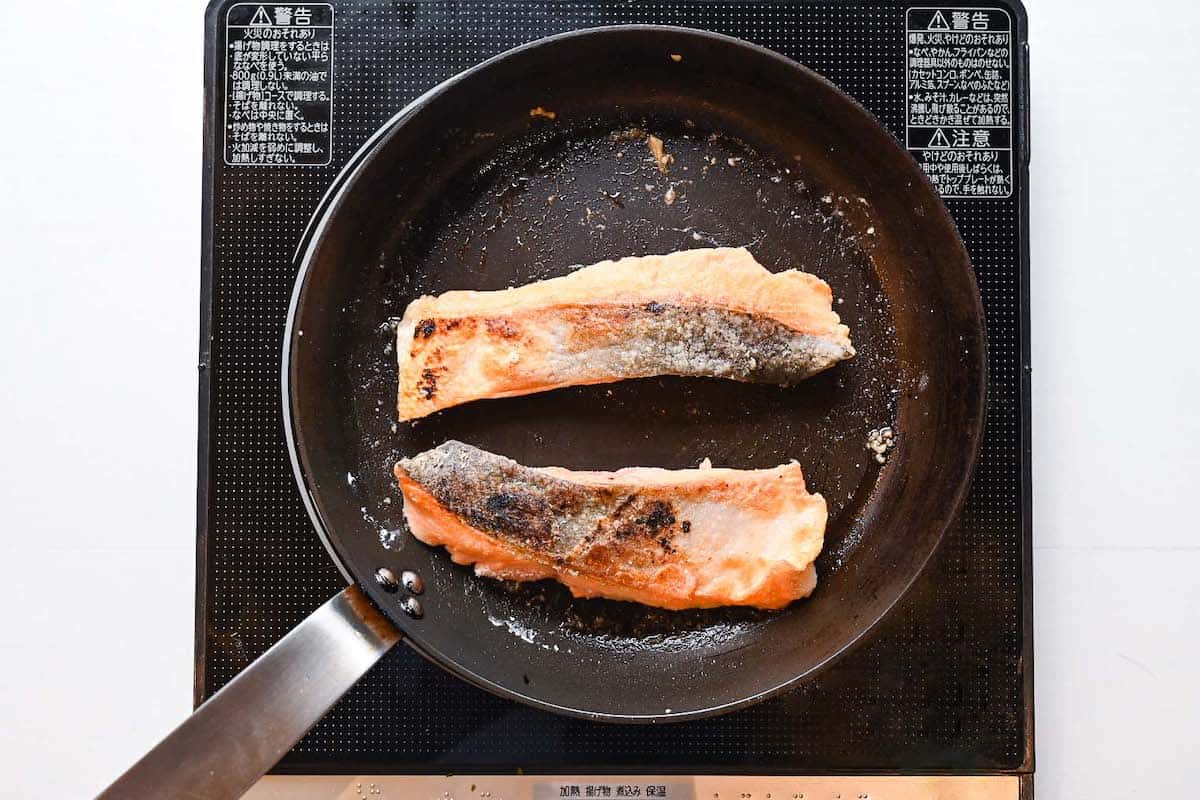 Salmon continues to cook even after its taken off the heat, this is why it's better to cook it to a temperature of 52°C (125°F) to avoid it becoming dry and overcooked. You can use a kitchen thermometer for accuracy.
Once the salmon is cooked through, turn off the heat and pour the miso glaze into the pan. Move the salmon around until completely coated in the sauce.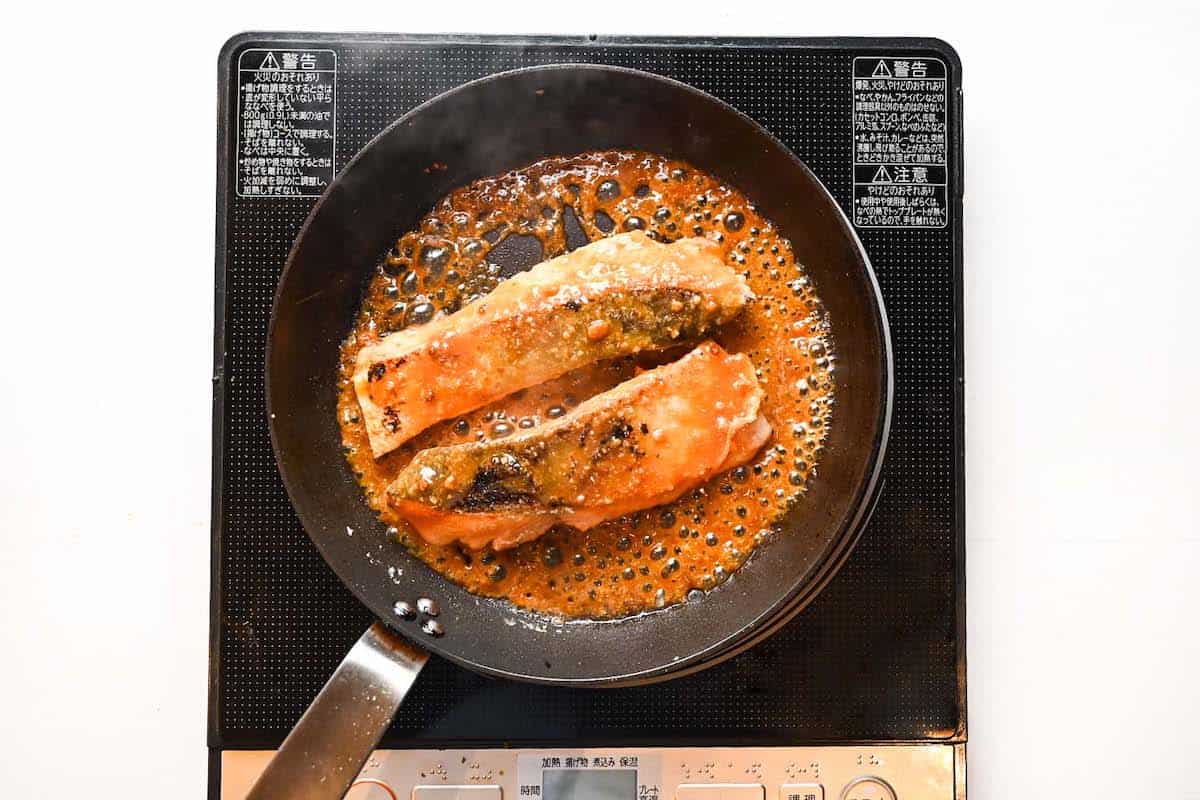 Miso paste easily burns, so it's better not to cook it with direct heat. Instead, turn off the stove and allow it to bubble and thicken with the residual heat. You'll find it thickens surprisingly fast!
Plate up, sprinkle with chopped spring onions and enjoy! I recommend serving miso glazed salmon as part of a teishoku set with steamed rice, miso soup and pickles. See below for more serving suggestions!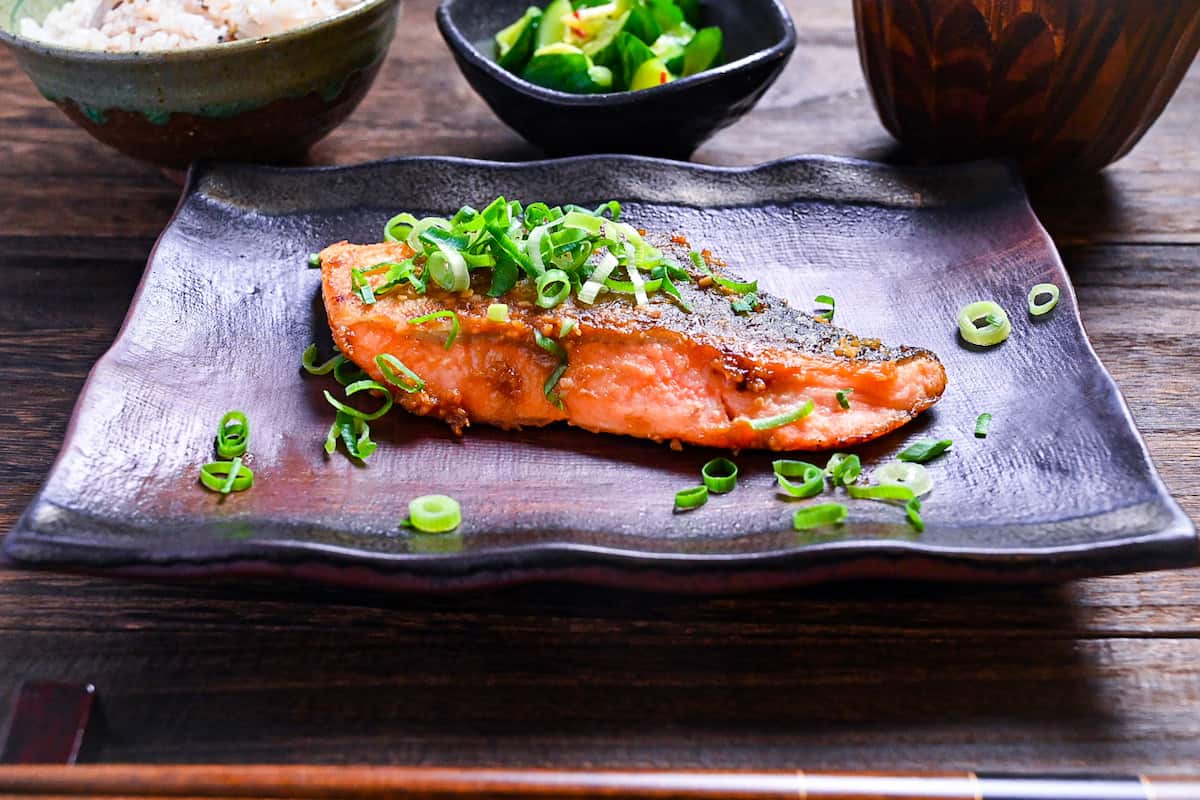 How to enjoy miso salmon as part of a "teishoku" set meal
Have you ever heard the term "teishoku" (定食)? It's the Japanese term for "set meal" and is usually made up of 3 or more elements. The most common dishes that make up a teishoku set include:
Main dish - usually grilled or fried meat or fish
Rice - Japanese white rice is most common but brown rice or rice mixed with multi grains are also popular.
Soup - miso soup is the classic option but other great options include tonjiru (pork miso soup), kenchinjiru (Japanese vegetable soup) or kaki-tamajiru (egg drop soup).
Side dish - vegetables (boiled, stir fried etc), salad
Tsukemono - Japanese pickles
Miso glazed salmon is a perfect dish for teishoku style meals and can be served for lunch, dinner or even breakfast! Each element comes together to make a very satisfying meal!
Teishoku is usually arranged in a specific order, I've made a guide for you below!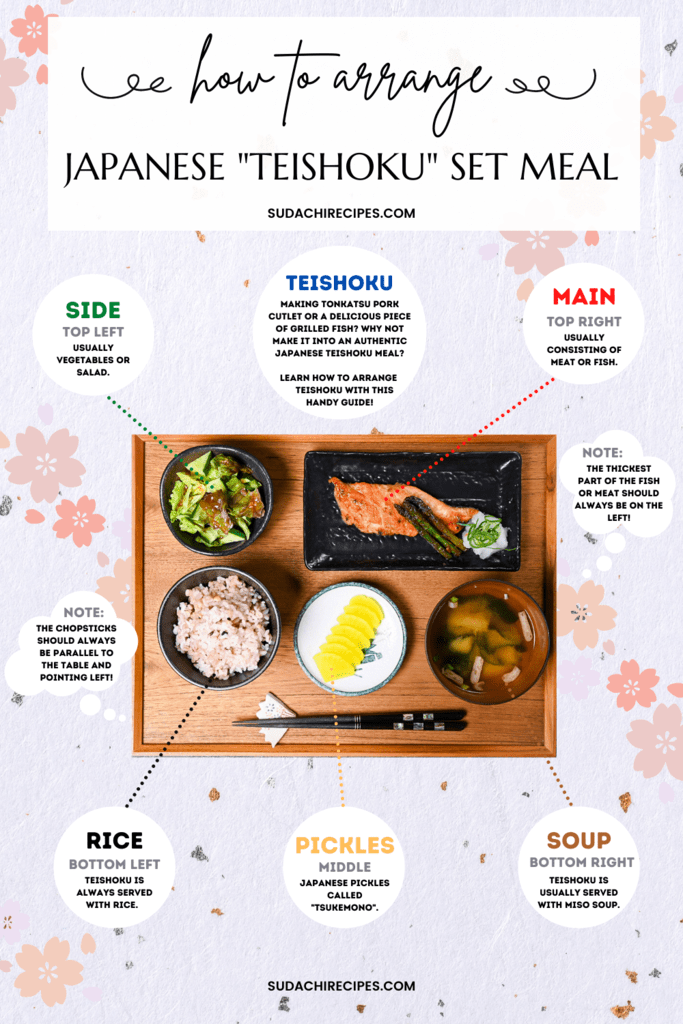 If you're interested in making miso glazed salmon as part of a teishoku set, try out some of the recipes below to complete your meal!
What to serve with miso salmon
Whether making a traditional Japanese teishoku meal or simply looking for some inspiration, check out some of these pairing suggestions to enjoy with miso glazed salmon!
Japanese steamed white rice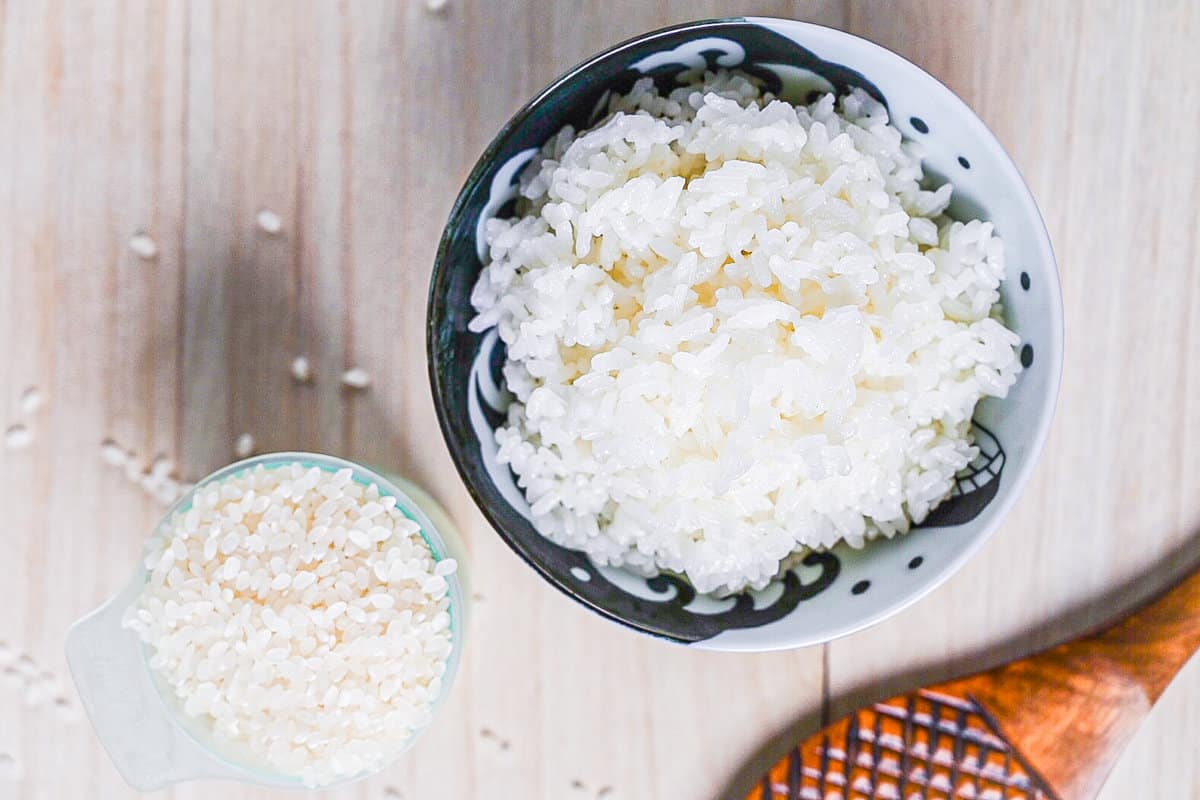 There's no doubt that white rice is a staple in Japanese cuisine, and there's no better match than the rich saltiness of miso glazed salmon paired with fluffy Japanese rice.
No rice cooker? No problem! You can make perfect Japanese white rice on the stove with my recipe!
Miso Soup
Double miso? That's right! Miso soup is the perfect addition for miso lovers. You can use the same (awase) miso paste or even mix it up with different kinds of miso, sampling them in different dishes side by side.
Miso soup is also fun to customise using different ingredients, so why not give it a try?
Ginger and chili pickled cucumber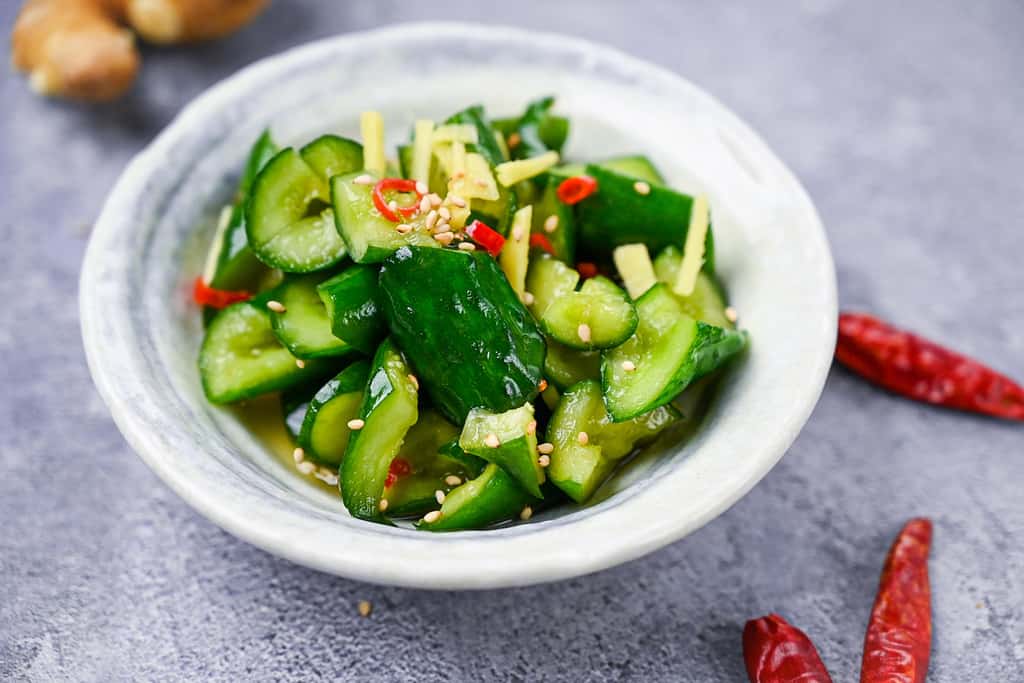 Looking for something refreshing to eat on the side? These fragrant and mildly spicy ginger and chili Japanese pickled cucumbers are perfect for teishoku meals. Not a fan of spice? Simply leave out the chili! These pickles are so addictive you'll still be eating them even when the meal is over!
Bettarazuke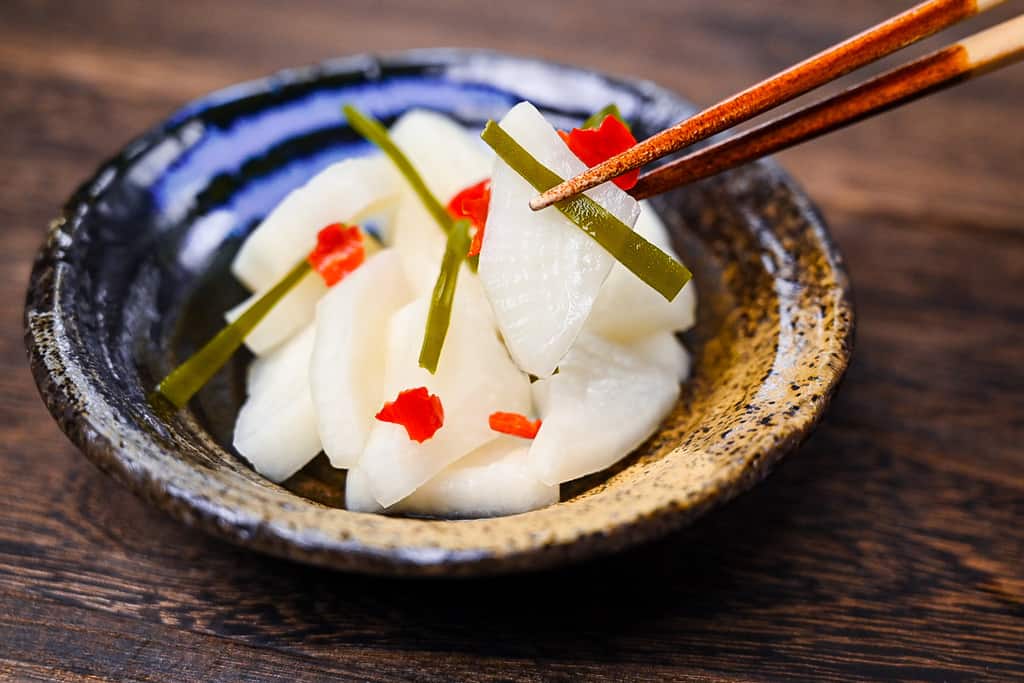 How about a pickle with a slightly milder taste? Bettarazuke is a sweet and crunchy pickle made with daikon radish, amazake (sweet rice drink) and kombu. The subtle flavour of bettarazuke goes perfectly with miso salmon!
Spinach Gomaae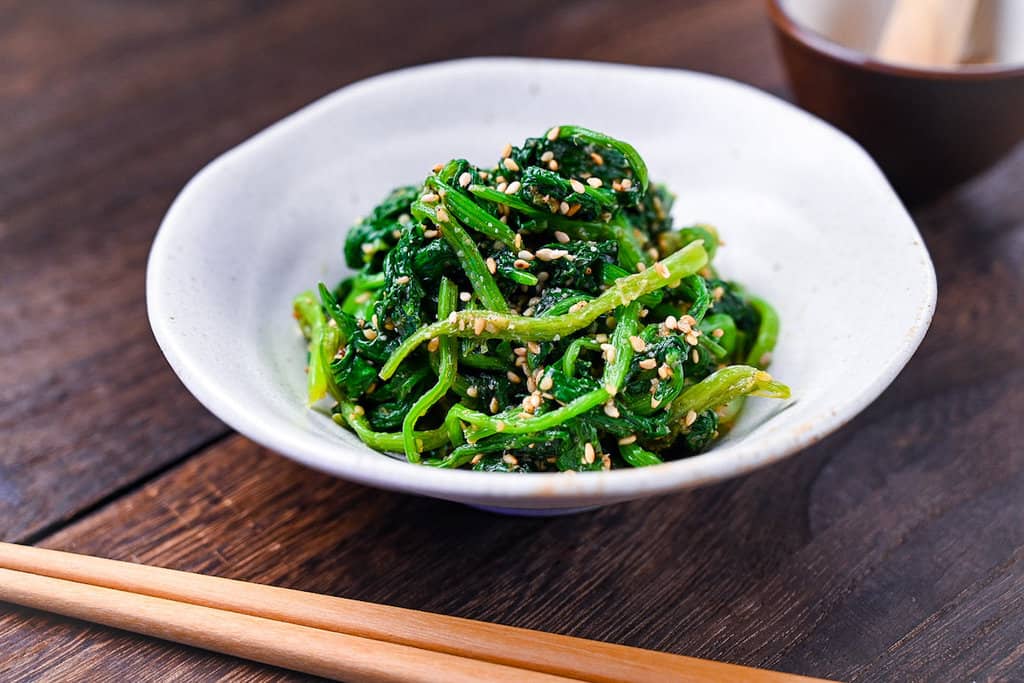 Pickles not your thing? How about this delicious Japanese spinach sesame salad that you can whip up in 15 minutes or less? Made with blanched spinach coated in a nutty sesame sauce, this dish pairs perfectly with miso glazed salmon to create a rich and delicious meal!
I hope you enjoyed learning how to make quick, easy and delicious miso glazed salmon! If you try the recipe or make any substitutions, please take a moment to let us and our other readers know how it went with a review and star rating in the comments below. Thank you so much!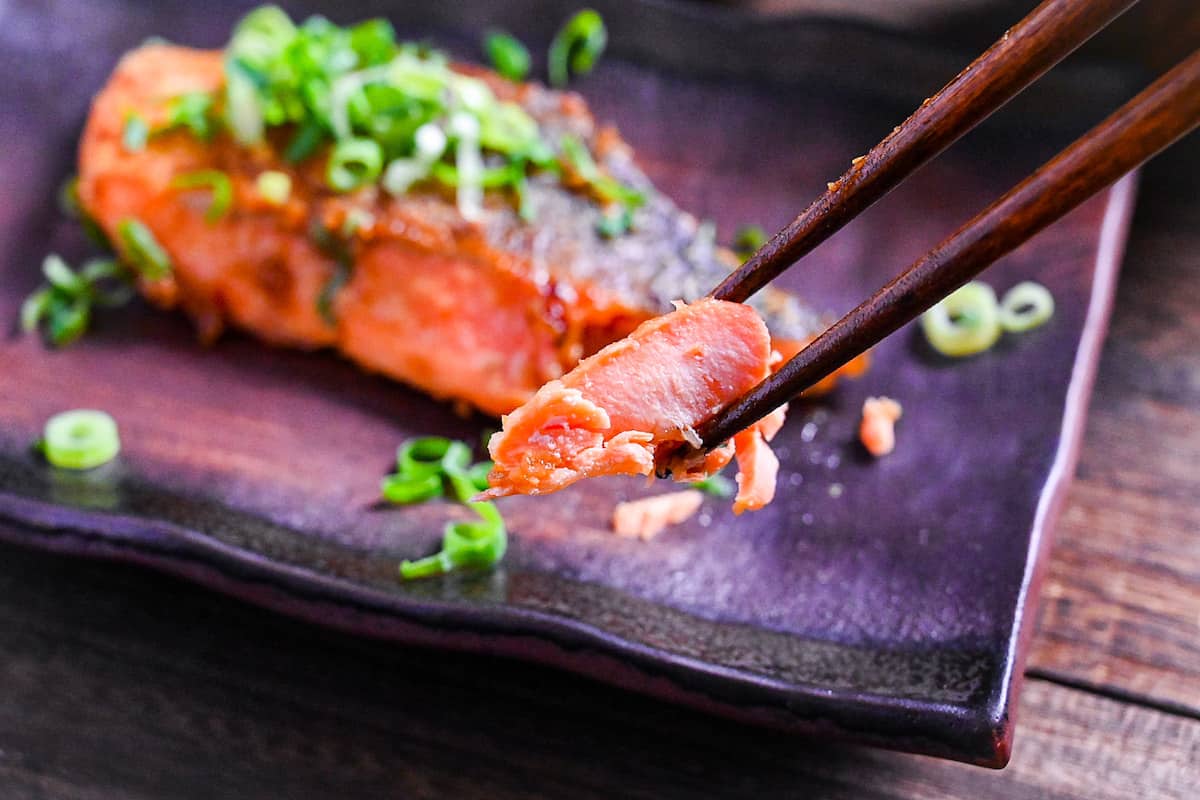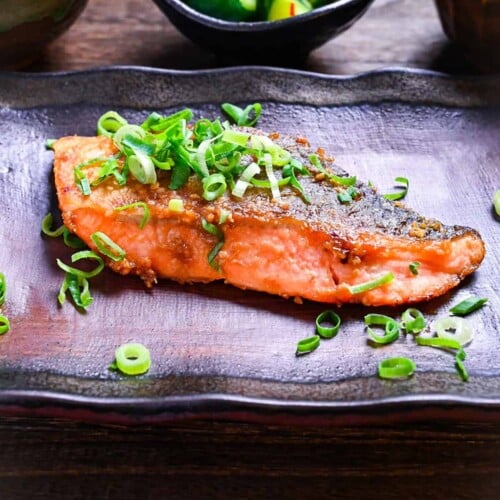 Miso Glazed Salmon (pan fried)
How to make quick and easy pan fried salmon with a delicious miso glaze, this one pan dish is ready in just 10 minutes!
Ingredients
Miso Glaze
1

tbsp

awase miso paste

1

tbsp

sake

1

tsp

garlic

-

grated or garlic paste

1

tsp

soy sauce

1

tsp

light brown sugar
Salmon
2

salmon fillets

-

skin-on

2

pinches

salt

1

tbsp

potato starch

1

tbsp

sesame oil

-

or cooking oil of your choice
Instructions
Mix

1 tbsp awase miso paste

,

1 tbsp sake

,

1 tsp garlic

,

1 tsp soy sauce

and

1 tsp light brown sugar

in a small bowl until well combined.

Preheat a frying pan on a medium-high setting. While it preheats, wash

2 salmon fillets

with cold water and pat them dry with kitchen paper.

Sprinkle both sides of the salmon with

2 pinches salt

and coat with

1 tbsp potato starch

.

Once the pan is hot, add

1 tbsp sesame oil

and place the salmon fillets in the pan with the skin side down.

Fry for 2 minutes on each side or until the salmon reaches an internal temperature of

52

°C

. (This may take a little longer for particularly thick fillets.)

Turn off the heat and pour the sauce into the pan.

Move the salmon around the pan until both sides are coated with the sauce.

Serve up, sprinkle with

1 tbsp finely chopped green onion(s)

onions and enjoy!
Nutrition
Serving:
129.7
g
Calories:
277
kcal
Carbohydrates:
10.5
g
Protein:
19
g
Fat:
17.9
g
Saturated Fat:
3.04
g
Polyunsaturated Fat:
6.01
g
Cholesterol:
54
mg
Sodium:
794
mg
Fiber:
0.7
g