Chewy mochi filled with a sweet bean paste and wrapped in a decorative oak leaf, kashiwa mochi is a tasty treat typically enjoyed on Children's day in Japan. With my recipe you can easily make this traditional sweet at home in the microwave!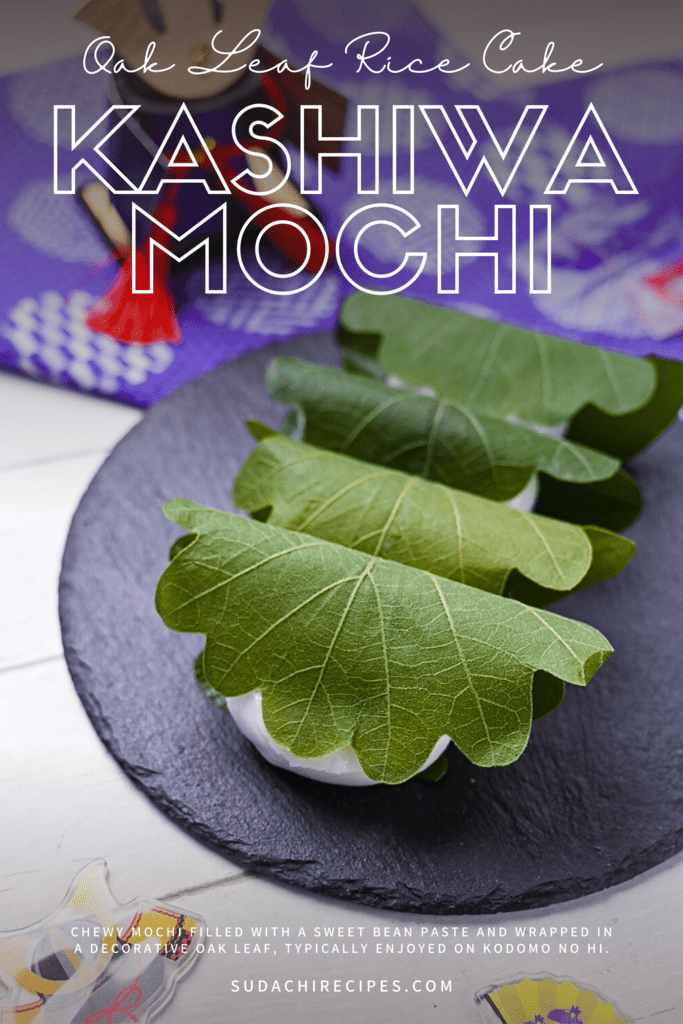 Disclaimer: This post contains Amazon affiliate links. Sudachi Recipes earn a small percentage from qualifying purchases at no extra cost to you. See disclaimer for more info.
Jump to:
Kashiwa Mochi
Kashiwa mochi (柏餅) is a type of sweet rice cake filled with red bean paste. The name "kashiwa" is the Japanese word for "Japanese Emperor Oak" and refers to the leaf wrapped around the mochi.
Unlike sakura mochi, kashiwa leaves are not edible. Instead, they symbolise the hardiness of the oak tree and the hope that children will grow up big and strong just like an oak tree.
Kashiwa mochi is typically eaten on Children's day (Kodomo no Hi) which falls on May 5th every year.
History of Kashiwa mochi
It is believed that kashiwa mochi first appeared in the Edo period (1603-867) as an offering during the holiday "Tango no Sekku", which became "Kodomo no Hi" as we know it today.
For a long time, oak leaves were used to wrap foods. Not only are they large, strong and durable, but they also have antibacterial properties which helped preserve the food wrapped inside.
In addition to the practicality of the oak leaf, people believed that it was protected by the gods because the leaves don't fall until the new shoots start to sprout. This led people to believe that oak leaves represent the idea that parents will live to see their children grow and the prosperity of their ancestors will continue.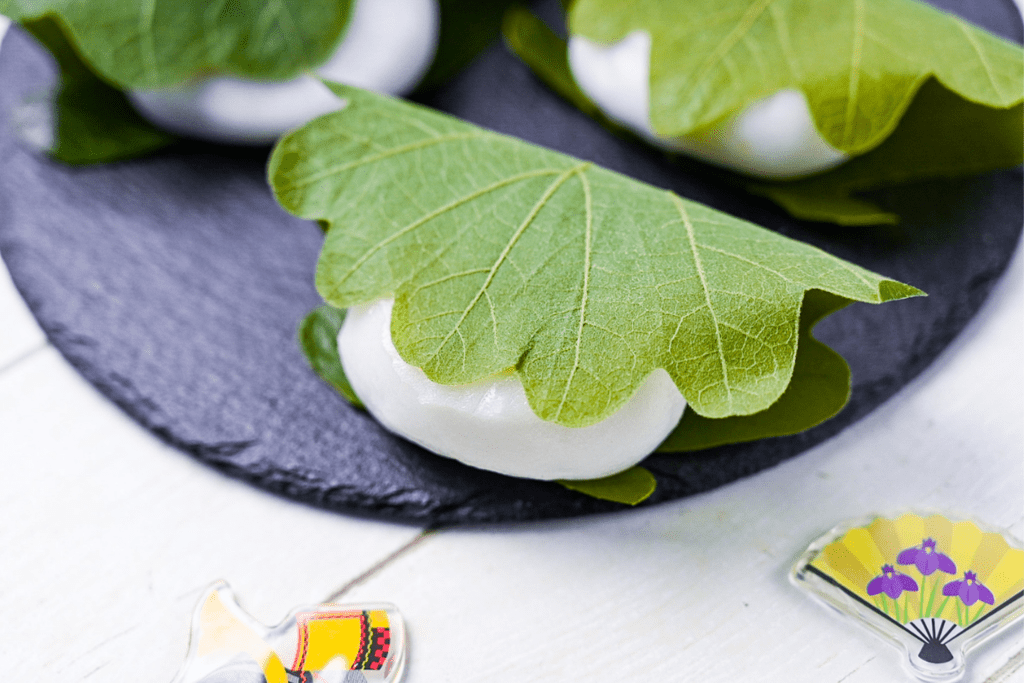 Kodomo no Hi (子供の日)
Kodomo no Hi (子供の日) has been celebrated since the Nara period (710-794). Originally it was called "Tango no Sekku" which means "double fifth" and referred to the fact it was celebrated on the fifth day of the fifth month of the lunar calendar. After Japan changed to the Gregorian calendar, the date was changed to May 5th.
Tango no sekku was actually a holiday dedicated to praying for the health and happiness of boys, similar to Hina Matsuri (Girl's Day / Doll Festival) held on March 3rd. The name of the holiday was changed to "Kodomo no Hi" (Children's Day) and now we celebrate the day for both boys and girls.
Kodomo no Hi Traditions
Every year, households across Japan raise colourful carp streamers outside their homes. These streamers are called "koinobori" (鯉のぼり). The carp is known for its strength to swim upstream and the koinobori are raised in hope that the children will grow up strong like a carp.
The carps also represent family, with the black carp being the father, red carp being the mother and the smaller blue carp representing the oldest child. Some people add extra carps for each child.
Families with sons also display samurai warrior dolls (musha ningyo) or miniature samurai amour (yoroi) and helmets (kabuto) to inspire boys to become strong and powerful like a samurai.
Foods associated with Kodomo no Hi
On kodomo no hi, it's typical to eat foods that promote strength, health and ward off illness. The most common foods to eat are:
Kashiwa mochi (sweet rice cake wrapped in oak leaf)
Chimaki (steamed glutinous rice wrapped in a bamboo leaf)
Sekihan (rice with red beans)
Kusamochi (green mochi flavoured with "yomogi" Japanese mugwort leaves)
These days, people are more creative and make less traditional foods for kids to enjoy. Things like sushi decorated to look like a carp or spring rolls folded into the shape of a samurai helmet are just a few ideas!
Kashiwa mochi ingredients
Making any kind of mochi requires a few special Japanese ingredients, so here I'm going to explain what you'll need in more detail.
Joshinko (上新粉)
The most important ingredient for making kashiwa mochi is called "Joshinko". Joshinko is a type of fine rice flour used for making sweets such as dango and special kinds of mochi. The texture of joshinko is firm and not so sticky because the rice is not glutinous.
Kashiwa mochi is often made with 100% joshinko, but some recipes (like mine) also contain a small amount of glutinous rice flour to make the dough a bit softer.
You can purchase Joshinko on Amazon (affiliate link).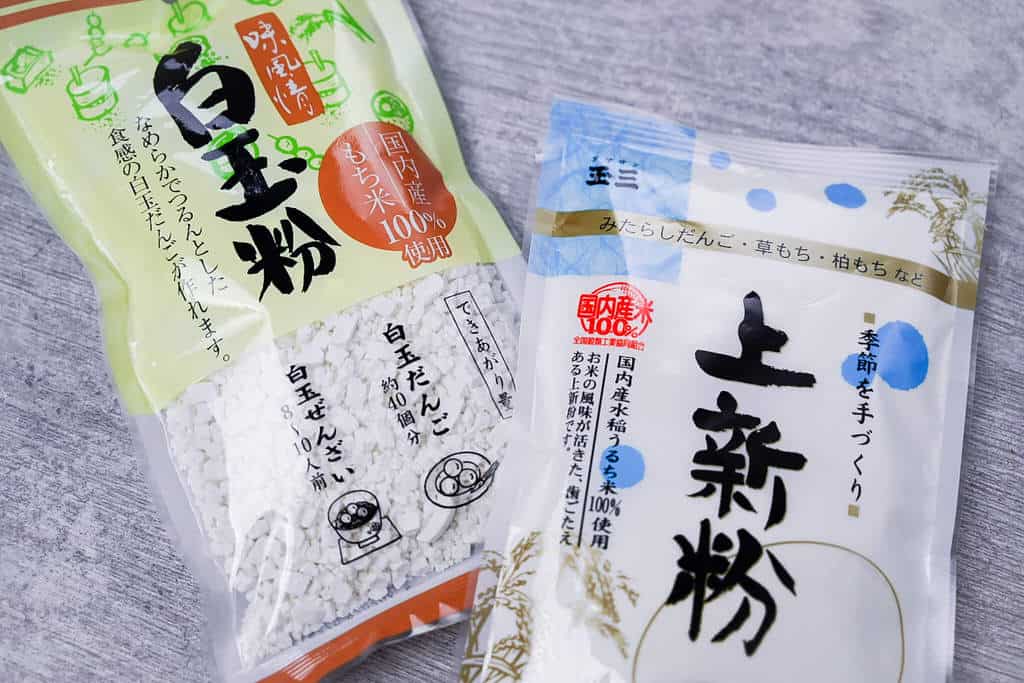 Glutinous Rice Flour (Shiratamako / Mochiko)
It's not typical for kashiwa mochi, but I like to add a little bit of glutinous rice flour to make the mochi softer. You have to be careful not to add too much otherwise it will become too sticky and will be difficult to shape.
I personally used shiratamako which is a type of coarse glutinous rice flour (sweet rice flour) that yields a soft and stretchy texture. You can also use mochiko, which is finer, firmer and cheaper than shiratamako.
You can find shiratamako and mochiko on Amazon.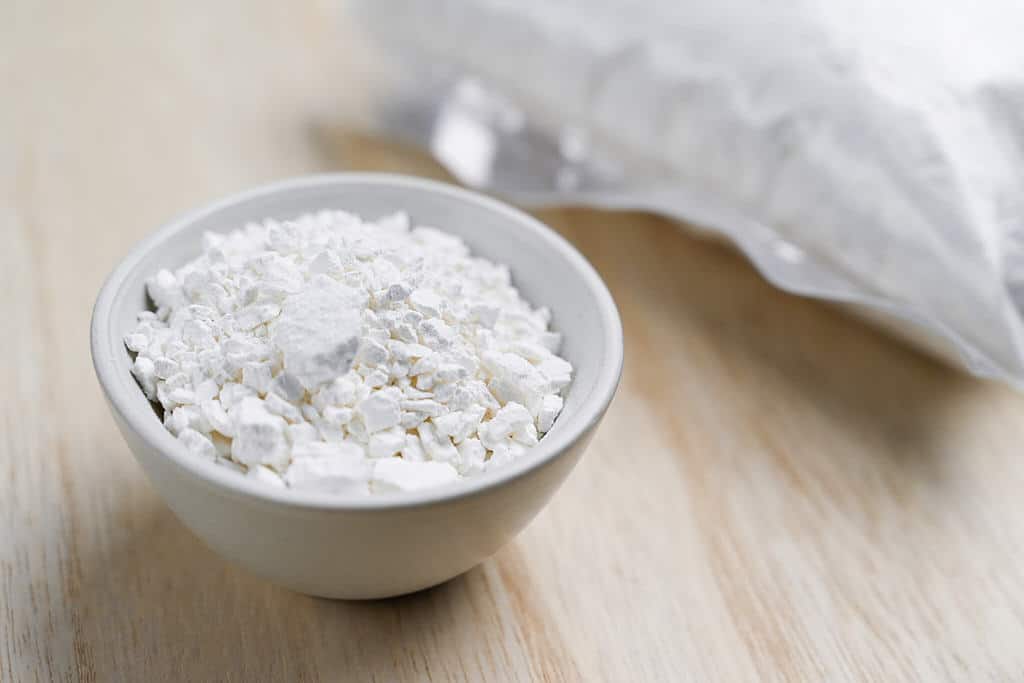 Kashiwa Leaf (Oak Leaf)
One of the defining features of kashiwa mochi is the oak leaf wrapped around the outside. Unlike sakura mochi (pink mochi wrapped in a cherry blossom leaf), kashiwa leaf is not eaten. It adds a subtle flavour but it's peeled off before eating.
Some regions that don't have oak trees use leaves from the smilax plant instead.
If you can't find these kinds of leaves, it's fine to use artificial leaves as decoration only.
Flavours of kashiwa mochi
The most popular type of kashiwa mochi is white and plain, simply sweetened with sugar. However you can also find them flavoured with Japanese mugwort called "yomogi" which results in a green colour.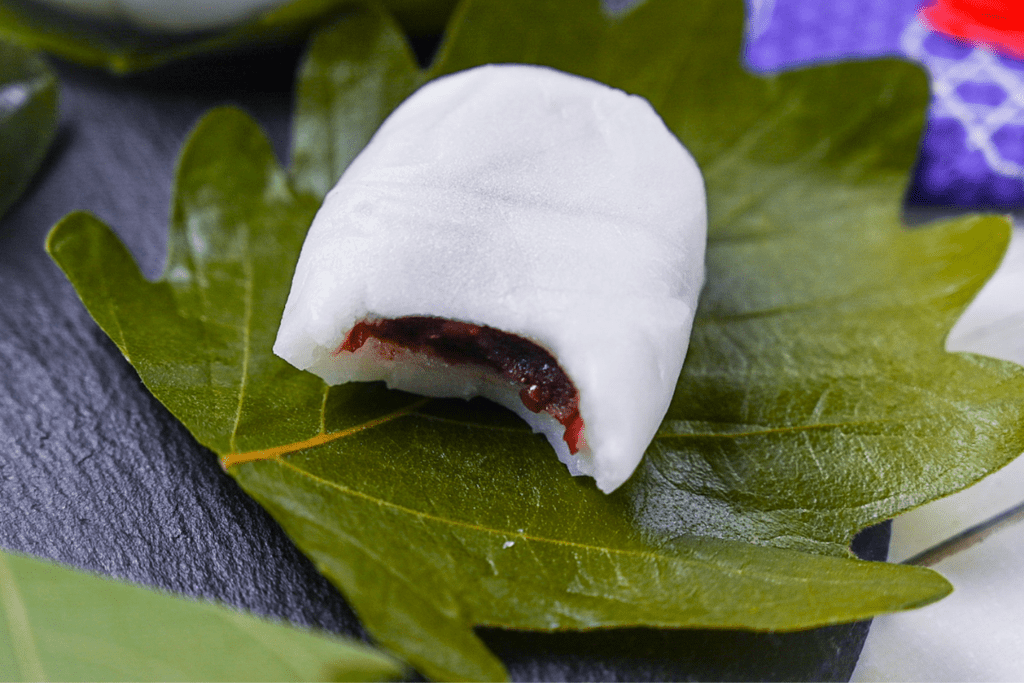 Fillings
Kashiwa mochi is usually filled with sweet bean paste. The most common types are:
Koshian (smooth bean paste made from adzuki beans)
Tsubuan (chunky red bean paste made from adzuki beans)
Miso-an ("shiroan" smooth white bean paste made from kidney beans mixed with white miso paste)
The type of filling depends on the region but I'd say koshian is the most common. If you prefer your anko to have a chunky texture, it's also fine to use tsubuan. Miso-an is rare and usually found in Kyoto or Tokyo.
If you can't buy anko where you live, you can check out my tsubuan recipe and learn how to make it from scratch.
I hope you enjoy making and eating this traditional sweet to enjoy on kodomo no hi!
Kashiwa Mochi (柏餅)
How to make kashiwa mochi filled with sweet bean paste and wrapped in oak leaves.
Ingredients
Instructions
Divide

120 g smooth red bean paste

into 20g pieces. (see note)

Wipe

6 oak leaves

with a clean damp cloth and dry with a paper towel.

Pour in

250 ml hot water

, one quarter at a time, mixing thoroughly each time with a rice paddle.

Cover the bowl loosely with plastic wrap and microwave for 1 minute 30 seconds at 600W.

Mix with a rice paddle and microwave again for 1 minute 30 seconds at 600W.

Mix once more and then microwave for the last time, 1 minute, 600W.

Scoop the dough into a zip lock bag and place it into a bowl of cold water to cool for about 5 minutes. (Leave the ziplock bag open to let the heat escape but try not to get the dough wet.)

Once it's cool to touch, knead the dough. (You can keep it in the zip lock bag if you don't want to handle the dough with your hands.) Knead until smooth and the texture of an earlobe (about 20 times).

Divide the dough into approx 60-70g (2 ¼oz) pieces, then wet your hands and roll each piece into a ball.

Place one ball of dough in your palm. Press the dough flat into an oval shape. (If it becomes sticky, wet your hands again.)

Place the anko in the middle of the mochi dough and fold it over.

Gently press the edges down to close the mochi.

Wrap each mochi with an oak leaf.

Enjoy!
Notes
If your anko is too soft to roll into balls, heat it in a saucepan while stirring continuously to cook off some of the moisture and thicken the consistency. 
When handling the mochi "dough", keep a bowl of cold water nearby and lightly wet your hands to stop it from sticking.
Do not eat the oak leaf.
Best eaten the same day. You can also wrap it in plastic wrap and refrigerate in an airtight container for 24 hours or freeze for 1 month. Defrost at room temperature.