Mitarashi Dango is a chewy rice dumpling snack served on a skewer and drizzled with a delicious sweet soy sauce glaze. It tastes seriously good, it's fun to make and they're suitable for vegetarians too! Enjoy making and eating this traditional Japanese sweet at home!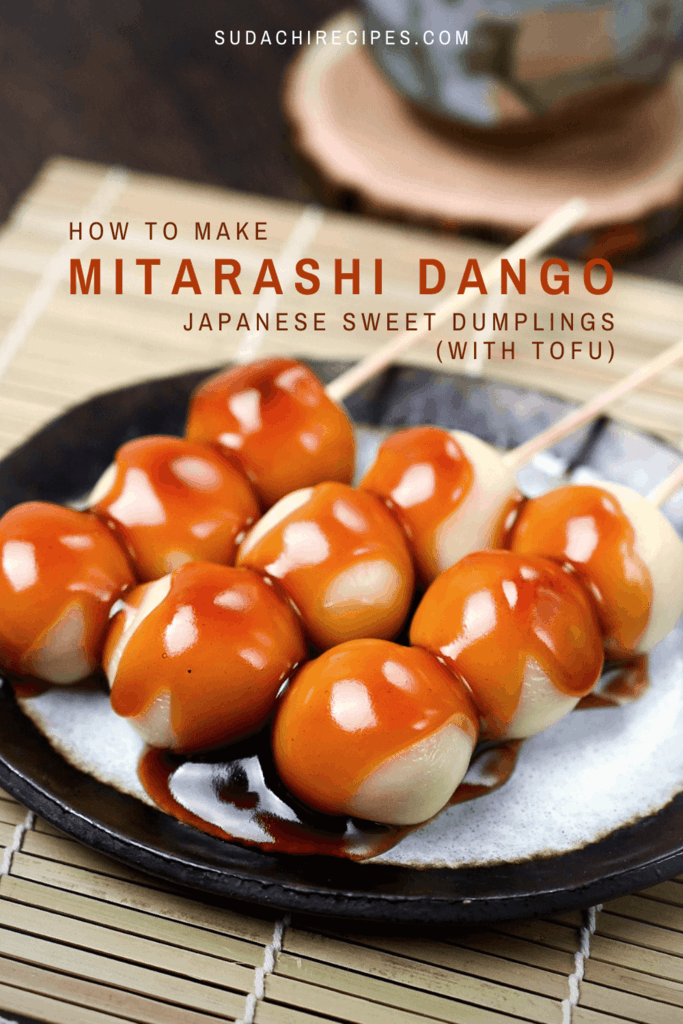 Disclaimer: This post contains Amazon affiliate links. Sudachi Recipes earn a small percentage from qualifying purchases at no extra cost to you. See disclaimer for more info.
Jump to:
Dango
What is "dango"?
Dango are a type of sweet rice dumpling, usually served on a skewer. The dumplings are made from glutenous rice flour. Just like many Japanese desserts and snacks, they aren't overly sweet but they have a lovely "mochi mochi" chewy texture.
Dango are extremely popular in Japan and you can find them in most supermarkets. They taste a lot better if you buy them at a food stall during a festival though, or even better, freshly made at home!
Kinds of Dango
There are different kinds of dango, but here are the most famous ones.
Mitarashi Dango (みたらし団子) simple plain rice dumplings that have been lightly charred and coated in a sweet soy glaze, then served on a skewer.
Hanami Dango (花見団子) tri-colored rice dumplings (pink, white and green) served on a skewer and associated with cherry blossom viewing.
Anko Dango (餡子団子) Rice dumplings served on a skewer and covered in red bean paste.
Goma Dango (ごま団子) Chinese style deep fried rice dumpling covered in sesame seeds and filled with red bean paste.
Shiratama Dango (白玉団子) Small rice dumplings usually served in desserts such as anmitsu (traditional dessert made of agar agar jelly, red bean and fruits) or kakigori (shaved ice).
Tsukimi Dango (月見団子) A pyramid of 15 rice dumplings displayed during the Autumn full moon.
Mitarashi Dango
As this recipe is how to make mitarashi dango, let me tell you a little bit more about this ancient sweet.
Where it started
Mitarashi dango is a traditional dessert that dates back hundreds of years!
It is said that Mitarashi dango originates from Kyoto and was first made in a tea house called Kamo Mitarashi which is located near the Shimogamo Shrine. The dango was used as an offering at the shrine.
Mitarashi dango is traditionally made up of 5 dumplings (these days it's often made with 3) and there are a few stories behind why.
The meanings behind "Mitarashi Dango"
The first story says that mitarashi dango is named after the "Mitarashi River" that flows at the entrance of Shimogamo shrine. The story goes, an Emperor from the late Kamakura period scooped water from the Mitarashi river and as he did, one bubble floated to the surface. Four more bubbles joined onto the first and created a dango shape.
The other theory, and one I find quite entertaining, is that each dumpling on a dango represents a part of the body.
One head, two arms and two legs. If you take it to the shrine and pray to the gods, then bring it home, set it on fire, cover it in soy sauce and then eat it, it's supposed to protect you from evil.
It seems pretty thorough to me.
Flour
Despite dango being super easy to make, unfortunately you're gonna need a special ingredient. That is Japanese glutenous rice flour, shiratamako. I also used this flour to make my ichigo daifuku (strawberry mochi) recipe here.
Shiratamako
Shiratamako is not like regular flour. It's made from Japanese glutenous short grain rice and looks like coarse granules that break down after you add moisture. When it's cooked, it has a lovely chewy, soft and stretchy texture. You can find it on Amazon here.
Joshinko
Dango is usually made with a mixture of shiratamako and joshinko. Joshinko is also made from glutenous short grain rice, but it's finely milled and helps to thicken recipes. The ratio is usually about 50/50 but I don't use joshinko in my recipe so you won't need it this time.
Dangoko
Dangoko is flour especially for making dango and is a mixture of shiratamako and joshinko (so you won't have to buy them seperately). The ratio varies and so does the texture of the dango you make with it, but it's a good option if you don't want to buy too many kinds of flour.
Mochiko
Mochiko is probably the easiest to get out of these ingredients and is often used as a substitute for shiratamako. I've tried this recipe with mochiko myself, I can say that it doesn't make a big difference, but the texture is a little firmer and not as chewy and soft as shiratamako.
You can find Mochiko on Amazon.
Tofu
Silken Tofu
So in this recipe, I use silken tofu.
Silken tofu is very soft, but somehow it holds the shiratamako together perfectly. It doesn't affect the taste and the texture is soft and chewy. It also saves you from having to buy different kinds of flour.
Mitarashi Dango Sauce
Mitarashi dango is flavoured with a delicious soy based sauce. Here is what you'll need:
Simple right?
The ingredients are mixed together while they are still cold to stop the corn starch from clumping then warmed on a low heat to create a thick and glossy glaze.
It's thickens up very fast and becomes even thicker when it cools down so be careful not to cook it for too long.
Also, if you can't find mirin then it's okay to just add extra sugar as a substitute in this recipe.
Watch our video for how to make Mitarashi Dango with Tofu
Print
Easy Tofu Mitarashi Dango (みたらし団子)
---
Author:

Yuto Omura

Total Time:

25 minutes

Yield:

3-5 skewers (15 balls)
Description
How to make soft and chewy, Tofu Mitarashi Dango (みたらし団子).
---
Dango
100g

(

¾ cup

) Shiratamako glutinous rice flour (or Mochiko)

125g

(½ cup or 4oz) Silken Tofu (+

1

-

2

tsp if it seems too dry)
Water for boiling
Bowl of ice water

3

-

5

bamboo skewers
Sauce
---
Instructions
Dango
Start boiling a large pot of water. You can make this recipe while you're waiting for the water to boil.

Place your bamboo skewers in water to soak. (This makes the dumplings easier to slide on later.)

Take a mixing bowl and add 100g (¾ cup) of shiratamako flour. Whisk the dry flour for a minute, I find this helps create a smoother dough.

Add 125g of silken tofu to the bowl and mix it together with your hands.

Knead the dough until it's smooth and has the texture of an earlobe. (It's a Japanese saying and it works!)

If it seems dry and gets cracks add an extra 1-2 tsp of silken tofu. (you can add water instead but be careful, add ½ tsp at a time)

Divide the dough into 15 equal pieces and roll them into balls. They should be about 15g (½oz) per ball.

Add them to the boiling water all at the same time. They will sink to the bottom of the pot so stir them occasionally to stop them from sticking to the bottom.

When they start floating to the top of the water (after about 5-7 mins), set a timer for 2 minutes.

When 2 minutes are up, use a mesh spoon to transfer them to a bowl of ice cold water.

Let them cool for a few minutes.
Get your bamboo skewers and pierce them through the centre of each dumpling. If you are making dango with 5 pieces, you will have 3 complete dangos. If you are making them with 3 pieces, you will end up with 5 in total.

Heat up a non-stick frying pan (you don't need any oil unless you don't have non-stick. Use a flavourless oil like vegetable or canola) and add the dango.

Allow to char a little and then turn. (This adds a toasty flavour and some extra texture! Alternatively you can scorch them with a blowtorch or over the fire on a gas stove, be careful though.)

Sauce
Take a small cold pan and add 1 tbsp soy sauce, 2 tbsp sugar, 1 tbsp mirin, 1 tsp corn starch and 2½ tbsp cold water.

Mix well and make sure there aren't any lumps of corn starch.
Add to a low heat and stir continuously.

When the sauce is thickened, pour or brush it over the dango on skewers.

Eat on the day and enjoy with a cup of matcha tea!

Notes
Best eaten the same day.
You can freeze them (with or without the sauce) for about a month. Defrost at room temperature for 30 mins to 1 hour. (Some people recommend putting them under the grill or in the microwave but this can dry them out so be careful if you try.)
The sauce will get thicker when it cools down, it's best to pour it over the dango while it's still warm.
Prep Time:

10 mins

Cook Time:

15 mins

Category:

Sweets

Method:

Boiling

Cuisine:

Japanese
Keywords: Mitarashi dango, mitarashi dango recipe, how to make dango, mitarashi dango sauce, shiratamako, sweet soy sauce, dango, Japanese dango, dango food,sweet dango recipe,easy dango recipe, tofu dango, tofu dango recipe, dango recipe with tofu,