Mitarashi Dango is a chewy rice dumpling snack served on a skewer and drizzled with a delicious sweet soy sauce glaze. It tastes seriously good, it's fun to make and they're suitable for vegetarians too! Enjoy making and eating this traditional Japanese sweet at home!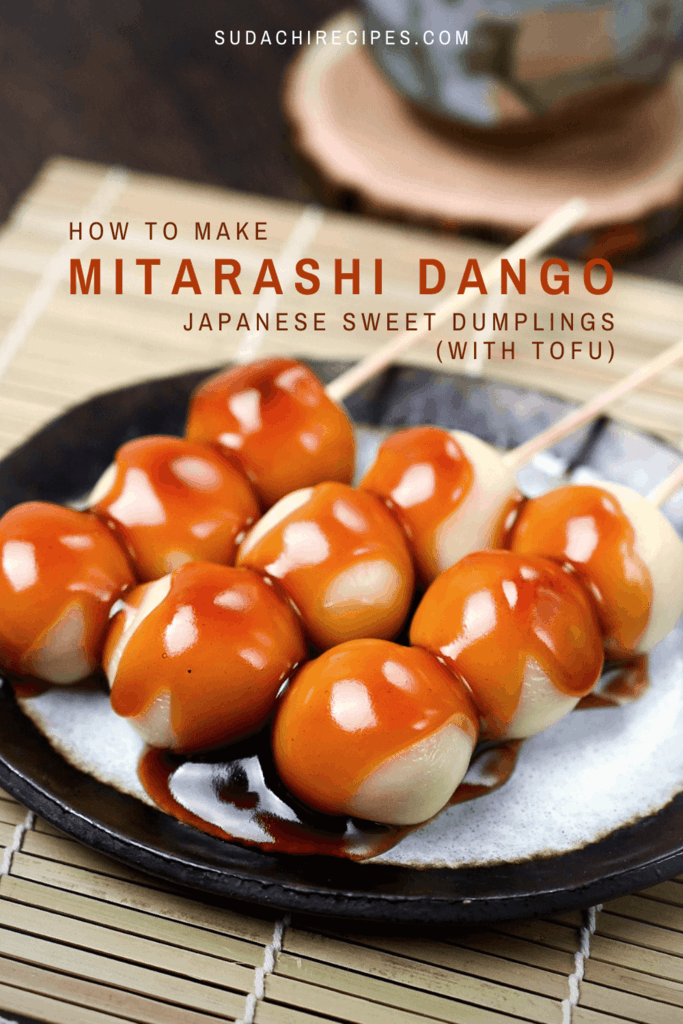 Disclaimer: This post contains Amazon affiliate links. Sudachi Recipes earn a small percentage from qualifying purchases at no extra cost to you. See disclaimer for more info.
Jump to:
What is Mitarashi Dango?
Dango is a type of sweet rice dumpling made from glutinous rice flour. Just like many Japanese desserts and snacks, they aren't overly sweet but their main attraction is their addictive chewy texture.
Mitarashi dango (みたらし団子) is famous for its sweet and glossy soy-based sauce (mitarashi tare) and is usually served on a bamboo skewer of 3, 4 or 5 dumplings. The dango are often lightly charred over coals, and are available in supermarkets and at food stalls across the country all year around.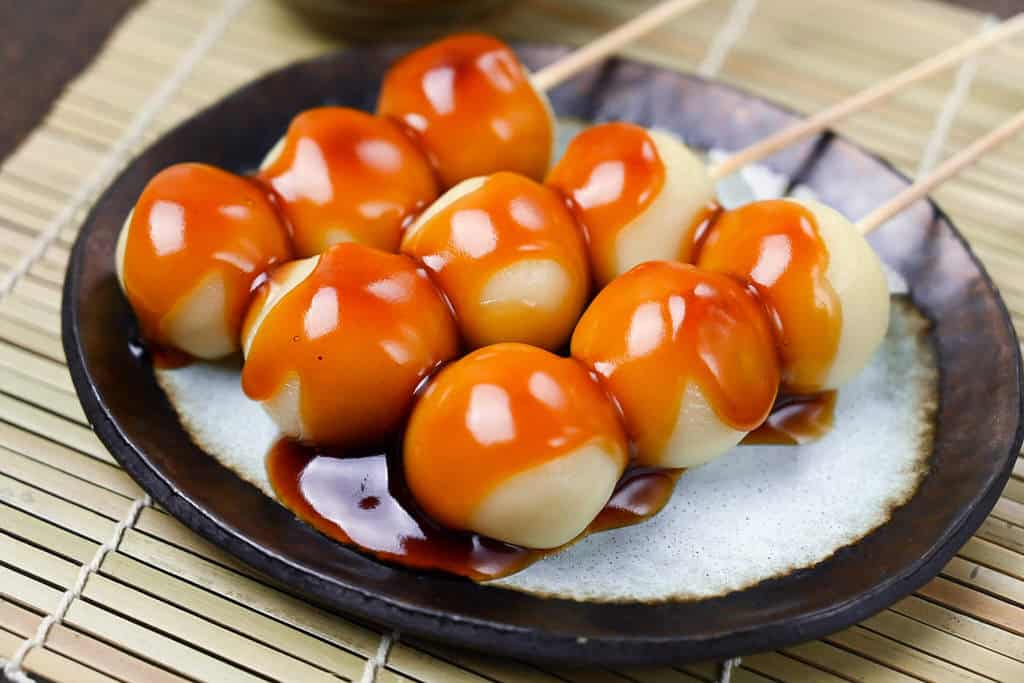 History and Origin
Mitarashi dango is a traditional Japanese snack that dates back hundreds of years and there are various stories about its name and origin.
The first mitarashi dango is believed to have appeared in Kyoto and were made as offerings to the Shimogamo Shrine during the Aoi Matsuri and Mitarashi festival, two famous events that are held annually in Kyoto city to this day.
At the entrance of Shimogamo Shrine lies the Mitarashi Pond, where people say that an Emperor from the late Kamakura period was scooping water. As he did one bubble floated to the surface, then four more bubbles joined it in a line. Some believe this inspired the traditional mitarashi dango to be made with 5 dumplings.
Others say that each dumpling represented different parts of the human body, the head, arms and legs. The dango would be taken to the shrine, then you would pray and go home, dip them in soy sauce and roast them over a fire before eating. This practice was believed to ward off evil. At this point, dango would have been considered a savoury snack.
It was around the Taisho Era (1912-1926) that the owner of "Kamo Mitarashi Tea Room" developed a sweet sauce made with sugar and soy sauce that helped shape the sweet mitarashi dango as we know it today.
Ingredients You Will Need
The dango itself only requires two ingredients:
Glutinous rice flour - a type of flour made from sweet rice known as "mochigome" in Japanese. For best results, I recommend using shiratamako (coarse type). Mochiko (fine type) also works, but the texture is not as soft. Mochiko is cheaper and more accessible so feel free to use it.
Silken tofu - dango is traditionally made with water, however using silken tofu not only improves the texture, but also gives the plain dango a subtle hint of sweetness and nuttiness.
Can I make dango with regular flour?
When making dango, it's important to use "glutinous rice flour" specifically made with sweet (sticky) rice "mochigome". Other rice flours will not work and this ingredient cannot be substituted. Wheat flour also doesn't work for making dango.
Mitarashi Tare
Mitarashi is characterised by its unique sweet soy sauce glaze. For my recipe you will need:
Soy sauce - the base flavor of the sauce, adds saltiness and umami. I use Japanese "koikuchi shoyu" (dark soy sauce).
Mirin - a sweet and mild rice-based liquor seasoning that adds depth to Japanese cooking. I always recommend using "hon mirin" over "mirin-style condiments". If you can't use mirin, you can replace it with extra sugar in this recipe.
Sugar - I use regular white caster sugar for sweetness in the sauce, but you can also use granulated or even light brown sugar depending on your preference.
Cornstarch - to thicken the sauce and make it glossy.
Water - to balance the taste and improve texture.
I have listed my recommended Japanese condiments, tools, and ingredients in the Sudachi Recipes Amazon shop. If you want to keep making various Japanese foods at home, please check it out!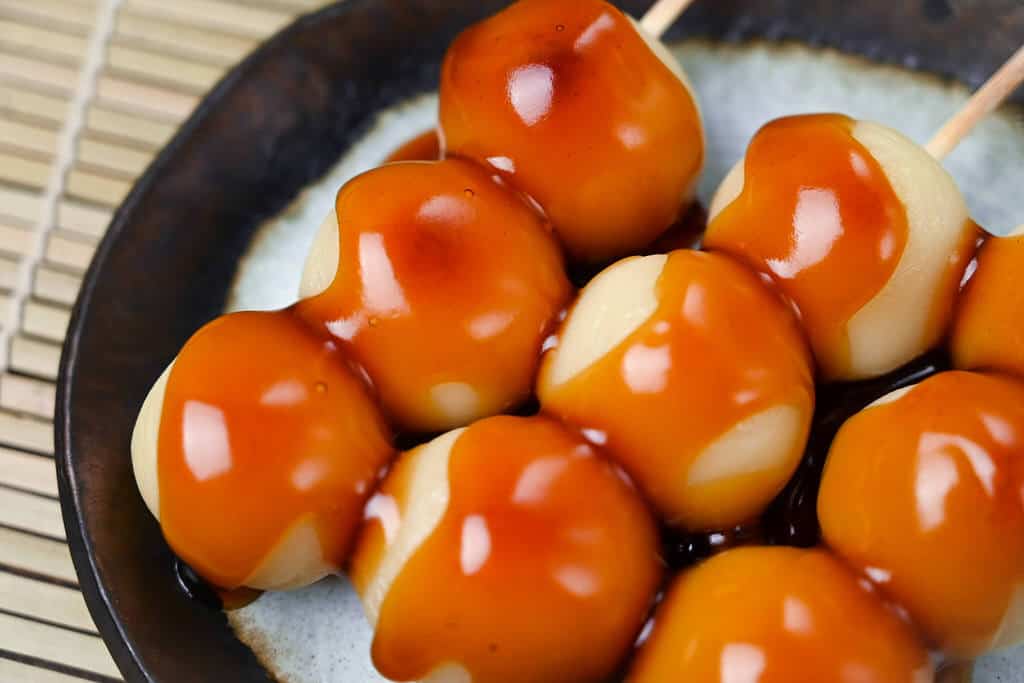 Step-by-Step Process
Mitarashi dango is usually served on a skewer. I recommend soaking the skewers in water before you start to make it easier to slide the dumplings on later. You can also start boiling a pot of water at this point.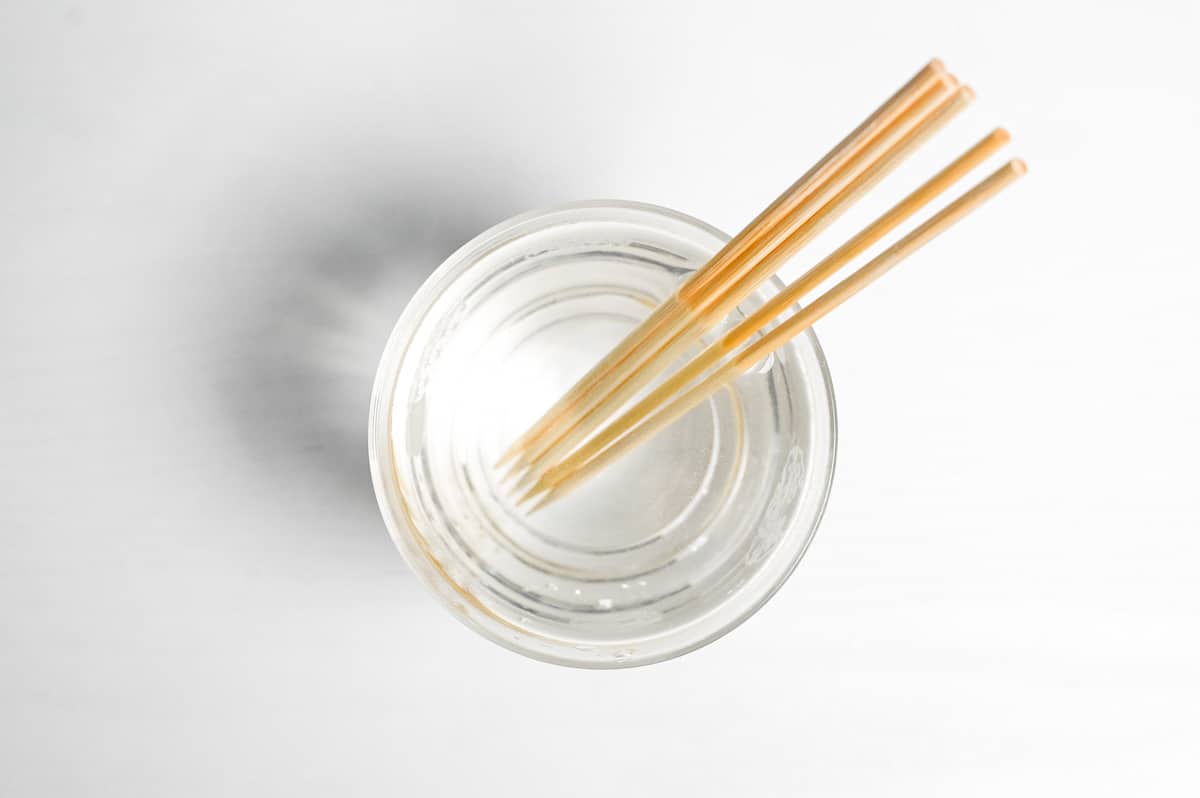 Mix the glutinous rice flour and tofu
Take a large mixing bowl and add the glutinous rice flour. Whisk it dry for one minute to break it up a little bit.
Break the silken tofu into smaller pieces and add them to the bowl.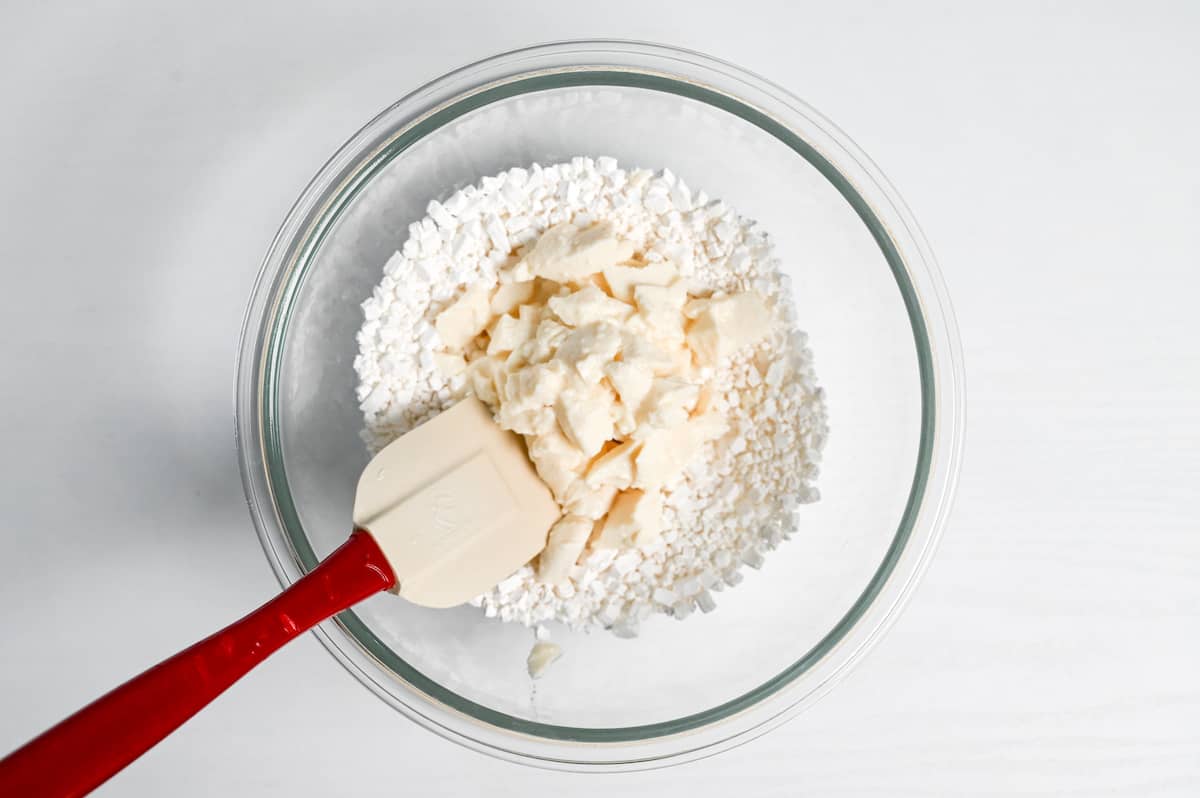 Mix until the texture resembles scrambled eggs.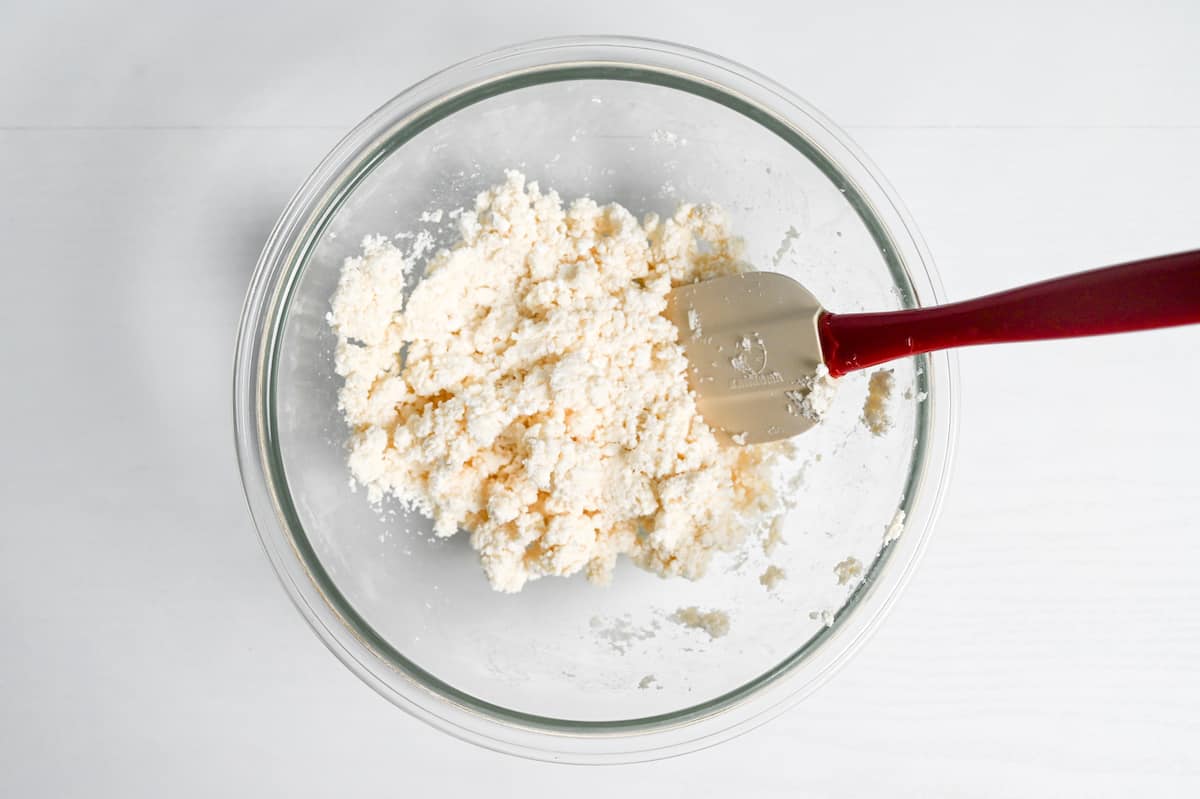 Press the mixture together with your hands to form a ball, then knead into a smooth "dough".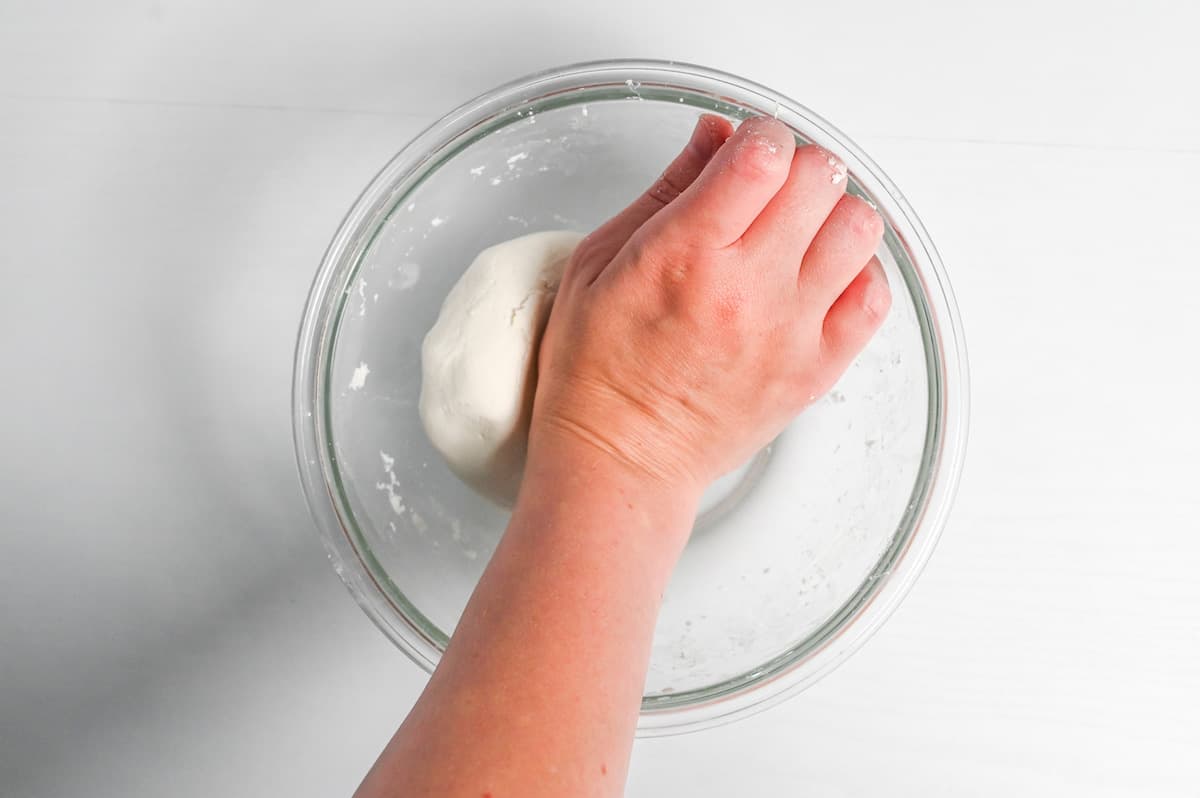 If you find the dough is cracking or falling apart as you knead it, add a little extra tofu or cold water, ½ tsp at a time.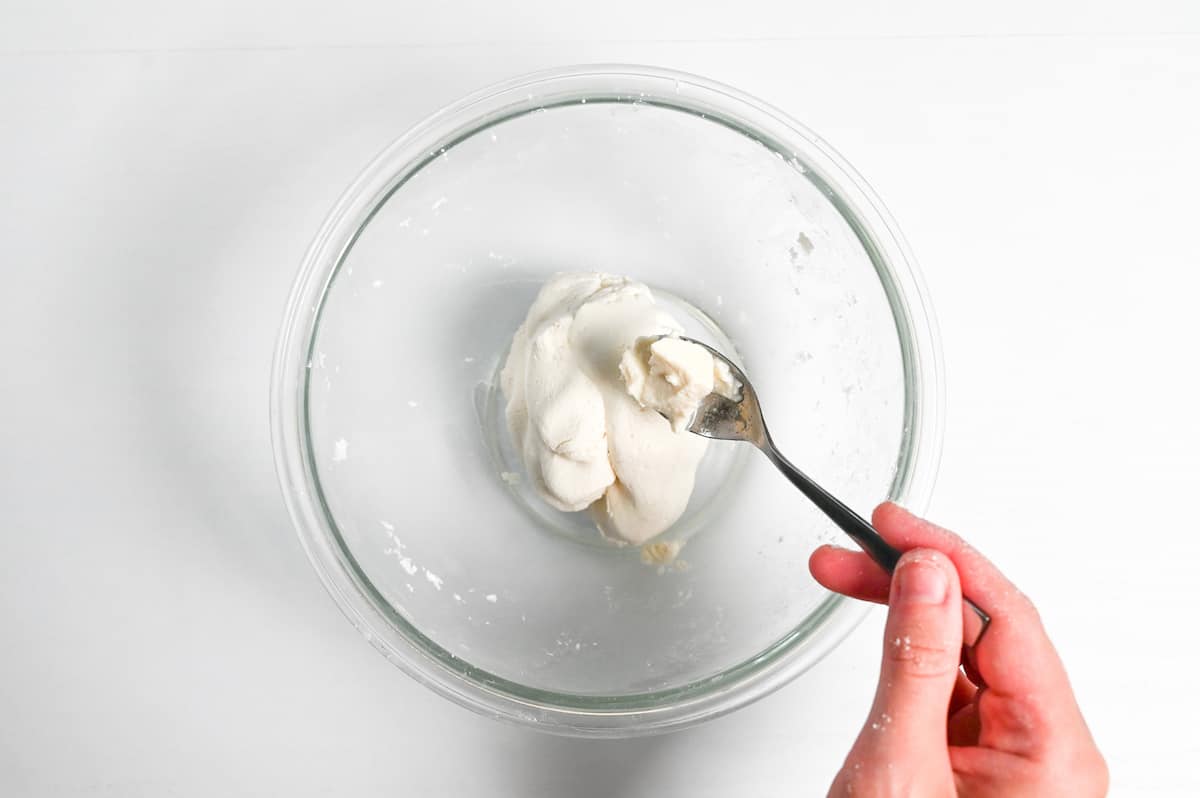 Knead until the dough has the texture of play dough. In Japanese, we say the texture of an "earlobe" so it should be soft and pliable.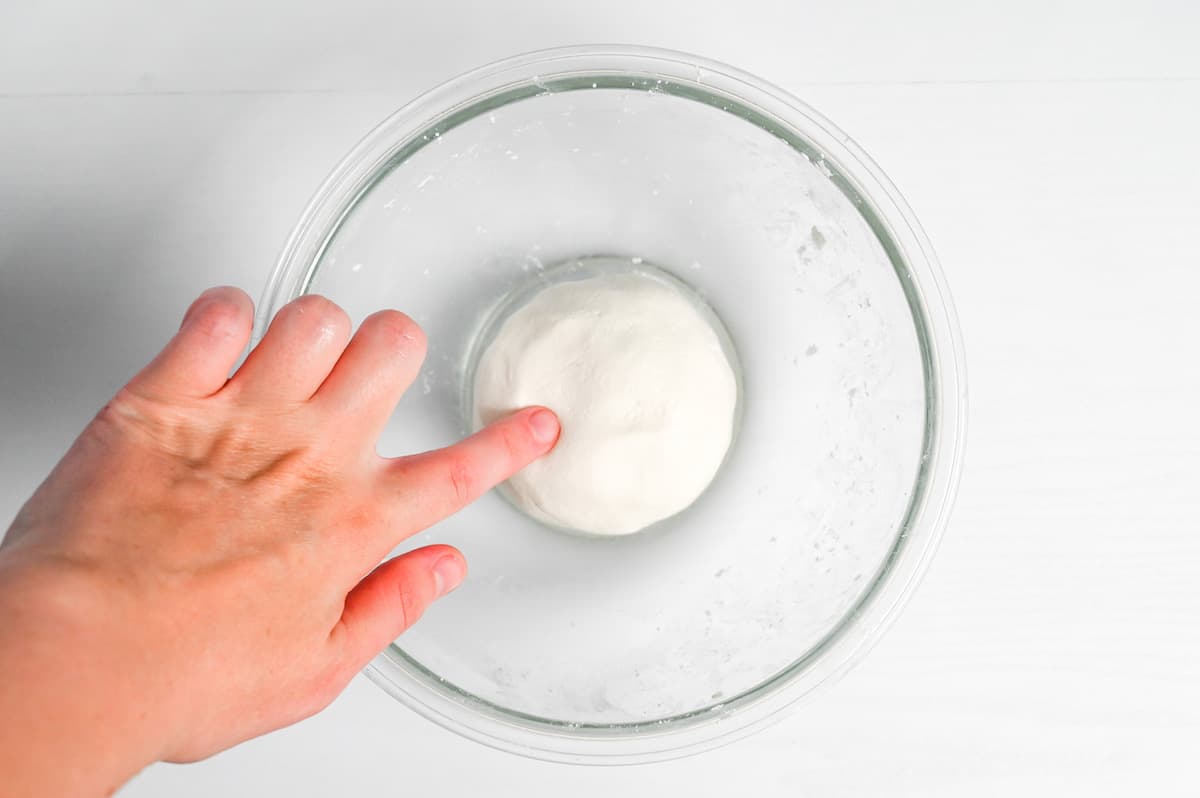 Divide the dough into pieces divisible by 3, 4 or 5, depending on how many you want on each skewer. In my case, I planned for 5 skewers with 3 dumplings each (15). An ideal size is about 15g (½ oz) per ball.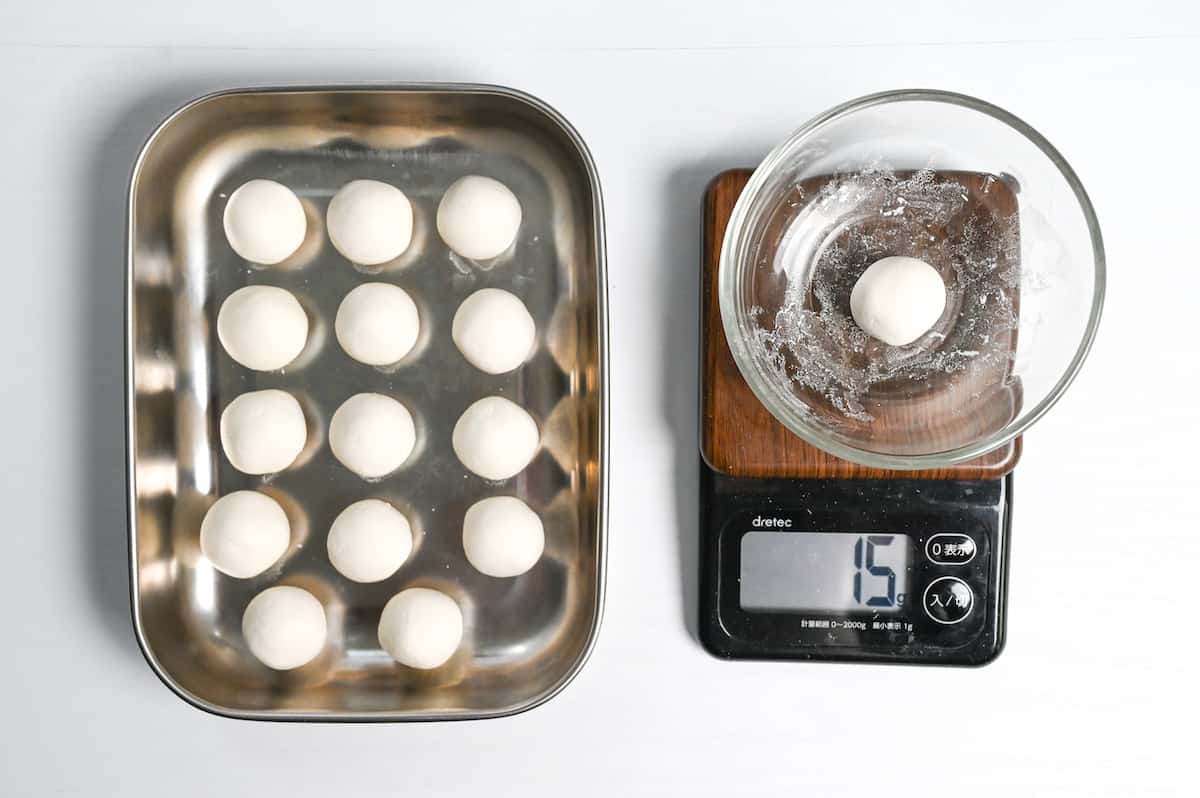 Once the water is boiling, drop the dango into the pot and gently roll them to stop them from sticking to the bottom. While they cook, prepare a bowl of ice water.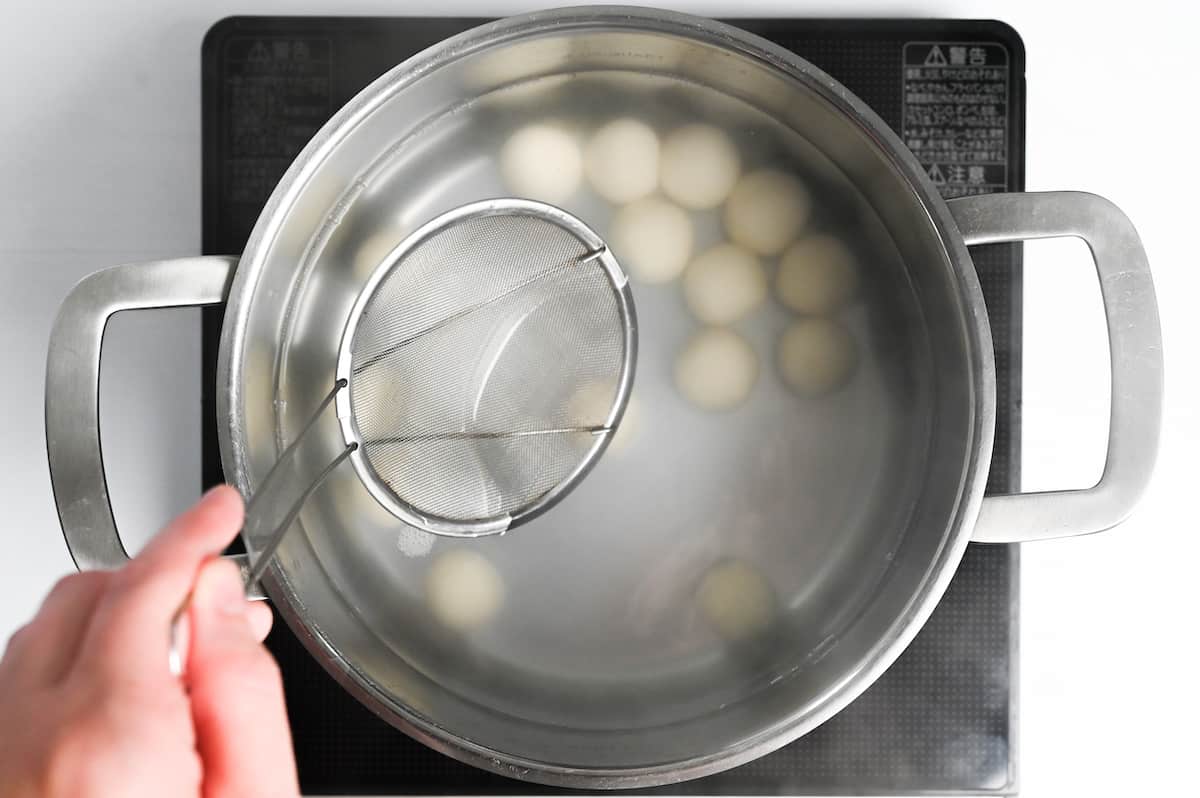 Keep an eye on them and once they start to float, set a timer for 2 minutes.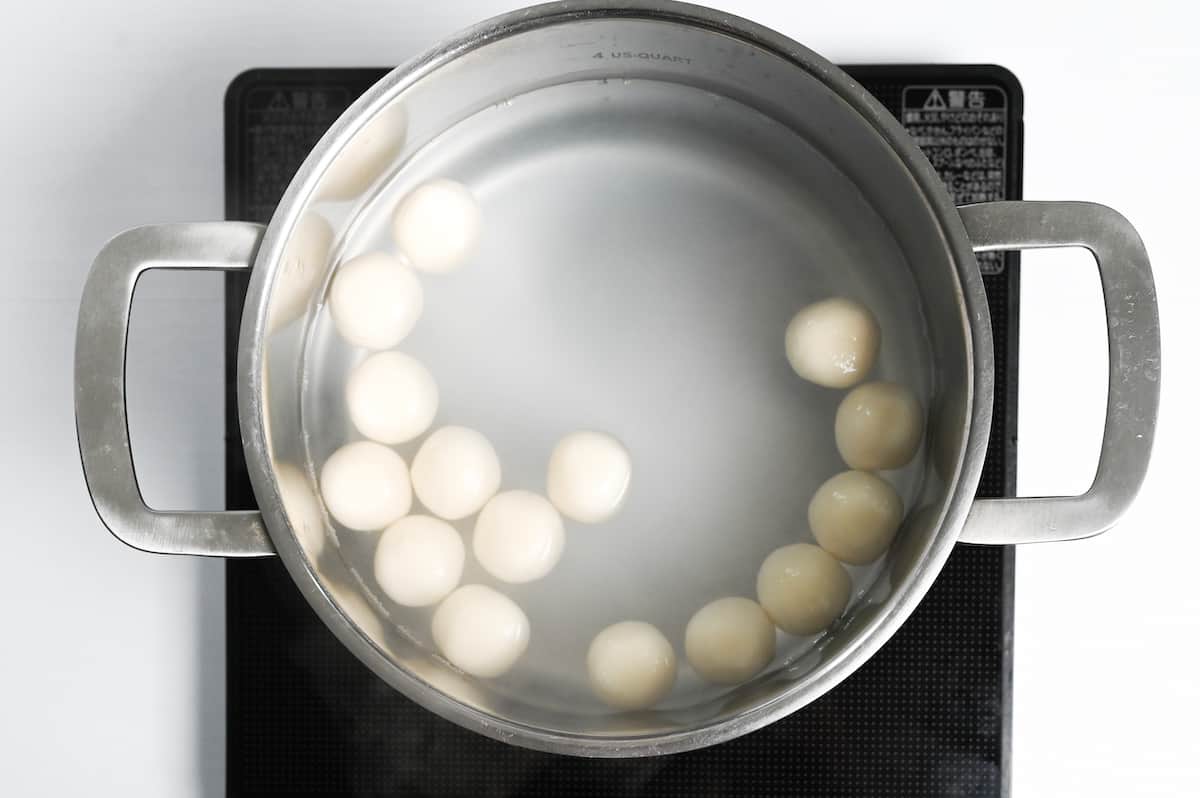 Use a mesh spoon to scoop out the dumplings and transfer them directly to the bowl of ice water. This will halt the cooking process and stop them from becoming mushy. Leave to cool for a few minutes.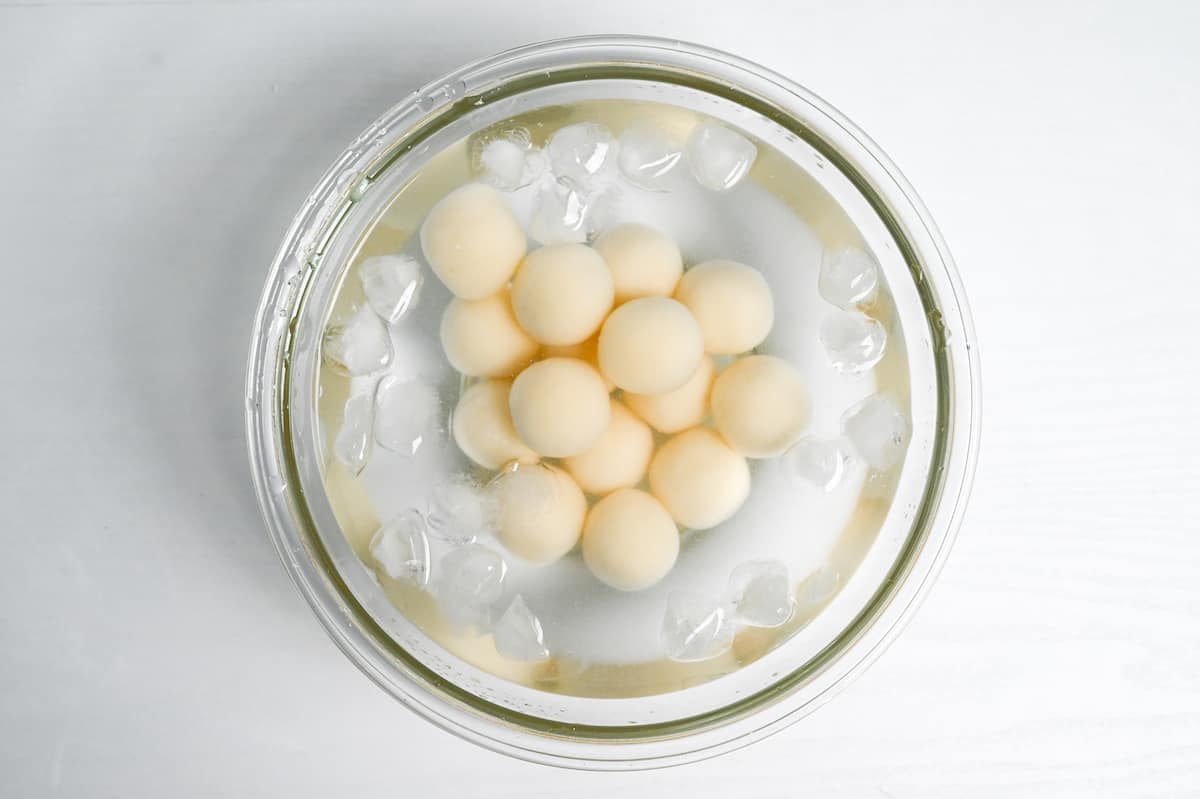 Heat a frying pan on medium. While you wait, push the dango onto the bamboo skewers.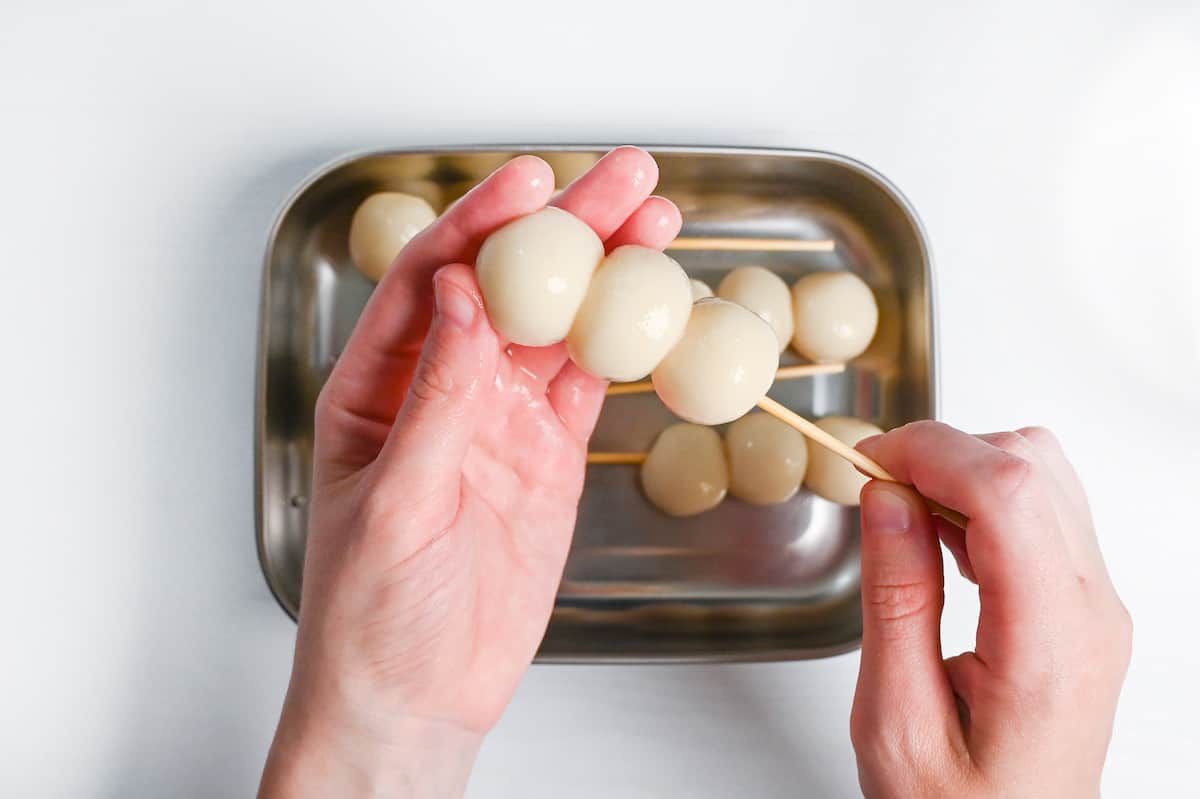 Traditionally, dango would be roasted over coals. However, for the convenience of home cooking, I toast them in a dry frying pan until lightly golden. If they stick to the pan, use a spatula to gently unstick them.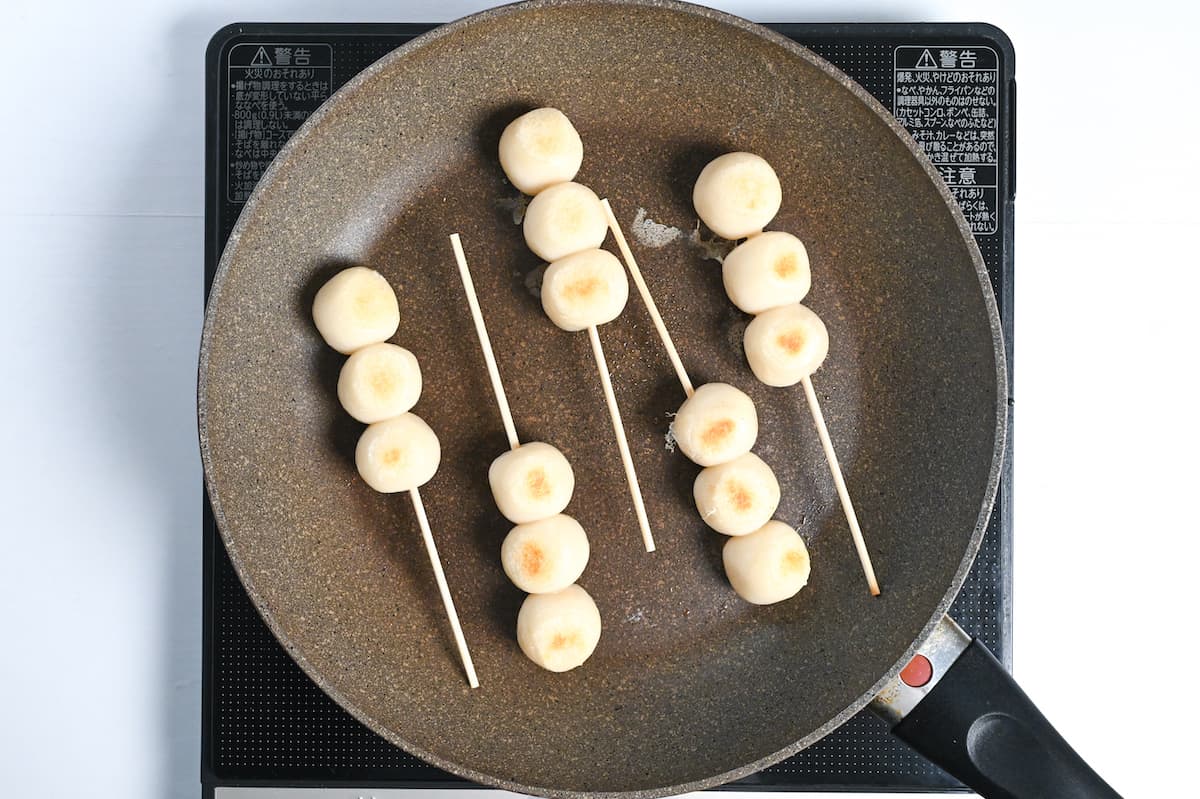 For a more authentic charred effect, use the fire on a gas stove or a blowtorch (be careful not to burn yourself). Alternatively, you could bring them to your next bbq!
Mix the soy sauce, mirin, sugar, cornstarch and water in a cold saucepan.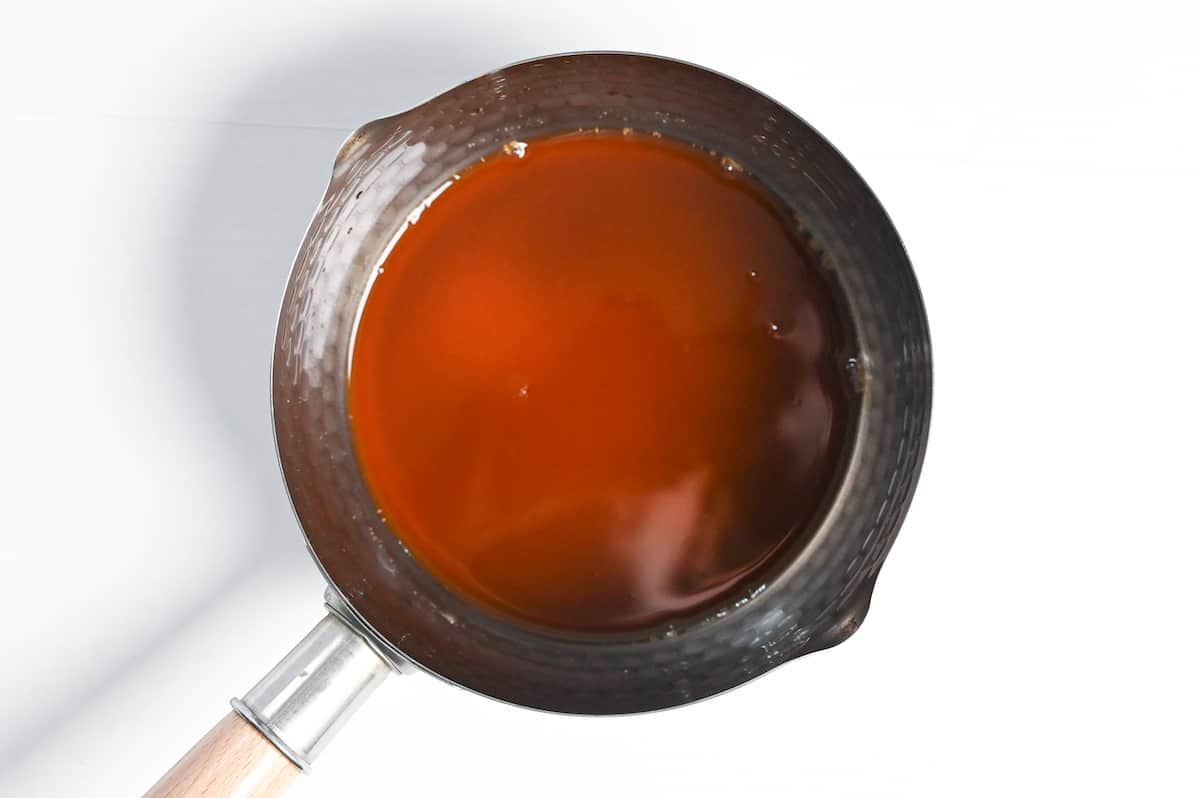 Transfer the pan to the stove and heat on low. Stir continuously and wait for it to thicken.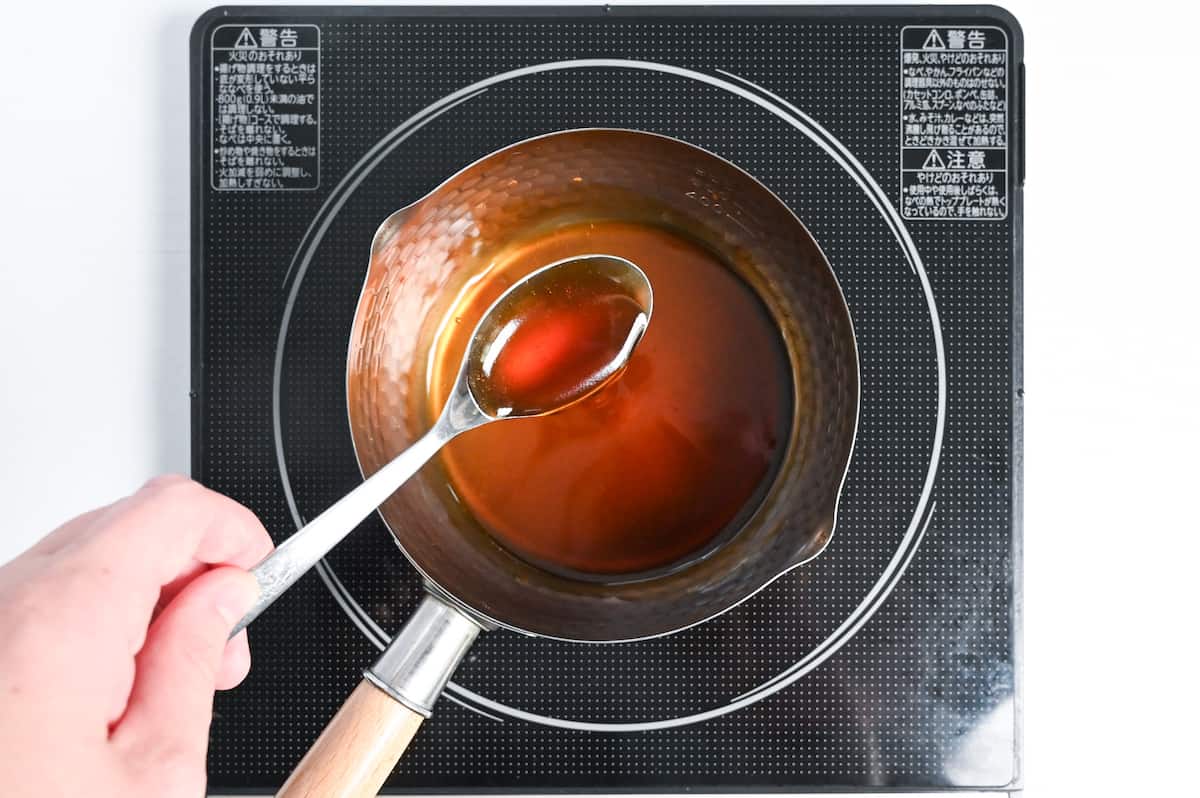 Once it reaches a syrup-like consistency and coats the back of a spoon, remove the pan from the heat.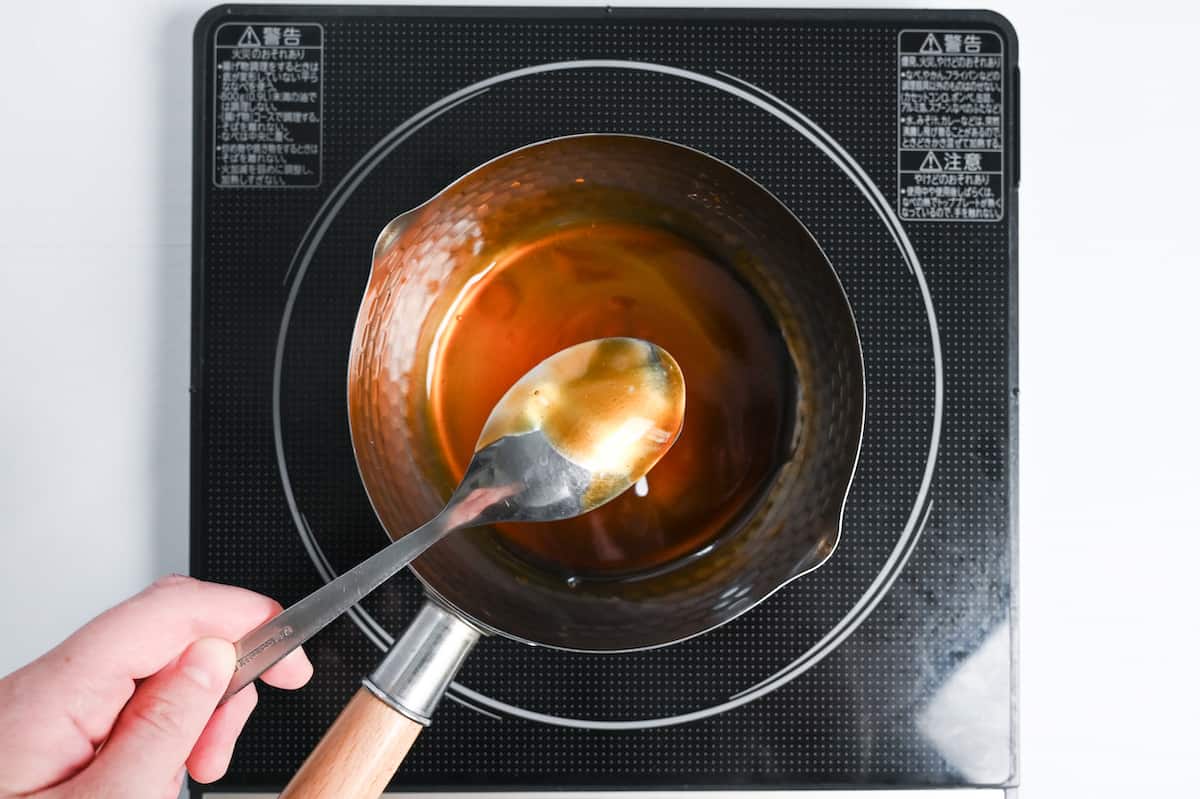 Coat the dango with a generous helping of sauce.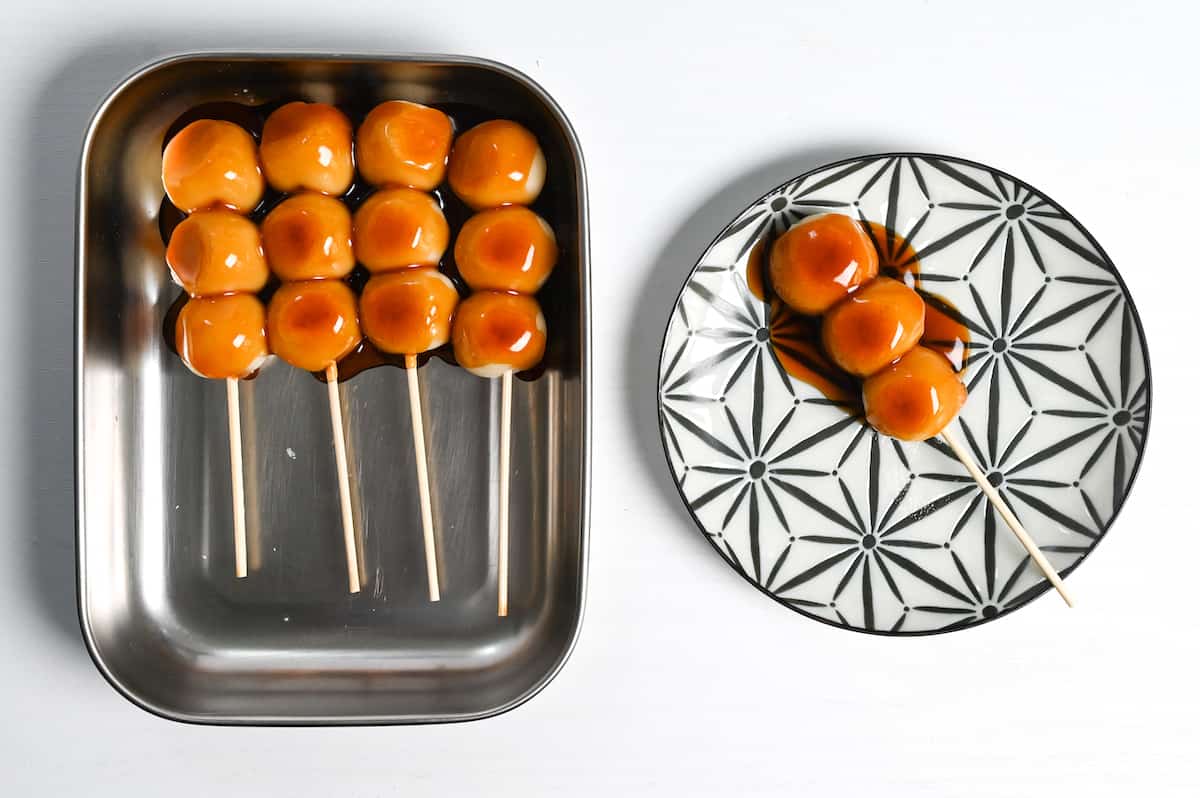 Enjoy!
Storage
Dango are best eaten on the day that they're made, they can be stored at room temperature for up to 12 hours. I don't recommend storing them in the refrigerator as they tend to dry out and become hard.
Mitarashi dango can be frozen (with or without the sauce) in an airtight container for up to 1 month. Thaw at room temperature for about 1 hour. If you prefer eating them hot, heat in the microwave for a short time or grill using the broiler option on your oven.
Room temperature - 12 hours in a sealed container.
Refrigerated - Not recommended.
Frozen - Up to one month in an airtight container.
Variations: A Sweet Assortment of Dango You Can Try at Home
Dango is one of the most popular sweet treats to enjoy in Japan, so there's no wonder that they come in a number of different flavors and variations. Check out a few of my other dango recipes!
Hanami Dango
Hanami dango (also known as "sanshoku" or tri-color dango) is an iconic sweet rice dumpling enjoyed during the Japanese cherry blossom viewing festival. Flavored with matcha powder and sakura essence, this recipe is perfect for spring!
Hanami Dango with Tofu (花見団子)
How to make beautiful tri-color sweet rice dumplings "Hanami Dango".
Check out this recipe →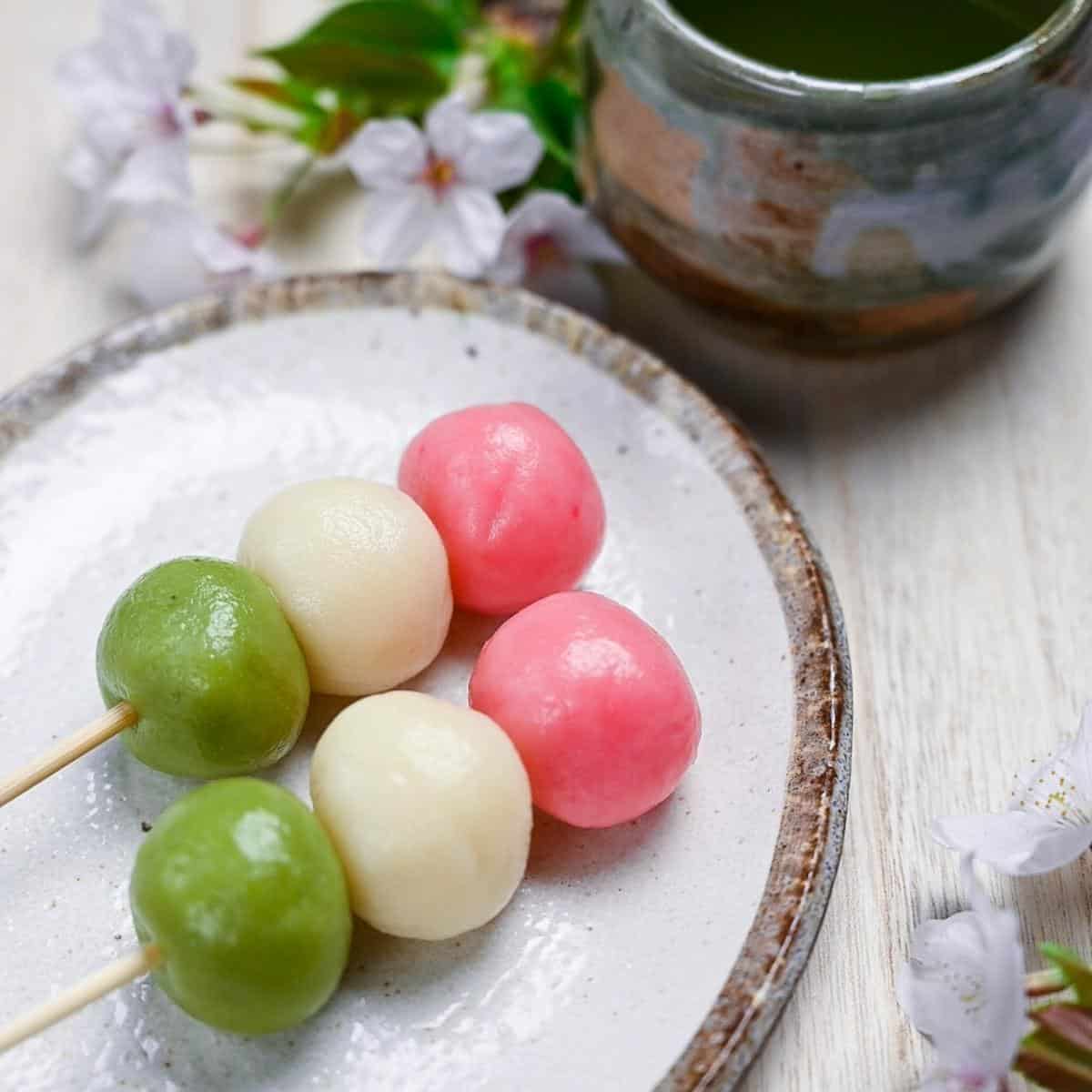 Tsukimi Dango
Celebrate the Japanese Moon Gazing Festival with a delicious display of these Tsukimi Dango! This simple recipe is a fun way to display and share dango with family and friends!
Tsukimi Dango (Moon Gazing Dumplings)
How to make moon viewing rice dumplings, Tsukimi Dango. (Serves 3)
Check out this recipe →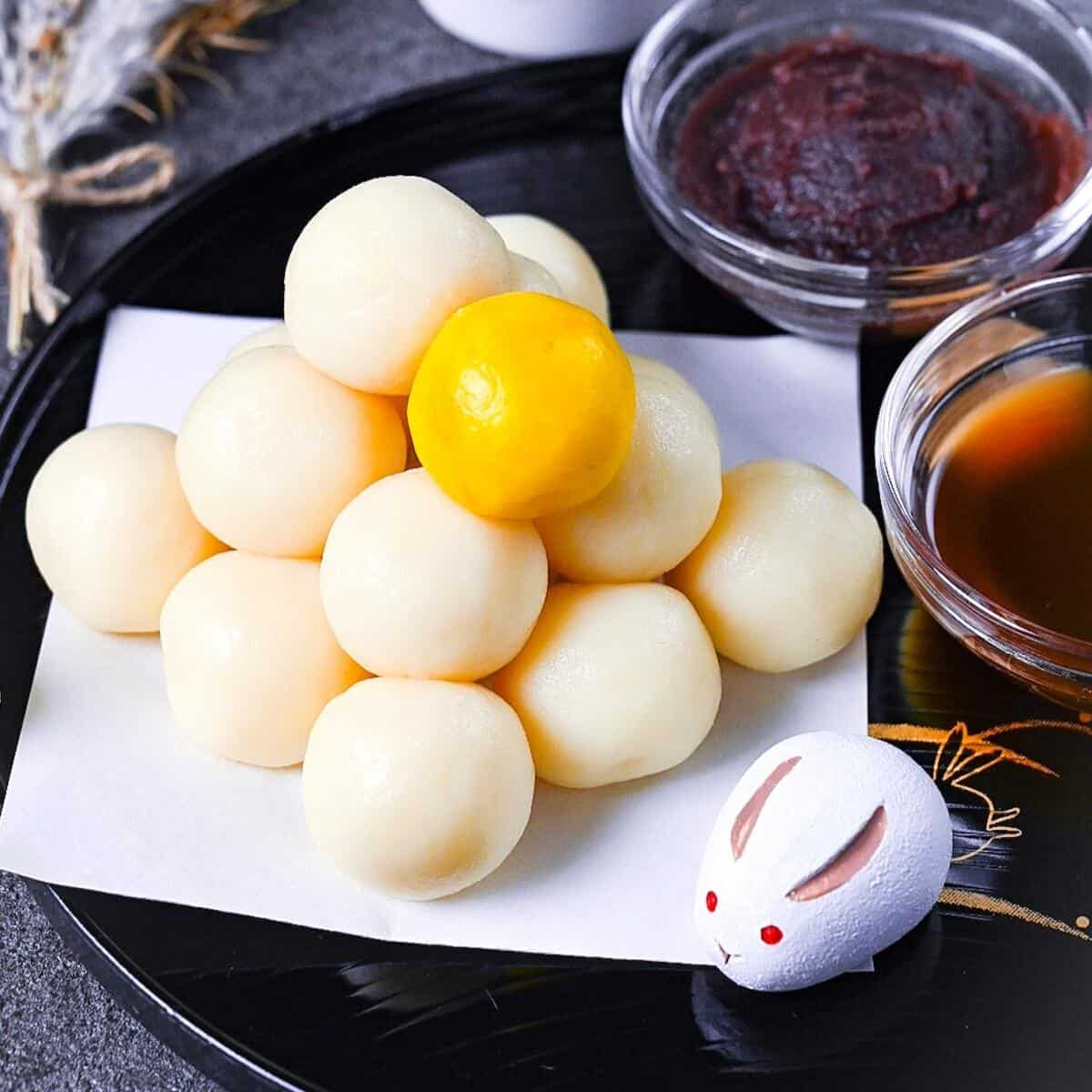 Other types of dango
Anko Dango (餡子団子) Rice dumplings served on a skewer and covered in sweet red bean paste.
Goma Dango (ごま団子) Chinese style deep fried rice dumpling covered in sesame seeds and filled with red bean paste.
Shiratama Dango (白玉団子) Small rice dumplings usually served in desserts such as anmitsu (traditional dessert made of agar agar jelly, red bean and fruits) or kakigori (shaved ice).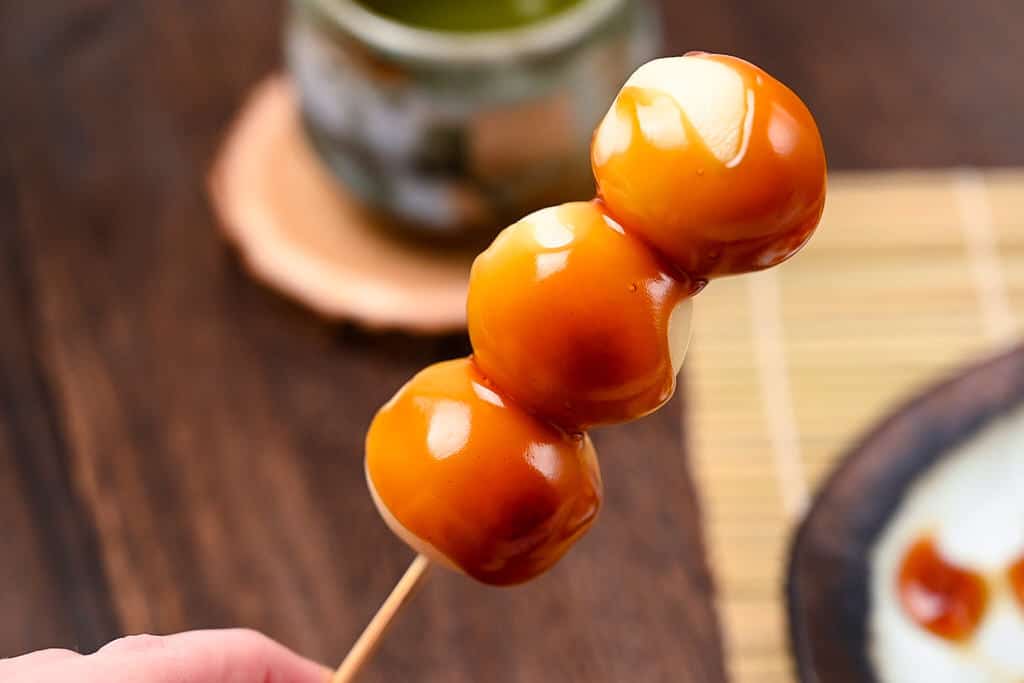 I hope you enjoyed learning about mitarashi dango! If you try the recipe, I would really appreciate it if you could take a moment to give it a review and star rating in the comments below. Thank you!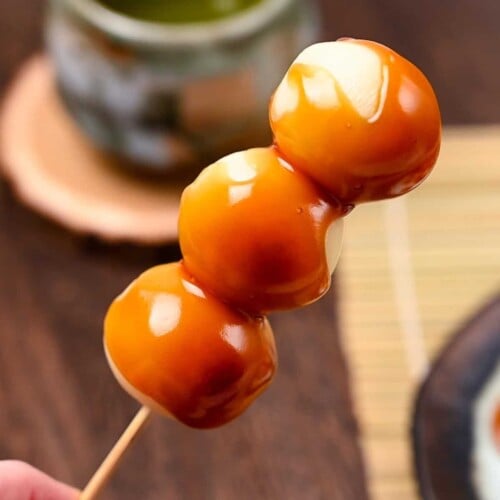 Easy Tofu Mitarashi Dango (みたらし団子)
How to make easy Tofu Mitarashi Dango, soft and chewy Japanese sweet dumplings coated in a delicious homemade sweet soy sauce glaze.
Ingredients
Dango
3-5

bamboo skewers

water

-

for boiling

100

g

glutinous rice flour

- shiratamako (recommended) or mochiko

125

g

silken tofu

-

+ 1-2 tsp extra if dough seems dry

ice water
Sauce
1

tbsp

soy sauce

2

tbsp

sugar

1

tbsp

mirin

1

tsp

cornstarch

2 ½

tbsp

cold water
Instructions
Dango
Place

3-5 bamboo skewers

in a glass of cold water to soak and start boiling a pot of

water

.

Add

100 g glutinous rice flour

to a large mixing bowl and whisk for 1 minute.

Add

125 g silken tofu

to the bowl and mix it together until it has a consistency that resembles scrambled egg.

Use your hands to push it together and form a dough. Knead until it's smooth and has the texture of an earlobe or play dough.

Add an extra 1-2 tsp of silken tofu if it seems dry and becomes cracked easily. (Alternatively, add water ½ tsp at a time and knead thoroughly.)

Divide the dough into equal pieces so that there are 3 for each skewer. Roll them into 15g (½oz) balls.

Once the water is boiling, add the balls to the pot and mix gently to ensure they don't stick to the bottom of the pan.

When they start floating to the top of the water (after about 5-7 mins), set a timer for 2 minutes.

When 2 minutes are up, use a mesh spoon to transfer them straight to a bowl of

ice water

and leave them to cool for a few minutes.

Take the soaked bamboo skewers and pierce them through the center of each dumpling until there are 3 on each.

Heat up a non-stick frying pan and add the dango (you don't need oil for this). Allow to brown a little and then turn. (Alternatively, you can scorch them with a blowtorch or over the fire on a gas stove.)

Once lightly browned on both sides, remove the pan from the heat.
Sauce
Take a small cold pan and add

1 tbsp soy sauce

,

2 tbsp sugar

,

1 tbsp mirin

,

1 tsp cornstarch

and

2 ½ tbsp cold water

. Mix thoroughly and make sure there aren't any lumps of cornstarch.

Place on the stove and thicken over a low heat. Stir continuously.

Heat until the sauce reaches a syrup-like consistency. It should coat the back of a spoon.
Video
Notes
Best eaten the same day.
You can freeze them (with or without the sauce) for about one month. Defrost at room temperature for 30 mins to 1 hour.
If you want to eat them warm, reheat under the grill/broiler in your oven or in the microwave. Be careful not to overcook them since this can dry them out or burn the sauce.
The sauce will get thicker when it cools down. For best results, pour it over the dango while it's still warm.