Warabi mochi is a unique Japanese dessert made up of jelly-like chunks coated in nutty roasted soybean powder and drizzled with rich dark sugar syrup. It's served cold and is one of my favourite summer treats!
Disclaimer: This post may contain affiliate links. Sudachi Recipes is part of the amazon associates programme and earns a small percentage from qualifying purchases through Amazon at no extra cost to you.
Jump to:
What is Warabi Mochi?
Warabi mochi (わらび餅) is a type of traditional "wagashi" (Japanese sweet) made from bracken starch. It's sometimes called "Japanese bracken cake" in English. Although it's not technically mochi (as it's not made from mochi rice flour), it gets its name from it's mochi-like jelly texture.
It's usually coated in a layer of roasted soy bean powder called "kinako", although other flavours also exist such as matcha. For added sweetness, it's common to pour black sugar syrup "kuromitsu" over the top, so I've included how to make the syrup in the recipe below!
Warabi mochi is usually served chilled and is typically enjoyed in the summer.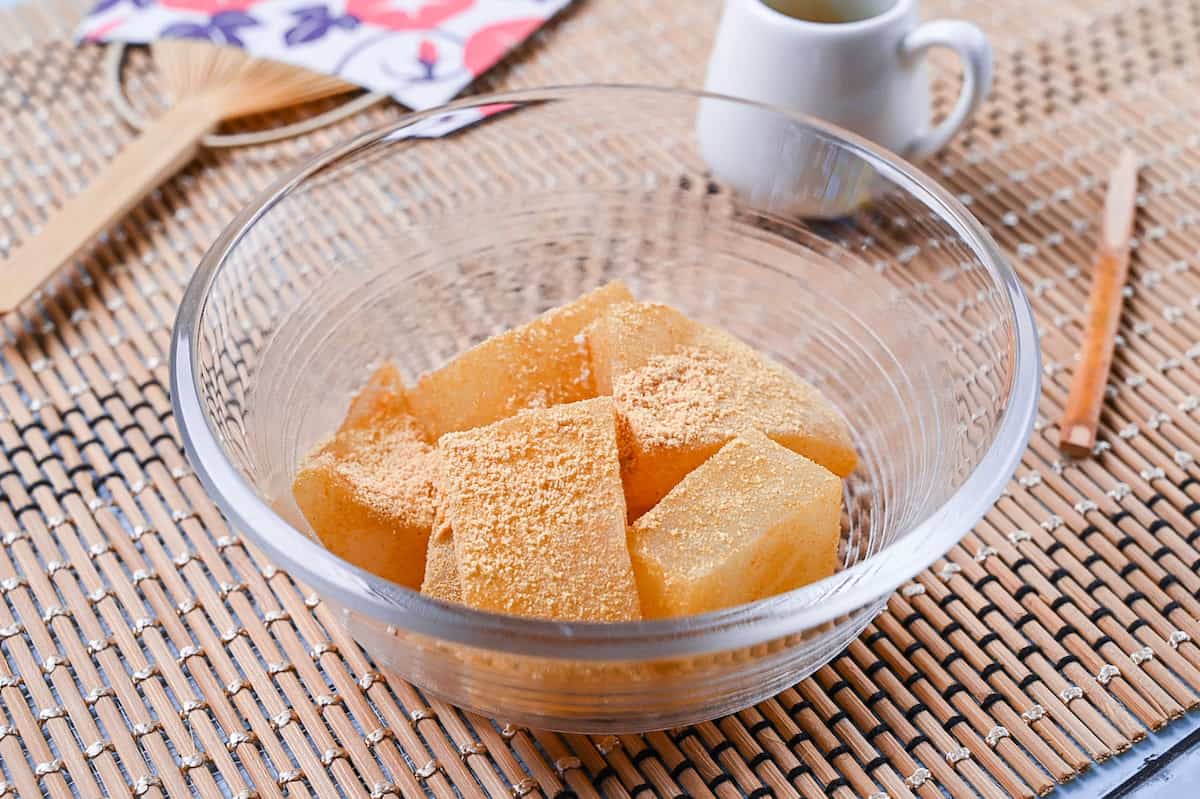 Ingredients
Warabi mochi only requires a handful of ingredients:
Warabiko (わらび粉) also known as bracken starch (see below for substitutes)
Sugar
Water
Kinako powder (roasted soy bean powder)
Salt
See recipe card at the bottom of the page for quantities.
What is Warabimochi made of?
Warabi mochi gets it's name from "warabiko" (わらび粉), which is the type of starch used to make it. Warabiko comes from the underground stem (rhizome) of a type of fern tree called "bracken".
Warabiko is flavourless and the flavour of warabi mochi comes purely from the kinako (soybean powder) and sugar.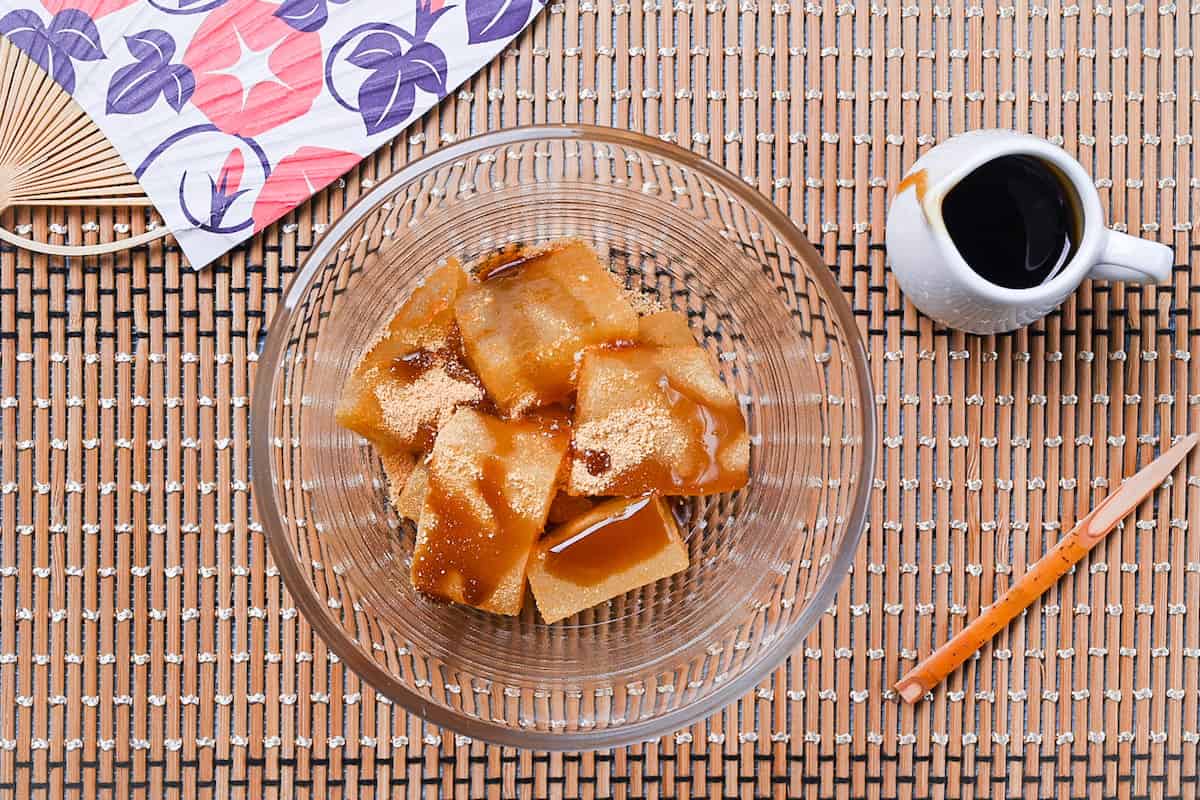 Warabi mochi vs mochi
You might be wondering what the difference is between warabi mochi and regular mochi. Well, actually, warabi mochi is not technically mochi. Mochi should made from glutinous rice flour and it tastes like rice, whereas warabi mochi is made with starch and doesn't really have any flavour.
Mochi is chewier and stickier too. If you're interested in making daifuku (mochi with a filling) check out my ichigo daifuku (strawberry mochi) recipe here!
Where to buy warabi mochi powder / bracken starch
Unfortunately, warabiko can be difficult to find. In Japan, you'll probably find it in the aisle with the rice flours. Even when I looked online, I couldn't find any trustworthy place to buy it outside of Japan. Fortunately, I've done some research and experiments to find a good substitute.
What is kinako powder?
Warabi mochi gets all it's flavour from sugar and a coating of roasted soybean powder called "kinako" (黄粉) which means "yellow flour" in Japanese.
The powder is made by roasting soybeans, removing the skins and then grinding them into a fine powder. If you can buy soybeans you can try making it yourself from scratch!
I like to mix the kinako with some sugar and a pinch of salt, it really enhances the flavour of kinako!
You can find kinako in Japanese supermarkets or buy it on Amazon here.
Bracken Starch Substitutes
These days, warabi mochi is not exclusively made with bracken starch, other kinds of starch can also be used. I wanted to see how different kinds of starch affect the taste and texture of warabi mochi, so here are my findings!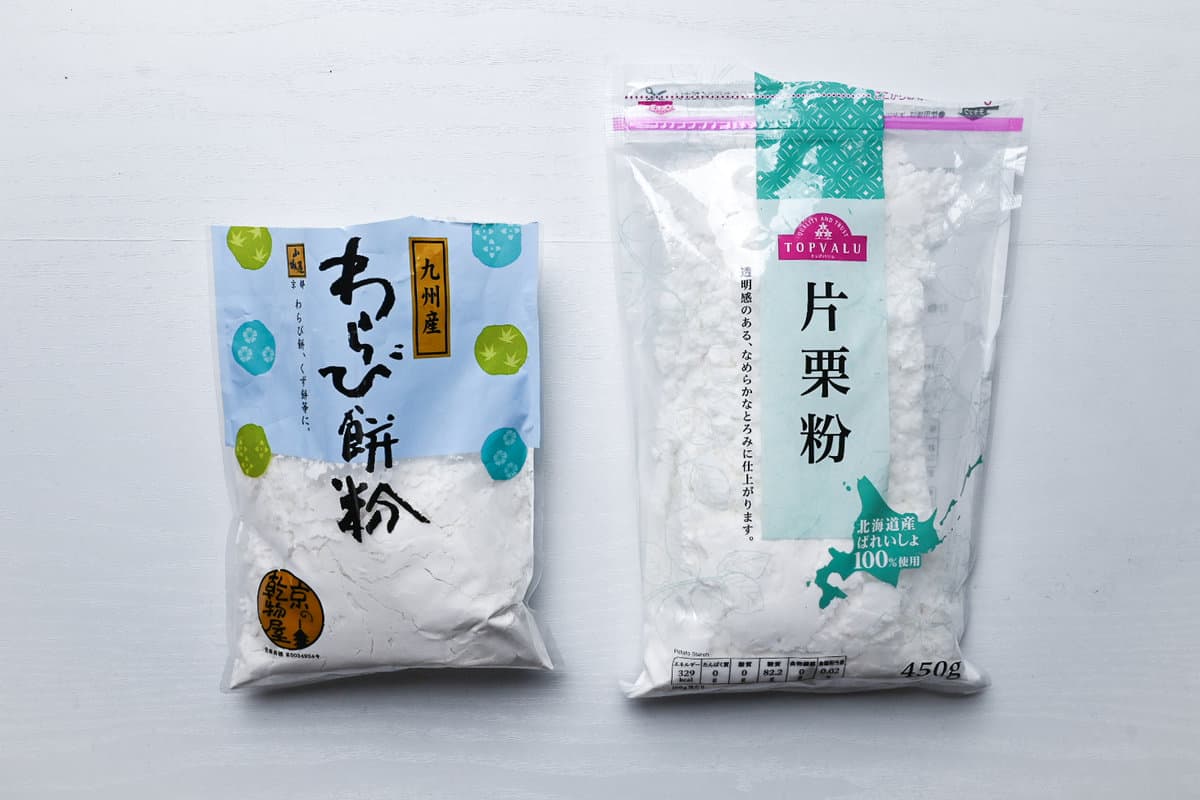 Potato Starch (Katakuriko)
Katakuriko (片栗粉) is the Japanese name for "potato starch", an extremely common ingredient in Japanese cooking. We often use it as a coating for deep fried foods like karaage and tempura, or to thicken soups and sauces. Naturally, katakuriko is a staple ingredient in Japanese kitchens and making warabimochi with potato starch is actually the most common susbstitute ingredient! (You can purchase it here on Amazon.)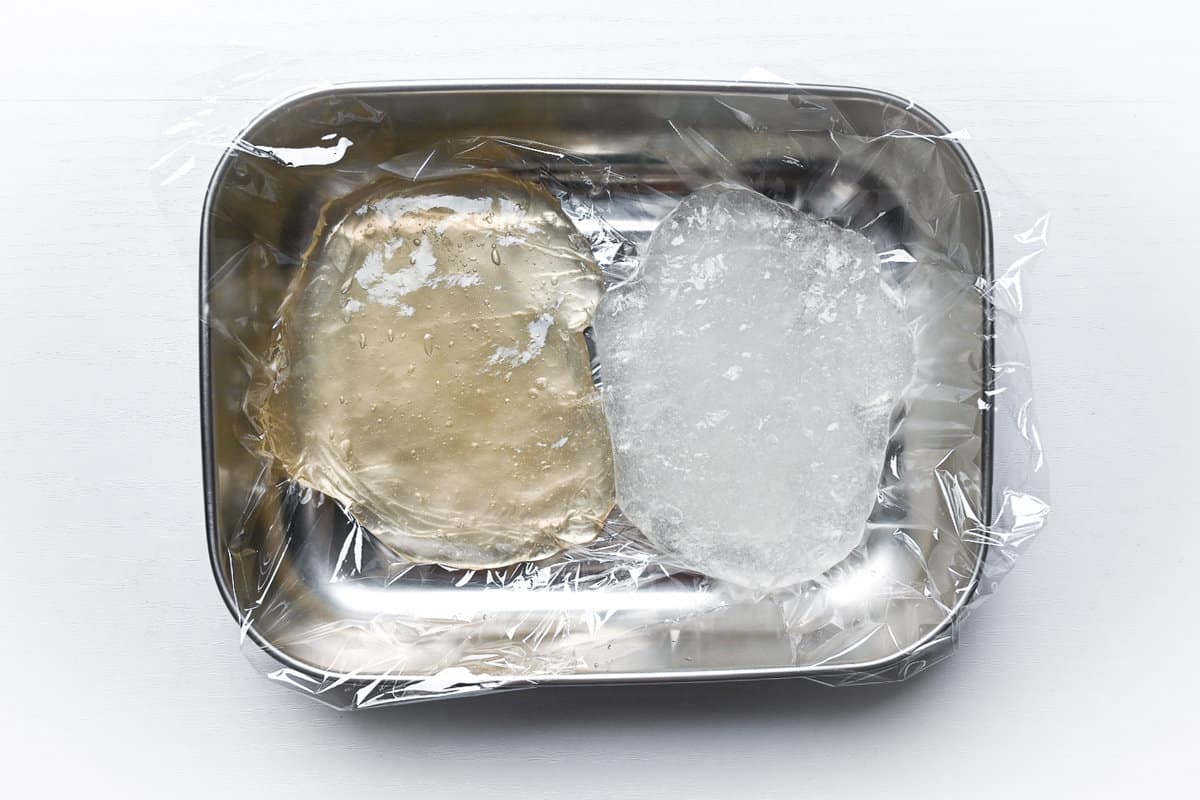 As you can see from the picture above, the warabiko produced a slightly yellow looking warabimochi whereas the katakuriko (potato starch) is white. In terms of texture, the warabimochi made from warabiko was very soft while the one made from katakuriko was firmer.
| Warabiko | Katakuriko |
| --- | --- |
| Slightly yellow colour | Clear / white-ish colour |
| Soft texture | Slightly firmer |
| Hard to find | Accessible |
| A little expensive | Cheaper |
| Maintains a good texture | Texture deteriorates quickly |
I actually preferred the texture of the potato starch version on day one, but by day two it had began to harden. One the other hand, the one made with warabiko actually improved in texture the next day. Based on this experiment, I'd say that both ingredients are good, but the one made with katakuriko should be eaten on the day it's made for the best texture.
Katakuriko (potato starch) works well when eaten the same day.
Cornstarch
When I was living in England, I noticed that the most accessible kind of starch you can buy in most supermarkets is corn starch (also known as cornflour). Cornstarch is sometimes used as a substitute for potato starch so I decided to try it out!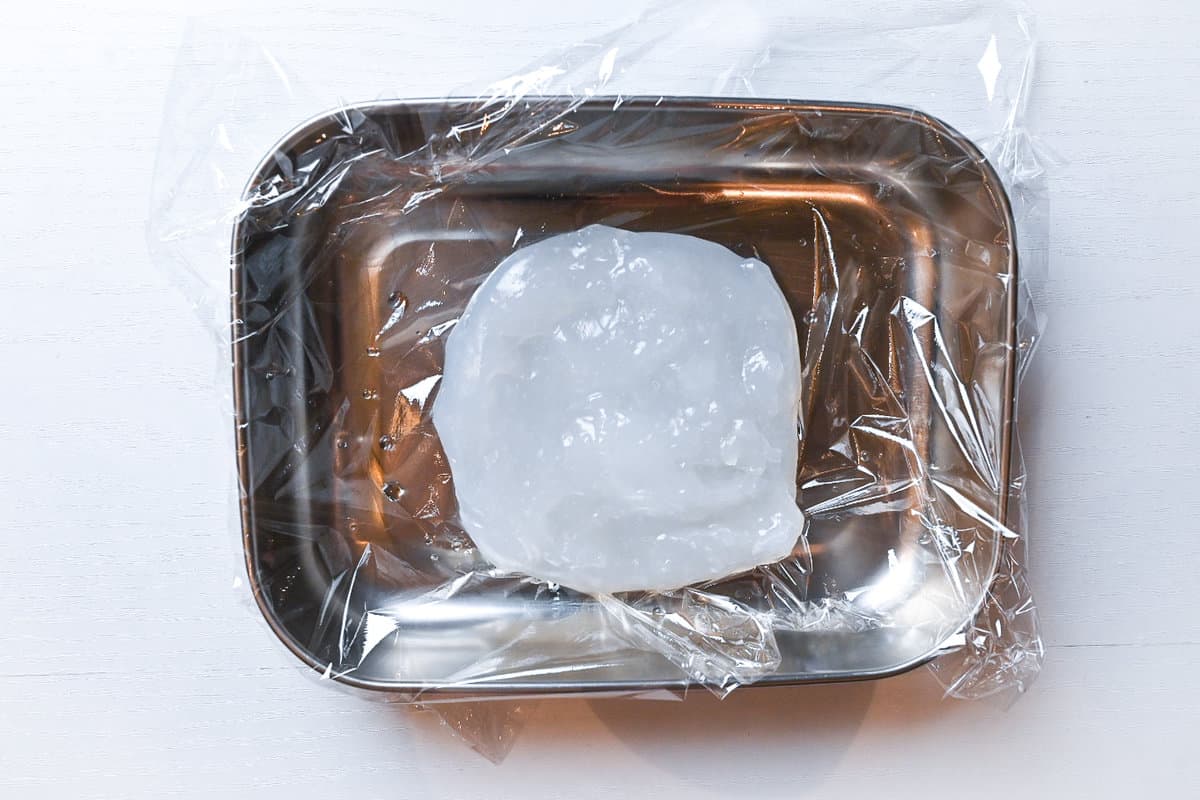 While I was heating the mixture, I found it became quite smooth and almost like a paste. It is also white in colour and quite opaque compared to warabiko and katakuriko. The texture was also less sticky.
Once cut, I tried to coat it in kinako powder. It didn't stick well so the layer of kinako was quite thin. In terms of texture while eating, it was soft and smooth like gelatine but also felt a little paste-y/powdery and didn't have the chewiness that I look for in warabimochi.
Powdery and gelatine-like, do not recommend.
Tapoica Starch
Tapioca starch comes from the root of the cassava plant and is used to make the boba "pearls" in tapioca drinks. Because it's a root starch like warabiko, I thought maybe they would produce similar results. Here is what I found.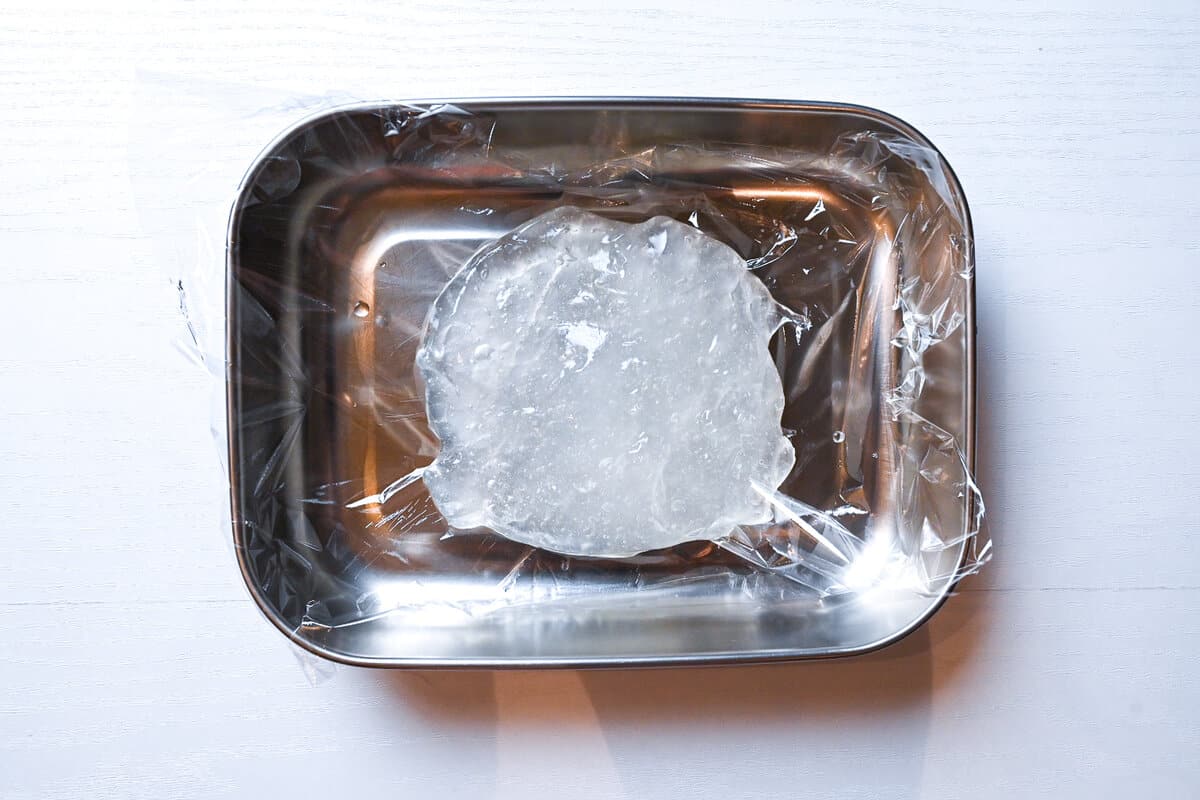 The colour is whiter than warabiko, but in terms of texture, it's extremely close. Soft with a slighy chewy texture. Both on day one and day two, I couldn't feel any difference between warabimochi made with warabiko and tapioca starch. I highly recommend this substitute!
Soft and chewy, closest like-ness to warabi mochi made with warabiko. (Best substitute in my opinion!)
What is kuromitsu?
Warabi mochi is often drizzled with a thick black sugar syrup we call "kuromitsu" which has kanji characters that mean "black honey" (黒蜜). Kuromitsu is very rich and used in many Japanese drinks and desserts. It's usually made with a type of dark sugar from Okinawa called "kurozato" (also known as "kokuto" for short), however this can be substituted with dark muscovado sugar for very similar results.
In my kuromitsu recipe I use the following ingredients:
Muscovado sugar
Caster sugar
Water
You simply heat it until it's slightly thickened, it only takes a few minutes to make!
In case you don't want to make syrup at home, you can also substitute for a different kind of syrup, such as the following:
Maple syrup
Golden syrup
Honey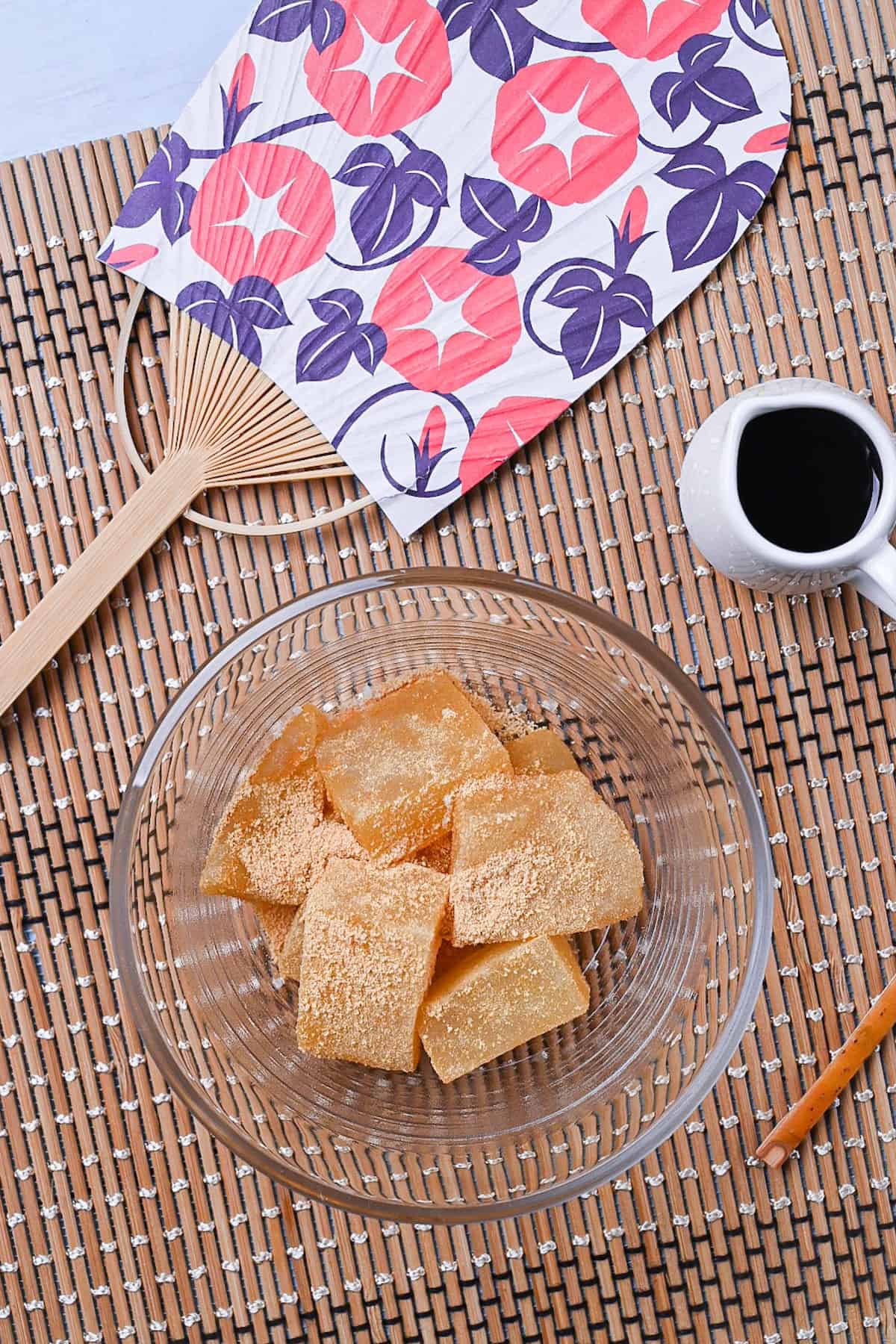 Instructions on how to make Warabi Mochi
Warabi mochi is extremely quick and easy to make, here is my step by step recipe including tips and advice along the way. For a simplified recipe and ingredient quantities, see the printable recipe card below!
Prepare a container
Warabi mochi is actually not too sticky or unmanageable, but for easy removal and clean-up, I recommend lining a container with plastic wrap sprinkled with a small amount of water.
I recommend using a wide airtight container such as a lunchbox that has a lid. This will help prevent the warabi mochi from drying out when it's cooling later.
Mix
Add the warabiko (or your choice of starch alternative) with sugar and water in a bowl.
Starch is very fine so there's no need to whisk it. In fact, mixing with a spatula is preferred because then you can scrape the sides and bottom of the bowl to make sure none of the starch has sunk to the bottom.
Pour the mixture through a sieve
Next, place a sieve over a saucepan and pour the mixture through. This will break up any lumps of sugar or starch resulting in a flawlessly smooth warabi mochi mixture! This will also help it cook more evenly.
Heat the mixture
Place the pan on the stove and heat on medium while stirring continuously.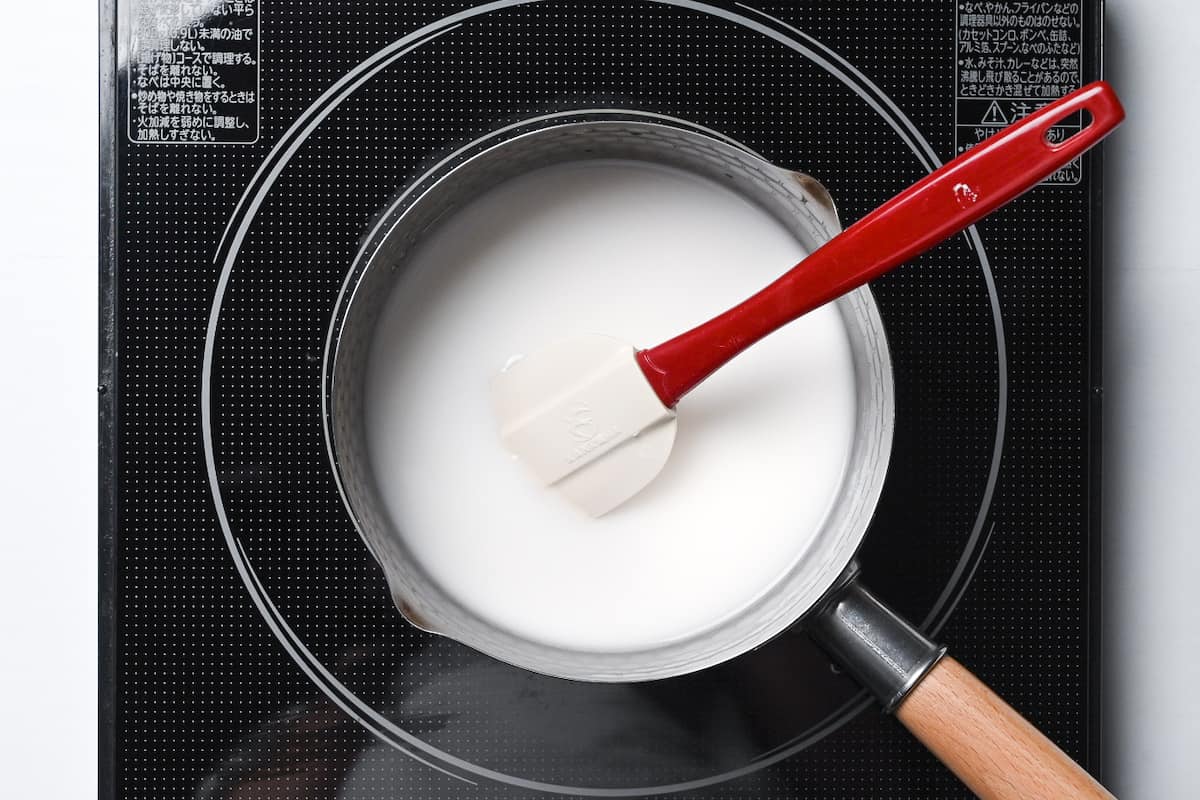 Once it starts to thicken, lower the heat to low/medium low and continue stirring.
By using a low or medium-low heat, you will be able to control the thickness of your warabi mochi with ease. Once the mixture begins to thicken, you won't believe how quickly it will form a jelly-like ball. There will also be some sticky remains on the bottom of the pan which tend to catch if the heat is too high, so keep it low!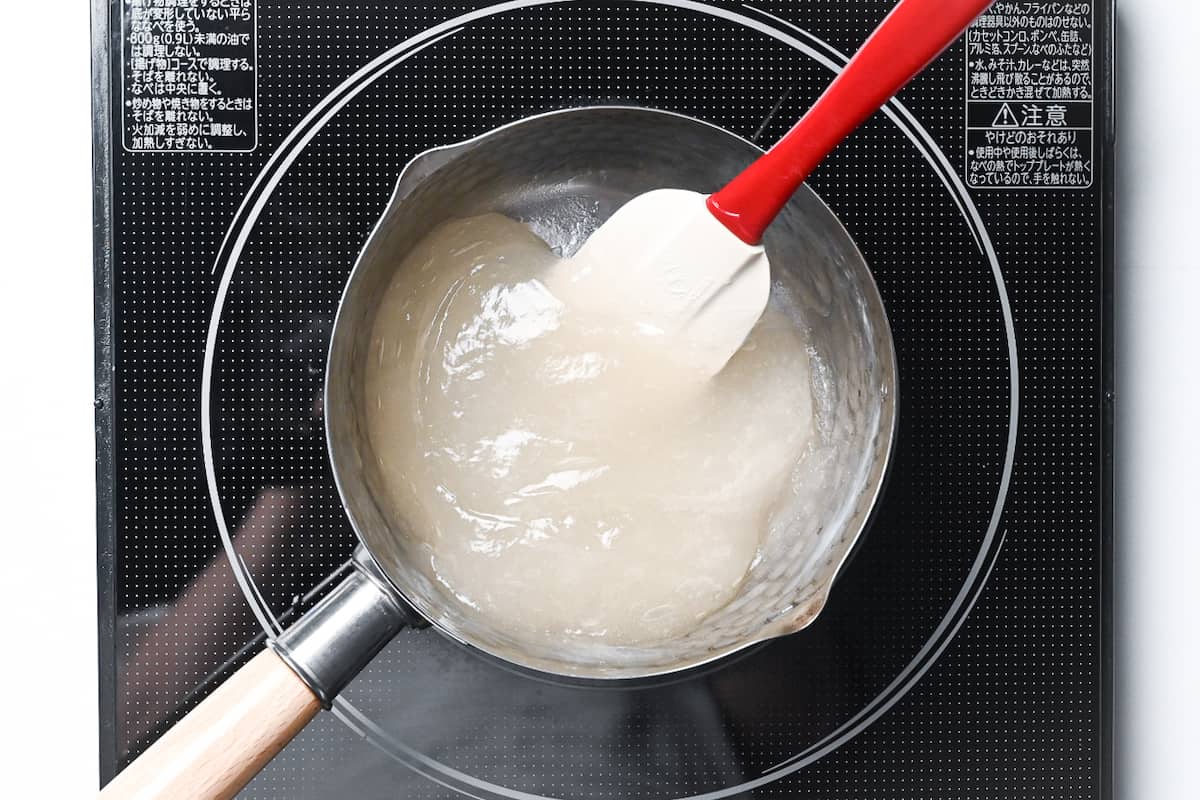 For more control, better texture and less chance of burning, keep the temperature of your stove on low or medium-low.
The warabi mochi is fully cooked once all the white liquid has gone and you're left with a translucent jelly-like ball.
Transfer to a container
Once the warabi mochi is cooked, transfer it to your lined container and allow it to cook for about 10 minutes.
It's okay to leave warabimochi out of the fridge because it doesn't contain perishable ingredients, however it's best served chilled so I recommend putting it in the fridge for 30 mins to 1 hour before eating.
You can also use a spatula sprinkled with water to smooth out the top for a more beautiful appearance.
Make kuromitsu syrup
While the warabi mochi is chilling, you can make the homemade kuromitsu syrup. Simply mix dark brown sugar (Okinawan kurozato/kokuto or dark muscovado), caster sugar and water in a small sauce pan.
Once it's mixed, place it on the stove and bring it to a boil over a medium heat. (Continue to stir while it's heating to break up any stubborn lumps of sugar.)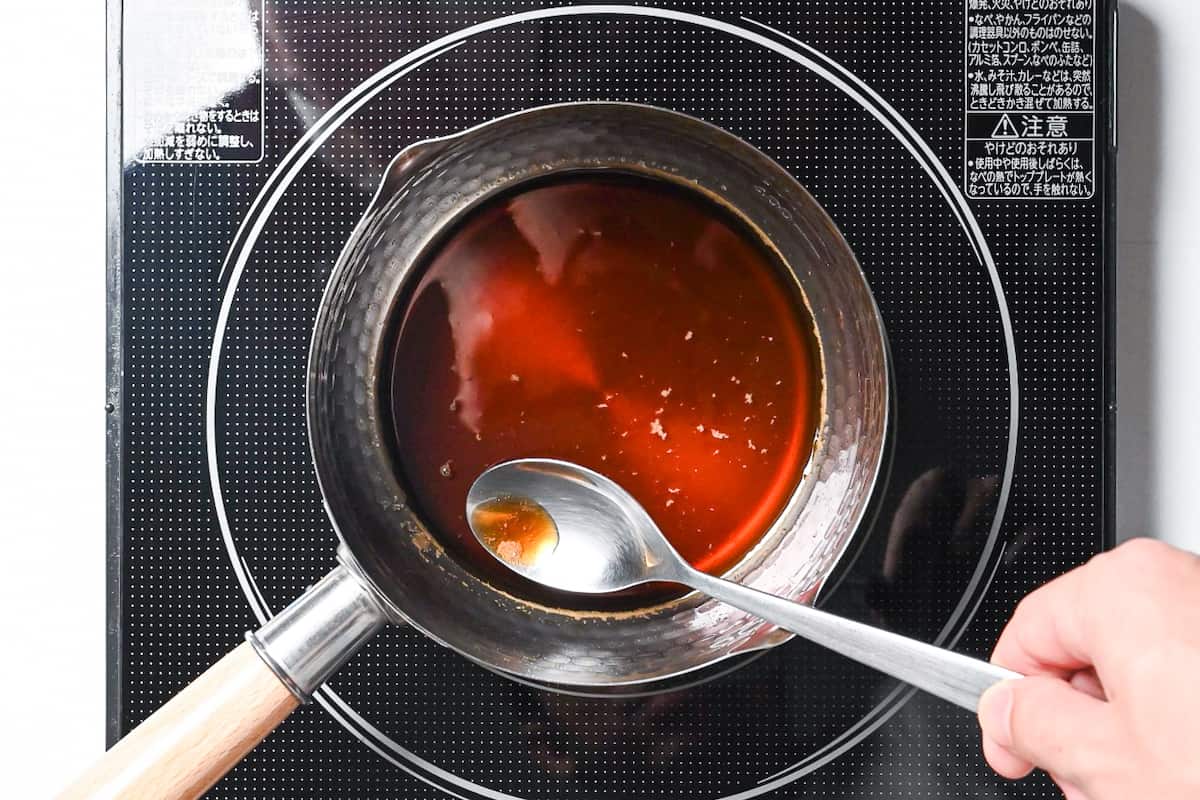 Once it starts to boil, stop stirring and lower the heat to a simmer. Allow the syrup to simmer for 1-2 minutes and scoop out any foam that appears around the edges.
Once 1-2 minutes have passed, remove it from the heat and allow it to cool to room temperature. Once it's cool, transfer to a serving jug.
Mix the kinako powder
Kinako powder alone doesn't have any sweetness, it needs to be mixed with sugar and a touch of salt to bring out the best flavour.
Simply mix kinako, sugar and salt in a container and then you can roll the warabi mochi in the mixture.
Cut the warabi mochi
Once the warabi mochi is thoroughly chilled, transfer it to a chopping board and cut it into squares.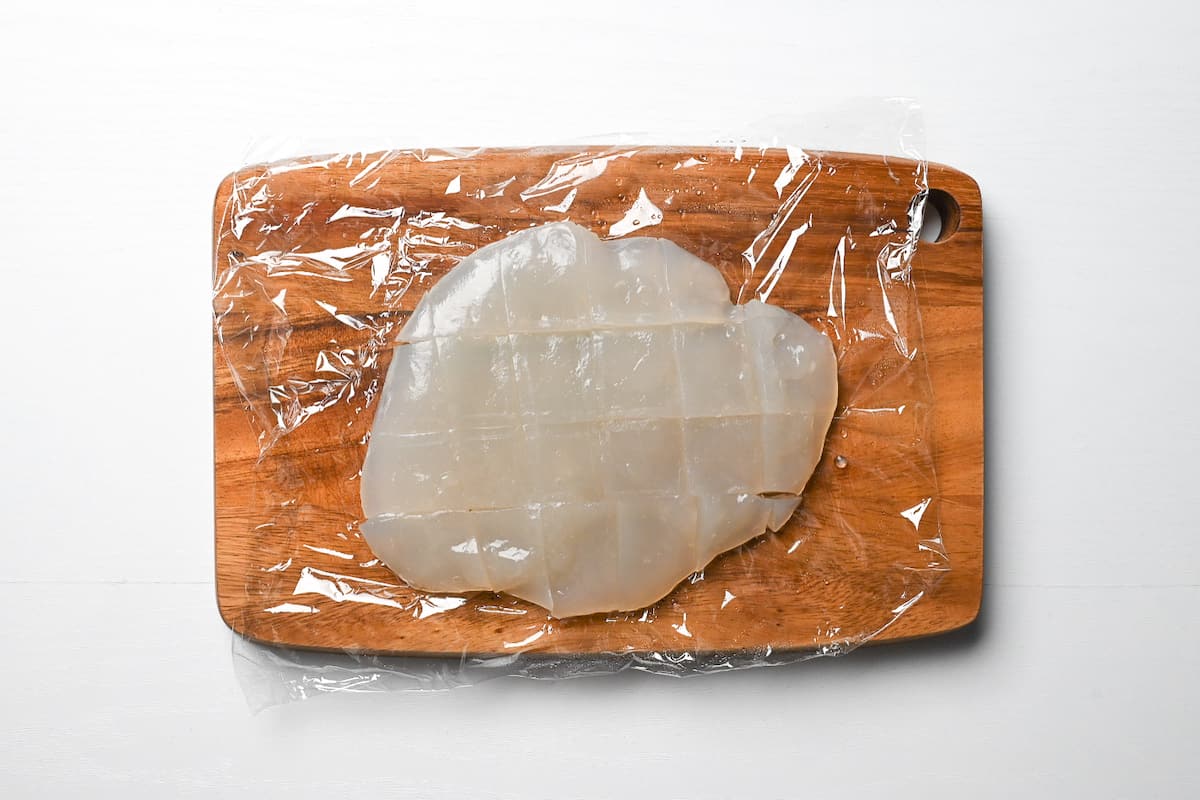 Squares are the most traditional shape, but if you want to be creative you could also use small cookie cutters!
Roll in the kinako powder
Roll each piece in the kinako powder right before serving. (See storage instructions below.)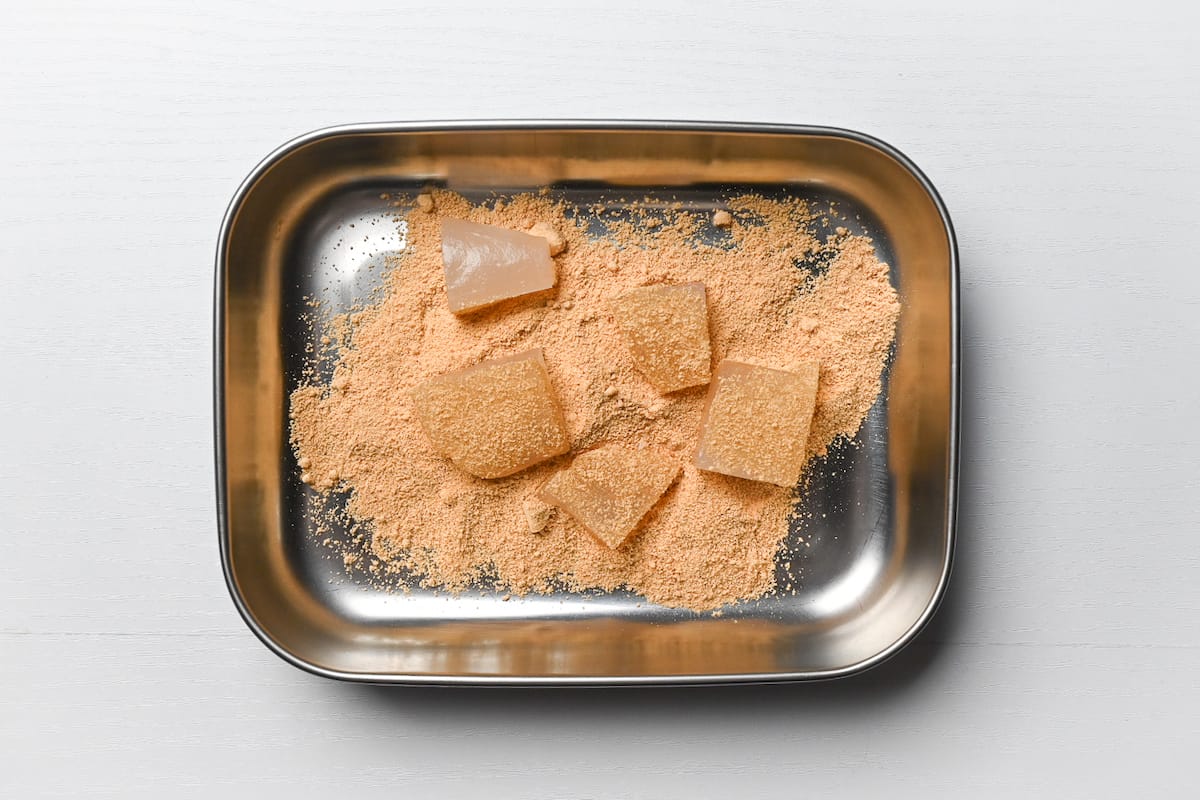 Transfer to serving bowls, drizzle with your homemade kuromitsu and enjoy!
Variations
Because warabi mochi is made simply with a mixture of starch, sugar and water, it's easy to customise it with different powders and flavourings! Here are a few examples of other flavours of warabi mochi:
Matcha (coated with green tea powder)
Chocolate (coated with cocoa powder)
Mocha (coffee flavoured warabi mochi drizzled with condensed milk)
Fruits warabi (made with fruit juices)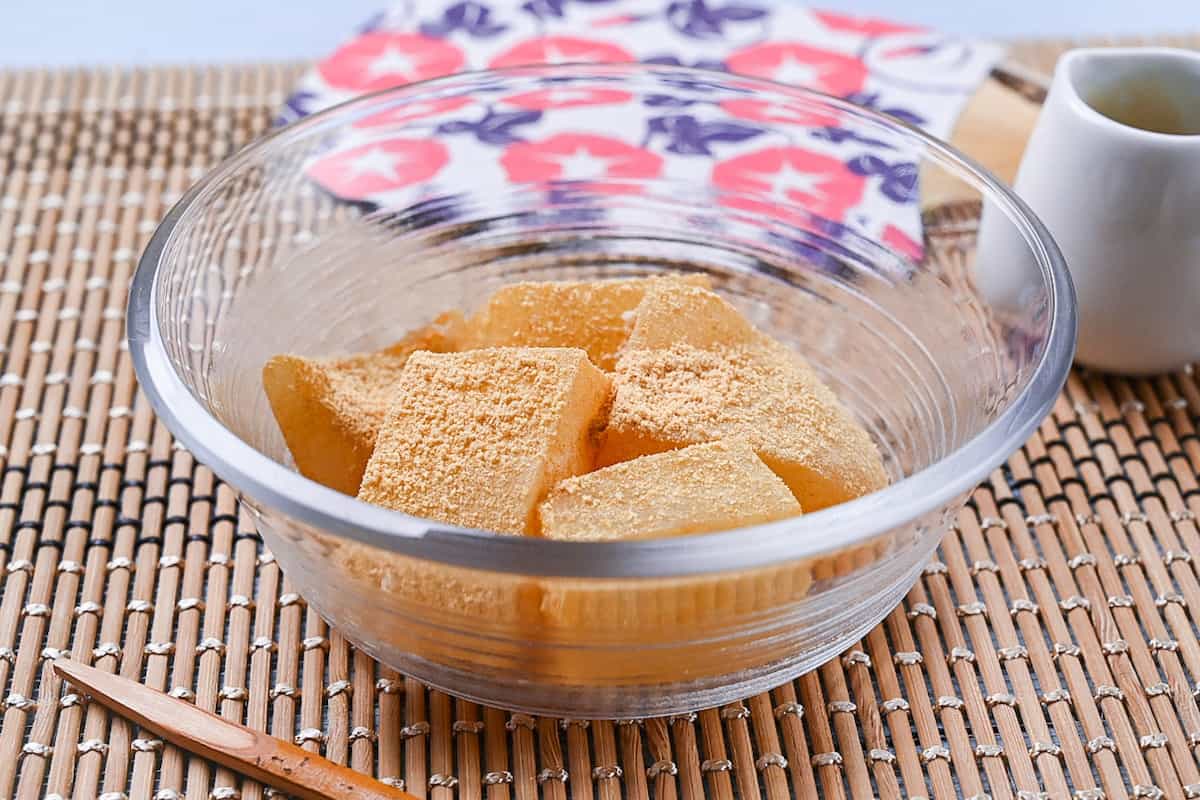 Storage
Warabi mochi can be stored in an airtight container for 1-2 days. It's okay to keep it out of the fridge, but I recommend keeping it in a cool dark place and refrigerating 30 mins - 1 hour before eating so that it's nicely chilled.
If you make warabimochi with warabiko or tapioca starch then the texture stays soft, even after refrigeration. Warabimochi made with potato starch will dry out and become a bit hard in the fridge.
Make sure to store warabi mochi without the kinako coating. If it is stored with the kinako touching the surface, the powder will become wet, soggy and fall off.
Kinako powder should be stored in a separate container away from moisture and used according to the best before date stated on the packaging. (It doesn't need to be refrigerated.)
Lastly, warabi mochi can't be frozen as it will ruin the texture.
Coat with kinako just before serving and store separately
For best results, coat the warabi mochi in kinako just before serving. Store leftover warabi mochi and kinako powder separately.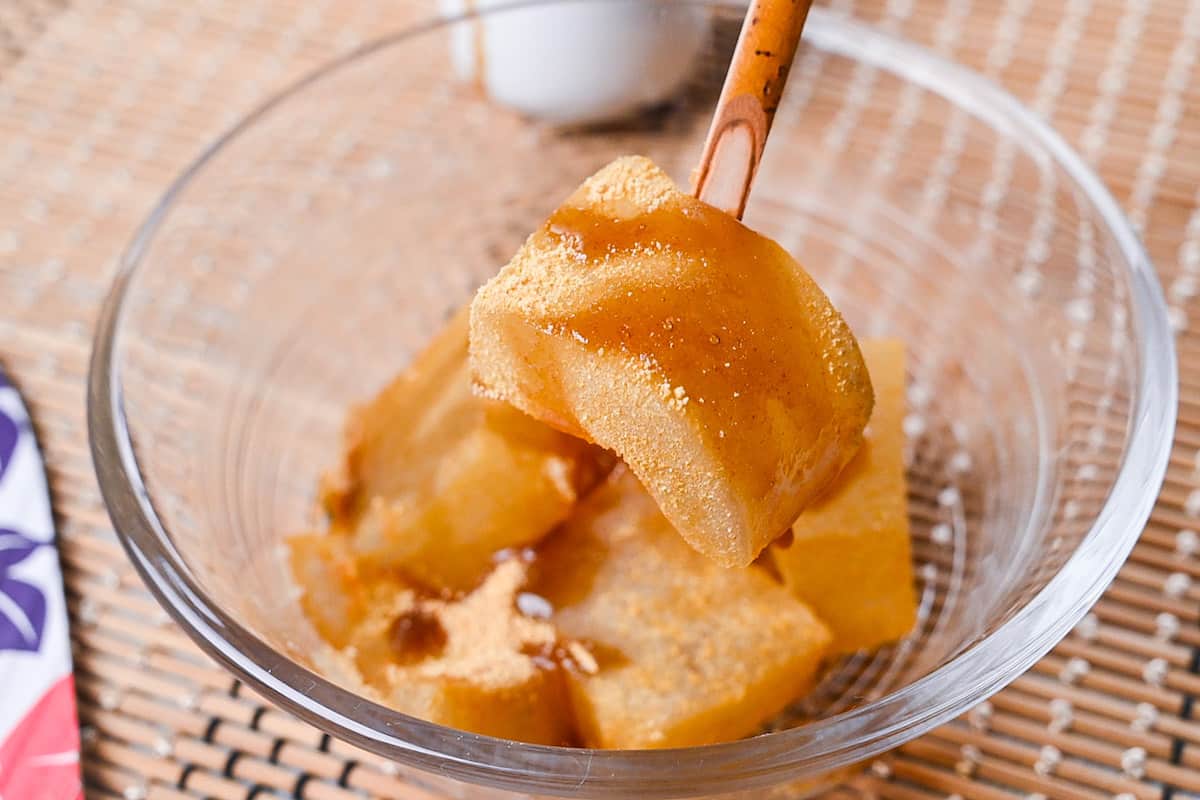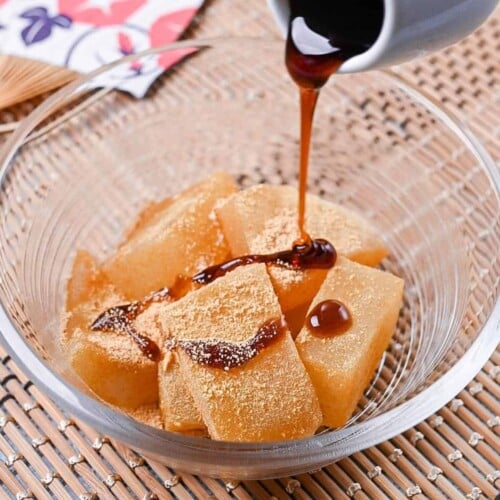 Easy Warabi Mochi (with homemade kuromitsu)
How to make warabi mochi from scratch with a classic kinako (roasted soybean powder) coating and homemade kuromitsu syrup!
Ingredients
Warabi Mochi
50

g

warabiko or starch alternative

-

tapioca starch or potato starch

3

tbsp

caster sugar

250

ml

water
Kuromitsu (Black sugar syrup)
25

g

muscovado sugar

25

g

caster sugar

50

ml

water
Kinako Powder
2

tbsp

roasted soybean powder

-

(kinako)

2

tbsp

caster sugar

1

pinch

salt
Instructions
Warabi Mochi
Before you start, line a container with plastic wrap and sprinkle a small amount of water over the surface.

Take a bowl and mix

50 g warabiko or starch alternative

with

3 tbsp caster sugar

and

250 ml water

until smooth.

Place a sieve over a saucepan and pour the mixture through to remove any lumps of sugar or starch.

Place the saucepan on the stove and turn on the heat on a medium setting. Stir continuously with a spatula.

Once the mixture starts to thicken, turn down the heat to low/medium-low and mix continuously.

The warabi moch is complete when the mixture becomes translucent (there should be no more liquid or white starch showing) and forms a jelly-like ball.

Remove from the heat and transfer the warabi mochi to the container. Smooth out the top with the spatula. (Dip the spatula in water to prevent sticking.)

Allow to cool for 5-10 minutes and then rest in the fridge for 30 minutes to 1 hour.
Kuromitsu
While the warabi mochi is cooling, make the kuromitsu by adding

25 g muscovado sugar

,

25 g caster sugar

and

50 ml water

to a small saucepan and mix well.

Place the saucepan on the stove and bring to a boil over a medium heat. (Continue to stir to break up any stubborn lumps of sugar.)

Once the syrup starts to bubble, turn down the heat to medium-low and simmer for 2-3 minutes. Scoop out any foam that forms around the edges with a spoon.

Remove the pan from the heat and allow to cool before transferring to a small serving jug.
Kinako Powder
Add

2 tbsp roasted soybean powder

,

2 tbsp caster sugar

and

1 pinch salt

in a bowl/container.

Mix until well incorporated. (Alternatively, you can seal the container and shake until thoroughly mixed.)
Serving
Once the warabi mochi is chilled, cut it into squares.

Place each square into the kinako powder. Roll it around to make sure all of the surface is covered.

Transfer to serving bowls and drizzle with the homemade kuromitsu syrup.

Enjoy!
Notes
Store leftover warabi mochi and kinako powder separately. Coat just before serving. It can be kept at room temperature, but best chilled for 30 mins - 1 hour before serving. Use within 1-2 days.
Store leftover syrup in a sealed container in the fridge for up to 5 days.
Nutrition
Calories:
156
kcal
Carbohydrates:
36.5
g
Protein:
1.2
g
Fat:
0.8
g
Saturated Fat:
0.1
g
Polyunsaturated Fat:
0.4
g
Sodium:
31
mg
Fiber:
0.6
g
FAQ
What is warabi mochi made of?
Tradionally, warabi mochi is made from bracken starch which comes from the underground roots of a type of fern tree. These days it's common to make it from potato starch or tapioca starch.
What does warabi mochi taste like?
Technically warabi mochi doesn't really have a u0022tasteu0022. The taste comes from the kinako powder (which is nutty) and sugar. It can also be made with different flavours like matcha or chocolate.
What is warabi mochi in English?
It can be called u0022Bracken Cakeu0022 in English.