Learn how to make delicious restaurant-style unaju at home! Made with tender pieces of grilled eel coated in a sweet, homemade unagi sauce and served over rice in a special box called "jubako", this luxurious dish is sure to impress!
Disclaimer: This post contains Amazon affiliate links. Sudachi Recipes earn a small percentage from qualifying purchases at no extra cost to you. See disclaimer for more info.
Jump to:
What is Unaju?
Unaju or unajyu (鰻重) is a Japanese dish of grilled eel served with special eel sauce and freshly cooked Japanese rice in a special stacked box called jubako (重箱). The jubako in which it is served lends it's name to the dish, with "unaju" being a combination of the words "unagi" (eel) and "jubako".
At Japanese restaurants that specialize in eel dishes, the two most popular menu items are unadon (a grilled eel rice bowl) and unaju (grilled eel served on rice in a box). Interestingly, there is no difference in the taste or quality of the eel between the two dishes. The only difference lies in the vessel in which the rice and eel are served.
If it's in a bowl, it's unadon; if it's in a stacked box, it's unaju. However, unaju is often a higher-graded menu item with more eel, eel liver soup (kimosui), and a small bowl of side dishes.
To learn more about the history of eel in Japan, its varieties, and why it is a luxury food, please see my unagi donburi article.
What is Jubako? An Essential Element of Unaju
Earlier, I mentioned that if you want to prepare unaju instead of una don, you will need a box called jubako (stacked boxes). This is a container used to serve food and has a lid. It has been used in Japan since old times and can be considered a traditional storage container.
The history of this container can be traced back to the Muromachi period (1333-1573), and it is said to have been widely used from the late Edo period (1603-1868) to the early Meiji period (1868-1912). The main shapes are square or circular, and although lacquer ware was traditionally used, various materials, including plastic or wood, are now used. The number of shelves is usually four, representing the four seasons, but there are also two, three, and five variations.
However, most stacked boxes for unaju are sold with only one shelf, and the size is smaller than those for osechi or lunch boxes. Different colors are also available, some in black and others in vermilion. Buying a jubako solely for making unaju at home can be expensive, so I personally suggest making unadon instead if you don't want to buy jubako, as the contents are the same.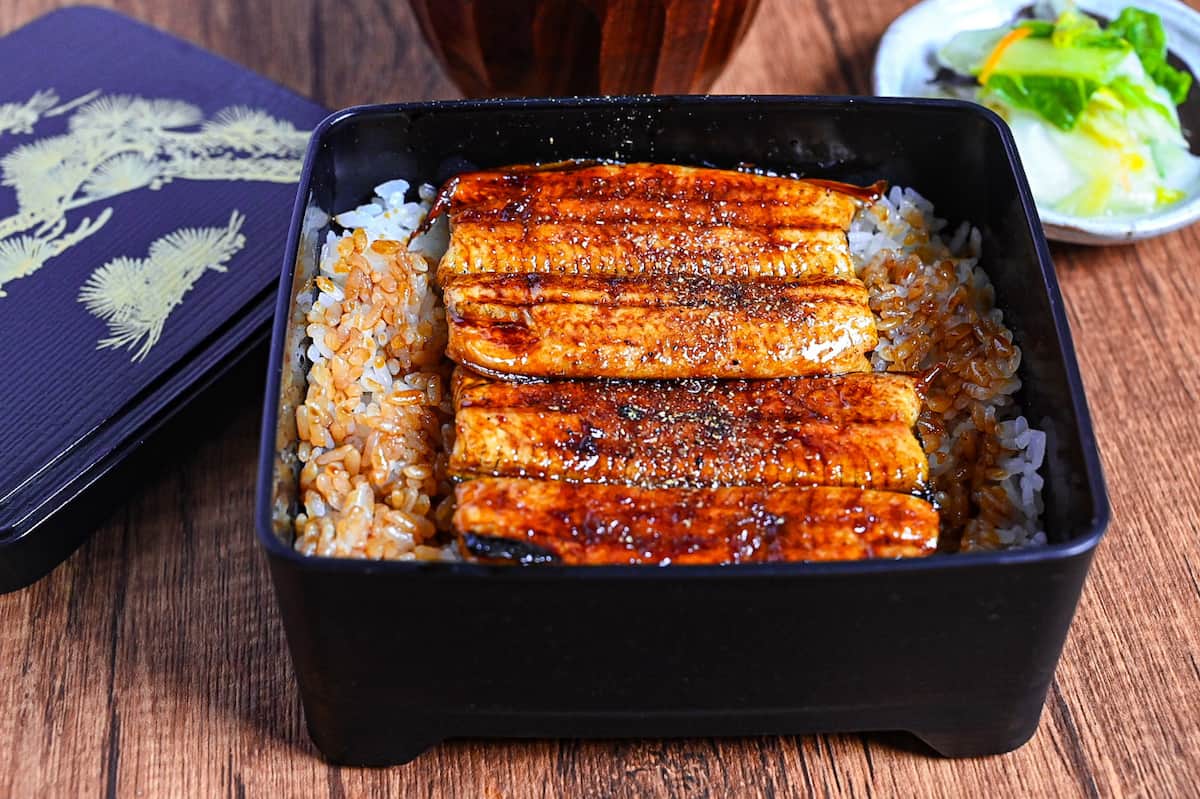 Ingredients and Substitution Ideas
Fresh eels - If you live in an area where fresh eel is available, I definitely recommend getting fresh eel! However, if you cannot get eels at all, pangasius, catfish, and conger eel are popular substitutes.
Turbinado sugar - Coarse, hard, light brown-colored sugar, known as "zarame (ザラメ)" in Japan. It is used to make a more decadent eel sauce than regular sugar. If you cannot find it, please substitute light brown or regular white sugar.
Dark brown sugar - Use a small amount to add extra richness. I like to use muscovado sugar, but you can use any other brown sugar or the same sugar as before.
Sake - I usually recommend substituting white wine or dry sherry for smaller quantities, but in this case I do not recommend substituting sake for anything else because it is a very important ingredient in eel sauce.
Mirin - When purchasing mirin, it is recommended to look for "hon mirin" (本みりん) for the best flavor. I recommend Hinode Hon Mirin as a high-quality and affordable option. See my 20 Most Useful Condiments and Seasonings for Japanese Cooking post for more recommendations.
Soy sauce - If you are looking for something reasonably priced, you can't go wrong with Kikkoman soy sauce. Please see our guide to soy sauce article to learn more about how to choose soy sauce in Japanese cuisine.
Cooked Japanese short-grain rice - Short-grain Japanese rice is best used for donburi dishes. Recommended Japanese rice available in the U.S. and how to cook Japanese rice in a pot are explained in the How to Cook Japanese Rice Recipe.
Japanese pepper (optional) - Known as "sansho" in Japan, this pepper has a distinctive spicy flavor. Even Japanese people have different likes and dislikes, but I personally believe grilled eel is incomplete without sansho. If you want to try it, you can purchase S&B sansho pepper that I used from Amazon.
I have listed my recommended Japanese condiments, tools, and ingredients in the Sudachi Recipes Amazon shop. If you want to keep making various Japanese foods at home, please check it out!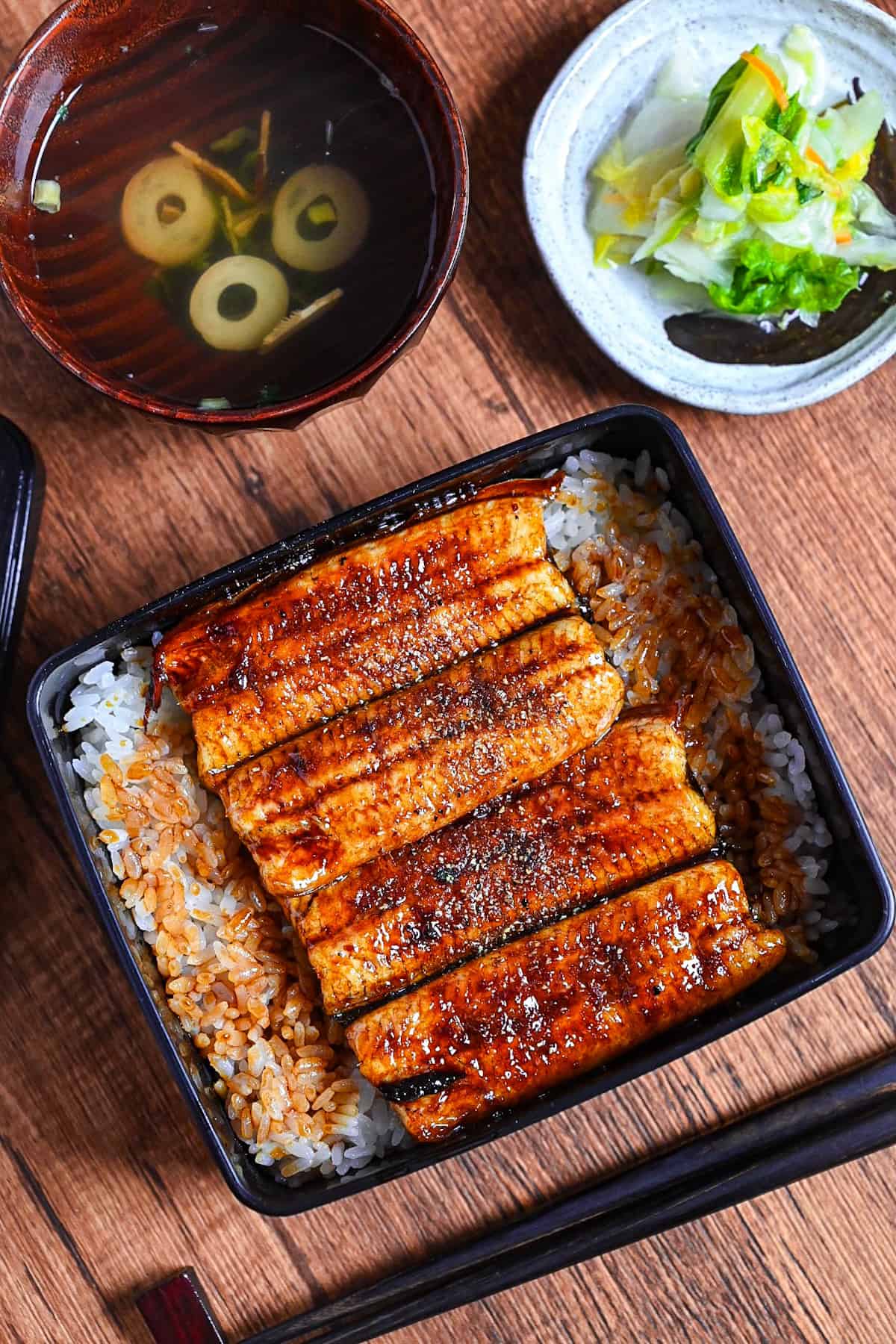 Step-by-Step Process
Here are my step by step instructions for how to make restaurant-style unaju at home. For ingredient quantities and simplified instructions, scroll down for the printable recipe card.
Add the turbinado sugar and dark brown sugar to a small saucepan and heat on medium-high.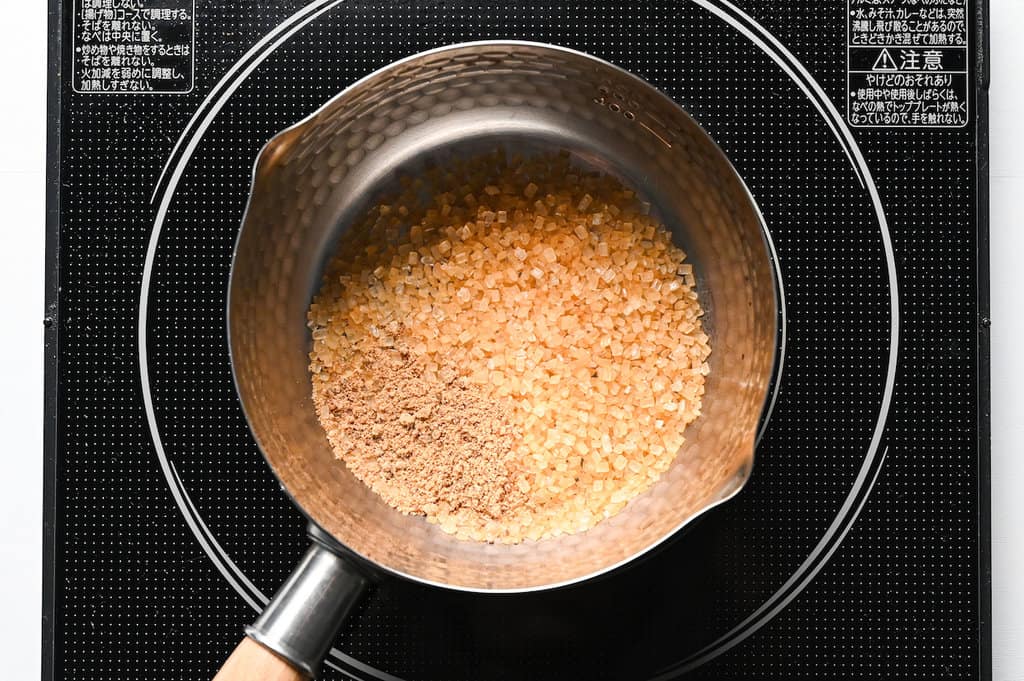 Once the sugar starts to melt, add sake and mirin and bring the mixture to a boil. Cook for 2 minutes and stir occasionally to prevent burning.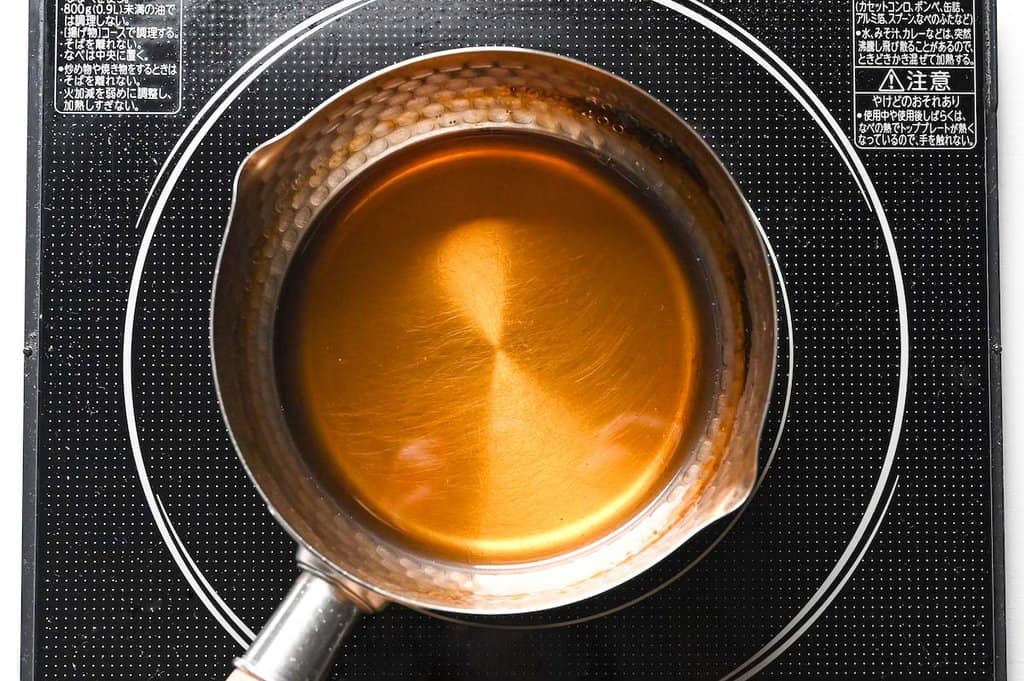 Lower the heat to a simmer and add the soy sauce. If you want a deeper unagi flavor, add the head and bones from the unagi to the sauce.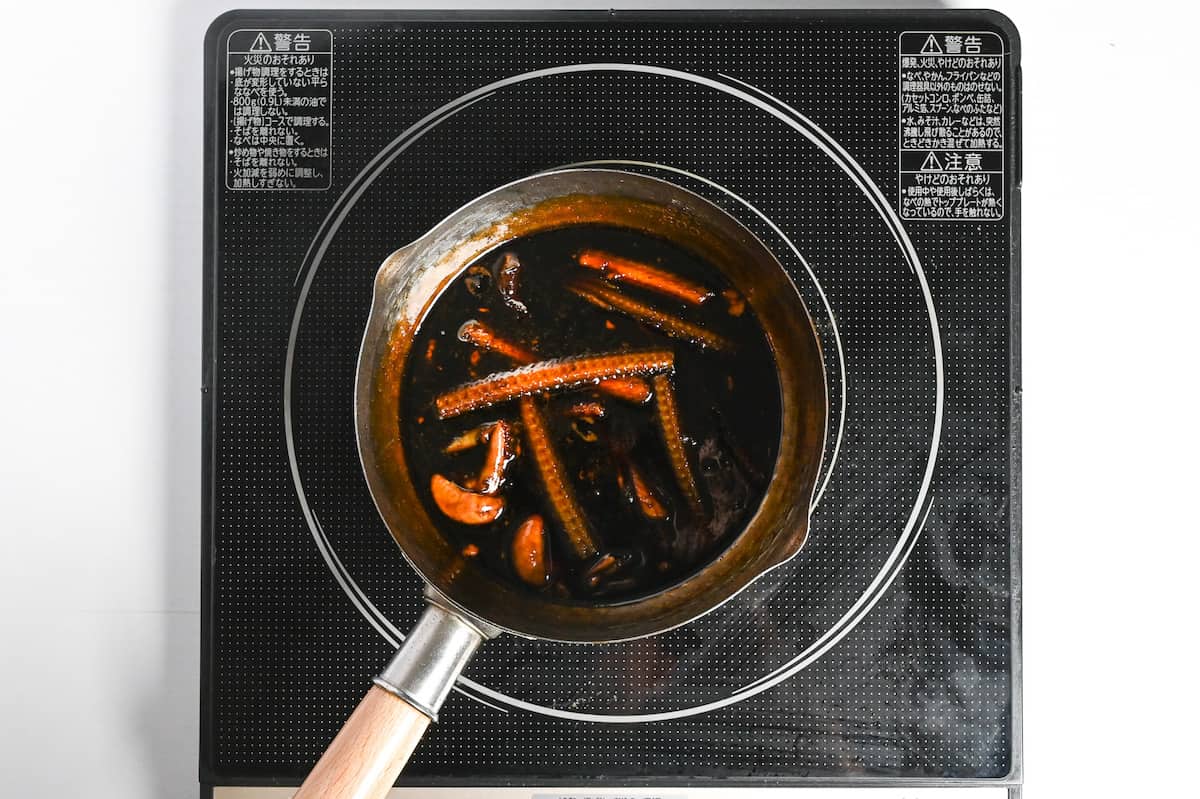 Simmer for about 10 minutes and stir occasionally to make sure it doesn't burn. Once it's thick and syrupy, remove the pan from the heat. (If you used the head and bones of the eel in the sauce, pour the sauce through a sieve to remove them and discard.)
Wash and cut fresh eels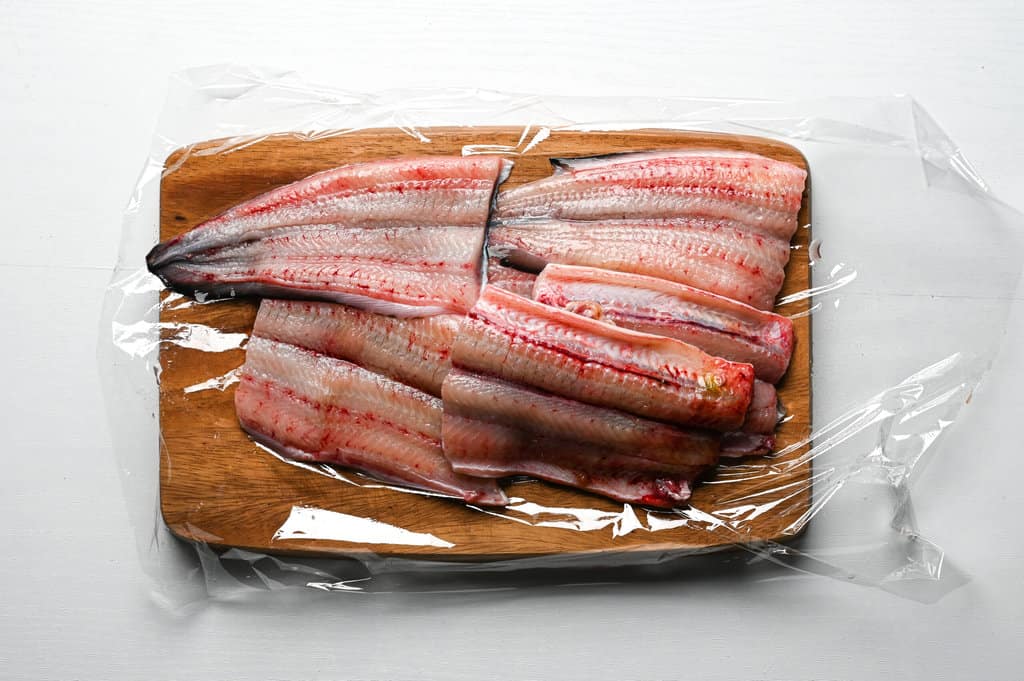 First, wash the surface of the eel in cold water and dry the surface with kitchen paper.
Cutting eels can be a tricky task due to their slippery texture. To avoid any accidents, it's important to cut them in a specific way. A helpful tip is to use plastic wrap to make the cutting process smoother.
Rather than moving the knife, hold it still and move the eel back and forth underneath it. Depending on the size of the eel, it may need to be cut into 2 or 3 pieces. For instance, I cut two large eels into six fillets. Don't forget to wash the eels under cold running water beforehand.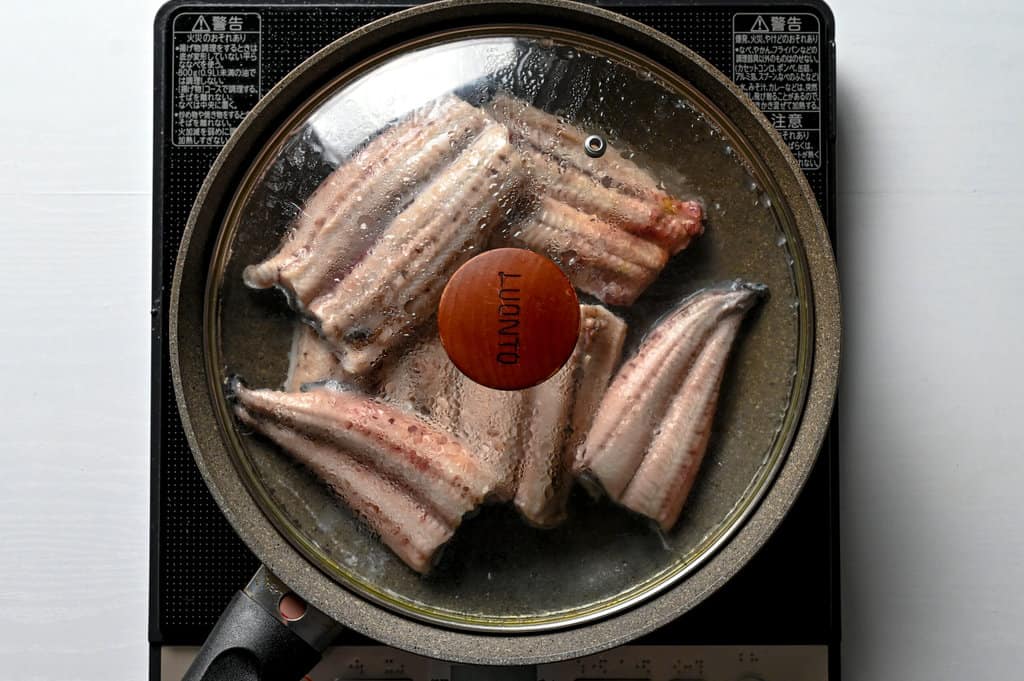 One way to make eels extra tender, fluffy, and soft is to steam them before grilling, a common practice in the Kanto region of Eastern Japan. In contrast, the Kansai style involves grilling eels directly.
It is believed that steaming eels before grilling helps remove excess fat, which is more prevalent in eels from the Kanto region compared to those from Kansai. Ideally, a steamer should be used for this process, but if unavailable, steaming the eels with sake on medium-low heat for five minutes can be a simplified alternative. I could hardly believe how melt-in-your-mouth the eel becomes at the end, so I highly recommend this step!
Grilling unagi in broiler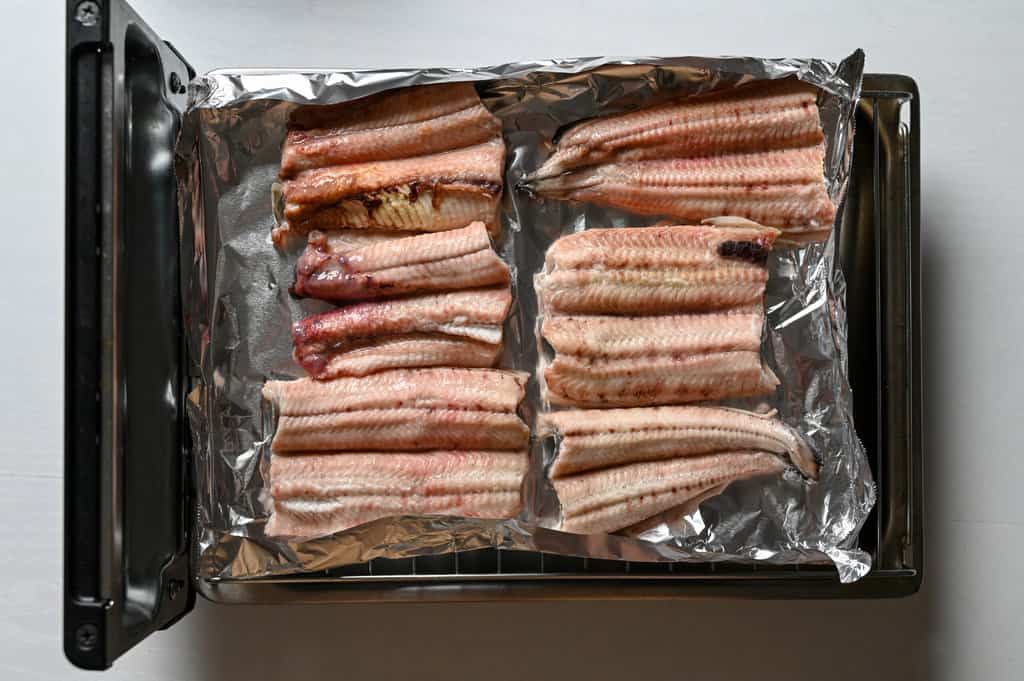 This recipe is designed for those who wish to prepare unaju at home rather than grilling unagi at a BBQ. But if you want to cook over BBQ or charcoal, turning it over early is essential to prevent the meat from easily burning.
In the case of using a broiler, we will use a lot of sauce for this recipe and recommend lining the grill with aluminum foil. Preheating the grill for 5 minutes before placing the eel inside is crucial.
Although the general rule of thumb is to grill fish skin side up, I suggest placing the skin side down for eel as it tends to shrink quickly. This helps prevent the fish from breaking apart.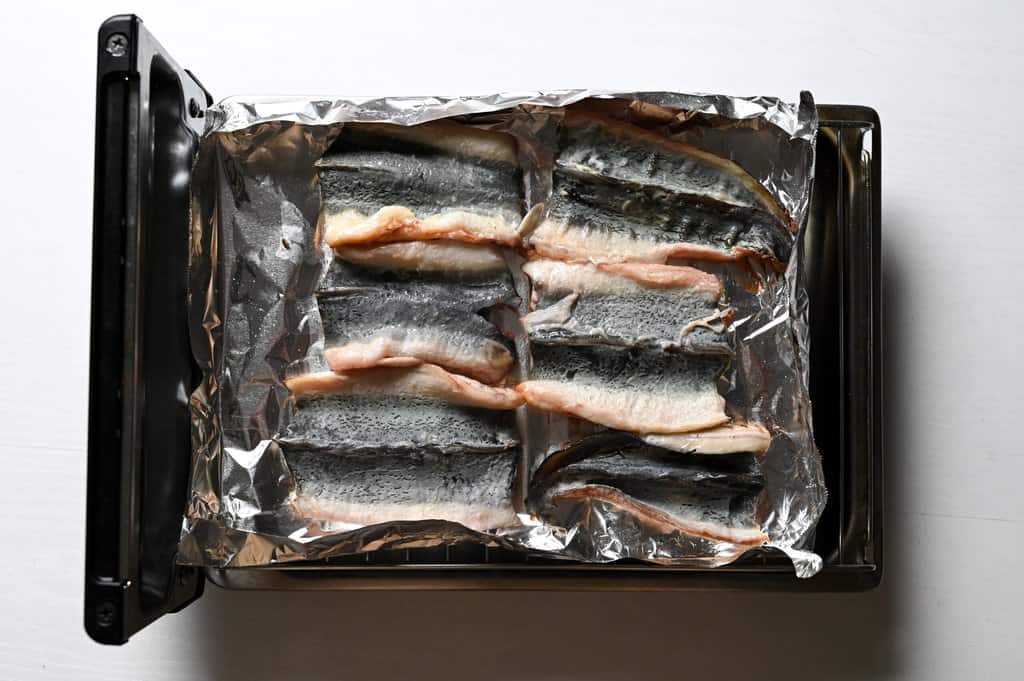 After six minutes, turn the eels over and return them to the grill. Grill them for an additional five minutes using the same setting.
Generously brush the sauce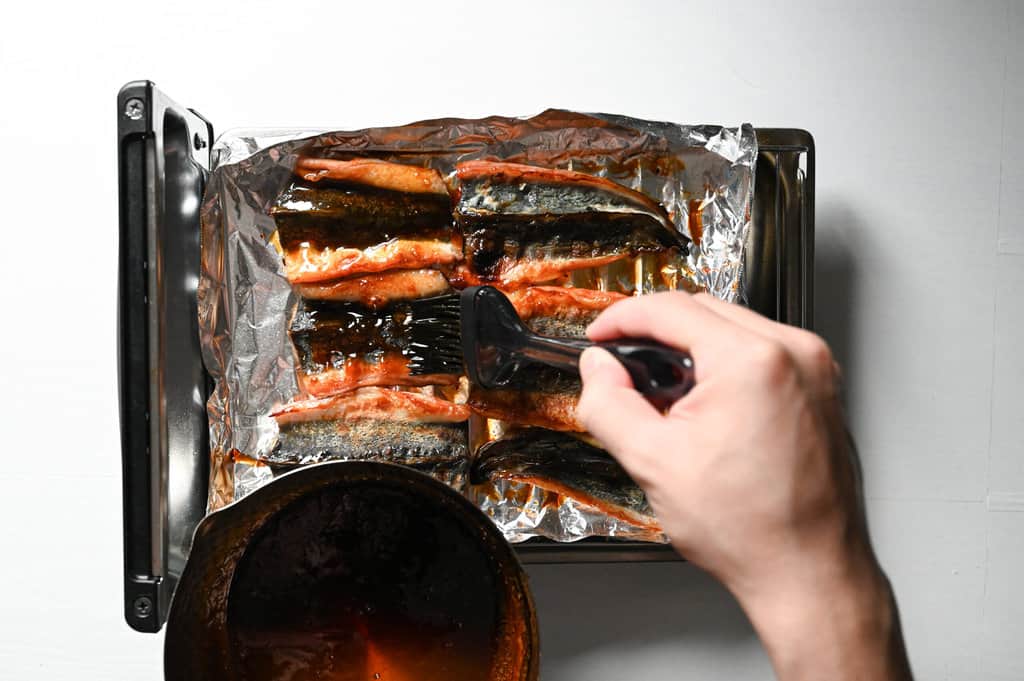 After grilling the eels, we add sauce to them. This stage is known as shirayaki (白焼き) when the eel is grilled without sauce. To ensure the sauce penetrates the eels, we repeat the process of applying the sauce several times.
We generously apply the sauce onto the surface of the eels using a brush. Once coated, we put them back onto the grill and cook for 1 minute on high.
Adjust the heat and time for those cooking on a barbecue to avoid burning too much.
Turn them over and repeat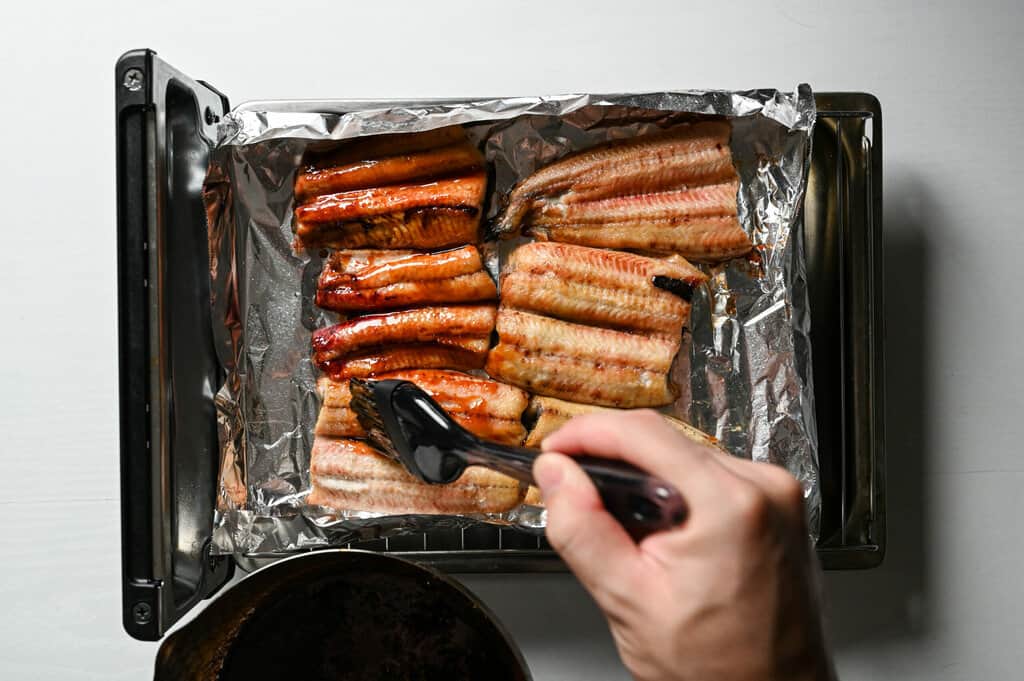 Once 1 minute has passed, flip the fillets over and coat the skin side with sauce again. Return the meat to the grill for another 1 minute. Repeat this process for two more rounds.
Place a layer of cooked rice in a stacked box and brush the eel sauce on top of it.
Place the eels and top with sansho pepper and leftover eel sauce to taste!
Finally, enjoy your restaurant-style unaju cooked from scratch!
Storage Options
If you use fresh eels, it is not advisable to freeze them as is. Freezing them will cause a loss in quality of both texture and taste. Since eels are high-quality and expensive fish, it is best to avoid storing them this way.
If you bought too many eels, I would recommend cooking all of them until they reach the shirayaki stage (cooked, but without sauce). Frozen shirayaki eel can be kept for up to a month.
When you defrost shirayaki eel, it is best to place it in the refrigerator beforehand and allow it to defrost gradually instead of rushing it using the microwave straight. Afterward, you can steam them in a pan with sake or lightly grill them in the oven or on the grill. Steaming the meat will result in a fluffier texture, while grilling or using the oven will make for a crispier exterior.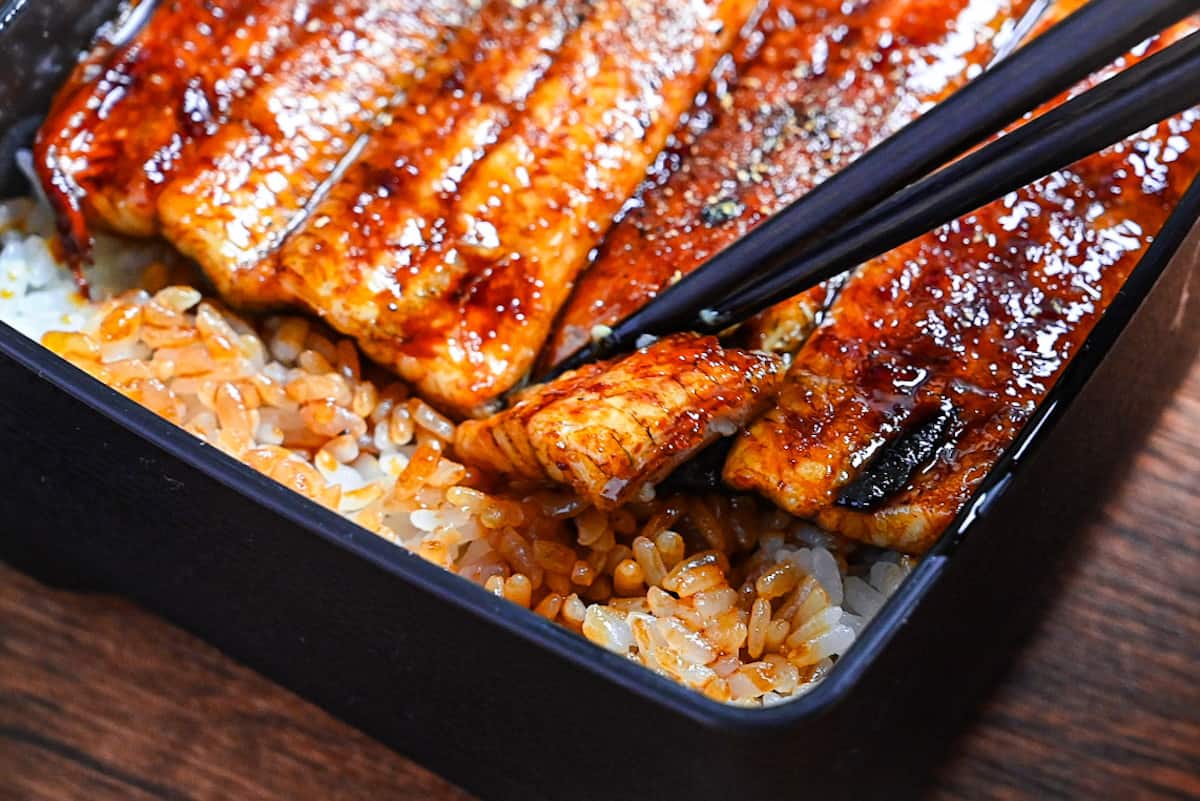 I hope you enjoy this homemade unaju recipe! If you try it out, I'd really appreciate it if you could spare a moment to let me know what you thought by giving a review and star rating in the comments below. It's also helpful to share any adjustments you made to the recipe with our other readers. Thank you!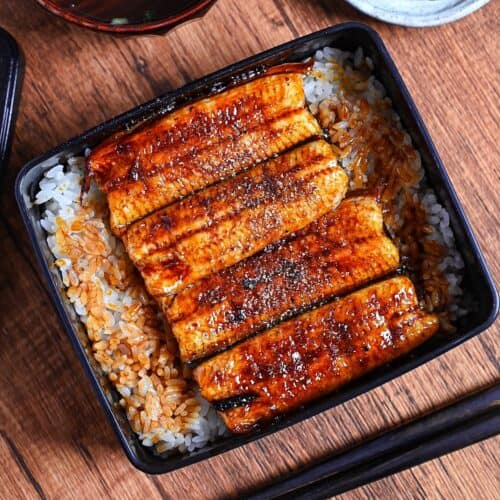 Unaju (Japanese Grilled Eel on Rice)
How to make delicious restaurant-style "Unaju" with grilled eel, and amazing homemade unagi sauce served in a special box called a "jubako". (Recipe doesn't include cooking rice.)
Ingredients
Unagi Sauce
3

tbsp

turbinado sugar

-

(zarame) light brown with coarse texture

1

tsp

dark brown sugar

75

ml

sake

75

ml

mirin

75

ml

soy sauce
Unagi don
300

g

filleted eels

-

1 fillet is approx 150g

2

tbsp

sake

Japanese pepper (sansho)

-

optional
Instructions
Unagi Sauce
Take a small sauce pan and add

3 tbsp turbinado sugar

and

1 tsp dark brown sugar

. Place the pan on the stove over a medium-high heat.

When the sugar begins to melt, add

75 ml sake

and

75 ml mirin

. Boil for 1 to 2 minutes, stirring occasionally to evenly distribute the heat.

Lower the heat to a simmer and add

75 ml soy sauce

. If you want to add extra depth to your sauce, add the bones and heads from the eels.

Simmer for about 10 minutes or until thickened to a syrup-like consistency. Stir occasionally to prevent the sugar from burning.

Remove from the heat and allow to cool while preparing the eel. (If you added the bones and heads, pour through a strainer and discard.)
Unaju
Wash

300 g filleted eels

under cold running water and pat them dry with kitchen paper.

Lay a sheet of plastic wrap over a chopping board and place the eel on top. Cut into halves or thirds by gently pressing a sharp knife into the area you want to cut, and then moving the eel back and forth (rather than moving the knife).

Take a large frying pan and place the eel skin side down. Add

2 tbsp sake

and place it on the stove.

Place a lid on and steam for 5 minutes over a medium heat. While you wait, preheat the grill or broiler on medium-high.

Once 5 minutes are up, remove the pan from the heat and transfer the eel to a wire rack lined with aluminum foil. Place it with the skin side down first and grill for 6 minutes. 

Turn over and grill the skin side for 5 minutes.

Brush the sauce generously over the skin and grill for 1 minute.

Flip and apply the sauce to the meat side. Grill for 1 minute.

Repeat the brushing and grilling 3 times on each side.

Dish up

2 portions cooked Japanese short-grain rice

in a jubako (or similar box) and brush the top with the leftover unagi sauce.

Arrange the eel on top, drizzle with any leftover sauce and sprinkle with

Japanese pepper (sansho)

.

Enjoy!
FAQ
What is Unaju?
Unaju (鰻重) is a delicious Japanese dish of grilled eel served with eel sauce and rice in a stacked box called jubako (重箱). It's similar to unadon, except it's served in a box instead of a bowl.
What is doyou no ushi no hi?
During summer in Japan, supermarkets sell eels with the catchphrase "Doyou no Ushi no Hi." This refers to the day of the ox in midsummer and the tradition of consuming foods that start with "U" on this day. It's believed to be good for the body, as it is more susceptible to summer fatigue during this period.
What are the differences between Unaju and Unadon?
Unagi-don and unaju are popular Japanese dishes with grilled eel and unagi sauce atop white rice. The difference lies in their presentation and quantity of eel - unagi-don is served in a bowl, while unaju comes in a lacquer box and tends to be more expensive due to needing more eel to cover the entire rice surface area.
Why is unagi so expensive?
Eels are expensive due to their scarcity. The price of these eels has increased as the number of young fish caught has decreased, and the Japanese eel was listed as an endangered species in June 2014. Unfortunately, it is impossible to completely farm eels as their biology and reproduction remain a mystery. While eels can be raised from fry, they all become male, and the factors determining their sex are unknown.