Teriyaki cod is a match made in heaven! Made with tender bitesize pieces of fried cod coated in a syrupy homemade teriyaki glaze, this dish is not only addictively delicious, but it's quick and easy to make too! If you're a fan of fish or teriyaki, this is the perfect dish for you.
Disclaimer: This post contains Amazon affiliate links. Sudachi Recipes earn a small percentage from qualifying purchases at no extra cost to you. See disclaimer for more info.
Jump to:
What is Teriyaki?
Teriyaki (照り焼き) is a method of cooking where ingredients are fried in a sauce made up of equal parts of soy sauce, mirin and sake. As it cooks down, the sugars in the mirin caramelize, creating a glossy texture that resembles a thin glaze. Despite the common misconception that teriyaki is a sauce, the term technically refers to the cooking method rather than the sauce itself. This becomes clear if you consider that in Japanese, "teri" (照り) means glossy and "yaki" (焼き) means to fry or cook.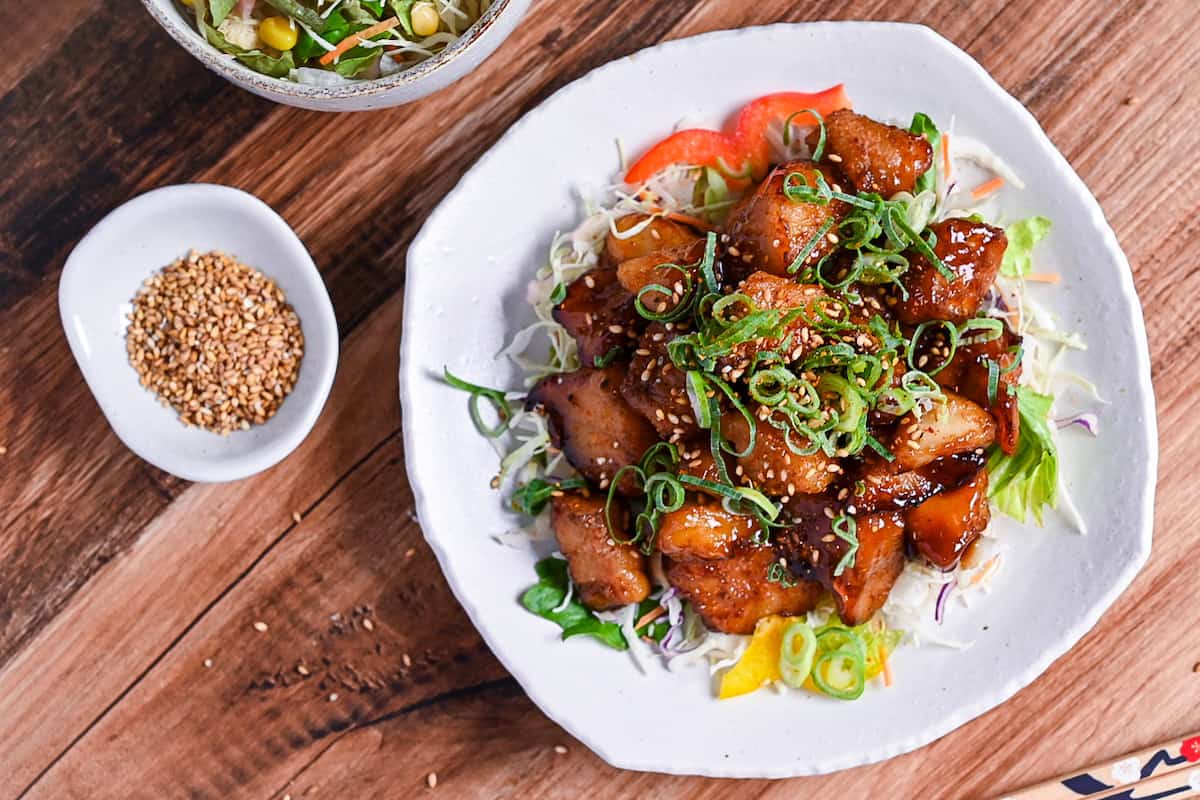 What is Teriyaki Sauce Made Of?
Traditionally, teriyaki "sauce" is made up of just 3 ingredients in equal quantities: soy sauce, sake and mirin. However, these days it is common to add sugar as well to help make the sauce thicker and sweeter.
Each condiment holds equal importance, with soy sauce adding a deep, salty flavor that is rich in umami, sake contributing a touch of acidity and bitterness, and mirin balancing these flavors with its sweetness. It is for that reason, that it is not recommended to use substitute ingredients when making teriyaki.
Soy sauce, mirin and sake are pretty much the golden-trio of Japanese cuisine, so if you plan to cook Japanese food often, I highly recommend keeping a bottle of each in your pantry. You can also learn more about useful condiments for Japanese cooking in my post, 20 essential condiments used in Japanese cooking. Please check it out if you have time!
Teriyaki sauce can also be customized with additional flavors such as garlic, ginger or chili just to name a few. I personally like to add a small amount of dashi and honey to my teriyaki for added depth!
What Goes Well With Teriyaki?
Teriyaki is one of the most versatile cooking methods in Japanese cuisine and you can essentially use it for any kind of meat, fish, tofu or vegetables! Here are just a few ideas:
Whether you use it in stir fries, side dishes or simply as a sauce, there are endless possibilities when it comes to teriyaki!
Teriyaki Fish: The Best Fish to Use For Teriyaki
While teriyaki chicken is probably one of the most popular teriyaki dishes in the world, fish is also a great option. In Japan, yellowtail (also known as Japanese Amberjack) is the most commonly used, with its light pink flesh and mild buttery taste complimented perfectly by the balanced flavors of the teriyaki sauce.
That said, teriyaki is truly versatile and goes well with almost any kind of fish. From salmon and tuna, to a soft, flakey white fish like cod or tilapia, you really can't go wrong!
In this recipe, I use deboned cod fillets cut into bitesize pieces. However, this recipe can be used to make almost any kind of teriyaki fish dish. Here are a few substitutes you can use instead, depending on the season, location and availability.
Types of Fish To Use for Teriyaki
Yellowtail / Japanese Amberjack (buri) most common in Japan
Swordfish (mekajiki)
Japanese Spanish mackerel (sawara)
Cod (tara)
Tilapia
Catfish
Pacific Whiting / Hake
Tuna
Mahi mahi
Haddock
Flounder
Snapper
Since cod is pretty accessible in most places in the world, I decided to make the recipe with cod this time! Feel free to use your favorite fish and let me know how it goes in the comments below!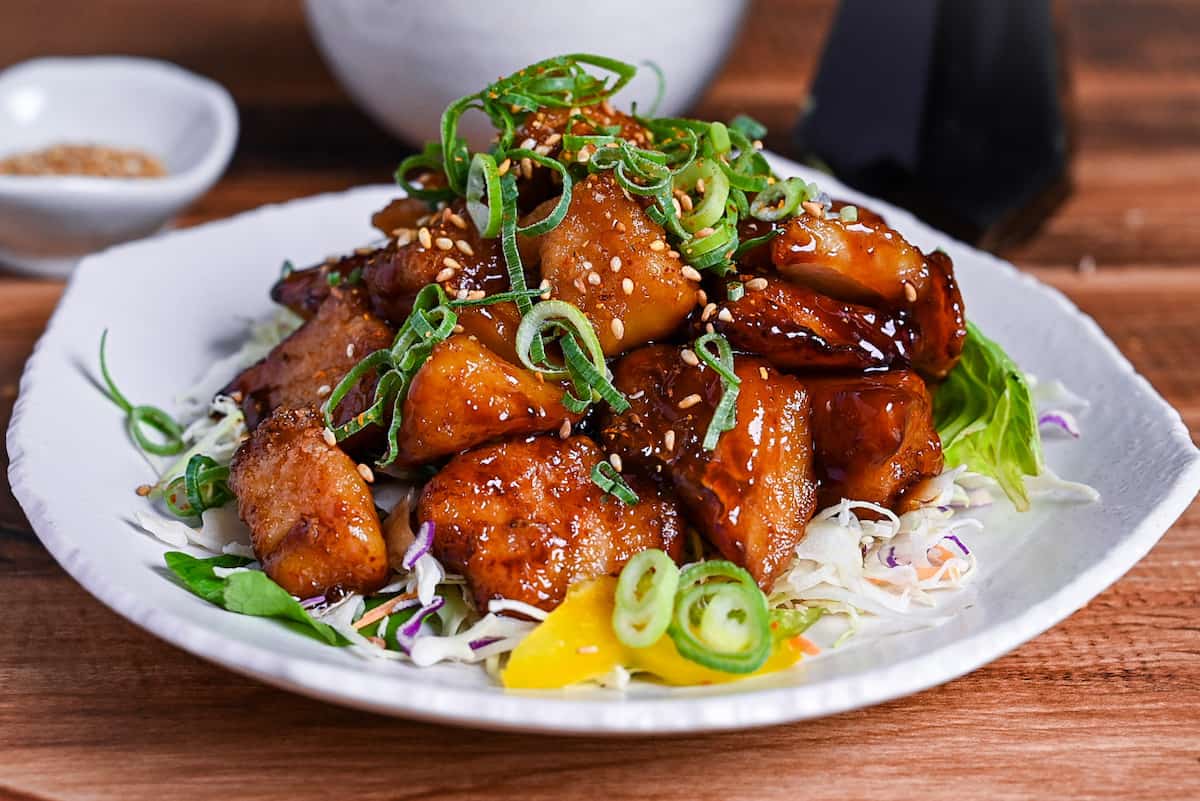 Ingredients and Substitutions
To make this teriyaki cod recipe, you will need the following ingredients:
Cod - or fish of your choice. I prefer a mild flavored white fish for this recipe.
Cornstarch - to dust the cod and create a crispy layer that helps the sauce stick better. Potato starch or tapioca starch can be used as substitutes.
Soy sauce - to marinate the cod and make the teriyaki sauce. I recommend Kikkoman soy sauce or their organic marudaizu soy sauce, characterized by its mild flavor and depth.
Mirin - to marinate the cod and make the teriyaki sauce. I recommend real Hon Mirin for the best flavor rather than mirin-style seasonings.
Sake - an essential ingredient for teriyaki that adds subtle acidity and bitterness to balance the flavor.
Sugar - makes the teriyaki sauce sweeter and more syrup-like.
Dashi - adds depth and umami to the teriyaki sauce. If you don't have dashi to hand, feel free to omit.
Honey - adds depth, sweetness and a hint of honey flavor to the teriyaki sauce.
Cooking oil - use a neutral flavored oil with a high smoke point. I use white sesame oil, but vegetable oil, canola etc work fine too.
Finely chopped green onion - an optional garnish that adds a pop of color and refreshing flavor to the dish.
Sesame seeds - an optional garnish for decoration.
I have listed my recommended Japanese condiments, tools, and ingredients in the Sudachi Recipes Amazon shop. If you want to keep making various Japanese foods at home, please check it out!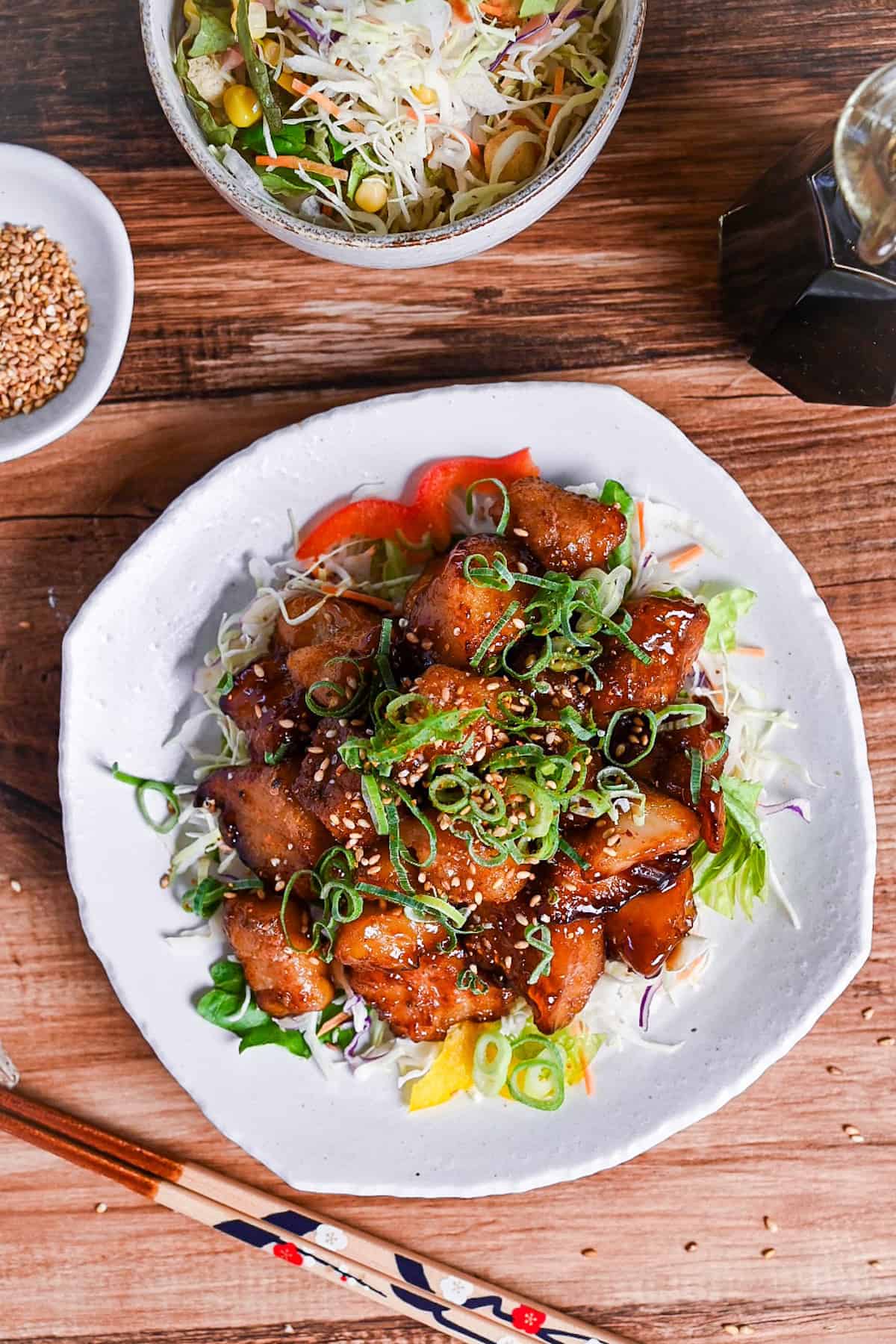 Step-by-Step Process
Here are my step by step instructions for how to make delicious teriyaki cod from scratch! For ingredient quantities and simplified instructions, scroll down to see the printable recipe card below.
Cut the cod into uniform bitesize pieces and place them in a bag with soy sauce and mirin. Gently massage the bag to cover all the pieces and then marinate in the fridge for 10 minutes.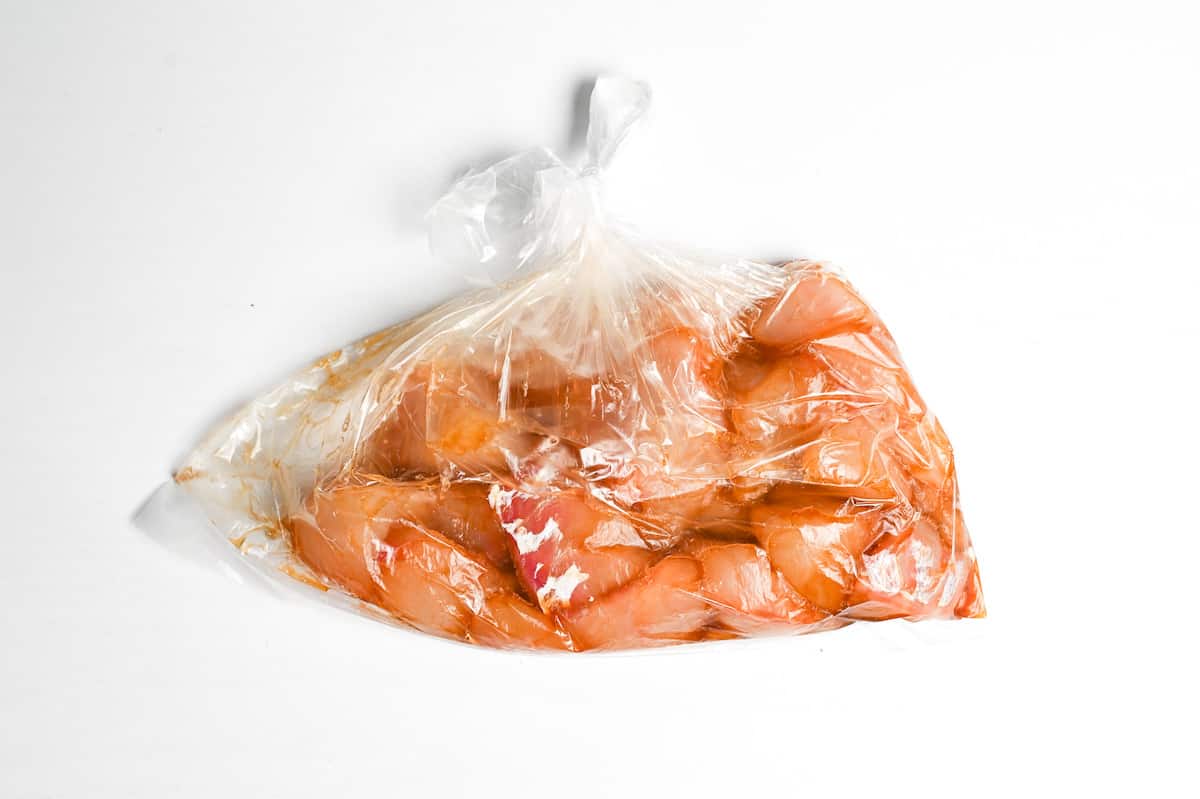 When the umami component in fish is decomposed, it produces something called "trimethylamine" which is responsible for the fishy odor. Adding seasonings that contain salt help draw out the excess moisture and remove bitterness. Soy sauce in particular has a masking effect that softens the smell. The marinating step in this recipe is not to flavor the fish, but to remove unwanted odors and improve the overall taste.
Depending on your preference, this recipe can be cooked either by shallow frying or regular pan-frying. If shallow frying, start heating your about 2-3cm (1 inch) of oil to 180°C (356°F), or a heat a pan on the stove over a medium heat for regular pan-frying.
While you wait for it to heat up, take the cod pieces out of the fridge and dredge them in cornstarch. This will help create a golden crispy outside which not only has an amazing texture, but also helps the teriyaki sauce stick better later.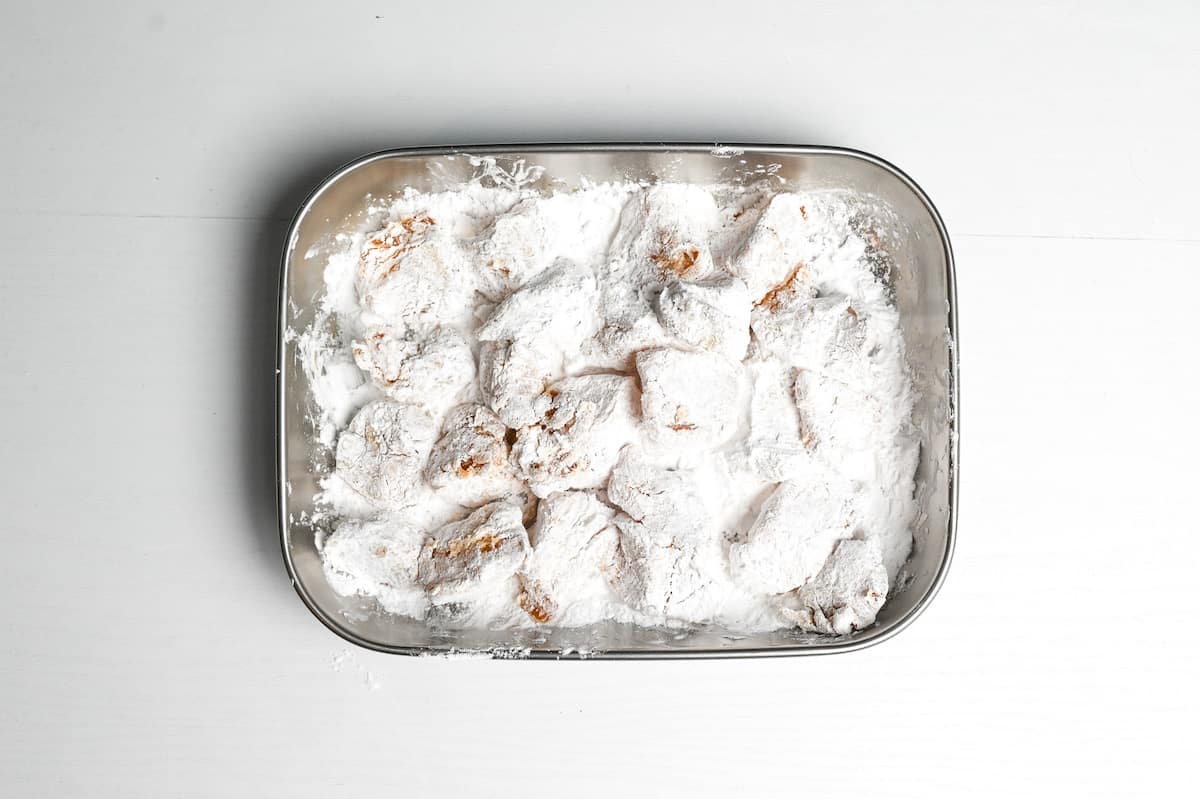 Once the oil is hot, add the cod pieces and fry for about 2 minutes on each side or until golden and crispy all over. If pan frying, make sure to fry all the surfaces to achieve the crispy texture all over.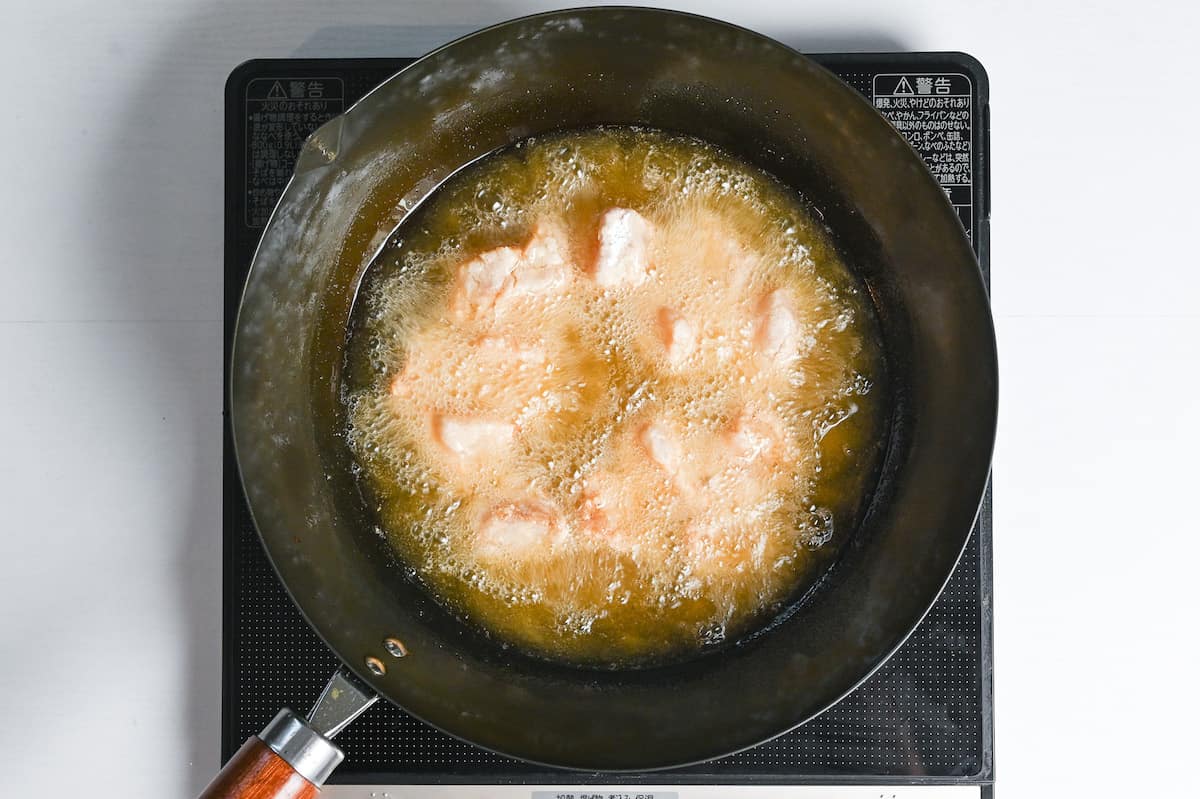 Once the cod is crispy and golden all over, transfer to a wire rack to drain off the excess oil. Proper draining will prevent oil mixing into your teriyaki sauce.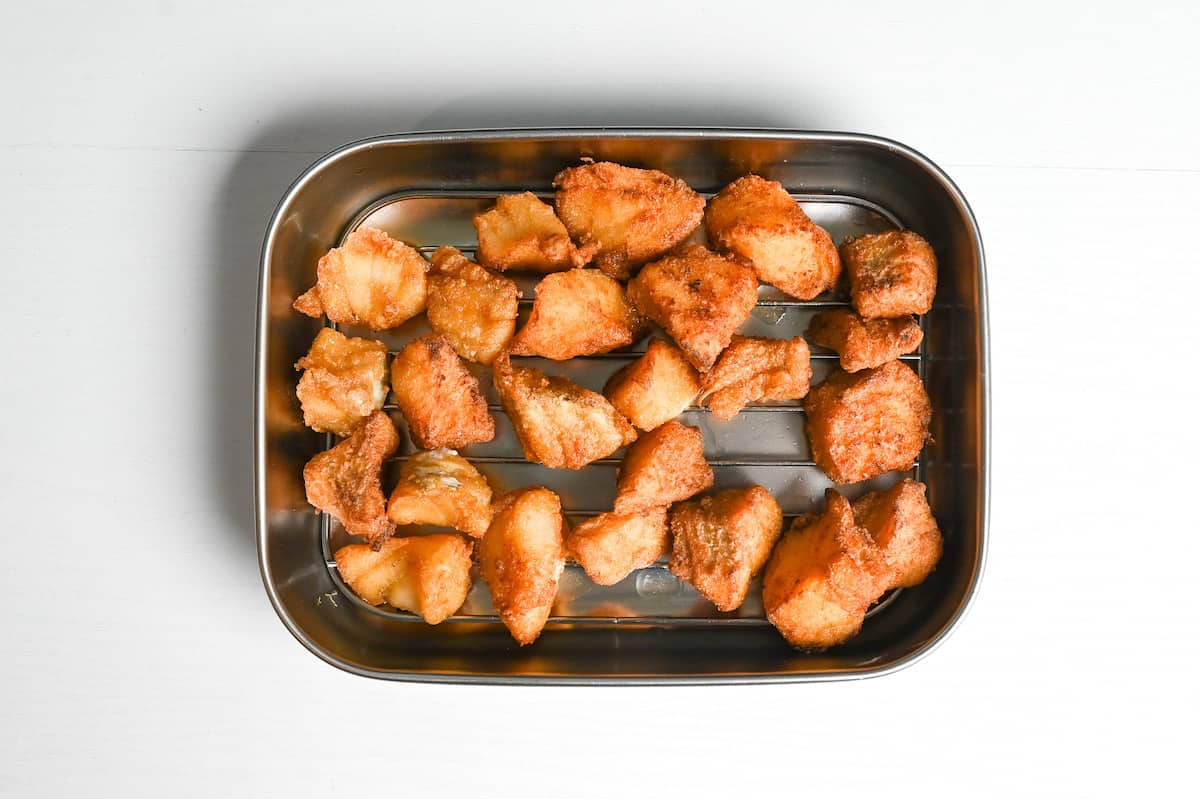 Add soy sauce, mirin, sake, sugar, dashi and honey to a wide pan and mix until combined. Place the pan on the stove and heat on medium-high.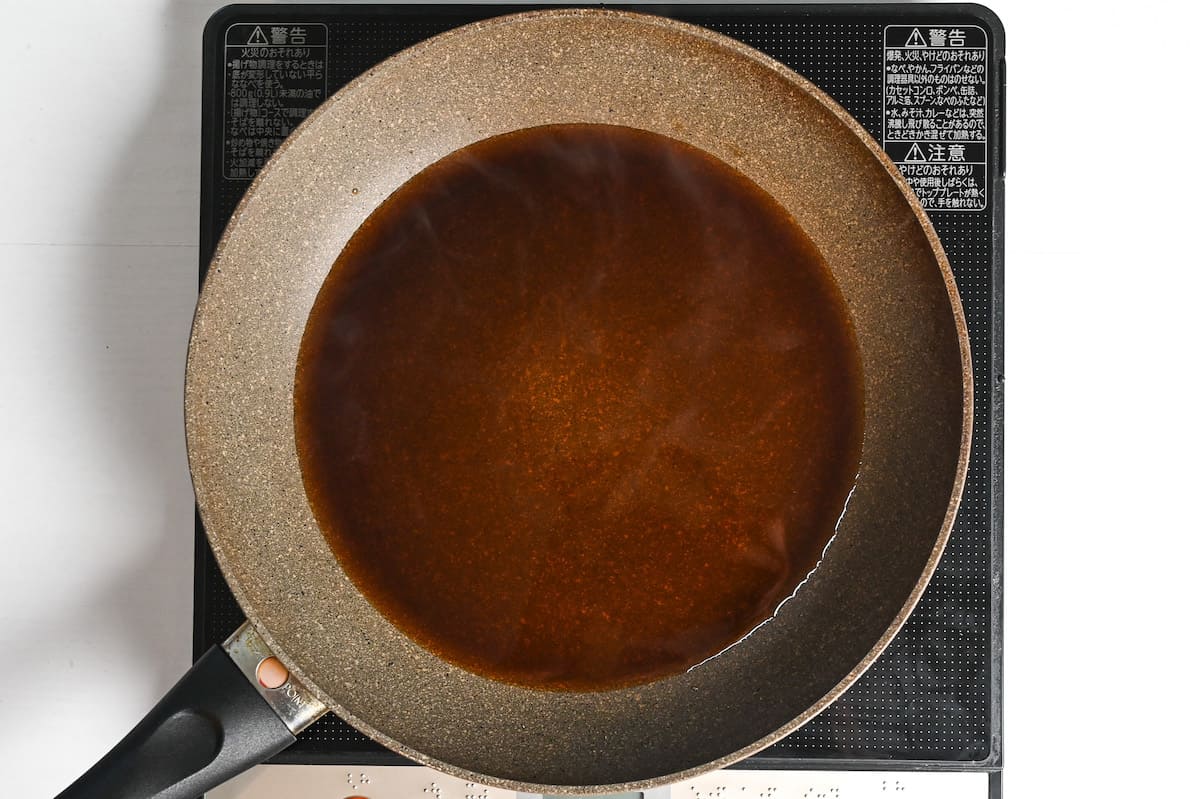 Once the sauce starts to bubble, add the cod pieces to the pan.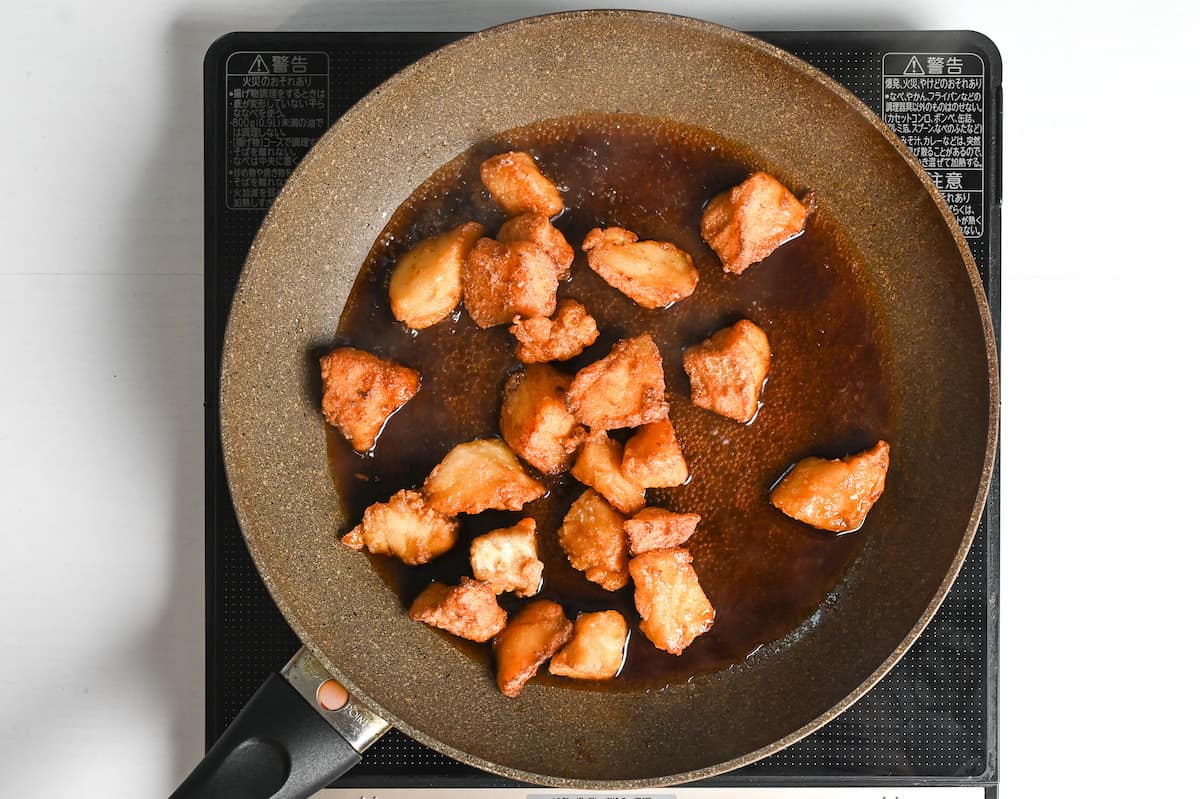 Gently mix the cod around the pan, turning occasionally to ensure all surfaces become coated in the sauce. Continue to stir over the heat until the sauce has thickened to a syrup-like consistency.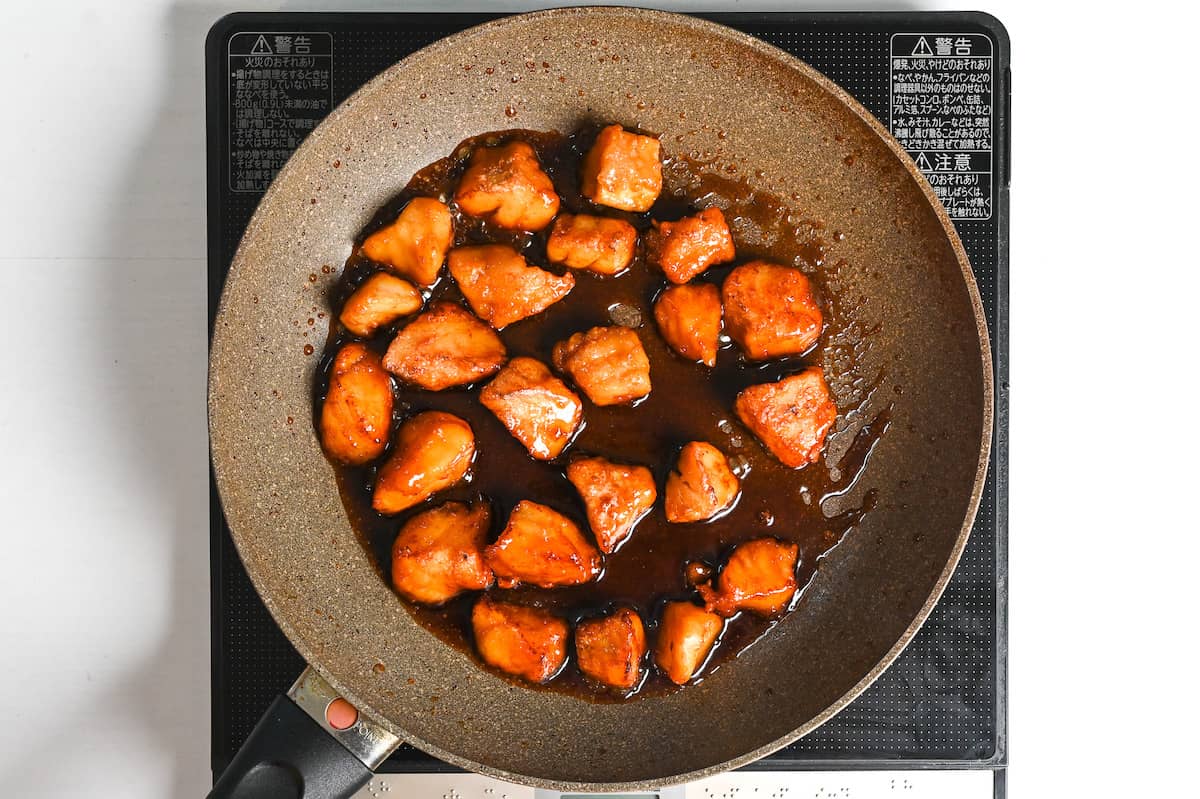 Once thickened, remove from the heat.
Serve up your homemade teriyaki cod with a sprinkle of chopped green onions and sesames seeds, and enjoy!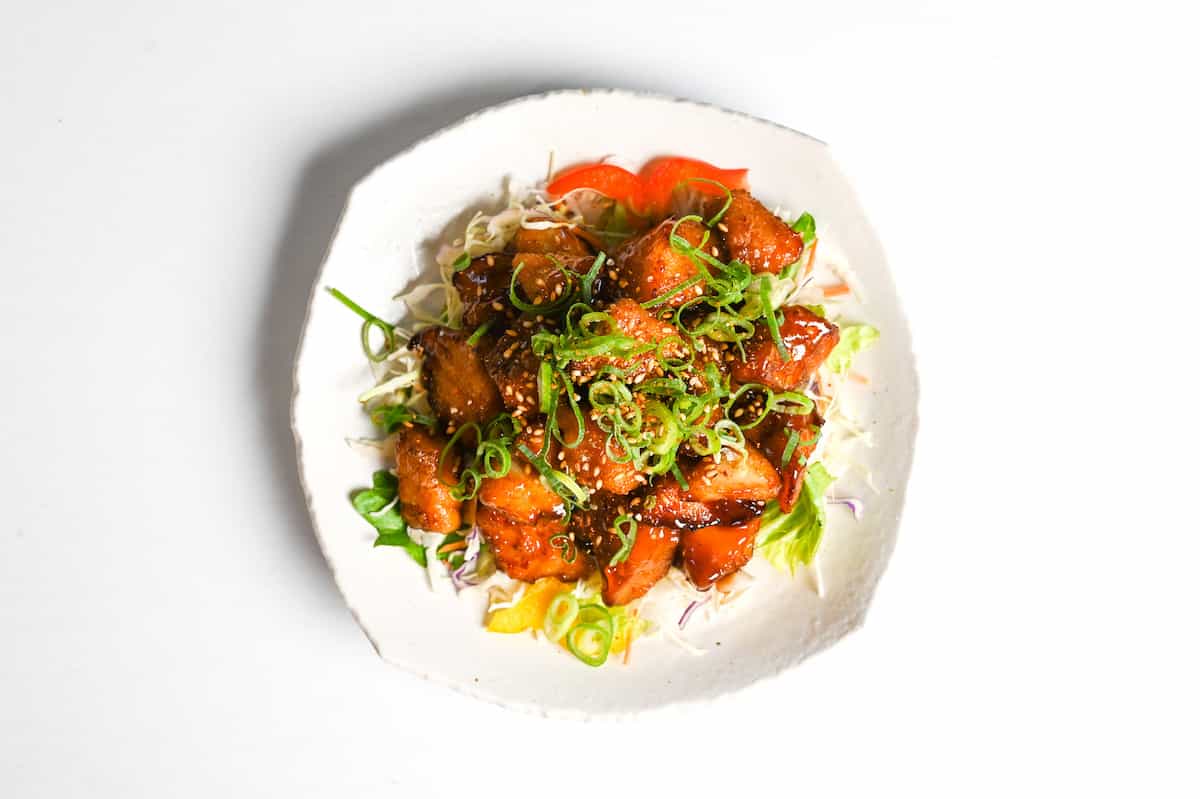 Recipe Update
This recipe was updated on July 21st 2023. The original recipe was made with whole cod fillets with the skin on. Since cod fillets are very delicate, I found they broke easily when cooking them in the teriyaki sauce. I changed the recipe to bitesize pieces to tackle this problem and added a marinating step in place of washing them with boiling water. This added an extra 10 minutes to the recipe.
If you want to follow the original recipe with whole fish fillets, watch my 15 minute teriyaki cod video displayed below.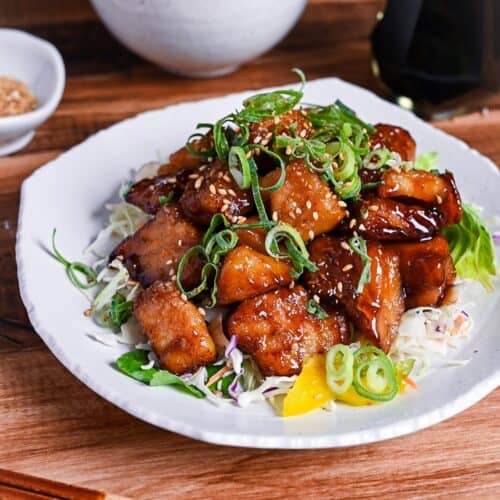 Quick and Easy Teriyaki Cod
How to make succulent, melt-in-mouth teriyaki cod with bitesize pieces of cod coated in a rich homemade teriyaki glaze.
Ingredients
150

g

cod

-

or white fish of your choice (see in post for suggestions)

2

tsp

soy sauce

2

tsp

mirin

3

tbsp

cornstarch

cooking oil

-

for frying

finely chopped green onion(s) -

optional garnish

sesame seeds

-

optional garnish
Teriyaki Sauce
2

tbsp

soy sauce

2

tbsp

mirin

2

tbsp

sake

2

tsp

sugar

2

tbsp

dashi

-

(optional) omit if you don't have dashi

1

tsp

honey
Instructions
Cut

150 g cod

into large bitesize pieces and place them in a bag with

2 tsp soy sauce

and

2 tsp mirin

. Marinate in the fridge for 10 minutes.

After 10 minutes, start heating the

cooking oil

to

180

°C

for shallow frying or medium for regular pan frying. While you wait for it to heat up, sprinkle

3 tbsp cornstarch

onto a plate and coat the cod pieces generously all over.

Once the oil is heated, place the coated cod pieces in the pan and fry for 2 minutes on each side or until golden and crispy.

Remove from the oil and transfer to a wire rack to let the excess oil drain off.

In a separate pan, add

2 tbsp soy sauce

,

2 tbsp mirin

,

2 tbsp sake

,

2 tsp sugar

,

2 tbsp dashi

, and

1 tsp honey

. Mix well and turn on the heat to medium-high.

Once it starts bubbling, add the fried cod pieces.

Gently stir to coat the cod and cook until the sauce thickens to a syrup-like texture. Once thickened, remove from the heat.

Serve and drizzle any leftover sauce over the top. Garnish with

finely chopped green onion(s)

and

sesame seeds

.
Notes
I've used cod in this recipe, but it works well with most white fish or salmon. See in post for alternatives.
What to Serve with Teriyaki Cod
So you've made this delicious teriyaki cod recipe, but now you're wondering what you should serve it with. Well wonder no more, here are a few recipes that pair perfectly with teriyaki cod!
Fluffy Japanese-Style Rice
Let's start with one of the most obvious yet perfect combinations, Japanese-style rice! The combination of sweet and flakey teriyaki cod pairs effortlessly with the soft, sticky nature of the white rice, creating satisfaction and comfort in every bite. If you have a rice cooker, making Japanese rice couldn't be simpler, but if not, do not fear! You can check out my recipe for how to cook the perfect Japanese rice on the stove!
How to Cook Perfect Japanese Rice on the Stove
No rice cooker? No problem! With this fool-proof recipe, you can make delicious, fluffy and sticky Japanese-style rice on the stove perfectly every time!
Check out this recipe →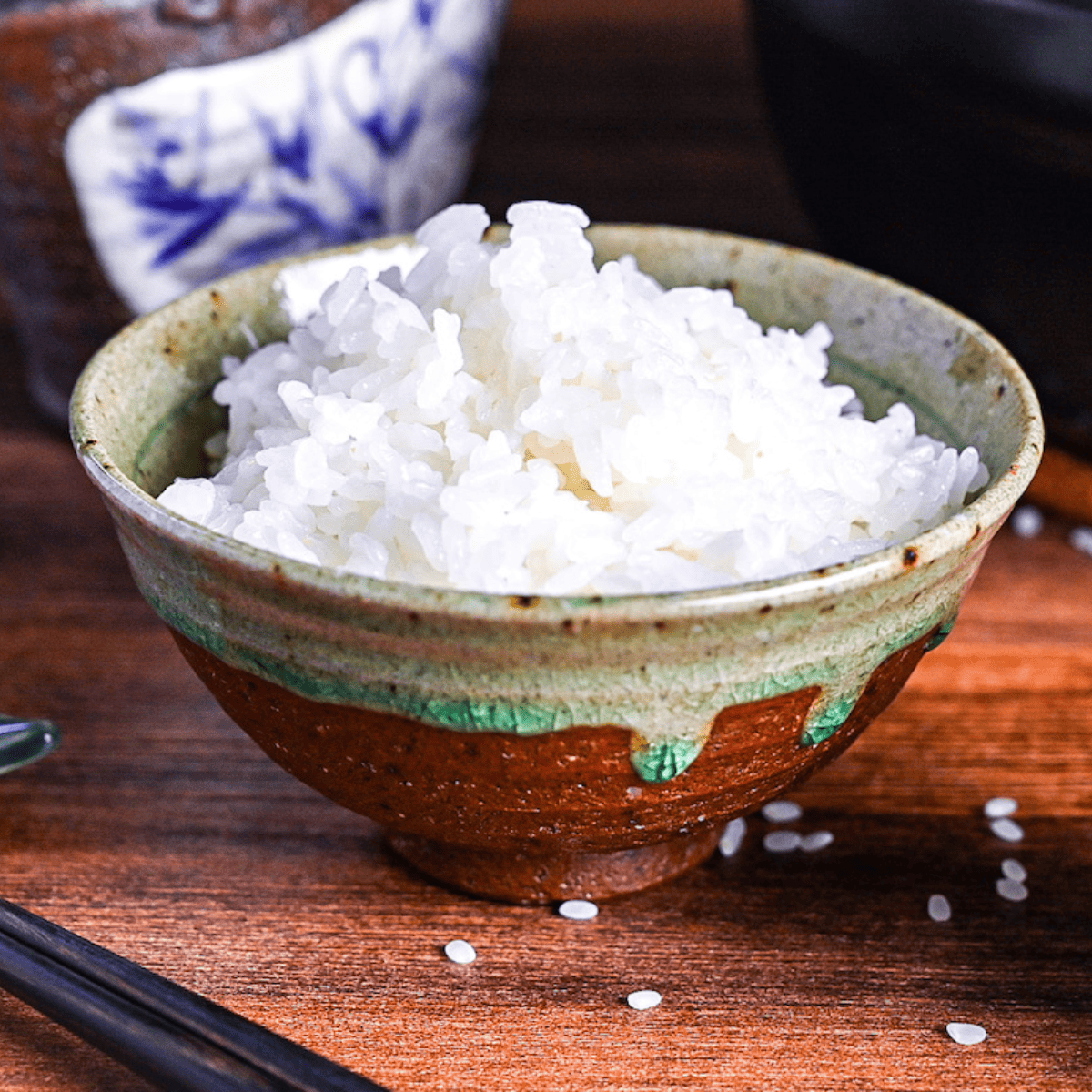 Miso Soup
If you're serving your teriyaki cod with rice, why not complete the meal with a satisfying bowl of miso soup? Not only is a great way to add a bit more variety to your meal, but it's nutritious and delicious too! I have many variations of miso soup for you to try, from classic miso soup with tofu and wakame, to mushroom miso soup or even pork miso soup. I'm sure you can find the perfect miso soup for you!
Authentic Homemade Japanese Miso Soup (味噌汁)
How to make authentic Japanese miso soup from scratch with homemade dashi stock.
Check out this recipe →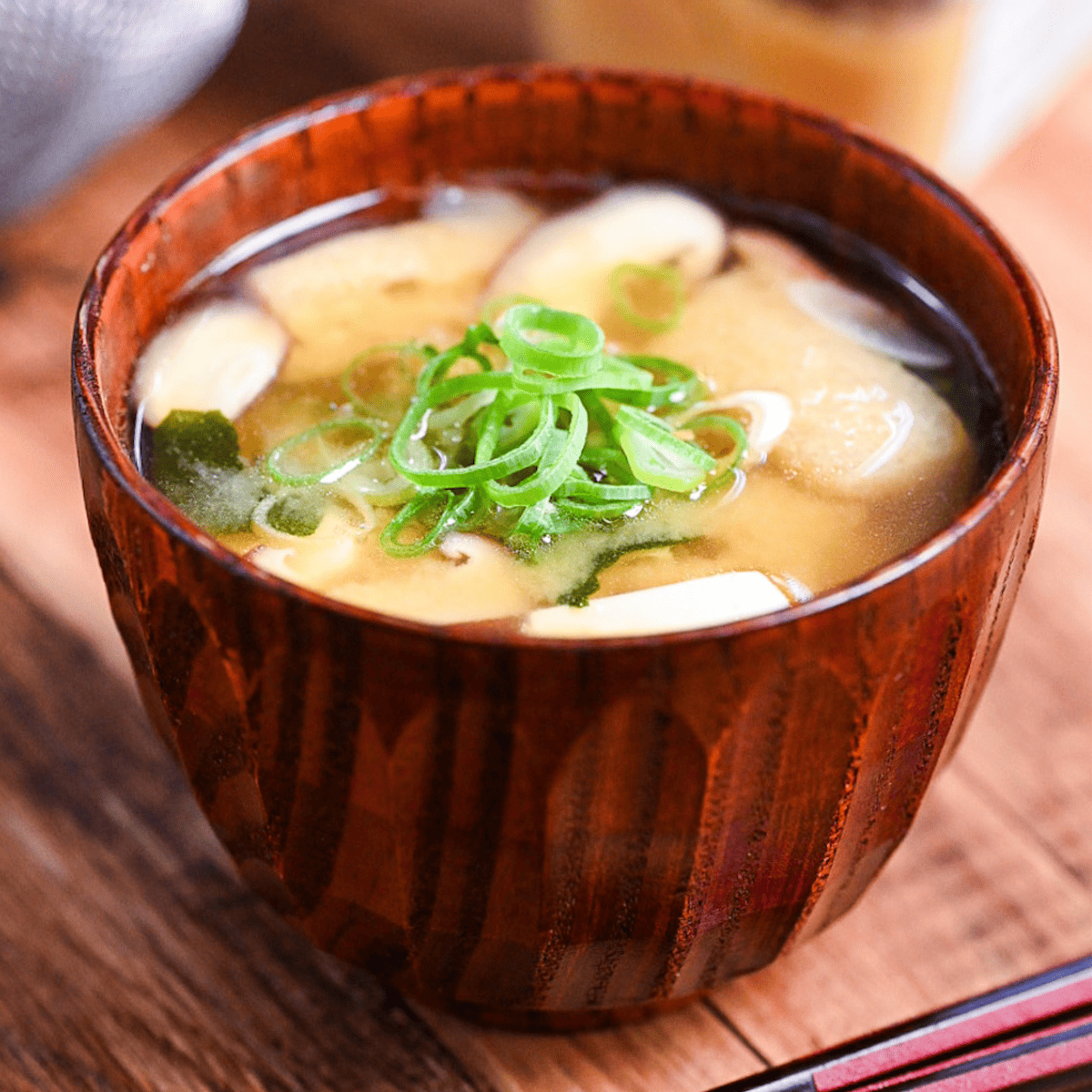 Ginger and Chili Cucumber Pickles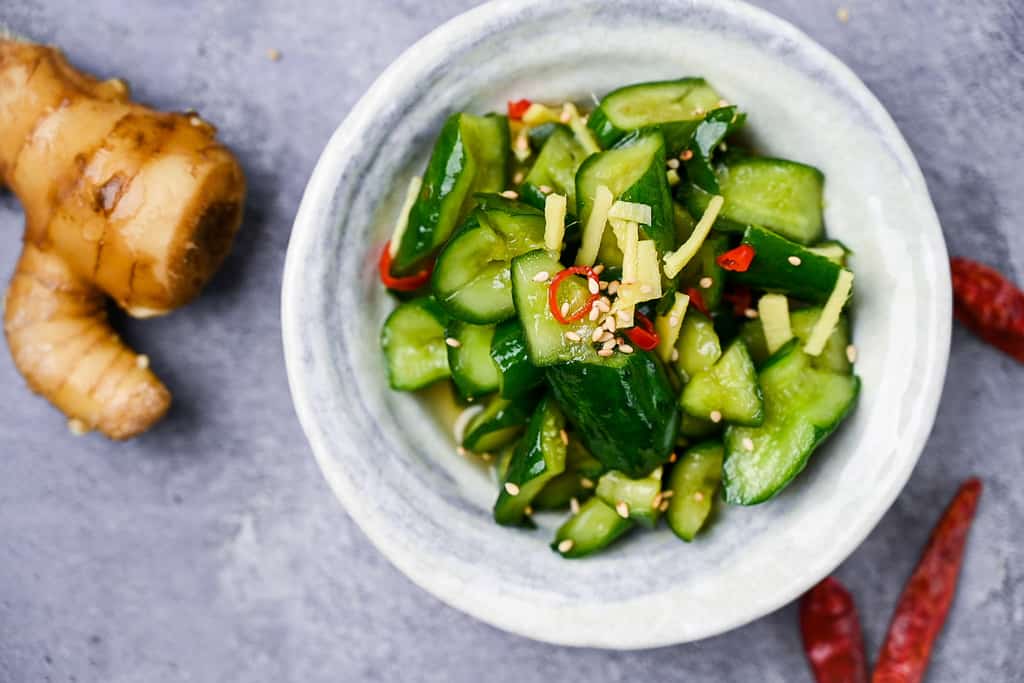 Looking for a refreshing break from the rich taste of teriyaki? Maybe you can put together a full Japanese set meal (teishoku) complete with rice, miso soup and pickles! These ginger and chili cucumber pickles are crunchy, fragrant and one of my personal favorites!
And if you're interested in more Japanese pickles, I also have recipes for wasabi pickled cucumber and sweet daikon pickles (bettarazuke) too.
Quick Japanese Pickled Cucumber with Ginger (Tsukemono)
How to make crunchy, refreshing Japanese cucumber pickles (tsukemono) with a ginger and chili kick. 
Check out this recipe →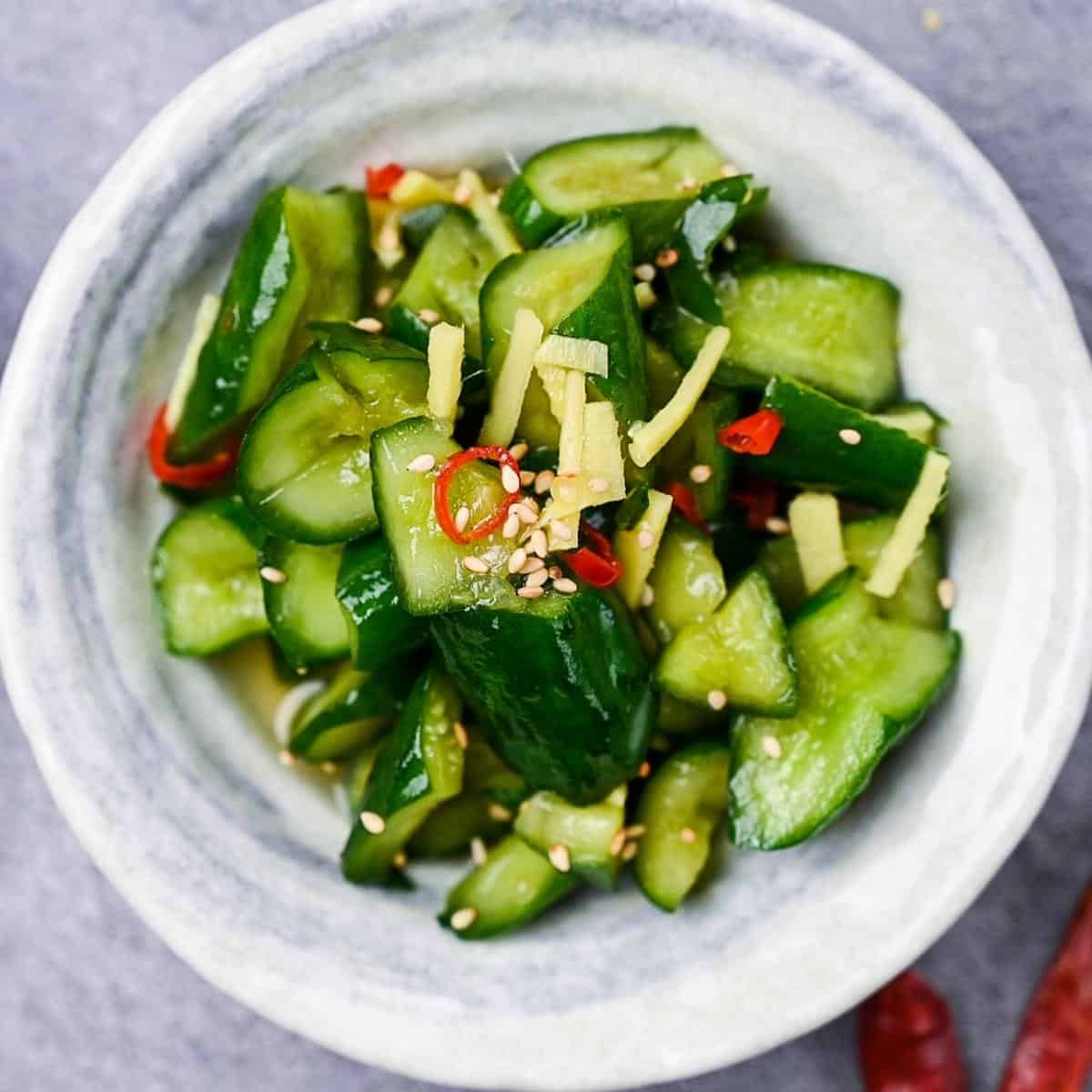 Salad
If you're looking for a lighter way to serve, why not opt for salad? Teriyaki cod can be served on the side or even tossed into the salad itself. Check out some of my salad recipes such as Japanese-style avocado salad, wakame seaweed salad or tangy sunomono made with cucumbers and octopus.
Japanese Style Avocado Egg Salad
How to make Japanese-style avocado egg salad with creamy wasabi mayo sauce.
Check out this recipe →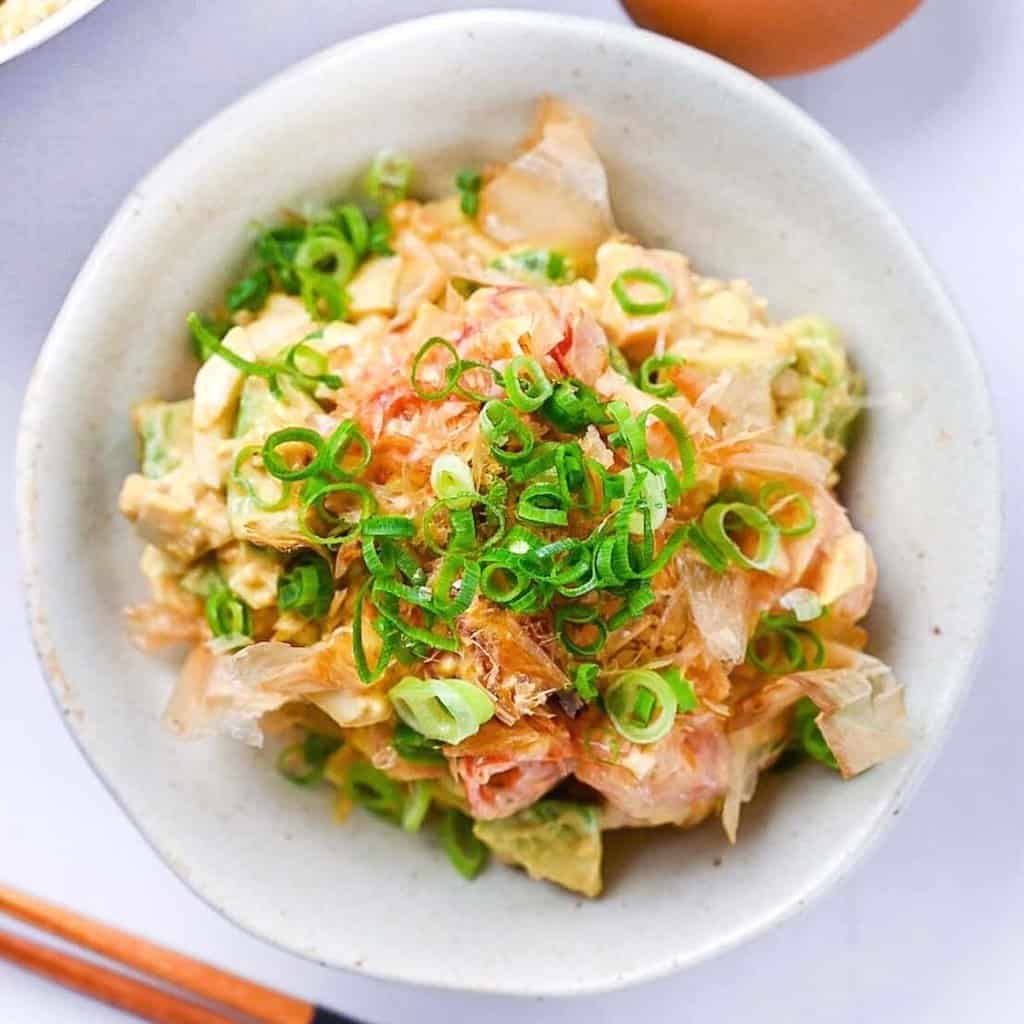 Other suggestions
Teriyaki cod is so versatile and can be served in many different ways. Here are a few more suggestions you can try, they're definitely not Japanese but they are seriously good!
Fish and chips style (chips, mushy peas etc)
In a sandwich
In a wrap with salad
With steamed or roasted vegetables
No matter what you choose to serve it with, I hope you enjoy this delicious teriyaki cod recipe! If you have a moment, I would really appreciate if you could let me know what you thought of this dish by giving a review and star review in the comments below. Thank you so much!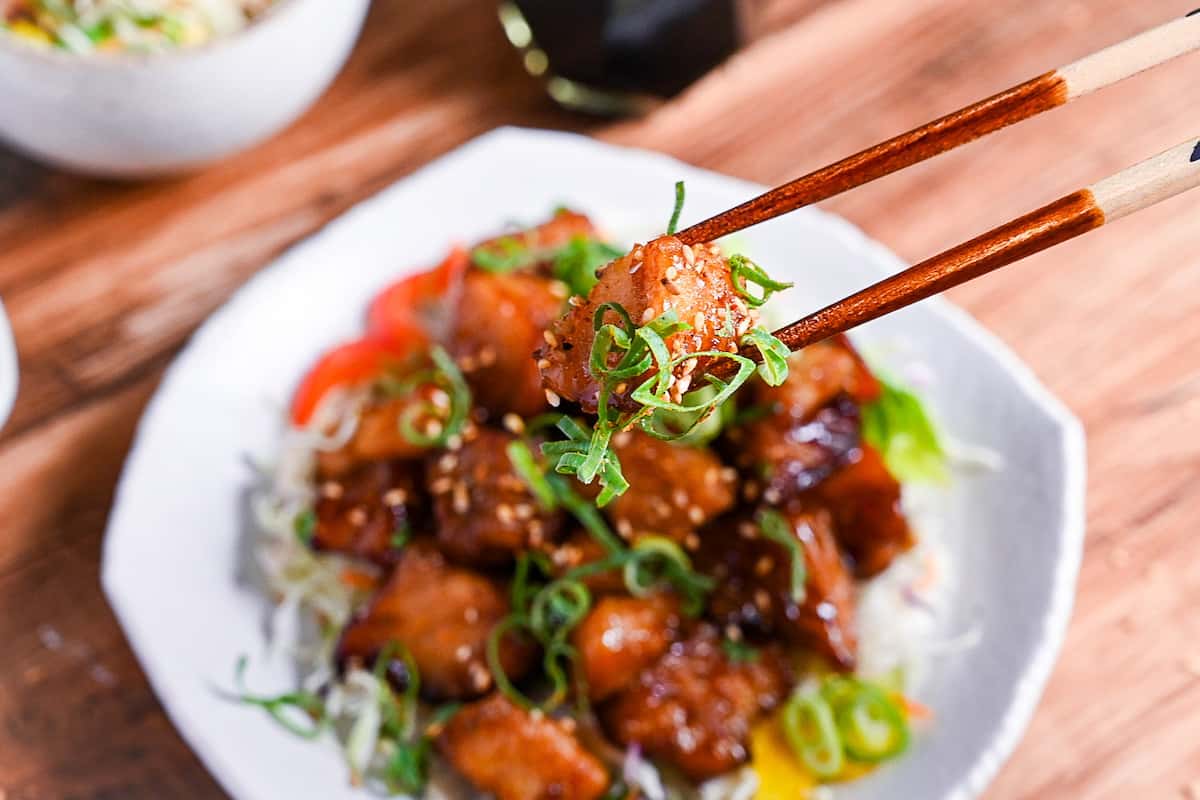 FAQ
Can I make teriyaki sauce without mirin/sake?
Teriyaki only uses 4 ingredients and each one plays an important part. Some recipes don't use mirin, it's possible to use more sugar instead of mirin. (Mirin is a sweetened rice wine)

Sake is more important and I don't recommend switching it out. But if you have to, then you can try switching it for Chinese rice wine, dry sherry or even just plain water. (It won't be so flavourful though.)
What does teriyaki taste like?
It's a sweet soy glaze so of course it's sweet, a bit salty and a bit tangy.
What do you eat with teriyaki cod?
Any teriyaki dish tastes best with rice. You can serve it on the side or in a bowl, it's up to you! You could even wrap it in rice and make onigiri if you like!
What is teriyaki sauce made of?
Teriyaki sauce is a 1:1:1 ratio of soy sauce, sake and mirin, sometimes with added sugar.