Disclaimer: This post contains Amazon affiliate links. Sudachi earns a small percentage from qualifying purchases at no extra cost to you. See disclaimer for more info.
What is Japanese Steak Sauce?
In Japanese cuisine, the term "Japanese steak sauce (和風ステーキソース)" typically refers to a soy sauce-based sauce that is often seen in steakhouses in Japan.
This designation isn't restricted to a single, definitive sauce but encompasses a variety of steak sauces embodying the essence of Japanese flavors.
These soy sauce-based concoctions are commonly infused with ginger, adding a distinctive layer of aromatic and flavorful taste.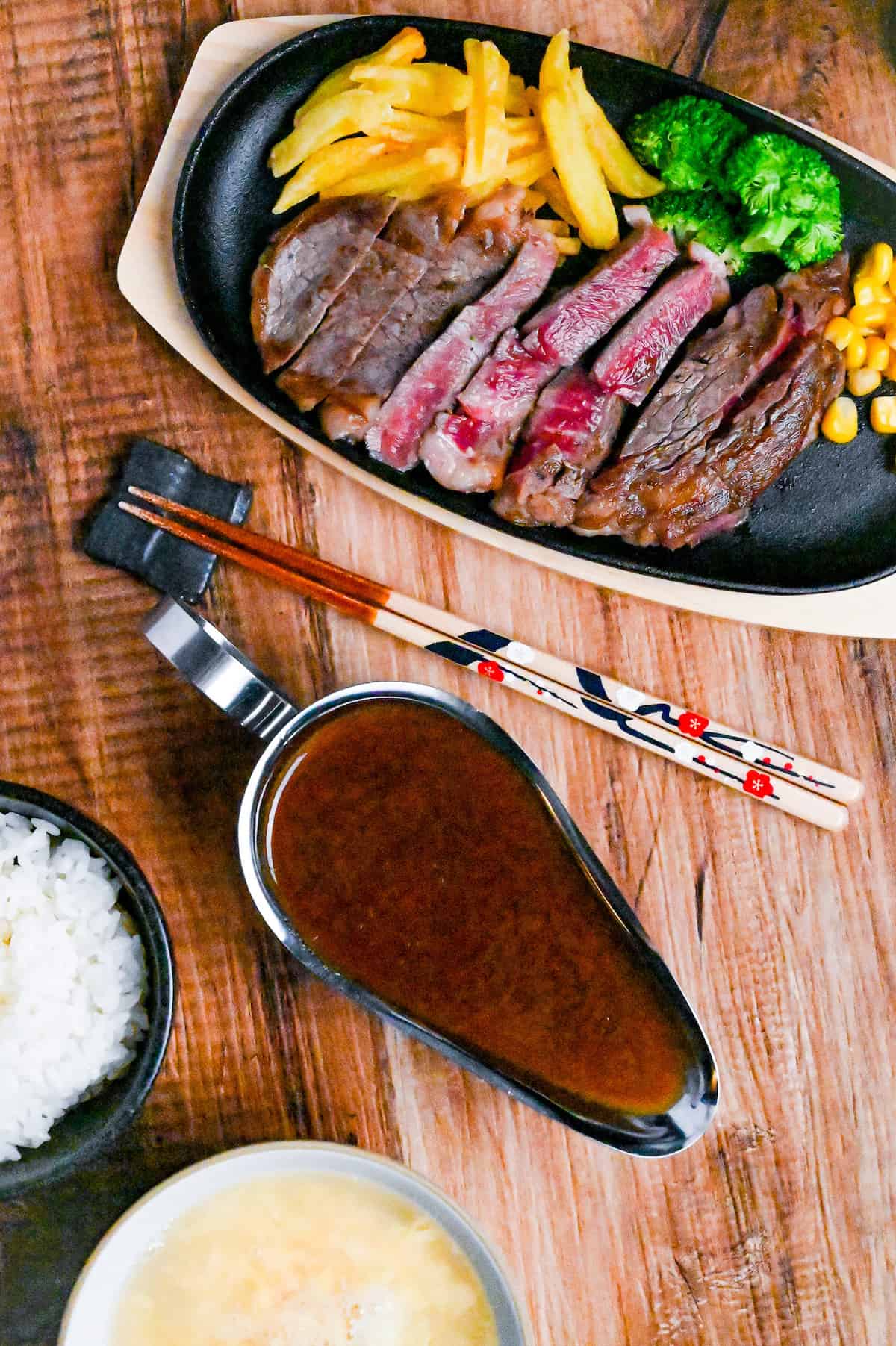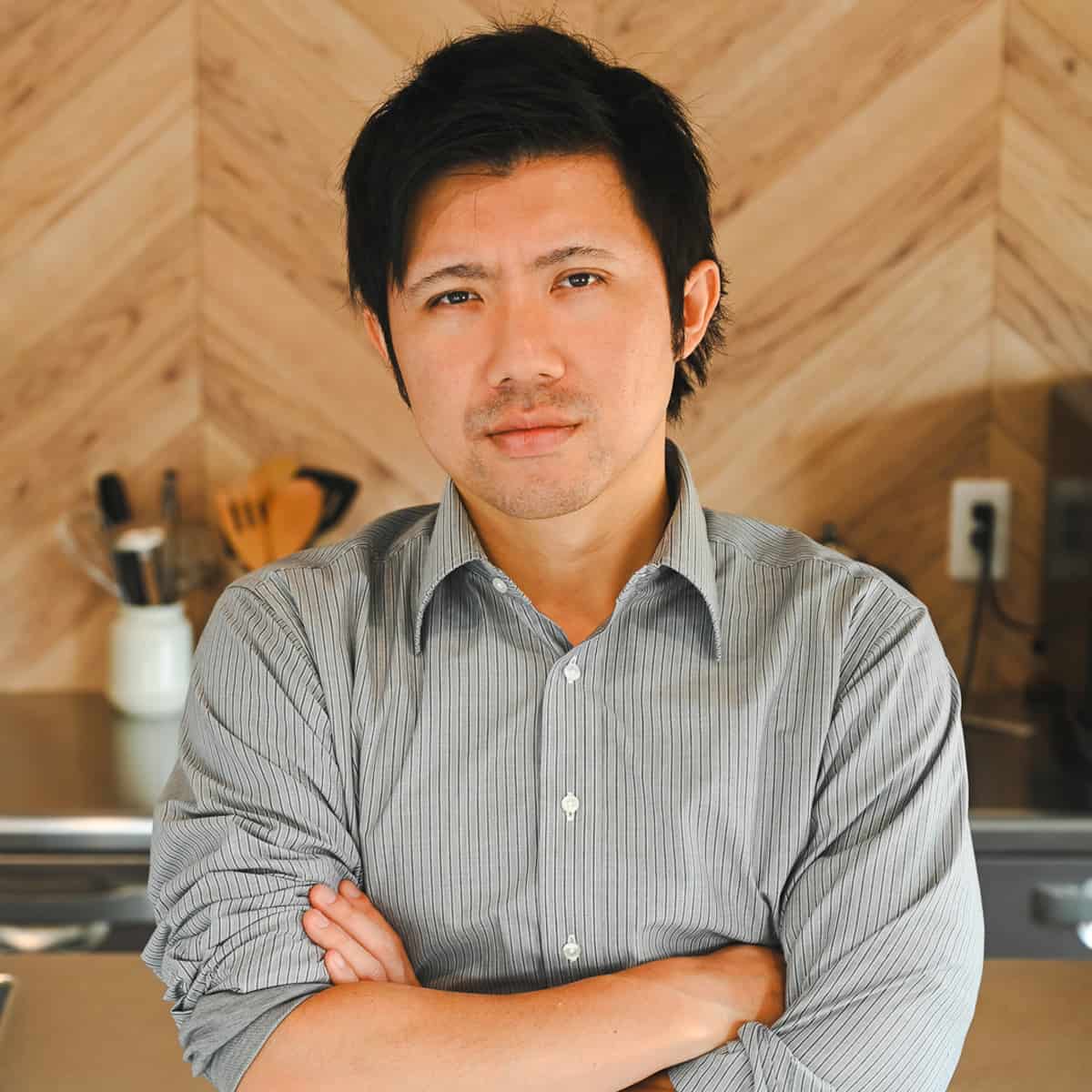 How I Developed This Recipe
---
Ever since my childhood, Bronco Billy (A steakhouse chain in central Japan) has held a special place in my heart. As a kid, the steak was a rare and luxurious treat, and my few visits to Bronco Billy were cherished moments.
This fondness hasn't faded; it's only grown stronger with time. So, Bronco's sauce was my sole inspiration when I set out to create a Japanese steak sauce recipe.
I frequented Bronco Billy's multiple times, keenly observing and savoring their sauce. Back in my kitchen, after numerous attempts, I finally crafted a Japanese steak sauce that satisfied me. I hope you'll try it and feel the same joy.
Ingredients & Substitution Ideas
Fruits and Vegetables for Blending: I blended apples, carrots, ginger, and garlic to create a flavorful combination with a good balance of sweetness and aromatics.
Soy Sauce: To learn more about selecting the right soy sauce for Japanese dishes, I've put together a handy soy sauce guide.
Mirin: Hon Mirin (本みりん) offers the best flavor. Check out my post on the 20 Most Useful Condiments and Seasonings for Japanese Cooking for more of my favorite picks.
Rice Vinegar: I usually use rice vinegar, but if you need an alternative, apple cider or white vinegar work just as well.
Sake: It adds a unique Japanese touch with a hint of umami and subtle bitterness, but feel free to skip it or swap it with white wine or dry sherry. Curious about sake? Take a look at my Sake 101 article for more insights.
Red Wine: Red wine is a must for this Japanese steak sauce. I recommend Cabernet Sauvignon, Merlot, or Pinot Noir for the best flavor. Just one more note: there is no need to use expensive wines in this recipe!
Honey: It adds a distinctive sweetness and texture to the steak sauce.
Curious about the exact brands and products that bring my recipes to life? Discover the brands and ingredients behind my recipes at the Sudachi Amazon Storefront. Explore my handpicked pantry essentials and find your next kitchen favorites!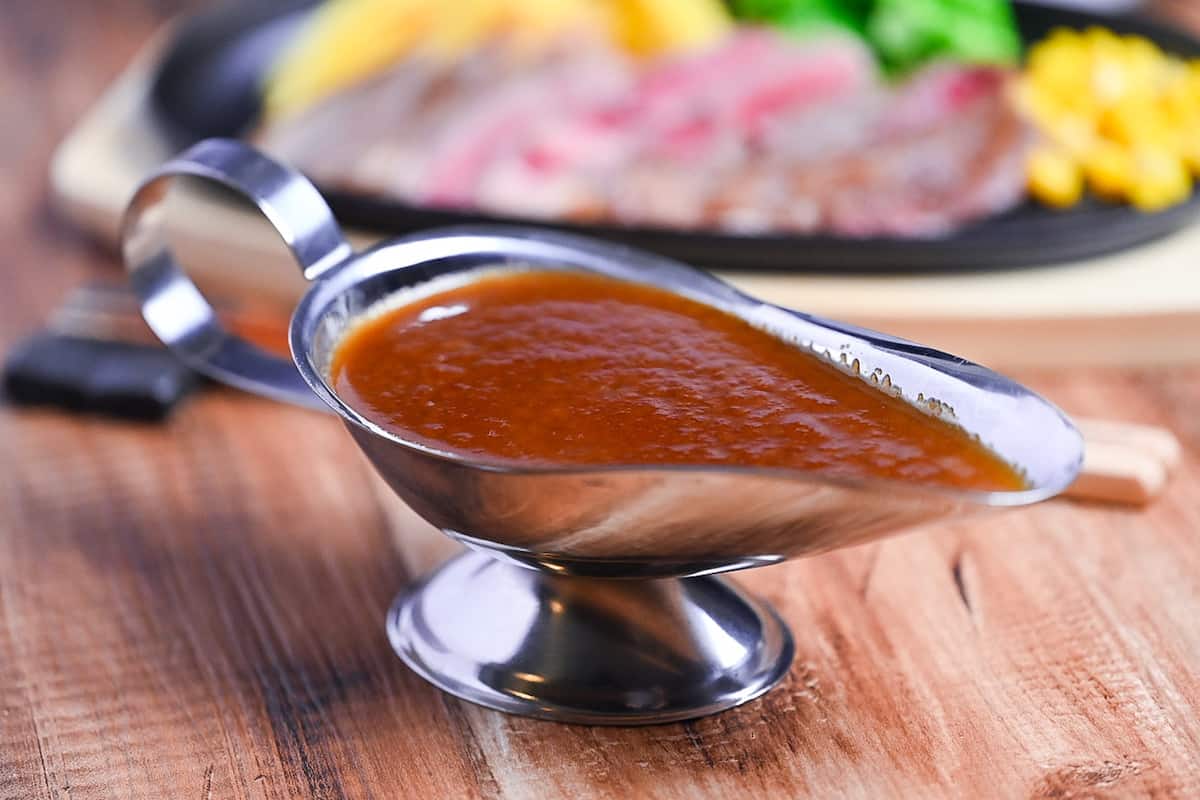 Visual Walkthrough & Tips
Here are my step-by-step instructions for how to make Japanese-style Steak Sauce at home. For ingredient quantities and simplified instructions, scroll down for the printable recipe card below.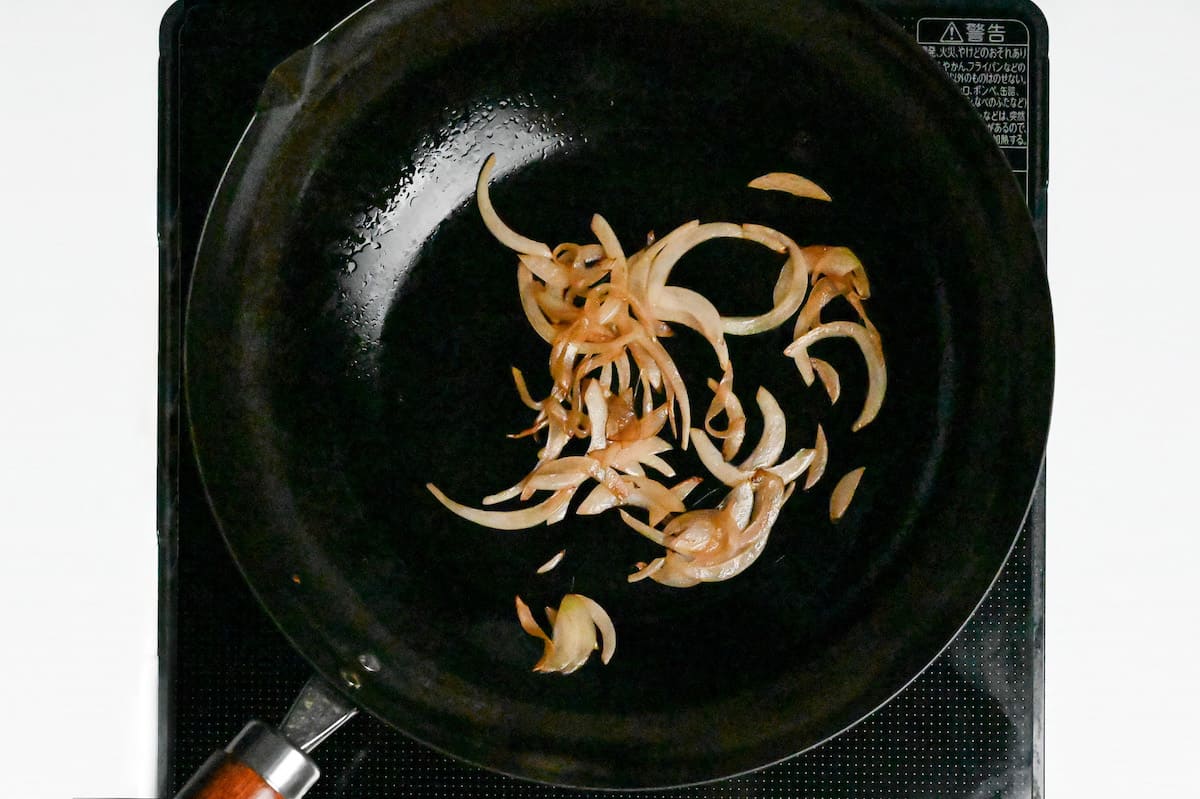 I always start by sautéing the onions until slightly browned and softened.
Although this step can be skipped, in my experience, it is crucial to mellow out the pungent taste of raw onions, enhancing the sauce's overall flavor.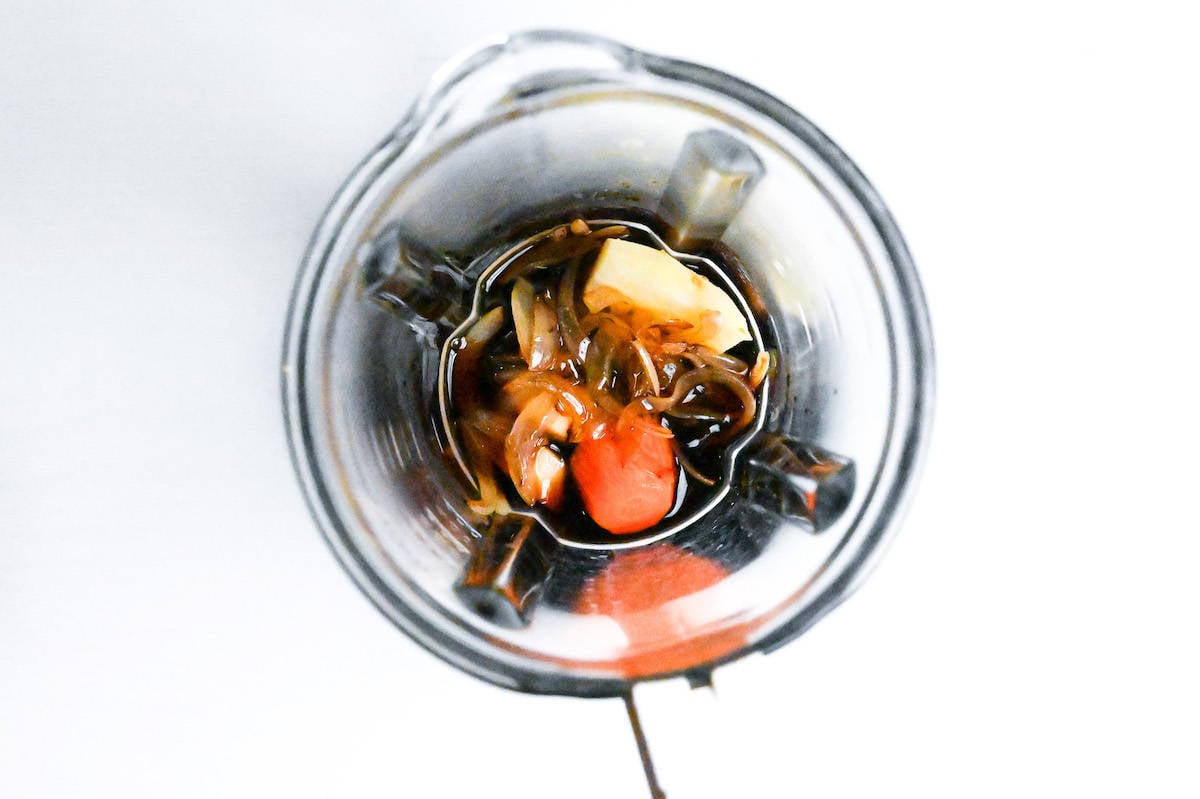 Blending the ingredients is far more effective than grating them individually.
I think this because grating tends to make the ginger lumpy, which can affect both the taste and texture. I tried to make this both ways, but the results were completely different.
So, I recommend blending them to achieve a smooth and uniform mixture. Alternatively, you can move onto the next step and use an immersion blender if you have one.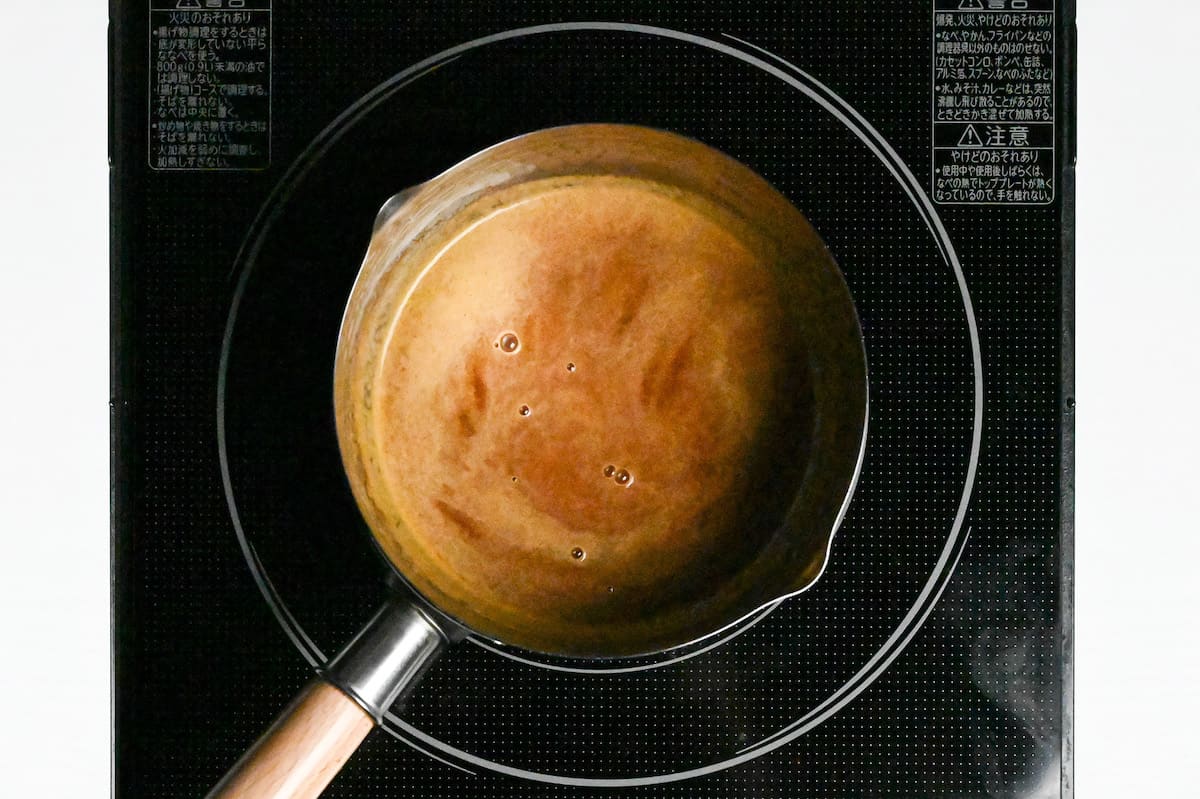 After blending, transfer the mixture to a saucepan.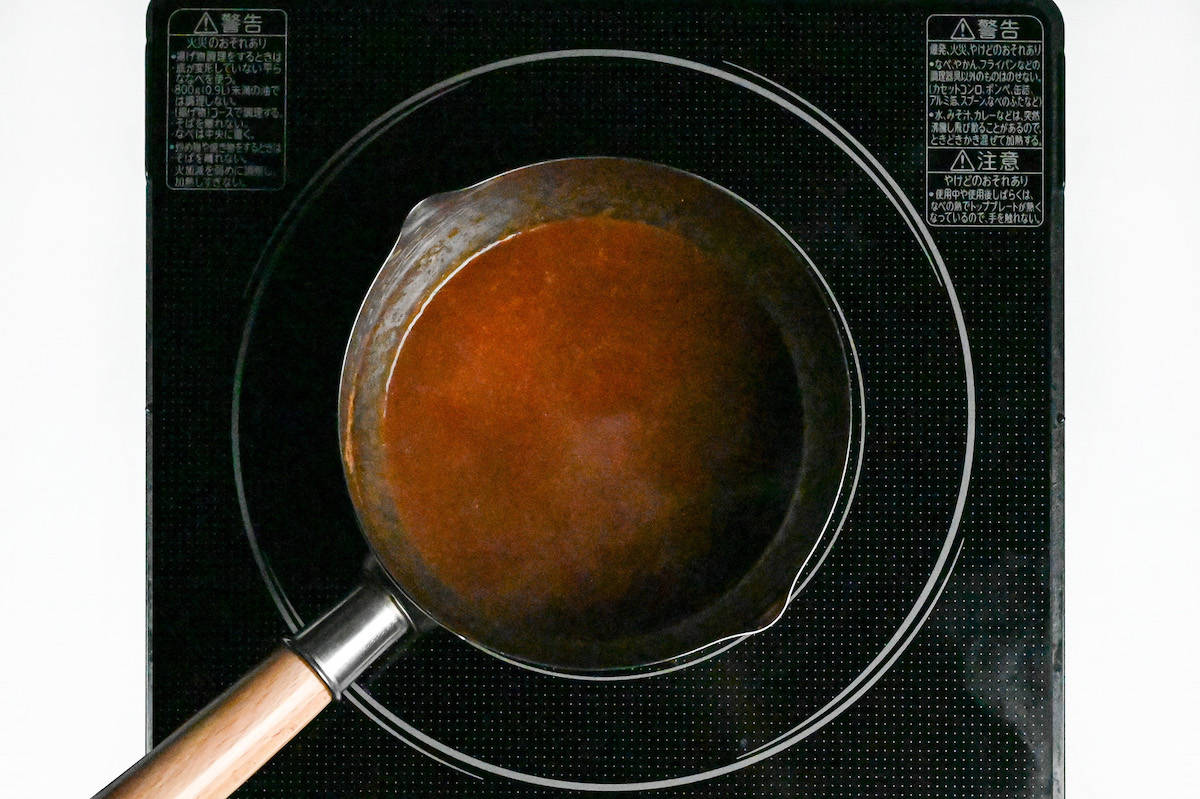 Heat it until it's almost boiling, then reduce the heat to medium-low. Let it simmer for around 3 minutes.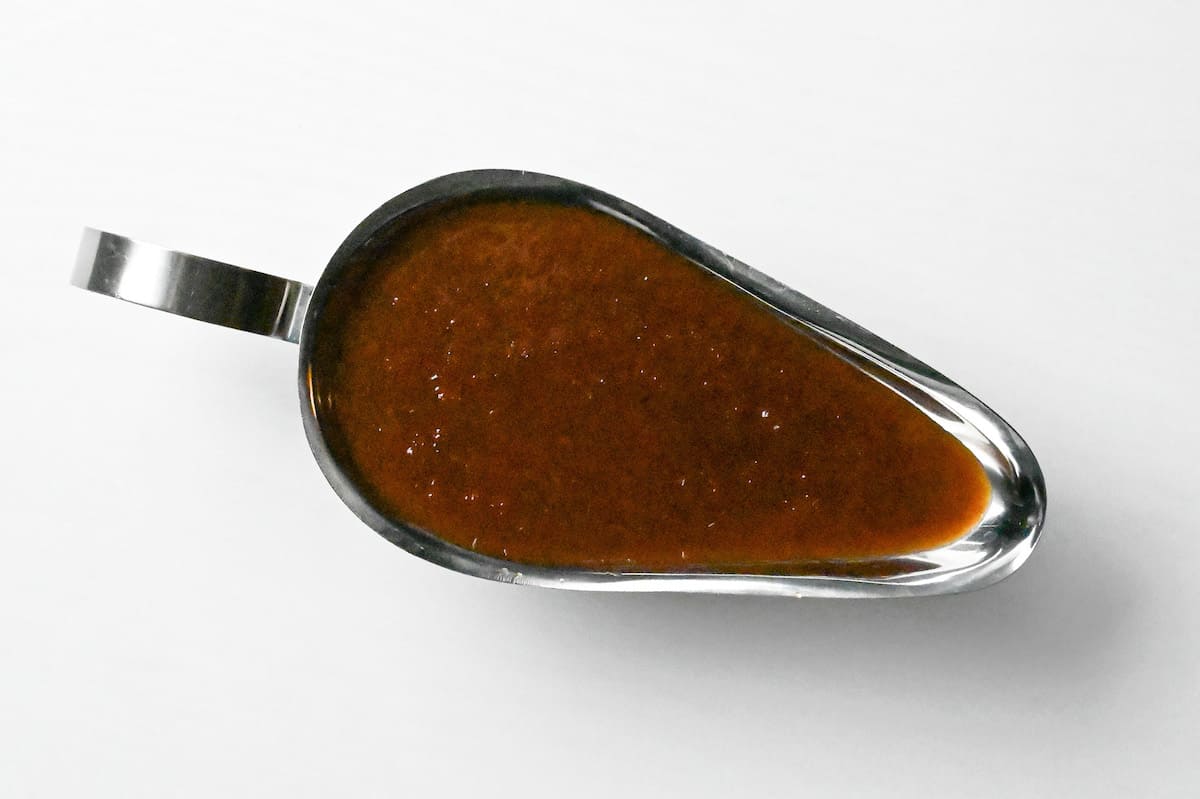 Transfer to a pouring jug and enjoy with your favorite steak!
This sauce can be served hot, warm or chilled, depending on preference. Enjoy!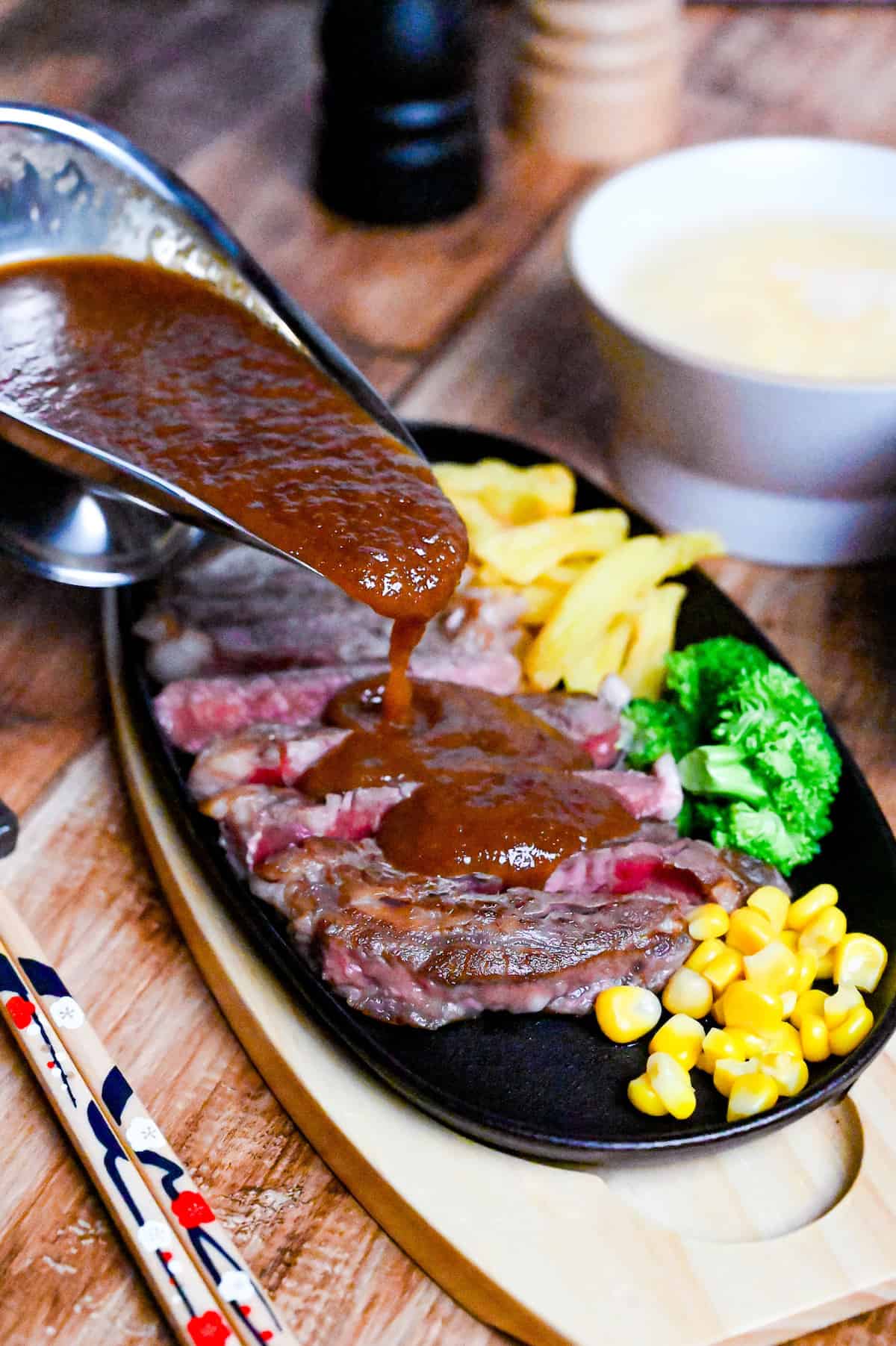 How to Store
It's crucial to store this homemade steak sauce correctly to maintain its freshness and flavor, so I always make sure to either refrigerate or freeze it, never leaving it at room temperature.
When I pop it in the fridge, I use a sealable Tupperware or jar, which keeps it fresh for up to 4 days.
If I decide to freeze it, I go for a Ziploc bag, which keeps it good for about a month.
However, from my point of view, this recipe is so simple and delicious that it's best to make just enough for your meal. That way, you get to enjoy it at its peak flavor every time!
Room temperature – Not recommended.
Refrigerated – 4 days.
Frozen – Up to a month.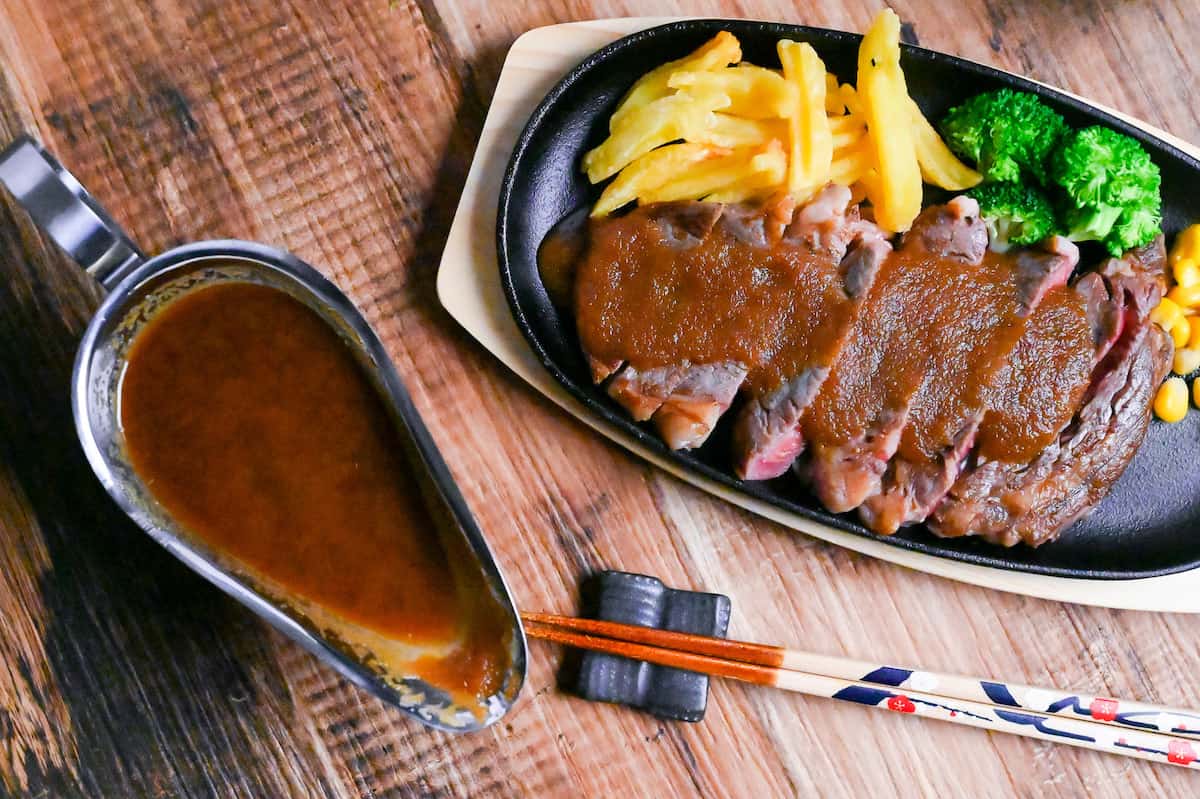 FAQ
What does Japanese steak sauce taste like?
Japanese steak sauce has a beautifully balanced flavor of soy sauce and ginger and a subtle fruity sweetness. Since they usually contain many ingredients and condiments, the taste is rich and complex, making it a fine accompaniment for simply seasoned steak.
What is Japanese steak sauce made of?
Japanese steak sauces vary depending on the restaurant or brand, but most are soy sauce-based and contain onion and ginger to complement and help soften the flavor of the meat. Many contain honey, fruit juices, or real fruit pulp for sweetness and texture, but the range of ingredients used to make Japanese steak sauce is too wide to give a single answer.
I hope you enjoy this Japanese steak sauce recipe inspired by my favorite Japanese steakhouse! If you try it out, I'd really appreciate it if you could spare a moment to let me know what you thought by giving a review and star rating in the comments below. It's also helpful to share any adjustments you made to the recipe with our other readers. Thank you!
More Recipes You'll Love
If you enjoyed this Japanese-style steak sauce, check out some of my related recipes!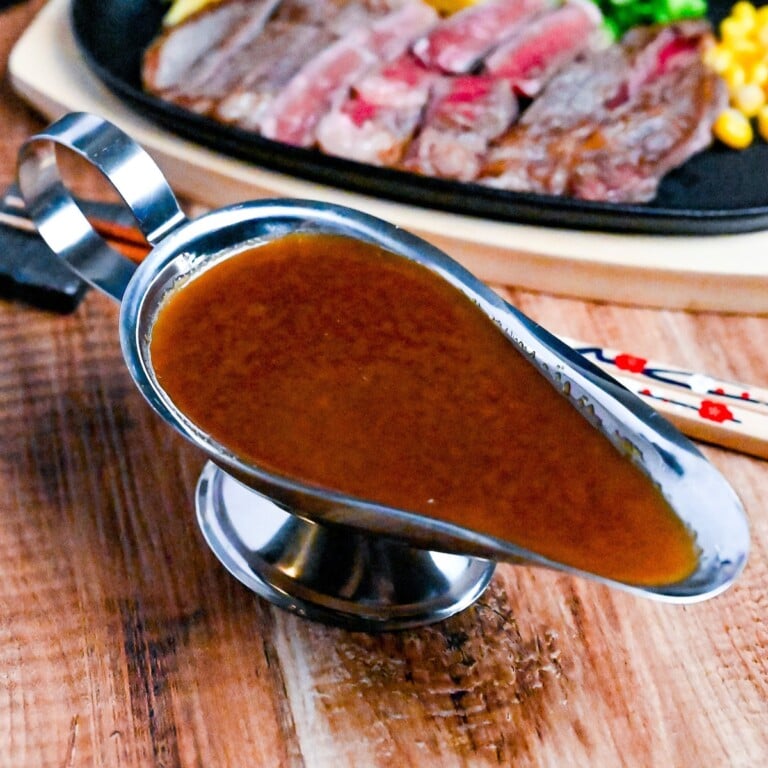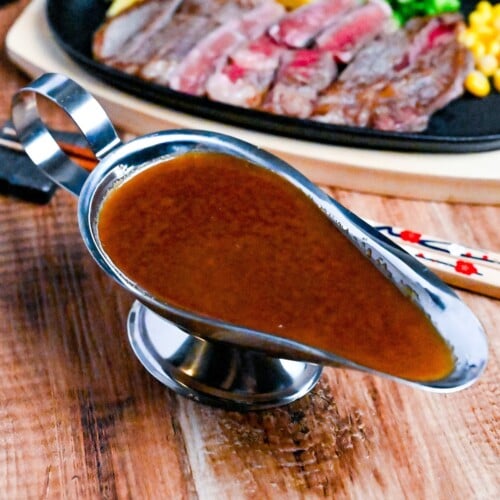 Japanese Steak Sauce (Steakhouse Bronco Billy Copycat Recipe)
---
This Japanese Steakhouse-style sauce is made with a beautiful blend of soy sauce, ginger, fruits and vegetables combined with condiments that encompass the authentic flavors of Japan!
---
---
---
---
Ingredients
Instructions
Heat a small frying pan on a medium setting and add a drizzle of

olive oil

. Sauté

30 g onion

until soft and golden, then remove from the heat.

Transfer the onion to a blender and add all the other ingredients. Blend until smooth. (Alternatively, move onto the next step and use an immersion blender.)

Pour the sauce into a saucepan and bring to almost boiling over medium heat.

Once almost boiling, reduce the heat to medium-low and simmer for about 3 minutes. Stir occasionally.

Turn off the heat and allow to cool to your preferred temperature before serving.

Transfer to a pourable container and enjoy with your favorite steak!