Ditch the pre-made curry cubes and try making your Japanese-style roux from home! This curry roux paste is rich in flavor and can be made ahead of time for an easy curry during the week. It's also highly customizable, so let's get started!
Disclaimer: This post contains Amazon affiliate links. Sudachi Recipes earn a small percentage from qualifying purchases at no extra cost to you. See disclaimer for more info.
What is Japanese Curry Roux?
Curry roux (カレールー) is a mixture of fat, flour, and spices in a block form resembling a thick chocolate bar. The fat is a binding agent; the flour helps thicken the curry, while the spices give it a distinct flavor. To put it simply, curry roux makes it easier to prepare fail-free Japanese curries quickly with little effort.
Although Japanese curry roux is known for its iconic "chocolate bar" shape that can be broken into blocks, I will be making a thick curry roux paste in this recipe. The paste works exactly the same as regular roux cubes, just with a softer texture.
Creating a complex and flavorful curry roux from scratch can be time-consuming, which is why many brands, such as Golden Curry, Vermont, and Java, offer premade boxed curry roux. Even Japanese curry restaurants use the wholesale version of premade roux! If you want to learn more about Japanese boxed curry roux, including details about each brand and its unique features, check out my How to Use Japanese Curry Roux post.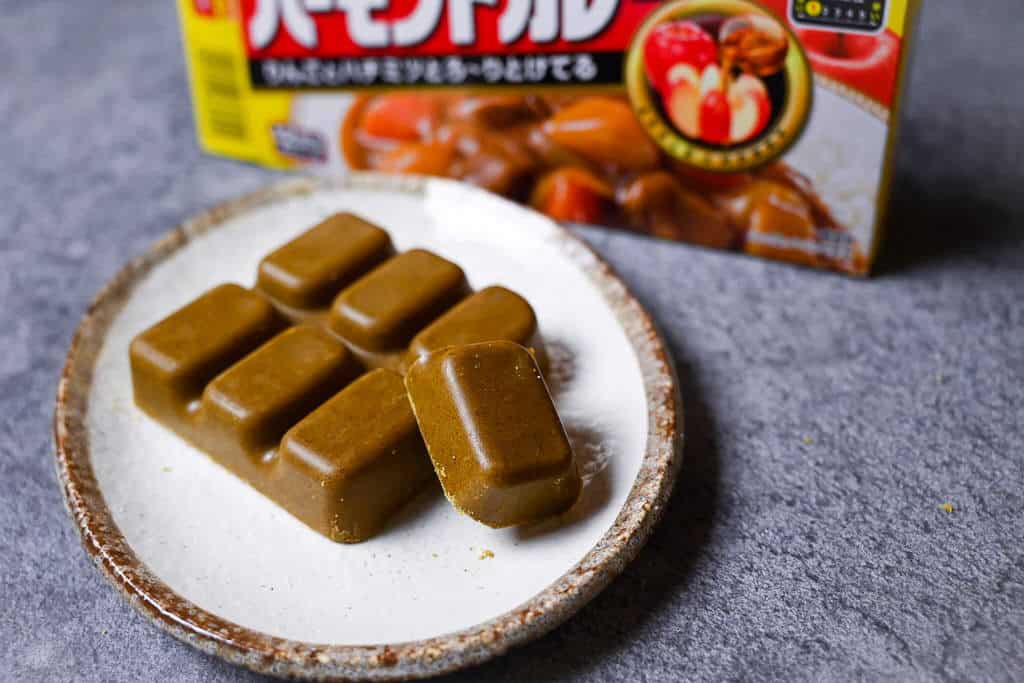 A Brief History
Roux is a French cooking technique that involves mixing flour and fat over heat and using it to thicken sauces while adding a richer taste.
While curry originates from India, Japanese curry actually began as a mixture of roux and curry powder, which was believed to be introduced to Japan from the UK. Due to this interesting history, Japanese curry has many similarities to European-style gravy and is actually considered as "yoshoku", which is the Japanese term for Western style dishes.
Initially, the term "curry roux" was used by chefs to refer to the simple base of the curry, which consisted of butter, flour, and curry powder. However, as time passed, more ingredients were added to create a more complex curry roux, incorporating the essence of meat and vegetables.
Nowadays, curry roux has evolved into concentrated curry, and the Japanese loan word "curry roux" (kare ru or カレールー) is used by both everyday people and restaurants to refer to both the cubes and the curry itself.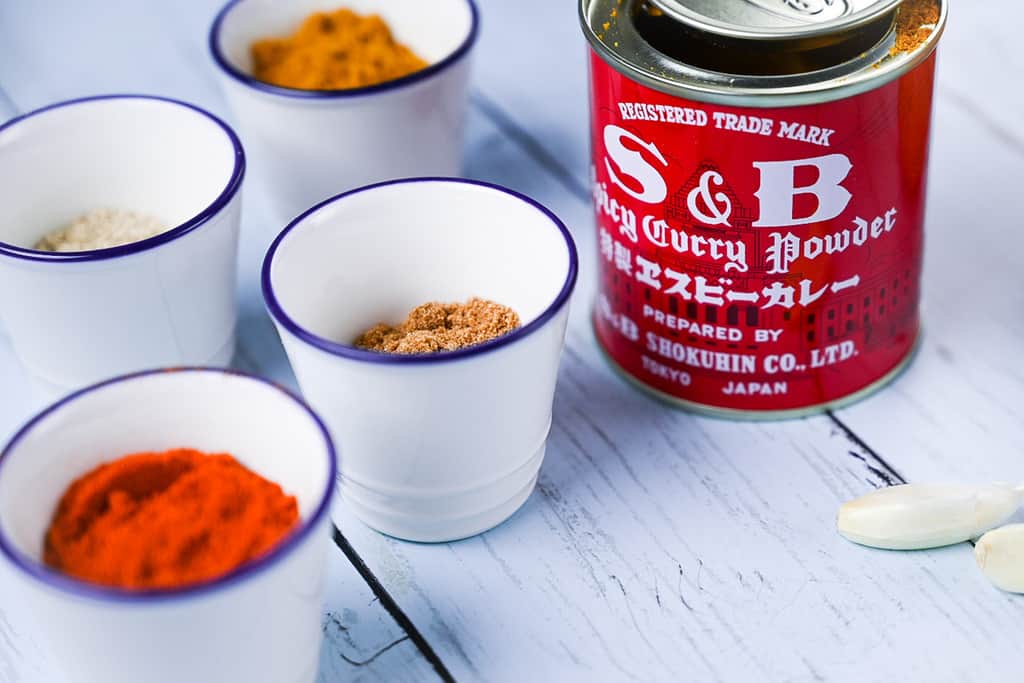 Benefits of Making Your Own Curry Roux
You might wonder why not just buy the curry roux cubes and save all the time and effort. That is true, but there are benefits to making it yourself!
It's highly customizable, meaning you can leave out the spices you don't like and add the ones you love! You can make your own perfect curry spice combination!
More accessible. Spices are easier to find than Japanese curry roux in some countries, so making curry roux from scratch is more accessible in this sense.
It's cheaper in the long run. The initial cost of buying all the spices might be expensive, but it works out cheaper than the premade roux in the long run. The spices will make countless batches of curry roux.
No added preservatives or chemicals.
You can make it to suit your dietary needs. Japanese curry roux is not usually vegetarian/vegan. Vegetarians can swap beef fat for butter, and vegans can use coconut oil or vegan butter in my recipe. Bouillon can be replaced with vegetable stock too.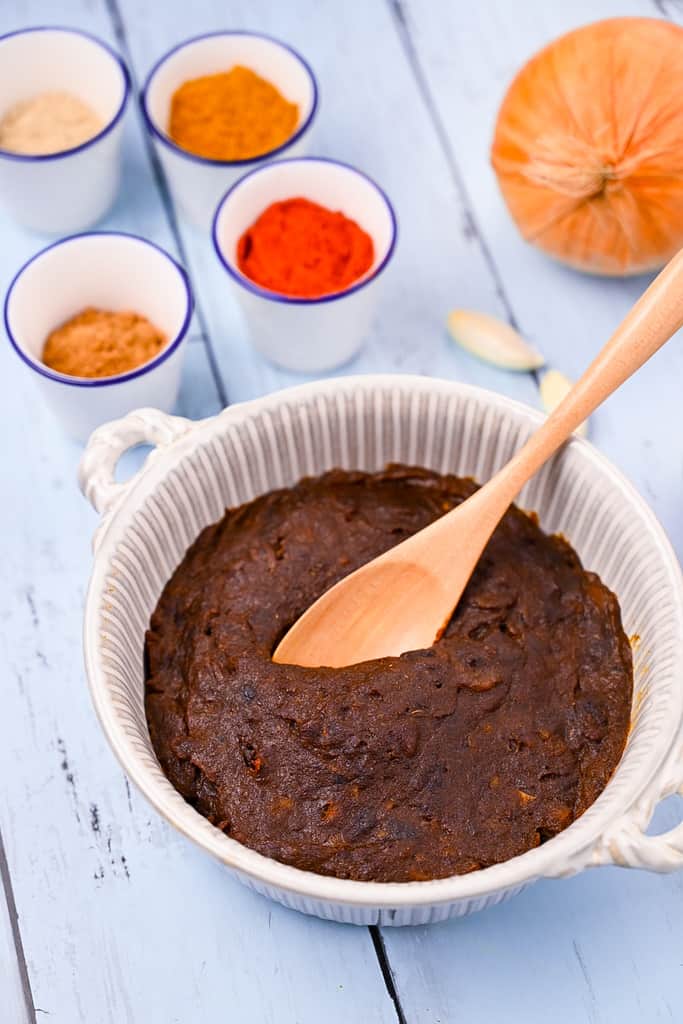 Ingredients and Substitution Ideas
Curry powder – I know that the term "curry powder" is very vague, but this recipe used Japanese S&B's Oriental Curry Powder Mix specifically which is a standard spice mix in Japan.
Beef fat – Beef fat is best if you make beef curry, but you can customize the fat to your preference, such as lard for pork curry, chicken fat or duck fat for chicken curry, or butter for seafood curry. Coconut oil and vegan butter could be used if you want to make it free of animal products.
Garlic and Ginger – Fresh garlic and ginger (not powder) add flavor and depth to the roux.
Yellow onion – Use as thin slices to make caramelized onion, this adds depth and sweetness to the roux. It also gives the curry a gravy-like quality. In Japan, yellow onions are most commonly used, but white onions can also be used.
All-purpose flour – This is for binding the curry roux. Cake flour also works.
Beef stock (liquid) – Again, beef bouillon is best if you are making beef curry. Still, you can customize other liquids to your liking, such as pork stock for pork curry, chicken stock for chicken curry, seafood stock for seafood curry, and vegetable stock for vegetarian curry. I used Knorr's beef bouillon cubes.
Spices – Cumin, coriander, ground cloves, cardamom, and ginger powder.
Marmalade – It adds depth and sweetness to homemade curry roux.
Bay leaf – It is effective in softening odors.
Curious about the exact brands and products that bring my recipes to life? Discover the brands and ingredients behind my recipes at the Sudachi Amazon Storefront. Explore my handpicked pantry essentials and find your next kitchen favorites!
Step-by-Step Process
Here are my step by step instructions for how to make your own Japanese curry roux paste from scratch. For ingredient quantities and simplified instructions, see the printable recipe card below.
Add the curry powder and cumin to a dry pan and stir them over a medium heat until fragrant and slightly darkened. This process helps release the flavors and bring the spices to their full potential.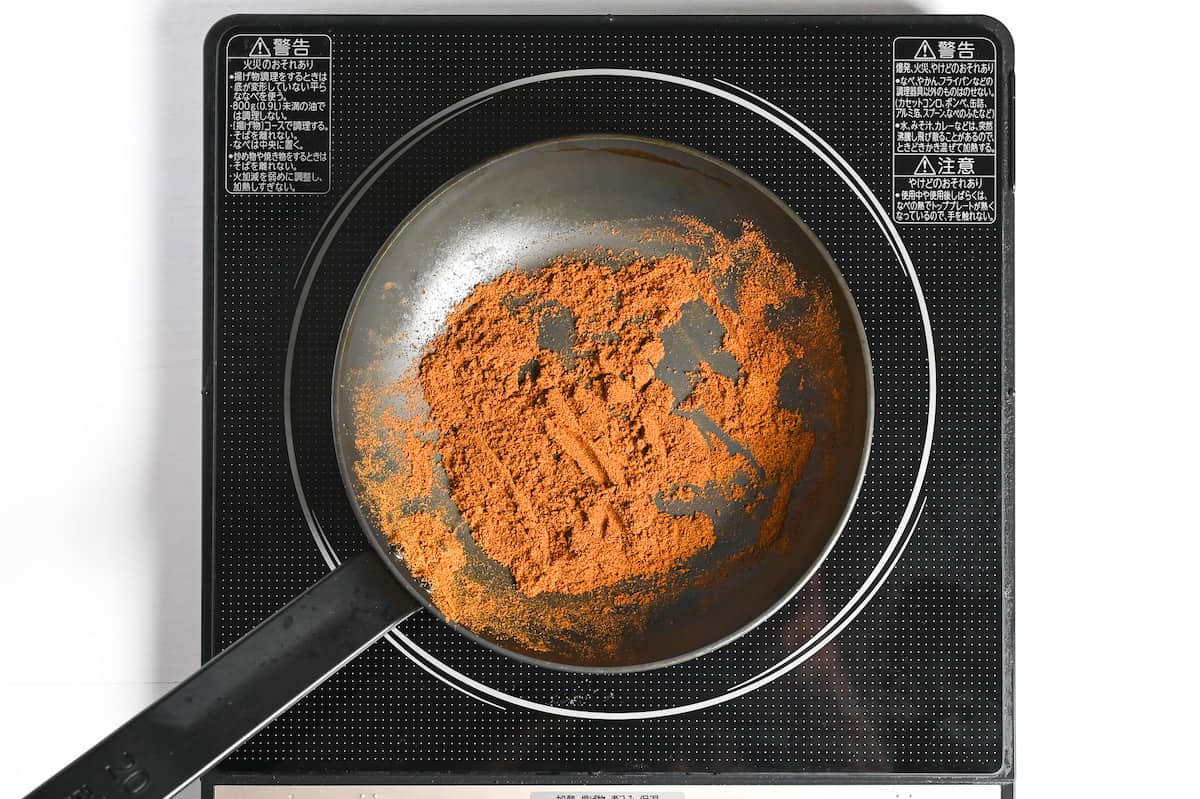 Why don't you toast all of the spices?
If you read the ingredients list above, you might notice that additional untoasted spices are added later. I do this so that the heated spices stand out, then I add the spices that I want to be more subtle later on without toasting. Essentially, you can toast all the spices together if you prefer.
Heat a pan on medium and add your choice of fat. (I used beef fat, but you could use lard, butter or a plant-based alternative.) Once melted slightly, add the finely diced garlic and ginger and fry until fragrant. Mix continuously to prevent it from burning.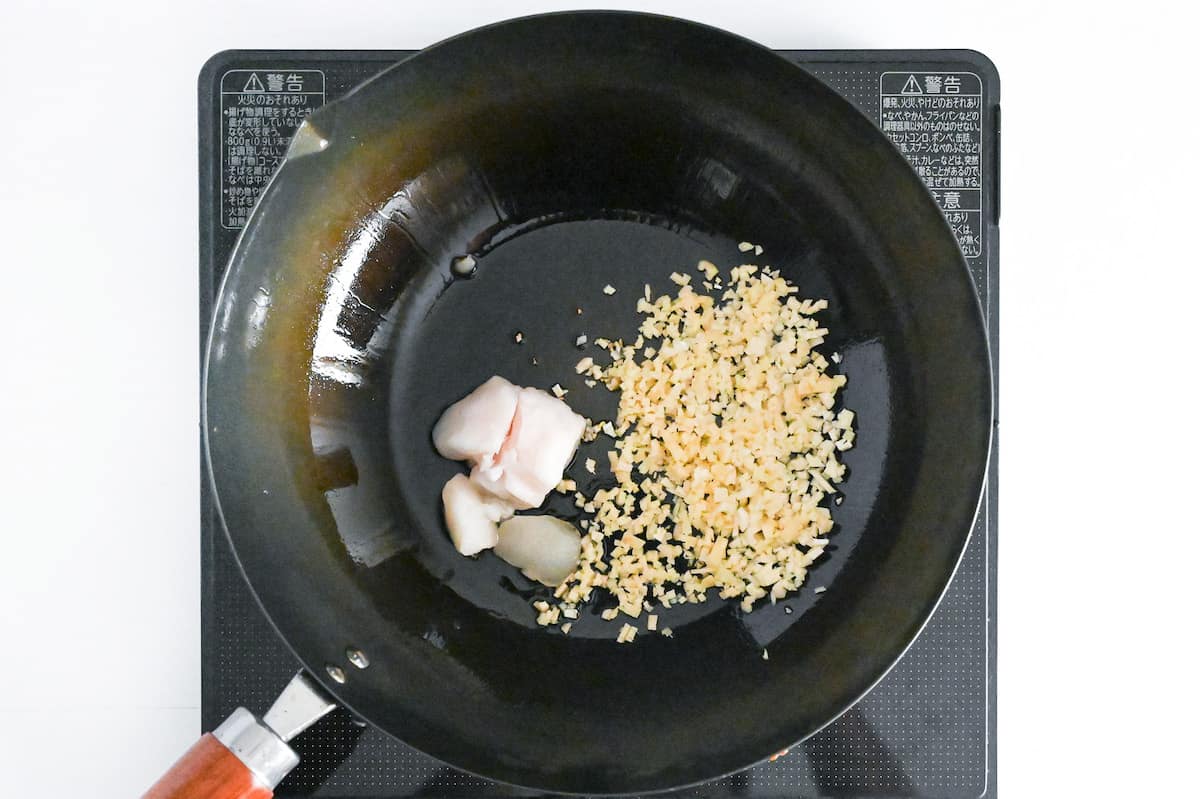 Add thinly sliced onions to the pan and fry until golden. Tip: the thinner you cut the onions, the quicker they will cook!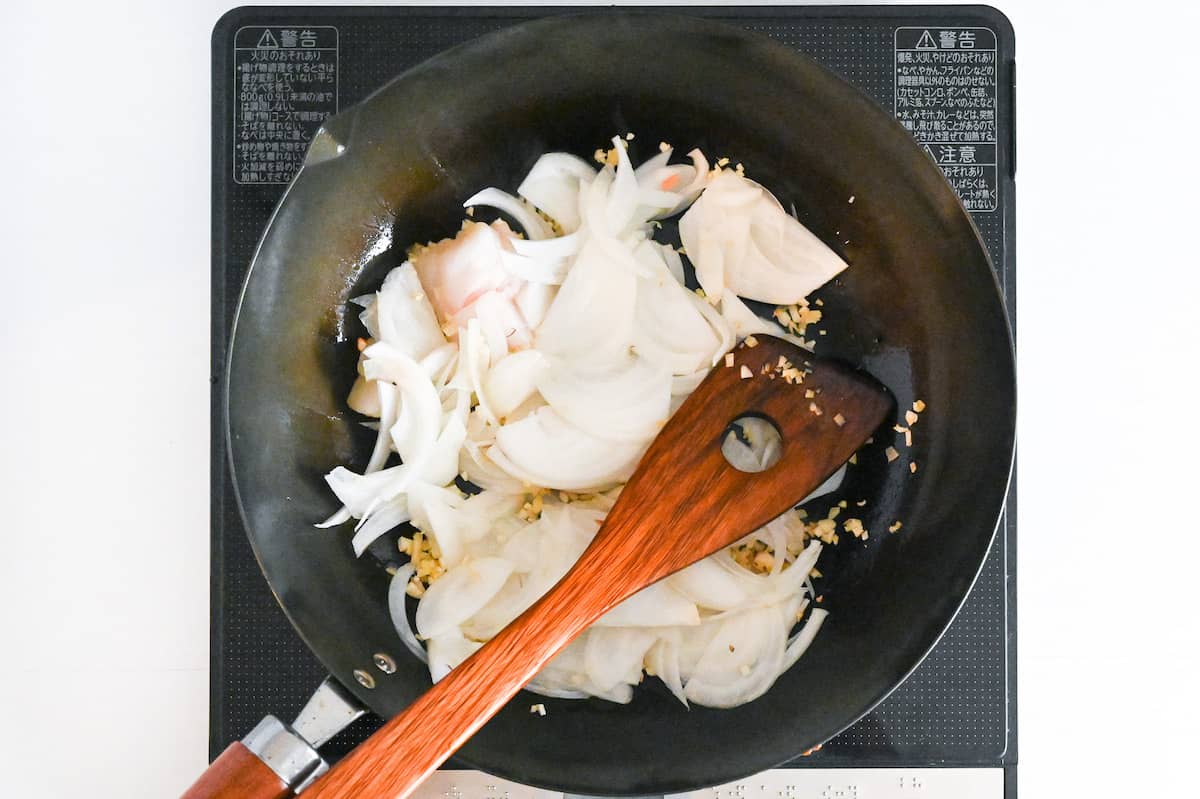 Once golden, lower the heat to medium-low and continue to cook until dark and caramelized. This will take 20-30 minutes. Be sure to mix occasionally to prevent burning. I also recommend adding water to stop the onions from sticking to the bottom of the pan.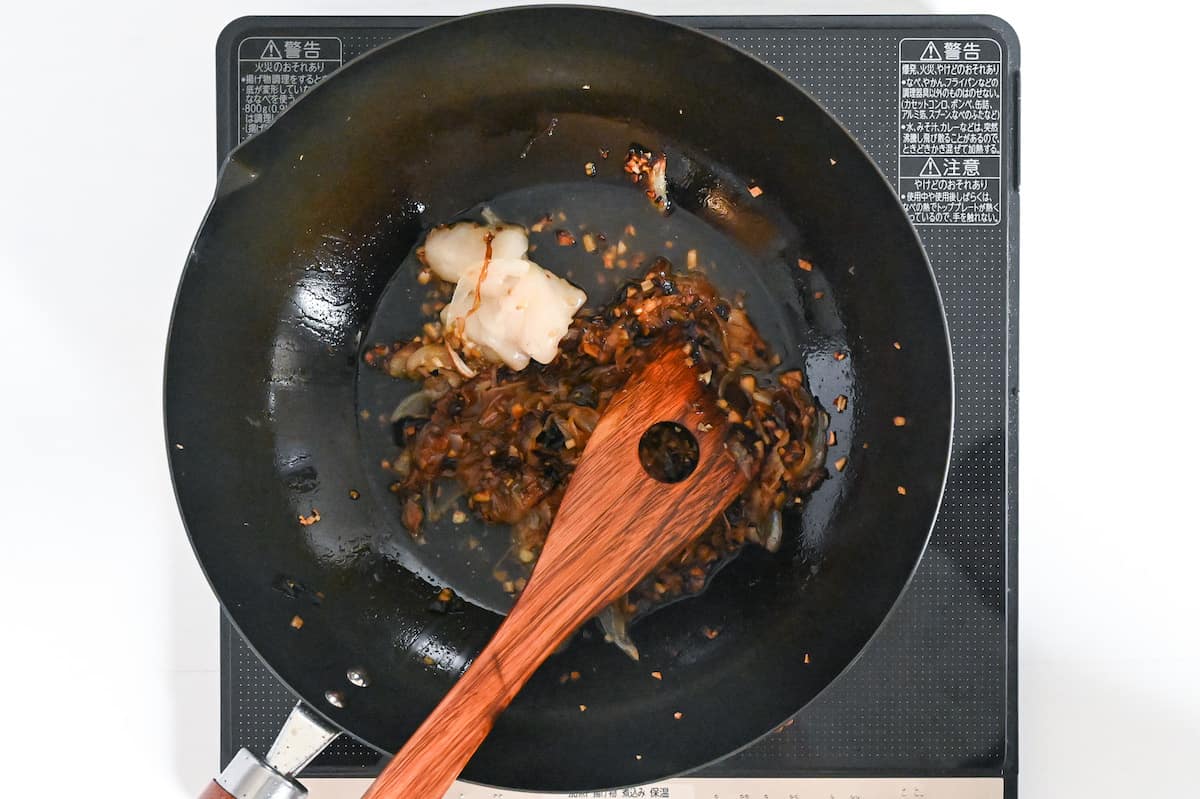 Why make caramelized onions for the roux?
You might wonder why I go to the effort of caramelizing onions for the roux, rather than the curry itself. Well, the main reason is to save time. Making caramelized onions every time I make curry will add 30 minutes each time. I consider making curry roux as a kind of meal prep, so once the roux is complete, the curry itself can be made it just 20 minutes!
Once the onions are caramelized, remove the leftover beef fat (if using) and mix in the flour and toasted spices until evenly distributed.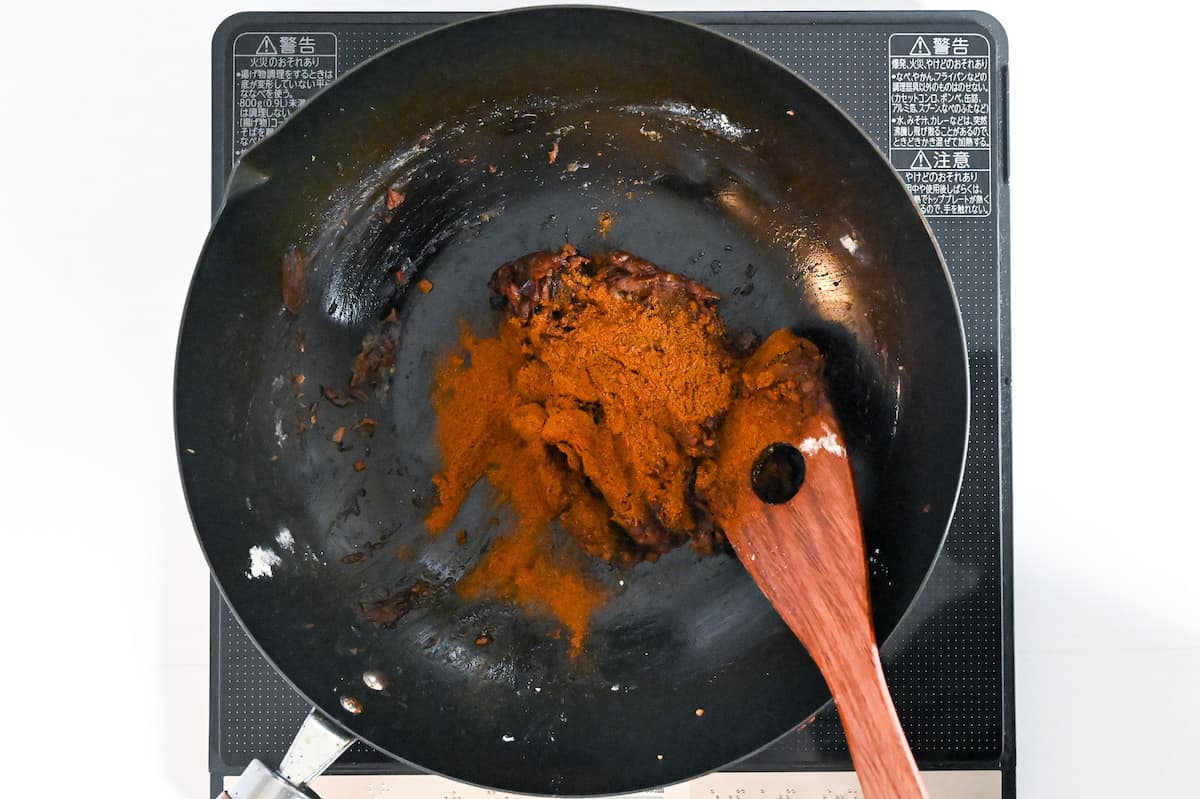 Prepare a jug of beef stock (or stock of your choice) and add a small amount to the pan to loosen up the roux.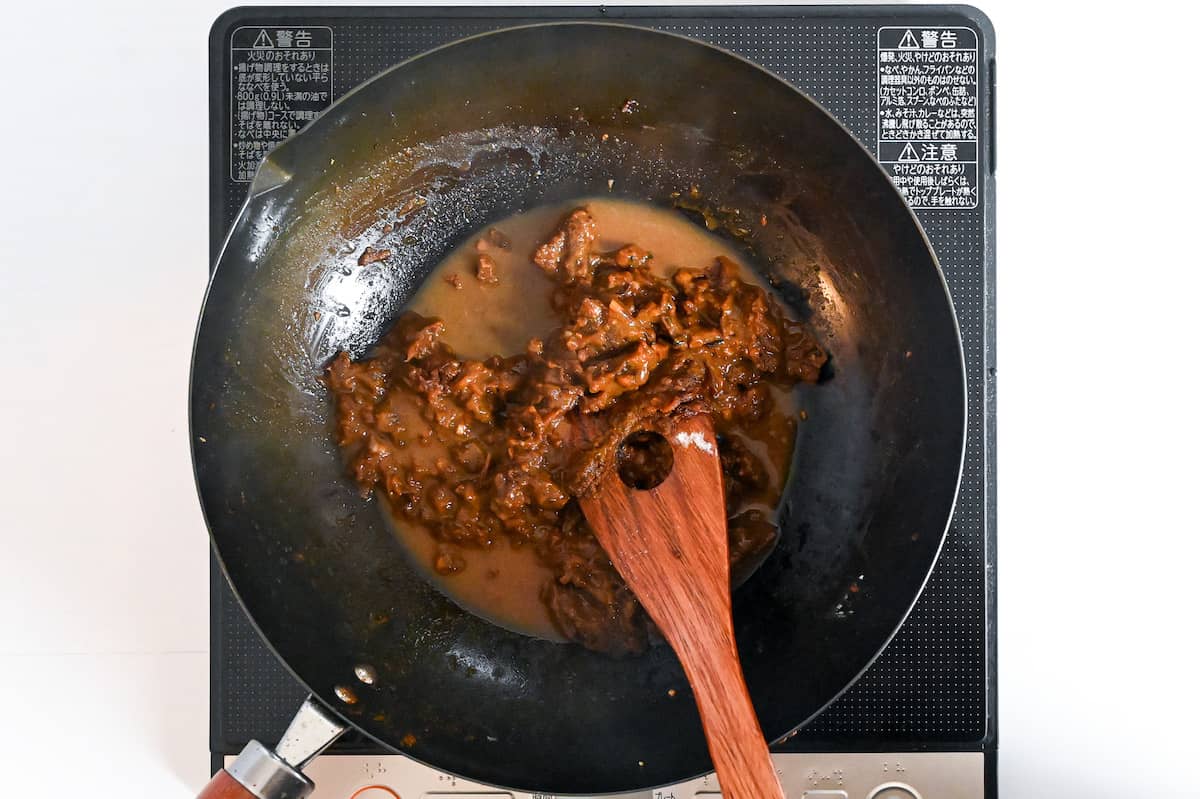 Use Stock Cubes for the Broth
In this recipe, I used maggi bouillon cubes mixed with water. Since the stock cubes already contain salt, there is no need to add extra salt to the roux or curry (unless you want to of course). If using your own homemade beef stock, add more salt accordingly.
Mix until smooth and then gradually add the rest of the stock while whisking.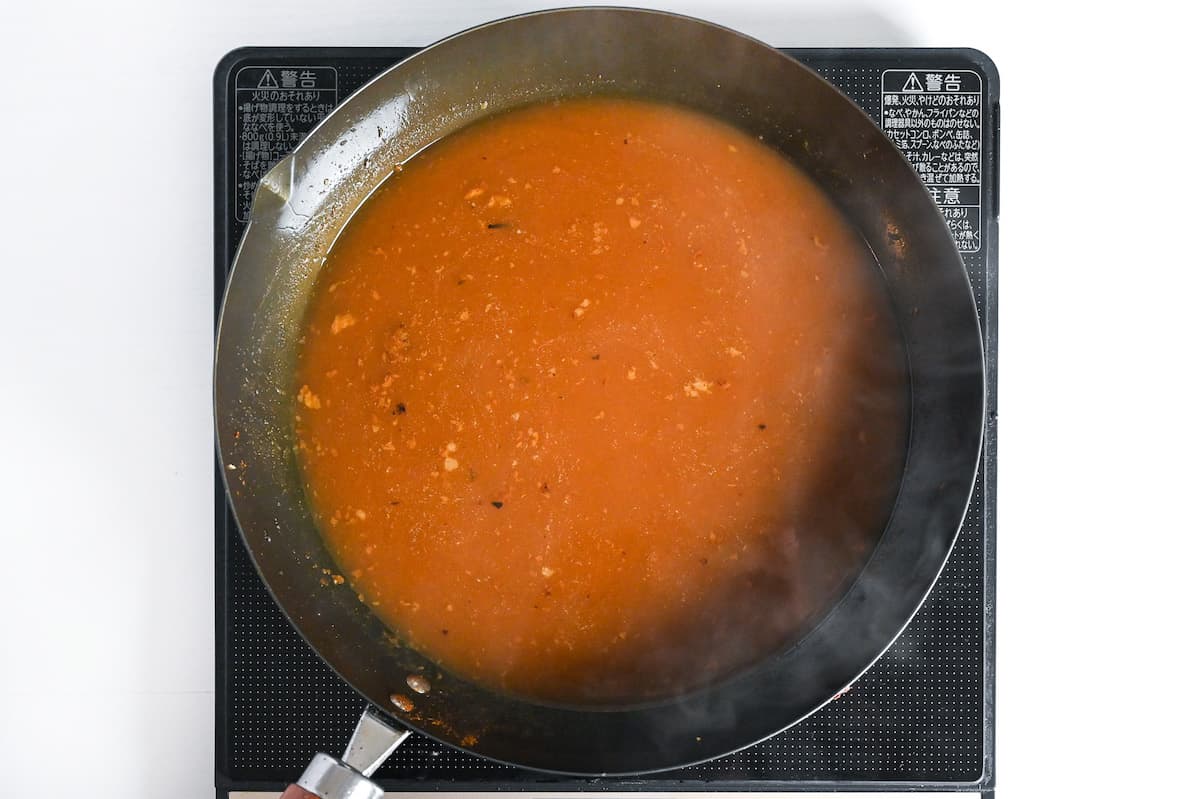 Why do you use so much liquid?
I find using more stock and simmering for longer helps the onions dissolve and creates a smoother roux. However, if you want to reduce the cooking time you can make a concentrated stock with less water.
Add More Spices and Simmer
Next, add coriander powder, marmalade, ground cloves, cardamom powder and ginger powder. Whisk until well incorporated.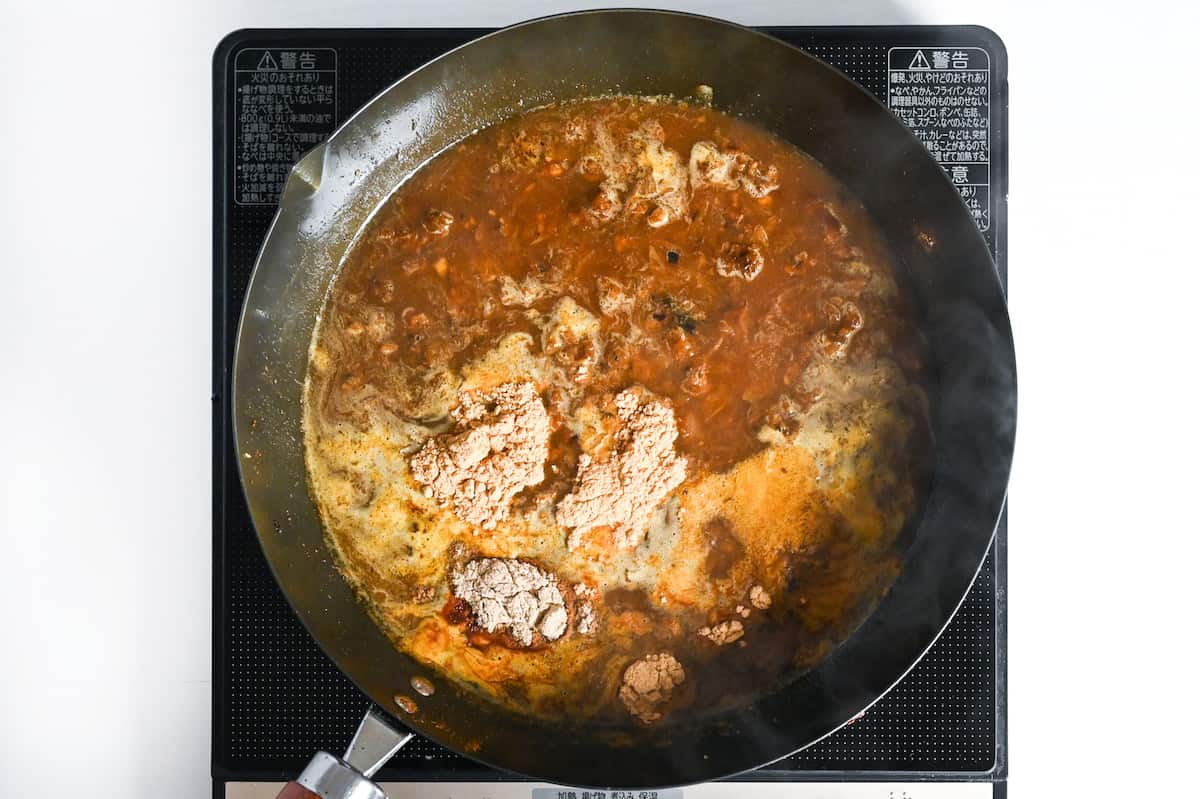 Add a bay leaf and simmer without a lid for about 2 hours or until reduced to a thick paste. Stir occasionally to prevent a film forming on the top and scoop out any foam that forms around the edges.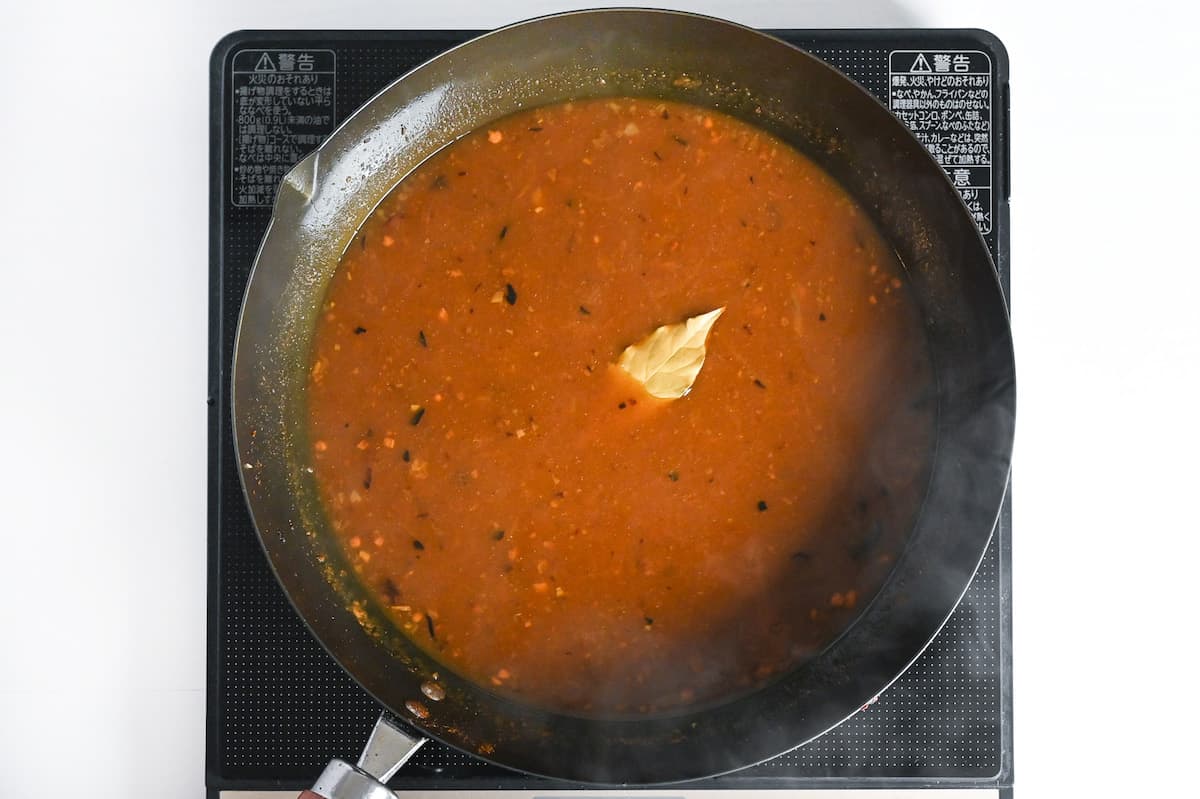 Once the liquid has evaporated and you are left with a thick paste, transfer the roux to a container and leave to cool.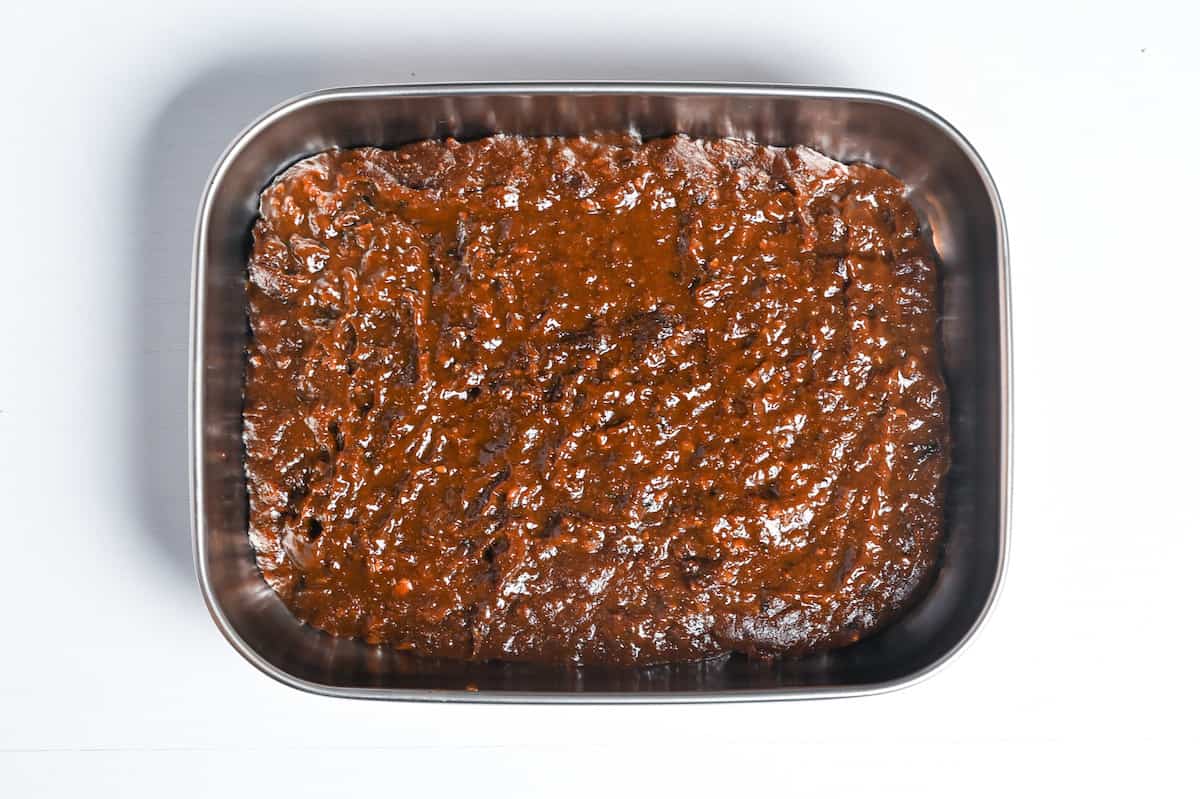 You can use your homemade curry roux paste straight away, but I recommend leaving it in the fridge overnight to allow the flavors to develop further. If storing, cover with a lid and refrigerate for up to one week. (See below for more storage options.)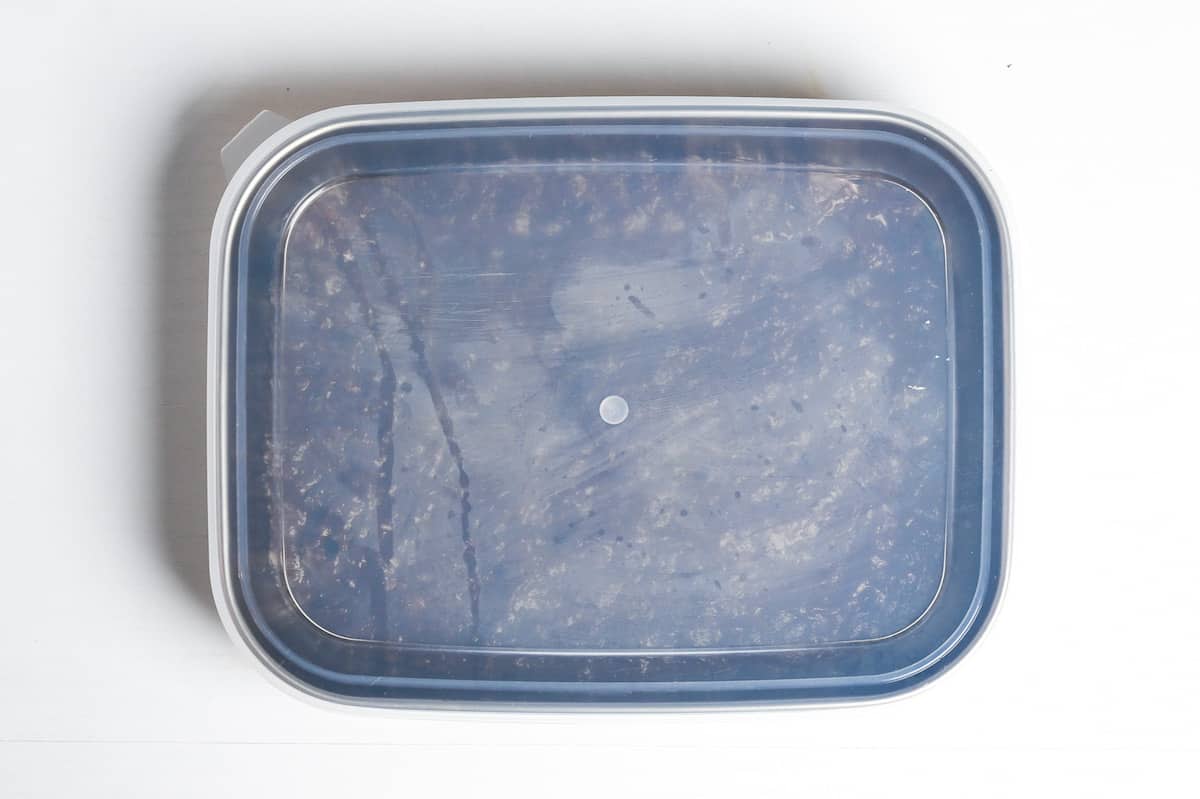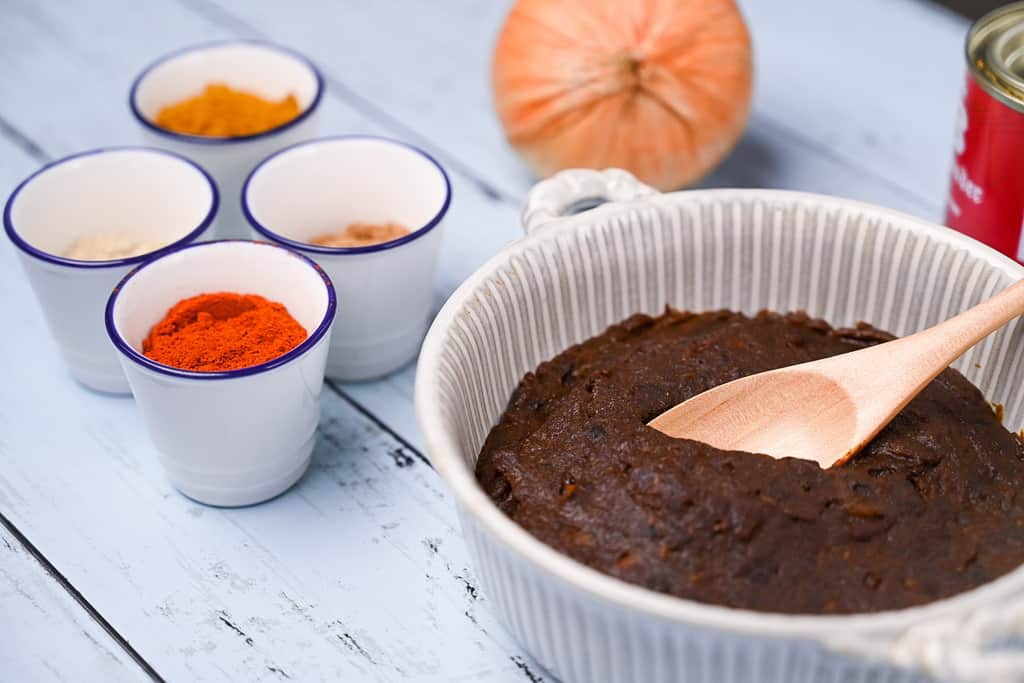 How to use Homemade Roux to Make Curry
You can use this homemade curry roux just like the premade boxed versions! I'll break it down into steps.
Sear the meat to seal the flavor and juices. You don't need to cook it all the way through as it will be simmered in the curry.
Add the vegetables. If you're using onions, add them first and then fry for a few minutes with the beef before adding the other vegetables.
Add your homemade roux and 600-700ml of liquid. (This can be water, but I like tea or dashi. Something with flavor but no added salt.) Note: don't use a salty stock for the liquid because there's already concentrated bouillon in the roux.
Simmer and thicken for 15-20 mins.
Serve with rice!
If you want to check the detailed recipe, check out my Beef Curry Rice Using Homemade Roux post!
Storage Options
Since my homemade curry roux contains fresh ingredients like onions, ginger and garlic, it is not advised to keep it at room temperature. It's best to refrigerate or freeze it for storage instead. If kept in an airtight Tupperware in the fridge, it should last 3-4 days. I recommend using stainless steel or glass containers to prevent staining.
For more extended storage, freezing is a better option. Simply divide the roux into convenient portions, wrap and store it in Tupperware or Ziploc bags to protect it from freezer burn. Typically, frozen roux can be stored for up to a month.
The advantage of freezing is adding the roux to the soup while it's frozen. In summary, we recommend freezing over refrigerating for better results overall.
Room temperature – Not recommended.
Refrigerated – 2-3 days.
Frozen – About a month.
I hope you enjoy this homemade Japanese curry roux recipe! If you try it out, I'd really appreciate it if you could spare a moment to let me know your thoughts by giving a review and star rating in the comments below. It's also helpful to share any adjustments you made to the recipe with our other readers. Thank you!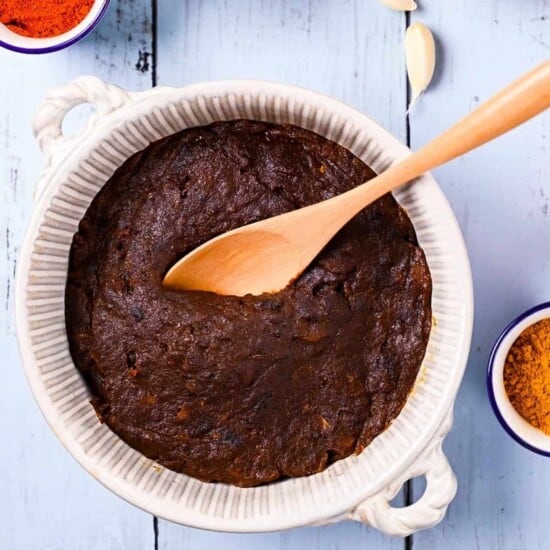 Homemade Japanese Curry Roux
---
Ditch the pre-made curry cubes and try making your own Japanese style curry roux from scratch at home! This curry roux paste is rich in flavour and can be made ahead of time for an easy curry during the week.
---
---
---
---
Ingredients
3 ½

tsp

S&B curry powder

2 ½

tsp

cumin powder

1

tbsp

beef fat

or lard

3

cloves

garlic

finely minced

15

g

fresh ginger

finely minced

200

g

yellow onion(s)

thinly sliced

50

ml

water

3

tbsp

cake flour

900

ml

beef stock

see note

2

tsp

coriander powder

3

tbsp

marmalade

½

tsp

ground cloves

1

tsp

cardamom powder

2

tsp

ginger powder

1

bay leaf
Instructions
Add

3 ½ tsp S&B curry powder

and

2 ½ tsp cumin powder

to a dry pan and heat on medium. Mix them over the heat them until the flavor is released and the color has darkened slightly.

Take a new pan and heat on medium. Once hot, add

1 tbsp beef fat

and spread it around the pan as it melts. Add 

3 cloves garlic

 and 

15 g fresh ginger

 to the pan, and fry until fragrant.

Next, add

200 g yellow onion(s)

and fry until golden and translucent.

Reduce the heat to medium-low and continue to fry the onions until dark brown, soft and caramelized. This will take approximately 30 minutes. Stir occasionally and add 

50 ml water

halfway through to stop it sticking to the bottom of the pan.

Once the liquid has reduced to nothing and the onions resemble a thick paste, remove the beef fat and add

3 tbsp cake flour

. Mix until combined.

Next, add the toasted curry powder and cumin from earlier, and mix until evenly distributed through the roux.

Measure out

900 ml beef stock

and add a small amount to the pan. Break up the roux and whisk until smooth and thick.

Add the rest of the bouillon gradually, whisking thoroughly each time to prevent lumps.

Add

2 tsp coriander powder

,

3 tbsp marmalade

,

½ tsp ground cloves

,

1 tsp cardamom powder

and

2 tsp ginger powder

to the mixture and whisk until incorporated.

Add

1 bay leaf

and simmer for 2 hours, stirring occasionally and removing any foam from the top using a mesh spoon.

Once it has thickened to a paste consistency, transfer the roux to a container and leave to cool.

Once cool, cover and store in the fridge for up to 1 week. To freeze, divide it into portions and freeze for up to 1 month.

To use, seal your meat in a large pot, then add your vegetables, homemade curry roux and approx 600-700ml of water. Mix well and simmer until thickened. It takes about 20 minutes.

Enjoy!
Notes
For the bouillon in the curry paste, I add 2 beef flavour maggi bouillon cubes to 900ml of water. Actually, you can speed up the cooking time by dissolving the cubes in less water but the shorter cooking time might result in the paste not being as smooth.

 
See my full recipe on how to make beef curry here. (Includes secret tips and ingredients)
Keep refrigerated and use within one week. (Freeze for up to one month.)
FAQ
What is Japanese curry roux made of?
It's a blend of fat, flour, and spices. All brands have different ratios and types of spices. Many boxed curry roux contain preservatives and MSG.
Which is the best Japanese curry roux?
There's no answer to this question because it depends on preference! That's why making your own is the best; you can make it to suit your tastes. If I had to choose a brand of roux, I'd pick Java, though.
What's in Japanese curry powder?
I use S&B curry powder which contains turmeric, coriander, cumin, fenugreek, black pepper, cayenne pepper, and dried citrus peel. Japanese curry is usually made with garam masala too.