Bukkake Udon is a simple dish made with thick udon noodles served in a rich sauce and topped with various ingredients. It's easy to make and can be enjoyed hot or cold!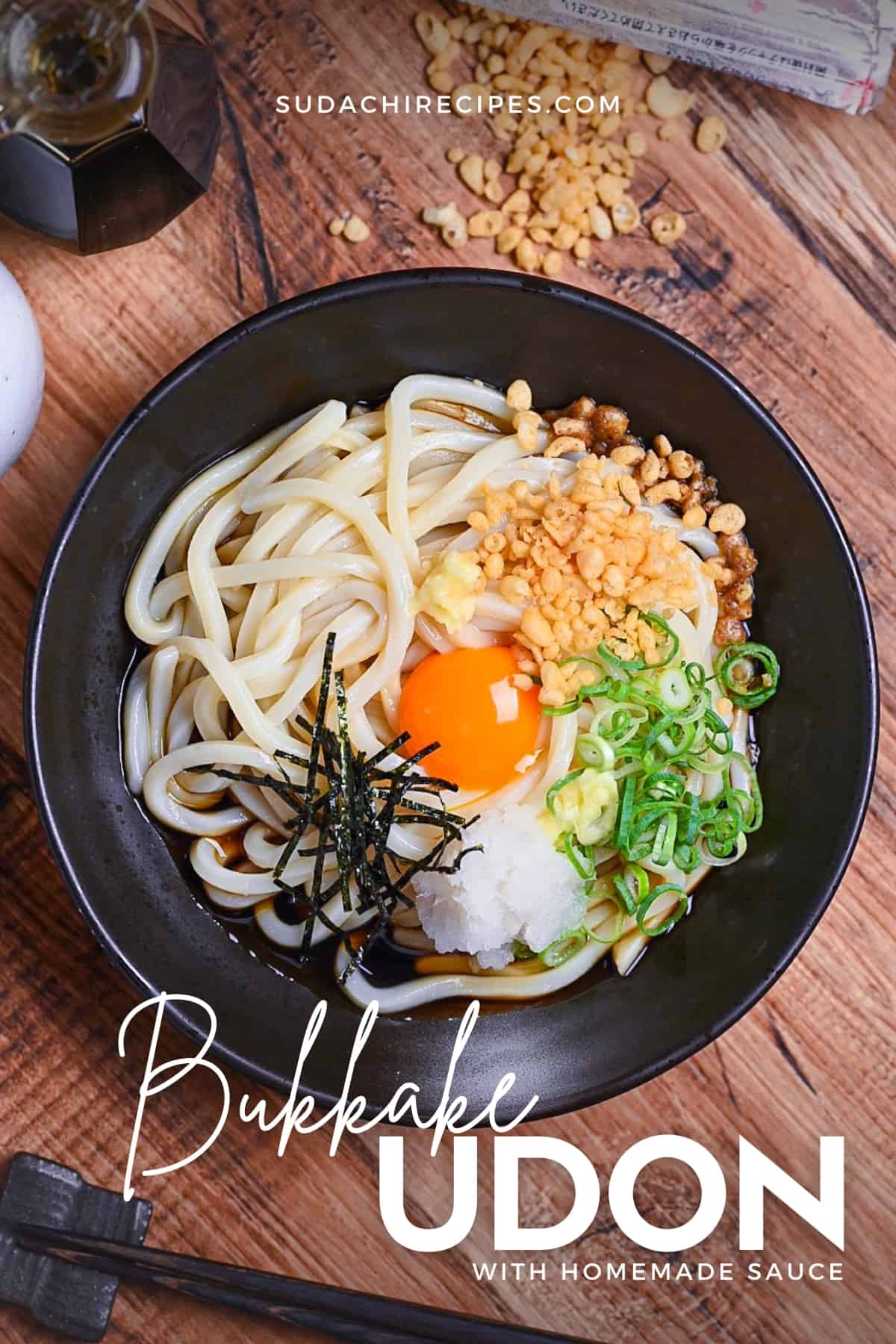 Disclaimer: This post may contain affiliate links. Sudachi Recipes is part of the amazon associates programme and earns a small percentage from qualifying purchases at no extra cost to you. See disclaimer for more info.
Jump to:
What is Bukkake udon?
Bukkake udon (ぶっかけうどん), a specialty of Okayama and Kagawa prefectures, features a robust sauce poured directly onto udon noodles. The term "bukkake" signifies "simple food with sauce on top."
A popular origin theory for bukkake udon suggests that it began with patrons preferring to pour zaru udon mentsuyu sauce directly over their noodles instead of dipping. However, concrete historical records to confirm this are not available.
In Kagawa, the "udon prefecture," bukkake udon is appreciated for its pure udon taste without elaborate toppings. Other regional similar udon variations include Koro udon from Central Japan, Ise udon from Ise city, and Kijoyu udon.
There's no fixed serving temperature for bukkake udon; it's down to personal preference. I favor the cold version on warm days.
But what is the difference between bukkake udon and kake udon? This is a frequent question and the answer lies in the broth. The broth used to make bukkake udon is darker, stronger and more concentrated, while kake udon's is milder and more soup-like.
How I Developed This Recipe
My aim with this bukkake udon recipe was to create a simple yet authentic flavor. As for the sauce, it takes less than 5 minutes to make!
Also, because there are no rules when it comes to making bukkake udon, I have included a lot of extra topping suggestions so you can customize it to your heart's content!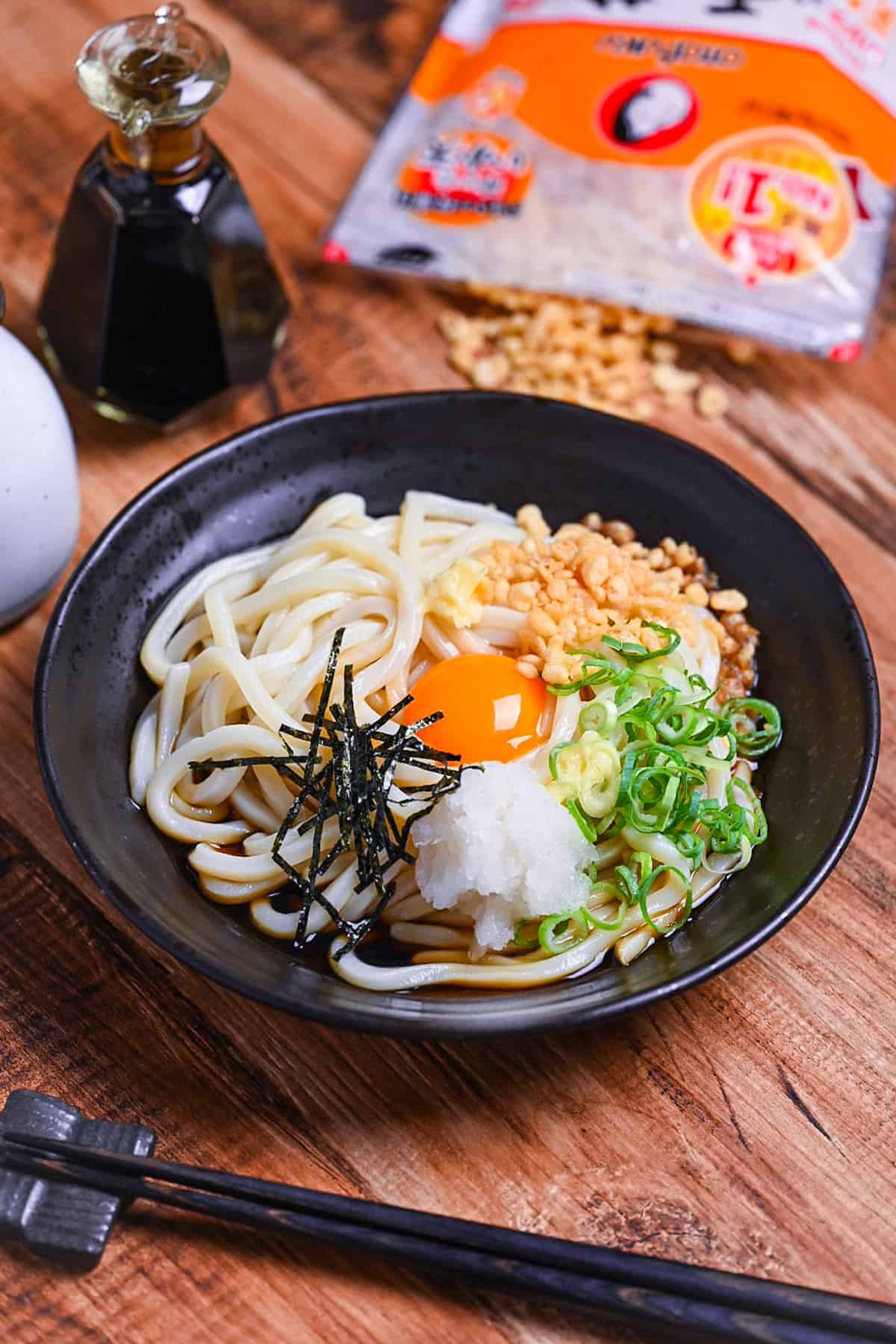 Ingredients and Substitution Ideas
Dashi broth: The foundation of the sauce. Options range from traditional dashi made with dried bonito flakes and/or kelp to plant-based dashi crafted from kelp and dried shiitake mushrooms, catering to vegetarians and vegans. For convenience, consider instant dashi granules mixed with water or dashi bags.
Soy sauce: For a budget-friendly choice, Kikkoman soy sauce is reliable. Refer to our soy sauce guide to understand Japanese cuisine's nuances in soy sauce selection.
Mirin: When shopping for mirin, "hon mirin" (本みりん) is the top choice for optimal flavor. Hinode Hon Mirin comes highly recommended for its quality and affordability. Dive deeper into my post on the "20 Most Useful Condiments and Seasonings for Japanese Cooking" for further insights.
Sugar: While regular sugar works, my recent preference leans toward light brown cane sugar.
Ice cubes: Utilized to both cool and dilute the sauce.
Udon noodles: Depending on local accessibility, you can opt for dried, boiled, frozen, or fresh udon varieties. I opt for frozen since they are quick to cook and have great texture.
Egg yolk: An egg yolk is a common addition and adds a rich, creaminess to the dish. Ensure the eggs are pasteurized to help minimize the chance of foodborne illness.
Other toppings: Enhance with finely chopped green onion, tempura flakes (agedama/tenkasu), grated ginger, and grated daikon radish. For a broader range of topping ideas, check out the section below.
Topping Ideas for Bukkake Udon
Bukkake udon is celebrated for its simplicity, but the choice of toppings can vary from restaurant to restaurant. Here are some suggestions to elevate your dish:
Toppings I Used in My Recipe:
Egg yolk
Chopped green onions
Tempura flakes (tenkasu/agedama)
Grated ginger
Grated daikon
Additional Topping Suggestions:
Mentaiko (spicy cod roe)
Boiled whitebait (tiny fish)
Citrus: Lemon, Lime, Sudachi, Kabosu (for a tangy kick)
Cucumber (for a refreshing crunch)
Shiso leaves (adds a unique flavor)
Okra (for texture and a slight gooeyness)
Sesame seeds (for a nutty touch)
Katsuobushi (bonito flakes for a smoky umami flavor)
Boiled egg or onsen tamago for those who prefer cooked eggs.
For cold bukkake udon, opt for light and refreshing toppings to complement the dish's simplicity.
Step-by-Step Process
Here are my step-by-step instructions for how to make refreshing, quick and delicious Japanese Bukkake Udon. For ingredient quantities and simplified instructions, scroll down to see the printable recipe card.
Pour the dashi liquid, soy sauce, mirin and light brown sugar into a saucepan and mix. Boil for 1 minute over a medium heat to burn off the alcohol in the mirin.
If serving cold, turn off the heat and add some ice cubes to cool the sauce quickly. If you're serving hot bukkake udon, add water and reheat right before serving.
Cook the udon according to the instructions on the packaging. Once cooked, pour through a colander to drain and rinse with fresh water to remove any excess starch. Use cold water for cold bukkake udon (this will cool them quickly) and chill them in the colander with a few ice cubes. If serving hot, rinse with hot water.
Divide the udon into serving bowls and add the sauce.
Add your choice of toppings and mix well before eating.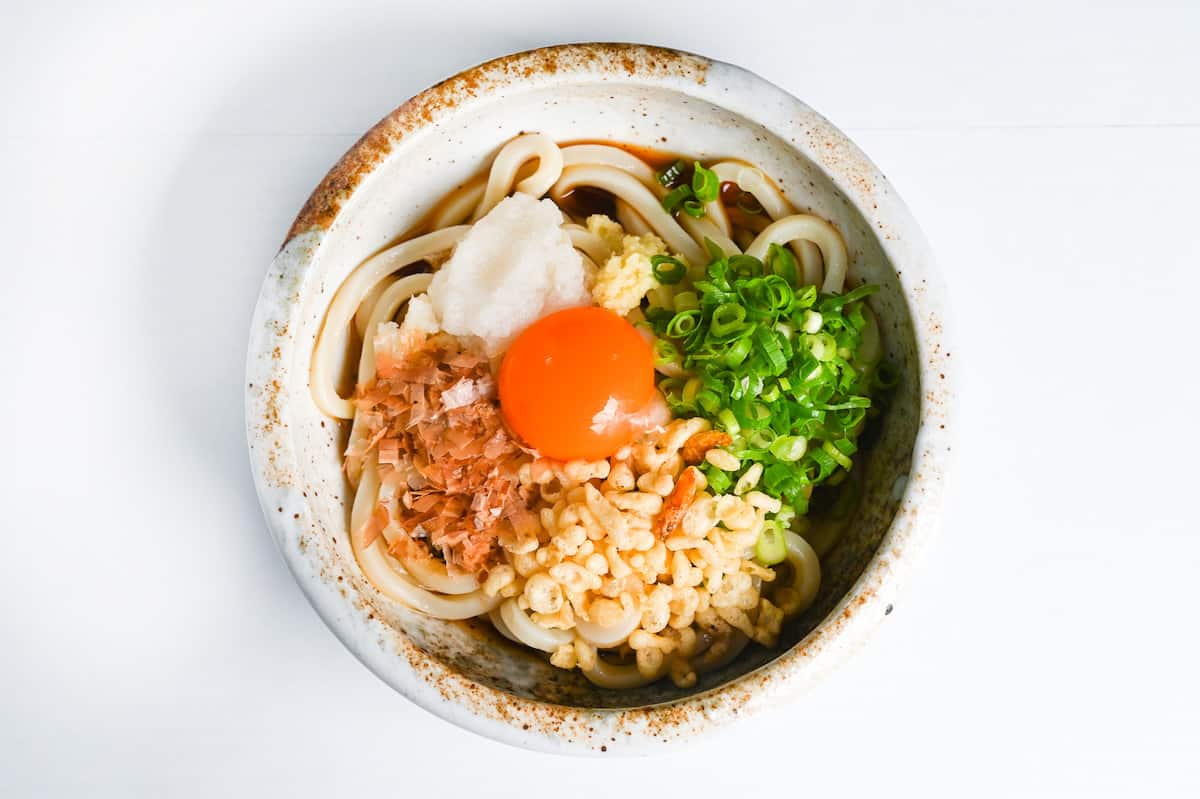 Enjoy!
Storage Options
Storing bukkake udon mixed with sauce isn't recommended, as the noodles will soak up the sauce and turn soggy. It's crucial to prepare only what you will consume immediately.
However, you can freeze pre-mixed boiled udon noodles. By wrapping them in plastic wrap and freezing in individual portions, they're ready for defrosting whenever needed.
Still, for the best experience, it's ideal to prepare and consume udon noodles fresh. Always gauge your appetite beforehand.
The sauce can be kept in a separate sealed container in the fridge for up to 2 weeks, or frozen into portions for up to 1 month. I recommend making a large batch of sauce if you plan to eat this dish often over the summer.
Room temperature - Not recommended.
Refrigerated - 2 weeks (sauce only).
Frozen - Up to a month (cooked and wrapped noodles, store sauce separately).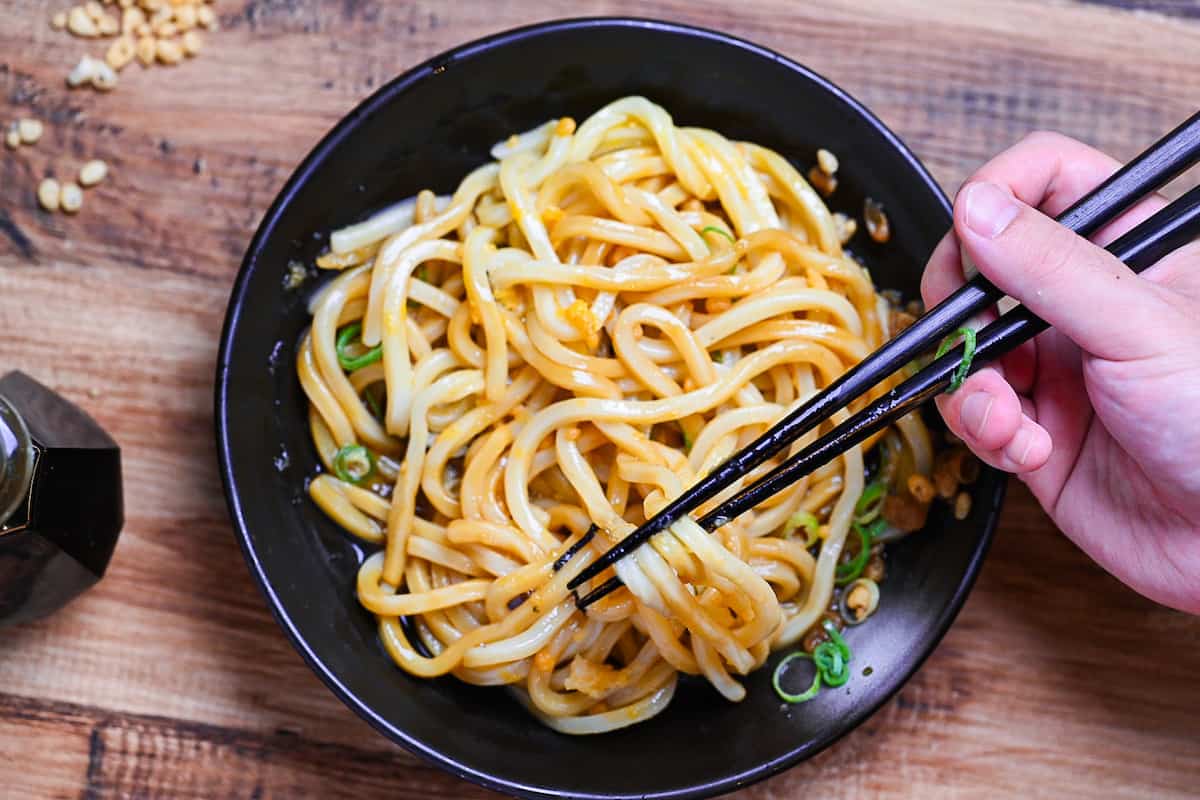 More Japanese Udon Recipes
If you love udon, you'll love these: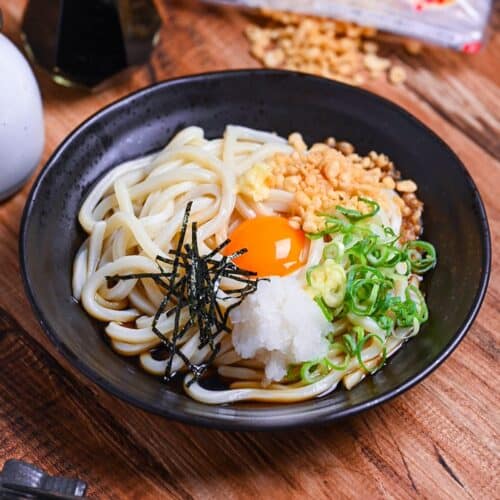 Bukkake Udon Noodles with Easy Homemade Sauce
How to make refreshing and customizable Japanese Bukkake Udon, a simple dish of chewy udon noodles in a rich homemade sauce with various toppings.
Ingredients
Bukakke Udon
4

tbsp

dashi stock - liquid, not powder! Use shiitake/kombu dashi for plant-based diets

3

tbsp

soy sauce

1

tbsp

mirin

1

tsp

light brown sugar

3

large ice cubes

- to cool and dilute the sauce OR 90ml hot water for the hot version

2

portions

udon noodles

ice

- (optional) to chill noodles quickly
Topping Options (see in post for more options)
Instructions
Pour

4 tbsp dashi stock

,

3 tbsp soy sauce

,

1 tbsp mirin

and

1 tsp light brown sugar

into a saucepan and boil for 1 minute to burn off the alcohol in the mirin.

If serving cold, add

3 large ice cubes

to the sauce to quickly cool it and balance the flavor. If serving hot, dilute with hot water instead (or add water before turning off the heat).

Cook

2 portions udon noodles

according to the instructions on the packaging. Once cooked, pour through a colander and rinse with fresh water to remove the starch. (Use cold water for cold bukkake udon and add a few ice cubes to make them extra cold. For the hot version, rinse with freshly boiled water.)

Divide the noodles and sauce into serving bowls.

Top each portion with your choice of toppings. I used

pasteurized egg yolk

s,

green onion(s)

,

tempura flakes

,

grated ginger

and

daikon radish(s)

. (See in post for more ideas.)

Enjoy!