Zenzai is a sweet and comforting soup made with red adzuki beans and sugar topped with chewy toasted mochi. Make this warming winter treat from scratch at home with just 5 ingredients!
Disclaimer: This post may contain affiliate links. Sudachi Recipes is part of the amazon associates programme and earns a small percentage from qualifying purchases at no extra cost to you. See disclaimer for more info.
Jump to:
What is Zenzai?
Zenzai is a traditional Japanese dessert soup made by simmering adzuki beans (red beans) until soft and adding sugar. It is usually topped with toasted mochi (rice cake) or shiratama dango (rice dumplings). Sometimes even candied chestnuts (kuri kanroni) are added.
It can be eaten both hot or cold and is enjoyed across Japan all year around, however it's most commonly enjoyed in Winter, particularly soon after the New Year after celebrating "Kagami Biraki" on January 11th.
When I think of zenzai, I can't help but think of being outside on a cold winter's day while holding a steaming bowl of zenzai to keep warm. It's a comforting and nostalgic dish to many Japanese people.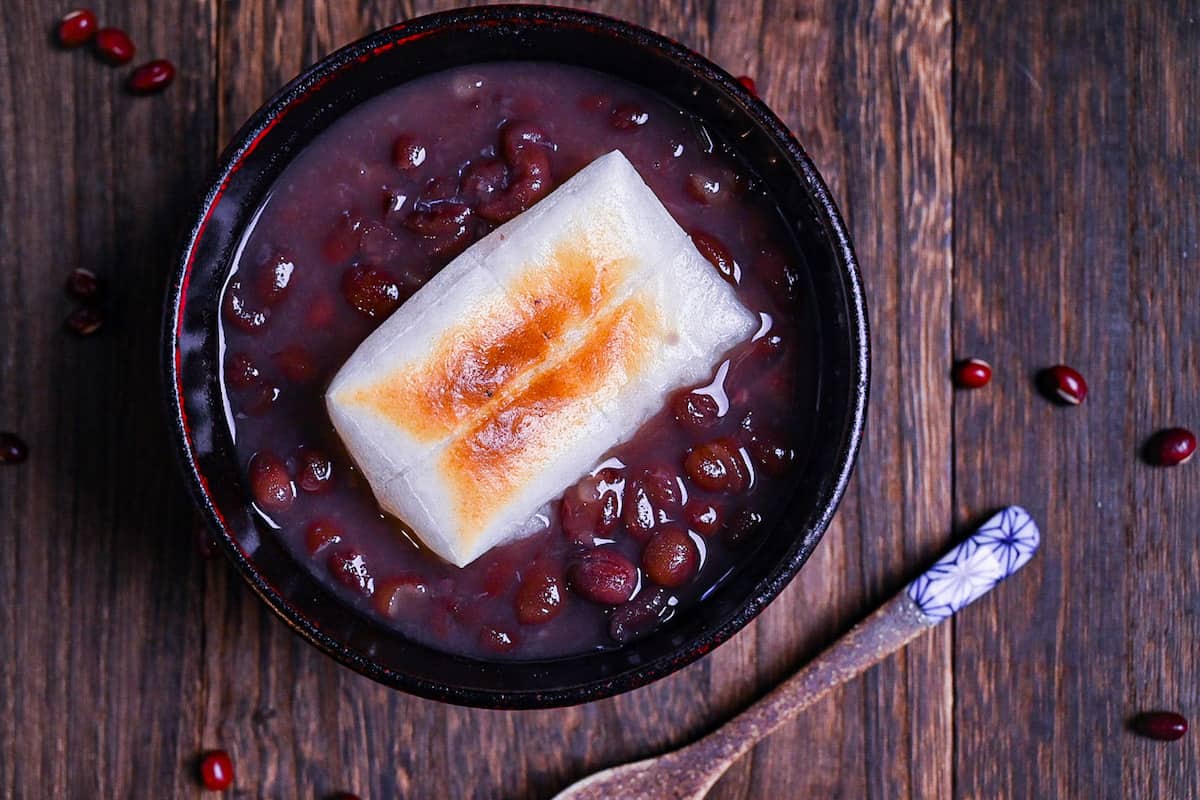 A brief history of zenzai
There are two popular theories about the origin of zenzai. One is that it is derived from "Jinzai-mochi" in the Izumo region of Shimane Prefecture. In the Izumo region, gods are believed to gather from all over Japan in October of the lunar calendar, and at this time a Shinto ritual called "Kamiarisai" is held in Izumo. Jinzai mochi were served during the festival and the word "jinzai" became "zunzai" in Izumo dialect, then later "zenzai," and was then introduced to Kyoto.
Izumo as the birthplace of "zenzai" has been mentioned in several documents from the early Edo period (1603-1868).
Another theory is that it derives from the Buddhist term "zenzai," which means "wonderful". The story goes that a monk who ate this sweet, once a luxury item, was so surprised by its deliciousness that he exclaimed, "zenzai!" (wonderful!) and thus, the name of the dish became "zenzai".
Personally, I think that the first theory is more likely to be true, but I can't deny that zenzai is a truly wonderful dish!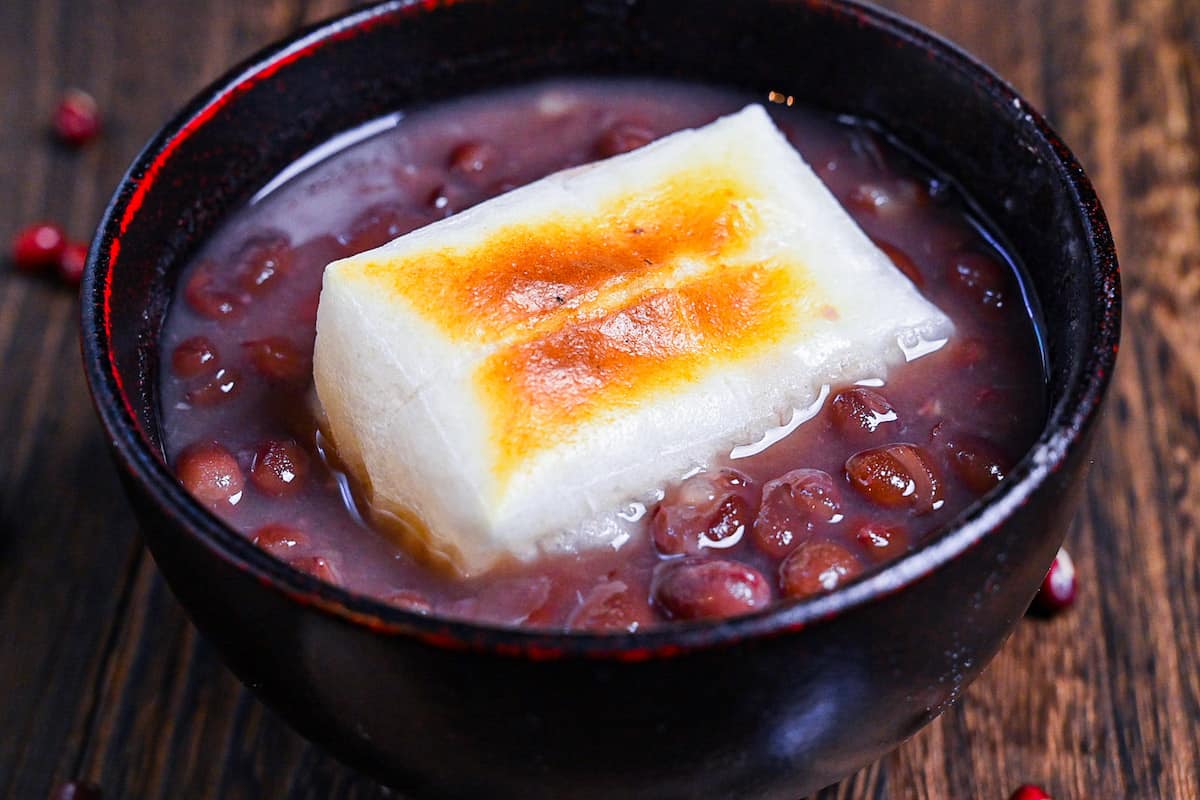 What's the difference between Zenzai and Oshiruko?
Both zenzai and oshiruko are types of red bean soup, "but what's the difference?" you might ask. Well, unfortunately it's not so straightforward, but I will explain the best I can.
The difference between zenzai and oshiruko depends mostly on the region. In the West of Japan (Kansai), "zenzai" refers to chunky red bean soup with the whole beans still intact. "Oshiruko" on the other hand, is smooth and silky, the beans have been blended into a paste and the skins are removed. However, if you travel over to the East of Japan (Kanto, Tokyo and surrounding areas) you will find that actually, both of these are called "oshiruko" and zenzai is a separate soupless dish made with toasted mochi topped with red beans.
Zenzai vs. Oshiruko by Region
It can be a bit confusing, so here's a simple chart to explain it.
| | Kanto (East) | Kansai (West) |
| --- | --- | --- |
| Whole and crushed adzuki beans in soup | Oshiruko | Zenzai |
| Smooth adzuki bean soup (skins removed) | Oshiruko | Oshiruko |
| Adzuki beans over toasted mochi (no soup) | Zenzai | Kameyama |
Furthermore, in the Kyushu region, red bean soup with mochi is "oshiruko" whereas adding shiratama dango makes it "zenzai". Hokkaido on the other hand, considers "zenzai" and "oshiruko" to be the same thing, they also have a "kabocha oshiruko" made with Japanese pumpkin!
I live in Aichi prefecture which is in central Japan, here we follow Kansai's terms. Here are some pouches of oshiruko (left) and zenzai (right) that I bought at my local supermarket.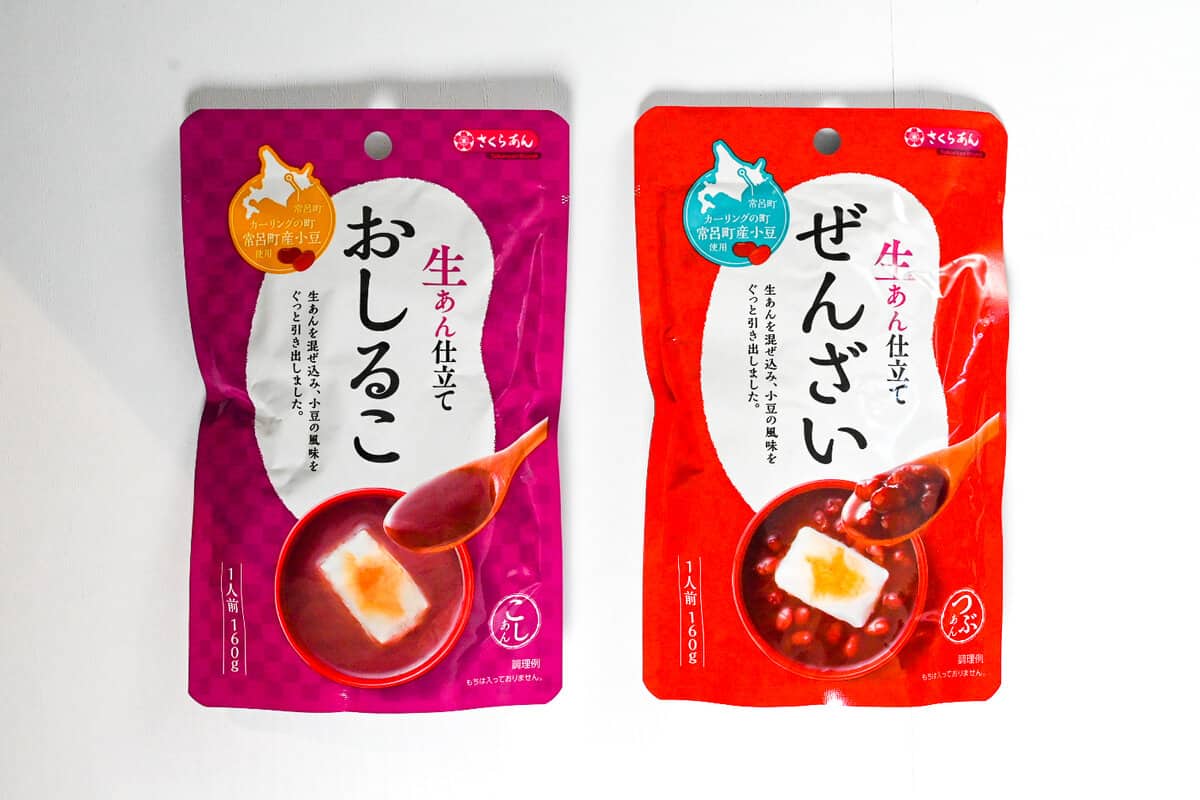 The package states that oshiruko is made with "koshian" (smooth red bean paste) while zenzai is made with "tsubuan" which is chunky red bean paste that contains whole beans.
As long as you have adzuki beans and sugar, you can make either at home. Zenzai with whole beans is a lot easier though, so that's what I'm going to show you how to make today!
Kagami Biraki
During the New Year's celebrations in Japan, homes and businesses are often decorated with Kagami Mochi. "Kagami Mochi" can be translated as "mirror rice cake" and is made up of two round rice cakes of different sizes. The smaller one is stacked on top of the bigger one and then topped with a type of Japanese bitter orange called a "daidai" (although, these days "mikan" or satsuma/mandarin orange is commonly used instead). The two mochi are said to represent the going and coming years, yin and yang, the sun and moon, etc.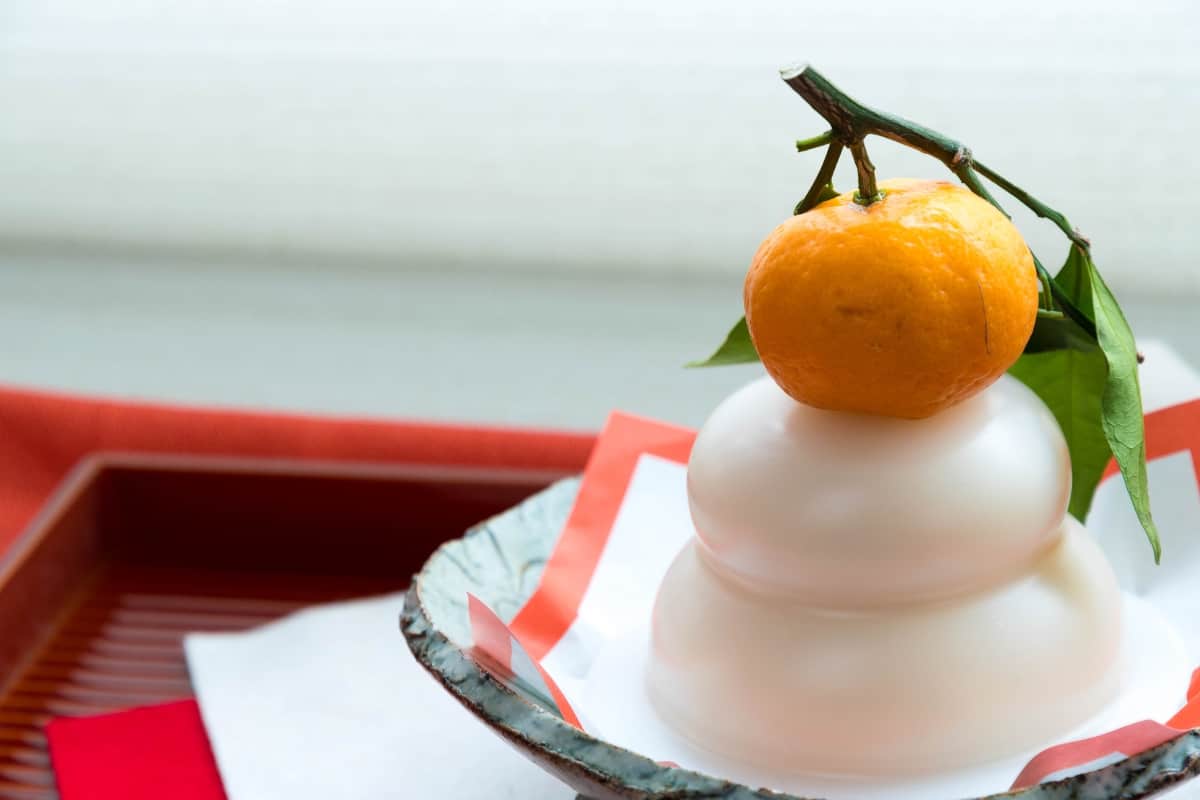 The Kagami Mochi is broken into smaller pieces on January 11th, a day known as "Kagami Biraki" or "Opening the Mirror". It is important to note that kagami mochi should be broken by hand, often using a hammer. Cutting with a knife is considered bad luck.
It is common to toast the kagami mochi and serve it in zenzai or oshiruko on this day.
Ingredients
Zenzai only requires a few ingredients:
Let's go over a few ingredients in more detail.
What are adzuki beans?
Adzuki beans (also spelled "azuki" or "aduki") are a small red bean with a slightly sweet taste. The adzuki bean has been present in Japan for more than a thousand years, even being mentioned in "The Kojiki", the oldest existing record in Japan's history. Although it is believed that adzuki beans were brought to Japan from China, recent records show that there is a genetic difference between adzuki beans from China and Japan.
Adzuki beans are the second most consumed type of bean in Japan, second only to soy beans. They're most commonly used for desserts.
Unlike many other kinds of beans, it's not necessary to soak adzuki beans. I tested this recipe with both soaked and unsoaked beans, I couldn't notice any different in taste, but the usoaked ones kept a nicer shape and texture whereas soaked ones cooked a faster and were slightly softer.
In regards to adzuki beans, there are a few things to keep in mind when you boil adzuki beans:
Cooking time depends on the age and quality of the beans, so try to use newer, high quality beans. (I made the mistake of using old beans once and they didn't soften enough, even after 2 hours of simmering.)
After 20 minutes of simmering, pour the first batch of water away and replace with fresh water. This removes astringency, improves the taste of the beans and makes them easier to boil.
Start with cold water to ensure even cooking.
What sugar should I use to make zenzai?
Since zenzai is a simple dish that relies on the flavour of the beans and the sweetness from the sugar, the type of sugar you choose will greatly affect the final taste of the soup. You can use white sugar, light brown sugar or a mixture of both. Experiment using your favourite type of sugar to create a zenzai that perfectly suits your tastes!
I personally like to use a mixture of white sugar and turbinado sugar.
Mochi
Zenzai is most commonly served with toasted mochi. You can buy round mochi or kirimochi (mochi cut into squares) at Japanese supermarkets or on Amazon.
If you can't get mochi, it's also common to eat zenzai and oshiruko with small rice dumplings called "shiratama dango". They're easy to make and only require water and glutinous rice flour called "shiratamako". (You can also use mochiko to make them.)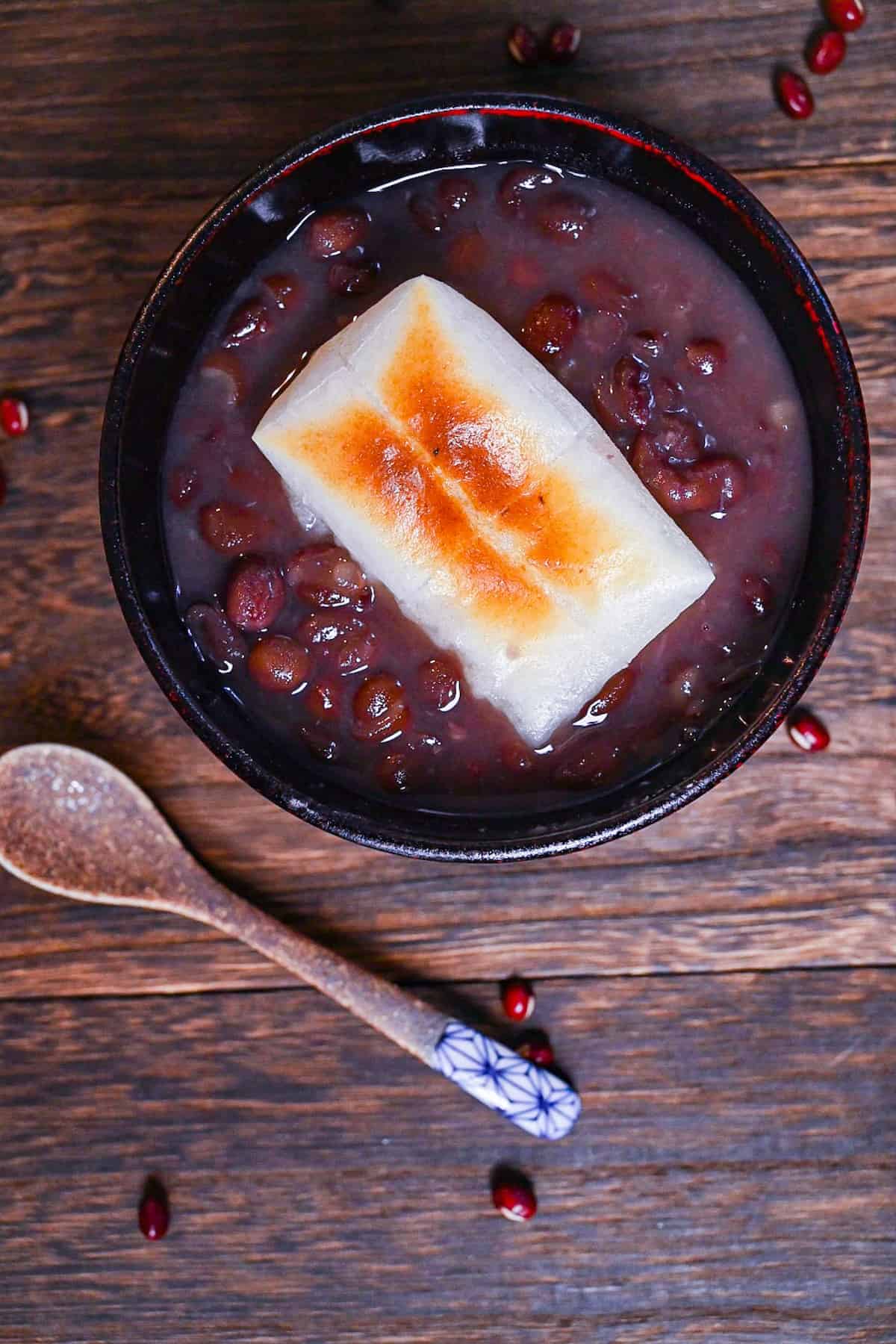 Instructions on how to make zenzai at home
Here are my step by step instructions on how to make zenzai at home. For ingredient quantities, see the printable recipe card at the bottom of the page.
Wash the beans
Unlike many other beans, adzuki beans don't need to be soaked before cooking. The first step is to wash them. I place them in a strainer over a mixing bowl, add cold water and swish them around. Drain the water and repeat 1-2 more times.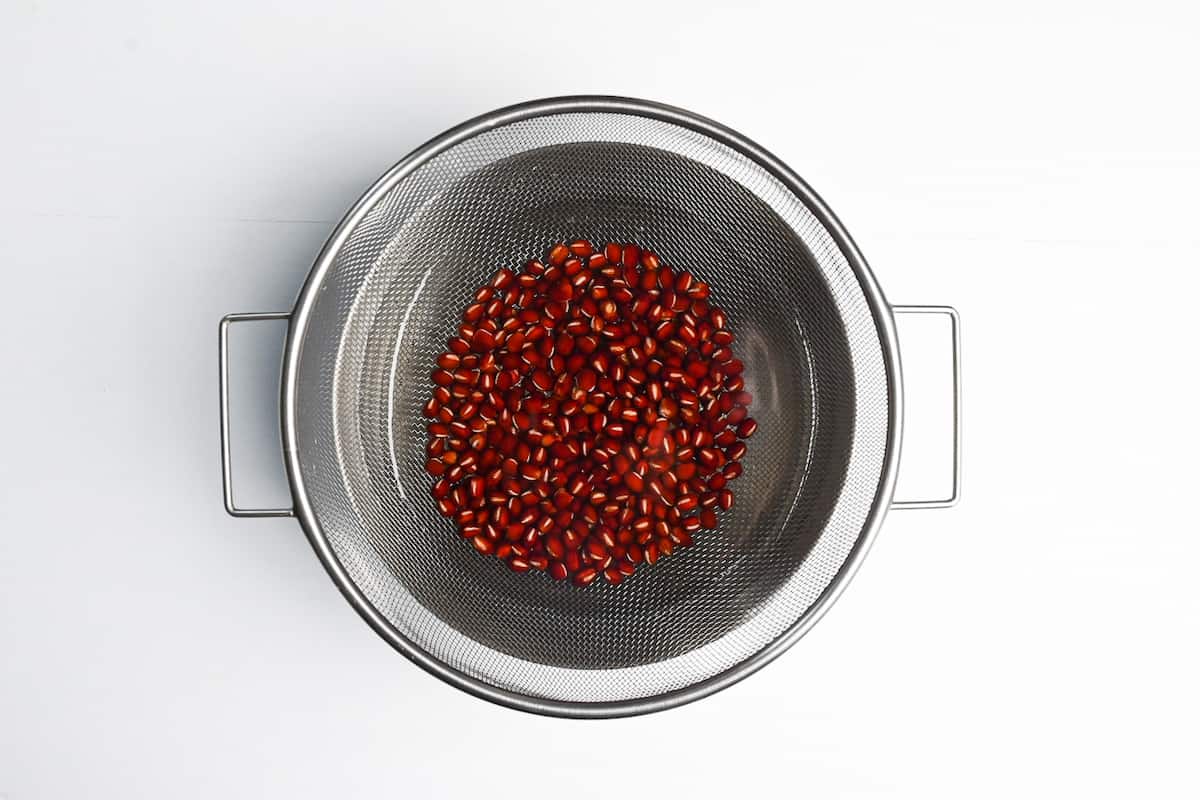 If you notice any damaged beans, remove them at this point.
Transfer the washed adzuki beans to a pan
Once the beans are washed, transfer them to a saucepan and pour in fresh cold water. The water amount should be 3-4 times the amount of beans and the beans should be fully submerged.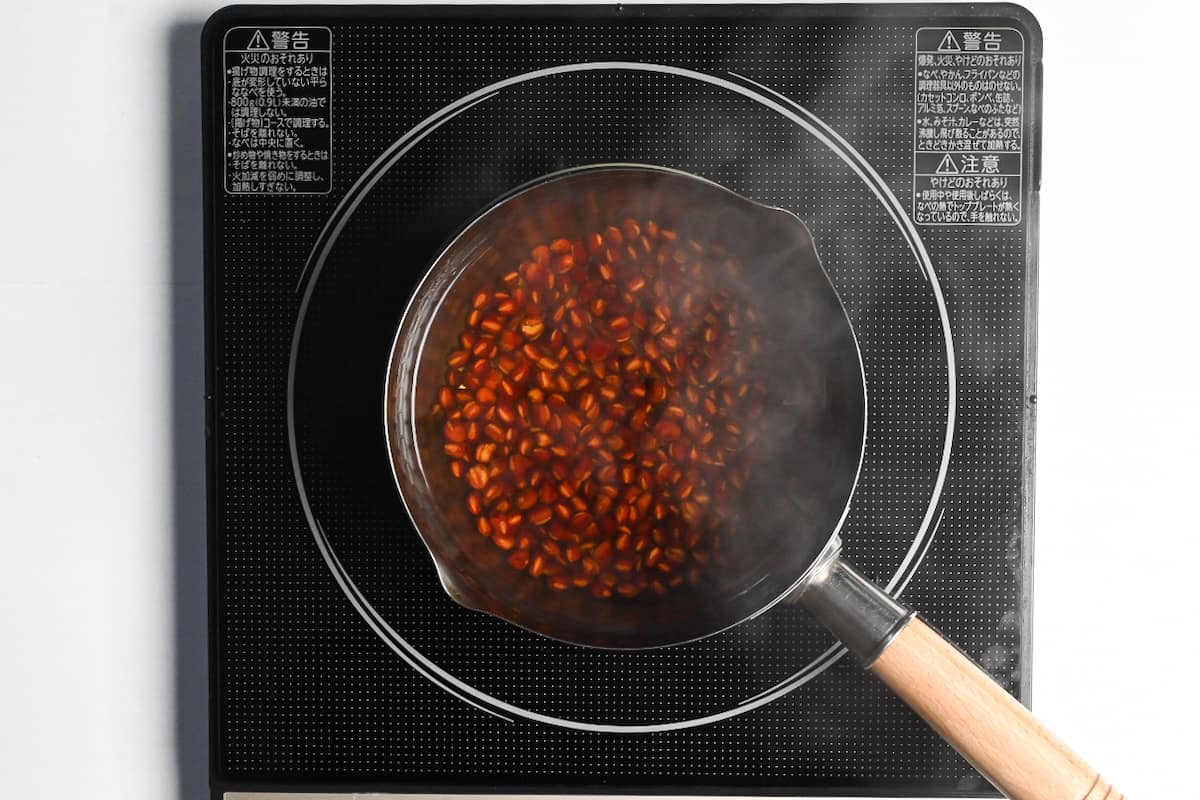 Bring to a boil over a medium heat and then lower to a simmer. Simmer the beans for about 20 minutes.
Drain and add fresh water
After 20 minutes have passed, drain the water from the beans. This will remove any astringency and give your zenzai a cleaner and more elegant taste.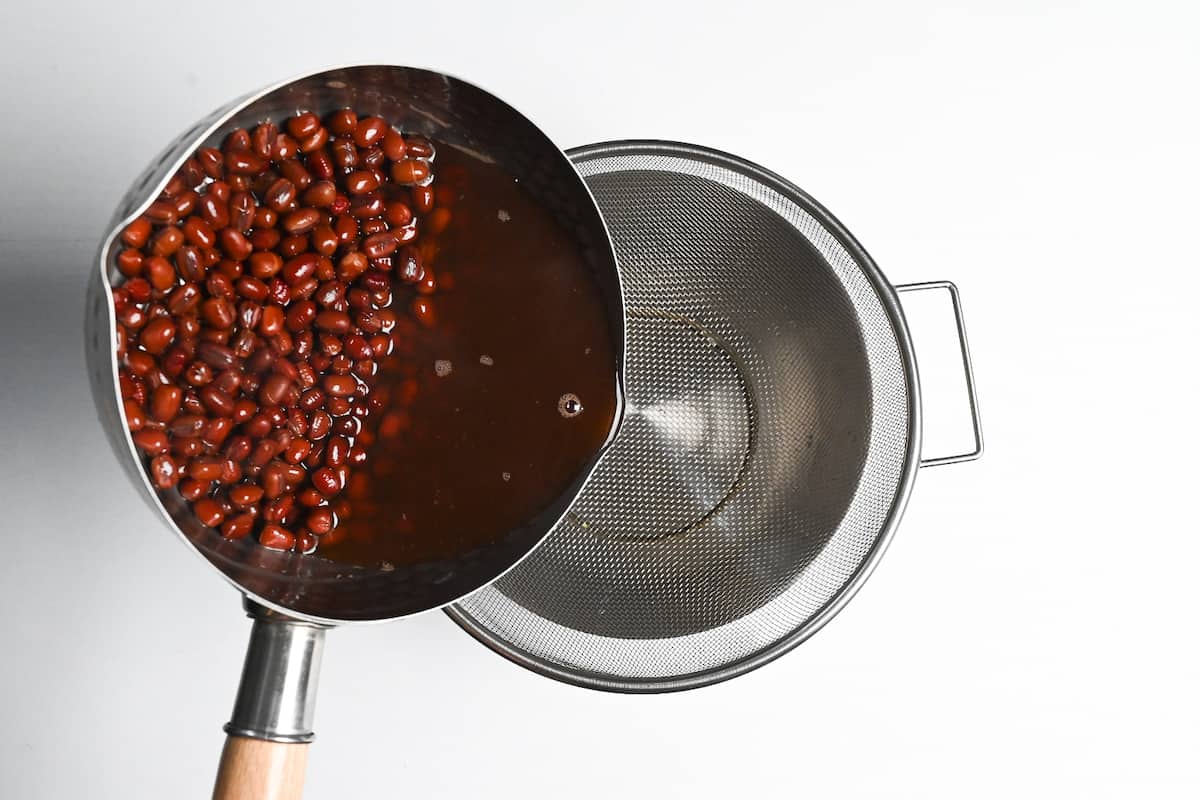 Add fresh water and return to the stove.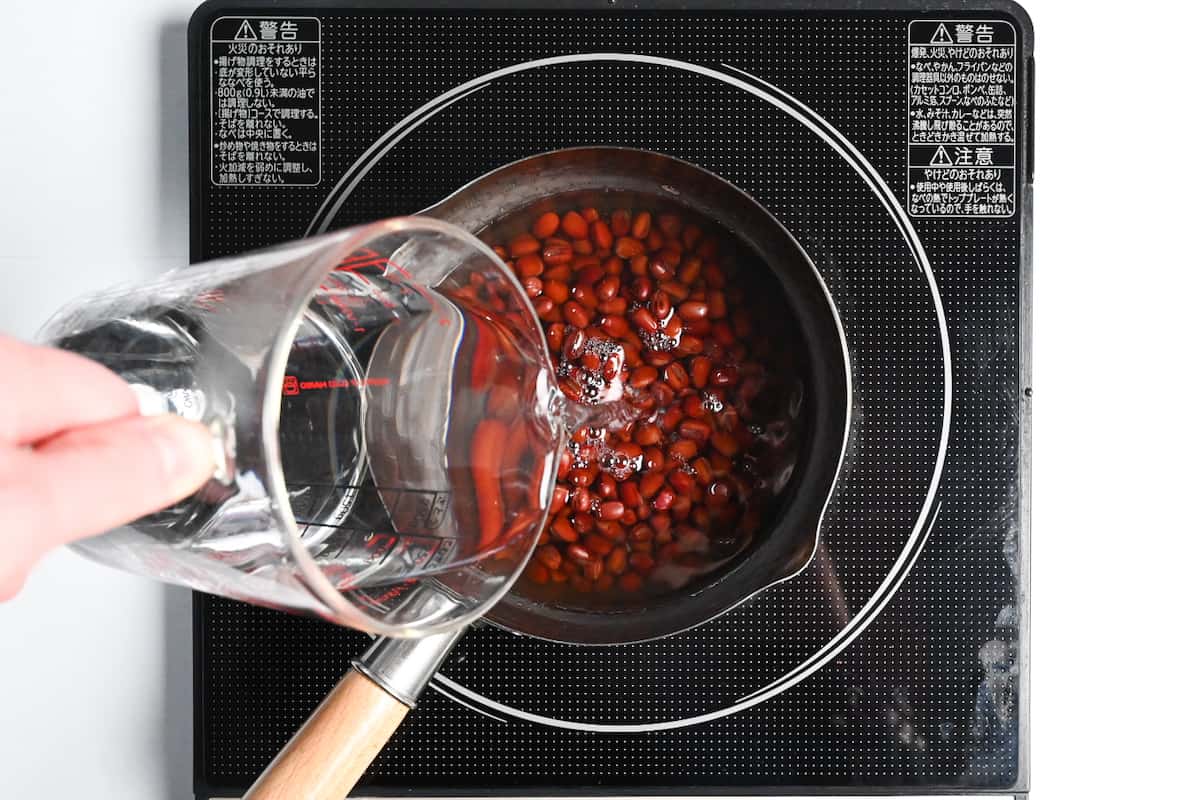 Simmer again
Bring to a boil over a medium heat once more, then lower to a simmer. Place a Japanese drop-lid (otoshibuta) on top, this will stop the beans moving around too much and getting broken. It will also stop the liquid from evaporating too much. If you don't have a drop lid, you can make one using baking paper or foil, check out my instructions on how to make a drop lid here.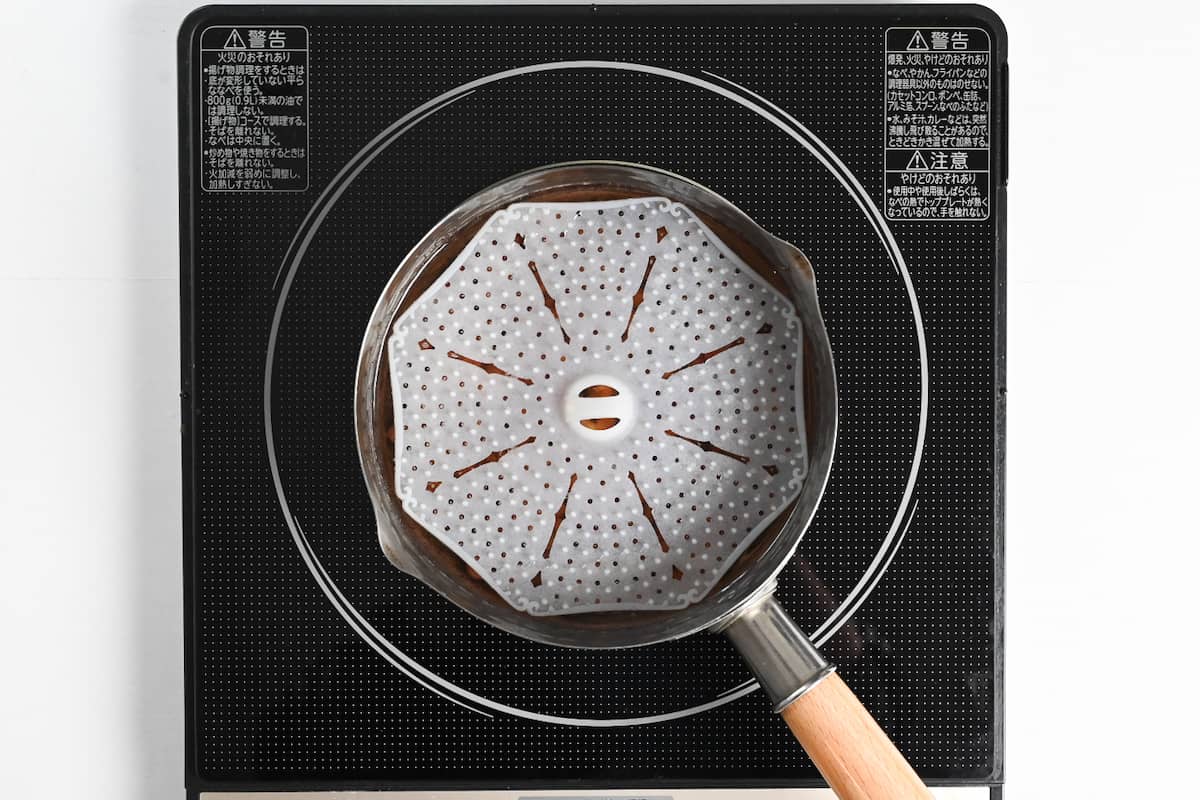 The time it takes for the beans to soften can vary depending on the age and quality of the beans, but in general they will take between 40-70 minutes in the second simmer.
If scum appears around the top, scoop it out with a mesh spoon. (You might need to remove the drop lid to make this easier.)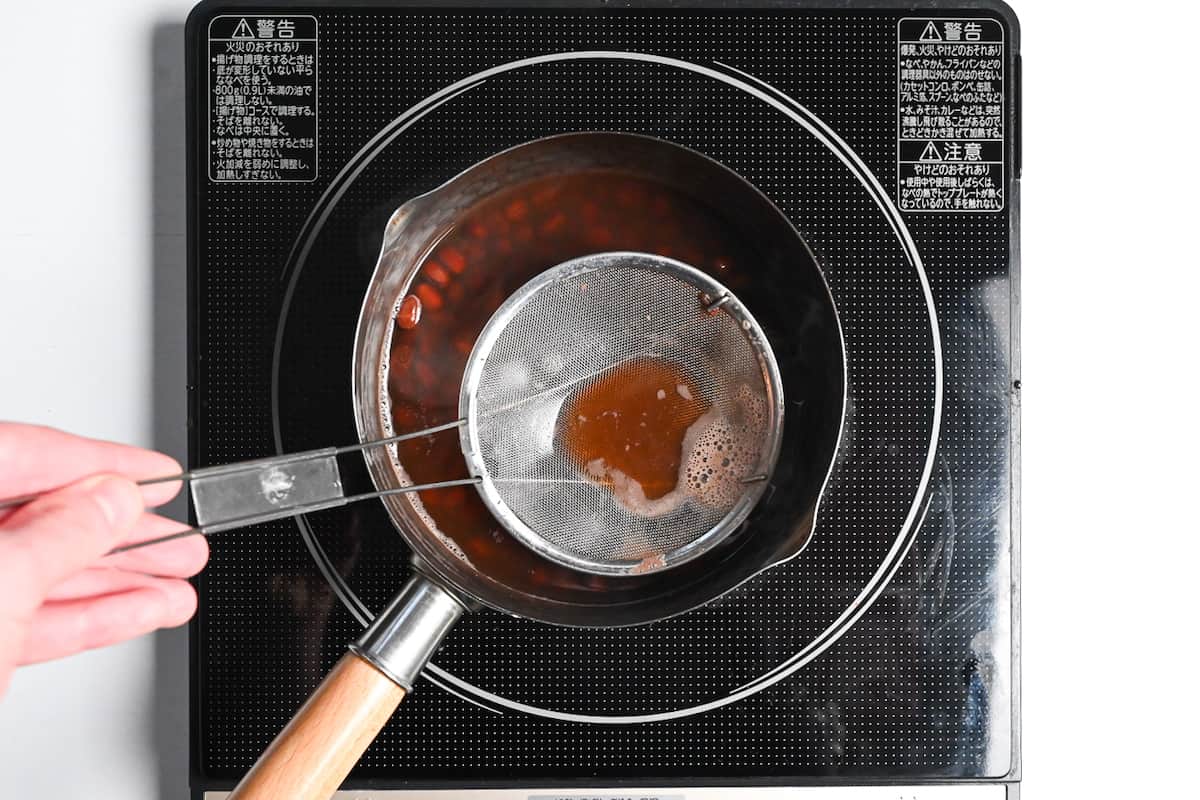 Add more water if necessary
Make sure the beans are always fully submerged in the water to ensure they're cooked evenly. Check the pan regularly and if necessary, add more water. I added about 200-300ml extra over the course of one hour (100ml at a time).
Test the beans
After about 40 minutes, test the beans by taking one out and running it under cold water to prevent burning your fingers. Press the bean, if it's soft enough to spread across your fingers like a paste, then the adzuki beans are cooked. If it's still firm at all, then continue to cook for 10-15 minutes and test again. Repeat until the beans are fully cooked.
Make sure the beans are fully cooked before adding the sugar. If you add the sugar too soon, the beans won't soften any further!
Add the sugar
Once the adzuki beans are soft all the way through, add the sugar.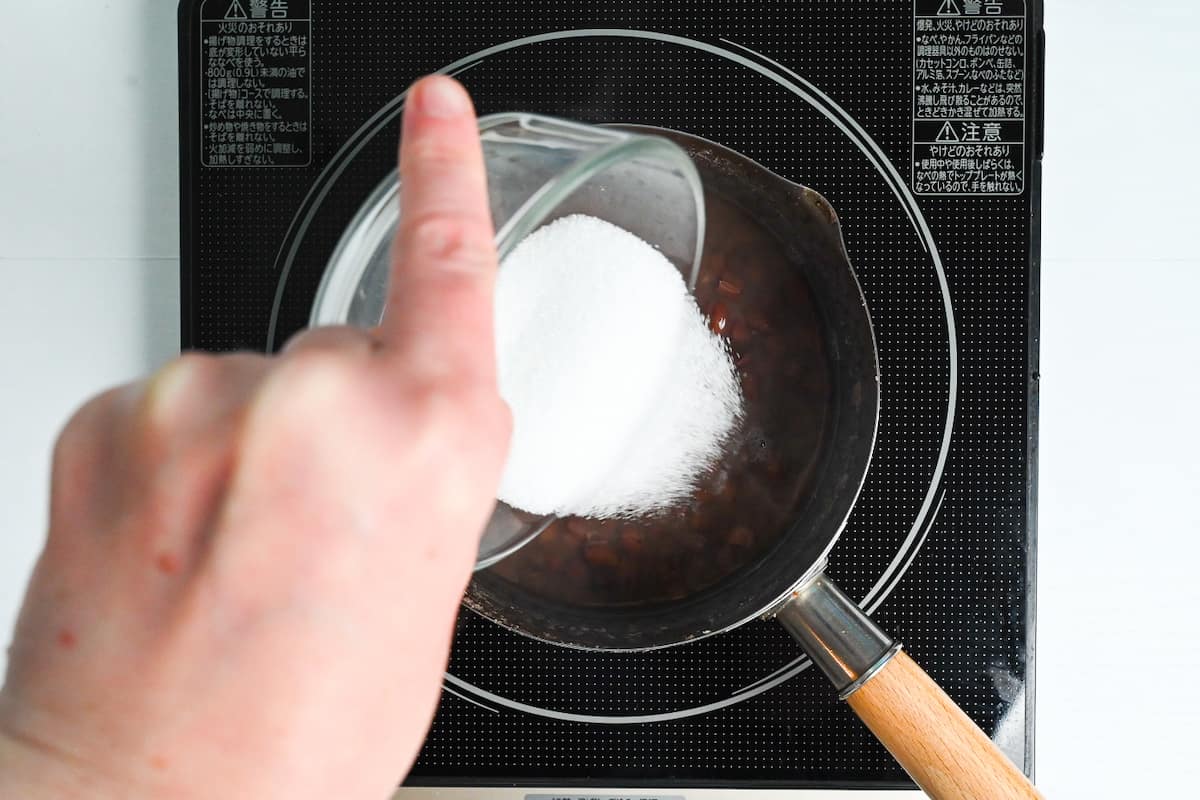 Mix until the sugar is fully dissolved and do a taste test. You can add more sugar if you like.
Once you're happy with the sweetness, add a generous pinch of salt. This will balance the flavour.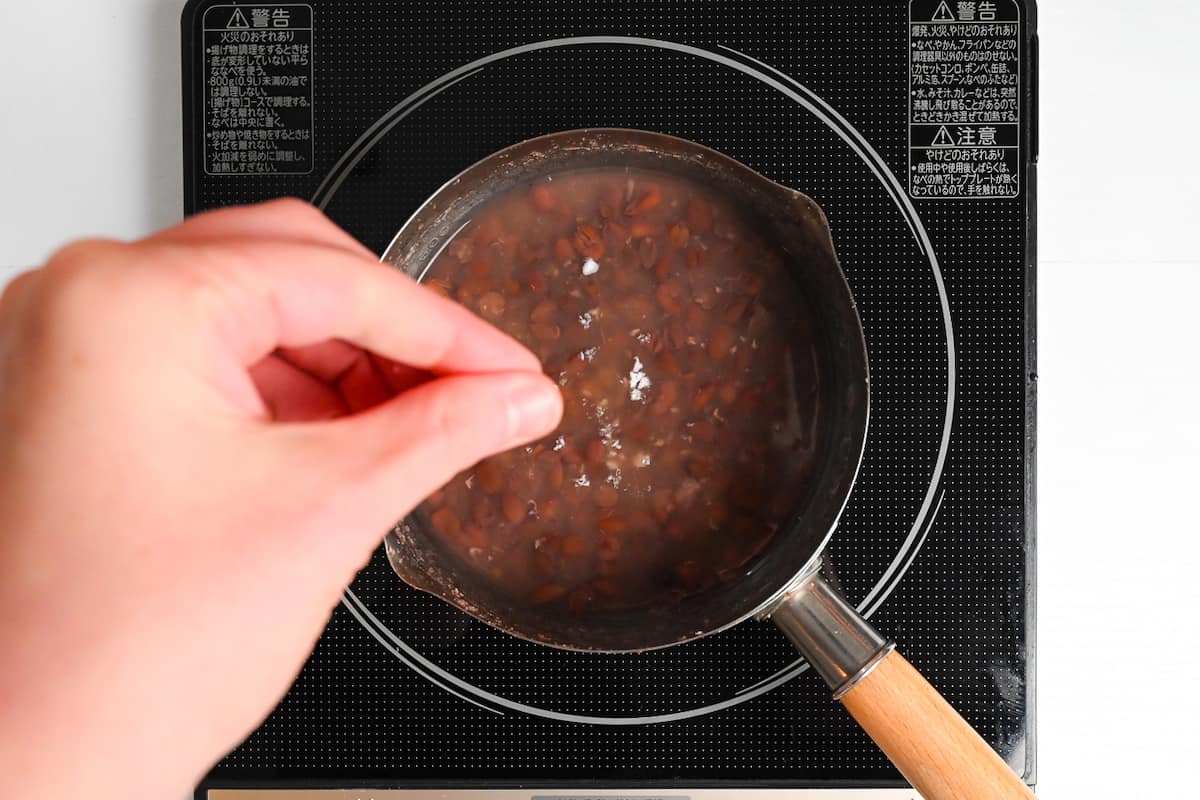 Mix thoroughly and remove the pan from the heat.
Toast the mochi
Unwrap the mochi and place it on a piece of foil over a baking sheet (this protects your oven from any mess!). Toast it in a toaster oven or under a grill/broiler. Once golden on top, flip it over and repeat.
Dish up
Place the mochi in a bowl and pour the zenzai around it.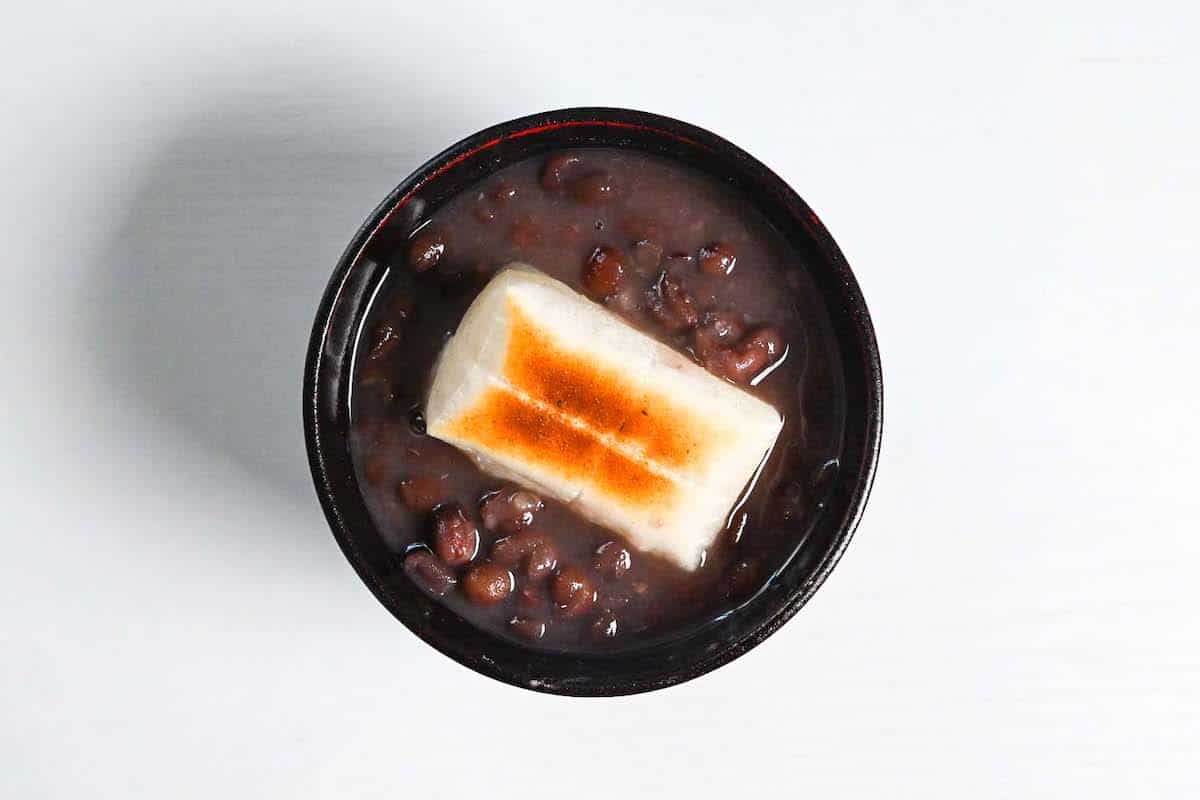 Enjoy!
Substitutions and variations
With a simple recipe with so few ingredients, you might think there's no way you can personalize it. Well actually, there's a few things you can change or add!
Light Brown sugar - instead of white sugar, you can use brown sugar or any kind of sugar you like. Different sugars will create different flavours in the soup!
Shiratama dango - if you can't get hold of mochi, make shiratama dango instead. This is a popular option too!
Add candied chestnuts - make your zenzai more luxurious by adding candied chestnuts!
Storage
To store, transfer the zenzai to a container and allow to cool. Zenzai (without mochi) can be kept in the fridge in a sealed container for about 3 days. It's best to toast the mochi right before serving.
You can also freeze zenzai in batches for 1-2 months. Defrost in the fridge overnight to maintain the flavour of the beans as sudden reheating can cause the flavour to deteriorate. If you choose to freeze it, you could even pour it into popsicle molds and enjoy it frozen! (If you plan to freeze it, you might want to add more sugar as the sweetness doesn't come through as strongly when it's cold.)
The best way to reheat zenzai is to pour it into a pan and reheat it on the stove. It can also be microwaved, but be careful not to overheat.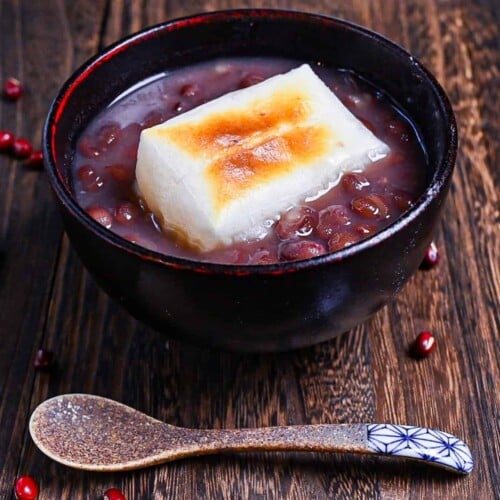 Zenzai (Japanese Red Bean Soup with Toasted Mochi)
How to make sweet and comforting zenzai (Japanese red bean soup) from scratch topped with a toasted mochi rice cake.
Ingredients
200

g

adzuki beans

2000

ml

water

-

Half for the first cook, the other half for the second plus extra for topping up

160-200

g

sugar

1-2

pinches

salt

4-6

pieces

kirimochi

-

(rice cakes) optional
Instructions
Pour

200 g adzuki beans

into a sieve and place it over a large mixing bowl. Run cold water over the beans until covered, swish them around to wash them. Repeat 1-2 times and remove any damaged beans.

Transfer the beans to a large sauce pan and add half of the water, make sure the beans are fully submerged. Bring to a boil over a medium heat, then lower to a simmer. Simmer for

20 minutes

.

After 20 minutes, pour the beans through a colander placed over the sink to discard the first batch of water. Return the beans to the saucepan and pour in the other half of fresh water.

Bring to a boil over a medium heat once more, then lower to a simmer.

Place a drop lid on top of the beans and simmer for 40-70 minutes. Check it from time to time to make sure the beans are always fully submerged, add more water if necessary (about 100ml at a time). Remove any scum that forms on the surface.

Once 40-60 minutes have passed, test a bean by running it under cold water and then squashing it between your thumb and forefinger. If you can spread it like a paste it's ready. If not, continue to simmer and test a bean every 10-15 minutes until thoroughly softened.

When the beans are soft enough, add

160-200 g sugar

and mix over the heat until dissolved.

Taste test to check the sweetness, if it's not sweet enough you can add more sugar. Once you're happy with the sweetness, add a generous pinch of salt to balance the flavour.

Toast the kirimochi on both sides using an oven toaster or grill/broiler feature on your regular oven. (I usually place mochi on a piece of foil to prevent any sticky mess in my oven.)

Place the toasted mochi in each bowl and pour the red bean soup around it.

Serve an enjoy!
Notes
To store the zenzai (without mochi), transfer to a sealed container and allow to cool. Once cool, store for up to 3 days in the fridge or in the freezer for 1-2 months. 
FAQ
What is Japanese zenzai?
Zenzai is a traditional Japanese dessert soup made with adzuki beans and sugar. It's often served hot and enjoyed in the winter months with a piece of toasted mochi (rice cake) or small rice dumplings called "shiratama dango".
When should I eat zenzai?
Zenzai is most commonly eaten in winter, especially after "kagami biraki" (breaking the New Year's mochi) on January 11th as we toast the mochi and serve them in the soup. However, zenzai is enjoyed any time of year, there is even a chilled version called "hiyashi zenzai" that is more common to eat in summer.