Miso soup is a stable in Japanese cuisine, but what is it? What is it made from? Where did it begin? Learn everything you need to know about miso soup, from its history and origins to how its made and commonly used ingredients. There's also a few recipes at the end if you want to try making it yourself!
Disclaimer: This post contains Amazon affiliate links. Sudachi earns a small percentage from qualifying purchases at no extra cost to you. See disclaimer for more info.
What exactly is miso soup? Its origin and history
Miso soup, simply put, is a soup made by mixing miso paste with dashi broth and cooked with chopped vegetables, tofu, wakame seaweed, and more. It's the most common soup in Japan.
Miso is said to have originated from the ancient Chinese fermented food called "hishio (醤)", which was brought to Japan in the late 6th or 7th century. In the "Taiho Ritsuryo" (Laws and Regulations enacted in 701), it was referred as "mishou", then it changed to "misho" and finally to "miso" over the time. At that time, people didn't dissolve miso in water; they applied it to food or ate it on its own. Later, a Zen priest developed a way to grind miso and use it as a condiment, giving birth to miso soup. At that time, however, miso was a luxury item.
In the Kamakura period (late 12th to mid-14th century), samurai society developed a basic eating style called "ichijiru ichisai (one soup, one meal)," and miso soup was born by monks from China who introduced mortars, and warriors began drinking miso soup daily. By the 16th century, soldiers were drinking miso soup on the battlefield, using boiled taro stems in miso as cords. When they ran out of food, they chopped the stems, added hot water, and ate, creating a prototype for "instant miso soup".
During the Edo period (1603-1867), not only samurai but also the common people started to enjoy miso soup. Then the variations of miso soup evolved quickly depending on the region: vegetables and mushrooms were added in farming and mountain villages, fish and seaweed in seaside areas, and so on. Since then, miso soup has become an indispensable soup in the lives of Japanese people.
What is Miso Soup Made of?
Miso soup is made from three main components: miso paste, dashi broth, and vegetables and other ingredients and toppings.
In this section, we will discuss these three components of miso soup in more detail.
Miso paste
Miso is created by combining soybeans, salt and a type of fungi called "koji" which allows the mixture to ferment and mature. Various types of miso exist and are often distinguished by the base ingredient mixed with the koji: rice miso uses rice koji, barley miso uses barley koji, and soybean miso is made with soybean koji.
Besides ingredients, miso is also categorized by color, including red miso, white miso, and awase miso (a blend of red and white miso). With its long history, Japan has countless variations of miso, making the list of types seemingly endless.
Dashi broth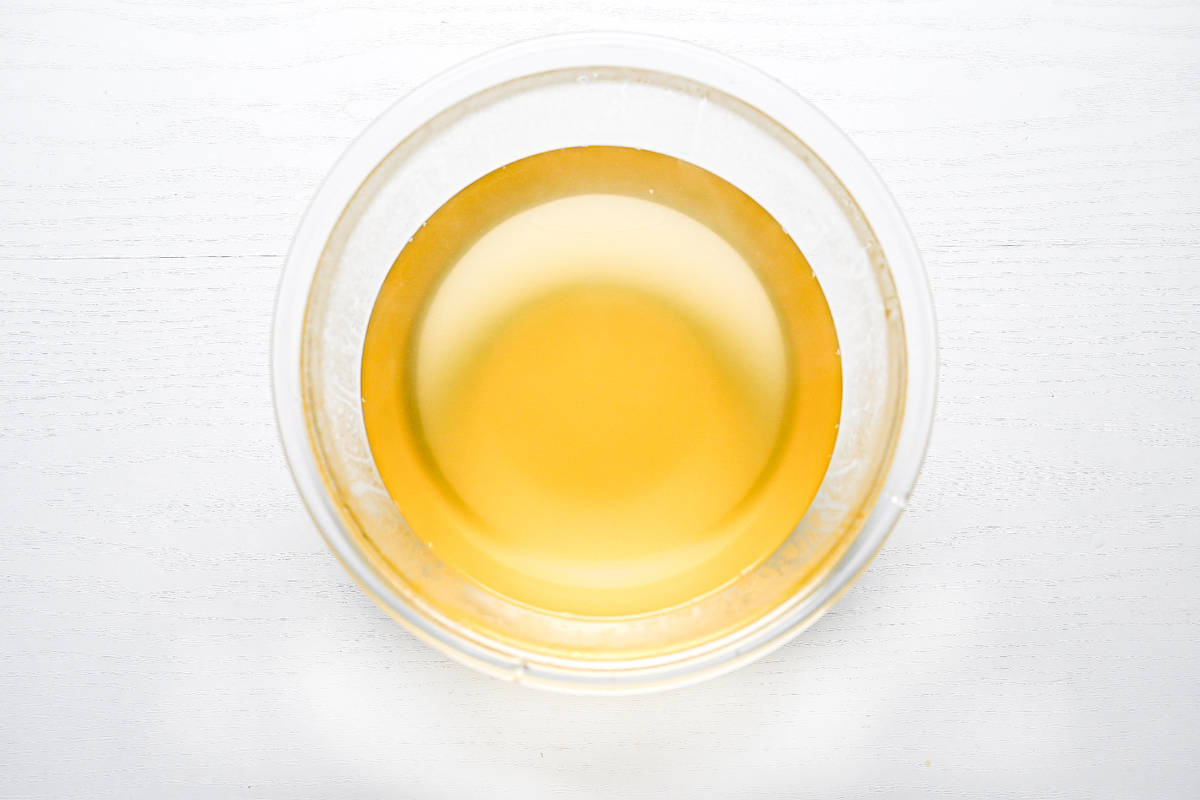 Dashi is a a type of Japanese broth mainly used to add umami flavor to dishes. In Japanese, the term "dashi" applies to all types of broth, not just Japanese dashi.
Specifically, Japanese dashi is a liquid full of umami flavors created by simmering ingredients such as dried bonito flakes, sardines, and kelp. Key ingredients, such as bonito flakes, kelp, mushrooms, and dried sardines, produce a unique and elegant aroma.
Japanese dashi relies on umami components, especially inosinic acid from dried bonito flakes and glutamic and aspartic acids from kelp. These umami elements contribute to the umami of many Japanese dishes including miso soup. In other words, dashi broth is extremely important in making miso soup at home.
Some example of Japanese dashi
In addition to dashi made from scratch, there are also simplified tea bag style and dashi in granule form.
Ingredients & Toppings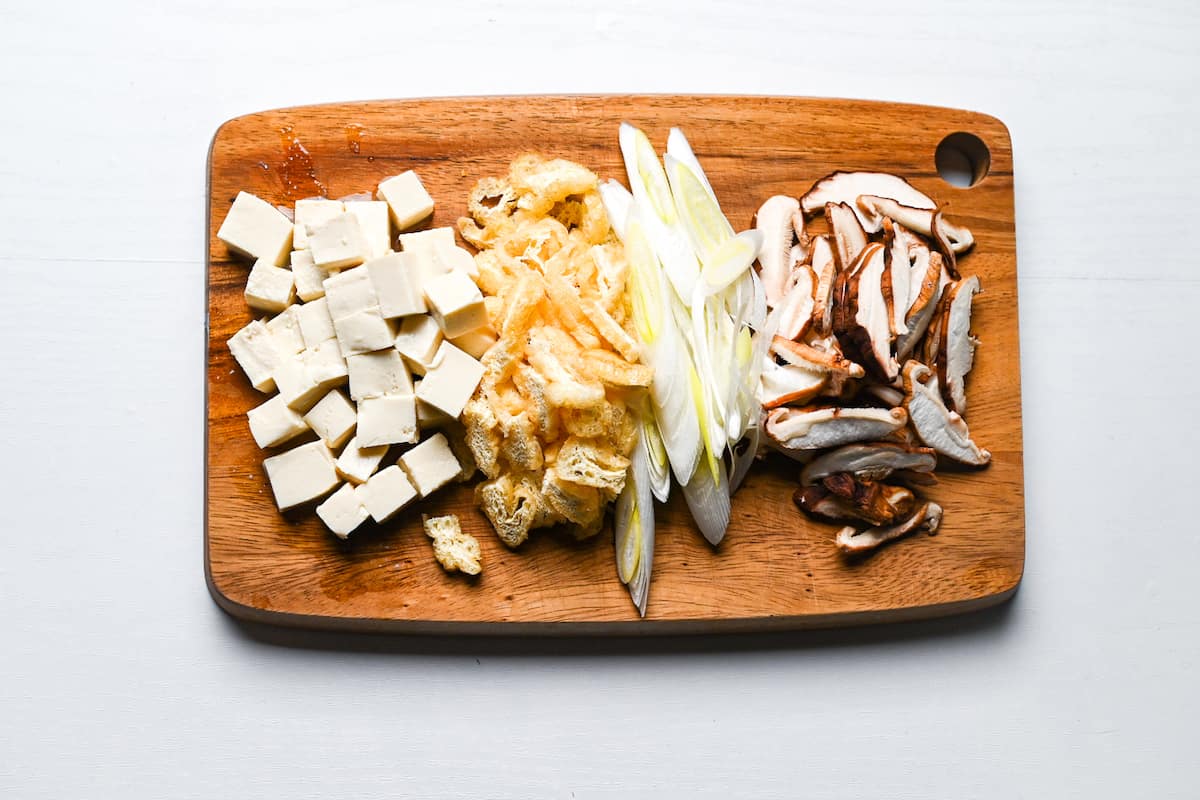 As for the ingredients and toppings for miso soup, most of them are vegetables or seafood, except for special miso soups such as tonjiru (pork miso soup).
There's a huge variety of ingredients for miso soup, from classics like tofu and wakame seaweed to unique choices that let you explore new flavors. The ingredients used can vary by region and family.
Stay tuned for more details on these ingredients in upcoming sections.
How is miso soup made? General steps explained
Of course, various recipes require different ways of cooking, but in this section, we'll teach you the basics of making miso soup with simple steps. You'll find detailed miso soup recipes at the end of this article.
Prepare the dashi broth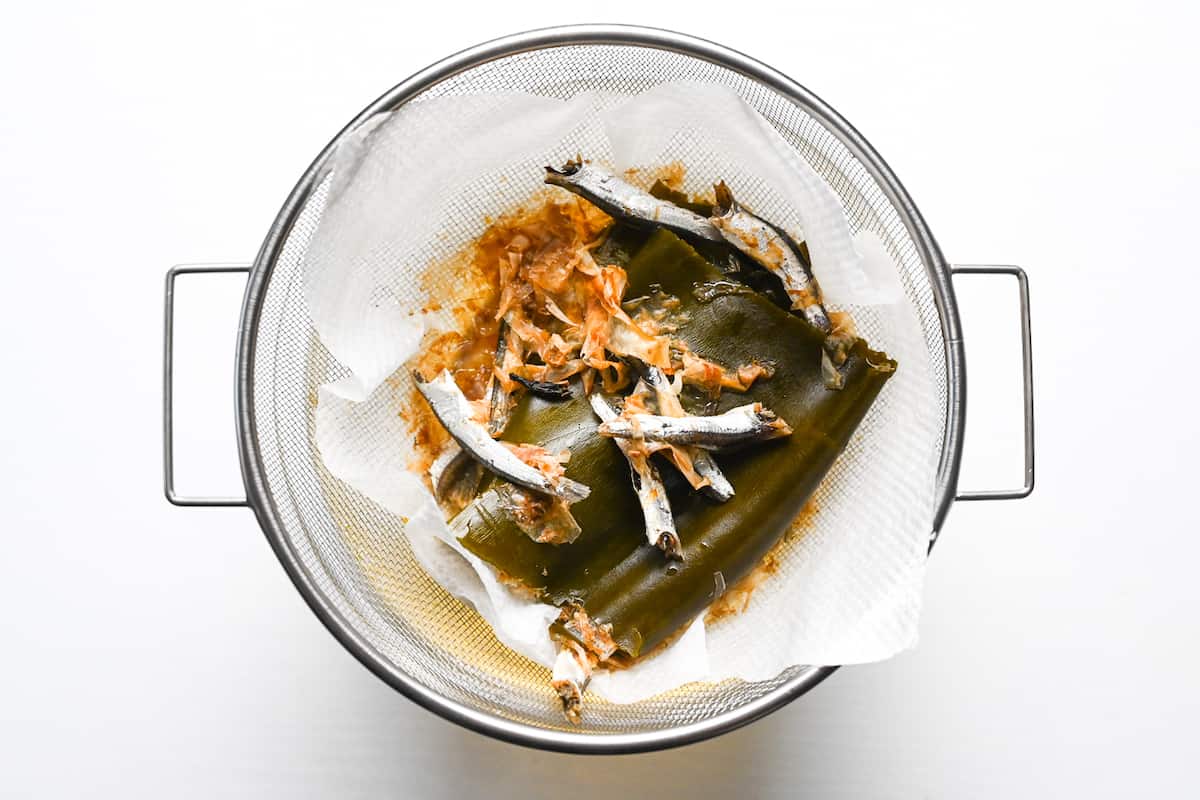 First, let's make the dashi broth. You can choose from classic bonito flakes and kelp, bonito flakes and kelp with niboshi (dried sardines), or a plant-based shiitake and kelp combo. Pick according to your preference!
If you prefer a quick and easy option, feel free to use dashi tea bags or granules.
Add ingredients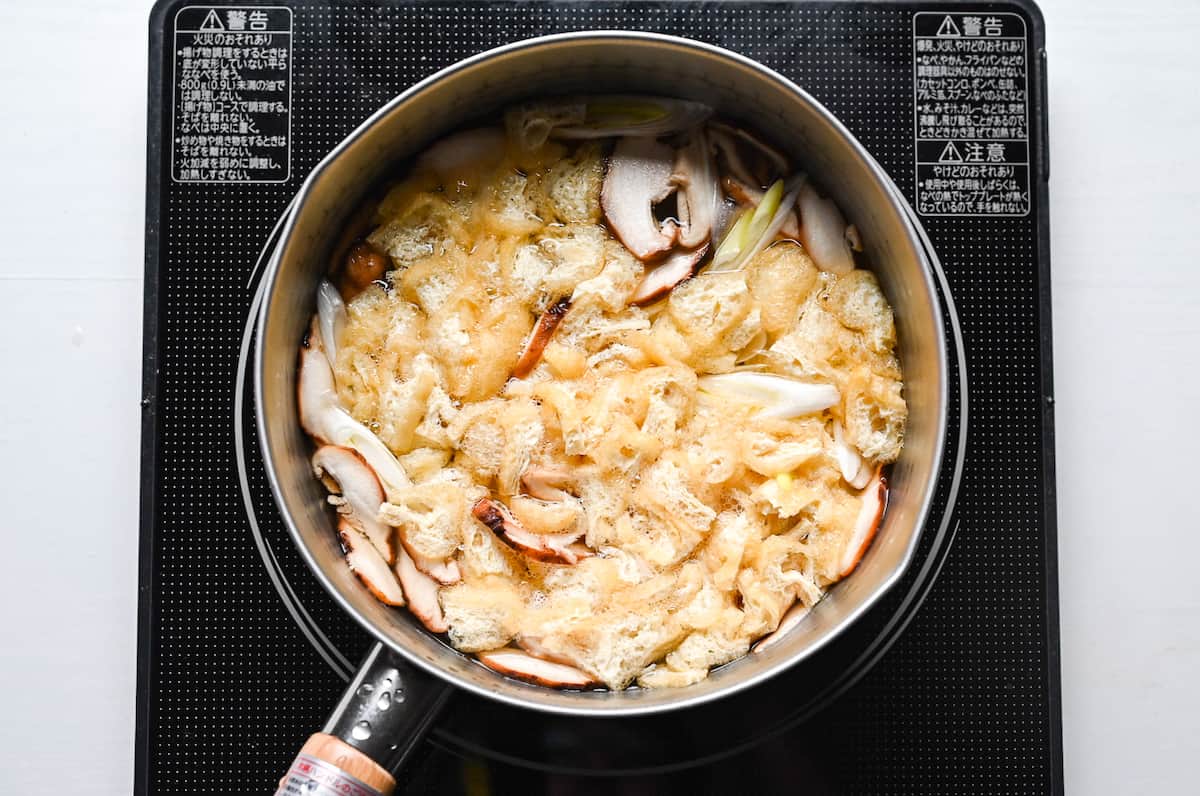 When adding ingredients, start with those that take longer to cook, like potatoes and carrots. Toss in quicker-cooking items like spinach and fried tofu last.
Strain the miso paste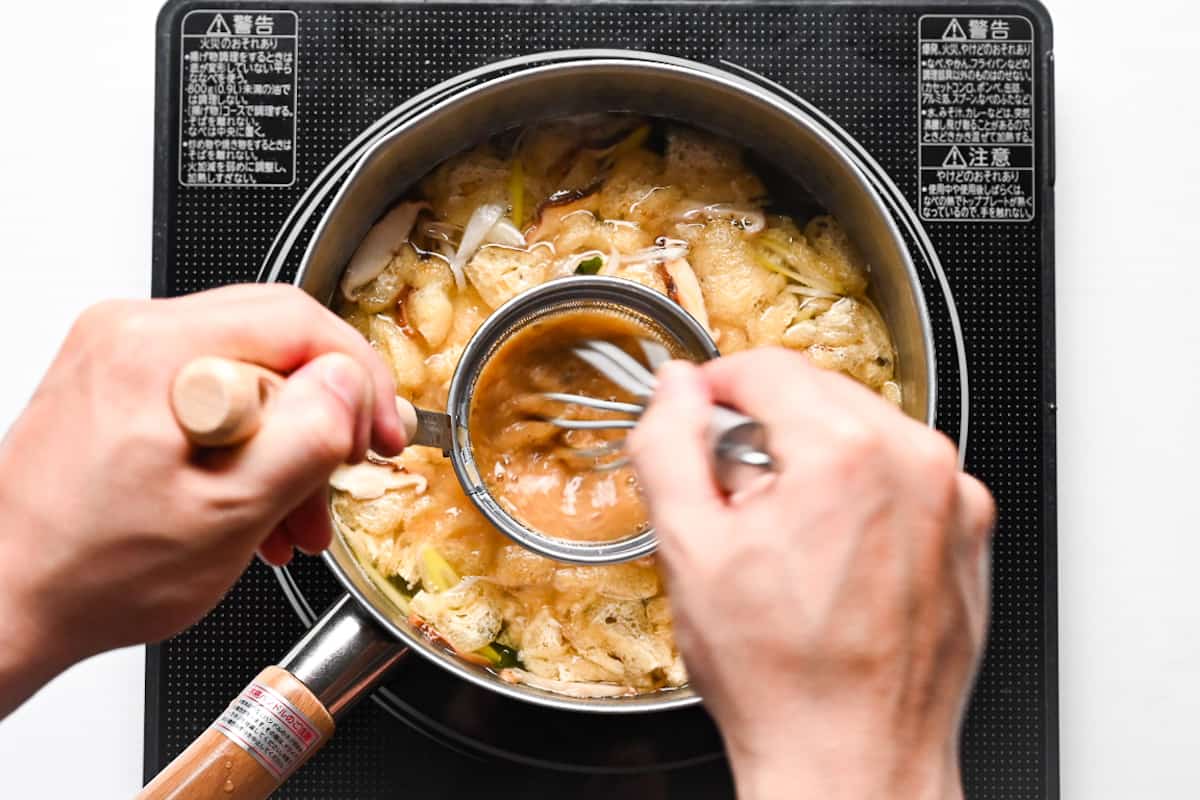 Miso is the heart of miso soup, and using it correctly is crucial. First, since miso paste doesn't technically dissolve, use a strainer to add it to the broth to ensure it breaks up completely. If you add the miso paste directly to the broth, it tends to clump together and becomes difficult to evenly distribute.
Secondly, never boil the miso paste. Turn off the heat before adding it, then break it thoroughly in the strainer using a whisk or chopsticks. Boiling miso destroys its aroma and reduces its taste and nutritional value, including heat-sensitive enzymes and lactic acid bacteria. To preserve these nutrients, add the miso right before eating.
Miso soup's delightful aroma comes from yeast transforming sugars into alcohol, esters, and other fragrant elements as the miso matures in the barrel. Keep in mind, the alcohol (source of the aroma) evaporates at temperatures above 90°C (194°F), so avoid boiling to preserve the aroma.
If you want to infuse ingredients with miso flavor, add it in two separate batches to keep the miso's unique taste.
What is in Miso Soup? Traditional and Modern Additions to Your Bowls
As I've mentioned already, miso soup is incredibly diverse. Historically, people in rural and mountainous regions used farm and mountain vegetables, while those near the sea added seafood and ocean ingredients. Centuries of this history shaped today's miso soup, which has a vast variety of ingredients varying from home to home and person to person.
It's hard to list every ingredient possible, so this section introduces five typical miso soup ingredients based on a ranking by Nihon Miso Kabushikigaisha, which surveyed 5,000 Japanese people.
Tofu
An impressive 33.9% of respondents said their favorite miso soup ingredient is tofu. In fact, when I think about the most typical miso soup ingredient, tofu comes to mind first. There are two types of tofu: firm (momen) and silken (kinu), and both are tasty. Here are their characteristics:
Firm (momen) tofu – Easily absorbs flavors, pairing well with soups full of various ingredients, like pork miso soup, and seafood soups rich in broth. It's great with a mix of ingredients.
Silken (kinu) tofu – Its soft texture is appealing, and it can even go well with cold soups and lightly seasoned miso soup.
I prefer firm tofu because it holds its shape better. Whichever you choose, cut it into square cubes and add it at the end since it doesn't need to be cooked.
Wakame seaweed
Wakame came in second place, with 24.1% of respondents loving it the most. This large seaweed, classified as brown algae in the Kelpaea class, has been a part of Japanese cuisine since 6,000-300 B.C. It's fascinating that we still eat it daily, thousands of years later.
Wakame pairs especially well with tofu, and the combination is commonly found in miso soup in Japan. While fresh wakame can be used, Japanese families typically use dried wakame due to its long shelf life and easy storage. Dry wakame expands once added to the soup so a little goes a long way.
Aburaage (deep fried tofu)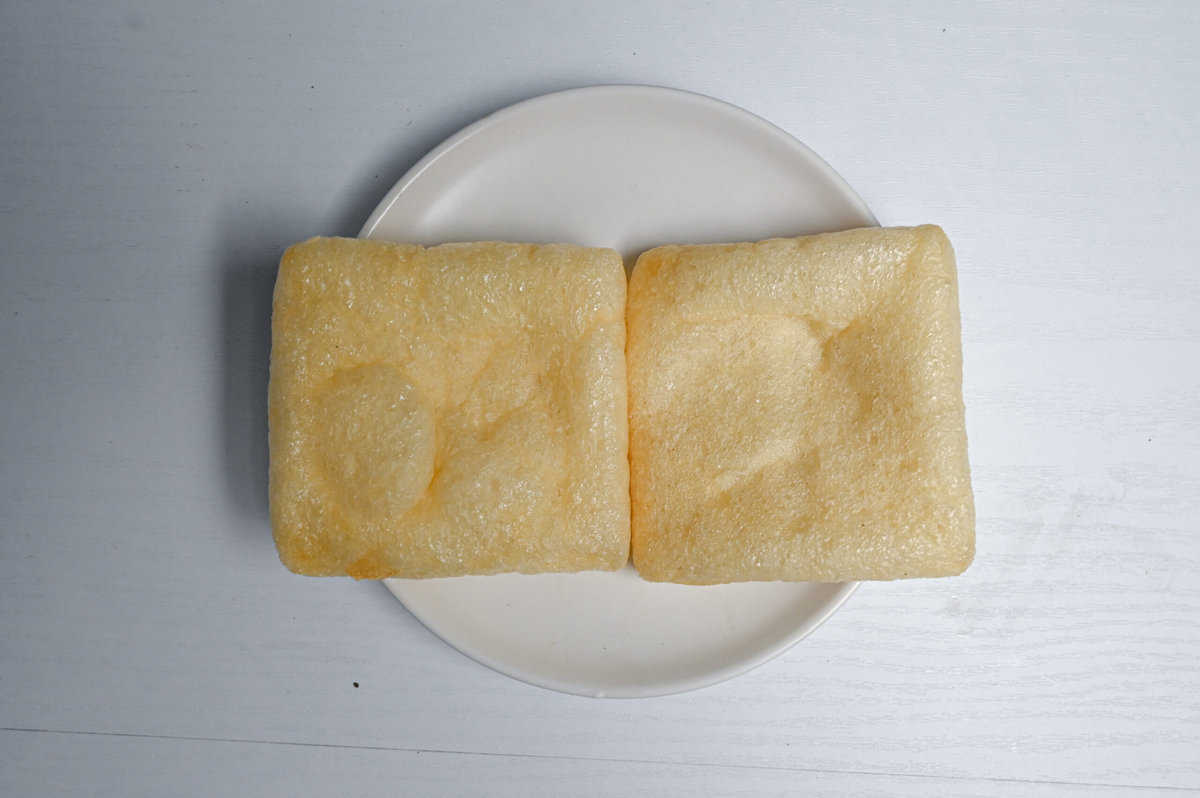 Fried tofu, or abura-age, ranked third, with 21.1% of respondents naming it their favorite. Made by cutting tofu into thin slices, draining the water, and deep-frying it twice in oil, abura-age is a common ingredient in dishes like kitsune udon. Personally, I think it's an essential ingredient in miso soup.
Not only does abura-age add richness and flavor to the soup, but it also becomes delicious as it absorbs the miso soup's flavors, creating a win-win situation!
Green onion
Long green onions, which got 17.2% of the votes, came in fourth place. Known as Japanese leek, Welsh onion, green onion, scallion, or spring onion in different countries.
The white part is soft, so slicing it thinly diagonally lets you enjoy its fresh texture and gentle sweetness. The green parts are great for slicing thinly and using as toppings. Since they cook easily, it's best to add long green onions at the end of the cooking process.
Potato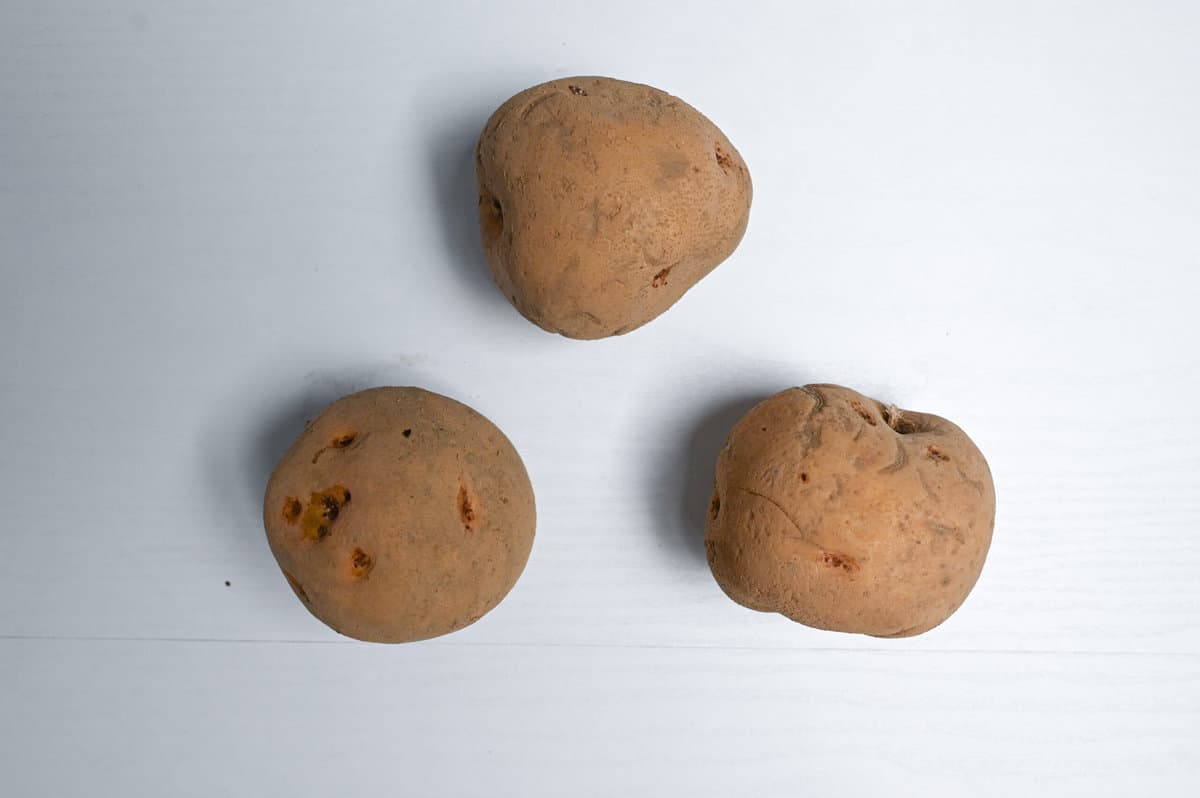 Potatoes, not surprisingly, are ranked fifth on the list. In the Chubu region where I grew up, red miso is more common and so potatoes weren't used much, but they pair well with white miso.
To prepare them, cut into half-moon slices about 5 mm thick. Keep in mind, they take longer to cook than other ingredients, so it's best to add them to the dashi early on. I also recommend using a waxy type of potato to avoid making your miso soup starchy and thick, Charlotte or new potatoes are an ideal choice.
Other ingredients that are used in Japan
I've handpicked five popular classic miso soup ingredients, and now let's explore some other timeless favorites.
White onion
Daikon raddish
Eggplant (aubergine)
Cabbage
Hakusai (Napa cabbage)
Spinach
Carrot
Okra
Gobo (burdock roots)
Bean sprouts
Mushroom (enoki, shimeji, maitake, shiitake, eringi…etc)
Clams (short-neck clam, fleshwater clam)
Crab
Salmon
There are countless other miso soup ingredients to explore, but I recommend customizing your soup with fresh, local vegetables in your area.
While you can use unique and authentic Japanese ingredients, the beauty of miso soup lies in its versatility and adaptability, making it perfect for incorporating fresh, locally grown ingredients!
Miso soup recipes you can try at home
Lastly, here are some tasty miso soup recipes for you to enjoy at home! Each one is unique and tasty, so give them all a try when you have the chance!
Basic "my favorite" miso soup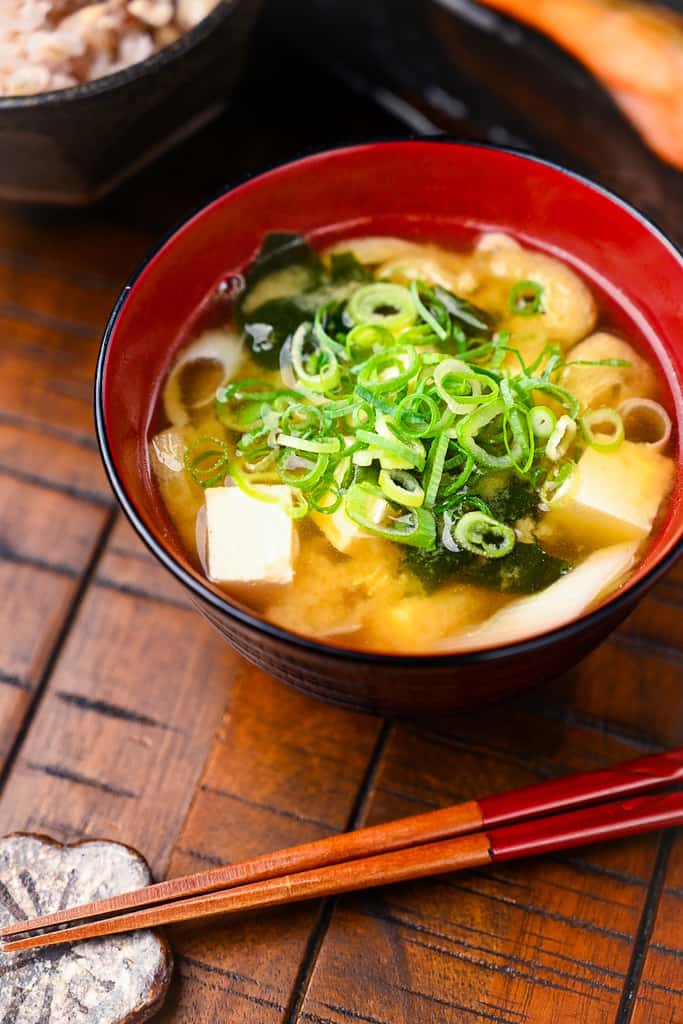 My go-to miso soup recipe includes all the top 4 ingredients from our earlier ranking, making it a fail-proof, classic choice.
This article also covers different types of miso and miso soup variations, so don't forget to check it out!
Tonjiru (pork miso soup)
Tonjiru is a version of miso soup with pork in it, as the name Ton (pork) Jiru (soup) suggests. Not only does it contain meat, but many of the ingredients in it are also very filling, so it is recommended when you want to make a hearty soup.
I explain many tips and techniques in my recipe, so if you are interested in miso soup with meat, please take a look.
Plant-based ginger miso soup
This plant-based miso soup features a rich broth made from dried shiitake mushrooms and kelp, with ginger adding a fragrant twist.
Check out the article for tips on making plant-based miso soup and give it a try!