Tonpeiyaki is the perfect dish for when you want to whip up an easy appetizer or snack. Made with crispy pork belly and shredded cabbage wrapped in a tender omelette and drizzled with a tangy sauce, it hits the spot on so many levels! Best of all, it uses cheap and easily accessible ingredients and is ready in just 10 minutes!
Disclaimer: This post contains Amazon affiliate links. Sudachi Recipes earn a small percentage from qualifying purchases at no extra cost to you. See disclaimer for more info.
Jump to:
What is Tonpeiyaki?
Tonpeiyaki (とん平焼き) is a quick and easy dish made with thin slices of crispy pork belly and shredded cabbage encased in a tender omelette and drizzled with a tangy homemade okonomi sauce. It's essentially the lighter, fluffier, and easier version of okonomiyaki.
Tonpeiyaki is a type of teppanyaki that is often regarded as "B-class gurume" (B級グルメ) in Japan. B-class is a cheap and easy dish that isn't classy or "gourmet" but is still incredibly delicious.
You usually find Tonpeiyaki in okonomiyaki restaurants and izakayas in the Kansai region (Western Japan). It was initially created by the owner of "Hon Tonpei" who invented the recipe inspired by his time in Russia.
Usually, tonpeiyaki is more of an appetizer, side dish, or snack, so I recommend serving it with other things. It's quite a popular to enjoy it with beer too!
How I Developed This Recipe
With this recipe, I aimed to replicate the genuine tonpeiyaki you'd experience in a Japanese okonomiyaki or teppan-yaki restaurant.
Ultimately, I'm very happy with the outcome, and given its simplicity using just a frying pan, it's a perfect dish to whip up for a quick lunch or serve with tonight's dinner!
The Difference Between Tonpeiyaki and Okonomiyaki
Like okonomiyaki, tonpeiyaki's main ingredients are pork, cabbage, and egg, drizzled with the rich flavors of creamy Japanese mayonnaise and tangy okonomi sauce.
While okonomiyaki is made with a batter that contains flour and is round like a pancake, tonpeiyaki doesn't have any flour and is usually shaped into an oval or rolled more like an omelet.
You could say that tonpeiyaki is like an omelet with an okonomiyaki twist!
Ingredients and Substitution Ideas
Okonomi Sauce: You can use store-bought okonomi sauce, or for a homemade touch, blend Worcestershire sauce, oyster sauce, ketchup, honey, and soy sauce.
Medium Eggs: Essential for tonpeiyaki. To perfect your tonpeiyaki, avoid overcooking the egg; it should be slightly runny when fillings are added and only just cooked (or even slightly under) when removed from the heat.
Whole Milk: While whole milk is the top choice, skim milk can serve as a substitute.
Green Cabbage: In tonpeiyaki, cabbage is cooked separately from the other ingredients. Whether you choose white or green, any coleslaw-friendly cabbage will do.
Green Onion: This should be finely chopped for the best texture.
Thinly Sliced Pork Belly: Traditionally, pork loin was the meat of choice, but many now prefer the texture and flavor of thinly sliced pork belly. If it's unavailable, unsmoked bacon is a worthy alternative.
Japanese Mayonnaise: Kewpie mayonnaise is the gold standard, but other brands will also be fine.
Green Laver Powder (Aonori): While it adds a distinctive touch, it can be omitted if unavailable. For a similar visual appeal, consider dried parsley or other green herbs.
I have listed my recommended Japanese condiments, tools, and ingredients in the Sudachi Recipes Amazon shop. If you want to keep making various Japanese foods at home, please check it out!
Step-by-Step Process
Here are my step-by-step instructions for how to make quick and delicious tonpeiyaki at home. For ingredient quantities and simplified instructions, scroll down for the printable recipe card below.
Make the homemade okonomi sauce
Of course it's fine to use store-bought, but why not whip up your own okonomi sauce using Worcestershire sauce, oyster sauce, ketchup, honey and soy sauce? It only takes a minute, uses accessible ingredients and you can play with the ratios to suit your taste!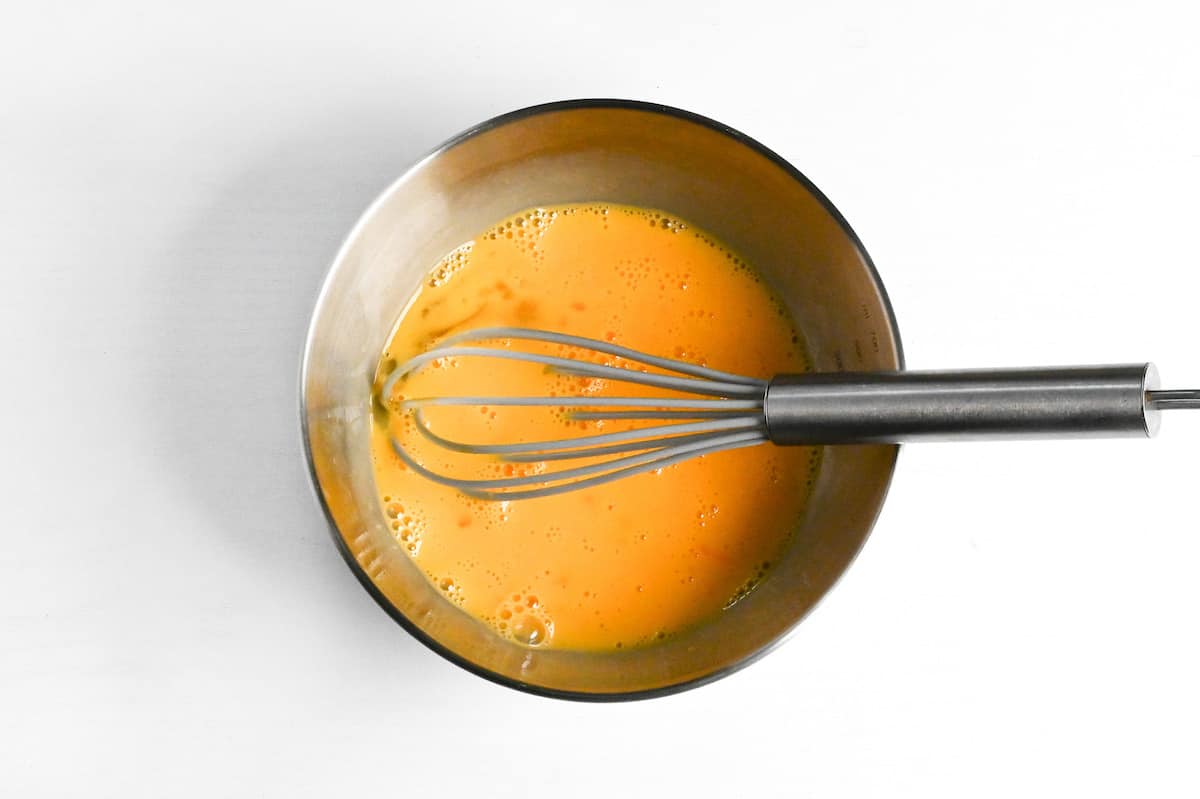 Crack the eggs into the bowl and add 1 tbsp of milk for every egg you use. Whisk until smooth.
Heat a pan on medium and add a drizzle of oil. Add shredded cabbage and chopped green onion with a pinch of salt and pepper and stir fry until slightly softened. Once done, transfer to a plate.
Using the same pan, add the pork belly and fry until the meat is cooked and the fat is crispy. Once done, transfer to the plate with the cabbage.
Wipe out the pan with kitchen paper if necessary and lower the heat to medium-low. Pour the egg mixture into the pan and fry the omelette in a thin layer of leftover pork fat.
Once the omelette is half cooked (still runny on top), place the cabbage and green onion through the center and top it with the crispy pork belly.
Eggs tend to continue cooking even after they are removed from the heat source, and because of this, it is easy to overcook eggs. To avoid an overly firm and rubbery omelette, add the fillings when the egg is half-cooked and remove from the heat just before it's fully cooked. This will ensure the egg is soft and fluffy!
Use a spatula to carefully peel the edges away from the pan and check that none of the omelette is stuck. Fold over two parallel edges to form a omelette shape and remove the pan from the heat.
Flip the tonpeiyaki onto a plate and coat with your homemade okonomi sauce, a drizzle of Japanese mayonnaise and a sprinkle of aonori.
Enjoy!
Storage
Given the semi-cooked state of the eggs in this tonpeiyaki recipe, it's not ideal for refrigeration or freezing. Since it's not a large dish, it's best to prepare just the amount you plan to consume.
I hope you enjoy this quick, easy and delicious tonpeiyaki recipe! If you try it out, I'd really appreciate it if you could spare a moment to let me know what you thought by giving a review and star rating in the comments below. It's also helpful to share any adjustments you made to the recipe with our other readers. Thank you!
More Teppanyaki Recipes
Check out some of these delicious teppanyaki recipes that you can make at home!
Tonpeiyaki (Pork Belly and Cabbage Omelette)
Simple and delicious Tonpeiyaki made with crispy slices of pork belly and shredded cabbage wrapped in a fluffy omelette and topped with a tangy, homemade okonomi sauce.
Ingredients
Homemade Okonomiyaki Sauce
1

tbsp

Worcestershire sauce

1

tbsp

oyster sauce

2

tbsp

ketchup

2

tsp

honey

1

tsp

soy sauce
Tonpeiyaki
2

medium egg(s)

2

tbsp

whole milk

1

tsp

cooking oil

50

g

green cabbage

-

shredded

1

pinch

salt and pepper

1

tbsp

green onion(s) -

finely chopped

100

g

pork belly

-

thinly sliced, approx 4 slices

1

tsp

Japanese Mayonnaise

1

pinch

dried green laver powder

-

aonori
Instructions
Homemade Okonomiyaki Sauce
Mix

1 tbsp Worcestershire sauce

,

1 tbsp oyster sauce

,

2 tbsp ketchup

,

2 tsp honey

and

1 tsp soy sauce

in a small bowl and set aside for later.
Tonpeiyaki
Crack

2 medium egg(s)

into a bowl and whisk with

2 tbsp whole milk

. Set aside for later.

Heat a pan on medium and add

1 tsp cooking oil

. Once hot, add

50 g green cabbage

and

1 tbsp green onion(s)

to the pan with

1 pinch salt and pepper

. Stir fry the cabbage until slightly softened then transfer to a plate.

In the same pan, add

100 g pork belly

and fry on medium until sealed on both sides and the fat is crispy.

Take the pork out of the pan and transfer to the plate with the cabbage. 

Turn down the heat to medium low and wipe out any excess pork fat with kitchen paper if necessary. Add the egg mixture to the pan, cooking it in the leftover fat from the pork.

Fry the egg until half cooked, then place the cabbage through the center of the egg and place the pork slices on top. Be careful not to let the underneath get brown, lower the heat if necessary. 

Fold over two parallel edges to form an omelette shape.

Turn the tonpeiyaki out onto a plate and then drizzle with okonomiyaki sauce and

1 tsp Japanese Mayonnaise

. Sprinkle with

1 pinch dried green laver powder

for the finishing touch.

Enjoy!