Using just 5 simple ingredients that you likely already have in your kitchen, you can whip up this delicious, thick and fruity homemade okonomiyaki sauce in just a few minutes!
Disclaimer: This post contains Amazon and Otafuku affiliate links. Sudachi Recipes earn a small percentage from qualifying purchases at no extra cost to you. See disclaimer for more info.
What is Okonomiyaki Sauce?
Okonomiyaki sauce (also known as okonomi sauce) is thick and fruity sauce that you apply to the famous Japanese savoury pancake called "okonomiyaki" (お好み焼き). In Japan, most people use pre-made packaged okonomiyaki sauce, but you can easily make it from scratch too!
It's actually heavily based on Worcestershire sauce but a lot thicker and sweeter. That being said, it's a very fruity yet slightly tangy and sour sauce.
Okonomiyaki Sauce vs Yakisoba Sauce: What are the Differences?
You might wonder if there are any differences between okonomiyaki sauce and yakisoba sauce. Simply put, they are actually quite similar but there are still a few differences.
Ingredients vary somewhat from manufacturer to manufacturer, but tomatoes, onions, apples, vinegar, spices, salt, and oyster sauce are commonly used. However, if you compare these side by side, you will definitely notice okonomiyaki sauce is sweeter, thicker and yakisoba sauce is more savoury and thinner.
Other than yakisoba sauce, takoyaki sauce is also quite similar to okonomiyaki sauce, but unlike okonomiyaki sauce vs yakisoba sauce, they are actually very similar and interchangeable. If I have to name some differences, I would say takoyaki sauce is often slightly sweeter but not as thick as okonomiyaki sauce.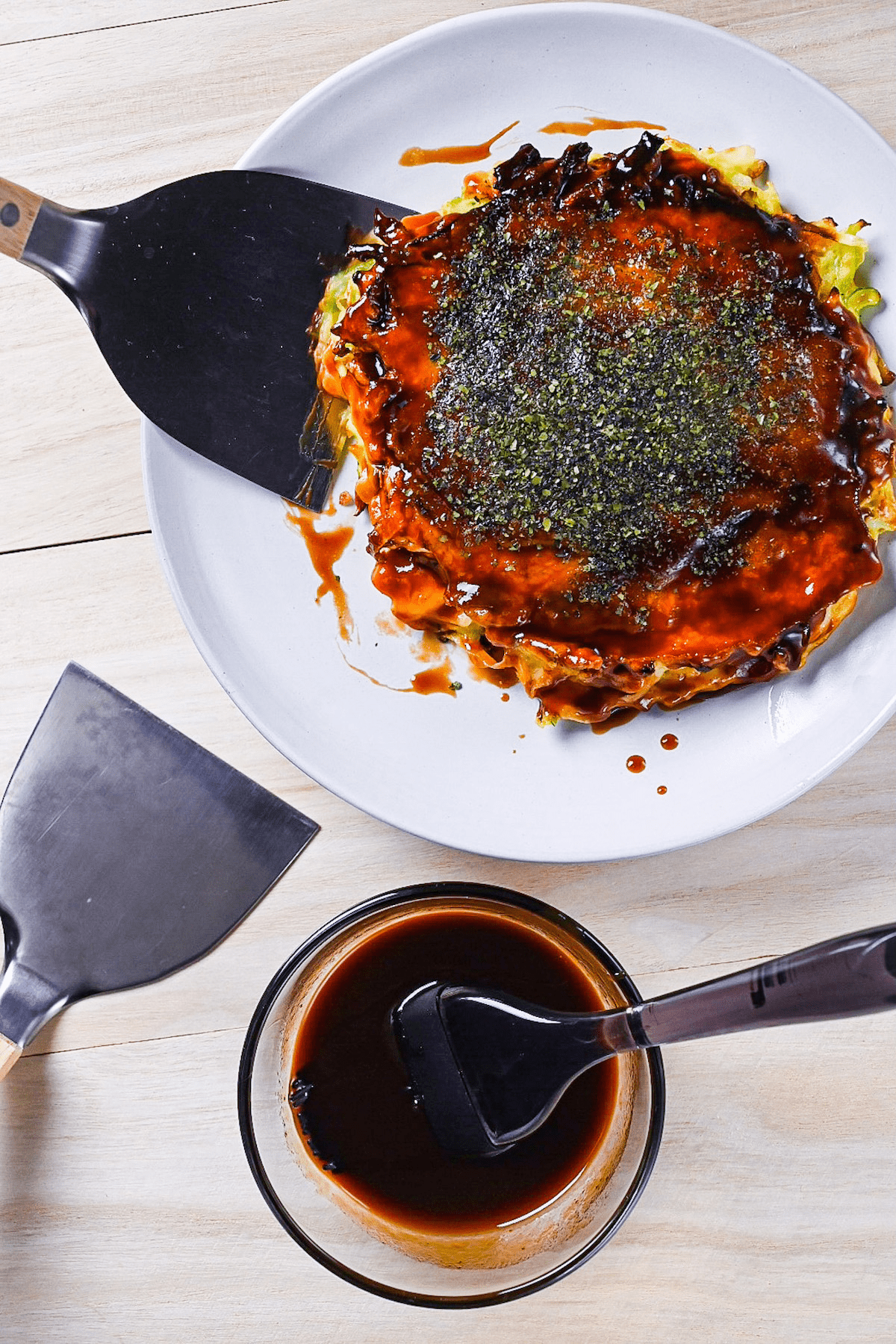 The Best Okonomiyaki Sauce to Buy Online
I know this is kind of breaking the essence of this post, but seeing as we often just buy okonomiyaki sauce in supermarkets, I thought it would be helpful to determine what kind of brand has the most authentic flavor.
I would have to say the majority of people in Japan buy Otafuku's okonomiyaki sauce. It's the most popular okonomiyaki sauce in Japan without a doubt. You can actually forget about other pre-made okonomiyaki sauce because Otafuku is the one.
Otafuku also operates in US, so you can buy their wide range of products from their own website directly. Their signature okonomiyaki sauce is called "Okonomi Sauce".
Other than that, Otafuku also sells everything you need to make okonomiyaki at home from their Okonomiyaki Flour, convenient Okonomiyaki Kit and even an Okonomiyaki value pack. However, if you are interested in making okonomiyaki from scratch, check out my homemade Osaka Okonomiyaki and Hiroshima-style Okonomiyaki recipes!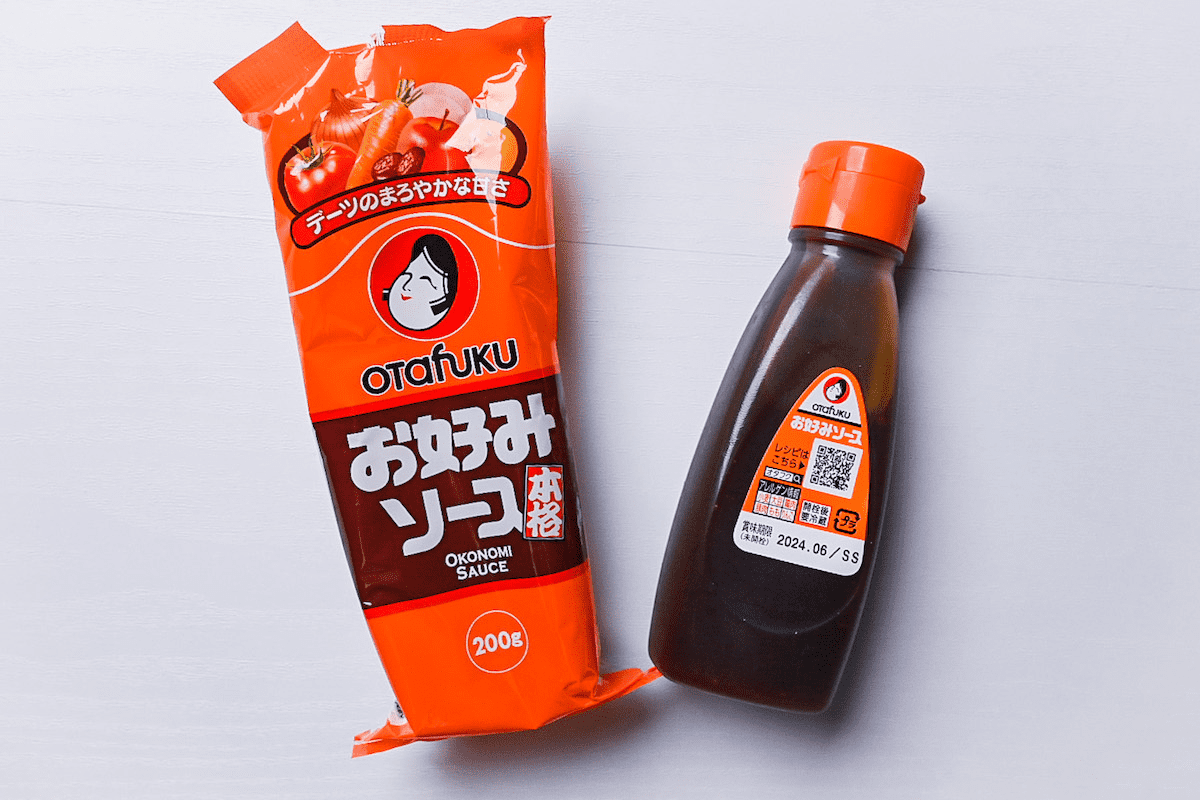 Substitute Sauces to Use on Okonomiyaki
Even though I will explain an easy way to homemade okonomiyaki sauce soon, you might be looking for substitutes. Maybe you want to find an even easier alternative or change the flavor a bit. Here are some popular examples of alternative okonomiyaki sauce in Japan:
Takoyaki sauce: as I mentioned earlier, this can be interchangeable without any issues.
Tonkatsu sauce: it is slightly different, but you can use it for okonomiyaki.
Soy sauce and mayo: be careful with the amount as it can be very salty.
Ponzu: for a refreshing kick.
Ketchup and mayo, half and half: although it will be a completely different dish, they go well with okonomiyaki pancake.
Of course, it's best to use okonomiyaki sauce for okonomiyaki, but sometimes it's fun to experiment with different flavors! Okonomi means "as you like" after all!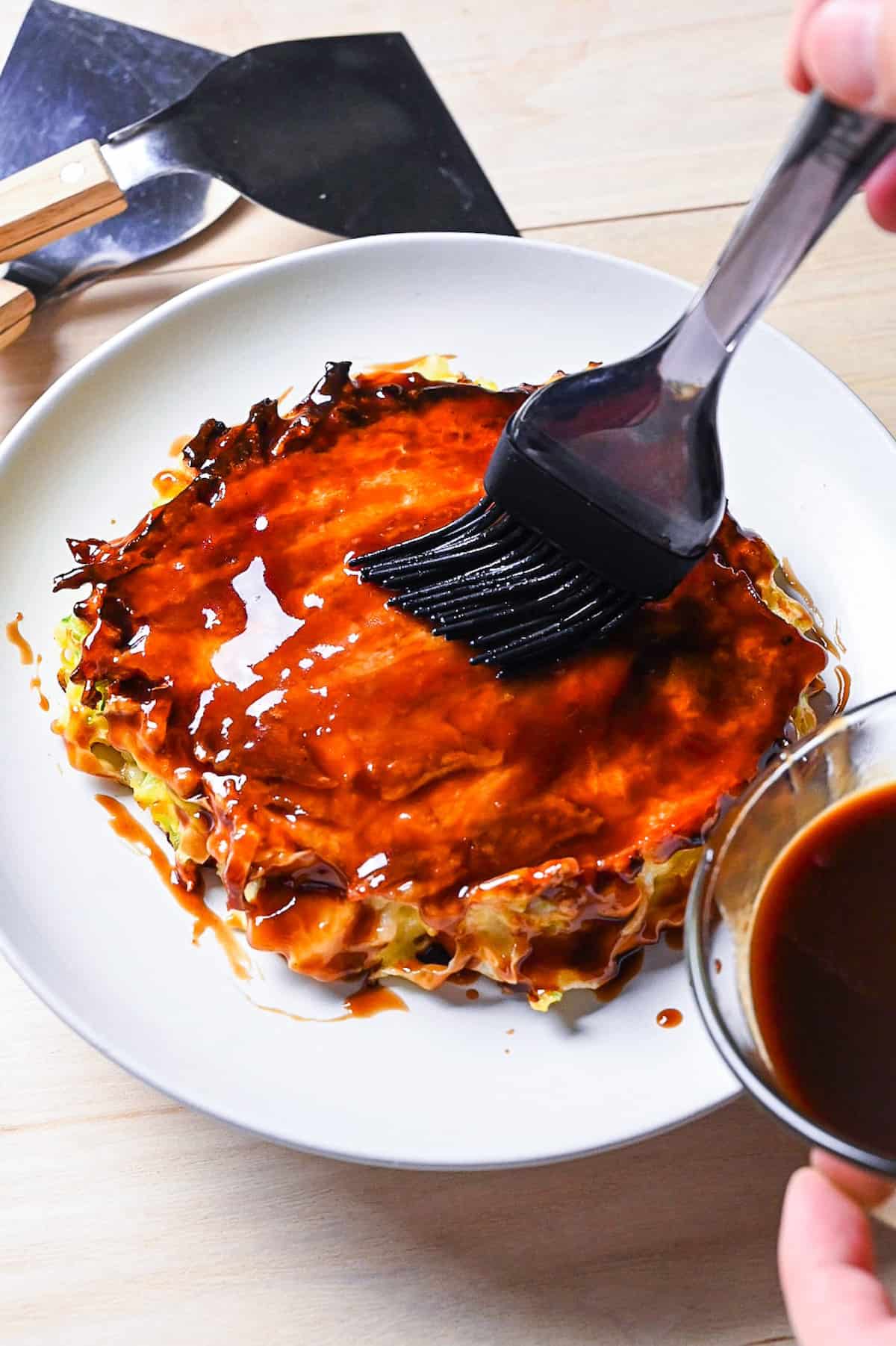 Ingredients
Okonomiyaki sauce is complex and contains many ingredients. This would be a laborious task to make from scratch at home, but for your reference, Otafuku's okonomiyaki sauce uses the following:
Tomato
Carrot
Onion
Apple
Pumpkin
Dates
Sugar
Soy Sauce
Vinegar
Salt
Modified Food Starch
Alcoholic Brewed seasoning
Yeast Extract
Spices
Kelp
Shiitake Powder
To capture the essence of okonomiyaki sauce, I simplify the sauce by combining 5 accessible condiments that contain or have similar flavors to the ingredients above!
Worcestershire sauce – This tangy sauce has a lot in common with okonomi sauce and serves as the base flavor. The fruits, vegetables and vinegar in the sauce add depth, sweetness and sourness.
Soy sauce – For umami, saltiness and more Japanese flavor, soy sauce is a must-have condiment for this recipe! If you want to learn about Japanese soy sauce and my recommended brands, check out my soy sauce article.
Oyster sauce – For a rich savory flavor, I love to add oyster sauce. You can also use plant-based "oyster sauce" made with mushrooms if you're looking for a plant-based substitute.
Honey – Not only for adding sweetness, but also for thickening the sauce.
Ketchup – For additional fruitiness and sweetness, also helps thicken the sauce.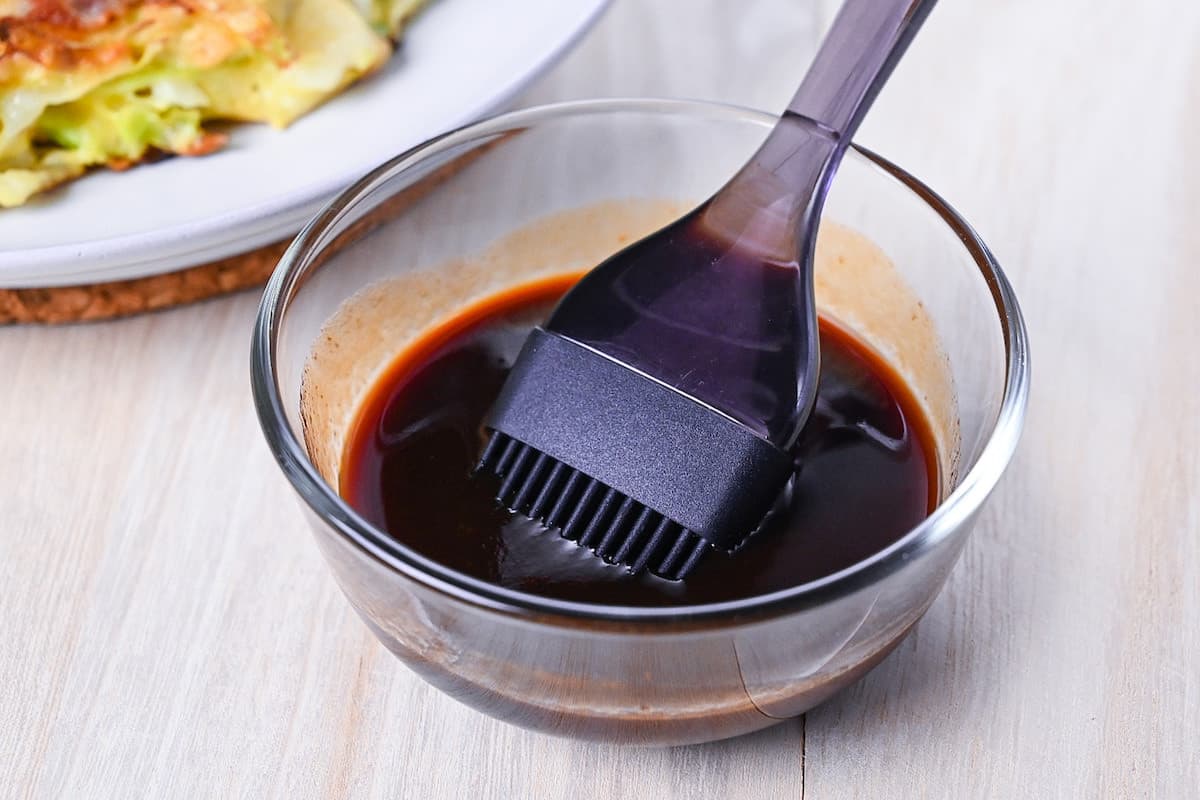 Storing Okonomiyaki Sauce
I recommend keeping homemade okonomiyaki sauce in an airtight container in the fridge and using it within 2-3 weeks. Because it's made of condiments that contain preservatives, it would probably last longer in theory, but you might as well make a fresh batch as it uses typical condiments that most people already have at home.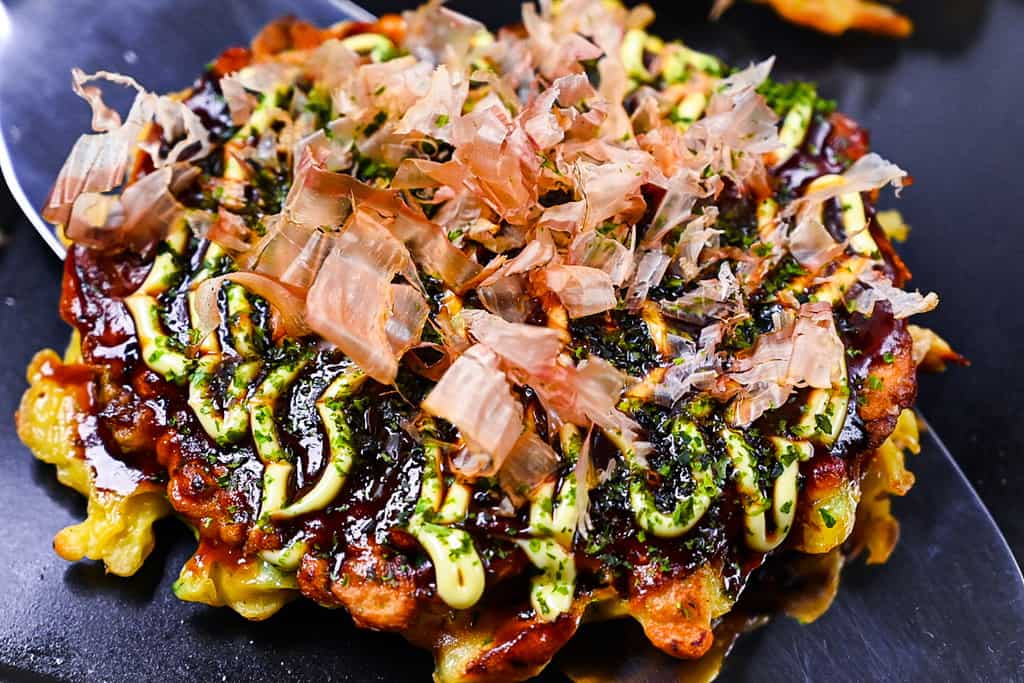 I hope you enjoy this quick and easy homemade okonomiyaki sauce recipe! If you try it out, I'd really appreciate it if you could spare a moment to let me know what you thought by giving a review and star rating in the comments below. It's also helpful to share any adjustments you made to the recipe with our other readers. Thank you!
Use Okonomi Sauce with these recipes
Homemade okonomiyaki sauce works great with a number of my recipes!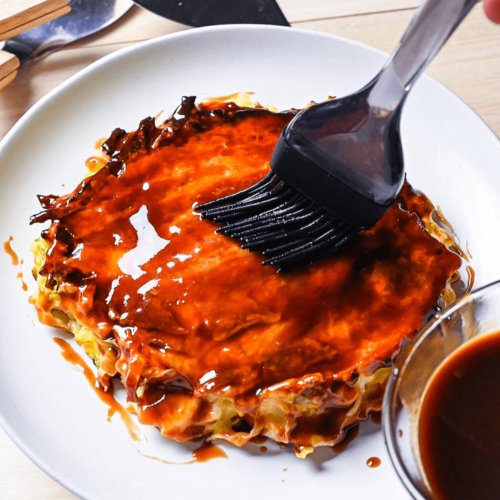 Homemade Okonomiyaki Sauce
---
How to make fruity, thick and delicious homemade okonomiyaki sauce with just 5 simple ingredients!
---
---
---
---
Ingredients
1

tbsp

Worcestershire sauce

1

tbsp

oyster sauce

2

tbsp

tomato ketchup

1

tbsp

honey

1

tsp

soy sauce
Instructions
Simply mix all the ingredients in a bowl until incorporated.

Apply it to the okonomiyaki with a pastry brush or back of a spoon.

Enjoy!
Notes
Keep homemade okonomiyaki sauce in an airtight container in the fridge and consume within 2-3 weeks
FAQ
What does Okonomi sauce taste like?
It's very veggie and fruity like Worcestershire sauce but thicker and sweeter.
Is Okonomi sauce the same as takoyaki sauce?
They are almost the same. However, one of the few differences would be the consistency. Takoyaki sauce tends to be thinner than okonomiyaki sauce.
Is okonomiyaki sauce spicy?
Okonomiyaki sauce can be spicy but not more than Worcestershire sauce unless you choose to specifically buy a spicy version. You could add a little chilli powder to spice it up if you like.
Can I use yakisoba sauce for okonomiyaki?
Yes, you can but be careful about how much to apply as yakisoba sauce tends to be saltier than okonomiyaki sauce.
Do you need to refrigerate Okonomi sauce?
Fully packaged and sealed premade okonomiyaki sauce does not need to be in the fridge, until opened. Once opened, you need to keep it in fridge and use within 3 months. Homemade okonomi sauce should be stored in an airtight container, refrigerated and used in about 2 weeks.