Yaki onigiri are delicious, crispy grilled Japanese rice balls brushed with miso and soy sauce and fried in butter. With just a few typical Japanese pantry items, you can whip up this tasty snack in no time! They're perfect for bentos too!
Disclaimer: This post contains Amazon affiliate links. Sudachi Recipes earn a small percentage from qualifying purchases at no extra cost to you. See disclaimer for more info.
Jump to:
What is Onigiri?
Onigiri (おにぎり) is a popular Japanese snack made with white rice shaped into a ball or triangle. In English they are often known as "rice balls" and much like a sandwich, they're portable, great for lunchboxes and can be stuffed with all kinds of tasty fillings.
A brief history
Onigiri has been around for thousands of years, it's probably one of the most ancient foods in Japan and there's evidence to show that it even existed around 350BC!
Due to its long history, you can expect that it's picked up a few different names along the way. Some other words for onigiri are nigiri (にぎり), nigiri-meshi (にぎりめし), omusubi (おむすび) and musubi (むすび). All of these are still used in modern times but I'd say "onigiri" is the most popular and well known worldwide.
Yaki Onigiri (焼きおにぎり)
While onigiri is usually made with cooked rice and fillings, yaki onigiri goes through a second cooking process.
Traditionally, yaki onigiri was brushed with soy sauce or miso paste and then cooked over a charcoal grill, giving it a wonderful smoky flavour and crispy texture. These days, most people just make them in a frying pan or cast iron pan, but you can fry them on a BBQ if you like!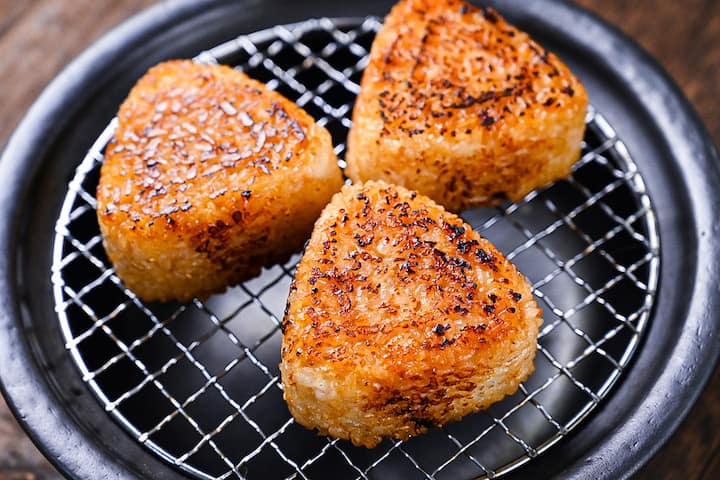 Yaki onigiri fillings
It is possible to put fillings inside yaki onigiri, but its much more common to make it with plain rice. That way, you can really appreciate the taste of the sauce and the texture from the grilling / frying.
Yaki onigiri sauce
Traditionally, yaki onigiri would be brushed either with soy sauce or miso. Well in my opinion, why not enjoy both?! I put together a delicious and fragrant sauce flavoured with garlic. Here is what I use:
The beauty of yaki onigiri is the fact that you don't need any fresh ingredients. If you cook Japanese food often, then you probably have all these things in your fridge or pantry already!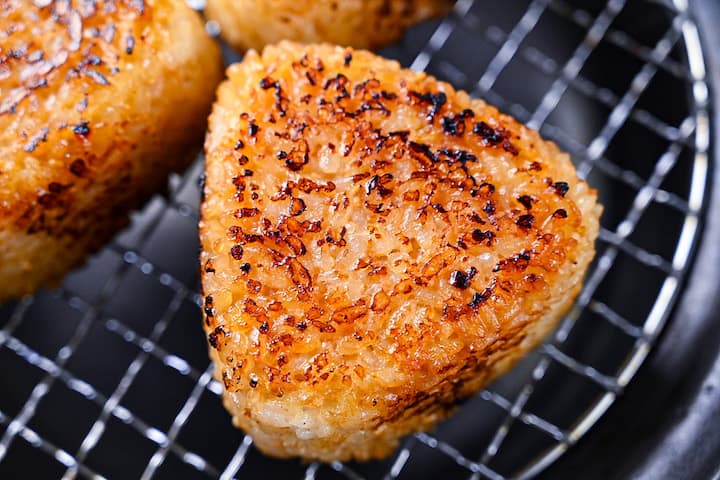 Rice to use for yaki onigiri
It's important to use Japanese short grain white rice to make onigiri. The sticky texture helps the rice ball to hold its shape, other types of rice tend to fall apart because they're not sticky enough.
When shopping for rice, look for Japanese short grain white rice, koshi hikari or sushi rice.
Most Japanese people cook their rice in a rice cooker (it's pretty much fail-proof!) but if you don't have one then check out my post to learn how to cook Japanese style rice on the stove here.
Tips for making yaki onigiri perfect every time
One of the most common problems when making yaki onigiri is making it stable enough that it holds its shape when it's fried. Brushing it with the sauce makes the rice wet and more likely to fall apart.
Luckily I have a few tips to ensure that you can make yaki onigiri perfectly every time!
Shaping
Firstly, you need to make sure to shape your ongiri firmly.
While I usually shape onigiri by hand, when I make yaki onigiri I prefer to use a mold so that I can really pack the rice in.
I use a plastic mold like this one on Amazon. (Associate link)
If you don't have a mold, you could use plastic wrap instead. Just make sure to press the rice tightly because yaki onigiri is prone to falling apart.
Drying
My most important tip is allowing the onigiri to dry out for 10 minutes.
Once you've shaped the onigiri, place it on a plate and allow it to air dry. This forms a thin, dry crust on the outside of the ongiri.
Not only does this give it a crispy texture, but it also allows the rice grains to bond together so your rice ball doesn't fall apart when you brush it with the sauce.
Brushing the sauce
I recommend using a pastry brush or something similar to brush the sauce over the surface of the ongiri. This allows you to add a thin and even layer of sauce, which in turn, stops it from getting too wet.
Fry with butter
Soy sauce and butter is considered a golden combination in Japan, so frying your yaki onigiri in butter adds a rich and delicious taste to the surface!
If you're using a grill or bbq and still want that buttery flavour, just melt it and mix it with the sauce!
Storing
It's my personal preference but I always love eating yaki onigiri straight out of the pan when they're freshly made. Despite this, it's also common to eat them cold and even put them in a bento box and eat them later.
If you have leftovers, you can also wrap them in plastic wrap and store them in the freezer for up to 1 month.
Place the wrapped onigiri in an airtight container to prevent freezer burn and then microwave before eating!
FAQ
What is yaki onigiri?
Yaki onigiri is a type of rice ball that is usually brushed with soy sauce and grilled or fried.
What does u0022yaki onigiriu0022 mean?
Yaki (焼き) means to grill or fry and onigiri (おにぎり) is the Japanese word for rice ball and means u0022pressed riceu0022.
What kind of rice do you use for onigiri?
To ensure onigiri keeps its shape, we use Japanese short grain white rice (the same kind used for sushi).
Is onigiri the same as sushi?
Sushi is made with u0022sushi riceu0022 that has been mixed with vinegar, salt and sugar whereas onigiri is made with simple salted rice. They are also shaped differently so no, onigiri and sushi are not the same.
How do you store yaki onigiri?
Either eat on the same day or wrap and freeze. You can microwave frozen yaki onigiri before eating.
Check out our video for How to Make Onigiri Rice Balls At Home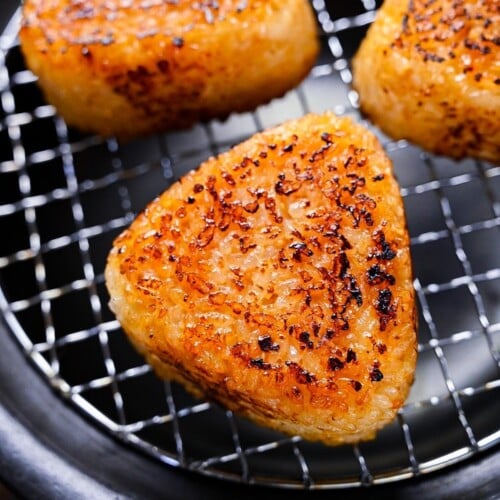 Yaki Onigiri (Grilled Rice Balls) 焼きおにぎり
How to make grilled "Yaki Onigiri" rice balls (焼きおにぎり) brushed with a delicious soy sauce and miso glaze then fried in butter.
Ingredients
1

tbsp

white sesame seeds

1

tbsp

soy sauce

1

tbsp

unsalted butter
Sauce
2

tbsp

soy sauce

1

tbsp

mirin

1

tsp

sesame oil

1

tsp

miso paste

1

tsp

garlic paste
Instructions
First, cook your rice. Use short grain white rice, preferably Japanese sushi rice or something similar. You need the rice to be sticky so that it holds it shape. I recommend using a rice cooker or see my post how to make Japanese rice on stove.

Once the rice is cooked, mix in

1 tbsp white sesame seeds

and divide it into 6.

Shape 6 rice balls. I recommend using an onigiri mold so that you can pack it tightly. (Check out this post for 3 ways to shape onigiri)

Place the rice balls on a plate and allow to air dry for approx 10 minutes.

Mix the sauce ingredients (

2 tbsp soy sauce

,

1 tbsp mirin

,

1 tsp sesame oil

,

1 tsp miso paste

,

1 tsp garlic paste

) in a small bowl.

Once 10 minutes have passed, brush the sauce over the front and back of each rice ball.

Pour

1 tbsp soy sauce

into a small bowl and brush it over the edges of the rice balls.

Heat a frying pan on medium and add

1 tbsp unsalted butter

.

Once the butter is melted, place the onigiri in the pan. (Depending on the size of your pan, I recommend frying 3 at a time.)

Fry each side for approx 30 seconds to 1 minute or until nicely browned. (Make sure to fry the edges too.)

Repeat steps 8-10 until all 6 rice balls are fried.

Enjoy!
Video
Notes
I recommend shaping the onigiri with a plastic mold so that you can pack it tightly. Plastic molds are available here on Amazon. (Affiliate link)
If you grill the onigiri instead of using a pan, you can melt the butter and add it to the sauce.
Wrap leftovers with plastic wrap and store in an airtight container in the freezer for up to 1 month. Microwave to defrost.
Practice makes perfect but if you're having trouble making the shape, watch my YouTube video here.
Nutrition
Calories:
221
kcal
Carbohydrates:
43.6
g
Protein:
3.8
g
Fat:
3.8
g
Saturated Fat:
1.4
g
Polyunsaturated Fat:
0.9
g
Cholesterol:
4.6
mg
Sodium:
578
mg
Fiber:
1.8
g