No Japanese New Year's feast would be complete without "Kuri Kinton", a striking dish made with golden sweet potato mash mixed with candied chestnuts.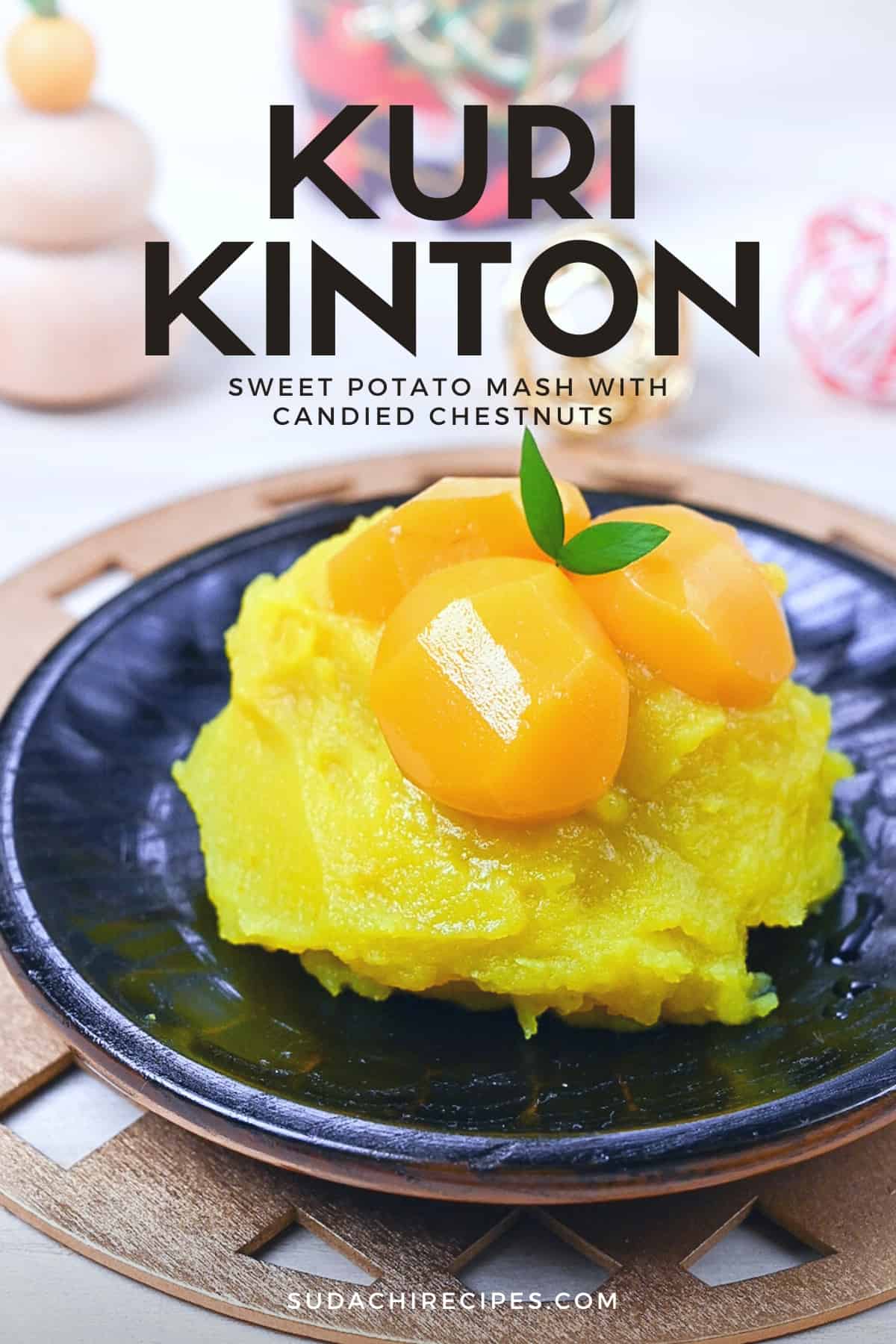 Disclaimer: This post may contain affiliate links. Sudachi Recipes is part of the amazon associates programme and earns a small percentage from qualifying purchases at no extra cost to you. See disclaimer for more info.
Jump to:
What is Kuri Kinton?
Kuri Kinton (栗金団) is an important element of traditional Japanese "Osechi Ryori" (おせち料理) or New Year's meal. The brilliant golden colour of this dish symbolises wealth and prosperity, praying for good economic fortune in the year ahead.
To make this dish, Japanese sweet potatoes are boiled with "kuchinashi no mi" (Cape Jasmine Seeds) to create a vibrant yellow colour, then kneaded with sugar, mirin, syrup and mixed with candied chestnuts. The sweet and delectable taste of kuri kinton will certainly have you questioning the line between savoury and desserts.
However, it's worth mentioning that many osechi dishes have a high sugar or salt content. This is because traditionally, all of the food would be prepared and cooked before the New Year and need to be preserved for the following days. Not only does this allow families to rest and enjoy the first few days of the New Year without housework, but it was also believed that cooking on the first day of the year would offend the kitchen God and bring bad luck.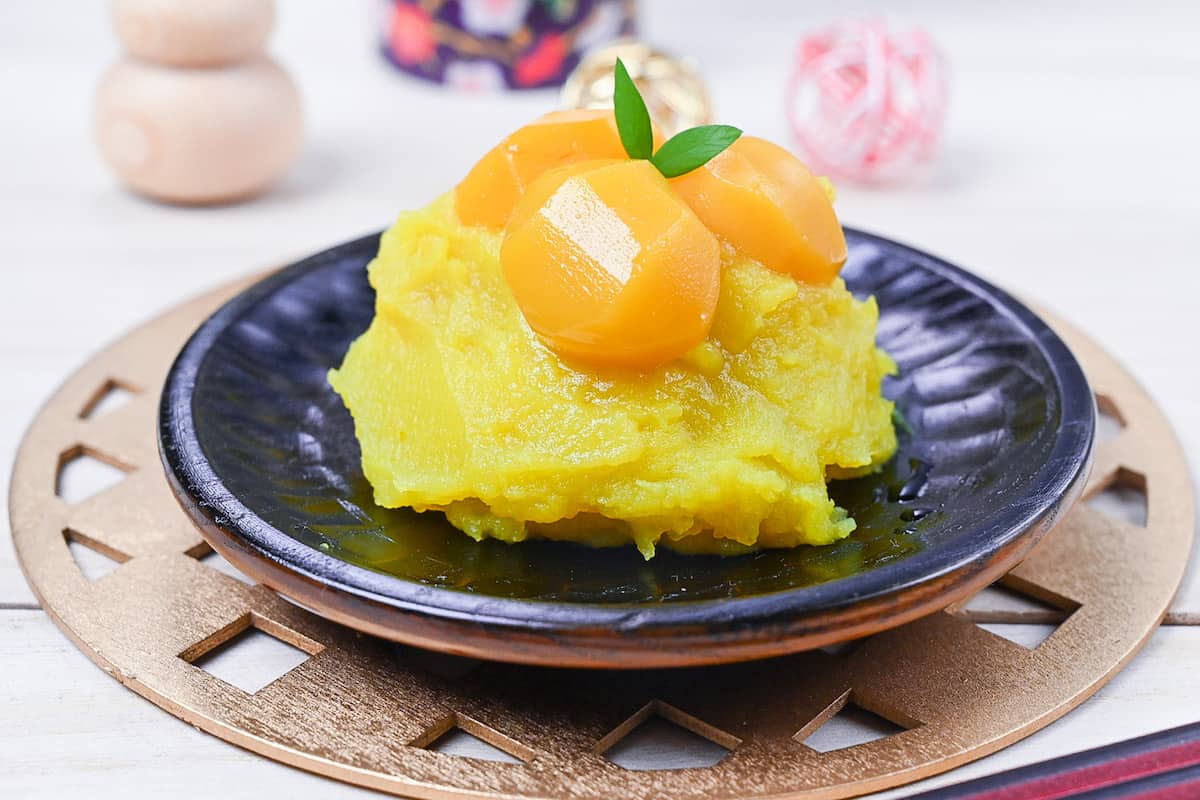 What does kuri kinton mean?
There are actually two kinds of Kuri Kinton in Japan. The original Kuri Kinton is a type of "wagashi" (Japanese style sweet) from Gifu prefecture. It's made with sweet chestnut paste that has been squeezed in a tea cloth and shaped into a chestnut shape. It is known for its elegant and autumnal taste which highlights the flavour of the chestnuts. It can be written as 栗きんとん or 栗金飩.
On the other hand, the Kuri Kinton served on New Year is usually made with sweet potatoes and boiled chestnuts in syrup. It contains a lot of sugar and has a sticky texture, completely different to the kuri kinton from Gifu! In Japanese, it is written as 栗金団 which means "golden dumplings" or "golden futon".
Ingredients
To make Kuri Kinton, I use the following ingredients:
Japanese sweet potato
Kuchinashi no mi (cape jasmine / gardenia pods) or turmeric powder
Sugar
Salt
Honey
Kuri no kanroni (boiled chestnuts in syrup)
See recipe card for quantities.
Let's go over a few of the key ingredients in more detail.
Japanese Sweet Potato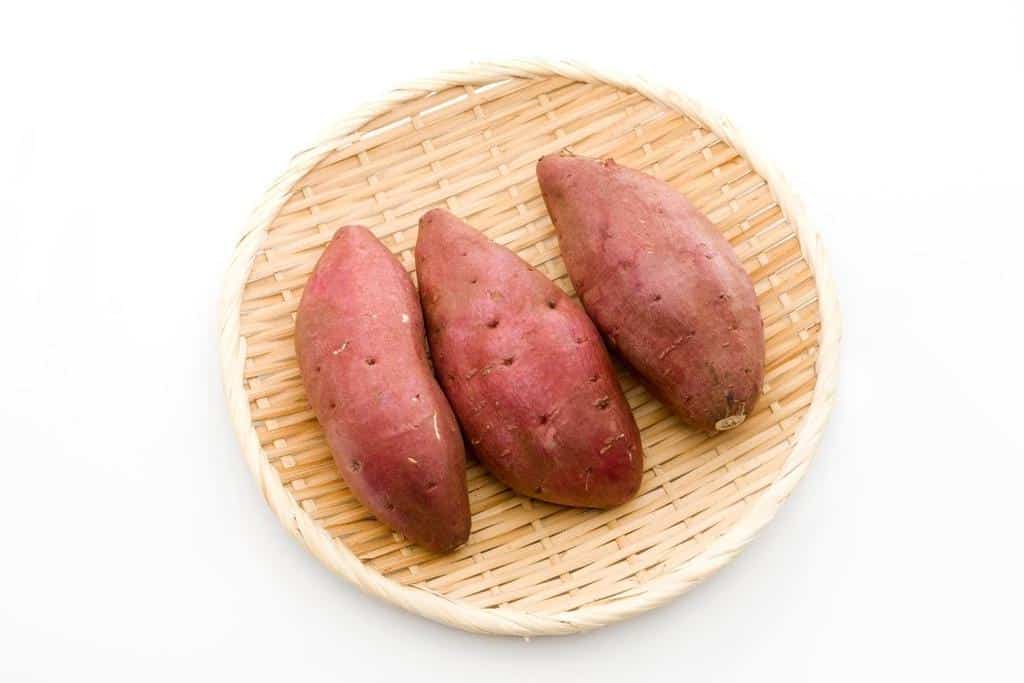 Japanese sweet potatoes (satsumaimo in Japanese) are known for their reddish purple skin and white interior that becomes sweet and lightly golden when cooked. This versatile vegetable is commonly used in both sweet and savoury dishes. I haven't tried this recipe with other kinds of sweet potato so I can't say if it works, Japanese sweet potatoes should be available in Asian supermarkets or well stocked grocery stores.
Kuchinashi no Mi
While Japanese sweet potato turns yellow when cooked, Kuri Kinton is known for its bright colour to add vibrance to the New Year's festive spread. Not only that, but the colour also has significance to its meaning, with yellow representing gold and good fortune.
To make the sweet potato more yellow, it's traditionally boiled with something called "Kuchinashi no Mi" (くちなしの実) which are dried fruits from the Cape Jasmine flower (also known as Gardenia seeds or pods). They don't add any flavour (as far as I can tell) but act as a natural food colouring to make the colour brighter.
To use kuchinashi no mi, we break them in the middle using a knife and then place them in disposable filter bags before adding them to the water. Alternatively you could put them in a reusable tea infuser.
If it's difficult to find kuchinashi no mi, it's perfectly fine to use turmeric powder instead. The small amount means that it doesn't add turmeric flavour to the dish and I actually used turmeric myself in this recipe. If you don't mind using food dye, that can be another alternative.
As I mentioned, this is only for the look and can be omitted completely if you don't mind the colour being quite pale.
Kuri no Kanroni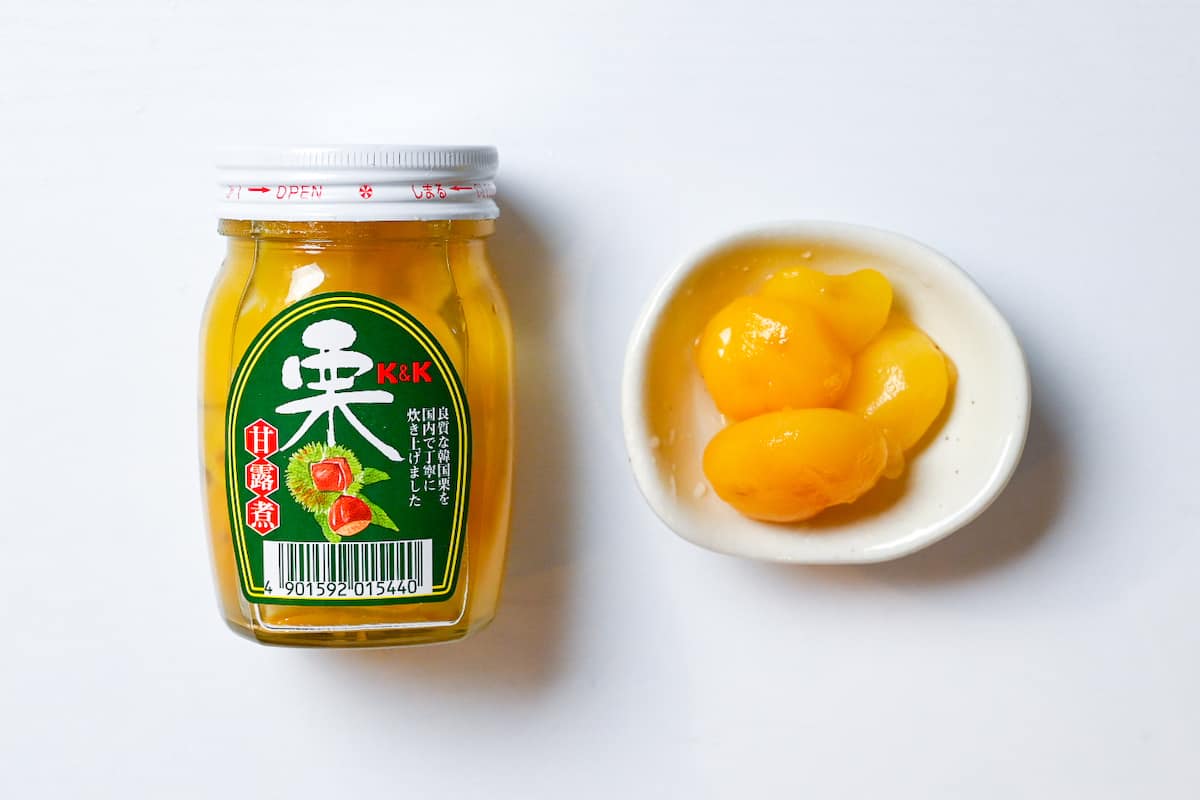 Kuri no kanroni are chestnuts that have been peeled, boiled and soaked in syrup to preserve them. They are commonly used in Japanese desserts and eaten all year round. Around New Year, they are usually eaten either as they are or as part of Kuri Kinton.
In this recipe I used one jar of Kuri no Kanroni, this one contained about 10-12 chestnuts. (I recommend 165g-200g jar.) I also make use of the syrup in the recipe.
You can purchase Kuri no Kanroni here on Amazon.
Instructions How to Make Kuri Kinton
Here are my step by step instructions on how to make kuri kinton at home. For ingredient quantities and a simplified printable recipe, see the recipe card at the bottom of the page.
Cut and peel
Start by washing the sweet potato and cutting it into thick slices. Peel the skin off each slice, you can peel it quite thickly because actually, the flesh near the skin has more fibres and this can ruin the smoothness when it's mashed. Be sure to use a sharp knife and be careful of your fingers!
If you're not so confident with your knife skills, you can also cut the edges by placing the slices flat on a chopping board and roughly cutting around the outside.
Remove the peel and outer flesh
The flesh closest to the peel has stringy fibres, peel thickly to remove this for a smoother mash!
Soak and wash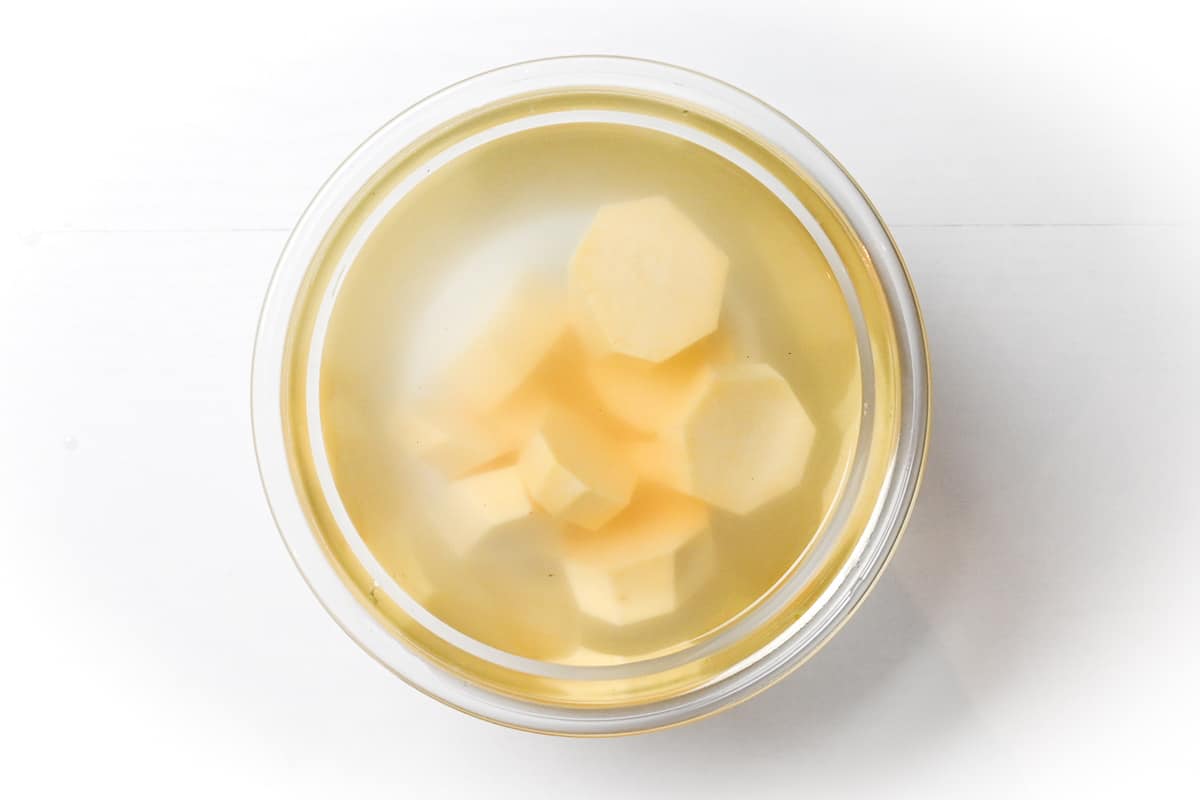 Next, soak the slices in cold water with a pinch of salt for 5 minutes. This is to help draw out the excess starch. Refrain from soaking for longer than 5 minutes as this can cause the sweet potato to lose its flavour.
Once the soaking time is up, drain and wash the pieces under fresh water before placing them in a sauce pan.
Boil
Fill the saucepan with cold water until the sweet potato slices are fully submerged and then add the gardenia seeds OR turmeric powder. (I used turmeric powder this time.)
If you boil the water first and then add the potatoes, the outer edges will cook too quickly and start to fall apart. For even cooking, start with the sweet potato in cold water and bring it to a boil.
Boil the sweet potato until it's soft enough to pierce with a fork. This usually takes about 20-25 minutes.
Drain and mash
Turn off the heat, drain the water out and place the pieces back in the pan. Then mash them with a potato masher.
Strain
To ensure a smooth mash, I also like to work it through a mesh sieve using a spatula.
This step is optional but it makes it extremely smooth!
Add the other ingredients
Add the sugar while it's still warm and mix until it's dissolved.
Once it's fully incorporated, turn on the heat to low and add the salt, mirin, honey and syrup from the chestnuts. For my recipe, I use 4 tbsp of kuri no kanroni syrup. Kuri kinton is supposed to be very sweet, but the beauty of making it at home is that you can reduce the sugar content to suit your tastes!
Mix over a low heat
To prevent burning, mix continuously over a low heat until the mixture is warmed through. This will help evaporate excess moisture and cook off the alcohol in the mirin. I mix it over the heat for about 5 minutes.
Once it's smooth and sticky (but not wet) add the chestnuts and mix them in. Some excess syrup from the chestnuts might leak into the mixture, so continue to stir over the heat for another minute or so.
Transfer to a container
Scoop the kuri kinton into a container with an airtight lid. Leave to cool for about 20 minutes before placing the lid on top and transferring it to the fridge.
Kuri kinton is best served chilled or at room temperature.
Equipment
You don't need any special tools to make kuri kinton, but the following items will make this recipe quicker and hassle free.
Storage
Kuri Kinton should be stored in a sealed container in the fridge and consumed within 3-5 days. For longer storage, freeze for up to 1 month. For best results, defrost in the refrigerator overnight.
I hope you enjoy this sweet and luxurious Kuri Kinton, wishing you a prosperous year ahead!
Kuri Kinton (Japanese Sweet Potato Mash with Candied Chestnuts)
How to make Kuri Kinton, a beautiful and striking side dish made with mashed sweet potato and candied chestnuts.
Ingredients
500

g

Japanese sweet potato(s)

-

(satsumaimo) approx 2 medium size before peeling

1

tsp

of turmeric

- or 2 crushed cape jasmine/gardenia pods

60

g

white sugar

½

tsp

salt

1

tbsp

mirin

1

tbsp

honey

200

g

jar of chestnuts in syrup -

(kuri kanroni)
Instructions
Wash

500 g Japanese sweet potato(s)

and cut them into thick slices. Peel the skin off of each slice thickly using a knife (not a peeler) to remove the fibrous edges.

Soak the slices in a bowl of cold water and a pinch of salt for 5 minutes.

Drain and wash the slices with fresh water to remove the excess starch.

Transfer the slices to a saucepan and fill with cold fresh water until completely covered. Mix in

1 tsp of turmeric

(or place crushed gardenia pods in a tea infuser) and place the pan on the stove.

Heat on medium, bring to a rolling boil and cook until soft and easily pierced with a fork. (Approx 20-25 minutes.) Once cooked, remove from the heat and drain the water.

While it's still hot, mash with a potato masher until smooth.

Optional step: To make the sweet potato extra smooth, work the mash through a mesh sieve using a spatula. Transfer it back to the sauce pan.

Add

60 g white sugar

while it's still warm and mix until it's dissolved into the mixture.

Turn on the heat to low and add

½ tsp salt

,

1 tbsp mirin

,

1 tbsp honey

and 4 tbsp of syrup from the candied chestnuts.

Mix continuously over the heat for about 5 minutes.

Add 200 g jar of chestnuts in syrup on their own (don't add any more syrup) and mix until evenly distributed, stir over the heat for a further 1-2 minutes.

Transfer the mixture to a sealable container and allow to cool before storing in the fridge.

Best served chilled or at room temperature.

Enjoy!
Notes
Kuri Kinton can be stored in the fridge for 3-5 days or up to 1 month in the freezer.
Nutrition
Calories:
228
kcal
Carbohydrates:
56.5
g
Protein:
1.6
g
Fat:
0.3
g
Saturated Fat:
0.1
g
Polyunsaturated Fat:
0.1
g
Sodium:
76.5
mg
Fiber:
2.7
g