Japanese "sweet potato" is a creamy and buttery dessert made with naturally sweet and delicious "satsumaimo" (Japanese sweet potatoes). Shaped into miniature versions of the vegetable itself, then toasted and sprinkled with black sesame seeds, these adorable sweets are the perfect Autumn treat!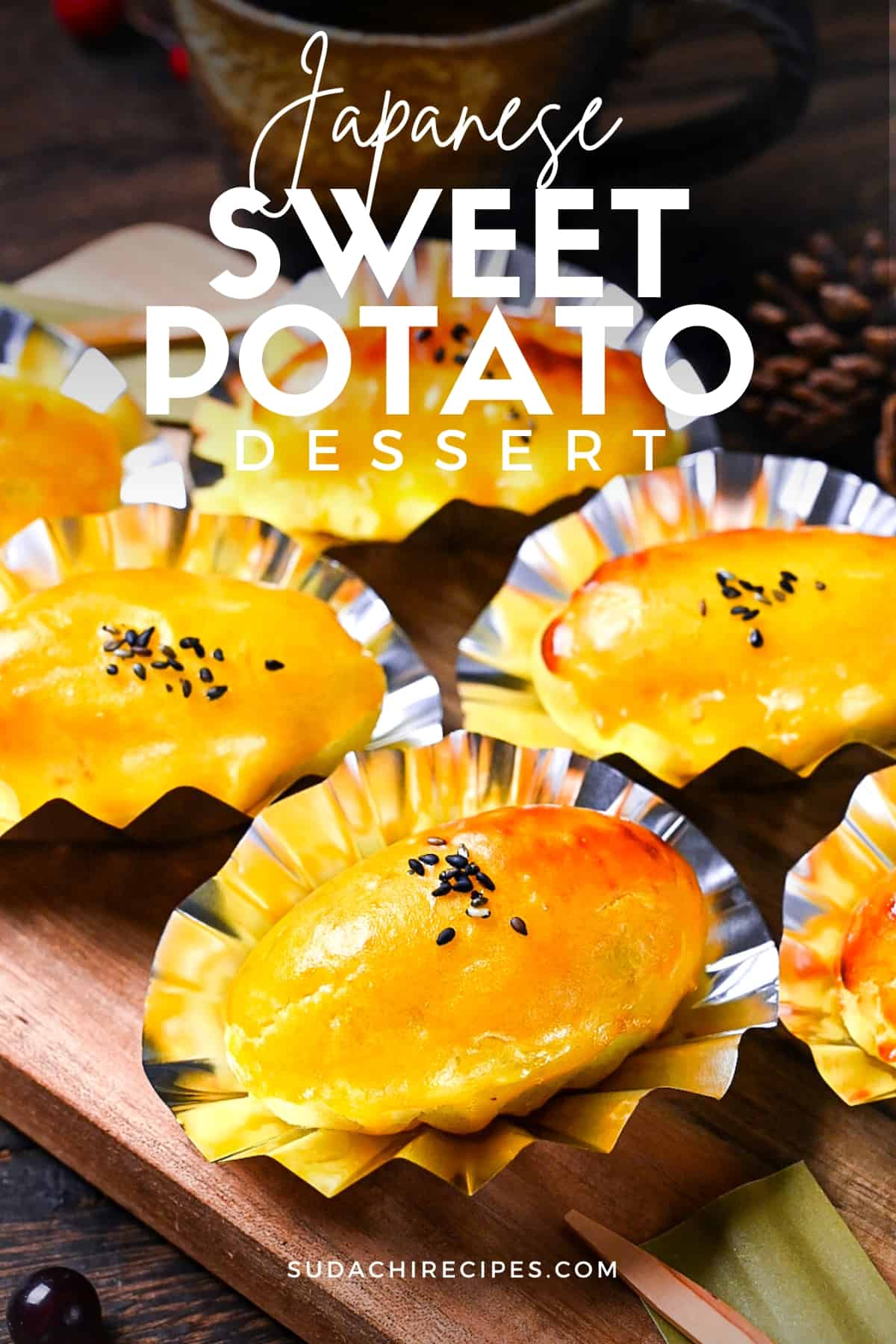 Disclaimer: This post may contain affiliate links. Sudachi Recipes is part of the amazon associates programme and earns a small percentage from qualifying purchases at no extra cost to you. See disclaimer for more info.
Jump to:
What is "Sweet Potato"?
Autumn is a favourite time of year for many (including myself!) and no Autumn in Japan would be complete without appearance of the iconic "satsumaimo" (さつま芋) known in English as the "Japanese sweet potato". Satsumaimo is so versaitile and can be used in both savoury dishes like tempura, as well as in sweets like "daigaku imo" (candied sweet potato).
One dessert that really embraces the satsumaimo is the "Suito Poteto" which is how Japanese speakers pronounce the word "Sweet Potato". Before you ask, yes, the dessert is literally just called "Sweet Potato", not sweet potato cake or anything like that.
Made with mashed sweet potato mixed with cream, butter and sugar, these small cake-like desserts are shaped into miniature sweet potatoes then egg-washed and toasted or baked. The rich taste and soft creamy texture is a real treat!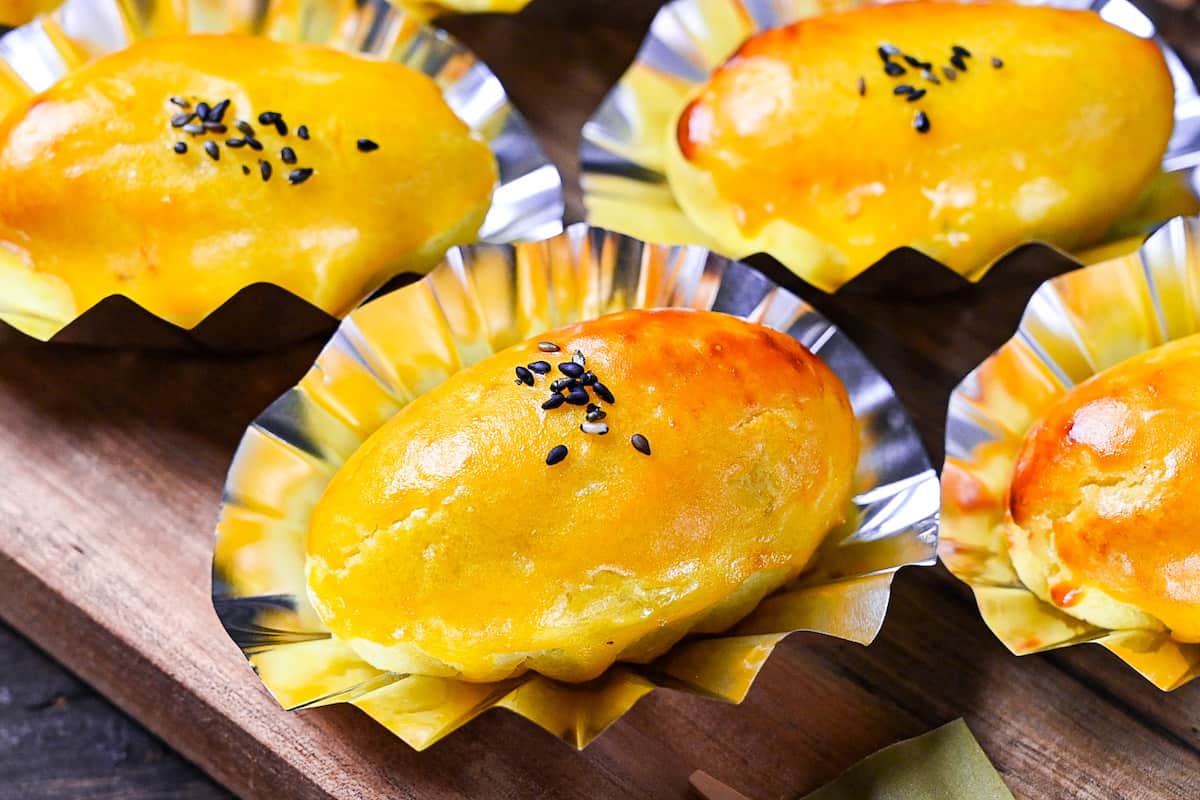 The origins of "Sweet Potato"
While the exact origin remains unclear, it is believed that the dessert known as "Sweet Potato" appeared in Japan sometime during the Meiji period (1868-1912) and was made by mixing baked sweet potato with eggs and sugar, then serving them on their original skins.
The Sweet Potato (dessert) didn't really gain popularity until after the war, when famous confectionary stores started selling their own versions of the sweet. One of the stores that influenced Sweet Potato's rise in popularity was the renowned bakery "Donq", who released the "Matsuzo Poteto" created by Matsuzo Inoue in 1949.
Since then, Sweet Potato has become a well loved sweet across Japan and is generally available as a seasonal product sold in Autumn.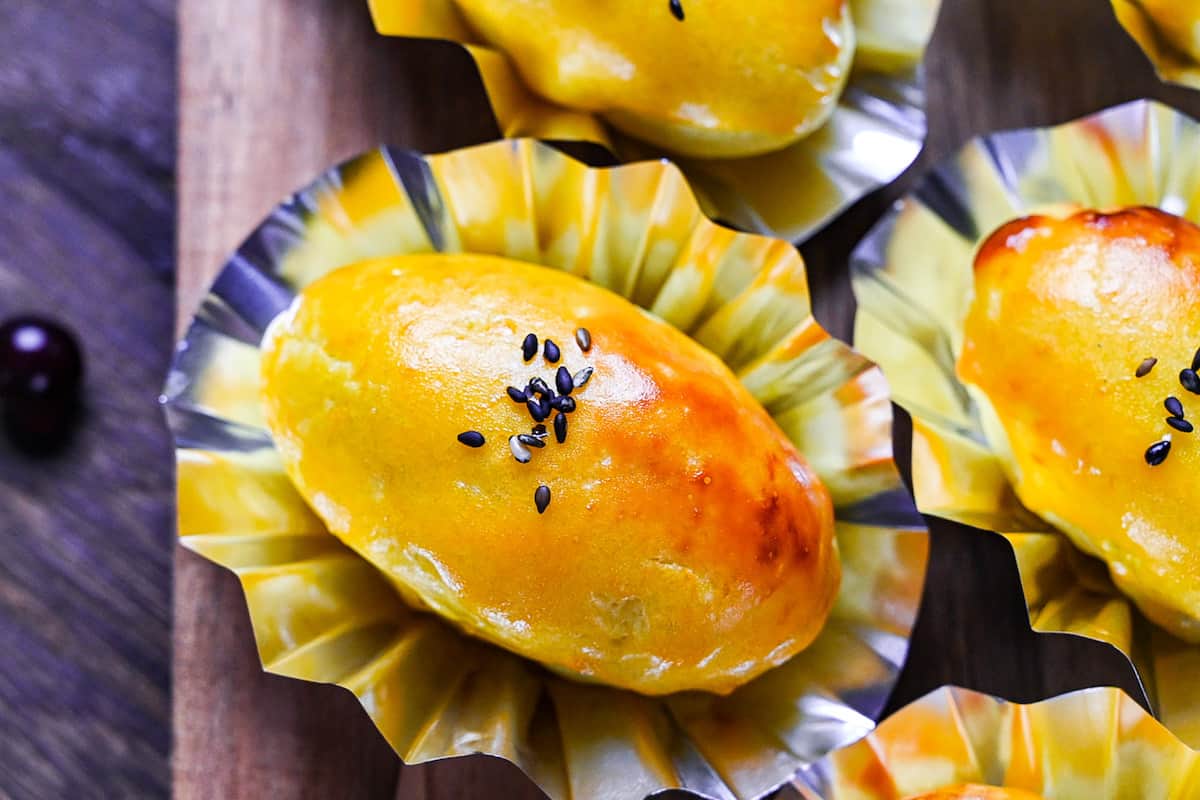 Why is it called "Sweet Potato"?
Despite being a Japanese recipe in origin, the name "Sweet Potato" comes from the English language. In fact, many Japanese people believed that it was a Western dessert because of the name.
It is believed that it adopted it's English name due to the fact that it is made with typical Western ingredients like butter and milk or cream, these ingredients don't appear in traditional Japanese sweets and desserts.
In English it might feel natural to add the word "cake" or "dessert" to the name in order to differentiate the dessert from the sweet potato itself, however this is not necessary in Japanese because sweet potato as a vegetable is called "satsumaimo" and the word "sweet potato" is only used for desserts. Confusing right?!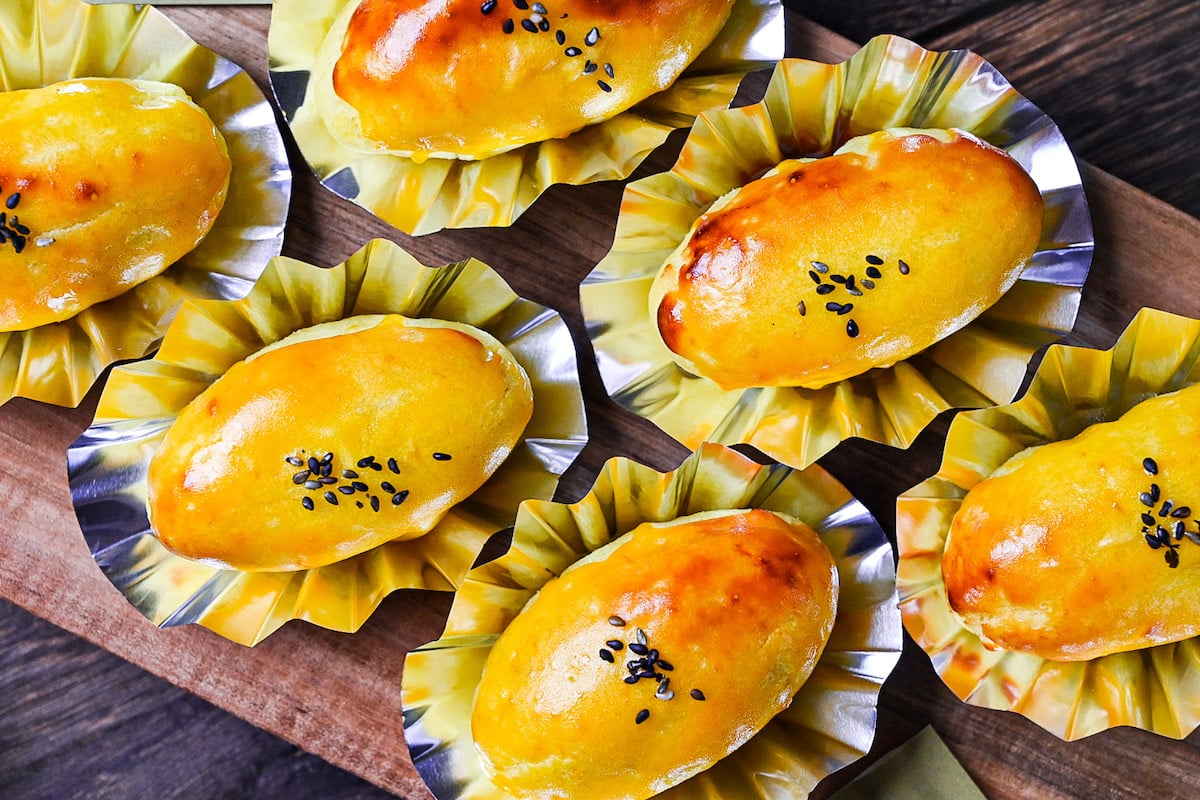 Ingredients
Here is what you'll need to make "Sweet Potato":
Japanese sweet potato
White sugar (preferably caster)
Honey
Unsalted butter
Double cream (see substitutes)
Mirin (optional)
Vanilla essence
Egg yolk
Because sweet potatoes vary greatly in size, you will need to adjust the ingredients approprately depending on the weight. I've constructed this handy chart for you to follow, so pick the size closest to your sweet potato.
| | | | |
| --- | --- | --- | --- |
| Sweet Potato (with skin) | 250g | 350g | 450g |
| Caster Sugar | 20g | 30g | 40g |
| Honey | 1 tsp | 1 ½ tsp | 2 tsp |
| Mirin | ⅛ tsp | ¼ tsp | ¼ tsp |
| Unsalted butter | 16g | 24g | 32g |
| Double cream | 1 tbsp | 1 ½ tbsp | 2 tbsp |
| Vanilla essence | ⅛ tsp | ¼ tsp | ¼ tsp |
| Yield | 4 | 6 | 8 |
Let's look at a few ingredients in more detail!
Japanese sweet potato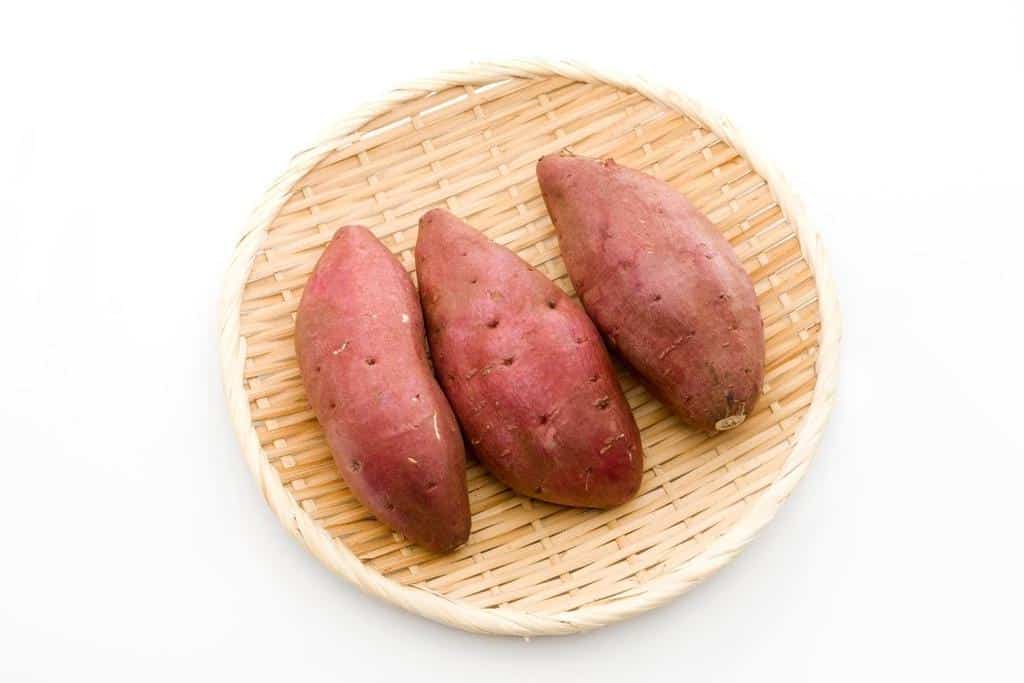 Compared to regular sweet potatoes, Japanese sweet potatoes are especially sweet and dessert-like when cooked. The skin is thin and reddish purple while the inside is pale. Once cooked, the dry white-ish centre becomes yellow and creamy, it's practically a natural dessert and when baked for a long time at a low temperature, it becomes a beloved snack known in Japan as "yaki imo".
Because of it's unique qualities, I don't recommend using any other kind of sweet potato for this recipe. You should be able to find Japanese sweet potatoes in Asian supermarkets.
Sugar, honey and mirin
You might be wondering why I use sugar, honey AND mirin in my recipe, that's three different sweeteners right?! Well, because of the way I cook the sweet potato (in the microwave) the result is not as naturally sweet and soft as baking, therefore I add sugar for sweetness, honey for depth/texture and mirin for a hint of Japanese-y taste.
It is perfectly fine to omit the mirin (I only use a small amount anyway) and switch out the honey for maple syrup if you prefer.
Cream
In this recipe I use double cream (single cream is also fine) to make the mashed sweet potato have a rich and decadent flavour, I also like the texture it produces. However, if you're making one batch and don't plan to use cream for anything else, it's fine to use whole milk instead.
For vegans, you can even swap out the cream for plant based milk!
Note when substituting milk
Add the milk a little at a time and mix thoroughly before adding more. This is to make sure the mixture doesn't become too wet and difficult to shape.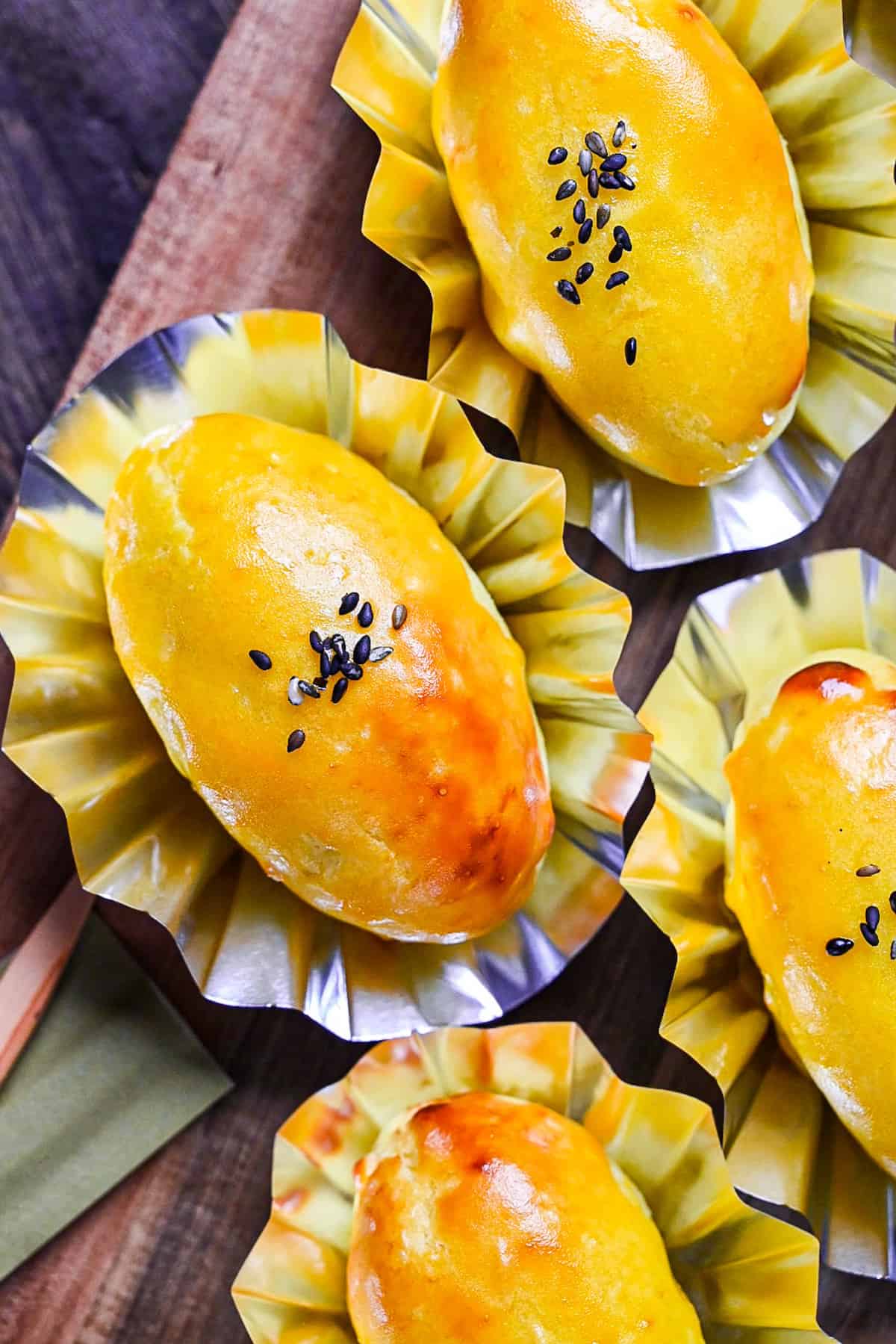 Instructions How to Make Japanese Sweet Potato
Here are my step by step insructions on how to make Japanese Sweet Potato with process pictures for clarity. The ingredient quantities are available on the printable recipe card below.
Peel and Soak
Start by preparing the sweet potato. Peel off the skin and cut it into slices. I recommend cutting the larger slices in half so that they cook evenly (I didn't here and regretted it!)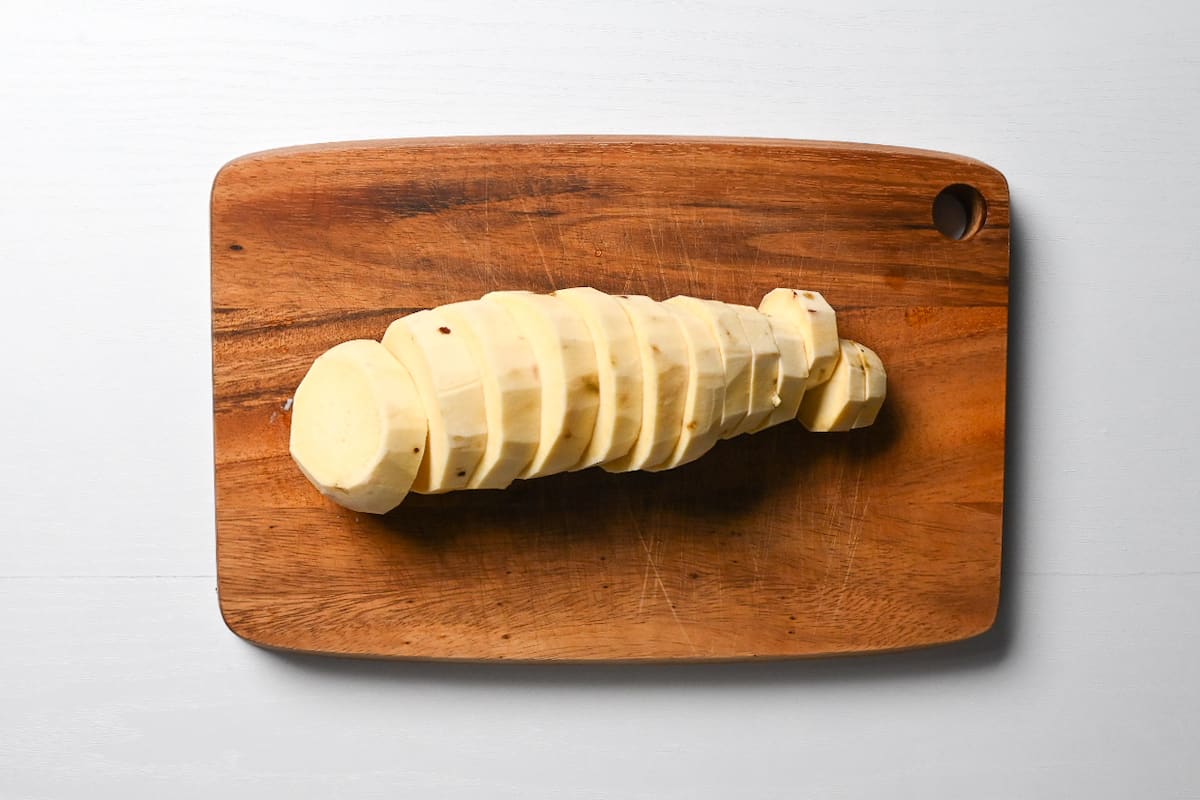 Next, place the slices in a microwavable bowl and fill it with cold water and a pinch of salt. This helps remove excess starch and prevents discoloration. Let them soak for about 5 minutes, no longer than 10!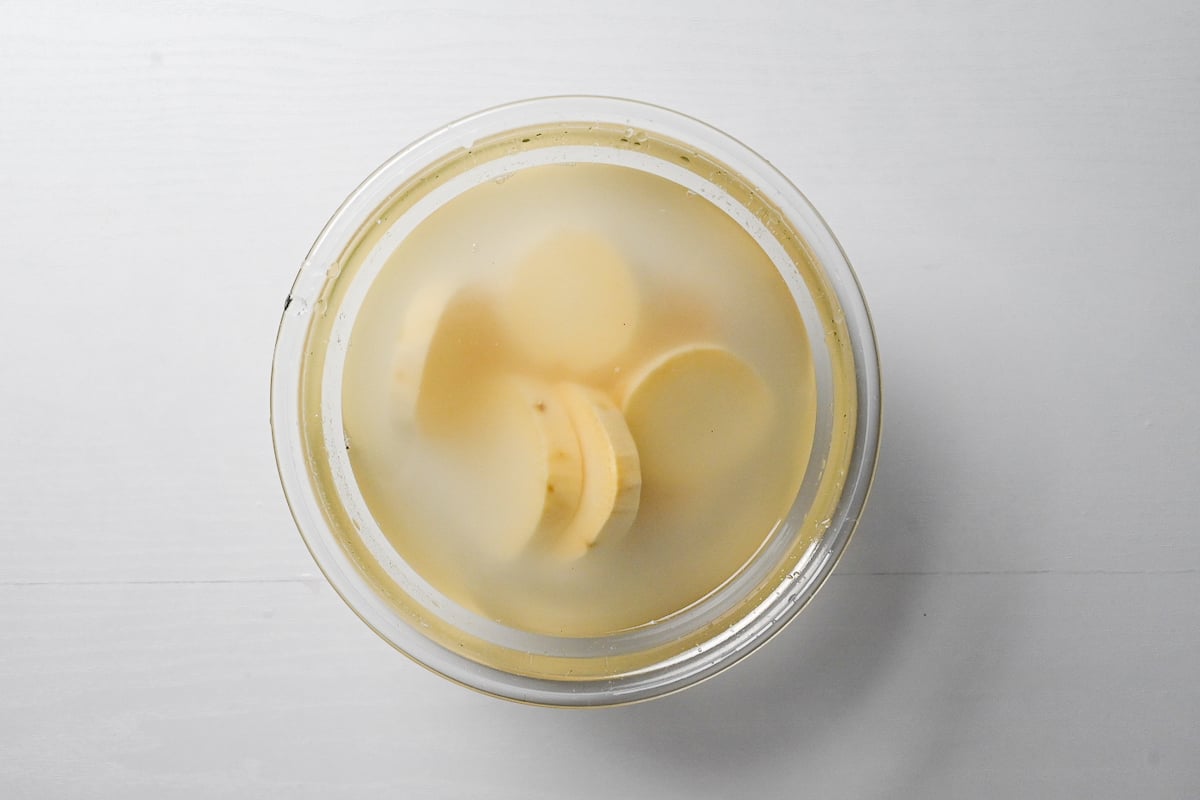 If you soak the sweet potato for longer than 10 minutes it will start to lose its flavour and natural sweetness. 5-10 minutes is plenty!
Cook the sweet potato
There are a number ways to cook sweet potato and baking with a low temperature in the oven is well known for bringing out the natural sweetness and creamy texture of sweet potato. However, in this recipe baked sweet potato is too soft and becomes difficult to shape, it also takes a long time to cook (60-80 minutes).
I recommend using a microwave for the best results in this recipe. When sweet potato is microwaved, it is not as soft and sweet as when it's baked, but it's quick to do and easier to shape after it's mashed and mixed with the other ingredients. Since we add sugar and cream anyway, I don't feel guilty skipping baking this time!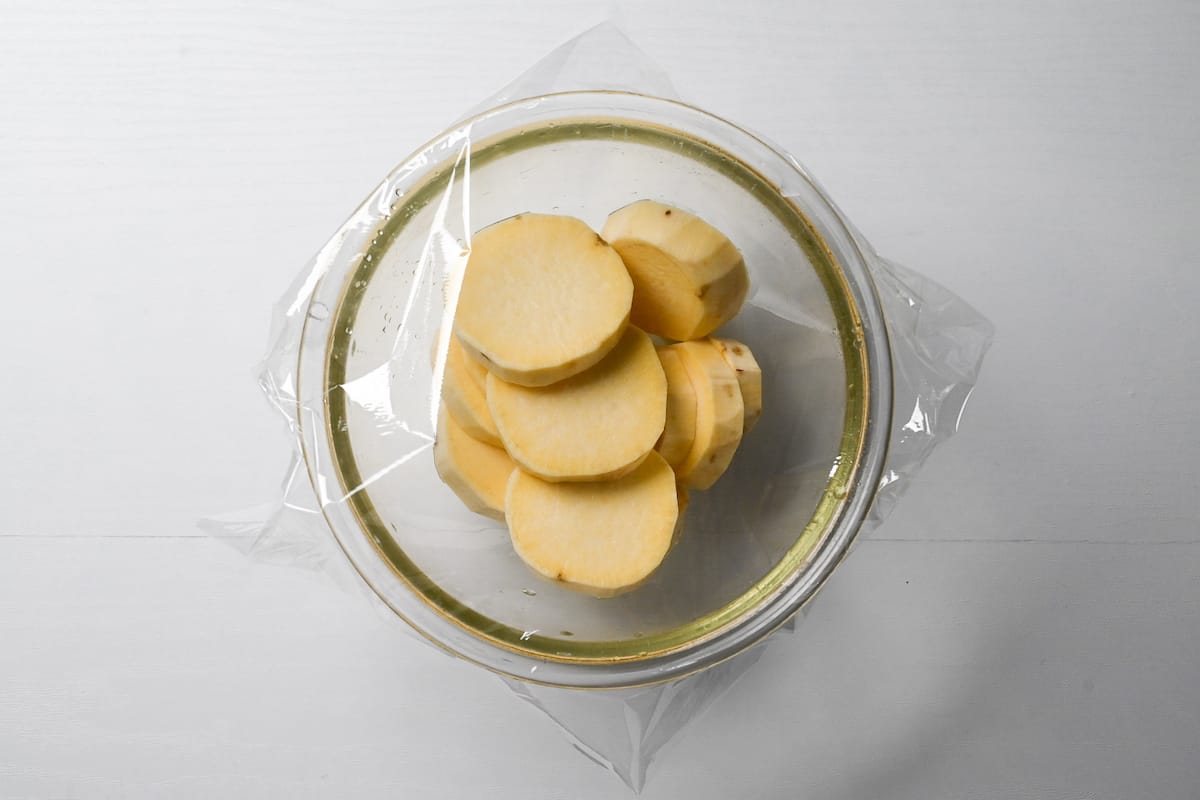 Place the pieces of sweet potato in a microwave safe bowl and cover with plastic wrap. Microwave for 5-6 minutes at 600W, mix the pieces about half-way through to ensure even cooking and be careful when removing the plastic.
Did you know steam is hotter than boiling water? After microwaving, steam will be trapped in the bowl and will release as you move the plastic wrap. Stand back and slowly and carefully peel one corner of the plastic wrap to prevent burns!
Mash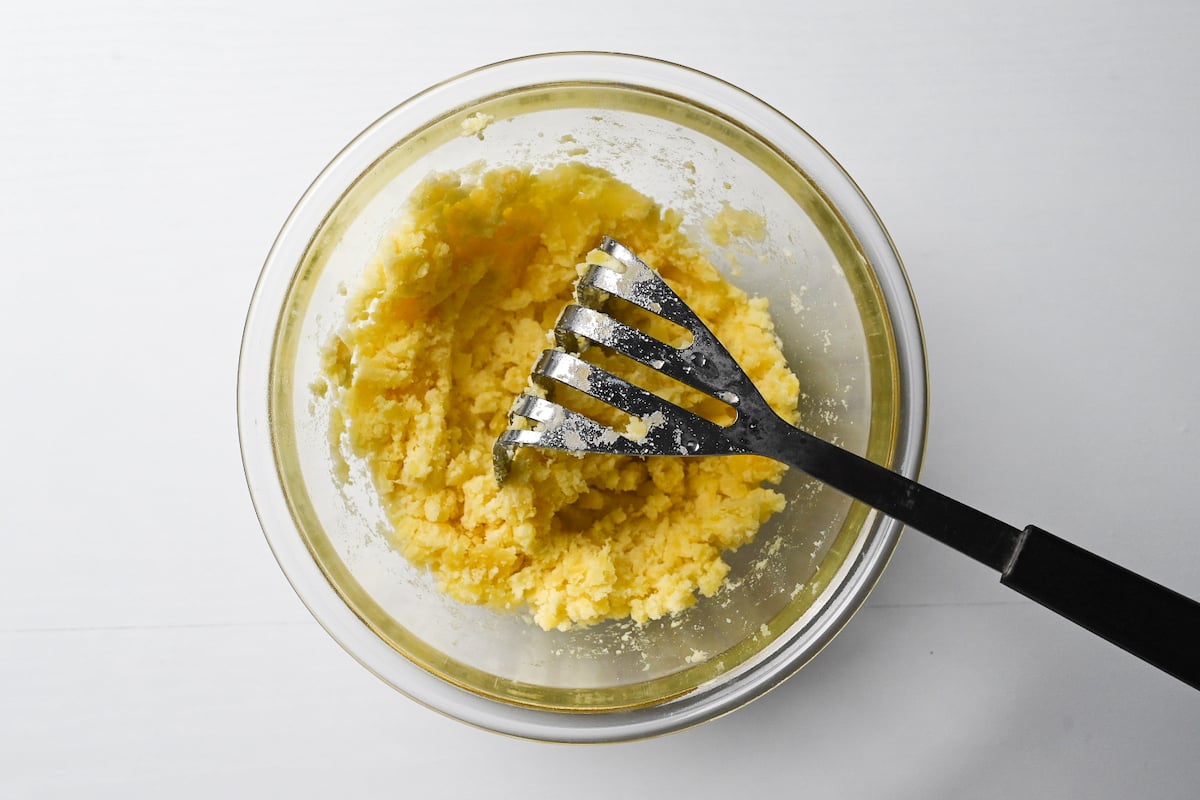 Once it's cooked, mash your sweet potato while it's still hot. (You might need an oven mitt to hold the bowl, or transfer it to a new bowl.) There are three ways you can mash it:
Masher - The good old fashioned way is simply using a potato masher (or fork - although it's a bit more work).
Potato ricer - If you're lucky enough to own this utensil you can make short work of mashing and end up with an extra smooth result.
Food processor - Blending up the potato in a food processor is extremely quick and easy, I recommend adding all the ingredients together to loosen up the mixture so your food processor doesn't have to work too hard.
Add the ingredients all at once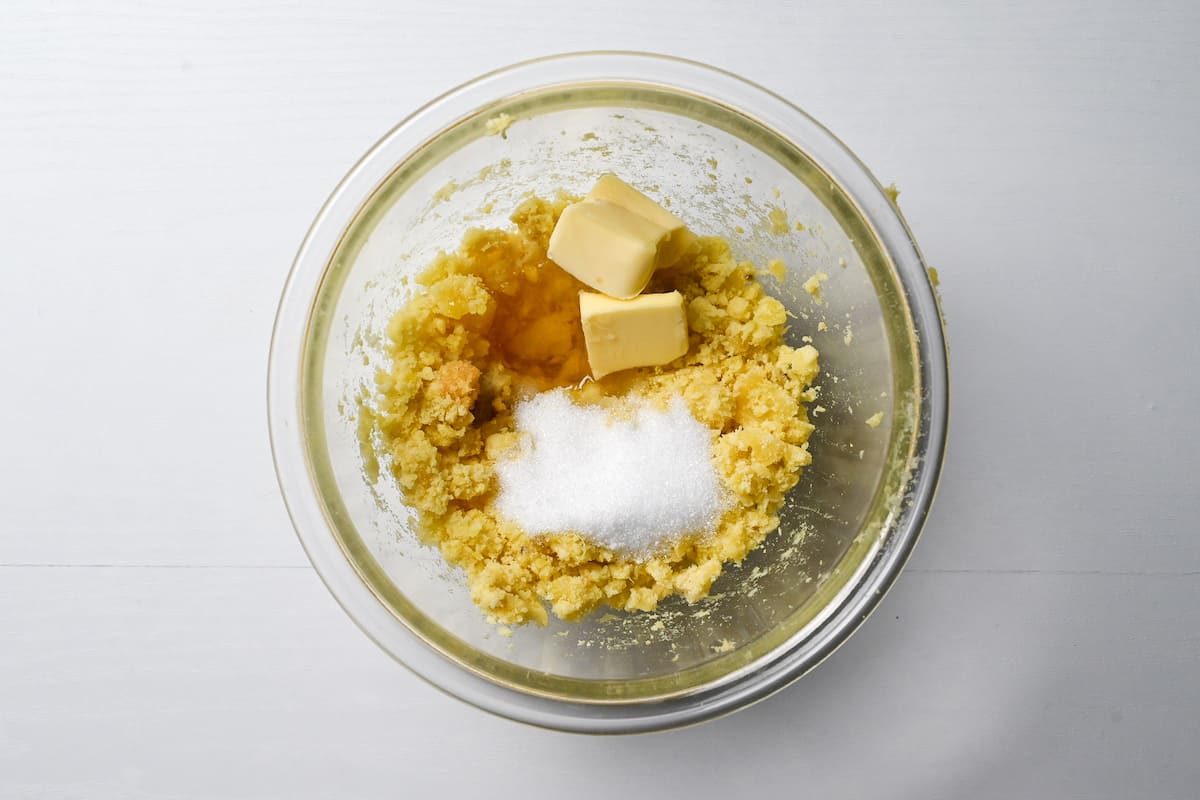 Add the butter, sugar, honey, mirin, vanilla essence and cream while the mashed sweet potato is still warm. This will melt the sugar and butter, making it easier to combine everything together with a silicone spatula.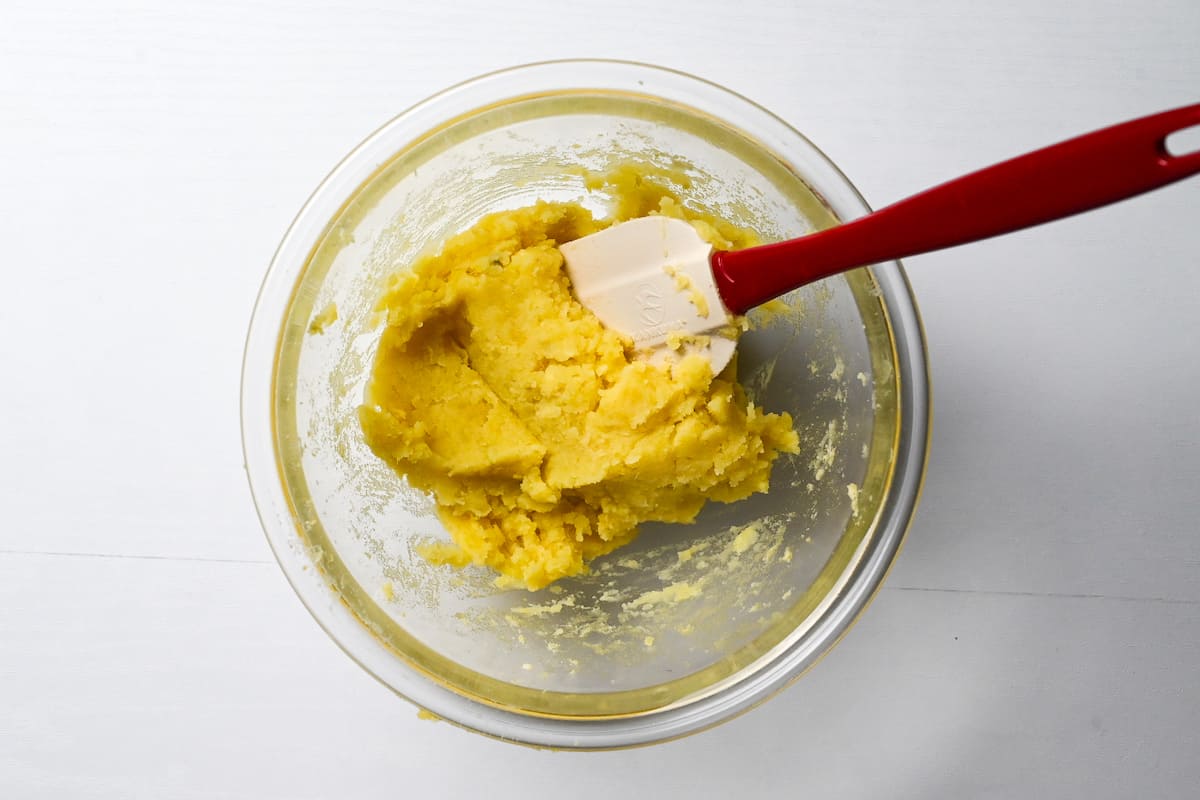 Make it smooth
If you used a potato ricer or food processor, you can probably skip this step. If you used a regular potato masher like me, you might find the potato still has a few chunks in there.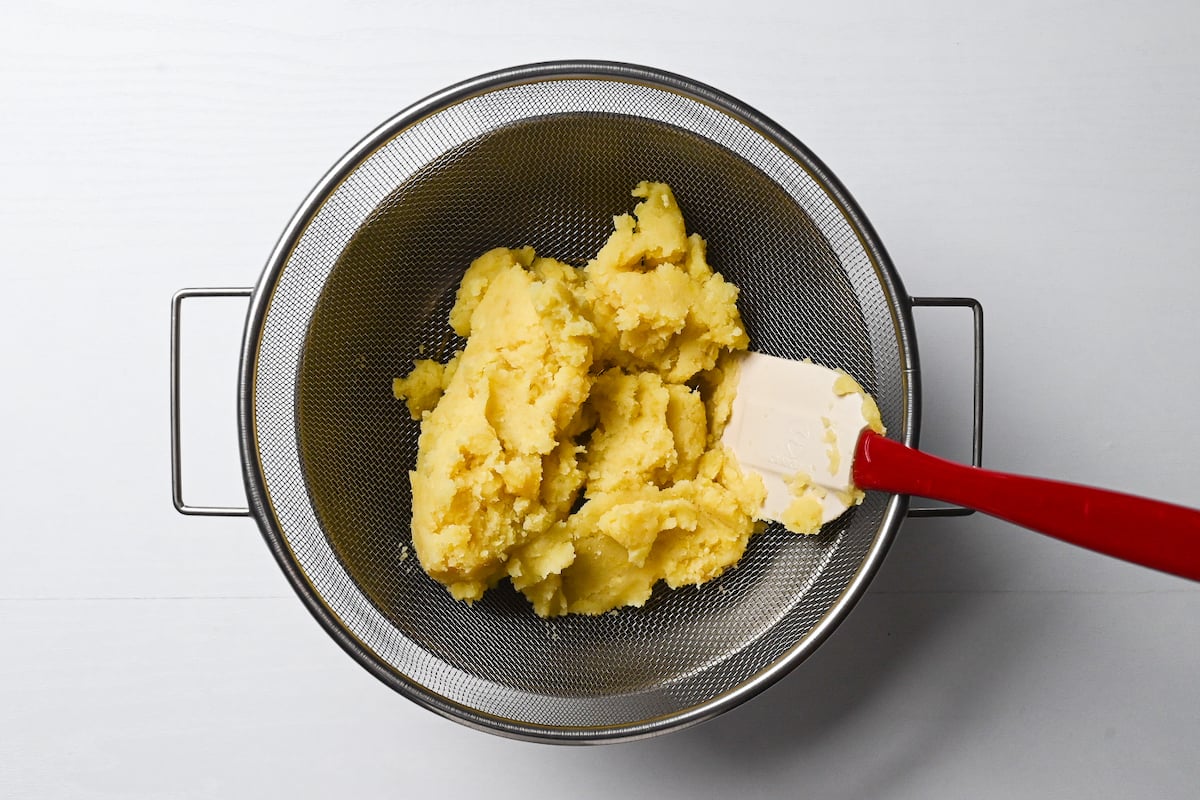 Use a spatula to work the mixture through a sieve.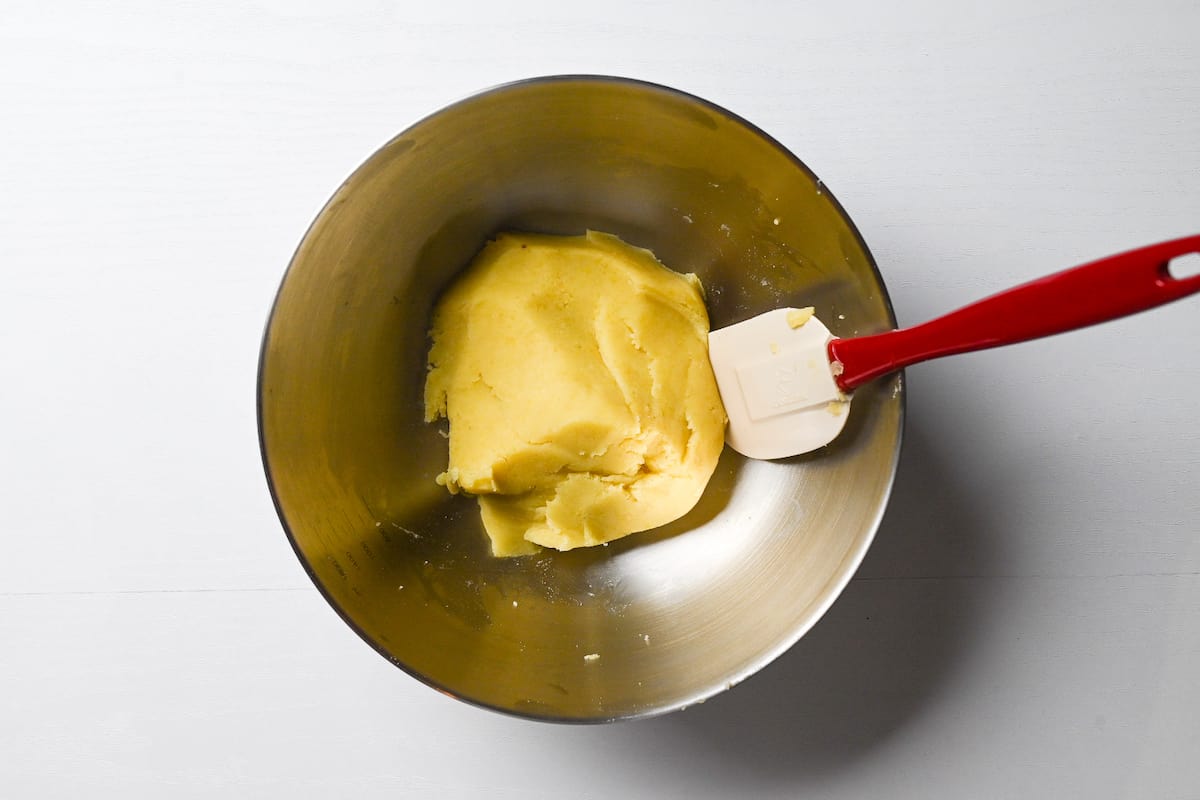 Once it's done, you'll have a beautifully smooth mixture like this!
Shape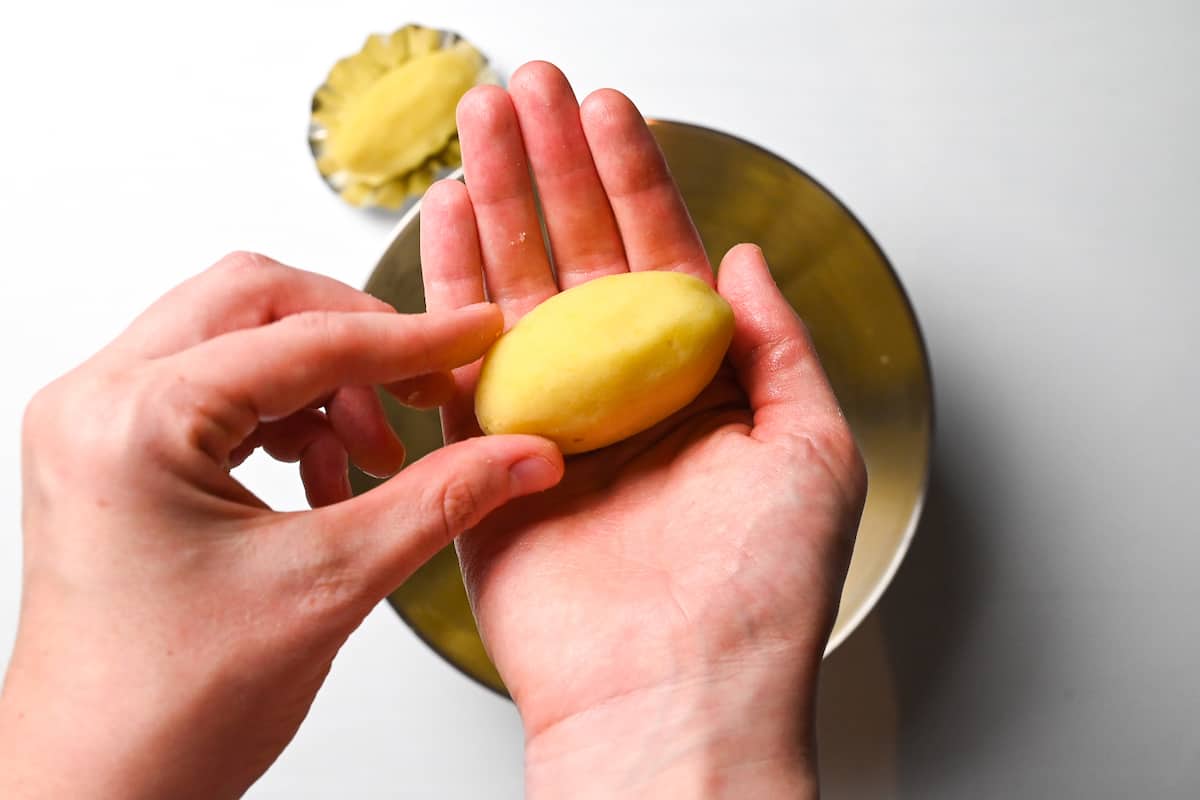 If you're a perfectionist then you can weigh the mixture and then divide it equally. I mentioned in the chart earlier that a 250g sweet potato (with skin) will make 4, 350g will make 6 and 450g will make 8. They use approximately 50g of mixture each.
Simply roll the mixture in your palm to make an oval shape. It's common to use foil cupcake cases (affiliate link) for these and flatten them out, but you can regular cupcake or muffin cases.
Egg wash and bake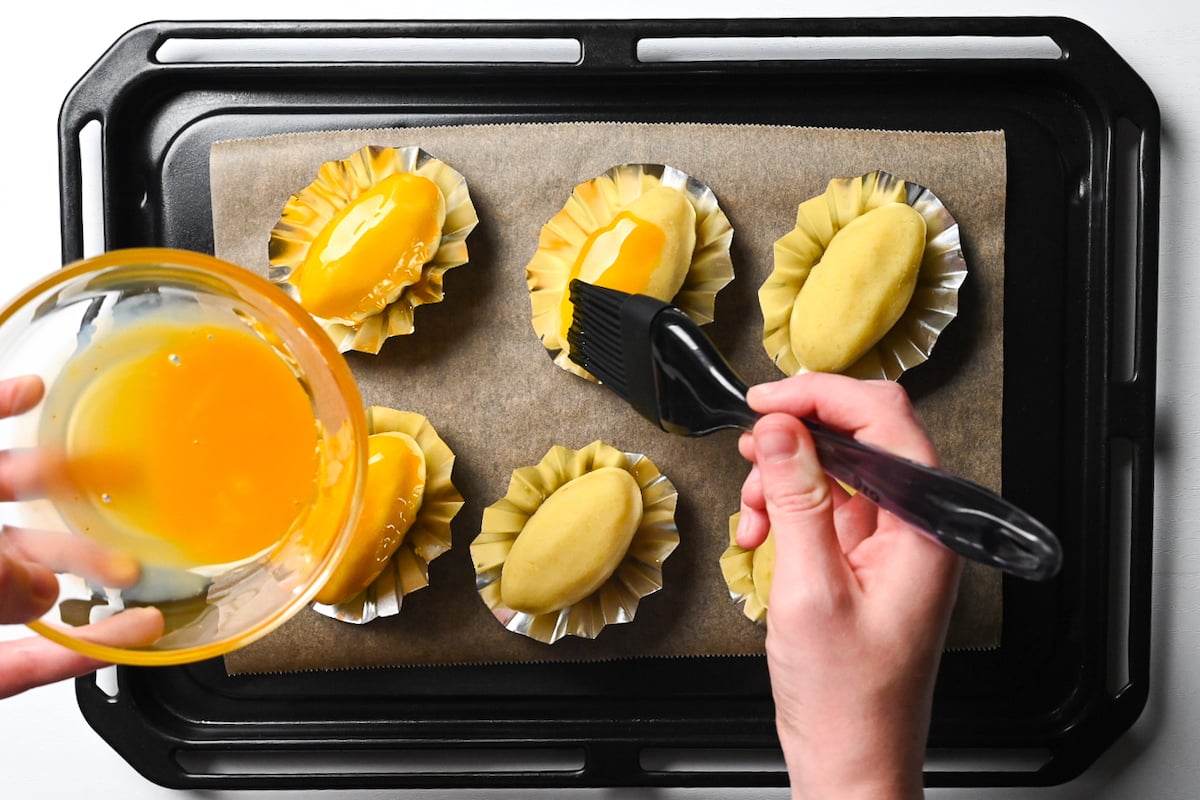 Whisk an egg yolk in a bowl and generously brush each sweet potato. (You can use a pastry brush (affiliate link), the back of a spoon or even your finger.) Make sure you get all around the sides so there isn't any white parts showing (it will become obvious after they're baked).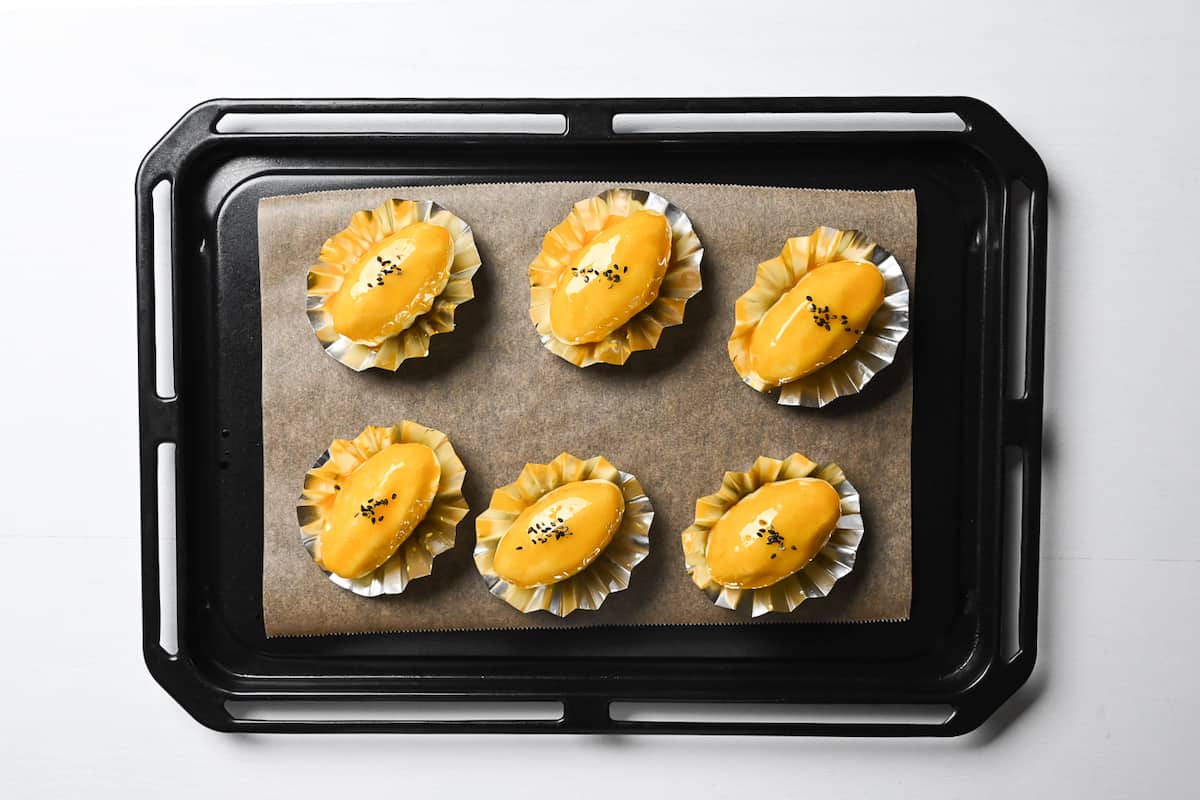 Sprinkle each sweet potato with a few black sesame seeds and then bake in a preheated oven for about 15 minutes at 180°C (356°F) or lightly browned on top. (Alternatively, place in a toaster oven and cook until lightly browned.)
Allow to cool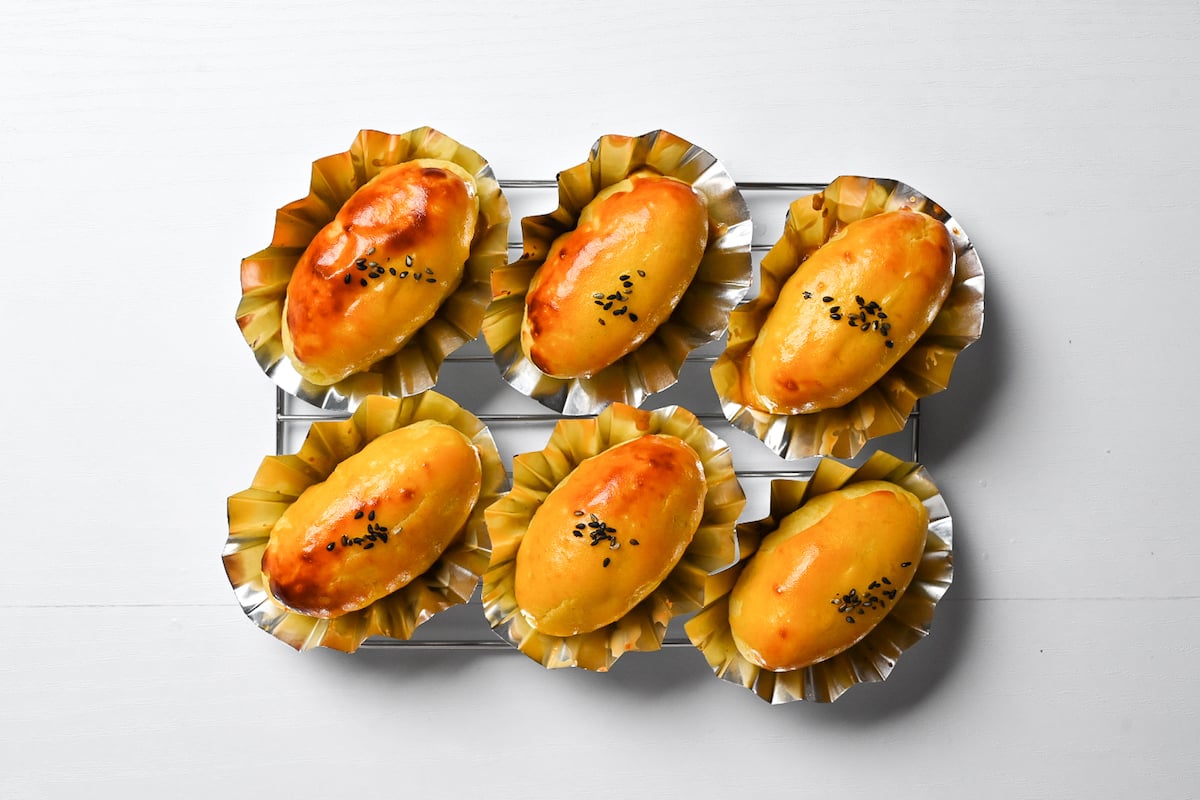 Place the baked sweet potato on a wire rack and allow them to cool. I personally like to chill them in the fridge before eating.
Enjoy!
Substitutions
Here are a few ingredient substitutions you can use to make the recipe more accessible.
Whole milk - instead of cream, this recipe only uses a small amount of cream so if you don't want to buy a whole tub of cream, whole milk works too!
Vegan alternatives - use coconut milk, soy milk or almond milk instead of cream and substitute the butter for coconut oil.
Maple syrup - use maple syrup instead of honey
Omit mirin - I like using mirin to create more depth and Japanese-y taste but you can omit if you can't use mirin.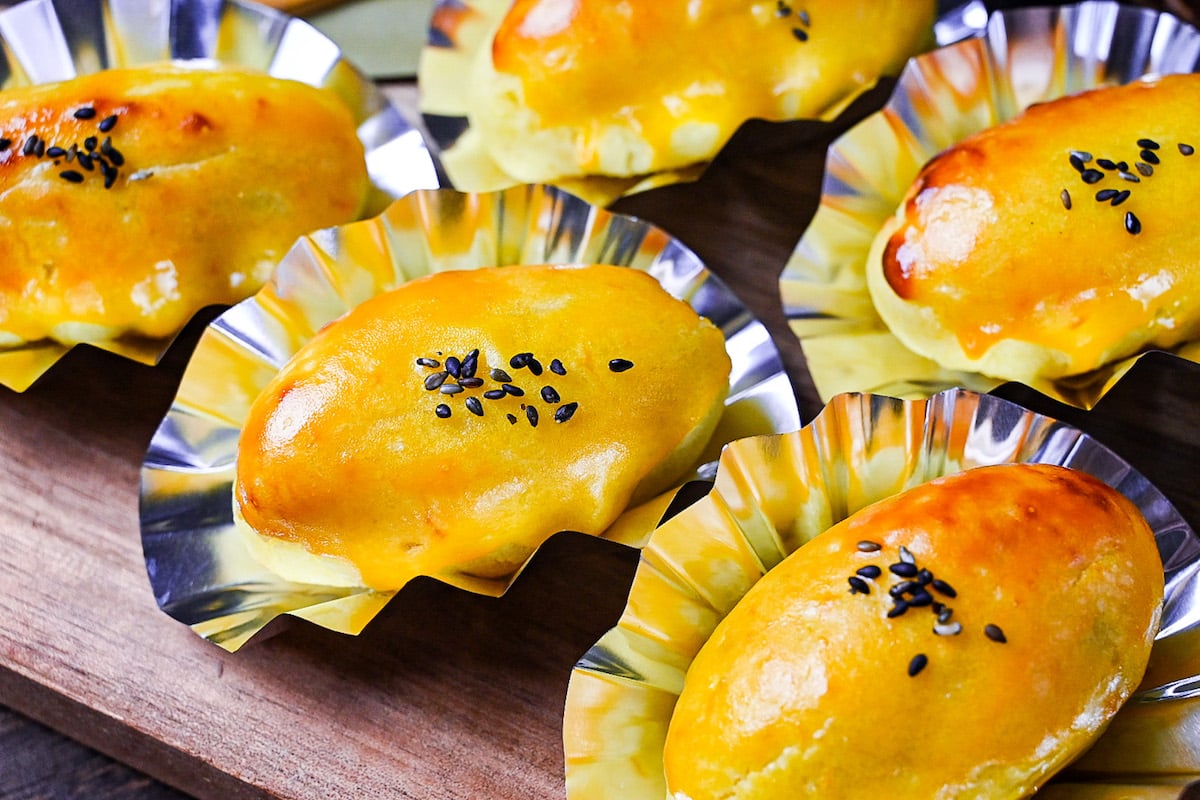 Storage
Sweet potato can be kept at room temperature in winter if you plan to eat it the same day, if the weather is warm or you plan to eat them the next day or later, it's better to keep them in the fridge.
Store your sweet potato in an airtight container in the fridge and eat within 3-4 days. I actually find they taste best the next day after being chilled overnight (this is a personal preference though).
You can also freeze them. It is recommended to wrap them individually with plastic wrap and then store them in an airtight container to prevent freezer burn. When you want to eat them, simply defrost at room temperature or heat them in the microwave for about 20 seconds. If you prefer them warm, you can reheat in a toaster oven or under the grill.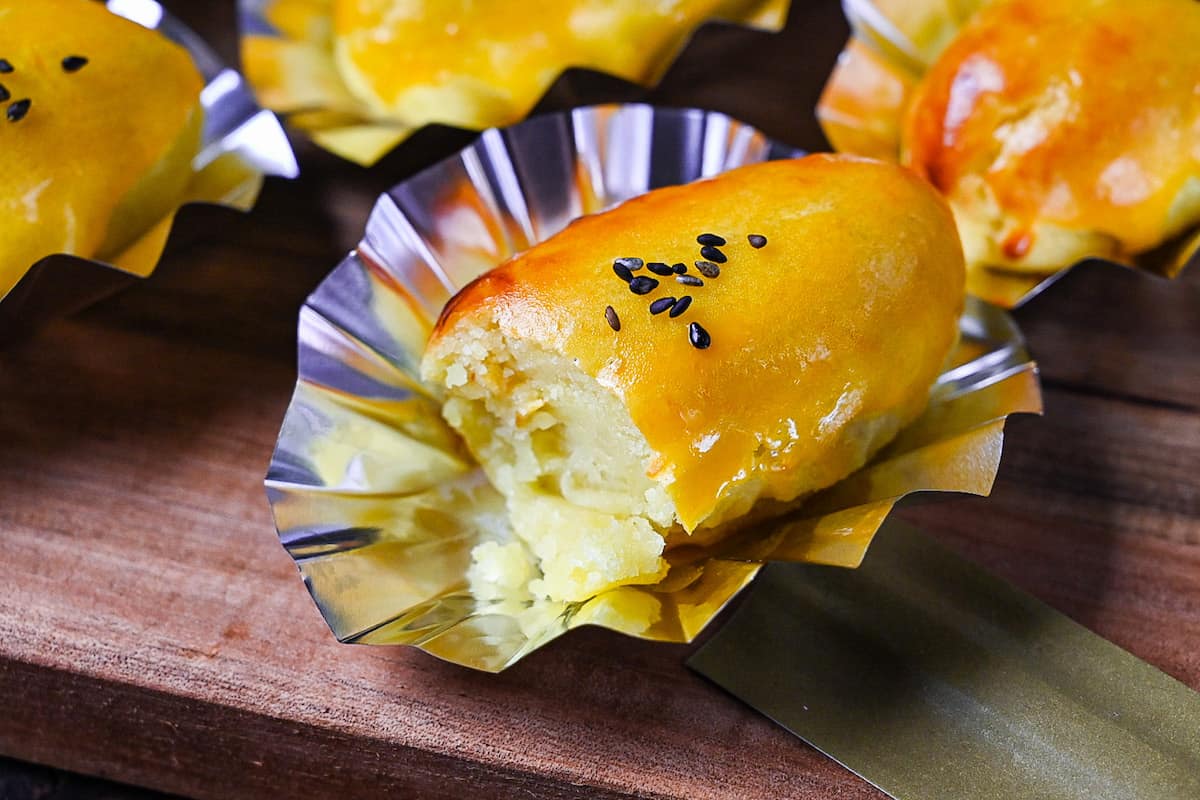 I hope you enjoy this typical Japanese Autumn treat!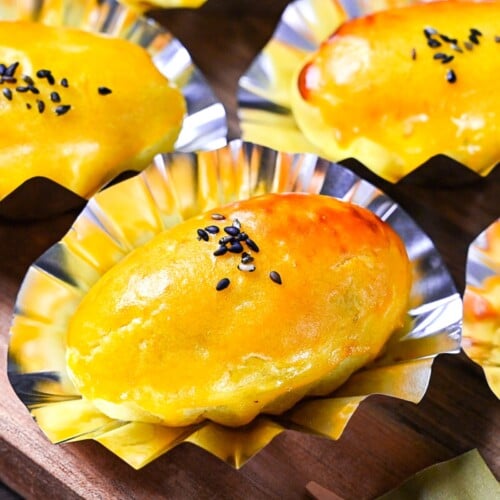 Japanese "Sweet Potato" Dessert
How to make sweet and creamy Japanese sweet potato dessert.
Ingredients
350

g

Japanese sweet potato(s)

-

(satsumaimo) before peeling see note

30

g

caster sugar

1½

tsp

honey

25

g

unsalted butter

1½

tbsp

heavy cream

¼

tsp

vanilla essence

½

tsp

mirin

1

pasteurized egg yolk

¼

tsp

black sesame seeds
Instructions
Preheat the oven to

180

°C

.

Peel the skin of

350 g Japanese sweet potato(s)

and cut it into slices approximately 1cm thick. (Cut larger pieces in half.)

Place the pieces in a bowl of cold water with a pinch of salt and soak for 5 minutes.

Drain the water and wash the pieces with cold running water to remove any excess starch.

Transfer the sweet potato to a microwavable bowl and cover with plastic wrap. Microwave for 5-6 minutes at 600W, mix halfway through to ensure even cooking. (Be careful of the steam when removing the plastic wrap.)

Allow to cool for a few minutes then mash while it's still hot/warm.

Add

30 g caster sugar

,

1½ tsp honey

,

25 g unsalted butter

,

1½ tbsp heavy cream

,

¼ tsp vanilla essence

and

½ tsp mirin

to the bowl and mix everything together with a spatula.

Transfer the mixture to a sieve and use the spatula to work it through to make it smooth.

Divide the mixture into equal 6 pieces and roll them into oval shapes.

Place them in flattened cupcake cases on a baking sheet, then whisk

1 pasteurized egg yolk

in a small bowl and generously brush the tops and sides until fully coated.

Sprinkle the tops with

¼ tsp black sesame seeds

and bake for 15 minutes or until the tops are lightly browned. (Alternatively, use a toaster oven or grill and cook until browned on top.)

Cool on a wire rack.

Enjoy warm or chill in the refrigerator!
Notes
This recipe uses 1 medium size sweet potato (approx 350g), but ingredient quantities depend on the size of the potato. See the chart in the post above for more accurate measurements.
I personally like to chill them in the fridge before eating, but you can also eat them warm if you prefer.
Store at room temperature if you're eating them the same day, or refrigerate and consume within 3-4 days.
To freeze, wrap individually with plastic wrap and store in an airtight container. Defrost at room temperature before eating. If you prefer them hot, reheat in a toaster oven or microwave for about 20 seconds.
Nutrition
Calories:
154
kcal
Carbohydrates:
25.3
g
Protein:
1.4
g
Fat:
6.1
g
Saturated Fat:
3.1
g
Polyunsaturated Fat:
0.3
g
Cholesterol:
43.2
mg
Sodium:
44.5
mg
Fiber:
1.3
g