Daigaku Imo is an irresistible Japanese snack made from fluffy sweet potatoes deep fried and coated in a sweet candy glaze. Perfectly soft on the outside and satisfyingly crisp on the outside, it's a must try recipe for all sweet potato lovers!
Disclaimer: This post contains Amazon affiliate links. Sudachi Recipes earn a small percentage from qualifying purchases at no extra cost to you. See disclaimer for more info.
Jump to:
What is Daigaku Imo?
Daigaku Imo (大学芋) is a classic Japanese sweet snack made from purple Japanese sweet potatoes. It's usually cut into pieces, deep fried and then coated in a sweet crunchy candy glaze. You'll often see that they are also sprinkled with black sesame seeds, no daigaku imo is complete without them!
Daigaku imo is typically eaten in Autumn, a time to enjoy desserts made seasonal produce such as kabocha (Japanese squash), kuri (chestnut) and satsumaimo (sweet potato).
Daigaku imo is definitely one of my favourite snacks to enjoy as temperature drops and the days get shorter!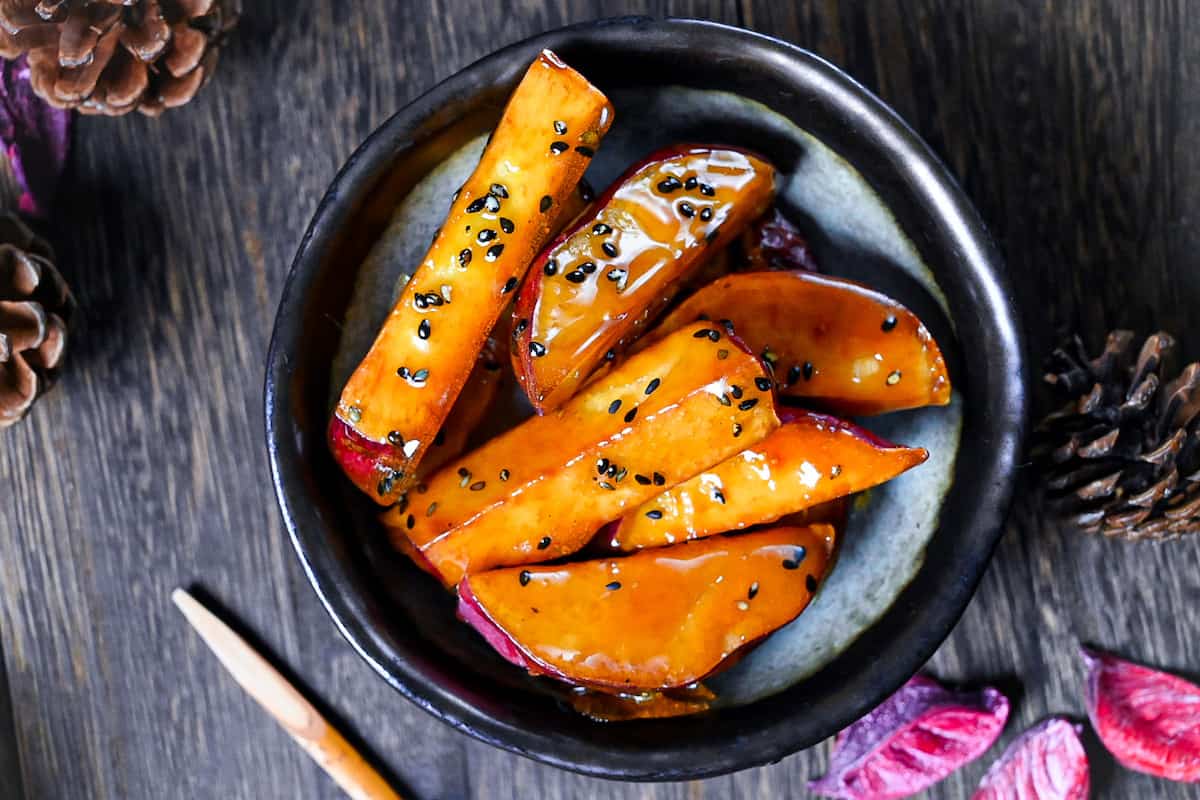 A brief history of Daigaku Imo
It is believed that daigaku imo appeared in a sweet shop near Tokyo university around the beginning of the Showa period (1926-1989). The dish was supposedly inspired by the Chinese method "ba si" where ingredients are fried and coated in a simple candy made with sugar and water. "Ba si di gua" is the Chinese version of candied sweet potato and is known as "Chuuka Poteto" (中華ポテト) or "Chinese Potato" in Japanese.
You might wonder if there's any difference between the Chinese and Japanese versions of this dish. After all, it's just a candied sweet potato right? Well actually, there are a few characteristics that set daigaku imo apart from the original Chinese version.
Firstly, daigaku imo is always sprinkled with black sesame seeds, this is iconic for this dish and never left out. Secondly, the candy coating is often flavoured with soy sauce so that it has a hint of savoury flavour. A few other small differences include leaving the skin on (the Chinese version is usually peeled) and eating them warm/room temperature.
Why is it called "Daigaku Imo"?
You might also be curious about the unsual name "Daigaku Imo" (大学芋) which literally translates as "University Potato" in English. There are a few different theories about the origin of this dish, the main one being that the dish was sold in a sweet shop near Tokyo university and became a hit with the students. Other theories include:
Satsumaimo are cheap and filling - The perfect ingredient for students on a budget.
A potential money maker - Cheap to buy, easy to turn a profit - rumour has it that some students would make and sell candied sweet potatoes to help fund their college fees.
They're delicious - Daigaku imo are simply loved by university students!
Whatever the origin, there's no doubt that they're delicious and a well loved sweet amongst all Japanese people, not only students!
Ingredients to make Daigaku Imo
For this recipe, I use the following ingredients:
Japanese sweet potato - read more below!
Water - for soaking
Salt
Oil - choose an oil with a mild flavour and high smoke point such as vegetable oil or canola.
Then for the candy coating:
Caster or granulated sugar
Water
Black sesame seeds
In the next section, I'll tell you a bit more about Japanese sweet potato!
What is satsumaimo? (Japanese Sweet Potato)
The star ingredient of this dish is "satsumaimo", the Japanese sweet potato. It's also known as the "murasaki potato" in English (not to be confused with the Okinawan sweet potato that is purple inside).
Satsumaimo are long with reddish-purple skin and the inside is pale yellow or white and dry in texture. When cooked, the inside turns a beautiful golden colour.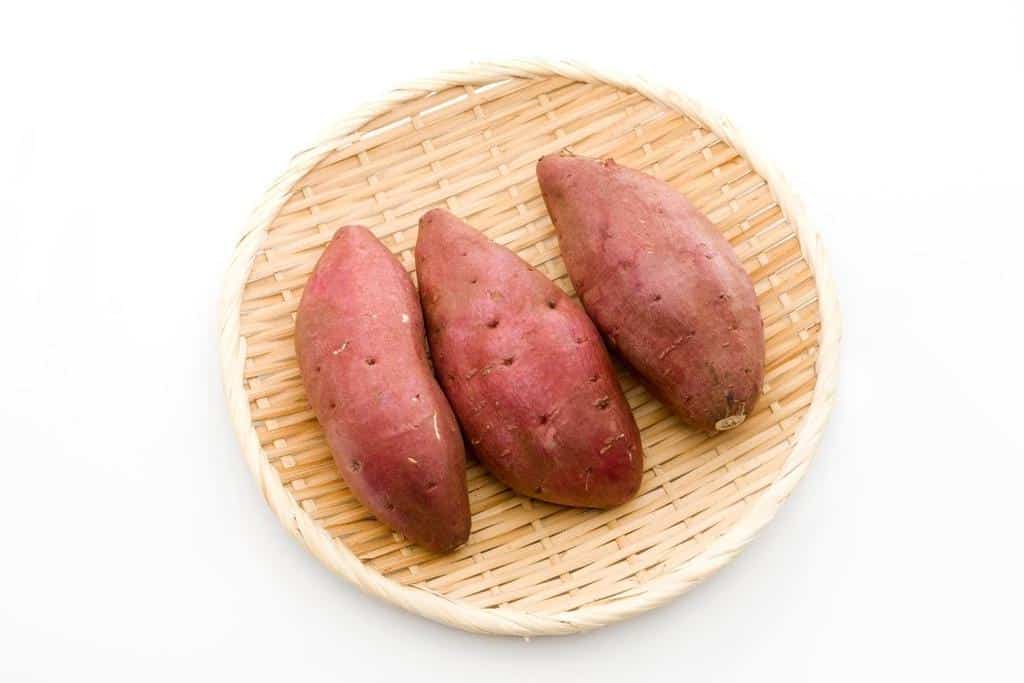 Because satsumaimo is especially sweet and dry compared to other kinds of sweet potato, I don't recommend using other varieties. You should be able to find Japanese sweet potato in Asian supermarkets.
Although satsumaimo is very sweet, it is commonly used in both sweet and savory dishes. Some savory dishes include tempura, satsumaimo gohan (sweet potato rice) and satsumaimo nimono (simmered sweet potato served as a side dish).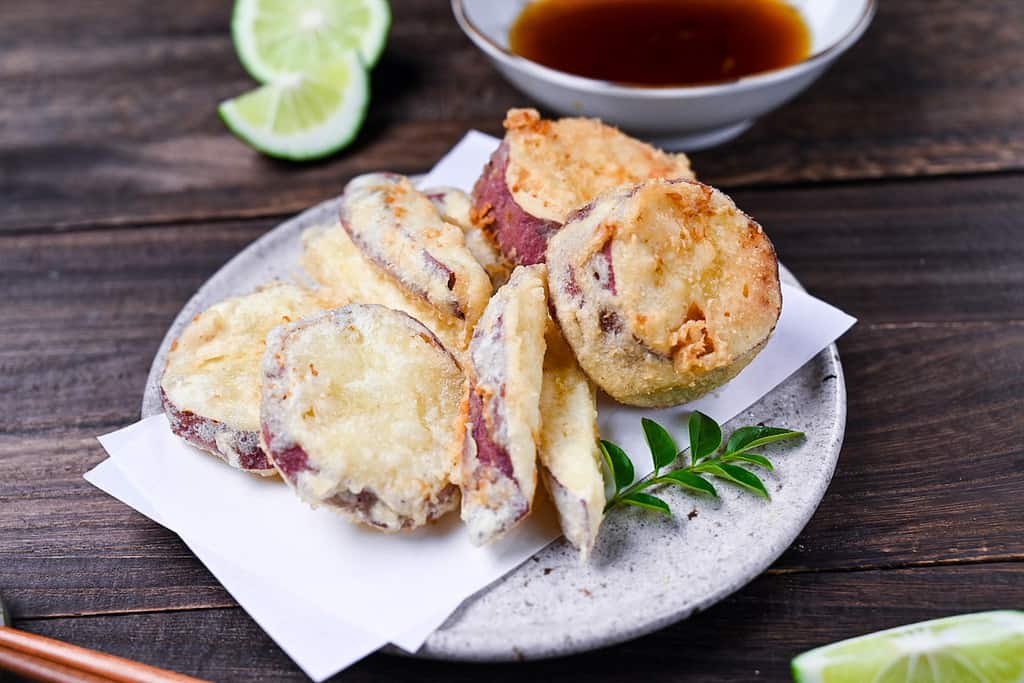 How to cut sweet potato for Daigaku Imo
There are a number of different ways to cut sweet potato for daigaku imo, so here I will cover 3 different ways to cut and include the pro's and con's for each method.
Rangiri (diagonal bitesize chunks)
The most common way to cut sweet potato for daigaku imo is using a technique called "rangiri"(乱切り). This kind of cut is used for long, cylindrical vegetables (like carrot or cucumber).
To cut rangiri style, first cut off the ends and then make thick diagonal cuts, rotating the sweet potato one quarter between each cut. Depending on the size of the potato, the middle pieces could end up being considerably bigger, in this case you can cut them in half. Try and cut the pieces to a similar size so that they finish cooking at the same time.
Rangiri style looks rustic and stylish in a homely way, it also ensures each piece has a good amount of skin. Some cons to rangiri cuts are that sometimes it can be difficult to keep the size of the pieces consistent (depending on the shape of the potato) and I personally find them a bit stodgy compared to the other styles.
Sticks (used in my recipe)
The second most common is the stick type, cut to a similar size as thick cut fries. This type is my personal favourite, the size is the best for snacking and the potato to candy ratio is just perfect in my opinion!
For the optimum size, I recommend slicing the sweet potato diagonally about 1.5cm thick (approx ½ inch) and then cut each slice into 3 sticks.
Because the pieces are smaller, you can get away with using less oil. It's also easier to fully coat each one with the caramel, however, one downside to them being smaller is they tend to stick together more in the caramel. You need to quickly separate them to prevent this!
Rounds (thick slices)
While not as stylish at the other two, simply cutting the sweet potato into 1.5cm thick slices is the best of both worlds! Thinner than rangiri means they cook a little faster in the middle and cutting them is simple and straightforward. They also have a good amount of skin on each piece.
It might be a little more difficult to evenly coat the outside edge with caramel, but in terms of taste, texture and simplicity, this one has it all!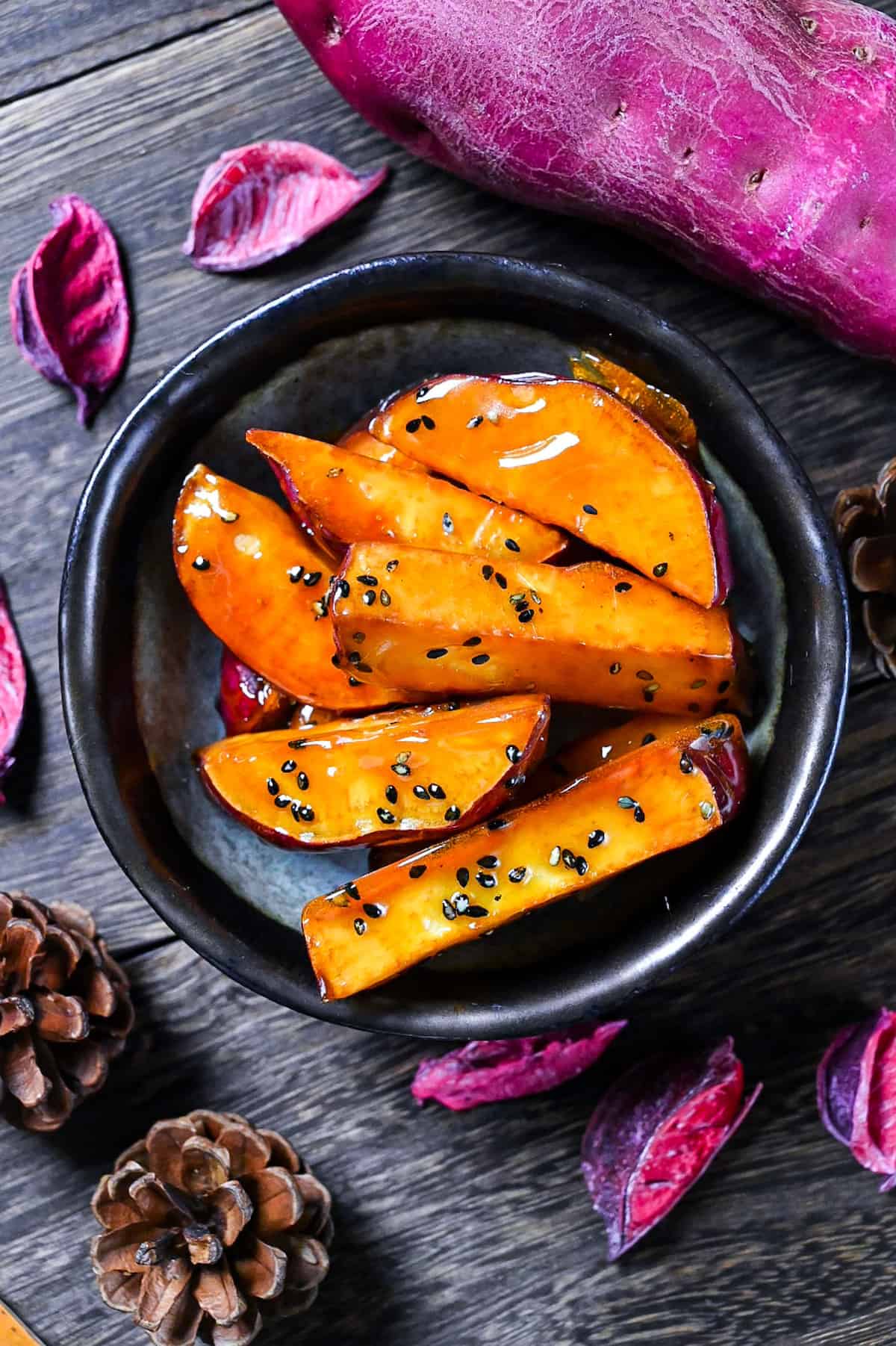 Instructions on how to make the perfect Daigaku Imo
For me, the perfect daigaku imo needs to be fluffy in the middle and crispy on the outside. After many attempts and experiments with different techniques, here is my full step by step recipe on how to make the best daigaku imo including tips and tricks. (See the recipe card at the bottom of the page for the full ingredients list.)
Wash the surface of the sweet potato
The skin of satsumaimo is very thin, it also has a beautiful colour and these are the two reasons why we generally eat them with the skin on. Of course, this means it needs to be washed well. Satsumaimo's skin is quite delicate so I recommend washing it gently with warm water and a clean sponge or cloth, no need to scrub!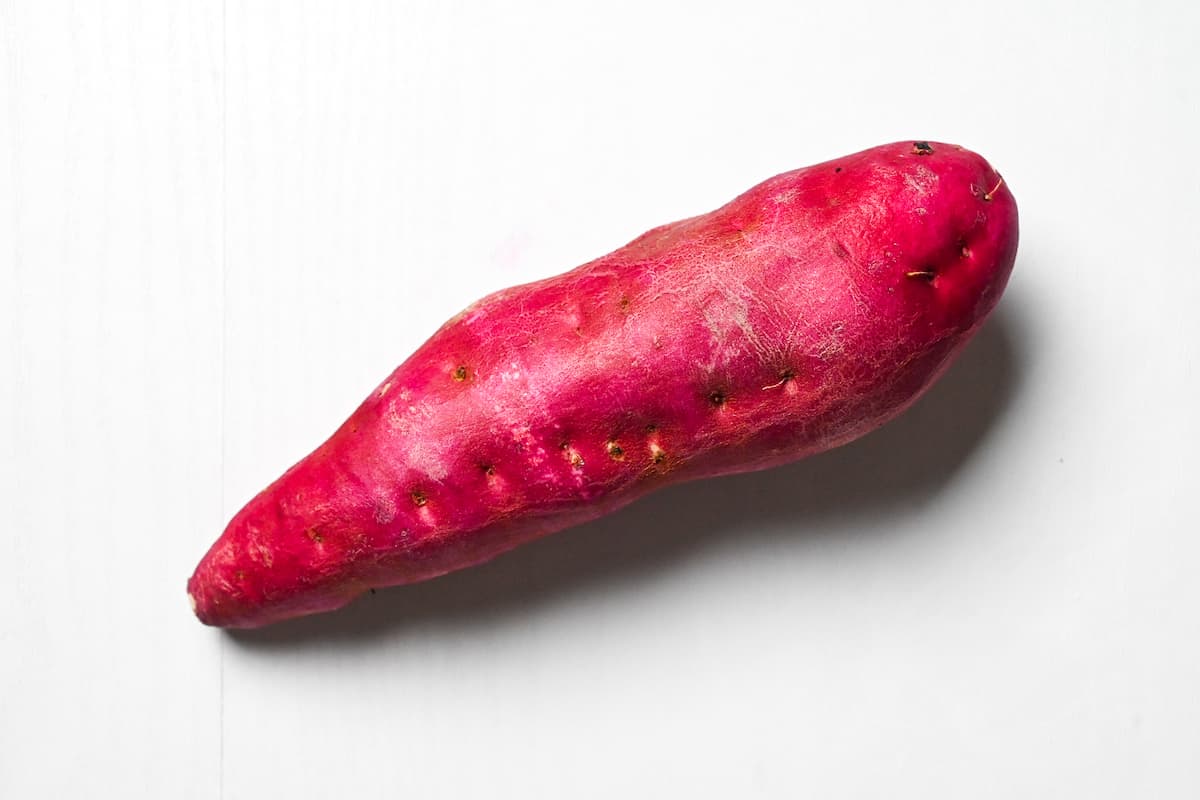 Rub the surface of the sweet potato gently with warm water and a clean cloth or sponge to prevent taking off any skin.
Cut
In my recipe, I cut my sweet potato into sticks. Remove the ends and then slice into 1.5cm (½ inch) rounds. Cut each round into 3 sticks.
This is my personal favourite way to cut sweet potato for daigaku imo, but if you want to cut it a different way, scroll back up for alternative ways to cut sweet potato.
Try to cut all the pieces to the same size and thickness so that they cook evenly and in the same time frame.
Soak
After cutting the sweet potato, place the pieces in a bowl of cold water with a pinch of salt, then allow them to soak for 5 minutes. Not only does this help remove the starch, but it also prevents discolouration and protects the potato from absorbing too much oil when we fry it.
Make sure not to soak them for longer than 5 minutes, otherwise they start to lose their flavour.
Don't soak for longer than 5 minutes!
A short soak in warm water with a pinch of salt is all it needs to remove the starch. Any longer will result in loss of flavour.
Dry thoroughly
After soaking, discard the water and dry each piece thoroughly with kitchen paper.
Some people like to leave them out to air dry but this is a bit time consuming and they might become slightly discoloured.
Fry
Next, transfer the sweet potato to a pan and pour in cold oil until all of the potato sticks are submerged. I use vegetable or canola oil, but you can use your preferred oil with a mild flavour and high smoke point.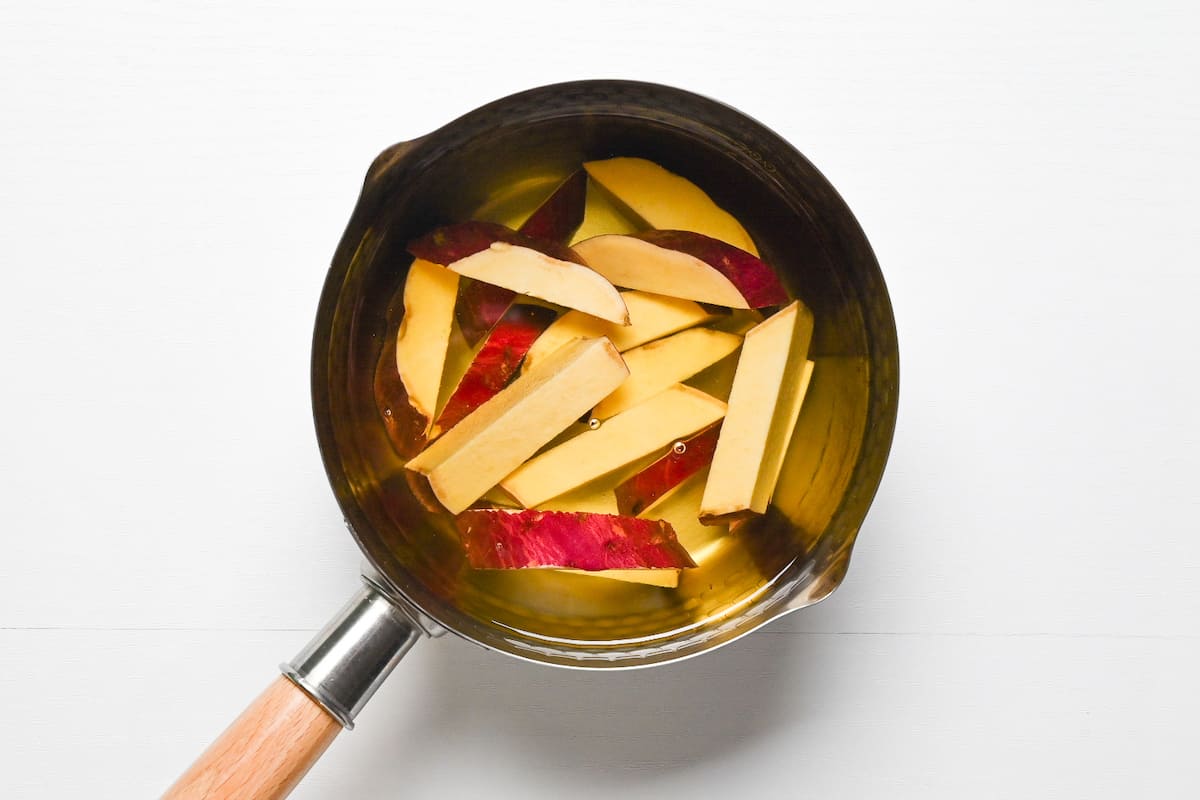 Place the pan on the stove and turn on the heat on medium. Slowly bring the oil up to about 160-170°C (320-340°F). It helps to have a cooking thermometer for accuracy.
By allowing the potatoes to heat up slowly together with the oil, the middle cooks more evenly and ensures the potatoes are soft inside without burning the outside. Once the oil gets hot, the outside will crisp up quickly. This technique will make the inside fluffy without needing to steam or parboil.
Once the oil is hot and the sweet potato is bubbling away, just wait for them to turn golden. If you're unsure whether they're cooked through, take out the largest piece and pierce it with a skewer or fork to test it.
From beginning to end, this technique took me 15 minutes to cook the thick fry style daigaku imo. Rounds should take the same, rangiri a minute or so longer.
Drain
Once golden, transfer to a wire rack to allow any excess oil to drain off.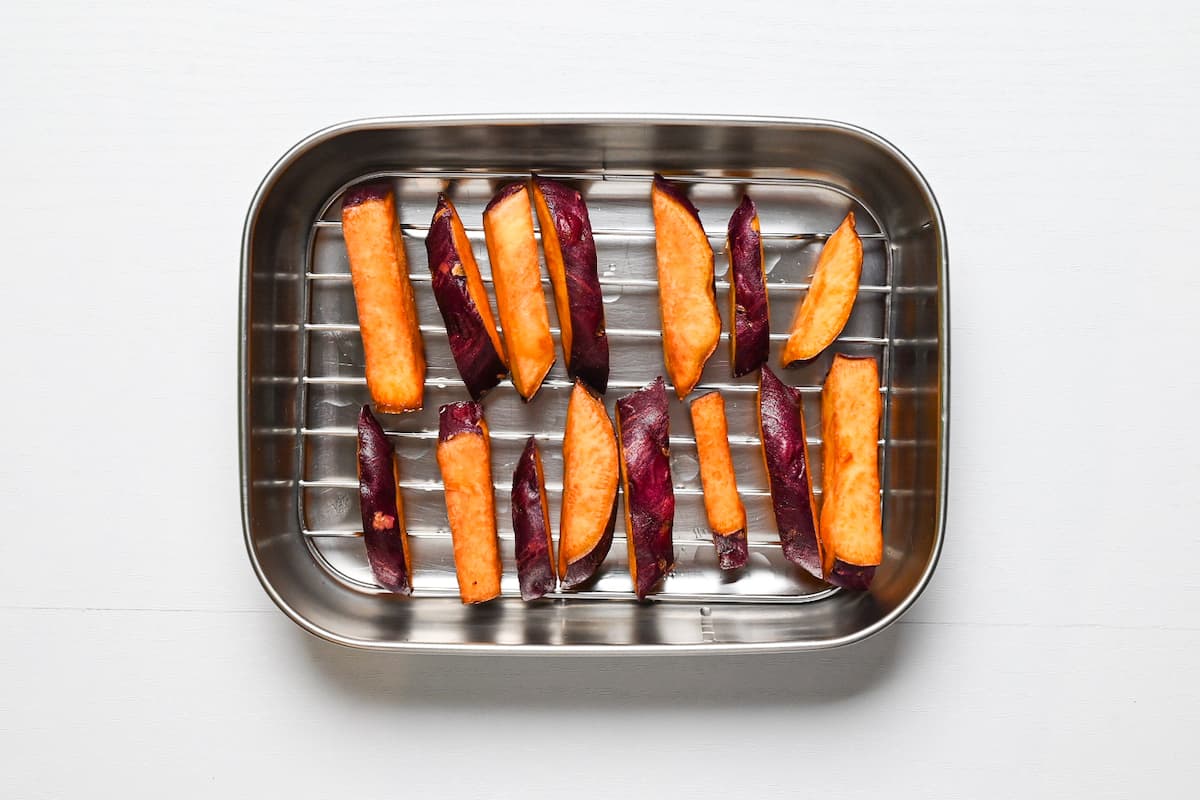 While they're draining, we can move on to making the candy coating.
Making the candy
Making candy is notoriously difficult. However, if you follow my steps you should have no problem. Not to mention, no candy thermometer required!
First, choosing the right pan is important for success. Try to use:
A pan with a thick base (they heat more evenly)
Silver / light coloured pan so you can see when the caramel changes colour
A wide pan (so you have more space to prevent the sweet potato from sticking together)
Don't use a non-stick pan
Caramel can reach very high temperatures which can ruin non-stick coatings!
Once you've chosen your appropriate pan, simply add sugar, mirin and water and mix while cold. I also add a small amount of rice vinegar to help prevent crystallisation.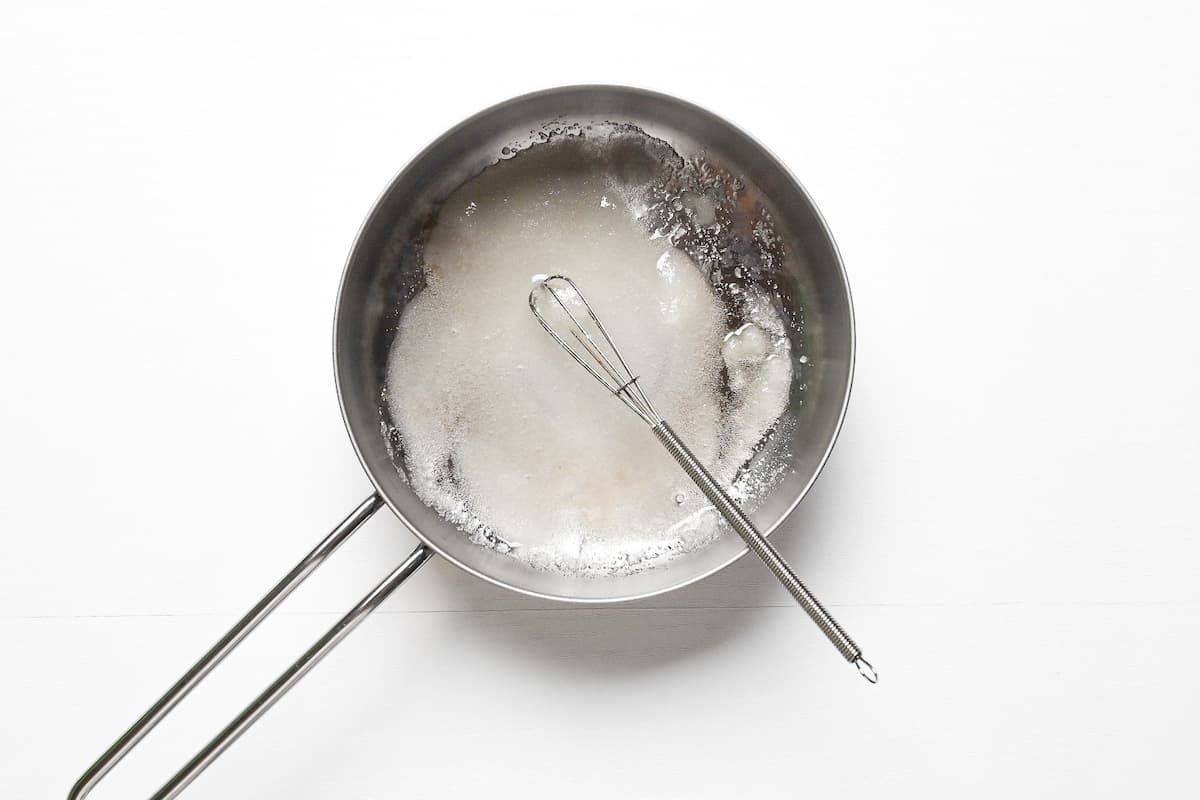 Place the pan on the stove, and on a low heat, continue to stir. As soon as it starts to bubble, stop stirring and leave it to turn golden.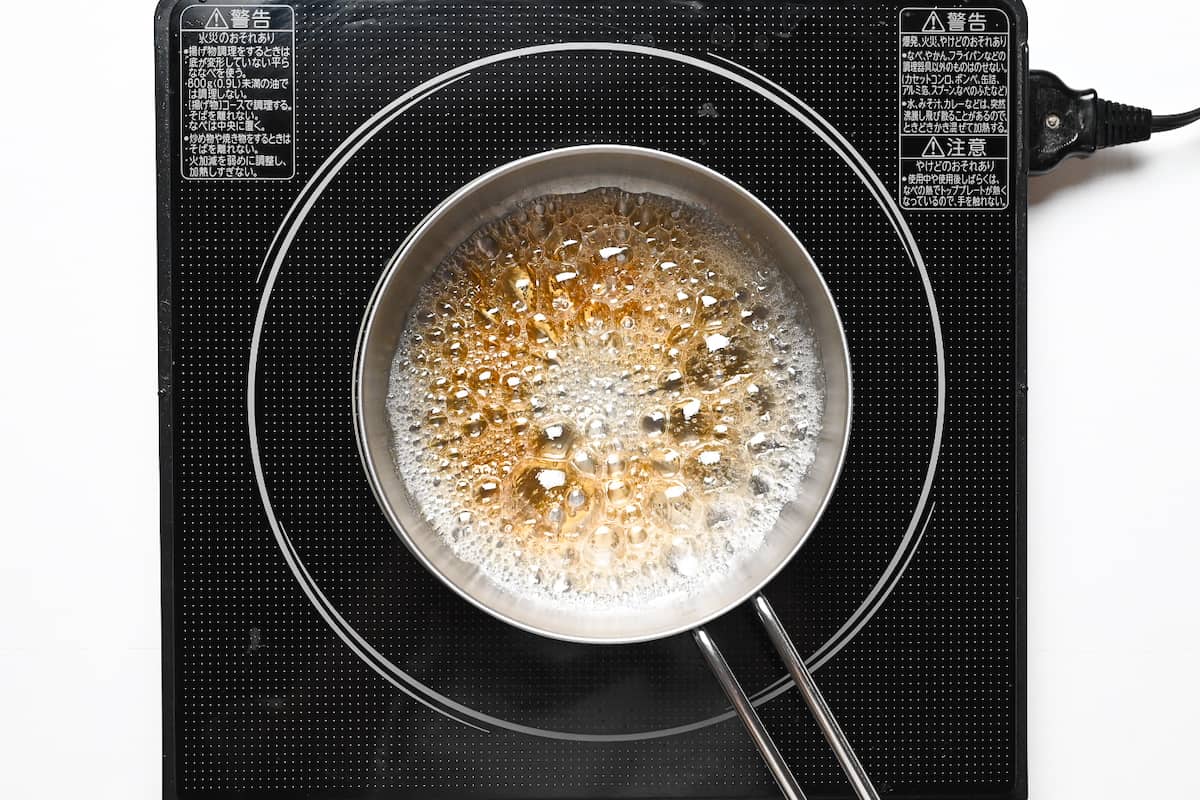 Once golden, dip a chopstick into the caramel and submerge it into cold water, if it turns hard then the caramel is ready.
Stirring the caramel can cause it to crystallise. If you notice some areas turning golden quicker than others, try rotating or tilting the pan gently instead of stirring.
Coat the potato
Lastly, add soy sauce, black sesame seeds and mix before adding the fried sweet potato.
Turn off the heat and roll each piece around the pan to get an even coating of caramel. (If the caramel starts to harden before you've finished coating, turn the heat back on to the lowest setting and turn it off again once it becomes soft. You might have to do this a few times if you're making a big batch.)
Once you've finished with the caramel, fill the pan with hot water and leave to soak. This will stop the candy from becoming hard and sticking to the bottom of the pan.
Transfer the completed daigaku imo to a non-stick surface
I recommend rolling each piece in the caramel and then transferring them straight to a non-stick surface with plenty of space between each one.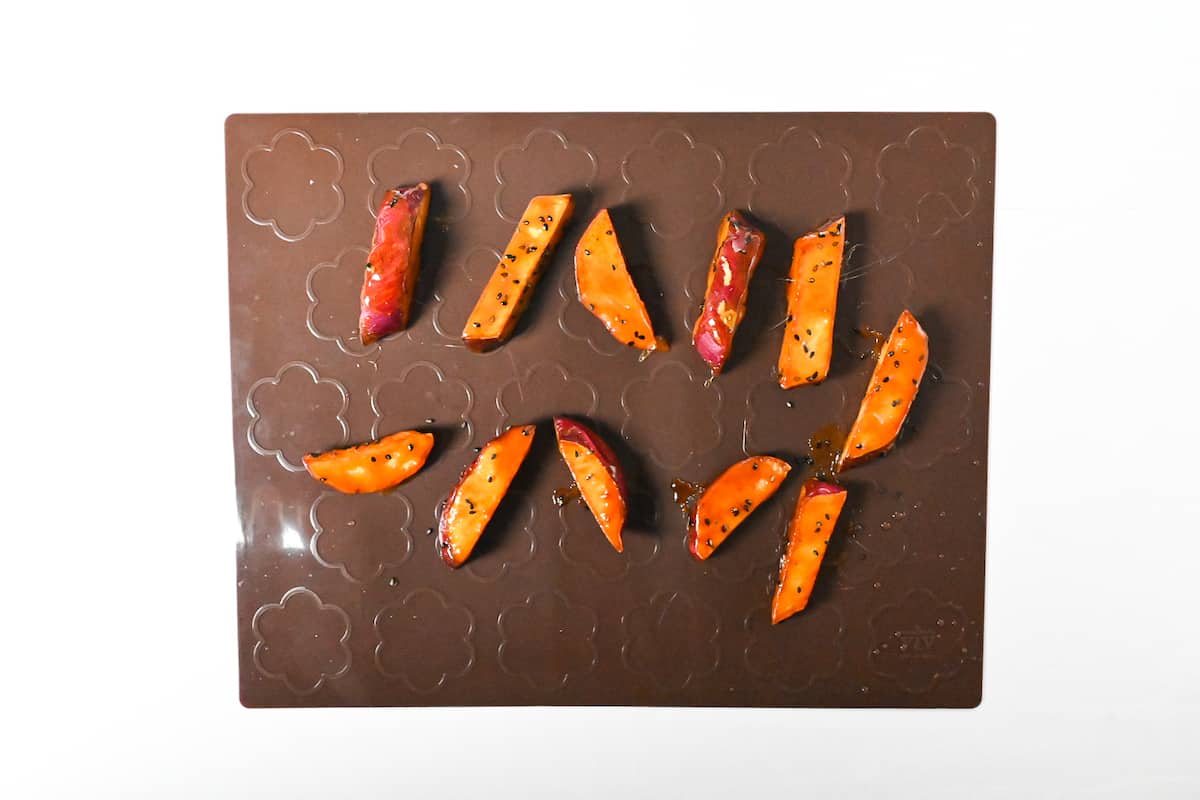 A heat-proof silicone baking mat (affiliate link) is ideal, but if you don't have one, you can line a tray with baking parchment.
Keep in mind that some low quality baking parchments might still stick to the caramel, you can spray them with a very thin layer of oil to prevent any sticking.
Allow to cool for 5-10 minutes and then enjoy!
How to store
Daigaku imo is best eaten on the day it's made, preferably as soon as possible. This is because the candy coat tends to melt/deteriorate after a few hours, especially in humid or warm conditions.
Keep them in an airtight container in a cool place (but not in the refrigerator) if you plan to eat them later in the day.
I hope you enjoy this super crispy take on delicious, autumnal Daigaku Imo!
If you try the recipe, be sure to let me know what you thought in the comments below!
Japanese Candied Sweet Potato (Daigaku Imo)
How to make delicious and crispy stick-style Japanese candied sweet potato (daigaku imo).
Ingredients
350

g

Japanese sweet potato(s)

-

(satsumaimo)

water

-

for soaking

1

pinch

salt

cooking oil

-

for deep frying
Caramel
60

g

caster sugar

-

or granulated

1 ½

tbsp

mirin

½

tbsp

water

½

tsp

rice vinegar

½

tsp

soy sauce

½

tsp

black sesame seeds
Instructions
Wash

350 g Japanese sweet potato(s)

and gently rub the skin to remove any dirt. 

Cut off the ends, cut into 1.5cm (½ inch) slices and then cut each round into 3 sticks.

Place the sweet potato sticks in a bowl of cold

water

with

1 pinch salt

and soak for 5 minutes.

Drain the water and dry the surface of each piece thoroughly with kitchen paper.

Place the sticks of sweet potato in a pot and add cold

cooking oil

until completely submerged.

Move the pot to the stove and turn on the heat on a medium setting. Cook the sweet potato until golden. (For thick pieces, pierce with a skewer to check it's soft inside.) From beginning to end, this usually takes about 15 minutes.

Once golden, transfer to a wire rack and allow any excess oil to drain off.

Take a thick base saucepan and add

60 g caster sugar

,

1 ½ tbsp mirin

,

½ tbsp water

and

½ tsp rice vinegar

. Mix the ingredients together and place on the stove, heat on low.

Keep mixing until the sugar is dissolved, make sure to stop mixing as soon as it starts bubbling. 

When the caramel turns golden, dip a chopstick in it and submerge it into cold water, if the caramel goes hard then it's ready. (If it doesn't, heat for a little longer and keep testing every 30 seconds or so.)

Add the

½ tsp soy sauce

and

½ tsp black sesame seeds

, mix quickly and then add the sweet potato pieces. Turn off the heat.

Coat each piece in caramel and then transfer them to a non-stick surface. (Lightly greased baking paper or a silicone baking mat.) If the caramel starts to harden in the pan, heat on low until it softens again and then turn off the heat again to prevent burning. Repeat as many times as necessary until all of your sweet potato sticks are coated.

Leave the daigaku imo to cool for 5-10 minutes.

Enjoy!
Notes
Best eaten on the day of cooking.
Cleaning tip: Once you've finished coating the caramel, add hot water straight to the pan and leave it to soak to prevent hard candy sticking to the bottom of the pan.
Nutrition
Calories:
199
kcal
Carbohydrates:
47.1
g
Protein:
1
g
Fat:
1.7
g
Saturated Fat:
0.2
g
Polyunsaturated Fat:
0.6
g
Sodium:
112
mg
Fiber:
2.5
g