Kohaku Namasu is a light and refreshing quick pickled dish made with crunchy daikon radish and vibrant carrots flavoured with yuzu citrus. Although it's commonly associated with Japanese New Year celebrations, this dish is seriously addictive, well loved and typically enjoyed all year around!
Jump to:
What is kohaku namasu (紅白なます)?
Namasu (なます or 膾) is a dish in which fish, shellfish, vegetables, etc. are chopped into thin strips and mixed with seasoning and vinegar.
Kohaku namasu is one type of "namasu" made with thinly sliced carrots and daikon radish. The word "kohaku" means "red and white" and the colours resemble "mizuhiki" (水引), a red and white obi string that is used as a decoration for celebrations and wrapping paper for gifts. It is considered a good-luck charm to wish for family peace.
Because its auspicious meaning, it is often used as part of the Osechi dishes eaten during the New Year.
A brief history of namasu
Namasu originally came from China and is believed to appeared more than 2000 years ago, the dish referred to food made from raw meat or raw fish chopped into thin strips. However, it is said that during the Qin dynasty, the use of raw meat became rare, and thinly sliced flesh of fish and shellfish, such as carp and sea bass, became the main ingredient.
In fact, in Japan, the word namasu was originally used to mean "raw meat", the same as in China. In the late Heian period (794-1185), however, the term was changed to fish and vegetables chopped into small pieces and mixed together, and from there it developed in its own unique way in Japan.
It is said that vinegar was first used in the Muromachi period (1336-1573), as it is used today in Japan. At that time, namasu was made using a condiment called irizake (煎り酒), which was made by adding dried bonito flakes and pickled plums to sake and boiling it down.
Furthermore, although namasu is now recognized as a side dish, until the Edo period (1603-1867), it was eaten as a main dish because fish meat was still often used in namasu.
Kohaku namasu as an osechi element
Osechi dishes are eaten during the New Year's celebrations in Japan, and each element of Osechi has various wishes and meanings. Kohaku namasu is no exception. As mentioned briefly earlier, the combination of red and white, the symbols of celebration, is associated with the wish for peace and tranquility.
Looking further, it is said that the daikon and carrot, which have their roots in the ground and grow straight through the soil, are superimposed on the wish for "stability of the house and family business" and "to keep one's feet on the ground".
Other types of namasu
Even though Kohaku Namasu is the most recognized, there are other types of Namasu.
Hizu namasu (氷頭なます): A local dish from cold/north regions, which is made from the cartilage part of the salmon's snout.
Imo namasu (いもなます): Namasu made with potatoes from around Iiyama City, Nagano Prefecture.
Mizu namasu (水なます): Namasu made with fresh horse mackerel and other bluefish.
Nuta namasu (ぬたなます): A dish of vegetables and seafood dressed with vinegared miso, which is considered as a type of namasu.
Kaki namasu (柿なます): Kohaku namasu made with daikon radish and carrot with dried persimmon, from Nara Prefecture.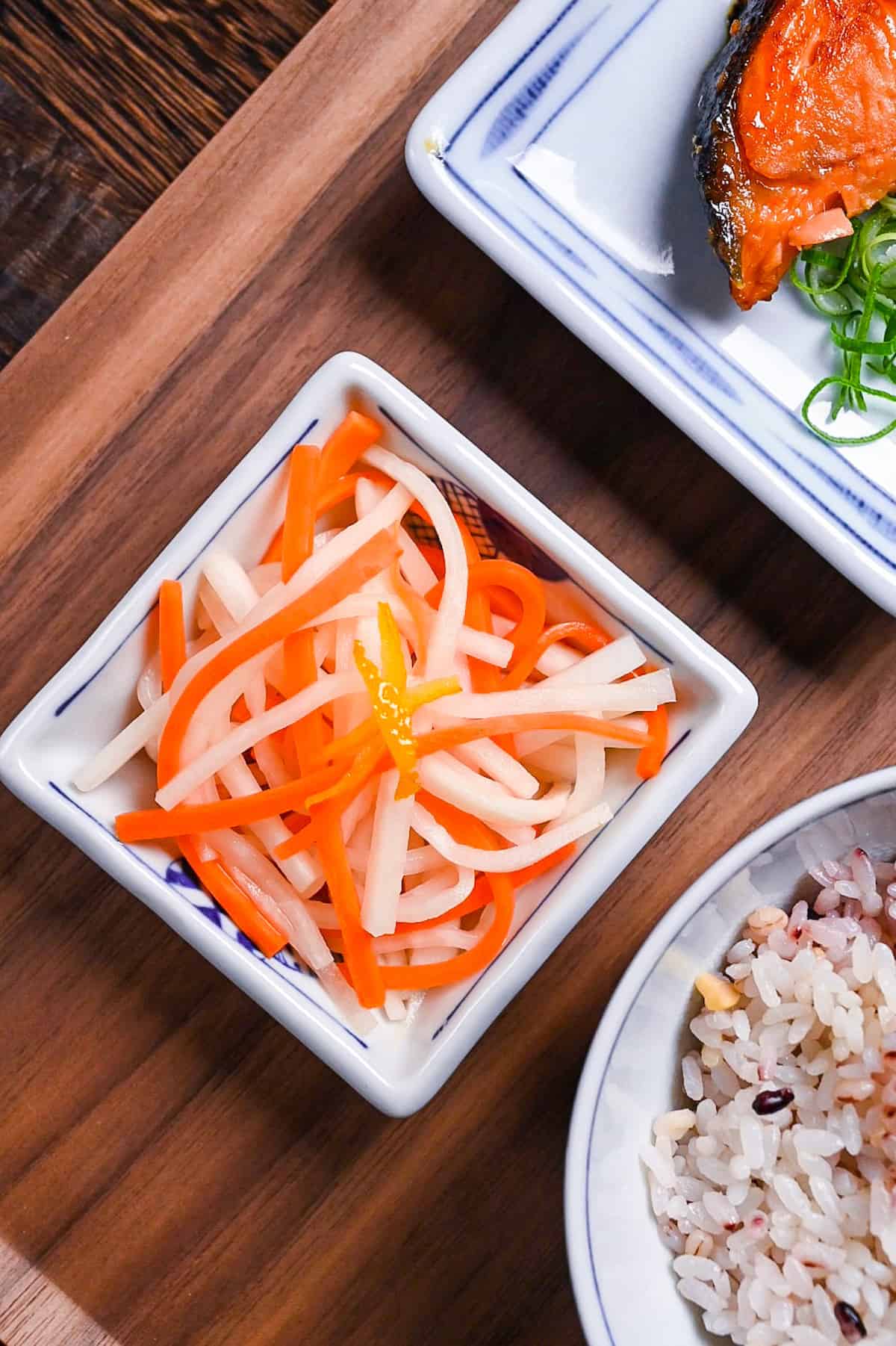 Ingredients to make my kohaku namasu
While it's not essential, it's not unusual to flavour kohaku namasu with a citrus such as yuzu. The citrus flavour really compliments the dish and makes it seriously refreshing and addictive! Here are the ingredients I used to make yuzu infused kohaku namasu:
Daikon radish
Carrot
Salt
Yuzu juice (optional)
Yuzu peel (optional)
Water
Sugar
If you can't get yuzu juice, you can substitute it with an equal amount of rice vinegar. For more substitution ideas, see below.
Instructions on how to make kohaku namasu
Kohaku namasu is delicious and very easy to make! Here are my step by step instructions on how to make kohaku namasu from scratch. See the recipe card at the bottom of the page for ingredient quantities.
How to cut daikon and carrot
Generally, the daikon and carrot in kohaku namasu are cut into thin "matchsticks" to represent "mizuhiki". How thin you cut depends on preference, but I personally like slightly thick sticks so that it keeps its crunch. The ratio of daikon to carrot is usually 2:1.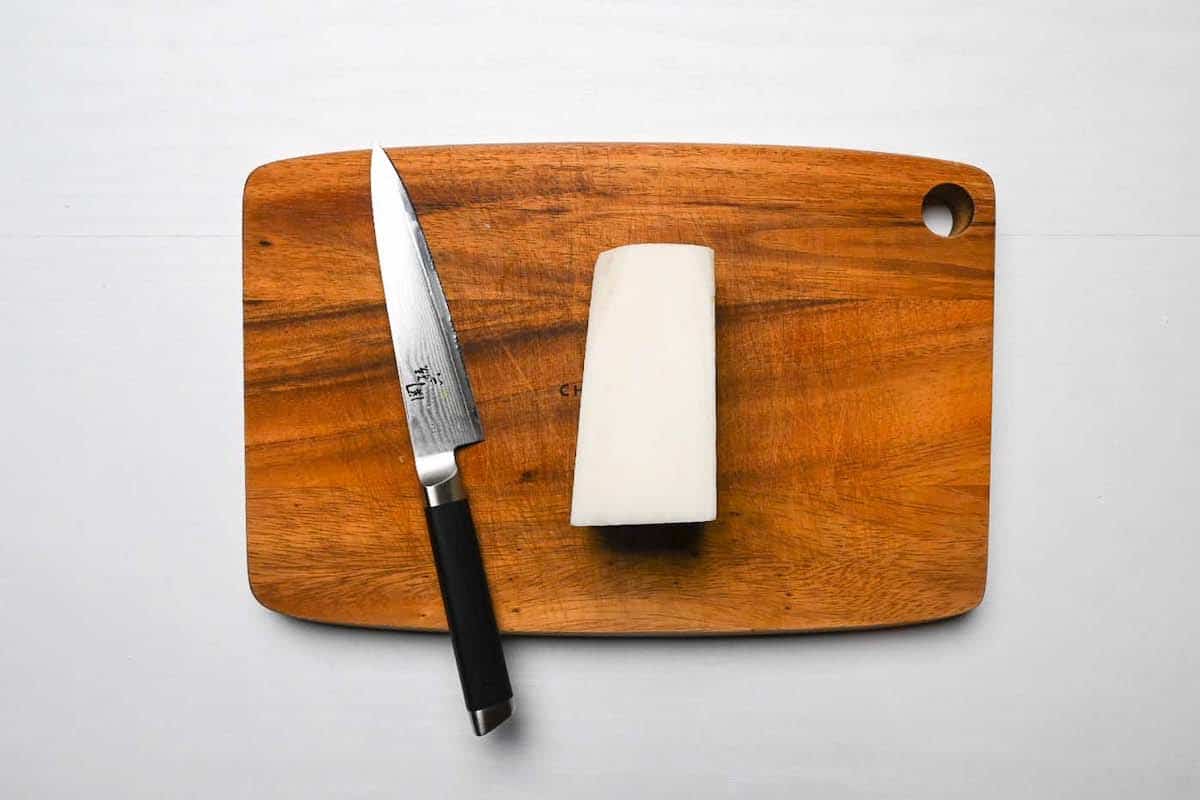 I start by cutting off the round edges to make a block. The picture only shows daikon, but I use the same process for carrot too. You can peel and cut the leftovers, either adding them to the namasu (although the pieces won't be uniform) or using them in another recipe such as hotpot.
Then cut the block into thin slices like this.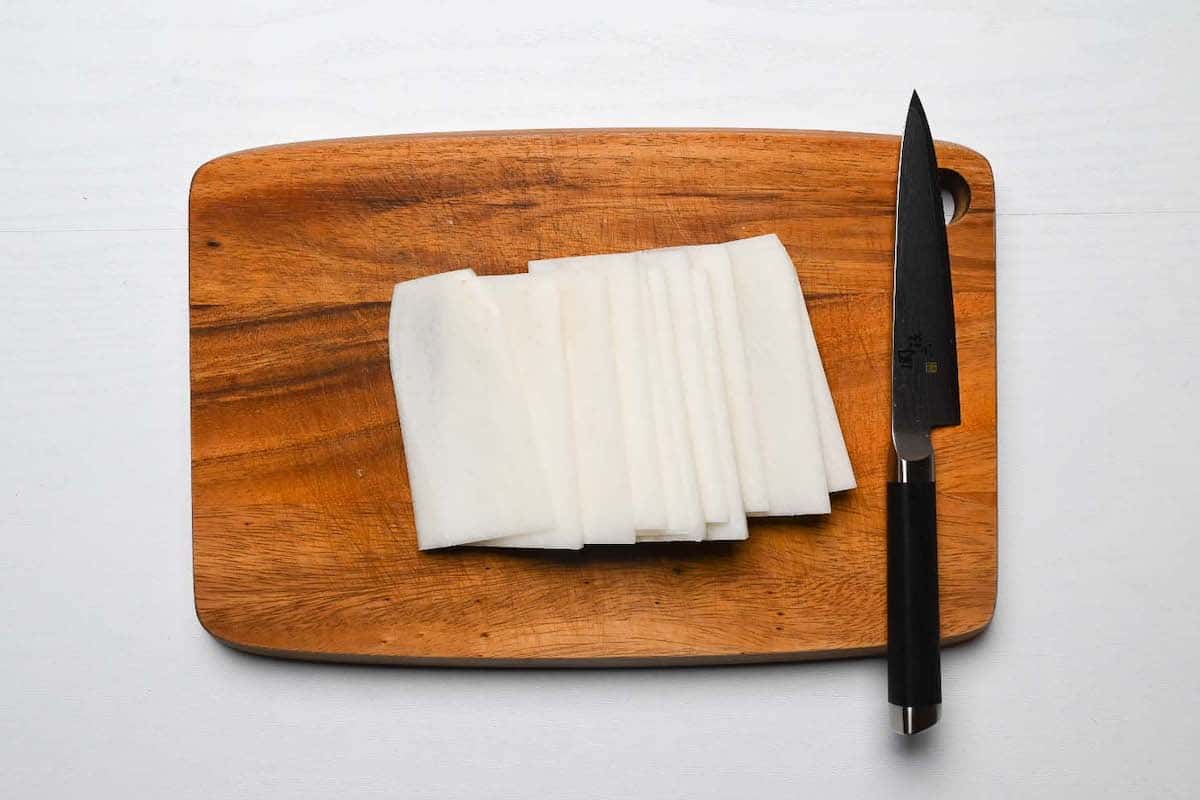 Then cut the slices into matchsticks like this: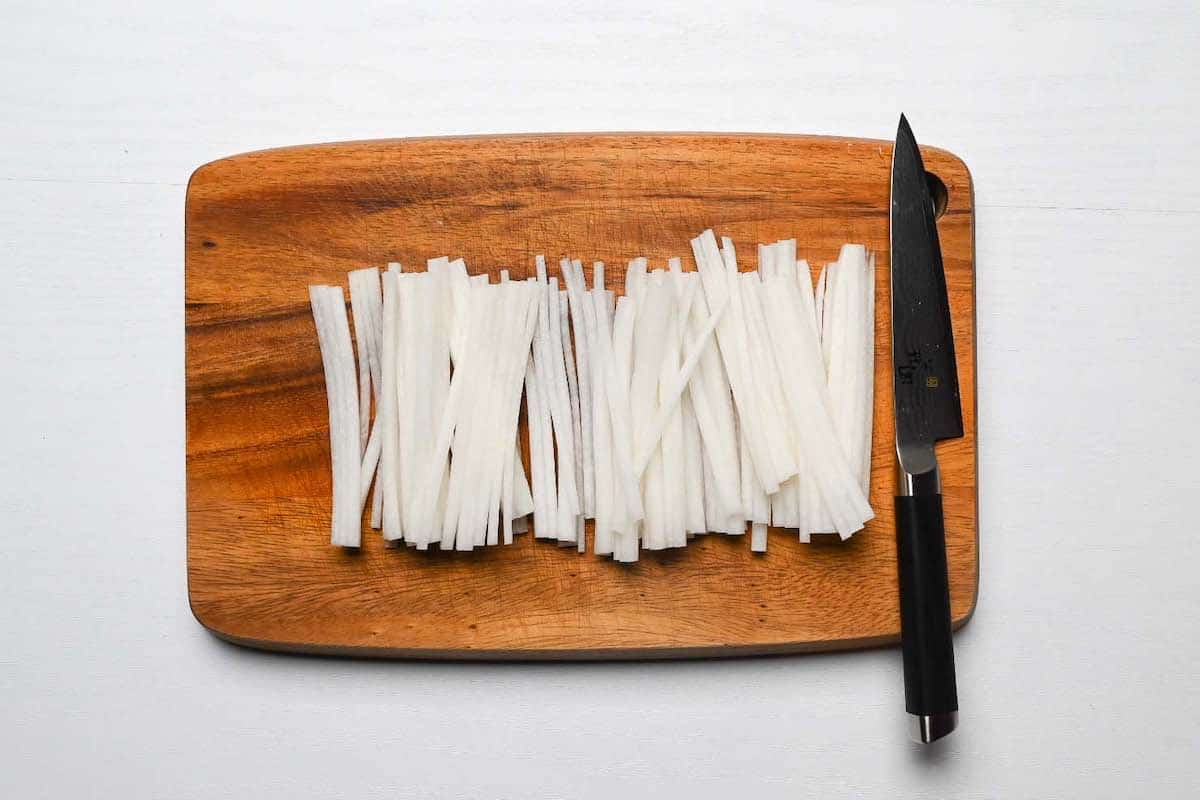 The width should be about 3mm.
Dehydrate
Place the carrot and daikon in a mixing bowl and add salt.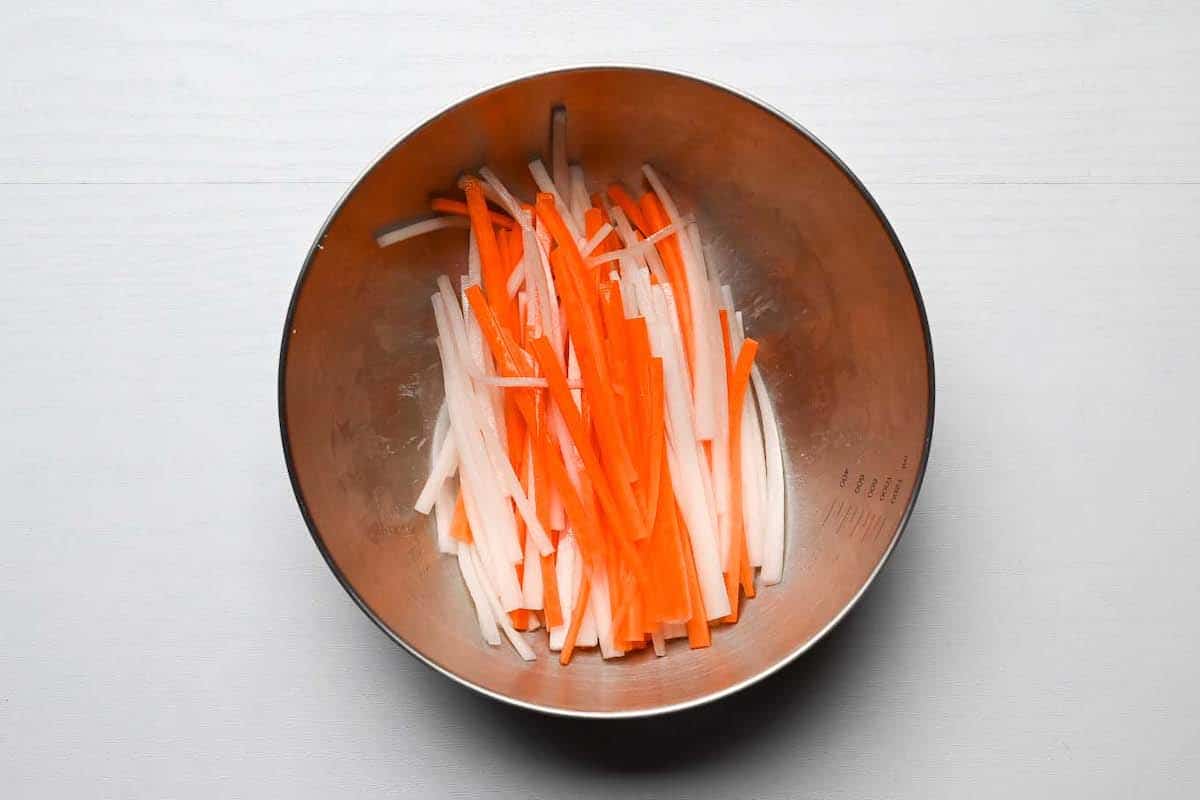 Mix the salt in by hand until it's evenly distributed and then leave it for 15 minutes. During this time, the salt will extract the moisture.
Make the pickling liquid
While the carrot and daikon is dehydrating, you can prepare the pickling liquid. If you're using fresh yuzu, wash and peel off some of the skin then cut it into thin strips.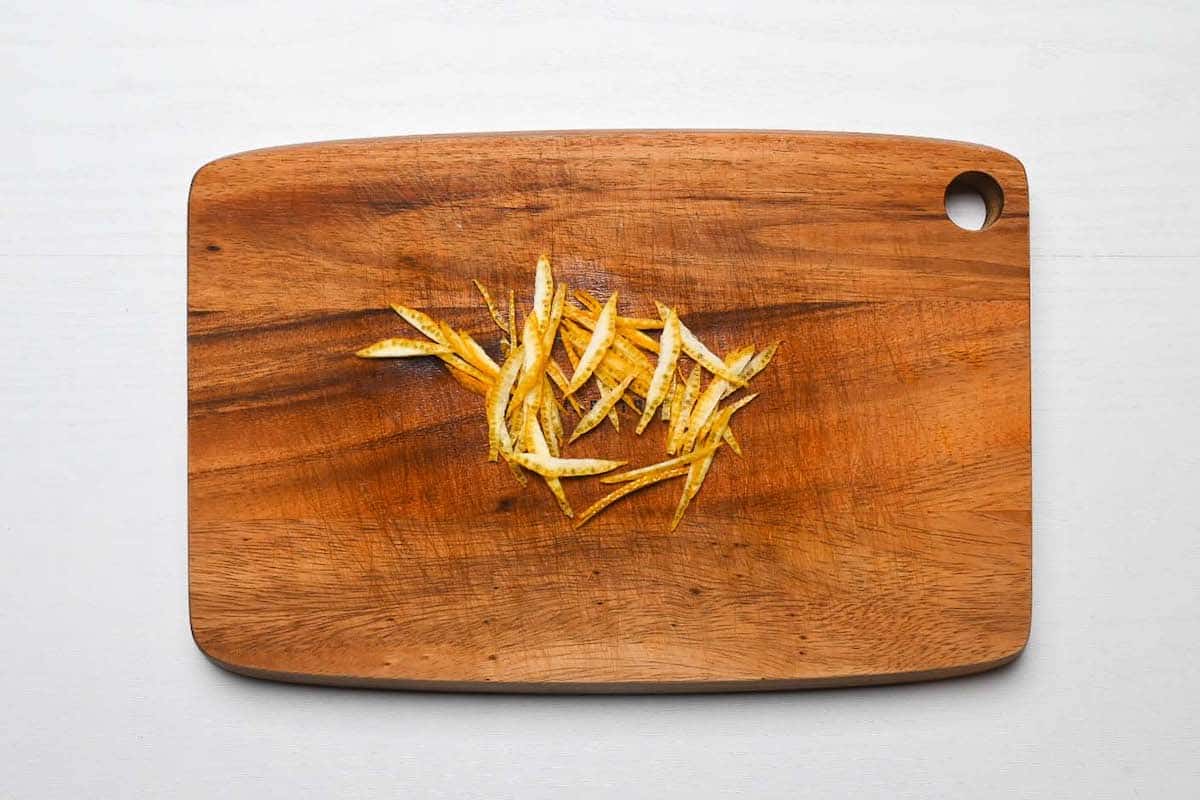 Next, take a sealable bag and add rice vinegar, yuzu juice, water, sugar, salt and soy sauce. Mix them together by scrunching the bag.
Once the salt and sugar have dissolved into the mixture, add the yuzu peel and a piece of kombu (dried kelp).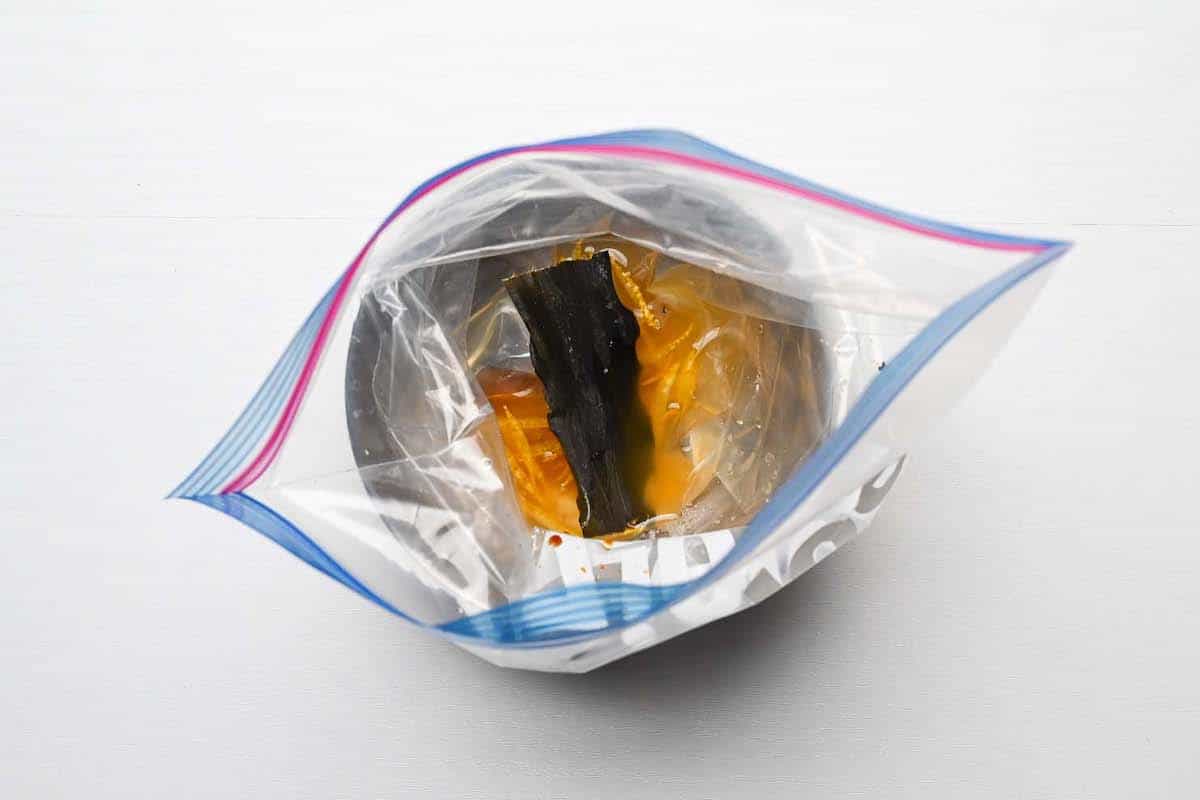 Remove excess moisture
Once 15 minutes have passed, squeeze the carrot and daikon thoroughly and discard all of the excess liquid.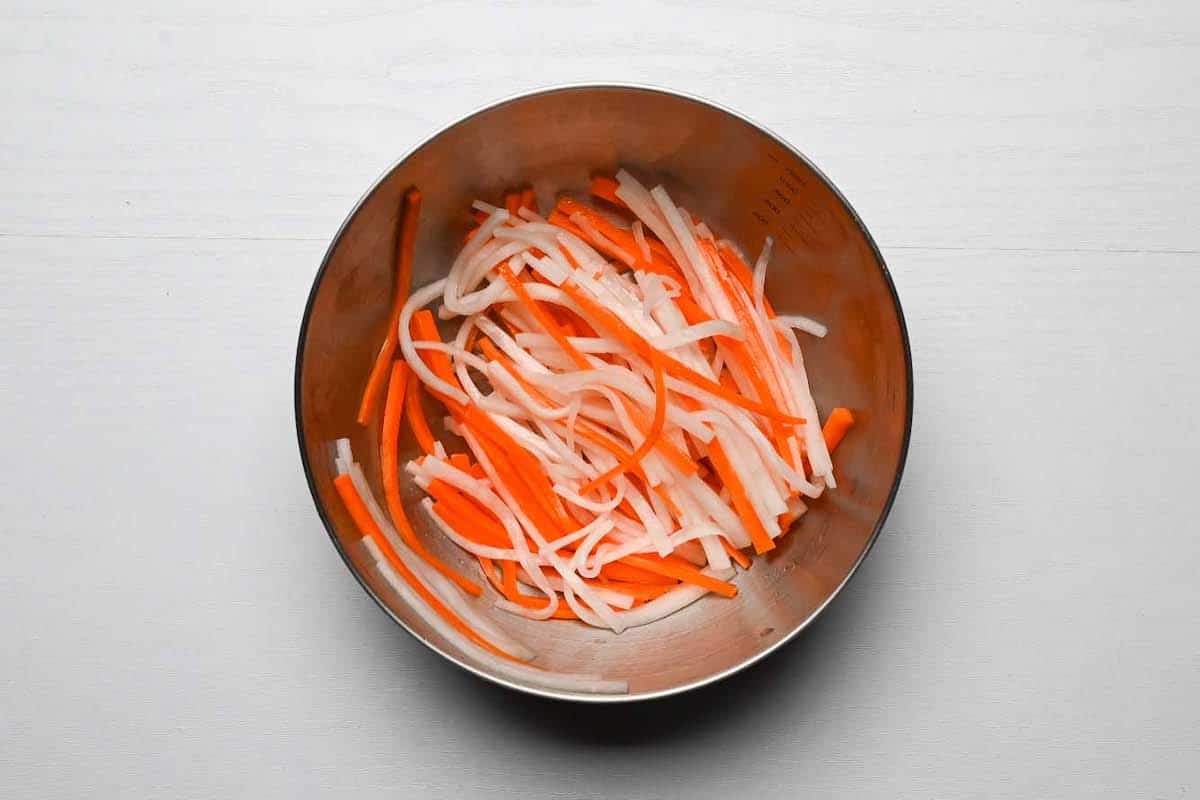 Make sure to remove as much moisture as possible otherwise your pickling liquid will be watered down! Also, do not wash it after it's been dehydrated!
Place the daikon and carrot in the pickling liquid
Transfer the carrot and daikon strips into the ziplock bag, push the air out and seal it up.
Rest it in the fridge overnight. (At least 12 hours.)
Serve
Serve as a side pickle or an element of a Japanese Osechi meal!
For an extra wow factor, some people like to scoop out half a yuzu and serve it in the skin. It's a beautiful way to present kohaku namasu!
Substitutions and variations of this namasu recipe
In this section, I will list all the alternative ingredients, substitutions and variations against the recipe card below to make the best kohaku namasu to your preference:
White turnip (instead of daikon radish)
Apple cider or sherry vinegar (instead of rice vinegar)
Other citrus fruits such as lemon or orange (instead of yuzu)
Storage
Kohaku namasu should be kept refrigerated and consumed within 4-5 days. I recommend making it 1-2 days before you plan to eat it.
Kohaku namasu cannot be frozen.
I hope you enjoy this bright, refreshing and crunchy dish! Although it's commonly associated with New Year, it's a really great dish for all year around!
Kohaku Namasu with Yuzu (Japanese Pickled Daikon and Carrot Salad)
How to make light and refreshing kohaku namasu with crunchy daikon radish and sweet carrots pickled and flavoured with yuzu. (Ready to eat in 12 hours.)
Ingredients
200

g

daikon radish(s)

100

g

carrot(s)

½

tsp

salt

-

to dehydrate

2

tbsp

rice vinegar

3

tbsp

water

2

tbsp

sugar

¼

tsp

salt

-

for pickling liquid

1

tbsp

yuzu juice

¼

tsp

soy sauce

1

tbsp

yuzu peel

5

g

dried kelp(s) -

kombu
Instructions
Cut off the rounded edges of

200 g daikon radish(s)

and

100 g carrot(s)

to make them into blocks. Thinly slice, then cut into 2-3mm matchsticks.

Place them in a bowl with

½ tsp salt

and mix by hand. Rest for 15 mins to draw out the excess moisture.

While you wait, add

2 tbsp rice vinegar

,

3 tbsp water

,

2 tbsp sugar

,

¼ tsp salt

,

1 tbsp yuzu juice

and

¼ tsp soy sauce

to a sealable bag and scrunch to mix.

Once the sugar and salt has dissolved into the mixture, add

1 tbsp yuzu peel

(if using fresh yuzu) and

5 g dried kelp(s)

.

After 15 mins have passed, thoroughly squeeze the daikon and carrot to remove the excess water. (Do not wash.)

Add the daikon and carrot to the bag of pickling liquid.

Push the air out and seal the bag. Store in the fridge overnight (12 hours).

Enjoy!
Notes
Store in the fridge and consume within 4-5 days.