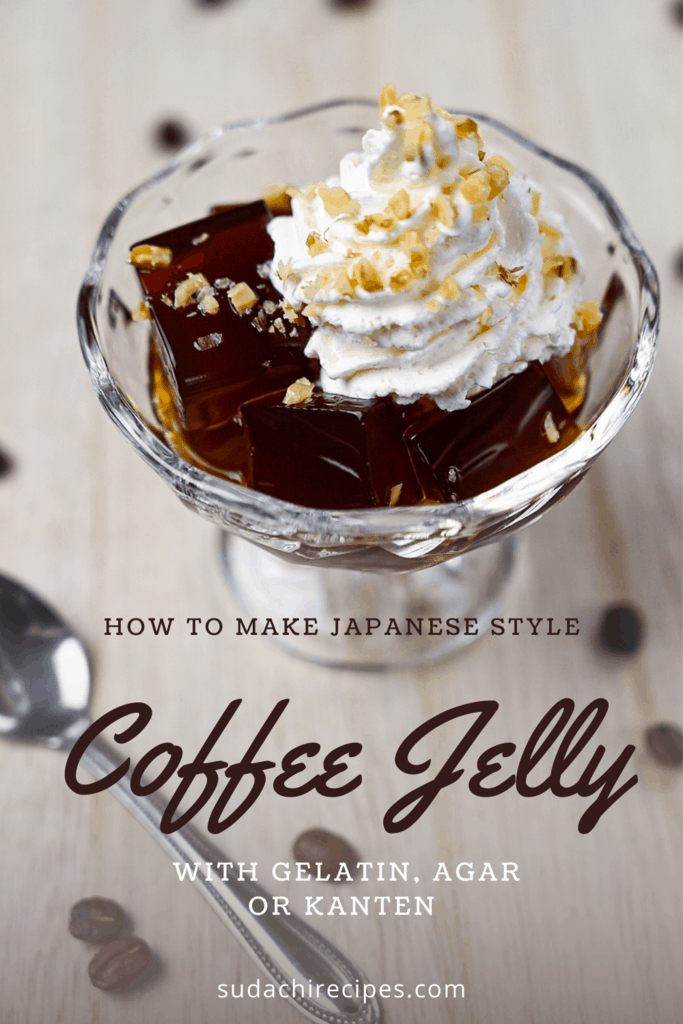 Japanese Coffee Jelly is a simple dessert made with strongly brewed coffee and served with cream. It's easy to make and is a perfect refreshing treat in the summer, or all year round! Enjoy it on its own or even jazz up your iced coffee!
Jump to:
Japanese Coffee Jelly
What is coffee jelly?
Coffee Jelly or "kohi zeri" in Japanese (コーヒーゼリー) is a tasty, summery dessert made using strong black coffee that has been sweetened with sugar and then solidified with a setting agent such as gelatin, agar agar or kanten.
Jelly is extremely popular in Japan and comes in all kinds of unusual flavours including matcha, soda and a red bean jelly we call "yokan". You can even buy cans of fizzy drinkable jelly from vending machines! It's one of my favourite things to eat/drink in summer.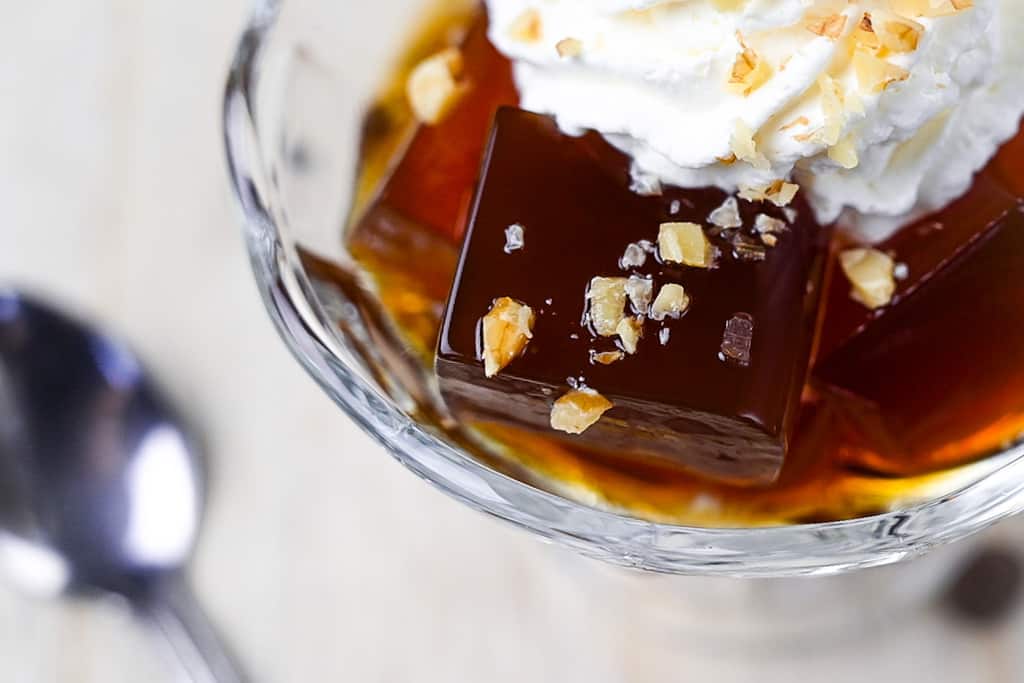 Gelatin vs. Agar agar
Jelly made with gelatin first appeared in the U.K hundreds of years ago, but Japanese jellies were traditionally made with a substance called "kanten" (寒天). I'll show you how to use both for this recipe, but first, let's learn a little bit about each one.
Gelatin
Gelatin is a product made from collagen taken from animal parts. It's translucent and has little colour or taste, perfect for setting desserts such as jelly, cheesecake and gummy candy.
Here are a few pros and cons to using gelatin.
Pros
Low melting point
Clear/ translucent
Easy to purchase
Cons
Takes a long time to set
Not suitable for vegetarians or vegans
Unstable at room temperature
When I make this recipe with gelatin, I use it in a powdered form. You can use sheets if you prefer, 1 sheet is equal to 1 tsp of powdered gelatin.
If you don't eat animal products, the next option is for you!
Agar agar vs Kanten
Agar agar and kanten are actually totally different products. While agar agar is made from a mixture of red seaweeds and was created to mimic the texture of gelatin, kanten is a lot firmer and made from one type of red seaweed called gelidiales.
In fact, because they're so different, it's pretty important you don't mix them up. For 15-20g of agar agar powder, you only need half a sachet (2g) of kanten! If you're unsure which one you have, comment below and I'll see if I can help you identify it.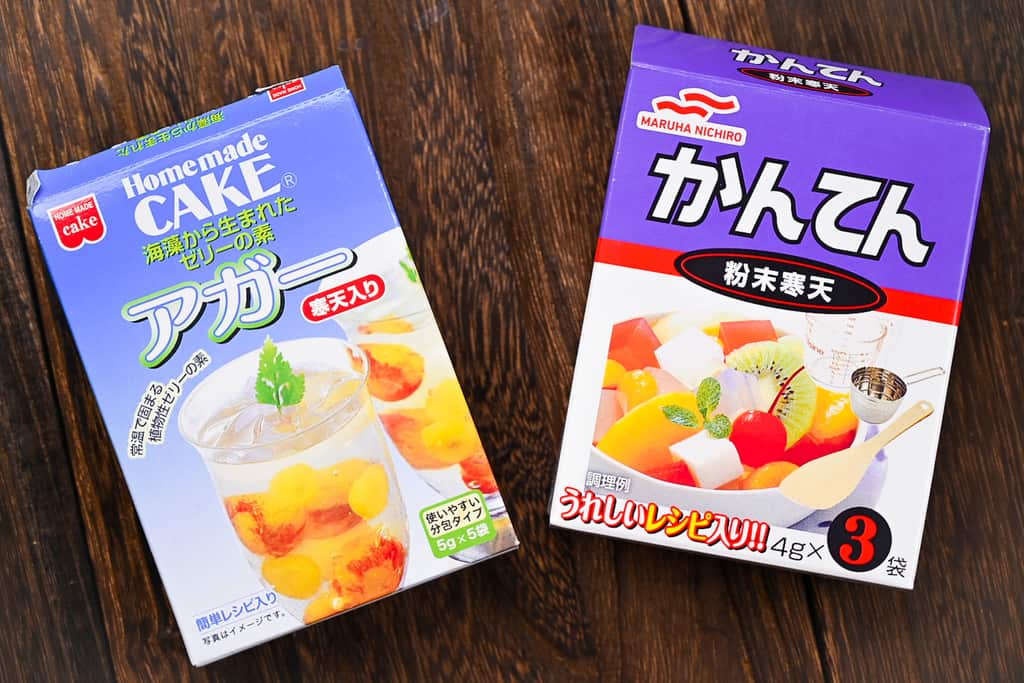 Both agar agar and kanten set at room temperature and make a great vegetarian/vegan substitute for gelatin in desserts!
Here are some pros and cons to using agar agar or kanten.
Pros
Vegetarian / Vegan friendly
Sets quickly
Holds its shape at room temperature
Cons
More expensive
Can be hard to find
Needs to be boiled on the stove
When I use agar agar to make this jelly, I use 2 tbsp which is equivalent to 15-20g depending on the brand. Please check the packaging to see how much agar agar you should use. And be very careful not to mix up agar agar and kanten!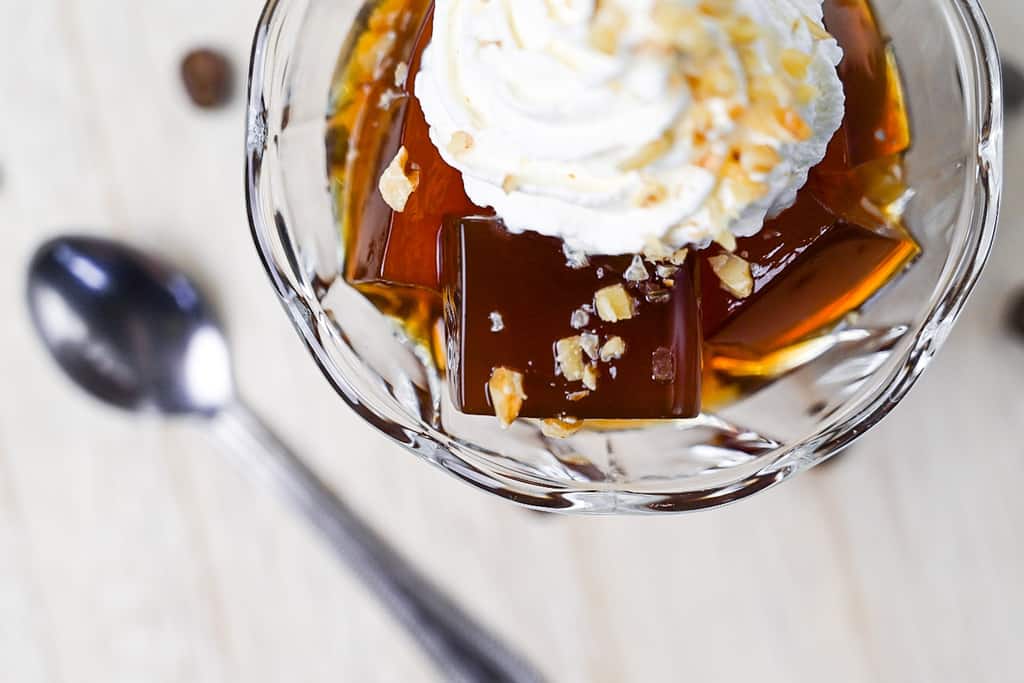 Coffee
What coffee should I use in Coffee Jelly?
As coffee is the main ingredient in this recipe, it's important you use a coffee that you like. It's also quite important that it's brewed strongly, it won't be as strong as you expect when it's served as a dessert.
Instant coffee
The most accessible, easy and affordable option is instant coffee. Choose your favourite brand and then add 2 tbsp to the water stated in the recipe. It's no fuss and I recommend instant coffee the most.
Espresso
If you are able to make espresso at home, you will be able to make a rich and delicious jelly! You can make espresso either using a coffee machine, or a stove top moka pot.
I recommend using 2 double shot espressos. One shot of espresso is approximately 30ml (1 fluid oz) so 2 double shots would come to about 120ml. Because of the added water content, you'll need to adjust the recipe so that you use 380ml of water with your sugar and setting agent.
French Press / Drip Coffee
French press also works for this recipe if you're using gelatin, but if you're using agar agar or kanten, you'll need to boil them together and this might ruin the taste of the coffee.
I don't recommend drip coffee as it isn't really strong enough to make a nice dessert.
Ways to Enjoy Coffee Jelly
Coffee Jelly is delicious and can be enjoyed in a number of different ways!
Topped with whipped cream
Drizzled with heavy cream
Topped with ice cream
Cut into small cubes and added to drinks (iced coffee, iced latte etc)
Tip: I love eating coffee jelly drizzled with a little bit of flavoured coffee syrup. Vanilla, caramel, hazelnut, any flavour you like. It really takes your coffee jelly to the next level and I've included it in the recipe as an optional ingredient.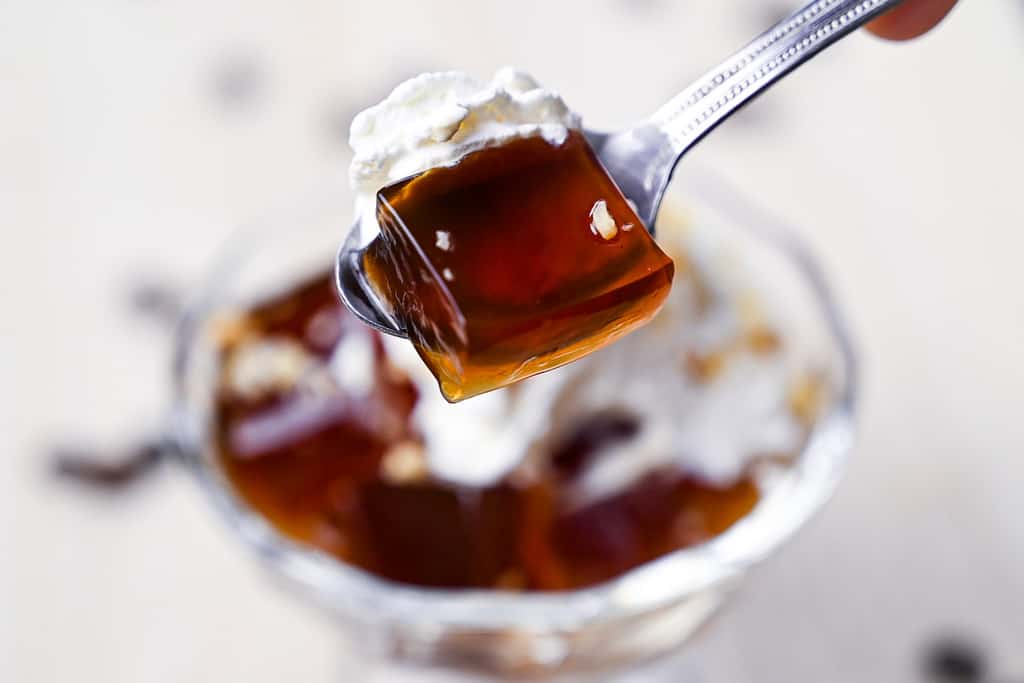 It's best to keep your coffee jelly stored in the fridge and eat within 2-3 days.
Japanese Coffee Jelly
Transfer your favorite coffee into a delectable dessert with this delicious Japanese Coffee Jelly made with gelatin, agar agar or kanten!
Ingredients
Setting agent (choose 1)
15

g

gelatin powder

-

or

15

g

agar agar powder

-

or

2

g

Japanese kanten powder

-

(each sachet is usually 4g)
Other ingredients
100

ml

water

400

ml

water

2

tbsp

instant espresso

-

see post for other coffee options

45

g

sugar

-

adjust sweetness to your liking

flavored syrup

-

vanilla, hazelnut or caramel - optional

heavy cream

-

whipped, pouring or ice cream - optional

chopped walnuts

-

optional
Instructions
Gelatin
Take a small heatproof bowl and

100 ml water

(cold) and

15 g gelatin powder

. Mix and leave to bloom for 10 minutes.

Mix

2 tbsp instant espresso

and

45 g sugar

into

400 ml water

(freshly boiled).

After 10 minutes, pour the bloomed gelatin mixture into the coffee while it's still hot and mix until fully dissolved,

Transfer to a square/rectangular container (or jelly molds/serving cups) and leave to cool for 10-15 minutes.

Once cool, cover with a lid or plastic wrap and store in the fridge for 3-4 hours.
Agar agar
Add

100 ml water

(freshly boiled) and

2 tbsp instant espresso

to a small heatproof bowl. Mix until the coffee is dissolved and keep it near the stove.

Mix

15 g agar agar powder

and

45 g sugar

in a separate bowl.

Pour

100 ml water

(cold) into a saucepan and sprinkle in the agar/sugar mixture. Bring to a boil over a medium-high heat, stirring constantly.

Lower the heat to medium and gently boil for 1-2 minutes, keep stirring to make sure the agar is not burning at the bottom of the pan.

Add

2 tbsp instant espresso

he coffee and mix well.

When it's ready, the coffee jelly mixture should thinly coat the spoon/spatula. Remove it from the heat and allow to cool for a few minutes before transferring it to jelly molds or a container.

Let the mixture cool for 15-20 minutes, then cover and chill in the refrigerator for 1-2 hours or until firm.
Kanten
Add

100 ml water

(freshly boiled) and

2 tbsp instant espresso

to a heatproof bowl. Mix until the coffee is dissolved and keep it near the stove ready.

Pour

400 ml water

(cold) into a pan and add

2 g Japanese kanten powder

. 

Mix well and turn the heat on medium, bring to the boil while mixing from time to time.

Once it starts to boil, add

45 g sugar

and mix thoroughly. Boil for 2 minutes while stirring to ensure no kanten sticks to the bottom of the pan. (If it starts to foam up, turn the heat down slightly.)

Add the coffee and mix well.

Take the pan off the heat and allow to cool slightly for a few minutes before transferring the coffee jelly mixture to a mold or container.

Once it's cool to the touch, cover and chill in the refrigerator for about 1 hour.
Serving
Once the jelly has set, remove it from the mold or cut it into cubes using a knife. (If cutting, I recommend 2cm cubes.)

Place into serving cups and top with your chosen

flavored syrup

,

heavy cream

and

chopped walnuts

(optional) right before serving.

Enjoy!
Notes
You can reduce or increase the sugar to suit your preference.
This is a general guide but many agar powders vary in weight/strength. Always check the packaging for exact measures and adjust the water content accordingly.
For best results, keep refrigerated and eat within 2 days. Add cream just before serving.
The coffee jelly tends to become a bit watery after a day, but it's still good to eat.
If you don't want to cut it into cubes, you can cool it for 10-15 minutes and then pour straight into serving dishes.
Cook time includes how long it takes to set.